I can't believe I've now been travelling for almost a year! 
At the end of my last update I was getting ready to fly back to Thailand where I was planning on spending a month on one of the islands. I couldn't decide between my original plan of Koh Lanta or my new idea of Koh Phi Phi.
Although I feel like I didn't really give Lanta a chance, I went with Phi Phi. I feel comfortable and happy there, and I knew I would have an amazing time.
I wasn't wrong! 
I spent two weeks on Phi Phi and soon settled into a great routine that worked perfectly for me: I would wake up, wander around the restaurants looking for somewhere to have breakfast before returning to my room to get some work done. At 3pm, I would force myself to stop working and head to the beach where I would sunbathe, swim and drink beer. I'd head out for an amazing seafood barbecue meal for dinner, grab a few drinks and then head back to my room to watch a movie.
Yes, I went to Phi Phi and DIDN'T party! It's possible.
However, after two weeks solid of staring at my laptop screen I needed a break.
I wanted to get away from my laptop. From the internet. From everything. 
So I did some research and found an island that could offer exactly that: No tourists. Beautifully empty beaches. And most importantly, no internet.
It was paradise. Just look at the amazing view from my guesthouse balcony!
I spent my time reading books on my balcony, sunbathing on the beach, riding a scooter around the island, renting a kayak and going on a boat trip around the gorgeous Phang Nga National Park.
It was the best week of my time in Thailand and here are a few photos from my Thai island paradise:
After being devastated when I left Chiang Mai a few months ago, I was now devastated to be heading back there! This wasn't without adventure and drama, however, as I ended up being in Phuket airport when the Indonesia earthquake and tsunami hit, which made for my most dramatic post yet.
Surviving my first natural disaster, and the crowds of loud tourists in the airport, I made it to Chiang Mai just in time for Songkran!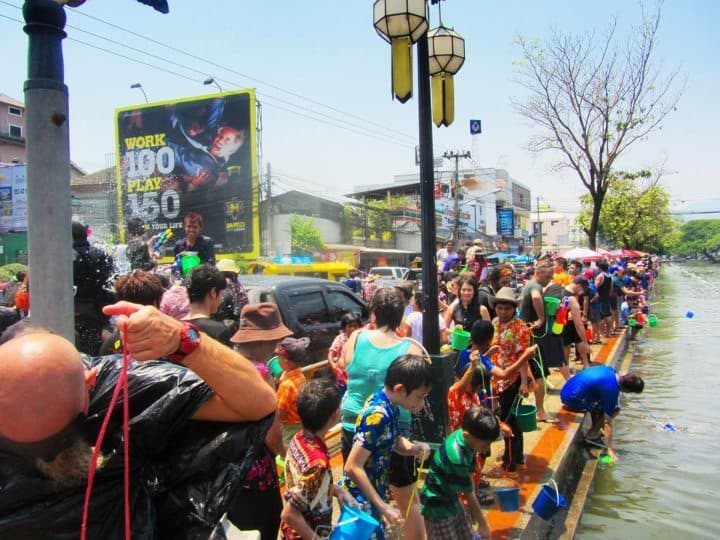 It was AMAZING! I was running around all day with a huge smile on my face, feeling like I was ten years old again! It was just what I needed to recover from my ordeal, and was some of the most fun I've ever had… Even if I did end up swallowing fifty litres of moat water!
I spent the last day of the month on a border run to Burma, where my driver drove off and forgot about me. Yes, really. Fortunately, he came back thirty minutes later…
It always happens to me!
Onto the statistics for the month! 
Distance travelled: 1794 km
Countries visited: Thailand, Burma
Cities Visited: Phuket Town, Koh Phi Phi, Koh Yao Noi, Chiang Mai, Tachilek
Number of photos taken: 2163
Number of flights: 2
Number of trains: 0
Number of buses: 2
Money spent:
Thailand: £653 = £21.06 a day = $1036
The next month:
I have two more weeks left in Chiang Mai (and Thailand!), which I'm still struggling to come to terms with. Having spent five months in Thailand, it now feels like home and I'm going to be incredibly sad to leave it behind.
However, on the 30th April I'll be heading off to a brand new country: Cambodia! I'm really excited that I'll be travelling solo again, especially to a country that I've wanted to visit for SO long!
On the 14th May I'll be boarding a plane and heading over to Europe for a few months! Going to Europe after South-East Asia was never in my original plans but if you've read my site for any amount of time, you won't be surprised to hear this!
As well as a week back home in London to catch up with family and friends, I have a whole series of exciting adventures planned for my time there. I'm putting the finishing touches to my itinerary over the next few weeks and I can't wait to share it with you!
Looking to follow along with my travels through my monthly summaries? You can read the previous month's summary here, the next month's summary here, or head on over to the monthly summary page to read from the very beginning!