I can't stop talking about Mauritius.
Visiting this island was a revelation. This was one of the most exciting countries I've been to in years. I've been full-on singing its praises on a daily basis.
Here, you've got everything: stunning beaches, volcanic craters to hike up, exceptional food, kind locals, low prices, and a safe environment. What more could a traveller ask for?
As an added bonus, taking a road trip is the perfect way to see Mauritius. This island is made for driving, with high-quality roads and short distances between attractions. Because guys?
This country is small.
Real small.
As in, you could drive the entire circumference of Mauritius in five hours.
So, with a full week on the island, you can imagine that you could do quite a bit. By the end of our (admittedly, action-packed) seven days, I felt as though I'd seen a significant chunk of the island and really started to get to know the country. I can't wait to return to discover more.
Most excitingly of all: Mauritius is so easy to travel on a budget. Our flights from Europe were seriously cheap (€300 direct from London with Air Mauritius), and once we touched down, it was even better. It's actually one of the cheapest countries I've been to! Excellent, well-rated guesthouses start at $30 a night, street food comes in at less than $1 a meal — this isn't a country that'll break the bank.
Of course, there are plenty of luxurious, world-class resorts that you can choose to relax in — this is a honeymoon destination, after all. It's just that there's also a wealth of seriously inexpensive accommodation. That was what surprised me.
With a week in Mauritius, you'll be able to see my three favourite parts of the island. I recommend spending two days in each of the southwest, the west coast, and the north, then your final day driving down the rugged east coast. With an itinerary like that, you'll be coming away having seen many of the things that makes Mauritius so special.
With all that being said, let's look at the itinerary in more depth.
Here's how to spend one week in Mauritius:
Day One: Arrive and Head Straight to the Southwest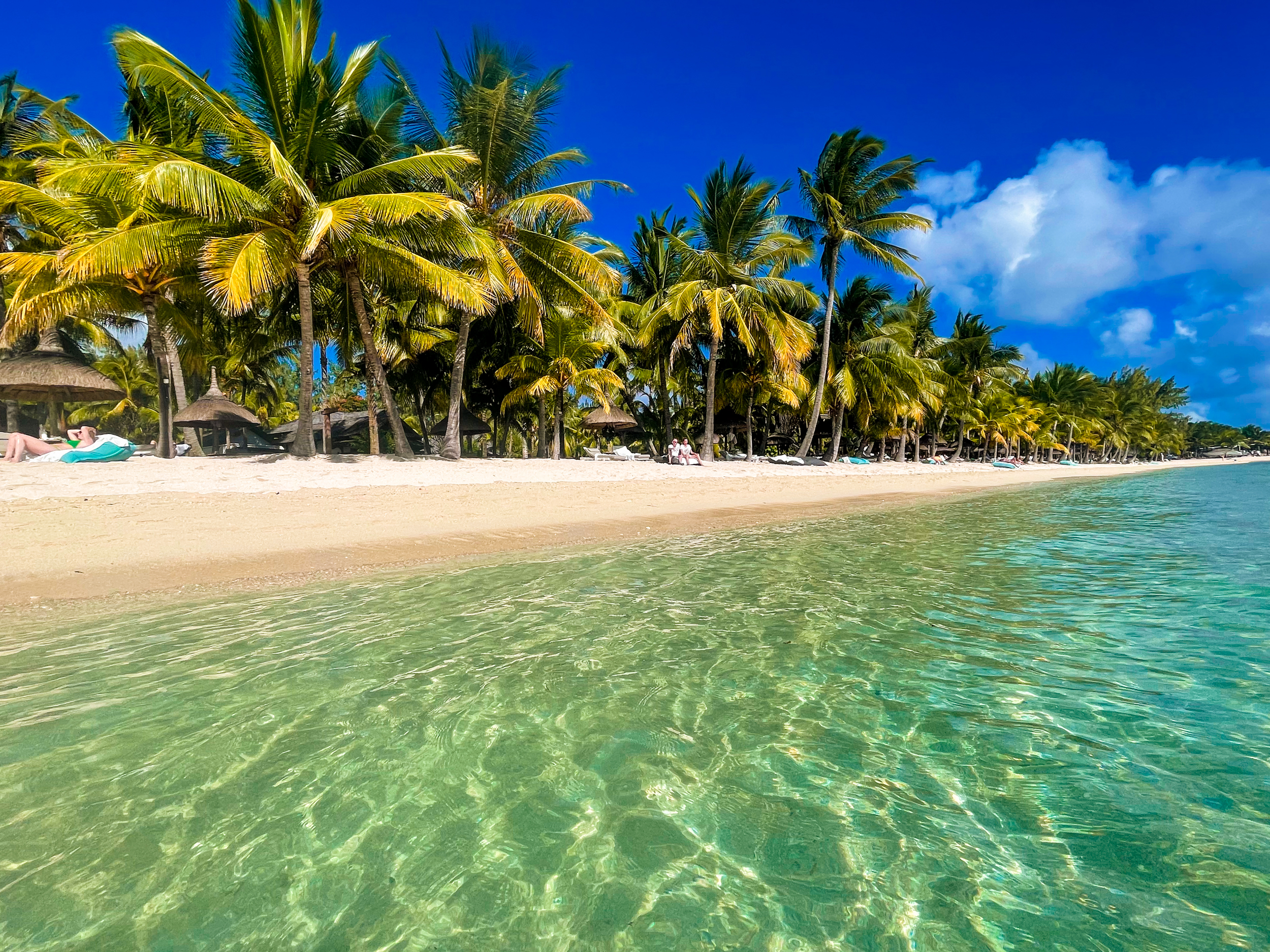 The international airport in Mauritius is located in the southeast of the island, where there's not an awful lot of attractions for tourists. As soon as you land, then, I recommend jumping in a rental car and driving west to Le Morne or La Gaulette. It's only a one-hour drive to either place, so don't worry about being too tired if you're coming off an overnight flight; the journey is an easy one.
So, Le Morne or La Gaulette — which one to set your GPS for? Well, the former is full of resorts and aimed at higher-end tourists, while the latter is perfect for budget travellers. The two villages are only 5 km from each other, so it's easy to hop between the both of them. We opted for La Gaulette and loved it — and saved so much money by staying there.
Odds are, on the first day of your trip, you're not going to be too interested in hitting up the tourist attractions, so give yourself time to unwind. We checked in to our accommodation, had a quick nap, then drove straight to Le Morne. It's home to one of the best beaches on the island, so a fantastic place to fight off the jetlag.
When it comes to dinner, there's one restaurant you must make the effort to visit while you're in La Gaulette and that's Café and Restaurant Heritage Sunset. I know — catchy name, right? But this place is so worth visiting.
It's a cosy, family-run restaurant that serves up traditional Mauritian fare, and it's such a welcoming space that you'll feel like you're dining with the family in their home. And the food was amazing! I recommend the octopus vindaye, in particular. This was our introduction to Mauritian food (so underrated! I'll have a post about it soon) and it was the perfect way to get things kicked off.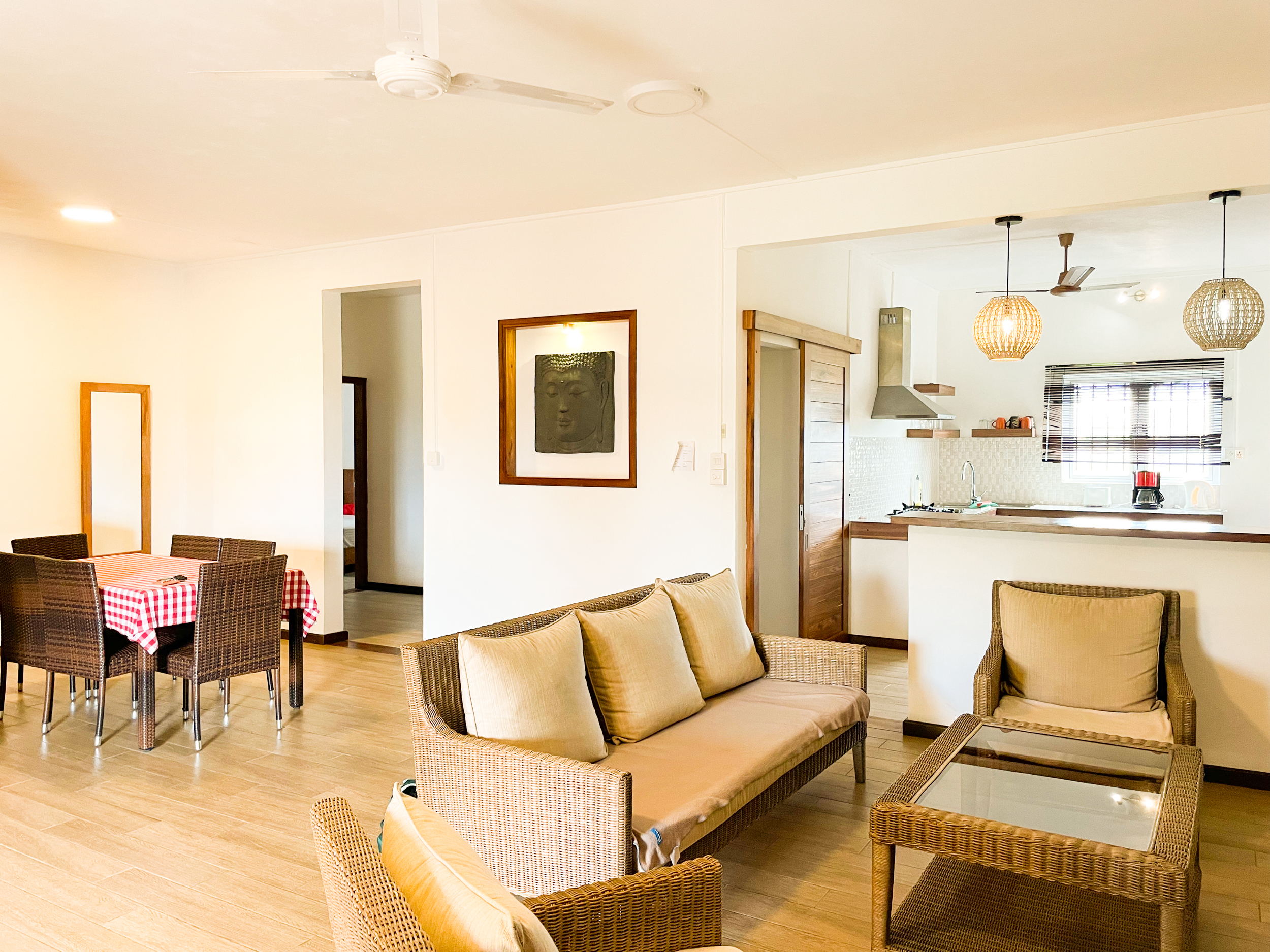 Where to stay in La Gaulette: We stayed in Mountain View, which offered phenomenal value for money. As you can see from my photo: we had a huge apartment to ourselves, with a well-equipped kitchen and spacious balcony. We paid $46 per night for all of that space and couldn't believe how affordable it was, especially given the skyrocketing prices worldwide post-pandemic. This place was great! Friendly staff, excellent location within walking distance of dozens of restaurants and a huge supermarket, and it was clean and quiet. The Wi-Fi was speedy, too, which is always a bonus.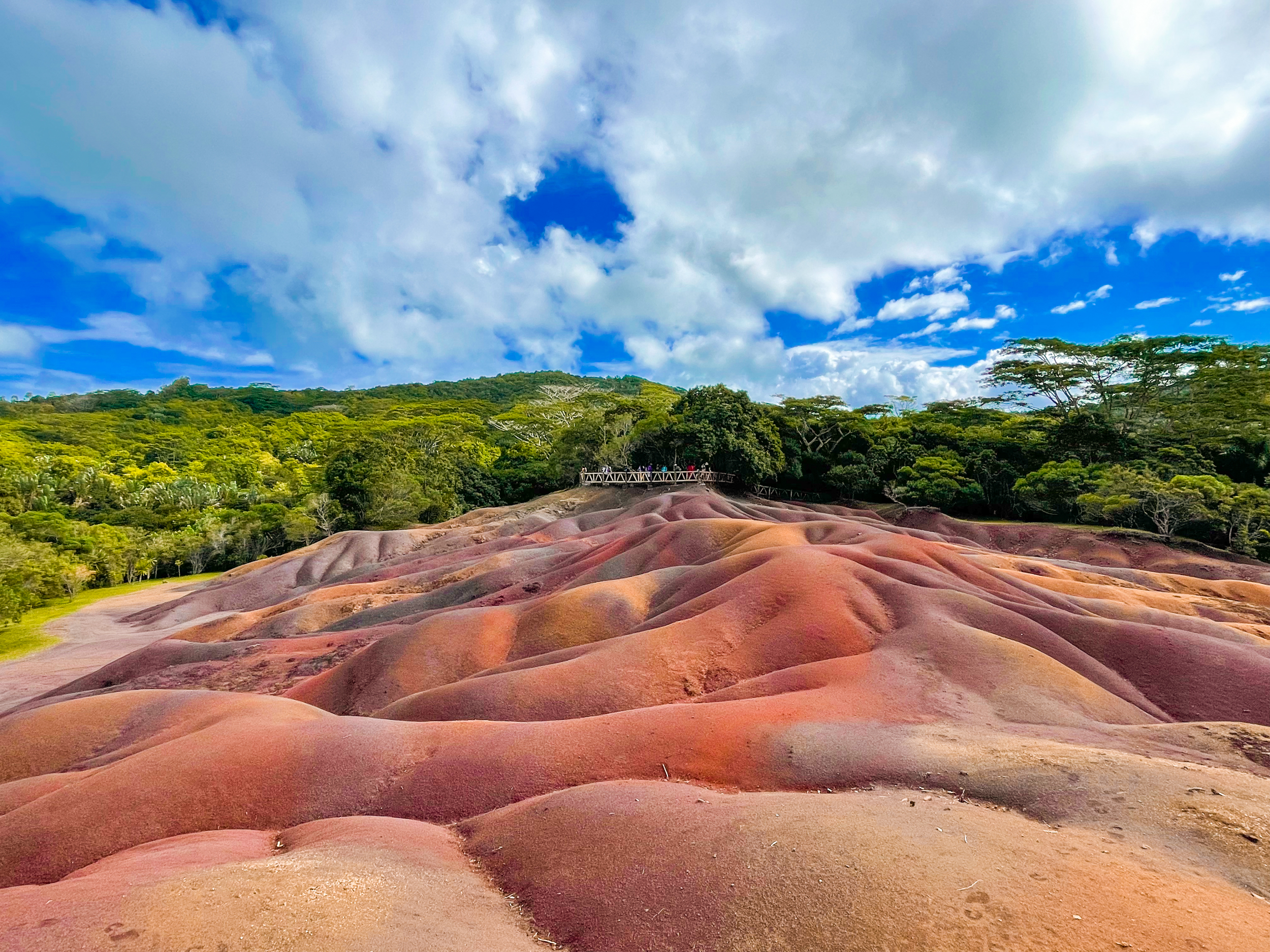 Day Two: Seven Coloured Earths and More
There's a whole bunch of touristy attractions in the southwest of the island. They're all worth doing, though, and all of them can be hit up in half a day. So even though you're most likely in Mauritius to beach it up, I do still recommend taking some time to get your sightseeing on.
First up: the famous Seven Coloured Earths. But before you get there, on the drive to the park, you'll pass a viewpoint, marked on Google Maps as Viewpoint Chamarel. It's a great one, so I recommend parking up there first and taking some photos. From the viewpoint, you'll be looking down on La Gaulette and Le Morne and taking in that sparkling turquoise ocean.
Next, enter Chamarel Seven Coloured Earth Geopark, which has an entrance fee of 225 Rupees ($5) — definitely worth paying for! When you enter the park, head straight to the Seven Coloured Earths. This is one of the most popular attractions in Mauritius, so I recommend getting there at opening time (8:30 a.m.) if you can.
Here, you'll find a series of vibrant sand dunes that feature seven distinct colours: red, yellow, blue, green, purple, violet, and brown. The colours are caused by different minerals in the sand and it was pretty impressive to see in person! Although take note: you can only really see the colours in full sunshine, so I'd try to avoid visiting on a cloudy day.
Located beside the Seven Coloured Earths are half a dozen giant tortoises. This was an unexpected treat for me and I spent a solid ten minutes just watching them munch on the grass.
The final highlight of the park complex is the Chamarel Waterfall, which is one of the tallest waterfalls in Mauritius. At a height of 83 meters, or 272 feet, it's definitely an impressive one! There's a couple of viewpoints here — one beside the car park and one a 10 minute hike up a hill. I preferred the viewpoint at the latter, so recommend taking the extra time and energy to climb up there.
The final stop on your touristy-tour of the southwest of Mauritius is going to be Maconde Viewpoint. This is another famous viewpoint in Mauritius, where you can climb up a few dozen steps and look back towards the mountains and winding roads of the island. This is well worth heading out to, as it really helps give a sense of how mountainous this country is!
Most likely, you'll be done with all of your sightseeing by lunchtime. If so, venture over to Eldorade Resto & Bar in La Gaulette for lunch. It's a cosy little restaurant with excellent samosas and fresh seafood.
With the afternoon ahead of you, I recommend heading back to Le Morne for another stint of sunbathing. Maybe cocktails on the beach? A swing in a hammock in the ocean? It's all possible here.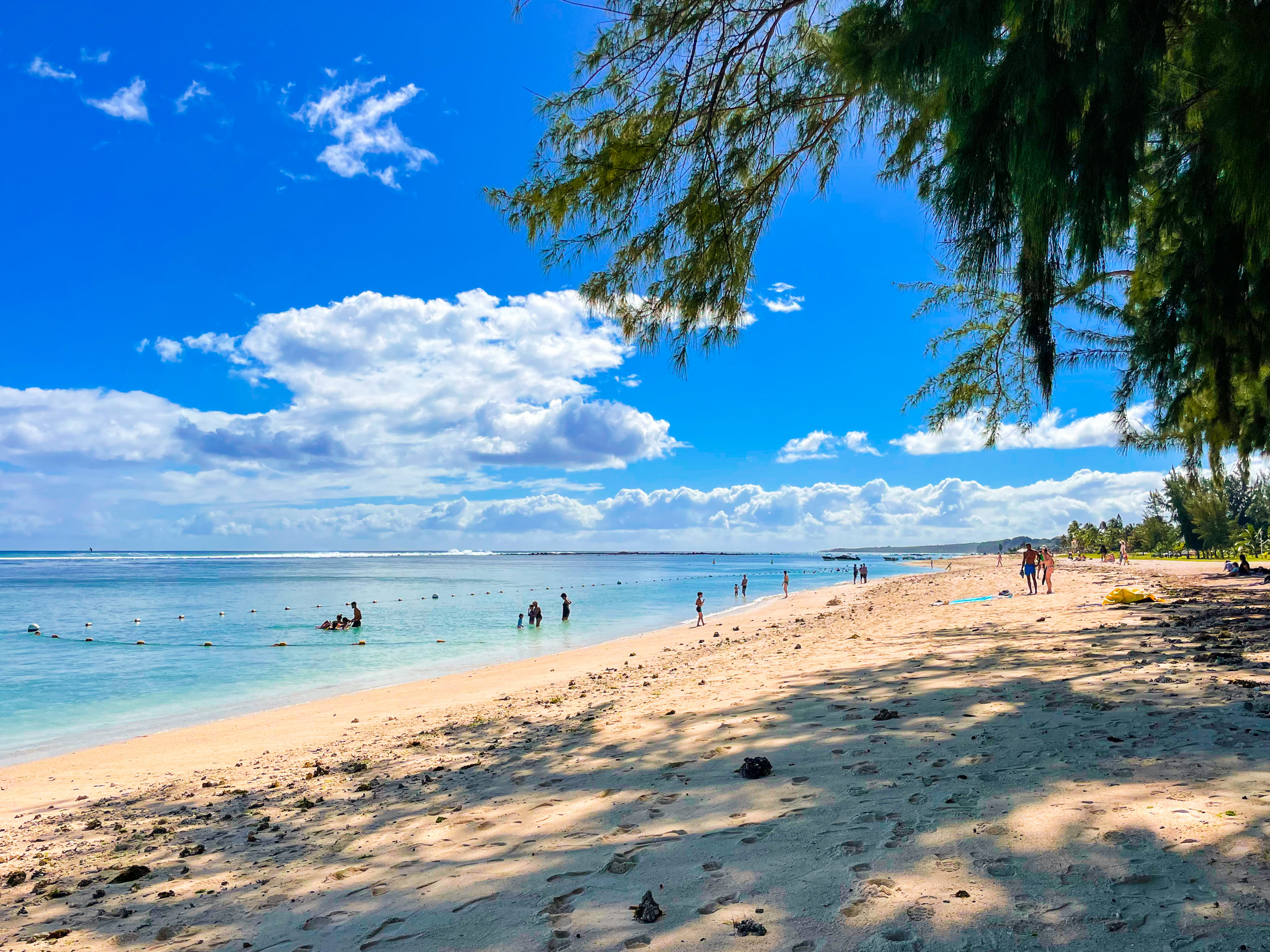 Day Three: Adventure, Followed By Flic-en-Flac
Day three is going to take us to the best-named place on the entire island: Flic-en-Flac. But first, let's set out on an adventure.
You've got two options for your morning of day three: a hike or a boat trip.
A lot of people picture Mauritius as a flat island due to all of its beaches — a bit like the Maldives, I guess — but it has a volcanic history and is subsequently pretty mountainous. If you love a hike as much as I do, you're going to definitely want to tackle the walk up to Black River Peak: the highest point in Mauritius.
Despite being the highest, it's actually a pretty easy stroll — just 560 metres in elevation — and you should make it to the top within 90 minutes or so. (I recommend grabbing a pastry from Vanisha's Magical Cakes before you leave La Gaulette to eat at the summit.) Oh, and the views from the top of the peak? Spectacular.
If hiking isn't your thing, opt for a morning boat trip.
This will take you out to Ile Aux Benitiers: an island that's located just off the coast of La Gaulette. If you want to go about it the adventurous way, simply walk down to the beach and chat to a local fisherman to see if they can take you across: this will cost about 1,500 Rupees (€30/$33) and be fairly bare bones but great for independent travellers. Alternatively, you could book online through GetYourGuide in advance and pay $50 for the experience.
On a typical boat trip, you'll get to snorkel around the spectacular Crystal Rock, swim with wild dolphins, and finish it off with a BBQ on the beach at Ile Aux Benitiers. (Obviously if you just head out with a fisherman, you should pack your own lunch).
Once you've checked off your activity for the day, it's time to get back in the car and set off for Flic-en-Flac. This is just a 40 minute drive from La Gaulette, so no stress. Everything is so close by in Mauritius.
If you haven't eaten lunch by the time you arrive to Flic-en-Flac, there's only one place you should consider heading and it looks a little like this:
I would say that the farata I had from this humble food stall was the best thing I ate in the entire country. Farata is what Mauritians call paratha: basically a flaky flatbread. This stall wraps it up in a roll and fills it with a generous helping of curry. One of them costs just 40 Rupees (less than one U.S. dollar!)
Dave and I ordered one each, then within seconds of our first bite, were queueing up again to get two more! So good! The stall is open between 10 a.m. and 6 p.m., although it usually sells out by 3 or 4, so don't bank on it being a dinner option. At lunchtime, there are huge queues, so expect to wait for up to half an hour. The photo above was taken at 10 a.m. when they'd just opened.
For the rest of your afternoon, kick back and relax on the beach in Flic-en-Flac.
Like Le Morne, this is another beloved beach on the island with warm, calm waters and sparkling, white sand. What I love about Mauritius is that so many of the beaches have grassy stretches beside the sand and plenty of trees that aren't palm trees. What that means is that you can lie down in the shade, avoid getting sandy, and not have to worry about a stray coconut knocking away your consciousness.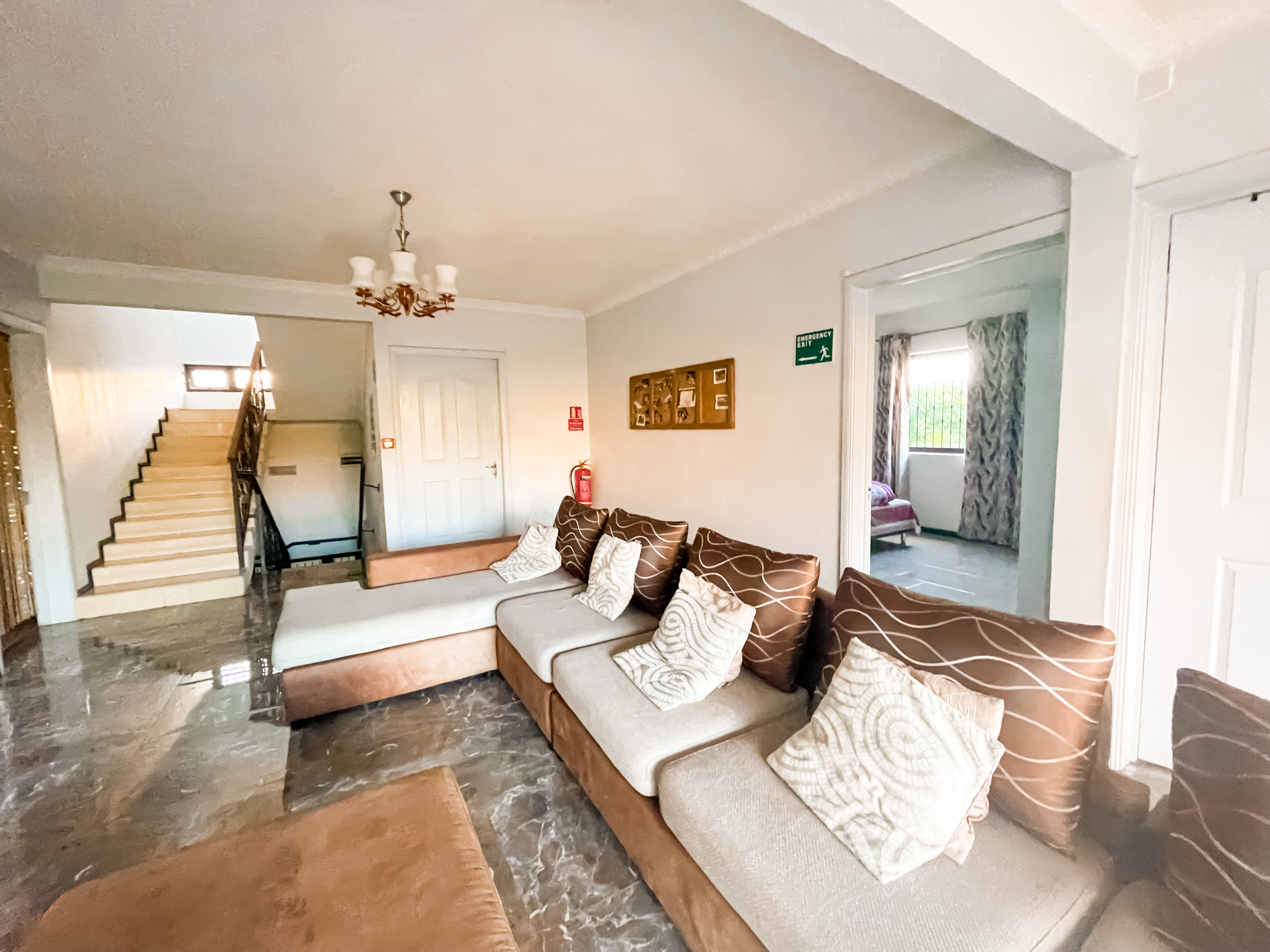 Where to stay in Flic-en-Flac: We stayed in Aux Plaisirs de la Viex at a price of $47.50 a night. This was the most expensive place we stayed at in Mauritius but it did have a swimming pool! Like I've said and will keep saying: Mauritius offers so much value for money! This was a lovely guesthouse with welcoming, friendly owners. The rooms were clean and modern, and there was a large balcony for beers at sunset. It was in a good location, less than a 10 minute walk from the beach and surrounded by dozens of great restaurants. And that swimming pool! It was particularly nice to have access to a pool.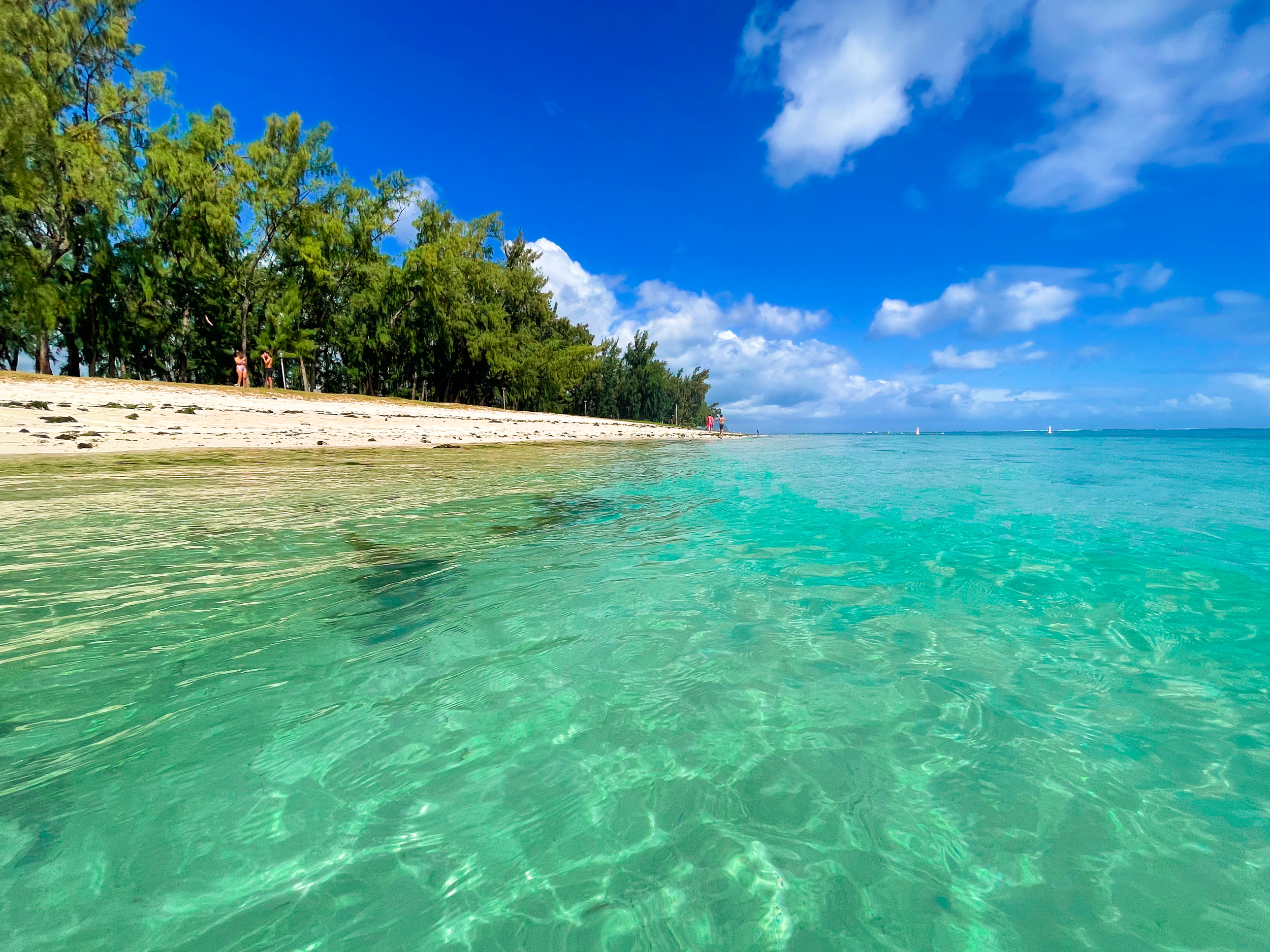 Day Four: Beach Daze
We've been packing in the activities and movement during the first few days of the trip, so allocate day four to rest. Flic-en-Flac is home to one of the best beaches in the country and you're in Mauritius after all: why not enjoy it?!
In terms of food recommendations, we kicked off our mornings with a coffee and a pastry from La Kaz à Pain. Lunches must only be had at the aforementioned Farata AKA Vinoda, and for dinner we loved Marco Polo Resto & Bar and Mosaic (definitely try the prawn rougaille there!).
There's a few activities you could opt for if you're not really a beach person, but they're not particularly interesting, so don't say I didn't warn you!
There's Trou aux Cerfs, which sounds like it should be a really cool activity. It's an extinct volcanic crater that you can drive up to and walk around. However, it's mostly just a dip in the ground with a lake in it. The views from the crater are quite impressive, though, so you might find the trip out there worth it for those.
There's also Quatre Bornes Market, which you might find interesting if you're keen to see how the locals shop. There's a few stalls offering fruits and vegetables, but it's mostly clothes and household goods for sale. Prices are quite inflated, too, so I'd recommend keeping your market browsing for tomorrow, when we'll drive through Port Louis.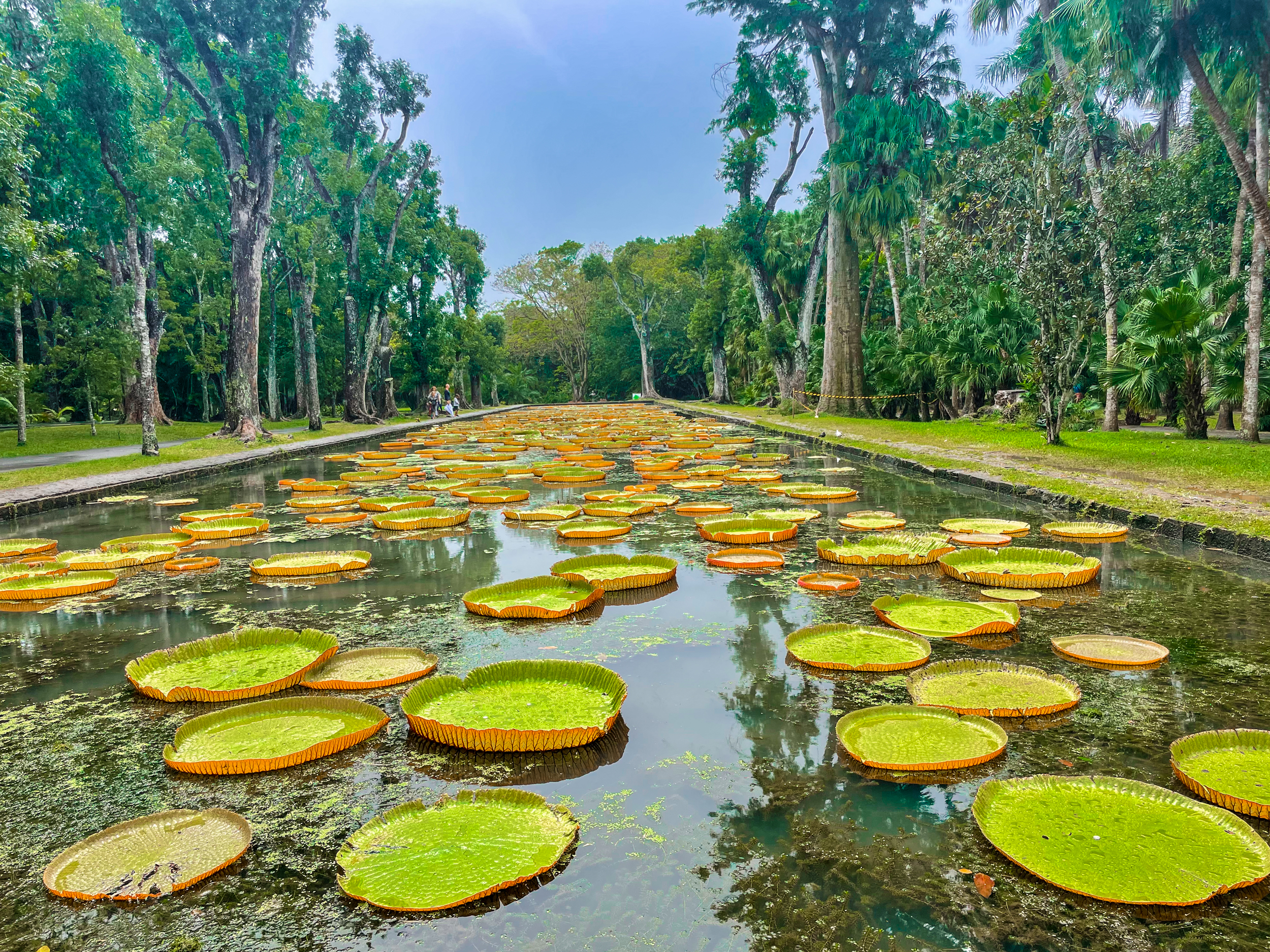 Day Five: Head North
For day five, we're heading to the north coast of Mauritius, which is probably the most touristy part of the island.
If you've read this site for any amount of time, you'll already know I tend to prefer lesser-visited regions when I travel, but in this case, I have to hold up my hands: this was my favourite part of Mauritius. I really loved it there.
Before we get to the north coast, however, we're first going to spend a few hours in Port Louis, which is the capital of Mauritius. You have to drive through it to get to the north anyway, so you might as well make a stop.
I found this part of the island fascinating and it's likely the opposite of what you're picturing when you think of Mauritius. As in, many of the streets look like this: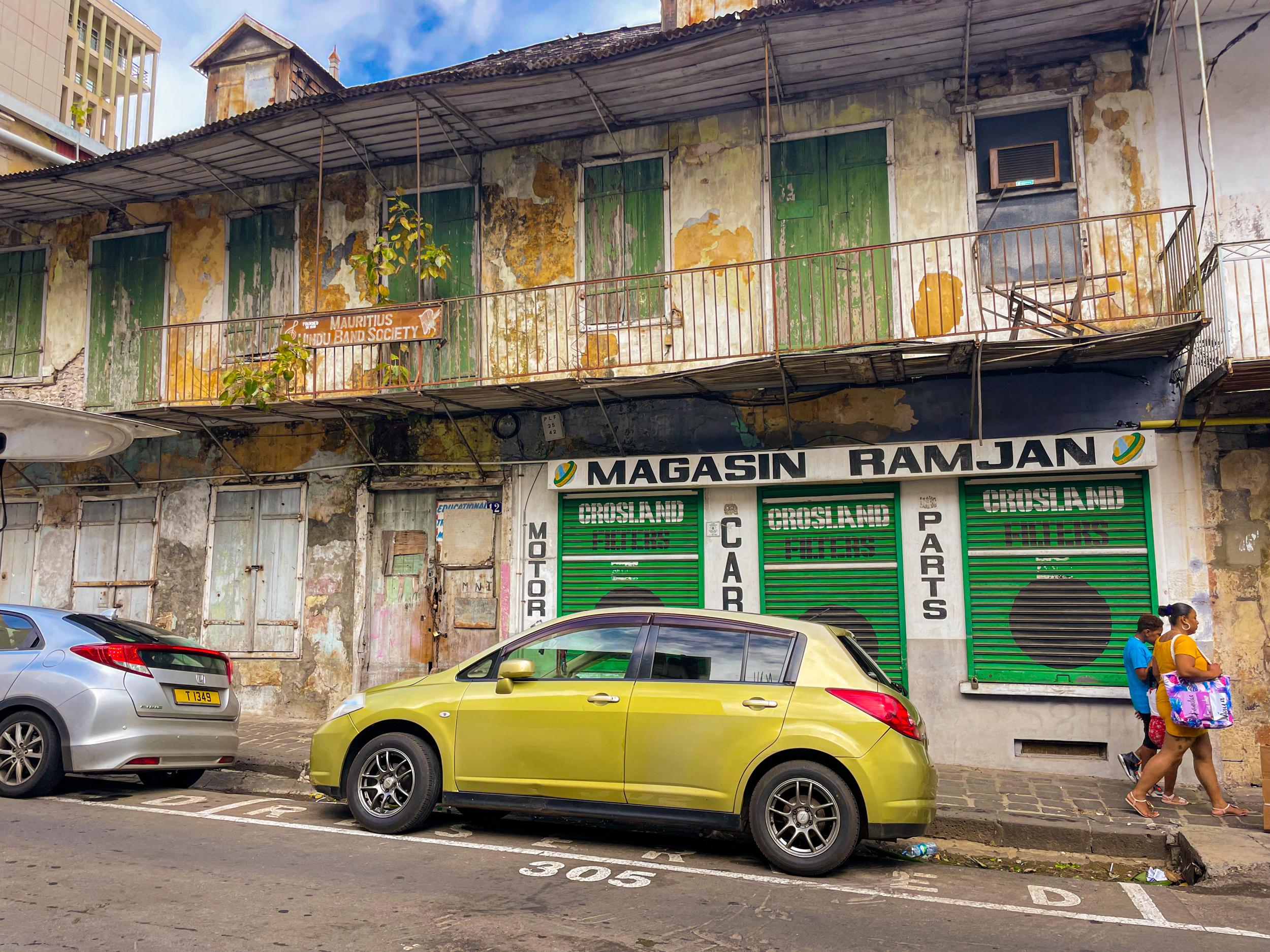 Don't let the lack of beauty put you off visiting, however: there's several great reasons to head to Port Louis.
The first of these is the food. Port Louis' Central Market is going to be a real culture shock if you haven't visited an African market before. It's loud, chaotic, confronting, and exhilarating, all in equal measure. Truly an assault of the senses — but especially for the nose. Dave and I walked into the meat market and were greeted by a hundred carcasses, just hanging out in the room-temperature hall.
Outside of the meat market, there's plenty of local food vendors offering up cheap eats. I also recommend the Port Louis street food tour to help you sample the local dishes without feeling intimidated. The tour lasts for three hours and takes you all over the city.
When you're as full as can be, venture next to Aapravasi Ghat, one of only two UNESCO World Heritage Sites in Mauritius (the other is Le Morne). Aapravasi Ghat is a small museum (you could see it all in 30-60 minutes) that details the history of immigration in Mauritius.
After the abolition of slavery, the British needed a way to maintain the island's thriving sugar plantations. And so began the first real experiment with indentured labour. Thousands of people arrived on the island — predominantly from India — where they worked in the fields in exchange for food, shelter, safety, and a new home.
Between 1834 and 1920, half a million indentured labourers arrived from India and today, the vast majority of Mauritians are descendants of these immigrants. (It's also why the food in Mauritius is so good!)
The final place on your Port Louis hitlist should be Sir Seewoosagur Ramgoolam Botanical Gardens — I was so impressed with this vast space of greenery! One of the big draws of the gardens is the Giant Lily Pads, which can grow up to two metres in diameter.
What I was really excited to see, however, was the talipot palms. These rare palm trees grow for 75 years before they flower and fruit. And the energy that it takes to do so is so vast that the tree then promptly dies.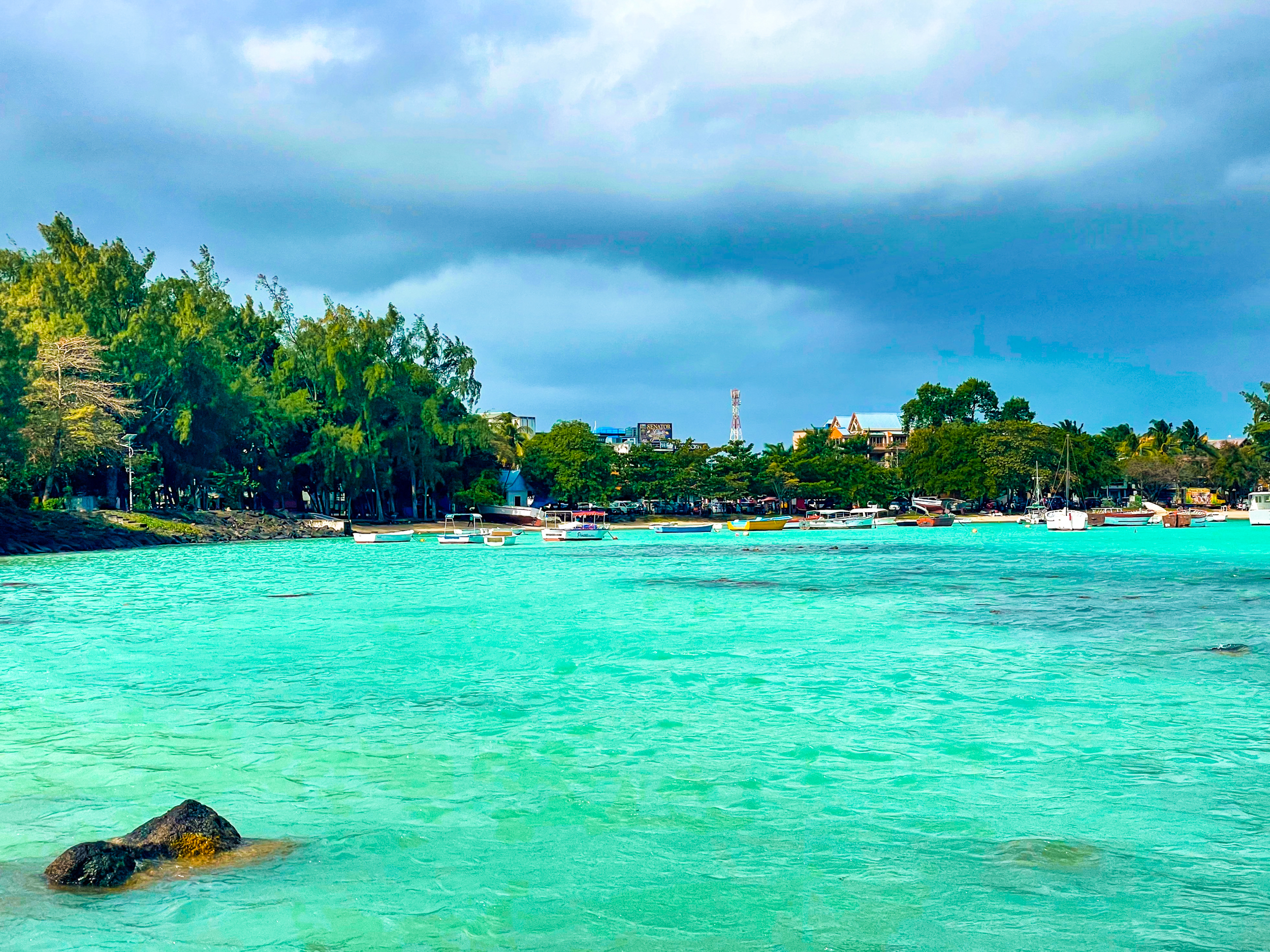 Moving on from Port Louis, you'll now head up to the north coast to your accommodation for the next couple of nights. There's three main options here: Grand Baie (super-popular with European tourists, tons of restaurants and nightlife, seriously beautiful water), Troux-aux-biches (best beach on this part of the island), or Mont Choisy (more local, quiet, great for budget travellers).
No points for guessing where we opted to stay.
After checking in to your accommodation, I recommend spending the rest of the afternoon or evening in Grand Baie. This is the best place on the island to go shopping for souvenirs. And for dinner, there's a seriously excellent Greek restaurant called the Trojan Horse in the middle of town. I know, I know — but by this point, we were craving a deviation from curry.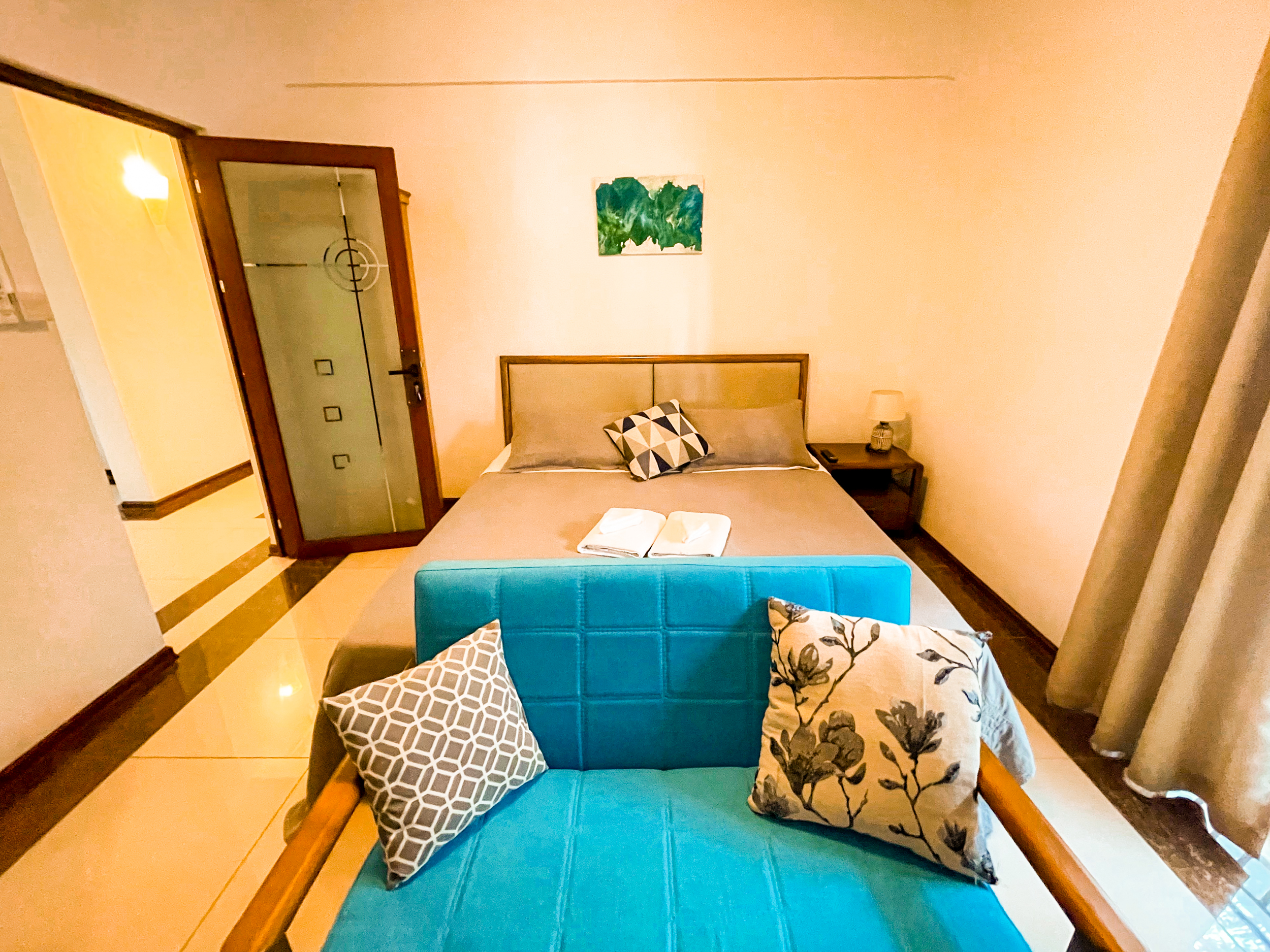 Where to stay in the north of Mauritius: We stayed in Residence Le Point Choisy in Mont Choisy at a price of $30 (£24/€28) a night. Again, what great value for money! Our room was clean and modern, with a small balcony and decent bathroom. The staff were friendly and there were beach toys and umbrellas to borrow for free. It was in a great location, within walking distance to the beach and plenty of excellent restaurants.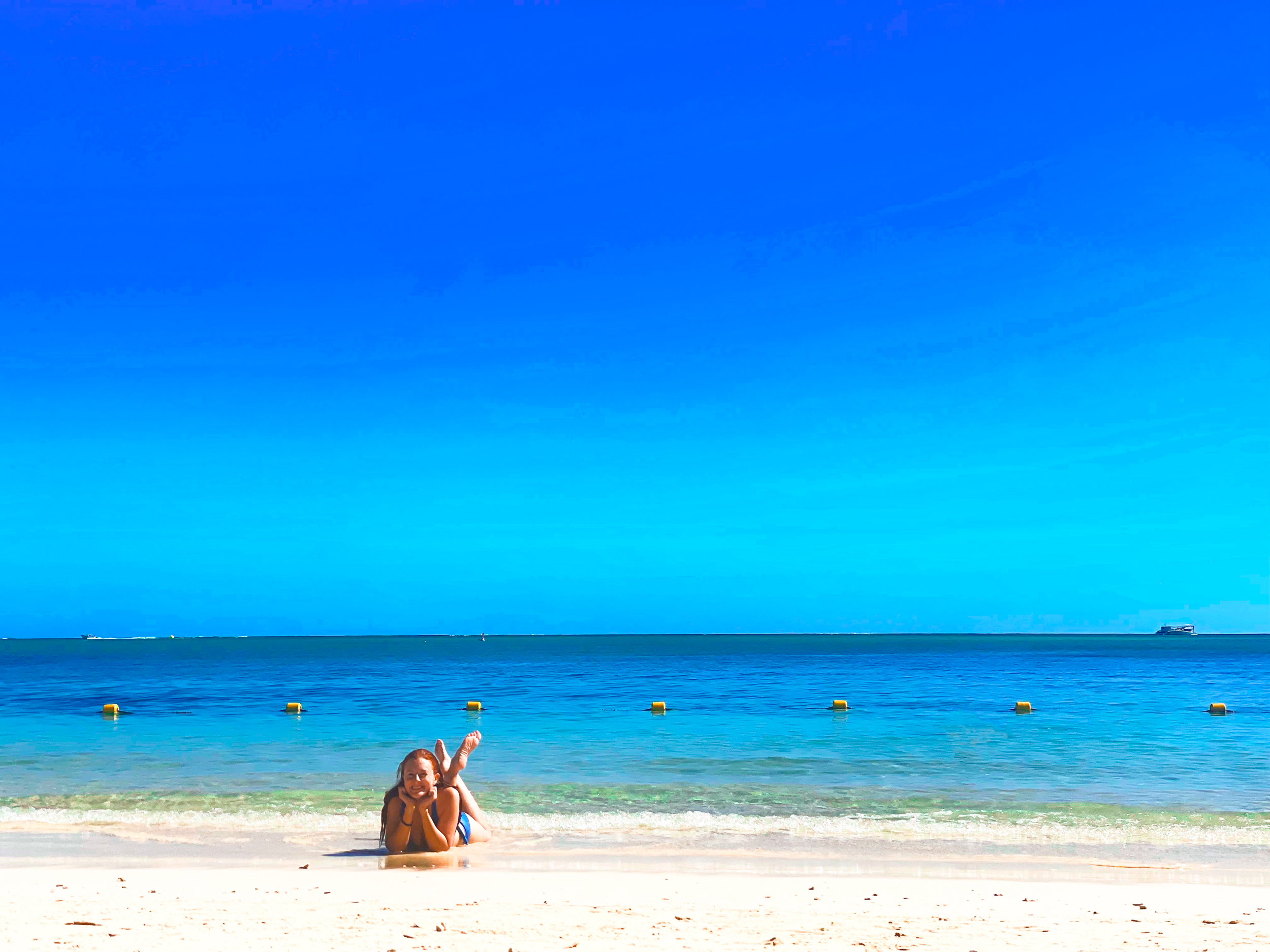 Day Six: An Epic Beach Day
I was obsessed with the beach in Mont Choisy and it quickly became my favourite spot on the island. In fact, when I next return to Mauritius, I would most likely choose to spend a week just there; I warmed to it so much.
What did I like about it? I dunno, it just passed the vibe check. It was a feeling. It reminded me a lot of Otres Beach, back in 2012. It reminded me of Koh Yao Noi in 2013. Sayulita in 2014. You guys know the types of beaches I love.
It's laidback, quiet, and beautiful — but importantly, less beautiful than nearby beaches so it doesn't attract the crowds. There's a multitude of food carts on the beach so you can eat lunch without having to leave your beach towel. There's warm, calm, turquoise water that is perfect for swimming in. You'll see some seriously remarkable sunsets.
It's a little less manicured than everywhere else, but that's what makes it so chill.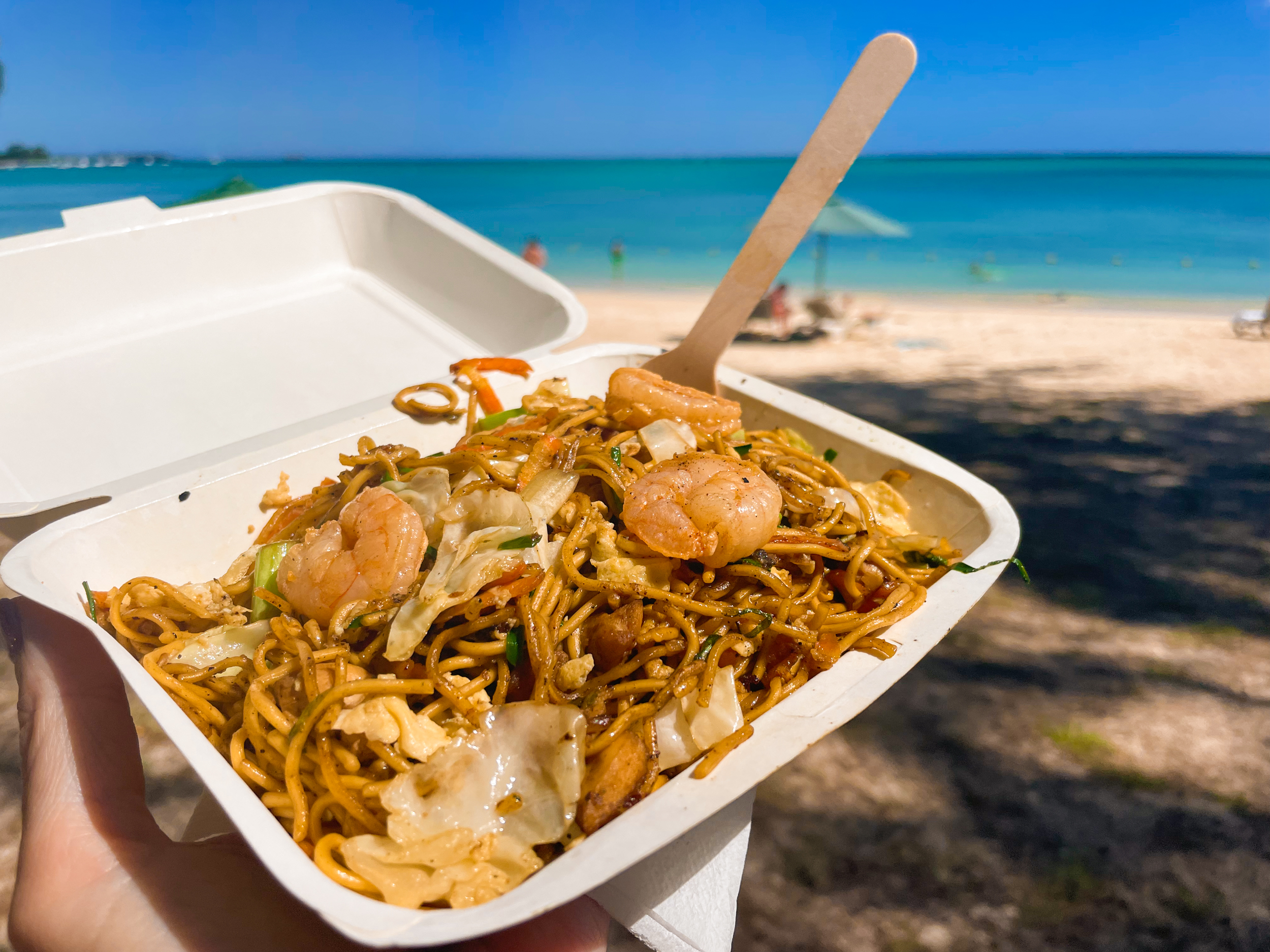 Still, the north of Mauritius is lined with beautiful beaches, so there's plenty of other options if Mont Choisy isn't your jam.
Trou-aux-biches is slightly prettier and has more options for eating, as well as more expensive accommodation. I thought I'd like this beach the most, but it just didn't have the same cosiness of Mont Choisy.
Grand Baie is the most lively part of the north. You've got a very small stretch of sand at the marina but as you saw from my photo, the water is particularly impressive. It was identical in colour to Bora Bora! There's tons of restaurants here, too, so plenty of options for meals.
I thought the most picturesque beach of the region was Pereybere Beach. It was so, so, so beautiful! But it was also very crowded and there were a lot of touts trying to sell you a boat trip. Still, this one is definitely worth a look, but I'd save it for tomorrow.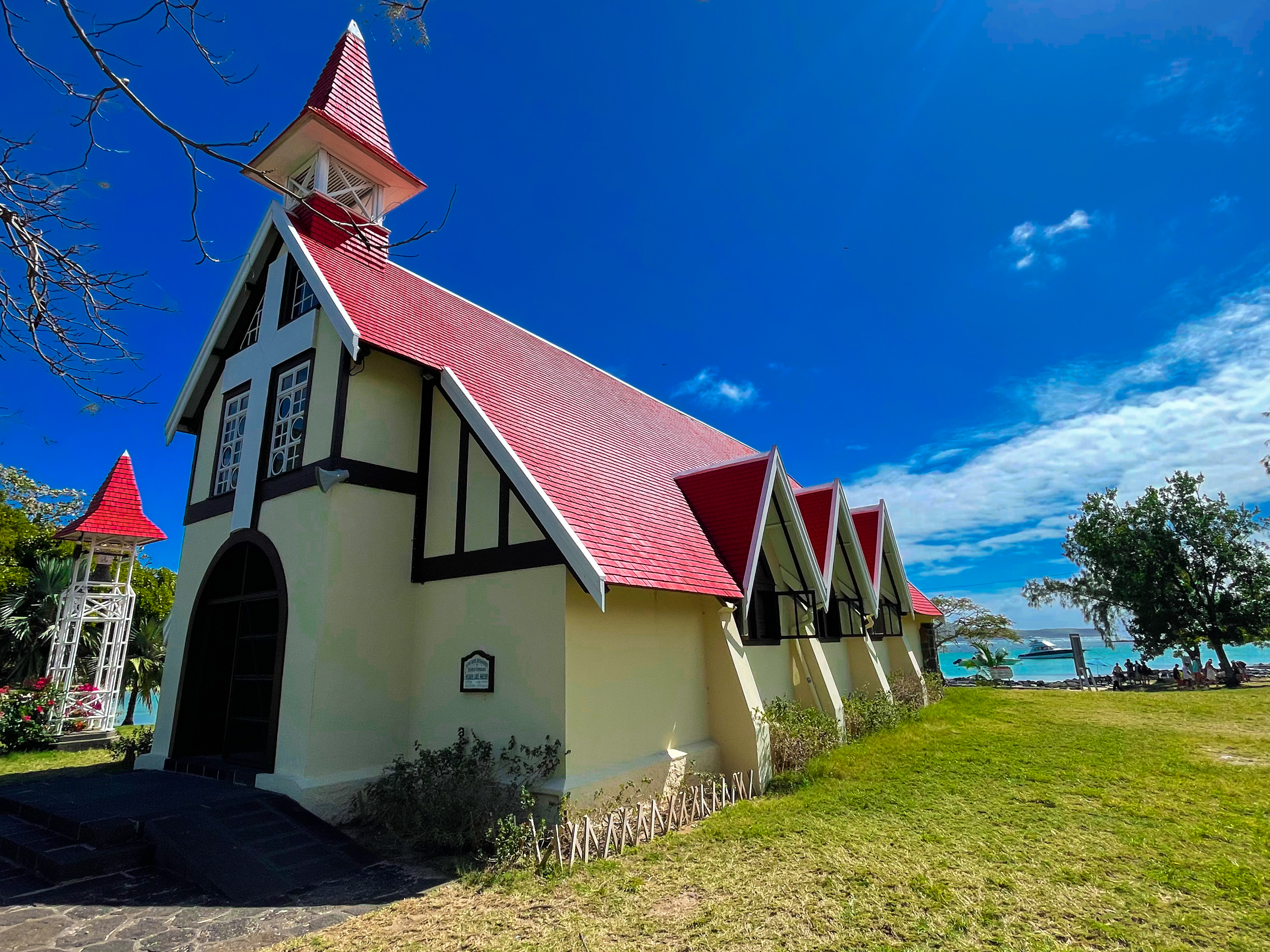 Day Seven: East Coast Swooning
For your final day in Mauritius, I highly recommend dedicating it all to the east coast.
Not many people opt to stay on the wild and rugged east of the island — mostly because it's extremely windy and who wants to get sandblasted on vacation? It is, however, popular with kite boarders, so there's tons of watersport schools lining the beaches.
Even if you're not into wind-themed activities on your holiday, there's so many cool sights along the coastline. We spent about nine hours winding our way down to the airport — a drive that's only 80 km (50 miles) in length! That should give you some idea of how much there is to do here.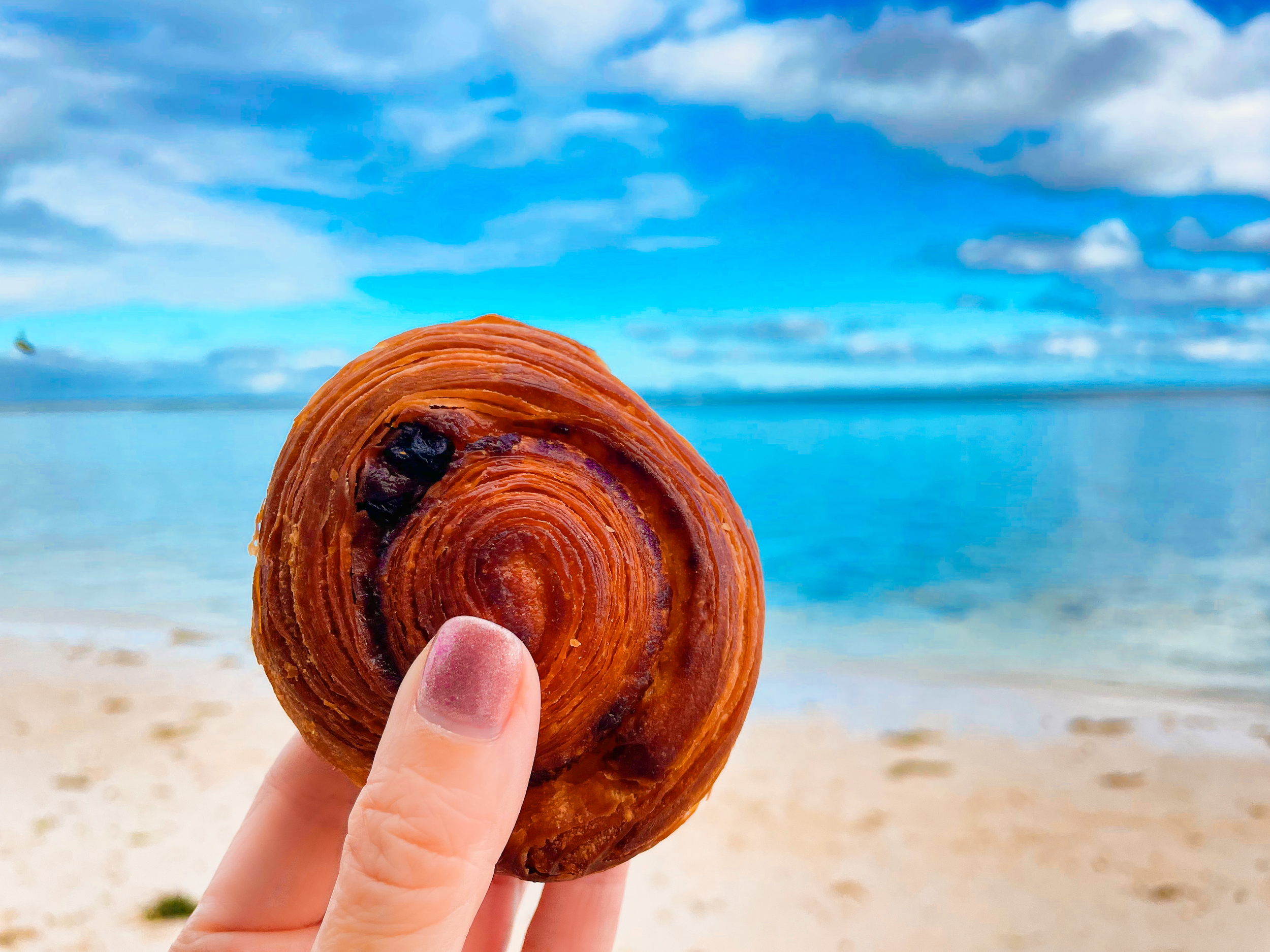 Kick off your day with a breakfast visit to Theo Fourneaux: a lovely little cafe that does the best coffee in Mauritius, as well as some delicious pastries!
From there, it's time to hop your way along the rest of the beautiful beaches in the north. Pereybere Beach is a must-visit if you didn't hit it up the day before, and Bain Boeuf Beach is almost as impressive. Both are definitely worth a short stop to soak up some of those final beachy vibes.
Your next landmark is an iconic one. Notre-Dame Auxiliatrice: the red-roofed church in the photo at the top of this section. This is a famous Roman Catholic church located in Cap Malheureux, and is one of the most photographed buildings on the entire island. Do take some time to walk past the church and towards the beautiful beach. It's quite the scenic setting, with distant islands, white sand, and clear waters.
The next beach on the list — Anse La Raie — is going to introduce you to the Mauritian gusts. With almost 300 days of wind per year, this beach is always lined with kitesurfers and windsurfers; it was so much fun to watch the beginners struggling to stand while the experts were soaring 20 feet in the air.
If you're French, you might find it interesting to visit the Paul and Virginie Monument in Poudre d'Or. This site is connected to the renowned French novel Paul et Virginie, which is set on the island and narrates the lives of Paul and Virginie, raised together in Mauritius. In the story, their peaceful existence takes a tragic turn when a devastating shipwreck occurs. The novel was based on an actual shipwreck that the author witnessed in the Mauritius; this memorial marks where it happened.
If you've never heard of the book, don't bother visiting, as it's just a memorial stone. It's not super exciting.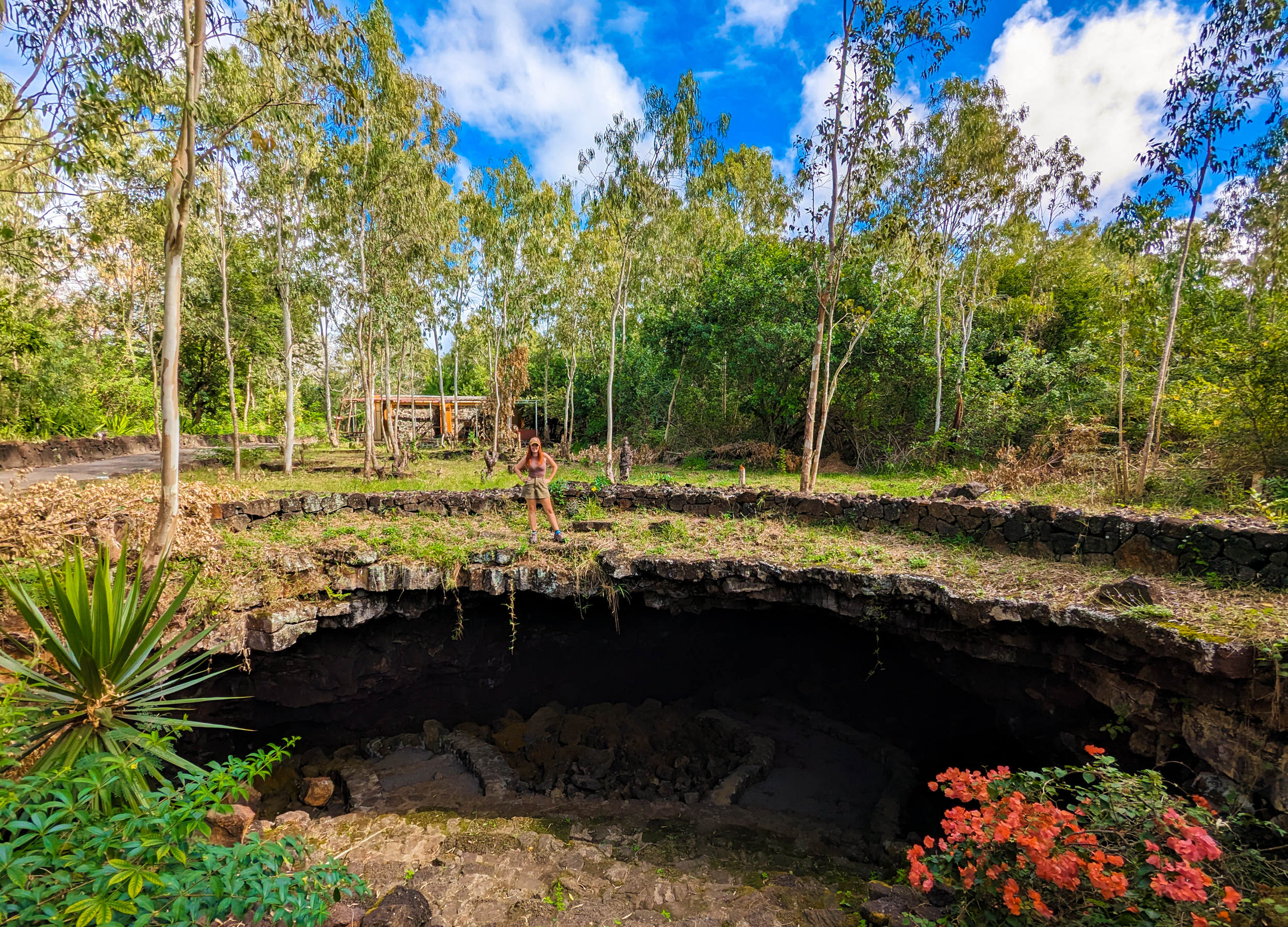 We've got one more stop before lunch: the Roche Noire Lava Tubes. Now, this is a pretty off-the-beaten-track activity in Mauritius, with basically no signage and absolutely no tourists. But we were glad we visited, as it was such an unusual experience.
The lava tubes here were formed by volcanic activity millions of years ago, when molten lava flowed from eruptions on the island's central plateau. As the lava ventured on its journey, the outer layers cooled and solidified while the inner molten lava flowed onwards, creating tunnels or tubes. And now you can walk through them!
As you can see from the photo, it's pretty dark inside, so you probably won't get far with just a smartphone torch, but it's still worth having a little wander inside. Where else in the world do you get to stroll through a tube of solidified lava?
For lunch, head into Flacq, which is the largest district in Mauritius. Much like Port Louis, it's home to a central market that's extremely bustling. It's an excellent place to eat, though, and I recommend sampling any local dishes you haven't had a chance to try yet. If street food isn't quite what you're craving, we had an excellent smoked marlin sandwich at The Cafe Radisson Blu Azuri Mauritius — it's located just before the lava tubes.
From Flacq down to Mahebourg, near to the airport, you'll encounter much the same as you have so far: windswept beaches as far as the eye can see!
We really liked Belle Mare Public Beach and recommend taking a few moments at Pointe du Diable (which is lined with canons from fighting between the French and British). You can also see the spot where the Dutch first landed on Mauritius (yes, there's a lot of colonialism in the country's history!)
And that's about it for your road trip around Mauritius! We had a 10 p.m. flight that evening, so dropped off our rental car and headed straight into the airport. If you aren't flying out until the following day, spend a night in Mahebourg at Ecozy Studio — $55 a night and an average rating on Booking of 10.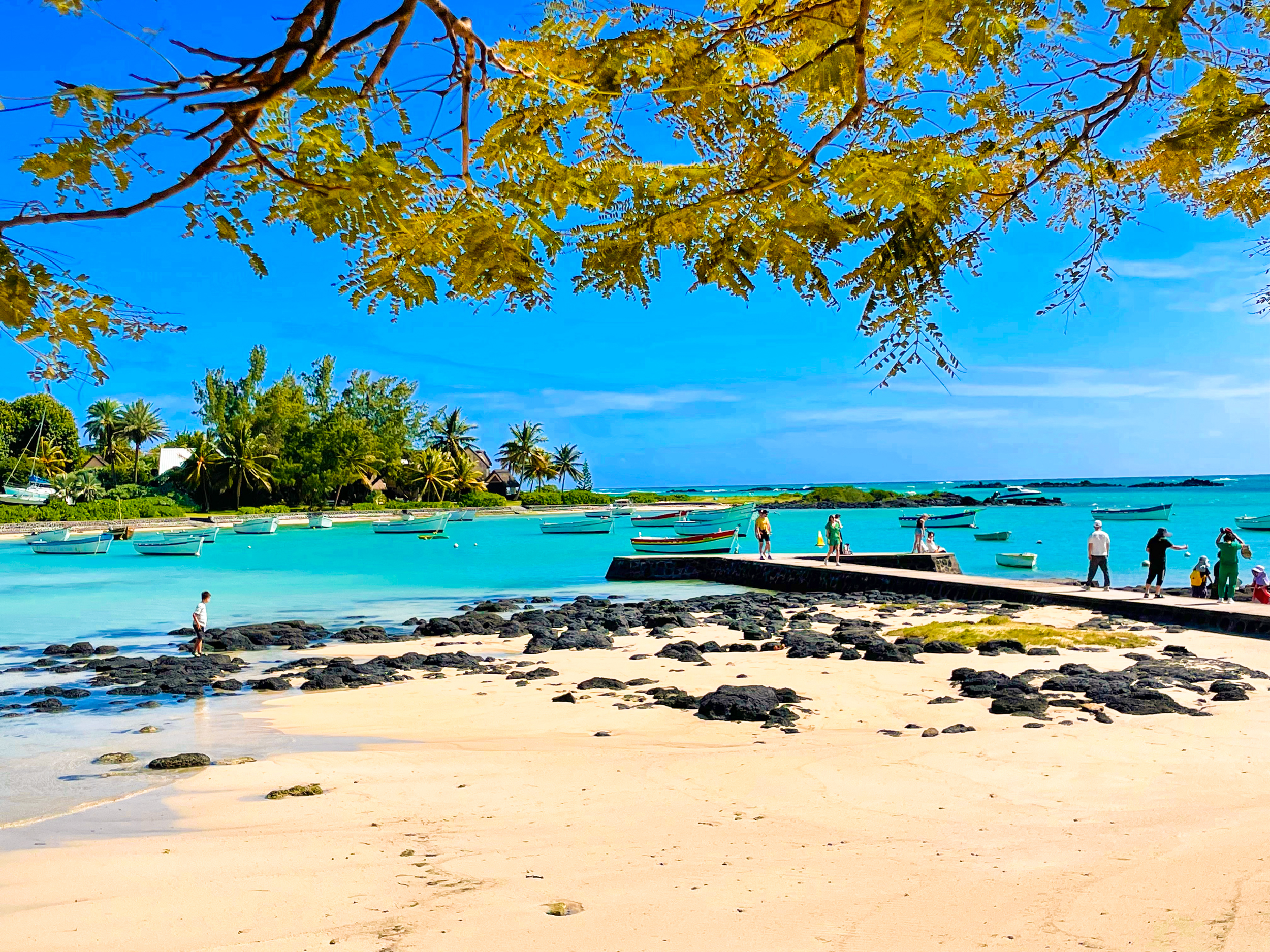 And That Was Mauritius!
I had an incredible week-long trip to Mauritius and have been singing its praises to anybody who will listen.
Not only is it relatively inexpensive to visit from Europe, but it's affordable once you're on the ground, is home to some incredible food, feels super-safe, and offers up some amazing beaches.
When are you going to book your ticket?