Choosing to move to Sayulita was a spur of the moment decision. Dave and I were looking to head to Mexico in September and were overwhelmed by the recommendations we were receiving from friends: Puerto Vallarta! Acapulco! Mexico City! Oaxaca! Playa Del Carmen! Tulum! Cozumel! We didn't know which to chose, and we kind of wanted to choose them all. Our solution was to head to Skyscanner and find out where in Mexico would be cheap to fly to from Austin, Texas. For just $100, we found ourselves booked on a flight to Puerto Vallarta! So, uh, where is Puerto Vallarta? I knew nothing about it.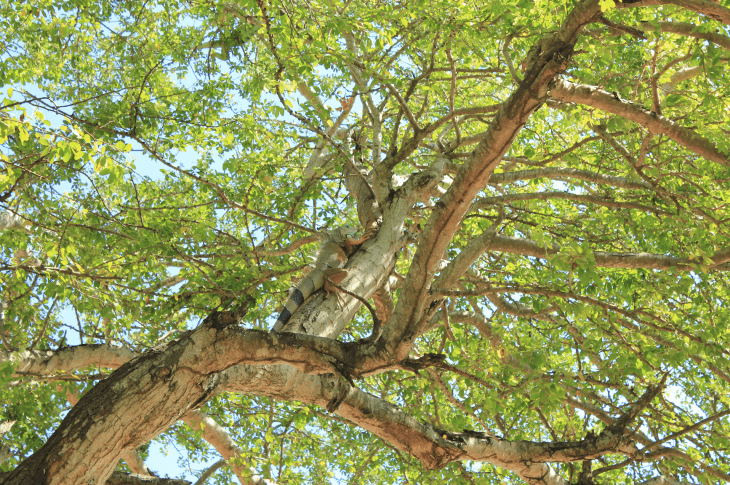 With flights booked, we spent the next few weeks slowly eliminating cities and towns in the region — Puerto Vallarta for being full of resorts, San Pancho for being too quiet — before finally settling on Sayulita. Sayulita, a hippie beach town full of surfers and partiers and retired expats.
We began to search online for monthly rentals in Sayulita. Then came the real research.
You see, there isn't really a lot of information on Sayulita online. There's a few outdated blog posts speaking of $500 a month apartments… except now these posts are filled with comments from desperate travellers wanting to know how on earth they can find said apartments as nothing seems to be under $1000 a month.
There's the website Sayulita Life, which lists quite a few apartments online. The majority of them were way out of our budget ($150 a night for a small 1 bedroom place?), and the rest unavailable for three months straight.
Airbnb was even more depressing, with prices showing as being higher than anywhere I stayed during my three months in the US. $2000 a month for a small apartment? No thanks. A friend of ours had a friend of a friend who had apartments he was renting out in the region. We emailed to ask how much they were and were told it would be $1500 a month. This wasn't sounding particularly promising.
Our next step was to speak to friends who had lived in Mexico recently, and we were slightly relieved when they told us not to panic, not to book anything in advance and to just turn up and ask around.
Agreeing with Dave to stop researching and stop worrying, I still found myself anxiously browsing overpriced apartments in Sayulita and getting more and more frustrated. I even researched back-up plans and came up with a list of towns on the Pacific coast that would be cheaper. I was convinced we wouldn't be able to find something.
And then we flew to Puerto Vallarta.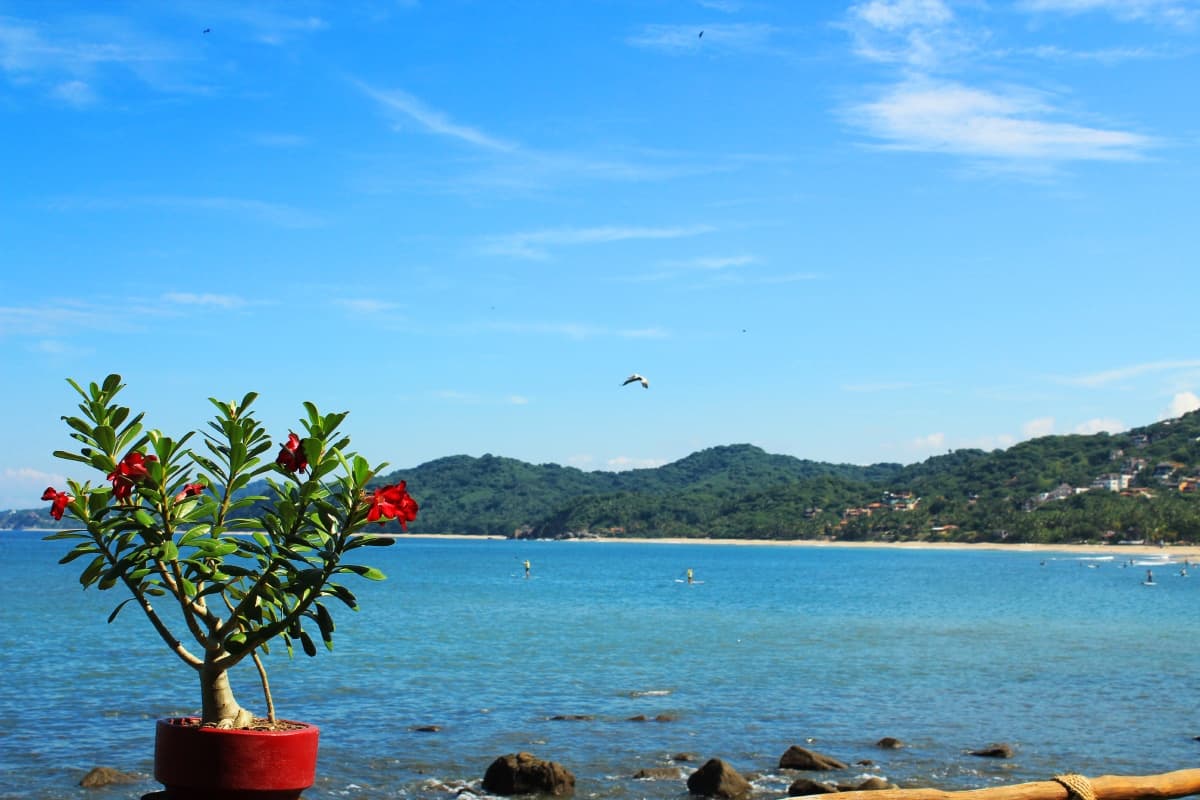 We had two nights booked in a Puerto Vallarta hostel that we intended to use as our base as we searched the region for apartments. Our vague plan was to speak to anyone and everyone at the hostel in the hope that they would know somebody who was renting out an apartment in Sayulita.
No luck.
And so we crossed our fingers and I tried not to vomit as we took a bumpy bus over a winding road to Sayulita.
It was 32 degrees and more humid than we were used to, and we had no idea where to even start looking. We trudged down the sandy path and spoke to the staff at the first hostel we came across:
"You want to rent an apartment? … For a few months?! I… don't know of anybody doing that. Sayulita is very expensive though. It is so expensive here."
"How expensive is very expensive?" I gulped.
"Oh… I don't know. I just know it is now so expensive here."
We left the hostel and picked a dirt track to wander down. Half the houses had gaping holes in concrete blocks for windows and roosters roamed the "street". There was nothing for rent that we could see, it was time to go back to the main street.
Sayulita is a rather small town. Population estimates online put the figure at somewhere between 1000 and 4000 residents, and it's growing every year. While I personally love small towns, especially when they're by the beach, this was seriously limiting our accommodation options.
As we walked past Se Renta notices on empty houses with just a phone number listed things started to feel a little hopeless. While there was a time, around ten years ago, that I was somewhat fluent in Spanish, I hadn't spoken it since then and could now only just get by ordering in a restaurant. Dave's Spanish vocabulary was limited to around ten words. We'd be hopeless negotiating seeing an apartment and bargaining a price in Spanish — yes, calling around would be our last resort.
We just didn't know what we were doing.
We wandered aimlessly down the street in desperation, unsure what to do. We happened to stop and look at the window of a real estate agent's, scanning the listings to see if anything was for rent.
"Can I help you?'
"Yes! Um, we're looking to rent an apartment for two or three months?"
To our disbelief, Eduardo, the guy working there knew of one place for rent, and took us there to see it.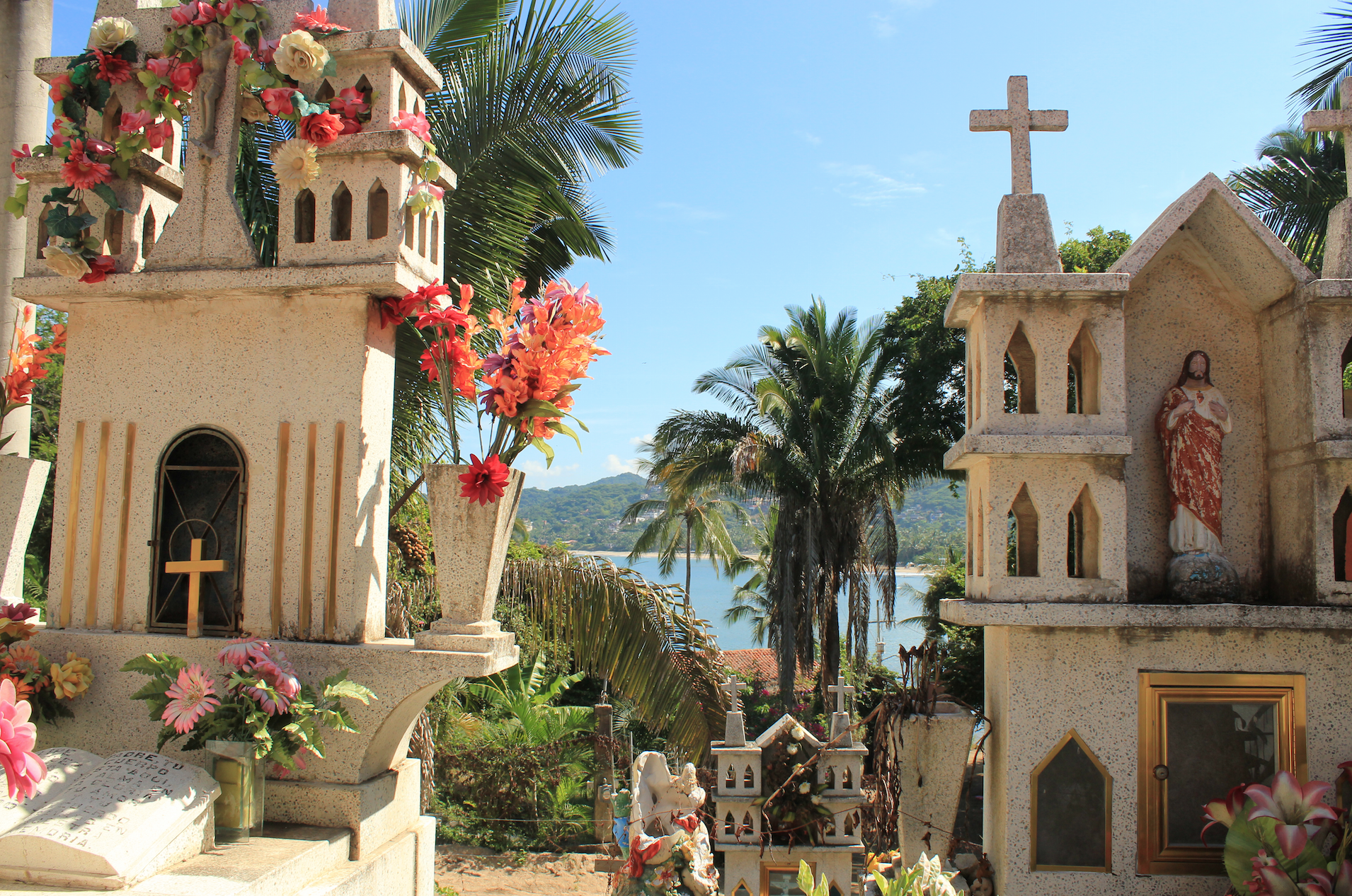 The apartment was small, though. However, it was also very cheap. For $300 a month, I could barely control my excitement at finally discovering somewhere affordable!
WE SHOULD TAKE IT RIGHT NOW!
But we'd brought with us a checklist — a must-have list and a would-be-nice-to-have list. On our must-have list was air conditioning, a kitchen and a work space. Of these it had just one — air conditioning. I knew that spending three months working on a bed in a tiny room would be unpleasant, and I really wanted a kitchen.
I just didn't know if we'd find anything this cheap… and I liked Sayulita! I really wanted to live here.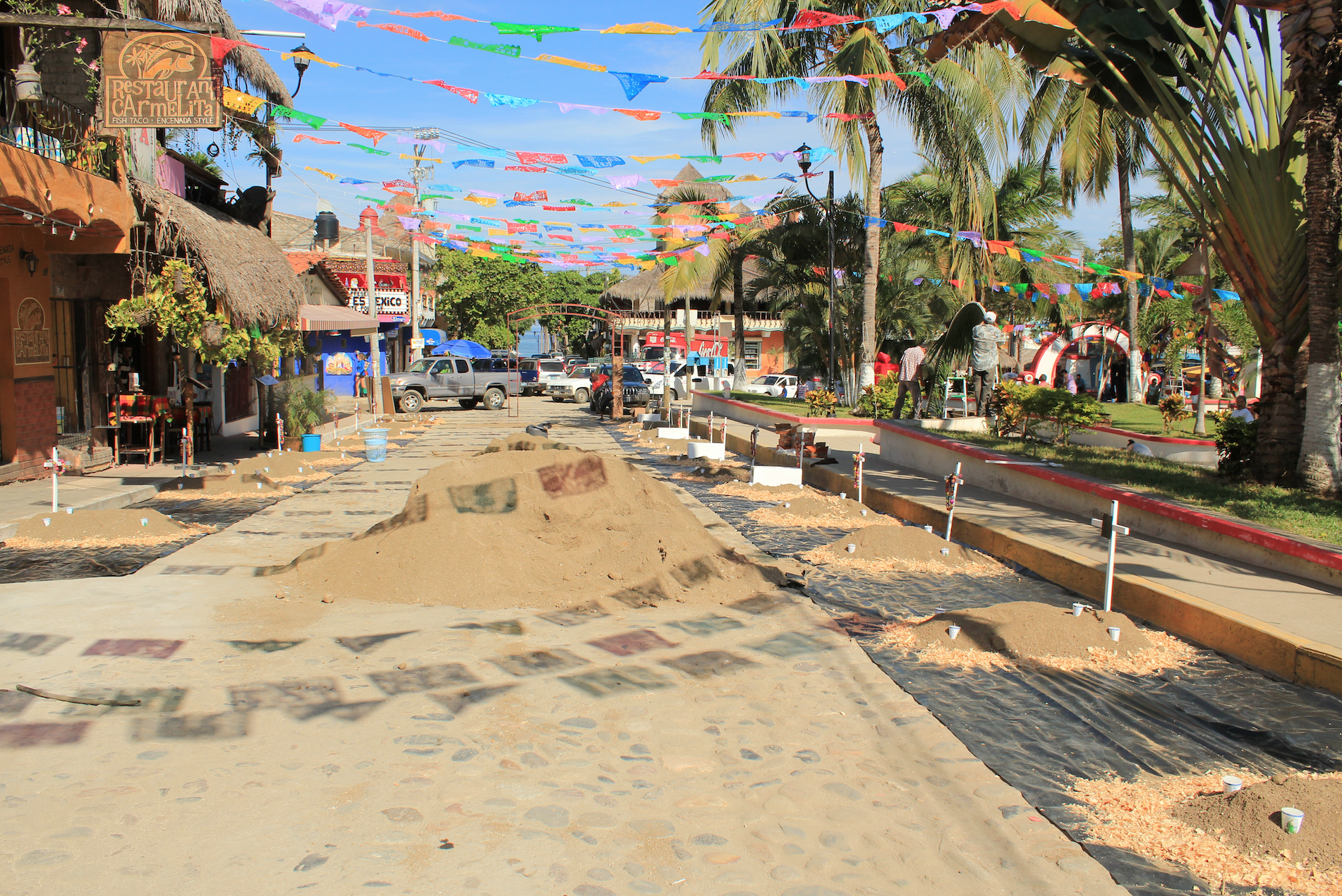 And so we spoke to the landlady and told her that we'd have to think about it. We just weren't sure because we wanted a kitchen and a work space and… she responded by taking us onto another floor that held the perfect apartment!
It had every single item on both our must-have and would-be-nice-to-have lists. It had everything and it was perfect. I exchanged excited glances with Dave and knew he was just as happy as I was. This was it.
We had found our apartment.
With approximately two minutes of half-hearted bargaining we had settled on a monthly rate of 8500 pesos.
That's $650 to have absolutely everything we wanted in an apartment.
Two days later we moved in. Here's a quick video tour:
We have a spacious living area with lots of places to work from.
We have an incredible kitchen that has inspired me to learn to cook for the first time ever.
We have a huge bathroom with a wonderful hot water shower.
We have a ridiculously enormous balcony that fits eight people at tables and still has room for me to pretend to do yoga.
We have a swimming pool!
We have drinking water delivered to our apartment every week from the singing water truck so we don't have to carry huge 20 litre bottles of water up the hill with us.
We can get our laundry done for just 50 pesos, giving it to the landlady and having her return it to us the next day.
We have a weekly cleaner that we pay just 100 pesos for. She does crazy things with our towels.
We have air conditioning in both the living room and the bedroom, fans on the ceiling of our balcony, and all bills are included in the rent.
And we live just a five minute walk from this: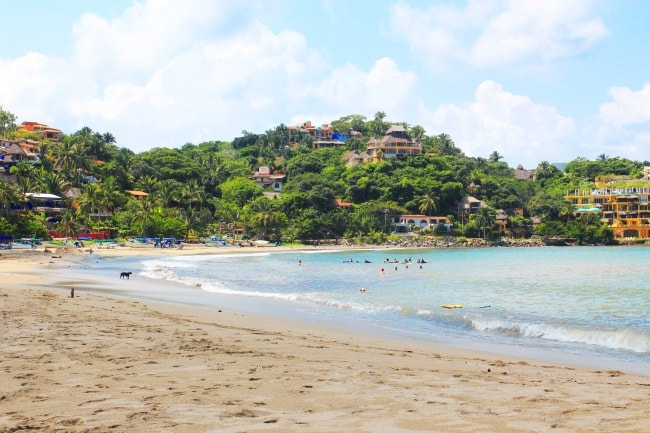 I can't believe the amazing value we're getting!
However, despite being able to get an apartment within an hour of arriving, we were still extremely fortunate.
Our friends, Steph and Mike, arrived just two weeks after us (we arrived mid-September) and were told by nearly everybody they approached that they had arrived too late, that all of the apartments in Sayulita had gone. Steph wrote about their apartment hunting woes and it doesn't sound pretty.
Much like in Chiang Mai, travel bloggers seem to gravitate towards the same places. Steph and Michael arrived two weeks after we did, Matthew arrived a week later. Matt and his girlfriend Emilie arrived two weeks after that. The past six weeks have been filled with blogger dinners, beers on the beach at sunset, releasing baby sea turtles into the ocean and eating so. many. tacos.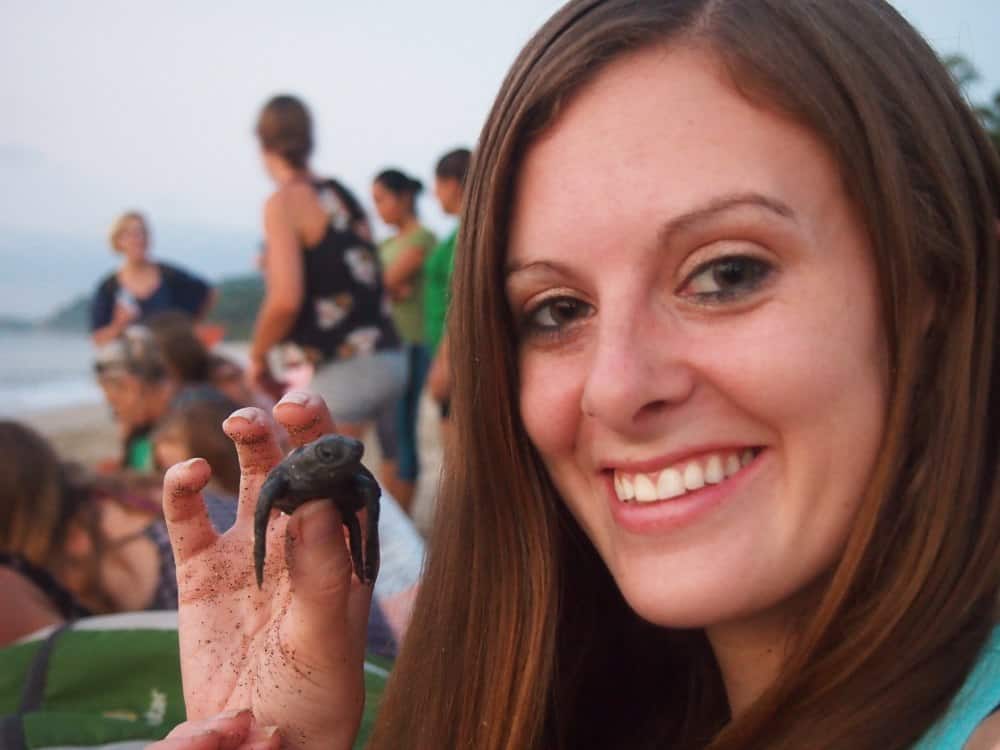 The food here is incredible. We have the Chicken Lady who charges $8 for an entire barbequed chicken, 10 tortillas, a bag of rice, coleslaw and hot sauce that lasts us all day. We eat $1 mahi-mahi tacos and $2 marlin quesadillas for lunch. Beers are 60 cents from the convenience store and I'm making my own margaritas.
There's plenty to do here, but not so much that it's distracting from our main reason for coming here — to get work done and replenish our bank accounts after a pricey three months in the US. There's surfing and paddleboarding, though I'm frightened of both after Dave got stung by a jellyfish, and there's the adorable town of San Pancho that makes for a relaxing day trip. A couple of weeks ago, there were baby sea turtle releases that took place every evening at sunset and, most recently, there have been the Day of the Dead celebrations.
Let's just say that it's going to be incredibly hard to leave Sayulita…
If you're struggling to find an apartment in Sayulita, this is where we stayed: Villas Vista Sayulita. Best of luck in your search!
Related Articles on Mexico

💰 The Cost of Travel in Mexico: A 2023 Budget Breakdown
🏖 28 Incredible Things to Do in Puerto Vallarta, Mexico
🏝 24 Incredible Things to Do in Playa del Carmen, Mexico
☀️ Isla Mujeres: My Mexican Island Paradise
🌈 Guanajuato: The Prettiest City in Mexico
🐚 Tulum and the Best Beach Ever
🧐 A Love-Hate Relationship with Playa del Carmen
🙈 That Time I Stayed in a Hotel Without Walls