Hong Kong is a place that has to be visited to be described. A cradle of culture, mouthwatering cuisine, towering skyscrapers and lush parks, this city state leaves no room for apathy.
Old meets new with fishing villages stuck in time, encapsulating the harbor's humble beginnings, to some of the world's most modern infrastructure less than an hour away.
There is no one way to discover the city. Stumble down streets lit with neon after a traditional seafood meal, looking at kitsch that is simultaneously tacky and a must-have. Sip cocktails atop one of the tallest buildings in the world while gazing down at the concrete jungle below. Take a hike through the green hills that make up three quarters of this country.
No matter your travel style, interests, or budget, I can say with confidence there's a way to make Hong Kong fit your needs.
Four days in Hong Kong (with a cheeky day trip out to Macau) is the perfect amount of time to explore the highlights.
During your first three days in town, explore the three main areas of Hong Kong: Hong Kong Island, Lantau Island, and Kowloon. Devote a day to each of these; enough time to sample some of the biggest highlights they have to offer. By visiting all three areas, you'll weave together a vibrant mosaic of Hong Kong, with each district contributing its distinctive colors and textures. On your fourth day, I recommend taking the ferry over to Macau for an unexpected sampling of Portuguese culture.
Today, I'm going to be sharing how I spent my most recent four days in Hong Kong and how to make the most of your time here. Let's jump right in.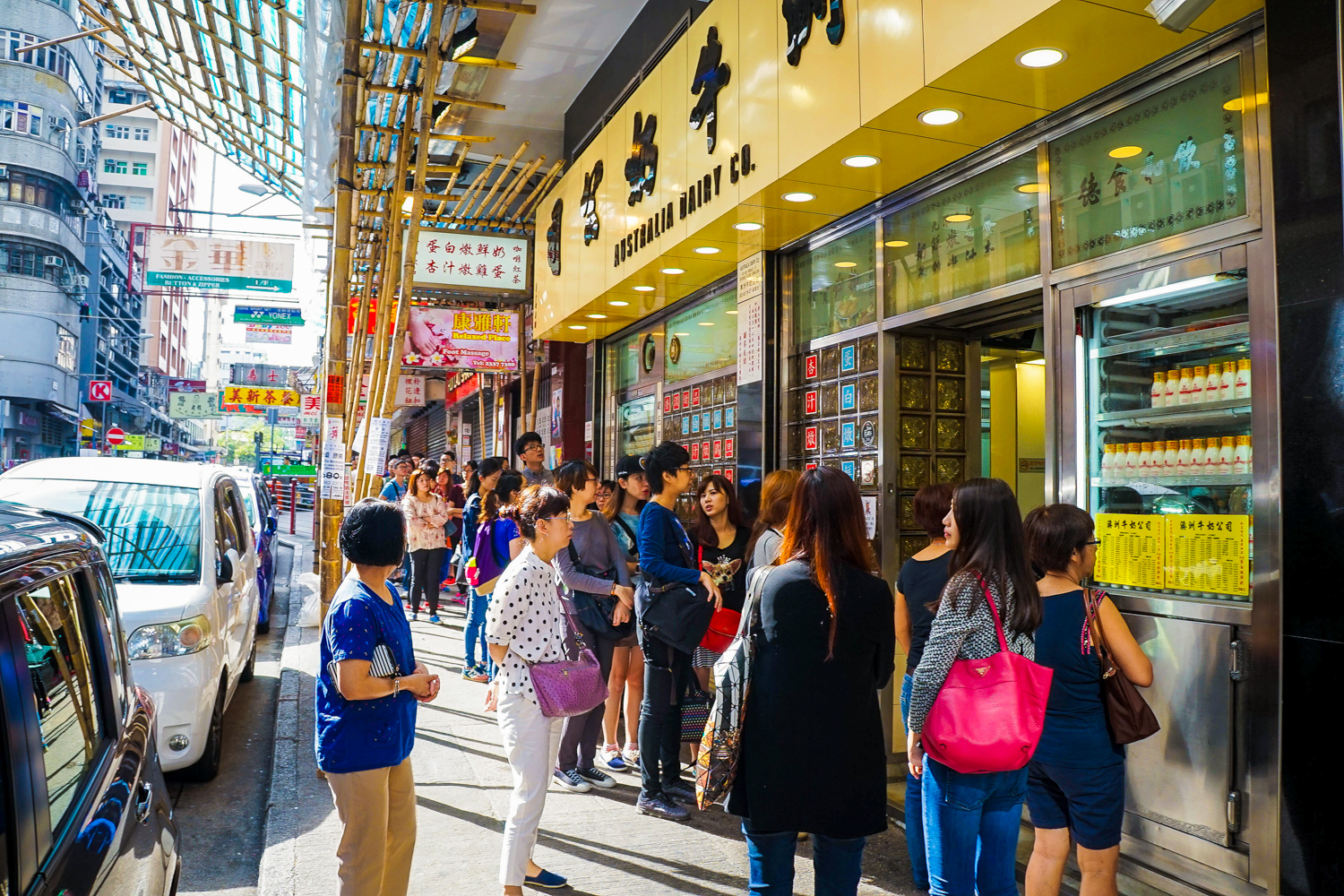 Day One: It's All About Hong Kong Island
I highly recommend staying in the Tsim Sha Tsui area of Kowloon if you're a first-time visitor to Hong Kong. This part of town is extremely walkable, centrally located, and close to most of the attractions, so it makes most sense to stay here — Hotel ICON is my favourite spot in this area and I have a full review of the property at the end of this article.
Either way, my guide starts with the assumption that you'll kick off your adventures on this side of the channel. 
If you don't get breakfast in your accommodation, I recommend starting your first day with a delicious meal at the Australia Dairy Company.
This place is a true Hong Kong institution. It opened way back in 1970, making it one of the longest continuously running restaurants in the city. This isn't a place to order yourself a flat white and a plate of smashed avo, however! No, this is the place to be if you're keen to experience a traditional Hong Kong-style breakfast. The name is actually due to the dairy products the restaurant uses, which it imports in from a Land Down Under.
I always recommend jumping in at the deep end when it comes to sampling food in a new city, and if you subscribe to the same beliefs, you'll be keen to order the macaroni soup with ham — yes, this is a breakfast dish here! — or sweet milk pudding. If these dishes feel like a step too large for your first morning in town, opt for the French toast or eggs and ham on toast.
The food is fantastic, but there's one other reason why I recommend heading here on your first day in Hong Kong: to get you used to the gruff service that reigns supreme across the budget eateries in town. Don't expect smiles and patience from the staff here; they're stern, efficient, and only too happy to scold you if they think you're taking too long to order. Embrace it! This is part of Hong Kong culture, so don't take offense: they treat every visitor exactly the same.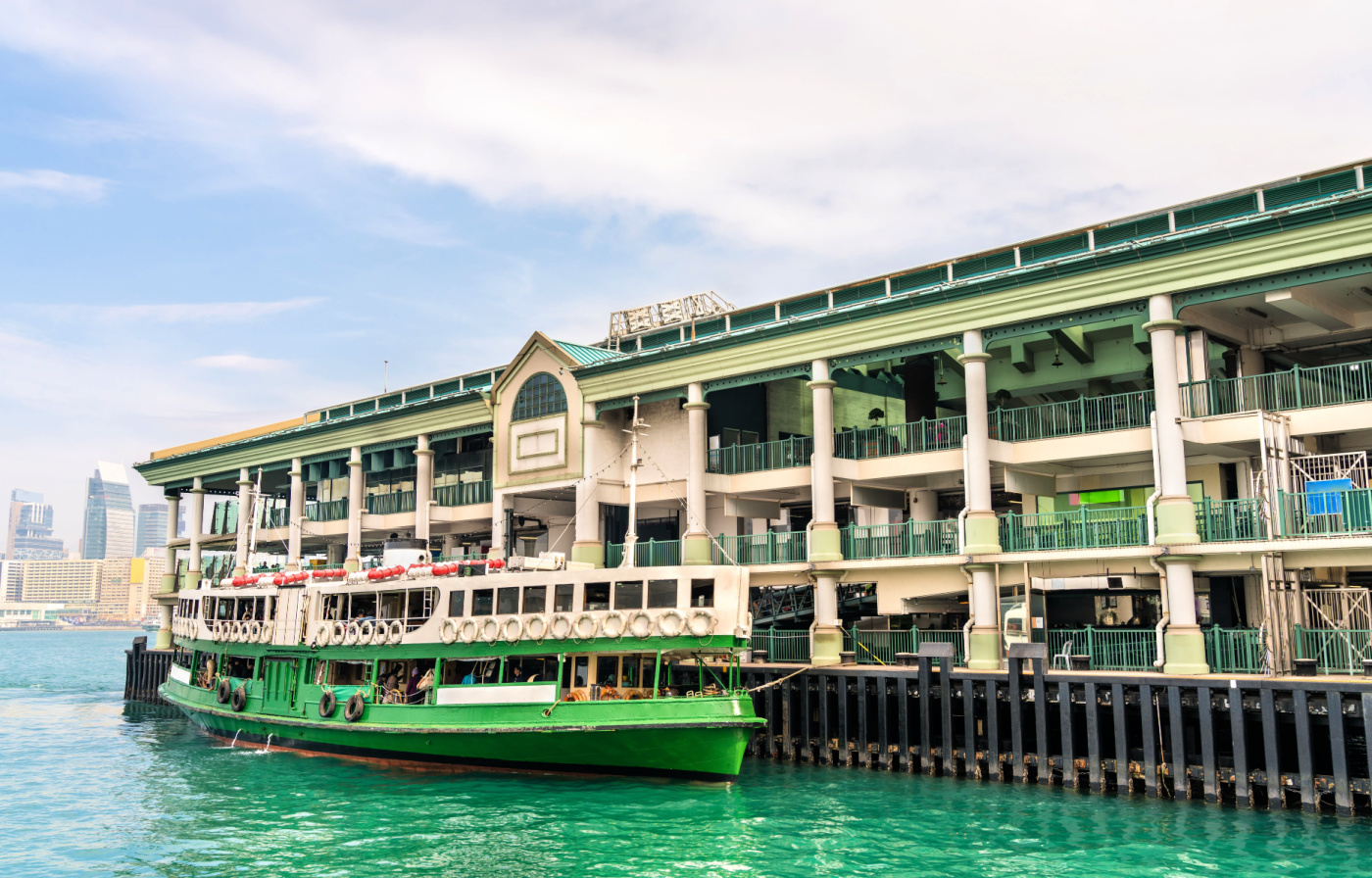 With breakfast done and dusted, it's time to get yourself over to Hong Kong Island, where you'll be spending the majority of day one.
The ferry terminal is roughly a 20 minute walk from the Tsim Sha Tsui neighbourhood, and as long as the weather isn't too hot and humid, I recommend getting there on foot. This is a great way to soak up the sights, sounds, and smells of Hong Kong, especially if you can walk along the beautiful Tsim Sha Tsui Promenade to get there.
If walking isn't feasible, Uber exists in Hong Kong and wins for being the quickest, easiest, and most convenient transportation option in town. Having said that, Hong Kong is actually home to some of the best public transportation in the world, so you might want to consider using your first local bus to get to the ferry terminal. Buses 1, 2, and 6 take you from Tsim Sha Tsui to the pier in less than 10 minutes. 
I'll take this moment now to introduce you to the Octopus card. An Octopus card is an essential purchase for anybody who plans to spend time in Hong Kong. This is a reusable travel card that you can use for all forms of public transport in the city, from the metro to the buses to trams to the ferries to the taxis to… you get the idea! But not only that; often, you can also use the card to pay at restaurants, cafes, bars, convenience stores, museums, and more.
In other words, this city runs on the Octopus card.
Getting your hands on one is simple: I recommend downloading the Octopus app to your (Android) phone. There, you can add your payment card details to the app, check your balance, and use your phone's wallet to pay for your rides; just like you would with Google Pay! If you have an iPhone, you might want to get a physical Octopus card (also a cool souvenir from your trip!) instead, as the reviews of the Octopus app on the Apple App store are pretty bad. You can buy an Octopus card from the airport when you arrive or from any MTR (the metro system) station you pass.
Once you reach the ferry terminal for the Star Ferry, you'll hopefully have your Octopus card ready to use. You want to use it to take the ferry from here to Central station. The Star Ferry company has been helping people cross the Victoria Harbour since way back in 1888 and many of the boats are still from the 1960s, so they are a piece of history in and of themselves. And the price? Just 5 HKD! (That's $0.60/£0.50/€0.60) — yes, this is one of the cheapest sightseeing experiences in the world.
For the best views on the Star Ferry, opt for the outdoor seating area, which is located in the centre of the vessel (the front and the back of the ferry provide indoor seating with air conditioning). I recommend taking the entrance for the upper deck instead the lower deck, as you'll get slightly better views from up high. And once you're inside, I recommend sitting on the left side of the ferry for the best views.
The boats run every five minutes so if you're at the back of the queue and realise you won't be able to nab a window seat, feel free to hang back and wait for the next ferry so that you can board first.
Take in the views of the towering skyscrapers as you cross the harbour, then prepare yourself for an even better view once you're back on dry land.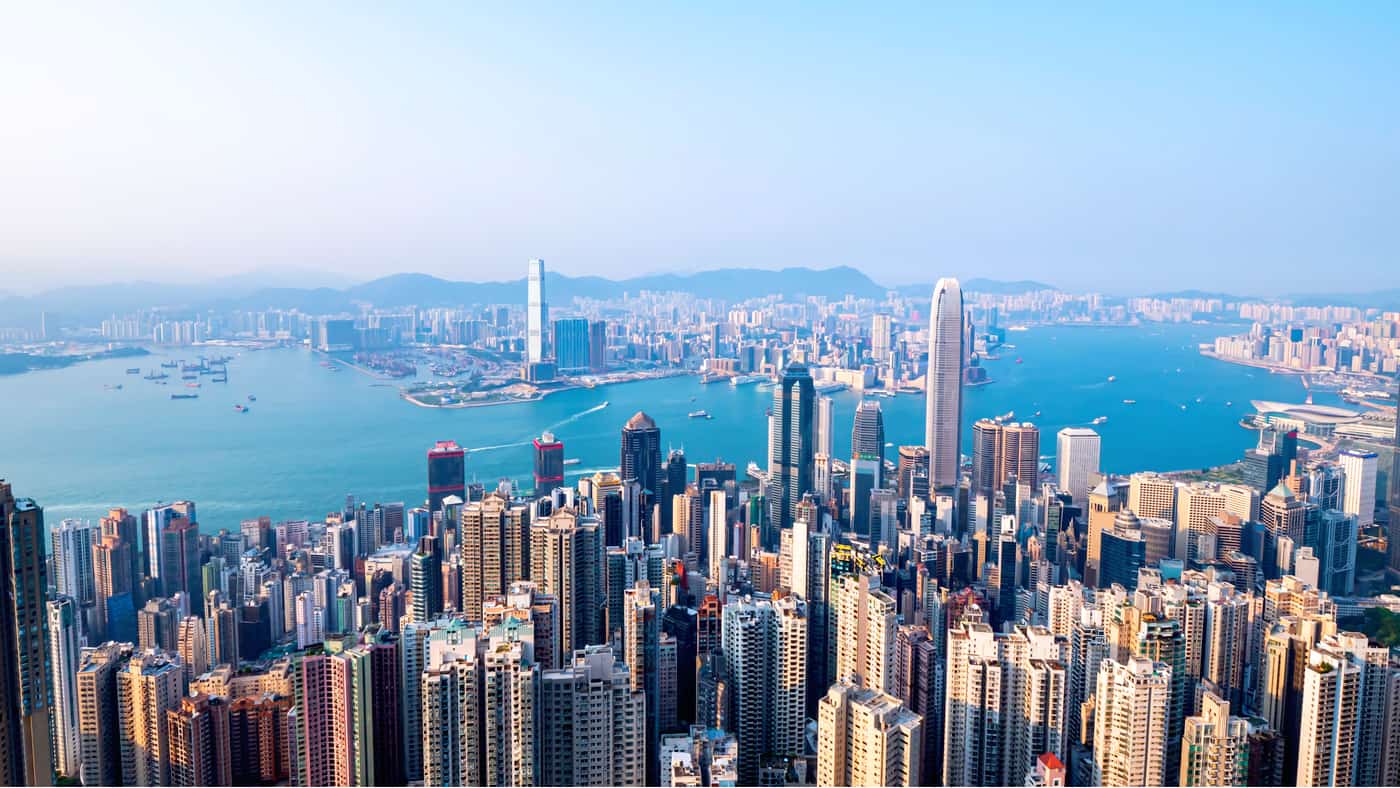 Victoria Peak, or simply the Peak, is one of the most famous attractions in Hong Kong and it's something that has to be seen to be believed. A magnificent viewpoint — 500 metres above sea level — that overlooks a dense cluster of buildings, I recommend heading here first once you make it to Hong Kong Island; it really helps you gain a sense for just how jam-packed with skyscrapers this city really is.
Fun fact: Hong Kong is home to more than 4,000 skyscrapers that are taller than 100 metres!
The tram that takes you to the top of the Peak is located a 25 minute walk from the Central ferry terminal. If you love to explore a city on foot as I do, then feel free to walk it. If you're short on time and want to rest your legs (you'll go for a walk at the top of the Peak, too), grab an Uber instead.
Another iconic piece of Hong Kong history, the Peak tram started during the same year as the Star Ferry and is an absolute joy to experience. Not for the faint of heart, it was way steeper than I was expecting, but of course, it's totally safe to ride. The view on the way up, with the buildings appearing almost sideways at some points, is quite dramatic.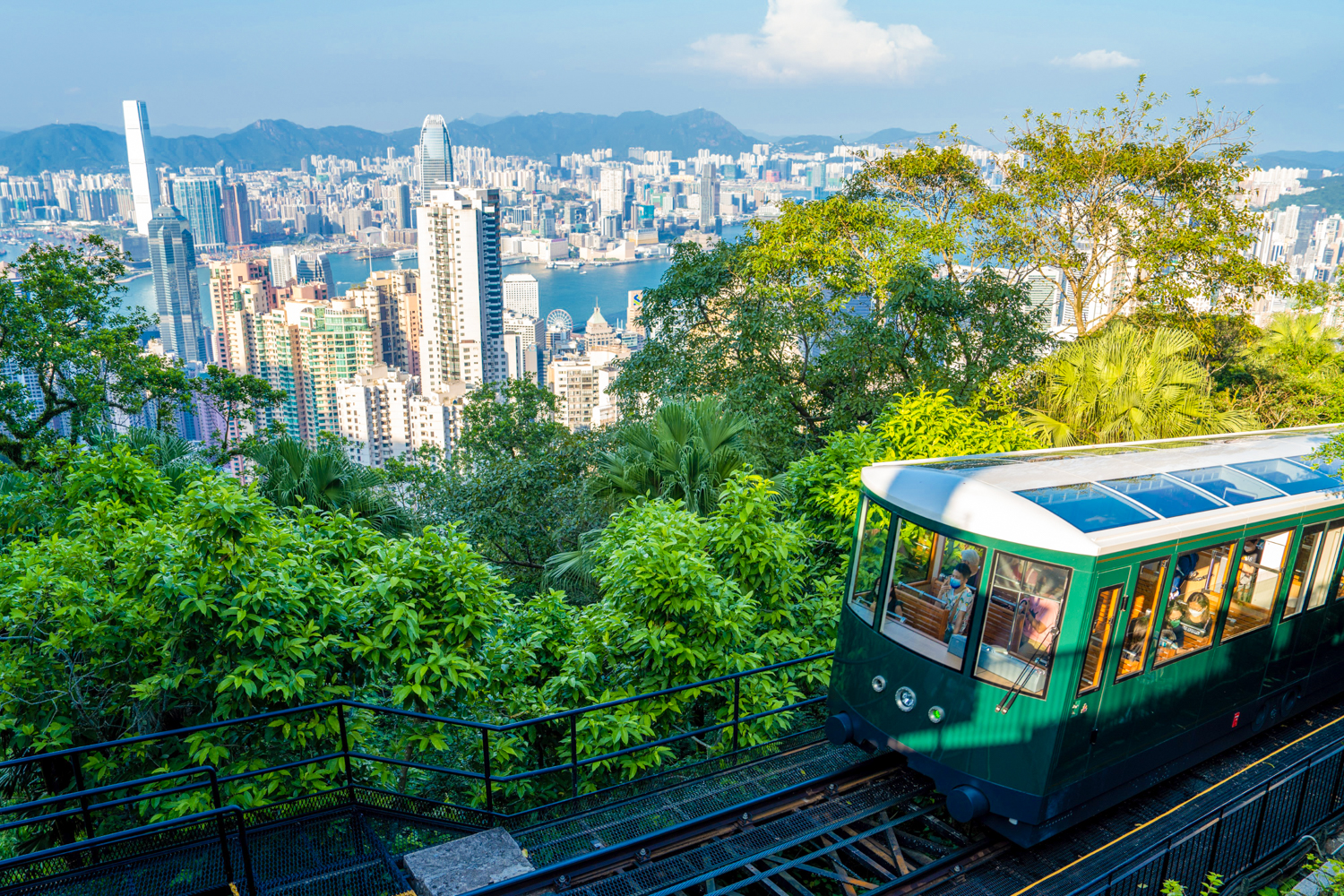 A quick note here is that queues for the tram can get quite lengthy at times — as much as two hours long on a sunny weekend just before sunset! — so come prepared for a bit of a wait. If you'll be visiting on a weekday in the morning, however, you shouldn't have to queue for more than around half an hour. For me, it's worth it — and if you have your Octopus card, you can bypass the queue for buying tickets with cash to make the wait even shorter. On my most recent visit, I did just this and managed to avoid the 100-person long queue for tickets!
Buy a return ticket for the tram and don't opt for any of the add-ons unless you're desperate to experience them (the sales staff can be quite persistent in trying to convince you that you should also head to Madame Tussauds!) And try to get a seat inside the tram — preferably on the right hand side as you go up — as there is some standing room, which won't be as comfortable on the steep journey.
If you're planning on visiting at a popular time, like sunset, you could take a taxi instead (around 20 minutes) from the Central ferry terminal all the way to the top of the Peak, skipping over the queues for the tram, and then opt to take the tram down, which will have a slightly shorter wait time.
And finally, you could also opt to do as the locals do and take the number 15 double-decker bus from Exchange Square (a 10-minute walk from the Central ferry terminal) to the top of Victoria Peak (sit upstairs on the right-hand side for the best views). Pay with your Octopus card; the fare is around 10 HKD (just over $1/€1, or £1) and it takes between 40 and 60 minutes to get to the Peak, so is quite slow.
When you get to the top, prepare to be amazed.
As far as city views go, this is one of the greatest on the planet. And what you'll quickly learn is that there's plenty of angles from which to take it all in; there's a multitude of viewpoints to head to, which makes a visit even more exciting.
First, head to the Lion's Pavilion — its marked on Google Maps — for your first glimpse of the city laid out before you. It's a crowded spot at peak (pun intended) times, like sunset, but given that it's totally free to access, you can't complain about everybody else wanting to see it, too! From the Lion's Pavilion, it's now time to take a walk.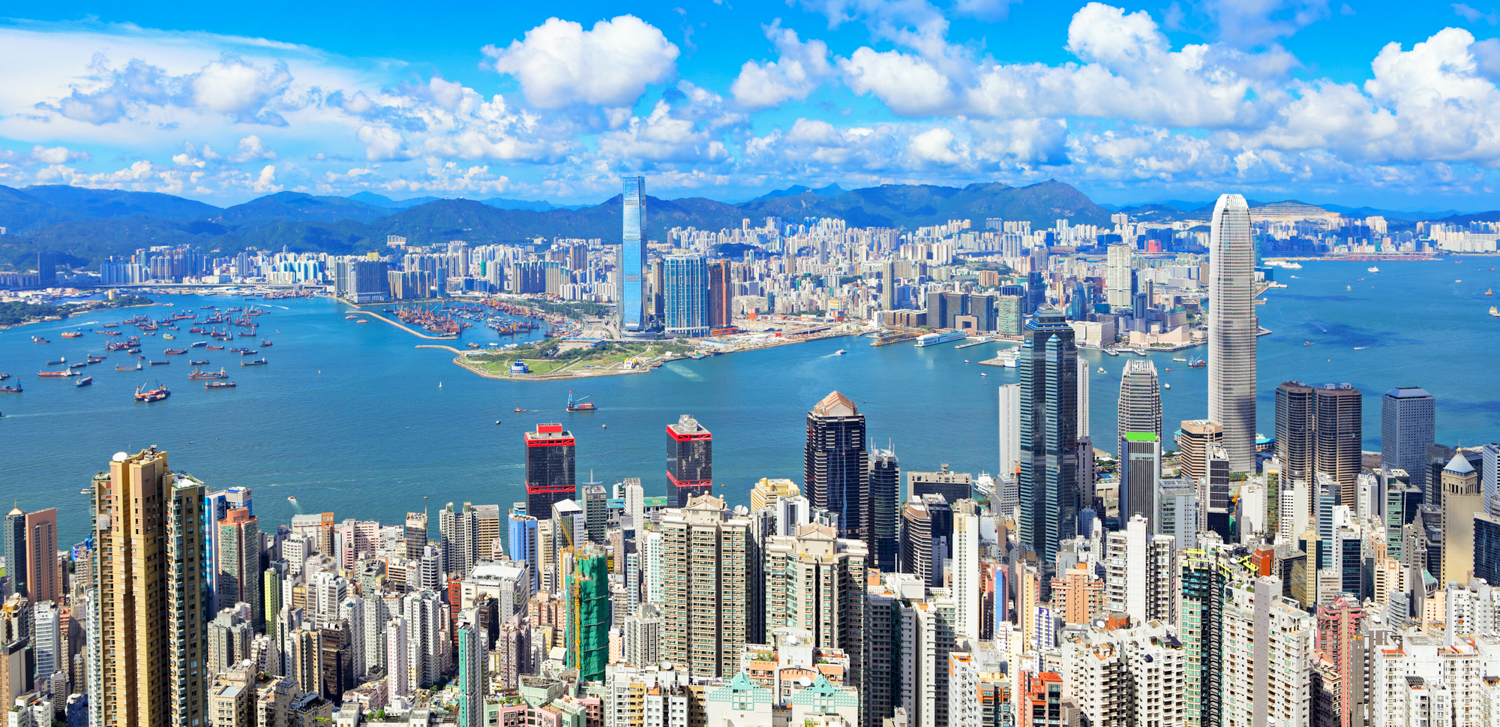 One of the best ways to explore the Peak is by taking the Victoria Peak Circle Walk, which is 3.8 kilometres (2.4 miles) in length and takes roughly an hour to complete. As the name suggests, the trail encircles the top of the Peak, giving you views across the city in all directions. It's a simple stroll, mostly flat and with anyone from children to the elderly tackling it, so if you like a walk, this is a great way to see Hong Kong from above.
The Circle Walk begins at Lugard Road beside the Peak Tower (the shopping centre that looks like a big bowl) where the tram terminates. You can look for Lugard Road Lookout on Google Maps to give you an idea of where you'll be heading.
And then, you walk.
From the Lugard Road Lookout, you'll continue walking along Lugard Road until the path turns into Harlech Road, which then leads you back to the Peak Tower.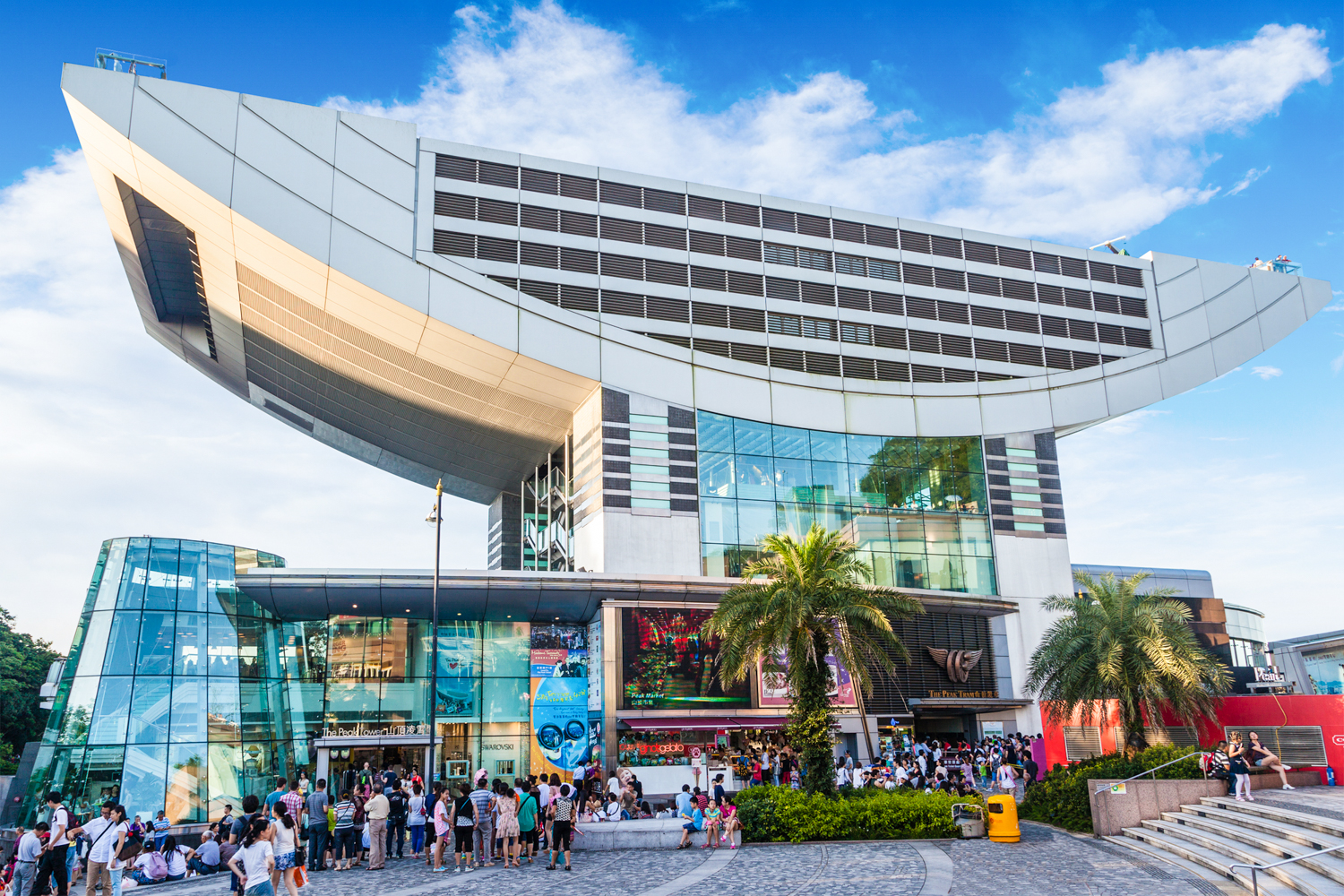 Speaking of the Peak Tower, this unusual building is home to the Sky Terrace 428: a viewing platform on the top floor of the structure. This is a paid viewpoint, costing 75 HKD ($10/€9/£7.50) to visit. In my opinion, it doesn't really add anything extra on top of the views you will have already seen on the Circle Walk, so I don't see it as a necessity.
Wait until you've finished your walk around the Peak before deciding if you want to visit the Sky Terrace; you may, like me, feel that you've already seen Hong Kong at its best. Alternatively, my parents visited Hong Kong this year and loved their experience at the Sky Terrace! While they agree that it's not essential to do, they were still glad they went up there.
Finally, there's one more free viewpoint to check out before you leave: the Peak Galleria. This is another shopping mall at the Peak, but it's home to a free-to-visit observation deck that's worth heading to. If you're not yet tired of looking out over skyscrapers, that is!
If you're feeling peckish for lunch, stop by Rajasthan Rifles, which is my favourite restaurant on the Peak. To be honest, there aren't a lot of good options for food up here — in terms of quality and price — so I would recommend avoiding many of the restaurants. Rajasthan Rifles, however, has a great view, tasty British/Indian fusion dishes, and refreshing drinks that can be enjoyed while sitting on the terrace.
I also opted to sip on a latte while looking over the skyline at Pacific Coffee — the coffee is nothing amazing, but the views certainly are!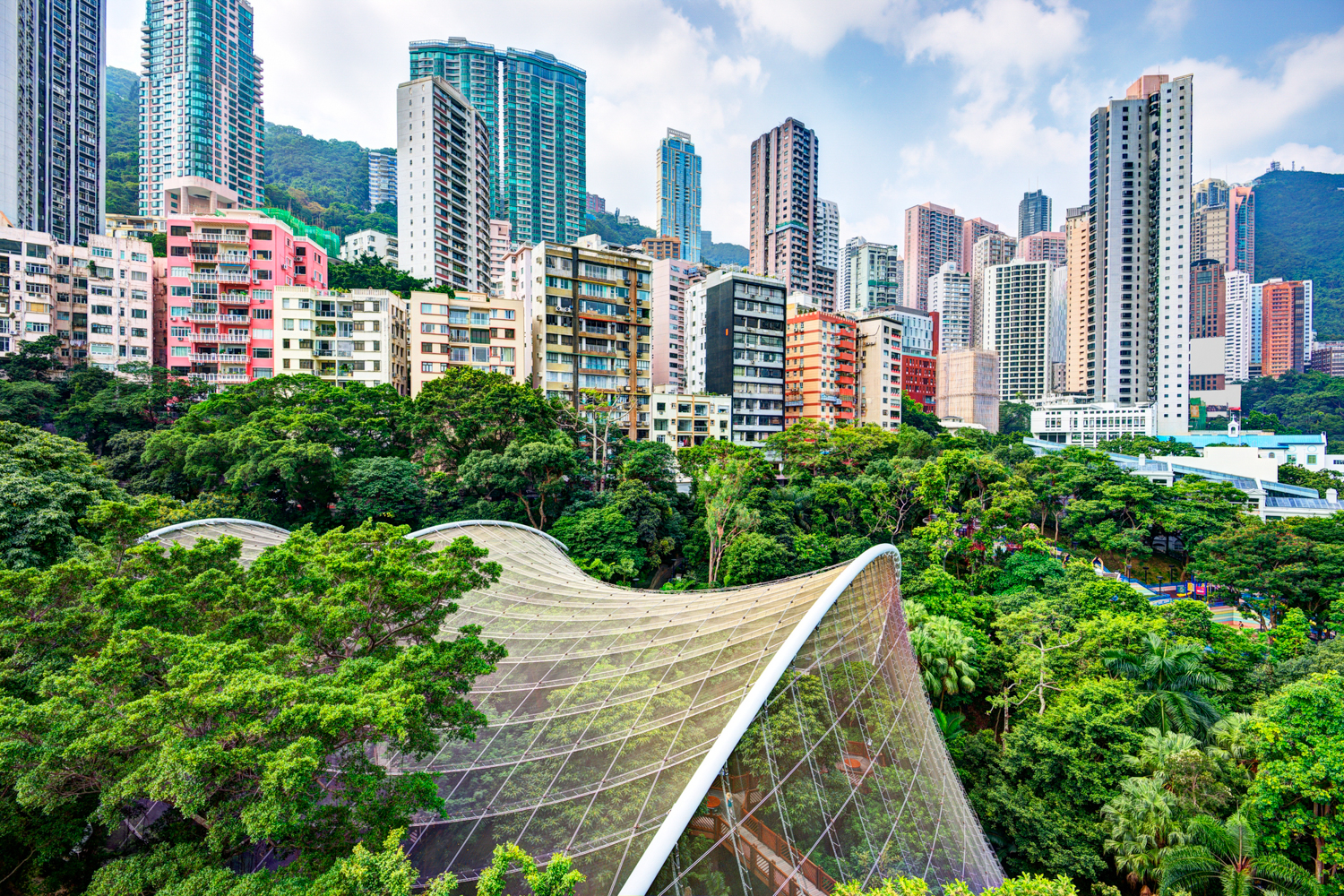 With that, you've successfully conquered the Peak! It's now time to ride the tram back down — sit on the left-hand side for the best views — and hit up the small-but-lovely Hong Kong Park, which is located directly beside the tram station. There, you'll find turtles, waterfalls, a butterfly garden, aviary, and an excellent observation deck called Vantage Point.
This patch of green provides a soothing respite from the chaos of Hong Kong, so makes for an excellent spot to have a quick wander before diving back into the madness!
There is a cute teahouse within the park — LockCha — which serves up Chinese tea and vegetarian dumplings and dim sums, with an English menu. If you're feeling hungry for local eats, this is a good option for a quick snack and an introduction to the cuisine before moving on.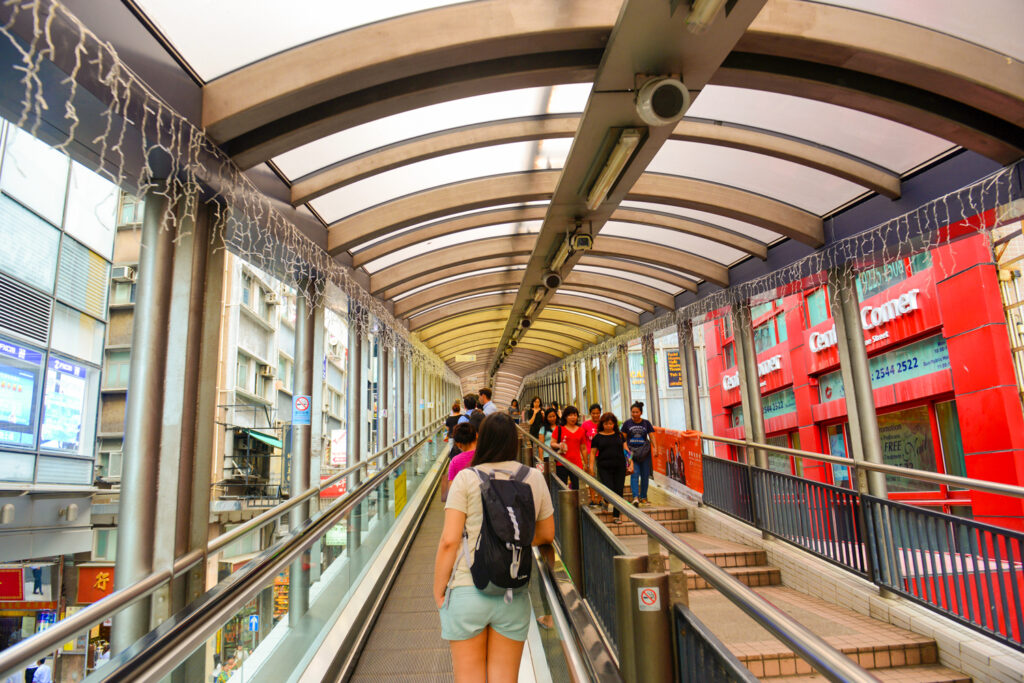 For your next activity, I recommend walking 20 minutes (or taking an Uber to Central Market if you're tired) from Hong Kong Park to the Central Mid-Levels Escalator, which is… wait for it… the longest outdoor covered escalator system in the world.
Yes, it's a long escalator.
Well, in fact it's not even that: it's a series of 20 escalators, stretching for a distance of 800 metres up the mountain. Riding every single one in a stationary position (i.e. not walking up them) takes just over 20 minutes, but we'll just be taking it for a shorter distance: to Tai Kwun complex, otherwise known as the former Central Police Station.
To get to the start of the series of escalators, head to the second level of Central Market and step aboard. The walkway itself is used by tourists and commuters alike and because it's raised above the streets, it gives you an interesting vantage point down alleyways, over murals, and into windows.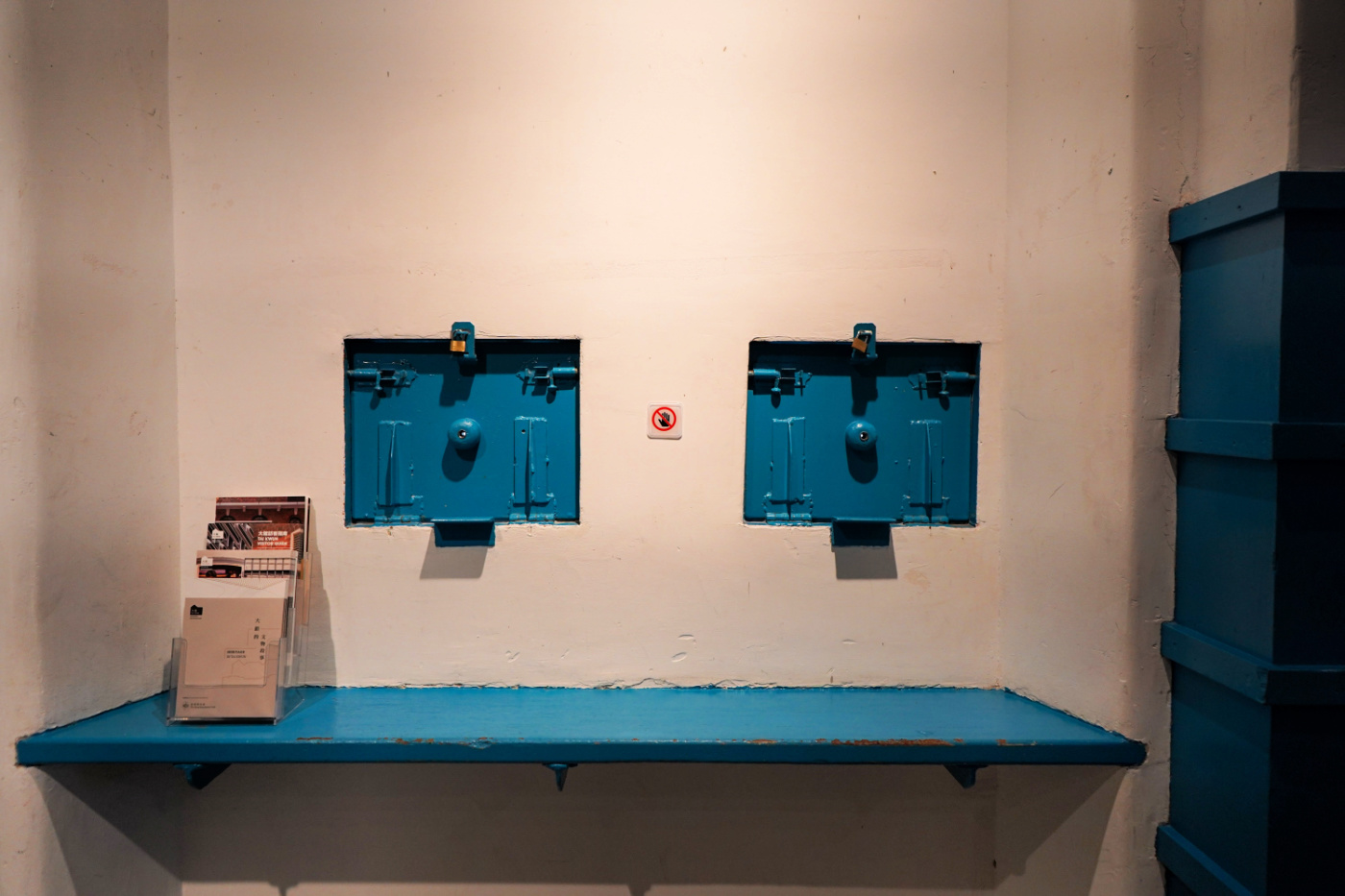 Opposite the Tai Kwun complex is Messina, by the way, which is one of the best ice cream shops in Hong Kong — do stop in if you're looking for an excuse to indulge.
Tai Kwun was originally a jail, used by the British back during the colonial years. Since then, it has been revamped to include a myriad of art installations and exhibitions, along with restaurants, bars, and independent stores.
If you're more into your history than your art, a good place to start is the Barrack Block, which was built in 1864 and is where you'll find a visitor centre and brochures. Several of the original cells in the old Victoria Prison are open to the public if you want to take a look at the conditioners the prisoners lived in. And a series of old photographs and information panels can be seen in the halls of the former Central Police Station.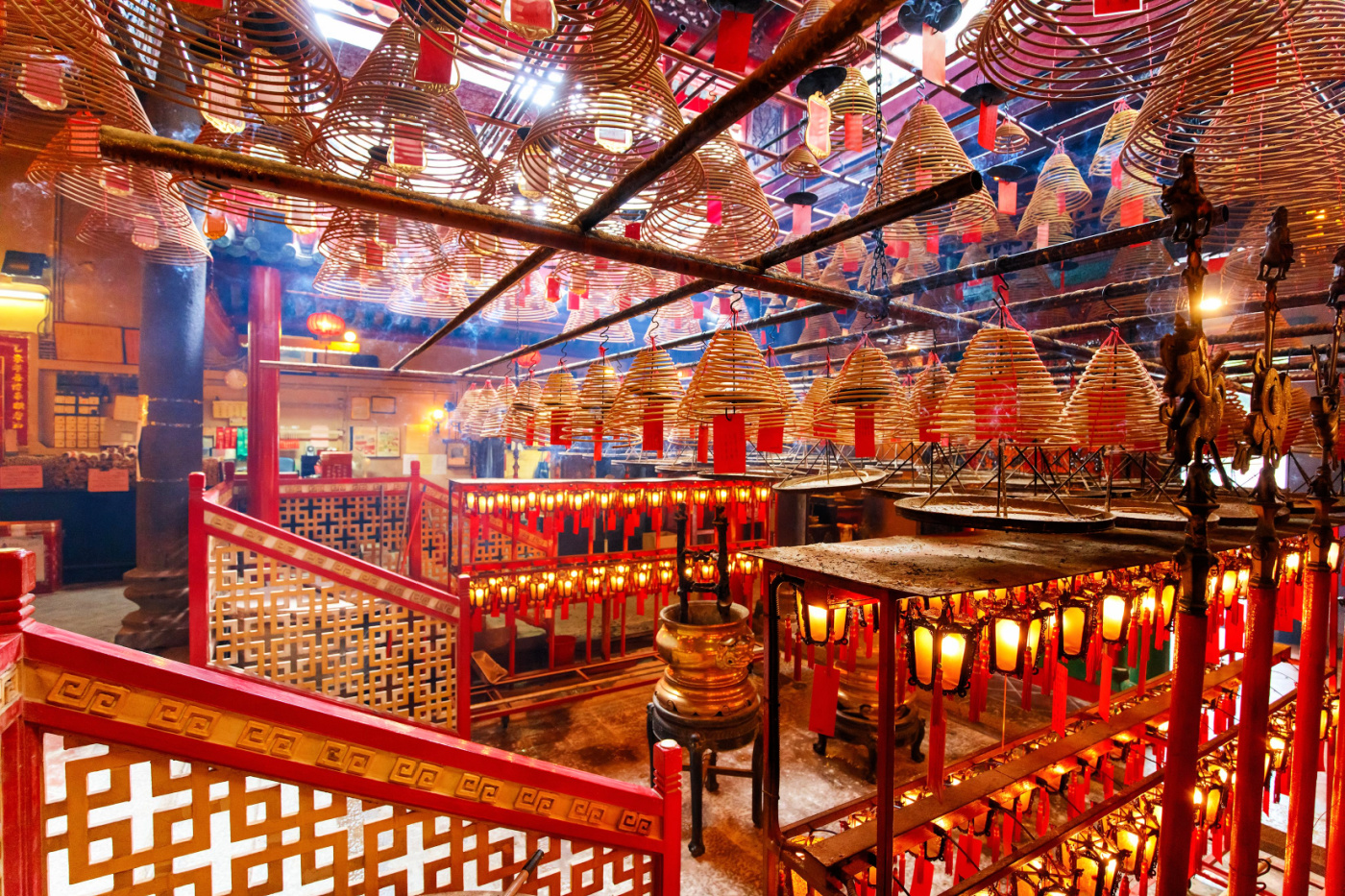 The Tai Kwun complex is located within the Soho neighbourhood of Hong Kong, which is famous for its street art and murals, along with its independent stores and galleries. It's a great place to explore.
On Google Maps find Man Mo Temple — it's only a 10 minute walk from Tai Kwun — and walk in its general direction, pausing anywhere that looks interesting. Trust me: there will be plenty of stops! Make sure you take a quick detour to Graham Street, which is home to a popular mural for Instagrammers.
At the end of the walk, you'll find yourself at Man Mo Temple. A Taoist temple that dates back to 1847, it remains an oasis of tradition in this ultra modern city and is a super-cool place to explore. Make sure you go inside and fully explore the temple, as its interior is excellent for taking photos! Entrance is free.
With that, your time on Hong Kong Island is up, so head over to the Central ferry terminal, jump on the Star Ferry back to Tsim Sha Tsui and venture back to your hotel to rest up before dinner.
If you didn't walk along the promenade to get to the ferry terminal this morning, now might be a great time to do so, as it takes you along the Avenue of the Stars: Hong Kong's answer to the Hollywood Walk of Fame, complete with handprints.
Most of the names won't be too familiar unless you're a diehard Cantonese cinema fan, however international favourites, such as Bruce Lee, Jackie Chan, and Jet Li, all have their hand prints here. 
When night rolls around, it's time to start thinking about dinner.
There's tons of options for eating, whether it's grabbing some xiaolongbao from world-famous Din Tai Fung, sampling Michelin-starred fried dumplings from Cheung Hing Kee, or visiting Yung's Bistro for a taste of roast goose (a Hong Kong specialty!)
In Hong Kong, you can find any cuisine you feel like, from Italian to Indian, to a greasy burger from Five Guys!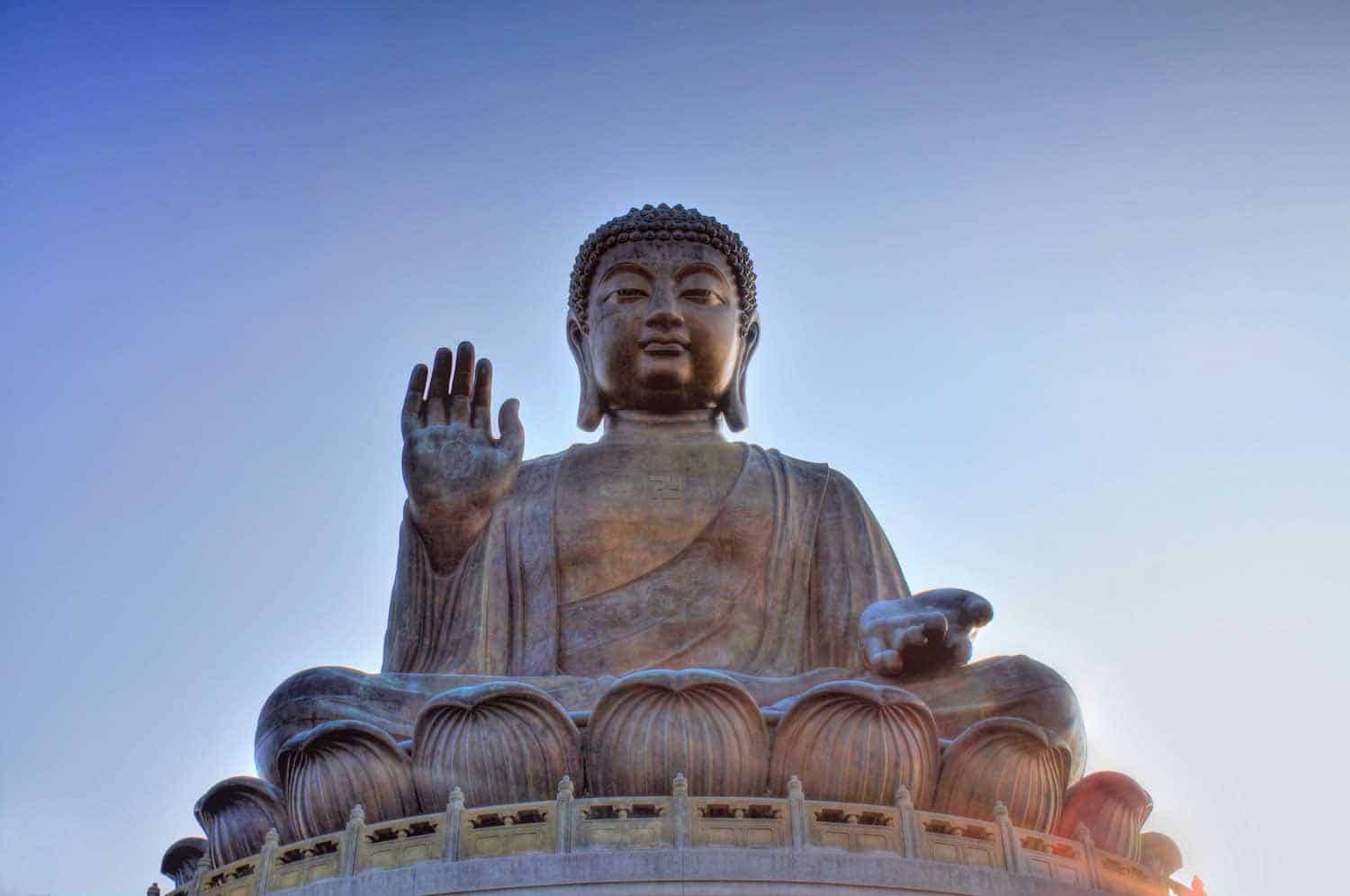 Day Two: Exploring Lantau Island
We spent the previous day exploring Hong Kong Island, so today is going to be all about peaceful Lantau Island! This is one of my favourite parts of the country with the enormous Tian Tan Buddha — or Big Buddha, as the locals call it — one of my favourite attractions.
Unfortunately, it's also the favourite attraction of most visitors to Hong Kong — and locals. In other words, this is one of the most popular activities in town. Fortunately, there are several things you can do in order to make your visit run smoothly.
Crowds are highest at the weekend, so if you do have the option of visiting on a weekday, you should opt to do so.
However, no matter which day of the week you do decide visit, you should aim to get to Tung Chung MTR station (where you catch the cable car from) roughly half an hour before the ticket office opens. In 2023, that means making sure you get there at 9:30 a.m. for its 10 a.m. opening.
And I really do want to reiterate the importance of getting there early: there's masses of horror stories online of people turning up at midday on a weekend or public holiday and having to queue for three hours just to get on the cable car!
Yes, really. This is not an exaggeration. Time your visit wrong and you could be queueing for up to three hours to get to the Big Buddha and three hours to get back again. When I arrived at 9:30 in the morning in 2023, I was boarding the cable car by 10:20.
Lantau Island is located roughly 20 kilometres — or 12 miles — from Hong Kong Island, but getting there is easy via the MTR system (and your Octopus card). From Tsim Sha Tsui, it takes between 50 and 70 minutes to get over to Tung Chung Station, changing MTR lines once on the way. What that means is that ideally, you want to be up, breakfasted, and out of your hotel by 8:30 a.m.
Once you arrive at Tung Chung Station, you're now only a hop, skip, and a cable car from the aforementioned Big Buddha.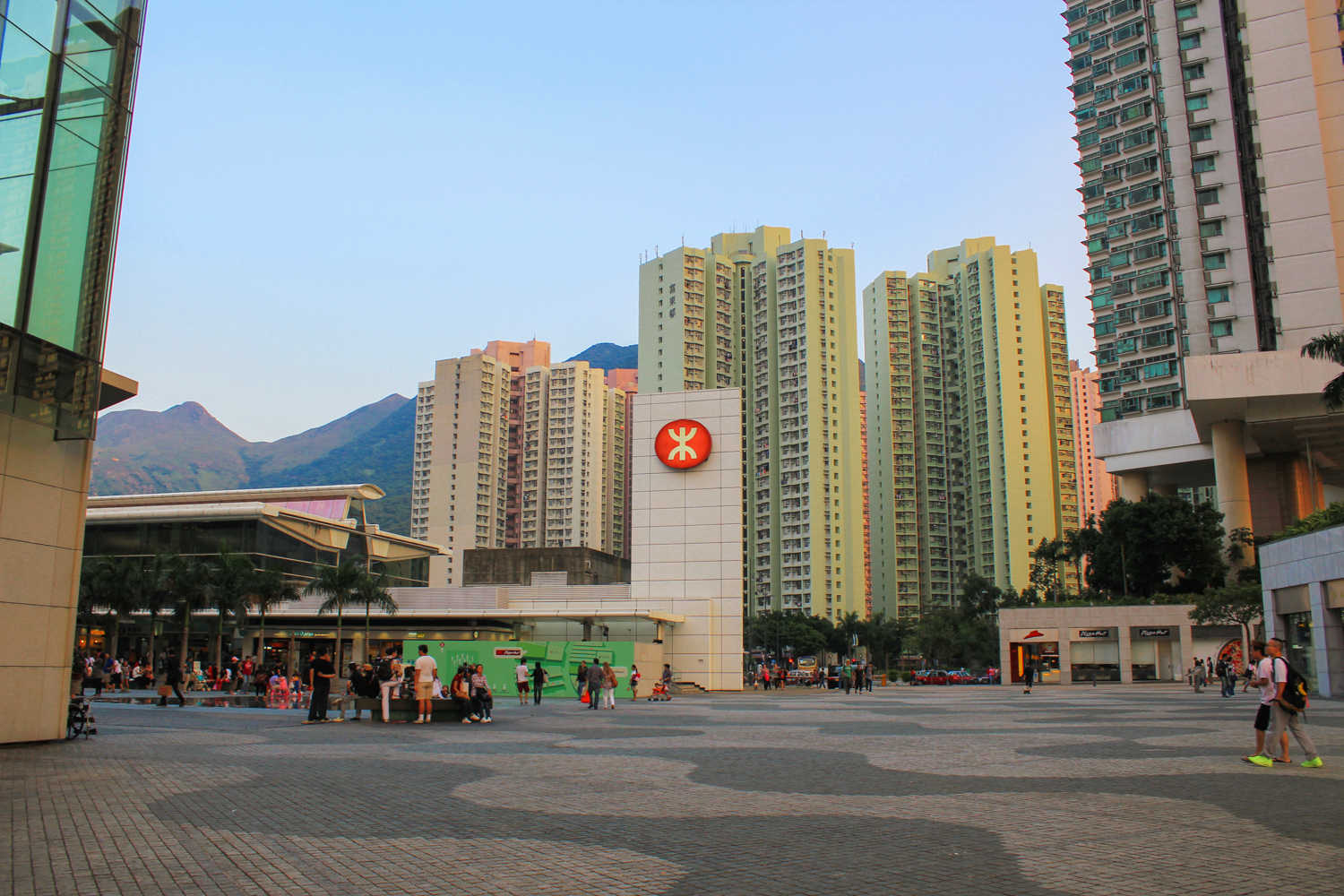 From the metro, you'll want to make your way over to Ngong Ping 360, which is the name of the cable car that will take you over to Ngong Ping village and the Buddha statue. Now, you have two options for buying tickets.
The first is to simply turn up and buy your tickets from the counter.
And the second is to buy your tickets online in advance.
Normally, I'd recommend the latter option, but in this case, I recommend turning up and buying your tickets when you arrive.
The reason is simple: the vast majority of visitors to Ngong Ping buy their cable car tickets in advance — but what they're actually buying is a voucher. And once you arrive, you still need to queue to exchange that voucher for a ticket. And because everybody already has a voucher, the queues are so much longer than the ones for buying a ticket on the spot.
It seems counter-intuitive but trust me on this: you will queue for less time if you don't buy a ticket in advance.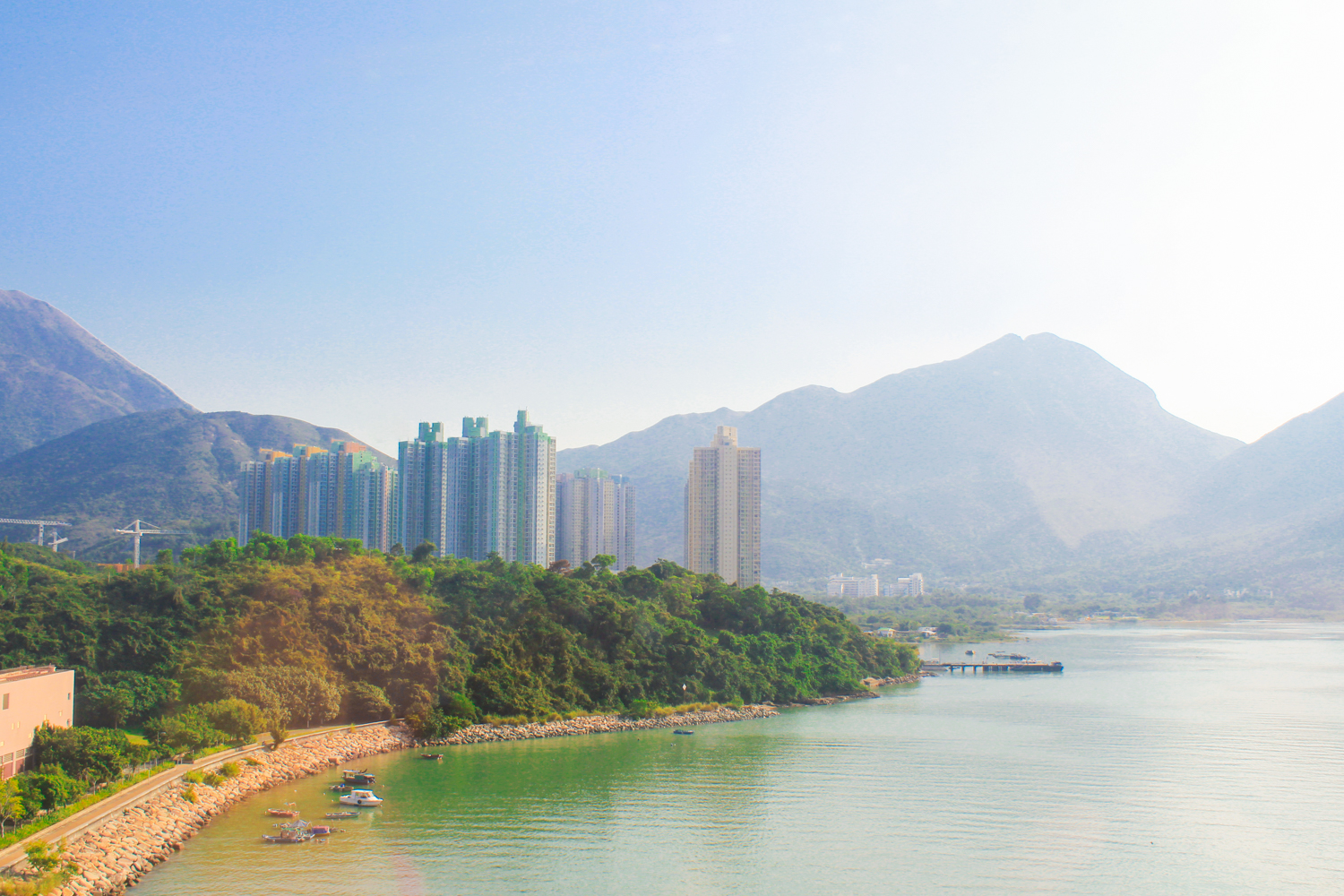 Once you've successfully navigated the chaos that inevitably awaits you at the ticket counters, it's time to unwind from it all and transport yourself to a more peaceful side of Hong Kong.
The cable car journey lasts for 25 minutes; over that time you'll be taken over rolling hills, sparkling waters, and hikers haplessly struggling along dirt trails. Look out for Hong Kong International Airport along the way, as well as the mighty Hong Kong–Zhuhai–Macao Bridge, the world's longest sea bridge, at a length of 55 kilometres, or 34 miles.
As you near Ngong Ping village, you'll catch your first glimpse of the bronze Big Buddha — one of the world's largest sitting Buddha statues — standing proudly atop a series of 268 steps.
Oh, and yes, you're going to have to climb them.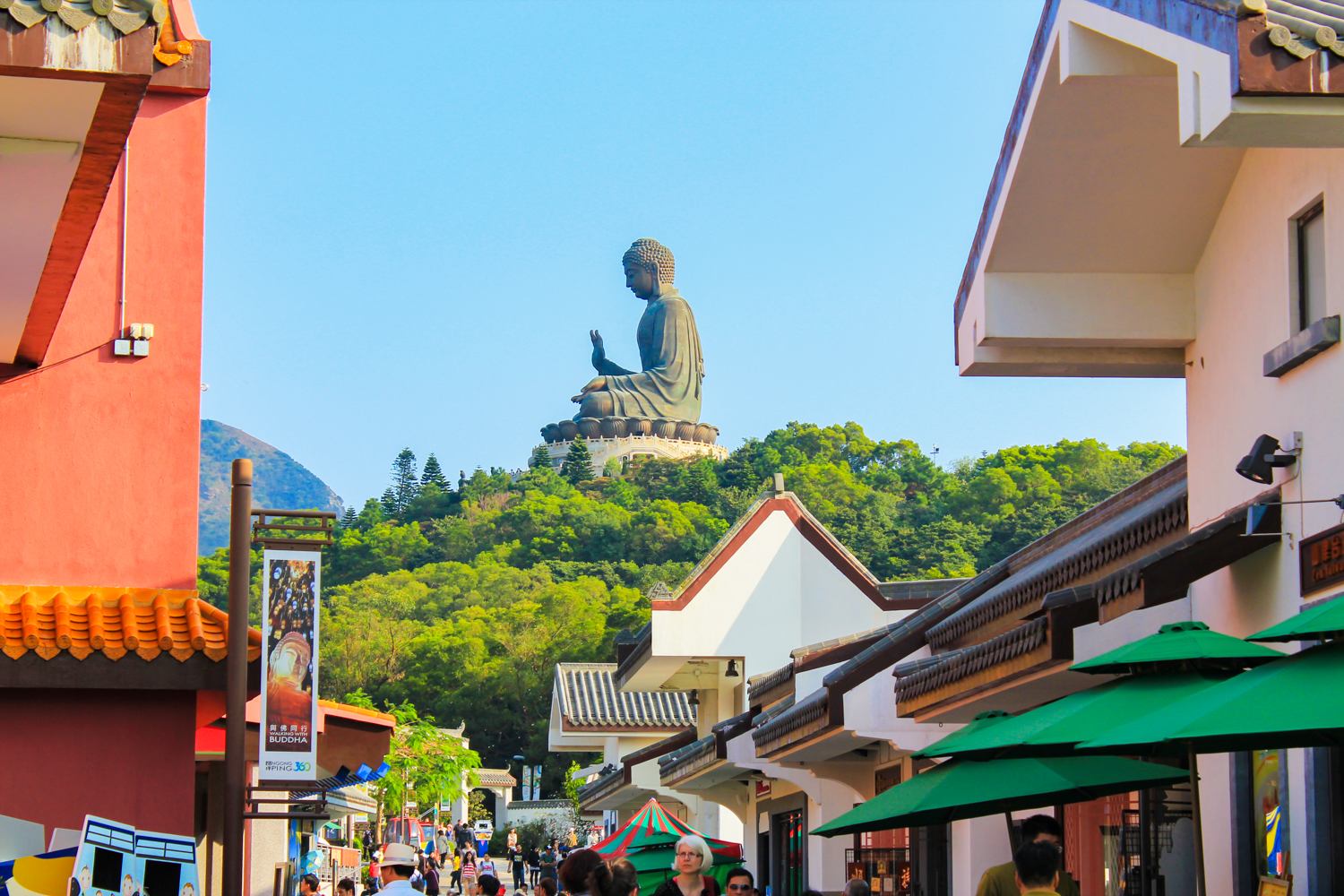 Once you disembark from the cable car, you'll find yourself in Ngong Ping, which you can think of as a sort-of commercialised version of a traditional Chinese village. Yeah, it can be a bit Disney-esque at times.
Still, if you're keen to pick up a souvenir from your trip, you won't struggle to find one here.
From the village, it takes around 10 minutes to walk to the base of the Big Buddha and from there you'll need to tackle the aforementioned 268 steps.
Trust me: it's so worth it. When I visited, I witnessed a variety of age ranges and fitness abilities panting their way up the steps — many of whom stopped frequently on the way up to rest. Needless to say, if you're not feeling too athletic when you get here, you won't be the only person pausing to catch their breath!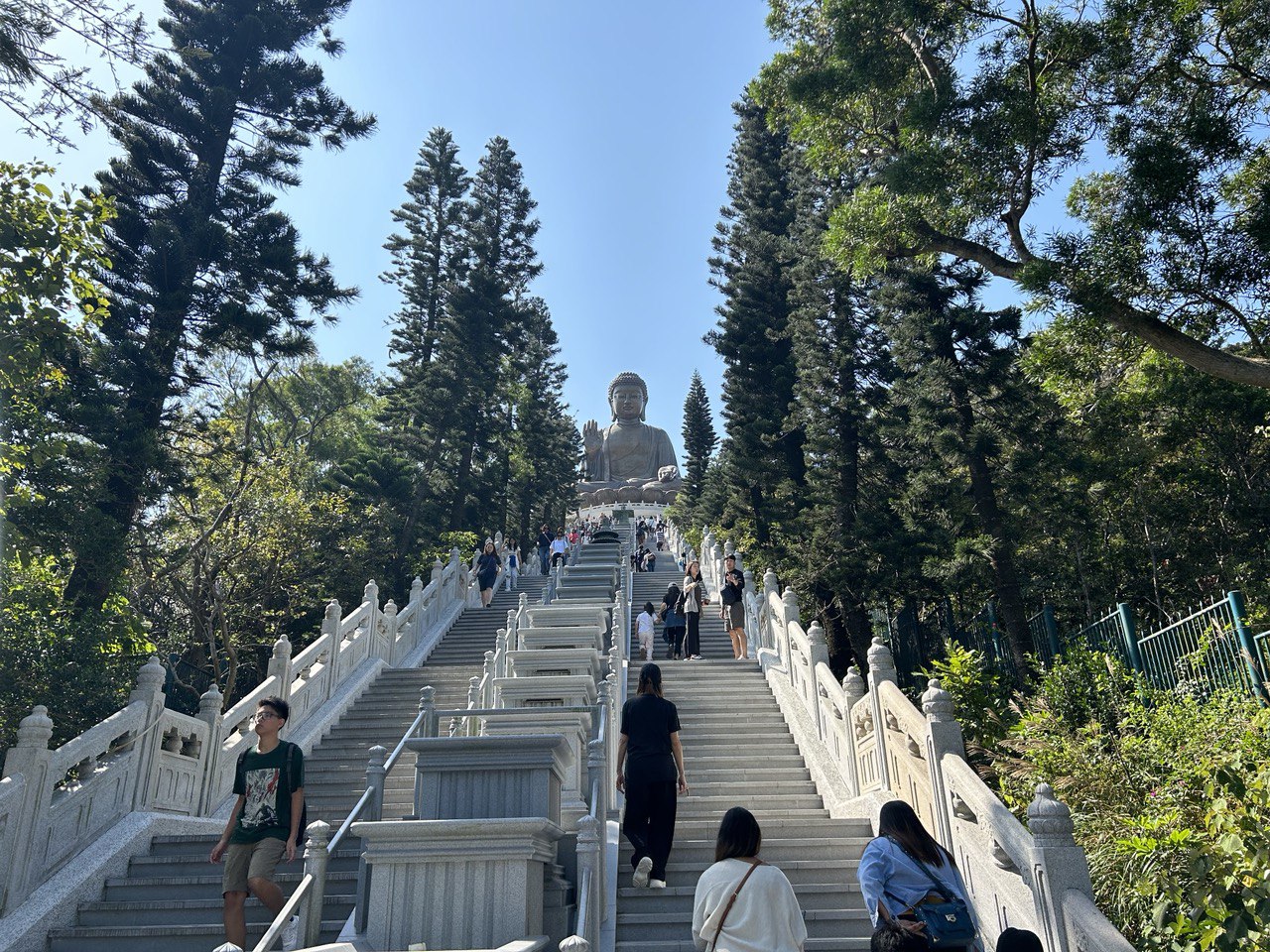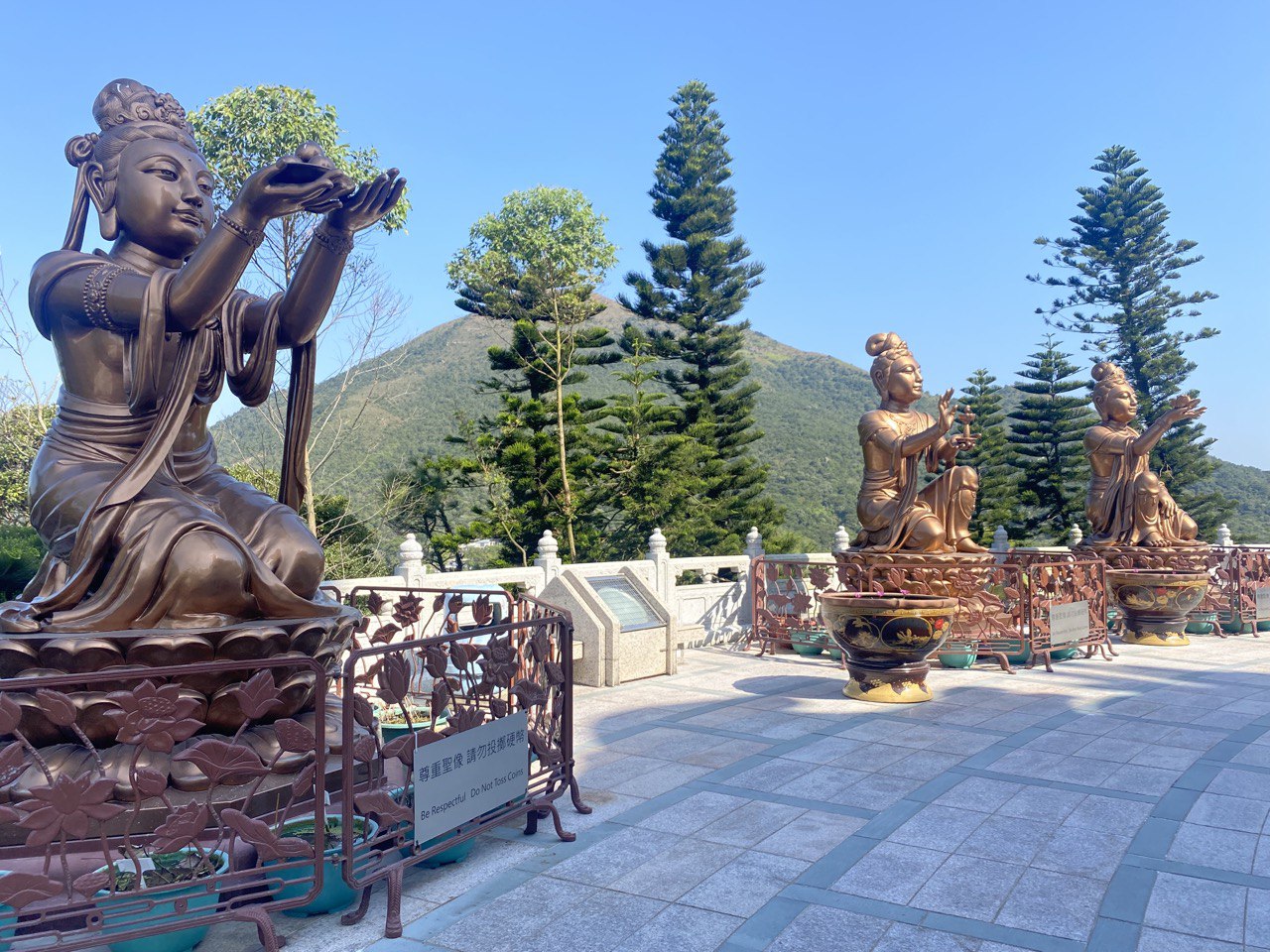 When you are done taking it all in, hop down to the Po Lin Monastery at the base of the stairs. If you're not all Buddha-ed out, they even have a hall of 10,000 Buddhas, albeit just a tad smaller than the one outside. The tapestries, art and architecture inside the monastery are mind-blowingly intricate and beautiful.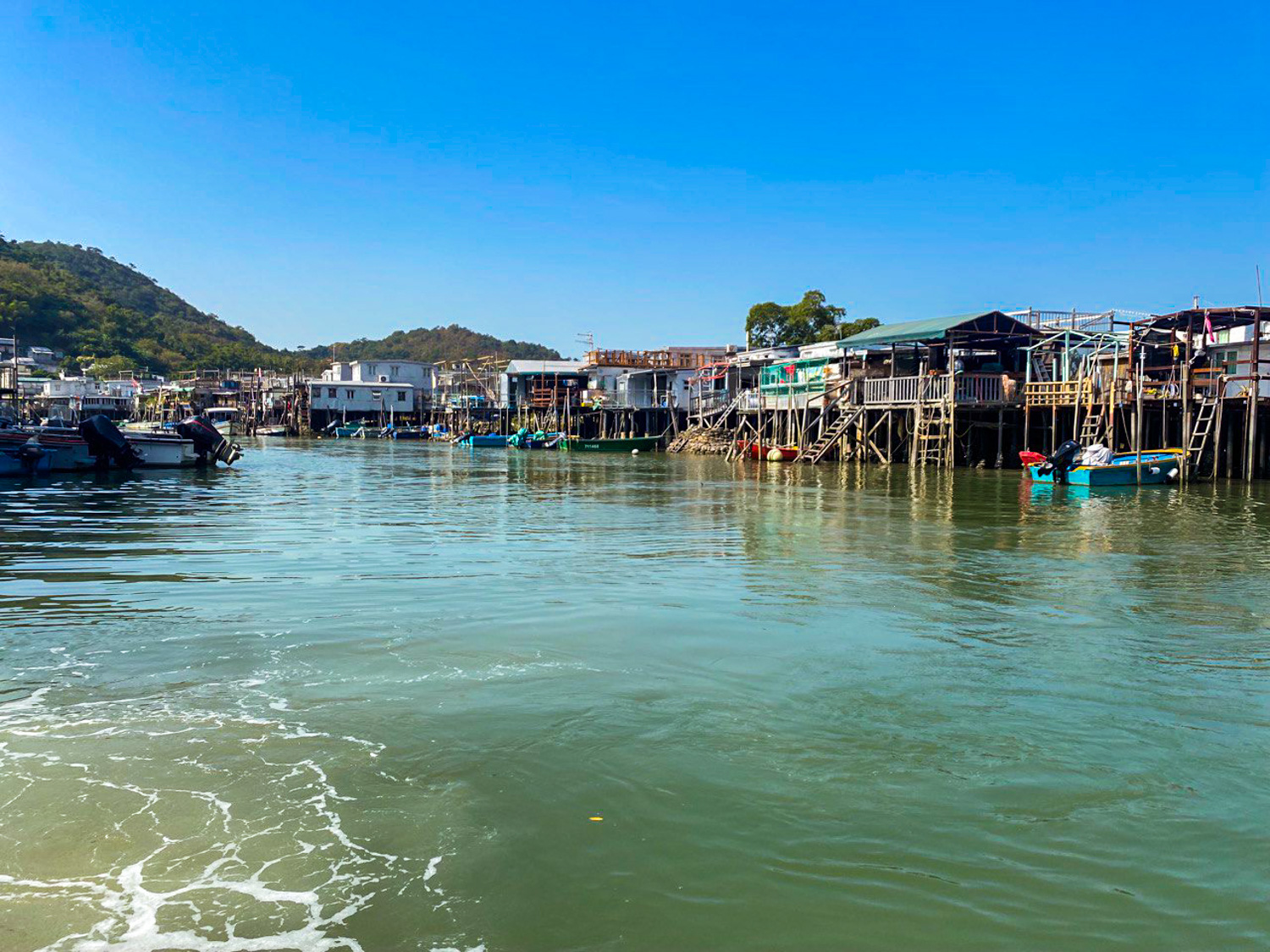 Now, who's up for seeing some pink dolphins?
Pink dolphins?
Yep! One of the highlights of a trip out to Lantau Island is visiting the sleepy fishing village of Tai O. This is one of the oldest fishing villages in Hong Kong, and one of the last remaining in the nation, so it's a truly special place to visit.
To get to Tai O from Ngong Ping village, you'll want to take the number 21 bus, which runs every half an hour. It's a good idea to check the bus timetable once you've arrived in Ngong Ping (you can do so by using Google Maps to navigate from your current location to Tai O via public transport) — that way, you can keep in mind how long you have to spend at the Big Buddha before you need to be jumping aboard the bus.
A 20-minute journey along the winding roads of Lantau Island brings you to Tai O and its traditional stilt houses that are built over the water. This village is known for its traditional way of life, with fishermen still making a living here, as well as its dried seafood, shrimp paste, and pod of pink dolphins.
Tai O is a wonderful place for wandering small streets, navigating small tin houses, visiting shops, and eating the street food. I really loved the grilled dry squid cooked over charcoal. For dinner you can get some super fresh seafood at Fook Moon Lam restaurant. The salt and pepper fried prawns were a personal favorite of mine.
Take the 21 bus back to Tung Chung and get the MTR back. You might be pretty tired as this day requires a lot of walking so try to get back at a decent time to get some rest because you are going international tomorrow!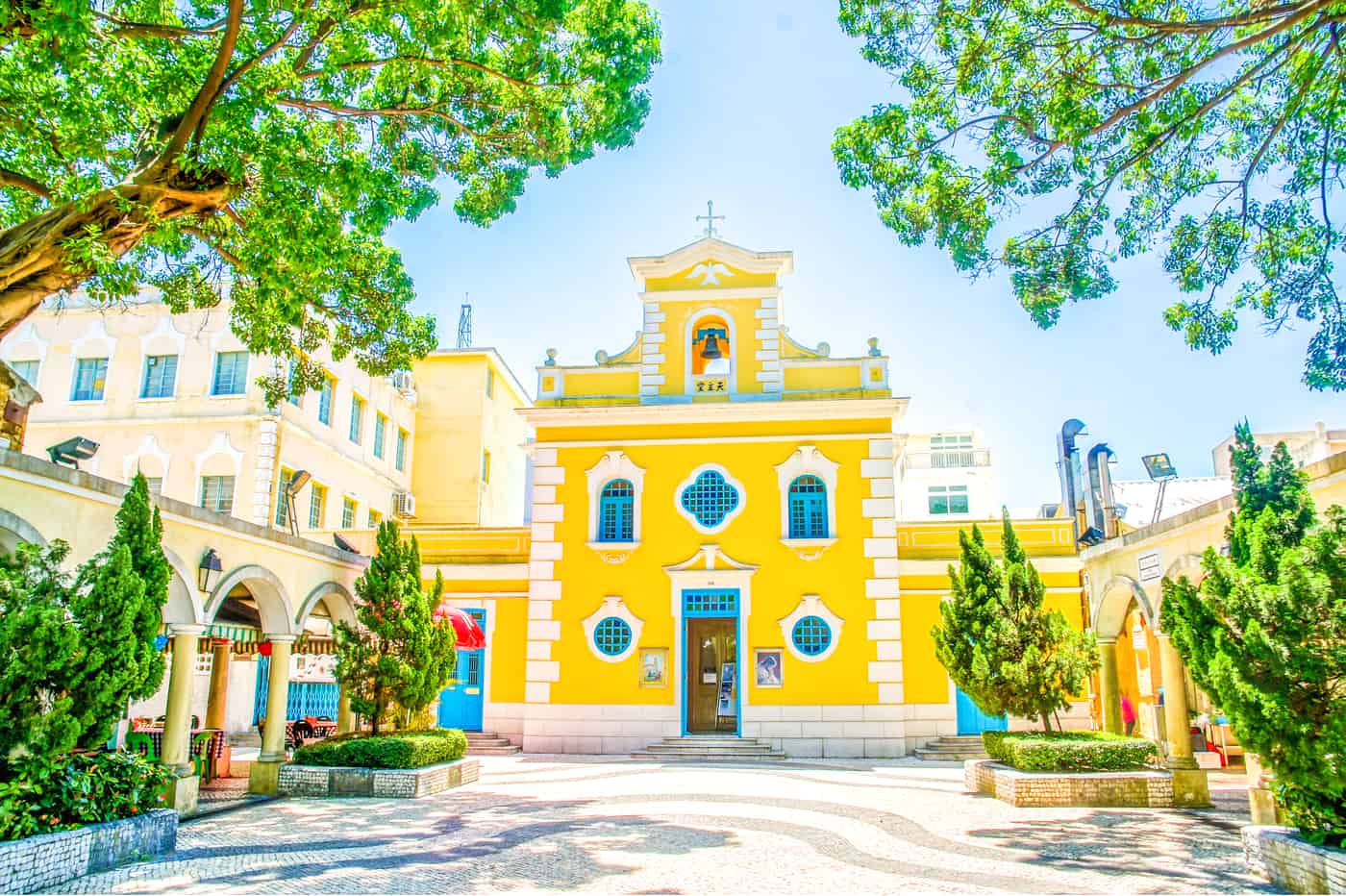 Day 3: It's Time to Head to Macau
Get up nice and early and bring your passport with you because we are going to Macau. Another SAR (special administrative region) of China. Macau was in the hands of the Portuguese instead of the British, giving it a distinctive culture of its own. And since it is just a short ferry ride away from Hong Kong why not?
Have breakfast in the hotel and take the Star Ferry over to Central and from there it is about a 10-15 minute walk to the Macau ferry. There are a couple of different companies you can take with both coming in a little over 170 HKD for a single trip ticket. 
Take a ferry to the Taipa Ferry Terminal, not the Outer Harbour Terminal. However, don't buy a round trip as we will be departing from the other terminal. There are always sailings and seats available so don't worry about booking ahead of time.
When you get to Macau, the immigration process is fairly straightforward and you should be on your way very soon. From the terminal take a taxi to Fernando's. Opened in the 80s this place is one of the best-known Portuguese restaurants in Macau and in the three times I have been to Macau I have never missed a meal at Fernando's.
Extremely simple food with fresh ingredients and a lazy old world ambience, it is a relaxing way to start your day. There is also a black sand beach next to the restaurant which is great for a stroll.
Take a cab back to the Venetian. Macau is known as the Las Vegas of Asia so it wouldn't make sense to go the whole day without hitting up a casino right? The moniker isn't even really accurate, as before the pandemic, this tiny island was bringing in four times the gambling revenue of Vegas!
Take a Gondola ride throughout the casino, with your guide's voice rivaling and most likely surpassing that of any real Venetian gondolier. The paintings on the wall and ceilings will transport you to the Italian backwaters, and it's probably just as crowded. When your voyage has ended, head into the casino floor for a couple spins of the roulette wheel and rounds of blackjack. It might just be your lucky day.
With your new found riches in hand, take a cab (the public transport system is somewhat lacking next to Hong Kong) and make your way towards the old town. Start at the Senado Square. Meander along the gorgeous black and white tiles that carpet the walkways and take in your surroundings.
Also, make sure to try some street food while you are there, the can't-miss stuff are the pork chop buns and Portugese egg tarts, phenomenal.
Take your time and walk through the winding streets of the old town and continue onward to the ruins of St Paul, a 17th century Catholic church. Destroyed by a fire in the 1800s, the facade is a majestic ruin and really a sight to behold. There is also a small museum underneath worth checking out.
To top off the night, have the deliciously tender veal and a glass of Portuguese wine at Mariazinha and wind down from a long day. Take a cab back to the ferry pier and make your way back to the hotel to get ready for your last day. 
Day 4: Round it All Off With a Stint in Kowloon
If you've been basing yourself in Tsim Sha Tsui, you'll have already encountered a small taste of what the peninsula of Kowloon has to offer. Today, however, we're going to go even more in-depth into this part of the city, venturing into some of the neighbourhoods that are located further north of your hotel.
And we kick out explorations off with a basketball court.
Yes, really.
Choi Hung Estate is located 30 minutes away on the metro from Tsim Sha Tsui and may just be one of the most photogenic spots in the city.
The palm trees, the retro basketball courts, the pastel rainbow buildings: if you love your photography this is going to be a paradise for you. I have to confess it's a popular photoshoot destination, so you won't have the area all to yourself, but stick around for 15 minutes and you'll be able to nab an aesthetic photo for your feed. Just remember: people do live, and play basketball, here so try to remain as non-intrusive as possible.
It can also be a little bit tricky to find as the basketball court is actually located on top of a car park! Put "Choi Hung Estate Car Park" into Google Maps to get you to the right building, which will be a two-storey car park. Look for the set of stairs to get you to the top and you'll be there!
From one photogenic spot to another: after you've finished up at Choi Hung Estate, it's time to head to nearby Chi Lin Nunnery and Nan Lian Garden. These two connecting Tang dynasty-style gardens are a joy to explore, and you could easily spend hours just wandering through their grounds. Amazingly, both are free to visit.
The best way to get there from Choi Hung Estate is to walk. It takes 15 minutes to get to Nan Lian Garden, or 14 minutes by MTR, so opt to save the money unless you need to save energy.
We'll start with Nan Lian Garden, as it's closest. Here, you'll find a classical Chinese garden and respite from the cacophony of Hong Kong; I was surprised to see how few people opt to visit, making this one of the least crowded spots on my itinerary. As you wander down the paved pathways, you'll pass by bonsai trees, water features (including a koi pond!), and manicured shrubs, all sat against a backdrop of mountains and skyscrapers. There's a vegetarian dim sum restaurant on site, as well as a Chinese tea house, and gift shop.
But the true highlight of Nan Lian Garden is the golden pavilion, which is pictured above. Its full name is the Pavilion of Absolute Perfection and once you catch a glimpse of it with your own eyes, I'd be surprised if you didn't agree. While it's a little disappointing that you can't cross the bright red bridge to get to the pavilion, it does mean that you don't have to deal with other tourists getting in your photo.
One final thing: there's a pottery exhibition on site, which costs 20 HKD ($2.60/€2.35/£2) to visit, with free admission on Wednesdays. It's not really my kind of thing, to be honest, but it's a small cost and others tend to really enjoy it, so pop in if you think you would, too.
Once you've soaked up all the greenery at Nan Lian Garden, a small footbridge connects you to Chi Lin Nunnery.
This complex opened back in 1934, originally as a retreat for Buddhist nuns, and to this day remains the largest hand-built wooden building in the world. Once you get inside and see it for yourself, you'll realise what an impressive undertaking this must have been! Constructed from cypress wood, this structure was put together without the use of any nails; just interlocking pieces of wood.
As with Nan Lian Garden, this part of Hong Kong is rarely crowded. As you wander through the picturesque grounds, you'll come up against temple halls — 16 of them! — gardens, and lotus ponds. Inside the halls, Buddha statues abound, made from gold, clay, and stone.
In a city that is so built-up and busy, this part of Hong Kong is a tranquil escape from the hustle and bustle that's undoubtedly been wearing down your energy levels. In total, you can expect to spend an hour across both Nan Lian Garden and Chi Lin Nunnery; two hours if you really like your architecture and greenery.
It's time to move on and the next step is just a 5-minute metro ride away: you'll want to take it from Diamond Hill Station to Wong Tai Sin Station. Alternatively, you could walk to Wong Tai Sin Temple; it takes just over 20 minutes to get there.
And what's so special about this temple? It's one of the loveliest Chinese temples in Hong Kong, with the soothing scent of incense wafting through the air. The architecture is all classic Chinese, with red pillars and intricate details that add a sense of tradition.
Now, the main draw here is Wong Tai Sin himself, a Taoist deity known for his healing powers and fortune-telling prowess. Visitors light incense, make a wish, and hope for a bit of positive energy to come their way.
Strolling through the temple grounds feels like a step back in time. There are beautiful gardens with ponds and pavilions, providing a quiet retreat from the urban hustle. One interesting tradition is the Kau Cim, where you can shake a bamboo cylinder, pull out a stick, and discover your fortune. It's a simple, yet charming, experience.
For those curious about their future, there are fortune-telling stalls where you can consult with wise practitioners. It's a cultural experience that adds a layer of authenticity to your visit.
If you haven't picked up on it yet, this part of Hong Kong is home to tons of beautiful sections of green space. The final one we'll visit is the Kowloon Walled City Park, which is a 20 minute walk south of Wong Tai Sin temple.
This peaceful garden sits on the site of the former Kowloon Walled City, once a densely populated, chaotic maze of buildings. Now, it's a calming retreat that beautifully contrasts with its storied past.
Wander through the garden and you'll find remnants of the old city walls, standing like silent storytellers of a bygone era. The red-bricked walls whisper tales of resilience and transformation, offering a glimpse into the rich history of Kowloon.
As you stroll along the pathways, there's a sense of calmness that permeates the air. Traditional Chinese architecture dots the landscape, creating a harmonious blend of old and new. It's not flashy or grand, but it exudes a quiet charm that captures the essence of Chinese culture.
Take a moment to appreciate the bonsai trees and well-maintained greenery, providing a peaceful backdrop against the remnants of the walled city. It's a bit like nature reclaiming its space, reminding you that even in the midst of change, there's a certain beauty in resilience.
For history buffs, the Walled City's South Gate has been lovingly restored, offering a glimpse into what the area might have looked like in its heyday. It's a step back in time, a visual bridge between the past and the present.
Kowloon Walled City Garden is not about flashy displays or bustling crowds. It's a hidden gem: a quiet retreat where you can reflect on the city's history while enjoying a moment of peace.
It's time to take a break from all the green space now and throw ourselves headfirst back into the madness! We're heading now to the neighbourhood of Sham Shui Po. This part of Kowloon may look similar to what you picture when you think of Hong Kong back in the day; all neon signs in traditional Chinese script.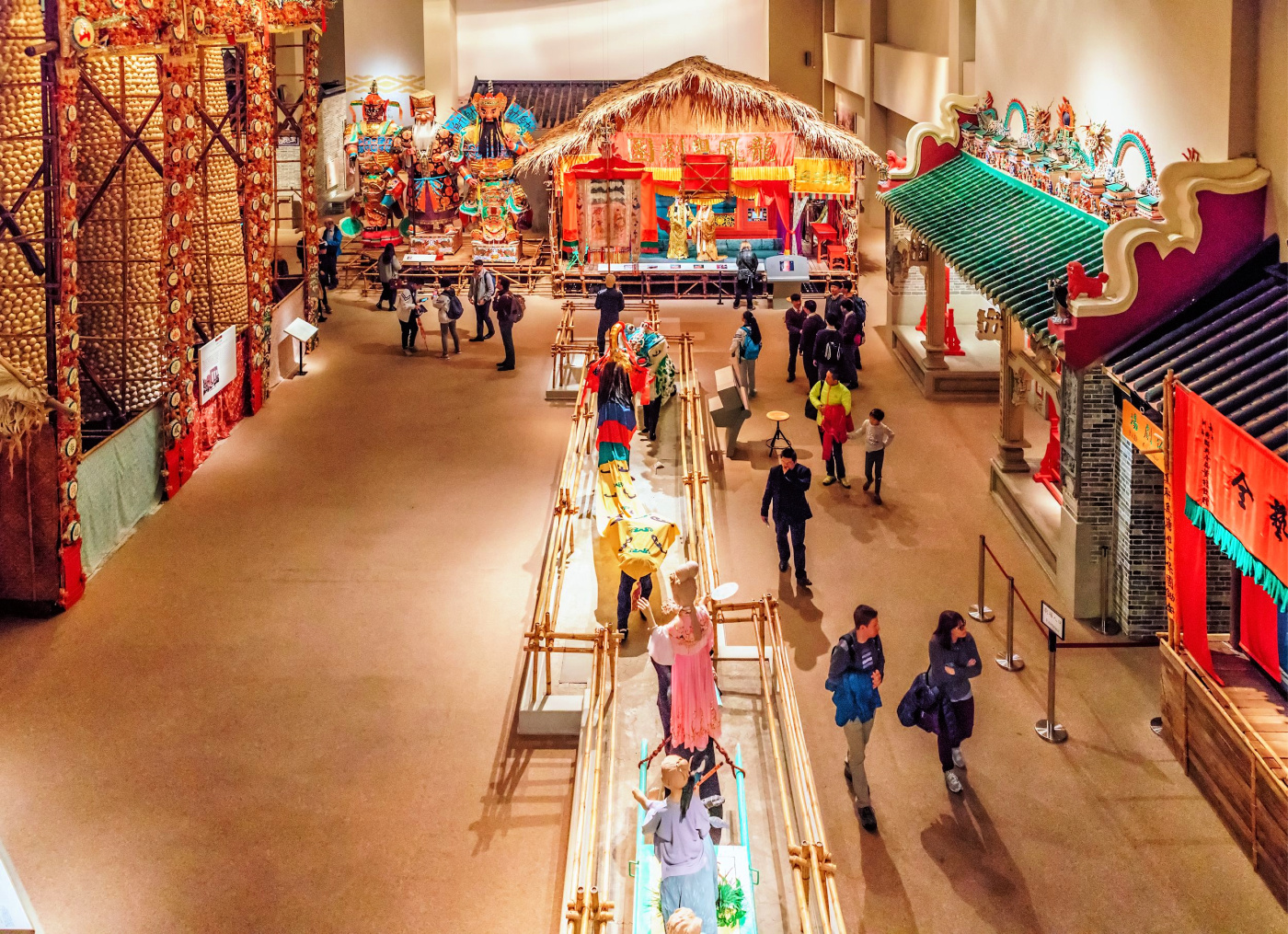 Head next to Hong Kong History Museum in Tsim Sha Tsui. It is always good to get an idea of how the place got to be how it is and put everything into perspective. They have revolving exhibitions as well as a permanent one that does a fantastic job sharing the story of Hong Kong.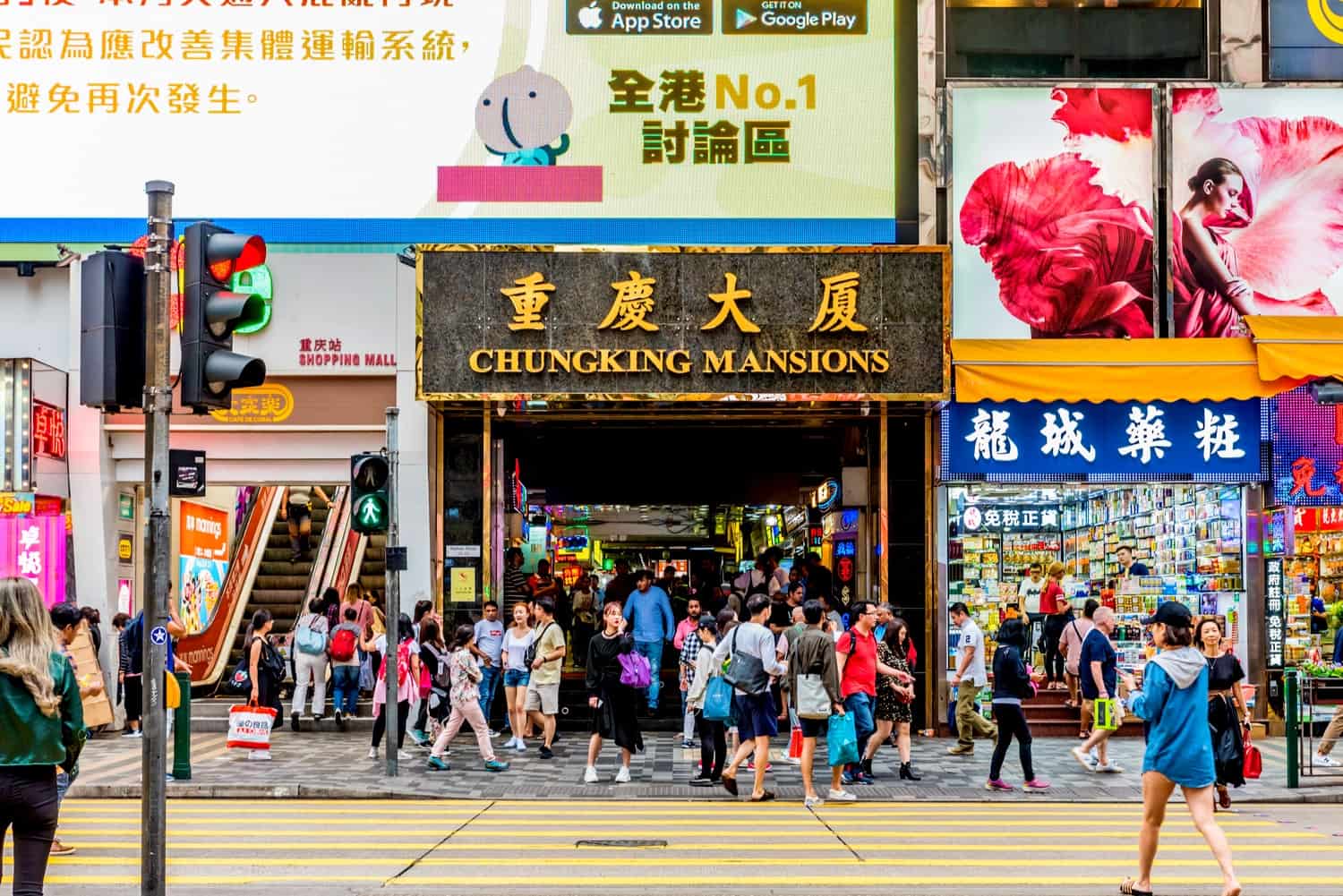 Following that, have lunch in ChungKing Mansions. ChungKing is like a portal to another world that transports you to South Asia and Africa. Migrant workers are a huge part of the tapestry that makes up Hong Kong and their cuisine severely underrated. If you are in the mood for African, I love the jollof rice and black-eyed peas at Ghana Locals and Pakistani food in Khyber Pass Mess Club. 
Next, hop on the bus or MTR and go to the ladies markets in Mong Kok. Don't let the name fool you, there is stuff here for everyone and a great place to find souvenirs, clothes, and electronics at fantastic prices. You can even buy designer clothes at bargain prices. Whether they are authentic or not is another question, even though the sellers will try to convince you that their Christian Door is genuine. This place is also great to polish your bargaining chops. I always start at half what they quote and work from there. It's good fun and the shopkeepers are fun to banter with and always jolly.
You have been walking a lot these past few days so you might need a massage, and luckily in Hong Kong that is not too hard to find. One of my favorite places is the TaiPan reflexology parlor. Very traditional and chic decoration, extremely fair prices and world-class therapists, they will have you back in walking shape in no time!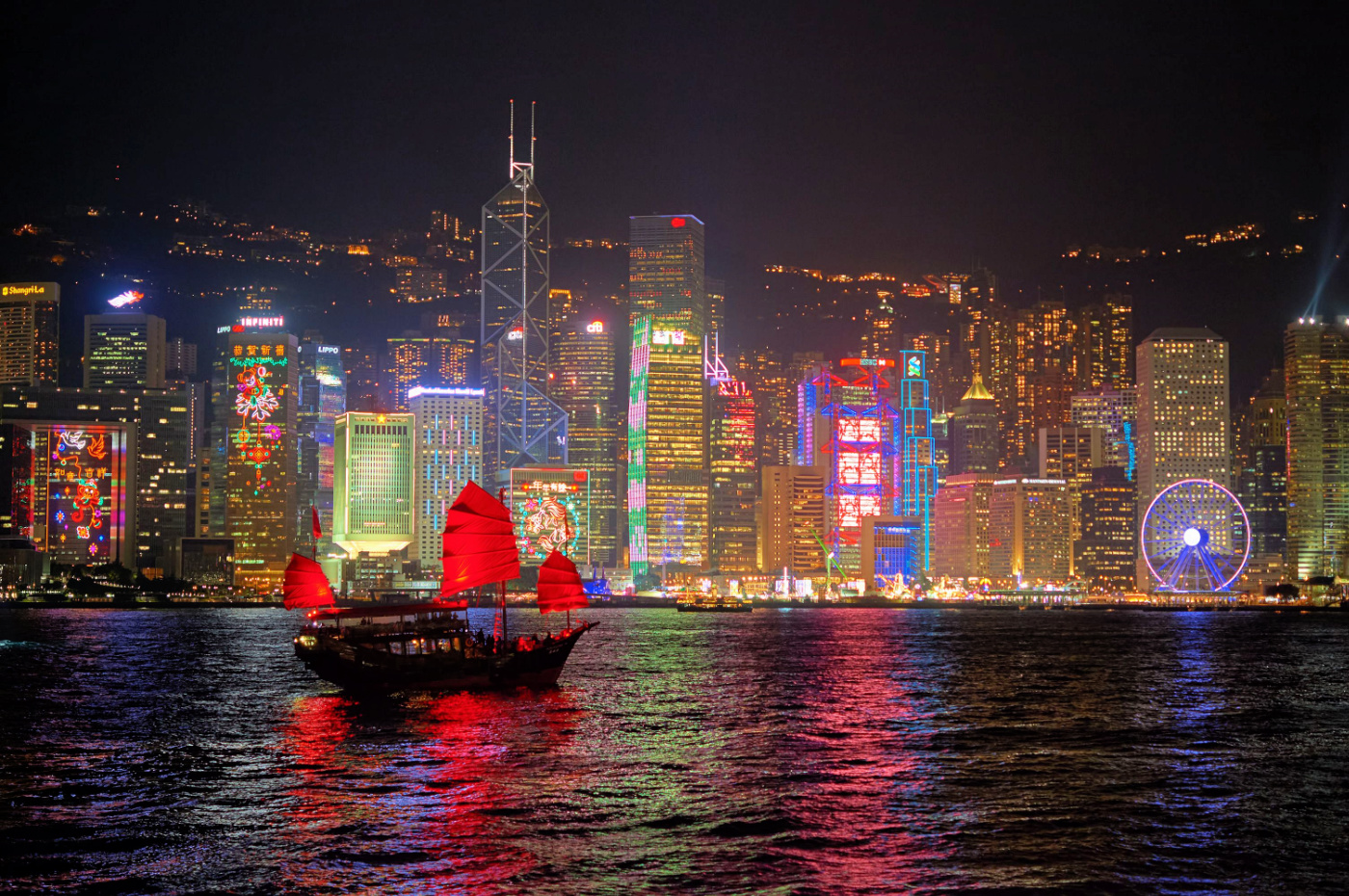 End your day and your time in Hong Kong, the way you started it, on the harbor. At 7:30 every day the Aqualuna, sets sail for a magical sunset cruise followed with a scrumptious dinner at Hutong Restaurant with a window seat that continues giving you that sweet sweet harbor view.
Watch the buildings light up in all their fluorescent glory and at 8:00 there is also a "Symphony of Lights" show that you will have front row seats for. It is the perfect way to end a magical stay in HK and will leave you with an image of the city you won't soon forget.
I would encourage you to make a reservation as seats are limited especially during the high season. This is one thing that you honestly cannot miss.
If you still aren't done then I don't blame you. If you don't have an early morning flight and are not shopped out there is also a night market in Jordan that is a personal favorite. Similar to the ladies market in Mong Kok, however, there are less clothes and more gadgets, paintings and souvenirs.
A little more of a shady feeling than the day market but is actually a little more fun. There are also lots of seafood stalls on the sides with plastic chairs that are great for having a few Tsing Taos, late night snacks and watching all the life go by.
If you just want to get loose and let your hair down, make Knutsford Terrace your last stop. Kowloon's answer to Lan Kwai Fong, but with more of a local vibe there is any kind of venue you want. Want a club? China Bar. Want a chill place you can play pool, darts, or beer pong? Arena Bar. Casual cocktails and beer? Assembly.
Head back to the hotel, satisfied, happy and hopefully not too hungover tomorrow.
What To Know Before You Go
Know Where to Stay
Tsim Sha Tsui is the best place to stay for visitors hands down. It is extremely walkable, centrally located and close to most attractions. It is also home to the most iconic hotel in Hong Kong, the Peninsula Hotel. There is no other hotel in the city that even comes close to having the history of the Peninsula Hotel all while maintaining a standard of luxury that is astounding.
Amazing dining options, Roman-style indoor pool, and reportedly the most comfortable beds in the city. Now I can't speak to that as there are hundreds of other hotel beds that I would need to try, however, sleeping on this I definitely believe it.
It is also located right next to Victoria Harbour with stunning views out the window and the building itself built in 1928 is a work of art. It does not come cheap, but if you can swing it, you will not be disappointed. The service I experienced is also outstanding, but at the price point you expect it to be!
Know When to Go
I feel like most guides say to go everywhere from March to April and September to November, but realistically going to Hong Kong anytime that is not May to September is prime time. Most of the rain falls May to September and it is sweltering hot with humidity usually in the 90s and temperatures in the mid 30s. Outside those months the temperature is moderate and the climate is dry.
Travelers from a colder climate will not find the winters harsh at all despite the amount of locals looking like they are preparing for an Everest trek.
The Mid Autumn festival usually held in October is a great time to travel as the mood is festive and there are tons of things to do. I would advise the opposite for Chinese New Year as most things are closed and many people are in mainland China to spend time with family.
Know How to Get Around
The public transportation system in Hong Kong puts most of the world to shame. With only 10% of the population owning personal vehicles, it's a wonder anyone needs them at all. Trains, buses, taxis and ferries interconnect every part of this metropolis with ease. I would recommend downloading the Citymapper app before you visit, it was a lifesaver for me. It shows all the different routes and combinations of routes to get to your final destination along with how long each way will take and the price for each one.
All the public transportation options take cash but the most efficient way to get around is an Octopus card. It is a prepaid card that you can use on all public transport save taxis and makes it easy so you are not fumbling for change the whole time. You can pick one up at every train station for a 50 HKD deposit. When you leave you can get the deposit back at any train station, and you can top up in the station or any 7-11 or Circle K.
There is Uber in Hong Kong but will usually find a taxi before your Uber arrives and it will likely be cheaper. If you are going to a main location, they will understand you just fine, but if going somewhere out of the way and you don't speak Cantonese, it might be better to Uber to make sure you end up at the exact spot. All taxis are metered however so scamming is not an issue.
Know Some Tips and Tricks
I say this everywhere I go but get an eSIM! Especially in Hong Kong, where you are usually fully reliant on public transport, being able to get your bearings is very important.
Scams and pickpocketing aren't very common at all. Exercise a normal amount of caution and you will be more than fine.
Hong Kong is a great place to pick up used electronics. The phone and laptop I am using right now are from a computer center in Hong Kong and they are still going strong three years on. The Golden Computer Center in Sham Shui Po, the Computer Center in Wan Chai and Sin Tat Plaza in Mong Kok give reliable devices at great prices!
You don't really need to tip in Hong Kong. The only instance would be at fancy restaurants and while it would be appreciated, most people don't as service charge is already included.
It's always nice to learn a few phrases. M'goi is thank you, Jou San is good morning and Nei Ho is Hello, and while Hong Kong is technically part of China now, Ni Hao isn't used unless you are a pure Mandarin speaker.
Take the airport express into the city, it's super fast, convenient and much cheaper than a cab. If you are staying in the hotel recommended above, get off in Kowloon Station and take a short five minute cab from there.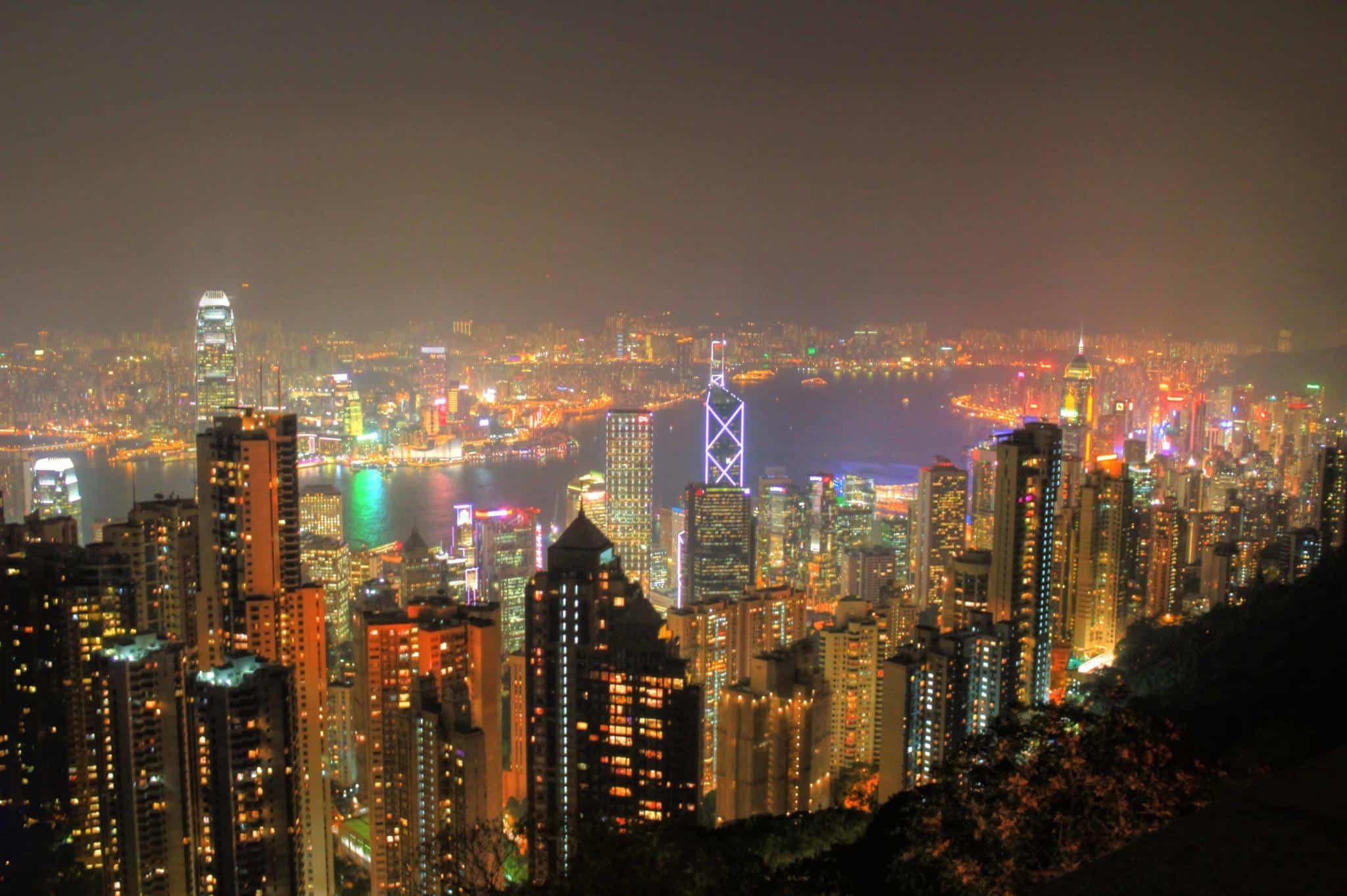 And that was Hong Kong!
Spending four days in Hong Kong (and Macau) is loads of fun. I would suggest no less than that and if you wanted to add more days I would highly encourage it. Hong Kong is one of my favorite places and if you get the chance you have to go! I hope with this guide that you will be able to discover even more cool places on your own.