When I was planning my South Pacific island-hopping adventure, I knew it wasn't going to be cheap.
Unsurprisingly, the South Pacific is home to some of the priciest places on the planet; none more so than Bora Bora. This paradise island regularly tops lists of the most expensive honeymoon destinations in the world and during my research, I kept reading that prices range from expensive to indescribably expensive.
Challenge accepted.
One of my favourite things to do is shatter misconceptions about places around the world. I love going to destinations that have a reputation for being expensive and sharing exactly how you can visit for far cheaper.
Knowing that Bora Bora had such a high-end reputation was pulling me towards it. I immediately booked a one-way ticket to paradise, then set about figuring out how on earth I would be able to visit without spending all of my savings.
So can you visit Bora Bora on a budget?
Absolutely!
I was surprised by how easy it is to do so. After booking my flight, I jumped online, sorted the nightly accommodation prices on Booking.com from low to high and was greeted with several guesthouses and hotels for well under $150 per person per night. A quick google of affordable guesthouses on the island brought up even more options that weren't listed online — there were dozens of well-reviewed guesthouses for as little as $50 a night.
Did you know there's a hostel on Bora Bora? It costs just $30 a night to stay there.
Who knew Bora Bora could be so inexpensive? I certainly didn't!
And I'll address this point now, because it always comes up whenever I talk about visiting stereotypically expensive places, like the Maldives or the Cook Islands, on a budget — this is not Southeast Asia cheap. You won't find hostels and guesthouses for $1 a night, and likewise, you won't find any street food for $1 a meal. If that's your budget, the South Pacific isn't for you.
But that doesn't mean it's ridiculously expensive, either.
On Bora Bora, a typical budget for a shoestring traveler is $20 a day. If you're a budget traveler, you'll spend no more than $500 for a week-long stay on the island. Don't believe people who say it's impossible to visit Bora Bora on a budget or that you need to use points and miles in order to score a bargain — it's not true and budget travel is possible to do here.
Let's get into the details.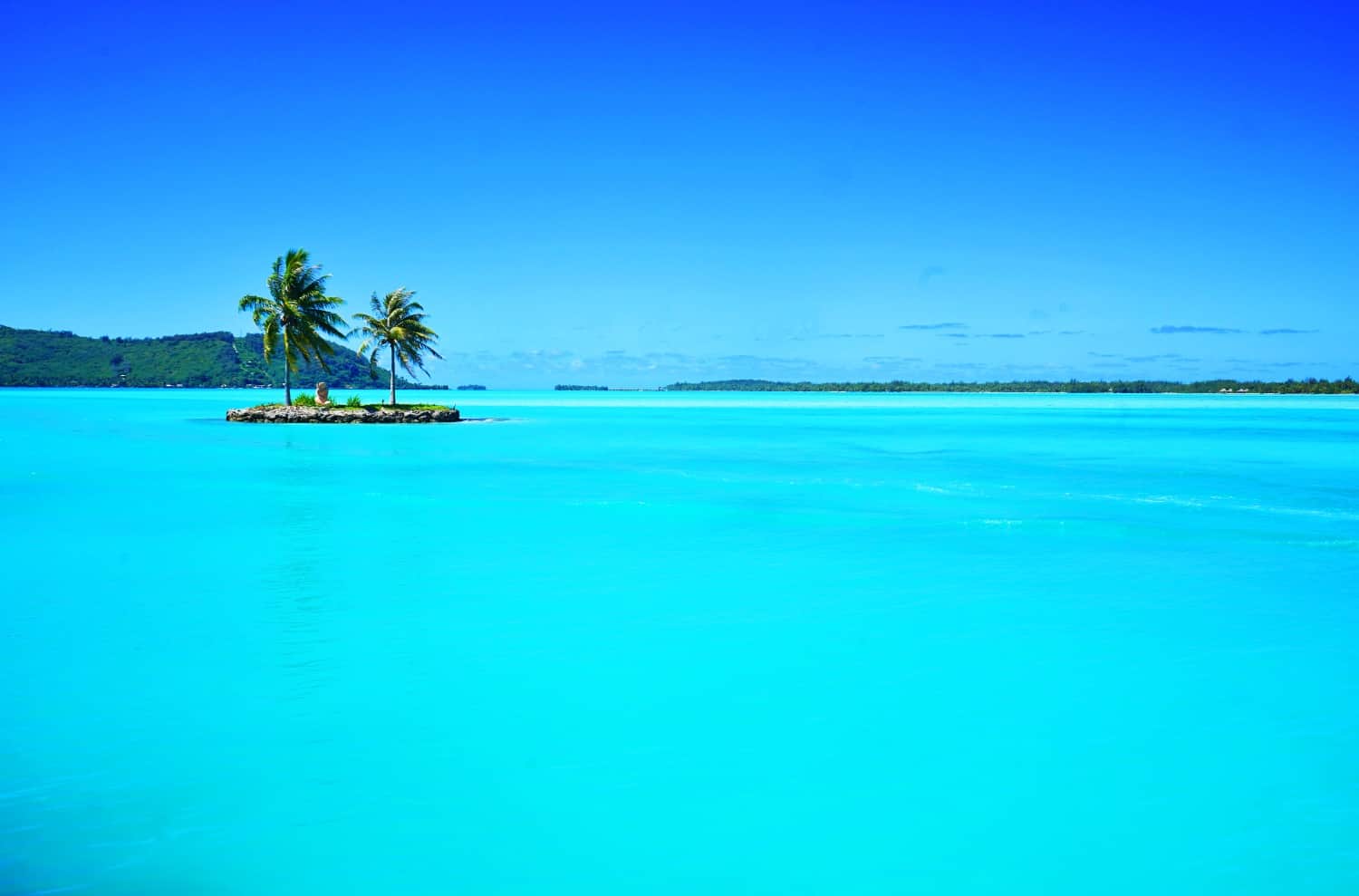 How to Get to Bora Bora Affordably
Your biggest expense when it comes to Bora Bora will most likely be the flights to get there. I don't collect points or miles, so my guide is for those of you who don't have a ton of miles to blow on the flight. If you do, use them! If you don't, don't let this put you off.
My biggest and best advice of all is to start checking Secret Flying religiously. This website is my holy grail when it comes to travel deals and it's thanks to them that I managed to score return flights from Lisbon to Cape Town for 280 USD, Rome to Japan for 350 USD, and one-way flights from Copenhagen to Los Angeles for 120 USD, along with Singapore to London for 102 USD. They're totally legit and regularly share deals they've spotted for Bora Bora, too.
As I write this right now (June 2023), they're actually sharing a deal from U.S. cities to Tahiti for just 650 USD return, which is an incredible price!
If Secret Flying isn't showing anything you can fit in with your schedule, I recommend heading to Skyscanner next. Search from the country you live in to Papeete (the main airport in French Polynesia) over the space of the month you want to visit, and you'll be able to make sure you're flying on the cheapest dates. You may find it works out to be many hundreds of dollars cheaper to fly out of a different airport that's still within driving distance, for example, or that leaving a day earlier will save you lots of money.
If you're based in Oceania, flights are going to be cheapest for you. From Australia (east coast) and New Zealand, flights to Tahiti start from $300 one-way, and if you're already hanging out in the South Pacific, they're just as affordable. I paid $356 for my flight from Rarotonga, in the Cook Islands.
If you're based in in Southeast Asia, the cheapest way to get there is to take a flight to Australia for a hundred dollars or so with a budget airline and then onwards to Tahiti. Definitely make sure to check Skyscanner if you're in Southeast Asia, as you can regularly get from there to Australia for $100 each way.
French Polynesia is a French territory, rather than its own separate country, so European readers will most likely find the cheapest flights from Paris, but it's worth checking places further east, like Turkey, as well.
North American readers: the best way for you to get to Bora Bora cheaply is via San Francisco. French Bee flies there direct for $370 each way, which is a pretty sweet deal!
I also want to mention that if you're planning on taking a round-the-world trip, you should be able to work French Polynesia into your itinerary without a problem. Several of the travellers I met in the region were there as part of their round-the-world ticket, so it's definitely something to look into for a stopover.
Most of the deals and routes mentioned above will get you to Papeete, on Tahiti, which is the main airport in French Polynesia. From there, you'll need to take a 30-minute flight to Bora Bora — a flight that I have to confess is annoyingly expensive.
You'll be looking at around $200 each way for the 30-minute flight, but before you give up and decide to go somewhere else, there is a way to drastically cut down the amount you pay for your flights.
I picked up an island hopping pass from Air Tahiti, which gave me a 60% discount on what I would have paid if I'd booked all of my flights individually. Rather than just visiting Bora Bora, I flew from Tahiti to Maupiti, Raiatea, Huahine, Bora Bora, and back to Tahiti over the space of two weeks. For this, I ended up paying $400 for seven flights to five islands, including Bora Bora. That makes my flights into and out of Bora Bora just $60 each way.
If you only want to visit Bora Bora, this isn't super helpful, but I will say that I loved travelling around the Society Islands, and if you have a couple of weeks, it's well worth checking out many of the islands, like I did. Maupiti is just like Bora Bora used to be 50 years ago and Huahine ended up being my favourite island in the South Pacific. It's definitely worth considering some of the other nearby islands, as you'll gain more value for your money.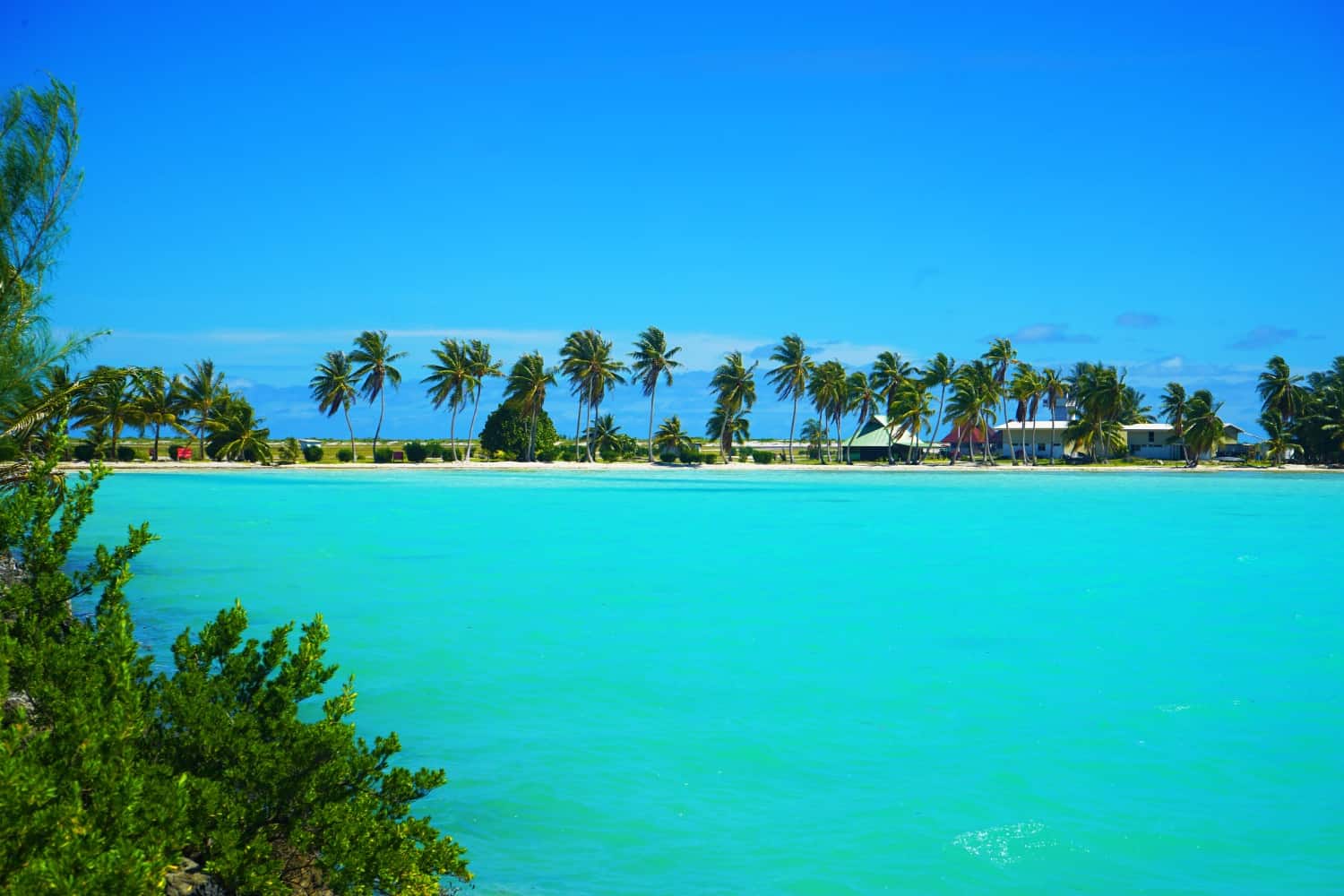 Staying on Bora Bora for Cheap
Raihei Location2 is the cheapest hotel on the island, and you'll pay just $96 a night for a spacious double bedroom — or $86 a night if you're a solo traveller. They also have dorm rooms available for all of my backpackers out there: a bed in a mixed dorm is just $47 a night. How amazing is that? Bora Bora for less than $50 a night! And the guesthouse is such a lovely spot on the island; exceptionally well-reviewed and run by a welcoming, kind family who can help give you an insight into how locals live. I personally wouldn't consider staying anywhere else on the island.
But what if that's not quite your jam?
There are several budget guesthouses on the island that receive great reviews. Check out Sunset Hill Lodge for doubles/quads starting at $120 a night.
As I mentioned above, there are Couchsurfing hosts on Bora Bora, so if you want to travel on a super-tight budget, that's definitely a route to go down — your accommodation will be free! Couchsurfing isn't my kind of thing, so I didn't try it out, but there are a handful of hosts on the site. It might be worth putting the call out to see if any of them are interested in hosting you.
Airbnb is another great option for Bora Bora, if not the best option overall. There are 12 rentals listed for under $100 a night.
You can even camp on the island for just $46 a night! This particular place sounds like such an epic way to see the island — you'll be hanging out with locals, been shown their Bora Bora and learning more than you would in those overpriced overwater bungalows.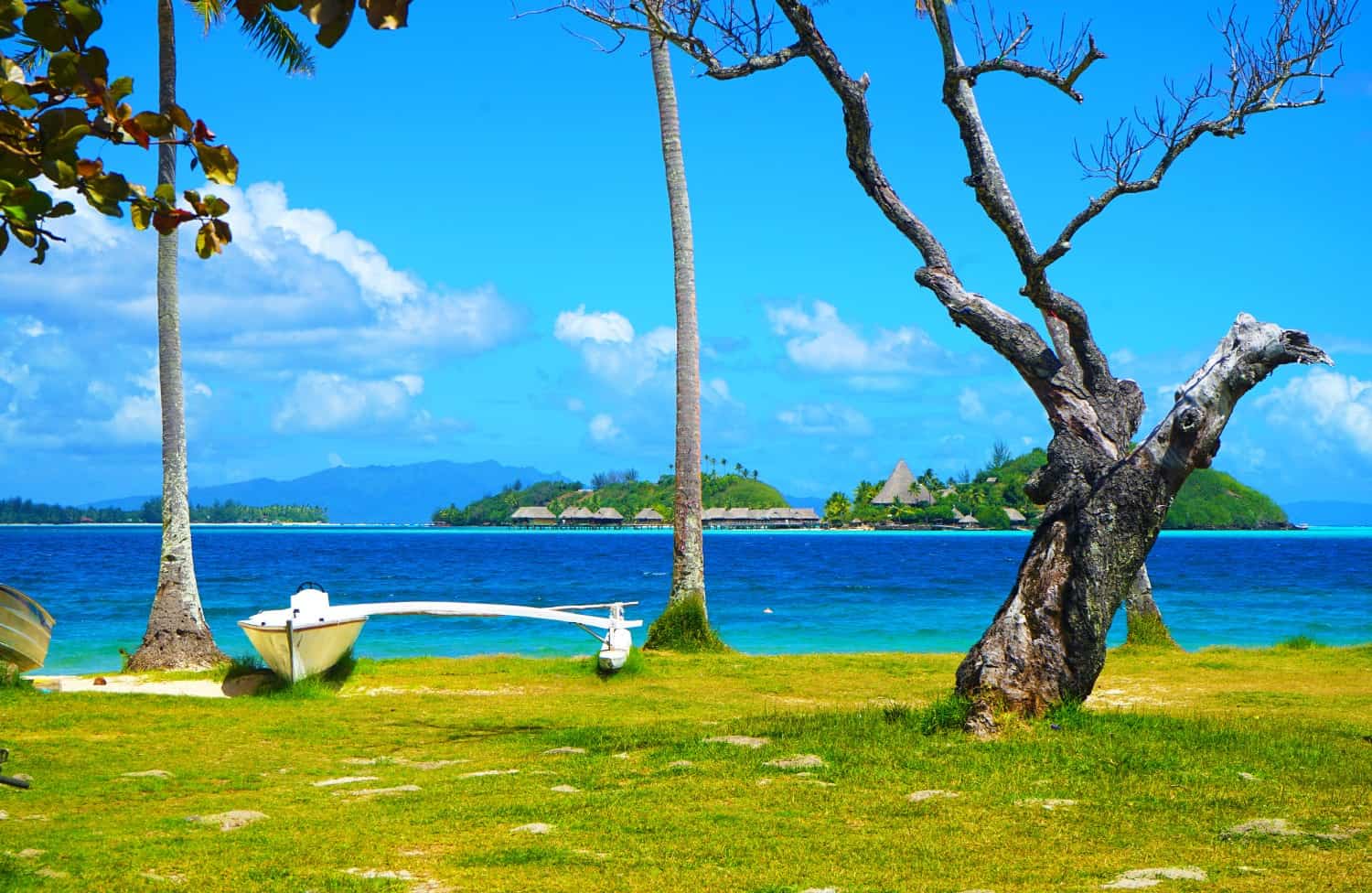 The Cost of Transportation in Bora Bora
Bora Bora's airport is located on a motu — a reef island — so to get to the mainland, you'll need to jump on Air Tahiti's free catamaran shuttle. It takes you directly to the dock in Vaitape, which is the main town on the island. From there, someone from your guesthouse will most likely pick you up — this is usually free, but make sure to check before making your booking, as you don't want to be caught out with any unexpected costs when you arrive.
The easiest way to get around is to rent a bicycle. I paid $15 a day to hire mine, but saw signs for $10 around the island.
There are rumours of a bus that runs from Vaitape to Matira Beach and back every hour for $4.75, but I never saw it. It's definitely worth asking around at your guesthouse for more information, though, as this can definitely help keep your costs low.
Taxis are crazy-expensive on the island, so avoid those. And car rentals, too. The mainland is 18 miles in circumference, so you could easily cycle or scooter your way around in a day.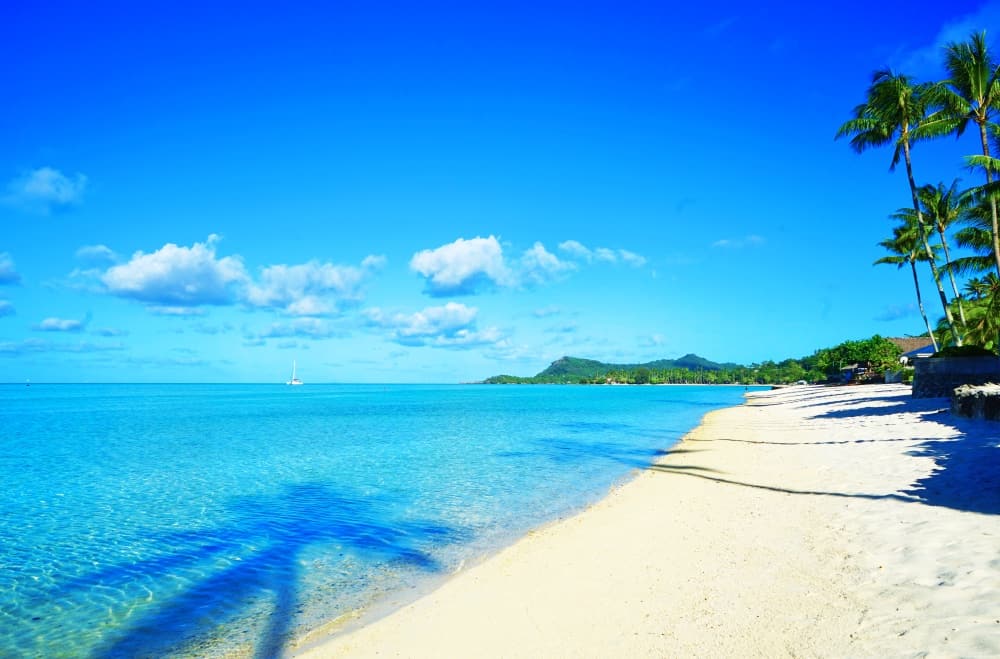 The Cost of Activities in Bora Bora
There are plenty of things you can do on the island without spending too much money.
If you're going to do an island-hopping trip around several of the Society Islands, as I recommended, you may want to do save your activities for the other islands you're going to be visiting. Lagoon cruises are just as amazing on Maupiti, for example, and you'll be paying far less for them than you would on Bora Bora. If you're only heading to Bora Bora and you're determined to make the most of your trip, here are some suggestions:
One of my favourite (and totally free) activities was heading to the Intercontinental Hotel (on Matira Beach) and watching the leopard rays glide past every evening. Matira Beach is one of the best beaches on the mainland, and it's well-known for attracting various types of rays throughout the day. I even had one swim within a few feet of me while I was hanging out in the lagoon.
Hiking throughout the island is another free activity that'll net you some incredible views and photos as you explore. Mount Paihia is one of the best in Bora Bora for reasonably athletic people, and hikers do climb it without a guide. Ask at your guesthouse for details of where the hike starts, as the entrance can be a little tricky to find.
When it comes to paid activities, you can shop around through Get Your Guide to find the best prices. One of the cheapest activities is a very well-reviewed 4WD tour of Bora Bora for just under $75 — this is a great option if you want to spend half a day seeing the very best of the island, and the reviews of the tour are glowing.
Another option is this snorkelling cruise ($81), where you can feed and play with stingrays and sharks as you explore the lagoon. This is a quintessential Bora Bora experience, and my friends who did it said it was the highlight from their trip.
If snorkelling isn't your thing, you could take a lagoon cruise and picnic for $216. This will take you around the water to see the most spectacular parts of Bora Bora and is worth doing if you can afford it.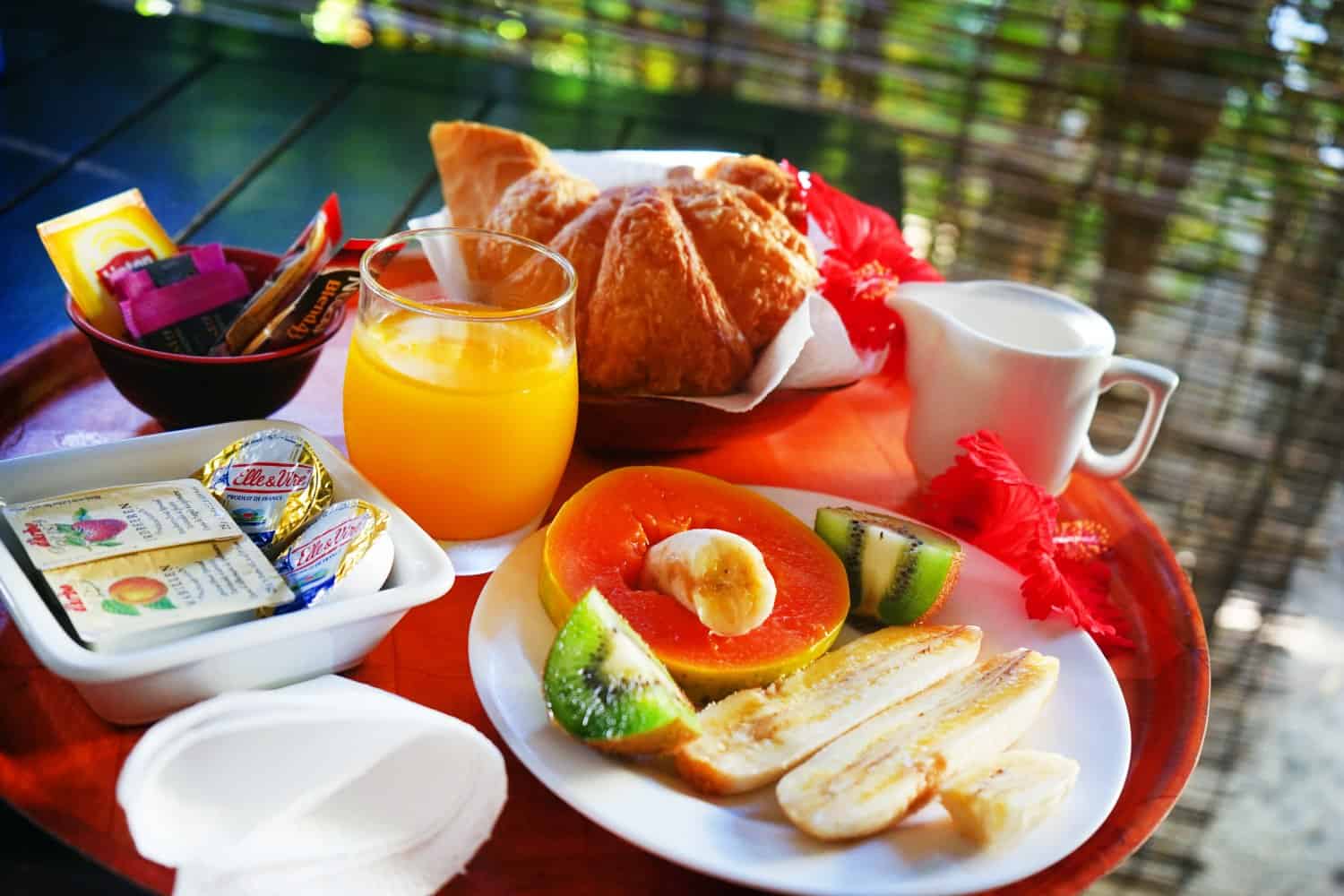 The Cost of Food in Bora Bora
Due to my lack of excursions, food was one of my biggest expenses in Bora Bora. Prices definitely increased from the other islands I'd visited, although (surprisingly) the quality didn't drop.
Breakfasts! As I was staying near Matira Beach, I walked the half-mile to Tiare Market to stock up on fresh bread, croissants, and fruit for a third of the price that I'd pay for a guesthouse breakfast. There was also a small store near the beach with cheap snacks if you just wanted to grab a bag of crisps or a chocolate bar.
When it comes to lunches and dinners, there were way more affordable options than I expected. Lucky House is a pizza place beside Matira that drew me in with their free Wi-Fi, but kept me there with their great pizzas. I know, I know. So Polynesian. For $13-$18, you'd get a large pizza that was actually really tasty, and would usually count for my lunch and dinner if I went down there at around 3 p.m. — it's one of the most popular spots on the island, so definitely aim to eat there at least once.
Snack Matira is another epic food spot, where you could grab a burger, french fries, and a couple of drinks for around $12.
There are a few roulettes (rolling food trucks) around Matira, which is where the locals eat. There, you can find burgers, beer, fries, fish sandwiches, and chicken for around $10 a meal.
Budget travel tip: I recommend picking up a GRAYL water bottle to save money on drinks while also helping protect the environment. The water bottle works a bit like a French press — you fill it with water and then slide the filter down to the bottom of the bottle. Doing that kills 99.999% of all viruses, bacteria, and cysts in water and gets rid of any sediment, chemicals, or weird flavours or smells, making it completely safe to drink. You can drink tap water anywhere in the world with this kickass bottle and not get sick — whether you're in India, Mozambique, or French Polynesia!
---
So what's it like to travel around Bora Bora on a budget?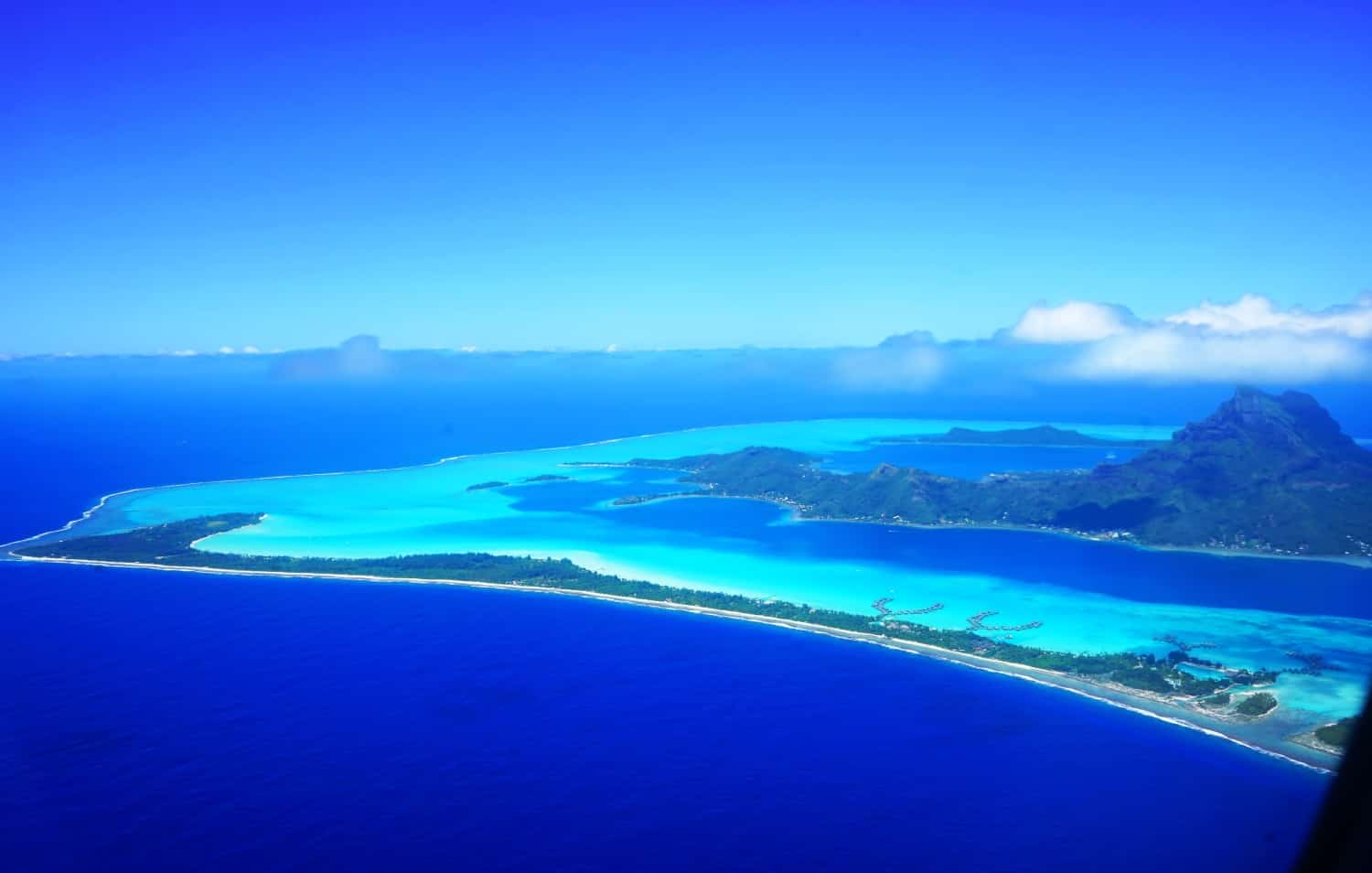 I Was the Only Solo Traveler
Just like the rest of my time in French Polynesia (and in the Cook Islands), I didn't meet any other solo travelers. This wasn't a huge surprise in Bora Bora, given that it's best known for being a honeymoon destination, but even in the cheaper accommodations, it was all about the couples.
I did feel a little isolated on the island, but I think that had a lot to do with the guesthouse I was staying in. The other guesthouses I'd stayed at in French Polynesia had a much more communal feel, with hang out areas and group dinners arranged nightly — that wasn't the case here. Instead, I was given my breakfast on my bungalow balcony, which was surrounded by hedges, so I couldn't see anyone or anything. Great for privacy, but also good for making you feel lonely.
Having said that, once I ventured outside, I was approached by locals all the time and found it easy to make friends. I spent a fun evening drinking a lime-coconut-dodgy-alcoholic-concoction while hanging out with a group of Polynesian paddleboarders who invited me to join them for sunset on the beach.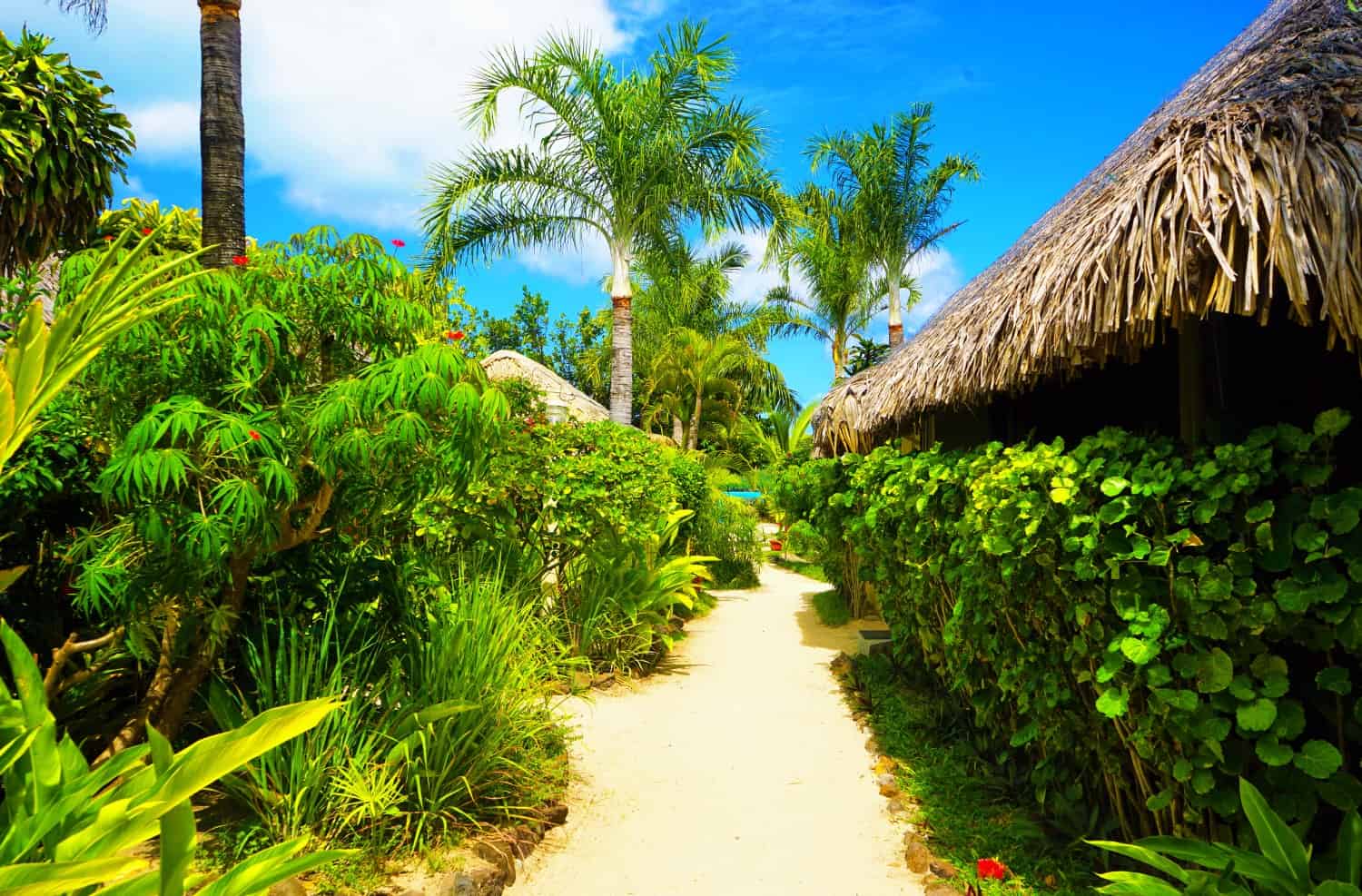 But I Was Far From Being the Only Budget Traveler
You don't really hear much about Bora Bora as a budget destination. Or, at least, I hadn't heard anything about it.
When I was researching for this trip and reading other articles about how to visit affordably, they were mostly all about grabbing loads of credit cards, racking up your points, and then spending them on free flights and a fancy resort stay.
So I wasn't expecting much from the budget travel scene. I was expecting it to be similar to when I visited the Maldives back in 2014 — I was the only tourist on the local ferries, I ended up being the only tourist on an entire island, I had beaches to myself, and the guesthouses were either empty or filled with locals.
Nope!
The Bora Bora budget travel scene is far from undiscovered. My guesthouse was full and many of the other $50-80 a night guesthouses looked just as busy. So don't turn up here thinking you're some kind of intrepid explorer who's discovered paradise on the cheap. A lot of people already have.
But the island's big so while there are a lot of people on it, it never, ever felt crowded.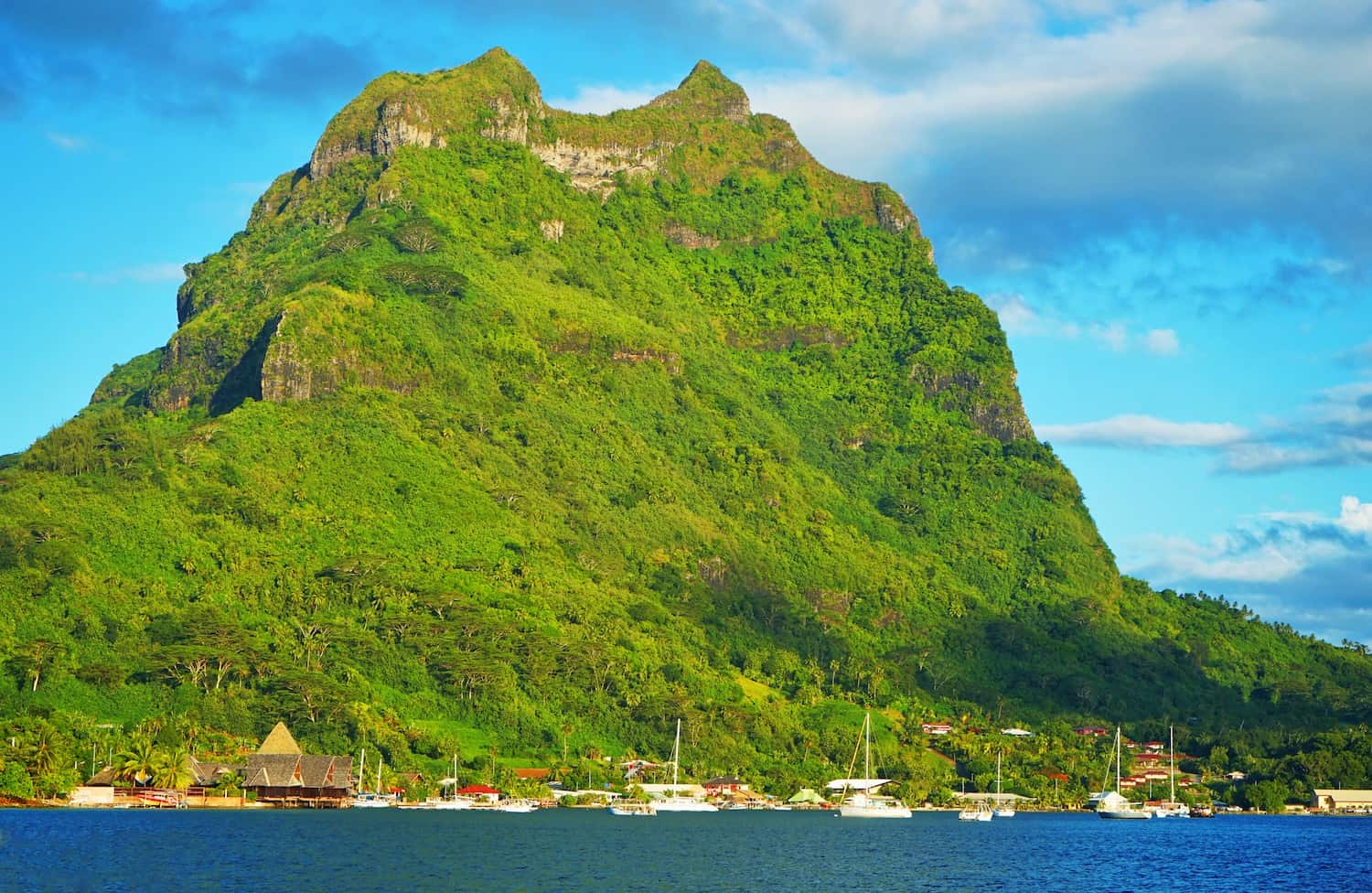 Is It Worth It?
It's funny: before I arrived in Bora Bora, I was expecting to hate it.
I'd just had an incredible trip around some of the lesser-visited Society Islands and was sure Bora Bora wouldn't compare. I mean, Maupiti, for example, is geographically very similar to Bora Bora — it has an extinct volcano in the centre, one main road that winds around the island, pretty beaches, a large lagoon, and some beautiful islands on the outer edges of the lagoon. Wouldn't Bora Bora just be similar, but crammed full of rich tourists, overrun with resorts, and ridiculously expensive?
To my great surprise, it was none of those things, and I was seriously impressed.
Bora Bora's a special place, and I didn't realise how special until I saw it for myself. I mean, it's seriously gorgeous — like blow-your-mind-spectacularly-gorgeous to the point where you constantly feel like you're living in a Photoshopped world. There really aren't that many people on the island either — you can probably see from all of my photos above that there's never any crowds anywhere. I don't know if they're all on excursions or hidden away in resorts (probably), but I never felt like I was in an overly-touristy place.
And the prices? They're not that bad.
You'll pay a little more for food. You'll pay a little more for transportation. You'll pay a little more for the excursions. But it's not eye-wateringly bad. It's $20 for dinner instead of $15; it's $15 a day for a bicycle rental instead of $5. It's $70 for a lagoon cruise instead of $50.
So yes, I'd say that Bora Bora is definitely worth visiting. I'd also say that it would be a good idea to visit another island or two in the Society Islands while you're there to see a different side to French Polynesia that isn't just about tourism and excursions — Huahine was my favourite island and was very different to Bora Bora.
So yeah. Bam! Bora Bora on a budget. It's totally possible.
Related Articles on Travel in French Polynesia

💰 How to Plan a Budget Trip to the South Pacific
🇵🇫 What's it Like to Travel in French Polynesia?
🛫 Flying in French Polynesia is Spectacular
⛰ Meet Maupiti: the Bora Bora of 50 Years Ago
🙈 Stranded and Afraid in Maupiti
🏝 How Not to Travel Raiatea
💗 Huahine Travel Guide: My Favourite Island in the South Pacific