It's hard to believe now, but when I first visited Australia back in 2012, I left the country claiming that Melbourne was the place I'd liked least.
There weren't been any super-famous landmarks to check out like in Sydney. The beaches weren't as great as the ones in Tasmania. The skyline was boring. It felt like just another big city; somewhere to do some shopping. I came away feeling like it had very little to offer tourists, even going so far as to recommend readers skip over it if they had a limited time in the country.
Having said all of that, I'll fully admit that I did many things wrong in terms of sightseeing during my first visit to Melbourne. We were in the city to spend time with Dave's family over Christmas and ended up housesitting in the sprawling suburb of Point Cook, over a half-an-hour's drive from the city centre. We didn't have a car.
Instead of exploring the inner city, we stayed mostly in the suburbs. We got some work done. We hung out with Dave's family. We went for walks around the strangely silent streets lined with identical houses. On the odd occasion that we made our way downtown, it was on New Year's Eve when everything was closed, or to replace our clothes at an outlet mall, or to meet one of Dave's friends for Vietnamese food before heading straight back.
Why didn't we make an effort to see more? Because this was Dave's time to see his friends and family and I wasn't going to try to take him away from them. After all, whenever we spend time in London, we'll often spend weeks at a time in boring Staines, so that I can maximise friend and family time. I don't want to waste a day looking at the Houses of Parliament when I could be hanging out with people I only see once a year.
To me, Melbourne came across like a place to live rather than a city to explore as a tourist, and my month spent living in the suburbs was, um, not as exciting as I might have hoped.
Dave was kind of gloomy when he discovered how disinterested I was in Melbourne — it had been his home for three years before he started traveling and he was invested in me falling in love — so this time around, we resolved to do something about it. It just so happened that our return to Australia coincided with one of Dave's friends taking a trip away, and that was how we found ourselves housesitting once more, but this time, in the hipster Fitzroy neighbourhood.
These days, if you were to ask me where my favourite place in Australia is, I'd answer Melbourne without a moment's hesitation.
I love it. I love Fitzroy. I love vibrant Brunswick street, full of vintage clothes stores and second-hand bookstores and record shops and oddities. I love that it's full of hipsters and hippies. I love the super-cool street art you can find on every street. I love the Victorian architecture; that every building looked crumbling yet beautiful and bright.
I love Fitzroy.
I've always said I could never live in Australia. it's too isolated, and too expensive — both in terms of living costs and as a base to travel from. But after my time in Fitzroy, I found myself eagerly researching the price of apartments. I couldn't believe it, but I was on the verge of committing to living there.
And the one thing that tipped me in favour of doing so? The food.
In Fitzroy, I spent an entire month gorging myself silly on the best brunches of my entire life. No exaggeration.
These are my favourite spots.
Rustica Sourdough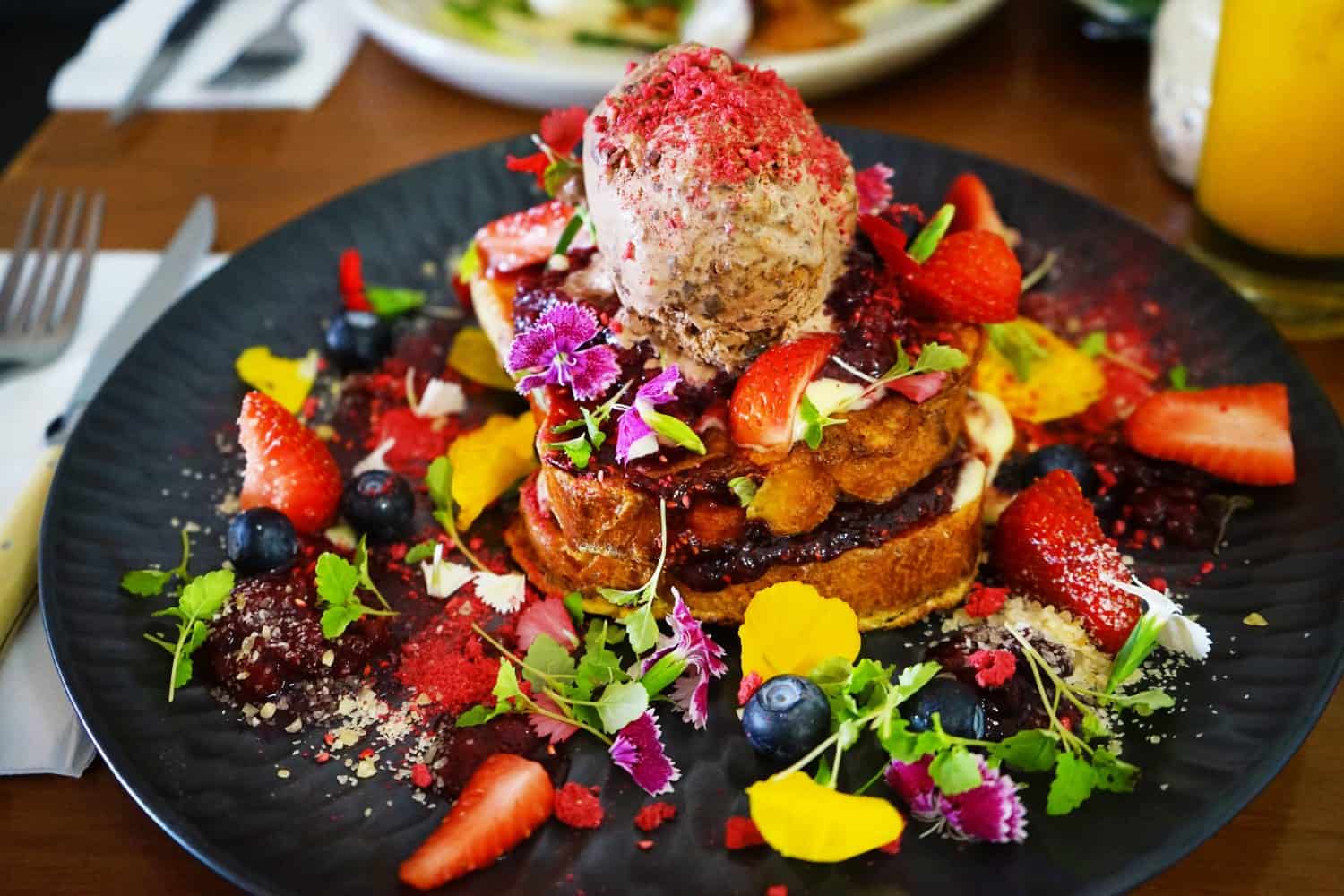 Is this not the best looking French toast you've ever seen?
And I'll fully confess to visiting Rustica Sourdough solely because I'd seen a photo of this exact dish online and wanted to see if it was just as beautiful in real life. Verdict? Yes. Yes, it was.
So what's on this colourful plate of awesome? Those two slices of French toast came complete with chocolate brownie-flavoured ice cream, fresh berries, vanilla mascarpone, raspberry compote, popping candy, and dozens of colourful flowers. It was delicious and actually not as sickly as I expected. But kind of weird as a breakfast food.
And this was what Dave decided to go with: matcha cured salmon, horseradish aioli, crispy potatoes, a boiled egg, and rye sourdough!
The brioche French toast cost A$16.50 and the matcha cured salmon came to A$19.00.
Industry Beans
I very nearly turned into a smashed avocado during my month in Melbourne, and my absolute favourite version came from Industry Beans. Located down an alleyway in an area that's smothered in vibrant street art, it provided a quiet alternative to the restaurants on busting Brunswick Street.
Industry Beans' smashed avocado comes with creamy goat's cheese, charred lemon, green tea sea salt, a poached egg, and two slices of sourdough. So hipster. So great.
Another one of my favourite brunch dishes here was the tamarind blue crab with crispy prawns, shredded green apple, lychees and a Thai omelette. Dave and I both agreed it tasted like something you'd find in a fancy restaurant in Chiang Mai!
Also, I have to give a shout-out to Industry Beans' fantastic coffee! I hate 95% of the coffees I try, but Dave's flat white was so smooth and creamy that I immediately ordered one for myself.
The avocado smashed eggs is priced at A$20.50 and the blue crab was A$22.00.
Breakfast Thieves
Is Breakfast Thieves not the best name ever for a breakfast place? Dave opted to try out The Legend: spicy baked eggs with Spanish hot chorizo, mushrooms, and feta, served with herbed garlic toast.
As for me, I decided to go with The Leprechaun, because I am short. It was all about the sweet corn & herb fritters on spiced tarka dal, along with coconut and yogurt labneh, crisp-fried chickpea, and poached eggs.
Both dishes were priced at A$19.50.
Gutz
If I had to choose my favourite breakfast cuisine in the world, there's no question that it would be Turkish. There was also no question, then, that we'd head to Gutz, which specialises in Turkish breakfasts.
My favourite was the menemen, which was just as good as any I'd had while travelling through Turkey. Gutz's version came with sautéed onions, tomatoes, and bell peppers, mixed in with herbs and scrambled eggs, and served with wood-fired Turkish bread. I may have returned three times in a week and ordered the menemen every time!
This was Dave's favourite dish: the eggs benedict, which came with poached eggs, grilled ham, and hollandaise sauce on sourdough, along with a side of baked beans. Nom!
At Gutz, the menemen is priced at A$16.00 and the eggs benedict is A$15.90.
I came to Fitzroy with a sullen face, convinced that Melbourne was the worst. Who knew that by the end of my month, I would be excitedly planning a future where I moved to Fitzroy and put on 73 kilograms within my first year?
Have you been to Fitzroy? Which brunches do I need to check out when I return next year? And if not, where is your favourite city for brunching around?
Related Articles on Australia

💰 The Cost of Travel in Australia (2022): My Detailed Budget Breakdown
🇦🇺 30 Incredible Things to Do in Melbourne, Australia
🐠 Nerves and Nausea Over the Great Barrier Reef
🦘 Tasmania Is Incredible And You Should Go There Now