Welcome to Fitzroy: the neighbourhood with the best brunches in Melbourne.
Hi, I'm Lauren and I've spent the past decade of my life conducting an extremely thorough review into the art of brunch. It's true: brunch is my favourite meal of the day and Melbourne my favourite city in which to eat it.
I've been fortunate to have now eaten my way across 100+ countries around the world — thanks to my career as a travel writer — but the one place I always returned to was Melbourne. Every single year, in fact. And whenever I was in town? I'd rock up in Fitzroy and spend the next month sampling its best brunches.
I've tried them all. But like, literally. I've genuinely been to every single cafe in Fitzroy and sampled dozens of the brunches that are up for grabs on their menus.
How did I manage that? Well, I live in Melbourne now. And I'm not saying that I moved here — that I got residency for Australia — with the sole intention of spending my life eating beautiful brunches, but I'm also not not saying it.
This article is a guide to the best brunches in Fitzroy. It's not an enormous list, because I'm not a business directory — and unlike other publications, I don't want to just list every single place that offers a brunch in this neighbourhood. Instead, it's a curated rundown of the actual best places. These are the spots that I've been to multiple times, that I'd queue for an hour to eat at, that I bring friends and family to, and that showcase that perfect blend of quality, creativity, and consistency.
And because I live in the inner north of the city, it's a super-updated guide. If there's a new cafe in town, I'll be queueing up to support it on opening day, and if there's a place that's closed down, it'll be off the list immediately. This article was last updated in March 2023.
Here, then, are the best brunches in Fitzroy.
Stagger Lee's: My Favourite Brunch in Melbourne
If you could only have brunch in one place in Fitzroy, it should be at Stagger Lee's. This place, you guys. This place is absolutely phenomenal. In fact, if we're real-life friends and you've come out to visit me in Australia, you already know this, because this is the spot I take everybody I know to.
It's home to quite an eclectic menu, and every single item on it is on a whole other level of excellence. My absolute favourite dish (I think I've had it half a dozen times now) is the anchovies, which is pictured above. Now, before you start recoiling at the idea of eating anchovies, let me tell you that these are unlike any anchovies you've ever had before. They're fresh and pickled in vinegar; served on garlic toast, with sugo (a traditional, tomato-based Italian sauce), fried eggs, basil, and breadcrumbs.
But don't just take it from me: every friend who's tried it has been like, oh damn, this is the most amazing thing I've ever eaten. To which I've been like: I KNOW!
While I continually find myself returning to the anchovies, there are a handful of other dishes I've also tried and loved. The sweetcorn and jalapeno cornbread with chilli maple bacon is fantastic — a beautiful balance of sweet and spicy. The Mexican breakfast tacos are as good as any I've had in Mexico, and the beef brisket and grilled cheese sandwich is perfect for a lunchtime indulgence. Dave's mum is a huge fan of the nectarines: toasted sourdough topped with balsamic roasted nectarines, pickled golden beets, toasted hazelnuts, burrata, and basil — I still need to try that one.
The vast majority of menu can be made gluten-free, and there are tons of vegetarian and vegan options, too.
Finally, there's plenty of both indoor and outdoor seating, so you can usually get a spot, even at peak times.
Address: 276 Brunswick St, Fitzroy VIC 3065.
Opening times: 7 a.m. – 3:30 p.m. during the week, and 8 a.m. – 3:30 p.m. at the weekends.
Prices: The cheapest dish on the menu is the eggs on toast for $15, while most everything else is between $20 and $25. The anchovies I mentioned above are $25, while the cornbread is $26.
Link to menu: I took this photo of the menu in March 2023.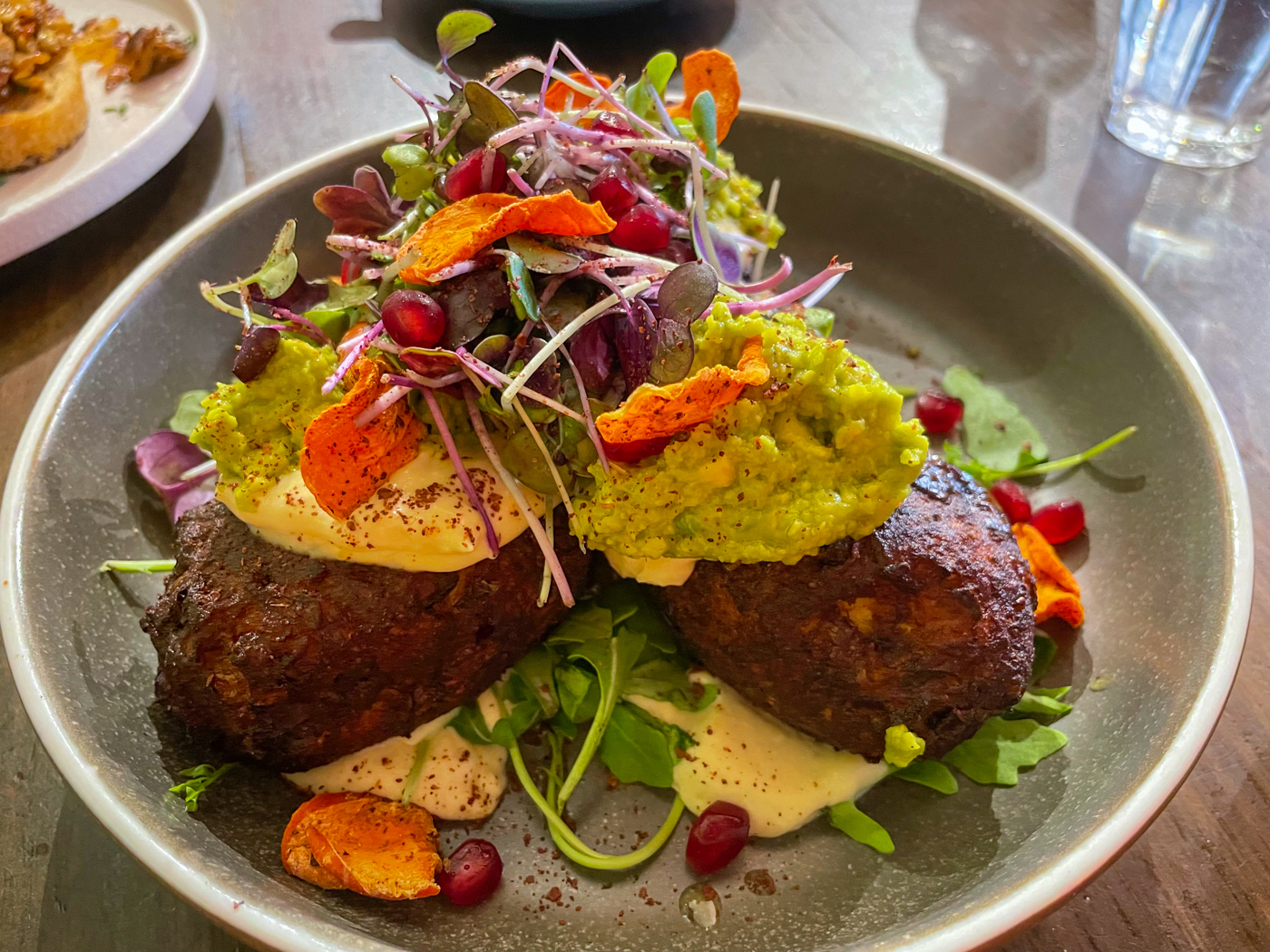 Elektra Himalayan Alchemy House: For the Food (and Chai) of Your Dreams
I'm obsessed with Elektra: a Himalayan restaurant on bustling Brunswick Street that's home to some truly interesting dishes.
My go-to on their menu is the incredible Gurkhali fritters, which are pictured above. If you opt for it, you'll be served deep-fried eggplant and zucchini fritters topped with baked carrot chips, smashed avocado, pomegranate seeds, spring onions, pickled vegetables and a garlic-coconut-yoghurt-hummus blend, it's so good. Like, seriously good. Like, almost my favourite dish in Melbourne good.
Honestly, they hit it out of the park with all of the meals they offer. I'm a big fan of their Everest benedict, too, which consists of grilled chicken, crispy bacon, poached eggs, spinach, and a Sriracha hollandaise, all served on a particularly unusual rice crepe. That one's pictured below, along with their smashed avo, which is yet another favourite of mine.
And finally, I'm obsessed with the chai that they serve here. As somebody who once consumed an entire litre of masala chai in a single day[!] when traveling in Nepal, I can confirm that this stuff is legit. It's the perfect blend of spicy and sweet, with several flavour options (like matcha, turmeric, and dark chocolate) and plenty of milk substitutes. Personally, I stick with the standard hot Himalayan chai and swoon over it every time I come here.
The vast majority of menu can be made gluten-free and, being a Himalayan restaurant, you won't struggle to find a vegan option that suits, either.
Finally, there's lots of indoor seating, and four tables outside, so you don't usually have to wait for a table, even on a sunny Sunday morning.
Address: 268 Brunswick St, Fitzroy VIC 3065.
Opening times: 8 a.m. – 4 p.m. during the week, and 9 a.m. – 4 p.m. at the weekends.
Prices: The cheapest dish on the menu is the toast for $7.50, while most everything else is between $20 and $25. The fritters are $22.50, the Everest benedict is $24, and the smashed avo is $22.
Link to menu: My photos of the food menu and drinks menu were taken in March 2023.
Industry Beans: An Innovative Menu and Fantastic Coffee
Offering up a fun and imaginative menu, Industry Beans knows what it's good at, and the answer is: brunch. And also coffee.
Not that any of the restaurants in this list offer up bad coffee. This is Melbourne, after all: if your coffee sucks, you're not going to survive more than a few months. However, Industry Beans does do a slightly better brew than the rest of the spots on this list.
It was so stand-outedly amazing, in fact, that Dave and I opted to include it in our breakdown of the best coffee in Fitzroy over on Everything Victoria (our Victorian travel site). We even buy our beans from Industry Beans so that we can recreate those smooth flat whites at home.
But what about the food?
I wasn't expecting it to be as good as the other spots on this list, purely because they're a specialty coffee roaster and so I assumed the food would come secondary to that.
I was so wrong.
My go-to at Industry Beans is one of their most popular dishes: the porcini eggs. While I may have originally ordered it for the aesthetic, I came away raving over its flavours. The "birds nest" is made from crispy fried potatoes that are resting atop a bed of kale. Inside, you've got wild mushroom duxelle, pickled mushrooms, and truffle oil. And it's topped with a perfectly-cooked poached egg that's been dusted with porcini. If you love your mushrooms as much as I do, this is definitely the dish to go for.
Dave's favourite, meanwhile, is the chilli barramundi eggs. Sous vide line-caught barramundi is folded into scrambled eggs, then mixed with sambal oelek (an Indonesian chilli paste), chilli oil, togarashi (a Japanese spice mix), native succulents, and bonito flakes. It reminded me a little of okonomiyaki, but like, a creamy, spicy scrambled eggs version. Highly recommend!
One thing I love about Industry Beans is that they really lean into their reputation as coffee experts throughout their food menu, infusing it into various dishes, like the coffee-rubbed Wagyu burger and coffee-infused togarashi in the chilli barramundi eggs.
Address: 70-76 Westgarth St, Fitzroy VIC 3065.
Opening times: 7 a.m. – 3:30 p.m. during the week, and 8 a.m. – 3:30 p.m. at the weekends.
Prices: The cheapest dish on the menu is the eggs and relish on toast for $16, while most everything else is between $20 and $30. The porcini nest is $28, the chilli barramundi eggs is $29, and the smashed avo is $24.
Link to menu: My photos of the food menu, coffee menu, and drinks menu were taken in March 2023.
Sonido: For Retro Colombian Goodness
For something a little different to Fitzroy's other brunch offerings, skip the cafe scene and head straight to Sonido: a vibrant South American spot with more arepas than you can shake a maraca at.
Their Colombian single-origin coffee is smooth and smoky; so good that Dave can rarely tear himself away from it. I, on the other hand, am steadily working my way through their other Latin American beverages: my favourite, so far, is the lulo juice (lulo is a tropical fruit from South America that tastes a bit like a blend of rhubarb, kiwifruit, and lime).
There's kumis, too: a cold Colombian fermented milk drink, and aguapanela, which is made from sugarcane and lime. Excitingly, they have a handful of South American sodas, like Inca Kola (from Peru), Pony Malta (from Colombia), and Guaraná Antarctica (from Brazil).
The one drink I haven't been able to work up the courage to try? Their Colombian hot chocolate, which comes with added cheese. Every reviewer that mentions it describes it as delicious, but I just cannot get my head around plopping a glob of melted cheese in the bottom of my chocolate drink. But, you know, there's a saying in Colombia: "amor sin besos es como chocolate sin queso", which means love without kisses is like chocolate without cheese.
To each their own.
So we've now established that Sonido is the place to go if you're keen to try a new drink, but how's the quality of the food?
Arepas are the name of the game here: a round flatbread that's made from ground maize and filled with a variety of interesting flavours. At Sonido, you've got a whopping 11 options to choose between, from the classic cheese filling, to guacamole, to bacon and eggs. You've got huevos Pericos (scrambled eggs with tomatoes and scallions), frijoles (refried beans), chorizo, morcilla (black pudding), and ropa vieja (shredded beef), too. In other words, there's a flavour for everyone, no matter your tastes or intolerances.
You can choose to have your arepas served in a pocket (like a pita pocket) or on a plate (with the toppings piled on top of it, rather than stuffed inside). Dave usually goes for the chorizo or morcilla pockets while I opt for the ropa vieja plate with an added fried egg — so, so tasty! We also usually grab a couple of beef and potato empanadas for even more Latin American goodness.
There are various habanero hot sauces up for grabs, and Sonido also makes their own picadillo, salsa, and chimichurri, which are freely available on every table — they're all so flavourful and well-worth ladling on to your arepas.
Really, the only downside to Sonido is that the space is pretty small — at peak times, you might have to wait for a table.
Address: 69 Gertrude St, Fitzroy VIC 3065.
Opening times: 7:30 a.m. – 3 p.m. during the week, and 9 a.m. – 3 p.m. at the weekends.
Prices: The cheapest dishes on the menu are the pan de bono (Colombian cheese bread) for $5.20, and the beef and potato empanadas for $5.40 each.
Link to menu: Here's their March 2023 food menu and drinks menu.
Cafe Louis: The Best Vegan Brunches in Melbourne
Let's face it: with all that bacon, eggs, and dairy, brunch is hardly the most vegan-friendly of meals. Most restaurants cater poorly to vegans as it is, offering up a token salad and little else, so it can be a real struggle to find a delicious meal if you're living that plant-based lifestyle.
Cafe Louis is the exception; it's absolutely the place to go if you're craving a fantastic meat-free meal.
Oh, and if you are a carnivore don't let the vegetarian label put you off visiting — this is some of the best and most innovative plant-based food I've had, rivalling any meat-filled brunch I've sampled in Fitzroy.
Set in a bright and airy converted warehouse with high ceilings and calming green walls, Cafe Louis is a surprisingly laidback space for the neighbourhood. Throw in a vintage music selection and a handful of welcoming staff and you've got yourself an eatery with nothing but immaculate vibes.
I've focused on the savory eats throughout this guide, but if you're in possession of a sweet tooth, then look no further than Cafe Louis' Biscoff French toast. It's one of the most unhinged meal choices I've made in a very long time.
You've got French toast that's layered with Lotus Biscoff spread, then it's fried and coated with a crumbed cornflake crust. On top of that, you've got an upside-down waffle cone that's filled with dragon fruit-flavoured ice cream and balanced atop a layer of fairy floss. A small pot of maple syrup provides the finishing touches, while the edges of the plate are laden with berries, raspberry coulis, and edible flowers.
Yes, this was my only meal of the day, why do you ask?
But in all seriousness, this tasted as incredible as it looked and was actually far less sweet than it sounds!
Dave doesn't have the palate of a seven year old, so he opted for something a little less likely to trigger a diabetic coma: the smoked eggs benedict. Dave is lactose-intolerant and can rarely have eggs benedict, so this was particularly exciting! Plant-based teriyaki pulled chicken (tasted like the real thing!) was paired with kale, crispy apple slaw, and poached eggs (with a vegan egg alternative as an option), all served on a toasted bagel topped with homemade vegan hollandaise sauce. So good!
Cafe Louis has a whole range of meat-free meal options on their menu, from smashed avo to bao buns to English breakfasts to juicy burgers. With such a large space inside, you'll never struggle to get a seat, either, so it's definitely a good option for those busy Sunday mornings.
Address: 93 Moor St, Fitzroy VIC 3065.
Opening times: 8 a.m. – 3 p.m. from Wednesday to Sunday; closed on Monday and Tuesday.
Prices: The cheapest dish on the menu is the smashed avocado at $20, while everything else ranges between $21 and $25.
Link to menu: They don't have physical menus; you can view an up-to-date menu on Mr Yum.
Related Articles on Australia

💰 The Cost of Travel in Australia (2022): My Detailed Budget Breakdown
🇦🇺 30 Incredible Things to Do in Melbourne, Australia
🐠 Nerves and Nausea Over the Great Barrier Reef
🦘 Tasmania Is Incredible And You Should Go There Now