Saying that Tbilisi is one of my favorite cities would be a massive understatement. It is a place I went into with high expectations and it still managed to surpass them. For a city that has been destroyed 26 times, it still contains so much. And that is what I think is so great about Tbilisi, it wears its scars on its sleeves. I haven't looked it up but I doubt there is a word for gentrification in the Georgian language, and if there is, it's probably a dirty one.
Walk around the city and you might want to invest in a spray paint shop as graffiti adorns most buildings like a badge of honor. The spacious high-ceilinged houses are still situated in old squares protected from the street and surrounded by neighbors. Dilapidated yet hauntingly beautiful, grungy yet never feeling unsafe. New and old restaurants and shops built within the existing structures without undermining the integrity of where they are built. It's not a place people will smile at you on the street or ask about your day. Nor will they be unhelpful should you ask for help, or rip you off when they get a chance. Save for taxi drivers but that seems to be a worldwide problem. All that to say that there isn't any fakeness about this place. Nothing has been done for show.
Honestly, this guide of three days in Tbilisi could easily be just walking around and seeing what you see and you would have an absolute blast. I spent a month in Georgia as a whole and two weeks in Tbilisi and that is genuinely how I spent most of my days. However, I am aware most people will not have that amount of time to explore and while that saddens me, I know after these three days in Tbilisi you will be itching to come back.
A hotbed of art, culture, performance, world-class dining, and stunning architecture, there is so much to this comparatively small capital city that needs to be shared, but if you have other destinations to visit as well, three days is a perfect amount of time to get a gist and see the highlights. If you find any hidden gems on your trip, hit me up and let me know, because I will definitely be back!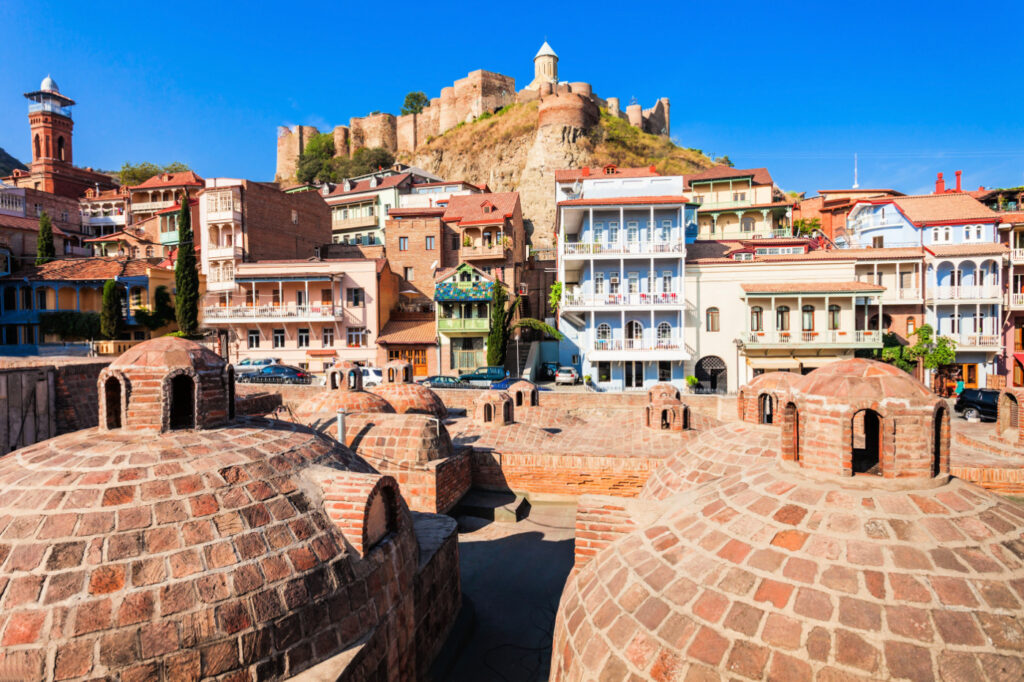 Day 1 – Old City
This day is going to be the most jam-packed but the first day is also the day you will have the most energy. So grab some comfortable shoes and get to walking! Start off your day with breakfast at Chaduna, a small cafe with good coffee and even better food. The interior is also cozy and really gives you the feel of being in someone's living room.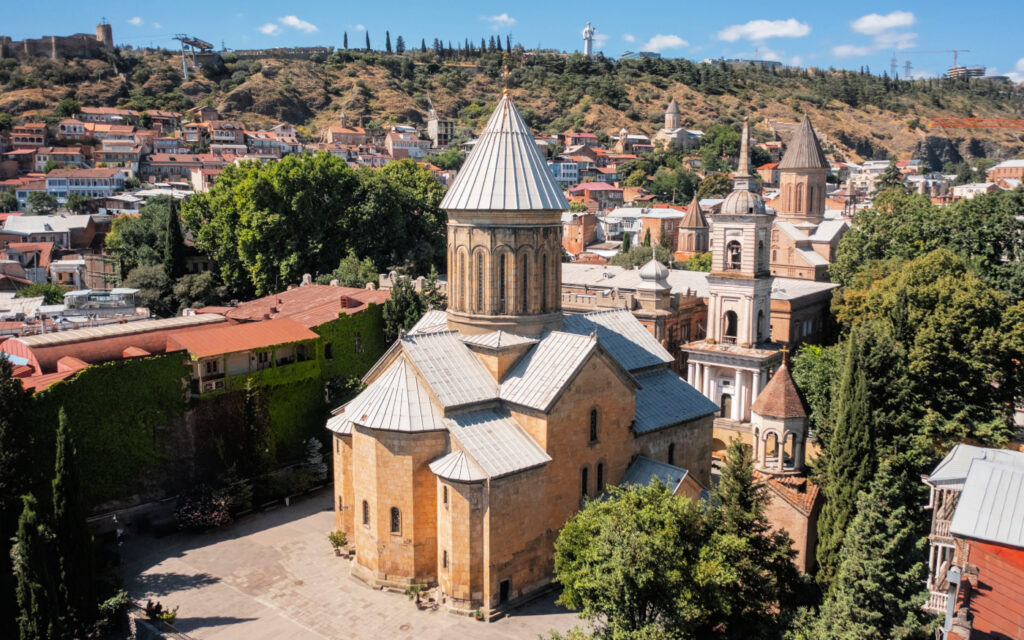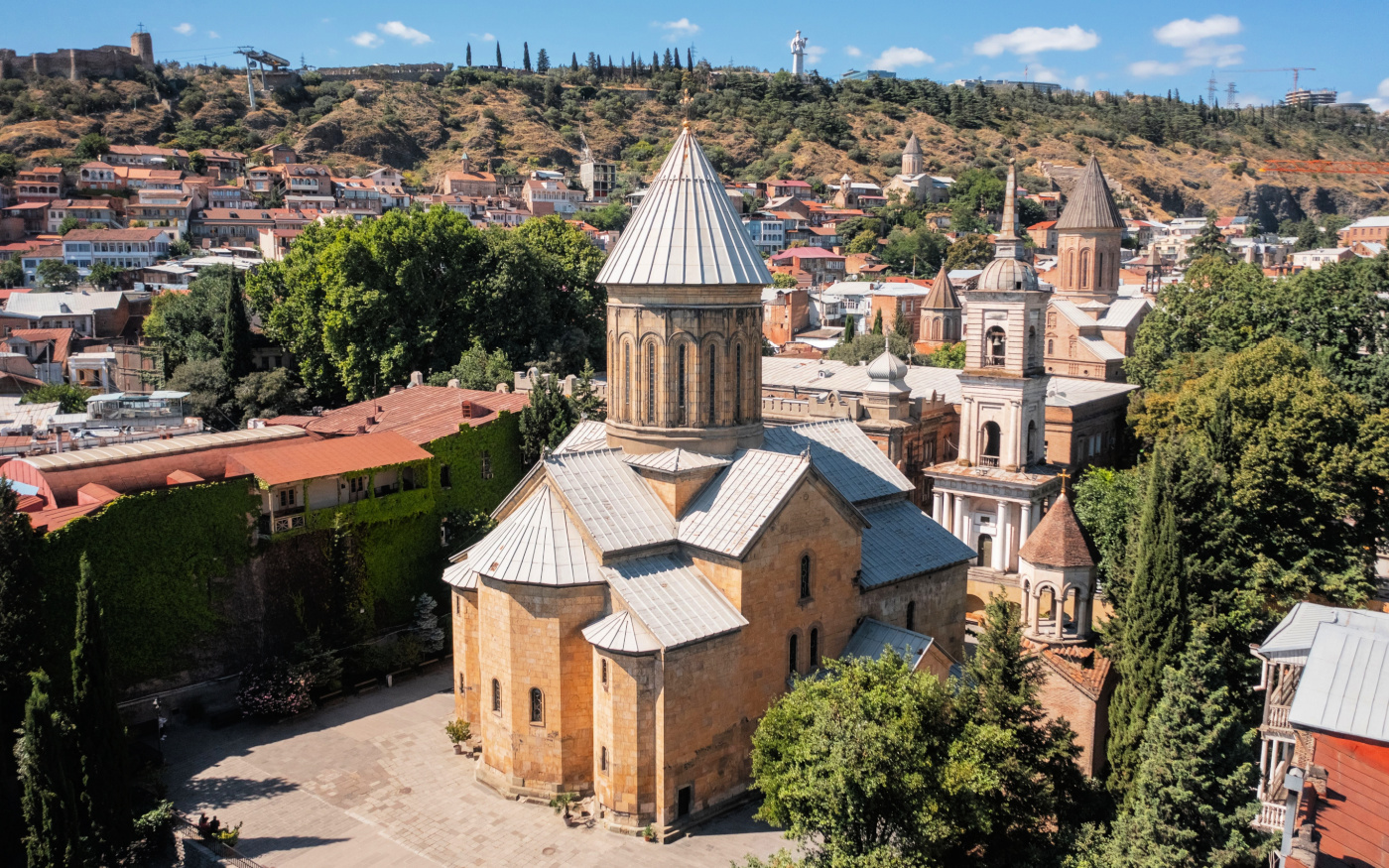 Once you are fueled up, stop by the Sioni Cathedral. A little smaller than many of the churches you will go to but is a good entry point. Marvel at the intricate frescos and if you are lucky you might hear some of the haunting chants of the local monks.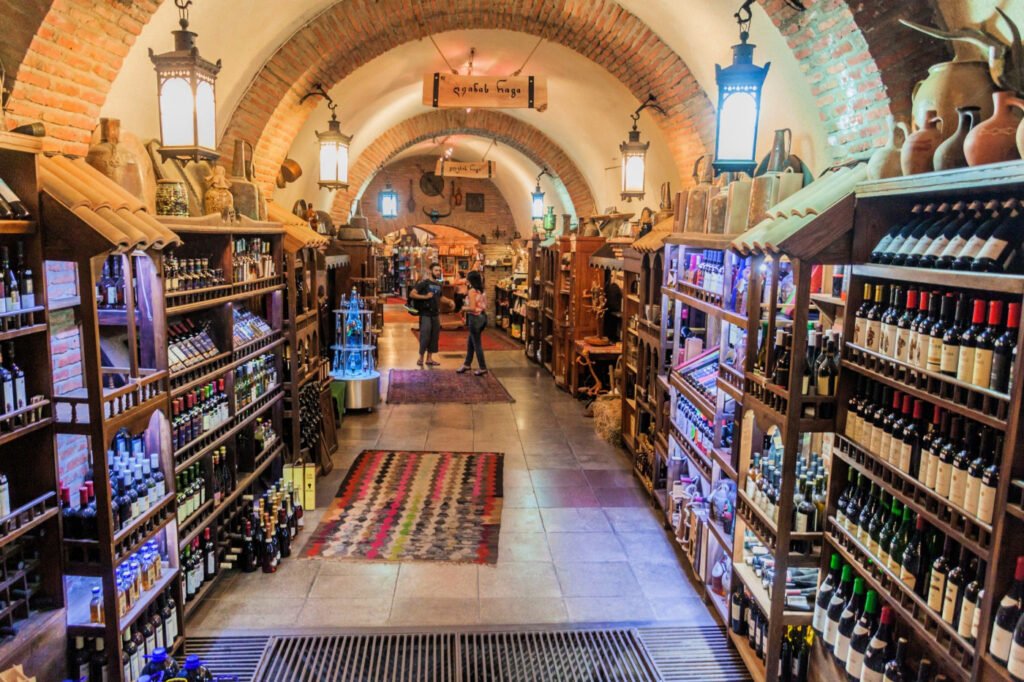 After that head over to the Meidan Bazaar and I challenge you to walk out without buying anything. I am very stingy about buying things on my travels due to severely limited luggage space but even I didn't leave empty-handed. Handicrafts, wine, chocolate, and art galore, there is something for everyone here.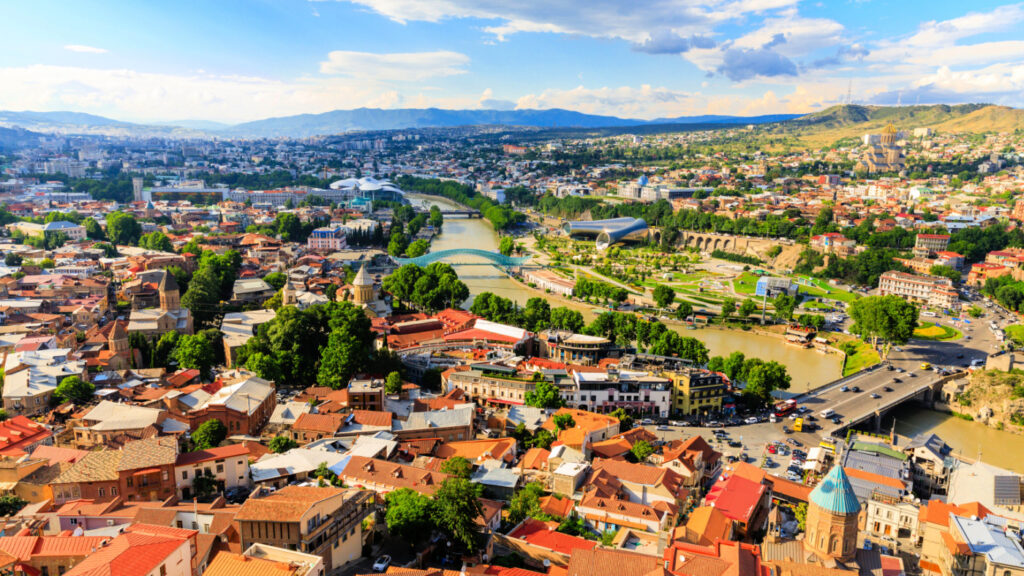 With shopping bags in hand, make your way across the bridge to Rike Park to catch the cable car (2.5 Lari) up to Narikala Fortress. You can walk up and down both ways, if you prefer, however, the scenes from the funicular are simply breathtaking.
The entrance to the fortress is free and even if it was expensive it would be worth the price of admission. Built-in the 4th century, this place has the ability to bring you back to another time. It has cast its shadow on the city for close to two millennia and if only its walls could talk. It is not the most well-preserved castle in the world but it is very accessible. Climb its ancient bricks and get the best view of the city that you could get.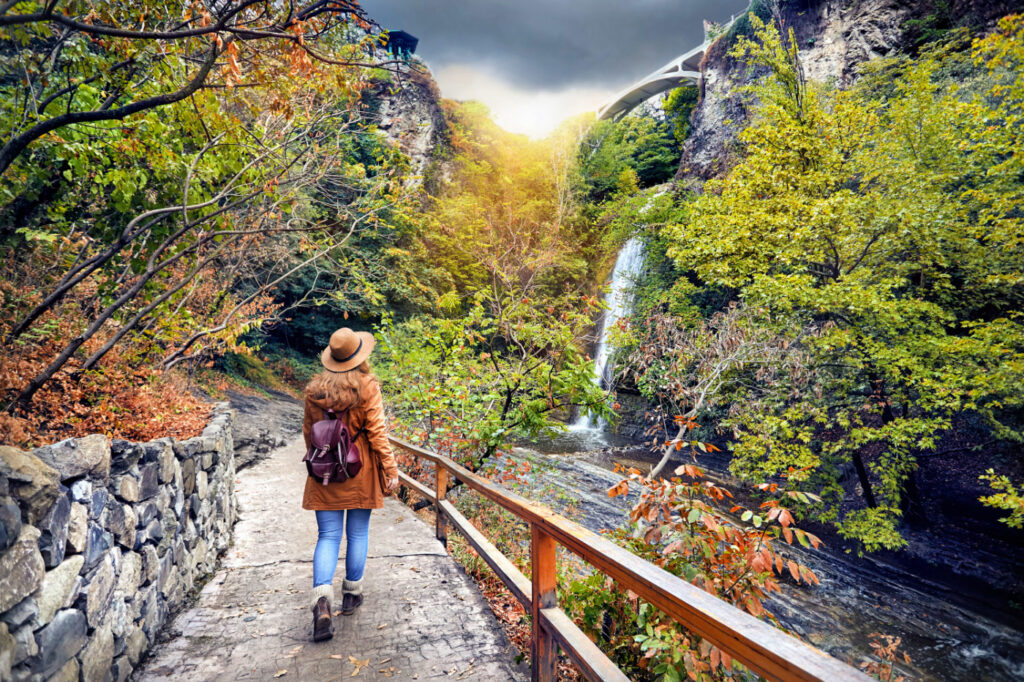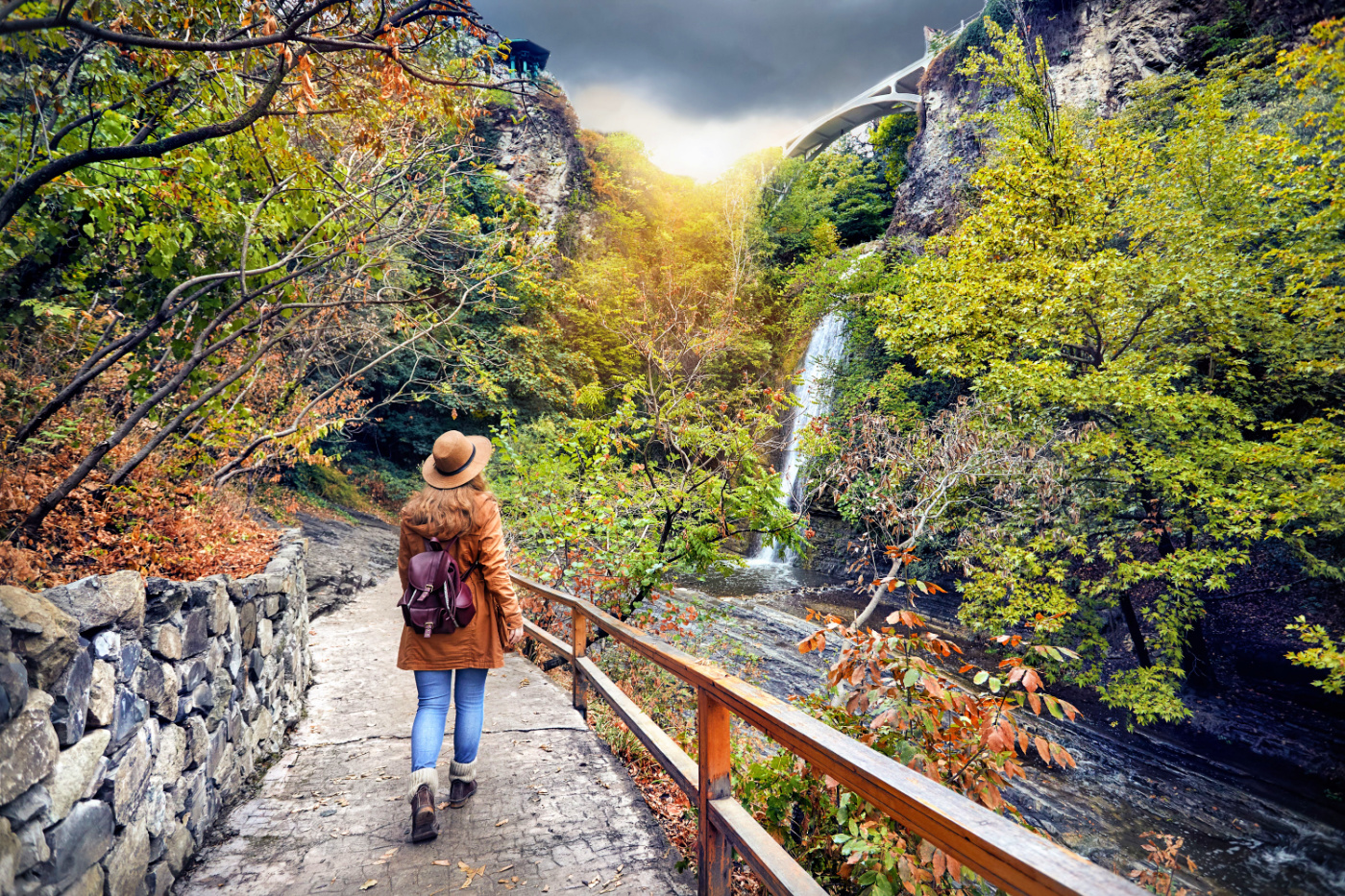 If you have more time and want to spend a good chunk of the day up here you can. The valley behind houses the Georgian Botanical Gardens (4 Lari) and you can walk to the Leghvtakhevi waterfalls on the other side of the hill which fuel the sulfur baths down below. Don't think I forgot about those though, they are coming!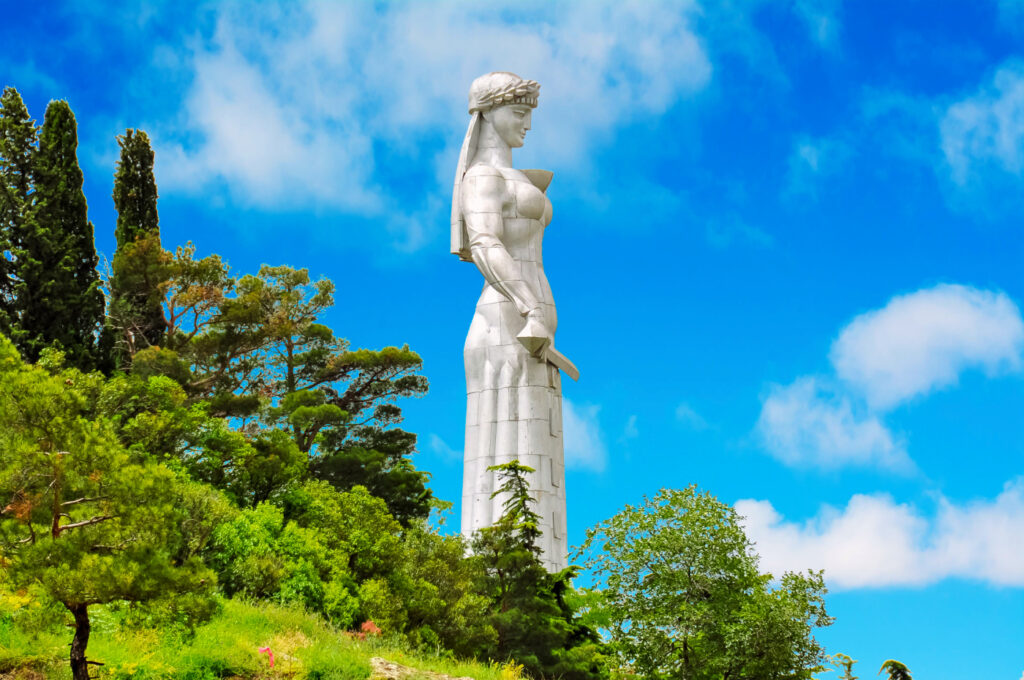 Though you must be getting hungry so it is time to go back down. There is not a ton to do at the starting point of the cable car so I would recommend walking down. This route will also take you past the infamous Mother of Georgia statue which is a sight to behold from up close as well as a mandatory photo spot.
About a two-minute walk from the base of the stairs and you will come across a restaurant called Samia that is perfect for lunch. As the theme of the day is old Tbilisi, Samia is the perfect balance of old-world decor, paired with modern cooking techniques and exceptional service, which to be perfectly frank is tough to come across in Georgia. Delicious food and fair prices, everything I tried here was good, but the Kachapuri, another Georgian staple is a must have here.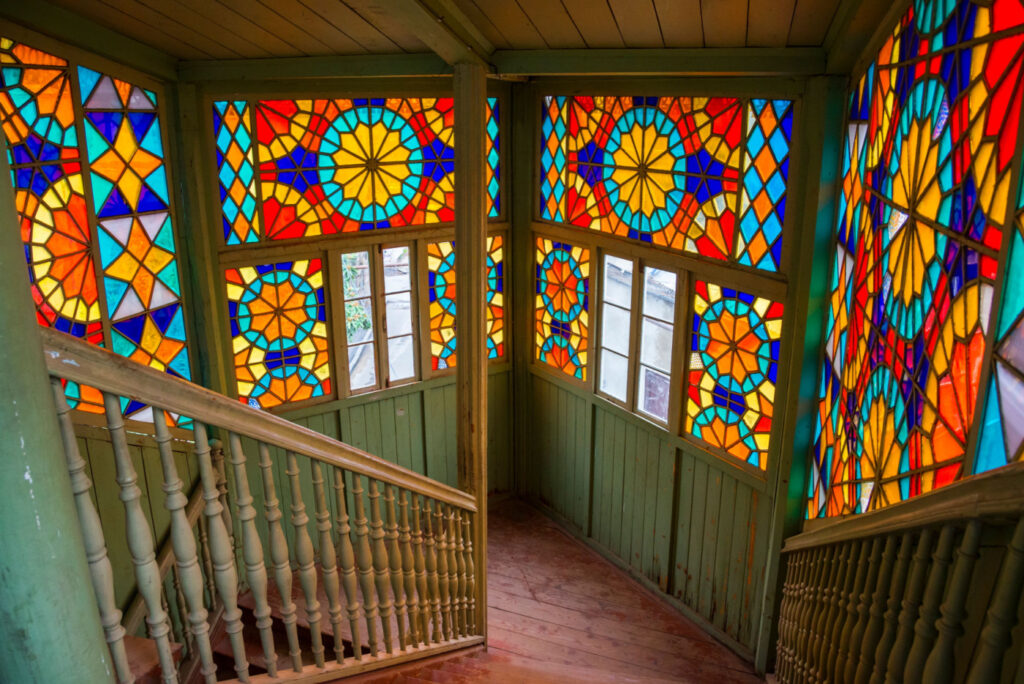 Sufficiently sated, digest right next door by walking around Gallery 27 to see some awesome contemporary artwork and marvel at the stained glass staircases affectionately coined the "Kaleidoscope house".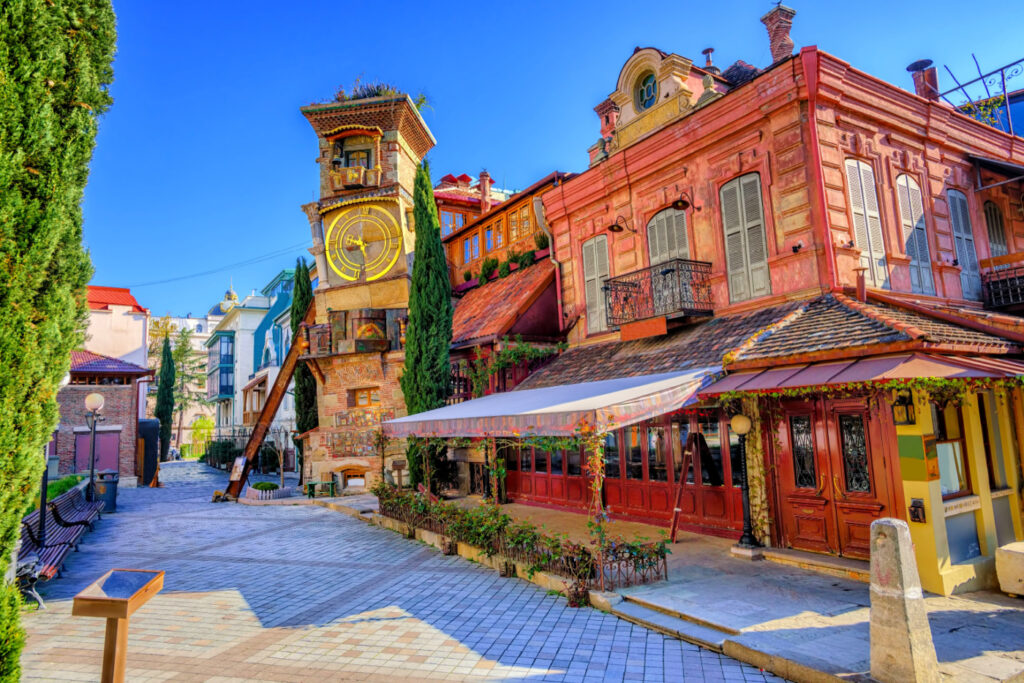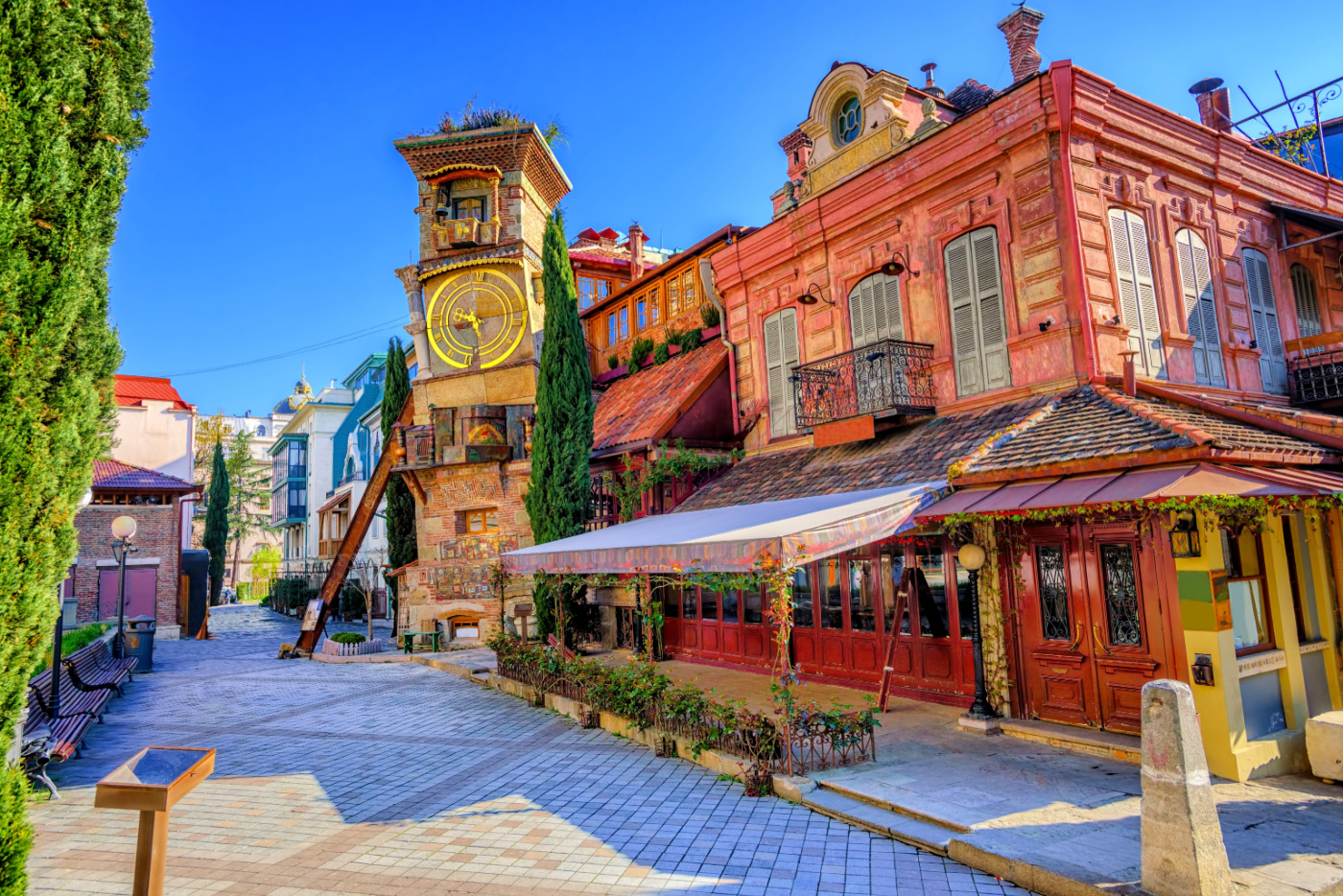 Now our journey today will end at the Gabriadze Theater and iconic clock tower and we will start making our way there, but we have a couple of pit stops along the way first.
While walking through this city and marveling at the soviet, neoclassical, and byzantine (among many other) styles of architecture, you might be wondering how this eclectic mix of influences converged to create what you see before you today. So make a beeline for the Tbilisi History Museum (3 Lari) and learn all about it.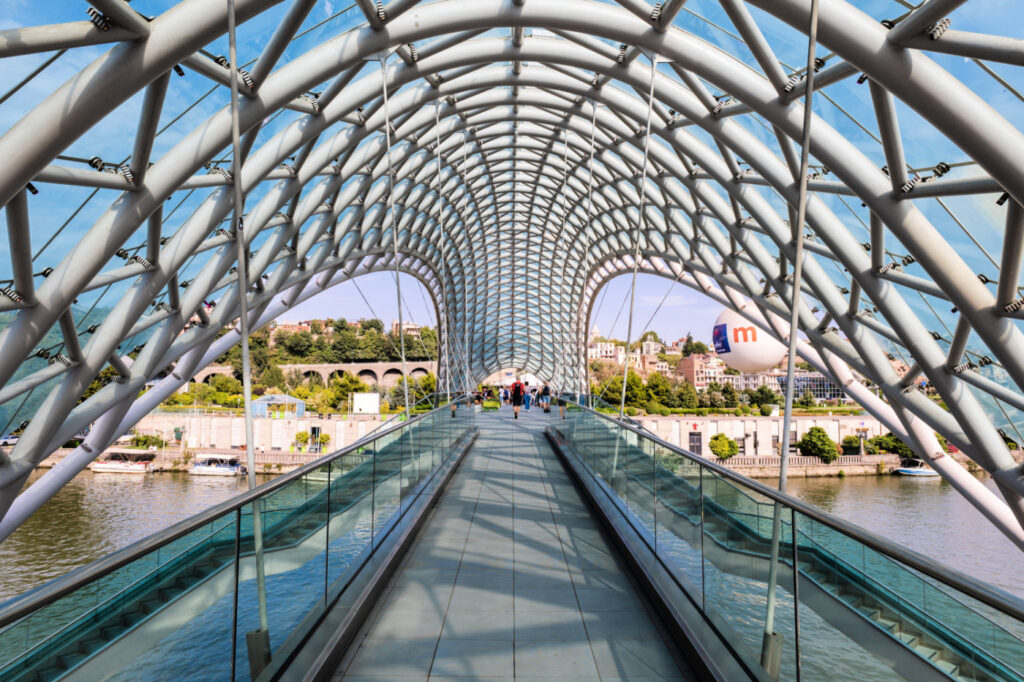 When you're done with that, stop by the Freedom bridge. Look, I know it's not old Tbilisi and I'm not keeping up with the theme, but not stopping by would be akin to not seeing the Empire State Building in New York, the Bean in Chicago, or Big Ben in London. At the end of the day, it is just a bridge and I wouldn't say that you have to go out of your way for it, but since it's on the way it makes sense to stop by for a bit.
Now we get to my favorite part, the Gabriadze Puppet Theater.
Now I went into this not knowing what to expect. I had never been to a puppet show before and it will probably be a while before I go to another. However, it was probably my single favorite thing of my time in the entire country. I'm not saying that it will necessarily be that for you but I'm just giving my experience. It wasn't even just the performance and the plot of the play which was good no doubt, but the whole atmosphere.
The theater is intimate and quirky, and the puppets and sets are homemade as well as the stories. The plays take place in old Tbilisi and I truly felt transported back in time. It gives you an appreciation of places that you have already seen and connects you to the places you will see. I don't even remember everything about the story, but I left with a much greater insight into the city and psyche of the local population than when I arrived. It gives everything that you have observed and taken in about the city and gives it context in a beautiful way.
The tickets sell out days before the shows so go to tkt.ge and book at least a few days ahead of time. They rotate between several plays throughout the week but there is always something playing every day at 7 pm. The shows are in Georgian but have English subtitles or Russian audio headphones.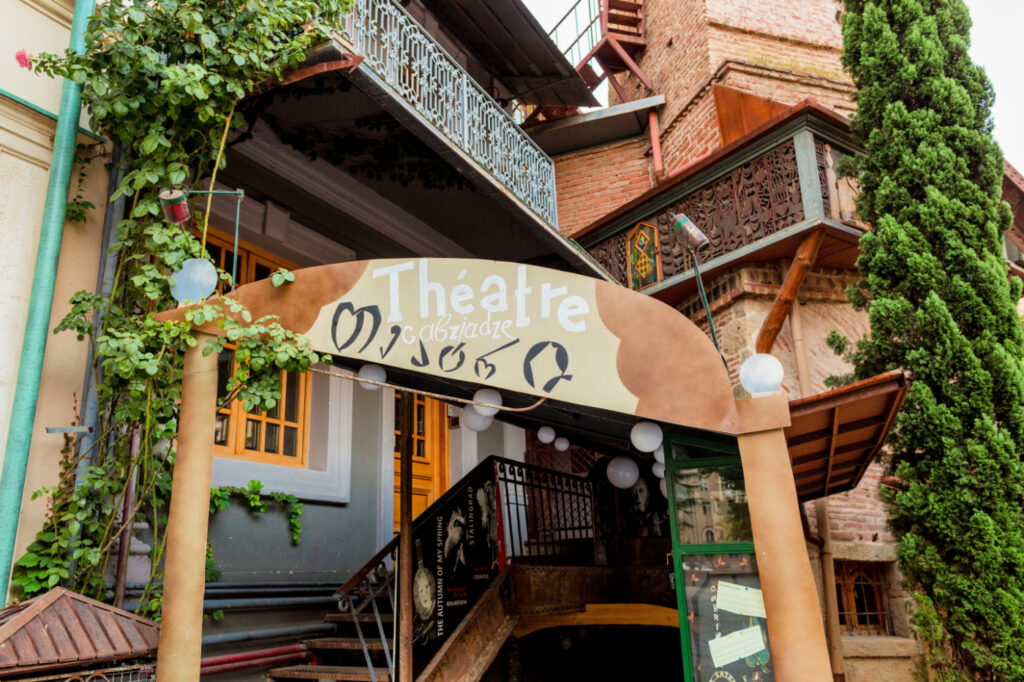 After the show, take a picture at the leaning clock tower and wind down with a well-deserved dinner and glass of wine at Otsy right next door. I haven't tried all the restaurants in Tbilisi, but of the ones I have tried this stands head and shoulders above the rest. Contemporary European with a Georgian twist, the beef cheek is something that you can't miss. I don't usually look at reviews online, but Otsy has a perfect 5 stars on both Google reviews and Tripadvisor with hundreds of reviews combined, and that's saying something.
Head back to your hotel now, because you're going to need your rest for tomorrow!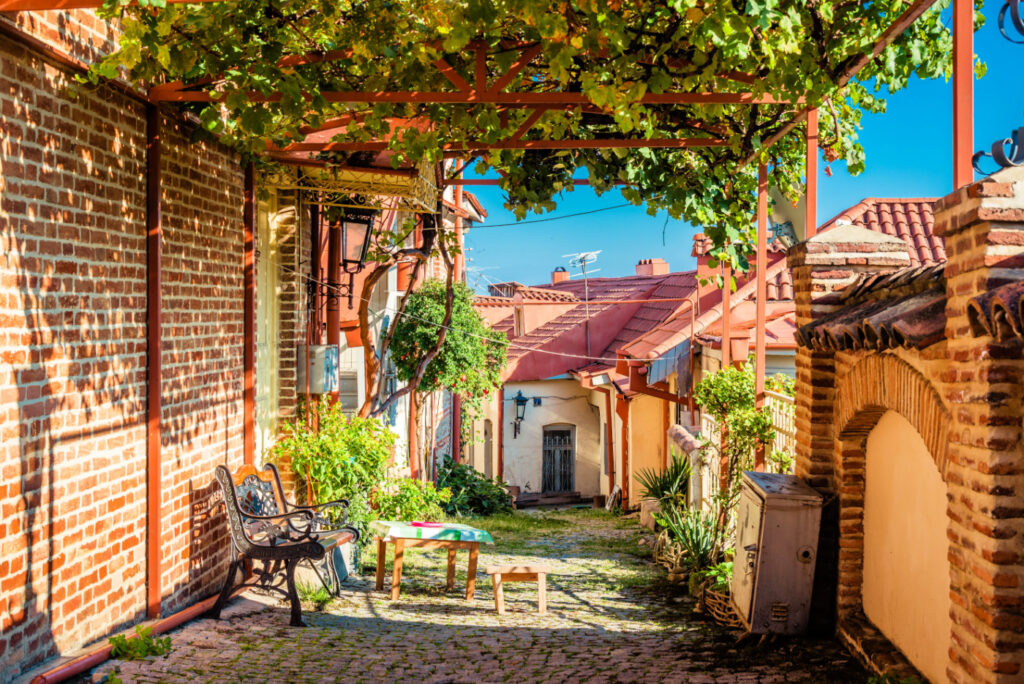 Day 2 – Wine
So wine. I'm not sure if you are aware, I know I wasn't, but Georgia actually claims to be the oldest wine region in the world. Wine is a huge part of the Georgian identity and they are extremely proud of this culture. A trip to Georgia without a day dedicated to wine is basically sacrilege and whether you like it or not it needs to be done. You have two options for this day based upon wine. I'll outline both and you can choose which one works best for you.
Firstly, you can take a day trip out to Sighnaghi. Tbilisi is blessed with having the Kakheti wine region at its doorstep and you can get to its most picturesque city, Sighnaghi, which looks like a mini Tuscany in under two hours. You can either take a tour from Tbilisi, which will take you around the town and also to surrounding vineyards to see how the wine is made and do some tastings. You can find tours departing every day from the town but this is one particularly popular amongst travelers. It does sell out, though, so book early to avoid disappointment. You can check availability below:
Nicknamed the "City of Love" for a reason, it is also a place where locals go to get married or elope. When you get there you might just be looking for someone to run away with.
If you are more of a DIY traveler it is great to go as well. There are regular Marshrutka's (Vans) and sharing taxis available from Isani Metro station. However, if you are just treating this as a day trip I would suggest booking a full-day driver with GoTrip as the last cars going back to Tbilisi do not operate that late and you do not want to be stuck!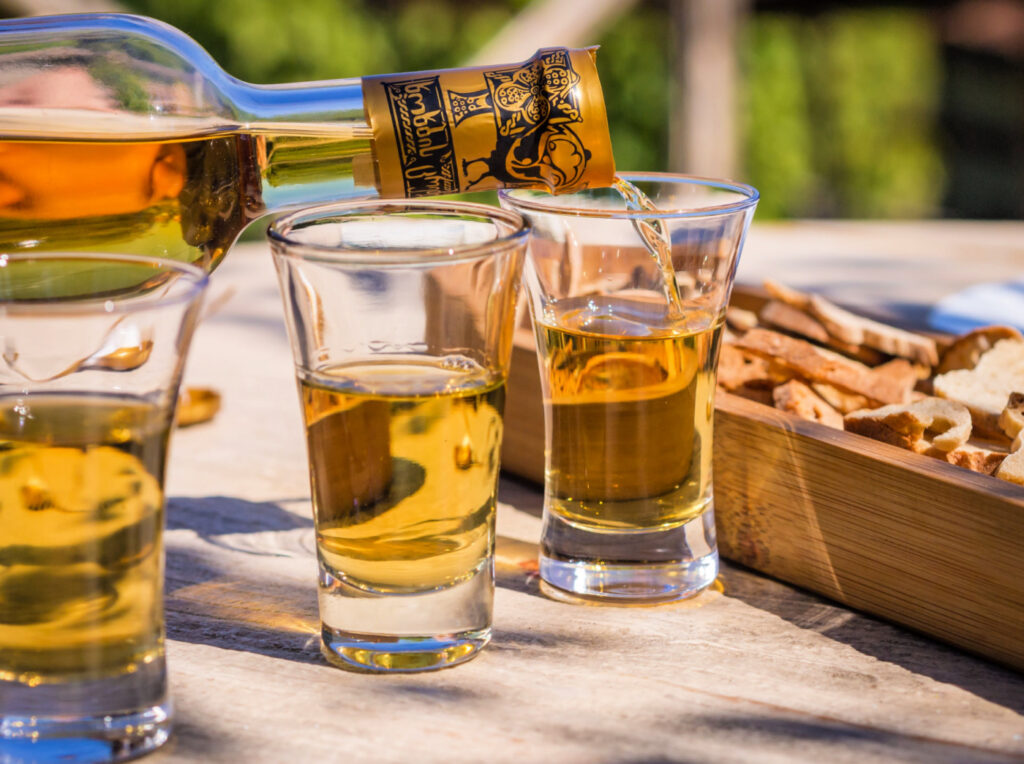 If you do take this option, start by having a meal at Pheasant's Tears. It boasts a lovely garden as well as some of the best pork I have had in years. Then take your time walking aimlessly around the village. After that, I would recommend a wine tasting at The Cradle of Wine. Paul is super knowledgeable and passionate about what he does, and the wine and bread are not bad either. You will learn a lot and this was one of the highlights of my trip. Make sure to call ahead and book a day or two in advance as slots are limited.
Continue the wine sipping and have dinner at The Terrace about a 10-minute walk up the hill from the Cradle of Wine before heading back to Tbilisi. The views of the town and the vineyards beyond are immaculate, and is the perfect setting for a glass of wine at sunset.
If you want to stay in Tbilisi and out of a car, start your day at Nikolozi for an early lunch and a glass of his homemade wine. Although there are fantastic wineries and bars around the country, for many Georgians homemade wine is king and a culture in and of itself, and there is no better place to try it than here. Personally, I wasn't the biggest fan of the food but the wine was fantastic and everyone around me was enjoying it so what do I know? The atmosphere was great and the place is worth visiting.
After that go to the Tbilisi Wine Museum, for 15 GEL you get entrance into the museum as well as a private guide to explain everything to you. You can learn about the history of wine in the country as well as the fermentation process which is very different compared to the wines of more famous regions.
Then it is time to start drinking again! Take a short boat ride and book yourself a wine tasting at 8000 Vintages. Here you will get an hour long lesson with one of their in-house sommeliers along with wine tasting and a charcuterie board. Our sommelier was fantastic and was patient with all our ignorant questions. I can now confidently say that I know more about Georgian wine than Italian or French, which is a rare skill to have. We sat around the place and got a couple more glasses of our favorites after the tasting was done. It has such a warm and welcoming atmosphere if you are not looking at the time a whole day might pass.
At this point, you may have had a few and need something more substantial than a charcuterie board to wash all this wine down with. Stumble over to Cafe Daphna about 500 meters away for some of the best khinkali in the city. There is no way you will be able to leave the city of Tbilisi or the country of Georgia without trying these Godzilla-sized dumplings, they are on practically every menu! Some places definitely do them better than others though and Cafe Daphna is one of the best. There is also proper etiquette for eating them so use your hands and just do what everyone next to you is doing.
Lastly, end the night with a final glass or two at Jazz club 1984. While famous for wine, Georgia has a thriving jazz scene and in Tbilisi Jazz club 1984 is its beating heart. As with other places, make sure to book a table ahead of time as the first time I was turned away because it was full. When I got in the next time, it was the perfect spot to sip some more wine and they played the right note to end the night.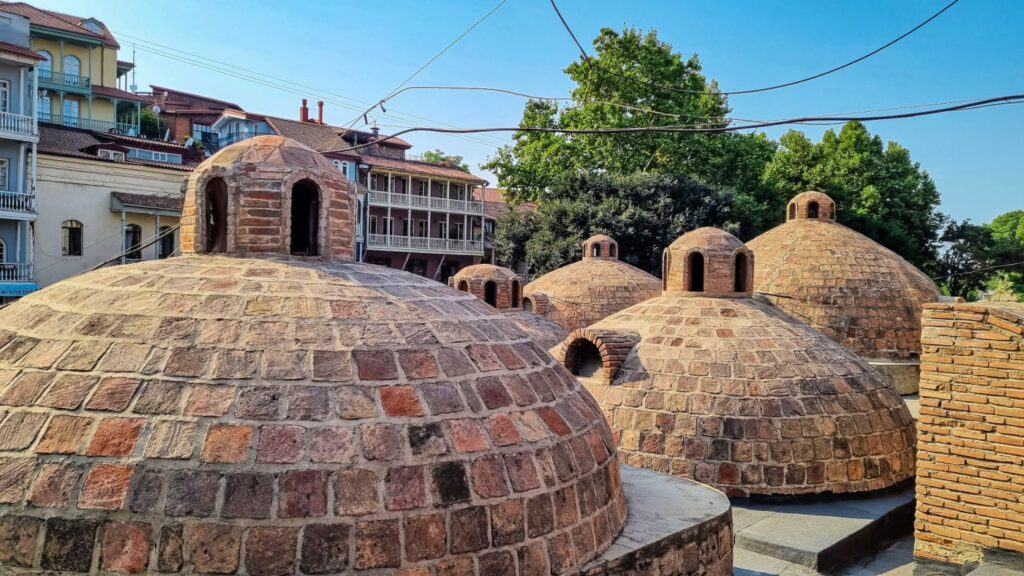 Day 3 – Take it Easy
You might have had a little too much wine last night and aren't feeling like a super early morning. It's okay, it's just us, we've all been there and no one is judging you. Have a late breakfast at the hotel, and get ready to relax.
One of the quintessential things to do in Tbilisi is a sulfur bath. Think of a Turkish bath with a slightly more eggy smell. There used to be hundreds of these baths that dotted the city but now only about 12. If you are looking for a more authentic experience then you can use one of the two public baths in the city. These are sex-segregated and a good way to soak in the culture, literally and figuratively.
For a more holistic experience though I would advise you to go to Royal Bathhouse. The staff there told me it was one of the oldest in the city and it sure looked like it. Lovely domed architecture and atmosphere. Private rooms here start from about 80 Lari and go up to about 150.
While the building itself is something special to see, what really makes this place is the staff. The massage I had was fantastic and don't skimp on the Kisi scrub, it will make your body feel softer than a bag of marshmallows. They only had a limited amount of private rooms so please call ahead to avoid disappointment.
When you are fresh and recharged take a taxi up to Salt restaurant on the other side of the river to have lunch. Located on the outskirts of the Mushthaid Park, they brought a little piece of the park into the restaurant. Basically, a converted greenhouse, super bright and covered in flora, have some light delicious bites and soak in some much-needed vitamin D, weather providing. I was not so lucky as it was cloudy when I went but it was still a very cool place.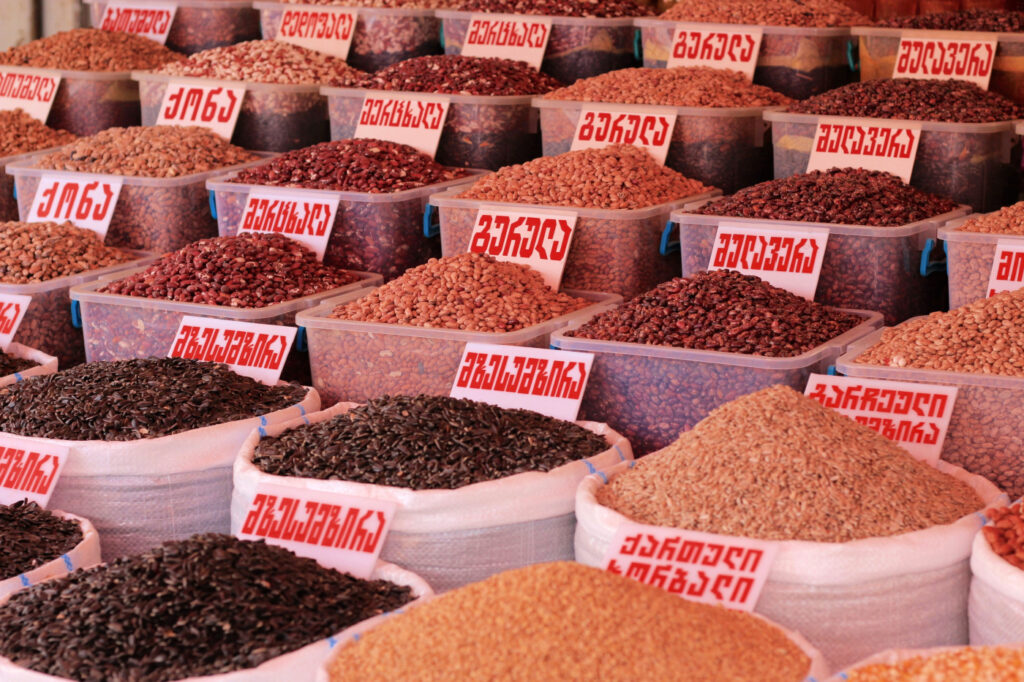 After lunch, walk about 15 minutes to the Deserters Bazaar. I feel that you can learn some of the most about a city by visiting the local markets and Tbilisi is no exception. Try some churchkhela which is a local Georgian sweet with nuts inside. You will see it everywhere, it doesn't look the most appetizing but I promise it tastes better than it looks. You can find everything at this market: kitsch, produce, homemade ChaCha(Georgia's Grappa), clothes, electronics, and everything in between. Talk to the friendly shopkeepers and take your time.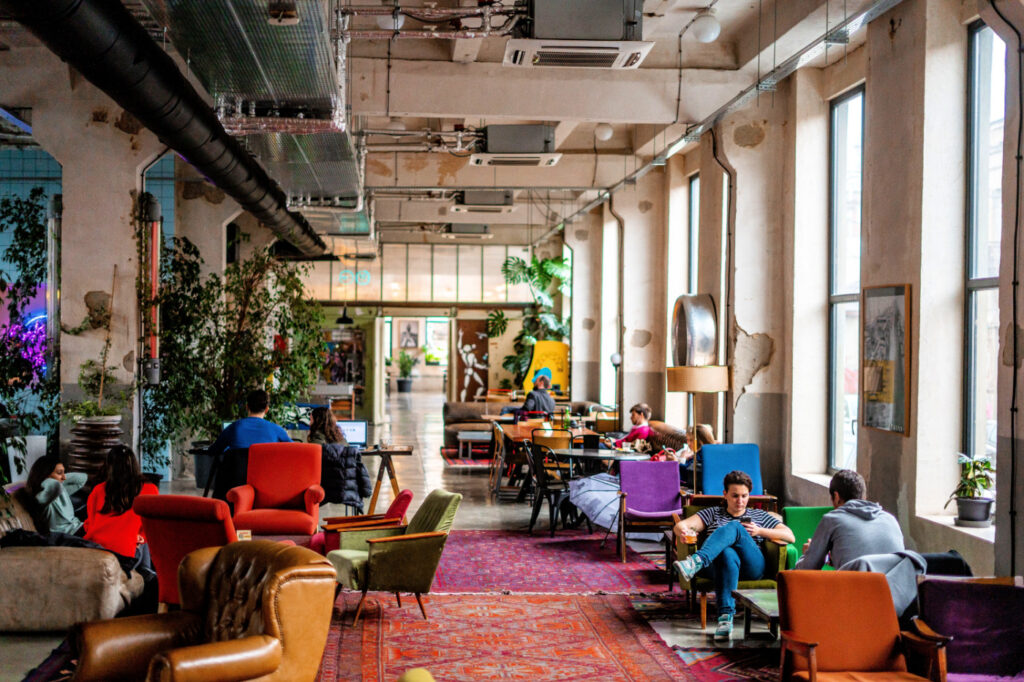 Next, take a leisurely stroll down back streets that are full of character and empty of tourists for about 20 minutes until you reach Fabrika Hostel. While also a fabulous hostel, it also has events, art installations, incredible graffiti outside, and a myriad of cafes and restaurants inside. Sit down and have a coffee, glass of wine, or beer, admire the art, and people-watch for a bit to rest your weary legs.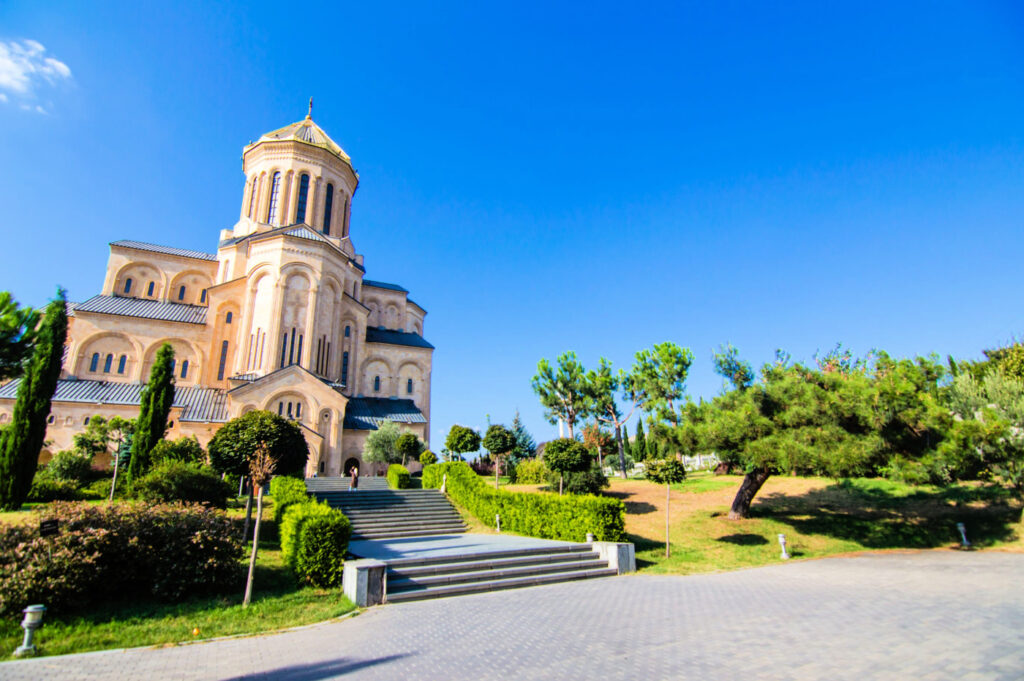 With your bottom half fully rested, take the last 25 minutes and slowly walk to the Holy Trinity Cathedral of Tbilisi. While you could take a Bolt from Deserters Bazaar to Fabrika or from Fabrika to the church, I would suggest walking if you are up for it. The vibe is very different from the more touristic old city, and while equally as old, you feel like you have it more to yourself. It was a very peaceful and enjoyable one for me, but to each his or her own!
And now we get to the Holy Trinity Cathedral. Only finished in 2004, it was quite new compared to most cathedrals people will visit during their time in Europe. Some might feel that newer buildings without the history would be more soulless than their ancient counterparts and usually, I have found that to be the case. However in this case that assumption is dead wrong. There are almost always one or two things in a particular trip that have the power to wow you or render you speechless. In Tbilisi, for me, it was this church. Not the biggest width wise but when you enter the height and ensuing hollowness that engulfs you is awe-inspiring. With the continuous chants ringing throughout and the amazing colors and hues, particularly of blue that provide a backdrop for the icons were powerful. If this is the last attraction that you will see in Tbilisi it is a spectacular one to go out on.
Take a Bolt to ATI to finish off the night. Located on the 10th floor of the Sheraton Hotel it has the best views of the city. With a glass dining room and two outside dining terraces, say goodbye to Tbilisi in person as you look out over the city, or as it was in my case, let it know you are coming back.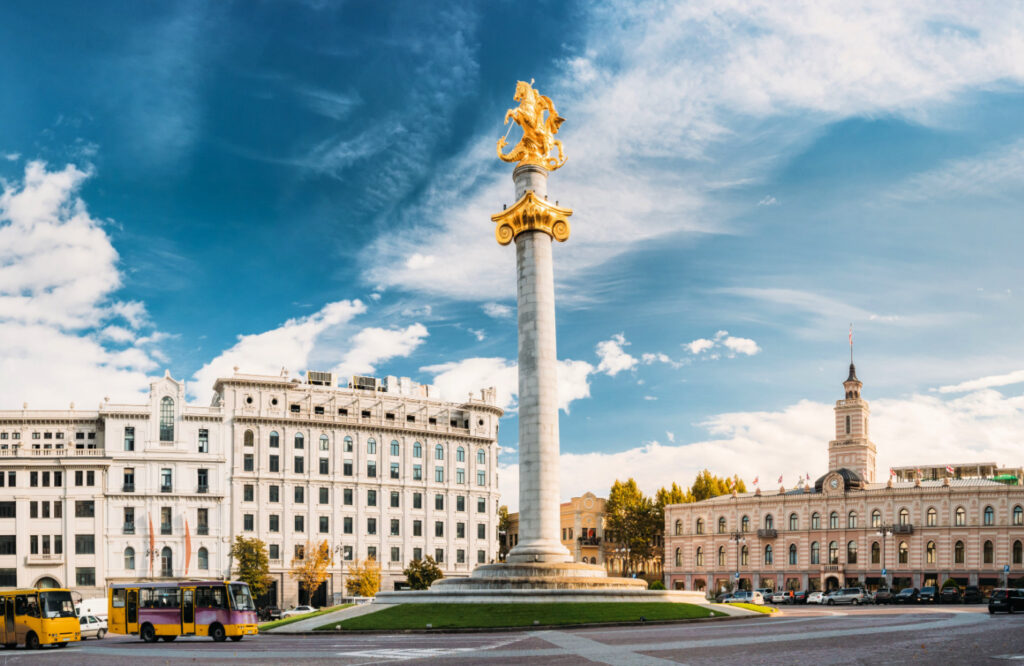 What to know before you go
Know Where to Stay
Tbilisi is not the biggest city in the world and nowhere is too far via bolt if you find a hotel you really like. Thankfully the best hotel in town is located smack dab in the middle of town and is the perfect base for your Tbilisi itinerary. 5 Star Apart Hotel is clean and comfy, and although a four-star hotel, as the name states they provide five-star service. Irina and her husband who run the hotel are incredibly helpful and provide great insights into the city. There are things on this Tbilisi itinerary we would have missed out on without their suggestions so I cannot thank them enough.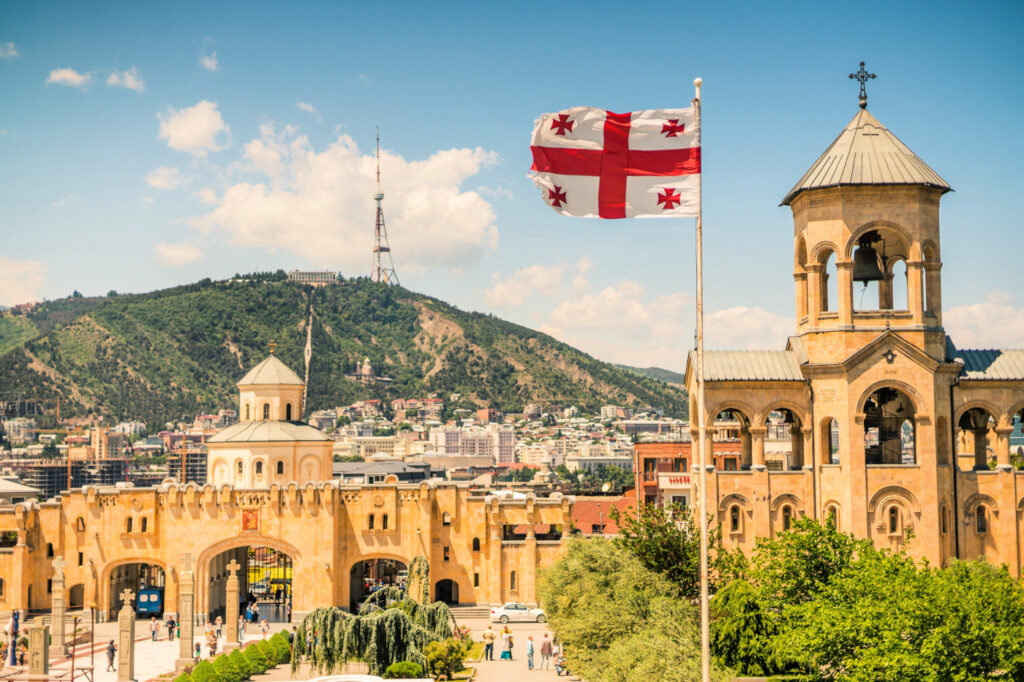 Know When to Visit
The best time to come to Tbilisi is the time it is probably best to go anywhere honestly, shoulder season. With biting winters and sweltering summers, the weather during April and May and September to October is the best you could hope for. If you have to visit during either summer or winter though I would go for winter. You can always bundle up and being a staunchly Christian nation, the streets come alive around Christmas and New Year's, and the energy is palpable.
Another reason to visit this time is that although Tbilisi is not somewhere that gets the attention of its Western European neighbors (thank God!), over the last decade the secret is starting to get out. During the summer months, the hordes descend upon the bite-sized capital and make it not as pleasant, as well as more expensive. So if you can avoid July and August, but if you can't, still have some fun!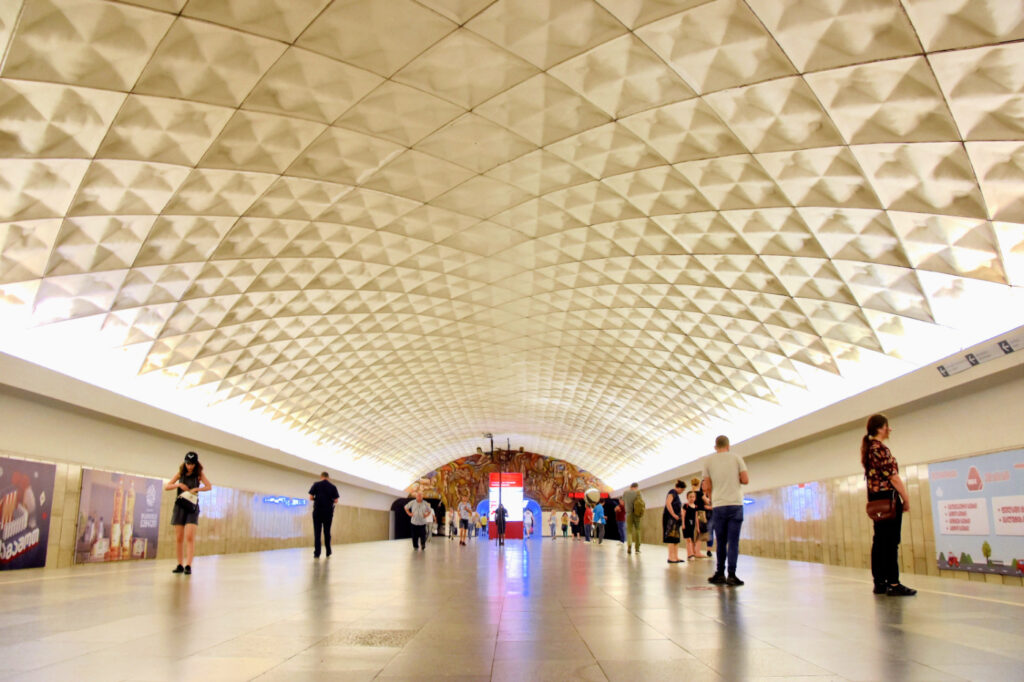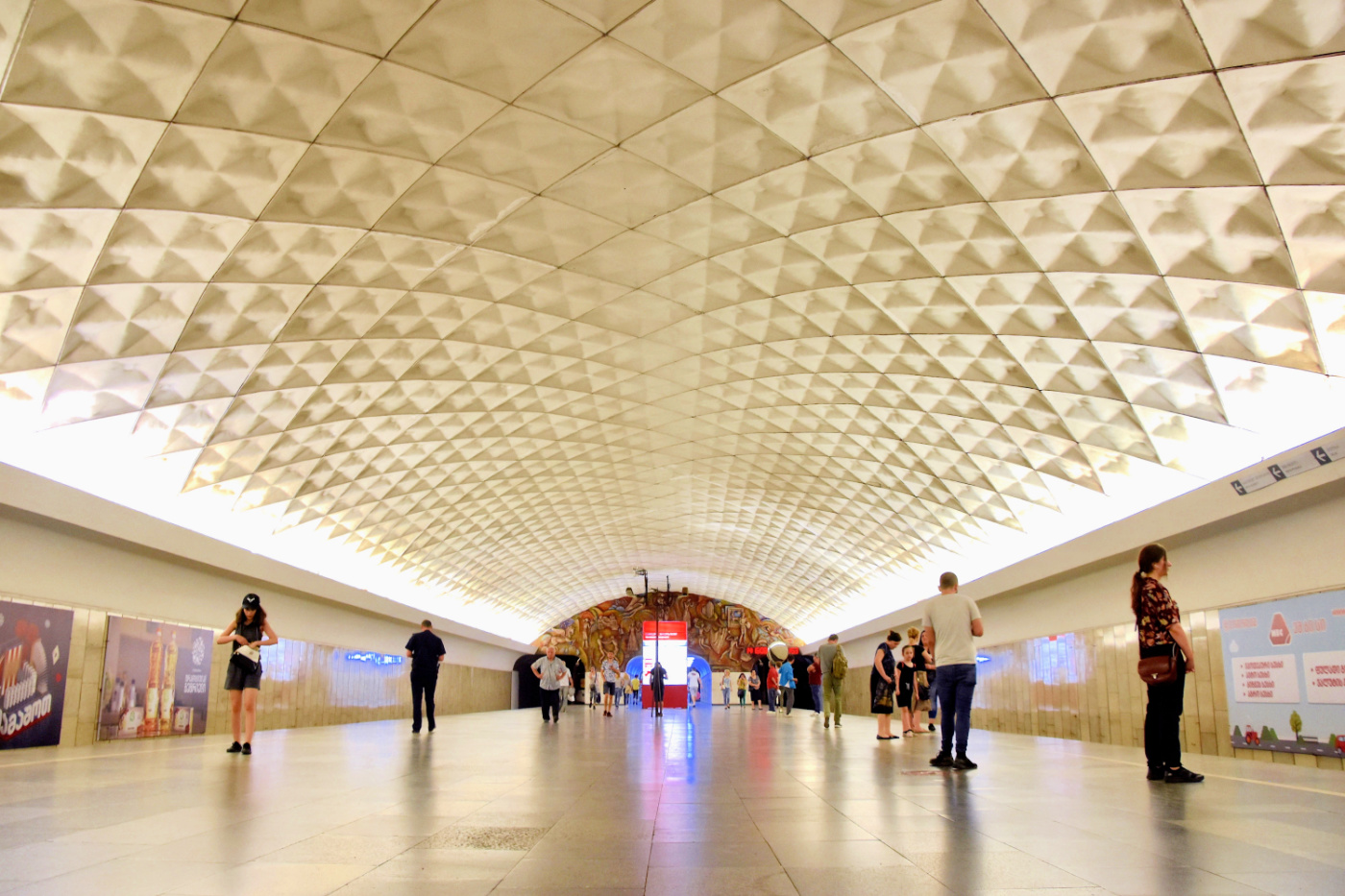 Know How to Get Around
The main form of transportation that I would recommend for this city is your own two feet. The Old Town is extremely walkable and if you are planning on going further Tbilisi is a fantastic place to get lost in. Take in the buildings and streets up close as you meander along the not-so-level sidewalks.
But of course, not everything is within walking distance or maybe you've had a long day and just need a break! In those instances, I would suggest Bolt, Georgia's answer to Uber. Very cheap prices and drivers around every corner. There are several other ride-sharing apps you can try like Maxim and Yandex, however, the drivers are much less likely to speak English, the maps might be in Georgian and international cards have been known to fail on both platforms. So unless you have managed to pick up the language and or bank account on your first day, I'd stick to Bolt as they have a much easier interface for English speakers, a stricter code of conduct for drivers, cleaner cars and the price is still very reasonable.
I didn't have a sim the first couple of days and had to flag down a taxi and after seeing bolt prices, I definitely overpaid and am embarrassed to say by how much. And this is even after saying no to 3 higher prices from taxis before!
The local metro has one line down the main part of the city, so if you need to get across town or to a bus station, it's a good option. It was built during the Soviet era deep underground and some of the stations are in my opinion works of art, so I would take this once even if just for the experience.
Know Some Tips and Tricks
Get a sim card – For things like taxi apps and Google maps, and Google Translate when you want to talk to the sweet old grandma at the market, I would highly suggest getting a sim card. They are very cheap and can be found all over the old town, your hotel might even sell them. Too Many Adapters has a detailed guide for buying a SIM card in Georgia.
Wear the appropriate dress code for churches – For visitors who are more familiar with the Protestant and Catholic traditions, it probably wouldn't even be on your radar to think what to wear to enter the church, but no tank tops or shorts, and women will need to cover their hair, though most churches provide wraps for your head and knees if need be so be on the lookout.
The word for cheers is Gamarjos! Trust me this is going to come in very handy.
Most tourist sites are closed on Mondays so try to plan around that.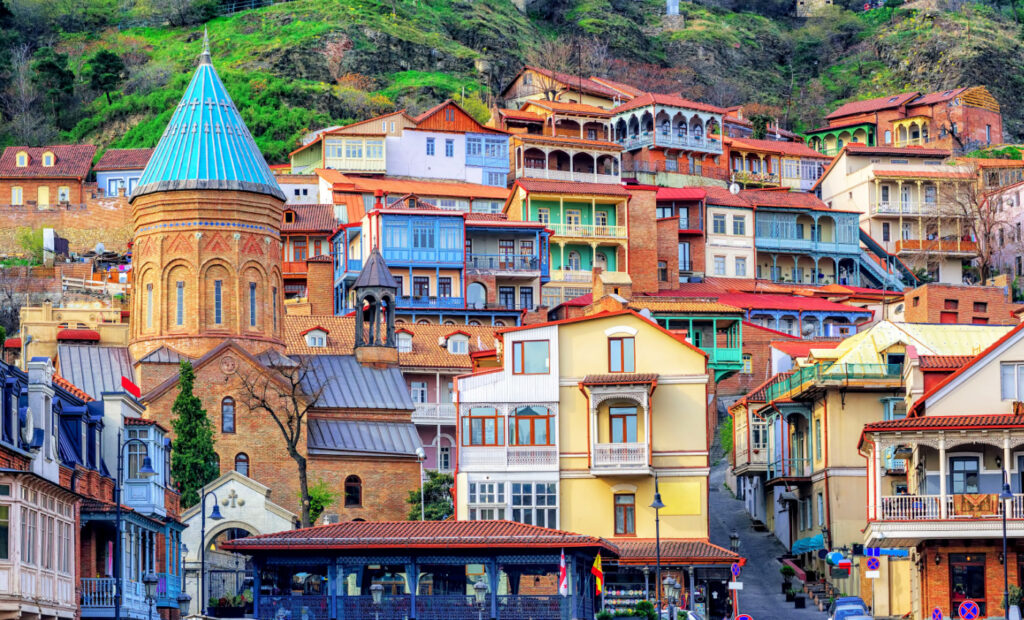 Overall there might be no better place to spend a long weekend. Spending three days in Tbilisi is the perfect getaway and I hope you had as good of a time as I did.