Two weeks is the perfect amount of time for your first trip to Japan.
You'll be able to explore this wonderful country from the mountains to the sea, wandering through chaotic neon-lined streets and serene Zen temples, soaking in onsens and filling yourself with more ramen and sushi than you ever thought possible.
For your first visit in Japan, I recommend kicking things off in Tokyo (4 nights) before heading to Hakone (1 night), Yudanaka (1 night), Kanazawa (2 nights), Takayama (1 night), Kyoto (3 nights), Hiroshima (1 night), and Osaka (2 nights). You'll experience a perfect blend of cities and nature, and leave craving a return visit to do it all over again.
Here's how these destinations look on the map: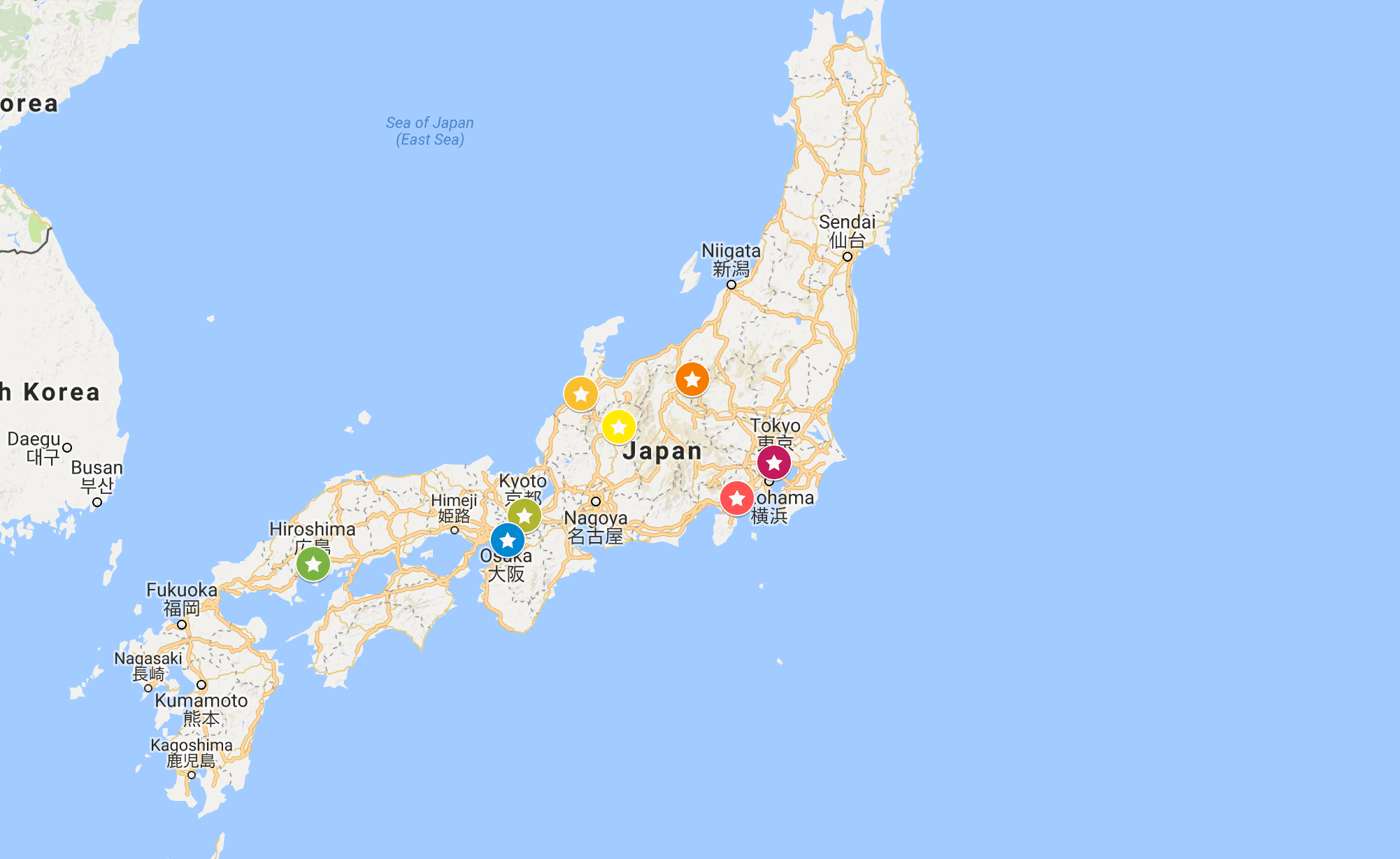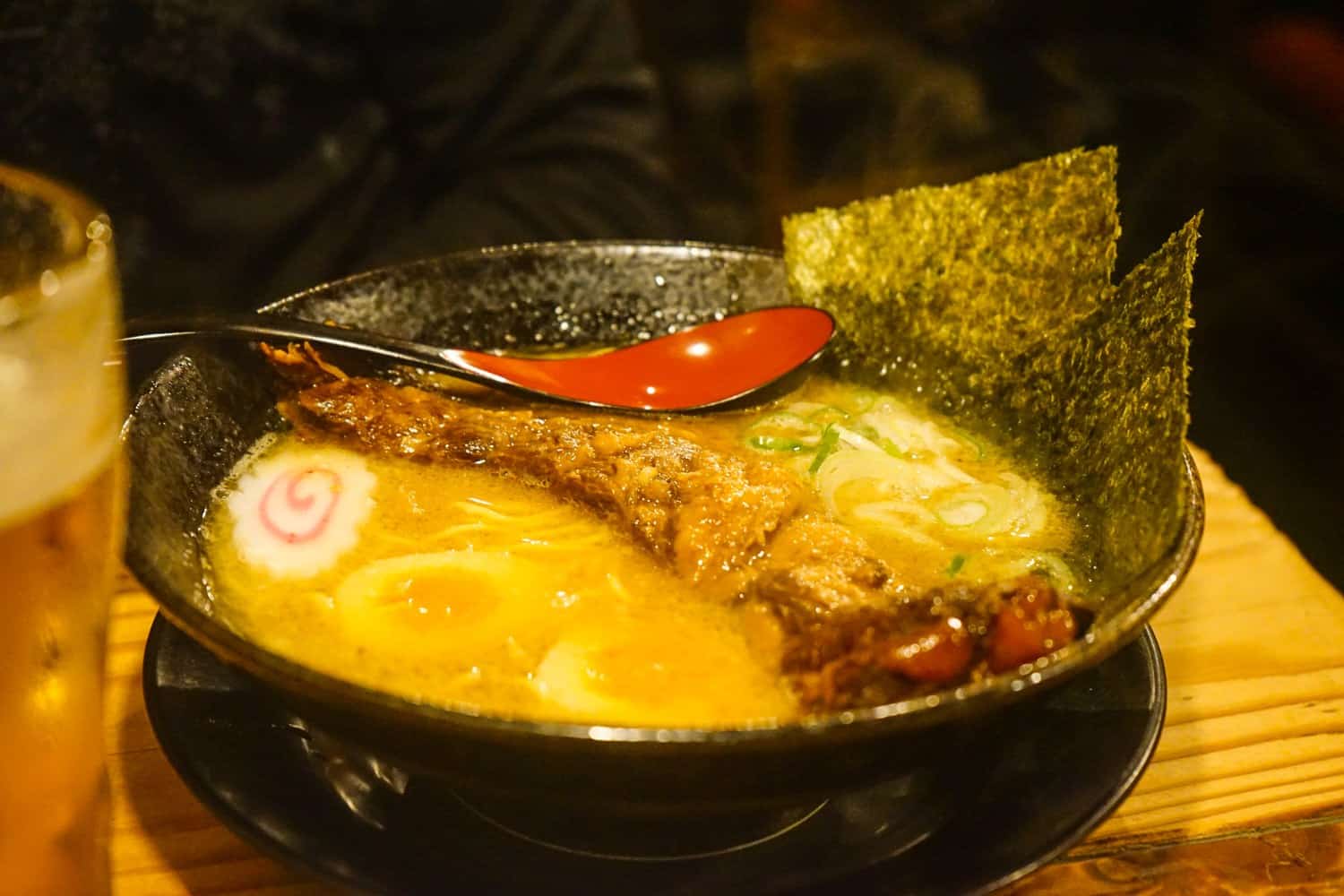 Should You Buy a Japan Rail Pass?
I'm the biggest contrarian you'll ever meet, so when I found nothing but amazing reviews of the JR rail pass, I immediately wanted to skip it, take the bus, and write an article about how it was so much better.
But I didn't want to sabotage my own trip through pettiness, so I grabbed a pass, made a note of how much we would have spent to take the trains without it, and it turned out my 14-day JR pass saved me ¥19,000, or $175! It was definitely worth getting. I only used trains while I was in Japan.
I didn't bother making seat reservations on any of the trains in advance as I visited at a quiet time of year (late-November, early-December), but if you'll be heading to popular destinations at peak times — think Kyoto in cherry blossom season — you may want to book a seat for any important journeys once you've landed in the country. It's super-easy to do — just take your pass to any JR ticket office anywhere in the country, and they'll be able to get those booked for you at no extra cost.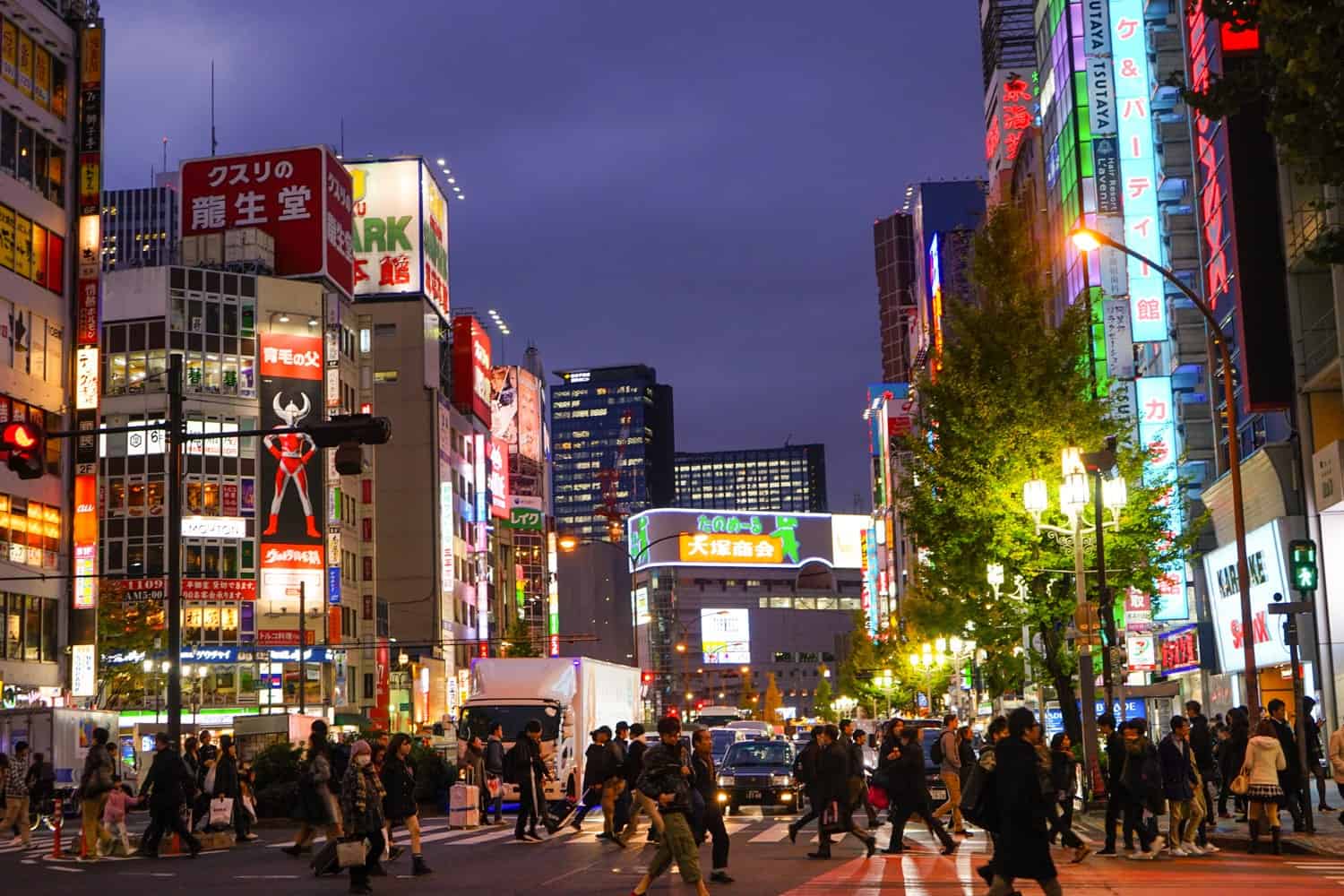 Day One: Arrive in Tokyo and Get Your Bearings
If you've come from afar, this is likely going to be a hectic day that passes in a haze of jet-lag. It's best to take things easy on yourself during your first day in this chaotic city, and spend your time exploring whichever neighbourhood you've decided to base yourself in. I recommend staying in Shibuya because it's centrally located, has great public transport links, and is close to everywhere you're going to want to visit.
Make sure to walk across the iconic Shibuya Crossing on your first day, then head to the nearby Starbucks for a kickass view from above. Tower Records is fun to visit for a hefty dose of nostalgia, and if you discover you've forgotten to pack anything in your luggage, this is the perfect area for shopping. I may have spent this first day replacing my well-worn travel closet with Japanese versions.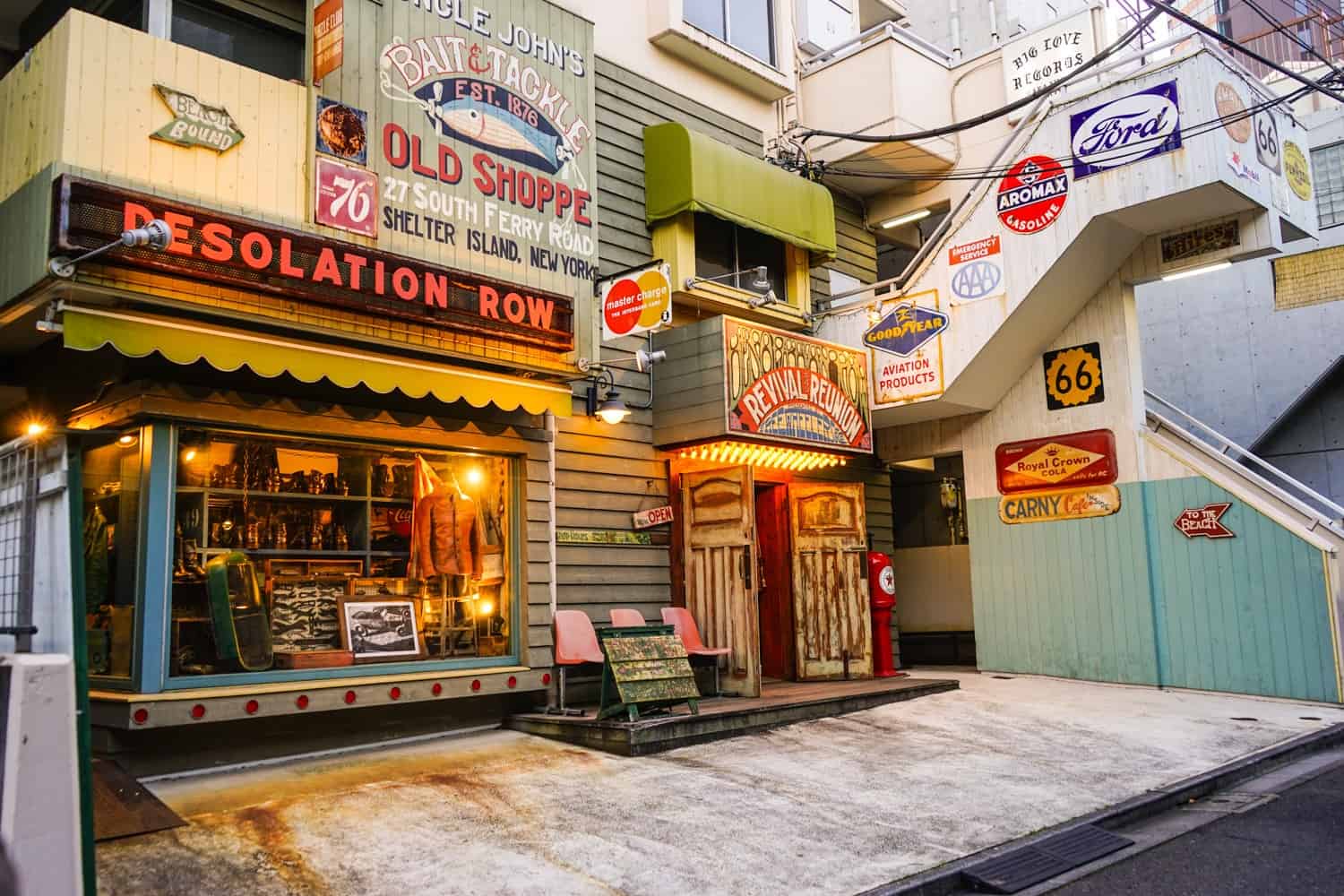 Day Two: Explore Harajuku and Shinjuku on Foot
Kick off your day with a hipster breakfast and latte in Harajuku. You're going to adore this cool as hell neighbourhood, and want to spend an entire day cafe-hopping my way around the area. I recommend eating at Mr Farmer for a fun brunch, and loved Deus Ex Machina cafe for a morning caffeine kick.
There's tons to do in Harajuku, so you'll likely spend much of your second day in Tokyo walking, taking photos, and people-watching. I went to an ethically dubious hedgehog cafe, gawped at the unique fashion stores, fell in love with the Big Love Records store, and snacked on excellent gyozas at Gyoza Lou.
In late-afternoon, make your way over to Shinjuku to head up to the top of the Tokyo Metropolitan Government Building. It offers one of the best free views in the city, and is worth visiting at sunset to watch the city slowly light up.
Round off your evening with one of my personal highlights from my time in Tokyo: yakitori and cold beer on Piss Alley, followed by bar-hopping around the charismatic Golden Gai bar district. This was so much fun!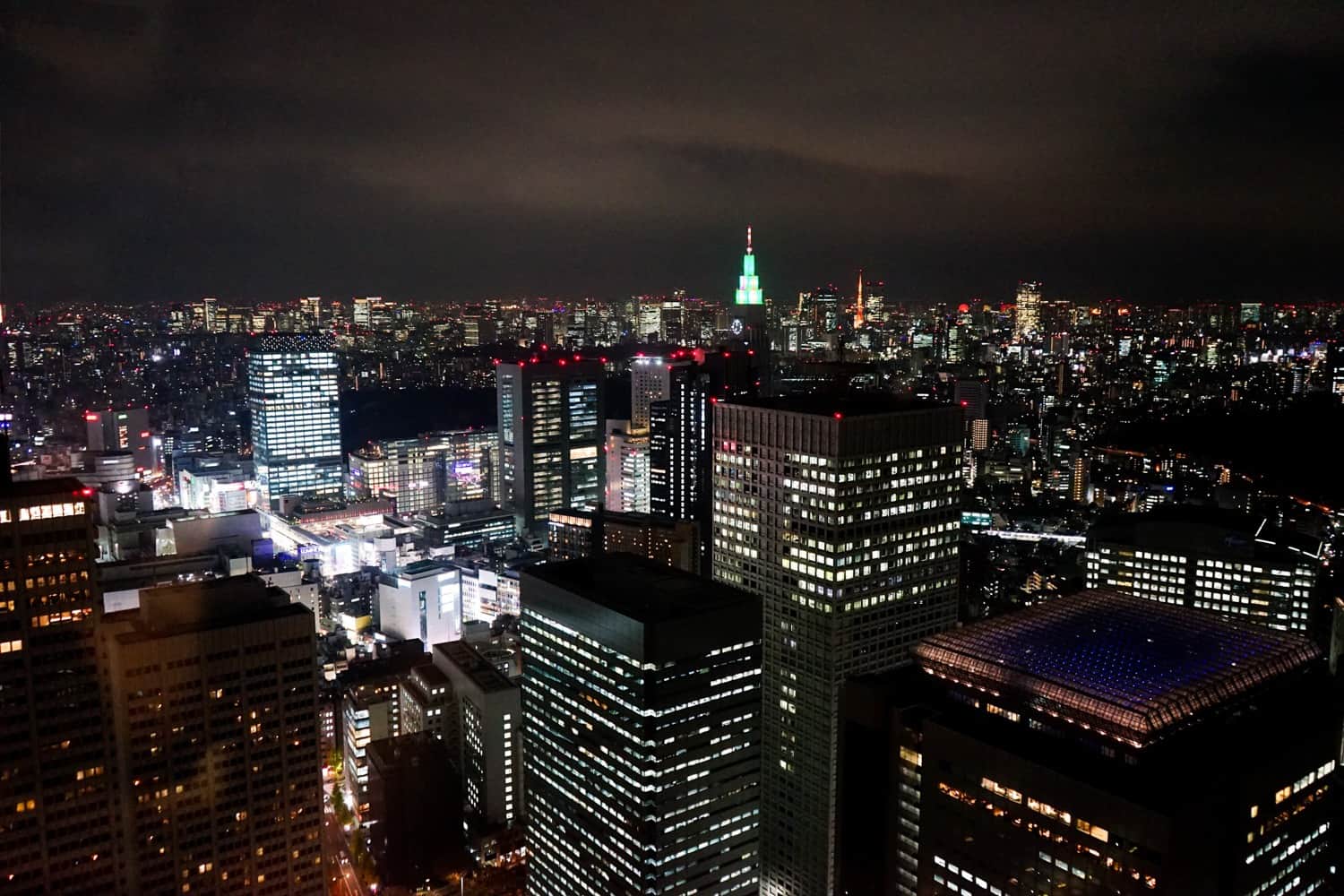 Day Three: Head Over to Central Tokyo
Start your day at Tokyo's Imperial Palace, and spend your morning wandering around the grounds and gardens. This is a wonderful area of the city and you can easily spend several hours exploring, especially in the beautiful East Gardens.
After grabbing lunch, opt for a laid back afternoon walking the streets of high-end Ginza to see a different side of the city. Ginza may be known for its luxury shopping opportunities, but Ginza Crossing, Itōya Stationary Store, Hamarikyu Gardens are all free to see.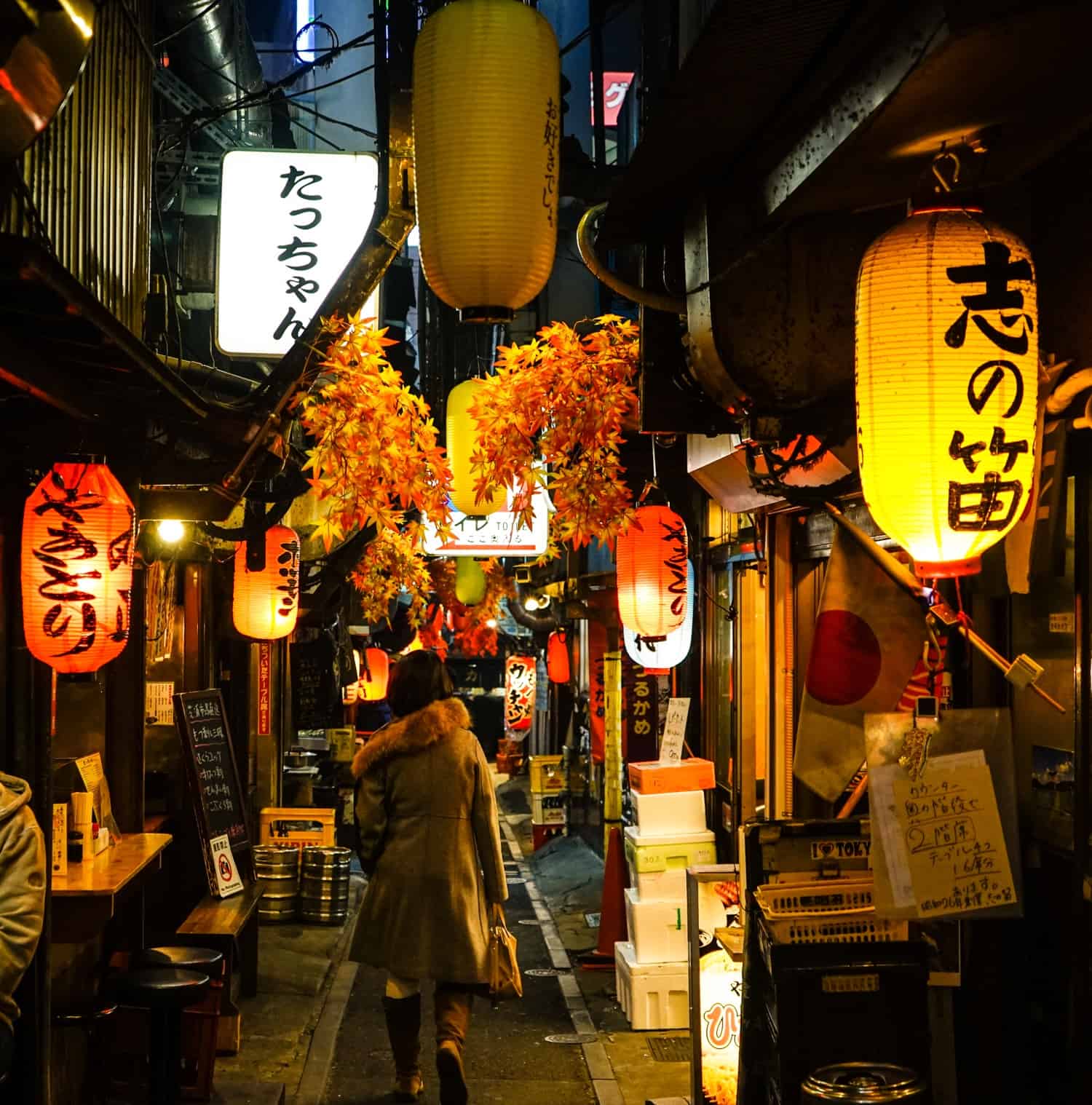 Day Four: Get Your Geek On in Akihabara
The jet lag should be wearing off by about now, so how about a hefty dose of culture shock?
Kick off your final morning in Tokyo by heading to Asakusa to check out the famous Senso-ji Temple. It's one of the most photographed spots in the city, so you'll want to get there early. Once the crowds start to arrive, wander over to Ueno Park to spend a couple of hours walking the trails and sitting on benches beside the pretty lake.
Akihabara used to be Tokyo's electronics district and while you can still find tons of technology stores there, it's now also the home of manga madness. In short, this neighbourhood is bright, noisy, and full of comic book stores. It's the perfect place to spend an afternoon people-watching, experiencing culture shock, and pondering how it's possible for so much neon to exist in one place.
This part of the city is exactly how you're imagining Tokyo to be before you arrive.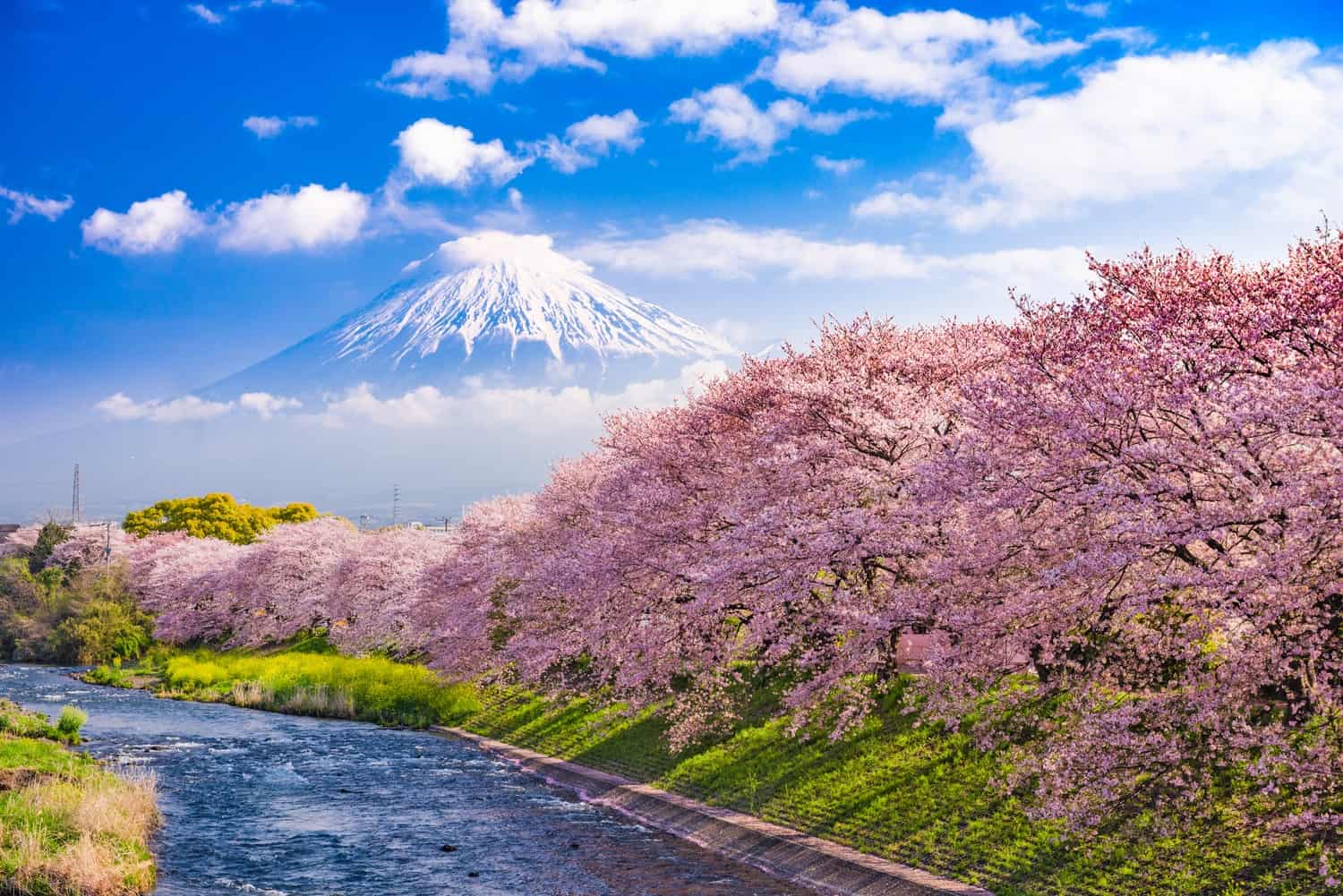 Day Five: Check Out Mount Fuji from Hakone
If seeing Mount Fuji is high on your wishlist, you'll want to take a trip out to Hakone. I spent the night there in order to see as much as possible, but you could also do it as a day trip from Tokyo (there are day trip tours) if you're short on time. Check availability for those day trips using the widget below:
If you're aiming to climb this active volcano, keep in mind you can usually only do so between July and August, and also remember it's rare to find yourself in front of Mount Fuji with bright blue skies. Prepare for clouds in the hopes of being surprised — December offers the best chances of seeing the mountain with pristine blue behind it.
The best and cheapest way to see Hakone is by purchasing the Hakone Free Pass, which gives you unlimited rides on all the transportation options over two days. You'll start by taking the train from Hakone-Yumoto to Gora, then jumping on the cable car to Sounzen. From there, you'll board a ropeway to Owakudani where you can check out the volcanic activity and sample some sulphuric eggs, and then continue on the ropeway to Togendai.
Next up: a pirate ship! Yes, really. You'll be able to grab a ride on the boat that sails across Lake Ashi from Togendai to Hakone-machi, and then walk around the lake to Moto Hakone. From there, you'll be able to jump on a bus to the starting point! It's an easy circular journey that'll expose you to pretty views of Mount Fuji and the surrounding area.
If you have extra time and love checking out quirky sights when you travel, head to Yunessun Spa Resort, which was my one big Hakone oversight. There, you'll be able to bathe in hot pools filled with sake, coffee, red wine, and even ramen.
Where to stay in Hakone: We opted for a private room in a lovely guesthouse, with a tatami mat floor to sleep on, and a private onsen on-site. It ended up being one of our favourite stays in Japan! The staff were lovely, and there was a restaurant/bar with fantastic pizzas. It had a cosy and chill atmosphere, with great food and wine, and lots of blankets to snuggle up with as we ate.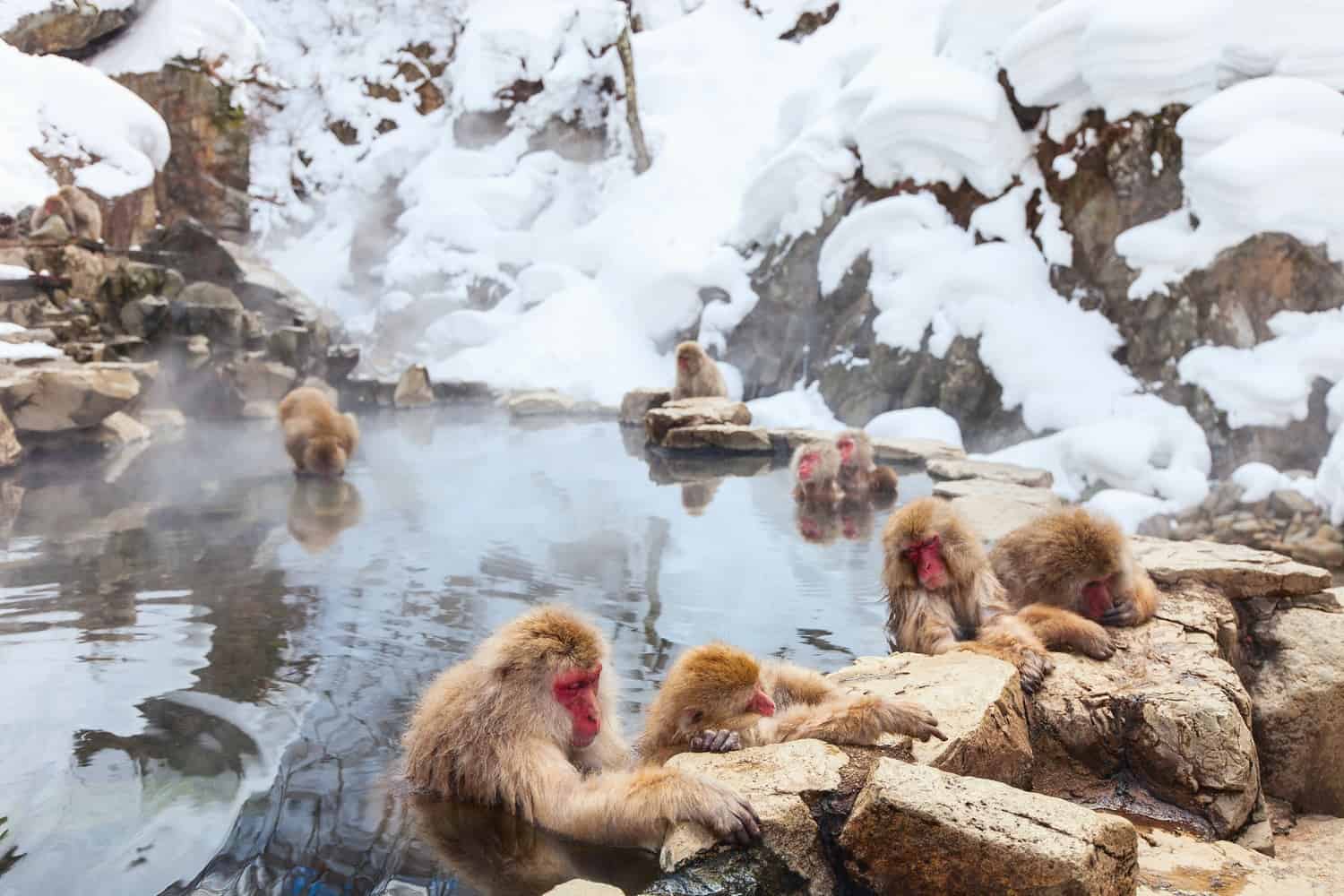 Day Six: See the Snow Monkeys in Yudanaka (Optional)
It makes little logical sense to head from Hakone all the way to Yudanaka, as it involves four trains, some with tight changes, and half a day of travel, but if it's winter and you've always dreamed of seeing Japan's famous snow monkeys, this might be worth the detour for you.
Just keep in mind that the experience isn't as organic as it's touted to be online, and felt a bit like a zoo to me. You can read my report from my time at Jigokudani Monkey Park, along with some recommendations for making the most out of your visit if you do decide to go anyway. If you do, I highly recommend the ryokan we stayed at!
If you do decide to skip Yudanaka, I'd add an extra day to Tokyo, Kyoto, or Osaka in its place.
Where to stay in Yudanaka: In Yudanaka, we splurged on a stay in a cosy ryokan, which is something you have to experience at least once in Japan. With prices often reaching as high as $300 a night for the experience, I was thrilled when I stumbled across a more budget option in Yudanaka. It was run by an adorable Japanese couple, and their house came with a private onsen, return transport to the snow monkeys, and one of the most extravagant meals of my life. A kaiseki is a multi-course meal that will see you eating roughly a week's worth of food (maybe an exaggeration) in a single night, sampling fresh, local Japanese cuisine. It was delicious, and I adored having no idea what anything was. I highly recommend the experience, although being presented with a seven course meal for breakfast had me on the verge of tears the morning after.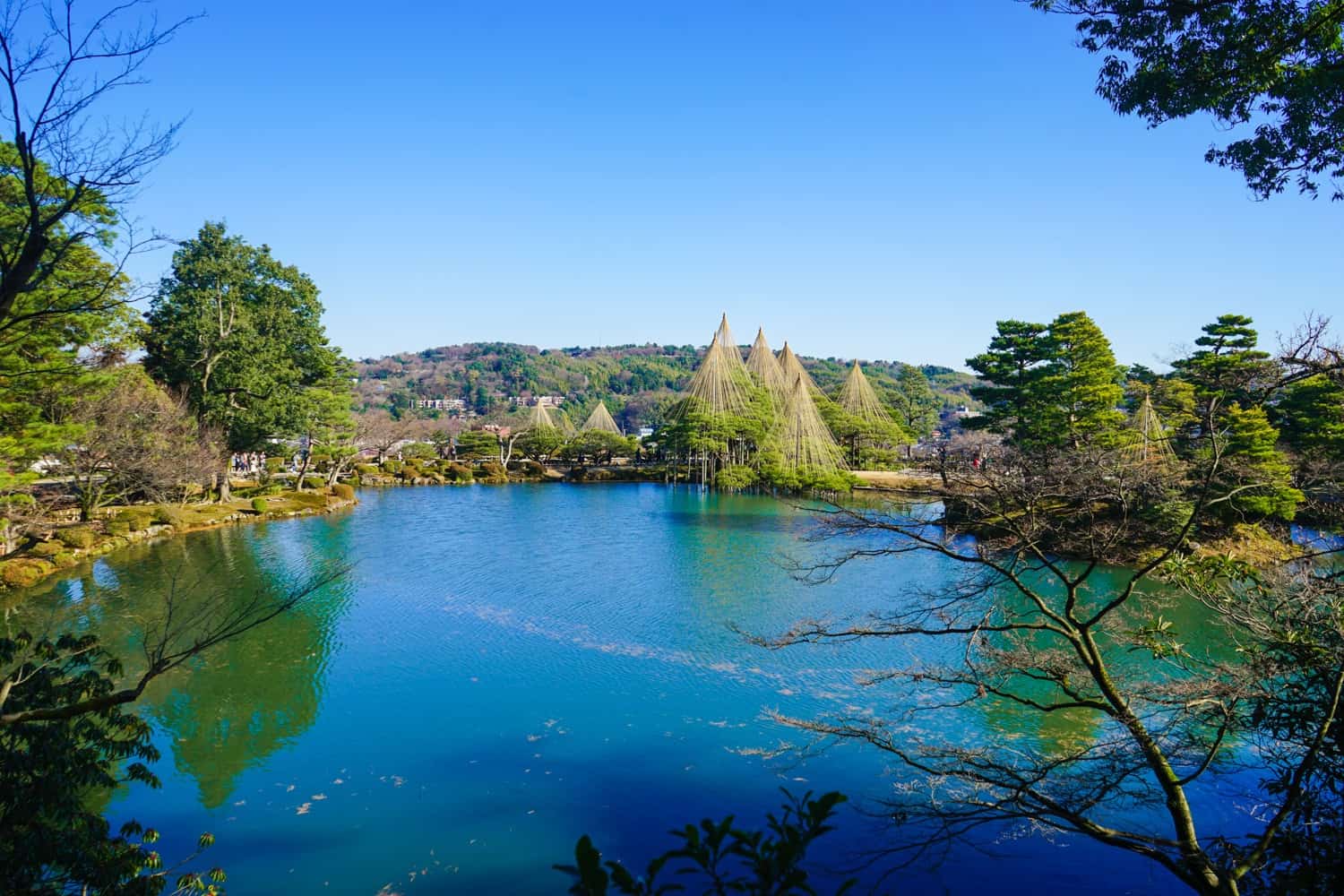 Day Seven: Sushi, Architecture, and Gardens in Kanazawa
I love Kanazawa! I added it to my itinerary because so many of my friends told me it was their favourite place in Japan, and I came away having fallen head over heels in love with it, too. This lovely city on the coast is one of the more chilled out spots in the country, where you can take things slow and enjoy where you are, rather than rushing around and trying to see as much as possible.
There are three standouts when it comes to Kanazawa: the sushi, the history, and the gardens.
Kick off your first morning in the city by heading to its most famous attraction: Kenruko-en Gardens. It's one of the top three gardens in Japan and makes for a perfect start to a day. The earlier you visit, the less busy it'll be, and you can easily fill two hours sitting beside the pond, admiring the trees, and wandering down every pathway we could find.
When lunch rolls around, head to Omicho Market to check out the sushi. It's less touristy than Tsukiji Market in Tokyo, and that means more locals, cheaper prices, and just as fantastic seafood. Wander the stalls taking photos, choose a restaurant that's packed with locals, and sample some of the freshest sushi you'll ever encounter. Let's just say I don't plan on opting for sushi outside of Japan very often after this experience!
In the afternoon, head to Kanazawa Castle for a deep dive into Japanese history and architecture, before venturing out for some more delicious seafood in the evening.
Where to stay in Kanazawa: In Kanazawa, we stayed at one of the coolest hostels ever. It was clean and modern, and warm in winter, which was greatly appreciated. As a bonus, we were a 50-metre walk from some of the best ramen I had in Japan, so it's worth staying there for that alone! I could have spent a week just in that private room. I highly recommend staying here, even if you don't usually opt for hostels. The private room was just as nice as being in a hotel.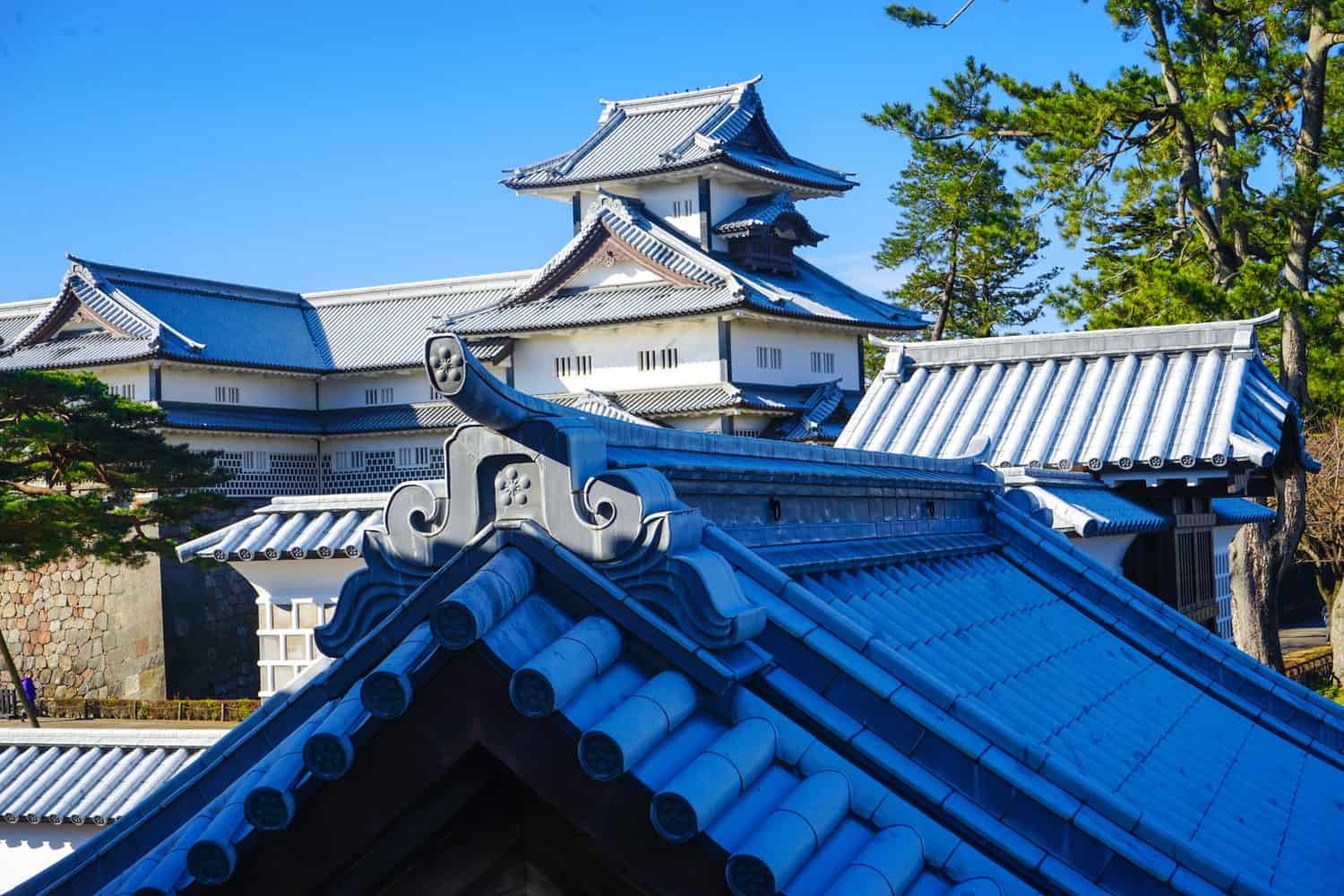 Day Eight: Go District-Exploring in Kanazawa
For your second day in Kanazawa, get ready to get your history on by spending some time in the well-preserved teahouse, geisha, and samurai districts.
Higashi Chaya District is the largest and more famous geisha district, dating back to the 1820's, and is full of pretty buildings, teahouses, and gold leaf galleries. Make sure to take a look around Ochaya Shima, an old geisha house that's been preserved as a museum and is fascinating to walk around.
If the crowds at Higashi Chaya get too much for you, spend some time around the nearby Nishi Chaya and Kazue-machi districts, which are less crowded. Nagamachi Bukeyashiki District is where middle-class samurai families used to live and is now home to canals, cobblestone streets, and mud walls surrounding former samurai houses.
Spend the afternoon wandering alongside Kanazawa's river as a lowkey way to round off your time in the city.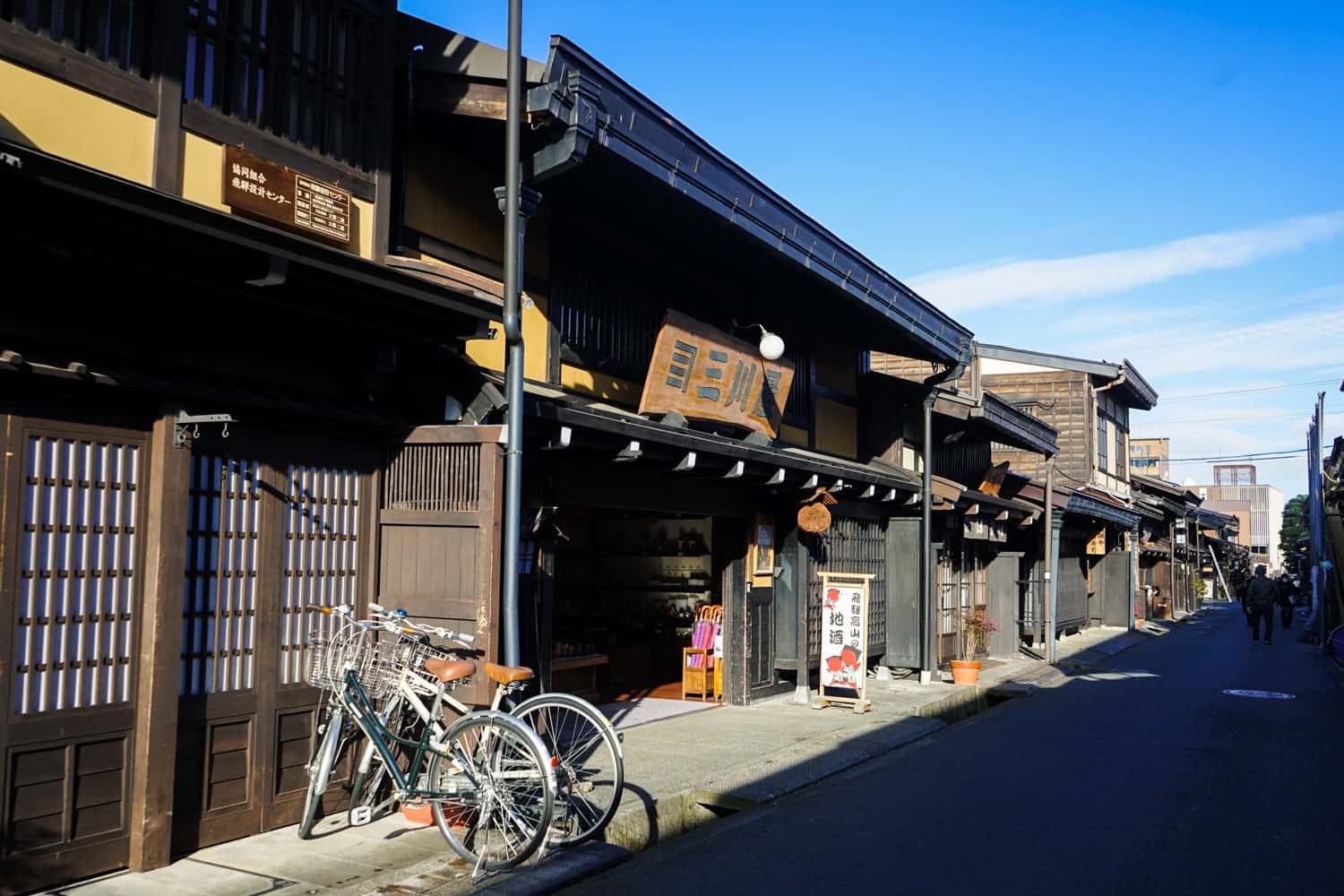 Day Nine: Step Back in Time in Takayama
Takayama, in the Japanese Alps, is a relaxed mountain town with beautiful traditional buildings, famous sake, and delicious Hida beef.
Spend your morning exploring the old wooden houses and hillside shrines, while definitely making it a priority to check out one of the town's cosy cafes for a soothing cup of green tea.
In the afternoon, head to the Hida Folk Village — an open-air museum showcasing 30 traditional farmhouses in the architectural style of the Hida region. If you were feeling particularly ambitious, you could attempt to squeeze in a half-day trip to UNESCO World Heritage Site Shirakawa-go, where you'll find a secluded village full of traditional gassho-style homes with steep thatched roofs that keeps the snow off in colder months.
Make sure to squeeze in some sake tasting and Hide beef-sampling during your evening in Takayama.
While Takayama is small and easily explored, there's tons to do in the surrounding area, so you could easily swap your itinerary around in order to spend two nights here and one in Kanazawa.
Where to stay in Takayama: In Takayama, we stayed in a small, locally-run guesthouse in the centre of town. It was decent enough, although nothing stood out as being amazing, aside from the price, which was great value for Japan. The staff were helpful, the shared bathroom situation was annoying, and the bed was a tatami mat set-up. No major complaints and I'd stay there again!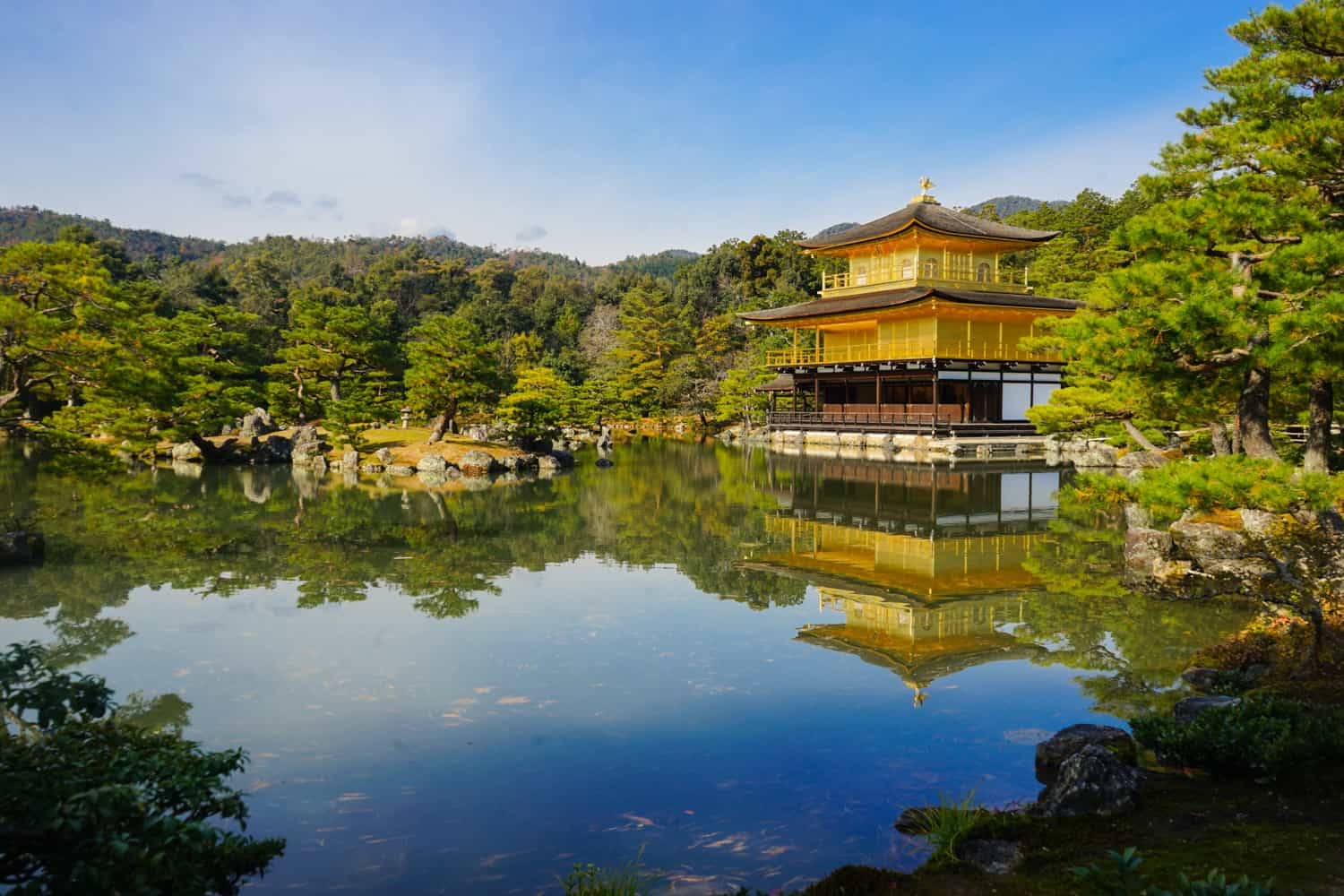 Day 10: Check Out the Highlights of Northern Kyoto
Kyoto! This will likely be one of the highlights from your trip to Japan — as long as you're prepared for the number of tourists to be intense at times.
The busiest time to travel is the first week of April when cherry blossom season rolls around and you'll be looking at extreme prices and enormous crowds if you decide to visit then. In mid-November, the autumn foliage hits its peak, and it'll be almost as crowded. In general, summer and winter are the least overwhelming months in Kyoto, although mid-August and the week around New Year's Day are popular with local tourists.
Aim to spend your first day in the city hitting up the highlights of Arashiyama, in Northern Kyoto. Make the Bamboo Grove your first stop, as the later in the day you leave it to visit, the more people you'll have to contend with. Unless you can get there right as the sun rises, dismiss your dreams of having the entire spot all to yourself. Still, it's a beautiful place, whether it's overrun with tourists or not.
Tenryu-ji Zen temple, at the entrance to Arashiyama Bamboo Grove is worth a look and worth the entrance fee for some respite from the noise, and it's home to one of my favourite gardens in Japan.
After grabbing some lunch in Arashiyama, head over to Kinkaku-ji temple — one of Japan's most iconic buildings. Otherwise known as the Golden Pavilion, this is a must-see while you're in Kyoto, and I bet you won't be able to stop taking photos of its glistening reflection in the water. It's likely to be the most crowded place you visit in all of Japan, but it's still easy to snap shots without other people in view.
Where to stay in Kyoto: In Kyoto, we stayed in a lovely hotel. Again, nothing super special about this place. Once you've stayed in one tatami mat room, you've stayed in them all. It was in a good location for Kyoto and the bathrooms were on the nicer end of anywhere we stayed. No complaints! It's one of the top-rated guesthouses in the city, so it's one I'd recommend checking it out.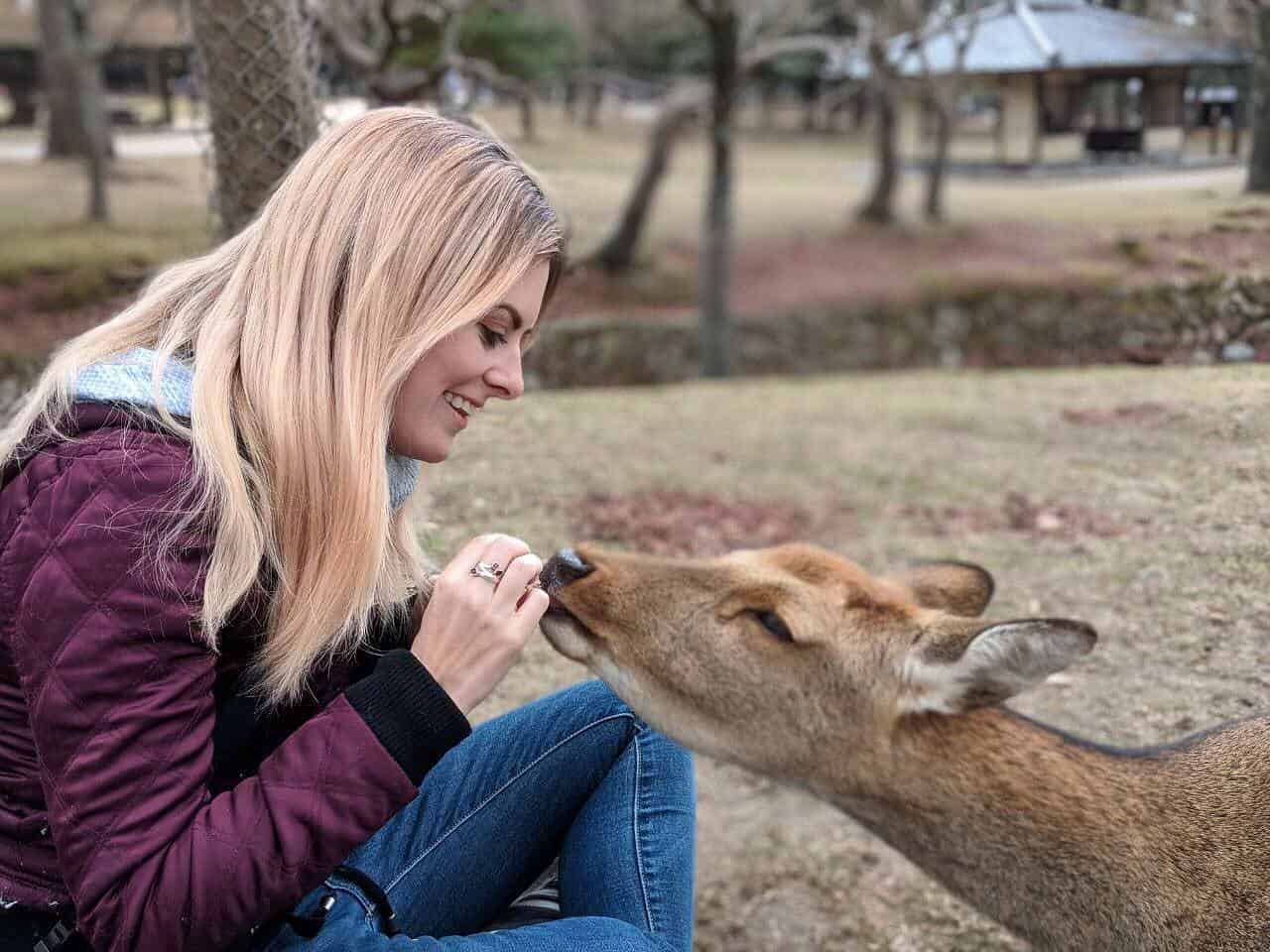 Day 11: A Day Trip to Deer-Filled Nara
The undisputed highlight from my time in Japan was the day I spent playing with deer in Nara. If you want to know what my idea of paradise looks like, it's fairly identical to that photo above.
Nara was the first capital city in Japan, so there are lots of shrines and historical activities to explore while you're there.
Or.
You could spend the entire day squealing over the wild deer that have made Nara their home. With over 1,000 of them inhabiting the city, you'll find them everywhere. In the parks, outside the temples, wandering into shops, queuing for a bus — these deer are viewed as sacred by locals and are protected as national treasures. You can buy snacks from vendors around the city and feed them if you like — it's a lot of fun!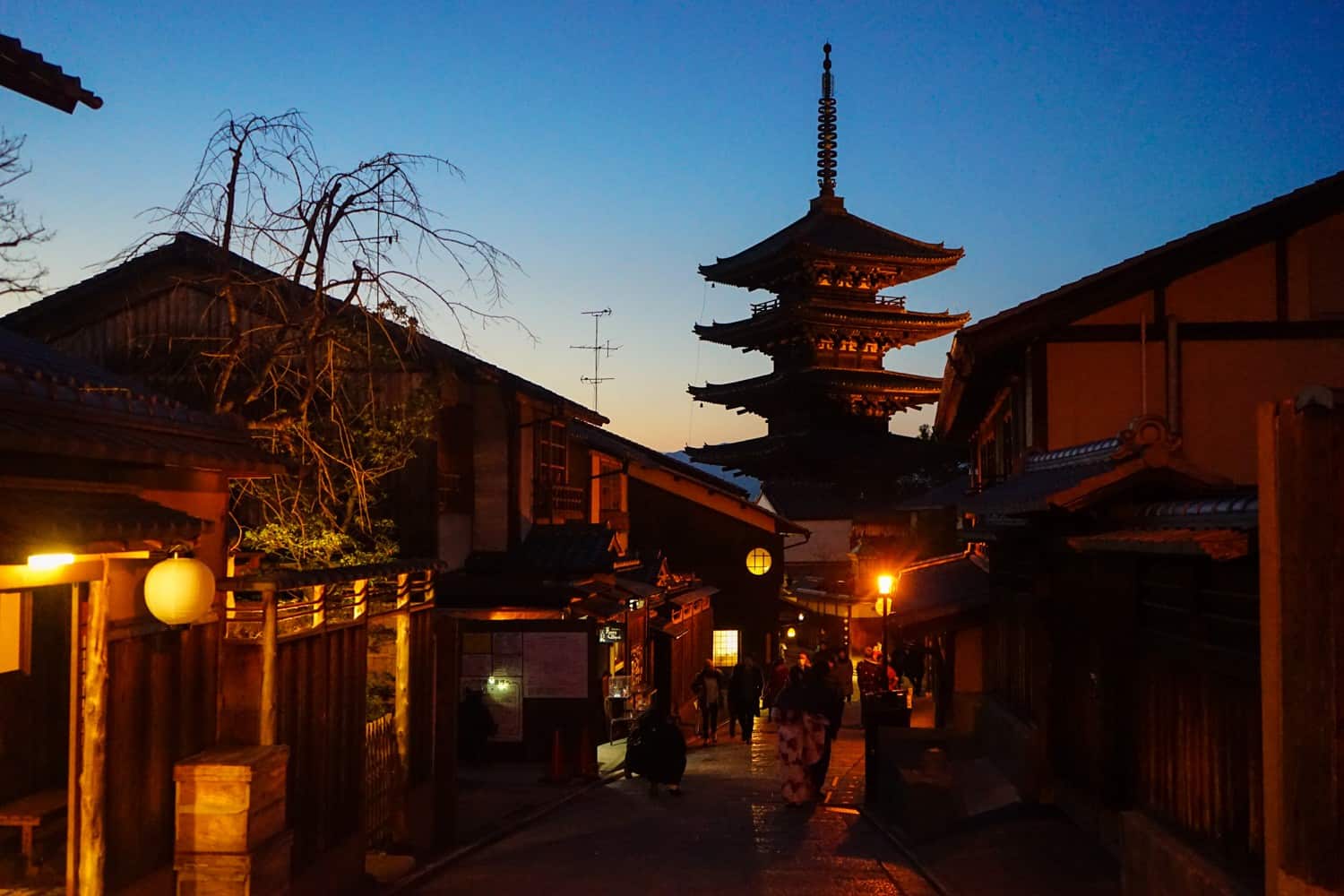 Day 12: Geishas and Shrines in Kyoto
For your final day in Kyoto, plan to spend your time hunting down geishas, wandering through the historic district, and hiking through the Fushimi Inari Taisha shrine's thousands of red torii gates.
Kick off your day in the historic Higashiyama district, one of the best-preserved parts of Kyoto. Stroll through the narrow lanes, take photos of the old wooden buildings, and stop at traditional stores to stock up on souvenirs.
Roughly an hour before sunset, head to Fushimi Inari Taisha to get some exercise in. I recommend walking the entire four kilometre climb up the mountain for one specific reason. Sure, you'll get the gist of the shrine within the first couple of minutes, but the further you walk, the less people you'll encounter. By the time you reach the top, you'll have those famous torii gates all to ourselves. By going around sunrise or sunset, you maximise your chances of finding solitude.
Next up: the district of Gion! It's the birthplace of geisha culture and as such, many tourists head there in search of a glimpse of a working maiko or geisha. Make sure you head there in the evening after climbing through the torii gates.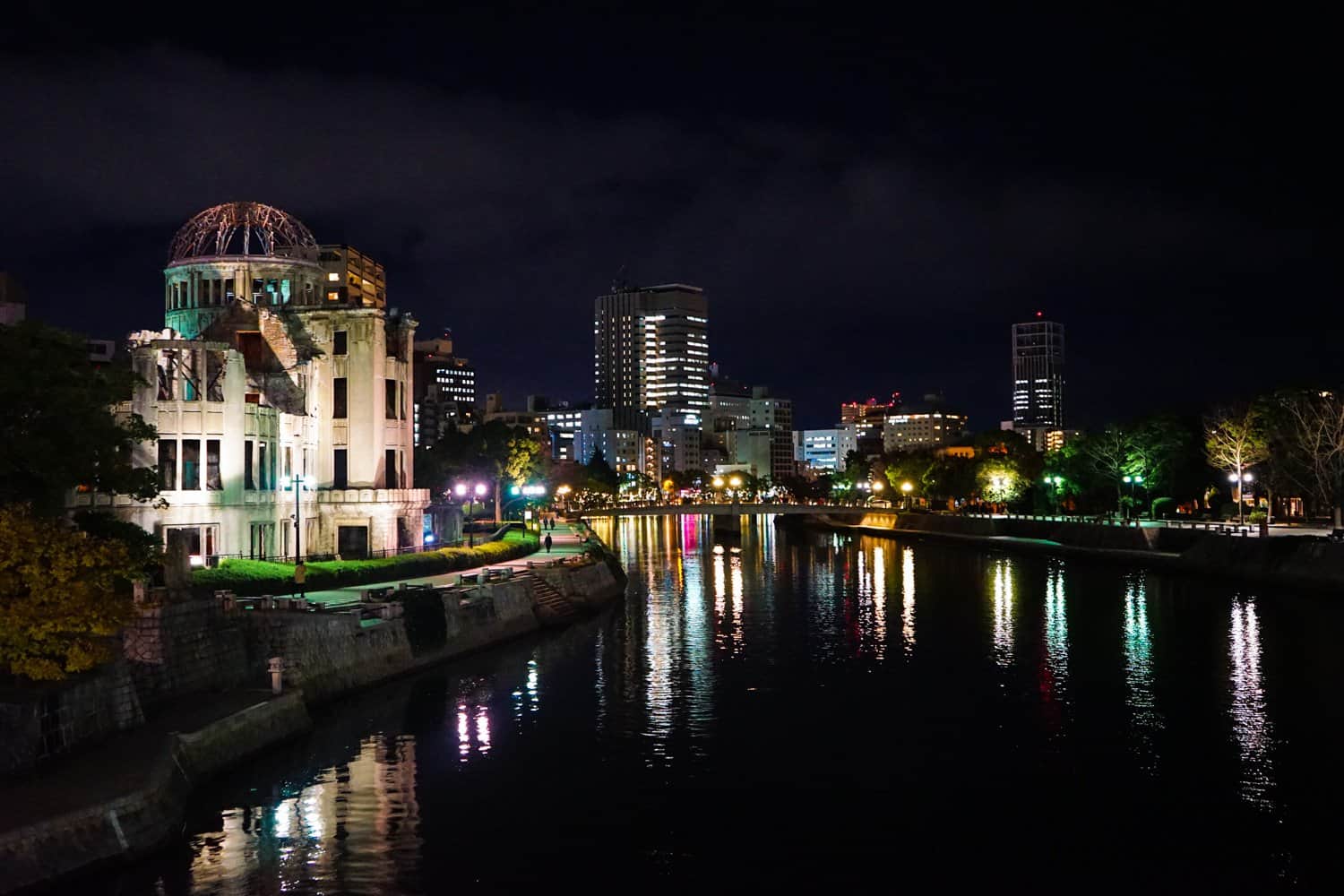 Day 13: Hiroshima and Miyajima Island
Hiroshima's an important place to visit, both to educate yourself on the horrors that took place here and to witness the city's incredible strength and resilience.
Start off by giving yourself several hours to wander the Hiroshima Peace Memorial Museum. It's undeniably intense and a difficult place to visit, but you need to go in order to fully understand what took place in this city.
After a quick lunch in Hiroshima, hit the rails and take the train and ferry out to nearby Miyajima Island. It's a place for respite after a heavy morning of sightseeing, and while you're there, you can swoon over the wild deer that roam the island, snack on street food, and take selfies in front of the famous Great Torii of the Itsukushima Shrine — you'll probably have seen this in Japan guidebooks. Most visitors love the laid back vibe of Miyajima.
Head back to Hiroshima for dinner and tuck into a delicious plate of okonomiyaki. Hiroshima's version of this savoury Japanese pancake is filled with yakisoba noodles, and is the ultimate in comfort food. Definitely make sure to try this while you're in town so that you can compare it to the Osakan version at your next stop.
Where to stay in Hiroshima: In Hiroshima, we opted for a capsule-style hostel because I didn't want to leave the country without trying one. Fortunately, we found ourselves in a room with only two other people staying there, so our capsule room with 20-odd beds was light on snorers. The owner of this place was ridiculously lovely, and it was in walking distance of all of the attractions. Really great bathrooms, a fun common area, and a cheap price. I would have stayed another night!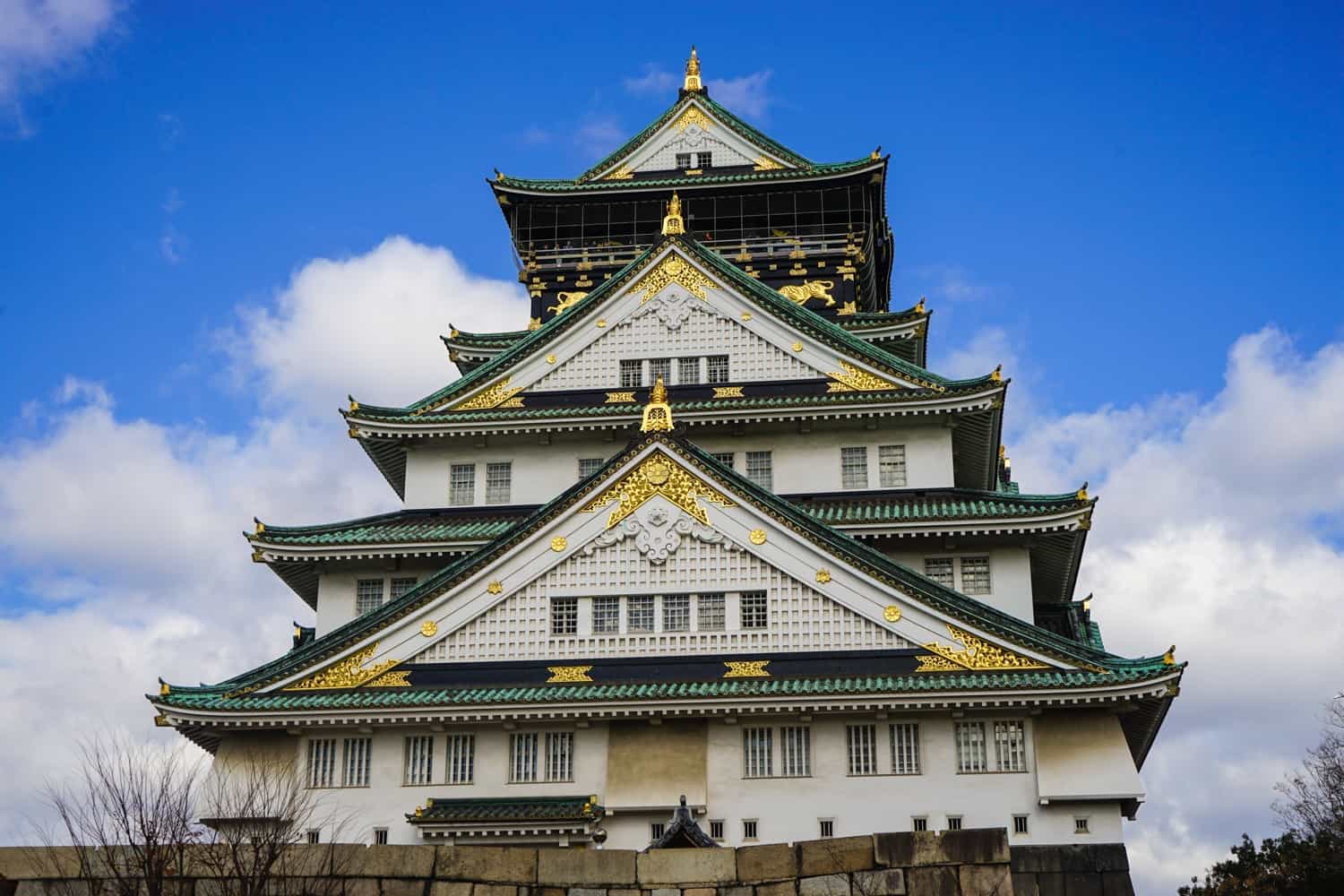 Day 14: Start Eating Everything in Osaka
Wake up bright and early on day 14 and spend a couple of hours wandering through Hiroshima before checking out of your hotel and heading to Osaka. I used this time to stroll through Shukkei-en Garden, visit the Children's Peace Monument, and take one final wander through Peace Memorial Park.
Onwards! Osaka ended up being my favourite city in Japan, and that's primarily because it's where you go to eat. I had one of the best meals of my life in Osaka, and every single thing I ate felt like it was on the verge of life-changing. Dramatic? Always. But man, I love the food in Japan.
After grabbing some lunch, head straight to the city's most famous attraction: Osaka Castle. If you're tight on cash, you don't need to pay to head into the interior, but it does have a pretty great view over the city from the top floor. It's one of the prettiest castles in Japan, so even sitting outside and taking photos of the shimmering specks of gold feels like a worthwhile activity.
Spend your first evening exploring Dotonbori by night. This vibrant, bustling neighbourhood, and the flashing lights at night are exactly what you're picturing Japan to be like. Head to Hanamaruken Namba Houzenji for a bowl of pork rib ramen for dinner because it was one of the best meals of my life.
If you're as much of a foodie as I am, you might want to opt to take this three-hour walking food tour of Osaka while you're in town. You'll get to sample 10 of the best local dishes, like takoyaki and yakitori, and two local drinks. The tour covers a whole range of eating establishments, leading you from a street stall to a market, introducing you to a classic Japanese restaurant and izakaya, and finishing off with a secret local hangout.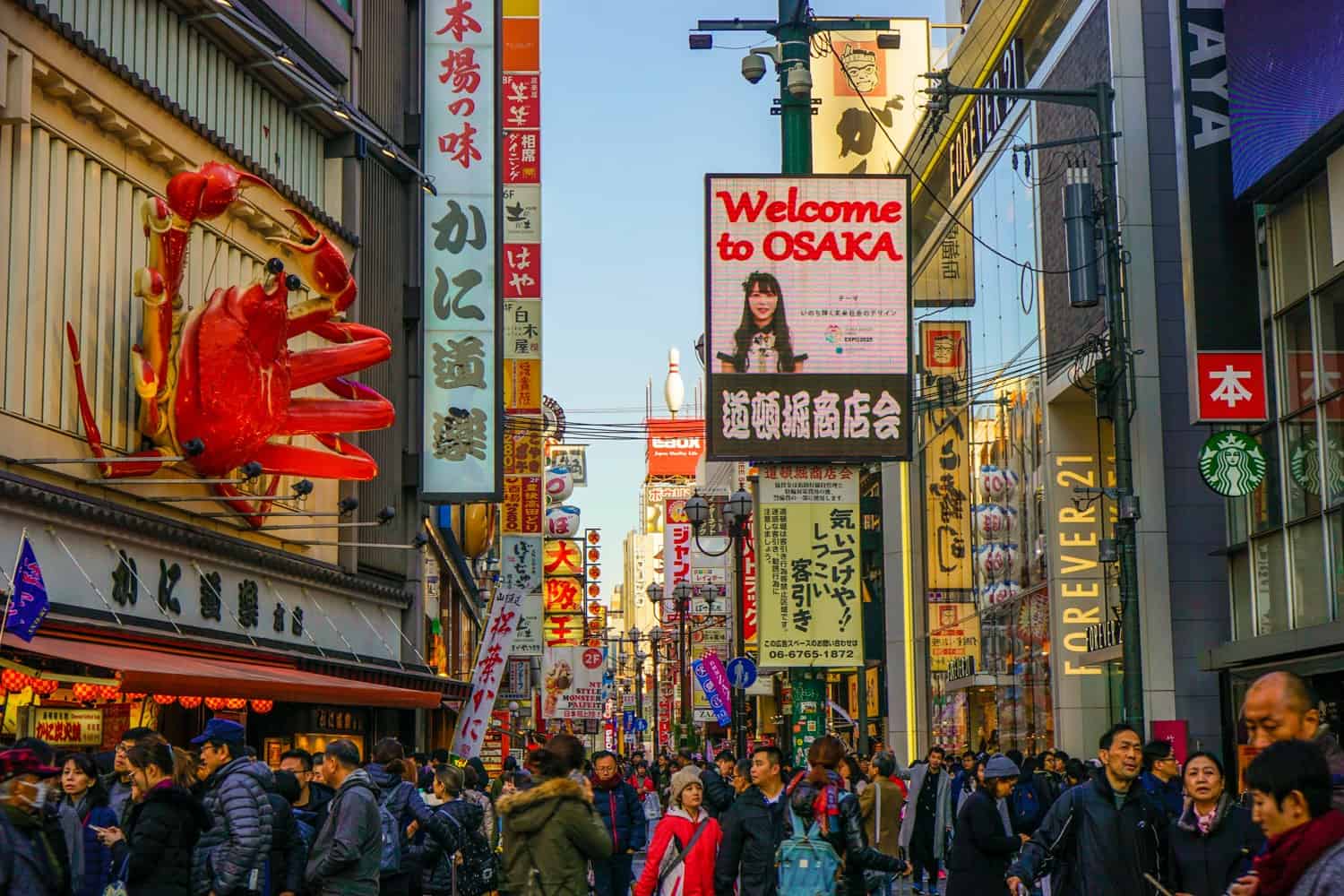 Day 15: More Osaka Exploring
If you're flying out of Tokyo, you'll likely want to head back to the capital today, but if, like me, you're flying out of Osaka, you have another day to eat, eat, eat!
Spend your morning in northern Osaka, exploring the area around the Umeda Sky Building. Consisting of two 40-floor skyscrapers connected at the top by the world's highest escalator, it offers an excellent view of the city and is one of Osaka's most recognisable landmarks. If you're into your technology, I recommend spending the rest of your morning marvelling at the enormous Yodobashi Umeda electronics store. You could easily spend an entire day getting lost inside there!
Head to nearby Nakazakicho for the afternoon, which is Osaka's hipster neighbourhood, and so much fun to explore. There's lots to keep you busy here, from vintage clothing stores to adorable cafes to craft beer to homemade organic granola, because of course.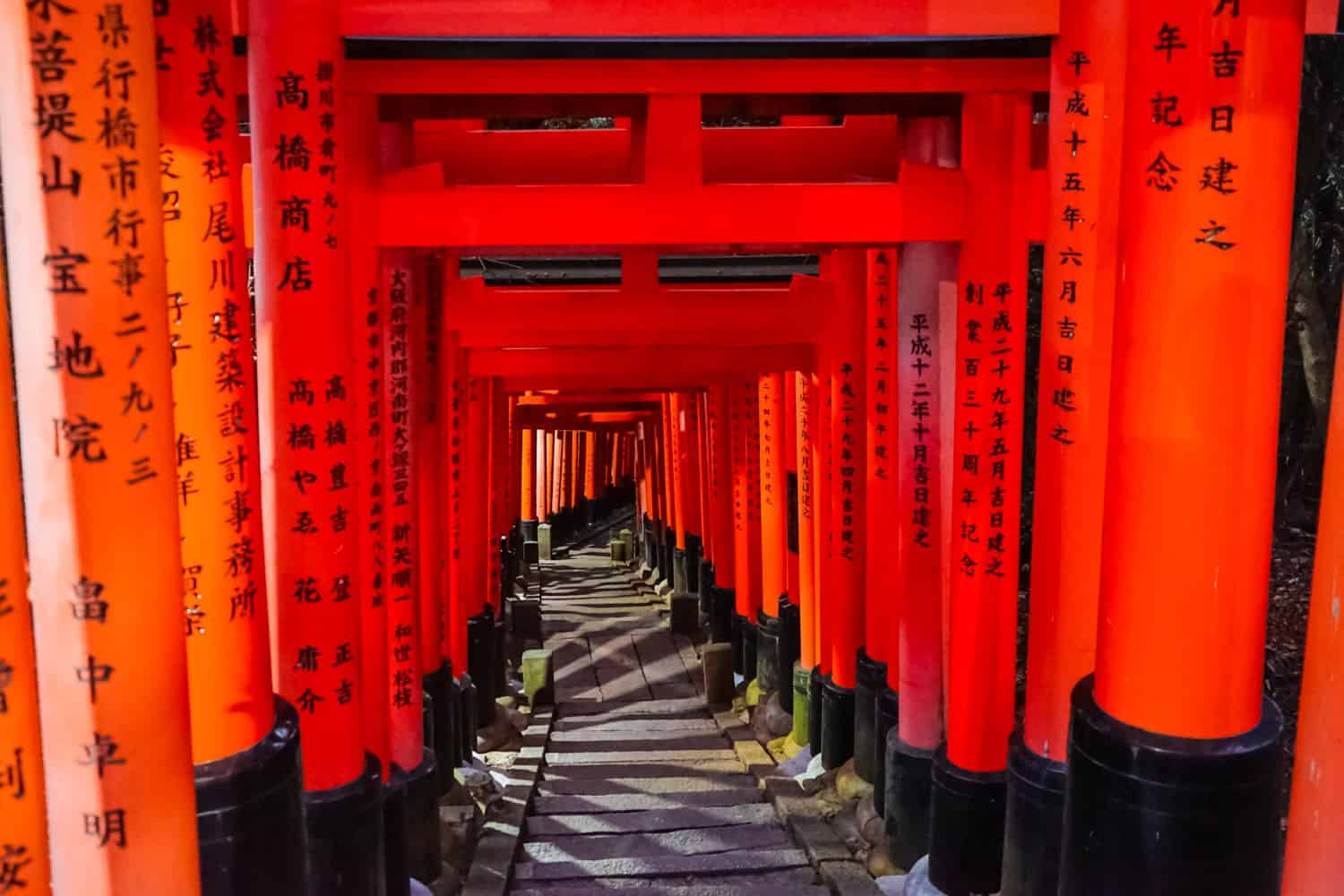 And That's How to Spend Two Weeks in Japan!
This itinerary is perfect for a first-time visitor to Japan. It won't feel too rushed, there'll be a good mix of cities and nature, and you'll undoubtedly leave with a dream of returning for a second visit.
There isn't too much I'd suggest in terms of alternations: I'd probably suggest skipping out on the snow monkeys and giving yourself an extra day in Takayama instead. You might want to trade a day in Tokyo for a day trip to Nikko, or potentially take a half-day trip from Osaka to Kobe, but that would really be it.
Now, book those plane tickets and start counting down the days until you touchdown in Tokyo!
If you've been to Japan before, what would you have done differently?
Related Articles on Japan

🇯🇵 What's it Like to Travel in Japan?
💴 The Cost of Travel in Japan: A 2023 Budget Breakdown
🍣 15 Weird and Wonderful Things to Eat in Japan
🎌 23 Incredible Things to Do in Osaka, Japan
😎 Hipster Harajuku: The Coolest Neighbourhood in Tokyo
🦔 Should You Go to a Hedgehog Cafe? My Experience in Japan
🐒 Why Seeing the Snow Monkeys in Japan Sucked
[Photo credits: Mount Fuji via Sean Pavone/Shutterstock; snow monkeys via BlueOrange Studio/Shutterstock]