Buenos Aires is unlike any city you've ever visited before – its vibrant energy will draw you in, but the heart and soul of the city is what will make you want to stay. Founded in 1536 by an expedition led by a Spaniard named Pedro de Mendoza, the city was initially named Nuestra Senora Santa Maria del Buen Aire, meaning "Our Lady St. Mary of the Good Air" – a bit of a mouthful, I'm sure you'll agree.
Having always been the capital of Argentina, from way back in 1536 to the present, Buenos Aires is a hustling and bustling metropolis, filled with business people living a typical city life as well as locals simply doing their thing.
Much like other South American cities, Buenos Aires is known to simply ooze with culture, and this couldn't be any more accurate. Whether it's live, traditional music being played in the streets or local vendors selling tasty Argentinian snacks to passersby, the city is alive with rich culture and the atmosphere is simply electric.
Perhaps in contrast to other major cities I've visited, I found that the locals in Buenos Aires were kind, friendly, and always willing to help me out. Of course, that's not to say that I think locals in other cities are all hostile and unwilling to offer assistance. Rather, it's just that in my personal travel experience, the friendly folk who are keen to contribute to your experience and show you the best side of their home are those living outside of the major cities rather than right in the middle of them.
Buenos Aires, however, was completely unlike that in every way imaginable. I was blown away by the warmth of the locals and how genuinely excited they were to share their city with me and introduce me to their culture. And boy, what a city they have to share!
Filled with exquisite architecture, historical sites, bustling markets, majestic churches, and so much more, Buenos Aires offers visitors a smorgasbord of things to do. It doesn't matter what your preferences are – whether you're there for historical sites, the culture and nightlife, or a little bit of everything. Buenos Aires is an eclectic city simply teeming with things to do and see, and it couldn't possibly be a boring place to visit by any stretch of the imagination.
Not only will you be able to enjoy an incredible cultural experience filled with typical Spanish charm and South American passion, but your time in Buenos Aires will be made sweeter by the fact that it's a very affordable city to visit. This means you're more likely to be able to get the very best out of your stay, even if you are visiting on a budget. When I visited the city a few years ago, I held myself to a moderate budget and found that I was able to do just about everything I went out to achieve, which is an absolute win if you're used to expensive cities with exorbitant prices.
Of course, everybody's preferences are different, but my personal experience of visiting Buenos Aires was that it was simply spectacular. A beautiful city filled with fascinating history, incredible buildings, beautiful culture, sublime food and music, and wonderful people who simply want to share all that their home has to offer with visitors from far and wide.
How Many Days to Spend in Buenos Aires?
Buenos Aires is a place with so much to see and do – I could've spent weeks there simply cruising around the city and enjoying everything it had to offer in my own time. From tourist attractions and historical sites to awesome nightlife and local culture, there's enough to keep you busy for as long as you'd like to stay.
However, if you're only in the city for a quick visit, I can say quite confidently that you can get your fill of Buenos Aires in three days. You may not be able to see absolutely everything, but it's enough to make you feel like you've had a good experience of the city.
One of the advantages of the culture in Buenos Aires is that the days are long – well, perhaps it would be more accurate to say that Argentinians make the days last long. Evening excursions and 22:00 dinners are not something I'm used to from home, nor was it something I'd come across very much on my travels up until the point that I arrived in Argentina. However, while it may seem a little odd, it actually totally works out in your favor – especially if you're a night owl!
I found that this part of the Argentinian culture basically just made the days longer, allowing me to see more of the city and really enjoy the nightlife to the fullest. So, while three days in Buenos Aires may not seem like very long, if you use your time wisely and capitalize on every minute at your disposal, you can absolutely do enough of everything to feel like you've had a proper Argentinian experience in the nation's capital.
Day 1 in Buenos Aires: Historical Landmarks
Everyone's got their own way of doing things while traveling, but my personal preference, especially when I have limited time, is to spend my first day in a new city exploring the main historical attractions. This is partly because I'm an absolute history fanatic, but there's also a method to the madness.
In my opinion, exploring a city's historical sites and learning about its history sets you up for the rest of your trip. It provides you with some orientation of the place you're in and a bit of background to all the cool and interesting things you're going to see on the rest of your trip. This is what I did when I first arrived in the city, and it's exactly what I would suggest for the first day of your Buenos Aires itinerary.
There are a few different ways of doing this – you could take it easy and explore on your own or join a guided tour. Of course, doing the latter may be easier – you can follow a guide and allow them to tell you about everything you see which may provide you with additional information and could also be helpful with respect to ensuring you see all the most important sites. However, there are downsides to this option too.
Since you're under a bit of a time crunch, following a rigid tour that'll take more than a few hours might be a little more than you need when you only have three days in Buenos Aires. Of course, it also costs more than simply doing it yourself and you don't have much choice when it comes to which sites you visit.
Personally, I'd suggest navigating the city on your own – if you know where you want to go and you're a confident traveler, you'll have no trouble.
The best, and most logical, place to start is in what is called the city's Old Core. This is where you'll find some of Buenos' Aires' most famous historical landmarks, and best of all, they're nice and close to each other. Spend the morning of your first day exploring the Old Core on foot.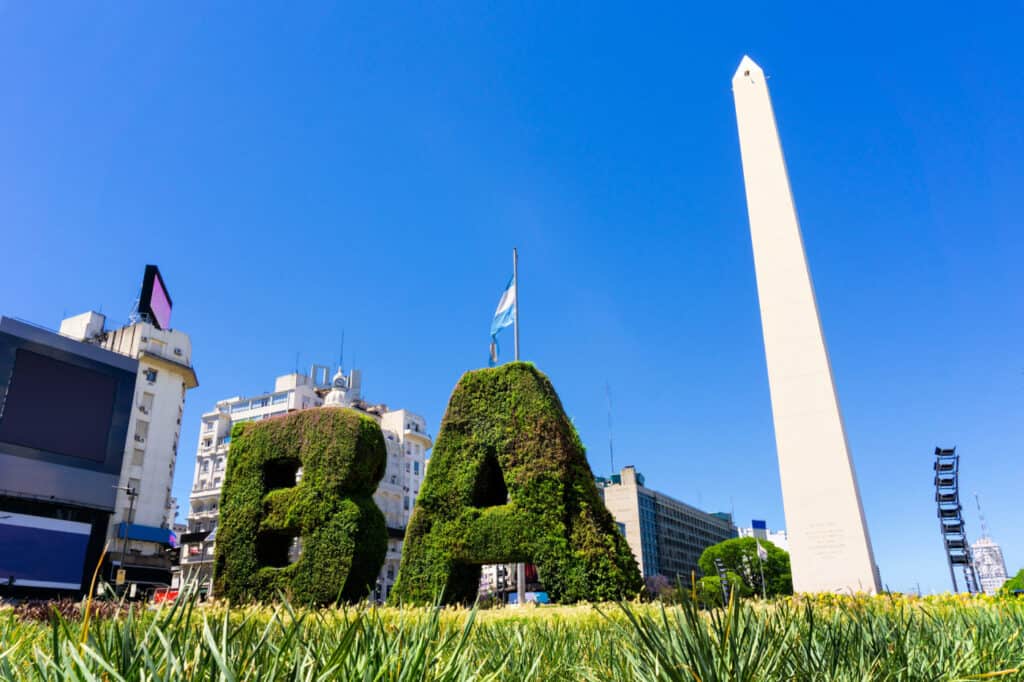 Found at Piaza de la República, the intersection of the avenues of Corrientes and 9 de Julio, the Obelisk has become an iconic landmark within the city. It was built back in 1936 to commemorate quadricentennial anniversary of the establishment of the city – that is, Buenos Aires' 400th birthday, so to speak.
The monument is significant for many reasons:
Its appearance: Making a statement, the Obelisk is pretty big – standing at 67.5 meters tall, it can be seen from thousands of meters away. In addition, each of its four sides represent important moments in Argentinean history, specifically of the capital city, making it both special and informative.
Its location: Not only is it located in the same place that the San Nicolas church once stood, but this monument also marks the exact spot where the Argentinian flag was raised for the first time.
Unsurprisingly, the Obelisk is seen by many as a symbol of national pride – of course, because of this, it's also been the site of many significant political demonstrations and so on, due to its historical significance. Thus, this is something you absolutely need to see when you're in Buenos Aires.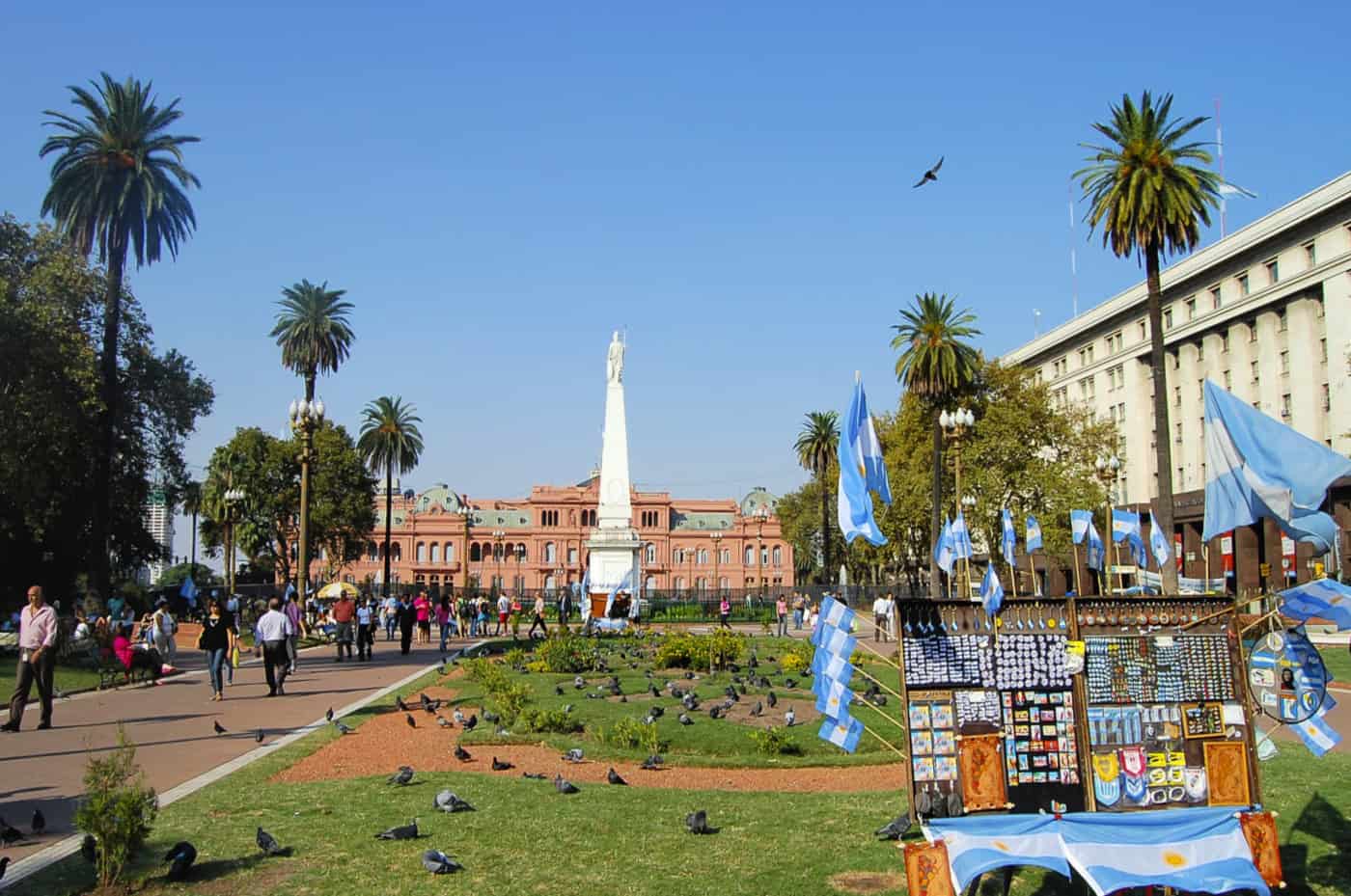 A fifteen-minute walk will take you just down the street to the Plaza Del Mayo, officially formed in 1884. Known as the City Square, Plaza De Mayo has been at the center of many popular demonstrations throughout Argentinian history. While the first rendition of this square was built in the 16th century, it later became known as the square that demarks the foundation of the city itself.
Take a walk around the square and visit some of the most famous monuments and buildings. Make sure you see the Pirámide de Mayo. It's the oldest national monument in the city and was built in 1811 to commemorate the first anniversary of the May Revolution, an event that sparked the eventual independence from Spain in 1816.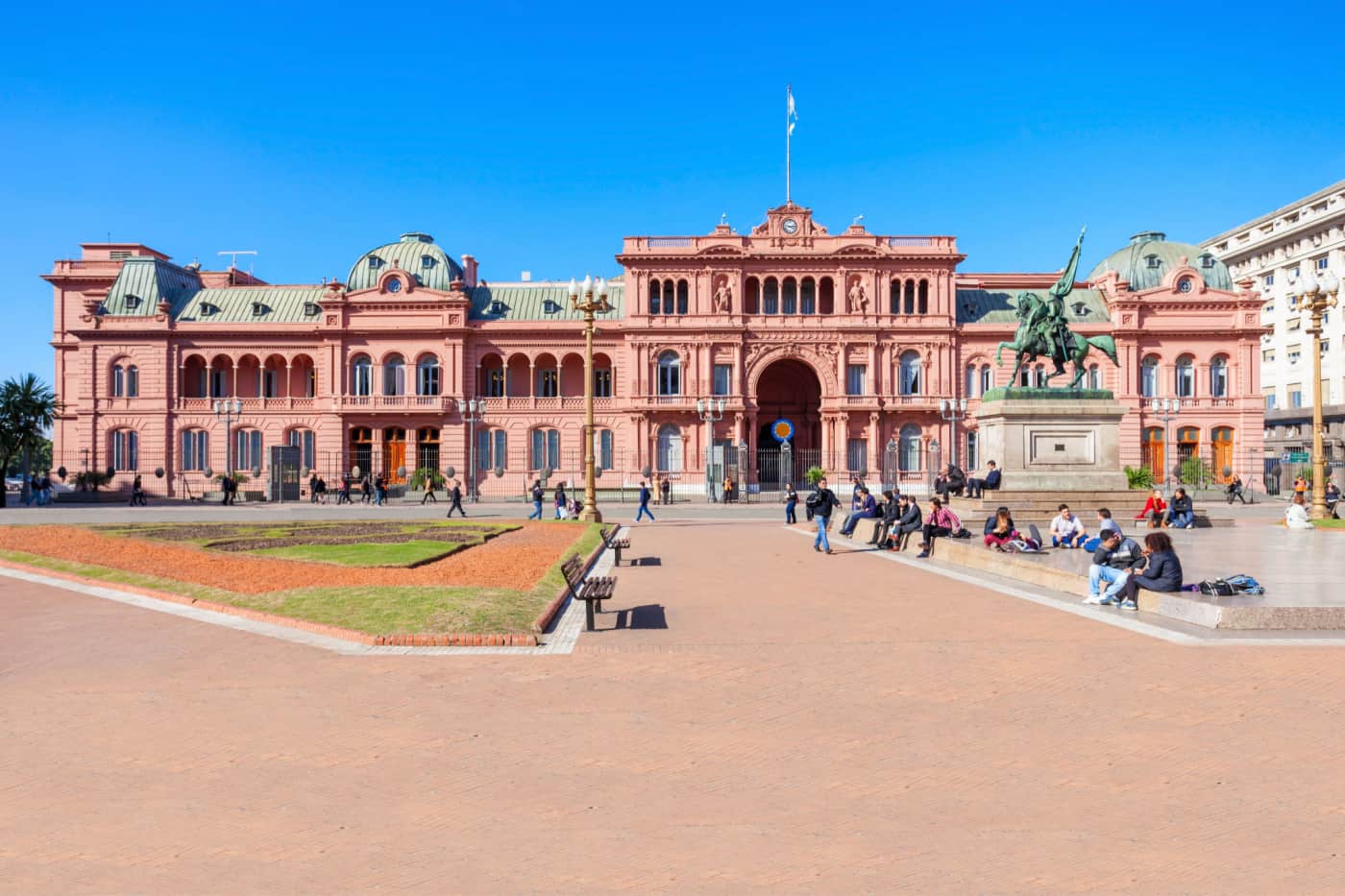 Surrounding the plaza is a plethora of interesting and beautiful buildings – keep an eye out for Casa Rosada, the Metropolitan Museum, the Banco de la Nación (national bank), and the Cabildo (city hall).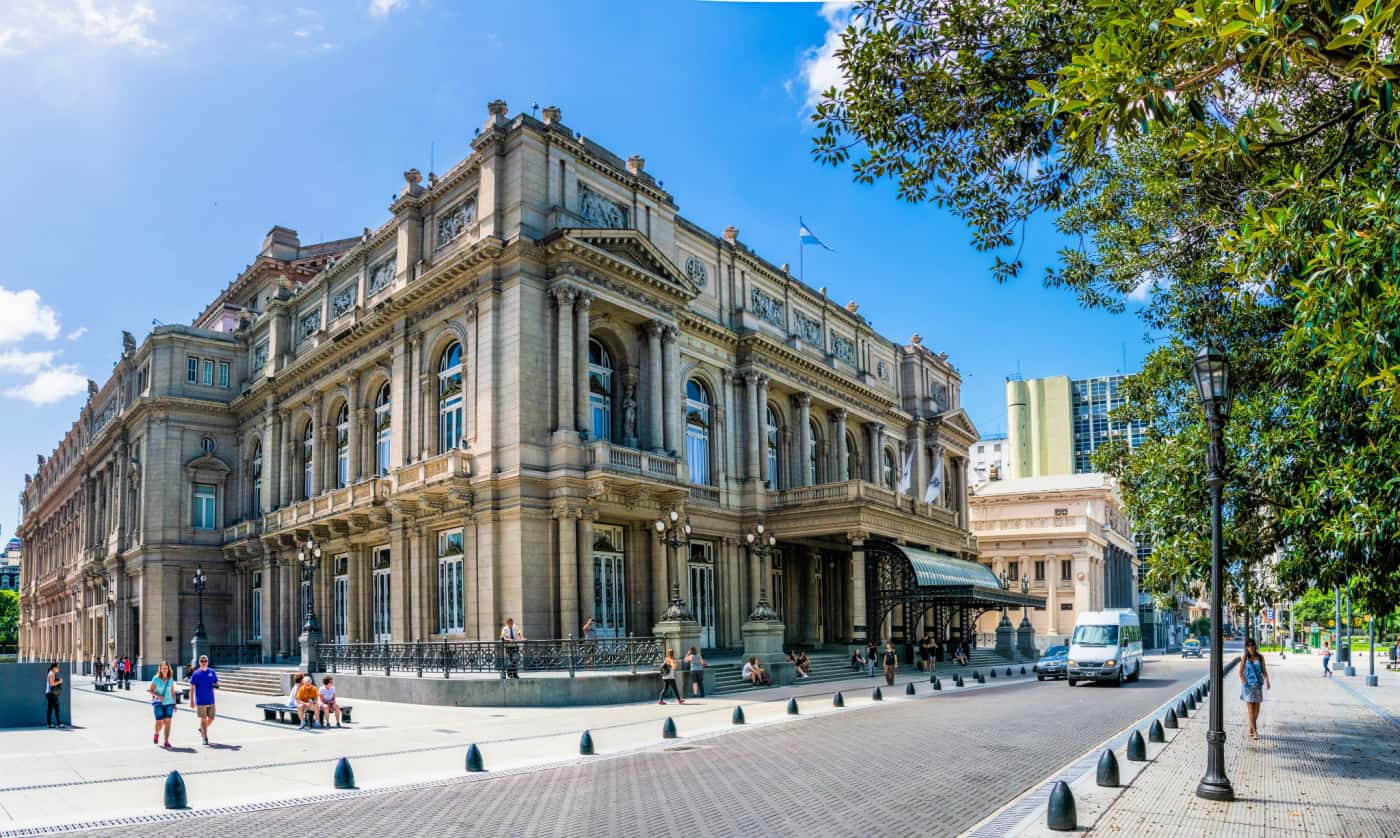 You'll also pass by the world-famous Teatro Colon, the city's opera house that has hosted the likes of Pavarotti and other great musicians. The building's interior is absolutely exquisite – there are tours every 15 minutes between 09:00 and 17:00, so if you'd like to join one, simply wander inside and wait for the next group.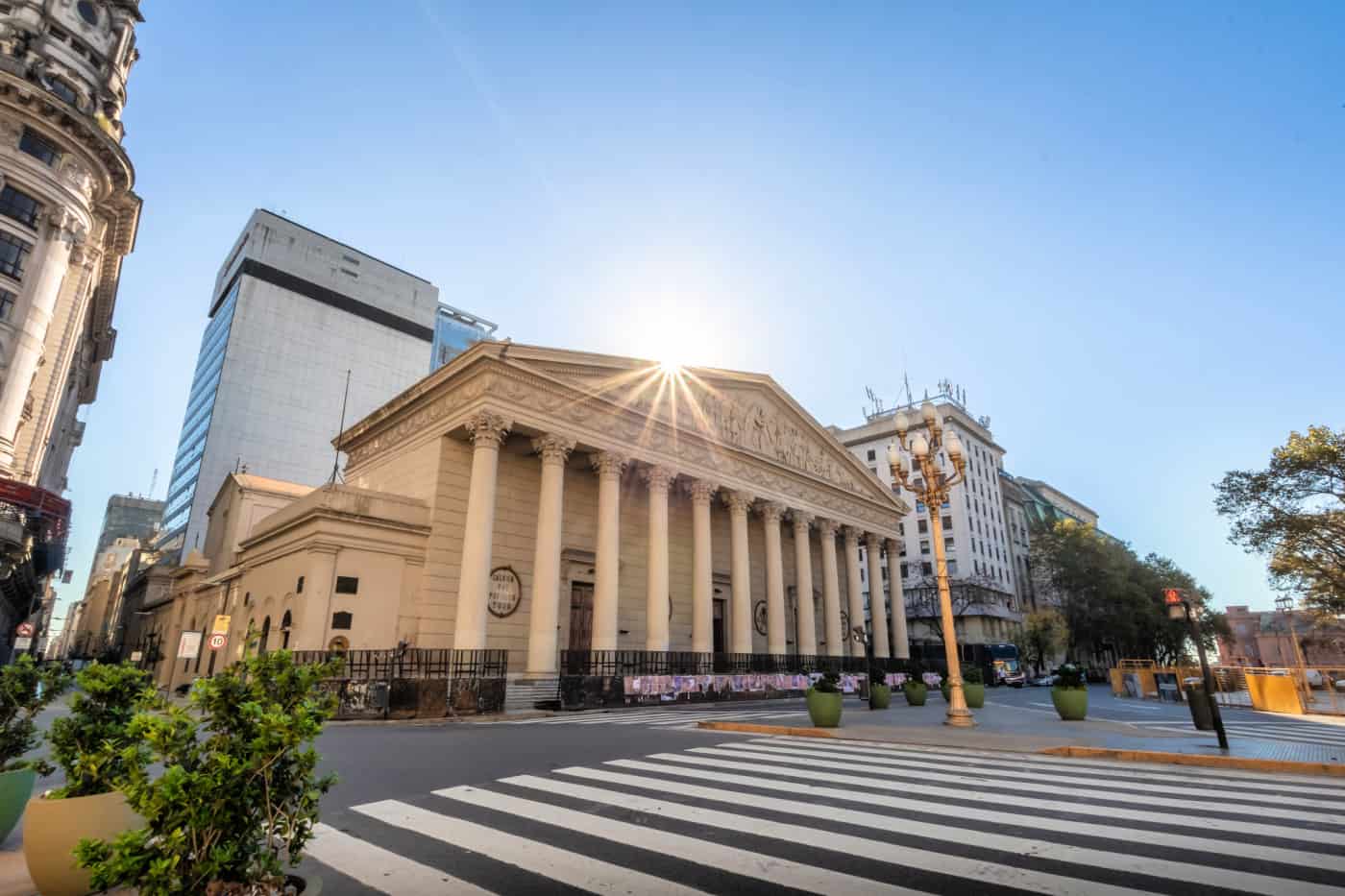 Overlooking the plaza is the Metropolitan Cathedral, the most important Catholic religious site in Argentina. This very cathedral is where Pope Francis performed mass before assuming office at the Vatican City. Enter the cathedral and explore its serene beauty – the history simply oozes from the sanctity of its walls. You'll be allowed free entry, but make sure that you're respectful – don't wear clothing that's too revealing, avoid wearing a hat indoors, speak softly, and don't eat inside the cathedral.
If you're particularly interested, you can even stay for a service – there are multiple throughout the day. Note, however, that if you choose to attend a service, you ought to be dressed more formally and you'll be expected to stay for the duration of the service which may be a bit time consuming considering you only have three days in the city.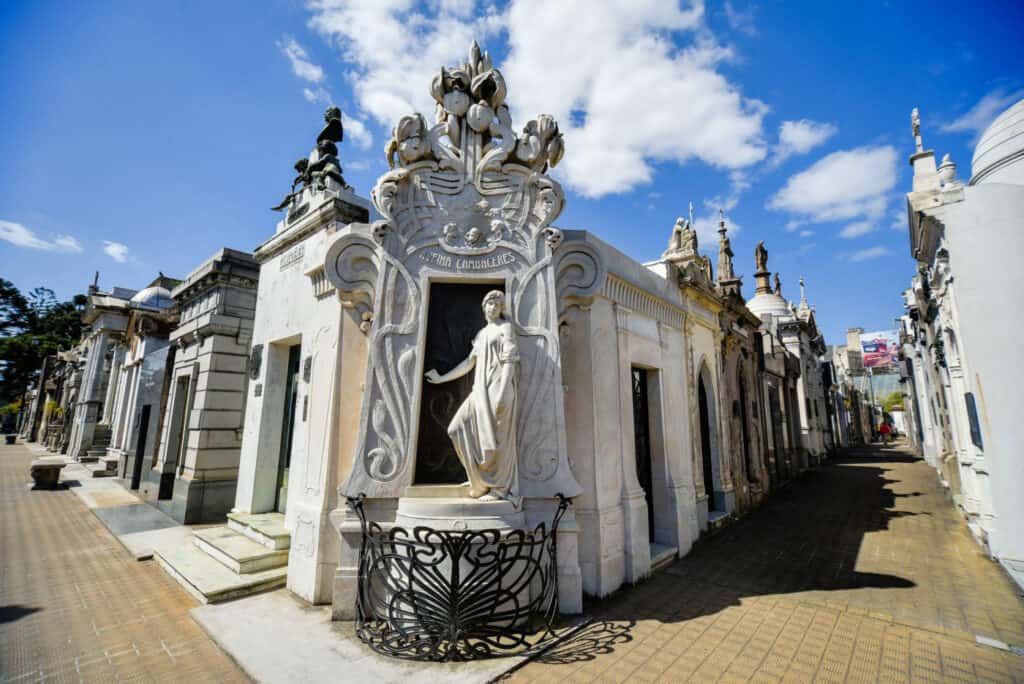 To finish off your afternoon of historical explorations in Buenos Aires, hop on a bus or in a taxi and enjoy a quick drive through the city to one of the most unusual sites in the city, La Recoleta Cemetery. It'll take you about 10 minutes by taxi and about half an hour by bus – you'll need to weigh up the time versus cost, but it's definitely worth it.
This cemetery isn't like anything you've ever seen before. Walk through this literal maze of Argentina's history, a combination of mausoleums and crypts in which the nation's nobility and past presidents have been laid to rest. It's an incredible historical site, and you can enjoy the many fascinating anecdotes about the people who have been buried there.
Entrance is 2400 peso, around $6USD, but if you do have any spare time left on this day, I recommend taking a guided tour of the cemetery. For just 19 USD, you'll walk through the grounds with an expert guide — in English — learning so much about its famous residents and history. It made a huge difference to how I experienced the cemetery; I think I'd have been wandering around aimlessly without a guide, not really knowing what I was looking at! Tours start at 3 p.m.
These tours are super-super-popular, so do book in advance in order to avoid disappointment. You can check availability for your travel dates below:
End off your first day in Buenos Aires by taking some time to relax at your accommodation in the late afternoon and venture out again to San Telmo at around 20:00 for dinner. Wander around the area and pick a spot that tickles your fancy!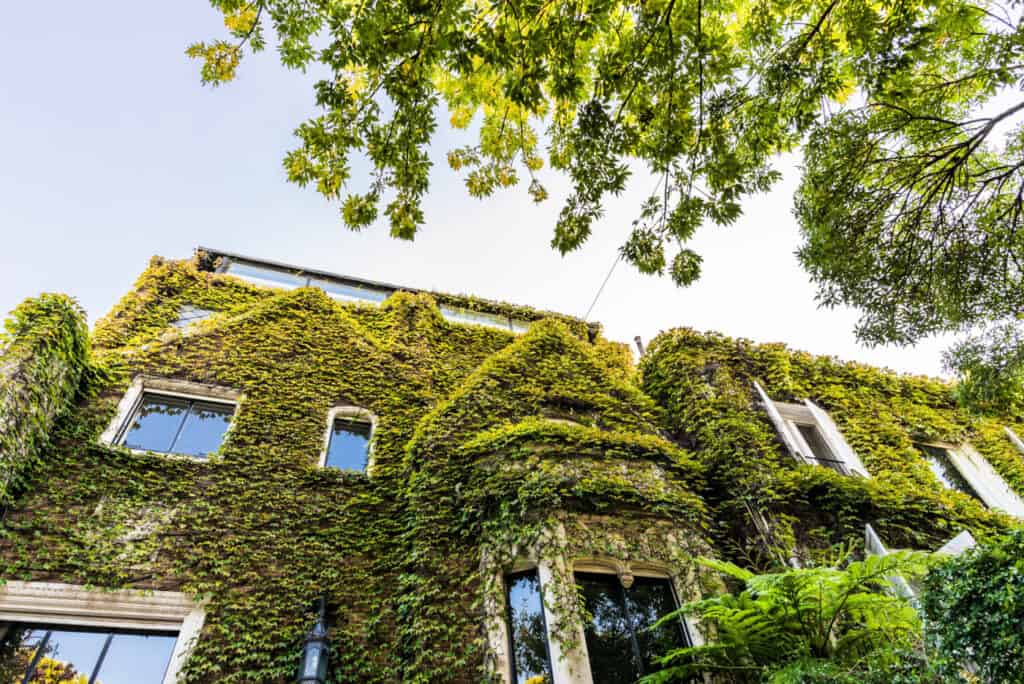 Day 2 in Buenos Aires: Exploring Buenos Aires' Contemporary Art
Your second day in Buenos Aires is all about seeing some of the cities most fun and creative neighborhoods and enjoying its modern art. Palermo is known as an incredible hub for unusual types of art, including graffiti and other forms of street art. The neighborhood is alive with color and beautiful paintings and abstract pieces that will give you an entirely different view of Argentinian culture and the eclectic city of Buenos Aires.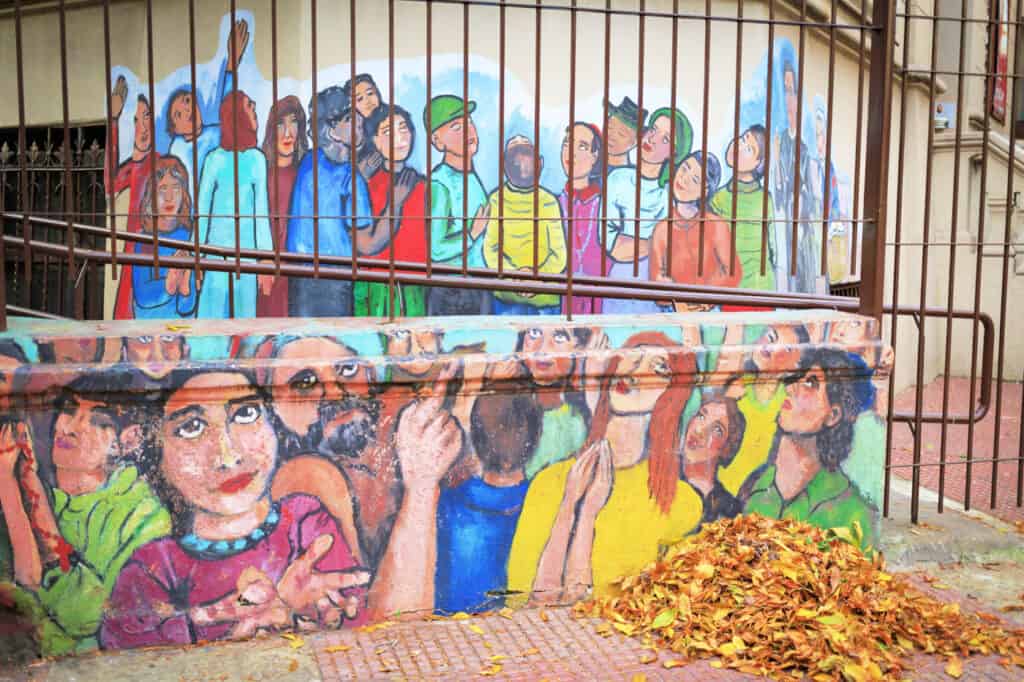 The best way to do this is to jump on this guided walking tour through the neighborhood. Your guide will lead you to the area's most famous pieces and attractions, explaining the Argentina's history of art and its influence on politics in the nation, especially during the early 20th century. A massive part of Argentinian art, especially in the way of politics, was graffiti – in the 1920s, it was seen as a kind of political endorsement and was used as a tool for propaganda. You'll learn about the invention and introduction of aerosol cans and the way in which that revolutionized the game, both artistically and for the sake of political agendas.
One of the highlights of the tour include seeing the Trump Wall's Graffiti at Madison Avenue Bar, but honestly, all the art you see on this tour is incredible. Some old, some new, this tour is an absolute must – I love the idea of walking tours, and this is one of the coolest ones I've done in a long time.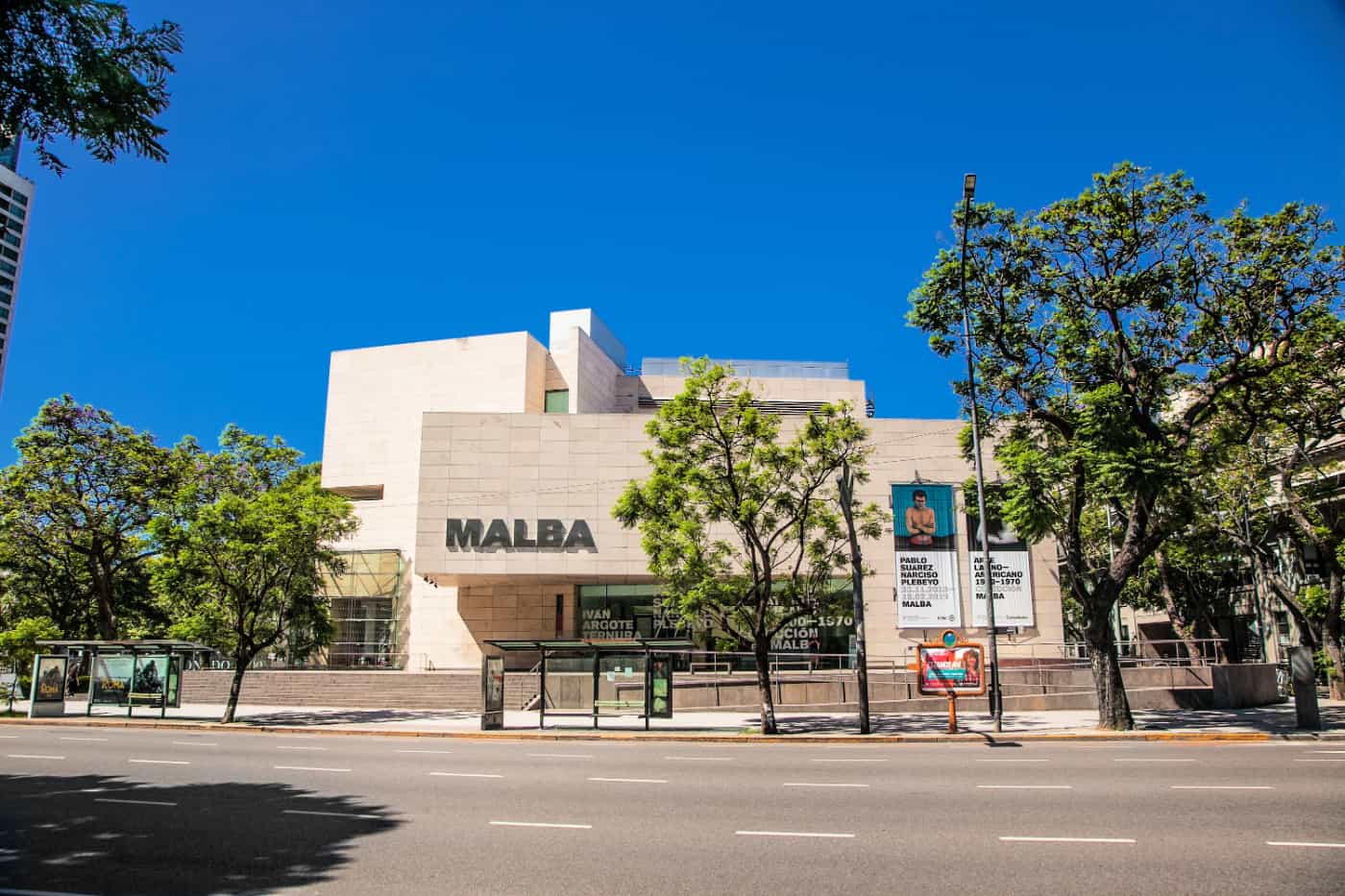 After your walking tour, head to the Museo De Arte Latinoamericano de Buenos Aires (MALBA), also in the neighborhood of Palermo. This gallery also has four shows on at a time – one Argentinian, one Latin American, one international, and one permanent. While the first three are constantly changing, the permanent show revolves around Latin American art and is home to some really incredible historical pieces.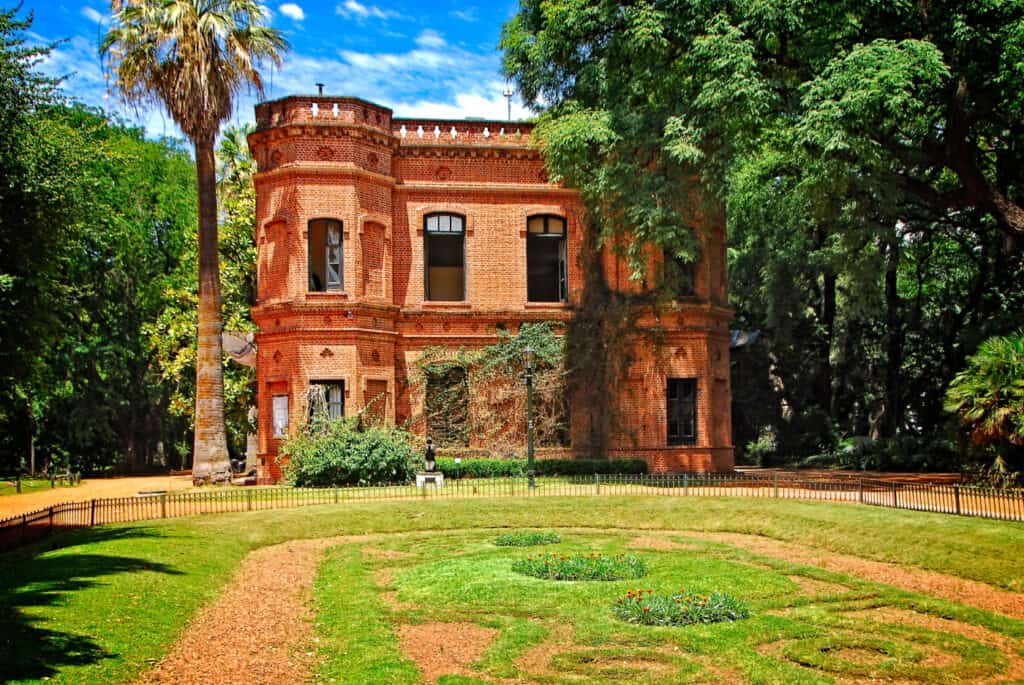 Get some fresh air and take a stroll up to the Buenos Aires Botanical Gardens (Jardin Botanico Carlos Thays) to enjoy some time outdoors in nature. This is a lovely place to sit down and have lunch, so pack something in the morning before you leave or grab something as you're walking through Palermo – there will be no shortage of choice.
The gardens are home to more than 6,000 different species of plants, and there are lots of different sections throughout the area that boast specific species as well as statues. The red-brick main building hosts art exhibitions, so if you're keen on checking that out, make sure you're there on the weekend.
End your afternoon at the Museo Evita, the museum commemorating the incredible life of actress, politician, activist, philanthropist, and former First Lady, Evita Perón. Only a ten-minute walk from the Botanical Gardens, this museum is an incredible ode to one of Argentina's most well-known and beloved women.
Far more than just the wife of ex Argentinian President, Juan Domingo Perón, Evita was a multifaceted woman, a controversial political figure and a fashionista all in one. Learn about her life at the museum, and you can even see some of her clothing that's on display – it's incredible.
Enjoy the evening of the second day of your Buenos Aires itinerary by heading to La Viruta in the basement of the Armenian Cultural Center, also in Palermo. Here, you can learn to tango, whether you rock up with a partner or alone. You'll be able to participate and simply watch the experts who are unbelievably light on their feet. This is a quintessentially Argentinian thing to do, and is an absolute must while you're in the city, whether you're into dancing or not.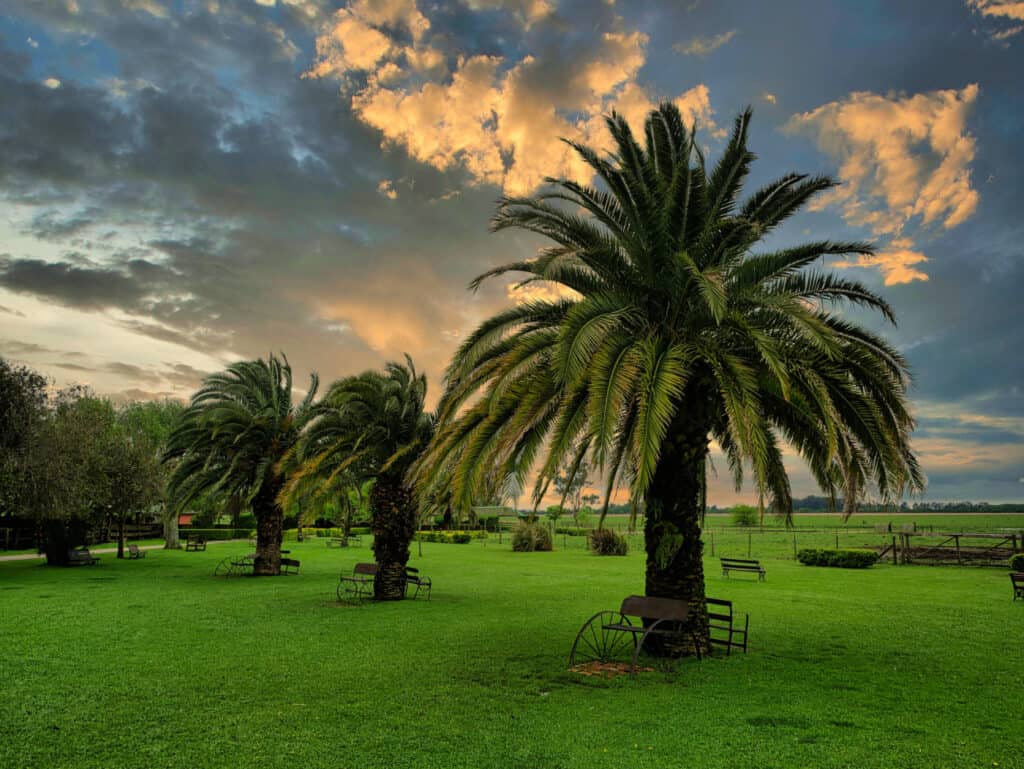 Day 3 in Buenos Aires: The Cultural Side of the City
It's no secret that Buenos Aires is known for its eclectic culture, but experiencing it firsthand really is something else. That's why your third and final day in Buenos Aires absolutely has to celebrate Argentinian culture and tradition the best way possible – enjoying a full day at a Gaucho Farm.
When I spent some time in Buenos Aires, the gaucho farm experience was, hands down, my favorite part of the trip. It allowed us to experience some of the Argentinian countryside without having to travel too far from the city.
Start your last day with some free time in the early morning and meet at the pre-determined meeting point. You'll be told where this is when you book your ticket – some hotels are used as collection points, but if yours isn't, there are a few central spots in the city where you can meet the bus.
From there, you'll embark on a little bus trip, between an hour and a half and two hours, to the ranch. Don't let the driving time put you off though – the route winds through the Argentine pampas, or plains, making for beautiful scenery.
When you arrive in the late morning, you'll be treated to a lovely, warm welcome, including some local wine and delicious empanadas. From there, the guides will take you on a tour of some of Santa Susan's attractions, allowing you to learn more about the area some awesome, old Argentinian cultural traditions. This little tour includes a visit to the museum and the church, both of which are fascinating.
After the tour, it's time try out an Argentinian tradition yourself – choose between a ride in a horse-drawn carriage or horseback riding around the ranch. I chose the latter, and even though I'm not an expert horse rider, the gaucho guides were super helpful and made me feel comfortable the whole time. Of course, if you're not too keen on horse riding, the horse-drawn carriage is also a lovely experience – perfect for the whole family.
After your little outdoor excursion, you'll be very ready for a little sit down for some lunch, and the meal you can look forward to enjoying is far more than just a quick bite to eat.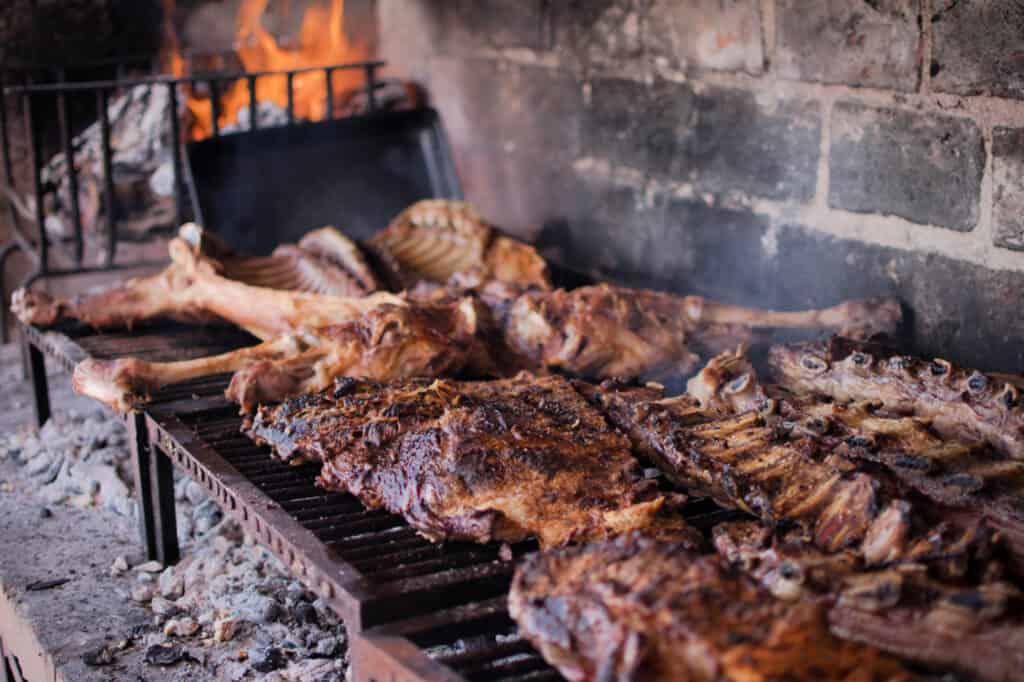 You'll be treated to an incredible traditional Argentinian experience – parrillada of asado lunch – this includes a smorgasbord of local dishes, including traditional chicken and Argentinian blood sausage, among other things. Even if this kind of food isn't your thing under normal circumstances, it's absolutely worth a try, and if you're going to do it, where better to do it than at a traditional Argentinian gaucho farm? In my personal opinion, the food was absolutely incredible – unlike anything I've ever tried before – and I really couldn't recommend it enough.
Along with the delicious meal, you'll be able to enjoy a variety of different beverages, including red and white wine, soda water, coffee, and mate – a traditional Argentinian drink made from steeping yerba mate leaves in hot water.
My favorite part of the whole experience, however, was the entertainment. Enjoy a traditional tango and folk show with beautiful Argentinian music and dance, along with a boleadoras show, traditional weapon throwing along with rhythmic music. The performers are absolutely incredible, and the show truly is unlike anything you've ever seen before – a once in a lifetime experience, that's for sure.
As if it couldn't get any better, the show is followed by a little wander outside where you'll get to watch the gauchos do their thing. They'll show off their ranch skills and do a la sortija, otherwise known as a ring race, as well as other traditional gaucho games and some cattle herding too. Watching the gauchos' control over their horses is something quite spectacular, and the animals themselves are majestic.
You'll have a little bit of time to wander around after the show before you jump back on the bus and begin the journey back to the city. The bus will drop you off at a central location – from there, you should be able to walk back to your accommodation, or you can take a taxi if you'd prefer.
You'll arrive back in the early evening, so you still have a whole evening if you'd like to do some more exploring of the city! My personal experience, however, was that I was absolutely shattered after a long day of exploring and eating at the ranch, so you may very well rather just have a chilled evening in. If you do feel like getting out a bit later though, the neighborhoods of Puerto Madero or San Telmo always offer a lively atmosphere and lots of good restaurant options.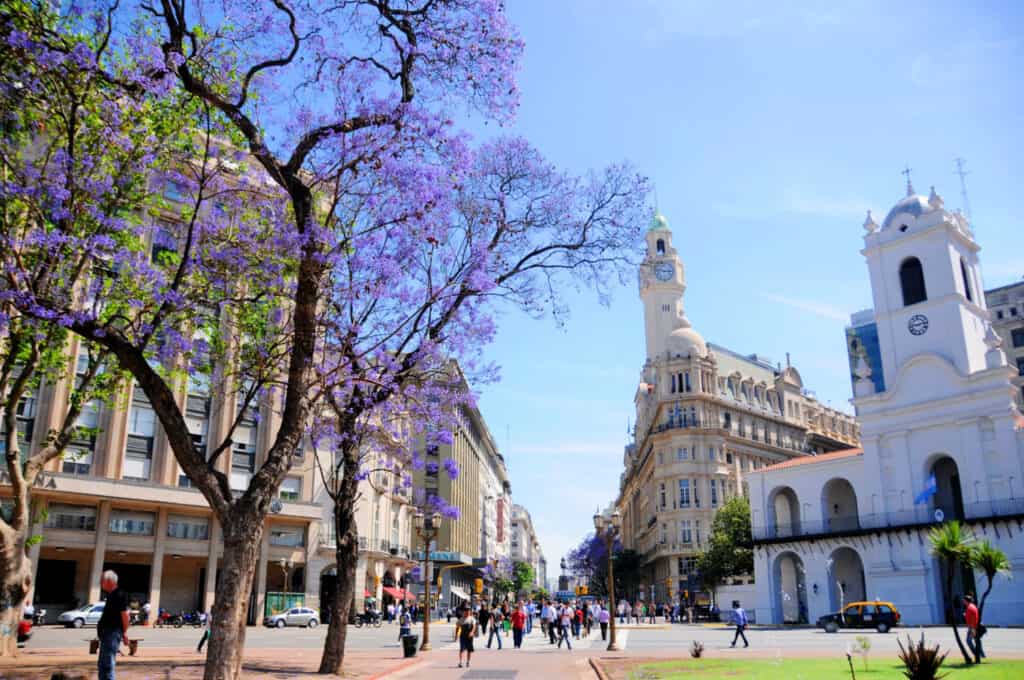 What to Know Before You Go
Just like traveling to any other city in the world, there are a few really important things to know before you set off on your adventure. Sometimes, part of the fun is learning as you go, but there are a few things you should really bear in mind beforehand to minimize any hassles you may face when you're planning your trip and when you get there. Here are a few things you should know before traveling to buenos Aires.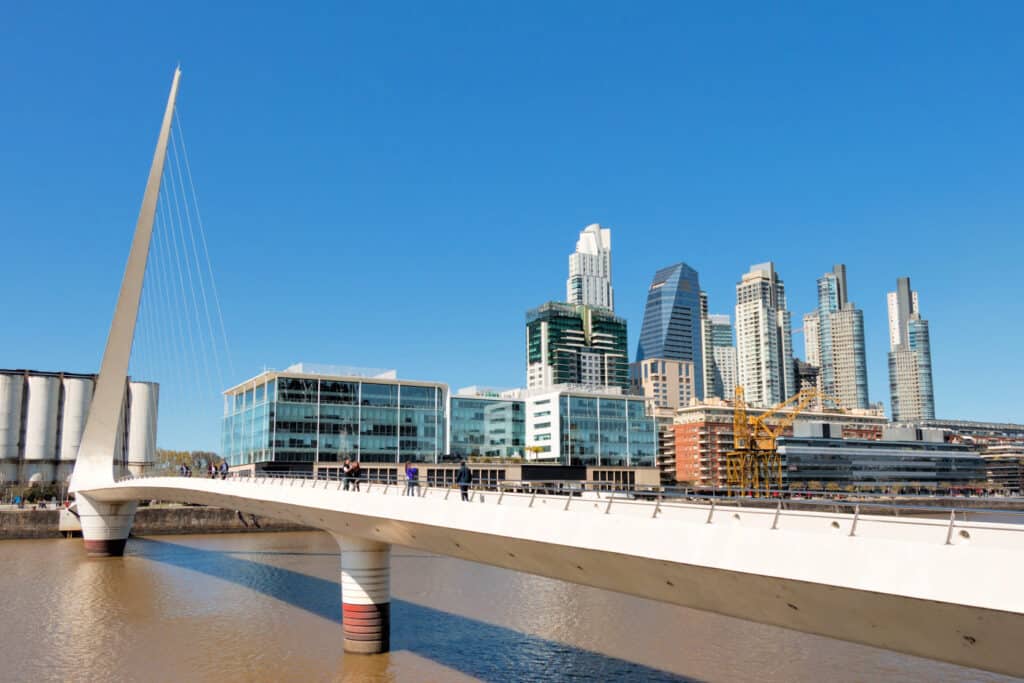 Where to Stay in Buenos Aires
Everybody's got different opinions on the best places to stay in Buenos Aires, but I think that if you only have three days in Buenos Aires, staying in the city center is the best thing to do – my suggestion is the fabulous Huminid Obelisco Hotel, located in the city center.
It's really close to lots of attractions – such as the Obelisk, unsurprisingly – and it's also mere meters away from the nearest Subte station. It's also only eight kilometers from the closest airport, Jorge Newberry Airfield Airport, providing the utmost convenience when you're arriving and departing.
The Huminid Obelisco Hotel is absolutely beautiful and offers lots of useful amenities, including a fitness center and a bar. As far as cost goes, it's about middle of the range when it comes to hotels in Buenos Aires, making it affordable without skipping out on the important bits.
The rooms a gorgeous, spacious, and super comfortable – the perfect place to return to after long days and nights of exploring the city. They're also airconditioned to keep you comfortable in the warmer months and feature a safety deposit box so you can keep your goods safe while you're out and about.
Your stay includes a delicious buffet breakfast in the mornings, offering everything you could possibly want, which is ideal when you have busy days of exploring planned. You can simply get up and get ready, grab a bite to eat, and head on your way.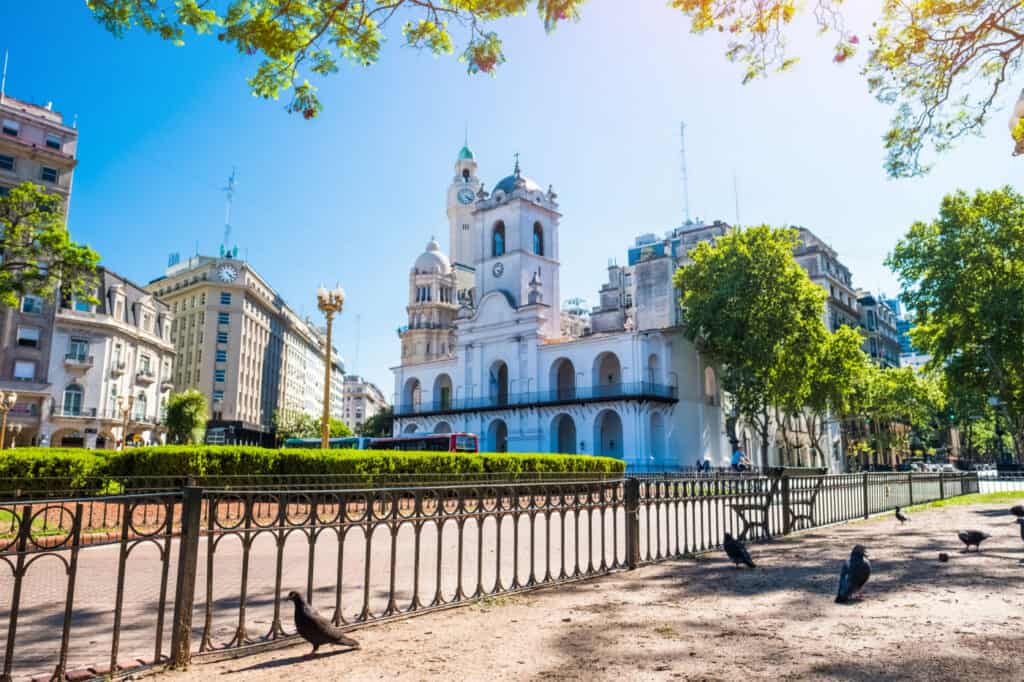 Best Time of Year to Visit Buenos Aires
The best time of year to visit Buenos Aires is during the shoulder seasons – the time in between the peak and off seasons. As a southern hemisphere city, the shoulder seasons in Buenos Aires are between April and June or September and December. The weather is moderate, prices are affordable, and the city isn't completely overcrowded.
During the summertime – from around December until March – Buenos Aires is absolutely buzzing with throngs of tourists everywhere you go. January and February are particularly busy periods as this is when the weather tends to be at its best.
Naturally, the peak season brings with it high prices, especially when it comes to accommodation and tourist attractions. In addition, it gets humid, muggy, and the temperatures often reach 90°F, so it's actually rather unpleasant if you're battling through crowds or using public transport.
Meanwhile, the wintertime in Buenos Aires brings with it moderate temperatures, averaging at about 50°F between June and September. However, Buenos Aires is known for its wet winters, so the seemingly endless rain certainly cools things down a bit and makes the city rather miserable.
The upside, however, is that there are fewer tourists around, so you won't have to deal with crowds and long queues. Prices are also a little lower and you may be able to find off-season deals, so you may be able to save some money if you visit during winter. The downside, other than the rain, is that you may miss out on some attractions that are closed during winter, so make sure to check up on the things you're most looking forward to before planning your trip.
Essentially, deciding on the time of year you'd like to visit Buenos Aires is going to depend a lot on your personal preferences. However, generally speaking, the best time to visit Buenos Aires is during the shoulder seasons – you can still enjoy moderate temperatures and visit all the best attractions while not having to deal with hordes of tourists and your holiday won't break the bank.
How to Get Around Buenos Aires
My personal preference, when possible is to explore new cities on foot, and Buenos Aires is no different. It's generally pretty walkable, depending on where you're staying, and it really does give you the best possible experience.
However, when you're wanting to move from one side of the city to the other, walking isn't really on the cards, because the distances are rather far. Luckily, Buenos Aires has a pretty solid public transport system, including both buses and trains.
The subway system, known as the Subte, is pretty efficient and easy to use, probably the best option if you're covering a fair bit of distance, just make sure you check exactly where all the lines go. It does get very busy during peak times and is quite unpleasant during the summertime, so factor that into your travels when you're planning the day.
The other option is buses which are used by locals more than tourists, but they offer far more routes – you're bound to find a station pretty much wherever you go. Some of them also run all night, as opposed to the subway that stops at about 23:30, so the buses are great if you're spending the night out on the town. The general etiquette on buses is that the front seats are reserved for pregnant women, elderly folk, and families with children, so be mindful of that and try and opt for the back of the bus if possible.
Note that busses and trains don't accept cash – you'll have to purchase a SUBE card and load money onto it. These are available at the bigger bus and subway stations.
Bicycles are also available for hire in the city and cycling can be a really fun way to explore – especially if you're spending the day in a neighborhood like Palermo, like your second day, for instance. Just make sure you're conscious of security – don't just leave your bike lying around, make sure it's locked up and keep an eye on it as much as possible.
Of course, there are also taxis available throughout the city, and sometimes they provide the easiest form of transport. However, much like anywhere else in the world, they are far more expensive than other public modes of transport. Also, if you do use a taxi, make sure it's a real one – if a driver tells you something like their meter isn't working, take that as an indication that you may be well on your way to being way overcharged.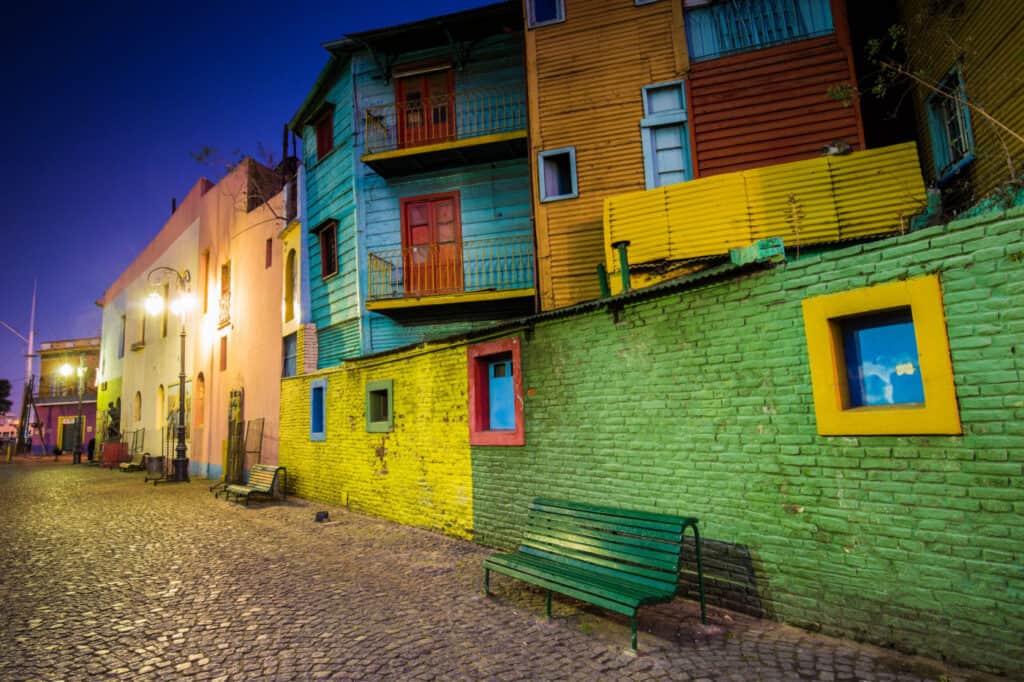 Safety Tips for Buenos Aires
Buenos Aires doesn't have the best reputation when it comes to safety and security in the city, I personally don't think it's too bad. As long as you're careful, aware, and know what to look out for, you'll be fine.
Much like any other big city, you need to practice the usual things – don't flash anything too expensive, be it gadgets or jewelry, be aware of your bags and belongings when your out and about (especially in crowded places), don't leave your things lying around, and don't wander into quiet places late at night.
Aside from the obvious, however, there are a few things that are more specific to Buenos Aires – the first of which being tag-team motorcycle robbers. This may sound like something from a movie, but in reality, it's more of a well-practiced mugging scheme used by criminals picking on easy targets who aren't paying attention. Generally, they'll ride up alongside you and snatch something that's being flashed about, like a cell phone or a camera. Often, the person on the back isn't wearing a helmet, so keep an eye out for these thieves when you're on the streets, and don't flash your valuable belongings around.
Another common place for that thieves tend to target unsuspecting victims is on public transport. The best thing to do is put your things away where they can't be easily accessed, and if you're wearing a backpack or any other kind of bag, keep it on the front of your body.
Petty thieves have been known to use what is commonly referred to as the "mustard trick". This involves them approaching their victim, pointing something out – like a supposed stain or something on your clothing – trying to "help" you sort it out, and then disappearing abruptly. By the time you realize what's happened, they will have gotten off with your phone, watch, or wallet.
Unfortunately, the best rule to follow while traveling is to always be aware and at least slightly suspicious of strangers that approach you out of the blue. If they seem to be making any kind of attempt to enter your personal space, alarm bells should be going off – no matter how friendly or helpful they may seem.
Overall, it's really just about being aware and alert at all times. Follow basic safety and security protocols and trust your gut. Always be sure you're getting into proper taxis, don't just answer the door if you're not expecting anyone, and try and avoid areas that don't have a good reputation.