New Orleans gets most of the attention when it comes to visiting Louisiana, but Baton Rouge, the state's capital deserves its time to shine as well. You get a more laid-back city with hints of NOLA's atmosphere minus the crowds. Baton Rouge is modern, but still has evidence of its diverse culture and roots. It has a distinct mix of Cajun and Creole culture while also being home to LSU, Louisiana's largest university.
Baton Rouge was founded over 300 years ago. Today it's full of historic sites, unique museums, a vibrant arts and culture scene, and amazing restaurants and bars. Southern cities have a reputation for being welcoming and serving up great food, and Baton Rouge definitely delivers. If you're looking to experience the famous Southern hospitality, you'll find it here.
I've spent a good bit of time in Baton Rouge because I have family living in the area, and I lived just a couple of hours away for several years. Quite a lot of my trips to the city revolve around getting to as many good restaurants, cafes, and bakeries as possible. Don't worry though, I can still guide you to some of the best things to do in Baton Rouge between mealtimes.
If you've found yourself planning a trip to Baton Rouge and you're trying to figure out the best options, then keep reading!
Eat Crawfish
You cannot visit South Louisiana during crawfish season and not try crawfish. While these crustaceans have the deceptively unappetizing nickname "mudbugs," they are incredibly delicious. Crawfish season typically spans from February to May but can sometimes be longer depending on the weather. You'll find boiled crawfish offered in restaurants when it's in season, but even during the rest of the year, many restaurants have dishes like crawfish étouffée that include crawfish.
Willie's Restaurant is the most popular place to get boiled crawfish. If you've never had crawfish before, Willie's is definitely the place to go. I usually order 3 lbs when I get crawfish which is fairly standard unless you are a big eater or very dedicated to cracking open crawfish. Unless you've had practice opening crawfish before, it takes a little extra effort at first.
However, if you're interested in trying a delicious twist on crawfish, go to Chow Yum Phat, an Asian fusion restaurant. There you'll be able to get the Chow Style Crawfish, a dish that includes crawfish tossed in ginger butter along with quail eggs, mushrooms, and edamame. It's only available during crawfish season.
Go Antique Shopping at Circa 1857
If you enjoy looking through antiques and finding treasures, Circa 1857 is a fun shop to visit. It has a bit of a flea market feel except that every stall is beautifully arranged and filled with items that you might not see anywhere else. You'll find everything from antique furniture to artwork and vintage glassware.
Circa 1857 is located in a renovated building that used to house a pharmacy from the 1920s, and it includes more than 30 booths and stalls. While you aren't going to score any amazing deals except during sales, the pricing on items is fair. Plus, you're supporting a local business in the community.
Circa 1857 is also the new location for the MidCity Makers Market. The market takes place once a quarter and gives local artists, painters, bakers, and other creators a place to showcase their goods and reach new customers.
Have a Pie at Elsie's Plate and Pie
Elsie's Plate and Pie is a cute restaurant serving both sweet and savory pies. Because this is Baton Rouge, there's a crawfish hand pie and seafood pot pie on the menu. The appetizers like fried okra, boudin cakes, Cajun queso, and pimento cheese are also delicious.
Of course, in my opinion, the sweet pies are the ultimate star at the restaurant. The apple pie, s'mores pie, and turtle pie are always a good idea. They also have special pies that rotate through the year. Some of them like the cosmic brownie pie sell out quickly, so if something sounds good, try it while it's still available.
If you're interested in trying more than just the pies, Elsie's also has great plate lunch options. Come hungry to try out the fried chicken, fried oysters, red beans & rice, and brussels sprouts. You won't be disappointed with anything you try.
Get a Sweet Treat
Baton Rouge has several great bakeries, but CounterSpace is arguably the best in the city. You can always get amazingly good cookies as well as pies, cupcakes, slices of cake, and other goodies. The selection is impressive, but if you're having trouble deciding, you can never go wrong with one of CounterSpace's chocolate chip cookies.
If you plan ahead, you can get some of their take-and-bake cinnamon rolls to have for breakfast in the morning. They also do custom layer cakes and cookie cakes, so if you're celebrating a birthday or other special occasion while in Baton Rouge, you can order one in advance.
CounterSpace's baked goods are also available at several coffee shops across the city. The shop is closed on Sunday and Monday, but you can still try out their offerings at French Truck Coffee, Social Coffee, MJ's Cafe, or Light House Coffee.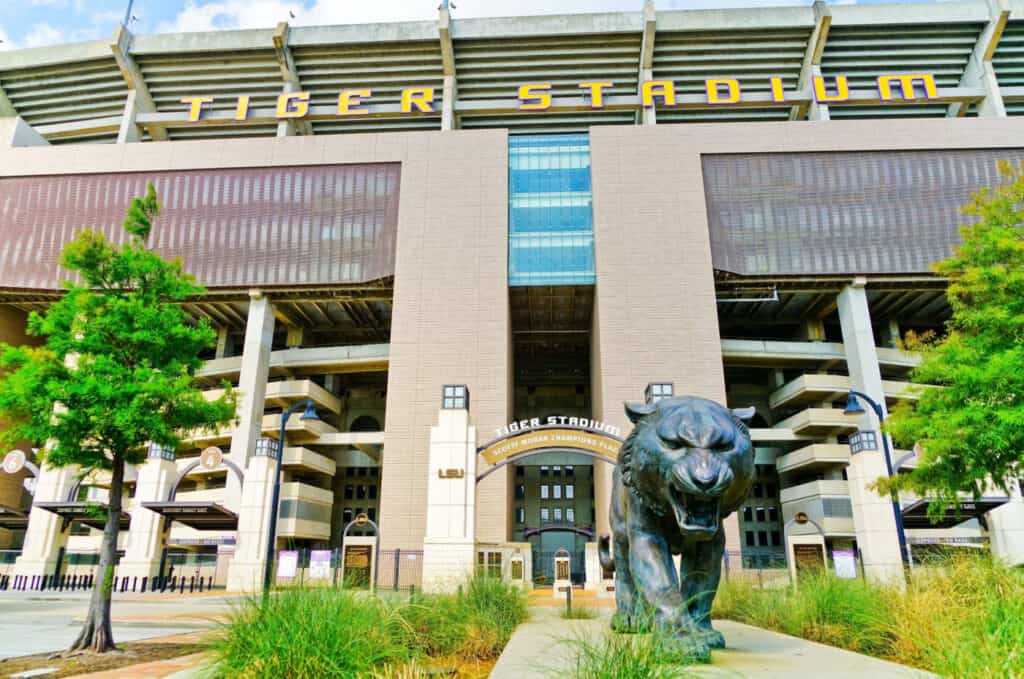 Catch a Game at Tiger Stadium
There's nothing quite like the spectacle that is LSU during home football games. While there are only a handful of these during college football season, it's worth participating in the excitement and madness if you can.
Walk through the Parade Grounds to see the serious tailgating that takes place before the game. About an hour and a half before the game starts, watch the football team and the marching band walk down Victory Hill. Watch the pregame show in the stadium and get ready for an intense display of drama and passion (and that's just from the fans).
The game itself may be more or less exciting depending on how the Tigers are doing that season and which team they're playing, but the experience itself will be fun. Despite being a graduate of a different SEC school, I'd still highly recommend going to Tiger Stadium if you're in Baton Rouge on game day. Just don't tell my alumni association.
Order Shrimp and Grits for Brunch
Shrimp and grits is a classic southern dish. This dish typically includes creamy cheese grits along with shrimp, bacon, onions, and a variety of spices. While it's popular for breakfast, you can also have it for lunch or dinner if you'd like.
I've tried shrimp and grits at a lot of places across the southeastern United States, and so far the best has been at Simple Joe Cafe on Government Street. The cafe is inspired by neighborhood diners from the 1970s and 1980s. Fresh ingredients are prioritized and very few dishes have any additives or preservatives. You can tell just how good the food will be because the small cafe is almost always busy. Somehow a table always opens up just in time for you to be seated though.
Simple Joe's owner is from the West Coast and didn't grow up eating grits, which is hard to believe given just how good their shrimp and grits are. Apparently, they tried combining elements from Paula Deen's recipe and Alton Brown's recipe to create their own shrimp and grits recipe. It definitely seems to have been successful. Whether you're already a fan of shrimp and grits or you've never had it before, Simple Joe's is the place to go.
Get Margaritas at Superior Grill
Louisiana has a reputation for being enthusiastic about drinking, so it's no surprise that you can find amazing margaritas at the Mexican restaurants in Baton Rouge. Of all those restaurants, Superior Grill has the best margaritas in town.
Superior Grill opened its first location in Shreveport, Louisiana in 1983. The Baton Rouge location opened in 1991 and is still incredibly popular today. Probably because the food is made from scratch there every day. The Superior margaritas are particularly good because they're made with freshly squeezed lime instead of from a mix. You can get the margaritas to go if you'd like. Just make sure to keep the lid on until you're no longer driving or in the car.
If you're looking for somewhere to go at happy hour, Superior Grill is the best place to go. On Sundays, stop by to enjoy the live music during the Jazz Brunch. There's also live music on the patio on different evenings throughout the week. I've heard that the bottomless mimosas at brunch are good, but I have not tried them myself yet.
Spend an Evening at Electric Depot
For a fun night out, head to Electric Depot. This unique space has a variety of fun entertainment, shopping, and dining for visitors to enjoy.
There's Red Stick Social, a bowling alley where you can also find live music and good food. You can get dinner at Boru where you can try out authentic ramen created by a chef who trained in Tokyo and New York. If you haven't tried enough crawfish yet, try out the crawfish mazeman there. You can also visit Sweet Society, an Asian dessert shop. Here you can get a fish-shaped waffle cone of ice cream along with other tasty sweets. You can't go wrong with any of the flavors, but the watermelon dole whip is particularly good.
Electric Depot is also home to Sweet Baton Rouge, an adorable boutique selling locally-themed apparel. If you're not careful, you'll end up buying more here than you can fit in your suitcase for the way home.
See the Collection at the LSU Museum of Art
The LSU Museum of Art is the only art museum in Louisiana's capital city, and it has 14 open to the public. The museum's permanent collection contains over 6000 items including everything from a collection of Chinese jade to a collection of Louisiana art.
The museum also hosts a selection of touring exhibitions that change on a frequent basis. Touring exhibitions sometimes include paintings, sculptures, decorative arts, or photography. You can check the website to see what will be there during your visit. The museum, which is affiliated with the university, hosts lectures and workshops that you might enjoy depending on your interests.
The museum is located at the Shaw Center for the Arts. Admission to the museum is free for LSU students, faculty, and staff. Afterward, pop into the PJ's Coffee located in the Shaw Center. The New Orleans-based franchise makes my favorite frozen hot chocolate which is the perfect drink for a place where it's warm 10 months of the year.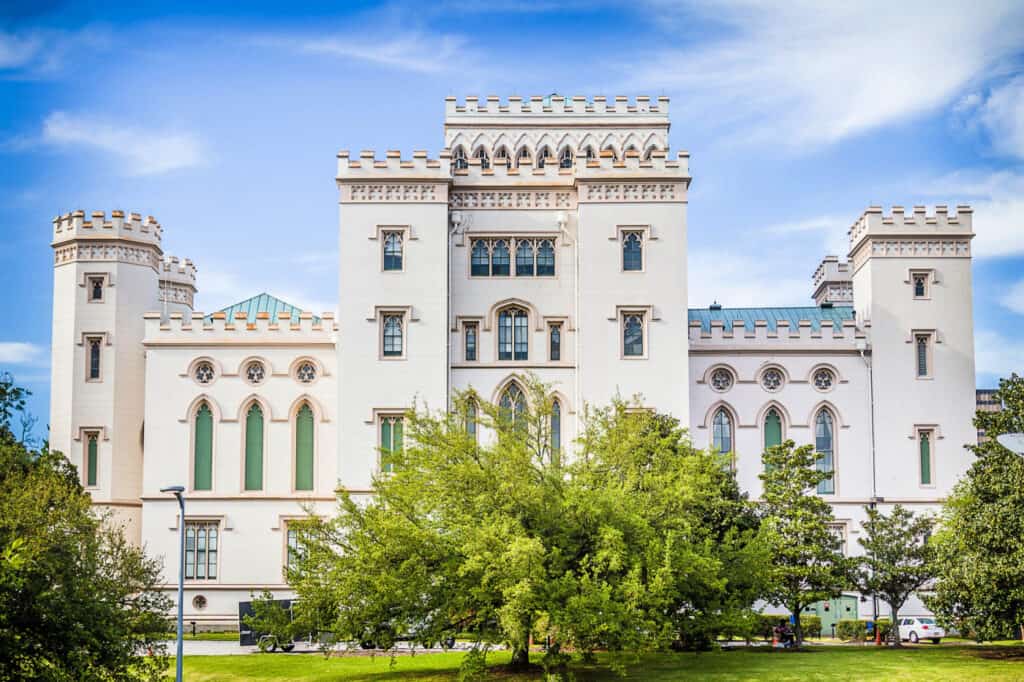 Visit Louisiana's Old State Capitol
For history buffs, a visit to Louisiana's Old State Capitol is essential, but even if you aren't a history fanatic, you'll still enjoy seeing this unique National Historic Landmark. The building, which was constructed between 1847 and 1852, looks like a medieval fortress on the outside. On the inside, it's richly decorated with marble, wood paneling, and a stunning set of stained glass in both the main gallery and an overhead skylight. The skylight is made up of 2,054 panes of glass. It is truly magnificent.
The building was damaged by fire during the Civil War, restored in the 1880s, and then abanded when the new capitol building was finished in the 1930s. Today, the building has been restored once again and is now a free museum showcasing Louisiana's history.
Plan to spend at least an hour and a half admiring the beautiful architecture and browsing the different exhibits. While entrance is free, you should plan to spend a few dollars to see "The Ghost of the Castle" an award-winning theatrical presentation where the ghost of Sarah Morgan, a real woman who lived during the Civil War era shares the history of this remarkable historic building.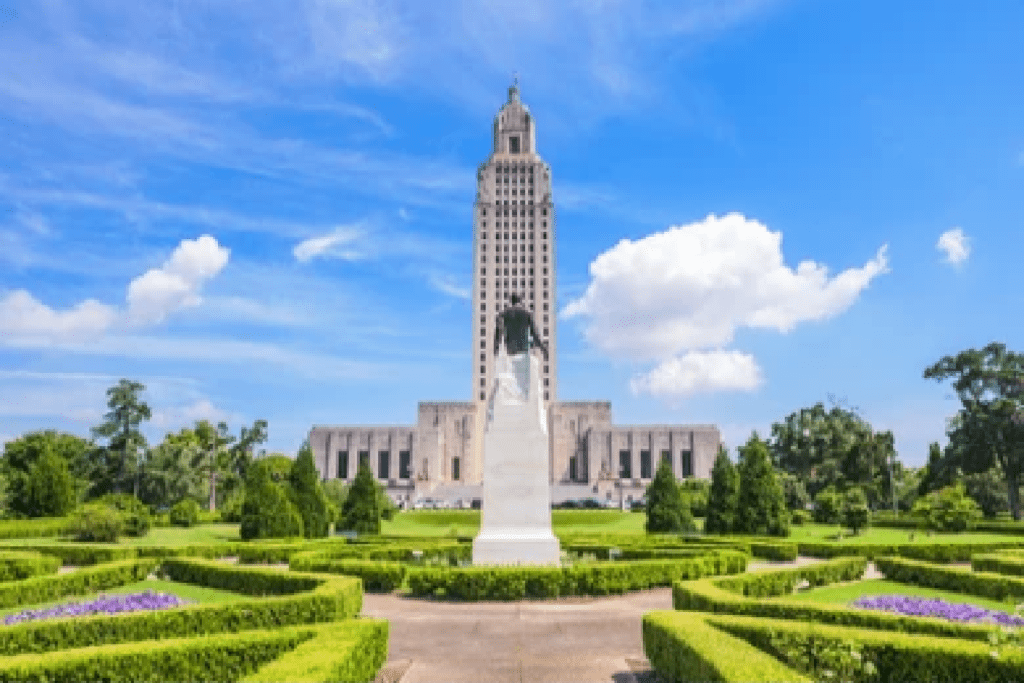 Visit Louisiana's "New" State Capitol
Baton Rouge somehow manages to have two unique state capitol buildings that are worth visiting. The "new" state capitol, completed in 1932, is the tallest capitol in the United States reaching 450 feet tall with 34 floors.
The building is a beautiful example of the art deco design that was popular in the 1930s and is arguably one of the most interesting current state capitols in use in the United States. You can see parts of the building on your own or contact the staff to find out information about guided tours.
It's also a great spot for taking photos. You can enjoy the view over Baton Rouge from the observation deck on the 17th floor. While visiting, you can see the parks around the building as well. The gardens are lovely, especially if you happen to visit while the azaleas are in bloom.
Stroll through the Red Stick Farmers Market
Red Stick Farmers Market is open year-round on Saturdays in downtown and on Thursdays at Pennington. At the open-air market, you'll find produce that is grown by local farmers. The market has over 50 members who sell fruits and vegetables along with meat, seafood, bread, homemade pies, honey, milk and cheese, herbs, and other local specialty items.
It's a lot of fun to see what's in season, especially since the growing season is so long in Baton Rouge. You'll find local fruits and vegetables that may not be available where you live. The market is also a great place to pick up some Louisiana wine or jelly to take home with you.
See a Live After 5 Outdoor Concert
During the spring and the fall, the Downtown Business Association puts together a free concert series on Friday nights. Locals bring lawn chairs and picnic blankets to sit on while enjoying the live music. The genres of music change each week, so check out the lineup to see who's playing during your visit.
There's a play area for kids, and there are vendors selling food and drinks set up in the plaza. When you're ready for a break from listening to music, you can walk around the area visiting the nearby shops, restaurants, and bars. It's a relaxing way to spend the evening. After all, there are few things better than free live music and good food.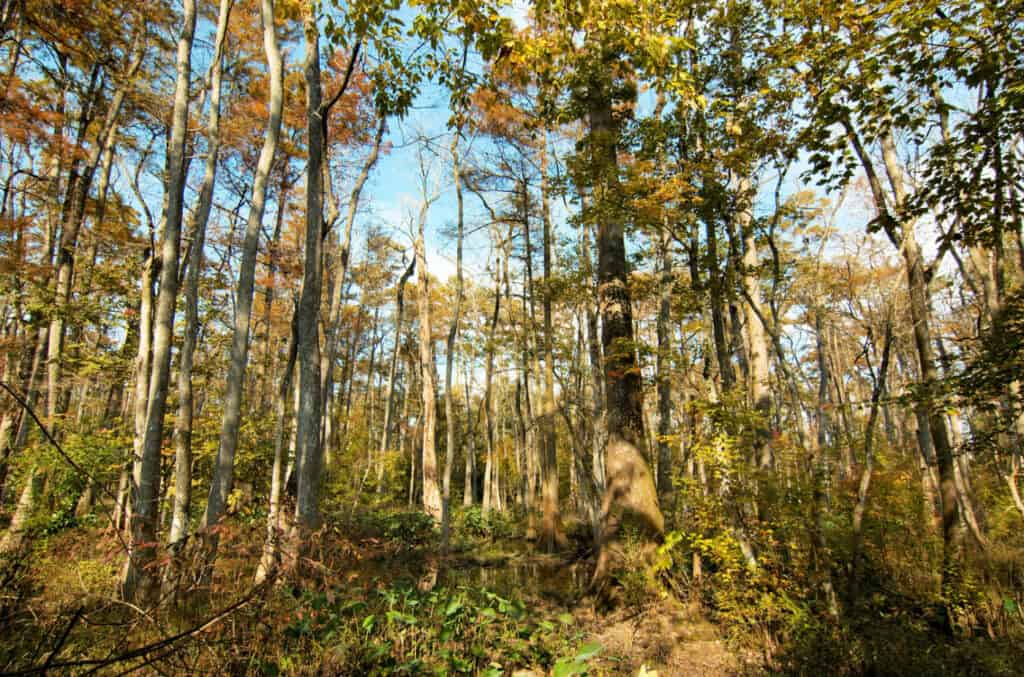 Visit the Bluebonnet Swamp Nature Center
Step out of the city for a little while to take a scenic walk at the Bluebonnet Swamp Nature Center. The 103-acre property hosts natural artifact exhibits and art exhibits. One of the most interesting exhibits is a large collection of vintage carved waterfowl decoys. There are a variety of natural habits you can walk through including a cypress-tupelo swamp and hardwood forests.
If you enjoy birdwatching, you can have a chance to see a variety of birds that live in the area year-round along with many species that migrate through. While walking along the trails you may also see some of the native wildlife like turtles, raccoons, rabbits, possums, armadillos, and deer. If you're lucky, you might even catch sight of an otter. Just make sure to bring bug spray with you. Mosquitos are, unfortunately, an abundant part of the local wildlife thanks to the swampy areas.
Bluebonnet Swamp Nature Center is dedicated to connecting people to nature and promoting conservation and ecological research. Visiting is a great way to learn more about the unique natural features in the area.
Try a Poboy
For an authentic Louisiana experience, you have to get a poboy, and JED's Local Po'boys is one of the best places in Baton Rouge to try this New Orleans-style sandwich. The French bread comes in fresh daily from Leidenheimer, a New Orleans bakery that's over a century old, and the seafood comes in fresh locally from the Gulf Coast.
With such attention to quality ingredients, the food at JED's is outstanding. When it comes to poboys, I normally stick to the fried shrimp, but the shrimp banh mi poboy is one of the most popular items on the menu. If you aren't in the mood for a poboy, the catfish basket and gulf shrimp basket are also good choices. You could also just stop by for Happy Hour to enjoy the appetizers and frozen daiquiris at half price.
Take a Cooking Class – Red Stick Spice Co.
South Louisiana's signature dishes like gumbo and jambalaya rely heavily on spices, so it makes sense to take a cooking class at one of Baton Rouge's best spice stores. Red Stick Spice Co is a family-run business where the owners are passionate about unique flavors of home cooking in the region.
Multiple cooking classes are offered in the demo kitchen each week. Local chefs host the classes so you'll pick up advice and techniques you might not learn anywhere else. The cooking classes are fun to try as a couple, with friends, or even solo. Some of the most popular classes fill up quickly, so sign up for your reservation as soon as you can.
If you don't have time for a class, you can still stop by the shop. Besides having 500 different spices, spice blends, salts, and teas available, Red Stick Spice Co also has an olive oil tasting bar and a tea bar where baristas whip up delicious, healthy drinks. For anyone who's even a little bit into cooking or baking, it's a fun place to browse and pick up a few specialty items. The staff is very helpful and can guide you to picking out something you'll love using.
Browse Local Leaf Gallery
Another interesting local shop in Baton Rouge is Local Leaf Gallery. This Louisiana-based company is the perfect place to pick up handmade items from local makers and artists.
The shop is located in a charming house with a cozy front porch on Caddo Street. Inside you'll find an eclectic assortment of vintage goods along with handmade goods, art, gifts, and household furnishings. The handmade bath bombs, soaps, and candles are some of the most popular items. I personally love browsing through the Louisiana-themed children's books because they make perfect gifts for birthdays and holidays.
The owner, Brittany Rouse, is a former English teacher who graduated from LSU and wanted to open a place to support the creative community in the area. She selects all of the products that are available in Local Leaf Gallery. Dozens of local artists are showcased in the shop, and you'll be able to pick up unique gifts to give to friends and family or, maybe, to keep for yourself.
Try Louisiana Rum
For a one-of-a-kind experience, book a tour of the distillery at Oxbow Rum Distillery (formerly Three Roll Estate). This local distillery makes some of the best rum in Louisiana. You'll learn how the rum is made from its beginnings in the sugarcane field until it reaches your glass.
During the tour, you'll also have a tasting where you can try out some of the most popular alcohols the company offers. The distillery is located right near downtown, so it's easy to get to, and there's a beautiful outdoor seating area where you can enjoy cocktails after your tour is over.
If you'd rather skip the tour, you can do a flight instead and still get to sample different types of rum. Some days there's also live music and local food trucks on-site for you to enjoy while you sip your cocktails.
Take a Day Trip to Avery Island
If you're going to be in Baton Rouge for several days, consider taking a day trip to Avery Island, where Tabasco Sauce, owned by the Mclhenny family, is made. Even if you're not a hot sauce enthusiast, which I am not, it's interesting to see how the process from seed to pepper to bottle happens. You can also eat at the Tabasco Restaurant where the menu has a helpful rating of how spicy each dish is.
Besides touring the Tabasco factory, there are other good reasons for visiting Avery Island. The island, which sits on top of a salt rock deposit, rises above the surrounding flat coastal marshes and has unique, enchanting scenery. Imagine oaks that are centuries old and covered with Spanish moss lining gravel roads.
You can drive or walk through the Jungle Gardens, a botanical garden and bird sanctuary, located on the island. Edward Mclhenny created the gardens so visitors could enjoy the natural flora and fauna of Louisiana along with his own collections. Among the plants, there are more than 600 varieties of camellias and thousands of azalea plants. You'll also see the local wildlife, including alligators, peeking out at you as you explore the Jungle Gardens.
Avery Island is about a 1.5-hour drive from Baton Rouge, but it's worth the drive for the experience.
Have Cotton Candy or Smores for Dessert at SoLou
SoLou's name stands for South Louisiana, and this restaurant serves southern comfort food with a fun, modern twist. The newly renovated restaurant is light, airy, and full of Instagram-able corners.
Unlike some restaurants where the vibe is better than the food, the offerings here manage to outshine the very trendy decor. It's almost impossible to give recommendations for the best dishes because it's all good. The one thing you absolutely can't miss is the zydeco cauliflower. The cocktails are also fantastic, especially the mint julep.
The entire atmosphere is welcoming and fun. At the end of your meal, you'll have cotton candy to finish off your dinner. If you decide you need a more substantial dessert, try out the tabletop smores. You'll get to roast your own marshmallows over a flame right at your table.
This is one of the restaurants in Baton Rouge you could easily visit over and over. For the best experience, make reservations in advance to get a seat on the patio.
Pamper Yourself at Avant Tous
Whether you're just looking for a quick manicure or are looking to let go of stress with a relaxing massage, Avant Tous is the perfect place to visit. Avant Tous has three locations across Baton Rouge, so you can find one near you no matter which neighborhood you're staying in.
Besides nails and massages, Avant Tous offers a beauty bar that does make-up applications, a wax bar, a tan bar, a lash bar, and skincare treatments. You can also set up an appointment for a group if you're with friends or family. If you truly want to relax while on vacation, Avant Tous is a great idea.
Explore the Riverwalk
Riverfront Plaza is located in downtown right on the banks of the Mississippi River. The walking and biking trail takes you along the river. You can enjoy the breeze as you sit in the chairs and watch the boats pass by.
The Riverfront Plaza also houses a greenspace, water gardens, meadows, and terraces you can explore. Stop by the riverfront dock and overlook for the best views. Sometimes, there are events and performances taking place at the Levee Stage with the Mississippi River levee as the backdrop.
You can easily spend several hours wandering around the area. Time your visit either first thing in the morning or as the sun goes down in the evening. Besides allowing you to avoid the heat during midday, going in the late afternoon allows you to enjoy one of the best sunsets in Baton Rouge. If you're hungry afterward, head to Tsunami, a sushi restaurant with a rooftop where you can look out over the river while dining.
Calling Baton Rouge
Just like in Garth Brooks' song, you might find yourself thinking about Baton Rouge long after you leave. There's just something about all of the elements of the college town vibe, the South Louisiana culture, the foodie scene, and the area's history that make it a compelling city.
While there are plenty of great places to explore in Louisiana, don't miss out on everything Baton Rouge has to offer. After your first visit, you'll find yourself ready for a second visit to try out everything you couldn't get to during the previous one.