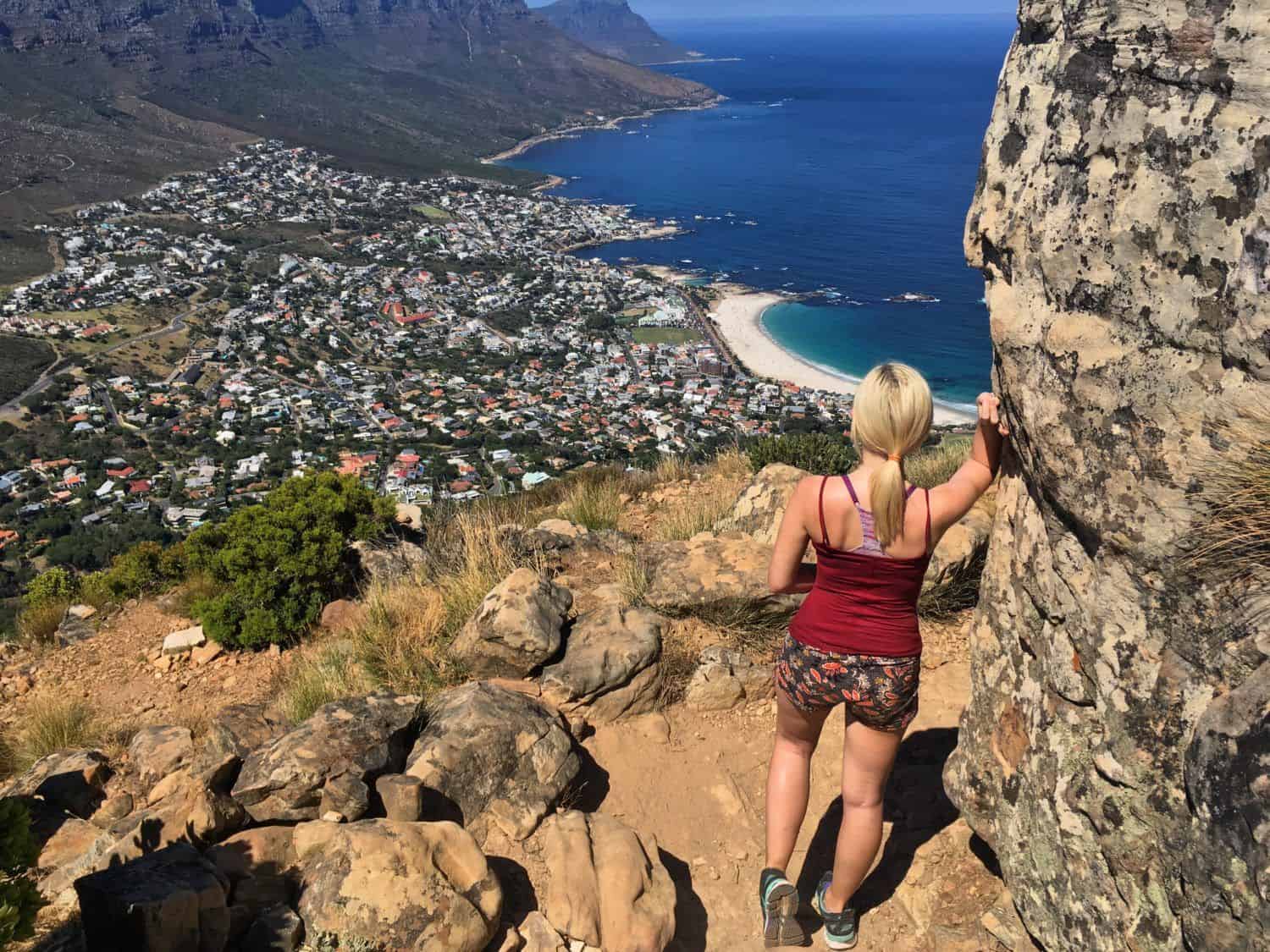 Cape Town is one of my favourite cities in the world.
I can't get enough of it.
In part, this is due to the many spectacular hikes you can tackle from the city's outskirts. Yes, Cape Town has been blessed with an abundance of climbable mountains and I attempted to scale as many of them as possible while I was in town.
Well, it turned out I saved the best for, um, first, because Lion's Head ended up being my absolute favourite hike. I'm not alone either, as it's one of Cape Town's most popular mountains for walkers. It's one of the easiest routes to trek and is a two-hour round trip for most people.
If you're going to be spending time in Cape Town, I highly recommend adding Lion's Head to your hiking to-do list. Here's how our experience went.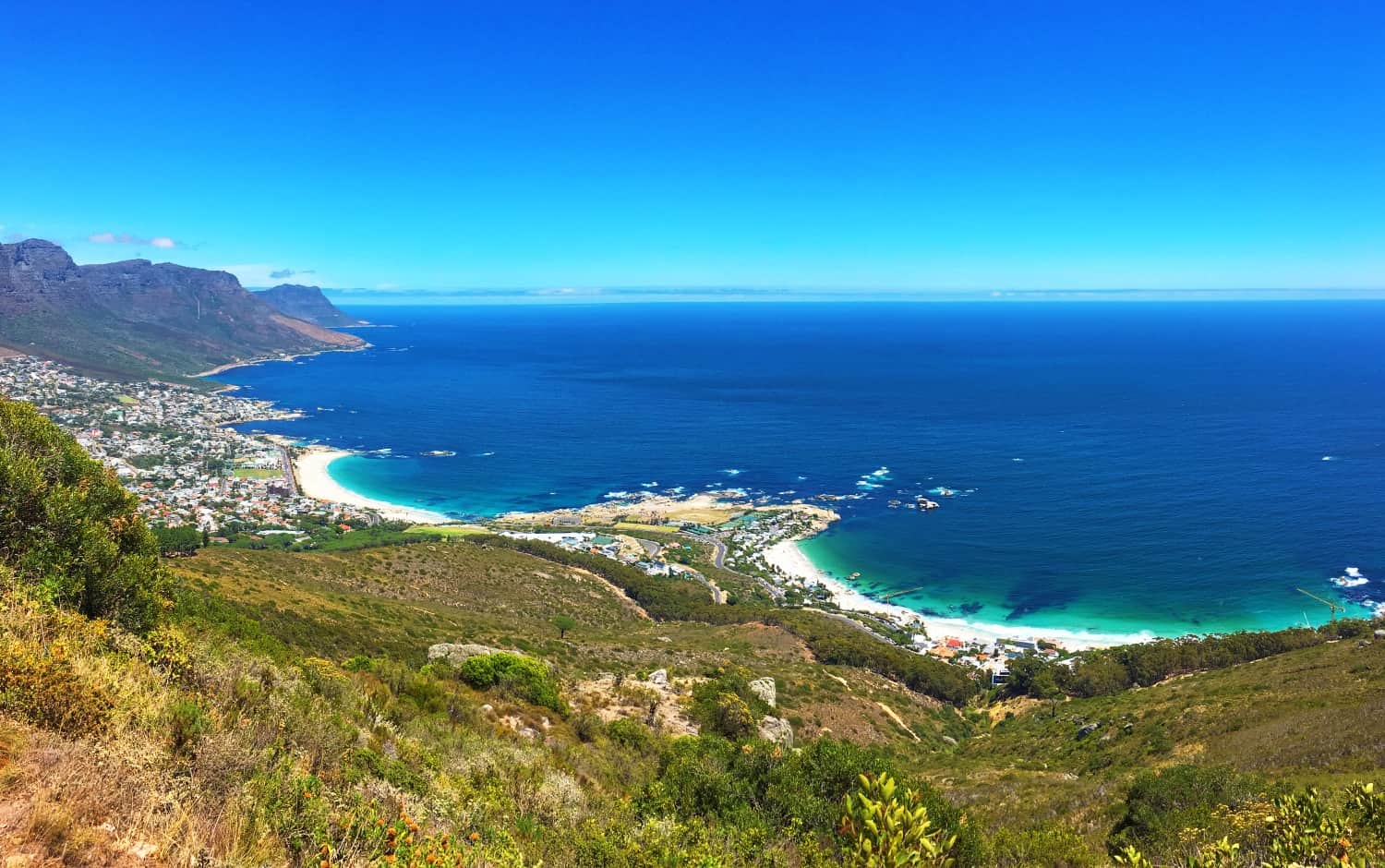 We took an Uber from our hotel on Buitenkant Street to the start of the trail, then began to walk.
The five kilometre hike climbs 500 metres as it encircles Lion's Head, which meant that half of our walk was in the scorching Cape Town heat and the other half was shaded. In beginning, at least, the path was wide, smooth, and flat.
And from the moment we started walking, the views were spectacular.

Fun-but-not-altogether-surprising fact about me: I'm really awkward when it comes to ladders.
I don't know how to climb them.
I mean, I can climb them. But I also spend the entirety of that time terrified I'm going to slip through the gaps and die. It may have something to do with my lifelong lack of coordination.
It was to my great dismay, then, when after thirty minutes of easy walking, I found myself face-to-face with a ladder.
This was not what I'd expected.
"It's okay, you go on," I said to every single person who was behind me, while I stood to one side and prayed for the crowds to subside.
When they did, I ascended those rungs like a grandma who was seriously faint hearted.
And it's at this point when I'll tell you that this ladder was no more than two metres high.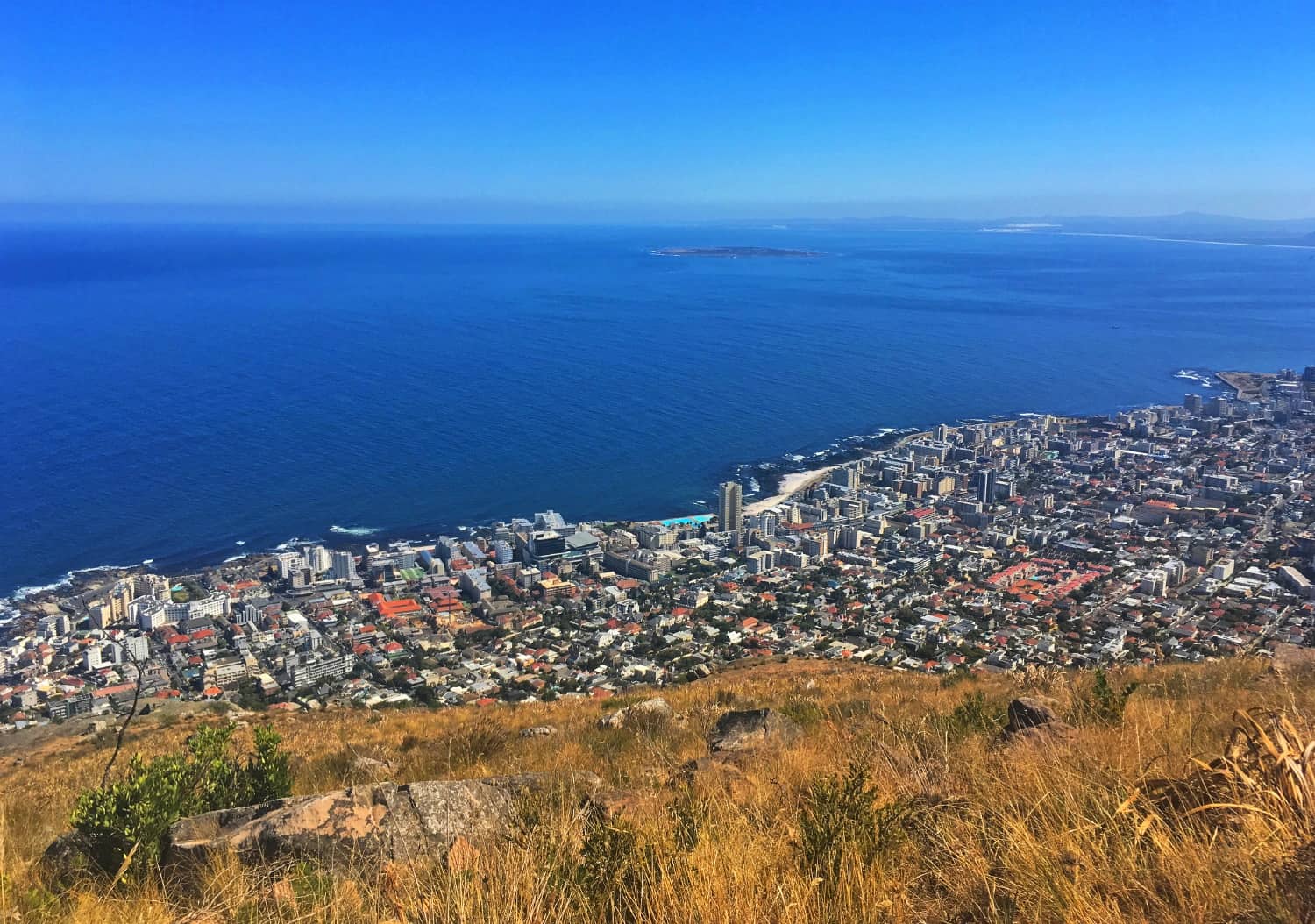 With the toughest challenge I've faced this year now overcome, I felt as though I could tackle anything.
Clambering over uneven rocks? Not a problem.
Marching alongside a sheer drop with no handrails to hold onto? Easy peasy.
Pulling myself up over rocks that were bigger than the length of my legs? I could do it with my eyes closed.
Taking the fork in the road that pointed to the difficult route? The one that involved using chains to climb up the vertical face of the rock, kind of like a reverse abseil?
Yeah, no thanks.
'Cause, you know, people actually die falling off Lion's Head.
We took the easy way up, which felt like anything but, and I ended up panting in disbelief as I repeatedly asked my travel partner if he was sure this was supposed to be an easy hike.
The final five minutes was the toughest part of the climb, with all its uneven rocks and slippery sand, which combined had me stumbling all over the mountain until we made it to the top.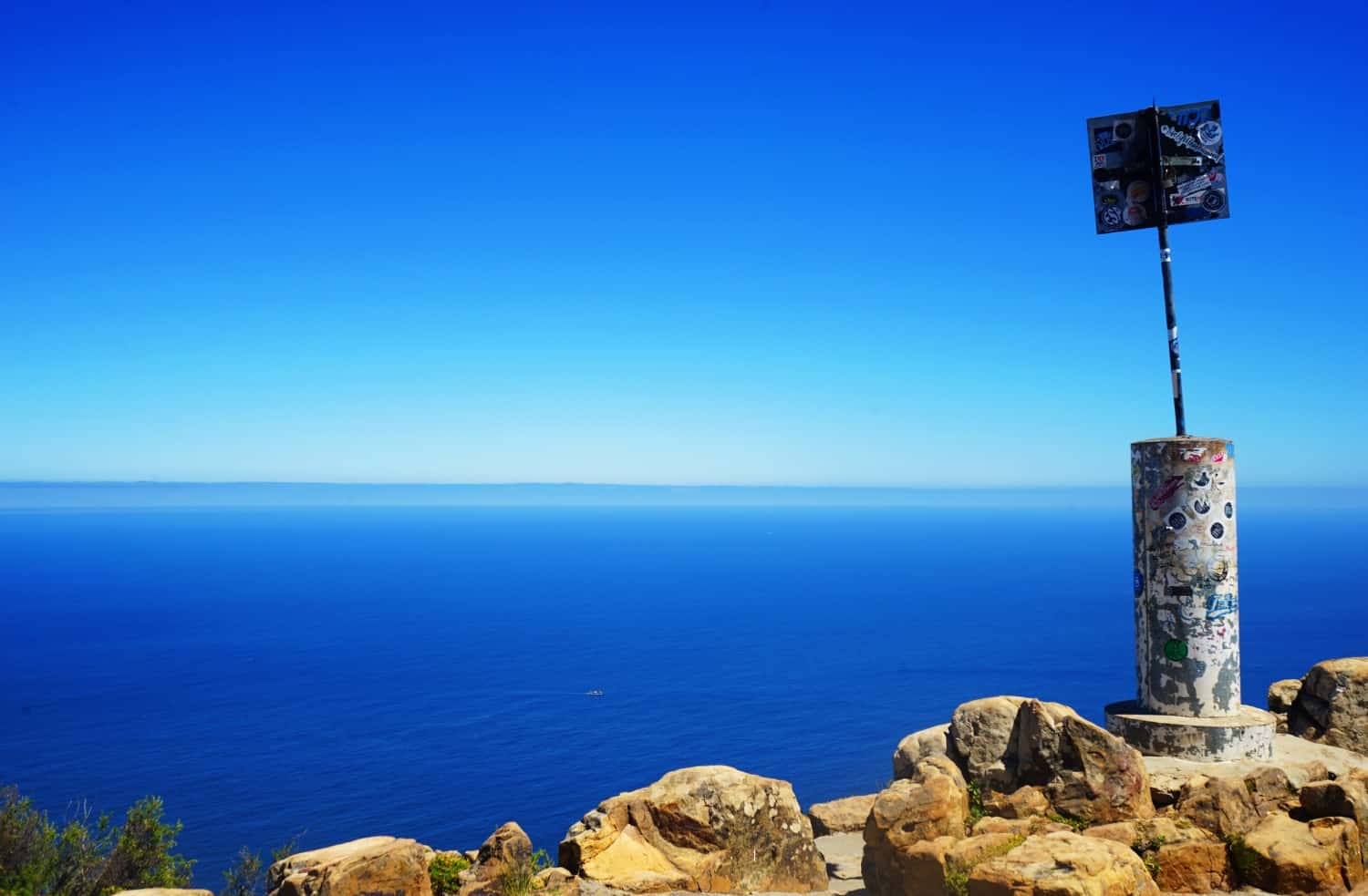 And then we were at the top.
And the views of Cape Town were breathtaking.
I took a seat on a nearby rock, ate a banana, and gawped at the small animals that were running around me.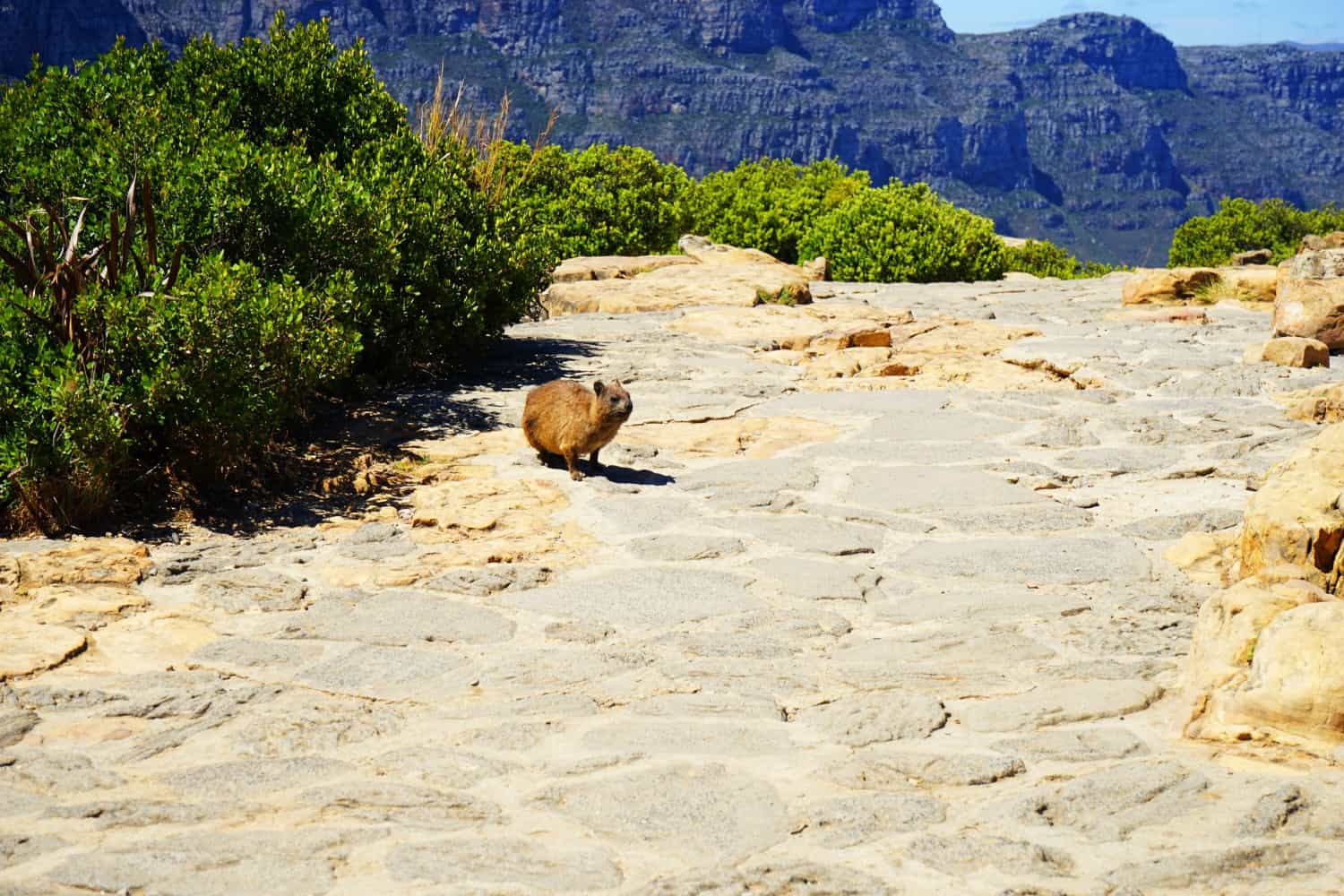 My new favourite animal is the hyrax.
I assumed it was some kind of giant rodent, but when I set about researching what it was, I learned it was most closely related to elephants and manatees.
Either way, it was cute and I wanted to be their friend.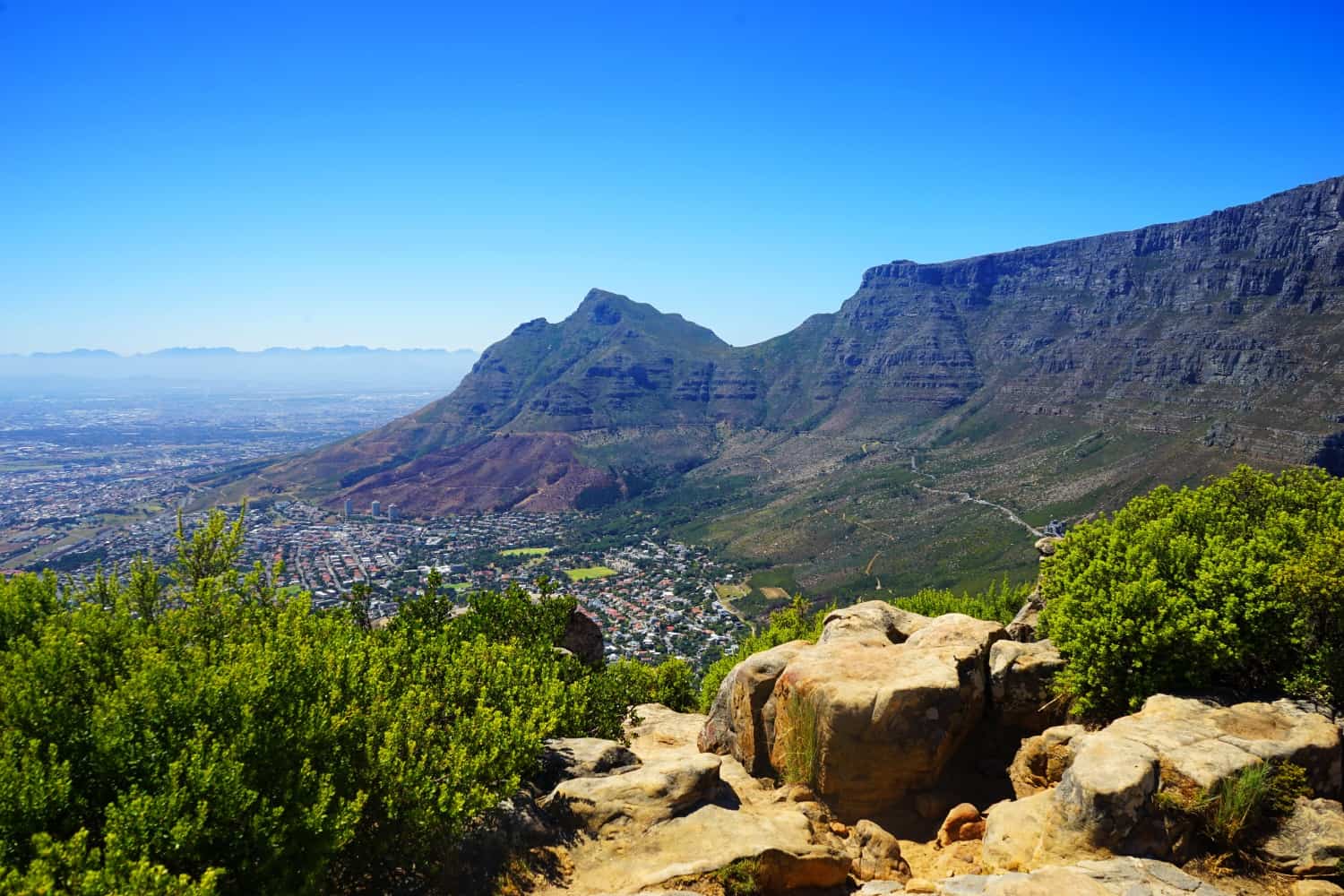 I climbed Table Mountain later on in the week (more on that soon, but oh my god, it was the hardest thing I've ever done) and I actually preferred the view from Lion's Head.
After all, you can't see Table Mountain while you're on top of it.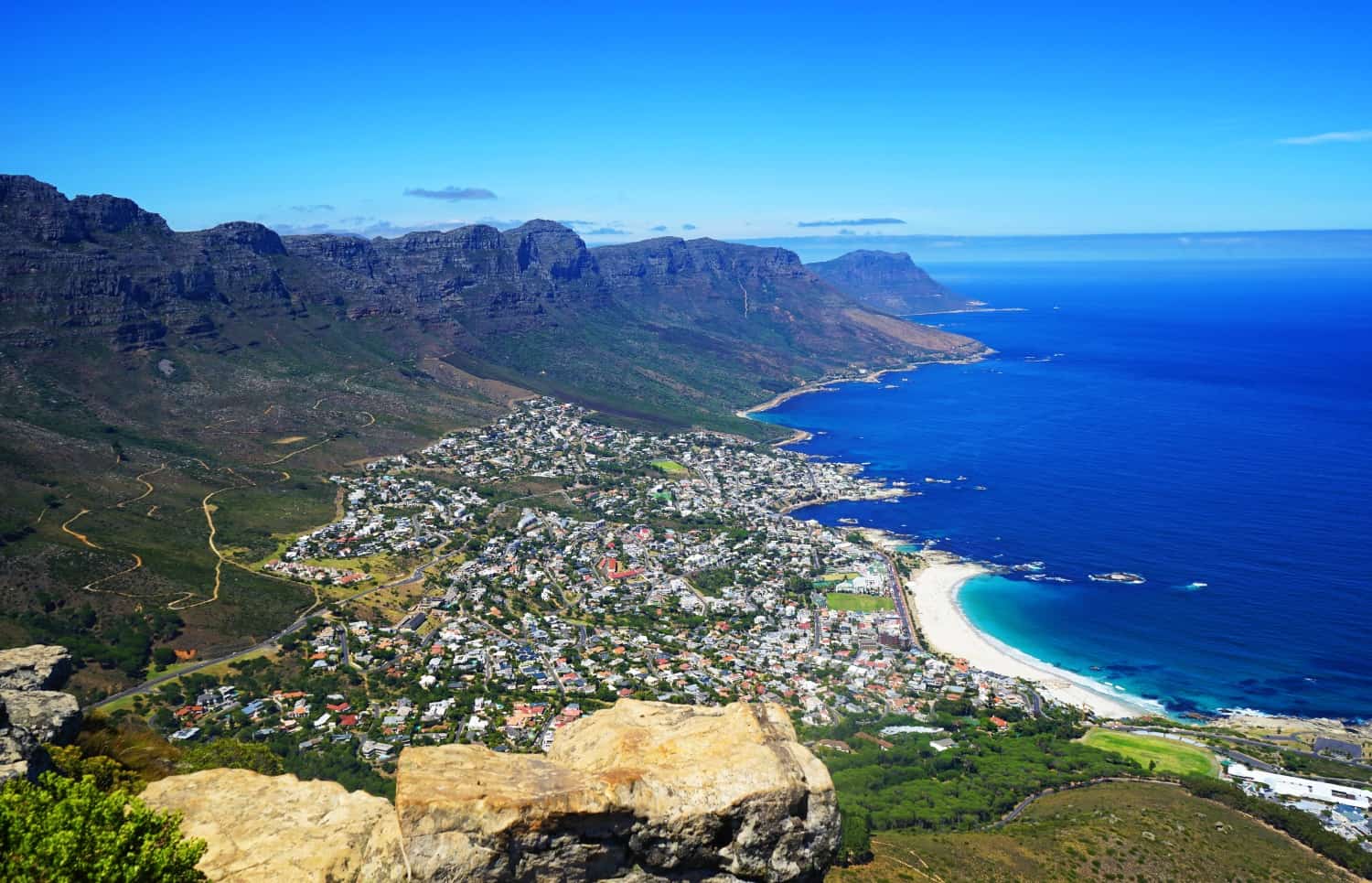 And it definitely wasn't difficult to get some kickass photos, either.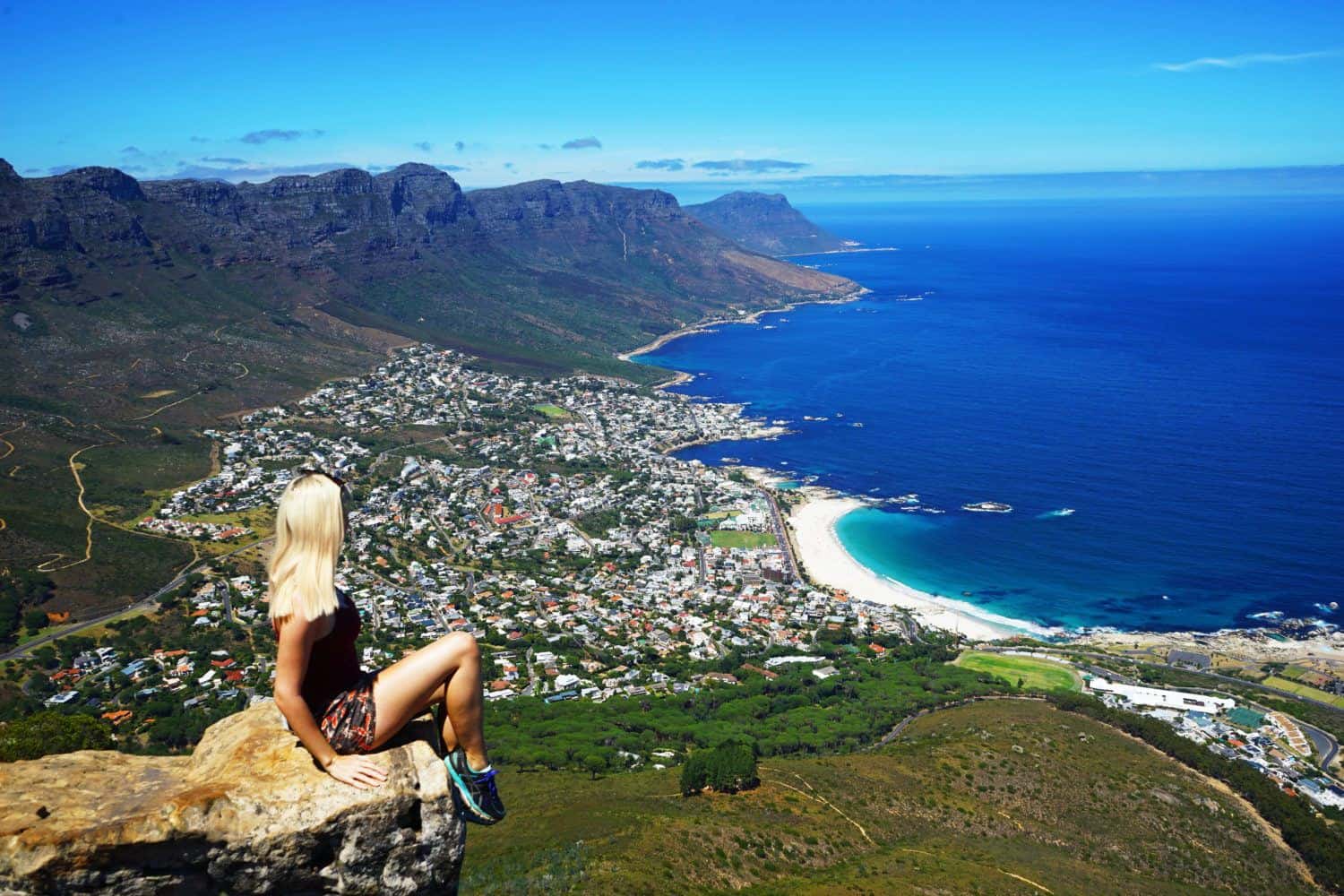 Thanks to my previous hiking experience, I knew the coming down was likely to be harder than the ascent, and in this case I was correct.
It turns out that climbing up rocks that were half of the size of me is far easier than attempting to scramble down them. Especially when there's a layer of dust everywhere that makes everything super-slippery.
And then, being me, I may have taken a wrong turn and suddenly found myself gripping on to a chain as I attempted to descend without throwing myself off the mountain.
And then, being me, I may have then climbed back up the chain and wandered around in circles in search of the easier route.
It also turns out that I'm even more petrified of ladders when I have to go down them.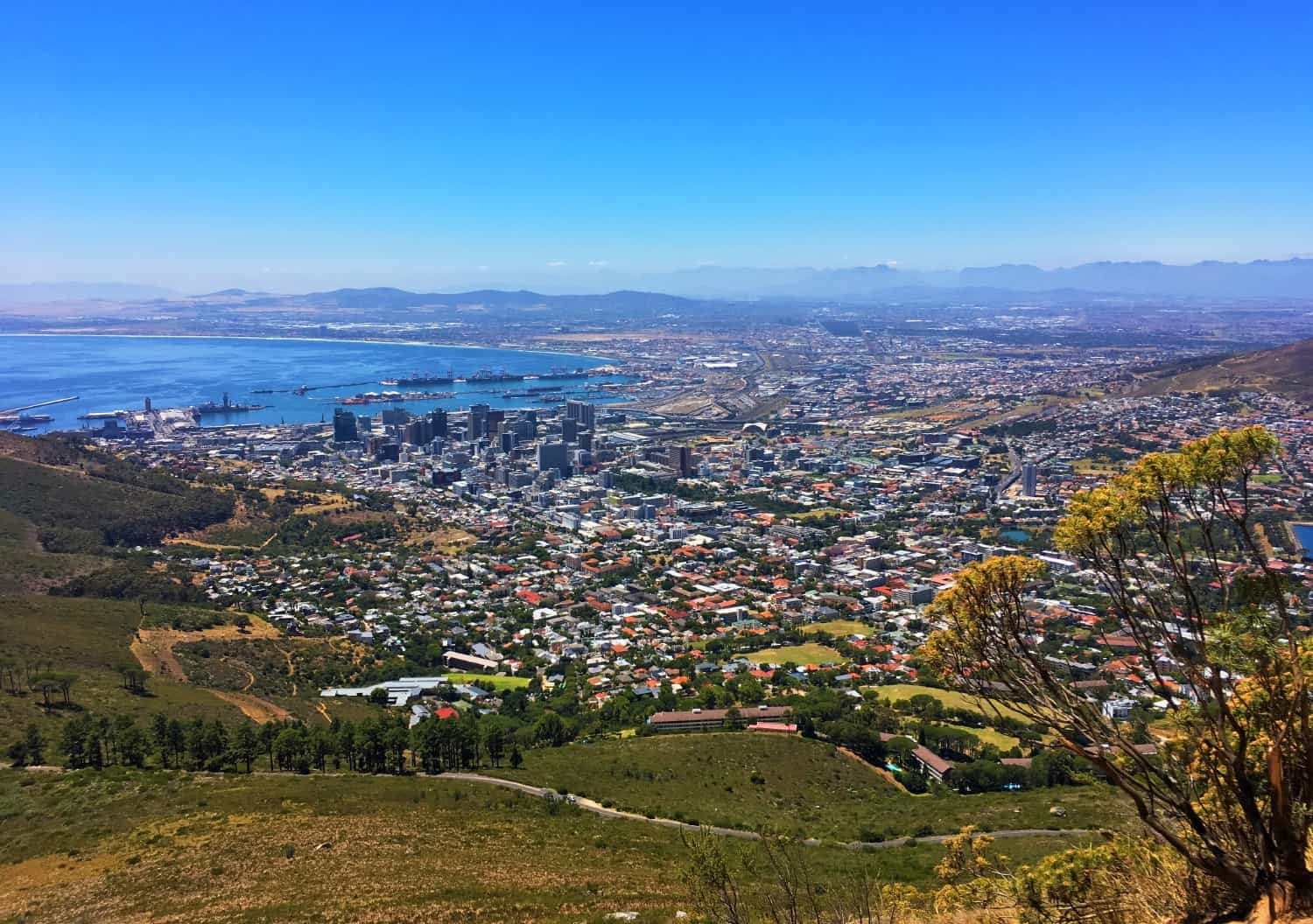 It took us around an hour to hike to the top of Lion's Head, and the descent came in at 45 minutes.
And when we reached the bottom, I immediately announced that I wasn't sure how anything else in Cape Town could top that experience.
And it didn't. I loved hiking Lion's Head, and it was one of the highlights of my ten days I spent in Cape Town.
It was a challenge — it wasn't the easy walk along a smooth surface I'd been expecting — but the best kind of challenge. One that involved great views, even better company, and then a well-deserved reward at Jerry's Burger Bar at the end of it.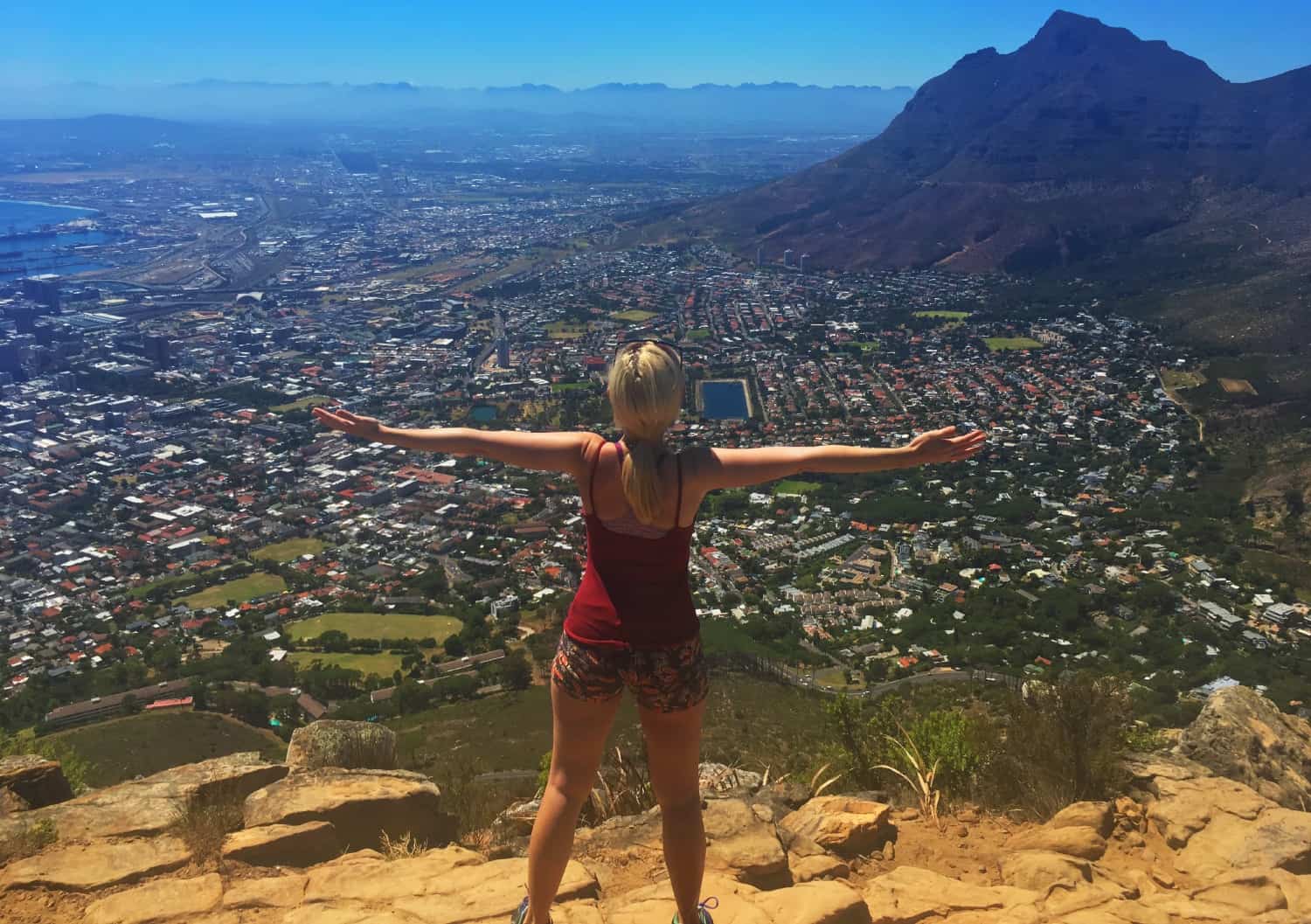 Heading to Cape Town and want to check out Lion's Head? Here's what you need to know.
How to Get From the Centre of Cape Town to the Lion's Head Hike
If you have your own car, it's easy to find your way to the start of the hike. Head towards Table Mountain, take the turn-off for Lion's Head — there are signs everywhere — and then follow the signs to the car park. If you search for Lion's Head in Google Maps, it directs you to the start of the hike, making it exceptionally easy to find your way.
If you don't have your own transport, Uber is a super-cheap (we paid 70 rand [5 USD] for the 15-minute drive) and safe way of getting around the city. We took an Uber to the start of the trail and back, and didn't have to wait more than a few minutes for a ride for either leg of the journey.
When's the Best Time to Tackle Lion's Head?
You're going to want to go early. Especially if you're in Cape Town during the summer months. We started our hike at 10 a.m. and got hit by the absolute worst of the midday sun, which made the climb more challenging. We should have started at around 8 instead.
Do You Have to Pay to Hike Lion's Head?
Nope. Not at all. It's totally free to climb this mountain. No entrance fees, and you won't have to pay to park your car either.
How Long Does it Take to Hike Lion's Head?
It took us two hours in total: an hour to reach the top, then 45 minutes to get back down again.
The walk is likely going to be tougher than you're expecting. I found it to be challenging but not difficult.
But the guides online saying it's super easy are, in my opinion, playing it down. There's quite a bit of climbing over large rocks with uneven surfaces, and the dust on the rocks made it surprisingly slippery. I almost fell over a handful of times on the way down, and definitely lost my balance more times than I can count.
Bring shoes with good grip.
What's the prettiest hike you've ever done?
Related Articles on South Africa

🇿🇦 23 Wonderful Things to Do in Cape Town
🏝 8 Reasons Why I Fell in Love With Cape Town

Save This to Pinterest