I was bored.
Twenty minutes into our drive from New Orleans to Slidell, I'd decided to research what a swamp actually was, and it sounded boring.
After five years of exploring the world, I've been lucky to experience many extremes of nature: camping in the Sahara Desert, hiking across glaciers in New Zealand, riding in a helicopter over an active volcano in Hawaii, swimming in tropical lagoons in Bora Bora, marvelling at a giant meteor crater in Arizona.
…And taking a cruise across a swamp?
It didn't have quite the same ring to it.
It didn't sound quite as exciting or adventurous as other things I'd done.
Quite frankly, it sounded kind of smelly.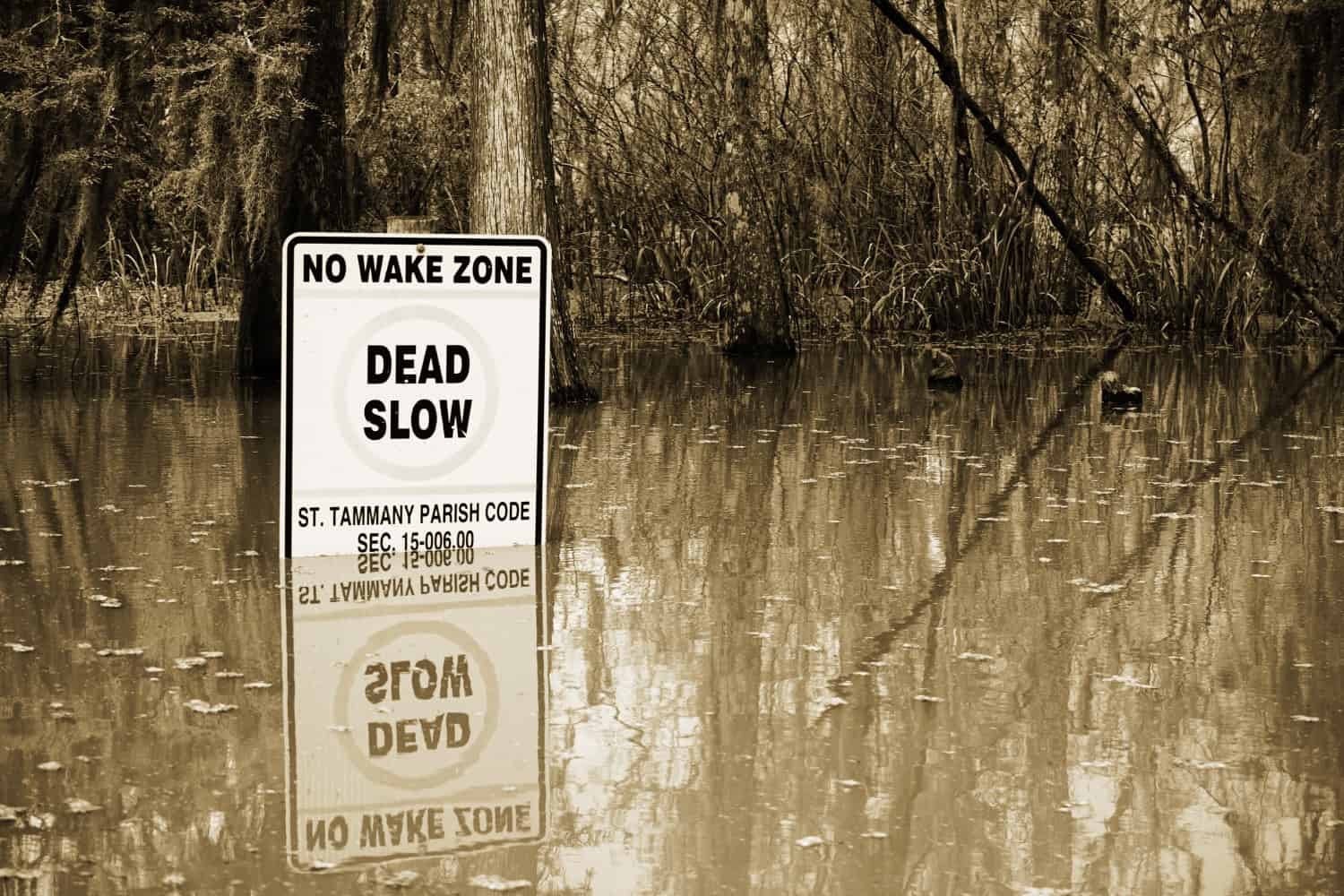 Fun fact: swamps don't smell. Or at least, this one didn't.
I don't know why I thought it would. I've always imagined swamps as these stinky sulphur mud pools with bubbling gases emerging from the surface and alligators laying inches away in wait.
It turns out only some of them are like that, because this trip couldn't have been further from that image in my mind. And you know what? Swamps totally deserve a place on my list of travel adventures! They're strangely beautiful, fascinating places, with a whole host of dangerous wildlife to panic about calmly observe.
And speaking of wildlife, you know that famous photo of a, um, sasquatch? That was taken at Honey Island Swamp, where my family and I would be spending the afternoon.
Maybe it wouldn't be quite so boring after all.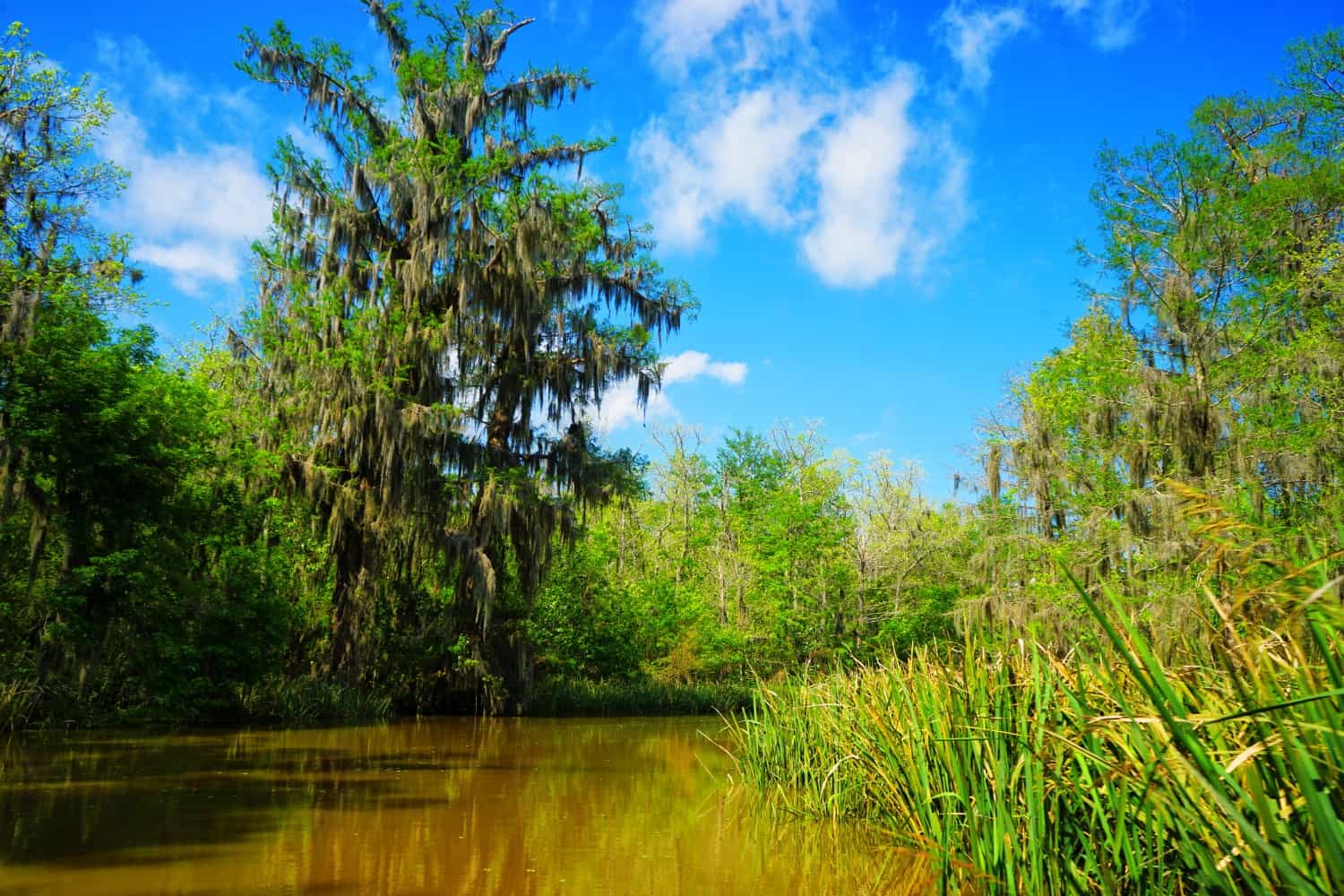 We'd signed up for a trip with Dr Wagner's Honey Island Swamp Tours, drawn in by their great reviews, reasonable prices ($48 each for a two-hour-long tour with a pickup from New Orleans; $23 without the pickup), the fact they only hire expert guides native to South Louisiana, and their small boats, which would enable us to travel down narrow backwater channels and get up close and personal with the wildlife.
Not necessarily a good thing for someone with as much of a nervous disposition as me.
But let's rewind to the beginning of the tour.
Upon arriving at Slidell, we clambered into our flat-bottomed boat and roared off down the Pearl River at far higher speeds than said boat looked capable of. We had just two hours on the water, so were kicking off our journey by powering towards the swampy backrivers.
It was time to start hunting for 'gators.
Once we reached the shallows, our guide cut the engine and we floated in silence, every breath held as we watched and waited for something terrifying to emerge from the chocolate-brown depths.
"Hereeee, gator gator gator," our driver called in an eerie tone, waving a stick above the water before letting out a high-pitched shriek in an attempt to draw the predators to the surface.
Silence descended once more as we waited, drifting directionless between tupelo trees, eyes peeled, fingers tense on camera shutters.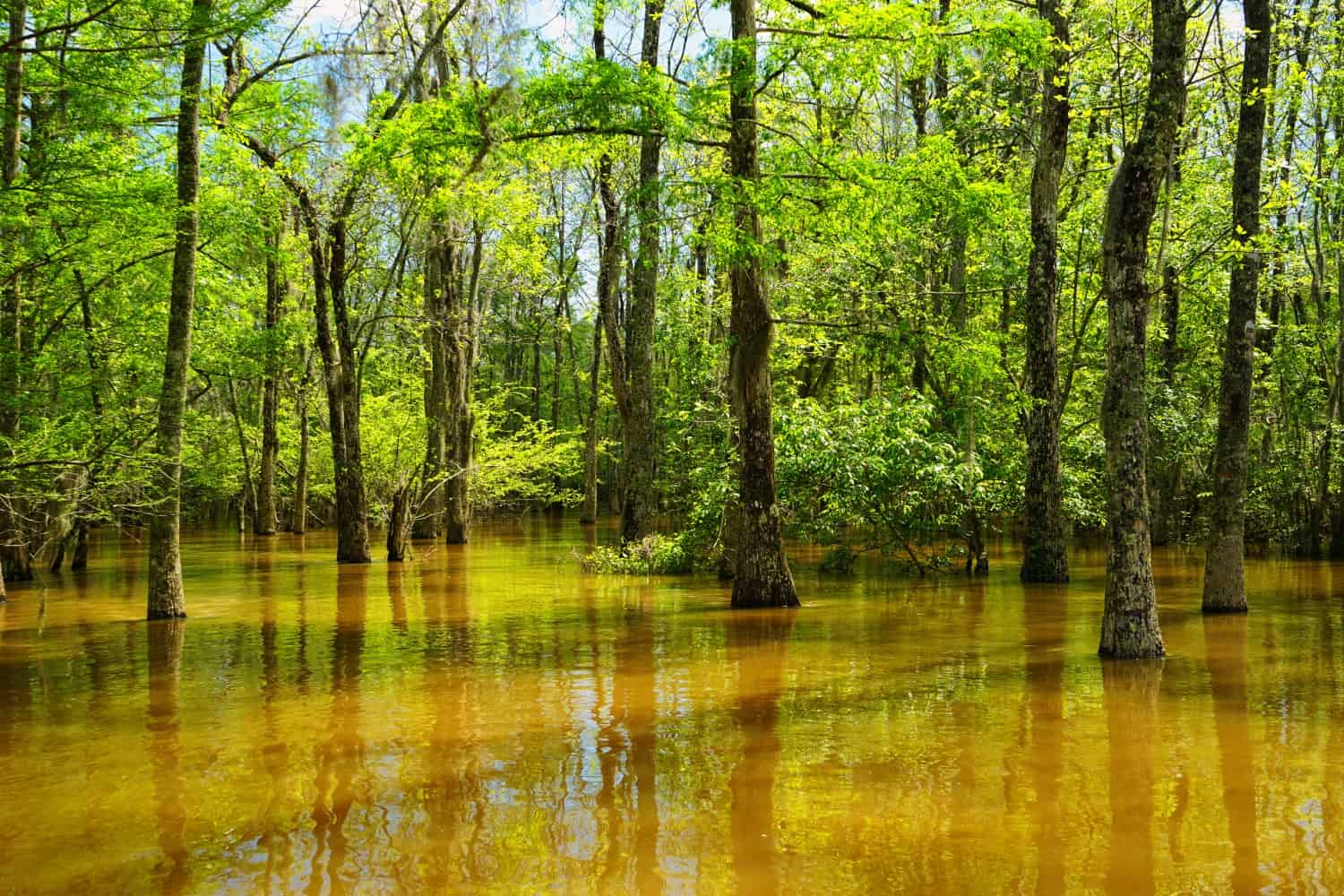 "That's one!" Our guide broke the silence and thrust his finger towards a patch of water.
As the sound of clicking cameras filled the air, I chastised myself for forgetting to put in my contact lenses.
I couldn't see a thing.
Still, I pointed my camera in the direction of Dave's and held down my shutter for several seconds, hoping I'd managed to focus on the baby alligator that everyone was murmuring about.
I ended up with a dozen photos of branches, so here's the much better photo Dave managed to capture of our first alligator sighting.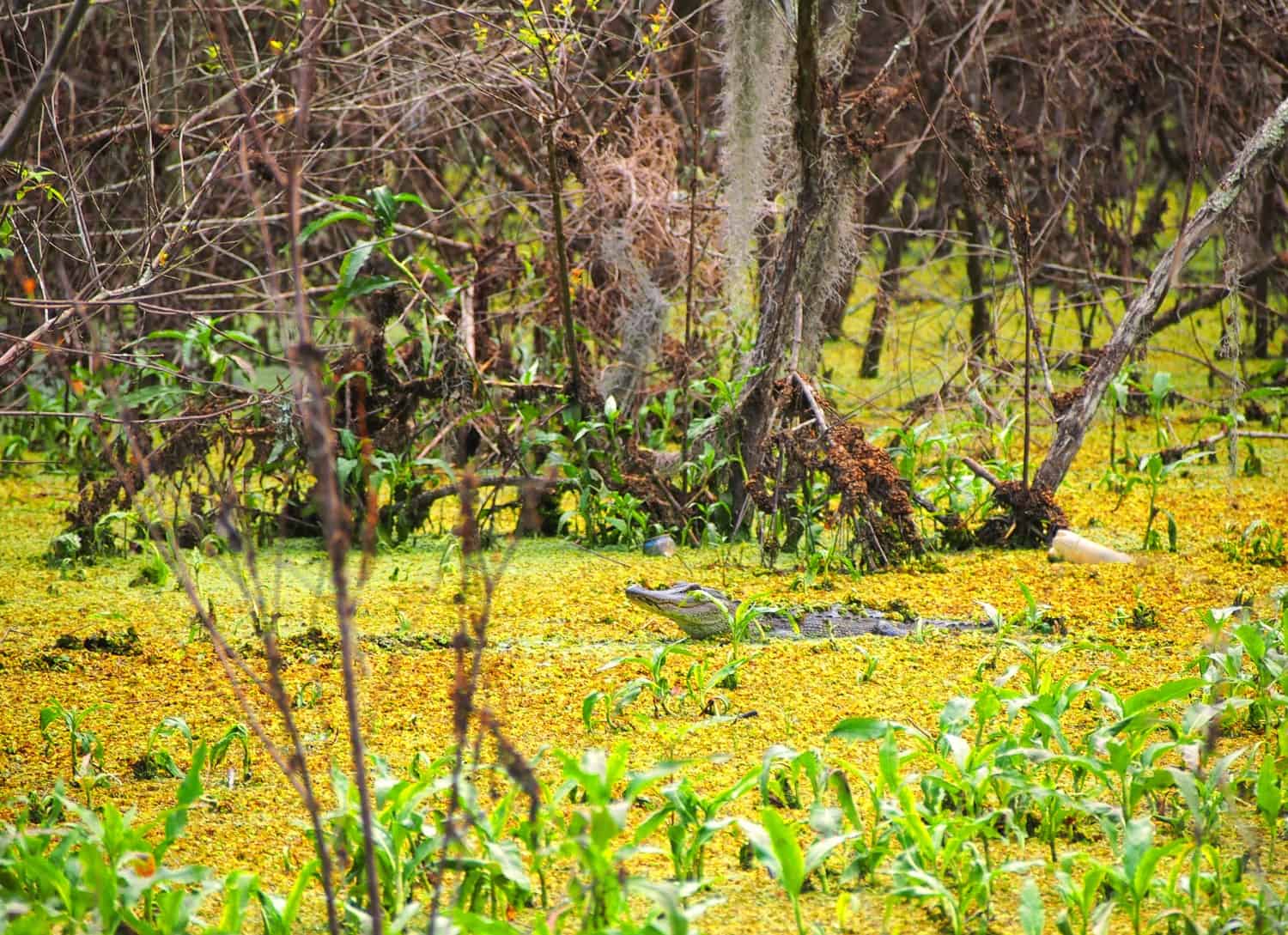 There was little movement in this area of the swamp, so when we heard word of a ten-foot-long spotting from another guide, we restarted the engine and set off racing down the river once more.
Our next stop involved passing through a canal lined with expansive houses and manicured gardens, which wasn't necessarily what I was expecting to see on the bayou, but hey, if you can afford to live to anywhere, why not choose somewhere offbeat and isolated?
On this occasion, though, I have to admit that I wasn't nudging Dave at the sight of a pretty home and chattering about how we'd have a place like that one day.
No, I don't think I could ever leave the house if my backyard regularly entertained ten-foot-long guests that would chew up a Lauren for an appetiser.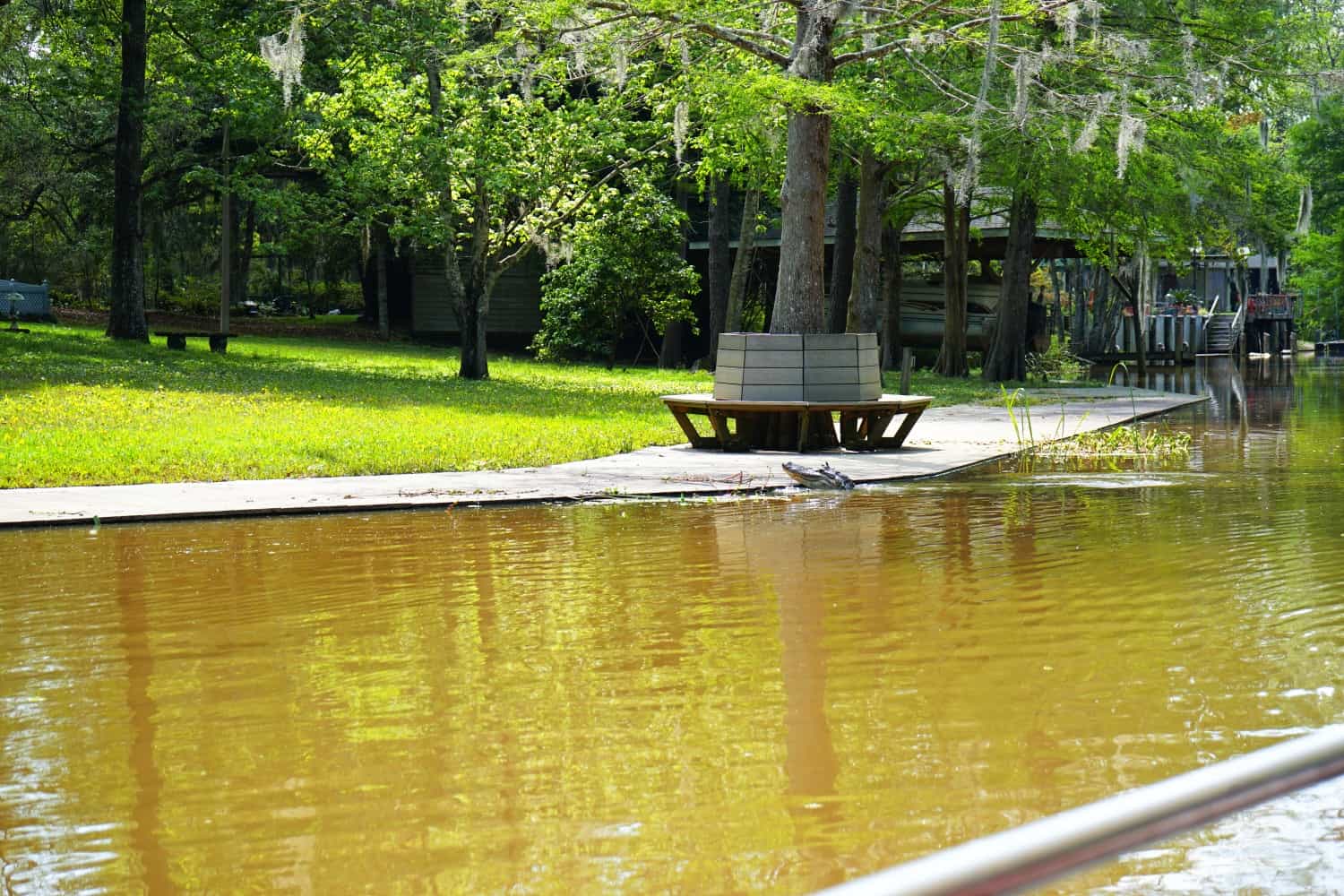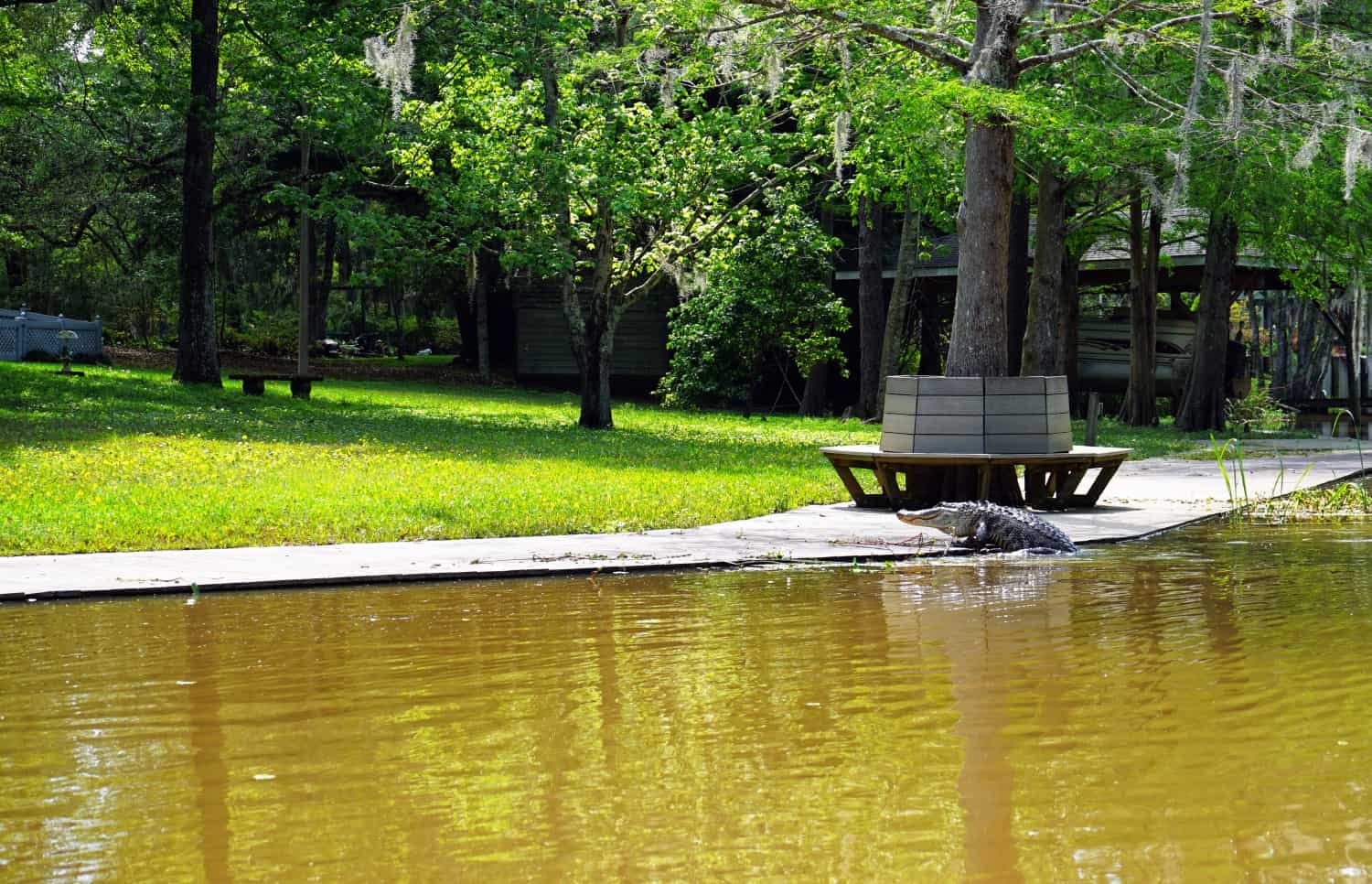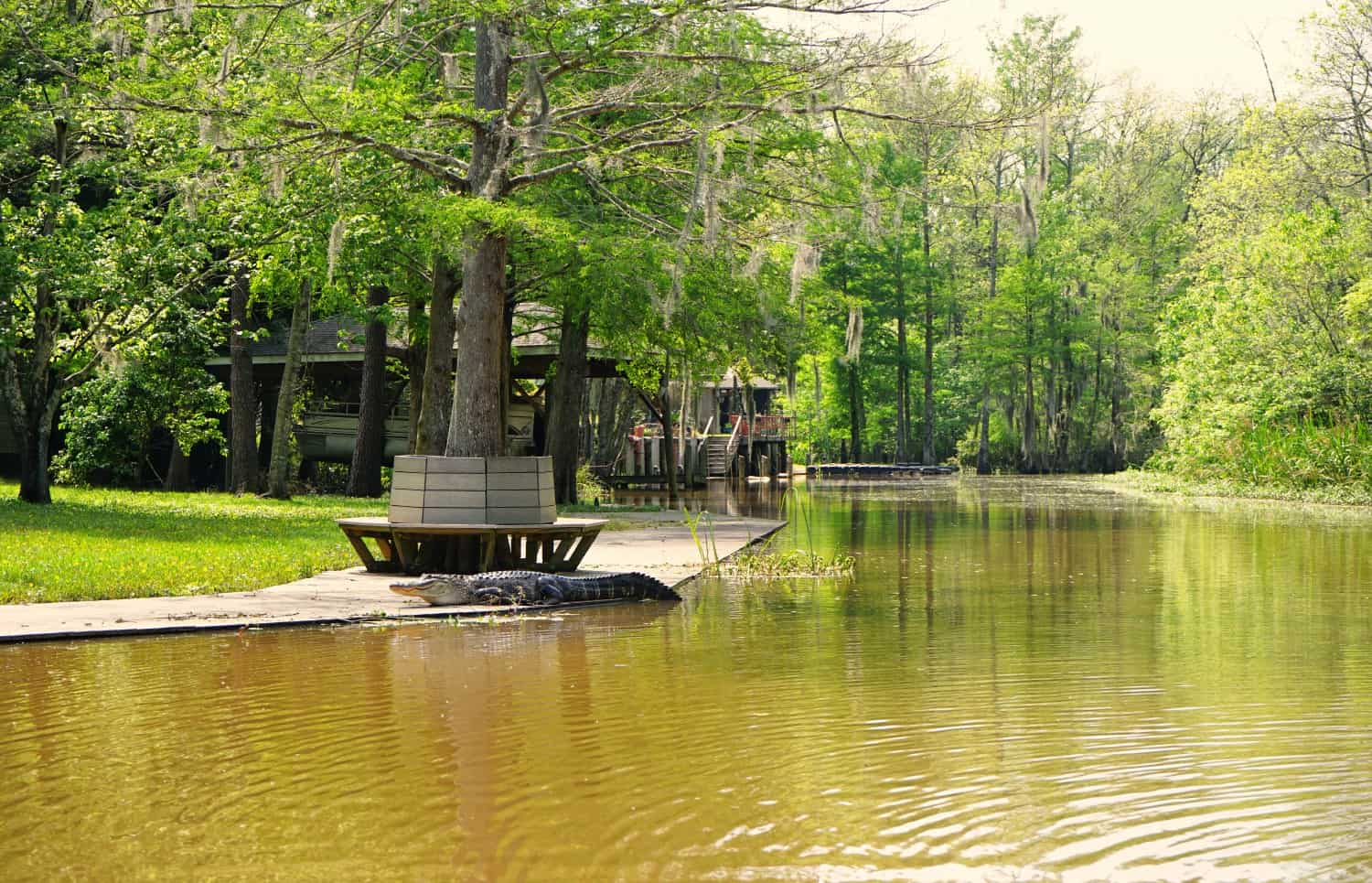 I don't usually have much luck on animal-spotting adventures. I've lost count of the number of whale watching tours I've reluctantly signed up for, only to end up seeing nothing but my breakfast regurgitated into the ocean.
Oh, and there was that particular experience in Hawaii where an enormous humpback whale emerged from the water directly beside our boat, but I'd felt too nauseated to even raise my head to check it out.
So to come on a tour like this and be surrounded by wildlife at every turn was an unexpected delight. Especially as we were visiting during low season for alligator-spotting and there had been floods in recent weeks, sending away many of the animals.
I spotted a vibrant dragonfly hanging out on Dave's knee.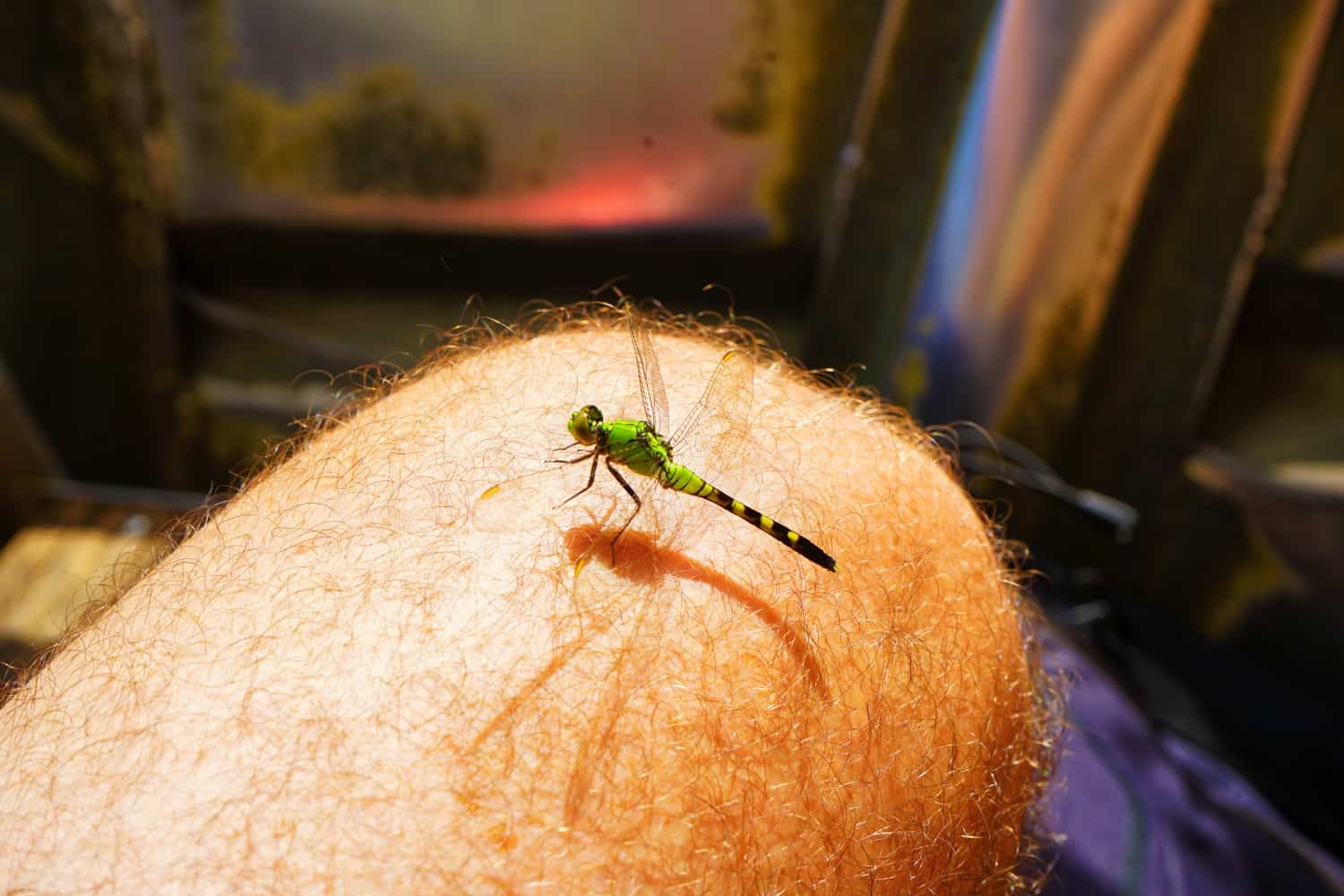 I spotted a snake slithering along a branch.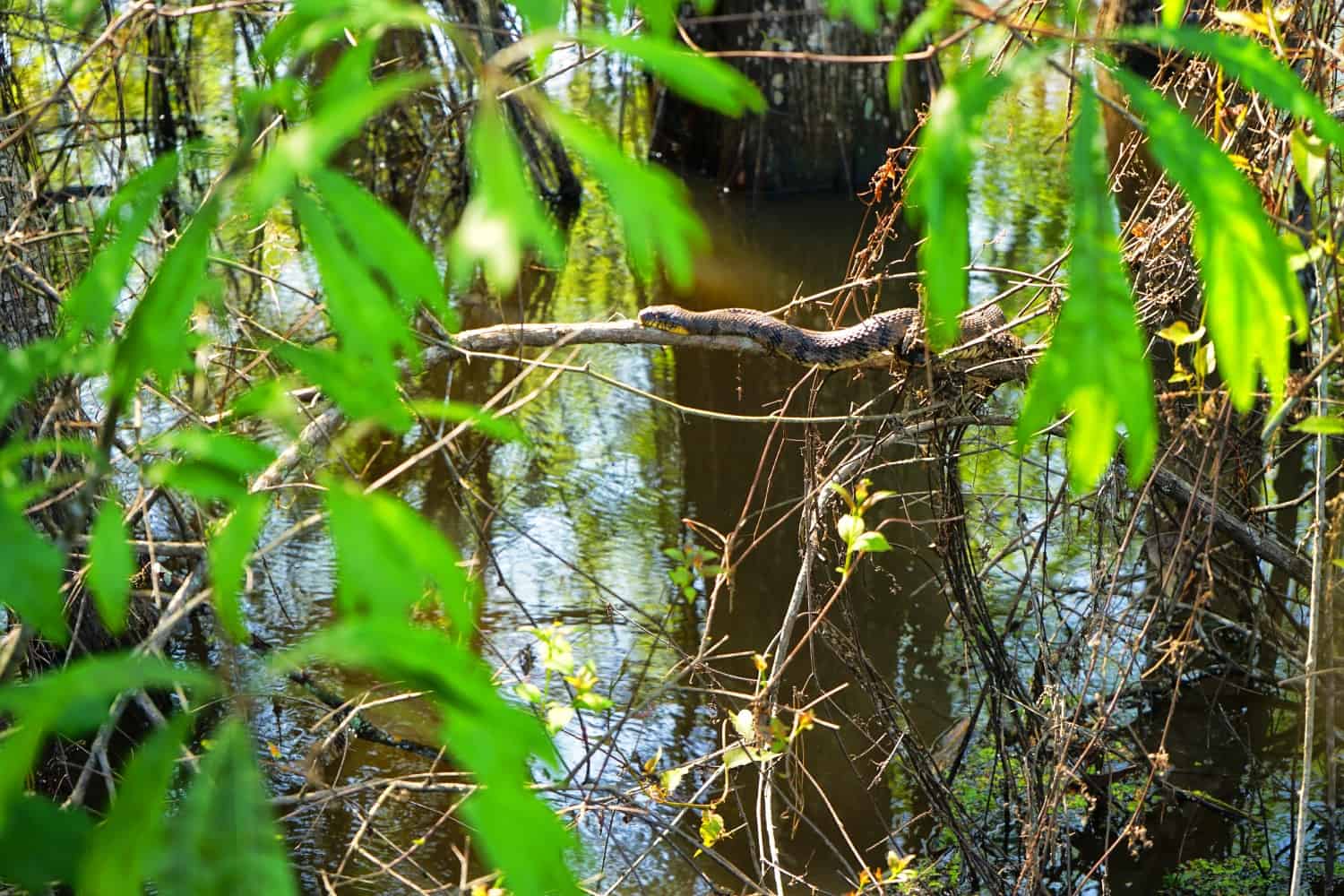 And another snake.
And another snake.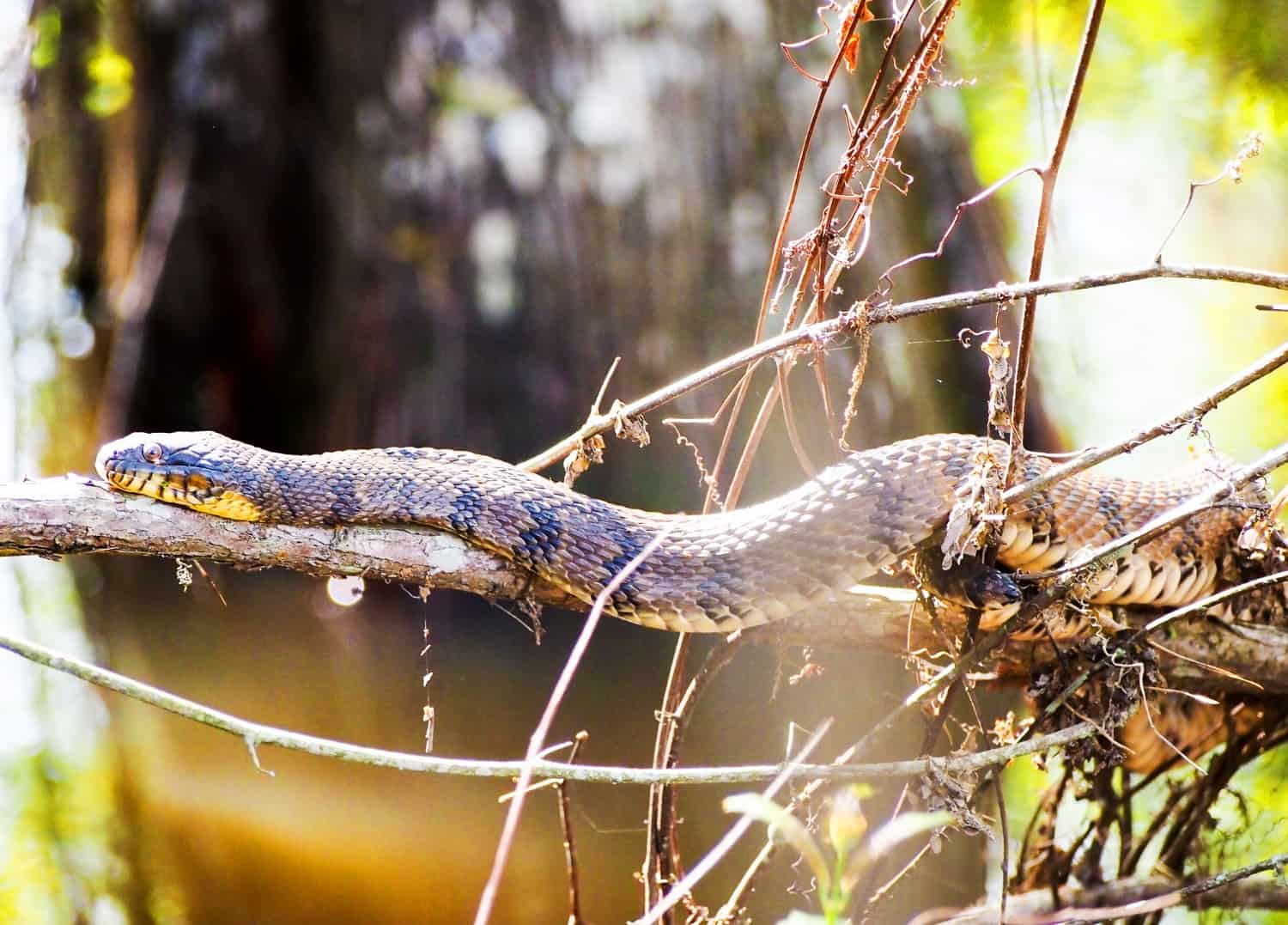 And that was our time on the swamp! Would I recommend it?
Absolutely!
Visiting Honey Island Swamps ranks highly as one of the best things I've done this year, and I wouldn't hesitate to take another trip to the bayou in the future. Getting up close and personal with the alligators and snakes made for a fun-filled afternoon, and learning that a swamp was so much cooler than I expected it to be was even better.
Would you jump at the chance to take a swamp tour in Louisiana?