America's oldest capital city, Santa Fe, New Mexico, is home to boatloads of intriguing history, culture, and art waiting to be explored!
With over 250 art galleries and 20 museums, Santa Fe is home to many fascinating opportunities to immerse yourself in the history and art of many cultures, including, but not limited to, Spanish and Indian influences. These cultural influences extend to the local cuisine with mouth-wateringly delicious foods, like Native American fry bread-style sopaipillas and other fresh and locally made dishes, available for you to savor.
Santa Fe is filled with history and some of the oldest historical landmarks in the United States. From the Oldest House to the Oldest Church, Santa Fe preserves and shares the rich history of this magnificent city known as the "City Different" settled in the "Land of Enchantment."
Surrounded by rugged desert landscapes, Santa Fe is a place of opportunity to explore the many attractions. Places like El Rancho de Las Golondrinas, a living museum with original colonial buildings settled in the rural farming valley that once acted as a rest stop for travelers is a great place to see. On the natural side of things, Ojo Santa Fe Spa Resort is home to natural springs and geothermal pools that have drawn in travelers for many years. These are only some of the outstanding attractions to consider on a trip to Santa Fe, New Mexico.
For the ultimate Santa Fe itinerary, follow along with my top recommended activities and attractions to explore for the best three days spent in Santa Fe!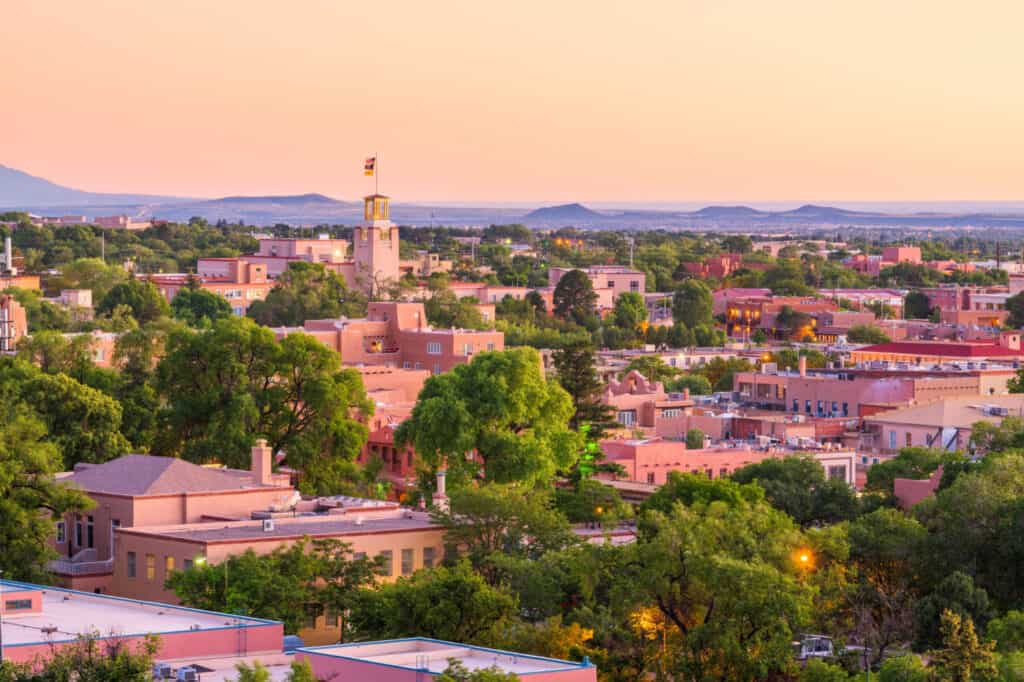 How Many Days to Spend in Santa Fe
Spending three days in Santa Fe, New Mexico, is the prime amount of time to experience this fantastic city's history, culture, and cuisine. This world-class getaway destination offers many attractions, from museums and spas to art and architecture.
Take the weekend off for the perfect three days spent in Santa Fe. Make memories you'll never forget and will cherish in this charming city where history meets luxury.
Day One in Santa Fe
On day one in Santa Fe, we should start the trip with a step into Santa Fe's historical background. And there's no better way to do that than explore downtown Santa Fe and all its history and culture!
From the Santa Fe Farmers' Market to the Oldest House Museum, on day one, we'll be able to absorb this outstanding city's magnificent culture and history. So, prepare your appetite and your wallet – this will be a day filled with fun, food, and shopping!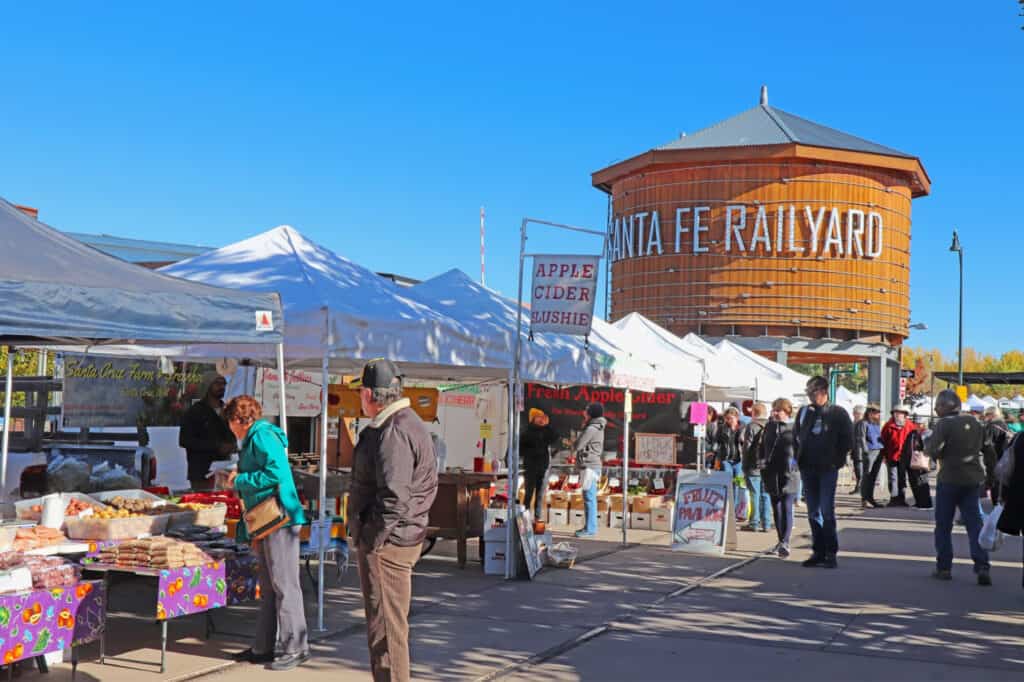 Morning: Breakfast & Farmer's Market
Start the morning—or brunch—with house-baked bread and open-face sandwiches at Sage Bakehouse. Sage Bakehouse is a unique European-inspired cafe, a one-of-a-kind pastry shop, artisan bread bakery, and cafe settled at the base of the Sangre de Cristo mountains. The tartines, toasted open-face sandwiches, and paninis are to die for! They have pre-made cold sandwiches ready to go if you're in a hurry and farmers' market specials that vary seasonally.
Speaking of farmers' markets, the Santa Fe Farmers Market is a morning or early afternoon activity I highly recommend traversing. If you don't mind walking, Sage Bakehouse is only 0.6 miles from Santa Fe Farmers' Market. Walking from point A to point B is a great way to get a feel for Santa Fe and see sights you would only passively glimpse in a car!
Not too far from Sage Bakehouse, this widely popular farmers' market has been running since the 1960s. Located at the Santa Fe Railyard, the market runs year-round on Saturdays and is known as one of the best farmers' markets in the United States!
There is an incredible selection of fresh produce, plants, apothecary, locally made goods and foods, and more to explore for a fun morning of vibrant colors, a welcoming atmosphere, and fresh products.
On Sundays, the Santa Fe Farmers Market runs the Railyard Artisan Market from 10 AM – 3 PM. This day is dedicated to all local artisans and small creative businesses, representing one of New Mexico's oldest art markets. On this day, there are plenty of options of fine art, crafts, mementos, souvenirs, jewelry, home goods, and more to explore for a unique purchase to take home with you.
If you find you have an appetite after walking around, the cafe at the Santa Fe Farmers' Market is open Tuesday-Sunday for select hours. The menu focuses solely on farmers' market ingredients with seasonal menu items and guaranteed freshness in each bite. The cafe also offers excellent selections from other local businesses like Aroma Coffee, Whoo's Donuts, and Chocolate Maven, to feature a wide selection of foods from breakfast burritos and juice to coffee and donuts!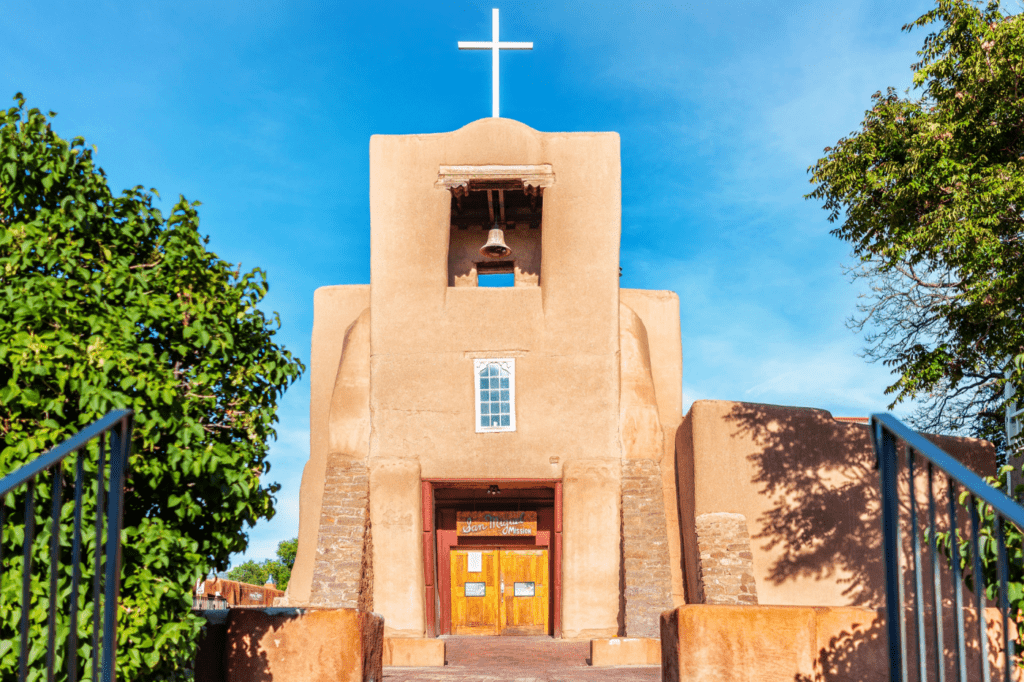 Afternoon: San Miguel Chapel
After exploring the Santa Fe Farmers' Market, the San Miguel Chapel is a wondrous Santa Fe attraction that is a must when visiting this historic city. The San Miguel Chapel is 1.2 miles from the Santa Fe Farmers' Market.
Situated in the Barrio de Analco, a national historic district in Santa Fe, the San Miguel Chapel is a Spanish colonial mission church built in 1610 by Tlaxcalan Indians and Franciscan friars. Known as the oldest Catholic church in the United States, the adobe church had to be rebuilt twice! One of the times in 1710, after the Pueblo Revolt, ended as the only successful Native uprising against a colonizing power in North America.
The church offers tours Tuesday-Saturday so that more information and critical points on its background and history can be revealed to guests wishing to learn about this historic Santa Fe attraction.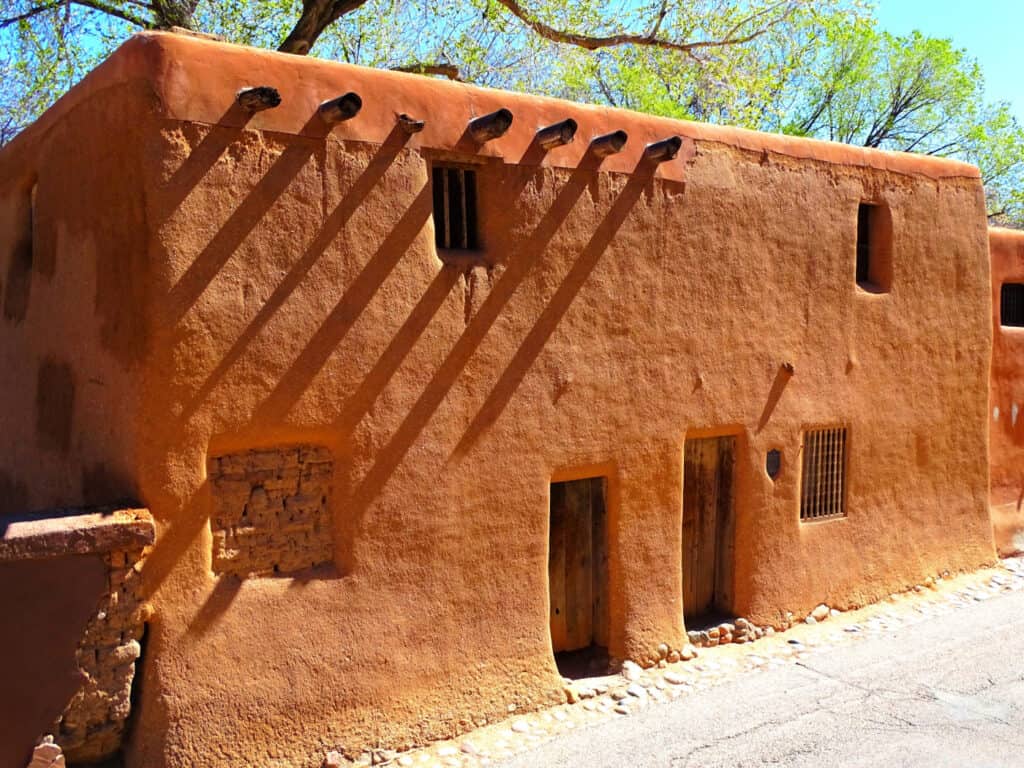 Next: The Oldest House Museum
Conveniently located across the street from the San Miguel Chapel is the Oldest House Museum, the next Santa Fe attraction to explore!
Standing as one of the oldest buildings in the United States, the Oldest House Museum is a museum attached to a house that was added in the late 1800s and later converted to a gift shop. This neat gift shop offers various items that embrace the spirit of the many cultural influences of Santa Fe's history.
In the Oldest House Museum, there is history that dates back to 1200 CE. The museum utilizes entertainment, activities, education opportunities, and events to peel layer by historical layer back to encourage guests to step back in time. Take in the Spanish Pueblo architecture of this house, estimated to be about 350 years old, which hones a spot in the U.S. National Register of Historic Places. Admission into the Oldest House Museum is free, with self-guided tours taken at your own pace!
After touring the Oldest House Museum, sit for dinner at the Rio Chama Prime Steakhouse. This refined ranch space is famous for its prime rib, filet mignon, and happy hour.
Located within walking distance from the Oldest House Museum, the steakhouse is also settled in the oldest neighborhood in Santa Fe, New Mexico. Incredibly popular with locals and tourists alike, we had to make a pitstop at this popping steakhouse—and I'm glad we did! The food was mouth-wateringly delicious, the atmosphere refined yet inviting, and the drinks refreshing. We highly recommend stopping at Rio Chama Prime Steakhouse one of the nights during your stay in Santa Fe!
Day Two in Santa Fe
Santa Fe is teeming with history and culture, displayed in many forms like art, cuisine, and landmarks. And there's no better way to experience them all than combining a little bit of everything!
That's why on day two in Santa Fe, we'll be joining a historic walk of Santa Fe, strolling down Canyon Road filled with hundreds of art galleries and shops, and taking part in a walking food tour of Santa Fe's authentic cuisine to really get a taste of Santa Fe!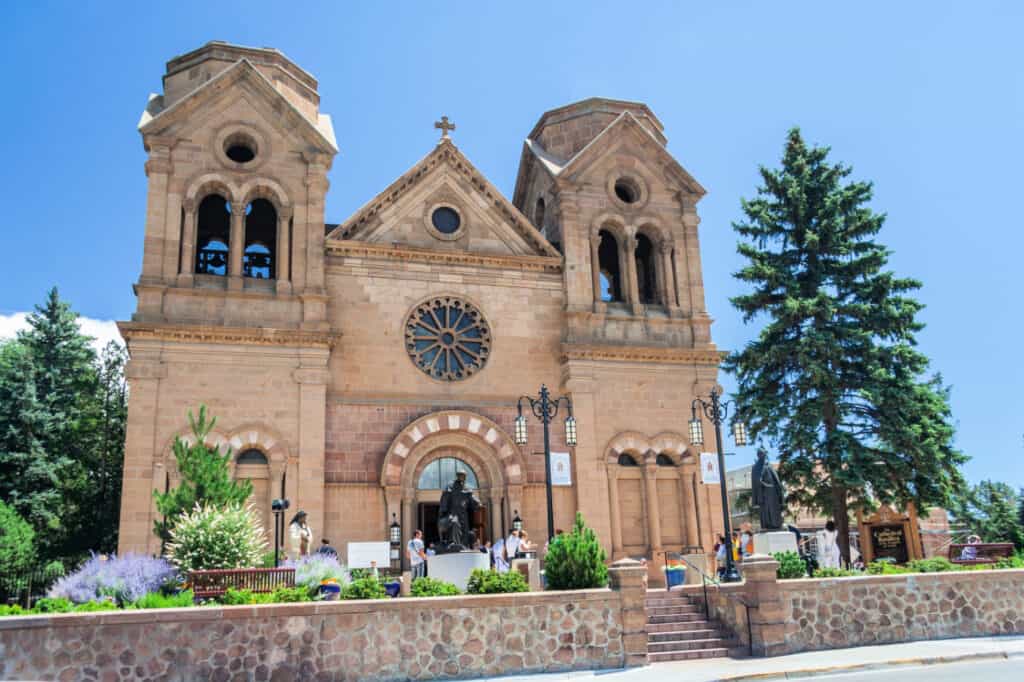 Morning: Historic Walks of Santa Fe
Before heading over to Historic Walks of Santa Fe, grab breakfast at Dolina Bakery & Cafe. This airy and modern cafe features house-baked goods, a pleasant setting, and contemporary American brunch with an Eastern European influence. Enjoy their selection of fresh espresso, coffee, breakfast croissants, breakfast burritos, omelets, and other breakfast menu options to fuel up before heading out to the Historic Walks of Santa Fe.
It's important to note that the Historic Walks of Santa Fe requires reservations and a minimum of two people per private tour. The tours run for one hour and 45 minutes, with professional guides meeting guests at Santa Fe's Historic Plaza at 10 AM.
Through touring with Historic Walks of Santa Fe, you can experience the best of Santa Fe by first-hand experiencing its significant attractions. The tours are led by professional guides, art historians, seasoned actors, and museum docents that strive to recreate the past for a unique experience that presents Santa Fe's impressive history.
Fun fact — The Historic Walks of Santa Fe tours are pet-friendly thanks to the company's mascot, Andy, who was featured on National Geographic's "Dog Lover's Guide to Travel". So, if you end up bringing your pet with you to Santa Fe, the Historic Walks of Santa Fe encourages you to bring them along for a time of fun and adventure!
Want to try out other walking tours? Check out this architectural walking tour and wine tasting! This fun tour takes you through Santa Fe's historic Eastside neighborhood filled with New Mexican architecture styles while tasting and savoring the local wines.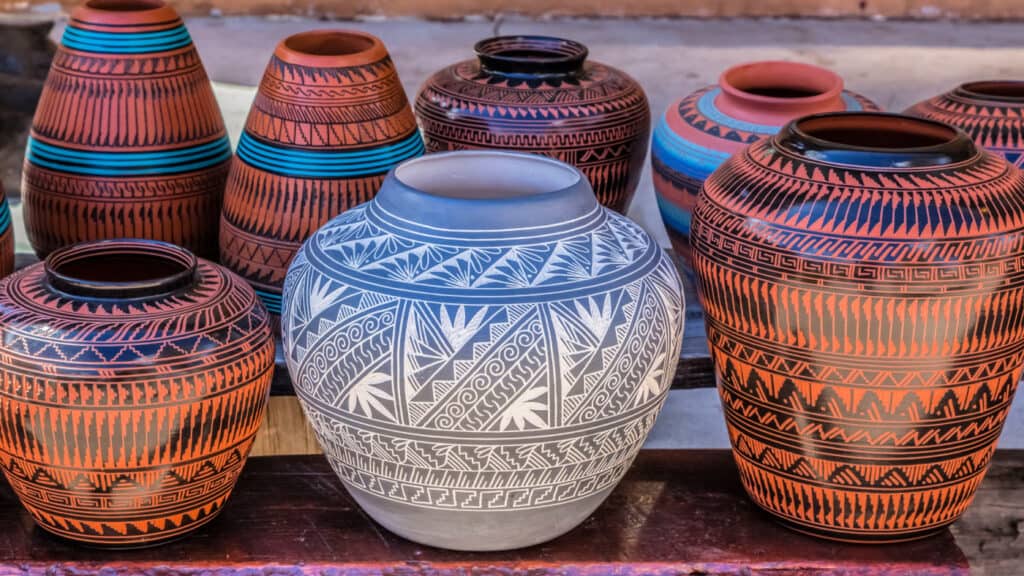 Afternoon: Canyon Road
Featuring over a hundred workshops, art galleries, and studios, Canyon Road is an art lovers' paradise!
The street is committed to the country's finest art, offering a pleasant stroll to view outstanding pieces and collections. On the enigmatic Canyon Road, a wide variety of shops hone contemporary crafts, stunning jewelry, creative home goods, awe-inspiring sculptures, and Native American artifacts and arts.
Offering a refreshing and inspiring setting, Canyon Road displays a vital piece of Santa Fe's history and heritage through internationally renowned folk and local artists. If you find yourself building up an appetite during your inquisitive adventures of Canyon Road, there are a few selections of cafes and restaurants to consider to quench your appetite.
Consider stopping at The Teahouse for lunch. This quaint haunt features an eclectic menu of teas from around the world. With a driven passion for discovering and sharing unique botanicals and loose-leaf organic teas, The Teahouse has become famously known across the globe as a top importer and Master Tea Blender of the world's finest teas.
If you like trying new things, I highly recommend exploring the vast options of exceptional aromatic teas and blends at The Teahouse. Though The Teahouse is an acclaimed specialty tea store, it is also a restaurant, beer garden, and wine bar, so there are plenty of options to explore for breakfast, lunch, or dinner!
If you desire to learn more about the local art scene of Santa Fe, consider this Canyon Road Curated Art Walking Tour. Through this interactive tour, you will have the opportunity to chat with local artists and gallerists and learn more about the local art history of Santa Fe!
There's one other option for your afternoon that I recommend.
Wander New Mexico Food Tours is top-rated for its premium food tours of Santa Fe. People can eat, drink, and discover New Mexico through an immersive dining experience of New Mexico's rich history. Offering a variety of tours to consider, this interactive tour is led by a local guide that introduces its guests to local business owners, farmers, producers, and chefs. Through this interaction, you can take in the authenticity and hard work that goes into creating each menu item and growing the ingredients that go into them!
This experience is like no other. On this walking food tour, you will be able to socialize, learn, savor, and be inspired by the culinary aptitude and history of Santa Fe.
Day Three in Santa Fe
On your last day in Santa Fe, we've got to end it with a bang. That's why we're hitting up major Santa Fe attractions like El Rancho de Las Golondrinas, a living museum, and the Ojo Santa Fe Spa Resort—because treating yourself is the best part of a vacation, and this spa has sacred springs and mud baths!
Morning: El Rancho de Las Golondrinas
On the way over to El Rancho de Las Golondrinas, stop for breakfast at The Pantry Dos! This sweet little breakfast spot proudly stands as Santa Fe's meeting and eating place since 1948. Serving fresh-from-scratch, quality comfort food, The Pantry Dos is a family-owned business that offers the best chile in Santa Fe. After scoffing down some tasty food from The Pantry Dos, like the Breakfast Quesadilla or the Stuffed French Toast, it's time to explore El Rancho de las Golondrinas!
Once a ranch, El Rancho de Las Golondrinas, or "The Ranch of the Swallows," is now a living museum. Located on 200 acres, the ranch is in a rural farming valley south of Santa Fe, New Mexico. Strategically constructed on the Royal Road, which connected Mexico City to Santa Fe, the ranch was once used as a paraje, or official rest stop, for travelers.
El Rancho de Las Golondrinas is committed to preserving and sharing the 18th and 19th-century history, culture, and heritage of New Mexico using the living museum. On the grounds are additional historic buildings that have been reconstructed at Las Golondrinas from other sections of northern New Mexico to pair with the original colonial buildings on the grounds that date back to the early 1700s.
When arriving at El Rancho de Las Golondrinas, visitors are welcomed by villagers clothed in the fashion of hundreds of years past to personify life lived on the frontier. El Rancho de Las Golondrinas hosts special events and festivals to present an in-depth step into many aspects of life during the Spanish, Mexican, and Territorial periods.
With a mixture of outdoor and indoor aspects, I highly recommend taking a guided tour of this expansive museum and ranch instead of the self-guided tour. The costumed guides are professional, knowledgeable, and personable, taking you on a wonderfully fascinating and educational tour of all El Rancho de Las Golondrinas is committed to preserving and sharing with all who enter its grounds. For guided tours, you must reserve your tour in advance!
Afternoon: Ojo Santa Fe Spa Resort
After a long weekend of walking and exploring, it's time to relax and reset at the Ojo Santa Fe Spa Resort.
Ojo Santa Fe Spa Resort isn't just any run-of-the-mill spa! For centuries, this spa has seduced travelers from around the world to its natural springs and geothermal pools in search of healing, relaxation, and respite.
Now, in the present, Ojo Santa Fe Spa Resort has been voted "World's Best Spa" by Travel & Leisure 2021 for its continued dedication to best healing practices to provide an inspiring and immersive experience to all who visit. The spa's tradition of utilizing hydrotherapy and body therapies that soothe the soul has continued to rejuvenate, nourish, and soothe the body, mind, and soul.
The waterside spa and tranquil oasis of Ojo Santa Fe Spa Resort offer a more profound level of relaxation than any other spa I've visited. Soaking in the sacred springs is a must before or after your appointment. It does wonders when combined with the magic of Ojo's waters and local botanicals.
Once you're done relaxing and soaking in the rejuvenating vibes at Ojo Santa Fe Spa Resort, hit up El Parasol on the way back to Santa Fe.
Recognized by locals as the "best" in all of Santa Fe, El Parasol has mastered its family recipes. So much so that the restaurant has been featured in national publications like New York Times, Bon Appetit, and Gourmet! This down-to-earth counter service restaurant boasts homemade tortilla chips, tamales, tacos, biscochitos, salsa, and other Mexican dishes that draw locals and tourists from all over to this appetizing restaurant.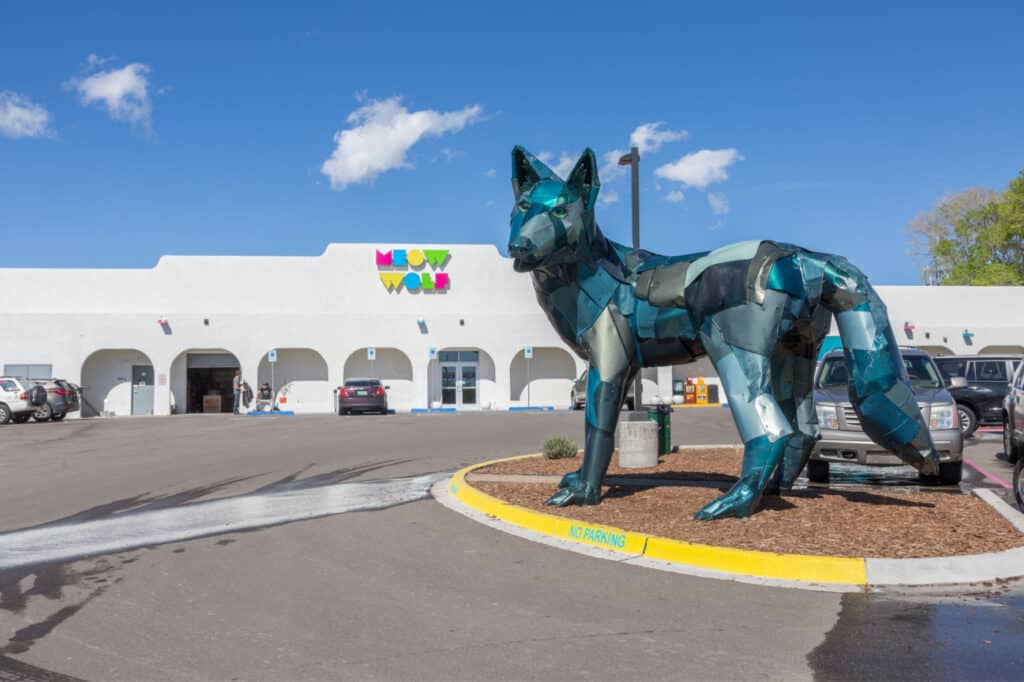 Evening: Meow Wolf Santa Fe
This mind-bending, interactive art experience welcomes those of all ages for a one-of-a-kind adventure. Meow Wolf Santa Fe is proud to call itself the original immersive art adventure. And what an experience it is!
Hosting over 70 rooms filled with immersive art, Meow Wolf Santa Fe is filled with adventure and opportunities to get lost in art. The company's mission is to inspire creativity through art and exploration through an immersive experience that will transform worlds with the power of imagination.
The success and creativity of Meow Wolf Santa Fe have extended its reach to big names like The New York Times, RollingStone, and Forbes. How impressive for a company that first got its start in 2008 as an informal DIY collective of Santa Fe artists! It's so awesome to discover these local Santa Fe-based artists become founders of an outstandingly creative business such as Meow Wolf Santa Fe, which overflows with dreams, creativity, imagination, and opportunity.
End the night at Second Street Brewery – Rufina Taproom, where Santa Fe's favorite beer is brewed. Boasting three locations in Santa Fe, Second Street Brewery achieved rapid success and humble beginnings in the supportive and welcoming community of Santa Fe. The brewery now sells Santa Fe's favorite beer in restaurants, bars, and cans in stores all over New Mexico.
Grab a bite of The Original Alien Burger (yes, you read that right!) or The Tesuque Grandma (yes, you still read that right!) with a side of Second Street Brewery's beers on tap like the Boneshaker Bitter or the Sloppy Sloth. Options are galore and just as delicious, no matter which one you pick. I can promise you that!
What To Know Before You Go
There are a few things you should know before you go to visit Santa Fe, New Mexico. From where to stay to the best time of year to visit, you need to take into account these factors when planning a trip to Santa Fe!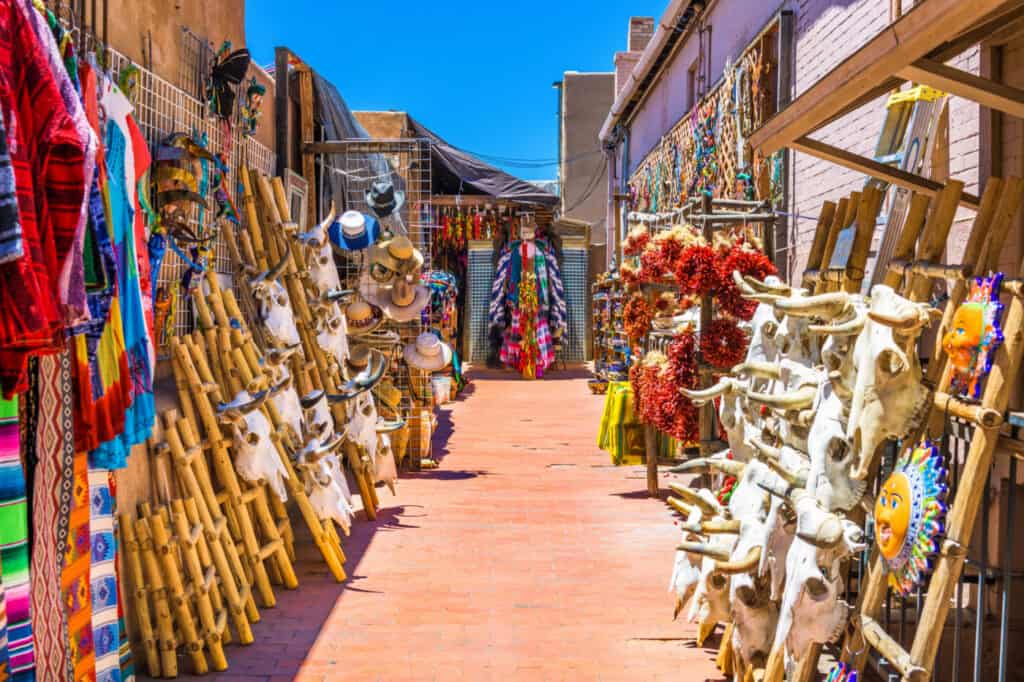 Where To Stay in Santa Fe
Fairfield Inn & Suites by Marriott Santa Fe is an ideal hotel to consider staying at during your vacation in Santa Fe, New Mexico, for the best affordable stay and desirable accommodation.
Settled in a convenient location, your stay is only four miles from the best of Santa Fe. The lobby is incredibly welcoming and vibrant, where you'll be greeted by inviting staff and outstanding service.
Start every morning with a complimentary fresh breakfast, including scrambled eggs, fruit, oatmeal, sausage, oatmeal, and more tasty options. A perfect opportunity if you're interested in saving money to spend on souvenirs, gifts, or other attractions to be found in Santa Fe.
The contemporary hotel rooms at Fairfield Inn & Suites by Marriott Santa Fe are spacious and comfortable, making it easy to sit back and relax in between activities or at the end of the day. Free Wi-Fi is part of the package at this accommodating hotel, which is perfect when you need pictures of your trip on Instagram or Facebook to show all your friends and family! Other facilities include a fitness center and swimming pool to take advantage of while staying at Fairfield Inn & Suites by Marriott Santa Fe.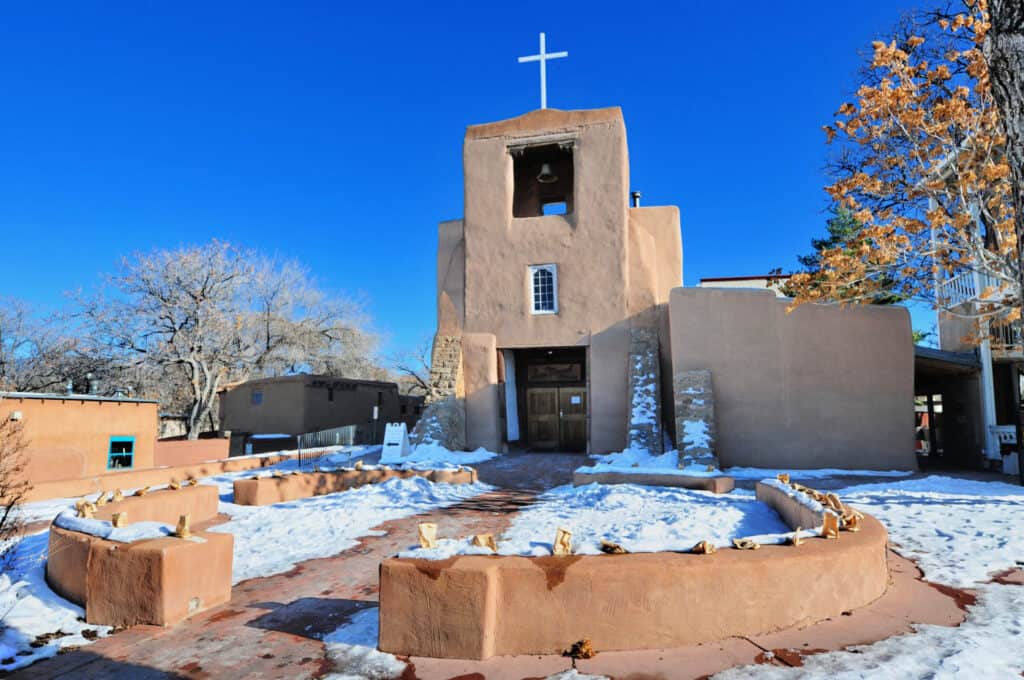 The Best Time of Year to Visit Santa Fe
If you're wondering what the best time of year to visit Santa Fe is, I highly recommend visiting anywhere from September to November. The temperature hit up to the high 70s during this time range, making it perfectly comfortable to stroll and walk around the stunning lands of Santa Fe, New Mexico.
Though summer may be ideal for most, as temperatures lie between the 50s and 80s, it's important to note that this is tourist season, so hotel rates are high, and availability will be low. However, if you can make a reservation for a hotel in advance, you may beat the tourist season rush.
The winter season in Santa Fe can be quite chilly, with highs reaching the 40s during the daytime. As a result, many would rather skip this type of weather, understandably, during vacation due to the chill.
Side Note – Santa Fe is known for its consistently intense sun rays year-round. No matter what time of year you visit Santa Fe, Mexico, it's important that you apply sunscreen to avoid sunburn.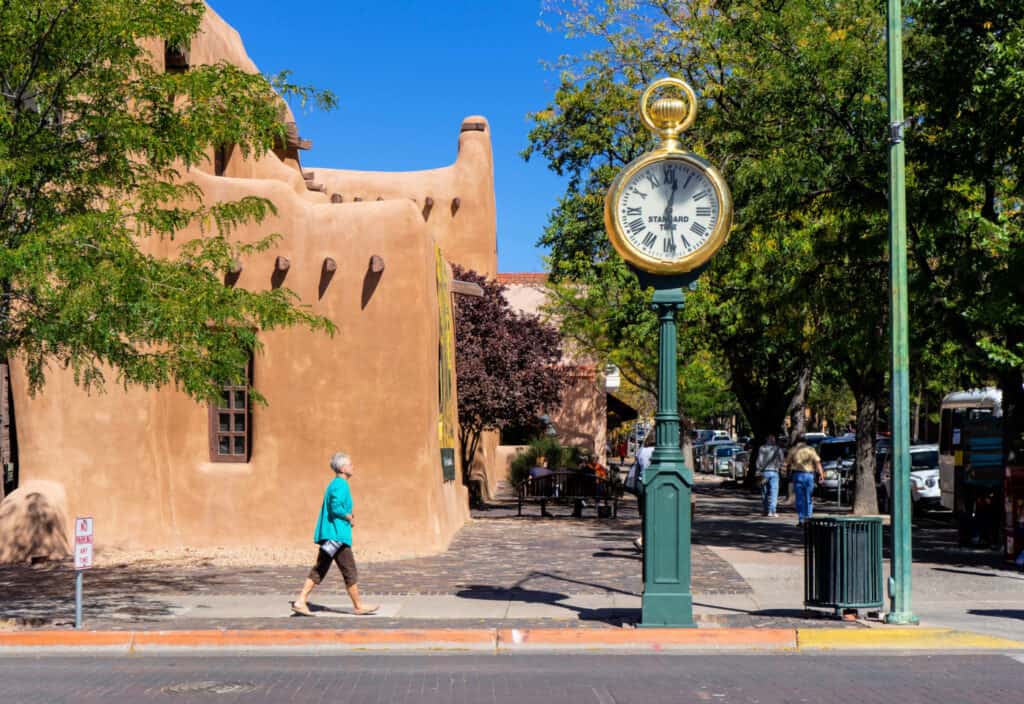 How To Get Around Santa Fe
As you may have noticed, I planned many of the activities for this guide on how to spend three days in Santa Fe within walking distance of one another (minus day three, which will require transportation).
Getting around Santa Fe is not only affordable, but it's great for your overall health. Voted one of America's Top Rated Walking Cities, Santa Fe homes compact historic districts and other attractions conveniently located within walking distance of one another.
When considering longer-distance trips, Santa Fe has several other transportation systems and services available. Uber and Lyft are two of the most common, easy-to-use ride-hailing applications that can be used to get around from your stay to attractions in Santa Fe. Other transportation services to consider include the public transportation system, shuttle services included with your hotel stay, rental cars, and charter vans.
Safety Advice for Santa Fe
When traveling to an unfamiliar place, it's crucial to be aware of your surroundings to ensure your safety. Like anywhere in the world, bad people or unfortunate circumstances can occur and, most often, can be avoided.
Unfortunately, the crime rate in Santa Fe, New Mexico, is high.
Always keep your personal belongings in sight or in a secure location while traveling around Santa Fe. If renting a vehicle, only park in designated areas. Lock your vehicle and keep personal belongings out of sight.
When in secluded areas, do not walk alone. Suppose there are any instances of concern or potential threat, dial 911. Avoid outlying or desolate areas of Santa Fe, as these areas are known for high drug activity. Instead, remain in the tourist areas.
There are other factors to be aware of when traveling to Santa Fe.
Santa Fe has a lot of snakes. Therefore, you must be aware of your surroundings when around pools or lakes, though you can also run into a snake on land.
If you are not accustomed to high altitudes, you must be aware of the symptoms of altitude sickness. Santa Fe rests at 7,200 feet, with some of the mountains at 12,000 feet. If you find yourself hiking in these areas, you may find yourself suffering from dizziness or headaches.
Altitude sickness is often likened to feeling like a hangover, with other symptoms like nausea and muscle aches to pair up with dizziness and headache. If not approached correctly, altitude sickness can extend to high-altitude pulmonary edema (HAPE) or lung buildup, which can be life-threatening. The best remedy for altitude sickness is acetazolamide, a commonly used medication to treat altitude sickness. It can be used to decrease symptoms or as a preventative measure before any symptoms occur.