Spending two weeks in Belize will give you the perfect amount of time to see all of the best bits of the country. From the ancient Mayan ruins at the ATM Caves and Xunantunich, to the blonde-sand beaches of Placencia and Caye Caulker, this comprehensive guide will tell you exactly how to spend 14 days in Belize.
With less than 23,000 kilometeres² of land, Belize isn't huge and is easily explored in a short amount of time. The country is a treasure trove for history buffs and nature lovers alike. Belize has hundreds of ancient ruins including around 33 Mayan archaeological sites in various states of excavation and disrepair. Belize is also home to a bounty of wildlife including pumas, jaguars, monkeys, and birds – an impressive 50 percent of Belize is protected by national parks and environmental laws.
The country has a distinctly undiscovered feel about it, making it a great off-the-beaten-path destination. It's not the cheapest place to travel in Central America, it doesn't have the edgy feel of Guatemala or the eco-tourism scene of Costa Rica, but it does have a fantastic culture and a vibrant food scene.
Due to its history as British Honduras, English is the official language of Belize spoken by 62.9% of the population, but the vast majority of people are multilingual with Spanish, Creole, Maya, German and Garifuna all having a place in Belizean language. It's this mix of culture that gives the country such an interesting dialect as well as an open minded and welcoming atmosphere.
How to Get Around in Belize
There's not much public transport in Belize other than the Chicken buses – old American school buses that run from one town to the next, stopping at every house along the way (or at least that's what it feels like). They are definitely an experience and in many ways, an important part of the culture in Belize, locals rely on them for their day to day transport, cars are a luxury here. But chicken buses in Belize are crammed full, have zero legroom, and are not fun with luggage.
Taxis or private drivers can be hired but often aren't that cheap. It's for these reasons that I recommend hiring a car, at least for the first part of your journey until you get to Caye Caulker. If you plan on visiting remote areas like Caracol, make sure it's a 4×4 as the roads are often unpaved.
Money in Belize
The Belize dollar, or BZD, is the official currency of Belize. The official exchange rate is permanently set at 2 Belize dollars to 1 US dollar, and often foreign visitors choose not to exchange money at all as the US dollar is accepted everywhere. The Belize dollar can only be exchanged inside Belize and at border towns in Mexico and Guatemala.
Cash is king in Belize, although Visa is accepted at most large businesses (only a very limited number of businesses accept MasterCard and American Express). ATM's can be unreliable and expensive and official exchanges seem to be non-existent, local vendors on the street are often the only available means to change money. So the advice is to take enough USD to get you through your trip, but obviously split it up into different bags or pockets for safety.
How to Spend Two Weeks in Belize
Our itinerary takes you through some of the best spots when visiting Belize for two weeks. We start with an optional night in Belize City then spend 3 or 4 nights in San Ignacio, formerly called Cayo, exploring ancient ruins and underground caves. Next up is a drive down the scenic Hummingbird Highway, staying overnight at a rainforest lodge. The next day, a lunch stop in Hopkins is followed by a visit to Cockscomb Basin Forest Reserve, world famous for its jaguar population. Spend 2 nights in Placencia, getting to know the south of Belize, before heading back up to Belize City to catch a ferry to Caye Caulker.
Spend the next 6 nights in Caye Caulker, it may seem a long time but trust us you still won't want to leave! With epic snorkeling, delicious food and laid back locals, Caye Caulker is paradise on earth. Locals say they never get sick because there is never bad weather! Fill your time walking stray dogs, flying over the Great Blue Hole, visiting Ambergris Caye and living the local motto; "Go Slow". Return to Belize City to make sure you get back in time for your flight home the next day and explore the colonial charm of the former capital city.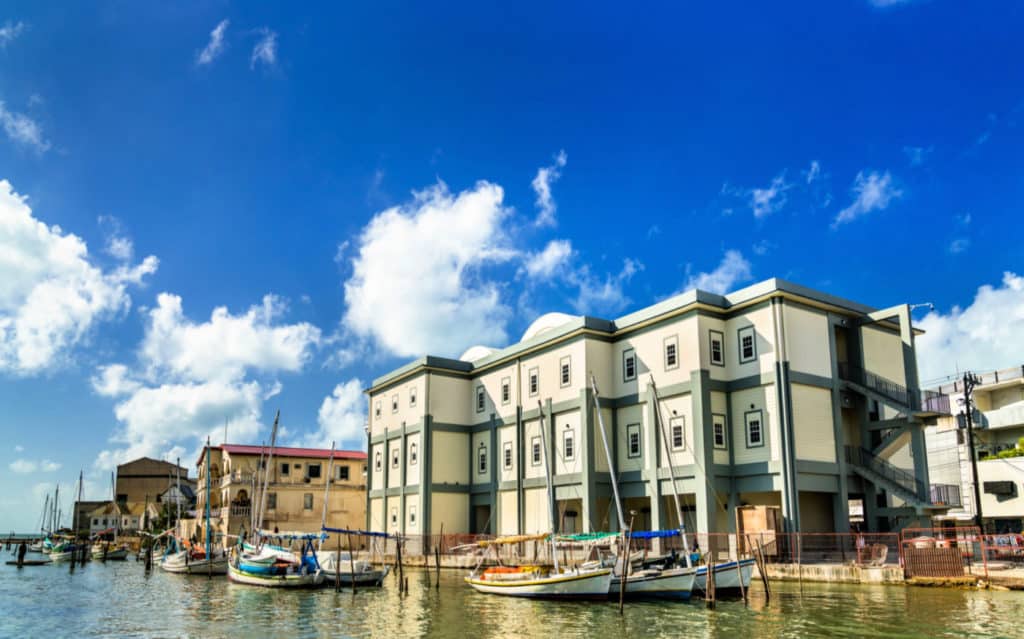 Day One: Arrive in Belize City
If you are arriving by air the Philip S.W. Goldson International Airport is only about 20 minutes from Belize City. If you are arriving late, spend the night in Belize City and enjoy the dilapidated buildings and colonial charm. But if your flight arrives in the day, head straight to San Ignacio, just a two-hour drive away by car.
Make a stop at the Belize Zoo and Tropical Education Center. This place only houses animals from Belize, usually rescued from road accidents or the illegal pet trade. The enclosures are generous and comparable to a natural habitat, plus there are witty signs all over the place that give you a first taste of the wonderful Belizean humor. You can also visit the nearby Monkey Bay Wildlife Sanctuary for a chance to spot some wild animals.
Where to stay in Belize City
Villa Boscardi has everything you need for an overnight stop, it's located outside of the hustle and bustle of central Belize City on a quiet leafy street. Everything in Belize City center is fortified with barbed wire, so it's nice to stay just outside the main area. The rooms are spacious and clean with lots of beautiful touches, and there's a great pool and communal cooking area. The free breakfast is also pretty special, you're going to love the food in Belize!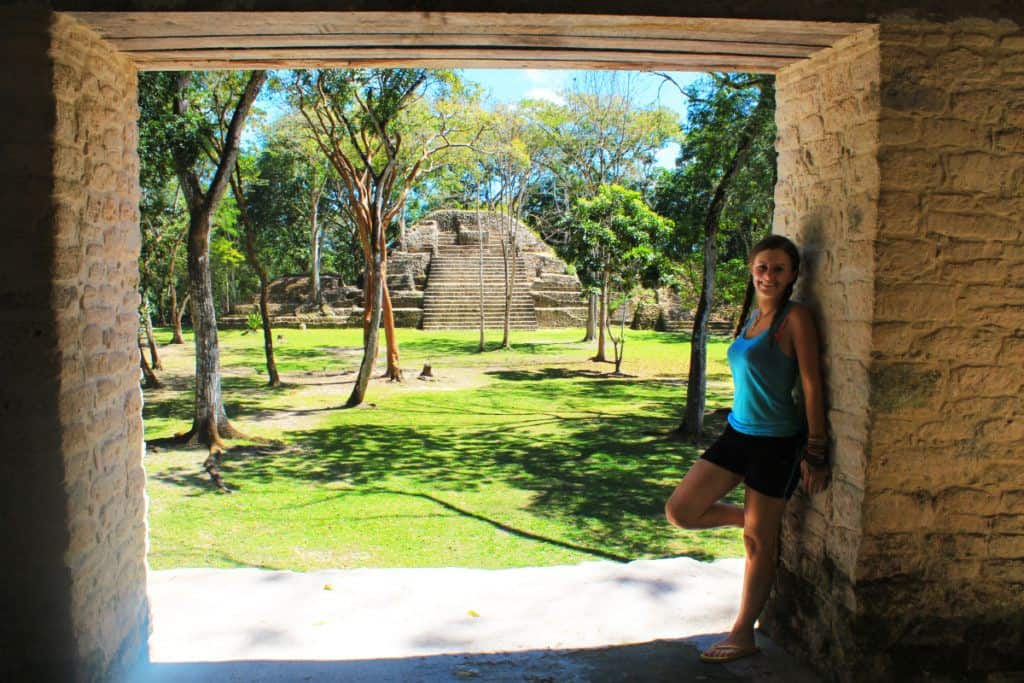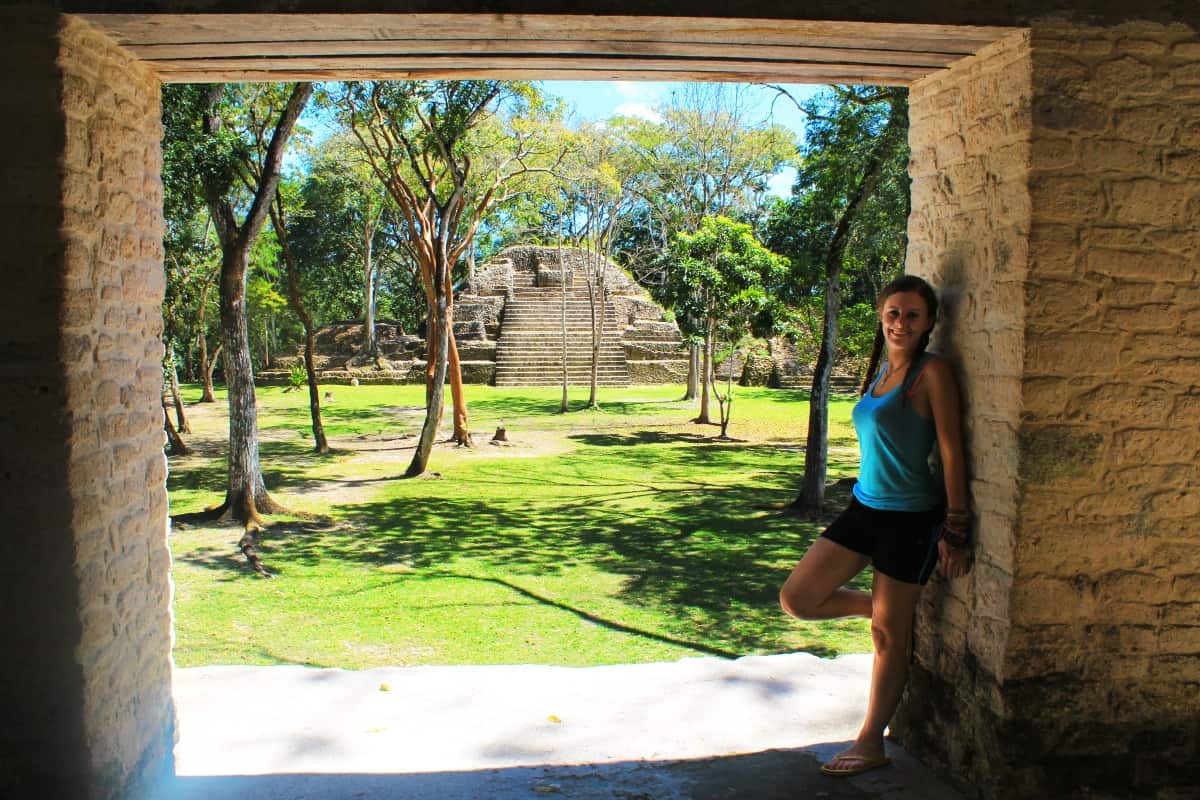 Day Two: Take a Boat Over to Xunantunich
First up on the Belize itinerary is to take a ferry over to the Xunantunich Ruins, just twenty minutes from San Ignacio. On the way you can see the rapids of the Mopan River as well as stunning views of the entire river valley. The Maya ceremonial center was inhabited between AD 700 to 1000. Climb to the top of the 133-foot tall El Castillo, the second tallest temple in all of Belize, and spot the intricate sun god masks that decorate the walls.
You could alternatively visit Cahal Pech in San Ignacio or take a two-hour (4×4) drive to the remote ancient Mayan city of Caracol. Abandoned in 900 CE, it's thought that Caracol once spread over 200 square kilometers and only around 1% of the ruins have been excavated today.
In the evening head to the Guava Limb Restaurant for dinner. The seating area looks like it's being reclaimed back by the Belizean jungle, but the food takes its inspirations from every corner of the world. They have a farm-to-table ethos, using fresh ingredients to create authentic and international cuisine (the Thai noodles are amazing). No wonder it's ranked as the number one restaurant on TripAdvisor in San Ignacio.
Where to stay in San Ignacio
One of our favorite spots to stay in Belize is Pine Ridge Lodge. Just outside of San Ignacio, Pine Ridge is an off-grid lodge located right on the river. Step out from one of the beautifully decorated cabins to sit by the river or go for a walk on a lovely trail leading to waterfalls. Neil the owner is more than happy to help you out with local recommendations and his two dogs will keep you company on the trails!
Day Three: Visit the ATM Caves From San Ignacio
Start your day with an American style or Belizean breakfast at Pop's Restaurant. The traditional Belizean breakfast consists of fry Jacks, eggs, beans, and chicken and is something you have to try at least once in your two weeks in Belize.
Possibly the single best thing to do in Belize is to take a trip to the ATM Cave, or Actun Tunichil Muknal. The cave is ranked as one of the 'Top Ten Caves Of The World' by the National Geographic Society. You will hike through tropical jungle, cross through rivers, and squeeze under rocks, finally coming to the ancient sacrificial remains of the Maya, deep within the caves. You will need to take a guided tour and photography is not allowed to protect the artifacts. It's an Indiana Jones level adventure, but you do get hard hats and torches – which is slightly safer than the terrifying candlelit experience of Semuc Champney in Guatemala!
Book an Actun Tunichil Muknal (ATM) Cave Full-Day Tour before you arrive to avoid disappointment. In the evening visit the infamous Marie Sharp's Tourist Center in San Ignacio for a culinary class on Belizean cuisine. You are sure to encounter one of Marie Sharp's hot sauces while visiting Belize, here you will learn how to cook with it as well as classic dishes like rice and beans and chicken stew.
Day Four: Take a Day Trip From San Ignacio to Guatemala and the Ancient Ruins of Tikal
Taking a day trip to Tikal from San Ignacio is easy to do, especially if you have your own transport. Tikal is located just two hours away from San Ignacio, deep within the Maya Biosphere Reserve. It was one of the most prosperous cities of the Mayan Classic Period, and the largest ancient civilizations in Mesoamerica. You can find tours in San Ignacio offering trips to Tikal, or like us, just navigate the border yourself and drive to the ancient city.
Tikal covers an area of 575 square kilometers and dates back to 1000 BC, but it wasn't a thriving city until much later, around 600 AD. Tikal is thought to have had around 100,000 residents at its height, including a school and even a hospital. Although it was an advanced city, sacrifice was still thought of as an honor, and the population mysteriously disappeared completely by 900 AD. Climb the pyramids, explore the vast jungle and watch out for wildlife like howler monkeys and toucans.
Tikal really is worth the effort, and Guatemala is another wonderful country to visit, but if you want to stay in Belize there are plenty of other things to do. Some fantastic things to do in and around San Ignacio include the Green Iguana Conservation Project, the Belize Botanic Gardens and the Rio Frio cave and pools.
Day Five: Visit Blue Hole National Park and Stay in a Rainforest Retreat
On day five take to the beautiful Hummingbird Highway and head south through Belize's dense interior. Stop off at the Lamanai chocolate company to take a tour and learn the Mayan art of chocolate making. Then visit St. Herman's Cave, you can either take the mile hike into the caves or go caving and cave tubing with a local guide.
Also located within St. Herman's Blue Hole National Park is the Inland Blue Hole, where you can take a refreshing dip in the small lake and spot wildlife in the surrounding jungle. Or if you're feeling brave, rappel down a waterfall at the nearby Dreaming Giant waterfalls.
Where to Stay in the Jungle in Belize
Spend the evening at the Sleeping Giant Rainforest Lodge, just on the edge of the national park. Air Conditioned rooms are a welcome retreat after a day spent in the jungle, with home-cooked meals being an added bonus. The Sleeping Giant Rainforest Lodge is in the perfect location to enjoy the outdoors, with panoramic views of the landscape, you can easily explore the surrounding creek, rivers and forests. Plus, the use of kayaks is free of charge!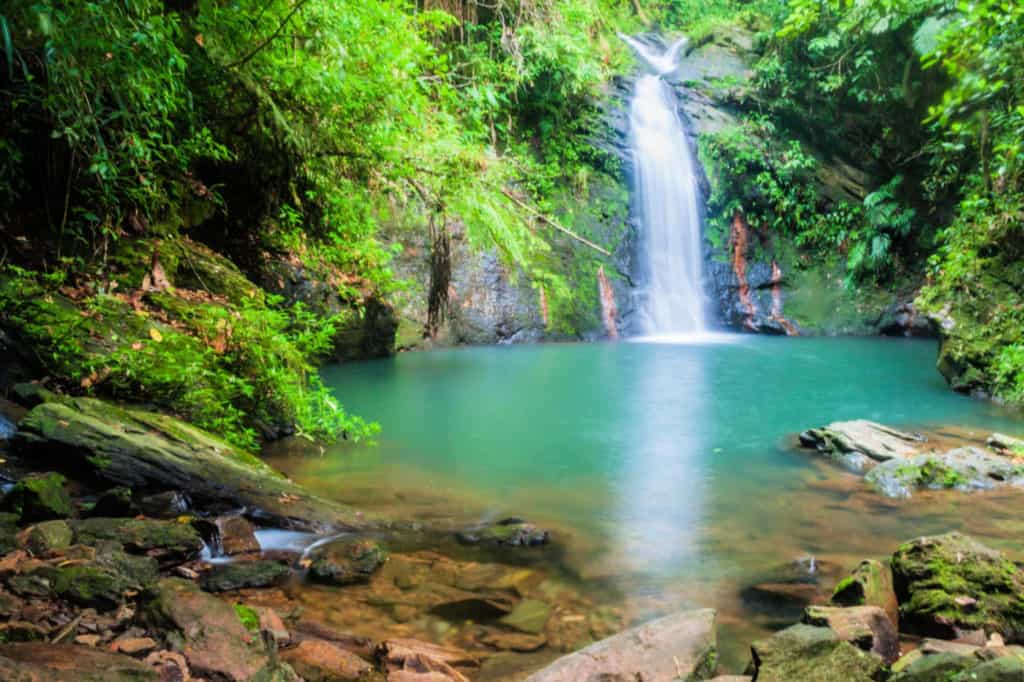 Day Six: Take a Lunch Stop in Hopkins and Go Hiking in Cockscomb Basin Forest Reserve
Head further south and onto the small beach town of Hopkins, known as the cultural center of the Garifuna population and a must on any Belize itinerary. The music and dances of the Garifuna are a special thing to witness. In 2001, UNESCO declared the Garifuna culture a "Masterpiece of the Oral and Intangible Heritage of Humanity". Hopkins has been called the friendliest place in the country, and many visitors choose to come here to experience the true local culture, instead of including Belize City in their Belize Itinerary.
Next head to the Cockscomb Basin Forest Reserve for a beautiful hike in nature. Created as a sanctuary for endangered jaguars, the 400km² reserve is thought to be the most important jaguar preserve in the world⁠⁠⁠. Opt for the Tiger Fern Trail, a three-hour round trip taking in waterfalls, a plane wreck and a 360° viewpoint over the Cockscomb Basin. It's then just an hour's drive along the highway and the scenic ocean road to Placencia, your next overnight stop on your two weeks in Belize.
Where to Stay in Placencia
Stay at the Driftwood Gardens Guesthouse. A studio apartment with a large double bed, kitchenette, aircon, coffee machine and Wi-Fi makes for a very comfortable stay. The guesthouse is in the perfect spot for exploring Placencia by foot and is close to bars, restaurants, and the supermarket. The secluded pool is a nice addition on hot days when the beach can get busy and owners Phil and Megan are super friendly hosts that are always available for local tips.
Day Seven: Explore the Peninsula of Placencia
Placencia is a 16-mile-long peninsula in southern Belize best known for its incredible marine life. Spot manatees and saltwater crocodiles in the tidal lagoon or head offshore to the bountiful dive sites on the second largest barrier reef on earth. The Belize Barrier Reef is second in size to the Great Barrier Reef of Australia, and is the largest of its kind in the northern and western hemispheres. The reef extends for more than 180 miles along the Caribbean coast of Belize and can be visited from many places, but Placencia is one of the quietest.
Placencia is also a great place to go diving with whale sharks in Belize. Visit Gladden Split between April to June for a chance to swim alongside these gentle giants. Other top dive spots include Silk Caye, Laughing Bird, Glover's Caye, Pompion Caye, and South Water Caye. Diving operators in Belize can be a lower quality than some are used to, so be careful who you book with. One of the best dive shops in Placencia is Splash Dive Center. They are limited to six people per dive instructor, have good equipment, and prioritize safety.
If diving's not your thing, you can also go snorkeling at beautiful spots like Moho Caye. Other things to do include the Monkey River tour, boat and catamaran trips, or simply relaxing on the beach all day long! By night, visit the live music and bars along the affectionately named 'Tipsy Strip', eat fresh seafood from one of the many local restaurants, and enjoy late night strolls along the beach.
Day Eight: Travel to Caye Caulker via Belize City
Choose to stay in Placencia another night or head to the next beach destination on your epic 14 days in Belize, Caye Caulker. Make the three-hour drive from Placencia to Belize City then catch a water taxi to Caye Caulker. There are two water taxi companies that operate between Belize City and Caye Caulker, San Pedro Belize Express and Ocean Ferry. But San Pedro Belize Express has more daily runs and a more comfortable, larger ferry terminal in Belize City.
Return your car here, you won't be needing it as you'll be living that sweet Caribbean Island life from here on out. The ferry journey takes around 45 minutes, or you can fly in around 8 minutes from Belize International Airport with Tropic Air or Maya Island Air. Flying to Caye Caulker is a bit more expensive, but you will get great views over the cayes and the trip can even be combined with a flight over the Blue Hole.
Where to stay in Caye Caulker
Stay at the Jaguar Morning Star for a relaxing spot on a quiet street in Caye Caulker, just a few minutes' walk to the beach and the center. The place has a real island vibe with hammocks, free to use bicycles, and communal garden seating, you can even pick your own coconuts! Each room is spacious, clean and comfortable and comes fully equipped with all of the modern creature comforts. 
Day Nine: Go Snorkeling or Diving on the Belize Barrier Reef
Of course, the main reason to visit a small island in the Caribbean is the sealife. Kick your first day on the island off with an amazing snorkeling trip to the Belize Barrier Reef, a definite must-do on your Belize itinerary.
The boats will take you to Hol Chan Marine reserve and Shark Ray Alley. You can expect to see loggerhead turtles, southern stingrays and nurse sharks in abundance. Some trips will also take you to the shallow grassy feeding grounds where the world's largest population of West Indian manatees live.
Make sure to pick a sustainable tour (like the one above from Salt Life Eco Tours), that doesn't encourage feeding or touching the wildlife. It's also best to use a biodegradable sunscreen or rash vest to avoid damaging the sea life. You will have the chance to see pristine corals that have been protected for over 30 years at the Hol Chan marine reserve, and snorkel over a sunken shipwreck.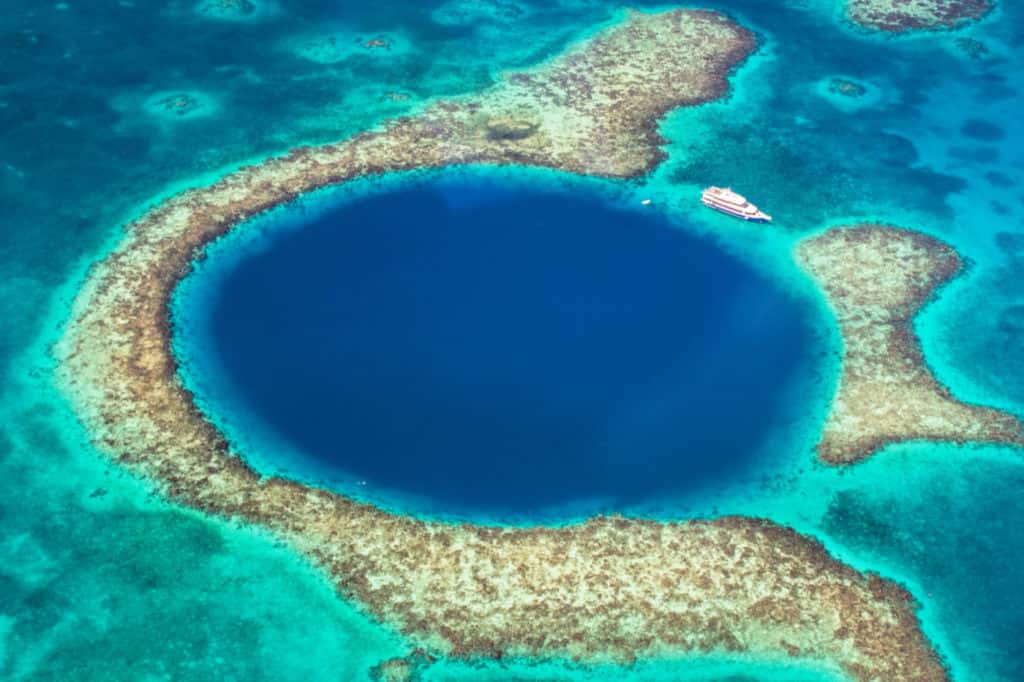 Day 10: Visit the Great Blue Hole
For your second day on the island a must see while spending two weeks in Belize is the magnificent Blue Hole. The Great Blue Hole is a large underwater sinkhole spanning 300 meters (984 ft.) across and 125 meters (410 ft.) deep. It lies near the center of a small atoll called Lighthouse Reef and is the world's largest natural formation of its kind.
You can take a day trip to the Blue Hole by boat from Caye Caulker and dive into the deep sapphire waters for around $300, or snorkel if you prefer for around $120. You can expect to see nurse sharks, giant groupers, the Caribbean reef shark and the Blacktip shark. Another option is to take a flight over the Blue Hole from Caye Caulker, it's a great way to experience its true magnitude as well as getting to see the other stunning atolls and coral reef formations from above.
For flights over the Blue Hole try Tsunami Adventures, a scenic flight costs $225pp based on 5 people sharing. It's a true once in a lifetime experience that's worth every penny!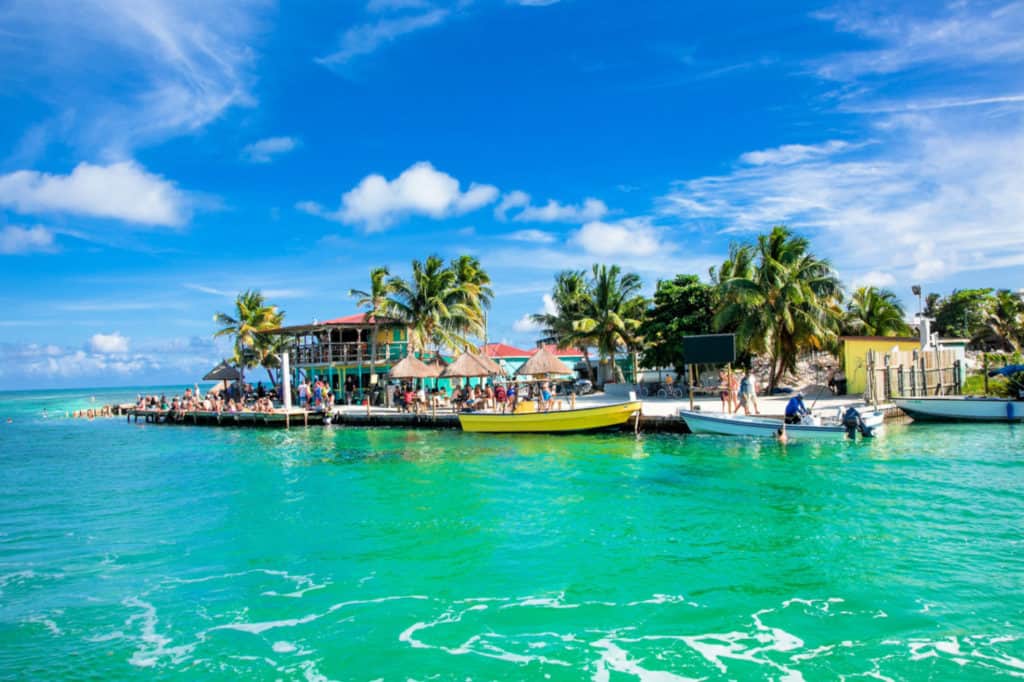 Day 11: Explore Caye Caulker on Foot
For a true Belizean institution visit Errolyn's House Of Fryjacks. Although it doesn't look like much from the outside with just a few seats, it's one of the most popular spots for breakfast on the island. If you haven't had fry jacks yet during your two weeks in Belize, you must try them here! Today's a great day to explore the island. Visit Caye Caulker Animal Shelter to take some stray pups out for a walk or just to say hi, they love visitors stopping by.
For a coffee stop visit Ice and Beans Cafe for the best flat whites on the island, then saunter down to the Lazy Lizard Bar and Grill next to the Split. You could spend all day here sipping cocktails, lounging around and eating fresh seafood. Make sure to try lobster if it's in season, it's one of the most affordable places to buy fresh lobster and is a bit of a local delicacy. Another great spot to eat at in the evenings is the Wish Willy Bar & Grill, tasty barbeque food in a friendly and relaxed setting.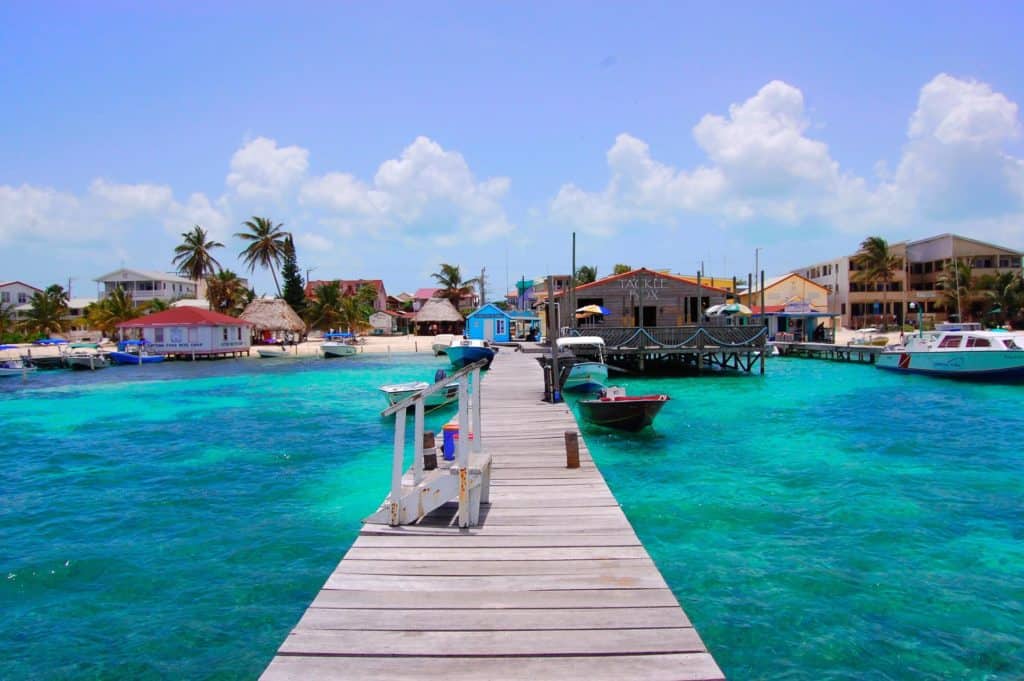 Day 12: Day Trip to Ambergris Caye!
Ambergris Caye is one of the most developed islands off of the coast of Belize just 11 miles north of Caye Caulker, northeast of the country's mainland, it shares a border with Mexico. Ambergris Caye is actually the largest island of Belize; it is about 40 kilometers long from north to south and about 1.6 kilometers wide.
Take a short 45-minute ferry ride from Caye Caulker to Ambergris Caye to explore the boutiques, splash resorts and pristine beaches of the island. You can also visit the Marco Gonzales Archaeological Reserve on a day trip, or explore the (far from) Secret Beach, one of the most popular beaches on the island. Enjoy some beach bowling at TOAST Seaside Boozery and Grill, tour the San Pedro Lagoon & Crocodile Sanctuary, or explore the island by golf cart.
Day 13: Relax on Your Last Day in Paradise
You will definitely want a day off after all of that sightseeing, after all the island motto is to "go slow". Caye Caulker is the perfect place to relax and get away from it all. There's so much great food on the island to try, discover hidden gems like Meldys, a makeshift restaurant on the front porch of Meldys home. She used to have a prime spot on the beach but when demand for her famous fried chicken went up she moved the operation back to her house. If you can find her place through the maze of back alleys, and make it past her friendly dogs, she'll take you into her kitchen to pick your meal from her finest assortment of fresh ingredients.
Last time we visited we requested the fried chicken a day in advance, remembering how good it was a couple of years before. The next day she got all of the ingredients fresh in and made the best meal of our entire trip! This sums up not only Caye Caulker but Belize in general. It's the people that make this country so special, of course there are breathtaking natural wonders, impressive archaeological ruins and an amazing diversity of cuisines, but the welcoming culture is what makes Belize an unmissable destination.
As your two weeks in Belize comes to an end, today is your last chance to sample some fry jacks, sip on coconut rum and laze around in a hammock all day without a care in the world!
Day 14: Head Back to Belize City
On your last day in Belize take the ferry back to Belize City early-ish. If you have a late flight, or one last night in Belize, spend the day exploring the crumbling facades of the old town. Bright colorful buildings line great avenues giving a dilapidated kind-of-charm to this old English colonial city.
Belize City was the capital of British Honduras and the center of the British Empire's power in Belize. Revolution during the 1900's, as well as natural disasters like hurricanes, left the city in a state of disrepair and the government was moved to the new capital of Belmopan in 1970. Throughout the 1980s and 1990s lawlessness prevailed due to poverty, overpopulation and civil unrest. Belize became independent on September 21, 1981. But it was only when cruise ships started to arrive in the early 2000's and tourism provided a stable income, that Belize City regained a focus for its economy.
It's still a little 'rough around the edges', popular spots to visit are Albert and Queen Street, named after the Victorian monarchs when the city served as a crown colony. You can also see the city's past in places like the Baron Bliss Lighthouse, the Marine Terminal and Museum and the former Government House (now the Belize City House of Culture). Some good spots to eat at are the Midtown Restaurant, Celebrity and Smokeez Seaside Restaurant out on Seashore Drive.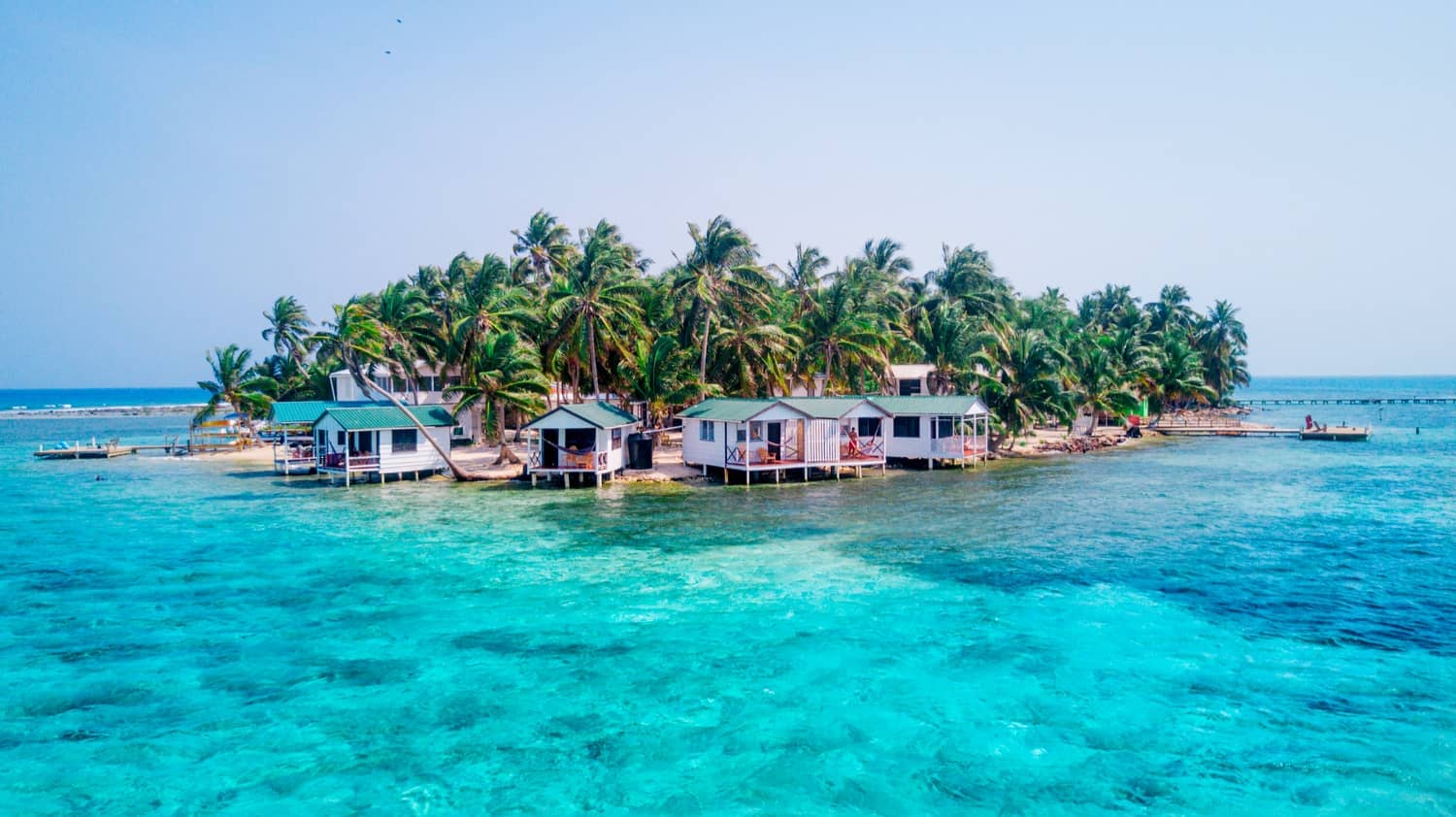 And That's How to Spend 14 Days in Belize!
Spend a full two weeks in Belize without rushing around, dedicate some time to really relax and enjoy the Belizean culture. If you have a little more time, you could head north to Lamanai, Altun Ha and Orange Walk. There you can also visit the Crooked Tree Wildlife Sanctuary with its protected wetlands. But remember life's not a race, so "Go Slow"!