Everyone has their own opinion about the ideal country to visit, and that's totally understandable. We all want different experiences from our trips and have various preferences. Still, when I say Peru is one of the top three countries in the world, believe me – it truly is!
This South American country is full of wonders, from magnificent landscapes and ancient ruins to vibrant cities and diverse cultures. You can spend your time hiking in the Sacred Valley of the Incas, exploring the Amazon rainforest, and taking part in traditional Peruvian activities.
Stepping into a country where English isn't the native language can be daunting, especially if you don't know how to move around. Fortunately, Peru has long been enjoyed by tourists from other countries and is well-known for its "Gringo Trail" – making it easy for travelers of all backgrounds to explore confidently.
Trust me, you're going to have so much fun and it's the perfect place for a two-week getaway! Whether you're planning your next trip or just daydreaming about it, here are some tips on what to do in Peru during a 14-day visit.
I was lucky enough to spend two months backpacking in Peru and to be honest, I still missed some things. There is seriously SO MUCH to do here that it's impossible to see everything. I was able to dune buggy in the desert, make my way to the second deepest canyon in the world, and hike the Salkantay Trek to Machu Picchu.
All of these activities were so incredible and made for one of the best trips of my life. With all of this experience, I have been able to reduce my trip to two weeks of highlights to give you the most efficient and enjoyable time in Peru.
So without further ado, let's get into the details of how to make the most of your two weeks in Peru.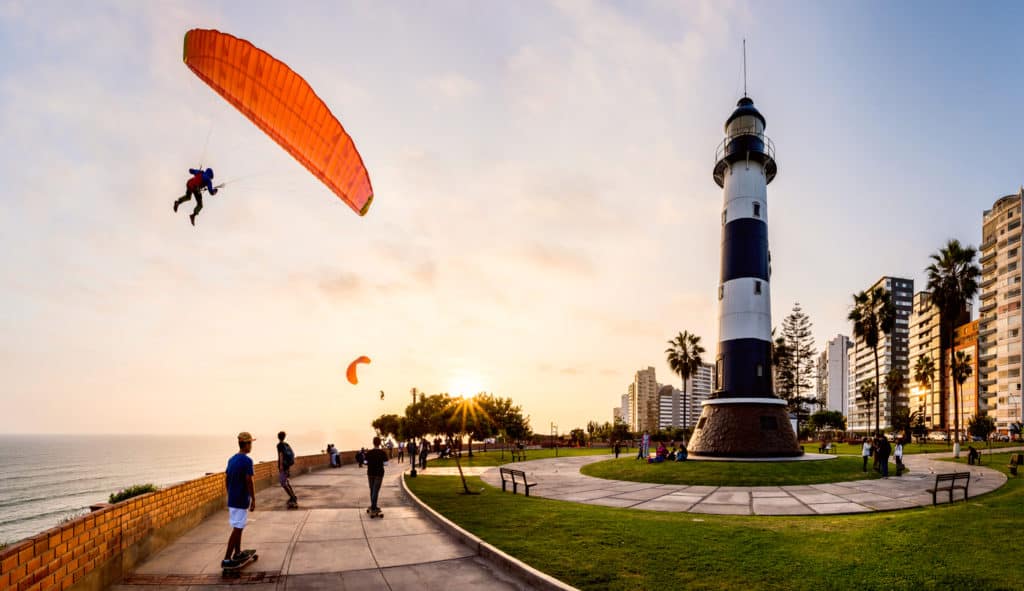 Day 1: Arrive in Lima
Lima is the capital of Peru and the perfect place to start your South American journey. Spend the day exploring Lima's colonial center, visiting Plaza Mayor, and admiring the city's Baroque churches.
Continue your exploration of Lima in two of its most iconic districts, Miraflores and Barranco. Start with a visit to Parque del Amor, a romantic spot overlooking the Pacific Ocean. If the weather is nice you'll see people running off the cliff parasailing – definitely an activity you should try if you're feeling adventurous.
For lunch, head over to Mercado 28 de Julio for some delicious ceviche and other street food treats. They occasionally have live music and dance performances making it a great spot to spend an hour or so.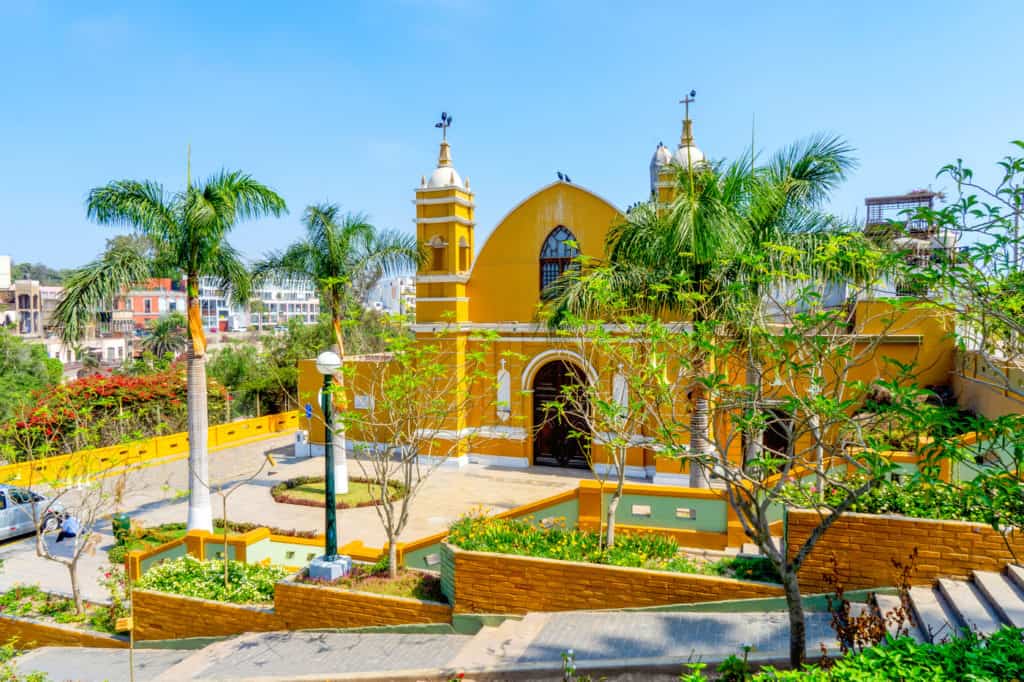 After filling your belly, head out to check out the Barranco district, it's a vibrant, hip area full of colorful houses and street art. The district was once a popular beach destination for the wealthy population of Lima, but now it's a hub for culture, art, and design, with many galleries and museums to explore.
One of the highlights of Barranco is the Pasaje Elías Aguirre, a narrow alley filled with beautiful, vibrant street art. You'll find everything from spray-painted murals to traditional Peruvian art, it was one of my favorite parts about lima.
Head out for dinner at one of the best restaurants in Lima. If you can plan ahead, reserving a seat in the world-renowned Central restaurant should be possible. It's one of the top 10 restaurants in the world. I'm still waiting for my chance to visit that place and it's at the top of my list when I finally make it back there!
Where to Stay: You'll have stunning views of the Pacific Ocean when you sleep at the Iberostar, the rooms come with floor-to-ceiling windows, and with the five-star service, you can expect an incredible first night in Peru.
I loved the rooftop pool, you can relax up there and watch the sunset while sipping on yummy pisco sours. It's a little on the pricier side but with everything so close and convenient, it's worth the splurge.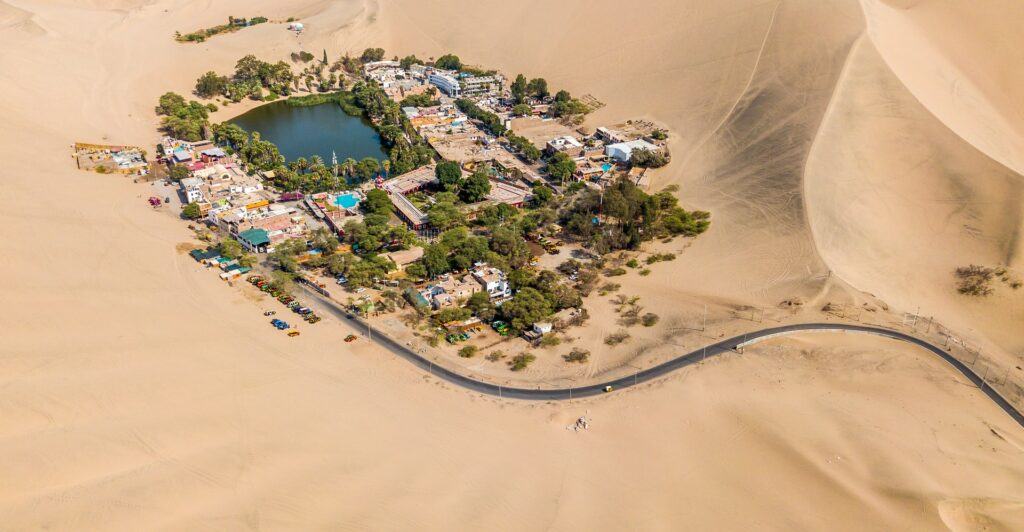 Day 2: Huacachina
Catch an early morning bus to the town of Huacachina and prepare to explore its sand dunes. Huacachina is the only desert oasis in South America and it's definitely worth the visit. Take a tour on a dune buggy and have an adrenaline-filled adventure by sandboarding down the dunes.
The drivers can be a bit wild and the ride can be quite bumpy, but it's all part of the fun. You will go flying up and down the dunes, giving you a rush of adrenaline.
They'll spend some time parked and allow you to go sandboarding. You can choose to remain standing while going down the mountain as you would on a snowy slope, or opt for lying down and doing it with a board. After watching someone eat dust I decided that riding on my belly seemed much less risky!
If you're lucky enough to arrive during sunset, you will experience a sight like no other as the sun paints the sky pink and orange while reflecting off of the sand. Huacachina is absolutely stunning!
After the sun sets, check out the oasis' local restaurants offering delicious Peruvian cuisine.
To optimize your time, take a night bus to Arequipa; the buses in Peru are quite comfortable and worth investing a little extra money for one of the seats that convert into beds on the bottom level.
The ride takes about 11 hours but since it's through the night try your best to catch some z's and wake up in a brand new city!
Where to Stay: Experience the charm of Arequipa from this utterly delightful hotel! Enjoy freshly prepared breakfasts, immaculately clean rooms and a warm welcome from the owners. As an additional perk, marvel at the incredible city views on the rooftop terrace for an extra special touch to your stay.
You can also book your Colca Canyon tour here making it an easy breezy pickup in the morning.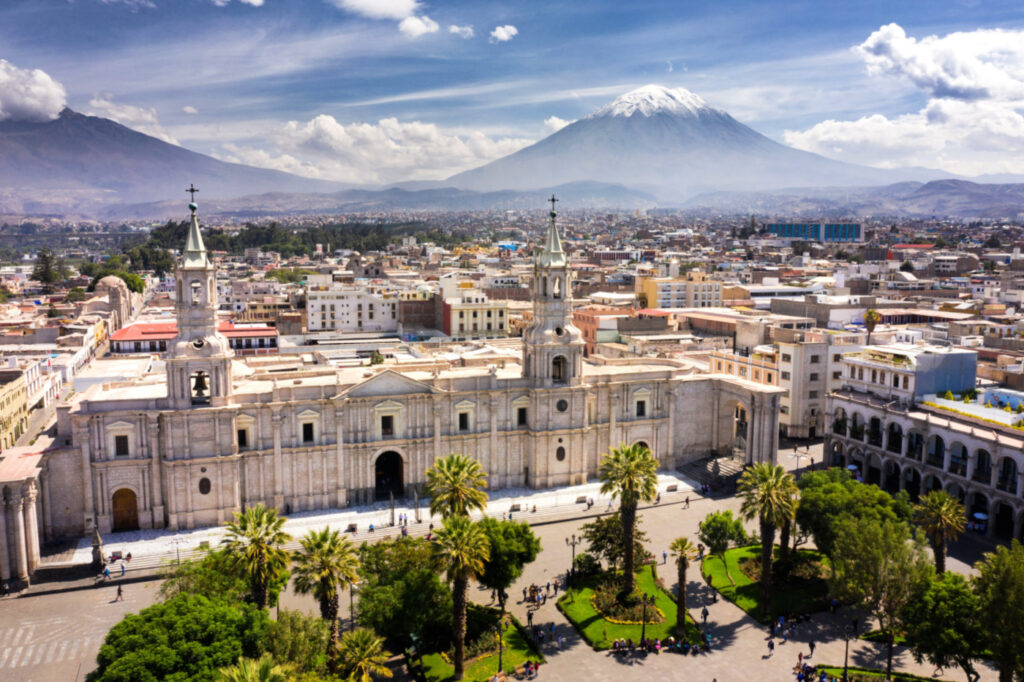 Day 3: Arequipa
Arequipa is the second largest city in Peru and it's filled with colonial architecture. It is one of the prettiest cities in Peru.
Today we are taking it pretty easy. You will need to adjust to the altitude so take it slow and spend some time exploring the city. Check out the Santa Catalina convent from the 16th century, which is one of the main attractions in Arequipa.
Take a walk through its main plaza, Plaza de Armas, and soak up the Spanish influence that overpowers the city center. Admire the grandiose Mansión del Fundador and visit some of the local markets for traditional souvenirs.
Arequipa is also known for its delicious food and the city is home to some amazing restaurants. Here are some of my favorite dining options in Arequipa:
Zig Zag – With a stunning view of the city and amazing food, this restaurant is an absolute must in Arequipa.
Koa – An Asian-Peruvian fusion that will blow your mind. Seriously, the bao buns are out of this world.
Mumis – A delicious Italian restaurant that will make you feel like you're in Italy.
Make sure to get some rest tonight as you have an early morning wake-up call to head to Colca Canyon. I'm talking about a 3AM wake-up call.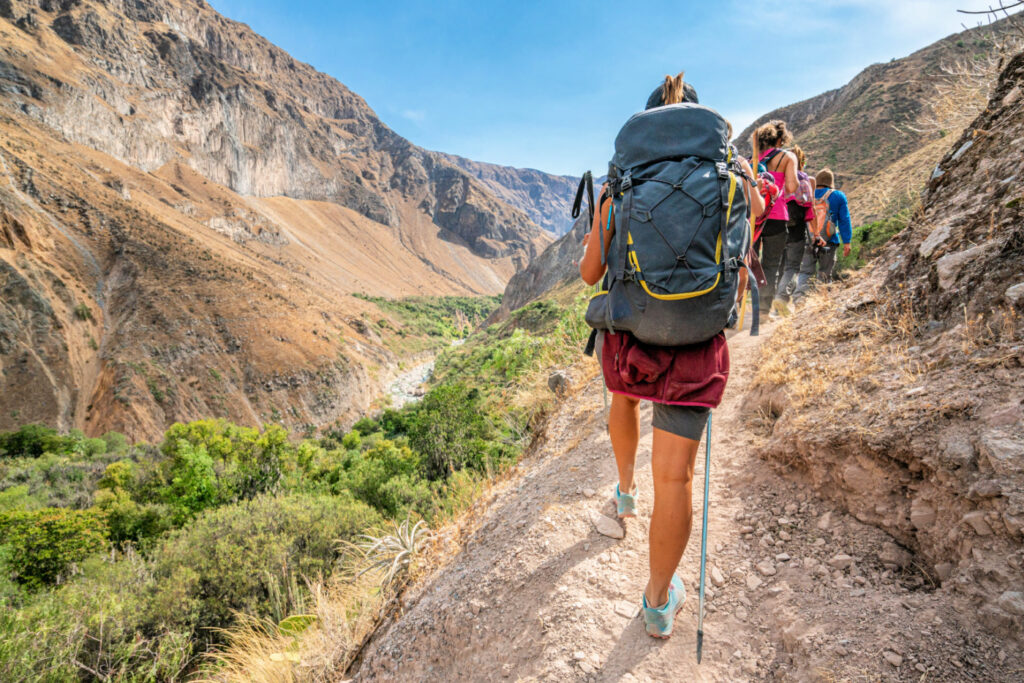 Day 4 & 5: Colca Canyon
If you're looking for an adventure, be prepared to take in Colca Canyon. This is one of the deepest canyons in the world and it will not only take your breath away with its views but also with its insane heights!
The best way to experience this natural wonder is by taking a two-day trek through the canyon and staying at the lodge deep within the canyon.
You will start by visiting the Condor Pass where you will be able to witness a few condors flying above you. These are the largest flying birds in the world and it is an unforgettable experience to observe them in their natural habitat.
After seeing the magical condors, you will start your trek down into the canyon. The first half of the day is a three-hour trek to a local spot for lunch. Take your shoes off, and relax, they will have a menu del dia with a variety of local dishes.
The second half of the day is another two and a half hours further down into the canyon and you will arrive at your lodge where you can rest, have dinner and get some sleep before continuing on the next morning.
It's a long day so make sure to pack some water, and have a few candy bars to keep your energy levels high. There are a few stops and shops along the way if you need to refuel with some fruit or drinks.
The next morning, you will start the sunrise hike at about 4 AM. It will be pretty chilly so make sure to bring a jacket that can easily be taken on and off. The views of the sunrise over the canyon are some of the most beautiful you'll ever see!
This is the last portion of the hike and let me tell you, it can be brutal. It's about two and a half hours at a heavy incline to get out. You will be exhausted, but it is absolutely worth it! It's an experience you won't forget and one of the highlights of Peru.
If you aren't sure you will be able to make it, you can hire a mule or horse to give you a ride up.
Once you reach the top you can enjoy breakfast and give your legs a rest. On the way back you'll stop at some hot springs which are amazing to relax in. Make sure to bring your swimsuit and some dry clothes.
You'll arrive back in Arequipa around 6 and can enjoy a well-deserved night's rest.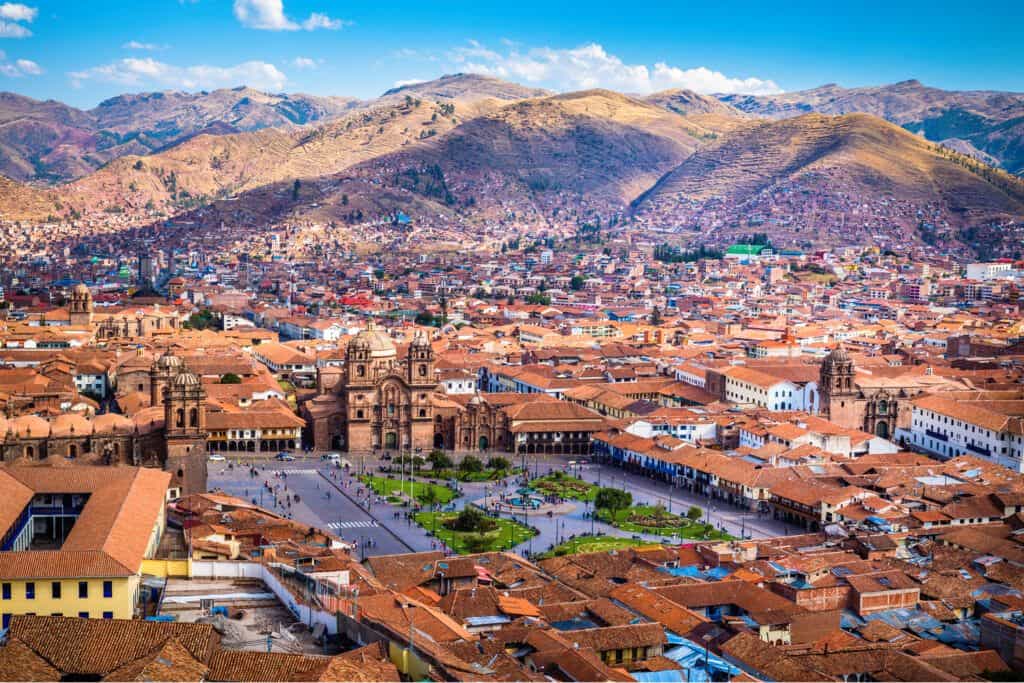 Day 6: Arequipa to Cusco
Catch an early morning flight to Cusco and be prepared to be amazed by the Incan architecture and grandeur. Cusco is a city full of history, culture, and colonial charm. There are countless things to see here such as the Sacsayhuaman ruins or the Temple of the Sun.
Since you will be at an even higher altitude than Arequipa, make sure to take it easy and drink lots of water. You can also use coca leaves as they are a great way to help deal with altitude sickness.
Spend the day walking the cobblestone streets, visiting the markets for some souvenirs and exploring the unique architecture. You can also take a guided tour of the city and learn more about its history and culture.
Where to Stay: Cusco's best-rated hotel deserves its rank for an abundance of reasons. With a location close to all the markets, eateries, and tourist spots, you'd be hard-pressed to find another place in Cusco as convenient. To top it off, the staff are warm and welcoming – they always put your needs first so that your time here will truly be unforgettable!
Booking tours with them is a breeze, whether it's scaling Machu Picchu or visiting Rainbow Mountain. And the complimentary breakfast is always filling and delicious! I wouldn't think twice about staying anywhere else in Cusco – this place exceeds all expectations.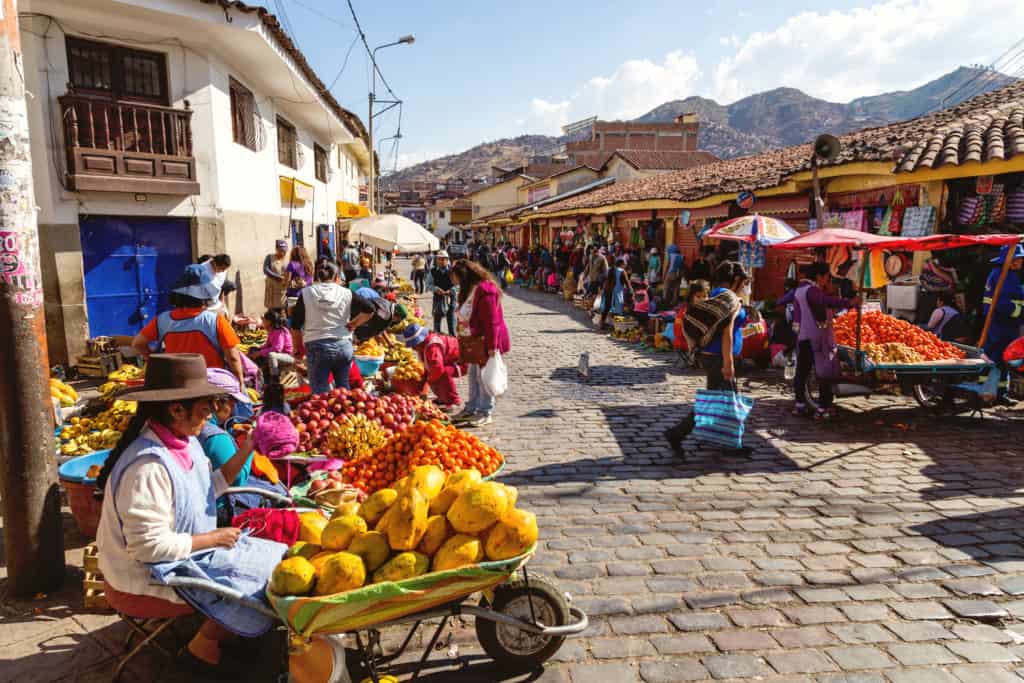 Day 7: Cusco
I highly recommend taking two days to acclimate before heading out on any hikes. Spend your second day in Cusco exploring the San Blas District. It's where a lot of locals stay and has a nice hippie feel to it.
You can find plenty of cafes and vegan restaurants here and the prices will be much lower than in the city center. It's also a great place to hang out with the locals and get some insight into the culture and everyday life in Peru.
I felt extremely safe in Cusco, you'll see all kinds of people and plenty of tourists walking around at night time. Make sure to take some cash as a lot of places don't take cards.
Cusco has some of the best restaurants in all of Peru, and many specialize in traditional dishes. I would highly recommend trying some of the local cuisines such as cuy (guinea pig), and chicha morada (purple corn drink).
Here are some of my favorite restaurants to check out while in Cusco.
Breakfast
Jacks Cafe: A popular spot for breakfast and brunch. They have a wide variety of dishes including omelets, pancakes, quinoa bowls and sandwiches. The atmosphere is relaxed and it's great for people watching.
Cafe Dwasi: If you love coffee, then this is the place for you! They have some of the best coffee in town, as well as a selection of sandwiches and snacks for a pretty decent price.
Lunch
LOCAL: Great views over the San Blas neighborhood, LOCAL has an eclectic menu with a lot of variety. Fish, pork and chicken dishes are all on offer as well as some great veggie options.
Green Point: A tiny veggie cafe in San Blas with some of the best vegan food I have ever had. The menu can change daily but expect a selection of amazing dishes from around the world, all vegan and vegetarian. If you are here for dinner, I highly recommend one of their gin drinks.
Dinner
MORENO: Maybe one of the best meals of my life. The Lomo Saltado (stir-fried beef) is amazing, as well as the super yummy Pisco sours. They have a daily cocktail and a mixologist arrives at your table to make it for you. Make sure to book the day before, it gets packed in here!
Ceviche: Peru obviously has the best ceviche but this place was seriously out of this world. I'm pretty sure I came here three times. Try the classic, aji de gallina, or my favorite, the ceviche mixto. Their cocktails are also great here if you are feeling like a drink or two.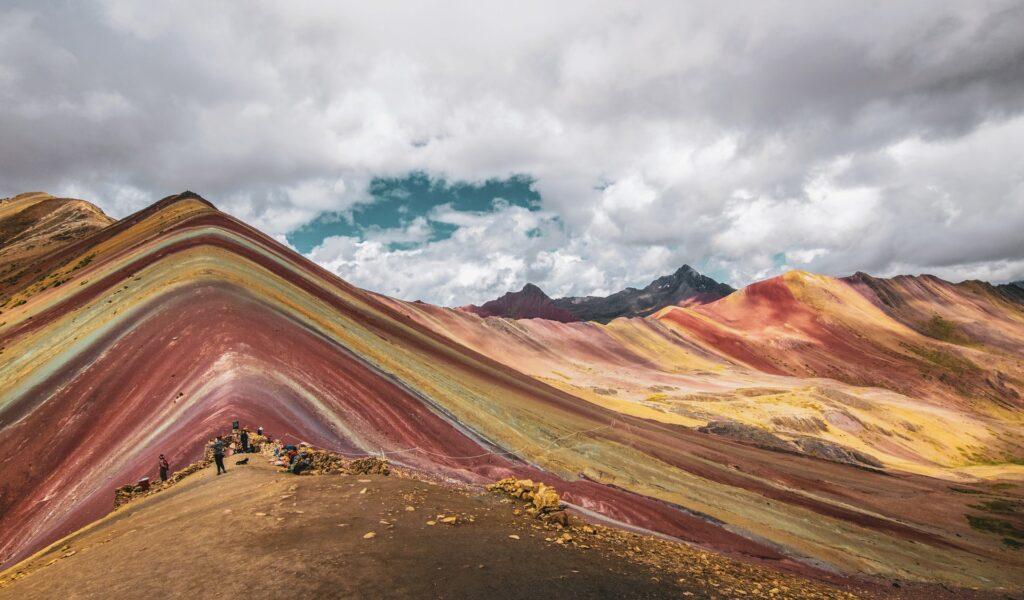 Day 8: Rainbow Mountain
Rainbow Mountain, also known as Vinicunca or the Montana de los Siete Colores if we are speaking Spanish, is one of the most majestic sights in Peru. Only recently discovered after the ice caps melted due to a rise in global warming revealing its unique and vivid hues, this mountain is a must-see if you're visiting Peru.
The tour I recommend taking requires an early start as it's about three hours from Cusco, but the views along the way are spectacular. Located in the Andes Mountains at 16,000 feet (almost five km) above sea level, visitors are advised to take precautions for the high altitude. The tour sells out regularly, so you'll want to book early. Check availability for your travel dates using the widget below:
Rainbow Mountain is definitely a challenging hike, with an elevation gain of about 1,000 feet (300 meters) in just two miles ( three km). The trail itself is mostly gravel and dirt but can be slippery and uneven at times.
It really only takes about 90 minutes or two hours to get to the top, but don't be fooled by its flat levels – the hike is still quite physically demanding.
Every step takes you closer to the magnificent rainbow colors which are truly out of this world. The contrast of red, green, yellow and brown is simply breathtaking and will make you feel like you have stepped into a different land.
Once at the top, enjoy the beauty of Rainbow Mountain for as long as your breath can last, and take some photos with the furry llamas and alpacas.
You can choose to pay a few more dollars and head over to the Red Valley which is a 30-minute walk away. The valley has condors flying through and seriously some of the most beautiful landscapes I have ever seen.
The hike back down is just as spectacular, but of course much easier. You'll stop for lunch before heading back to your hotel in Cusco.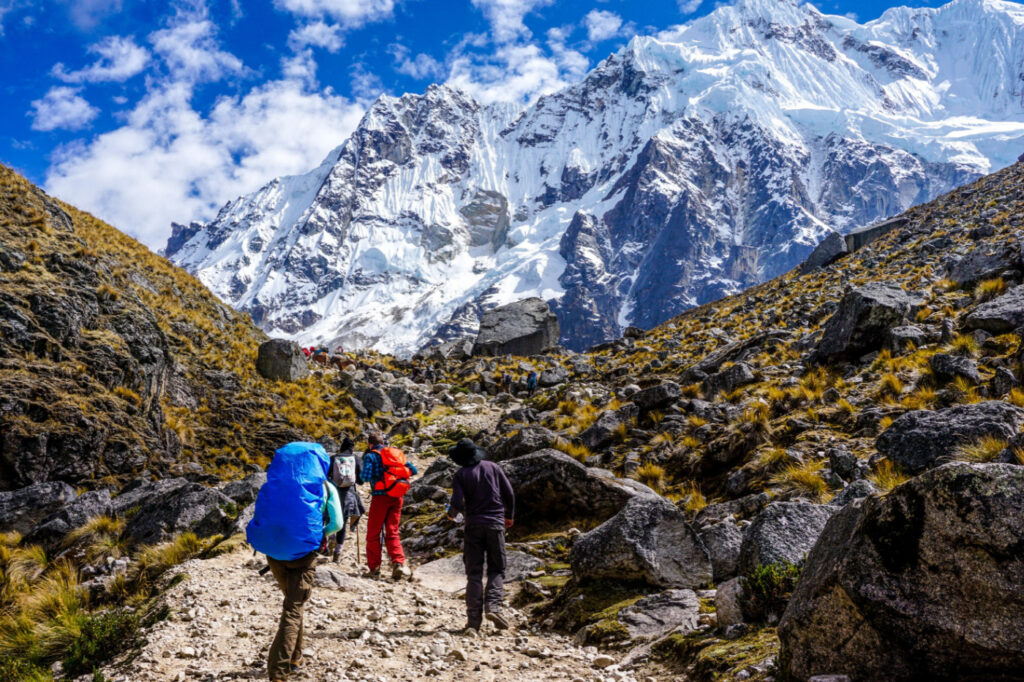 Day 9-13: Hike to Machu Picchu
If you love the outdoors and hiking, then the Salkantay Trek is a must-do when in Peru. During this five-day four-night trek you will retrace the historical steps of the Incas and explore their ancient trails in the mountainous region. Reconnect with nature and be captivated by the splendid sights of snow-covered Andes mountain peaks!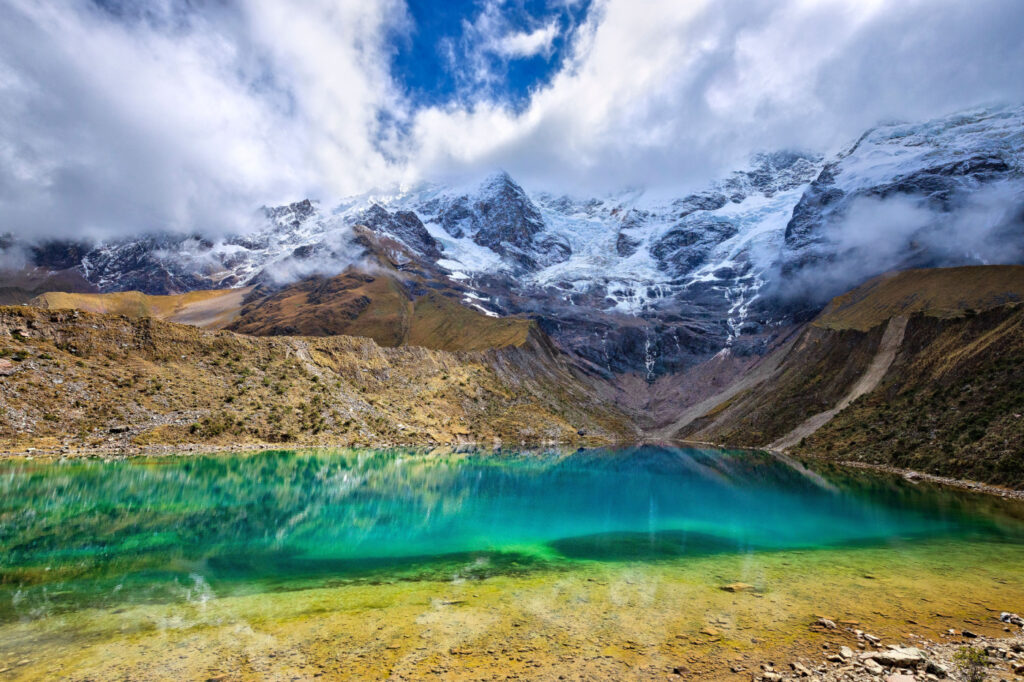 Day 1: Cusco – Mollepata – Markhuq'asa – Soraypampa – Humantay Lake – Salkantaypampa
Begin your journey from Cusco to Markhuq'asa, and ascend nearly 3,850 meters above sea level for a trek to Soraypampa. You will have a break for lunch at the base camp before taking an excursion up to Humantay Lake.
Humantay Lake is an exotic glacial lake with stunning blue hues and majestic snow-capped mountains. It is one of the most beautiful sights in the Andes and worth a stop to take some pictures of the vistas.
Once you're finished with that leg of the trip, you'll continue toward Salkantaypampa where you will set up camp overnight.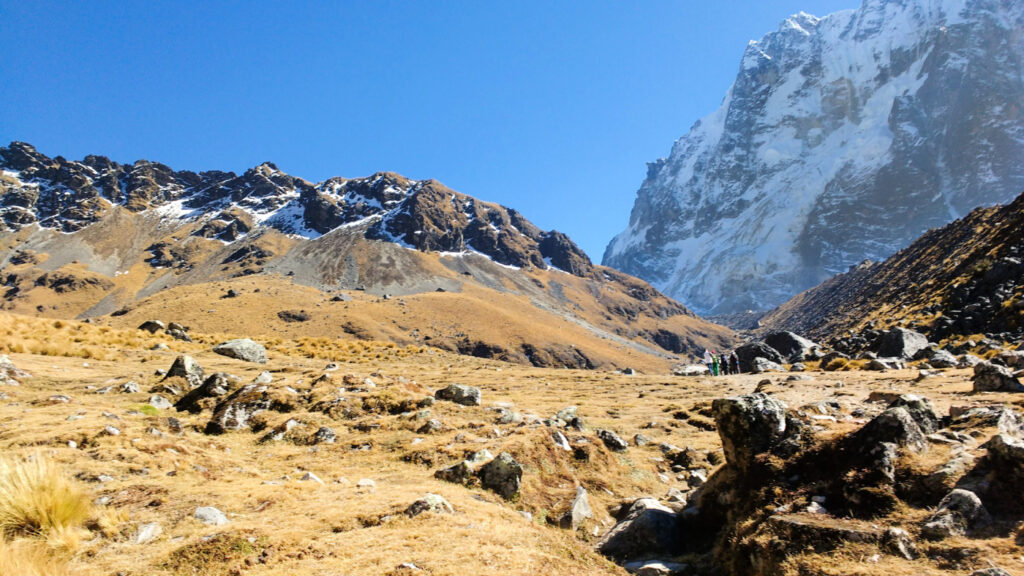 Day 2: Salkantaypampa – Salkantay Pass – Collpapampa
Kick off your day with a breathtaking adventure as you ascend to the summit of Salkantay Pass, offering unparalleled views of snow-capped mountains. Afterwards, enjoy a scenic descent through the valley for two hours until arriving at camp just in time for lunch!
Immerse yourself in the lush, captivating foliage of the Amazonian rainforest on a trek through an area renowned as "the cloud forest". As you hike, be sure to keep your eyes peeled for any native wildlife before making camp at Collpapampa village. Spend the night immersed in this wild paradise and discover why it's one of nature's most remarkable offerings.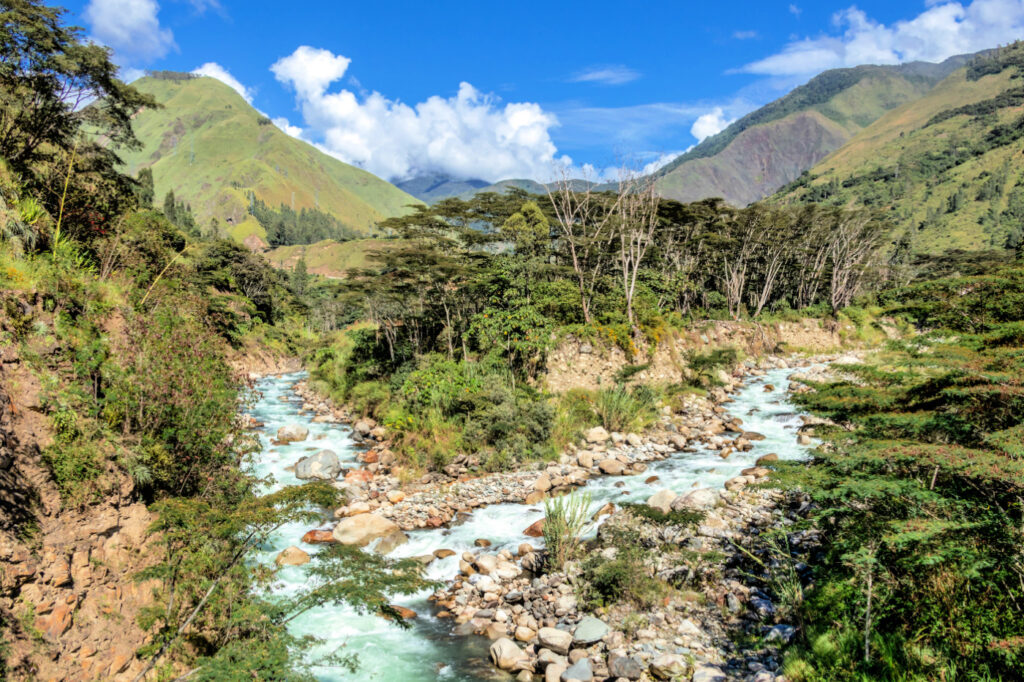 Day 3: Collpapampa – La Playa
Revel in the beauty of nature and experience a unique adventure today! Start your day off with a light hike to La Playa, following the path that leads through Santa Teresa Valley. You'll be captivated by gorgeous waterfalls and stunning wild orchids as you pass coffee, banana, and avocado plantations.
You'll be able to stop and sample local organic coffee at one of the farms along your journey!
After lunch during your stay in La Playa, you will have the opportunity to pay an additional fee and explore the hot thermal springs, which after three days of walking will be extremely rewarding.
Afterwards, return to the campsite for a relaxing night's rest.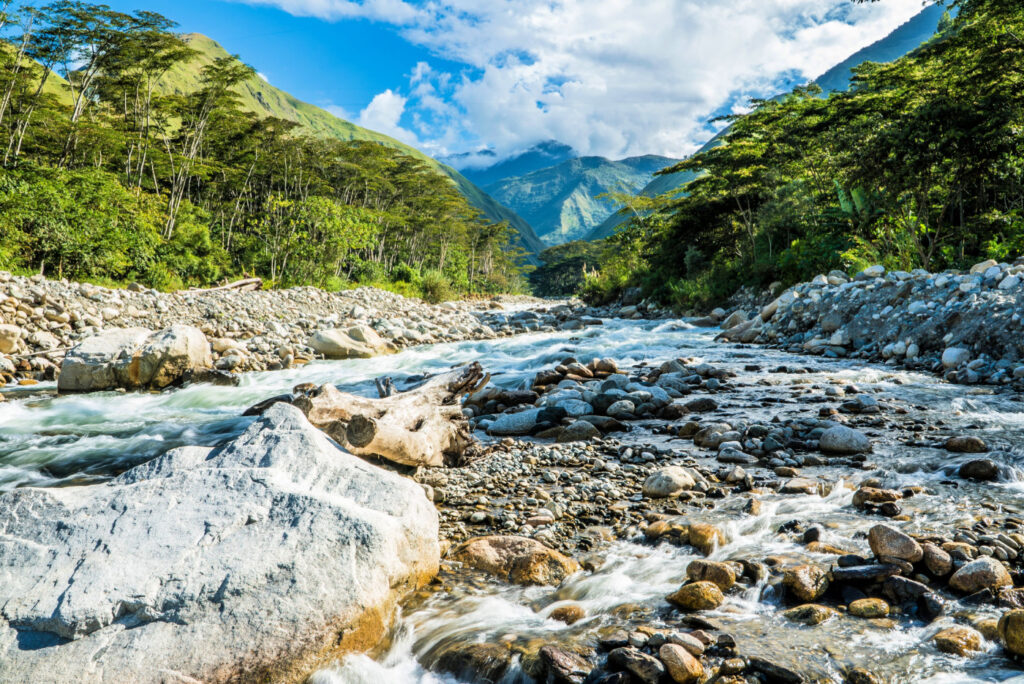 Day 4: Santa Teresa – Hidroeléctrica – Aguas Calientes
Today in Santa Teresa, you have the option of taking a break by hanging from thrilling ziplines, rafting down rivers, or soaring through treetops with a canopy adventure—all at an additional cost to be paid directly on-site.
Then venture to Hidroelectrica and wander through stunning waterfalls flowing from the ice caps while marveling at cocoa and coffee plantations. Enjoy lunch, then embark on your last little two-hour stroll towards Machu Picchu Pueblo—otherwise known as Aguas Calientes.
After you arrive in Aguas Calientes, take some time to freshen up at your accommodation and rest before going out for dinner. Once you're well-fed, it's best to get a good night's sleep so that you're ready for the early morning ascent up to your final destination, Machu Picchu!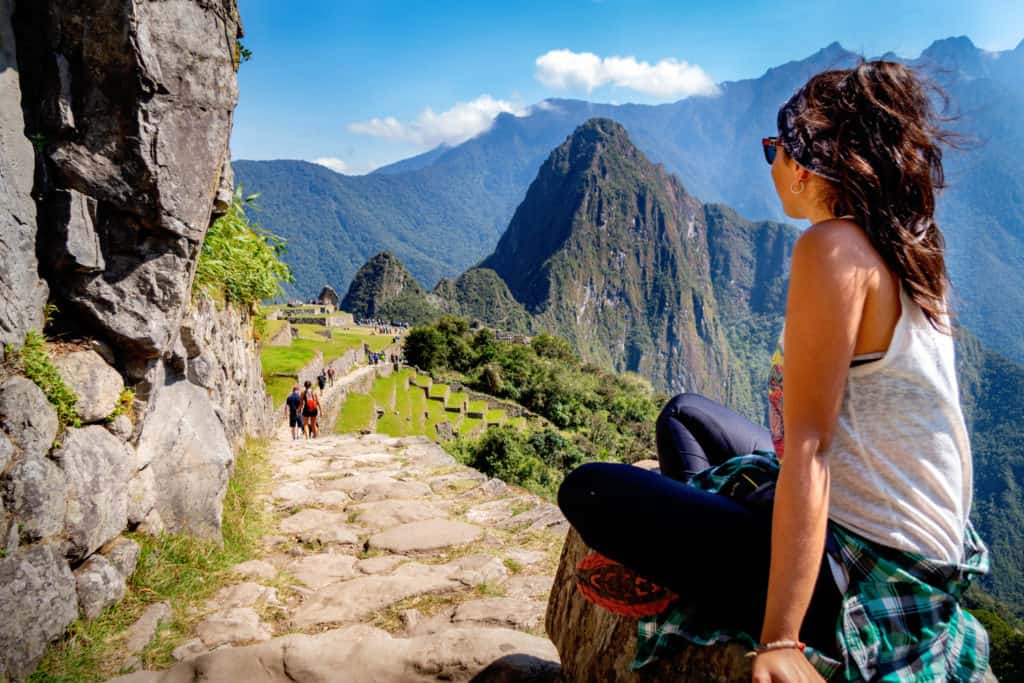 Day 5: Machu Picchu
Today is the day you've been waiting for! Enjoy a nice breakfast and get ready to conquer the ancient city of Machu Picchu. You'll be awestruck by the majestic beauty of this UNESCO World Heritage Site, as you ascend this archaeological wonder of the world.
Take your time to explore the ruins with an experienced tour guide who will help you uncover the secrets of this ancient city. Be sure to bring your camera and capture some photos so that you can bring home a piece of history.
Due to Covid, Machu Picchu has divided the site, so I highly recommend buying tickets for circuit 1 or 2 to be able to get the iconic Machu Picchu shot.
When you're finished, take some more time to explore the surrounding Mountain of Huayna Picchu and admire the unparalleled views from this peak. Later, make your way back down to Aguas Calientes for a well-deserved rest.
End your extraordinary day at Machu Picchu with a scenic train ride to Ollantaytambo, followed by a comfortable bus journey back to Cusco and drop-off at your hotel.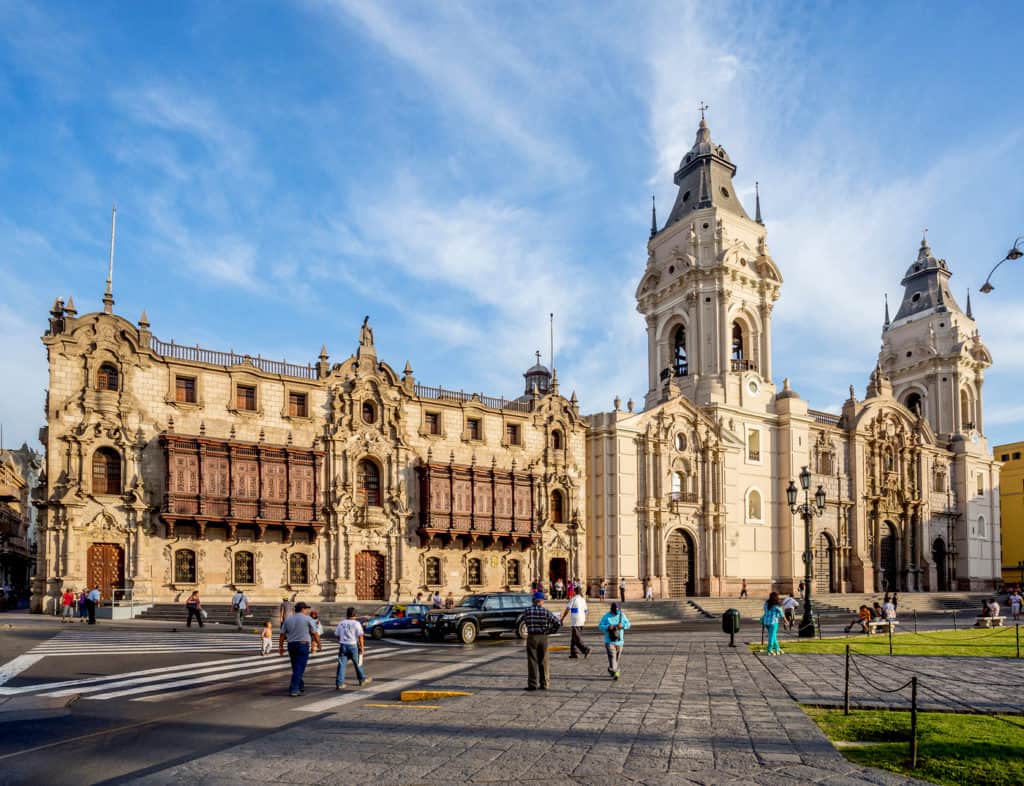 Day 14: Fly Home
Take a moment to reflect on your incredible two-week journey in Peru before heading back home. You will most likely need to catch a flight from Cusco to Lima and an international flight from Lima back to your home country.
You've explored the desert, climbed down Colca Canyon and up Machu Picchu, marveled at colonial cities like Lima and Cusco, tasted some of the best food Peru has to offer, and made friends with locals that have taught you about their culture and customs.
Your two-week visit to Peru will give you memories that will last a lifetime! Enjoy your flight home and look forward to planning your next adventure!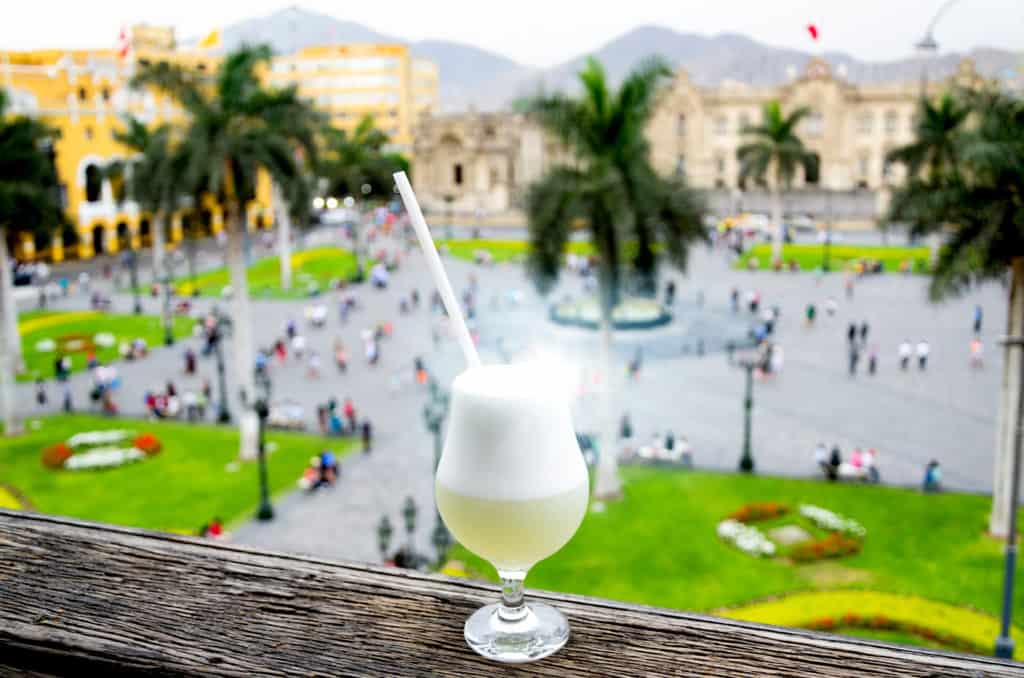 Things to Know Before You Go
Best Time to Travel: Peru has two main seasons: wet and dry and it really depends on where in the country you are.
The best time to visit Peru is generally between April and October as it's the driest season. In the mountains, you will have plenty of sunshine during the day, but the evenings can be crazy cold so make sure to have a variety of clothing options.
Lima has grey skies at this time and cold temperatures, honestly not the best, but for one day we can all manage it.
If you plan to visit the country between November and March, be prepared – while it may be warm, the rains will come. Make sure to bring along waterproof gear to make all of your hikes more comfortable.
Safety: Peru is generally a safe country, however, like any other tourist destination, it's important to use common sense and remain aware of your surroundings. It's advised that you don't wear flashy jewelry or walk around alone at night. It's also best to keep your passport, money, and credit cards in a secure location.
I would say that downtown Lima is the sketchiest place in the country, so be extra vigilant when walking around there and if possible, stick to the touristy areas like Miraflores.
Language: The official language of Peru is Spanish and while it's always best to know a few sentences in Spanish before traveling, you can get away with English in most touristy areas. But it always helps to pick up some basics before you go.
You'll also find that locals are much more eager to help you if they can tell that you are trying to communicate with them in their language.
Currency: The currency in Peru is the Peruvian Sol (PEN). ATMs are widely available throughout urban areas, I recommend keeping cash on you pretty regularly as some places don't accept cards, and especially at the markets, you'll be able to barter for some great deals if you have cash on hand.
Visas and Vaccines: In most cases, citizens of the US, EU, and other countries don't need a visa to enter Peru for visits of less than 90 days. Make sure to check the validity of your passport before you embark on your journey as it needs to be valid for at least six months while in Peru.
At this time Peru is requiring everyone who enters to have their Covid vaccine or provide proof that they have recently tested negative for the virus.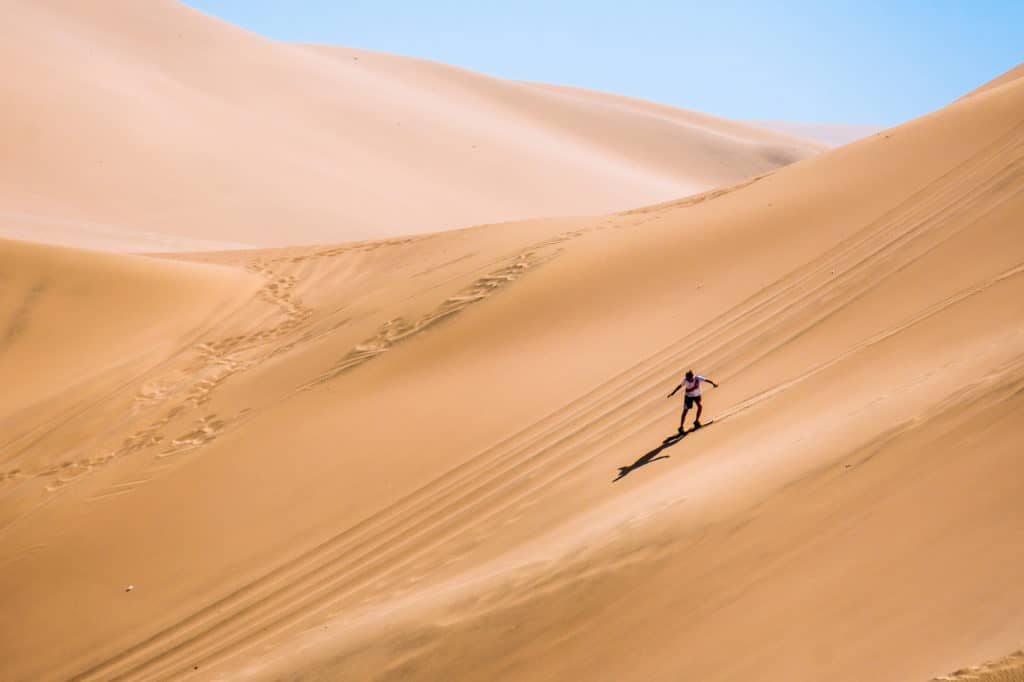 A two-week visit to Peru is an incredible way to experience the country's culture, history, and natural beauty. While you will be going, going, going every single day, you will be able to do so much in those two weeks and hopefully create some amazing memories of your time in Peru.
From exploring ancient ruins to relaxing in colonial cities, every day will be an adventure and I can't wait for you to get started!
Happy travels and all the best from Peru. Adios!