Are you ready to have your breath taken away by the beauty of Cusco, Peru? No, seriously, at an elevation of 11,152 feet, this ancient mountain city will without a doubt have you huffing and puffing for air. But after a day or two you'll be acclimated and ready to explore everything in and around this colonial city!
Cusco quickly became one of my favorite cities to explore with its rich history and culture. It's hard to believe that this city was once the heart of the Incan Empire, but it is evident in every cobblestone street and ancient ruin.
Cusco is now a UNESCO World Heritage Site and is the gateway to Machu Picchu, but there is still much to explore within the city itself.
Surrounded by majestic snow-capped mountains and the ancient terraced hills of the Sacred Valley, you could spend two weeks in and around Cusco hiking, exploring, and learning about the Inca culture. However, 3 days is the perfect amount for wandering through the city, tasting the local flavors, and getting a good scope of what Cusco has to offer.
Cusco is very much a touristy city so you won't have any issues keeping yourself busy as well as meeting other travelers. This is one of the main stops on the classic tourist circuit so be prepared to rub shoulders with other tourists who are eager to explore.
Due to it being the high season when I went to Cusco, I had to stay in the area a bit longer and wait until my Machu Picchu ticket became available. (High season can get crazy, so make sure to plan ahead.) During this time, I was able to explore some of the most visited sites in Cusco such as Sacsayhuaman, Tambomachay, and Puka Pukara.
I found this city to be filled with so much magic and culture. I was especially struck by the beauty of the cobblestone streets, the brightly colored houses and churches that fill the city center, and the many Incan ruins scattered throughout.
With all of my first-hand knowledge and experience, I've put together a 3-day guide to help you make the most of your time in Cusco.
So without further ado, here is my guide on how to spend three days in Cusco, Peru.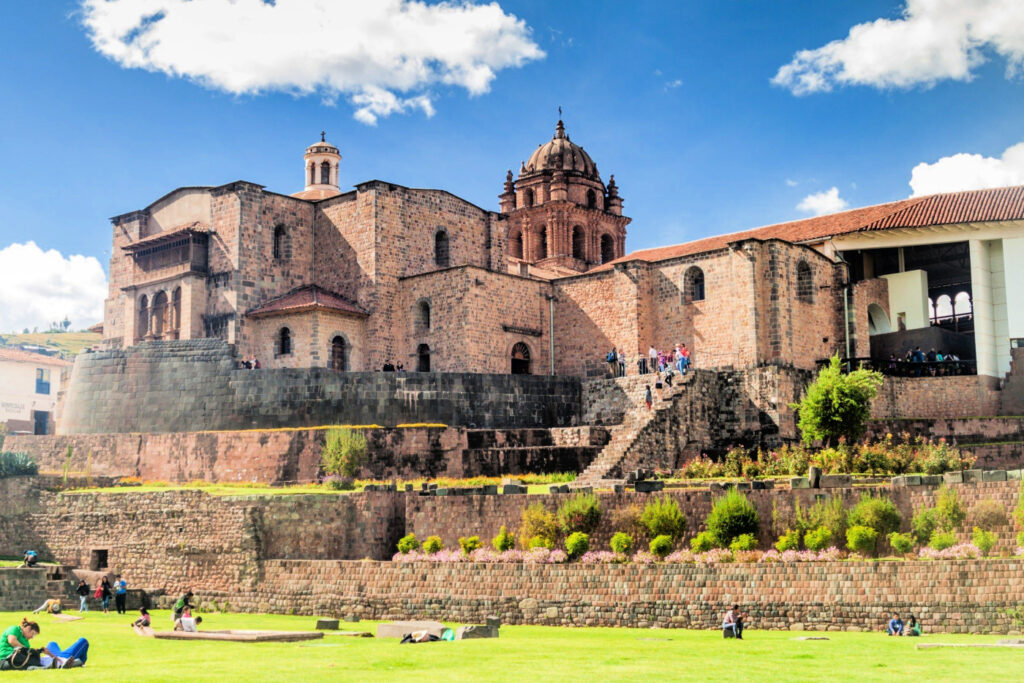 Day 1: Explore the Incan Ruins
Everywhere in Cusco is relatively walkable, however because of the high elevation I recommend taking it slow. On day one make sure to drink plenty of water and you can even chew on some coca leaves to help with acclimation.
Begin your day with an enriching half-day Inca sites guided tour. You'll make your first stop at the sacred church and continue on foot through the streets of Inca to Coricancha, home to the Temple of Sun. The Temple of Sun was a great display of Inca accomplishments and the intricate stonework will leave you in awe.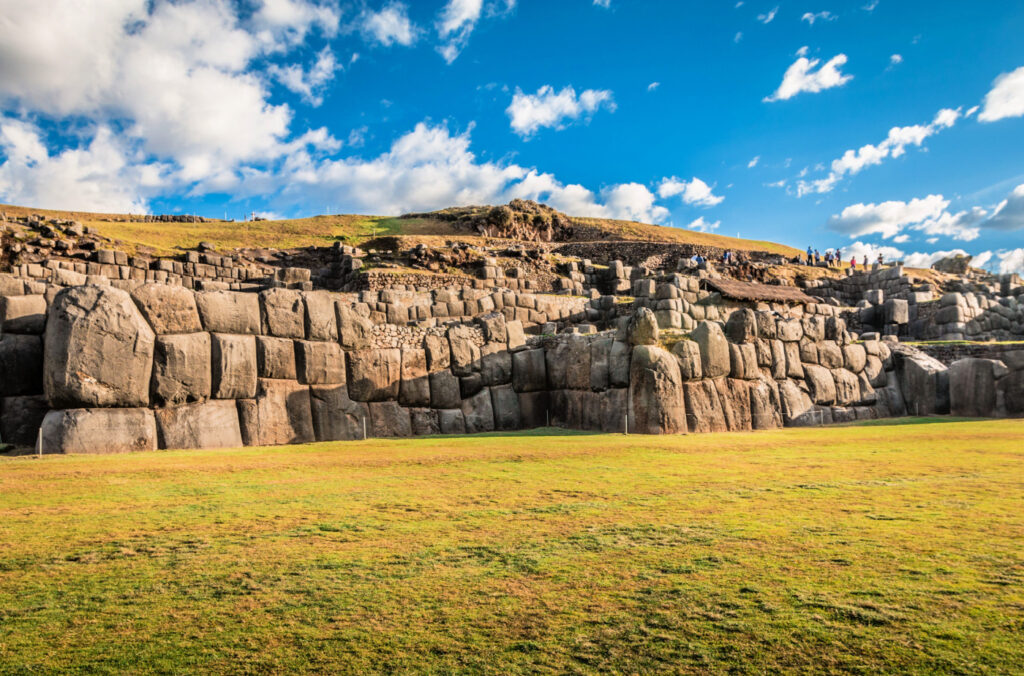 After experiencing the beauty of Coricancha, your tour will make its way down Avenida El Sol and hop on a bus to bask in breathtaking views toward Sacsayhuaman. It's pronounced like "sexy woman". I know it's kind of funny. Here you'll explore the megalithic ruins that once served as a fortress for the city of Cusco.
You can explore Sacsayhuaman with a knowledgeable tour guide or wander through the ruins at your own pace – either way, you'll be amazed by the Incan structures.

You'll then visit Kenko, an underground labyrinth that was used as a place of worship by the Incas. Learn about how Catholicism blended with Inca culture as you observe firsthand the different construction techniques used by these ancient people. Marvel at its splendid altars, mini circular Puka Pukara, as well as Tambomachay – the Temple of Water that features gorgeous fountains.
It's truly incredible what the Incas were able to build without modern tools and technology. Check availability for the tour below: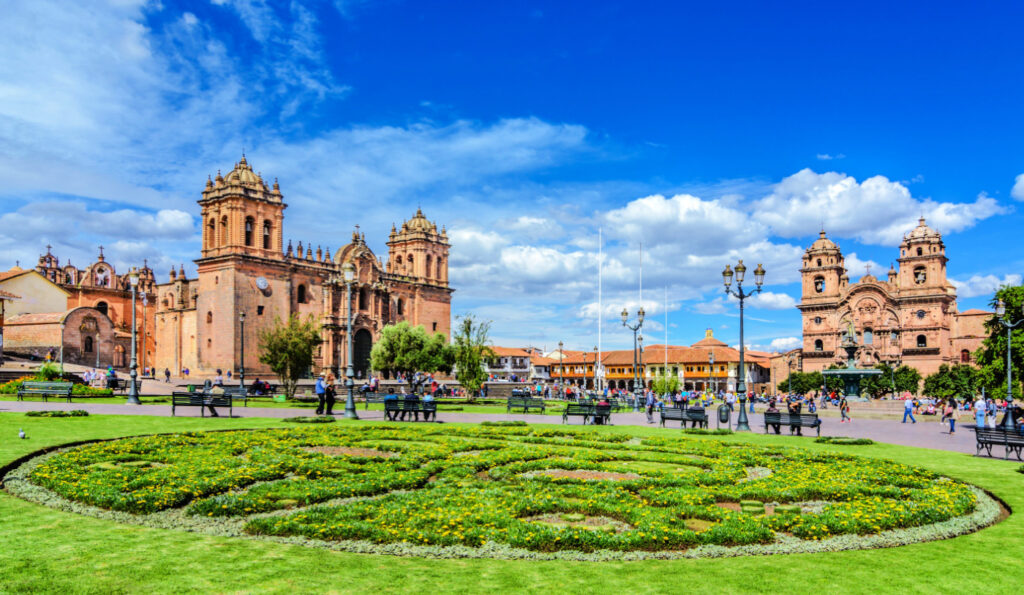 After the tour, you will be taken to Plaza de Armas located in Cusco's main square – the ideal spot for a delightful meal and some sunshine.
Cusco will be at the highest elevation you experience on your Peru adventure, in addition to some mountaineering. I strongly advise that you take it easy during the afternoon and fuel up with a good lunch – trust me, your body will thank you later!
Around sunset, hike to one of the many viewpoints in the city for a truly breathtaking view — my favorite spot was San Cristobal church. The sun cascading down the ancient terraced hills is one of the most beautiful ways to see Cusco. Then head to dinner at one of the many local restaurants and try some delicious Peruvian dishes.
Day 2: Wander Through Cusco's Historic Center
Spend your morning with a hearty breakfast and some tea or coffee at Jacks! This cafe has some of the best coffee in town and it's a great way to start your morning. By now you should be feeling a lot more acclimated to the altitude and feeling energized to take on the city.
Once you're fueled up, head out and explore Cusco's Historic Center – also known as El Centro Historico de Cusco. This area consists of narrow cobblestone streets that are lined with colonial-style buildings and are home to some of the city's best entertainment, restaurants, and shopping.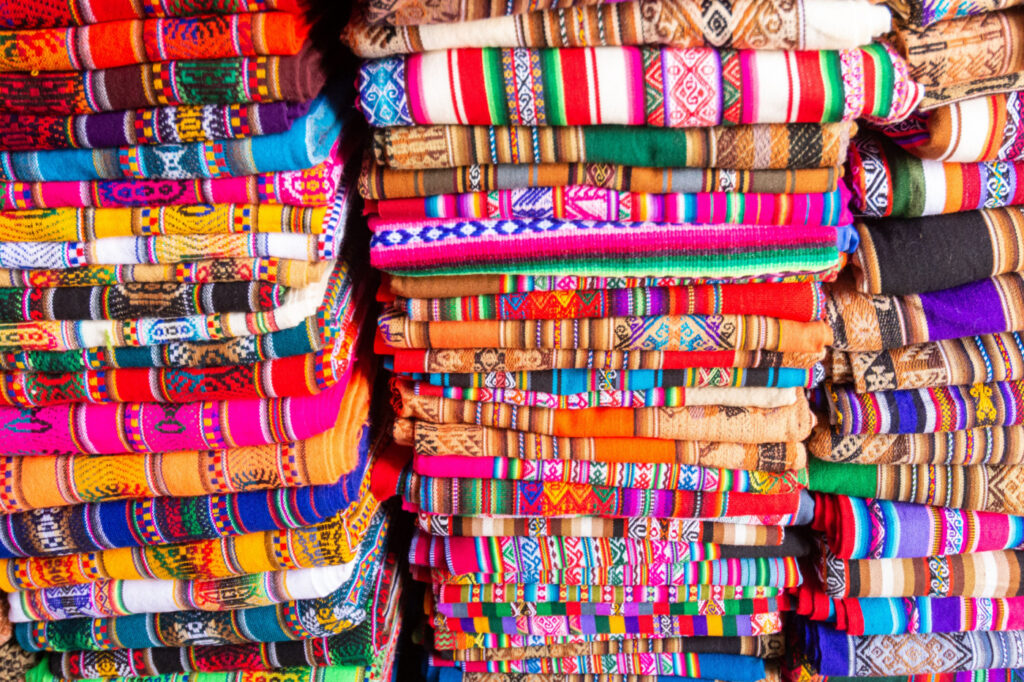 For a bit of culture, wander around the nearby artisan markets like San Pedro Market and San Blas market – both brimming with small stalls selling hand-crafted textiles, pottery, paintings, and more! And for those who love to cook, stop by Mercado Central for some fresh local ingredients.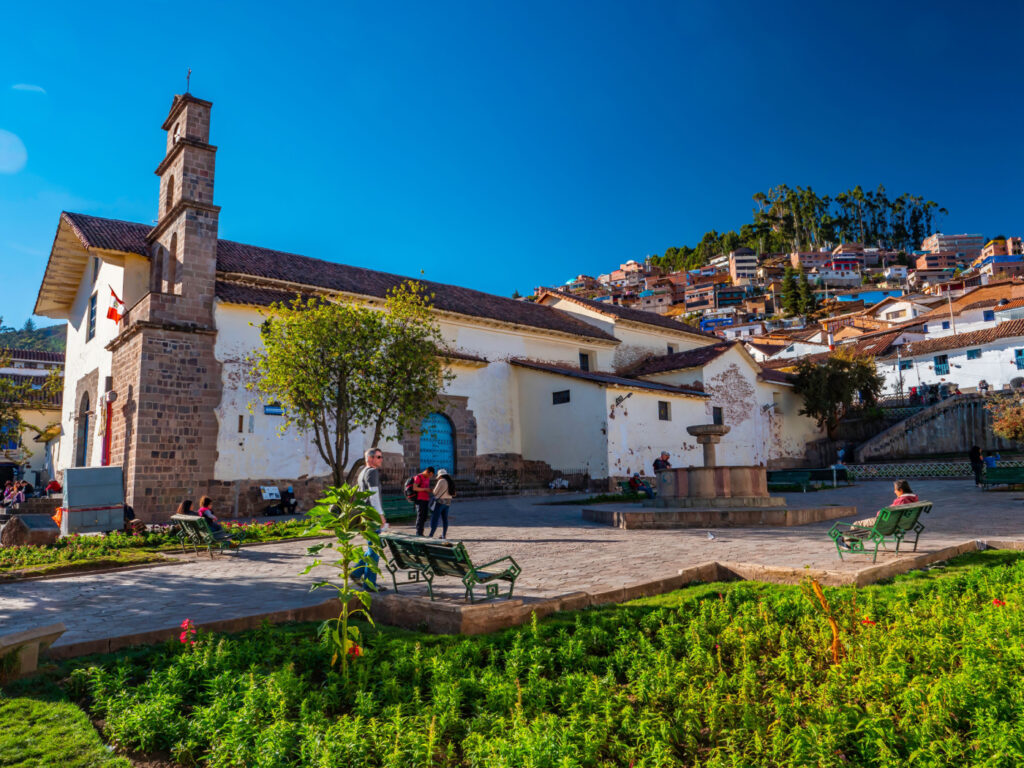 I seriously fell in love with the San Blas area, it is situated up in the mountain and is filled with galleries, restaurants, museums, and of course artisanal shops. This is where you want to buy all your souvenirs.
A lot of locals live and have created really beautiful homes and galleries in San Blas. You'll find a lot of artists here, so if you are feeling adventurous, you can even try your hand at some art classes. They also have plenty of vegan and vegetarian restaurants in this area, perfect for a pit stop while you're out exploring.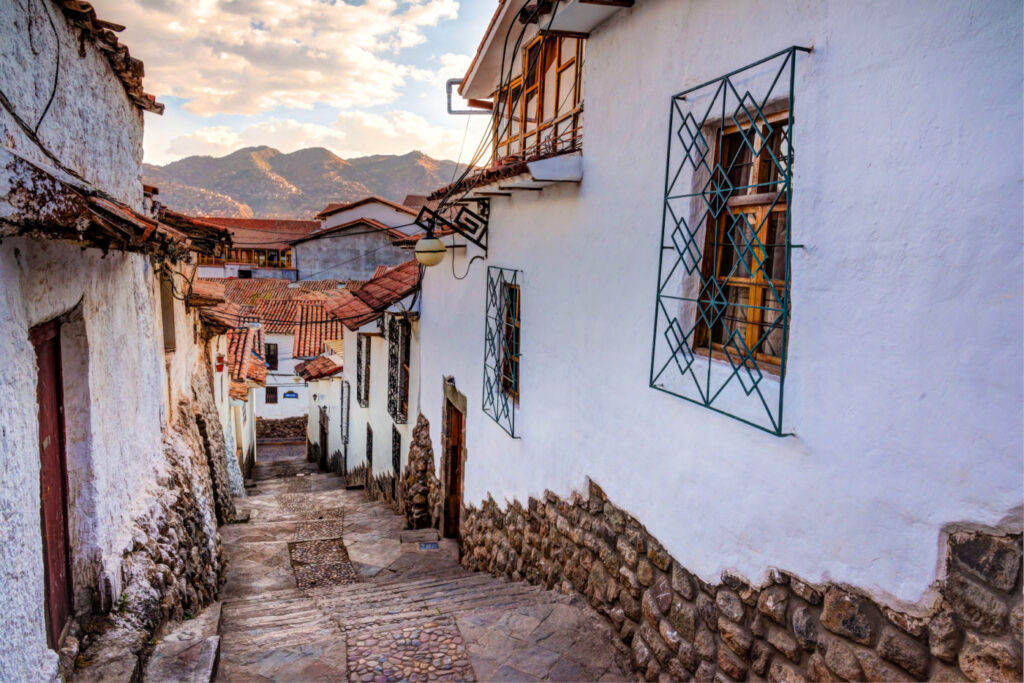 During the Covid pandemic, the government offered an incentive to spruce up local streets. As a result, you'll find eclectic murals and lush potted plants dotting many cobblestone roads – it's almost as if you're walking through Portugal with its vibrant tile work and street art!
Take your time and really get to know the city as you meander through its narrow streets. Be sure to take frequent breaks to appreciate Cusco's architecture.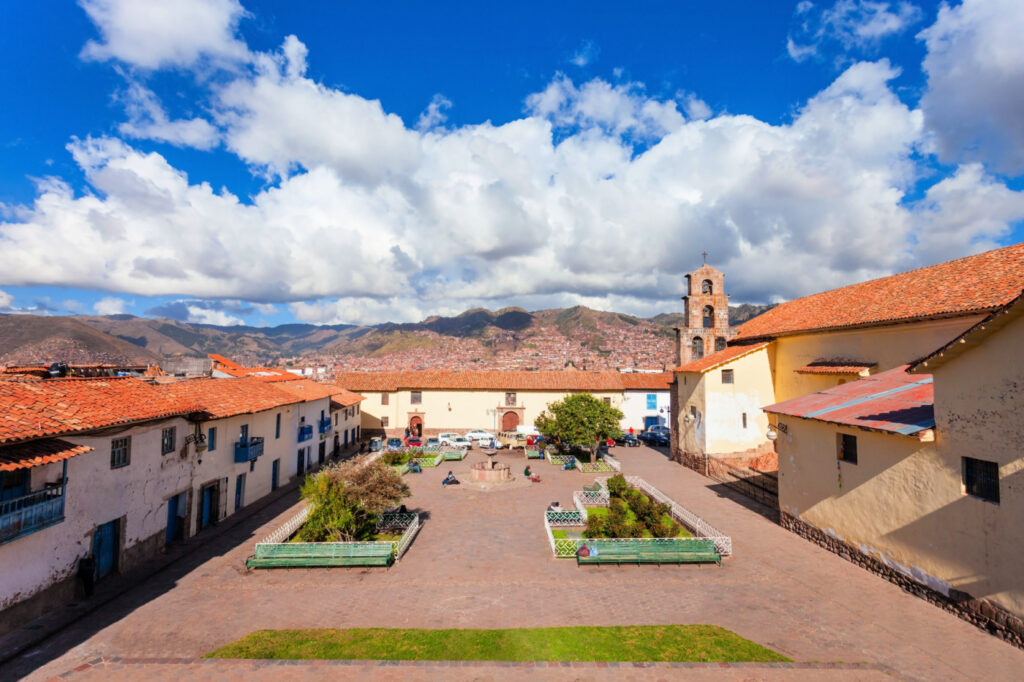 After exploring San Blas, you should end up at the top of the San Blas Church. Here, you'll find a stunning view of Cusco and the nearby mountains. As the sun sets, admire its majestic beauty before heading down for some dinner and drinks. Did someone say Pisco sours?
Cusco has some great little bars and pubs scattered throughout the city, so take some time to relax and enjoy a local beverage or two. Now you do have an early wake-up call in the morning so I don't recommend staying out too late.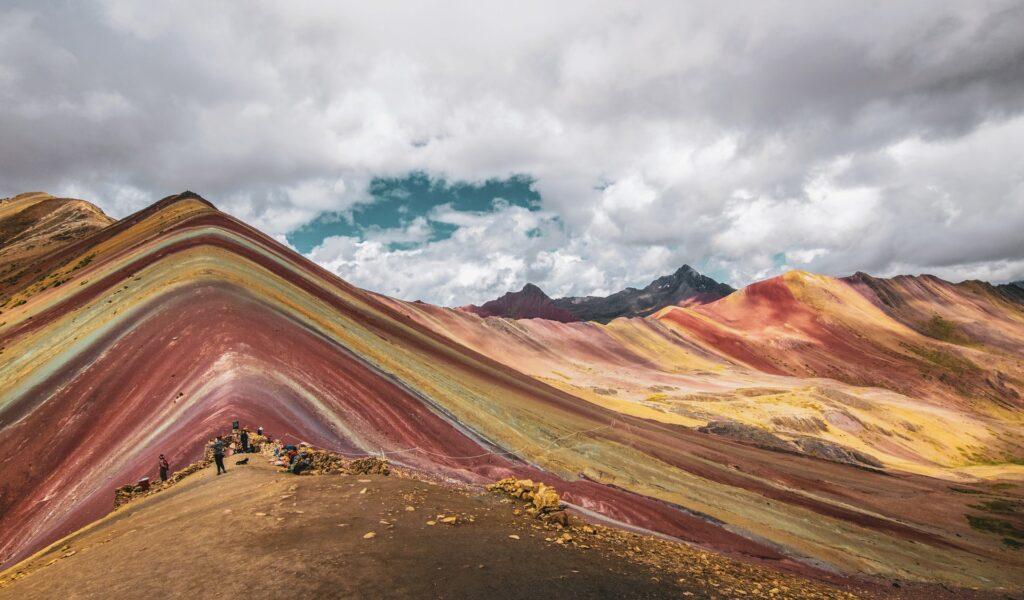 Day 3: Hiking the Famous Rainbow Mountain
For your final day in Cusco, I highly suggest you book this early morning tour and go hiking on the famous Rainbow Mountain.
Renowned as Vinicunca or Montana de Siete colores in Spanish, the breathtakingly beautiful Rainbow Mountain of Peru is a sight to behold. Recently revealed by receding ice caps due to global warming, this mountain has been blessed with an exquisite array of vivid colors that make it a must-visit while you're touring Peru!
Now I know this isn't exactly located in Cusco but with 3 days in the city, this is the best way to spend your last day. There isn't really anywhere else to stay near the mountain and it's best to do this tour early in the morning before the sun gets too hot and the trail is full of other hikers.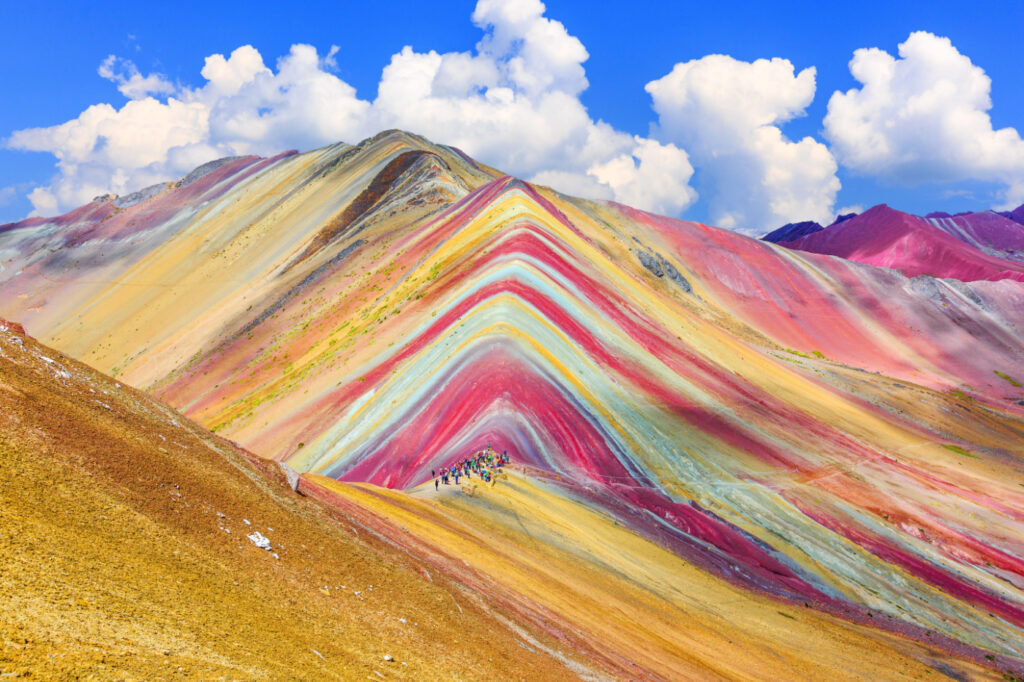 The journey from Cusco takes three hours so you'll be getting picked up at just past 4 AM but you can sleep along the way. You'll be rewarded with breathtaking views of the Andes Mountains at 16,000 feet which is nearly 5 km above sea level. Remember that high altitude can pose risks so make sure to take necessary precautions beforehand to fully enjoy your trip. This means drinking enough water and maybe even taking altitude sickness medication.
Rainbow Mountain can be a strenuous hike, gaining roughly 1,000 feet (300 meters) in height with only 2 miles (3km). The path is mainly made up of gravel and dirt; however, it can become quite slippery and uneven at times. It may seem like an easy journey as you reach the summit within 90 minutes or two hours – yet don't let this deceive you: the trek is physically exhausting throughout.
If you are struggling to reach the summit on your own, don't worry – you can always hire a horse to take you there.
Step by step, you will be immersed in a world of vibrant and extraordinary hues. The captivating contrast between reds, greens, yellows, and browns is simply majestic beyond belief – it'll make you feel like you've stepped into another world
As you reach the summit of Rainbow Mountain, take in its majestic beauty for as long as possible and capture some memories with the fluffy llamas and alpacas. They are SO adorable.

For only a few additional bucks, you can wander to the Red Valley and be rewarded with magnificent vistas and watch as condors soar overhead. It's only a 30-minute walk with a tiny incline- I am certain you will agree after seeing this breathtaking scenery that it was worth it!
The tour does sell out, as it's super-popular with visitors, so as soon as you have your travel dates, make sure to book your slot. You can check availability for your travel dates here:
As beautiful as the hike up was, the descent is just as majestic and much less difficult. Enjoy a tasty lunch before you make your way back to your Cusco hotel.
Most likely you will be tired after the whole day's adventure but it's your last night in Cusco so you gotta take advantage of it and enjoy the festivities. From jazz to Latin, there is something for everyone!
Grab dinner at Moreno's, enjoy one of their signature cocktails and then head out to dance the night away!
3 Days in Cusco is definitely enough to get a taste of this amazing destination. From visiting ancient Incan ruins to hiking the stunning Rainbow Mountain, you will be sure to have an unforgettable experience that will make you want to come back for more!
But before you book your plane ticket, here are some things you should know!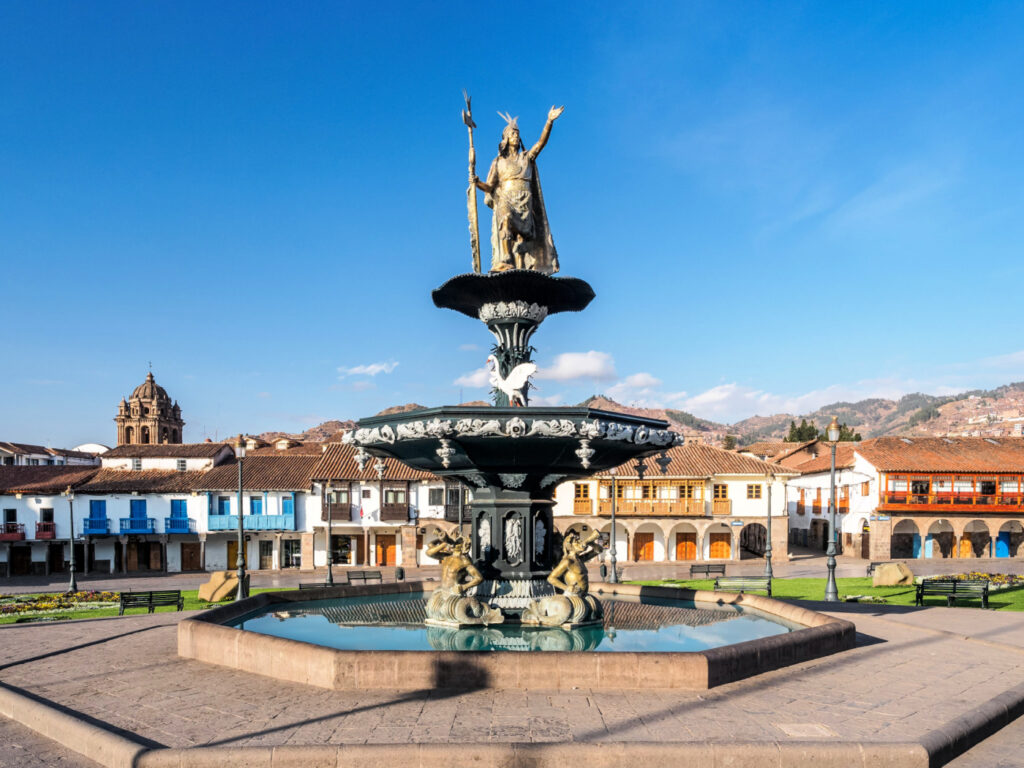 Where to Stay in Cusco
Cusco is a very touristy town and there are plenty of accommodation options to choose from. You'll find everything from budget hostels to luxury hotels. Here are 3 of my favorite accommodations in the area.
With its unbeatable location near all the most popular markets, restaurants, and tourist attractions in Cusco, it's no wonder why this hotel is rated so highly. The warm and friendly staff will always put your needs first to ensure that you have an unforgettable stay! With everything at hand, there truly isn't a better place for travelers to spend their time in Cusco.
Booking tours with them was an absolute ease, from booking my Machu Picchu tour and visiting Rainbow Mountain for the day. Waking up to the complimentary breakfast every morning was also a bonus that I truly appreciated.
This hostel is perfect for solo travelers or backpackers who are looking to explore Cusco on a budget. It's conveniently located close to all the must-see attractions in Cusco and the staff is extremely friendly and knowledgeable about the area.
I loved staying here and meeting some amazing people while I was there. The common area is great for meeting new people and the rooftop always has events going on to join in on. I was able to join 3 different tours with them, visit the Sacred Valley and take a cooking class at their hostel.
For one of the best luxurious experiences in Cusco, look no further than Antigua Casona San Blas. This beautiful colonial-style hotel is located in the heart of the historic district and will make you feel right at home with its high-quality furnishings and attentive staff members.
The rooms are absolutely stunning and include a balcony where you can soak up the views of the city. From yoga classes to massage therapy, you can find whatever you need to relax and enjoy your stay in Cusco. Plus, the hotel's restaurant has delicious traditional Andean cuisine for you to try!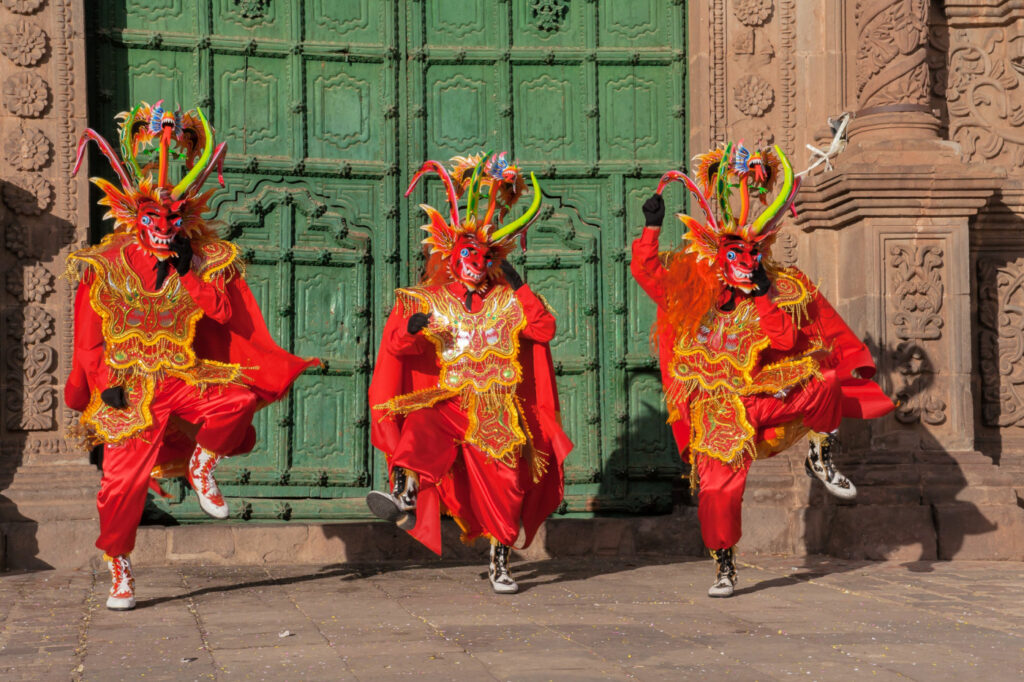 Best Time of Year to Visit
Cusco is a great destination all year round with its mild climate, but the best time to visit would be from April to October. This is during the dry season and you will get the most out of your trip if you plan it for this period.
While it's gray in Lima this time of year, it is usually sunny and mild in Cusco. This means that outdoor activities such as visiting Machu Picchu or trekking the Inca Trail will be much more enjoyable when taken part in during this period!
However, because it's the best time to visit means that it's also the busiest, so if you don't like crowds then consider visiting in May or September when it's a bit quieter. August is the busiest month of the year and will require a bit more planning as some accommodations will be booked out in advance as well as Machu Picchu tickets.
From October to March, it's the wet season in Cusco and can be a bit unpredictable. However, if you don't mind some rain then this is still an ideal time to visit as there are far fewer tourists and prices are much cheaper! You will just need to bring suitable clothing for the weather.
No matter when you decide to go, Cusco will enchant you with its rich culture and history. From exploring the cobblestone streets to visiting ancient Incan ruins, there is something for everyone in this vibrant city.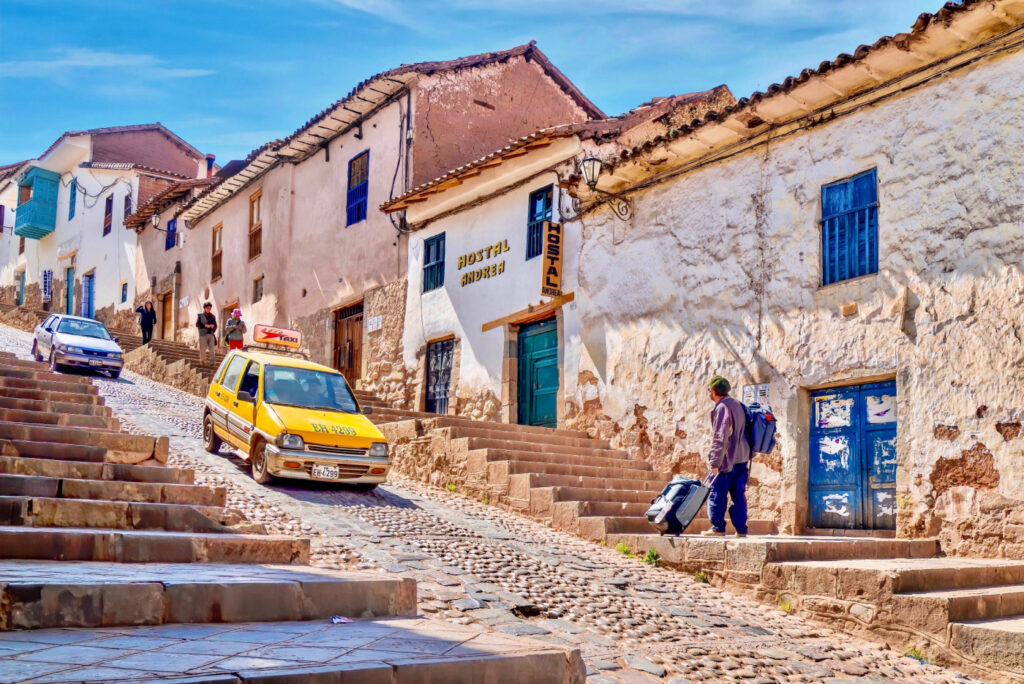 Getting Around Cusco
Cusco is a relatively small city and can easily be explored on foot. However, if you want to get around quickly then there are plenty of options available.
The most popular way of getting around is by taxi or Uber which are both reasonably priced and convenient. You could also book tours which will take care of your transportation needs around the city.
If you're looking for a more adventurous way of exploring Cusco then you could rent a scooter which is a great way to get around and see the city from a different perspective. Just make sure that you wear a helmet!
For those who want to truly immerse themselves in Peruvian culture, there are plenty of local buses that you can take around the city. It's an interesting experience but make sure to be aware of your belongings at all times.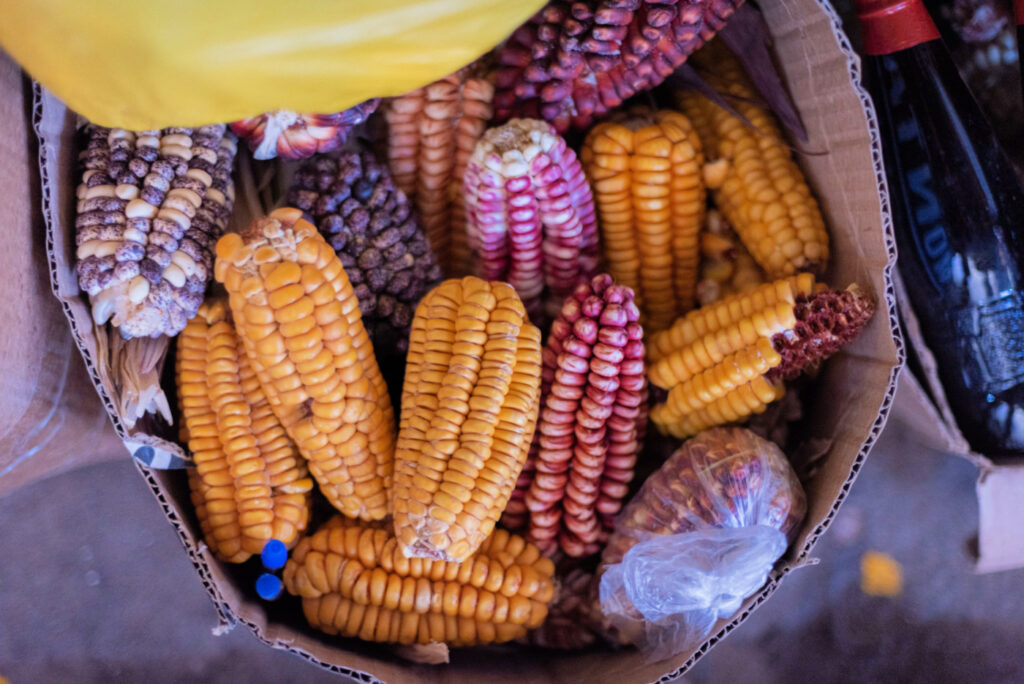 Safety in Cusco
Cusco is generally a safe place to visit and tourists will likely not experience any problems. Nevertheless, it's important to be aware of pickpockets in busy areas, such as the Plaza de Armas or San Pedro Market. As with any other city, it's important to keep your belongings close and be mindful of your surroundings.
In addition, it's recommended to avoid walking alone in deserted areas at night, and if you're going out be sure to take a taxi or Uber instead of public transportation. If visiting any of the Incan ruins, always stick to the designated paths and never attempt to climb them as this can be dangerous.
Where to Eat in Cusco
Cusco has a vibrant culinary scene and for me, it was honestly some of the best meals I've ever had. From traditional Peruvian dishes to international cuisine, there are plenty of options available throughout the city.
If you're looking for a truly local experience then head to San Pedro Market where you will find delicious street food and fresh produce. Be sure to try cuy (guinea pig), one of the most popular dishes in Peru.
For a more upscale experience here are some of my favorites!
Breakfast
Jacks Cafe: If you're looking for a spot to start your day off right, then look no further! This popular breakfast and brunch establishment offers an array of delightful dishes ranging from omelets and pancakes to quinoa bowls and sandwiches. Not only is the food delicious, but the relaxed atmosphere is also perfect for people-watching.
Cafe Dwasi: This cafe has the best coffee I've had in all of South America! With its cozy atmosphere and delicious menu items, Cafe Dwasi is a great spot to grab breakfast or a mid-morning pick-me-up.
Lunch
LOCAL: Enjoy the breathtaking sights of San Blas while sampling LOCAL's eclectic menu featuring a wide array of selections. From delectable fish and juicy pork to succulent chicken dishes, there is something for everyone – including vegetarians with plenty of delicious options!
Green Point: In San Blas lies a small but extraordinary vegan cafe with some of the most delicious dishes you will ever encounter. Their menu changes with the season and is composed of spectacular meals from different regions and all plant-based! If you dine in for dinner, I would suggest trying one of the gin drinks they offer.
Dinner
MORENO: The experience of dining at this restaurant was truly unforgettable! The Lomo Saltado (stir-fried beef) and Pisco sours were out of this world. Plus, there's a daily cocktail – the mixologist comes to your table to make it for you! Book the day before – trust me, it gets packed in here quickly. It may have been one of the best meals I've ever had!
Ceviche: MMM, Peru undeniably has the best ceviche and this particular spot was unbelievably delicious. I had to come back here three times! Try the classic, aji de gallina, or my personal favorite – ceviche mixto. If you need a beverage, their cocktails are simply divine too!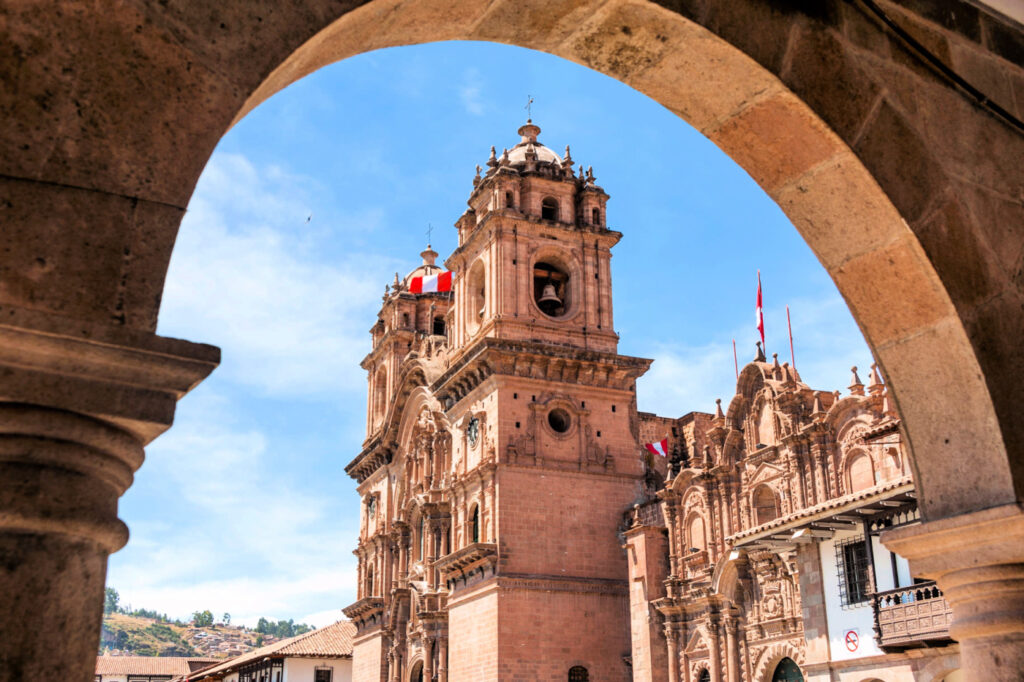 Peru should undoubtedly be included on your list of dream destinations, with the majestic city of Cusco at its heart. Three days is the perfect amount of time to explore and gain a newfound appreciation for Peru. From visiting ancient ruins to enjoying traditional cuisine and soaking in all that Cusco has to offer – you won't be disappointed!
Visiting Cusco is not just an opportunity to learn about the culture, history, and people of this beautiful city, but also an opportunity to create lifelong memories and experiences. To this day it is still one of my favorite travels and I can't wait for you to experience it.