I was so excited to return to South Korea.
I haven't been to many places where I've felt such a cohesive blend of old and new, but South Korea is one of them. Steeped with 5000 years of culture and history, but integrated with modern music, technology, and infrastructure, it's a country that surprised and delighted me at every turn.
And Seoul? It's one of my favourite cities in the world. If you think New York City is the place that never sleeps, just wait until you arrive in Seoul. During my first visit to the country, I landed in the South Korean capital expecting to spend three or four days in town, but ended up leaving after three weeks. Yes, I loved this city so much that I simply couldn't bring myself to leave.
I'd be walking the bustling streets of popular neighbourhood Hongdae in the early hours of the morning and realise that there was nowhere on earth quite like it. Street performers are sharing their best routines to the latest K-pop songs, shops are bright and open, karaoke is everywhere, and clubs have lines out the door. Talk about a sensory overload, but in the best possible way.
On my return visit, though, I knew I needed to see more of this wonderful country. South Korea is so much more than it's biggest city.
From the colourful houses in Busan to the scenic coastal views and tea plantations on Jeju Island to the towering mountains of Seoraksan National Park: I loved each and every destination I visited in the country. Get ready to be swept away by all that Korea has to offer, from Korean BBQ, K-pop, karaoke, palaces, temples, and arcades.
But how are the prices? In this post-pandemic world, the cost of travel has been skyrocketing, but this country has managed to remain relatively inexpensive.
Today, I'm going to be revealing exactly how much you can expect to spend on a trip to South Korea.
I've been recording every single dollar, peso, and baht that I've spent on my travels since 2011 (I now have over 65 budget breakdowns on the site!), aiming to give you an accurate picture of how much you can expect to spend in every country around the world. Today, it's South Korea's turn and I'm so excited to start sharing.
Grab yourself a cold bottle of soju because this post's a long one!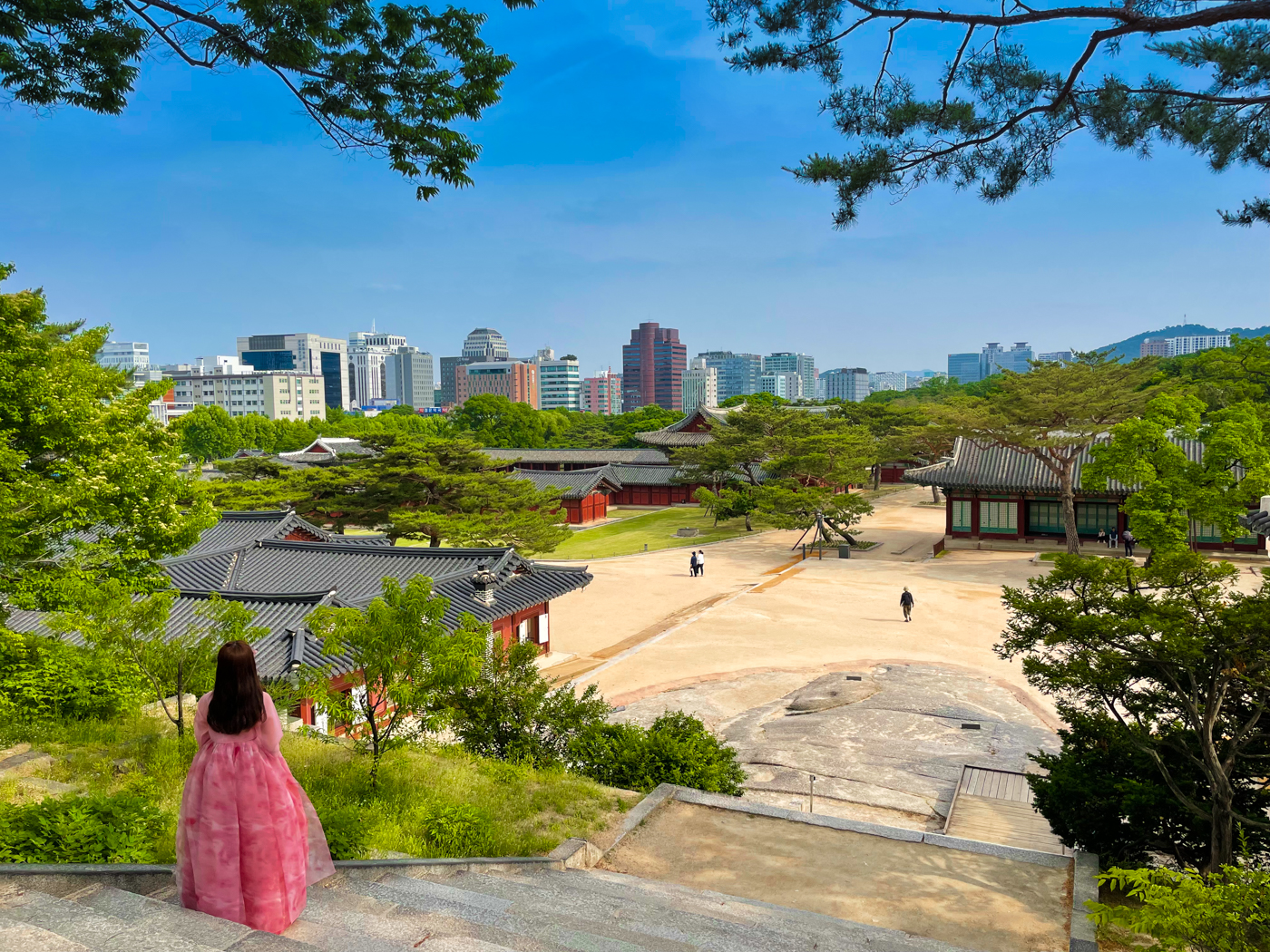 What's Included in this Post
This budget breakdown covers how much I spent on accommodation, transportation, activities, and food during my trips to South Korea — my most recent visit was May 2023.
The amounts in the guide are listed in U.S. dollars, simply because the vast majority of my readers are from the U.S. I've also included prices in the South Korean won (KRW) — the local currency — as you'll be using that throughout your time in the country.
At the time of writing (August 2023):
1 USD: 1,300 KRW
1 EUR: 1,450 KRW
1 GBP: 1,675 KRW
1 AUD: 875 KRW
Yes, this does make calculating the prices of things rather tricky when you're in South Korea! For me, I kept in mind that 10,000 KRW is roughly 8 USD (€7, £6, or 11.50 AUD) and it made figuring out the prices of things far easier.
One quick note I do want to make about travel in South Korea is that it's kind of complicated to pay for things! Korea is, these days, a cashless society — everybody pays with cards and there aren't a lot of places that are happy to accept cash.
Now, that would be all well and good if it wasn't for the fact that the vast majority of payment terminals don't accept foreign bank cards. Apple Pay is very limited and Google Pay doesn't exist at all.
Yes, really.
I'd say that we were able to successfully use our debit/credit cards 30% of the time in South Korea — and it made no difference whether we were using our U.K., Australian, or New Zealand cards.
So, what to do?
Honestly, there isn't an elegant solution. Expect that every time you try to buy something, you might need to try four cards until one of them works. Carry a lot of cash with you in case none of your cards are accepted. It didn't end up being a huge problem for us, as we were able to pay with cash whenever our cards were declined, but it was frustrating to have to continually deal with payment rejections everywhere we went!
Okay, let's get started! Up first: accommodation!
The Cheapest Accommodation Options in South Korea
Like practically every country in the world, prices have increased post-pandemic in South Korea, so you'll be paying a little more for everything than you would have done a few years ago. Despite that, costs are lower than most Western countries, so accommodation in the country still offers up good value for money.
Let's start on the lower end of the spectrum. If you're willing to put in the time and effort, it's possible to avoid paying for accommodation entirely.
Couchsurfing exists in South Korea and allows you to stay with a local for free, usually sleeping on their sofa and enjoying a local's insight into life in their country. It's not the most comfortable of living situations, but if your budget's tight, it's worth sending out a few requests to hosts to see if anything comes of it. You can browse through the 150,000+ Korean hosts on the Couchsurfing site.
Housesitting is a more upmarket option, aimed at mid-range and luxury travellers. Housesitting involves taking care of somebody's house for free while they're away, often (but not always) looking after their pets, too. It's best for long-term travellers or retirees, as you can't pick and choose dates and destinations, so you'll need to have a lot of flexibility as to where you go and at what time of year. If you do have that freedom, though it's a wonderful way to cut down your travel expenses, soak up some home comforts, and live like a local for a while. Trusted Housesitters is the best site for getting started with housesitting, as they have the highest number of listings.
And then we have hostels. In South Korea, you'll come across hostels all over the country, finding them on tiny islands, large cities, and even within the national parks. They're one of your best options for saving money.
All prices are in U.S. Dollars, by the way, as that's where the vast majority of my readers are from.
Hostels in Korea are on a par with the rest of major cities in East Asia, and you can expect to spend between $18 a night for a dorm bed for a well-reviewed hostel, with the price increasing slightly to about $24 a night for the absolute best of the best.
When it comes to private rooms in hostels, you'll be looking at $30 a night for a clean, basic room in a good location, so if you're travelling with friends or with your partner, you may find it cheaper to grab some privacy over settling for two beds in a dorm room. $70 a night will get you an exceptionally well-reviewed private room in a hostel.
I use HostelWorld to find the cheapest hostels, as they tend to have the greatest number of listings at the lowest prices.
And then there are hotels, which I'm going to jump into next.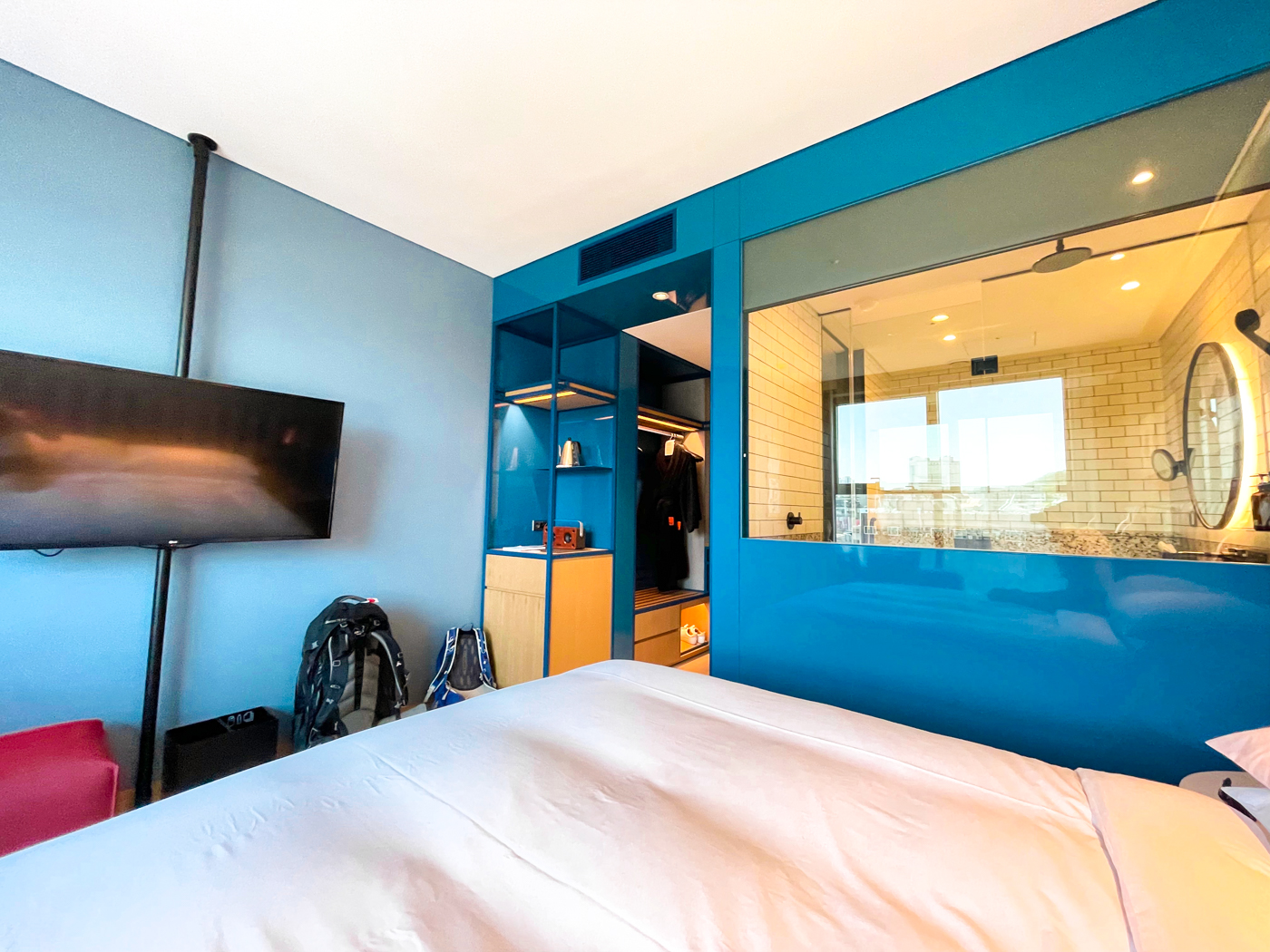 The Cost of Accommodation in South Korea
I found hotels in South Korea to be pretty reasonably priced. You won't get the cheap, cheap rates that you do in places like Southeast Asia, but prices are generally lower than more expensive countries in Western Europe.
As mentioned, well-rated hostels come in at an average price of $18 a night for a dorm bed, while private rooms are around $30 a night.
Inexpensive guesthouses are typically around $50 a night.
Four-star hotels are between $150 and $200 a night
And five-star hotels are $250-350 a night
As always with these posts, I like to share where I personally stayed in the country and what I thought of each of my accommodation choices. On my most recent trip, I splurged in Seoul because I wanted to stay in two of the best-rated hotels in the country, but kept my accommodation costs relatively low in the other destinations I visited.
Seoul (Hongdae): RYSE Hotel (240,000 KRW, or $183 per night)
If you're going to stay anywhere in Hongdae (my favourite Seoul neighbourhood), RYSE Hotel is the place to be. It's one of the best hotels in the city! It's in the perfect location, in the heart of Hongdae's cafe-and-nightlife scene, but so well-insulated that you don't hear any of it. The rooms had a modern, industrial design, great views over the city, and there were tons of freebies, from facemasks (this is Korea, after all!) to local games to even a bottle of wine. There's a rooftop bar with some of the best views in Seoul, one of the best equipped hotel gyms I've ever used, and the staff were amazing. I'd absolutely stay here again on future visits!
Seoul (Myeongdong): Hotel 28 (189,000 KRW, or $144 per night)
Our itinerary in South Korea saw us spending two separate stints in Seoul, so for our second visit, I dragged myself away from my beloved Hongdae and gave Myeongdong a try — this is the neighbourhood to head to if you want to shop 'til you drop then eat 'til you're… replete! We chose Hotel28, which is the best-rated option in the area; one of the Small Luxury Hotels of the World. It's a cinema-themed hotel (you get bags of free popcorn when you check in!) in one of the best areas for eating in the city. The rooms are spacious, the bathroom had the best bath ever, and the staff were so sweet. It's right by one of the city's best night markets, too, which was so much fun to eat my way around! The hotel gym was great. If you're a light sleeper and can't use earplugs, however, this is probably a hotel to stay away from — it's pretty noisy outside until midnight. The hotel provides free earplugs and we both slept well when using them, but it's still a minor downside.
Gyeongju: Maison Mini Hotel (62,000 KRW, or $49 per night)
Dave and I loved our stay at the adorable Maison Mini Hotel in Gyeongju and found it to be a fantastic mid-range accommodation option. The rooms were spotless and cleaned everyday throughout our stay. The owner was so sweet and welcoming, and the shared kitchen and laundry facilities were definitely appreciated. Having access to a proper coffee machine was particularly useful! The guesthouse is a 10 minute walk from all of the wonderful sights of Gyeongju and a five minute walk from the main bus station, so it made for a great base while we were in town. I can't recommend this place highly enough!
Busan: Urbanstay Seomyeon (61,000 KRW, or $47 per night)
Like Seoul, Busan is a big old city with plenty of neighbourhoods to choose from. Seomyeon, however, is the best spot for new visitors to town — it's in a convenient location for visiting all of the most popular spots and has plenty of vibrant nightlife and restaurants to explore. Urbanstay is right beside a metro station, which makes getting around even easier. The rooms are clean, modern, and basic — very minimalist! — with lightning-fast Wi-Fi. There actually aren't any staff at the hotel, so you'll be emailed a key code to get into your room, which works well. The washing machines are, as always, very much appreciated!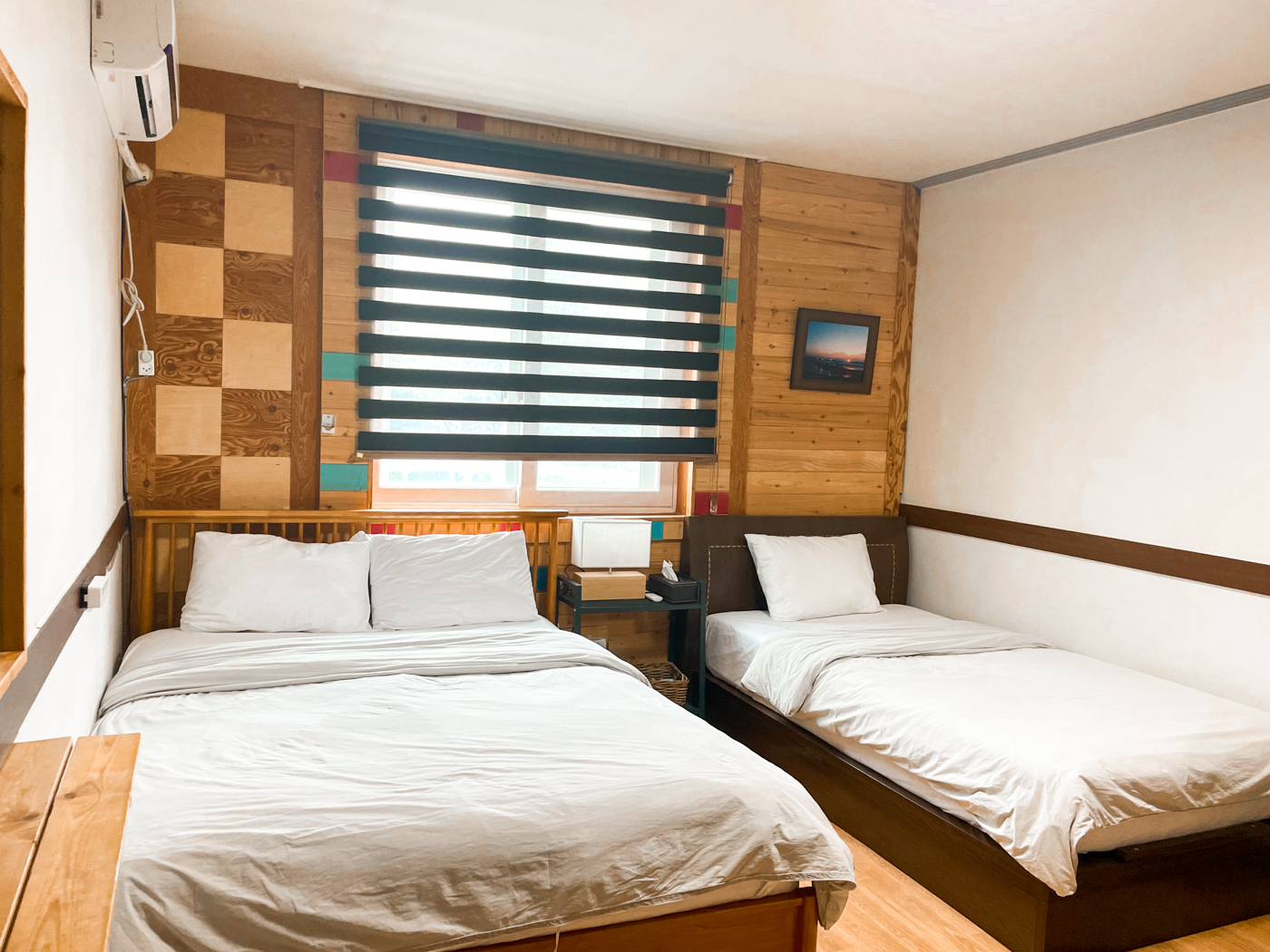 Seoraksan National Park: Smile Resort (70,000 KRW, or $53 per night)
If you're going to be hiking in Seoraksan National Park, you'll want to be staying as close to the park entrance as possible. Unfortunately, this area of South Korea seems to be full of mediocre accommodation options. Still, Smile Resort was the best option that was close to the entrance while not being obscenely expensive. While the interior was a little old and tired, it was a perfectly acceptable place to stay! The owners were welcoming and kind, the free breakfast (a rarity in South Korea) was definitely appreciated before a big day of hiking, and it's just a five-minute walk from the bus that takes you to the national park entrance. Rooms also have a private kitchenette and fridge, which was useful for keeping our water cold overnight.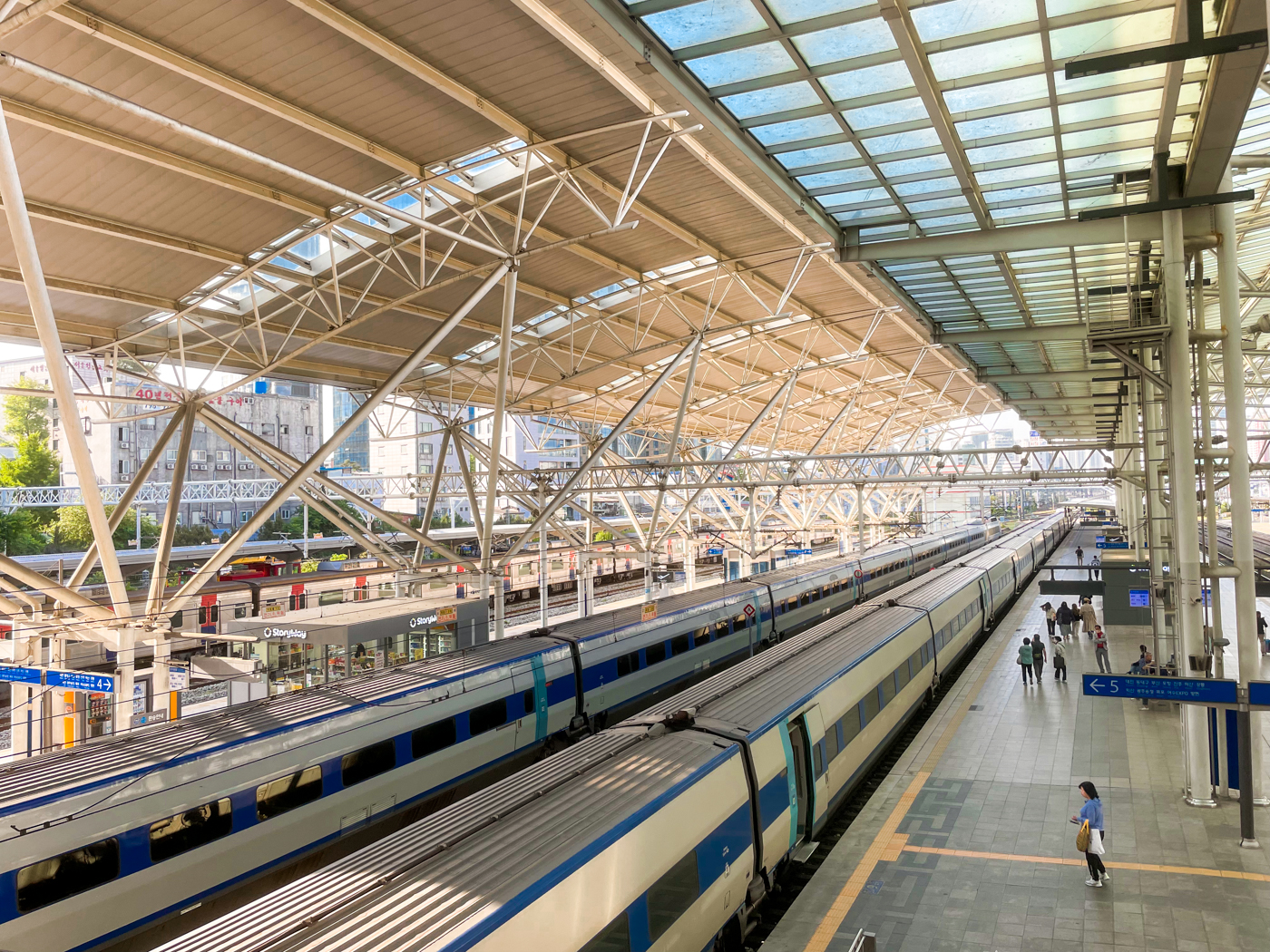 The Cost of Transportation in South Korea
I'm somebody who doesn't get an awful lot out of travel days in unfamiliar places, but even I can admit that travelling around South Korea is a joy! From the buses to the high-speed trains to the comprehensive subways: getting around this country is convenient, comfortable, and hassle-free.
Your first encounter with the transportation system will be at the airport. There's two options for getting the train from Incheon International Airport to Seoul: the Airport Railroad Express (AREX) or the All Stop Train. The former takes 43 minutes and costs 9,500 KRW ($7.20), while the latter is half the price at 4,150 KRW ($3.15) and takes 53 minutes.
I recommend jumping on the All Stop Train, then, as it's cheaper, takes just 10 minutes longer, and runs more frequently than the AREX so will most likely get you into Seoul faster anyway.
I wouldn't recommend taking the bus or the taxi, as both are more expensive and slower than the train. The bus costs 10-15,000 KRW ($9) and takes around 80 minutes, while taxis cost a whopping 70,000 KRW, or $55, and take around an hour.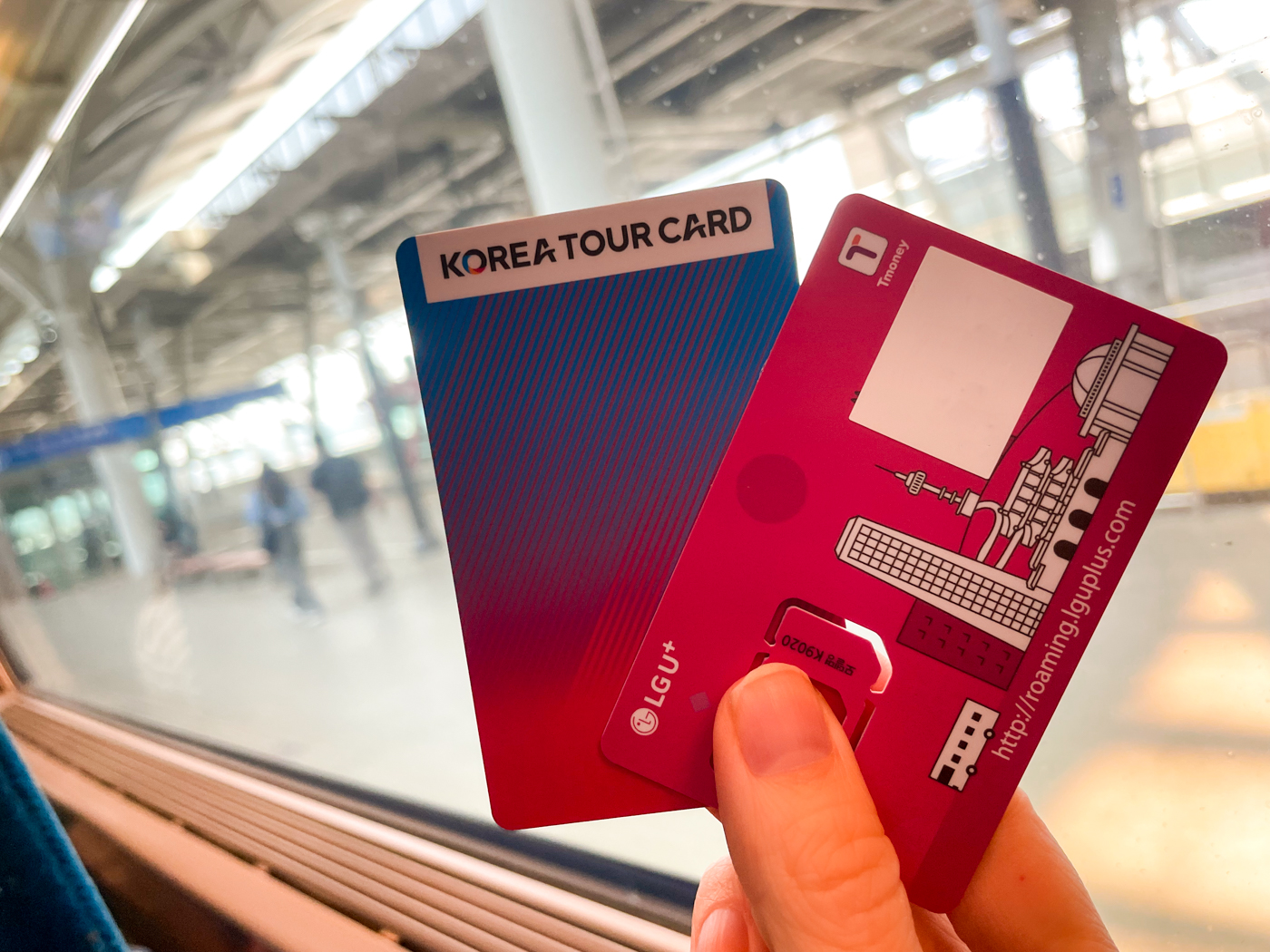 What to Know About T-Money Cards
Before we go any further, it's time for a primer on T-Money! This is my one travel essential in South Korea and I highly recommend getting your hands on one before you leave the airport.
A T-Money card is designed to make your public transportation experiences seamless. You simply buy your T-Money card from any convenience store, or the vending machines at the airport, and then you can use it on subways, buses, taxis, and even vending machines and grocery stores — all across the country. Simply tap your card on the T-Money scanner and you're good to go!
I recommend buying yours at the airport, where there are T-Money vending machines located beside the All Stop Train (and then you'll pay for said train journey with the card). You'll pay 4,000 KRW ($3) for the card.
Once you've bought your card, remember to top it up with some cash. I topped-up with 40,000 KRW ($30), which was the perfect amount for two weeks in the country — I had 2,000 KRW left over at the end. If you do end up with any money left on your T-Money card at the end of your trip, you can get that refunded to you at any subway station (including the airport) in Seoul.
I mentioned in the photo caption above that Dave's T-Money card came free with his SIM card purchase. He bought his SIM card in advance from LG and picked it up in the arrivals hall at the airport. The SIM card included unlimited data (35,000 KRW or $25 for 10 days of usage) plus a Korean phone number — the latter of which is surprisingly useful in Korea (you often need a local phone number just to join a queue for a restaurant!) but tricky to get from many other providers.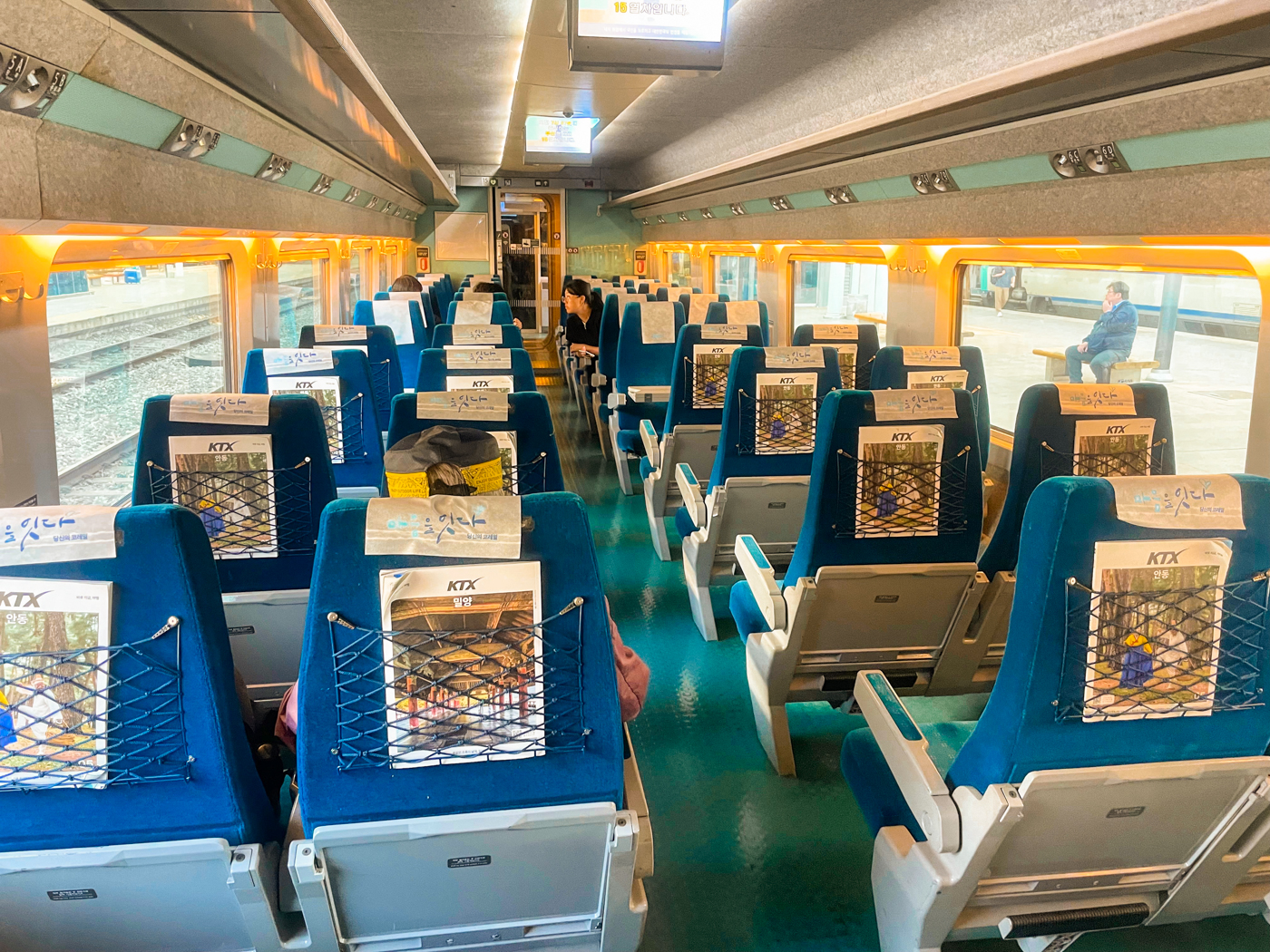 The Cost of Trains in South Korea
If you'll be venturing outside of Seoul then odds are, you'll be travelling by train. This is one of the best ways to explore the country, thanks to the modern carriages and speedy services. And expect your trains to be punctual — just as in nearby Japan, this country thrives on an on-time departure.
I'm a huge fan of the KTX — the Korean Travel Express — which whips you up and down the length of the country at speeds of 300+ kilometres an hour (190 mph). It's the priciest option, for sure, but the amount of time you'll save will likely make it worth it.
As an example, the KTX from Seoul to Busan — running from the top to the bottom of the country — takes just over two hours (at a price of 59,800 KRW/$45). In comparison, the equivalent buses and slower trains complete the journey anywhere between four and six hours (but costing 28,000 KRW/$21).
Buy your KTX tickets through the official Korail website to score the cheapest fare — we had no problems using it with our foreign debit/credit cards.
I'll briefly mention the existence of the Korea Rail Pass (KR Pass) here, which works similarly to the Japan Rail Pass or a Eurail Pass. You can choose from either a consecutive pass or a flexible pass, but to be honest, the prices are around the same amount as the individual tickets, so I didn't see the point. If you'll be racing around the country and visiting multiple places in a single day, it may be worth it, but it wasn't for us.
| | | | |
| --- | --- | --- | --- |
| | Adults (28+) | Youth (13-27) | Children (6-12) |
| Flexible 2-day pass | 121,000 ($90) | 96,000 ($73) | 61,000 ($46) |
| Flexible 4-day pass | 193,000 ($145) | 154,000 ($115) | 97,000 ($73) |
| Consecutive 3-day pass | 138,000 ($105) | 110,000 ($83) | 69,000 ($52) |
| Consecutive 5-day pass | 210,000 ($160) | 168,000 ($127) | 105,000 ($80) |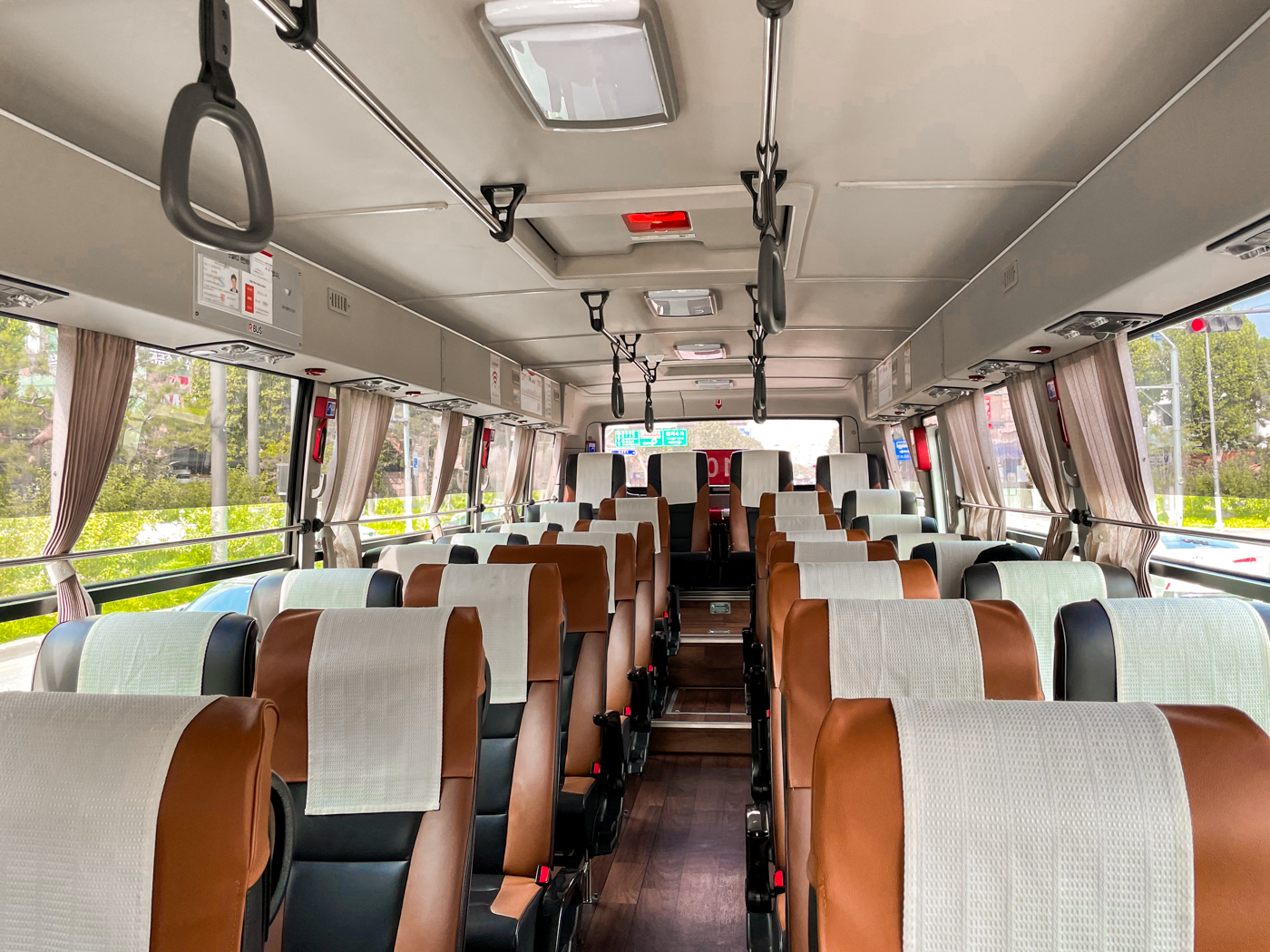 The Cost of Buses in South Korea
You can take the bus to just about anywhere in South Korea.
There are two types of long-distance buses in the country: express and intercity; due to time constraints, we opted for the express option for every journey we took (intercity buses are cheaper but take way longer because they make stops all along the way; express buses take you directly to your destination). Our two-hour express bus from Seoul to Sokcho (21,000W, or $16) was bordering on luxurious with wide, comfortable reclining leather seats, tons of legroom, and even power sockets.
You can find bus departures either through Kobus (express buses only) or Bustago (express and intercity buses). However, you can only purchase through these sites if you have a Korean bank card and a local number — yes, it's frustrating and only the tip of the iceberg when it comes to Korea making travel difficult for foreign visitors.
We used these booking sites, therefore, to see which departure time we wanted to aim for and to check there were still tickets available. We then bought the tickets from the bus station an hour or so beforehand — departures typically run multiple times an hour so you don't have to worry too much about buses being booked.
To give you a sense of ticket prices, here are some average one-way costs for a few routes you might take:
Seoul to Busan: 33,000 KRW ($26)
Seoul to Gyeongju: 20,000 KRW ($15)
Busan to Daegu: 12,000 KRW ($9)
Seoul to Jeonju: 20,000 KRW ($15)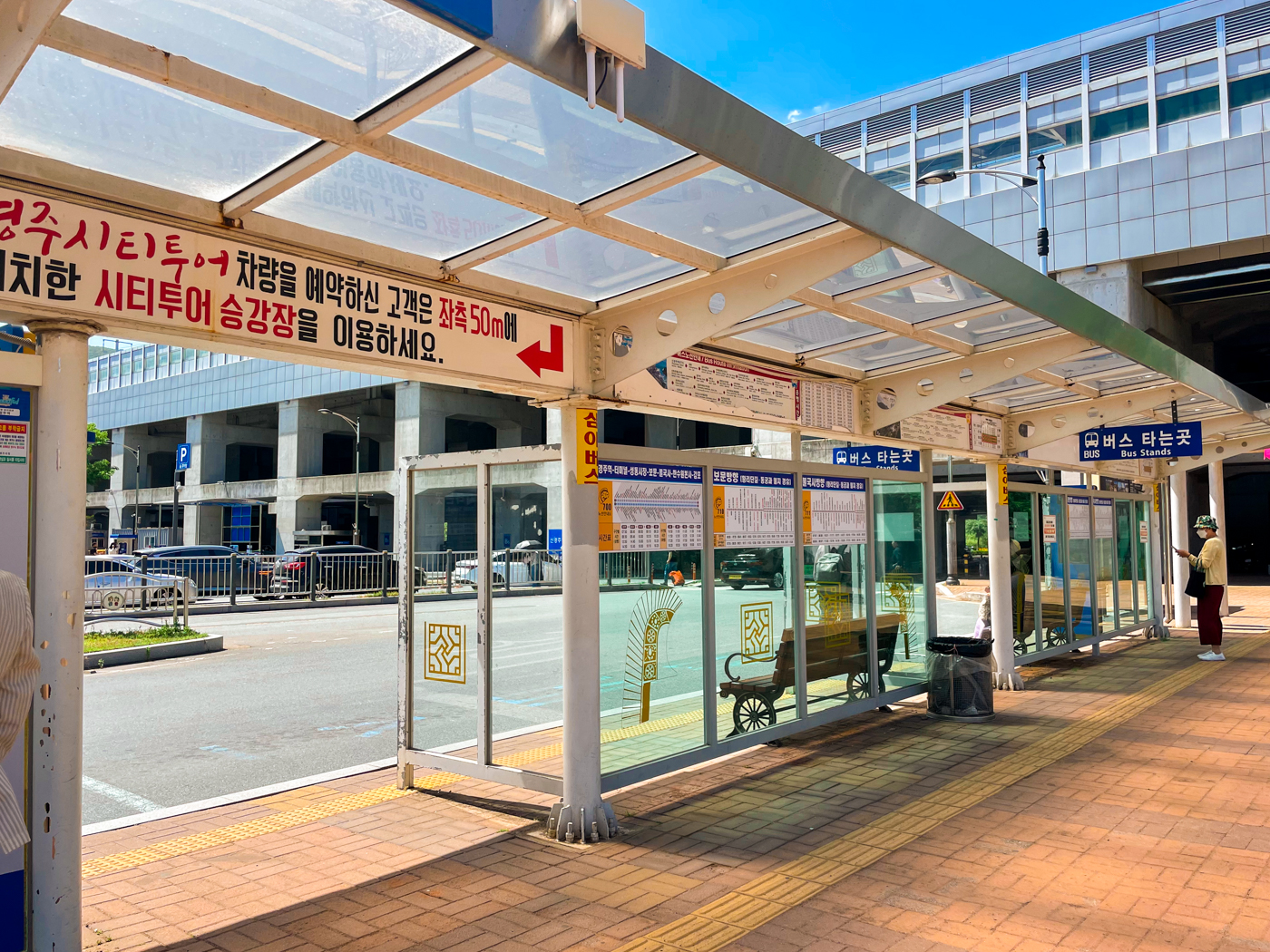 The Cost of Flying in South Korea
South Korea isn't a gargantuan country. And with fast and frequent overland options available throughout, you probably won't need to fly very often — if it all. But if you plan on going to wonderful Jeju Island (which you should), then flying is the easiest way to get there.
A one-way direct flight from Seoul to Jeju will cost around $42, and if you're flying from Busan, a one-way fare is roughly $33.
In terms of alternative options to flying, you do have the ferry from Busan. At a journey time of around 12 hours, though, and a cost of 60,000W ($45), there's no real reason to put yourself through the discomfort.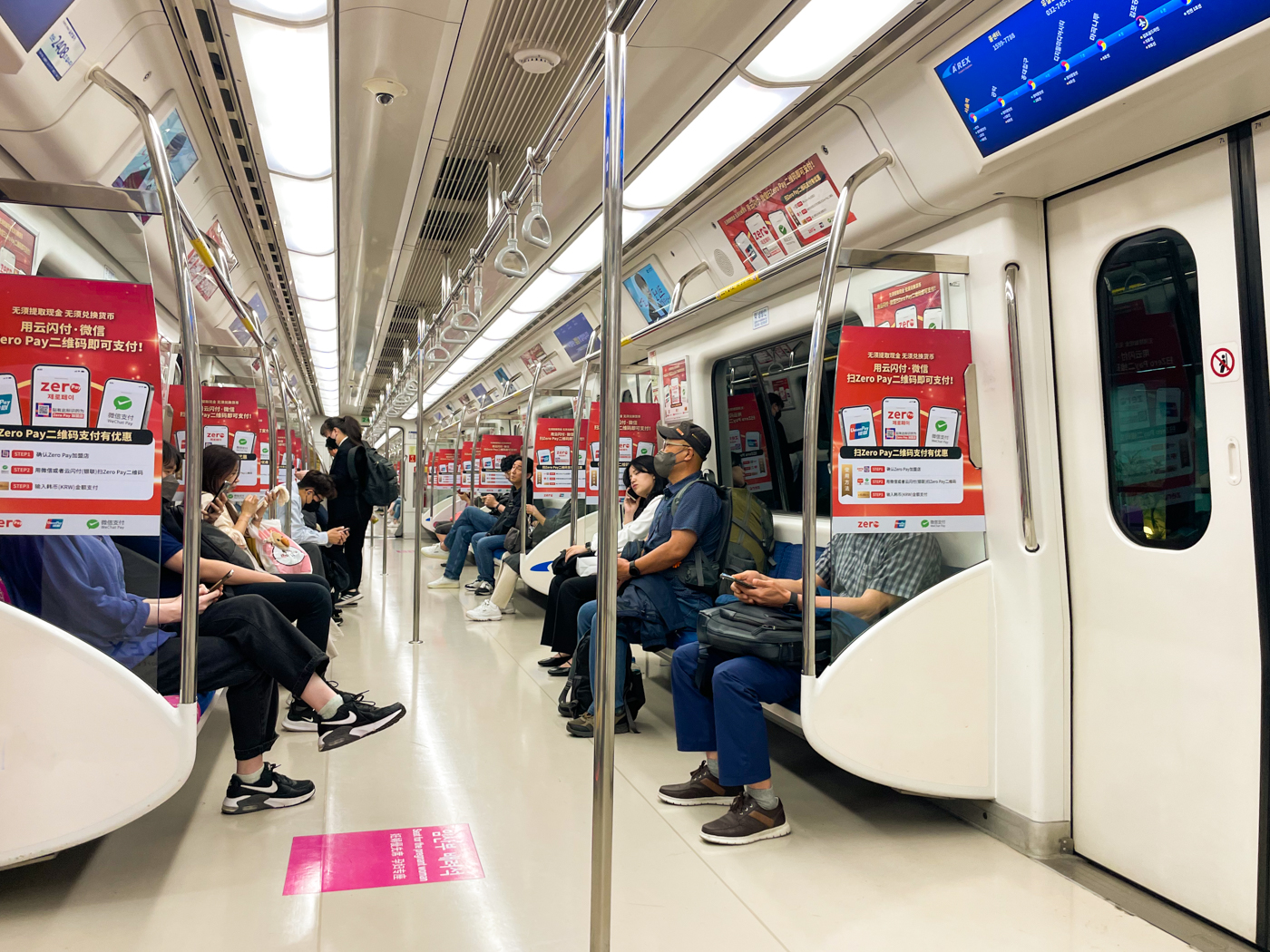 The Cost of the Metro in South Korea
The underground systems in Seoul and Busan are in a league of their own. In fact, Seoul has one of the most extensive subway systems in the world — it's clean, modern, and safe. If you don't have to use it during rush hour, it's pretty calm, too. It's one of the best and most efficient ways to get around Seoul, and with the exception of a couple of local bus trips, I relied on the subway during my entire stint in the city.
Fare is calculated by distance, so a subway ride of less than 10 km will cost 1,350 KRW ($1) with 100 KRW added on for every additional 5km (you're unlikely to take a journey this far, though). When taking the subway over a typical day of sightseeing, I usually averaged around 5,000 KRW ($4) per day.
Overall, my daily transportation costs in South Korea worked out to: $10.20 per day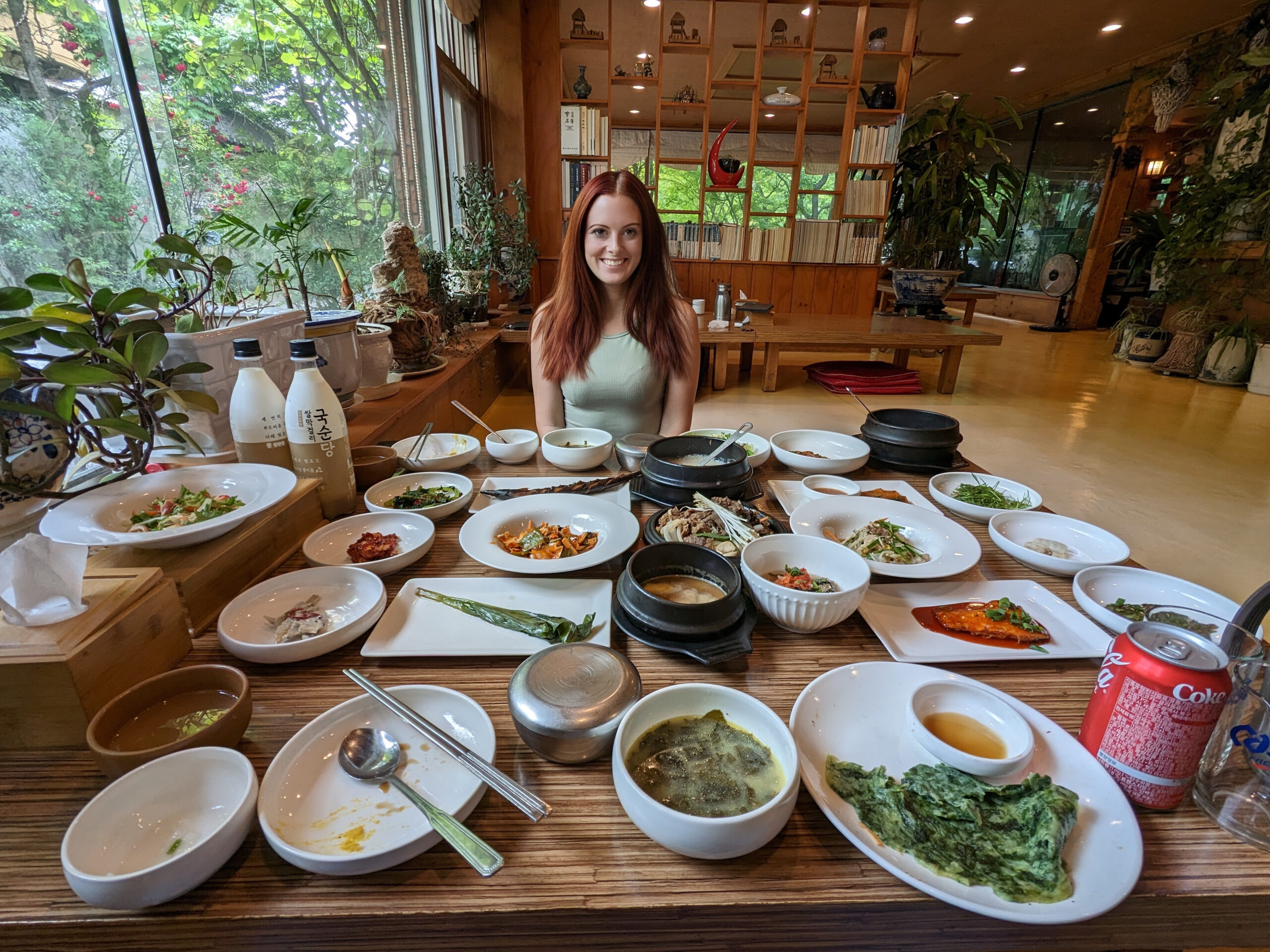 The Cost of Food in South Korea
Long-time readers of the site will already know that food is my primary driver to travel. It won't come as any surprise, then, to learn that my favourite thing to do in Korea was eat.
There are so many incredible local dishes to sample in this country that I often found myself panicking that there weren't going to be enough meals in the day. By the end of my weeks in the country, I was officially inducting South Korea into my list of the top five places to eat in the world (the others being India, Vietnam, Mexico, and Greece).
Yes, you've got all the classics you've probably come across before, like kimchi, bibimbap, and bulgogi, and you'll be able to find them on practically every street you walk along. But for me, the delight came in wandering into a crowded restaurant without any idea what was on the menu, sitting down and being presented with one of the best dishes I've ever tried. Yes, I'm looking at you, samgyetang.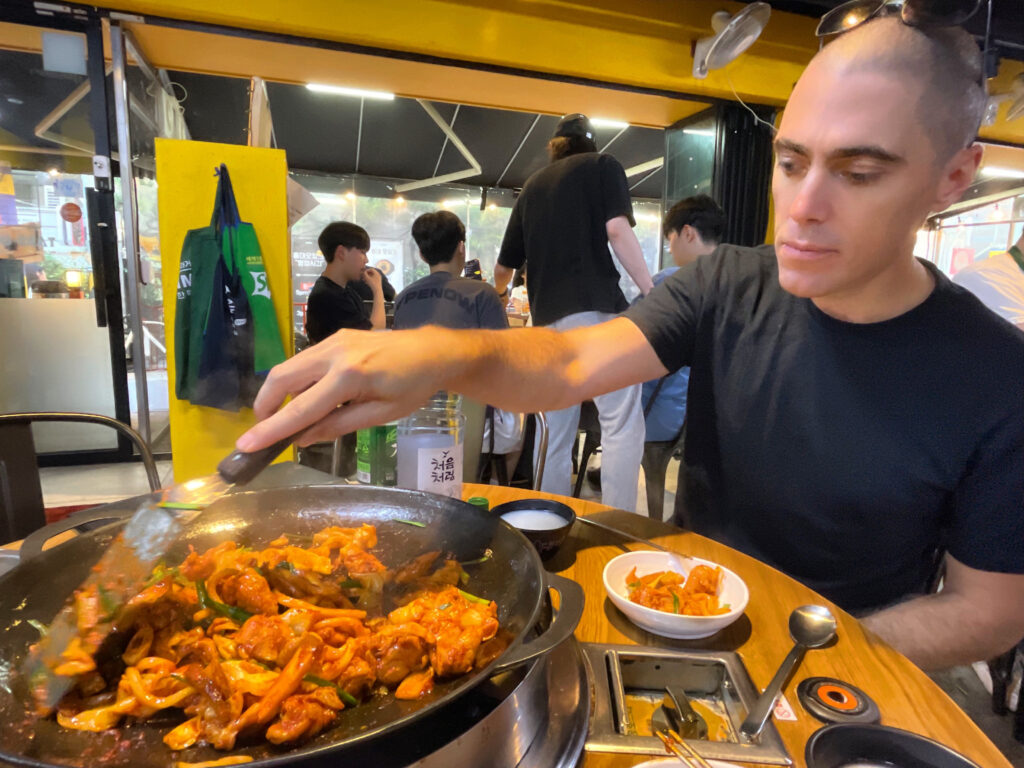 Of course, Korean BBQ reigns supreme and provides a super-fun food experience — I definitely recommend trying it at least once while you're in the country. Gather around a table with a group of friends, order yourselves an inordinate amount of meat, marinate it in a variety of sauces, then cook it up at your table on your own little grill.
And let me tell you that Korean fried chicken may have ruined me for all of my future fried chicken experiences. Before arriving in the country, I'd made a vow to never eat the same thing twice while I was there. After my first taste of crispy fried chicken, however, I found myself meekly eating it again a couple of days later. It was just so freaking good!
The kimchi in South Korea is amazing and I was regularly blown away by the depth of flavour that was contained in such a simple dish. You'll be given a couple of versions of it (cabbage and radish) as a free side with practically every meal you order, and it was nearly always a flavourful highlight for me.
One particularly epic food experience we had in the country is depicted in the photo at the very top of this section — the one where I'm surrounded by about 35 different dishes! Hongsi Hanjungsik in Gyeongju offers up a traditional Korean banquet, run out of the owner's home, with so many high-quality, tasty things to try. And despite the multitude of dishes, we didn't come away feeling overly full. At a price of 20,000W (or $15.50) each, it felt like phenomenally good value!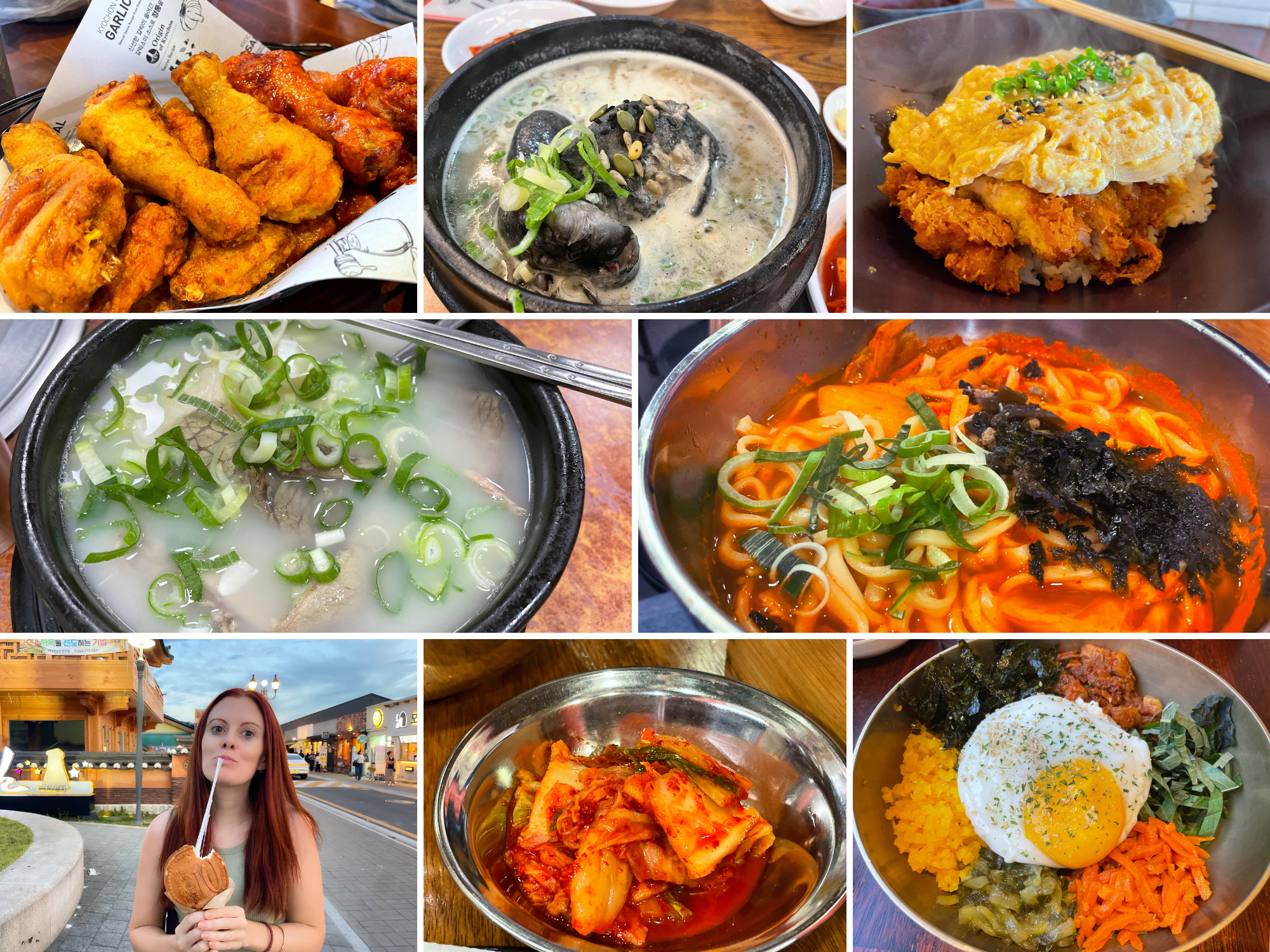 So let's get into the food prices.
In general, if you're eating out at a Korean restaurant, look to spend around 10,000 – 15,000 KRW ($7.50 – $11.50) for a meal. When eating at a more Western restaurant (which you absolutely should not do because the Western food in Korea is probably the worst I've ever eaten — a ham and cheese sandwich I ordered was drizzled with condensed milk!) then you might spend 20,000 KRW ($15) for a meal. Fast food, street food, or a smaller meal will range around 5,000 – 7,000 KRW ($4 – $5).
Here's some examples of what we spent on some of the various dishes we tried:
Fried chicken for lunch: 10,000 KRW ($7.50)
Bibimbap for lunch: 9,500 KRW ($7)
Bindaetteok (mung bean pancake) as a street food snack: 5,000 KRW ($4)
Dakgalbi (stir-fried chicken) for dinner: 6,500 KRW ($4.50)
Unlimited Korean BBQ on a weekday lunch: 15,000 KRW ($11.50)
Samgyetang (chicken ginseng soup) at a fancy restaurant for lunch: 19,000 KRW ($14.50)
Street food snacks: 3,000 KRW ($2) each
A pint of local draft beer in a restaurant: 4,000 KRW ($3)
A bottle of soju in a restaurant: 4,000 KRW ($3)
A 750ml bottle of makgeolli in a restaurant: 4,000 KRW ($3)
An extremely fancy cocktail in a world-class bar: 23,000 KRW ($17.50)
Dave and I are usually intermittent fasters when we travel, so we rarely opted for breakfast while we were travelling in South Korea. Instead, we'd have a large meal for an early lunch and often hit the street food carts for dinner. Our daily meal costs were sometimes then as little as 15,000 KRW ($11.50) a day but averaged out at 25,000 KRW ($19) a day.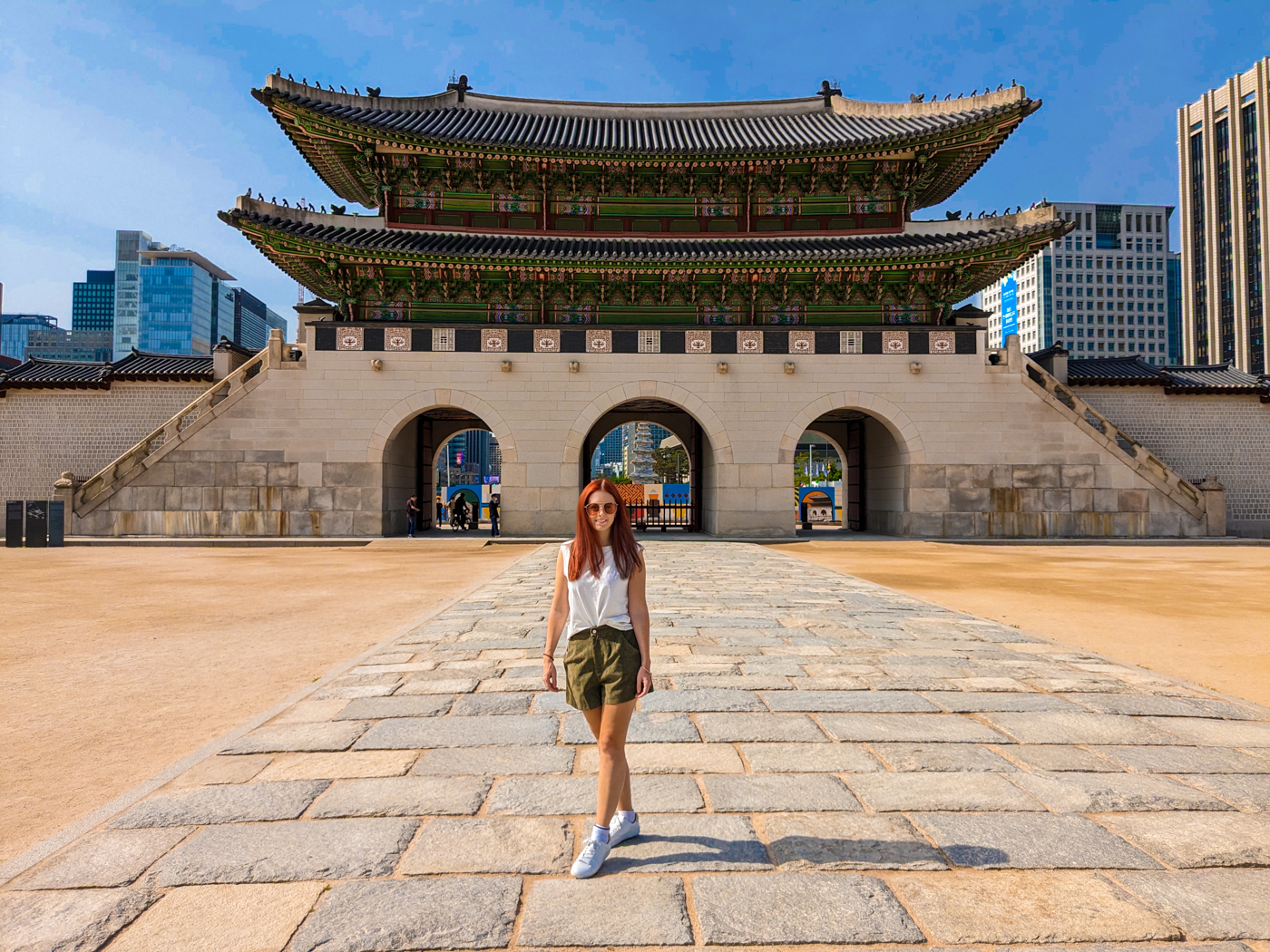 The Cost of Activities and Entrance Fees in South Korea
When it comes to activities in South Korea, there's so much to keep you entertained — and it's pretty affordable, too.
If there's one activity to cross off your list when you're in Seoul, it has to be the royal palaces. For just 10,000 KRW, you can purchase a combo ticket that gives you entrance to Gyeongbokgung, Changdeokgung (and its separate secret garden), Deoksugung, Changgyeonggung, and Jongmyo Shrine. To visit each of these individually would cost 14,000 KRW, so it's well-worth getting the combo and crossing all of them off. We managed to see all of them in a single day of hardcore sightseeing, and while we were undoubtedly templed-out by the end of it, we were still glad we'd made the effort to do so.
If you only have a limited amount of time, then just head to Gyeongbokgung and Changdeokgung — the two most impressive of the palaces. You'll be able to catch the impressive changing of the guard in the morning at Gyeongbokgung, then take a tour of the wonderful secret garden at Changdeokgung in the afternoon.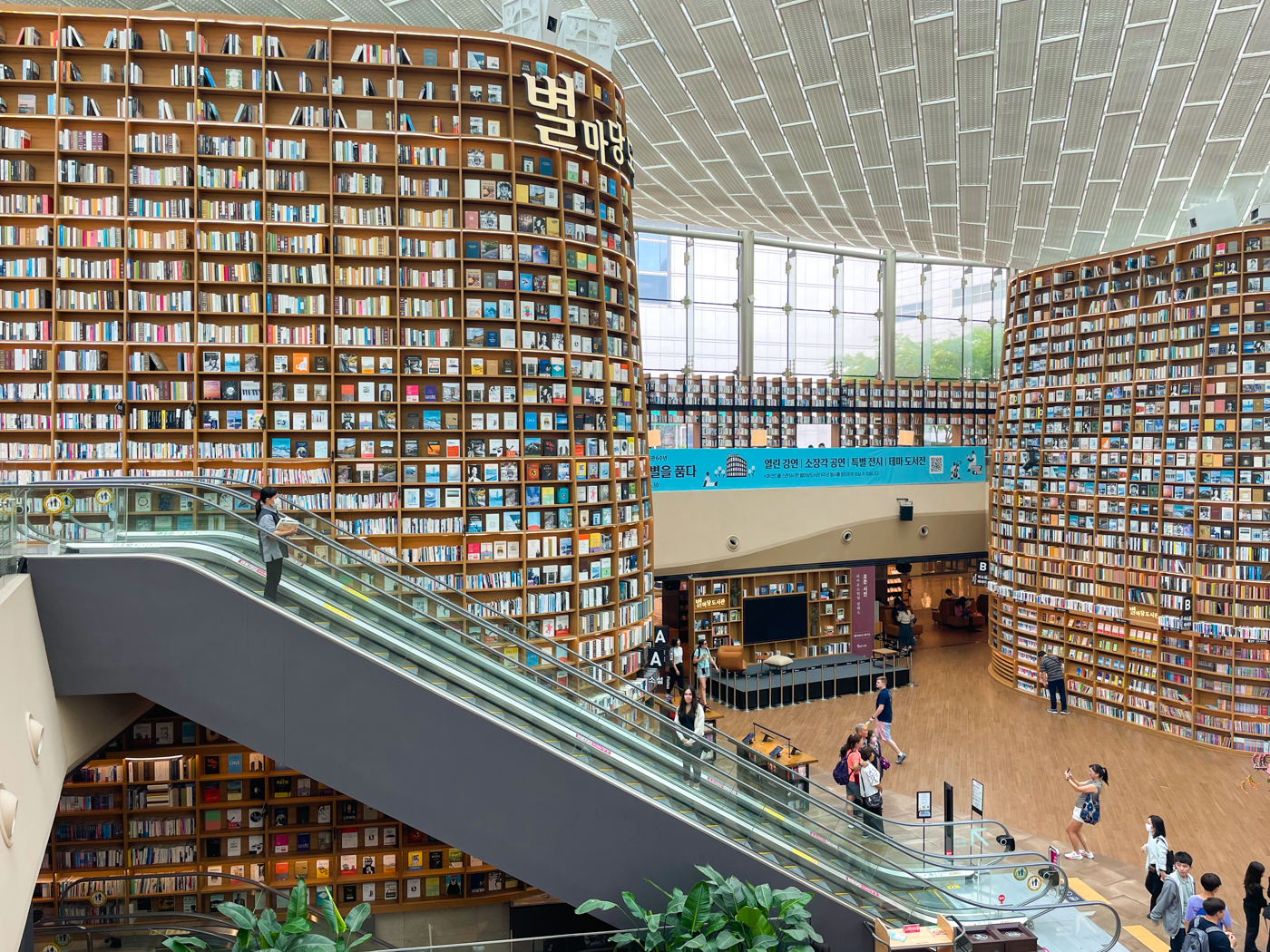 Many visitors to Seoul spend their time shopping, eating, and partying. This is one livable, lively city, crammed full of excellent skincare products, world-class vintage stores, delicious street eats, and more karaoke bars than you could possibly imagine. There's lots to keep you entertained.
Simply strolling through the different neighbourhoods provides a way to keep costs down. I loved spending my time cafe-hopping in student-filled Hongdae, shopping in bustling Myeongdong, picking up traditional souvenirs in Insadong, and admiring the street art in Itaewon.
One particular highlight from my most recent trip was walking the 10 kilometre, or seven mile, Cheonggyecheon Stream, which runs through downtown Seoul from Cheonggye Plaza to Dongdaemun. Once a busy highway, it has since been transformed into a peaceful oasis, where friends come to chill beside the water, surrounded by plants, trees, and fun water features.
Most visitors to South Korea want to hit up the DMZ: the border between South and North Korea, and specifically the Joint Security Area (JSA) — those famous blue barracks where North and South Korean soldiers stand face-to-face. It's the closest you can get to North Korea without actually entering it.
You'll want to be careful, then, when you do book your DMZ tour. There are plenty of these general DMZ tours running (priced at 76,000 KRW/$56), but the closest you'll get to North Korea is standing on a hill and looking into the country from afar with binoculars. You won't visit the JSA on these trips. It is, however, a third of the price of the JSA tours, so a great option for budget travellers. These non-JSA tours are incredibly popular, so do book early to ensure you manage to get a space. You can check availability for your travel dates using the widget below:
The JSA-specific tours are even more popular, especially because they have only recently (in mid-2023) started back up again. As I write this in August, tours are fully sold out until October.
VVIP Travel and Hana Tour are the two JSA tour operators to go with, so check out their websites just in case they do have availability. Tours cost 195,000 KRW ($150) per person and last for a full day.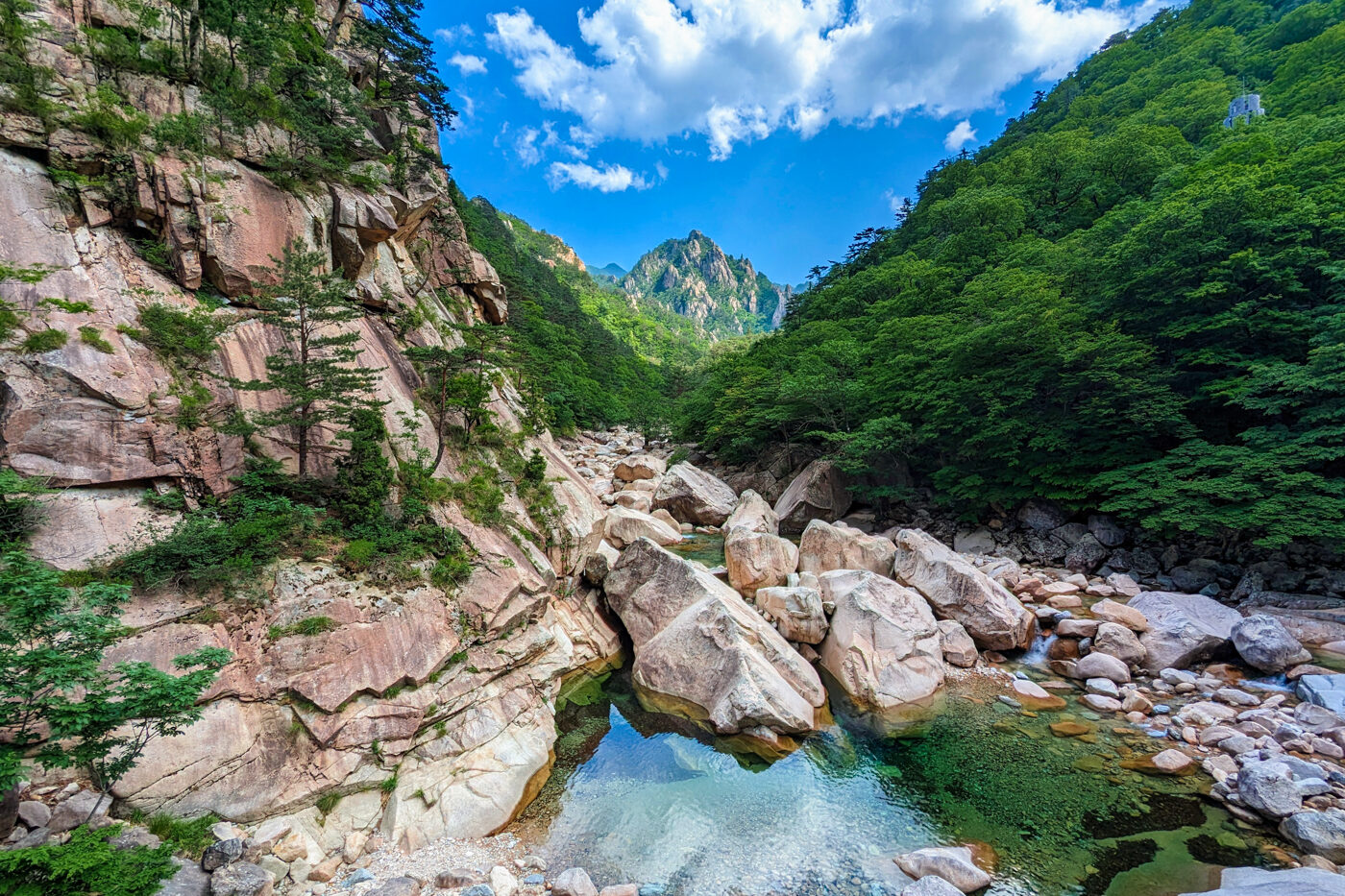 I knew I wanted to get out into nature while I was in South Korea, as I didn't want my entire trip to focus around gigantic, bustling cities. This country, after all, is 70% mountains. Seoraksan National Park provided the perfect opportunity to do just that. It's a two-hour bus ride from Seoul and when you arrive, you'll feel as though you're in a whole other country.
With an entrance fee of just 3,500 KRW ($2.50), this was an affordable way to see a part of the country that few tourists opt to explore. The scenery was incredible and a couple of days in town enabled us to tackle all of the most popular hikes.
Speaking of gigantic, bustling cities: Busan!
Busan often ends up being most people's favorite spot in South Korea and there's plenty to do while you're there. From beach-hopping your days away (my favourite free activity!) to hitting up bustling fish markets; eating allll the street food then exploring amazing colourful villages, blanketed with murals. Busan is well-worth visiting, that's for sure. But for us? We quickly realised that nearby Gyeongju was more our type of place.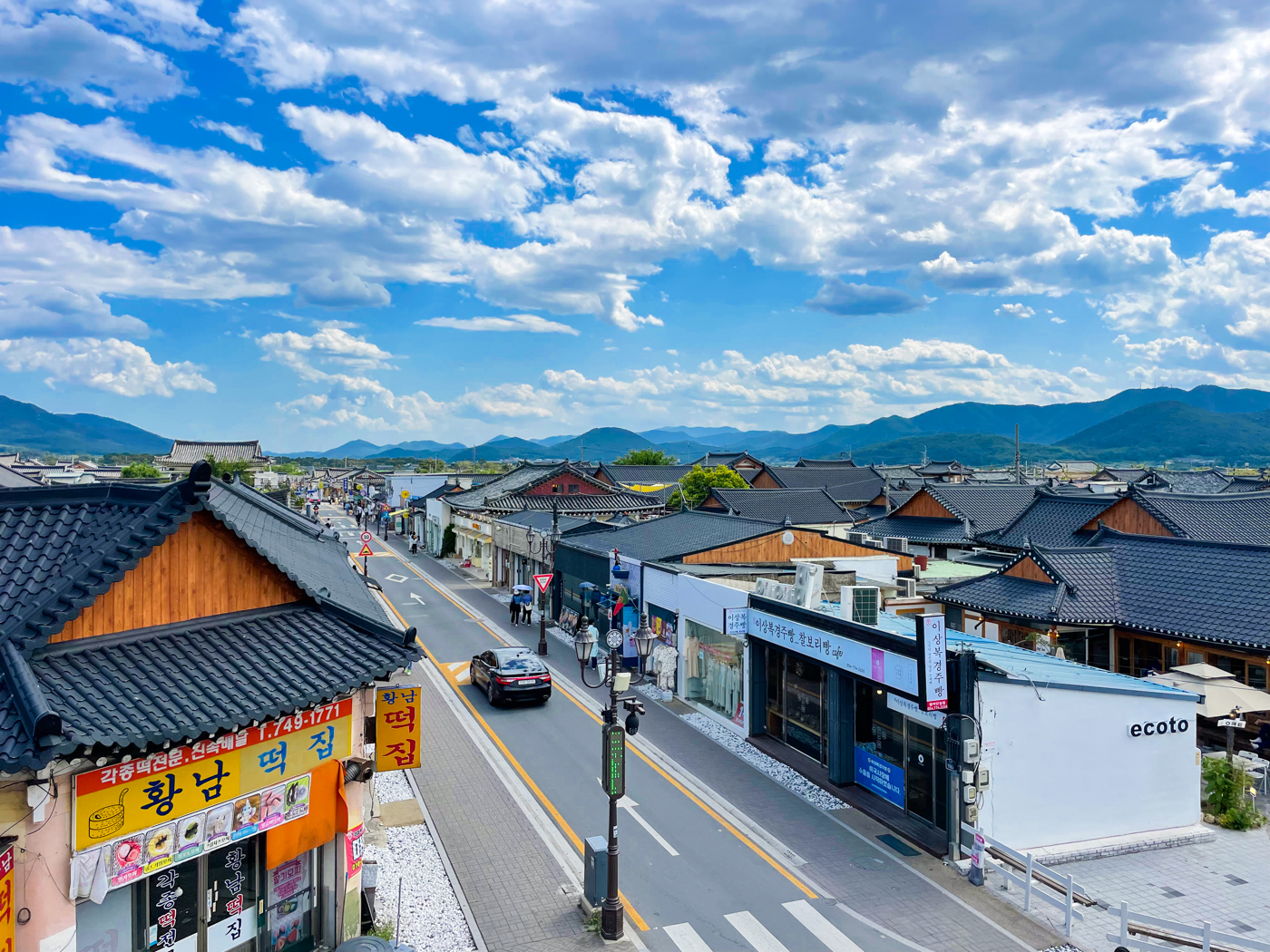 Dave and I adored Gyeongju, a compact city that's perfect for some respite after a few days in Busan. Gyeongju is crammed full of cultural sites and attractions, from royal tombs to ancient observatories, to one of the most impressive Buddha statues we've ever seen. The vast majority of attractions in town were free to visit, so we spent very little money while we were there, too — an added bonus!
And I can't write about South Korea and not include beautiful Jeju Island — the iconic volcanic island off the southern coast of the country that's known for its beaches, waterfalls, and mountains, as well as its local delicacies. Just wait until you try the local black pork! There's tons to do on the island — you could spend two weeks on Jeju alone — but so much of it is focused around landscapes and scenery (so much hiking!) that you can easily visit on a budget.
With all that being said, here's a breakdown of the main activity costs you may encounter in South Korea:
Entry to Donggung Palace, Gyeongju – 3000 KRW ($2)
Bulguksa Temple & Seokguram Grotto, Gyeongju – 5,000 KRW ($4)
Gyeongju Expo Park – 8,000 KRW ($6)
Daereungwon Tomb Complex, Cheomseongdae Observatory, Woljeonggyo Bridge, Gyochon Traditional Village – Free
Royal palaces combo ticket, Seoul – 10,000 KRW ($7.50)
N Seoul Tower – 21,000 KRW ($16)
Kimchi Museum entrance – 5,000 KRW ($4)
Nanta cooking show – 44,000 KRW ($34)
Lotte World entrance – 62,000 KRW ($47)
Bukchon Hanok village, Dongdaemun Design Plaza, Cheonggyecheon Stream, War Memorial of Korea, National Museum of Korea, Seoul – Free
Entrance to Seoraksan National Park – 3,500 KRW ($2.50)
Busan Sky Capsule – 15,000 KRW ($11.50)
Songdo cable car, Busan – 15,000 KRW ($11.50)
Busan Tower Observatory – 7,000 KRW ($5)
Haedong Yonggungsa Temple, Gamcheon Cultural Village, Busan – Free
Jeongbang Waterfalls entrance, Jeju Island – 2,000 KRW ($1.50)
Camellia Hill entrance, Jeju Island – 7,000 KRW ($5)
Jeju Folk Village, Jeju Island – 12,000 KRW ($9)
As you can see, there's very little that's going to break the bank in South Korea — there's tons of free attractions and any entrance fees are reasonable.
Over my two weeks in Korea, I averaged just $3 a day on activities and entrance fees.
The Cost of Miscellaneous Expenses in South Korea
An eSIM: A few years ago, I made the switch to eSIMs and it's an act that's significantly improved my travels.
I used to hate having to spend my first few hours in a new country wandering around in search of a way to get connected. There's locating a store that will sell you one, language barriers to deal with (I was surprised to discover South Korea has one of the highest language barriers I've ever encountered!), various forms of ID and information you might need to bring, scams to navigate, and… well, it's a headache.
These days, I buy my SIM cards in advance through AloSIM, which sells local e-SIMs for travellers. What that means is that you can buy your SIM card online before you arrive in South Korea, and then as soon as you land in Seoul, can switch on your phone and be online before the plane's even come to a halt. It's worked flawlessly for me in over a dozen countries, including South Korea.
I paid $15 for 5 GB of data for 30 days in South Korea.
However.
There's one small detail I need to mention. Before arriving in South Korea, I read dozens of articles insisting that you need a local Korean phone number to successfully travel in the country.
Most of the taxi apps require a local number (especially if you want to pay by card in the app), and most popular restaurants operate a waitlist where they call or text you on a local number when a table is ready — if you don't have one, you can't join the queue!
Dave specifically bought an LG SIM card that gave you a local phone number and… we used it close to zero times. It turned out, we didn't need to call a taxi even once and none of the restaurants we went to had waiting lists. A couple of takeaway joints that we went to required a local number to place an order, but that was it. I'm glad we had at least one SIM card with a Korean number for peace of mind but we also didn't really need to use it, so I don't think it's as much of a travel essential as people say.
Travel insurance: If you've read any other posts on Never Ending Footsteps, you'll know that I'm a great believer in travelling with travel insurance. I've seen far too many Go Fund Me campaigns from destitute backpackers that are unexpectedly stranded in a foreign country after a scooter accident/being attacked/breaking a leg with no way of getting home or paying for their healthcare. In short, if you can't afford travel insurance, you can't afford to travel. These costs can quickly land you with a six-figure bill to pay at the end of it.
Travel insurance will cover you if your flight is cancelled and you need to book a new one, if your luggage gets lost and you need to replace your belongings, if you suddenly get struck down by appendicitis and have to be hospitalised, or discover a family member has died and you need to get home immediately. If you fall seriously ill, your insurance will cover the costs to fly you home to receive medical treatment.
I used SafetyWing as my travel insurance provider in South Korea. They provide worldwide coverage, don't require you to have a return ticket, and even allow you to buy coverage after you've left home. If you're on a long-term trip, you can pay monthly instead of up-front, and can cancel at any time. Finally, they're affordable, and have a clear, easy-to-understand pricing structure, which is always appreciated.
The cost of two weeks of travel insurance with SafetyWing was $21, or $1.50 a day.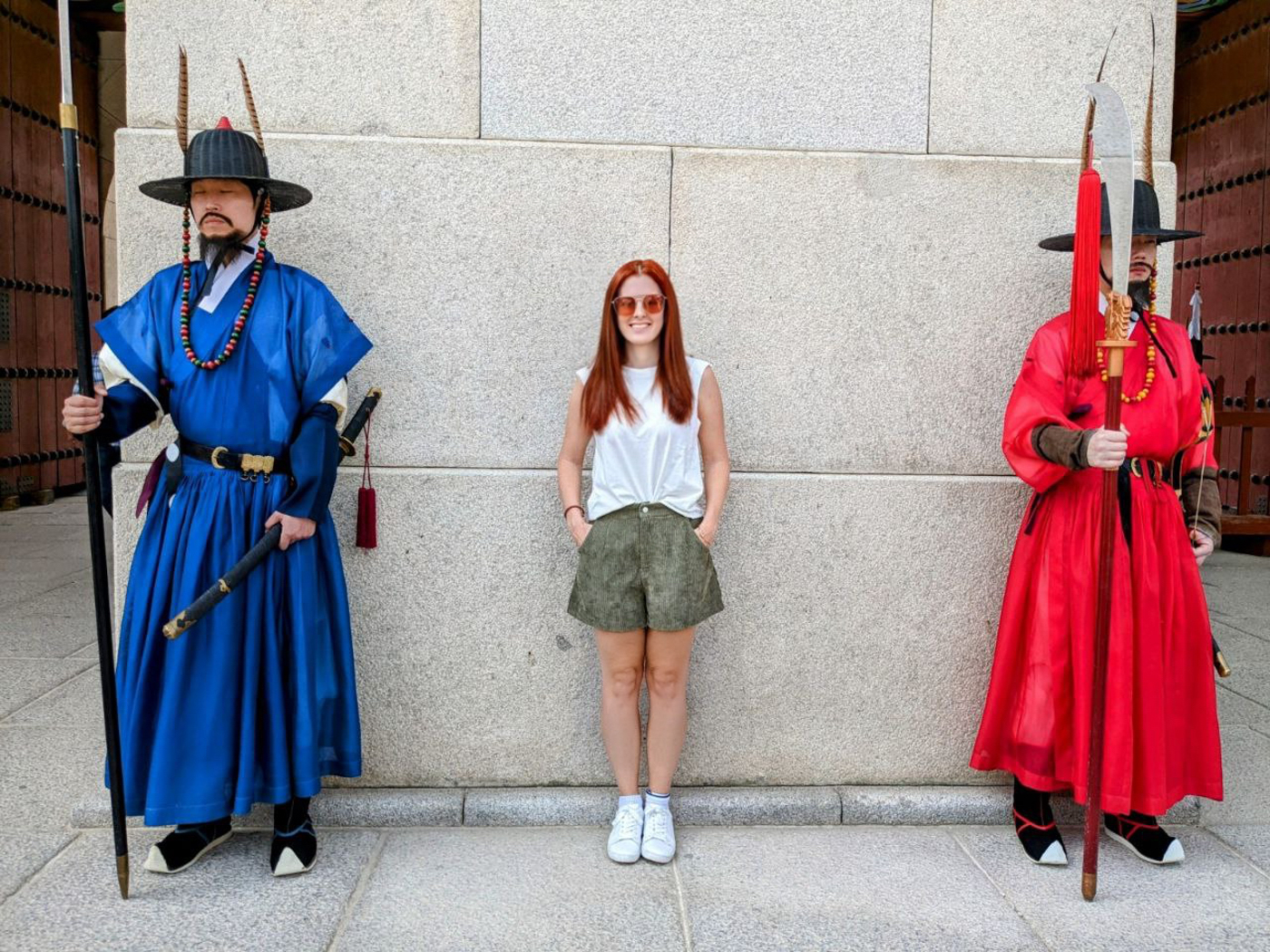 How Much Does it Cost to Travel in South Korea?
It's time to tally up all of my expenses to see my total travel costs! In U.S. dollars, my average daily costs in South Korea were:
Accommodation: $104.50 per day
Transportation: $10.20 per day
Food: $19 per day
Activities/Entrance Fees: $3 per day
Average amount spent in South Korea: $137 a day!
As I mentioned in the accommodation section, I did splurge a little when it came to accommodation, so if you're on a tighter budget, that's where you'll be able to cut costs.
For example, if you're a backpacker who plans on staying in dorm rooms, you can expect to spend $18 a night on accommodation, making your total daily costs around $50 a day.
Alternatively, if you're part of a couple and staying in budget-to-mid-range guesthouses, you'll be looking at $50 a night for accommodation, which will make your daily total costs $82 a day.
So what do you think? Is South Korea more or less expensive than you expected? Let me know in the comments below!