One of the greatest gifts that travel has given me is patience.
I used to get so angry. I hated having to wait for anything, which I rarely had to do, thanks to a happy and easygoing childhood full of privilege.
Then travel happened, and I left my comfortable life behind, immediately discovering that outside of my cosy bubble, things rarely happened quickly.
Buses break down, the internet is so slow that it won't load any pages, it takes nine hours of lining up in scorching temperatures to cross a border, you get lost, you get scammed, you miss a flight, it takes someone five minutes to figure out what you need from your hand gestures.
Thanks to travel, I'm basically the most patient person on the planet.
Slow internet? Not a problem. I'll happily wait five minutes for a page to load, or just realise whatever I needed to do wasn't so important after all. Bus broke down? It's cool, I'll just read a book for a few hours until we're moving again. I'm not in a rush; it's no big deal. People are dying; I'm just having to wait an extra few hours than I'd expected.
So when we were in Belize and our journey from San Ignacio to Placencia started to fall to pieces, I wasn't phased at all.
I had all the time in the world.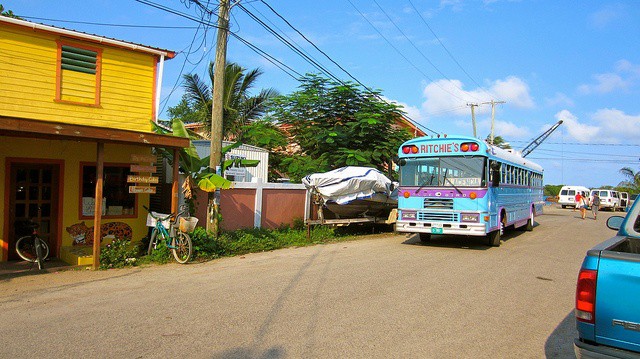 Getting from our guesthouse in San Ignacio to our one in Placencia ended up a convoluted journey for such a short distance.
There were two options for travelling to Placencia from San Ignacio's bus station:
Either a bus to Belmopan, a bus to Independence, and a water taxi to Placencia, or a bus to Belmopan, a bus to Dangriga, and a bus to Placencia. Either route would take several hours with the total distance coming in at roughly 125 miles.
The first leg of the journey, to Belmopan, makes for a standard bus ride in Belize. Dave and I arrived at the bus station sweaty, dusty, and looking forward to the day being over. We stepped on to the dry, dusty ground and wandered into the station, greeted by an enormous swarm of frustrated-looking people. It was a Saturday in Belize and it seemed as though every single person in the country was, like us, planning on heading south.
With the southerly-direction buses running only once per hour, we joined the crowd and settled in for a long and boring wait.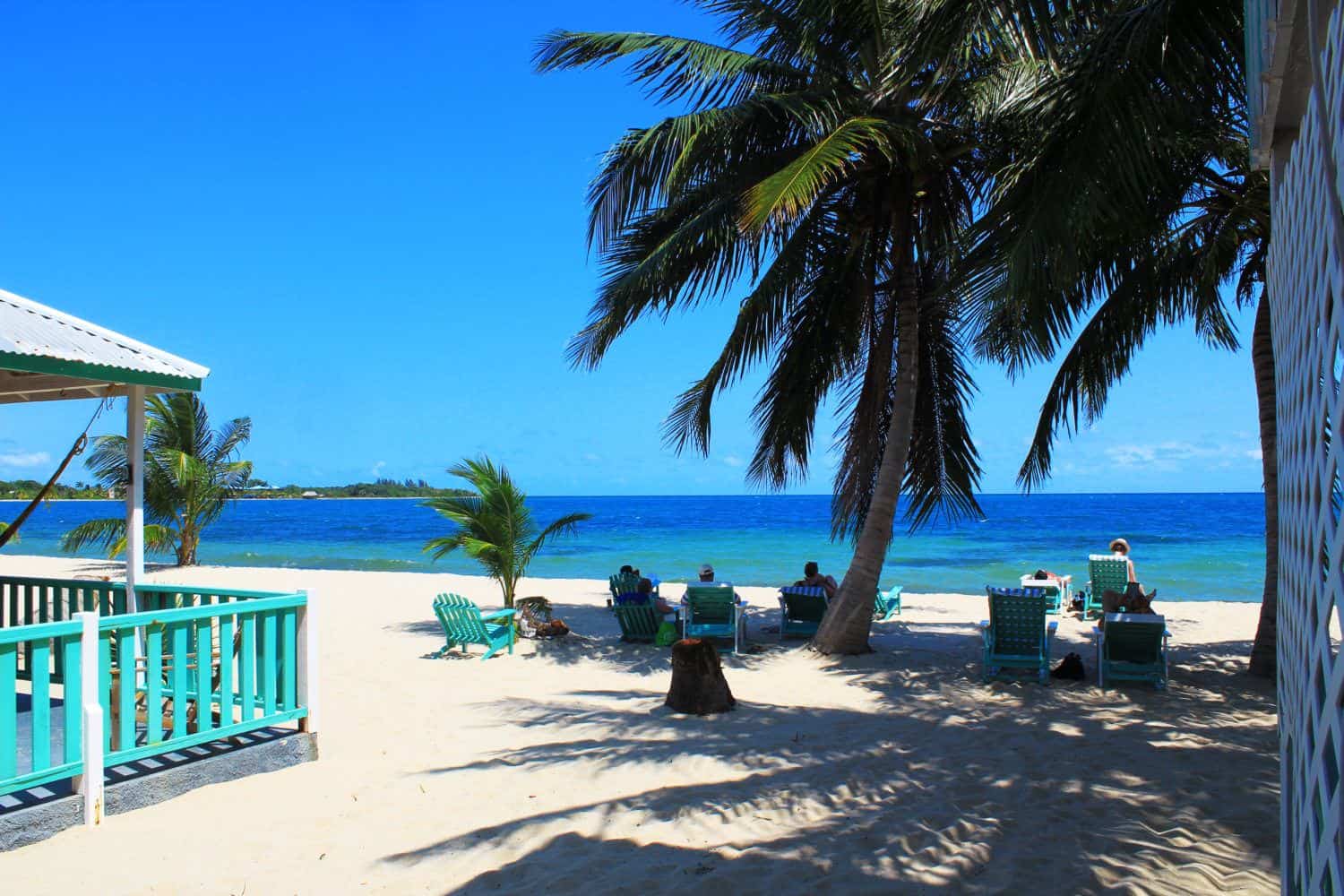 A very long wait.
Waiting in Belmopan's bus station felt like waiting for Godot. In front of the queueing area there was a metal fence with a door in it. Whenever a bus would arrive, someone would slowly open the door and a hundred people would try to force their way through the tiny gap and on to the bus. It was like being in a cage. It was like being in school again and shoving people out of the way to see a fight.
After half an hour of waiting, a southerly-heading bus arrived, and Dave and I threw our backpacks on in preparation. When the gate was opened, three people slipped out and we were left waiting in the oven-like bus station.
I couldn't believe it.
With roughly 50 people in the crowd ahead of us, we could be waiting in this cage for days.
"What time does the last bus leave for Placencia?" I asked Dave with a laugh.
"6 o'clock," he told me. "So as long as we're not stuck here for five hours, we'll be okay."
I grinned. Like we'd be stuck here for five hours.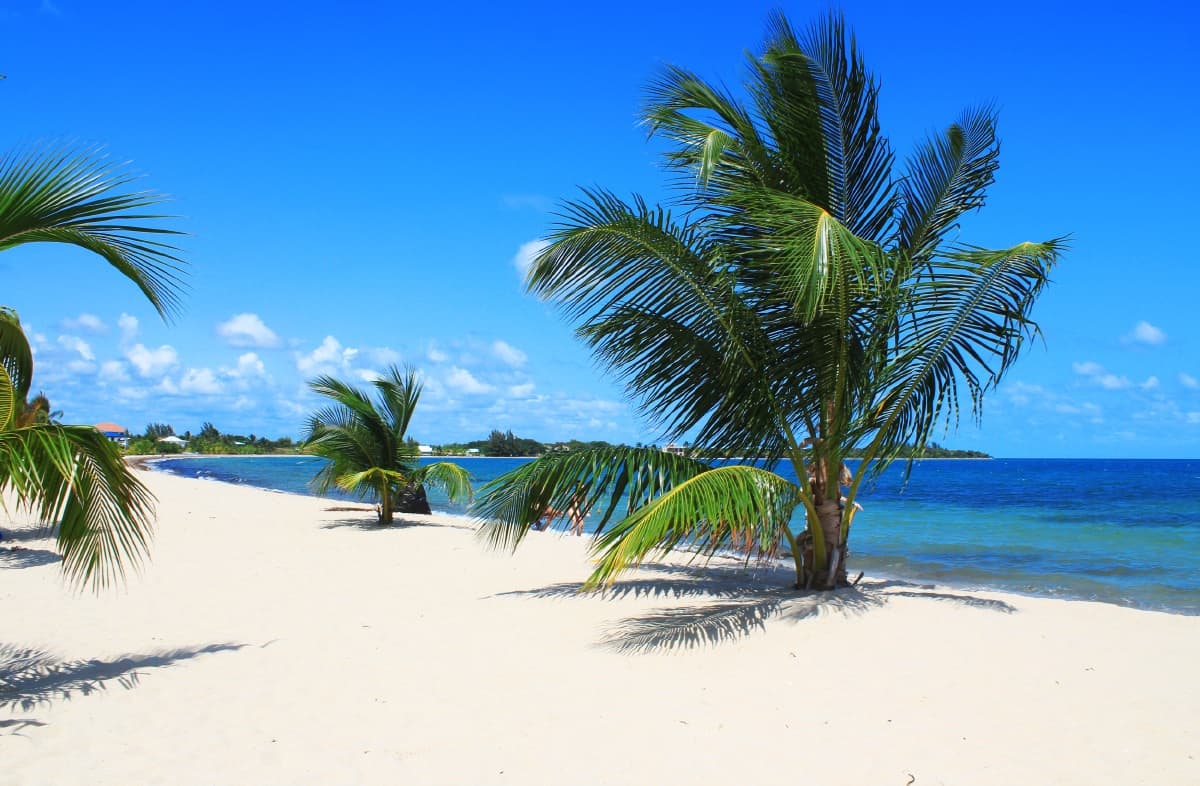 Allow me to pause here for a moment to tell you about procrastination.
While I was in Belize, I'd signed a lucrative freelance deal that required me to write seven articles a month for a travel company. And, well, I — I do things at the last minute. I procrastinate until the Panic Monster jumps into action and starts screaming in my face.
I had yet to even start writing my articles and my deadline for them was midnight that night.
Now would have been the perfect time to sit down and get everything done, but Belize isn't a country that's known for it's safety. I couldn't just take out my Macbook and start writing articles in front of everyone unless I was specifically looking to be robbed or come across like a douchebag. Instead, I attempted to mentally compose them in my head, so that I would be able to bash them out quickly before we arrived in Placencia.
If we arrived in Placencia.
An hour later, a second bus pulled up to the terminal, and yes! It was only half-full! There was a decent chance we'd be able to make our way onto this one.
I tightened the waist straps of my backpack and leaned forward as if I was about to start sprinting. In reality, somebody unlocked the door to our waiting cage and the locals threw themselves forwards, shoving me back in the process. Twenty people slipped through and we were still left waiting in our Belizean jail.
I turned to Dave. "I guess we'll be here for another hour then."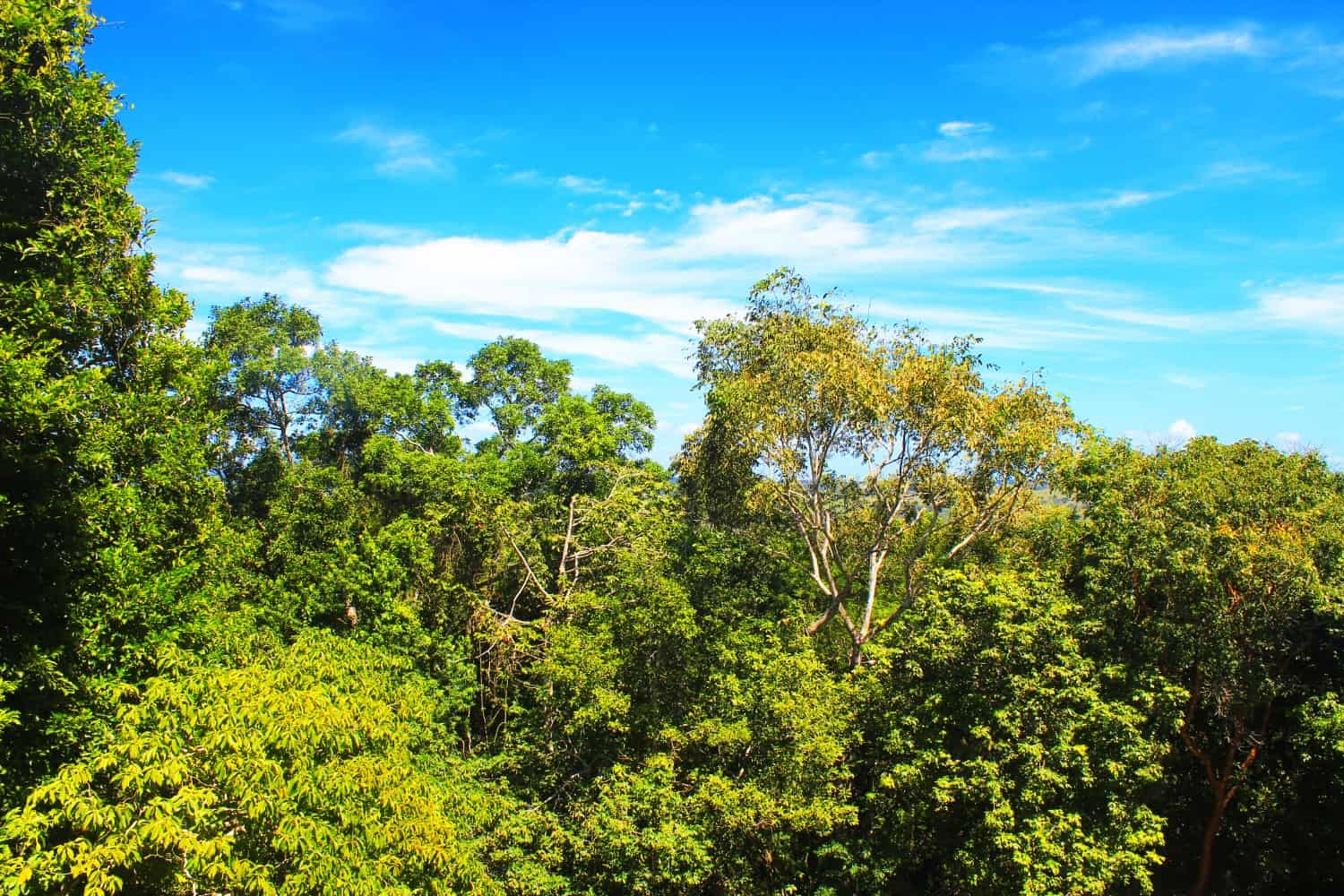 Hour by hour, we inched our way through the hot, humid, sticky bus terminal, as glimmers of hope shone through the metal bars only to be extinguished as we repeatedly failed to make it outside.
A third bus arrived with space for only two extra people, and those people were definitely not us.
We'd now been standing in the crowd for two and a half hours and I was rapidly losing my optimism.
I was, however, still patient.
Then something amazing happened.
Two whole buses arrived at the bus station and they were both half-empty.
The station attendant fully opened the door for the first time since we'd arrived and a flood of people surged towards the bus. I felt as though I could cry when I took that step on board and realised we would make it to Placencia after all. I didn't even care that all of the seats had been taken by locals already, and Dave and I dropped our backpacks in the aisle and sat down on them like the other backpackers were doing.
"No!" the bus driver yelled at us. "No sitting in the aisle. Get off the bus! Wait for the next one."
Nooooooooooooooooooooooooooooooooo.
I grabbed my backpack and trudged back into the steaming hot cage of the bus terminal.
We had another hour to wait.
At this point, a taxi driver approached us through the bars and offered to take us to Independence for $150, so we could catch the water taxi to Placencia.
I was seriously close to agreeing to it, but we were first in the queue and I knew we'd be guaranteed a spot on the next bus.
After four and a half hours of waiting, we made it onto a bus.
By this point we couldn't go to Dangriga, because the final bus to Placencia had already left. Our only option was to take the water taxi from Independence to Placencia, and the final one left at 6 p.m.
We arrived at 6:15.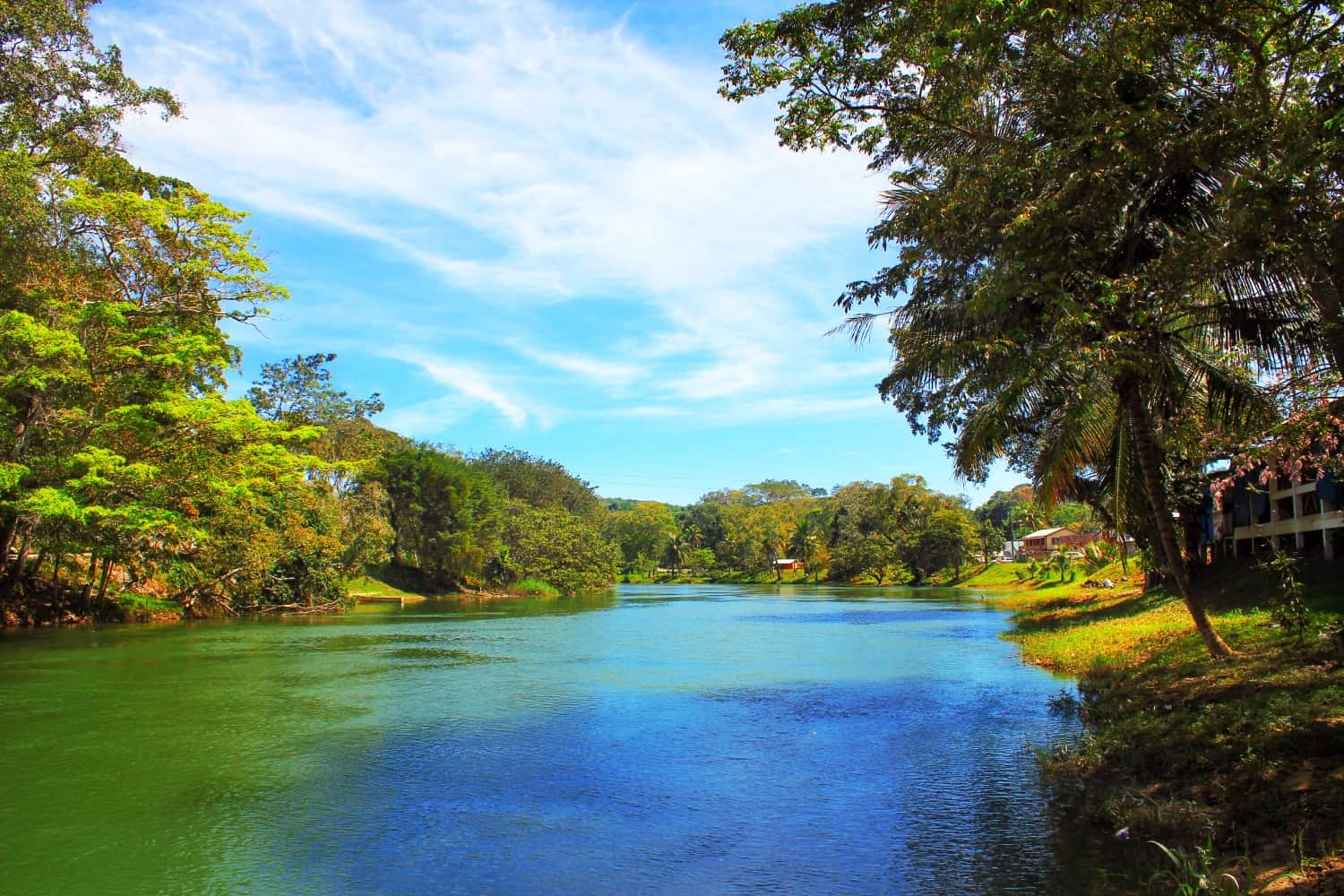 Dejected and disheartened, we trudged off the bus after what had been a truly terrible travel day. Now, we just had to find a guesthouse with a usable internet connection so that we could let our guesthouse owners in Placencia know that we wouldn't be arriving that evening. And, y'know, for me to write seven articles in under four hours.
We flagged down a taxi and squeezed ourselves and our backpacks inside.
"Placencia?" the driver asked, unconcerned about our late arrival.
"We've missed the water taxi," Dave explained. "The last one is at six."
Our driver dismissed our concerns. "I'll take you to the jetty anyway," he said. "Maybe I can find someone there to take you to Placencia."
Dave looked at me and I shrugged. "Worth a shot?"
We took off in the direction of the water and I crossed my damp fingers in my lap.
It was dark now, and I had close to no hope that there would be any way of making it across the water. I didn't know whether to long for an alternative path to Placencia or whether we should be heading straight to Independence so that I could get working as quickly as possible.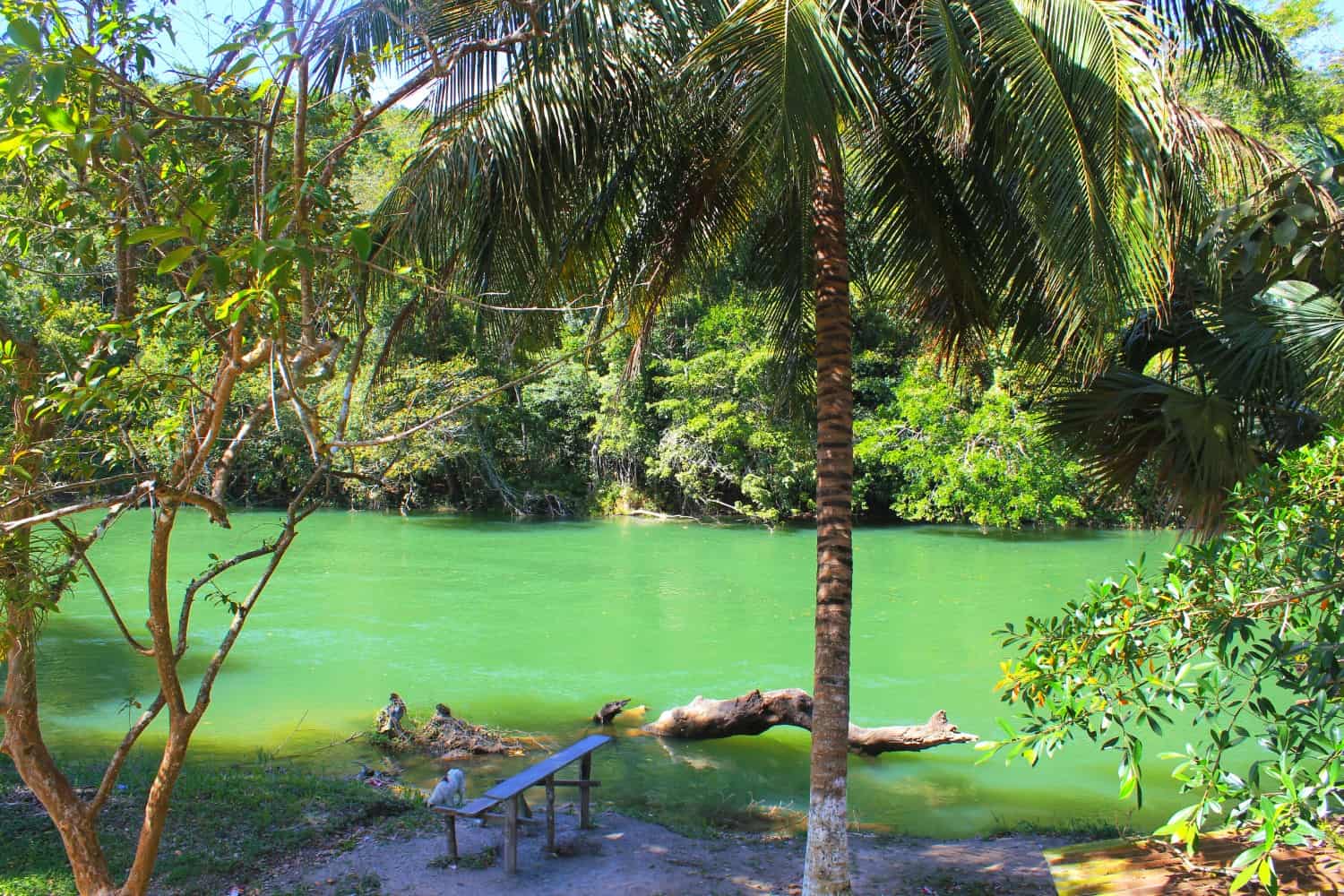 We rolled to a halt by the water's edge and our taxi driver immediately leapt into action. I thought about marrying him.
As he jogged towards a group of men, he began asking whether anyone was still heading across the water to Placencia, announcing that he needed to find someone to take us across. The men shrugged in response.
"It's okay," Dave called out to him. "We can just spend the night in Independence. It's no big deal."
"No, no, no!" the taxi driver called back. "Give me a few minutes."
Dave and I stood beside the taxi and watched as our driver raced across the dock, stopping to ask anyone and everyone whether they could take us to Placencia.
My jaw dropped when I saw an elderly guy stand up and nod.
"Dave!" I whispered in excitement.
We hauled our backpacks out of the taxi, handed the driver what was most likely one of the best tips of his life, and hopped aboard a small fishing boat.
Ten minutes later, we were making our way down a sandy path to our guesthouse in Placencia, unbelievably grateful for our unexpected saviour.
Related Articles on Belize

💰 How Much Does it Cost to Travel in Belize?
🇧🇿 Stepping Back in Time at Cahal Pech
🐒 Xunantunich: My Favourite Mayan Ruins
🙅🏼‍♀️ The Belize-Guatemala Border and the Worst Bribe Attempt Ever