I have a confession to make, and I know it's not going to make me popular.
I didn't love Belize.
I'm in the minority here. Every person I know who's been to Belize has returned singing its praises. Many of my friends count it among their favourite countries. As I've been writing posts about my travels in the country, so many of you have commented to tell me how much you love Belize. That it's amazing. That you'd love to live there one day.
It's not that I didn't like it.
Belize is a beautiful country, filled with jungles and ruins, tons of wildlife, pretty beaches, and friendly locals.
But it was expensive.
Expensive in a way that felt like I was receiving poor value for my money.
Belize is a small country that imports the vast majority of its goods, which obviously results in higher prices. This is then coupled with basic infrastructure, which makes it hard to get excited about what you're spending your money on. Now, I'm fine with places being more expensive than I'm used to, but in Belize, it felt as though I was spending so much money on things I could get for far cheaper in neighbouring Mexico and Guatemala. In some places, I was spending what I'd expect to in the U.S.!
Mexico was cheaper than Belize and had better infrastructure and food, in my opinion. Guatemala had a similar level of development, but was much more affordable.
Whenever I hit the road, I'm thinking about finances. Mostly because I'm dedicated to recording every penny I spend. But as I explore a new place, I'm always weighing up whether it's offering up good value for money. Sometimes I'll be averaging $100 a day and feeling like it's more than worth it; other times I'll be spending a quarter of that and thinking, nope, no way.
Belize was a struggle for me because of that.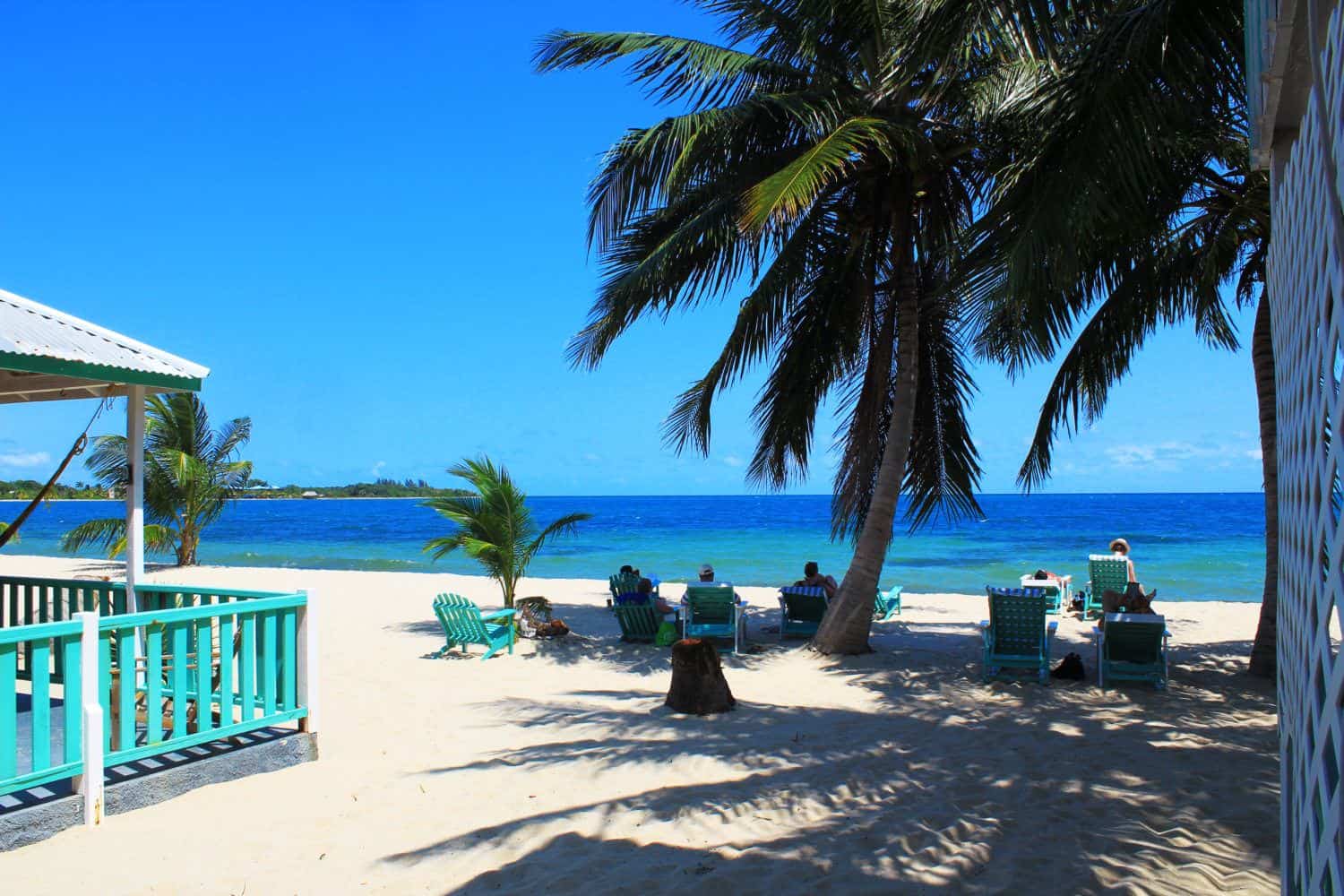 As an aside, I love looking back and noticing how my priorities and style of travel have transformed over the years.
For a long time now, I've had this idea in my head that Belize was over-the-top-expensive, but when I sat down to put this post together, I realised the prices no longer sounded so dramatic. These days, while I'd still notice I was receiving less for my money than in neighbouring countries, I don't think it would be as much of an issue.
But still, if you're a budget traveller, Belize will be more expensive than its neighbouring countries, and you won't receive as much for your dollars.
Let's get on with my budget breakdown for Belize! All prices listed are in U.S. dollars, as always, because most of my readers are based there.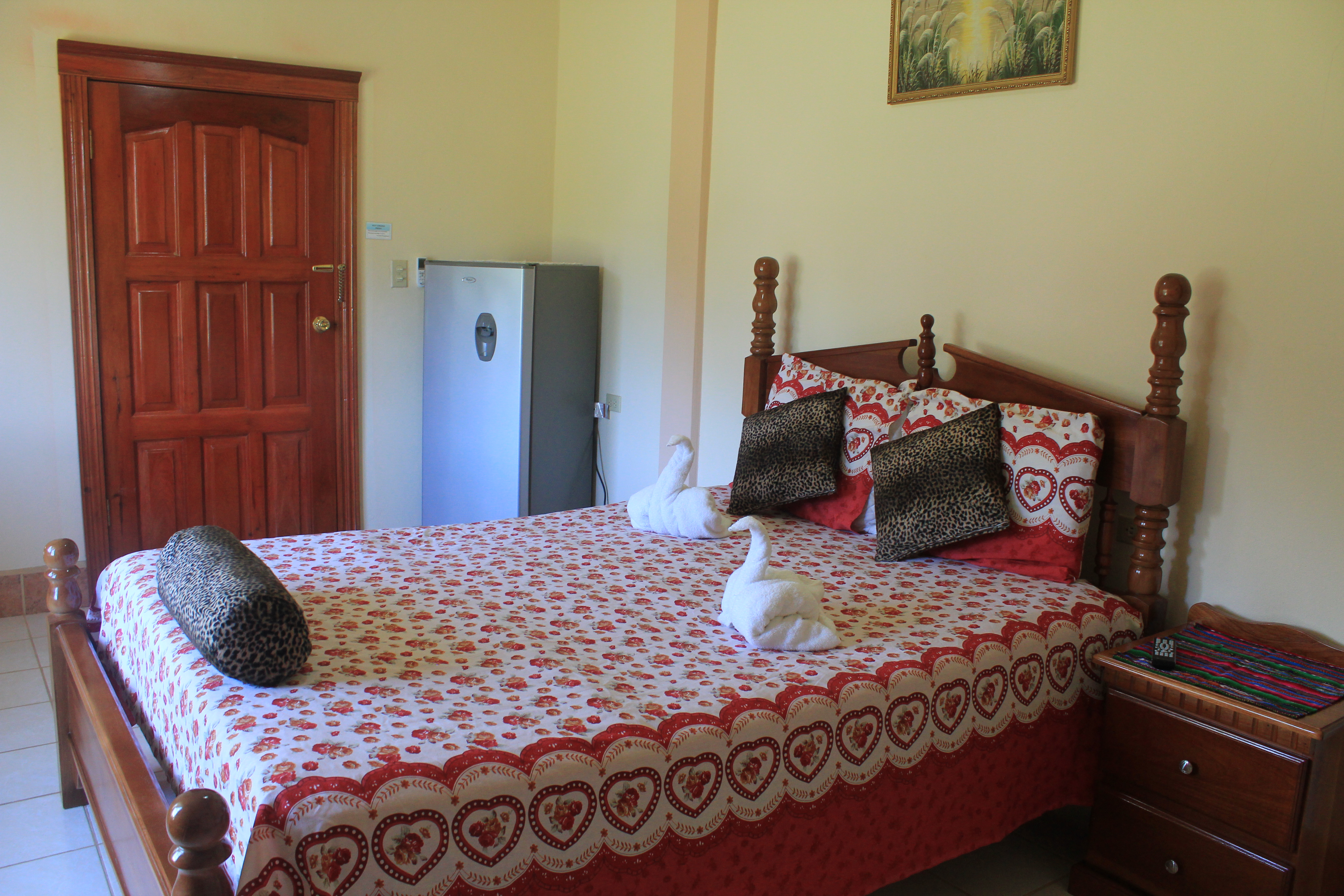 The Cost of Accommodation in Belize
When it comes to the cost of things in Belize, accommodation is easily going to be your greatest expense. While properties in this country are far pricier than they are in neighbouring Mexico and Guatemala, they still offer great value for money. Especially if you're coming from the U.S. or Europe — you can land yourself with some wonderful accommodation here, without having to pay hundreds upon hundreds of dollars for it.
Here's where I recommend staying in Belize:
Belize City: Villa Boscardi ($116 per night for a standard double room)
Belize City isn't the greatest of cities, so odds are, you'll be looking to minimise the amount of time you spend here. That's why I recommend Villa Boscardi, as it's mid-way between the airport and Belize City, in a very safe area, just steps away from the beach, and close to some great restaurants. The property has a beautiful jacuzzi/swimming pool and includes a delicious breakfast, as well as a friendly owner who can call you a taxi, arrange sight-seeing tours, or offer tons of local travel recommendations. This is the perfect option for an overnight stay, either on your first or last night in Belize.
Placencia: Bayshore Bijou Suites ($80 per night for a double room with pool view)
When it comes to accommodation in Placencia, there's a hell of a lot of pricey places around (think $250 a night), but Bayshore Bijou is one of the best options if you're on a mid-range budget. And this property is superb! With a gorgeous swimming pool and a location that's just two minutes from the beach, you'll have no end of options for splashing around. The property itself is eco-friendly, super-clean and very quiet. You'll be able to use kayaks, bicycles, and stand-up paddle boards for free during your stay, and the bountiful breakfast is delicious and well-worth the additional $10 a day. Don't be surprised if you turn up and discover some treats waiting for you in your fridge :-)
Caye Caulker: Colinda Cabanas ($102 a night for large cabana that sleeps three)
This is the best-rated accommodation on the island and for good reason: you'll be staying in the loveliest bungalows ever while you're here, with a beach view, gorgeous balcony (with hammocks!), and in quiet and peaceful surroundings, which are hard to find on Caye Caulker! Rooms have air conditioning, free drinking water, consistently-hot water showers, lightning-fast Wi-Fi, and even Netflix on the TVs! Staying at Colinda's also gives you access to complementary bicycles and kayaks — the former is essential for getting around the island and the latter is fun for exploring from the water! With free snorkelling gear thrown in, too, you'll have plenty to keep you busy on the island. The owners are incredible and even offer to go shopping for you, to stock your fridge with food and snacks before you arrive. Seriously: go check out the reviews on Booking — this place is absolutely phenomenal!
If you're on a tight budget in Caye Caulker, look to Chapito's Apartments 3, which is $60 a night and gets a rating of 9.1 on Booking.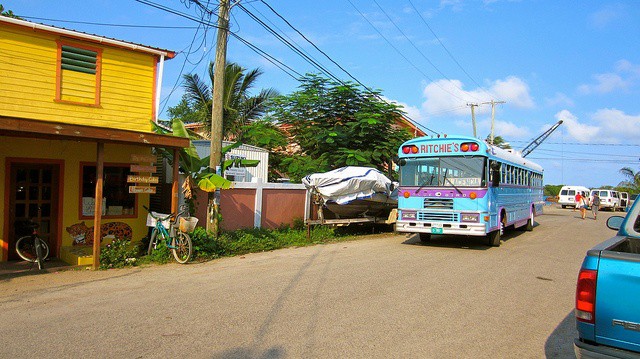 The Cost of Transportation in Belize
Public transportation was inexpensive in Belize, and I recommend taking the local buses over hiring a scooter or car, both for safety reasons and to save money. I saw somebody get killed on a scooter during my first day in the country.
Distances are short, as the country is so small, but bear in mind that that doesn't necessarily mean your travel days won't be long and sweaty. A particularly memorable (read: awful) travel day saw us taking a full nine hours to get from San Ignacio to Placencia, a distance of 120 miles. It was a public holiday on that day and it turned out most of the country was trying to travel on that route, too! Thankfully, days like that were a rarity.
Here's what I spent on transportation in the country:
Bus from Cancun to Belize City: $41.70
Bus from Belize City to San Ignacio: $4.50
Return bus trip from San Ignacio to Xunantunich: $1.50
Taxi from San Ignacio to the Guatemalan border: $3.22
Taxi from the Guatemala border to San Ignacio: $3.22
Bus from San Ignacio to Belmopan: $7.50
Bus from Belmopan to Placencia: $7.50
Bus from Placencia to Belize City: $15.00
Return ferry ticket from Belize City to Caye Caulker: $17.50
The Cost of Food in Belize
The price of food in Belize was fairly steep and more in line with what you'd pay in the U.S., rather than neighbouring Mexico or Guatemala. Hunting down street stalls would get you a meal for around $5, but if you want a sit-down meal for dinner, you'll looking in the region of $15-20 per person.
I spent $417 on food for my 13 days in the country, which worked out at $32 a day.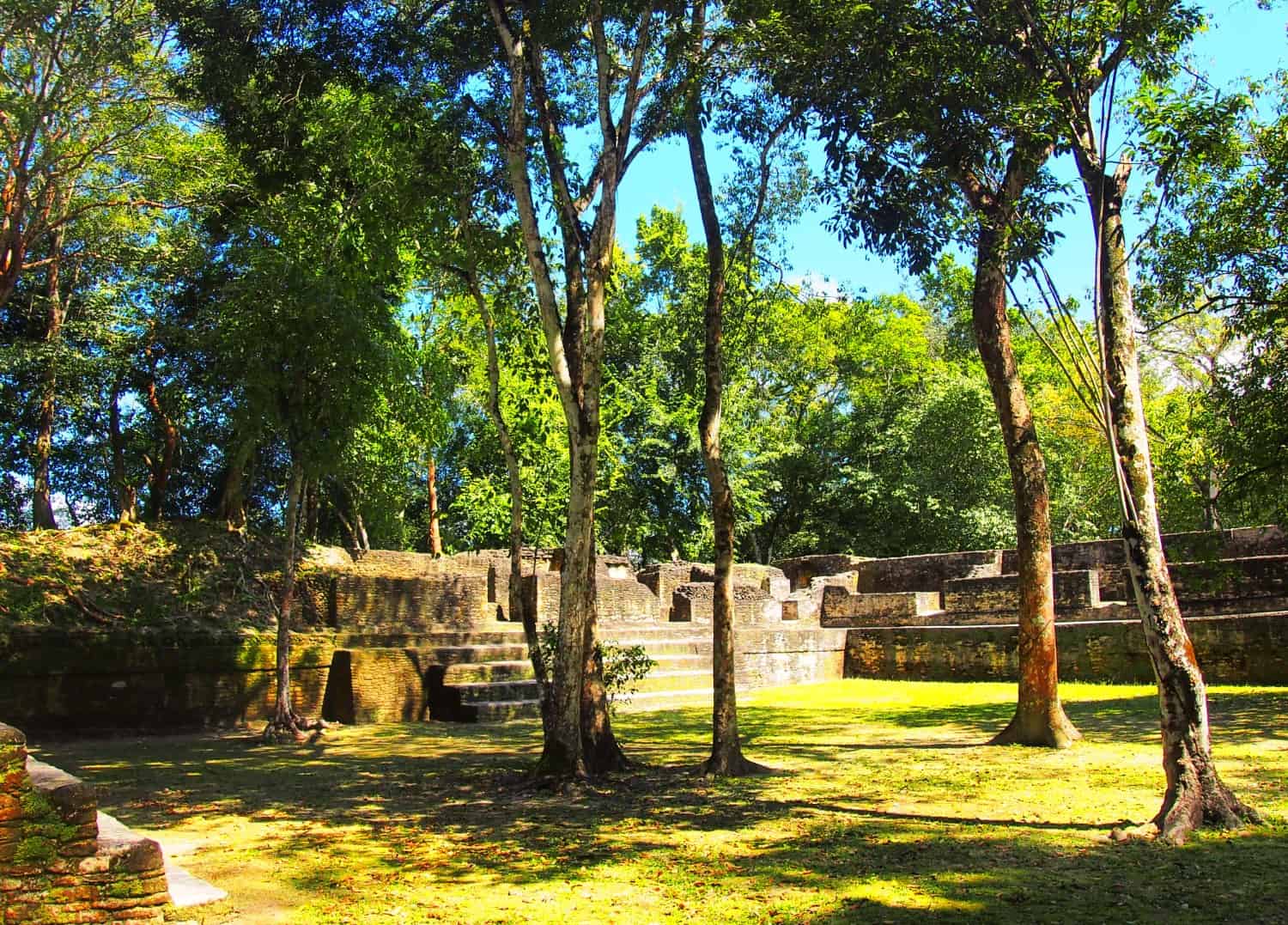 The Cost of Activities in Belize
I was all about the ruins in Belize! One of the cheapest activities in the country is clambering all over the ruins, so we made sure to do exactly that while we were based in San Ignacio. In Placencia and Caye Caulker, I opted to spend my time sunbathing and exploring on foot to save money. Here's how much I spent on activities and entrance fees while I was in Belize:
Entrance fee for Xunantunich: $5
Entrance fee for Cahal Pech: $5
Not much, hey? One of my greatest regrets about my time in Belize was not feeling as though I could justify spending money on some of the pricier activities in the country.
One of the big-ticket items that everybody insists you have to do while in Belize is take a tour of the ATM caves ($110). This full-day experience takes you through the jungle, where you'll swim through caves, ford a river, and learn about the Mayan civilisation. I regret not taking the tour because as the reviews show, practically every single person says it ended up being one of the highlights of their trip.
If you're not on a budget, you may want to work in a trip to Belize's barrier reef, whether it's snorkelling the Belize Barrier Reef ($75) or taking a helicopter over the Great Blue Hole ($420). If you're not going to be venturing into Guatemala on your trip, it also might be worth opting for a day trip from San Ignacio to the magnificent Tikal ruins ($150). I absolutely adored my day spent exploring Tikal, so highly recommend taking the day to see as much of it as possible from Belize, especially as that tour receives fantastic reviews.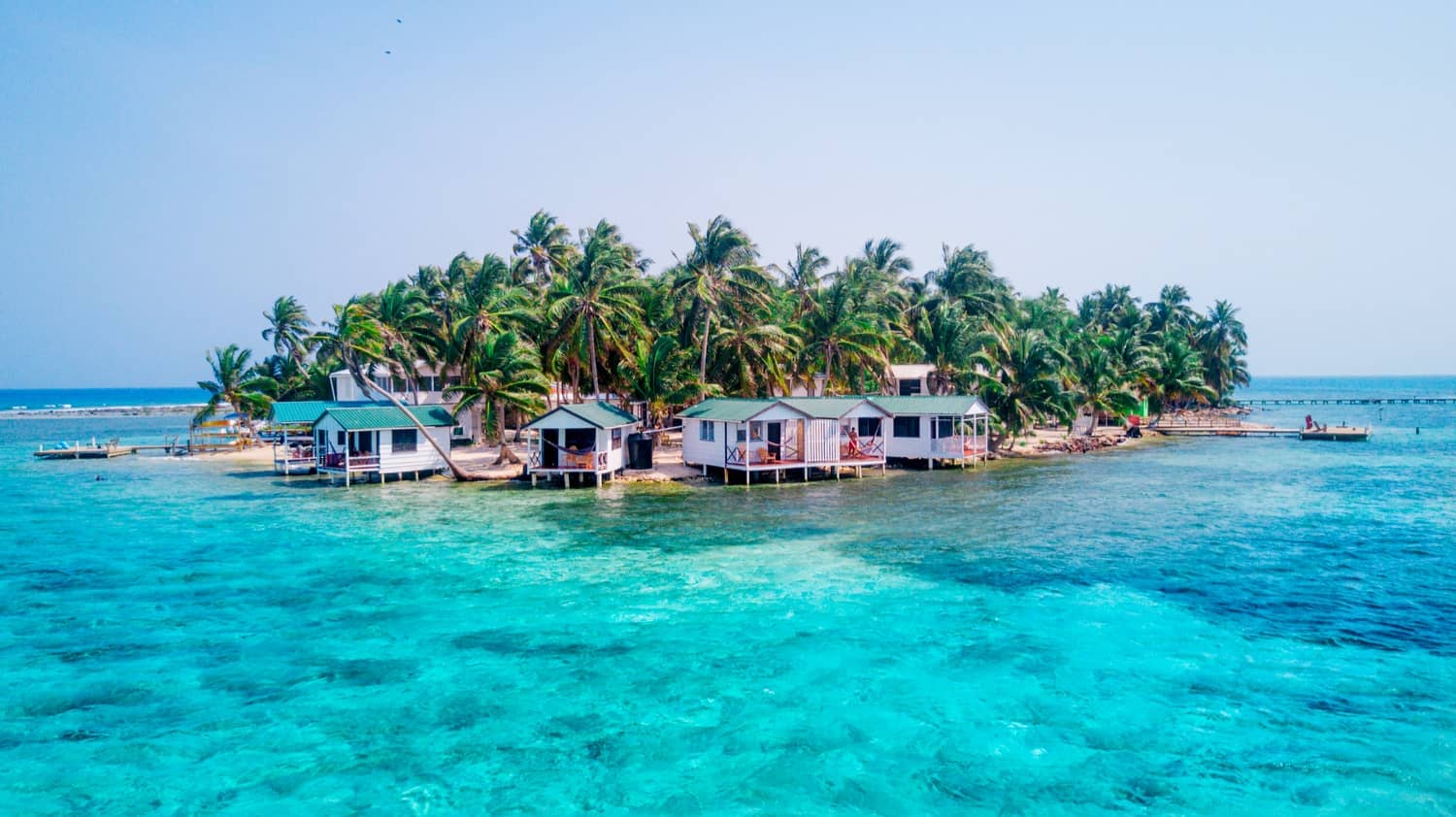 Don't Forget About Travel Insurance for Belize
If you've read any other posts on Never Ending Footsteps, you'll know that I'm a great believer in travelling with travel insurance. I've seen far too many Go Fund Me campaigns from destitute backpackers that are unexpectedly stranded in a foreign country after a scooter accident/being attacked/breaking a leg with no way of getting home or paying for their healthcare. These costs can quickly land you with a six-figure bill to pay at the end of it.
In short, if you can't afford travel insurance, you can't afford to travel.
Travel insurance will cover you if your flight is cancelled and you need to book a new one, if your luggage gets lost and you need to replace your belongings, if you suddenly get struck down by appendicitis and have to be hospitalised, or discover a family member has died and you need to get home immediately. If you fall seriously ill, your insurance will cover the costs to fly you home to receive medical treatment.
I use SafetyWing as my travel insurance provider, and recommend them for trips to Belize. Firstly, they're one of the few companies out there who will actually cover you if you contract COVID-19. On top of that, they provide worldwide coverage, don't require you to have a return ticket, and even allow you to buy coverage after you've left home. If you're on a long-term trip, you can pay monthly instead of up-front, and can cancel at any time. Finally, they're more affordable than the competition, and have a clear, easy-to-understand pricing structure, which is always appreciated.
With SafetyWing, you'll pay $1.50 a day for travel insurance.
The Cost of Travel in Belize
Now that I've taken a look at how much I spent while in Belize, let's add it all up to get to my total amount spent, as well as how much I averaged each day.
Accommodation: $329.50 each.
Transportation: $101.64
Food: $417
Activities: $10
And all of that totalled $858.14 for a 13-day trip to the country. That works out at $66 per day.
Have you been to Belize? How did my travel expenses stack up against yours?
Related Articles on Belize

🇧🇿 Stepping Back in Time at Cahal Pech
🐒 Xunantunich: My Favourite Mayan Ruins
🚌 San Ignacio to Placencia via the Worst Travel Day Ever
🙅🏼‍♀️ The Belize-Guatemala Border and the Worst Bribe Attempt Ever
Save This to Pinterest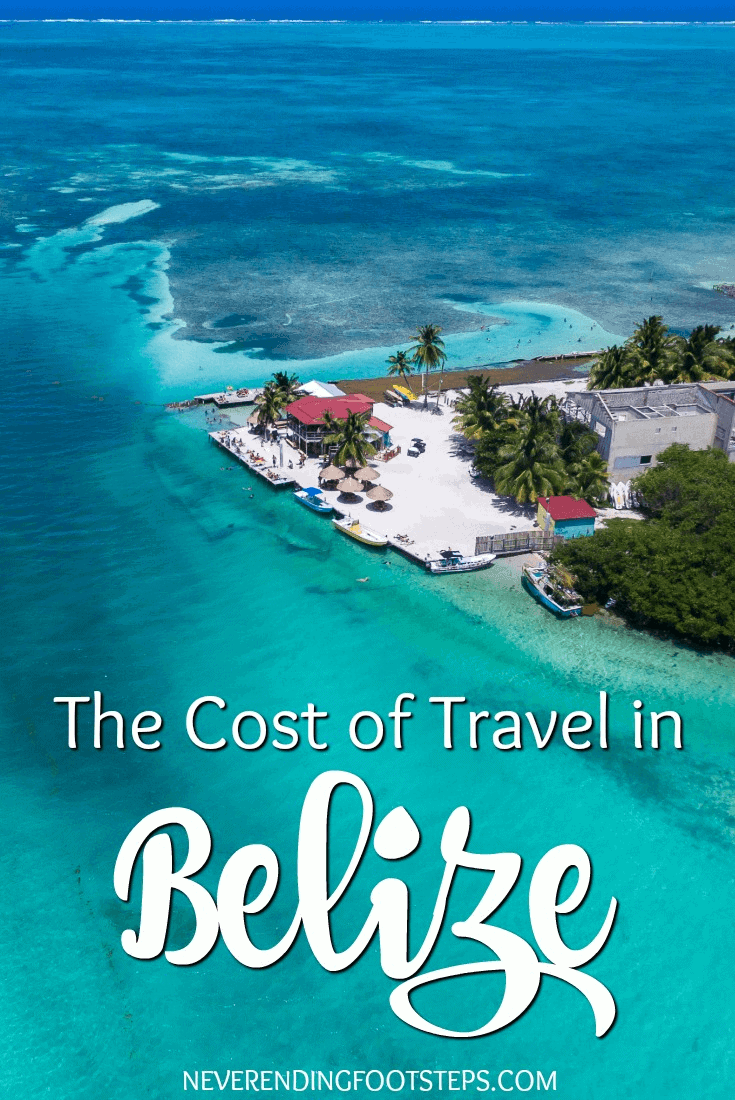 Stock photos via: Duarte Dellarole/Shutterstock.