The capital city of Ecuador, Quito, is a vibrant and culturally rich destination that offers visitors the chance to experience South American culture at its best. Whether you're looking for amazing architecture, historical landmarks, delicious food, or lively nightlife, you are destined to find it.
Ecuador is a relatively small country, and Quito is located in the middle of it. This makes it easy to get around, whether you're traveling by taxi, bus, or on foot.
Often overlooked by travelers, Quito is a city that should definitely be on every adventurer's bucket list. With so much to explore and experience, you'll want to spend at least three days in this stunning city, soaking up all of the culture, history, and beauty it has to offer.
The country's capital is home to a number of impressive historical landmarks and monuments, including the Presidential Palace and Basilica. You will learn about Quito's history, by visiting one or both of these sites.
Of course, no trip to the city would be complete without a sampling of the delicious food. The local cuisine has been heavily influenced by Spanish, African, and indigenous cuisine, resulting in a fusion of flavors that will satisfy any foodie's palate.
Along with the history and food culture, the city has everything you need for a vibrant latin nightlife. From cozy local bars and restaurants to pulsating dance clubs, you will be able to salsa the night away or practice your Spanish with one of the bartenders.
Whether you're looking to kick back with friends or go out on the town with your significant other, you're sure to have a great time! In this guide we will go over all of the best ways to spend three days in Quito, so that you can experience this amazing city at its very best.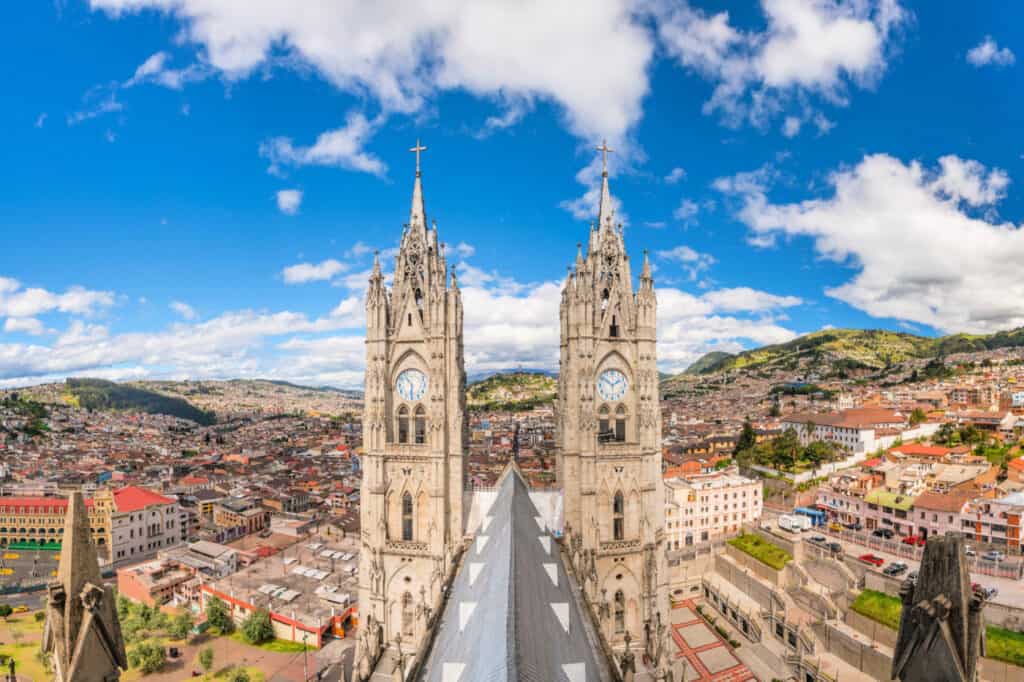 Day One in Quito
Located in the center of Ecuador, Quito lies on an elevated Andean valley at 9,350 feet above sea level. This altitude makes it one of the highest capitals in the world and means that you'll want to acclimatize by spending your first day exploring some of the city's many attractions and taking it slow.
Head out on a free walking tour of the historic center, which is a UNESCO World Heritage Site. I recommend the one that leaves from The Secret Garden hostel. You'll get to explore some of the city's most iconic attractions, including Basilica del Voto Nacional, La Compania de Jesus (the largest religious building in South America), and Plaza de la Independencia.
On the tour you will learn the history and significance of these places, while also getting a taste for the unique Ecuadorian culture that makes Quito such a special place. You will have the opportunity to try some Ecuadorian chocolate, the best empanadas in Quito, and some freshly squeezed juices as you walk.
The walking tour leaves at 10 AM and goes until about 1 or 2 in the afternoon depending on the speed of your group, since the walking tour is free, you will be asked to give some sort of tip to your tour guide at the end. Around $5 is the standard amount to tip.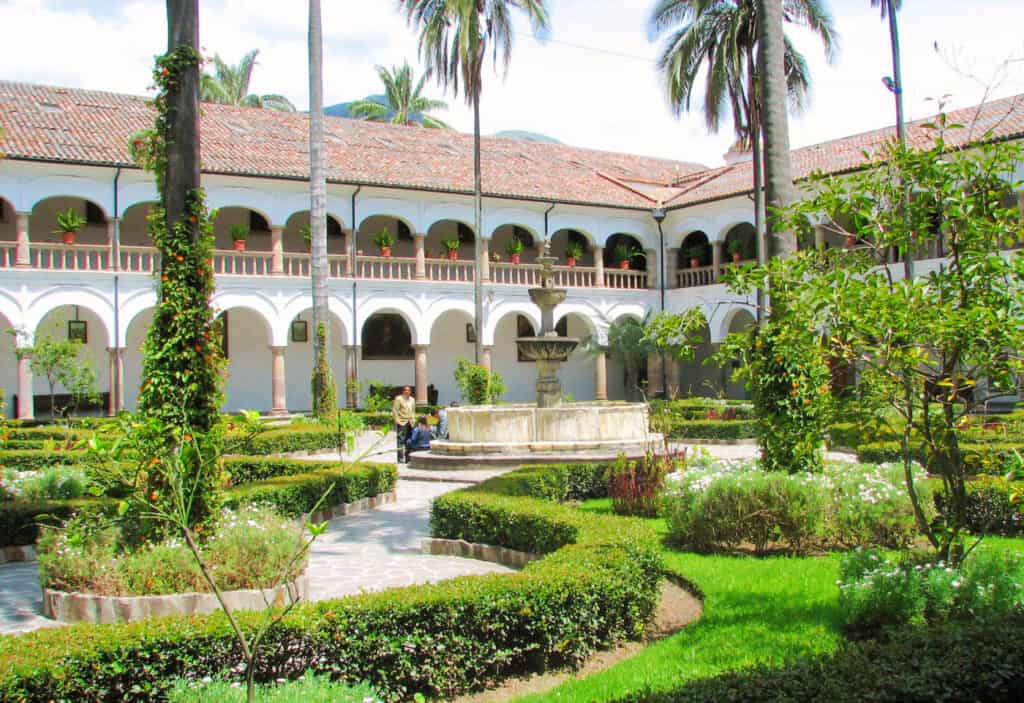 Once you're done exploring the historic center, head over to Museo de la Ciudad for some more history and culture. You can either pay a small entrance fee or take advantage of the free entry on Sundays from 9 AM until 3 PM. At this museum, you'll get an in-depth look at Ecuadorian history as well as the city of Quito. There are also some interesting interactive exhibits that help to bring the past to life.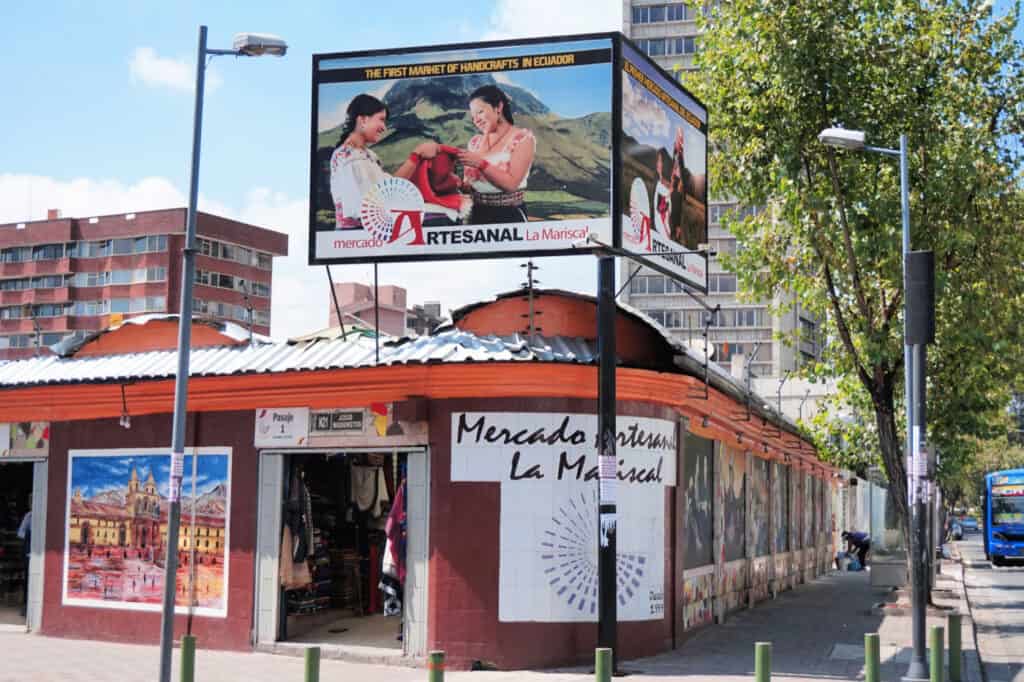 After a long day of exploring, you'll probably be ready for lunch. Head over to Mercado Artesanal La Mariscal and try out one of the many cafe or restaurant options in this bustling market that is filled with delicious local flavors. You'll find everything from fresh fruit juices and empanadas to traditional Ecuadorian ceviche from the various stalls, restaurants, and cafes.
The best part about eating at La Mariscal is that you can try some of the more unusual dishes for a fraction of what you would pay at an upscale restaurant. Some of my favorites are the ceviche, chifles (fried plantain chips), and traditional Ecuadorian tamales.
You can also purchase some of the local spices and foods to take home as souvenirs and grab some fresh fruit. It is sold by the dollar, so you can get quite a lot of fruit for very little money. If you're still hungry after your meal, try one of the many dessert options like buñuelos (fried sweet dough) for a delicious sweet treat!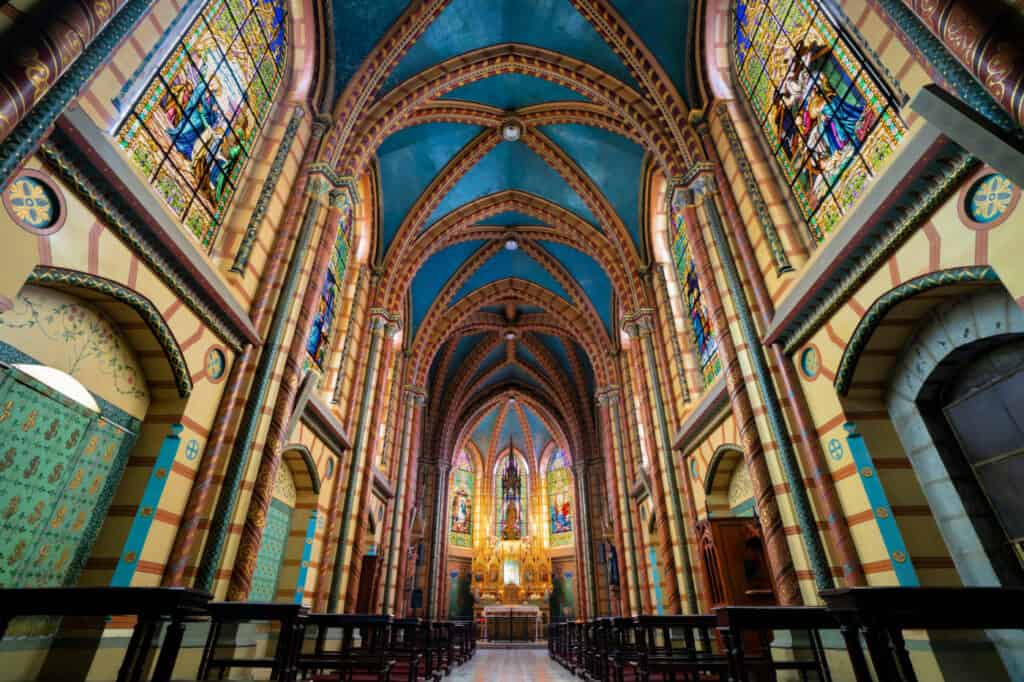 Once you've had your fill of food, head back to the basilica. During the walking tour you will only see the gothic structure from the outside. So now is your chance to head inside and take a look at the amazingly detailed interior. This church is considered one of the most important examples of Spanish Baroque architecture in South America.
Climb to the top of the tower for sweeping views of the city, and there is a cafe at the top where you can enjoy a beer while you take in the views. The basilica closes at 5PM, so once you're done exploring head back to your hotel and get ready for dinner.
For dinner, I recommend heading down to the La Floresta neighborhood which is known for its wide array of hip and trendy restaurants. My favorite restaurant there is Cafe Mosaico which has a great atmosphere and amazing food. Try some local specialties like cuy (guinea pig), seco de chivo (goat stew), or quinoa with shrimp.
After dinner, head over to one of the many bars in the area and check out some live music or dance the night away at a salsa club. Quito has some of the best nightlife in all of South America, so make sure you take advantage of it while you're there!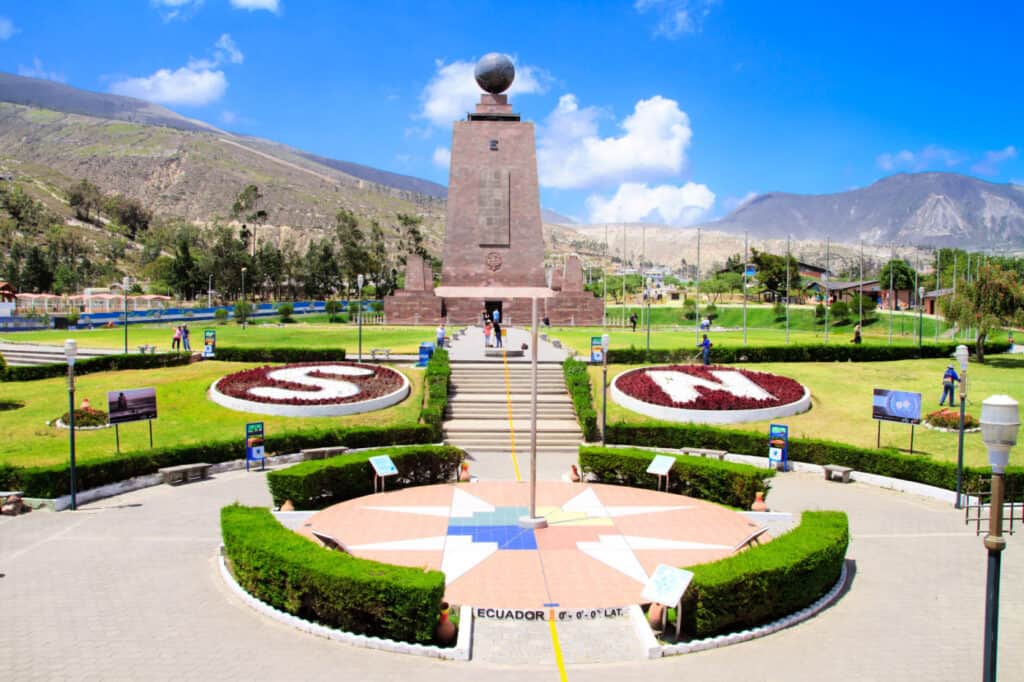 Day Two in Quito
Wake up early and head out for breakfast at a local spot, like the farmer's market right off of Plaza Foch. Try some fresh tropical fruits or el tigre, which is my personal favorite. It is mashed plantains with cheese, tomatoes, and avocado, and a nice runny egg on top – the perfect way to start your day. I am drooling just thinking about it!
After breakfast, head out to The Ciudad Mitad del Mundo, which is sort-of the middle of the world. Located about an hour from the city center, it's a popular tourist attraction that many people visit as part of their day trip. You'll get to stand equidistant from both the northern and southern hemispheres, which really puts everything into perspective.
The easiest and cheapest way to get there is by taking a local bus, but it does take a bit longer due to all the stops it makes. If you want a bit more comfort and convenience, you can also take a taxi or organized tour bus.
Most people spend around an hour or so touring the various interactive exhibits and learning about Ecuador's rich history.
After exploring the middle of the world, head back into town for lunch at one of the many delicious local restaurants in the city. One of my favorites is a casual little spot called De la Llama. Try their famous Ecuadorian meat soup or a heaping bowl of quinoa with vegetables and your choice of protein, it's always fresh and flavorful.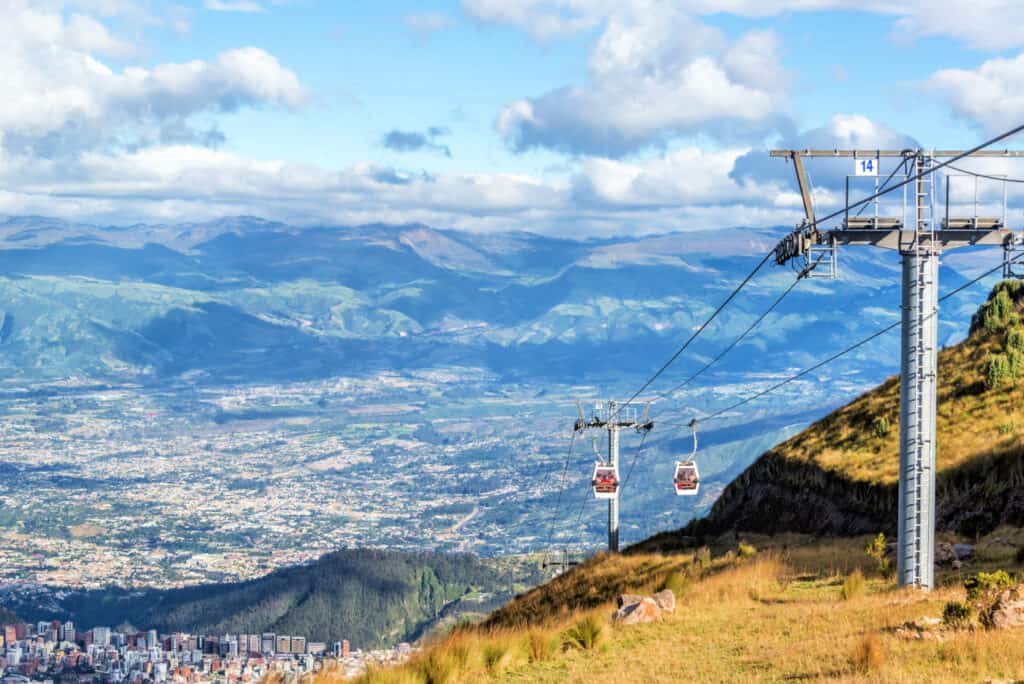 After lunch, head to catch the Teleferiqo, a cable car that takes you up to an elevation of over 12,000 feet. Spend some time walking around the park at the top and enjoying the incredible views of the city below. There's also a museum at the peak where you can learn more about the history of this unique transportation system. This is a must do in Quito, especially if you're looking for a fun and unique way to enjoy the stunning views of the city.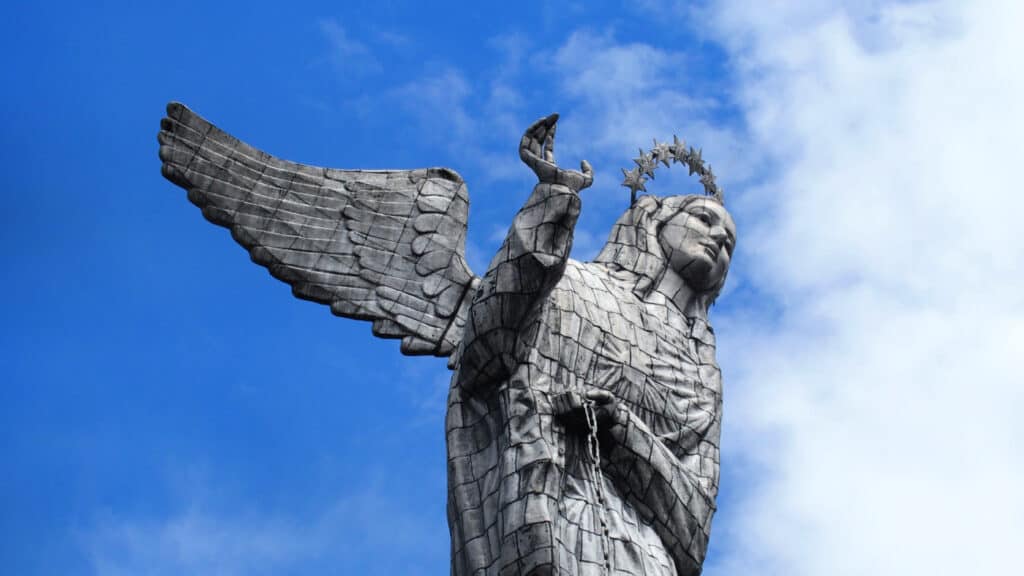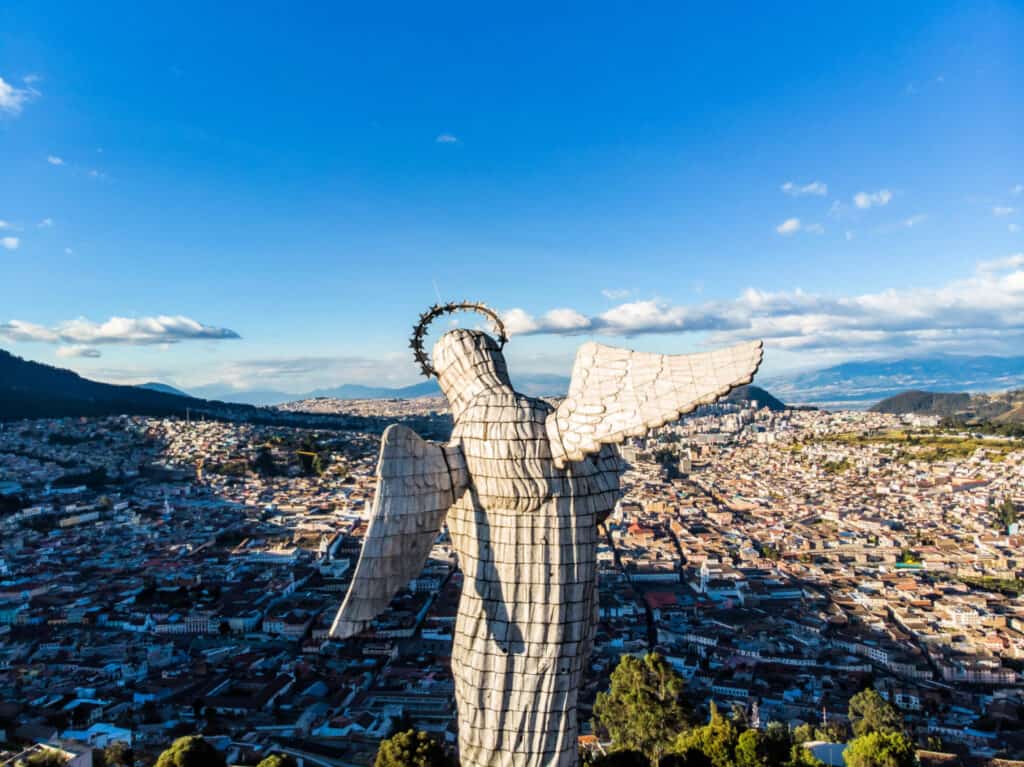 If you still have time, I recommend taking a taxi to Mirador el Panecillo. This hilltop park offers a gorgeous view of the city and is home to a famous sculpture of an angel — the Virgin del Panecillo — that can be seen from all over Quito. DO NOT WALK HERE. This area of town is not safe and it is much better to take a taxi than risk putting yourself in danger.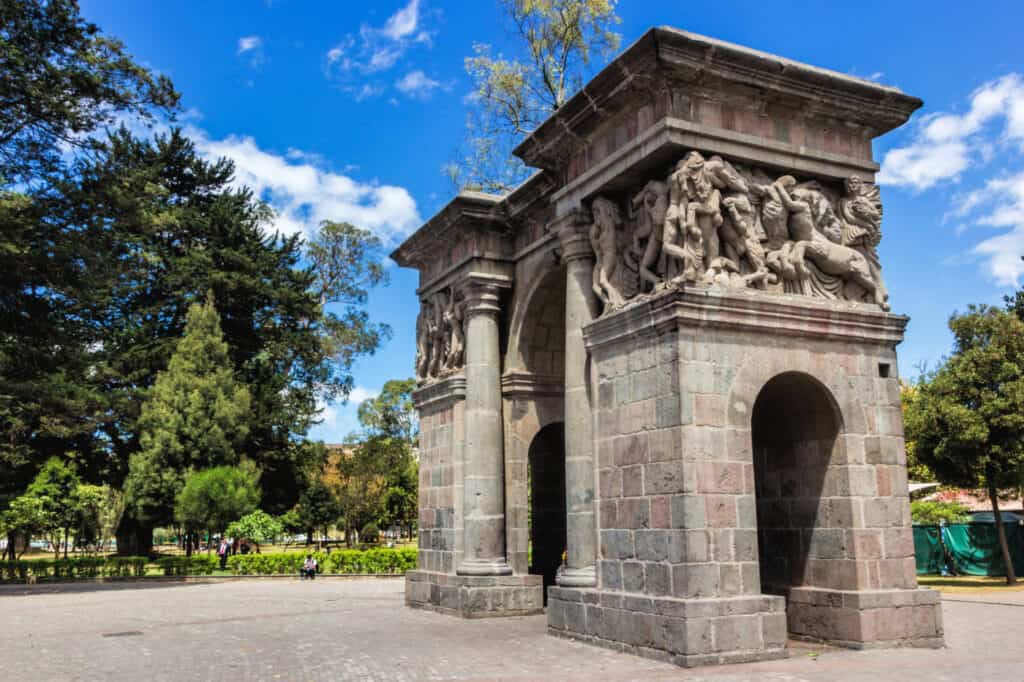 Finally once the sun sets, head back down into town and look for a spot along Parque El Ejido where you can catch an evening concert or show. There are often cultural festivals, street performers, and other types of entertainment taking place throughout the city, so be sure to keep a look out for an event that interests you.
As the evening comes to a close, head back to your hotel and get some rest before another exciting day of exploration tomorrow!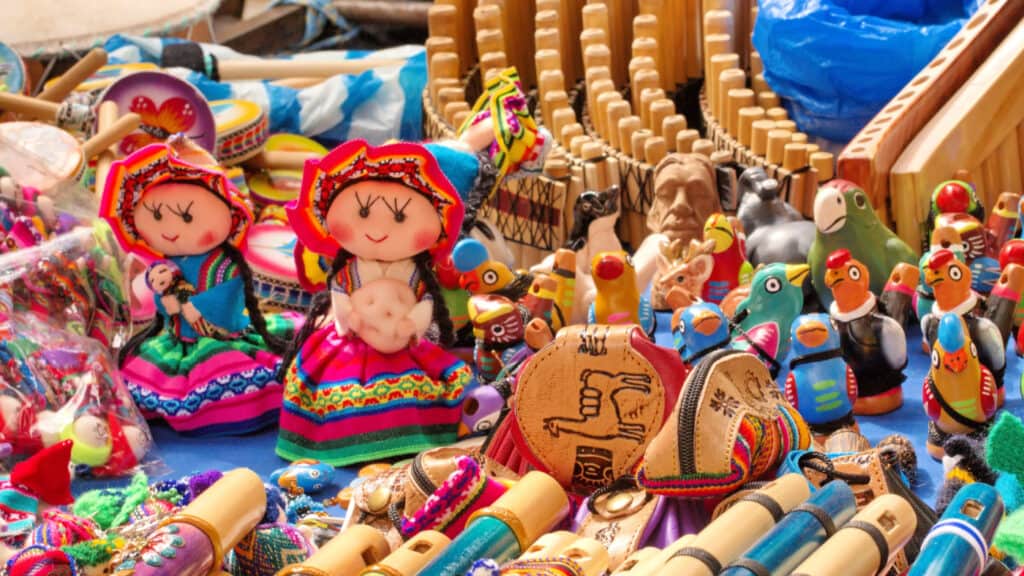 Day Three: A day trip to Otavalo, Cotacachi & Cuicocha
Today we are getting out of the hustle and bustle of the city and heading out to explore some of the stunning natural beauty that surrounds Quito. Start your day bright and early by joining this tour to the north of Quito, which will take you to the picturesque towns of Otavalo and Cotacachi as well as the stunning Cuicocha Lake.
Otavalo is a town famed for its vibrant markets, where you can find all sorts of local artisan goods. If you are wanting to experience the uniqueness of Ecuador and the life of a small town, then this is the place to be.
The town is located about 2 hours north of Quito, so expect this to be a full day trip.
Once you arrive in Otavalo, you will have the opportunity to explore the famous open-air market where locals sell all sorts of handmade goods including blankets, jewelry, clothing, and more. Be sure to keep an eye out for some of the incredible traditional textiles that are produced here or purchase a painting or embroidered item from one of the many talented local artists.
This bustling market is one of the largest in South America, and your tour will make sure to set aside enough time for you to explore all of the stalls and shop for souvenirs.
If shopping isn't your thing or you don't have enough room in your suitcase, you can check out all of the incredible food and drink vendors that line the streets. This is the perfect place to try some of the local delicacies, from rich Ecuadorian hot chocolate to savory empanadas.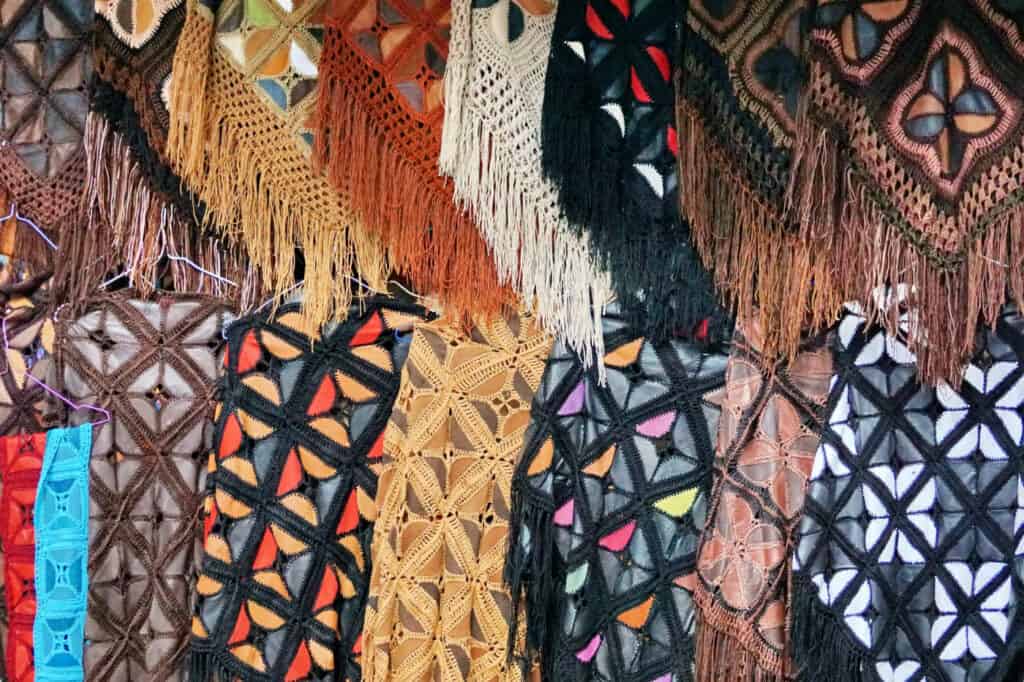 After spending some time exploring Otavalo, you will head to the beautiful town of Cotacachi. This small town is a major center for leather goods, so you can expect to find a lot of high-end shops here selling everything from handbags and wallets to jackets and shoes. These are all handmade by local artisans. It is okay to haggle a bit here but keep in mind that these are mostly small family businesses, so be considerate and don't try to over-extort them!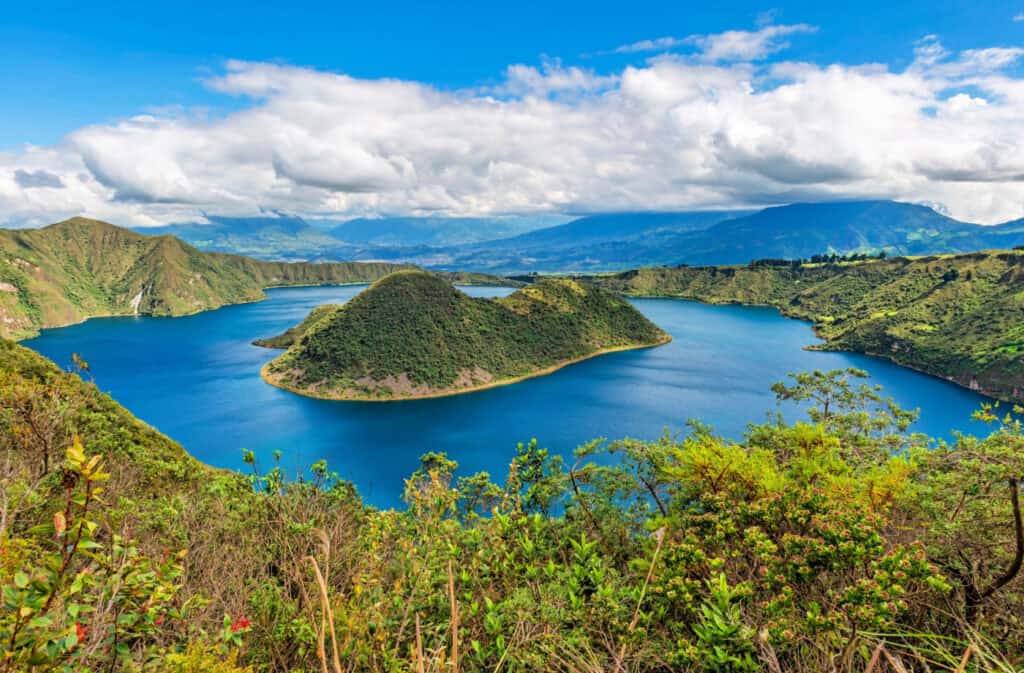 Finally, before the day ends, you will make your way to the beautiful Cuicocha Lake. This crater lake is surrounded by lush green hills and boasts stunning views of the surrounding mountains. Here, you can go hiking or take a boat ride across the lake to really appreciate the beauty of this place.
You can check availability for the specific tour I took using the widget below:
After a long day exploring all that this region has to offer, make your way back to Quito and enjoy your last evening out on the town. Whether you are looking for a romantic dinner or just want to catch some live music and dance, there is no shortage of exciting things to do in Quito on your last night!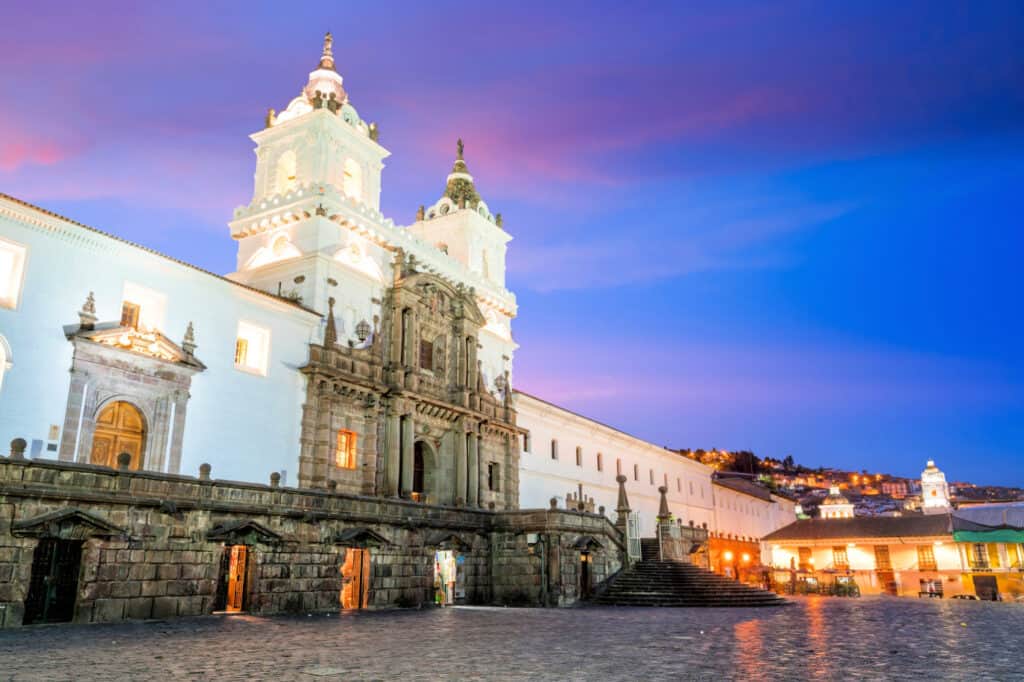 Quito: What to Know Before You Go
Planning a trip is never easy, from where to stay, what to do, and when to visit. If you're planning a trip to Quito, there are a few things that you should keep in mind before you go and luckily, I know all the best tips and tricks.
So first: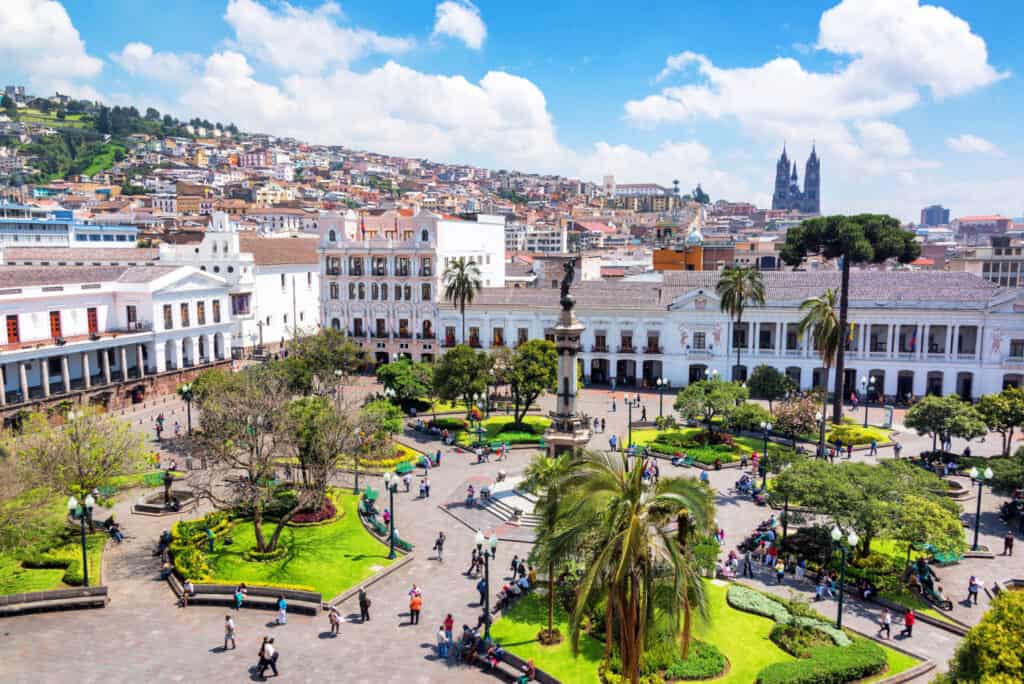 Where to Stay
Quito is a large and diverse city, so you will want to choose your accommodation wisely depending on your travel style. If you're looking for more of a local experience, there are plenty of cozy bed and breakfasts throughout the city that offer comfortable lodging at affordable prices.
If you prefer a bit more luxury, there are also some great hotels in Quito that offer everything you need, but at a higher dollar price.
For somewhere in between the two I recommend the Chakana Hotel Boutique, a small but cozy hotel in downtown Quito with top notch service and excellent amenities. Every room is dedicated to their ancestors and you can feel the love and respect they have for those who came before them, which is a wonderful way to get in touch with your roots.
Ecuador has a beautiful history and this hotel really showcases their culture, and will help you to immerse yourself in their traditions while still enjoying all the modern comforts of a luxury hotel.
You are going to love the yummy breakfast that is included making it easy to grab something before you head out on your adventures for the day. They also have a great bar on site, so if you want to unwind and grab a drink after a long day exploring the city they've got you covered.
The Best Time of Year to Visit Quito
The best time to visit Quito is during the dry season, which runs from mid-March to early November. This time of year has less rain and more sunny days, making it ideal for outdoor activities like hiking and exploring the city's many parks and historical sites.
Being a country that is often overlooked, it doesn't get as busy as some of its neighboring countries, so you won't find crowds of tourists trying to squeeze onto buses and into museums even during the peak tourist season.
If you're looking for a more festive and lively atmosphere, be sure to visit Quito during one of their many festivals. These cultural celebrations are held throughout the year, and are a great way to experience all that Ecuadorian culture has to offer. I recommend Carnival which occurs in March or April depending on the year, and is a huge party that lasts for three days!
People from all over the country travel to Quito during these festivals, and the city really comes alive with vibrant colors and fantastic music.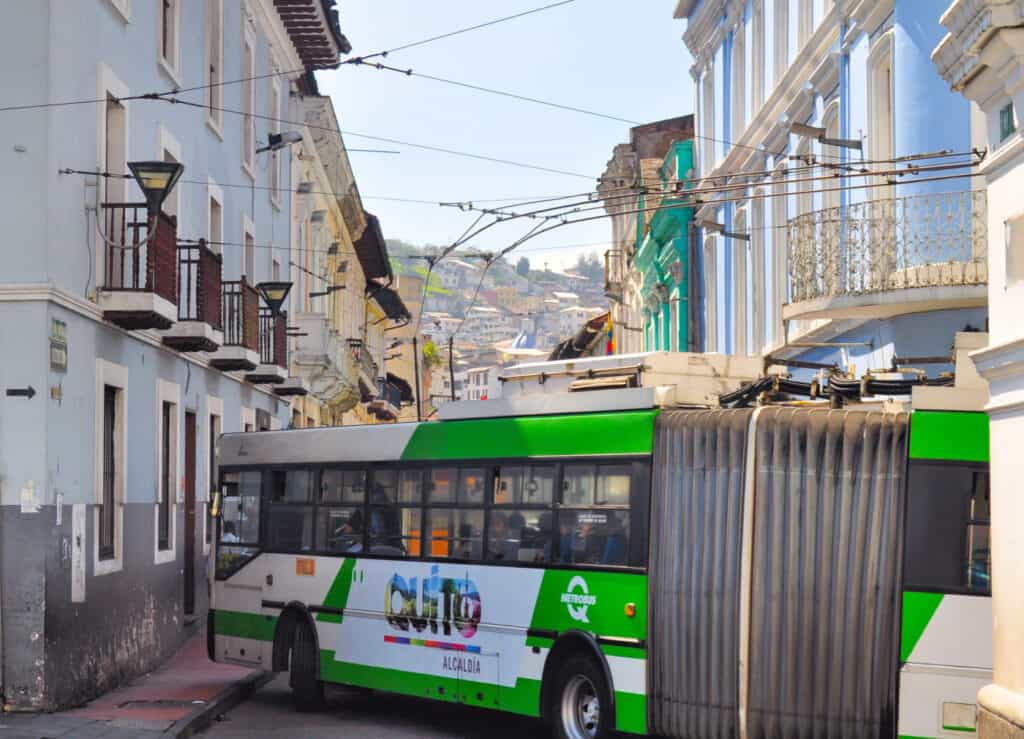 How to Get Around Quito
Getting around the city is quite easy.
The city has an extensive public transport system that consists of metros, buses, and taxis. You can purchase a card from any convenience store or metro station which you can then load with cash and use to pay for rides.
If you are in the historical center you are perfectly fine to walk around and explore, but if you are planning to explore more of the city I would recommend getting a taxi or using the bus system as they are both easy, inexpensive, and safe. You can also download the uber app and call for a ride if you prefer the convenience of having a car arrive at your location and not have to worry about being scammed.
I do not recommend riding the local buses at night time as they are often targeted by pickpockets. It is just as cheap to take a taxi and it is a lot safer.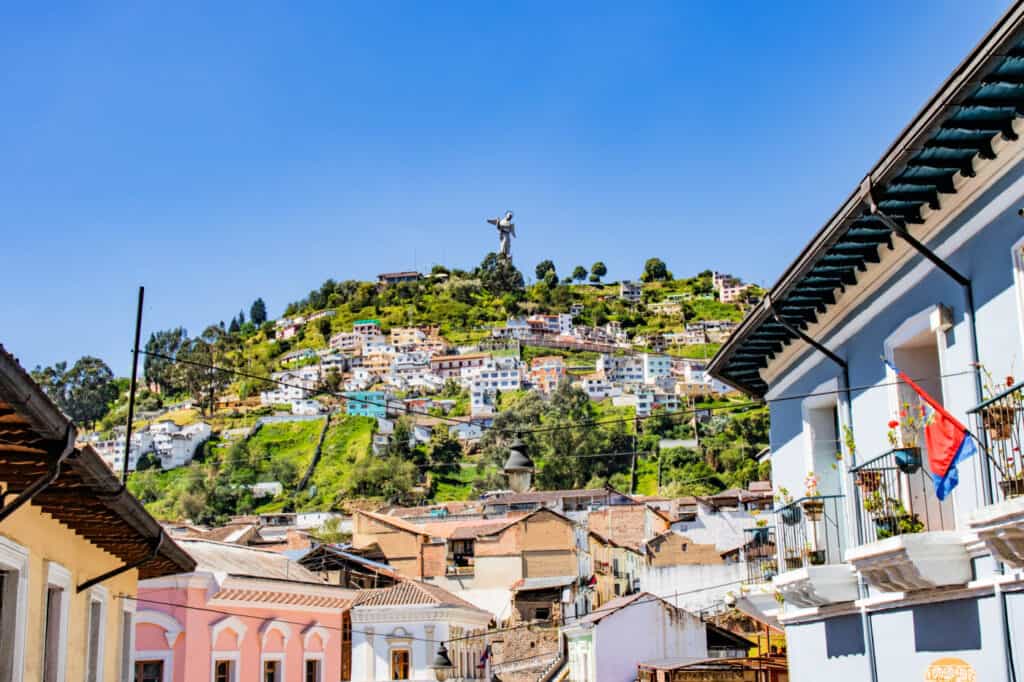 Safety Advice for Travelers to Quito
Speaking of safety, let's get into how to stay safe in the city.
While Quito is a relatively safe city, it is still important to practice caution while you are there. Always keep an eye on your belongings and be aware of what is going on around you, especially when in crowds or getting onto public transportation.
One thing to keep in mind is that the busier the area, the safer, if you find yourself on a quiet street or a dark alley, be on your guard and get to a busy street as soon as possible. After dark, take a taxi or use the uber app if you feel uneasy walking by yourself.
It is also important to be careful not to drink too much alcohol while in Quito as there have been reports of tourists being drugged and robbed while they are intoxicated. I don't say this to scare you, but as a friendly caution to make sure you don't find yourself in an uncomfortable or dangerous situation.
I would also recommend staying in a hotel located within the historical center of town as these tend to be in quieter areas and are generally safer than hotels that are outside of this area.
Some other tips for staying safe while visiting Quito: avoid wearing flashy or expensive jewelry, take only what money you need when you go out and it even helps to use a burner phone on a night out.
Just a few more things to take note of when in Quito.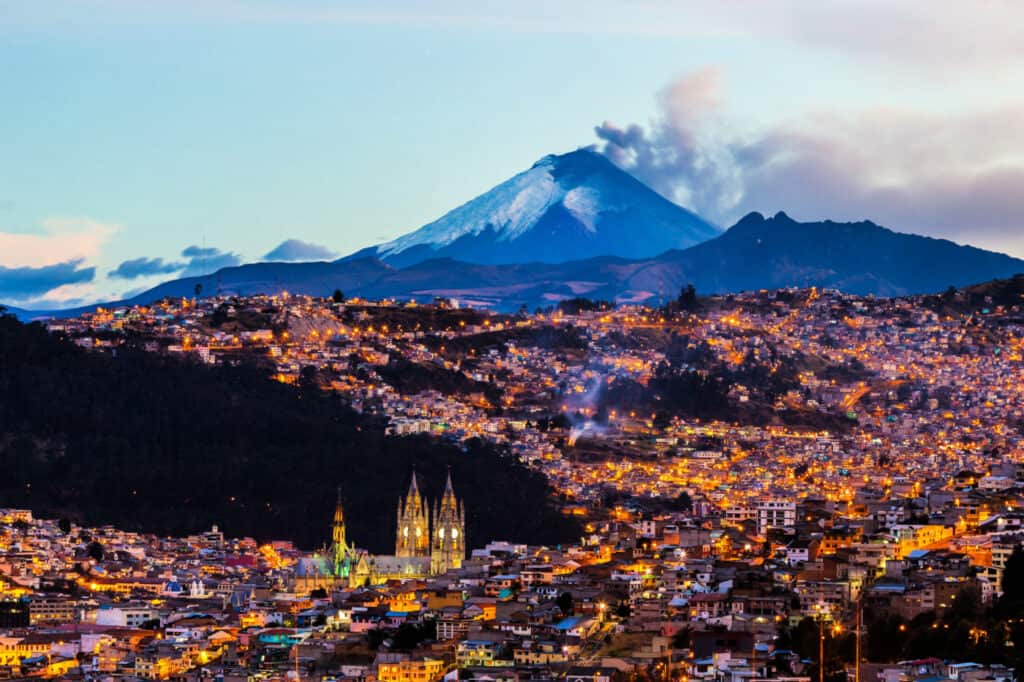 Be prepared for the altitude. Quito sits at an elevation of nearly 10,000 feet above sea level, which can make it difficult to adjust if you're not used to high altitudes. Make sure to take it easy and give your body time to adjust when you first arrive, and be sure to drink LOTS of water throughout the day. I can't emphasize this enough. It is so important!
Another thing to be prepared for is the weather. Quito has a very unique climate which experiences both rainy and sunny seasons, with temperatures ranging from the 40's in winter, up to the low 80's during the summer months. While rain can occur at any time of year, it tends to happen more frequently between December and April. You may want to bring a light rain jacket or an umbrella with you just in case.
In terms of food and drink, there are a ton of amazing restaurants in Quito that offer authentic Ecuadorian cuisine as well as cuisines from all over the world. A few things to make sure and eat while you are here are ceviche, fritada de chancho, tamales, and of course, the famous Ecuadorian dessert: sopa del viernes.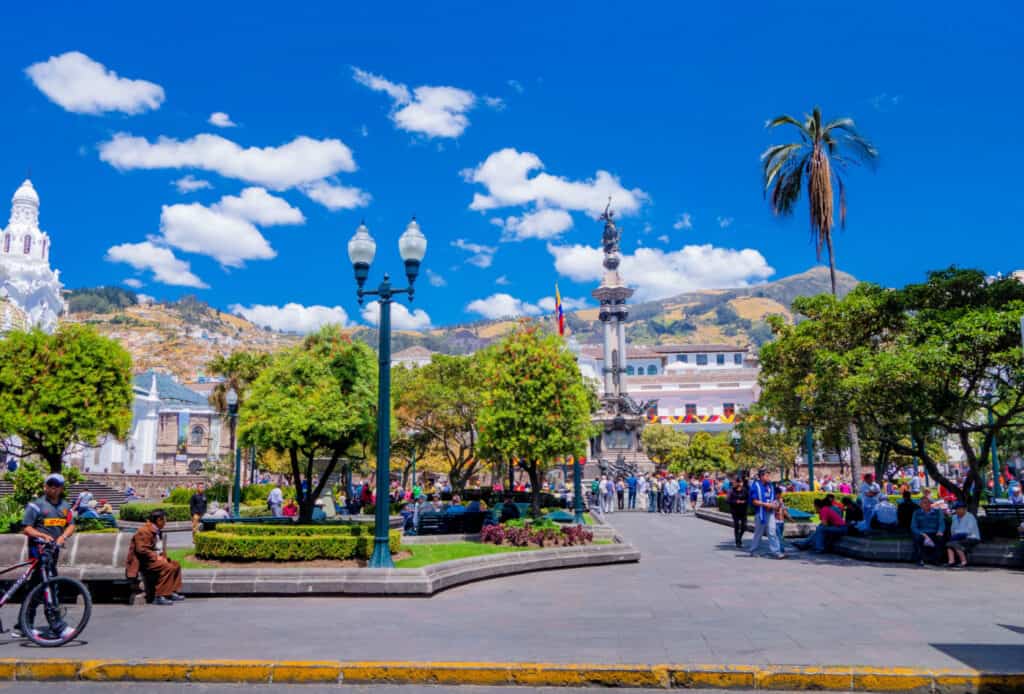 Overall, I would highly recommend spending 3 days in Quito to experience its vibrant culture, amazing architecture and delicious food. Whether you are looking for a relaxing cultural experience or an action-packed adventure, Quito has everything you are looking for and more!