Ecuador is one of my favorite countries I've traveled to. It truly does have something for every traveler.
Often overlooked by the countries surrounding it, like Peru and Colombia, this small coastal country is the perfect destination for a two-week vacation. From the vibrant culture of Quito to the adventure-inducing city of Banos, you will be busy every single day.
Located on the west coast of South America, Ecuador is easily accessible by air. The country's largest airport is in Quito and its second-largest is located in Guayaquil. Many regional airports offer domestic flights to different parts of the country but because of their extensive bus systems and straightforward gringo trail, a lot of people choose to travel by land.
Many travelers seem to only come to Ecuador for access to the Galapagos Islands, which are stunning and a bucket list item BUT there is so much more to the country than this. Spend two weeks exploring the Amazon jungle, trekking in Cotopaxi National Park, or relaxing on the beautiful beaches of Montanita.
There are so many different landscapes, and Ecuador is one of the few countries in the world to have all four climate zones including the coast, mountains, rainforest, and the Galapagos. This means you can enjoy all of these incredible experiences within a short amount of time. Because the country is located on the equator, the weather is pretty much always great!
The food in Ecuador is mouth-watering, with some of my favorites being ceviche, grilled fish, plantain chips, and the famous tornado. The locals are so friendly that you can find yourself spending hours chatting away. They'll be sure to give you a tour of their favorite spots, making sure you get the full experience.
I originally almost skipped Ecuador and I am so glad I didn't. I had the opportunity to travel for one month in the country and it was easily one of my favorite trips to date. Exploring the coastline was a mesmerizing experience that allowed me to mingle with incredible people, both locals and fellow travelers. I spent a few nights in the Cotopaxi National Park and saw some of the most breathtaking views. I biked in Banos and hiked in the Amazon rainforest. I tasted all types of food, some I didn't even know existed!
I could easily go on and on about why Ecuador is the perfect destination for a two-week vacation – but it's better if you experience it for yourself. So I've taken all of my first-hand knowledge and created the perfect two-week itinerary in Ecuador.
This unforgettable journey has left an indelible mark on my heart and I'm excited to share with you all my tips and tricks to ensure that you have the best Ecuadorian experience possible.
Enough chatting, here is the perfect way to spend two weeks in Ecuador.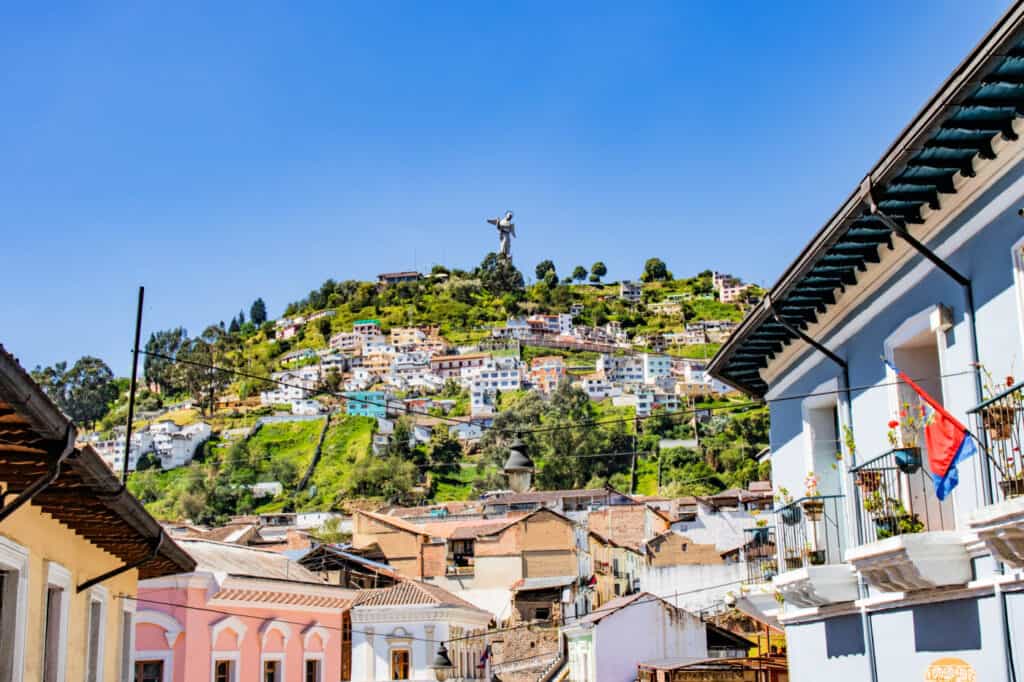 Day 1: Arrive in Quito
At 9,350 feet above sea level in the center of Ecuador, Quito is one of the highest capitals around. Therefore, it's best to take things slow on your first day and discover some of its many amazing attractions as you adjust to this new altitude.
Depending on what time you arrive, drop your luggage at your hotel and head out for breakfast at a local spot, like the farmer's market right off of Plaza Foch. We're jumping right in!
Start your day off on the right note with some of the most delicious tropical fruits or my all-time favorite, El Tigre. It's a blend of mashed plantains and cheese topped off with tomatoes, avocado slices, and an egg for added flavor. Just thinking about it is enough to make me drool!
Once you've had your morning meal, journey over to The Ciudad Mitad del Mundo – a literal representation of the middle of the world! Located about an hour from downtown and often visited as part of day trips, this attraction will give you a chance to stand equidistant from both the northern and southern hemispheres; something that can't be experienced anywhere else… well except Uganda.
After exploring the equator, head back into Quito for lunch at one of my favorite little spots. It's called De la llama. I really enjoyed the Ecuadorian meat soup, they also have bowls of quinoa with vegetables and your choice of meat. It's always deliciously fresh and full of flavor.
After lunch, make sure to hop on the Teleferiqo cable car that will take you up to a soaring 12,000 feet! While strolling around at the summit of this unique park, feast your eyes on Quito's amazing skyline. Additionally, don't miss out on visiting the museum located at the top which will give you an insight into the history of the cable car and the country.
If you still have time, I highly suggest taking a cab to Mirador el Panecillo. This breathtaking park presents an astounding view of the city and contains an iconic sculpture of an angel that is visible from numerous places in Quito. DO NOT WALK HERE – this area isn't safe for tourists and even locals will tell you not to walk around late at night.
As the sun sets, make your way back to Parque El Ejido and take in a live concert or performance. There's always something happening in this vibrant city – from street performers to cultural festivals and other exciting events, so don't miss out on an opportunity for some evening entertainment!
Make sure to rest up because your two weeks in Ecuador are just getting started!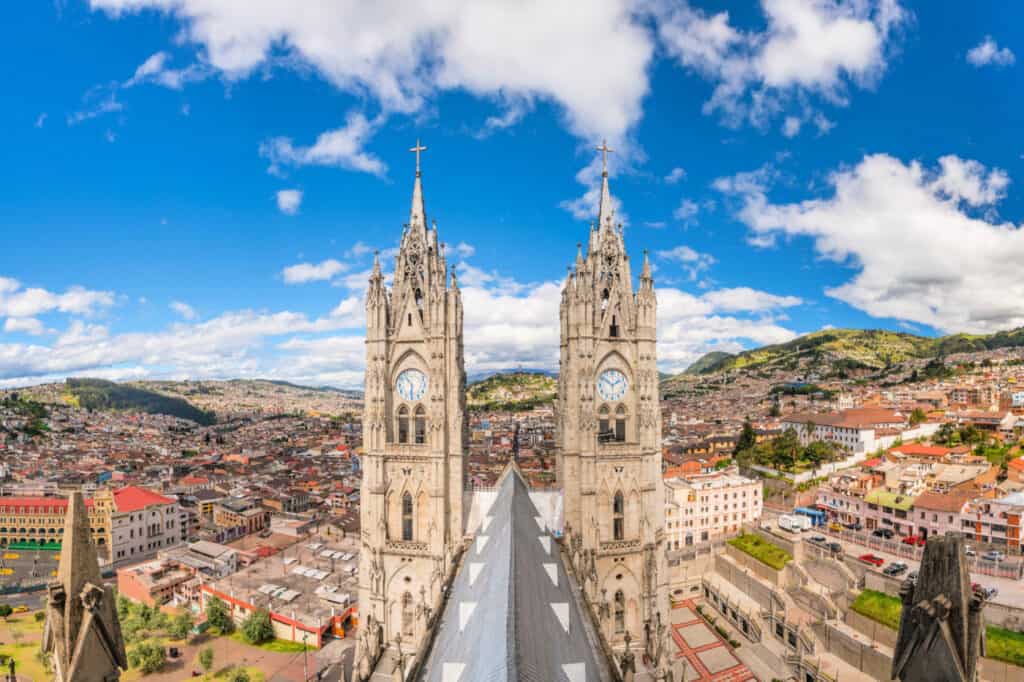 Day 2: Quito
Good morning! It's time to take in the renowned sights of Quito's Historic Centre, a UNESCO World Heritage Site, on this free walking tour departing from The Secret Garden hostel. This was one of my favorite walking tours I've taken in a long time and trust me, I've been on quite a few.
You will be guided through the core of this majestic city, with stops to admire iconic landmarks like Basilica del Voto Nacional and La Compania de Jesus (the largest religious edifice in all of South America) to Plaza de la Independencia.
After you have immersed yourself in the historic center, it's time to dive deeper into Ecuadorian history and culture by heading over to Museo de la Ciudad. This museum offers free entry on Sundays from 9 AM until 3 PM – if it's not Sunday, there is a small entrance fee. Here, one will be able to appreciate Quito's past while getting an intimate look at Ecuadorian heritage. Some interesting interactive exhibits help to bring the past to life.
Once your day of sightseeing is complete, refuel with an array of delicious flavors available at Mercado Artesanal La Mariscal. Indulge in the local favorites, such as vibrant fruit juices and empanadas or savor a classic Ecuadorian ceviche from cafes, restaurants, or stalls scattered throughout this local market.
After indulging in some yummy market food, make your way back to the basilica. On the walking tour you only had a chance to admire its gothic exterior; now is your opportunity to explore its intricate insides! This church is considered one of South America's most remarkable renditions of Spanish Baroque architecture.
For a truly unique dining experience, I suggest you make your way down to La Floresta for a night out! It is renowned for its hip and trendy restaurants. Personally, my go-to spot there is Cafe Mosaico which not only has an incredible atmosphere but also serves some mouthwatering dishes. Be sure to sample some of the local delicacies like cuy (guinea pig), seco de chivo (goat stew), or quinoa with shrimp.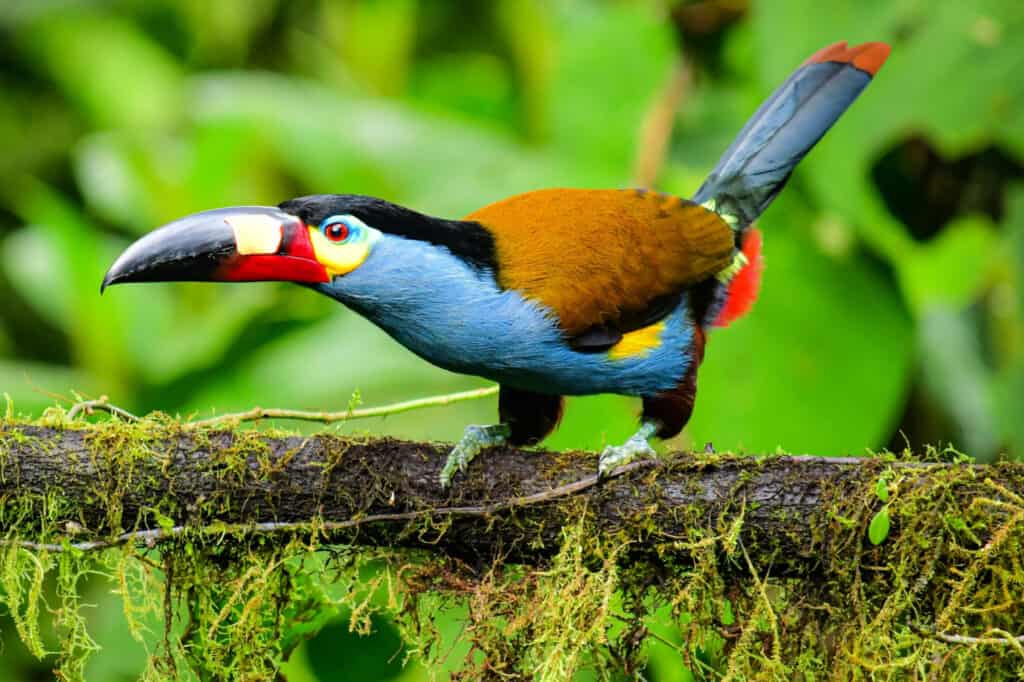 Day 3: Mindo
Rise and shine! Today you'll be driving to the small mountain town of Mindo which is located only two and a half hours away from Quito. Because of our schedule, it makes the most sense to make this a day trip. A lot of day trips leave from Quito and will book everything for you – I took this tour and had an incredible time.
You will be immersed in a completely different environment as you enter Mindo's cloud forests – a place full of lush vegetation and fascinating wildlife. Here, you will find several nature reserves and butterfly gardens. Mindo is a true birdwatchers' paradise, with over 535 species of birds living in the area!
I was able to see two toucans perched in a tree, along with a host of other colorful species such as red and yellow tanagers. On our walk, we were even lucky enough to spot a sloth hanging from the branches!
In the afternoon you can take some time to explore this beautiful town – you can do it on foot or take advantage of the area's popular cable car which takes you up and down the mountainside. This cable car gives you an amazing aerial view of Mindo, including the Cascada San Jorge waterfall.
After you've explored the town and its natural reserves, you can visit one of the many cacao farms in the area. A visit to a cacao farm provides you with an immersive experience, from learning about the process of making chocolate to actually tasting it! So yummy!
This was one of the best tours I took in Ecuador, so I really do recommend it! Check availability for your dates using the widget below:
End the evening by having dinner at one of Mindo's many restaurants before heading back to Quito. Here, you can get a taste of the local cuisine – try the empanadas de viento or encebollado, a traditional seafood soup with onions and cilantro.
Where to Stay in Quito
Whether you are traveling solo or with a group, I highly recommend The Secret Garden Hostel in Quito. This hostel is located in a quiet area close to the historic city center, providing plenty of amenities and comfort. Plus it's conveniently located near restaurants, cafes, and bars – making it easy to explore the city.
They have one of the best rooftops and breakfasts in town, making this a great place to call home during your stay in Quito.
The Secret Garden Hostel also offers private rooms as well as dorms, so you can choose which one is best for you. The staff is friendly and accommodating and the hostel has a great selection of activities at their onsite travel agency.
Plus, our next destination is at their sister hostel in Cotopaxi.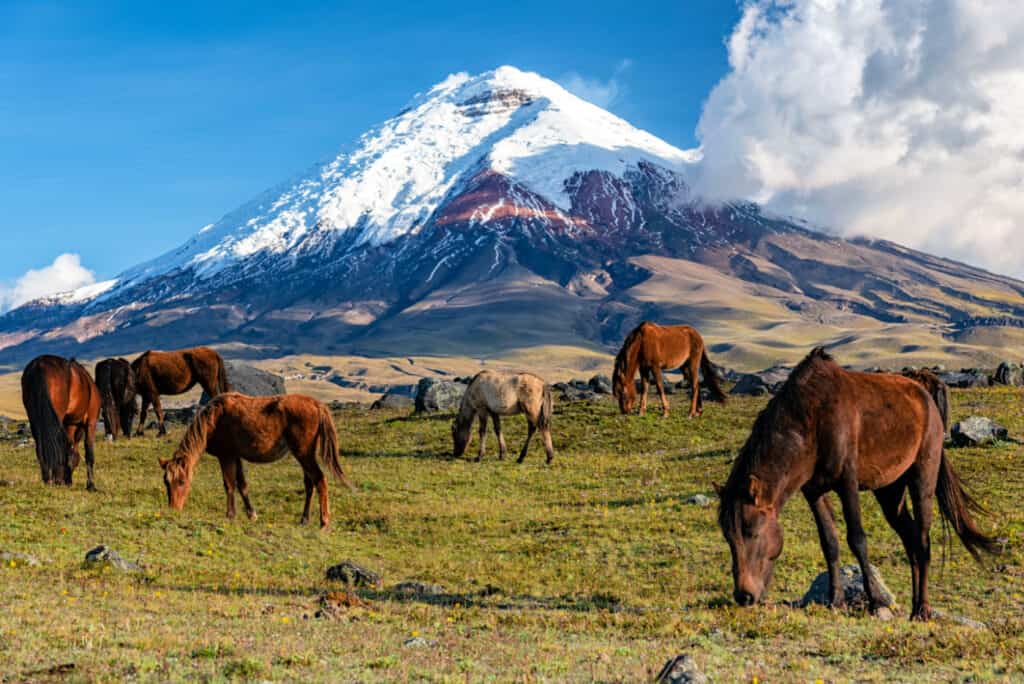 Day 4-6: Cotopaxi
Wake up and enjoy some breakfast on the Secret Garden hostel's beautiful rooftop before heading out to Cotopaxi National Park.
The van will pick you and whoever else is going up from the hostel making it an easy breezy beautiful experience. The National Park is about a two-hour drive from Quito, so it's a great way to break up the travel.
The Secret Garden Hostel is the only place to stay inside the National Park. There are multiple different accommodation styles ranging from luxury suites to hobbit houses, and they all provide the same incredible views of the Cotopaxi Volcano.
Cotopaxi is a hiker's paradise! With glacier-capped volcanoes, mountain lakes, rugged trails, and diverse wildlife – you'll be completely blown away by its beauty. It's one of the few places in Ecuador where you can find wild horses, llamas, and other animals.
When you arrive on day one you will enjoy a guided hike to one of the many nearby waterfalls. Followed by dinner and drinks with everyone else staying there. This is such a beautiful hostel to stay out with hammocks overlooking the park, a Jacuzzi, and lots of furry friends around.
Because it's in the national park there is ZERO cell reception, so it's a great way to disconnect and take in the beauty of your natural surroundings. Some of the people I went with became my best travel buds for the rest of Ecuador.
Cotopaxi is one of the best places to observe stars, so make sure you head out for an evening walk with your friends or alone and enjoy the night sky. I made sure to grab a glass of wine and spend some time on the biggest hammock outside. It can get cold so bundle up!
On day two you will join another guided hike that takes you to the top of a mountain to get a 360 view of the whole park, as well as the Cotopaxi Volcano. It takes about 4-5 hours total and is a great way to work up an appetite for lunch.
You'll have the rest of the day to explore, take a nap, read a book, or just enjoy the company of everyone else staying there. It was really something special to get away from the hustle and bustle of Quito and just relax in such an incredible setting.
On the final day in Cotopaxi, you will ascend to the actual volcano and be able to touch the glacier, but this part of the tour is optional and only available if you are fit enough. It's a rather tough hike and the altitude can be hard to manage for some people. So make sure you know your body and its limits before attempting this one!
You'll arrive back at the hostel for a quick lunch before heading off on the van to Banos. It's about a 4 to 5-hour drive, so make sure you grab some snacks and drinks on the way. The journey is extremely beautiful as you watch the scenery out the window. I'm talking about some of the most beautiful mountains I've ever seen.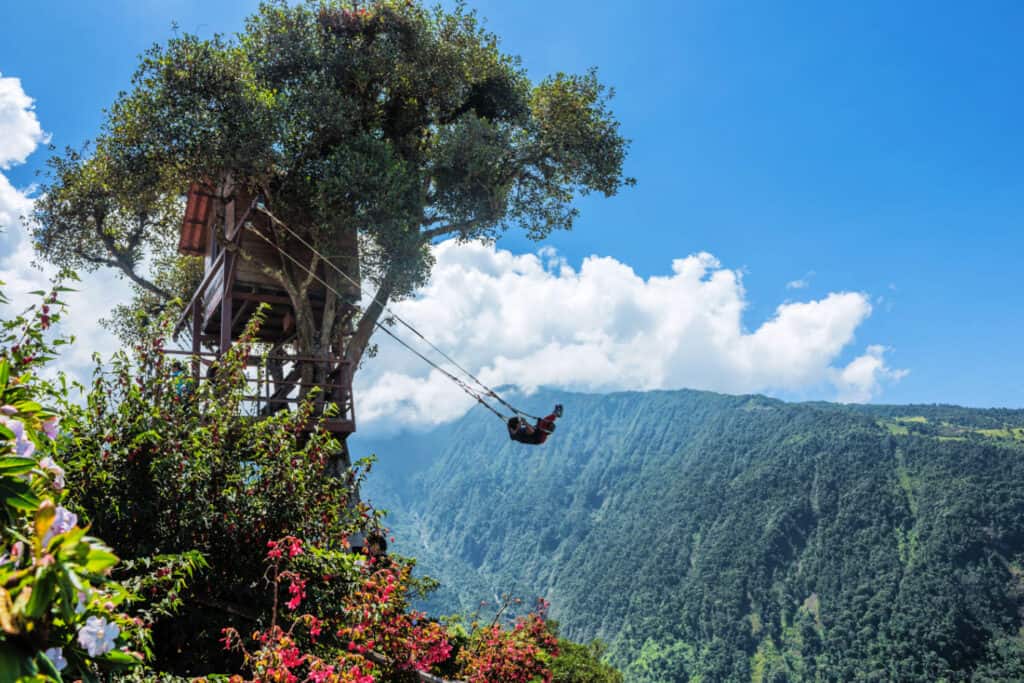 Day 7: Banos
Ahhhh Banos. You'll fall in love with this small mountain town the minute you arrive!
Banos is known as "the adventure capital" of Ecuador and it has become an increasingly popular destination for young travelers who want to experience all the outdoor activities it has to offer. From white water rafting, canyoning, and mountain biking to paragliding, bungee jumping and trekking – you'll definitely find something that suits your outdoor spirit.
I highly recommend spending your first morning doing a self-led bike tour of seven different waterfalls. You will be blown away by the beauty of this place, and the bike ride is a great way to take it all in. You'll pass quite a bit of other travelers and locals, so if you're feeling up for it join them and make some new friends along the way.
It's about a 20 km ride, and "mostly" downhill, or at least that's what everyone says; to me, it wasn't "mostly" downhill, but it was still fun! You'll see five different waterfalls and two natural swimming pools, so make sure you bring your swimsuit and towel!
You can grab a menu del dia lunch at one of the local eateries to enjoy while taking in more views of the area. After lunch, make your way back into town. They have trucks driving up and down the highway for you to chuck your bike in and hop in the back so you won't have to bike back up the "mostly" downhill road.
One of the best things about Banos is the thermal baths! These hot springs are located in a natural swimming hole just outside of town and it's an absolute must-do for anyone visiting. It's a great way to relax after more intense activities while taking in the stunning views of the nearby mountains.
Banos is also known for its nightlife, with plenty of bars and clubs scattered throughout the town. On a warm evening, they have some nice outdoor bars with live music, rooftop views, and great drinks!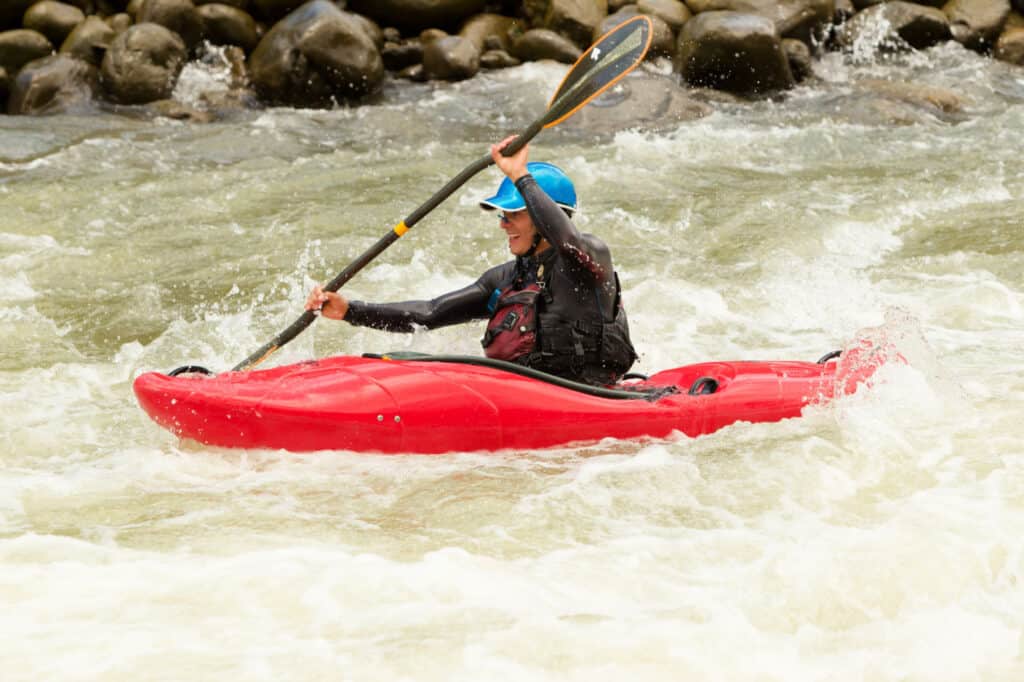 Day 8: Banos
Grab your swimsuit because we are going white water rafting! It's a great way to not only experience the area but also get a good adrenaline rush. You'll be accompanied by an experienced guide and the rapids are suitable for people of all levels.
The waters are cold but you'll have wetsuits and other safety equipment to keep you warm. It's about a three-hour tour, so make sure you bring plenty of water and snacks as well. I recommend going on the morning tour because lunch is included!
I promise you'll have a blast! After your adventure is done, you can head back into town and spend the day exploring some of the local markets and shops or lounging around with new friends.
It gets dark pretty early here, but things stay open late so you can still enjoy the nightlife and explore the town. On your last day, you'll have time to pack up and get ready for your next destination – Cuenca!
You'll take a bus from Banos to Cuenca which is about a six-hour ride, but again, it's absolutely beautiful out the window. You'll be able to see a lot of small towns, farms, and some of the biggest lakes in Ecuador on the way!
By the time you arrive in Cuenca, you're sure to have fallen in love with Ecuador but if not, then this is sure to do it!
Where to Stay
There are a lot of options when it comes to hotels in Banos. From luxury boutique hotels to more affordable hostels, you'll find something that fits your budget and needs. But I can't stress enough how important I think it is to stay near the city center; it's just so much easier to explore the area from there.
So, with that said – I recommend staying at Casa Del Balcon for your stay in Banos. It's a great price and has all the amenities you need when traveling on vacation. Plus, the staff is extremely friendly and helpful – they'll help you arrange your activities, answer any questions you have, and make sure you're comfortable during your stay.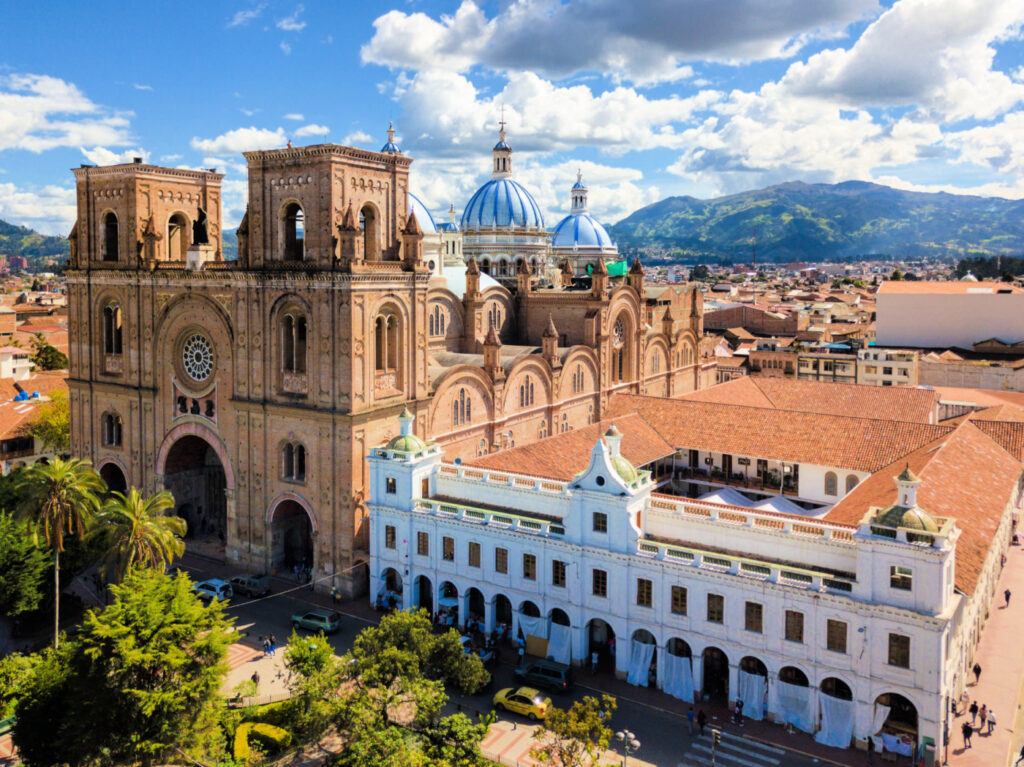 Day 9: Cuenca
Welcome to Cuenca! This colonial city is nestled in the Andes Mountains and it's incredibly beautiful.
Your first stop should be Catedral de la Inmaculada Concepción, a stunning Catholic church right in the center of the city. It's worth a visit even if you don't consider yourself a religious person.
From there, you'll want to explore the cobblestone streets of El Centro and take in all the sights – from brightly colored buildings to unique street art. Head out for lunch at the local Mercado 9 de Octubre and enjoy some traditional local cuisine.
The empanadas and tamales de queso are my favorite, but you really can't go wrong with anything. You'll have some free time for the rest of the day to explore the city on your own; don't forget to make a stop at Parque Calderon and pick up some traditional Panama hats! I know I know, everyone thinks they come from Panama, but they actually come from Ecuador.
Then on your way home stop at the flower market, it's one of the biggest in South America and you will be surrounded by bouquets of colorful flowers, you can also grab some fresh fruit for around only $1 per kg. So good!
At night, the city comes alive with plenty of restaurants and bars to explore. The locals are friendly and always up for a chat if you need someone to show you around and you will see a booze bus making the rounds that you can jump on and have a drink with locals.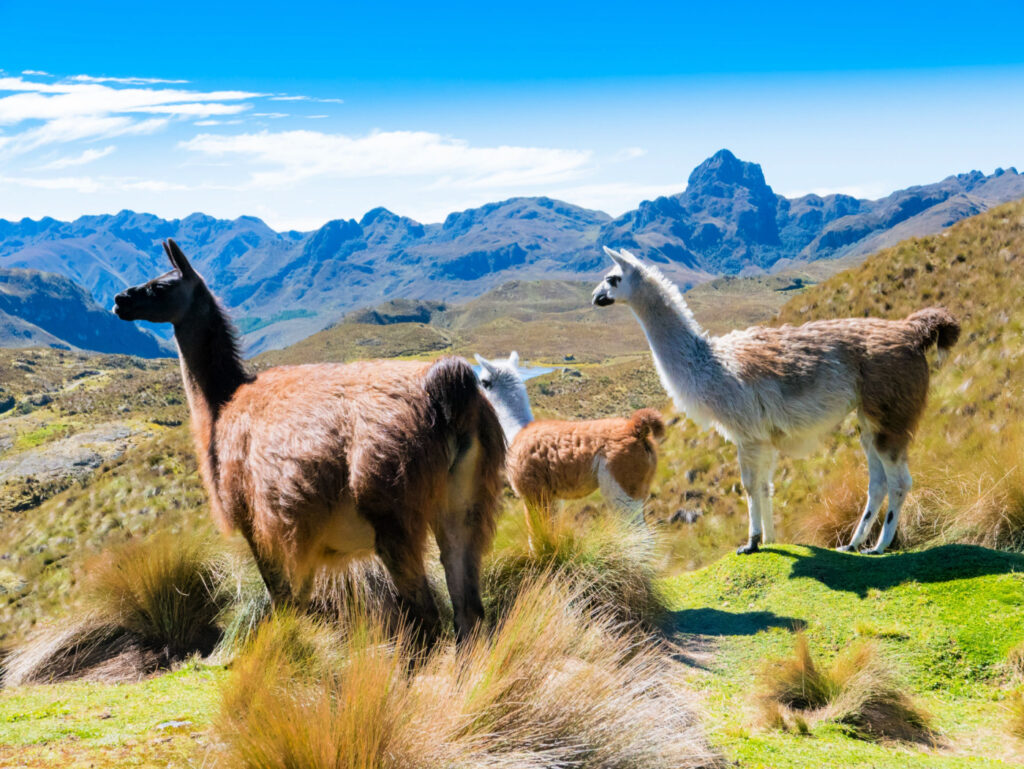 Day 10: Cuenca
Wake up early and head to the nearby national park, Cajas National Park. This stunning park is full of hiking trails, lagoons, and even hot springs! Depending on how much time you have, make sure to pick a trail that works best for you — or a take this tour to optimise the time you have in the park. Either way, it's a great way to get away from the hustle and bustle of the city.
If you're lucky, you'll spot some of the local wildlife like Andean Condors and Spectacled Bears! Don't forget to bring sunscreen and a hat – it can get pretty hot in there. Check availability for Cajas National Park tours below:
After your hike, make sure to grab lunch at one of Cuenca's restaurants; my favorite is El Ingenio which serves up delicious Ecuadorian cuisine. The staff here is incredibly friendly and always up for a chat, so don't hesitate to ask them any questions about the city.
In the afternoon, head over to El Barranco and take in some of the amazing views of Cuenca from above! You can even take a cable car ride to get a higher perspective of the city.
Get a good night's rest tonight as your last long journey is ahead of you in the morning!
Where to Stay
The perfect place to stay in Cuenca is Guillerminas. It's a beautiful boutique hotel situated right in El Centro, so you're never too far from all the sights and attractions. Plus, the staff here is incredibly friendly and helpful.
I stayed here and to this day it is one of the best South American hotel experiences I've had. Their breakfast everyone is amazing, you would think you were at a five-star resort.
So if you're looking for a cozy, unique place to stay in Cuenca, Guillerminas is definitely the right choice. Click here to check prices.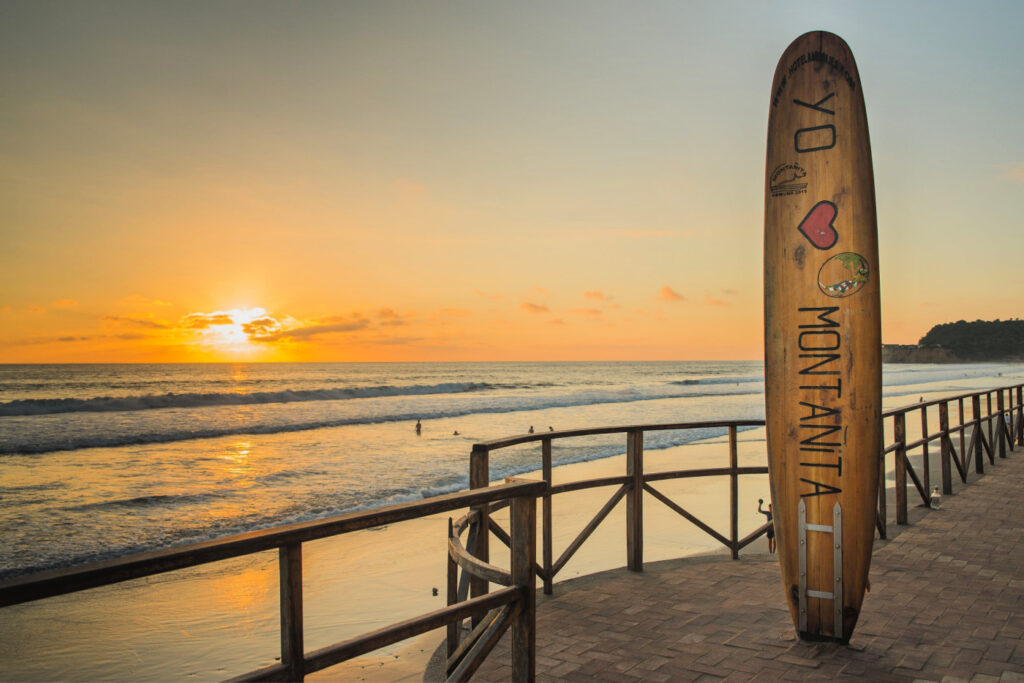 Day 11: Travel to Montanita
Wake up early and make your way to Montanita, Ecuador's coastal town! This small beach town has become a bit of a tourist hotspot in recent years but still retains its laid-back appeal.
The journey can be a long one but if you want some sun, sand, and surf in your life, you gotta make it. You'll catch the bus from Cuenca to Guayaquil which can last anywhere from four to seven hours. Yeah, not the best timetable.
You will then catch another bus from Guayaquil to Montanita, which is about two and a half hours but the bus will drive through some stunning coastal scenery and you'll be able to take in some of Ecuador's wildlife. Make sure to pack plenty of snacks and water for the journey.
It may sound like a lot of moving pieces, but it's really pretty easy.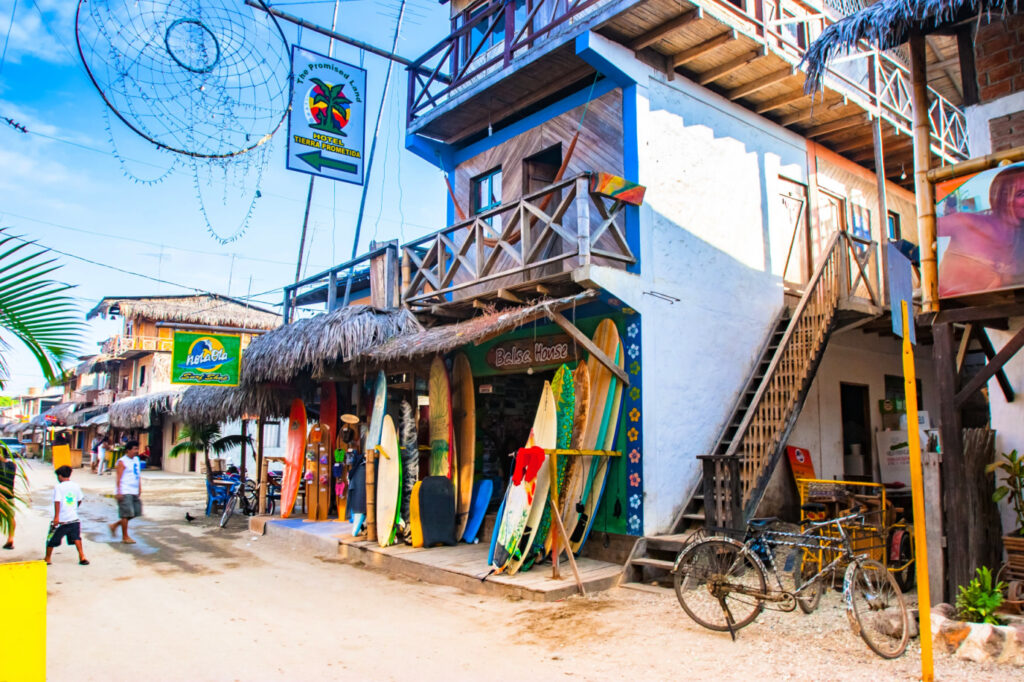 Day 12-13: Montanita
Once you arrive in Montanita, you'll realize how worth it the journey was. This beachfront paradise is full of long beaches, colorful sunsets, and plenty of water sports to help keep you entertained.
Spend your days lounging on the beach or taking part in some exciting activities like kite surfing, paddle boarding, or some games of beach volleyball. If you enjoy surfing, you'll be happy to know that there are some great beginner-friendly waves here.
You can take a lesson or two to get you started and they offer rentals if you don't have your own board.
Montanita is also full of fun, it's where a lot of Ecuadorians come to party on the weekends. I'm not kidding, they have all-you-can-drink bars for $6… It's a crazy scene, but one you won't forget… or maybe even remember. Start the evening at cocktail alley, where you can experiment with all kinds of delicious concoctions, and then hit the dance floor at one of the local clubs.
The whole town seems to eat, surf, party, sleep, and then start all over again the next day. It's a great way to end your adventurous holiday in Ecuador!
Where to Stay
Casa Del Sol brings Montanita to life, you will have access to yoga classes every morning, free breakfast and you can even take a surf class. The staff here is incredibly friendly and they will be more than happy to help you with anything you need.
The rooms are also top-notch, so you can rest assured that your stay will be comfortable and relaxing. It's a little bit down the beach away from the heart of the town, but at night time when the parties are raging until 6 AM, you'll be thankful.
It's a little slice of paradise. Click here to check prices.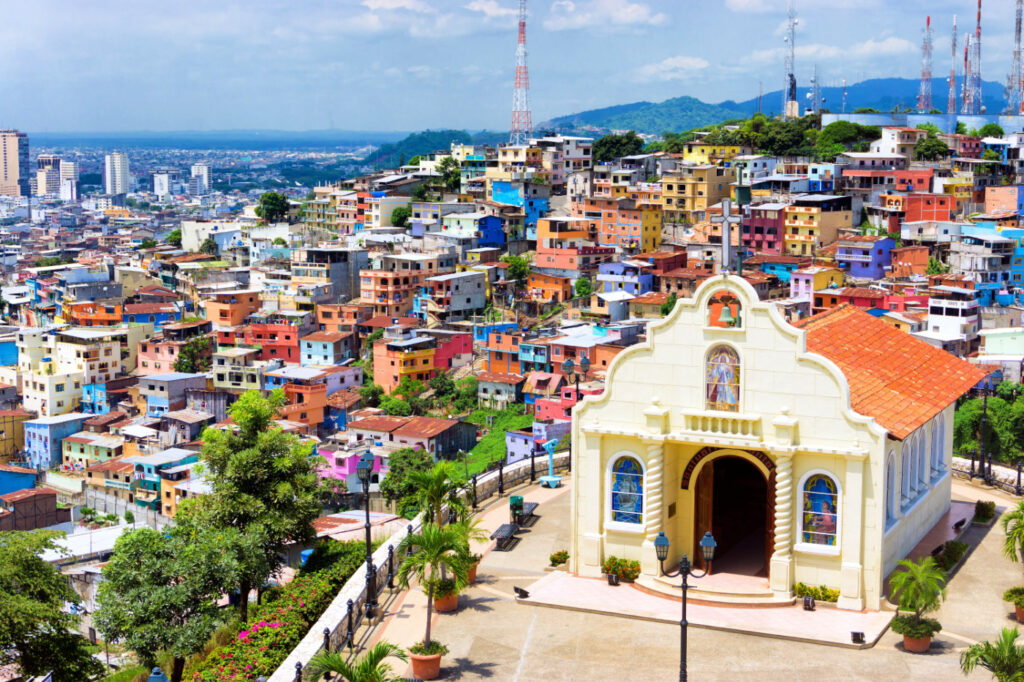 Day 14: Head to Guayaquil and fly home
Unfortunately, your time in Ecuador has come to an end but oh how fun it was! You'll grab the bus from Montanita and make your way to Guayaquil, where you'll fly back home.
Sadly, I don't recommend spending any time in Guayaquil, it's become pretty dangerous in recent years, so make sure to get to the airport as quickly as possible.
Guayaquil is a great airport to fly out of whether you're heading to the Galapagos Islands, the US, Europe, or South America as it has direct flights to many major cities around the world.