Get ready to have the time of your life in Colombia! This country has it all, from stunning mountain scenery to pristine beaches, and everything in between. You'll never find yourself bored or without something new to see or do.
I spent over a month in the country, and honestly? I could have stayed longer. I fell in love with the places, the culture, and the people. Colombia was once considered the most dangerous country in the world, but has since turned things around and is now one of the hottest travel destinations.
With the afro-Caribbean flair of Cartagena, to the more traditional Spanish colonial feel of Bogota, you'll experience so many cultures and influences without ever leaving the country.
Try some of the deliciously fried patacones (plantains), arepas (cornmeal patties), or empanadas (fried turnover pastry) … yum! And of course, don't forget to drink some aguardiente, the national alcoholic beverage made from sugar cane. Not quite my favorite, but the amount I drank would state otherwise.
I could go on and on about all the amazing places to see and things to do in Colombia, but I'll save that for another day. For now, I'll just give you a quick overview of how you can spend two weeks in this beautiful country and trust me … you can do quite a lot in 14 days in Colombia.
So let's jump right in!
If possible, flying into one city and out of another is the best way to go. This will allow you to see more of the country without having to backtrack. If this is not possible, keep in mind, you might need an extra day of travel at the beginning or end of your trip. I have made this specific journey, flying in and out of Bogota, since it is the capital and has an international airport.
However, these are the highlights and regardless of the order in which you choose to do them, you will not be disappointed:
A Two-Week Overview of Colombia
Bogota: 2 days
Cartagena: 3 days
Santa Marta/Tayrona: 2 days
Medellin: 3 days
Jardin: 1 day
Salento: 3 days
Now let's dive into each city a bit more!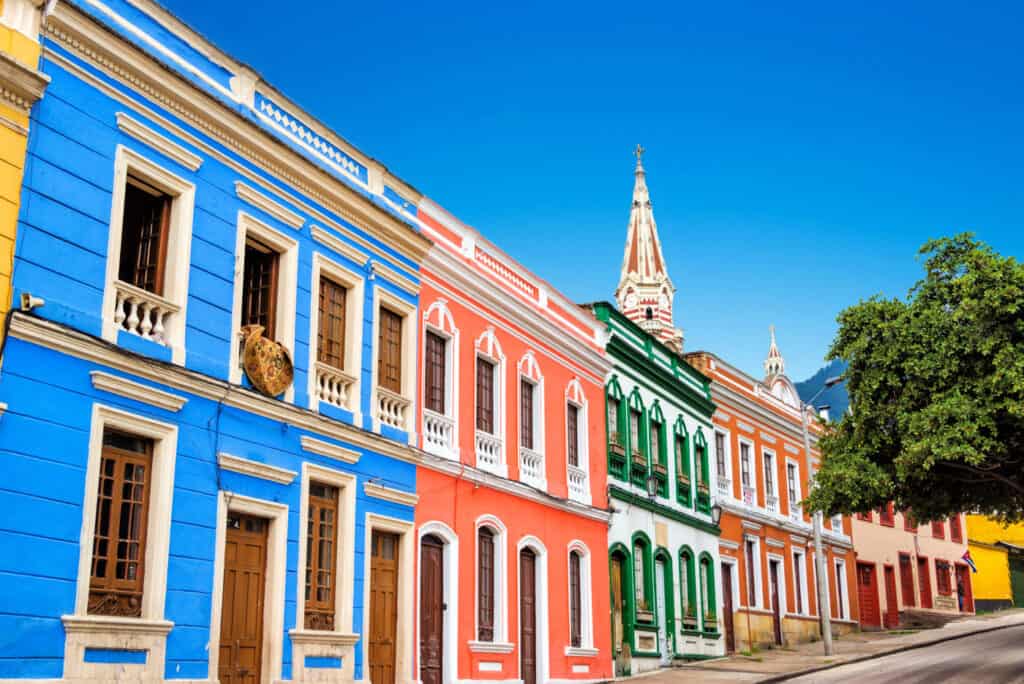 First Up: Bogota
Bogota is the capital of Colombia and is by far the biggest city in the country. With over 7 million people in the city and 13 million in the metro area, it can be quite overwhelming at first. But don't let that stop you, there is so much to see and do!
Start your trip by getting acclimated to the altitude. Bogota sits at 8,660 feet (2,640 meters) above sea level, so I recommend spending a day or two here before heading anywhere else. This will help you avoid any altitude sickness. Also, I can't say this enough: drink water! This is one of the most important things you can do at high altitudes, especially if you plan on doing any physical activity.
Day 1: Downtown and Candelaria
Today, we are going to be exactly what we are… tourists! Grab your camera and get ready to walk around and explore. I love the concept of free walking tours and have jumped on them in places as far reaching as Latvia and South Africa. So when I arrived in Colombia, I already knew this would be a great way to gain an introduction to Bogota from a knowledgeable, passionate local. And that's exactly what I got!
I joined this free walking tour, which starts at 10 a.m. and lasts for three hours. Yep, three hours. You're going to cover a lot of ground! You'll need to tip the guide at the end — don't forget this part — but this is still one of the best ways to make sure you see all of the main sights and gain a feel for the city. Plus, the guides always know the best places to eat, so make sure you ask for a recommendation once the tour finishes up.
The tour will take you around Downtown Bogota, which is where you will find most of the historical sites and government buildings. In particular, you'll get to explore Plaza Bolivar, which is the largest square in Bogota, and named after Simon Bolivar, who liberated much of South America from Spanish rule. Here, you'll also find the Palacio de Justicia: the Supreme Court building that was bombed in 1985 by Pablo Escobar in an effort to destroy any evidence against him. Spoiler alert: this did not work.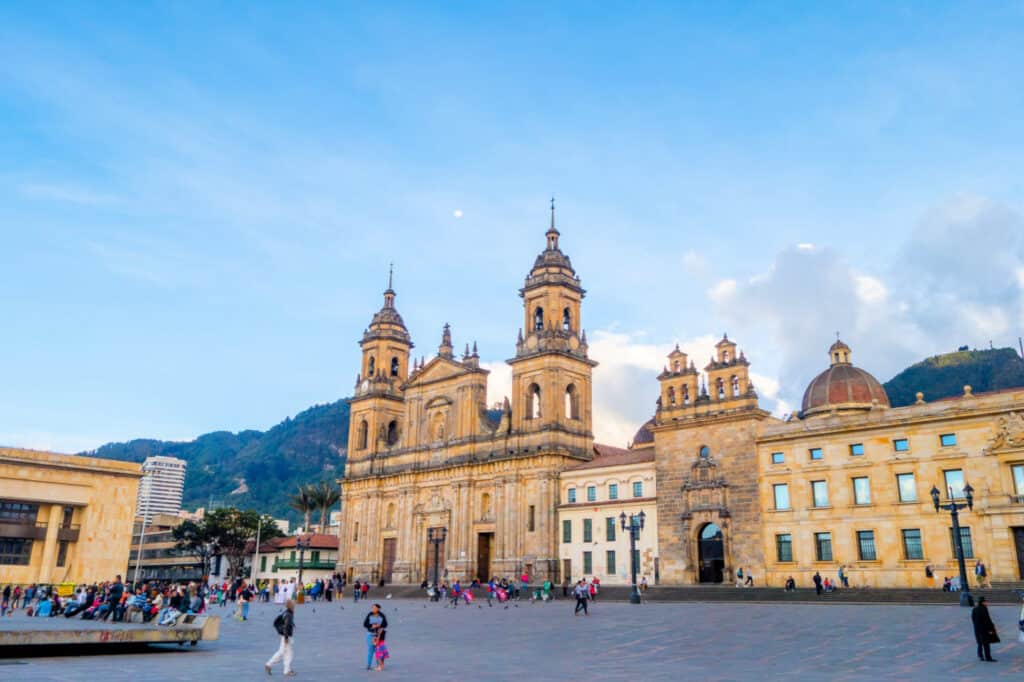 You will also see the Catedral Primada, the main cathedral of Bogota which was built in the early 1800s, and the Casa de Nariño, the presidential palace where you can take a picture with one of the guards (they are used to it).
After exploring downtown, head to Candelaria, which is the old city center. This is a great place to grab lunch and do some people watching. I recommend going to La Puerta Falsa. It is one of the oldest restaurants in Bogota and is known for its soup. They have a variety of dishes to choose from but the chicken and potato soup is my personal favorite.
After lunch, walk around and explore Candelaria. The narrow cobblestone streets are lined with colonial-style buildings that are now home to museums, restaurants, and bars. Be sure to stop by the Botero Museum which houses over 80 works of art by Fernando Botero, one of Colombia's most famous artists. His work is instantly recognizable by the exaggerated figures that he often portrays.
End your day with a drink at one of the many rooftop bars. My personal favorite is Andres Carne de Res. It is a bit out of the city center but well worth the trip. The food is delicious and the views are even better.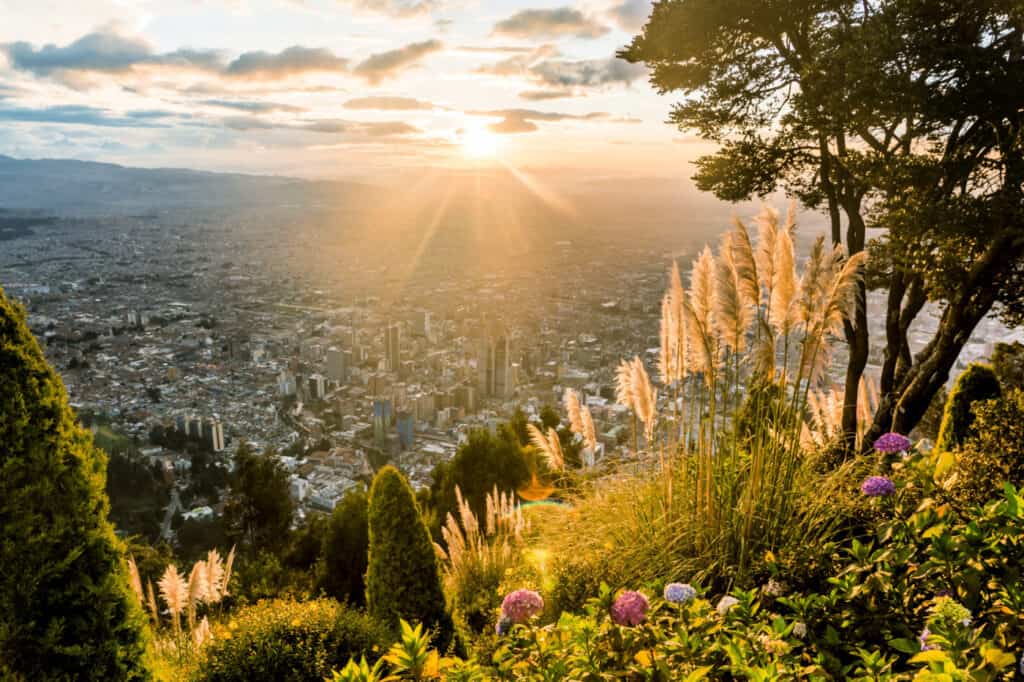 Day 2: Monserrate and Chapinero
Start your day early with a trip to Monserrate. This is a mountain that overlooks the city and can be reached by either taking the funicular or hiking up. I recommend taking the funicular up and hiking down for the best views. Once you reach the top, there are plenty of restaurants with outdoor seating where you can enjoy the views.
Just as a precaution, keep in mind that even though Colombia is a much safer country than it was 20 years ago, pickpocketing is still common in tourist areas. So be sure to keep your belongings close to you and don't flash any valuables around. This area can be quite dangerous so I recommend taking an uber or going with a group of people.
After lunch, head to Chapinero one of the trendiest neighborhoods in Bogota. This is where you will find all the best shopping, nightlife, and restaurants. Start your afternoon with some shopping at Zona T. This is an outdoor mall with stores like Zara and H&M.
Grab some dinner at one of the many restaurants in Chapinero. I recommend El Chato which is a great place for Colombian food.
Now, you didn't think the day was over yet, did you? Bogota was definitely my favorite city in Colombia to dance the night away. Zone T is insane for nightlife, with clubs like Hotel V, Gringo Tuesdays a Vintrash, and Theatron, you are destined to have a great time. Clubbing here doesn't start until midnight so make sure you have plenty of energy to last all night long!
Where to stay in Bogota
Sonesta Hotel Bogota: This hotel is the perfect location if you want to be in the heart of all the action. It is close to all the best bars, clubs, and restaurants. The staff are so friendly and helpful when it comes to arranging your days in Bogota.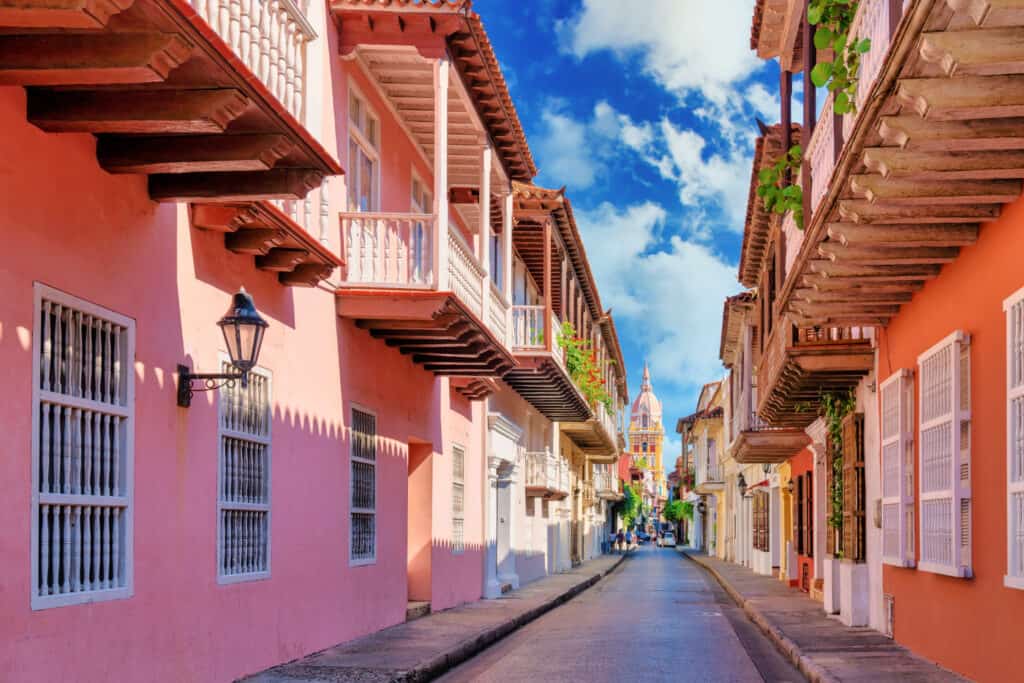 Cartagena
We are off to our next destination. Catch a quick flight from Bogota to Cartagena, which is about an hour and a half. Get an earlier flight to make the most of your time in Cartagena.
Flights inland run about $50 USD making it affordable to travel between cities.
Cartagena is a beautiful colonial city located on the Caribbean coast. You will discover a completely different vibe in this city. The streets are lined with colorful painted buildings and there are flowers everywhere you look.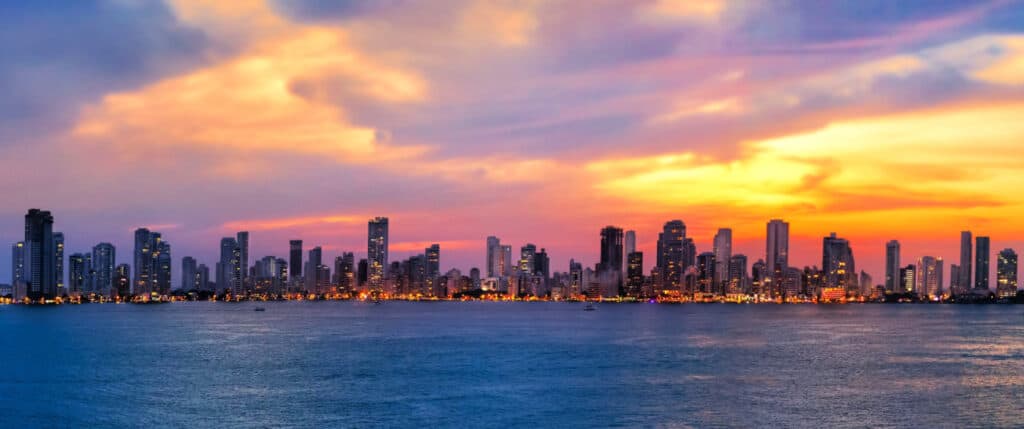 Day 3: Sunset Cruise in Cartagena
The airport is only about a 25 minute drive, so in no time you will be checked in and walking around the old city. I think the best way to get to know a place is by wandering the streets, so explore a little. Find the nooks and crannies that make the city unique.
Make sure to stop by Plaza Bolivar, which is the main square in Cartagena. This is a great place to people watch and soak up the atmosphere of the city.
Heading into the evening, take a sunset cruise around the city. This is a great way to see Cartagena from the water and it is the best way to see the sun going down. This particular cruise has an open bar making it all the more fun for you.
After the cruise, have dinner at one of the many restaurants in the old city. I recommend La Vitrola, a lively restaurant with some Cuban flair. They have an excellent mojito and the food is delicious.
To keep with the Cuban theme. End your night dancing the night away at Cafe Havana, one of the most popular clubs in Cartagena. This is a great place to listen to live music and dance all night long.
Day 4: The Walled City
The same as in Bogota, Free walking tours are the best way to explore a new city. Many companies offer these types of tours, which can often be booked online in advance.
A tour of the Walled City is a must-do when visiting Cartagena. You'll get to explore all the main attractions within the colonial center, including Plaza Bolivar and San Felipe de Barajas Castle. The old town is quite small, but packed with history and culture. You'll be able to see everything in just a few hours.
While Cartagena is a beautiful city with plenty to offer tourists, be prepared for vendors who may haggle and harass you on the streets. Don't let this stop you from enjoying all that the city has to see just don't be surprised by it.
If you're looking to escape the typical tourist traps, check out the Getsemani neighborhood for some cool bars and cafes. Not to mention, being right on the coast means that the seafood here is guaranteed to be amazing and fresh.
There are plenty of great places to eat in Cartagena, but my two favorite ways to fill my belly are by checking out the local spots for a quick and cheap menu del dia. I'm talking about a three-dollar lunch! Or heading to La Cevicheria for some of the freshest seafood in town.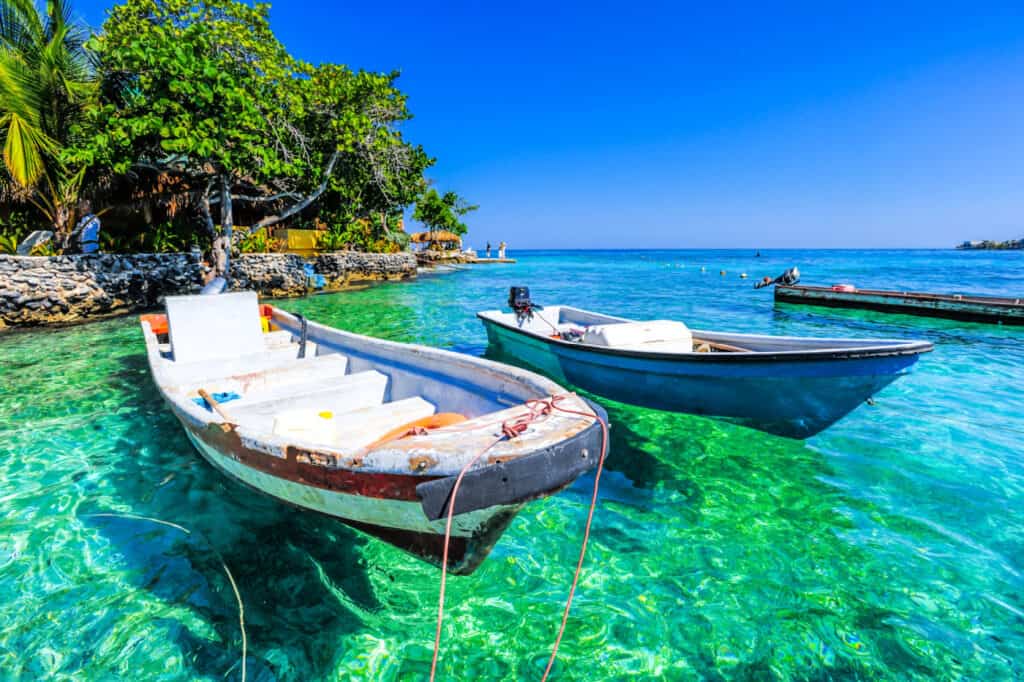 Day 5: Rosario Islands
Today is all about some fun in the sun! I mean, we are in the Caribbean after all. We are going to take a boat tour of the Rosario Islands, which are a group of about 30 islands located just off the coast of Cartagena. These islands are famous for their crystal clear water, white sand beaches, and coral reefs making them perfect for snorkeling.
This epic boat tour will pick you up from your hotel in the morning and take you to the Rosario Islands. Once there, you'll be able to spend the day swimming, sunbathing, and snorkeling. The tour includes all gear, so you don't need to worry about bringing anything with you.
If you're feeling adventurous, there are plenty of other activities to do on the islands as well. You can go kayaking, windsurfing, or parasailing. Or if you want to relax, you can get a massage on the beach.
In the evening, the boat will take you back to Cartagena where you can enjoy dinner and drinks at one of the many restaurants and bars in the old city.
Where to Stay in Cartagena
For the perfect Cartagena experience, stay in my favorite hotel situated in the old town. The lovely colonial-style architecture combined with modern amenities will make your time here unforgettable. To beat the heat, take a dip in the pool or enjoy a cup of coffee on your private balcony.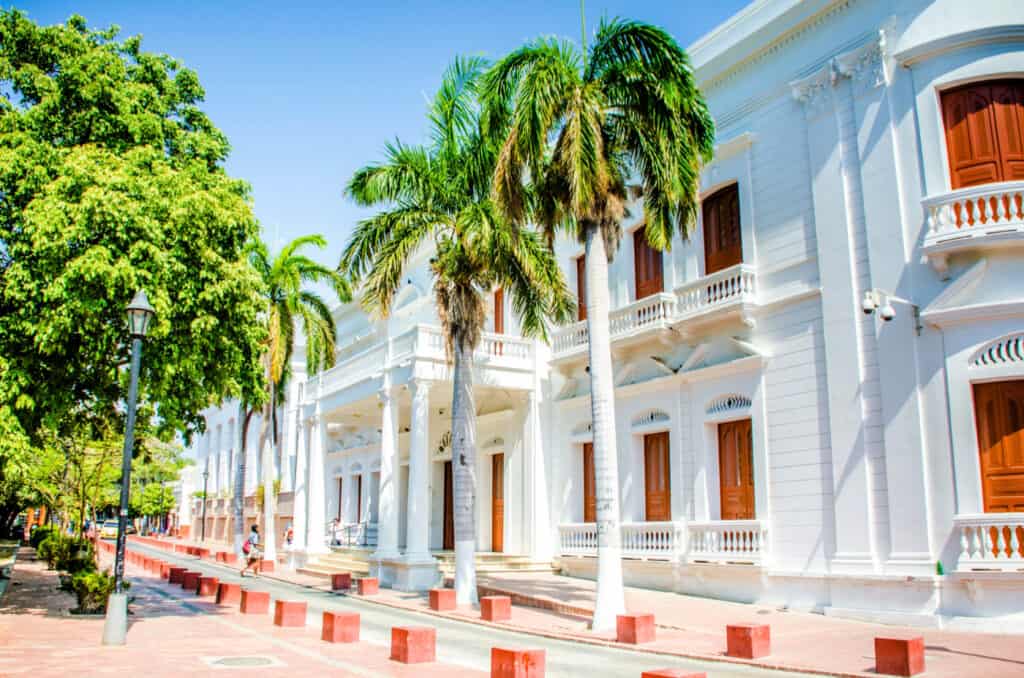 Day 6: Head to Santa Marta
Enjoy a slow morning in Cartagena before your 4 hour ride to Santa Marta, which is located on the Caribbean coast of Colombia. This is a much smaller and quieter city than Cartagena, but it still has plenty to offer visitors.
Today is just traveling and getting rested for Tayrona national park. Once you are in Santa Marta you can enjoy the beach, eat some yummy seafood and enjoy the sunset before your big day tomorrow.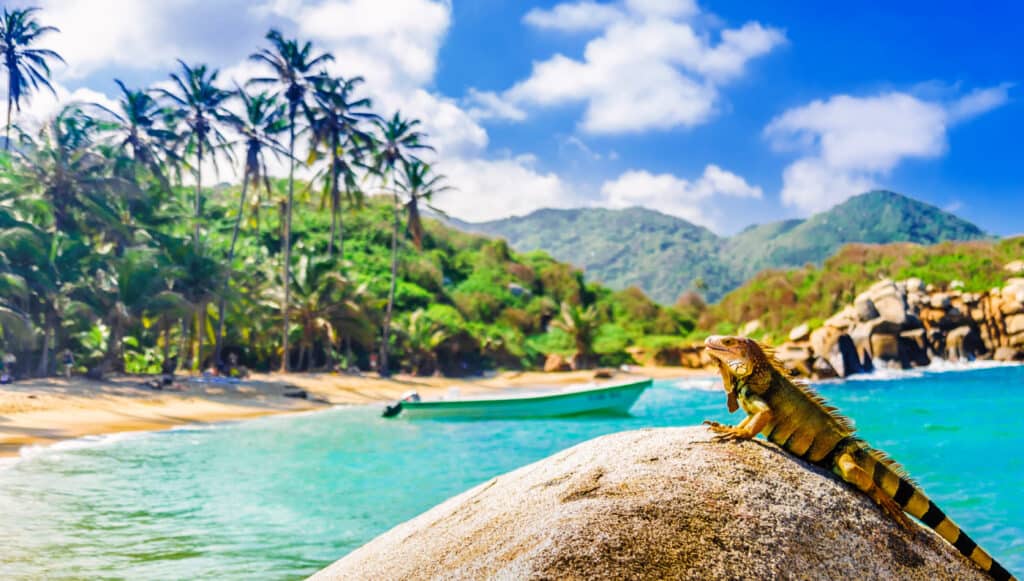 Day 7: Tayrona National Park
Today we are going to take a day trip from Santa Marta to the gorgeous Tayrona National Park. This is an ancient city that was once home to the Tayrona people. There are ruins located within Tayrona National Park, which is a stunning piece of nature with rainforests, mountains, and beaches.
You can either hire a tour guide or do it yourself. I recommend just grabbing a taxi and heading out to explore yourself. Once inside the park, you will be able to hike, explore and enjoy the most beautiful beaches Colombia has to offer.
The first beach is about a 2 hour hike from the entrance, but along the way you will see monkeys, lizards, and birds.
Once you make it to the crystal clear beaches you can spend the afternoon swimming, sunbathing, and just relaxing. If you want to explore more of the park, there are plenty of hiking trails to keep you busy. Just make sure you bring plenty of water and sunscreen as it can get quite hot.
In the evening, head back to Santa Marta for dinner and drinks. This is a long day, but it's definitely worth it to see one of Colombia's most amazing sites.
Where to Stay in Santa Marta
Enjoy this adults-only hotel in Santa Marta. I loved that I could just relax by the pool while watching the sunset. It is truly the perfect escape on the Caribbean coast.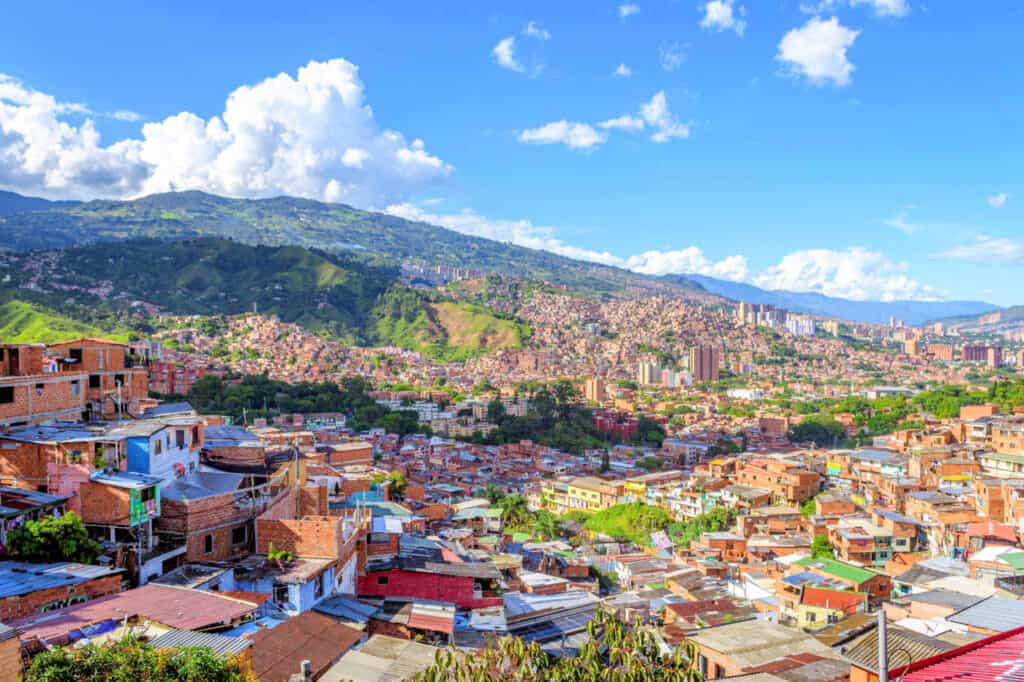 Day 8: Off to Medellin and visiting Comuna 13
After breakfast, we'll take a short flight to the city of Medellin. This is Colombia's second largest city and it's famous for its beautiful weather, crazy history and its vibrant nightlife.
There is plenty to do in Medellin, but some of my favorite things are exploring the many parks, going out to eat at delicious restaurants, and checking out the clubs and bars. So get ready for a busy time over the next three days.
In the afternoon we are going to explore what was considered the most dangerous neighborhood in the world. Comuna 13, this neighborhood was once controlled by gangs and cartels, but it has been completely transformed in recent years.
You can take a tour of Comuna 13, which will take you through the different graffiti art, staircases, and community projects that have helped to turn this neighborhood around. It is now one of the most vibrant and colorful places in Medellin.
I recommend booking with Zippy tours as you are guaranteed a tour guide that is from Comuna 13 and can give you an insider's perspective of the area. They offer a free walking tour that is tip-based, so you can give what you feel it is worth at the end.
In my opinion, this is a cannot-miss activity if you're ever in Medellin!
After the tour, you can grab some lunch or a drink in one of the many cafes and restaurants in Comuna 13. This is a great way to support the local community. Right now you might be thinking, "you mean I can stay and eat there, it's safe?" and the answer is yes! Comuna 13 is safe and it has been completely transformed.
In the evening, head back to Medellin for dinner and drinks in the Poblado district. This is one of the most popular areas in Medellin for nightlife with plenty of bars and clubs to keep you entertained.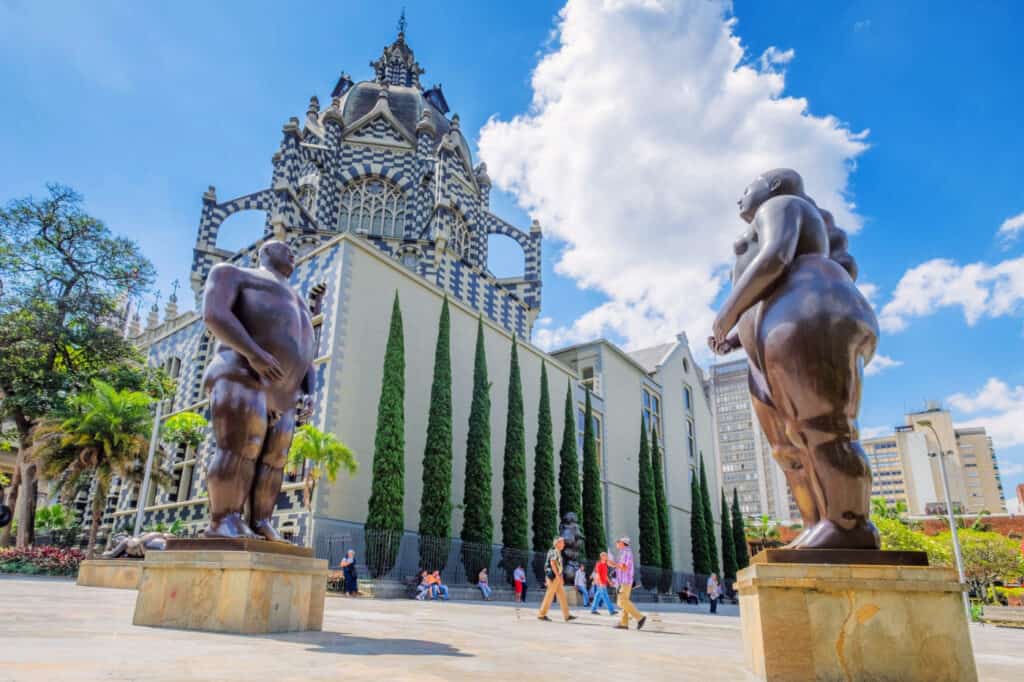 Day 9: Exploring more of downtown Medellin
Wake up bright and early as we have another free walking tour today. This time we are going to explore downtown Medellin and learn about the city's history. I took this tour and loved it.
You'll learn about how Medellin was once the most dangerous city in the world, controlled by gangs and cartels. But in recent years it has been transformed into a thriving metropolis with plenty to offer visitors.
I am sure you have seen Narcos on Netflix, but it is fascinating to learn about how much Medellin has changed and the people that have made it happen. You will learn how Pablo Escobar affected the city and how it is slowly recovering from its dark past. I find it amazing that they have been able to turn the city around and make it a safe place to live and visit.
The tour will take you to some of the most popular sights in Medellin including Plaza Botero, where you can see some of Fernando Botero's famous sculptures. You will also visit the Museum of Antioquia, which has an incredible collection of Colombian art.
After the tour, you can grab lunch in one of the many restaurants in downtown Medellin. I recommend trying some of the local dishes as they are delicious!
In the afternoon, we are going to take a cable car up to Parque Arvi. This is a large park on the outskirts of Medellin where you can hike, zip-line, and enjoy the stunning views.
After a busy day of exploring, we are going to relax in one of Medellin's many rooftop bars. These are the perfect places to watch the sunset with a drink in hand. Envy rooftop bar is a fan favorite and I recommend trying some of the local beers or cocktails as they are delicious!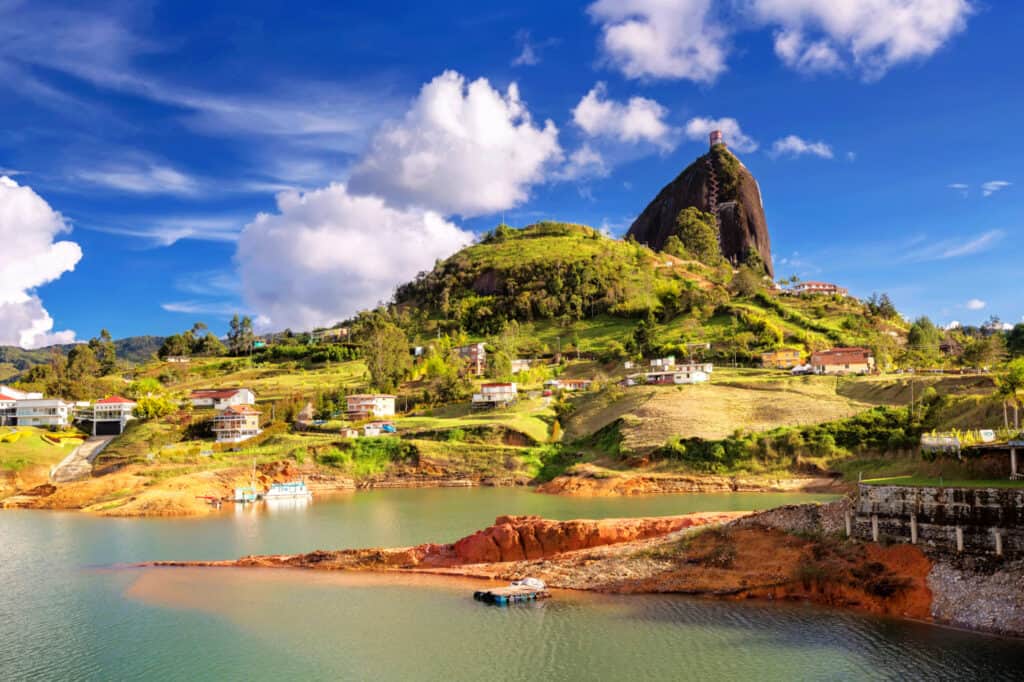 Day 10: A day trip to Guatape
Today we are going to take a day trip to the nearby town of Guatape. This is a beautiful colonial town with colorful buildings and cobblestone streets. It is also home to the massive El Peñol rock, which you can climb for stunning views of the surrounding countryside.
The drive from Medellin to Guatape takes about two hours, so I recommend getting an early start. Once you arrive in Guatape, you will take a boat tour of the nearby lakes. This is a great way to see the area and learn about the local history.
After the boat tour, grab lunch in one of the many restaurants in Guatape. I recommend trying the local dish, arepas con queso, as they are delicious!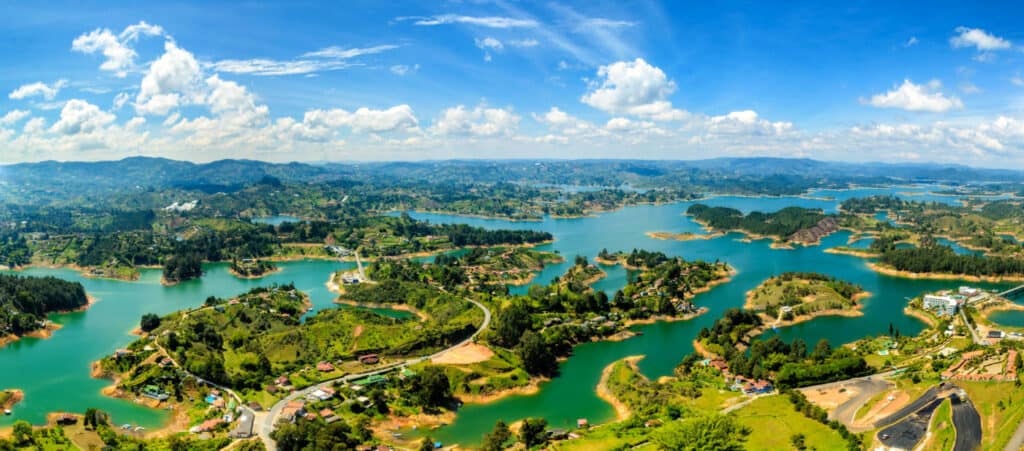 In the afternoon, we are going to visit La Piedra Del Peñol, which is a large stone that you can climb for more incredible views. you will have the option to climb El Peñol rock. This is a challenging hike but the views from the top are worth it! You can see for miles in every direction. It's a popular spot for sunset, so I recommend getting there early to secure a spot.
After enjoying the sunset, we are going to head back to Medellin to get a good night's rest before our last two stops in Colombia!
Where to stay in Medellin
My favorite place to stay in Medellin is this hotel, as you can be amongst all the action while still feeling safe. You will love how walkable all the bars and restaurants are from the hotel. El Poblado is the most touristic and safest area in Medellin.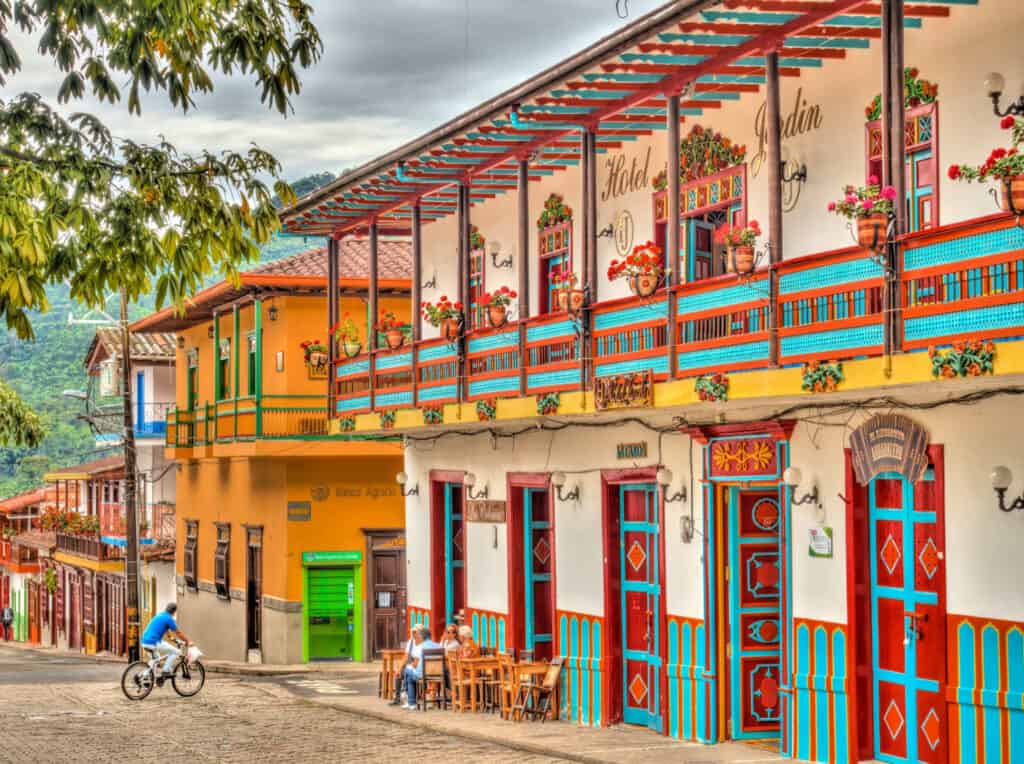 Day 11: Jardin
On our way to our last stop, we are going to visit the cute town of Jardin. This is a small town located in the Antioquia region of Colombia. It is known for its colorful houses and flowers, which line the streets.
This town is still a little bit off the tourist radar, so it is a great place to get a taste of true Colombian culture. It is also the perfect way to relax and recharge after the non-stop movement of the past week.
I recommend walking around and exploring the town, popping into the local shops, and grabbing lunch at one of the many restaurants. You will see many Colombians playing chess and drinking coffee in the town square, so make sure to join in on the fun!
If you are feeling adventurous you can go exploring and discover one of the nearby waterfalls. This is a great way to cool off on a hot day!
Where to stay in Jardin
This hotel is a great place to stay if you want to be in the heart of Jardin and have all the amenities of a hotel. The staff is incredibly helpful and will make sure you have everything you need for a comfortable stay. The rooms are spacious and clean, and the breakfast is delicious!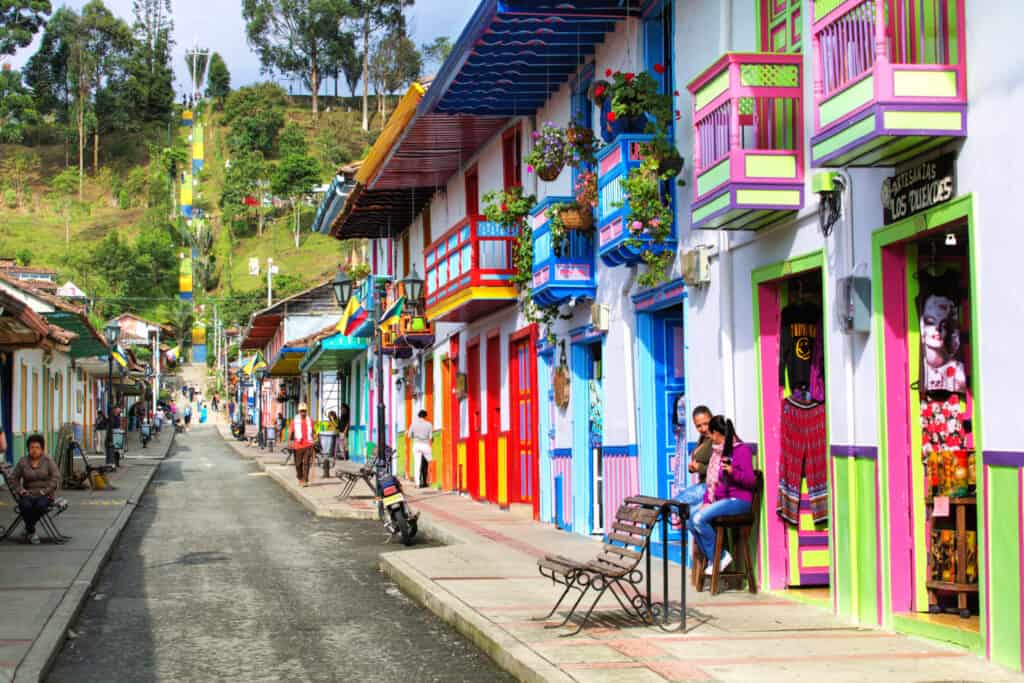 Day 12: Salento
The last stop on our two weeks in Colombia trip is the town of Salento. This is a small town located in the Colombian coffee region. It is surrounded by mountains and coffee plantations, making it a beautiful place to relax and enjoy nature.
This was one of my favorite places in Colombia.
Once you arrive from Jardin, I recommend taking a walk around town and exploring the many colorful streets. Make sure to try some of the local coffee as it is some of the best in the world!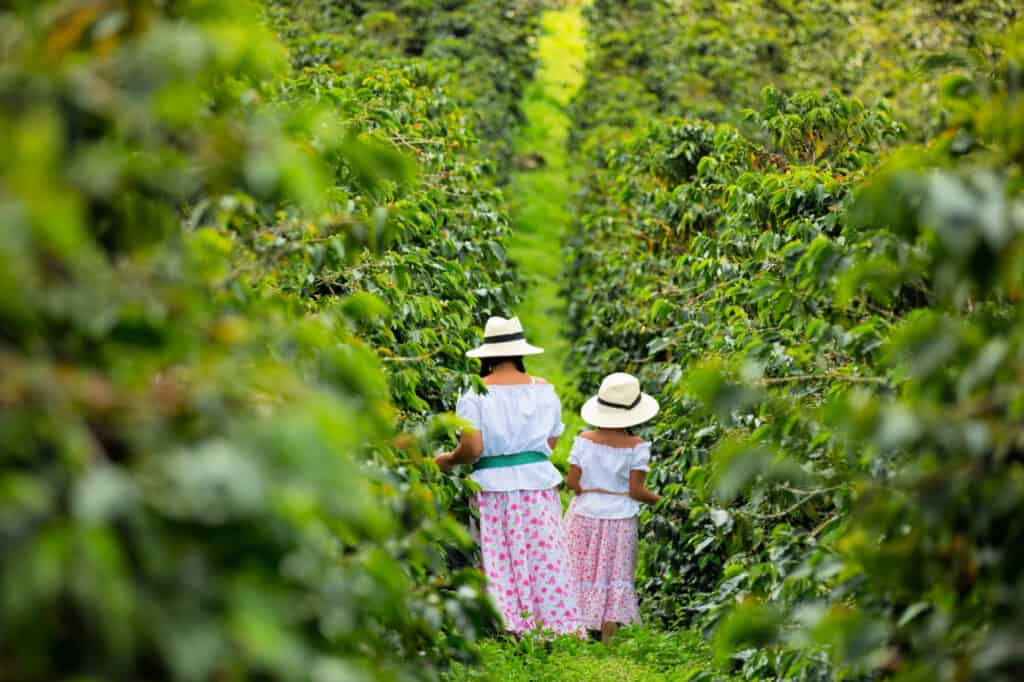 In the afternoon, we are going to visit one of the nearby coffee plantations, by jumping on this tour. Here you will learn about how coffee is grown and harvested. You will also have the opportunity to try some of the different coffees they produce.
After the plantation tour, you can grab a delicious dinner in town and then head over to one of two bars in the city to try your hand at the famous Colombian game of Tejo.
Tejo is like a more fun game of horseshoes … or at least louder. You will throw a heavy bag at a target filled with gunpowder. When the bag hits the target it explodes, making a loud noise. This is a popular game in Colombia and is a lot of fun to watch (and play)! So grab a few beers and enjoy the evening!
After a fun night out, we are going to head back to our hotel for some sleep as we have our final outing tomorrow!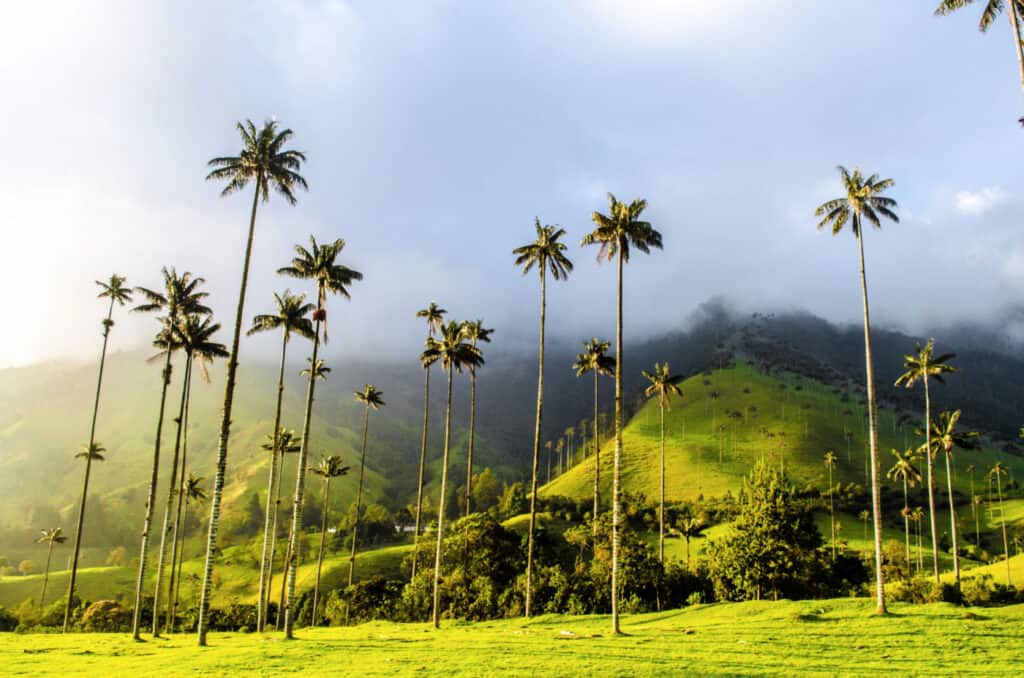 Day 13: Valle de Cocora
A day to remember and maybe my favorite thing I did in Colombia. We are going to head to the Valle del Cocora to see the tallest palm trees in the world.
This national park in Salento is a must-see when in Colombia.
We are going to hike through the national park and enjoy the incredible views. This is a moderate hike but is doable for most people. The full hike takes anywhere from four to six hours. I recommend starting around 8 or 9 AM so you can avoid the heat of the day.
You will see horses, cows, and literally the largest palm trees you have ever seen. It is incredible. Salento is a part of a cloud forest, so you will notice the temperature is a bit cooler than other parts of Colombia and sometimes the palms can be a bit hidden. But as quickly as the clouds appear, they will disappear and you will have some of the most incredible views.
After the hike, you can grab lunch in town at one of the famous menu del dia spots. My personal favorite is at El Rincon De Lucy. You will get an incredible two-course meal with a juice for only COP $13,000. (about $2.50 USD).
Spend the afternoon resting and sipping on some of the region's best coffee at Cafe Jesus Martin or one of the other local cafes as you reminisce on the last two weeks of travel in Colombia.
Where to Stay in Salento
Beautiful views of the mountains and garden. This hotel is perfect for those who want to relax after a day of exploring. Located in the heart of Salento, you are just a short walk from all the best restaurants and cafes. The owners are so kind and will greet you with a yummy cup of fresh Colombian coffee. A true gem in my Colombian travels.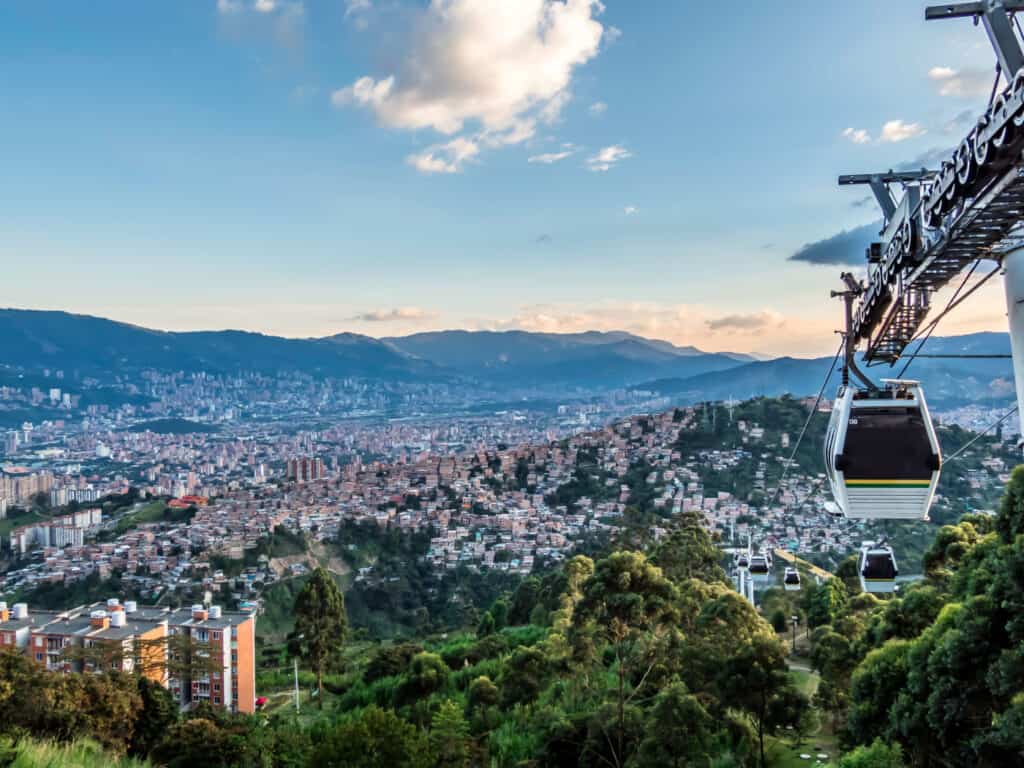 Day 14: Traveling Home
Depending on where you are flying out of, you can catch a flight from Salento to either Bogota or Medellin.
Both flights will be about an hour long and will get you to the airport with plenty of time to catch your flight home. And hey, if you land yourself with an evening flight, you can leave your bags at the airport and head out for one final day of sightseeing.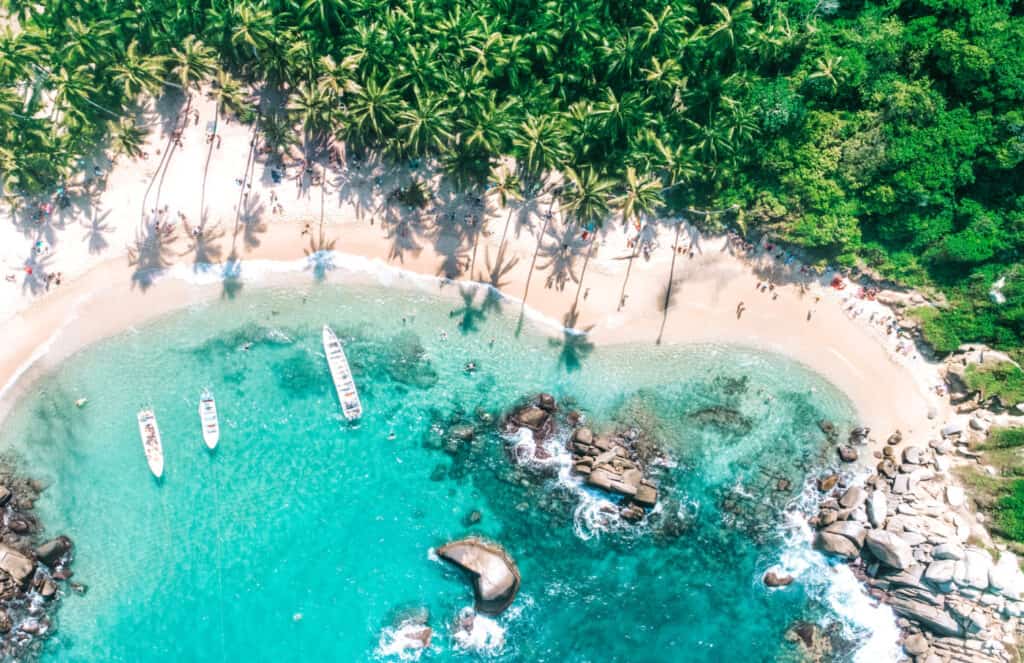 Final Thoughts
I can never seem to get enough of this inspiring country and I hope this guide has given you a better understanding of what Colombia has to offer and how to spend two weeks in Colombia.
It doesn't matter if you love the bustling city life or prefer to find a more relaxed pace in a smaller town, Colombia has it all. From the colonial streets of Cartagena, to the coffee plantations of Salento, to the lost city of Ciudad Perdida — there is something for everyone in this incredible country.
I hope you enjoy this country as much as I do and discover your own Colombian adventure!