Bogota is the capital of Colombia, a misty city hidden at almost 9,000 feet above sea level in the Northern Andes. It was built between two mountains, Guadalupe and Monserrate. Surrounded by mountains, it offers a balance of nature and city.
Once ruled by the Chibcha Indians indigenous to this region, the city was taken over by European settlers in 1538 with the arrival of Gonzalo Jimenez de Quesada. At the time the city was called Bacata.
In 1819, Simon Bolivar returned the city to Colombia, at the time known as Gran Colombia, with his victory in the Battle of Boyaca. It was made the capital in 1821.
Why Bogota over other cities?
Cartagena is the prettiest city in Colombia, Cali is the epicenter of salsa, and Medellin is surrounded by charming villages, but Bogota? It offers something entirely different. The capital of Colombia isn't the most beautiful city, but it has an authentic charm that surpasses the facades of its buildings and entices a different kind of traveller.
If you want a real taste of Colombia, in its unfiltered form – go to Bogota. The city center is colonial and colorful, though it's nowhere near as commercial as Cartagena. There are arepa stalls and local restaurants around every corner, and an amazing nightlife that will draw you out of your hotel room at night.
Another thing that will enchant you about Bogota is the people. Because Bogota isn't as touristy as other areas of the country, the locals are extremely friendly and seem to be determined to make your time there as good as possible! I noticed this from the minute I arrived.
I jumped in a taxi and soon I was having a long chat with the driver, who gave me restaurant recommendations, advised me on the best ways to get around the city, gave me a list of must-see attractions, and warned me about which neighbourhoods of the city to avoid.
Other cities are more beautiful, but the influx of tourism has made the locals more distant (in Cartagena they can even be quite rude at times!). Bogota also isn't over-commercialized, so you get great value for money on tours, dining, and accommodation.
How many days should you spend in Bogota?
When I visited Bogota, during my three-month trip in Colombia, I spent a week there. I think that's a little longer than you realistically need. I spent one of the days resting and recovering from a long night bus down from the northern coast of the country, and another two sorting out paperwork and doing some long overdue shopping at malls (something I always put off for as long as possible).
But if you're purely in Bogota for pleasure, and you're a bit tight on time, you can squeeze in all the main attractions, plus enjoy laid-back evenings in the city center, in three days. I'd recommend booking four nights of accommodation so you've got three full days in Bogota and you're not tired from travelling on one of them.
A long weekend in Colombia's culture-filled capital will rekindle your sense of adventure and have you planning your next trip back!
Here's a straightforward and versatile three-day itinerary for Bogota: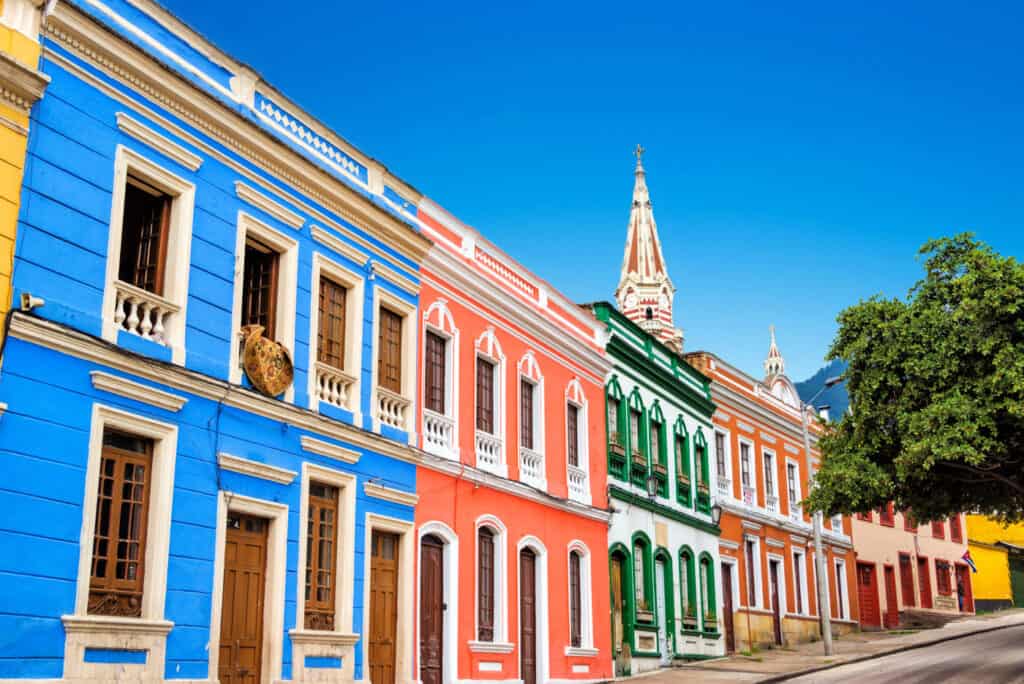 Day 1: Explore the best of La Candelaria
Spend your first day in the La Candelaria neighbourhood visiting all the most famous landmarks, museums, cultural hotspots, and monuments. Start the day off in Plaza Bolivar, the most famous plaza in the city.
This huge square is surrounded by governmental buildings like the mayor's office and museums, as well as Colombia's Palace of Justice, the Cathedral of Bogota, and the Capitol Building. Most of the buildings surrounding the square date back to the 16th century. It's a great place to start the day as it's close to lots of other must-see attractions.
When the Spanish reigned Colombia they ran markets on the square, and bigger events like bullfights! Nowadays it's a lively square that always has great people watching. When I was there I saw a man clipping pigeons' toenails, a peculiar sight that I'll never forget.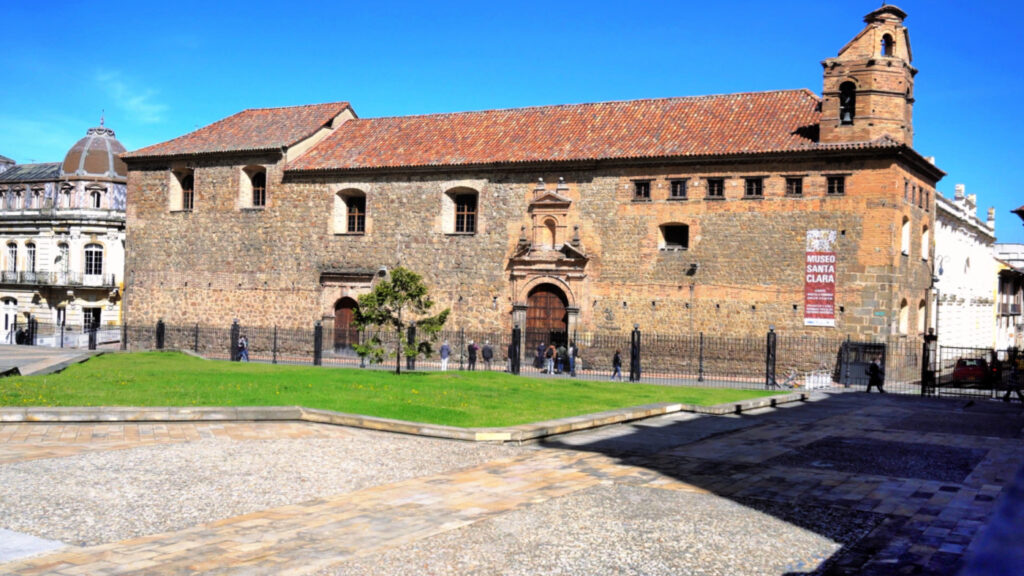 Afterwards, make your way to the Museo de Santa Clara which is right around the corner. This 17th century church was deconsecrated in the 1960s and turned into a museum. The church walls are decorated with over 148 baroque paintings, making it one of the most beautifully decorated churches in the country!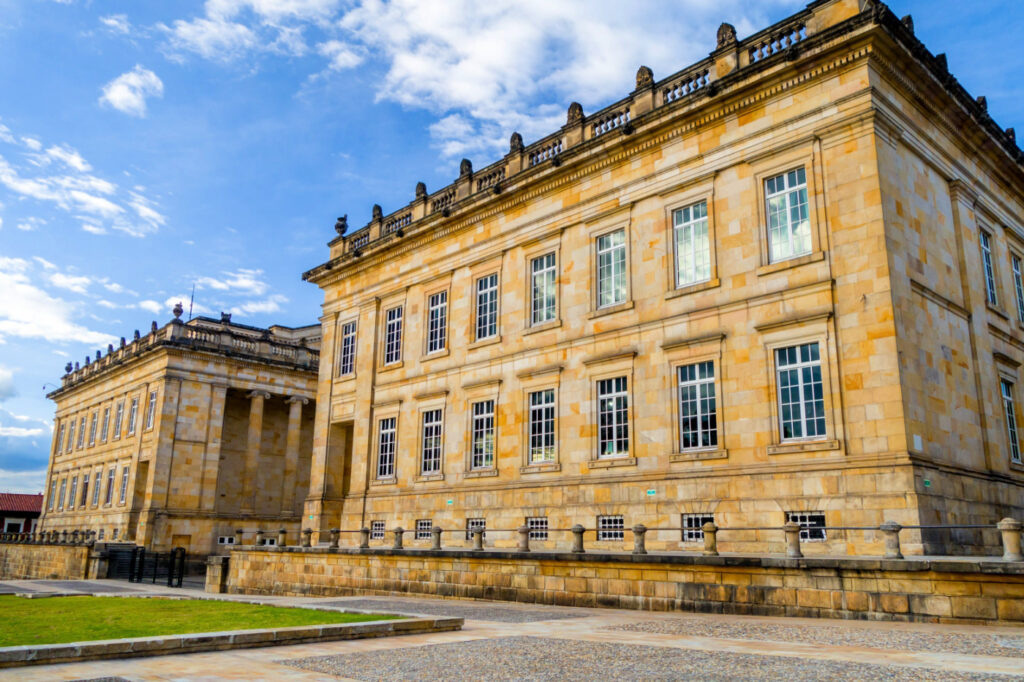 Carry on to the Casa de Nariño, which is just a five-minute walk away from Plaza Bolivar and a few minutes away from the Museo de Santa Clara. It's the president's official home and has a Neoclassical facade and a grand interior. You can explore the luxurious rooms of the house on a free tour, they run Monday to Friday. Bear in mind you will need to book at least five days before!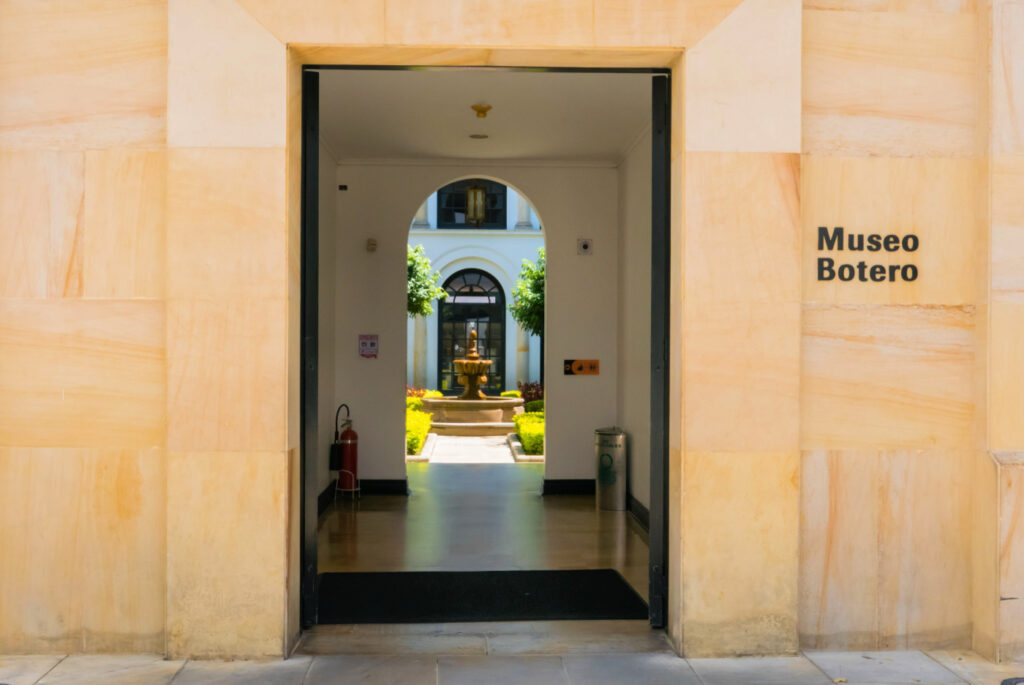 Next head on over to the Museo Botero which is a 10 minute walk away. Botero is possibly the most famous Colombian artist in the world, and he's certainly revered by the Colombians! His artwork is unique and fascinating, portraying human bodies that are completely disproportionate and often have large bottoms and huge heads.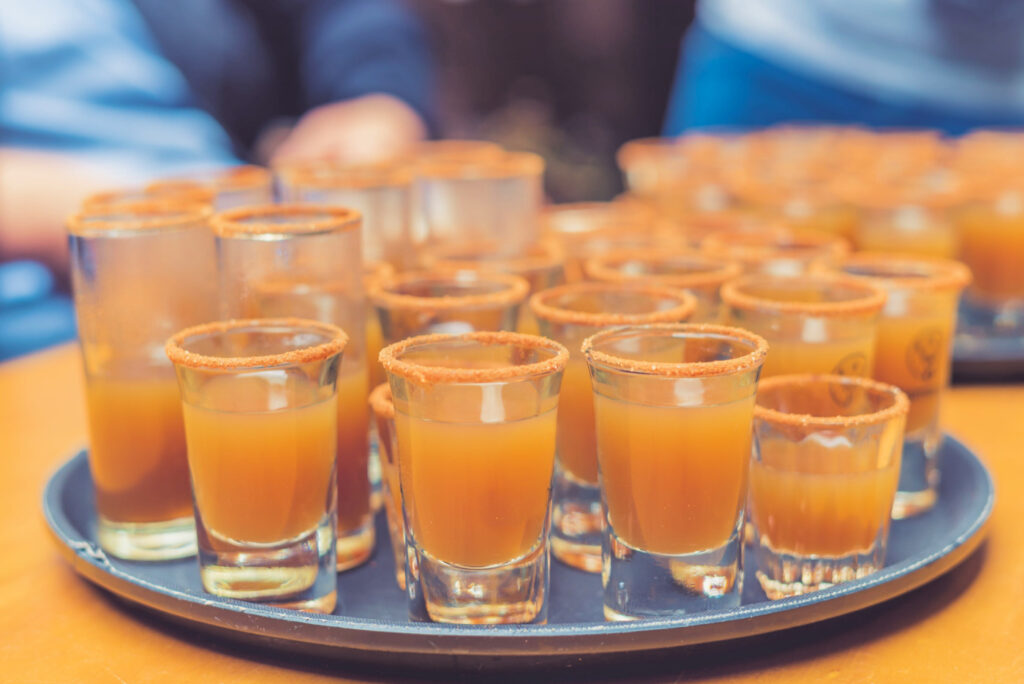 By now you'll probably be a little bit tired and oversaturated from sightseeing, so try chicha in La Candelaria before continuing. Chicha is an alcoholic drink made from fermented corn that is popular across Central and South America. In fact, it's the oldest alcoholic drink in the country. It's usually served warm, which is perfect on a cold and cloudy day in Bogota.
There are lots of bars where you can try it, especially on the streets around the Plazoleta Chorro de Quevedo which is just 15 minutes walk away from the Casa de Nariño and five minutes away from the Botero Museum. Afterwards, have a late lunch in one of the many local restaurants in the area. Be sure to try different local favorites like tamales and arepas!
For lunch most Colombians order a "menu del dia" (menu of the day) which is always hearty and cheap, often costing around two dollars. You get soup, fresh juice, and a main with most menus.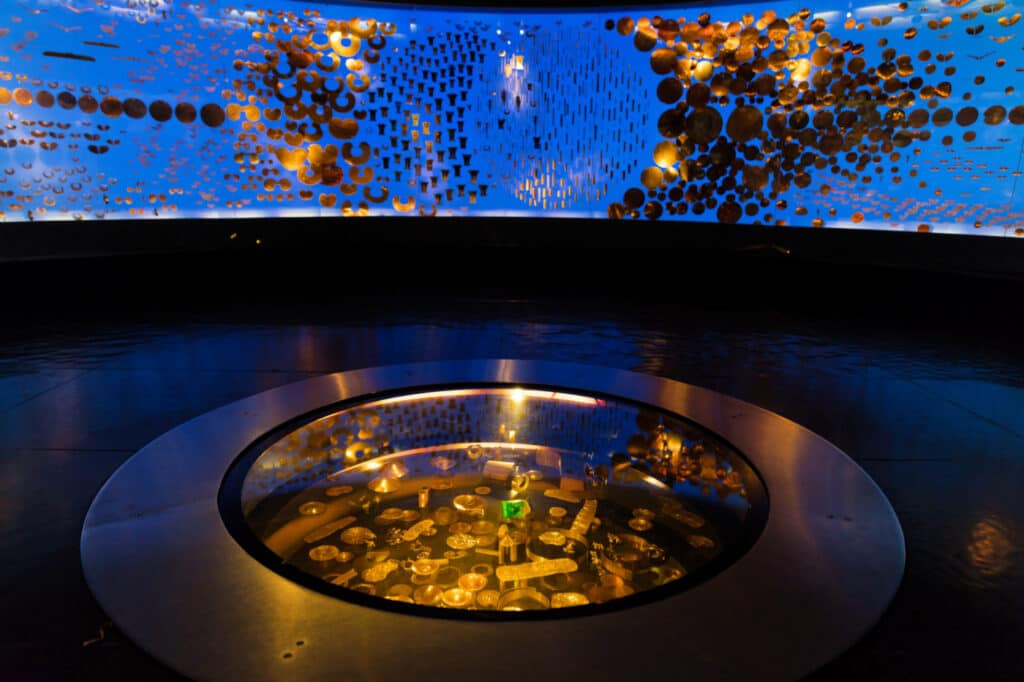 End the day at the Museo de Oro. Bogota has some fantastic museums and lots of points of interest when it comes to culture dotted around the city, but the Museum of Gold is the best. It's been rated amongst the best museums on the planet, next to others like the Vatican museums and Pergamon Museum.
Inside, you'll be dazzled by the 34,000 gold pieces in the museum, the majority of which belonged to the indigenous peoples of pre-colonial Colombia. In each glass cabinet, there are intricate and peculiar figures carved out of solid blocks of gold.
Many of the small figurines represent different pre-colonial deities and other pieces were used in rituals. The elegant jewelry pieces decorated the bodies of rulers and religious leaders.
Two of the most iconic pieces on display are the figure of a Muisca indigenous man on a golden raft (which was my personal favorite, I could spend hours looking at it) and a gold poporo quimbaya.
After all your exploring, stop at a local cafe and enjoy some people watching accompanied by a cup of "cafe de olla". This sweet and cinnamon-scented coffee isn't for everyone, but it's cheap and warming!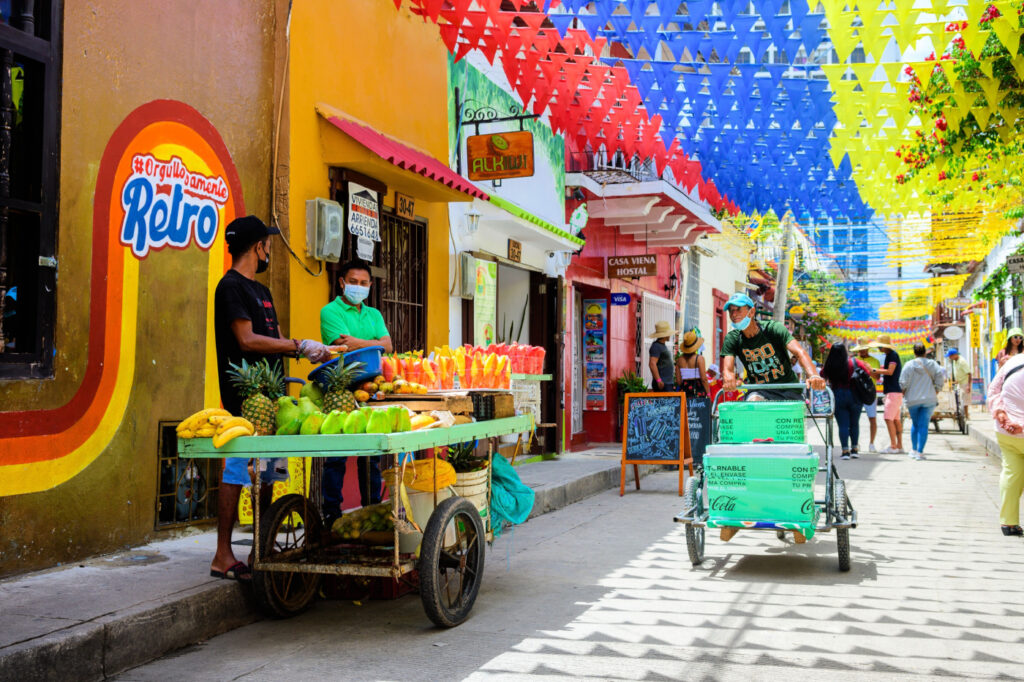 Day 2: Go on a tour
I'm not usually a big fan of tours, but when you're only stopping in a city for a few days they can be really convenient. Because of the humorous and friendly nature of the Colombian people, they're also far more fun than in most countries. Couple this with the fact that they're very affordable and there's no reason not to go on a tour or two in Bogota. It'll save you time and the hassle of planning!
Some of the best tours I did during my time in Bogota were super simple, and didn't cost much more than $10. I started with a free walking tour with BeyondColombia, which gave me a great sense of how the city was laid out and some basic information on the main landmarks.
That same day I went on a this bike tour, which was great as I got to explore further away neighbourhoods that would take ages to reach by foot. I don't usually enjoy riding bikes much, but I'm glad I gave this tour a chance—I really loved it! You can check availability for the tour below: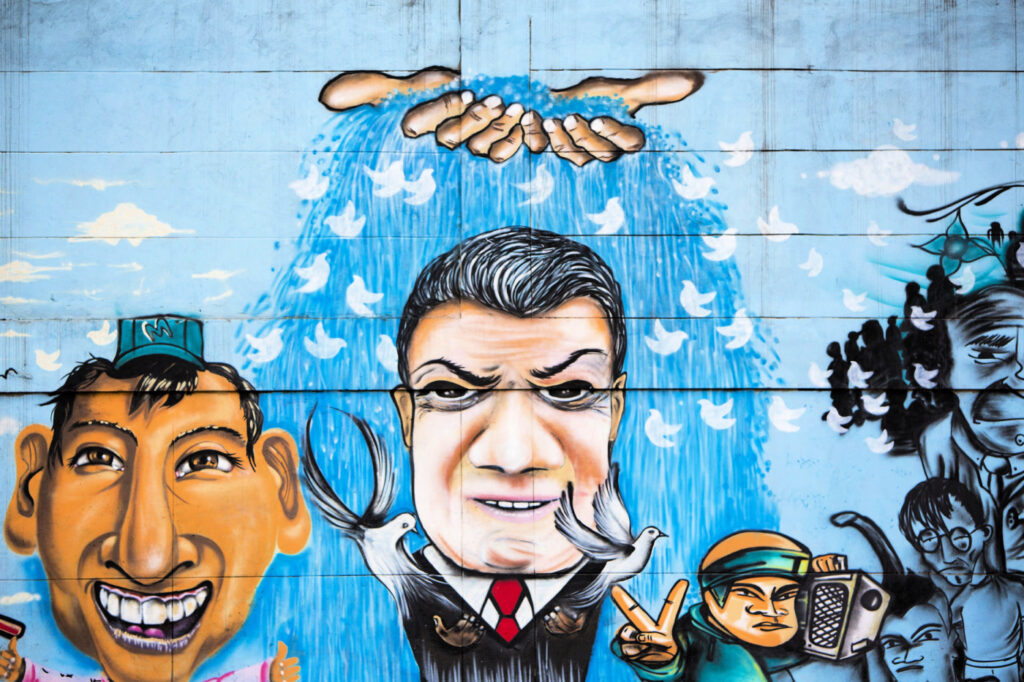 Another tour worth considering if a bike tour isn't your thing is the Bogota Graffiti tour. There's lots of hidden artwork around Bogota that would take days to find by yourself, so this tour is perfect for enthusiastic art lovers that want to see the peculiar, colorful, and sometimes political artwork that decorates the streets of Bogota. Again, you can check availability for the tour below:
Now, whilst there's loads to do in the city, there are a few tours worth considering if you'd rather get out of the city on one of your days here. Needless to say, you'll need to pick one as you won't be able to fit them all in, but here are some options worth looking into! Bear in mind you can reach these places via public transport and go independently if you'd rather not take a group tour.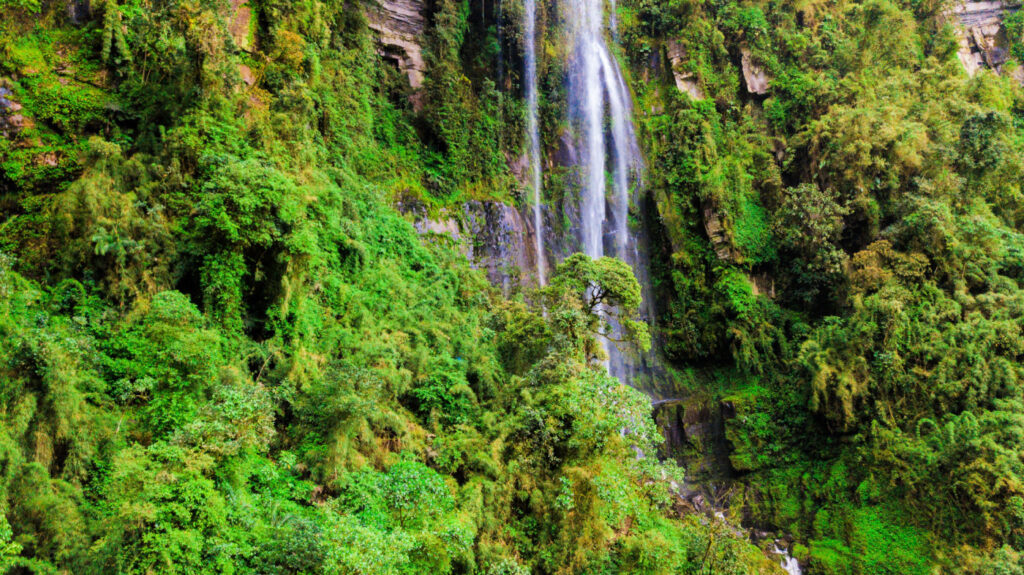 La Chorrera Waterfall is just an hour outside of Bogota and it's the highest waterfall in the country. Taking a tour there costs somewhere between 250,000 ($50) and 500,000 COP ($100).
But given that the entry fee to the park is 35,000 COP, and a guide costs 40,000 COP, plus you'd be looking at spending around 15,000 COP on the Tercer Milenio bus to get there and back, it's not that much cheaper to do it yourself in this case. Other than the waterfall there are some awesome caves and a lookout point at La Chorrera.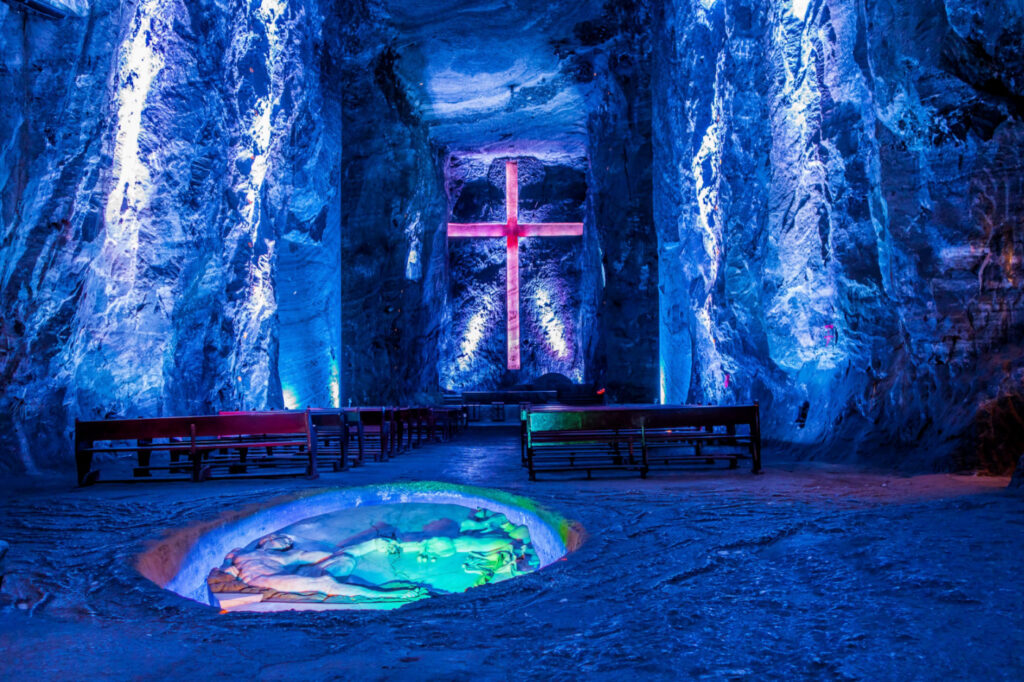 Alternatively, go to the town of Zipaquira and spend the day visiting the Cathedral of Salt which was built by miners inside the old salt mine 200 meters below ground. The cathedral is really impressive, especially considering it was built by humble miners who simply wanted a place to worship. This is a great example of how dedicated Colombians are to their faith.
I also thought Zipaquira itself was worth visiting. The colonial architecture that characterizes the town and the large church on the main square was stunning.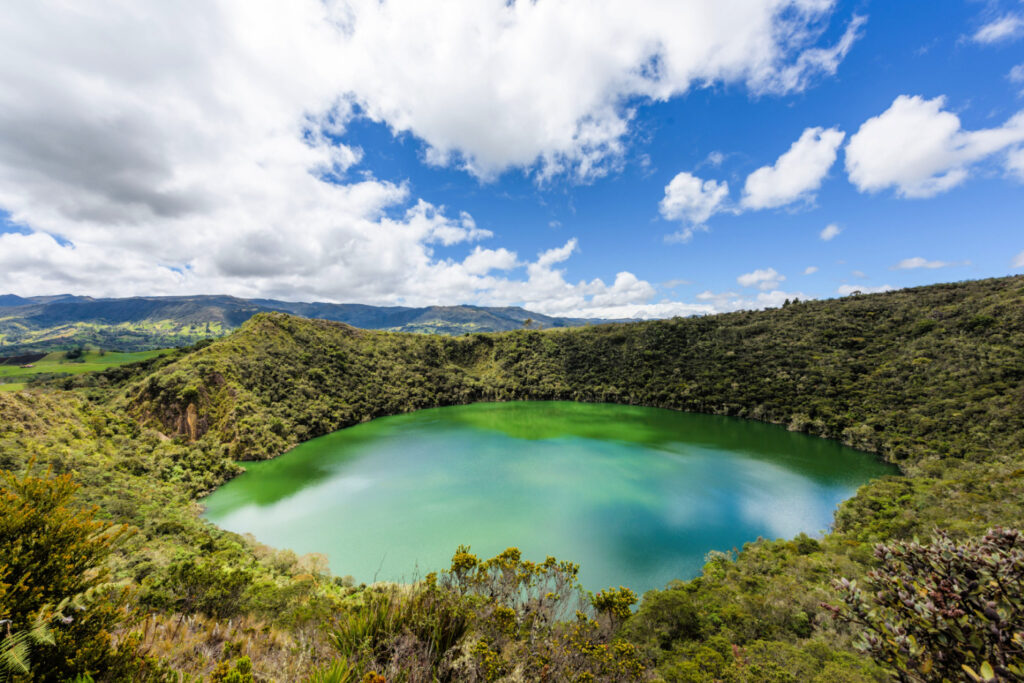 Another tempting tour from Bogota is the Laguna de Guatavita. It was once a ceremonial site where indigenous people worshipped the goddess of the water, Chie. It's also the home of the El Dorado legend, which was so magnificent it attracted the Spanish to this land in the sixteenth century.
According to legend, the Muisca Indian chief used to sail out onto the lake on a wooden raft with four priests. He would then throw in treasures made of pure gold before submerging himself in the waters of the lake, in honour of the gods. This led the Spanish to try and drain the lake on several occasions, in an attempt to recover the lost gold.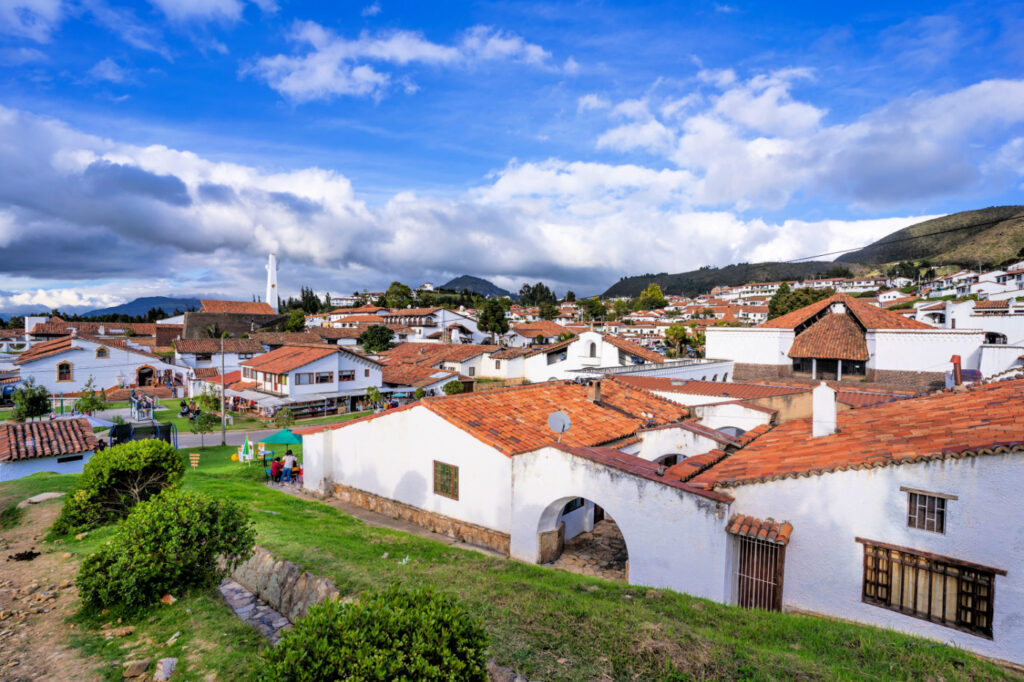 Years ago there was an old town, called Guatavita, nearby that was once the religious capital of the Muisca people. They produced exquisite metalwork there. Sadly, it was inundated by the Tomine Reservoir. Now, a replacement town has been built, also called Guatavita.
If you can't choose between these tours, then your best option is a combined tour of Guatavita and the Cathedral of Salt!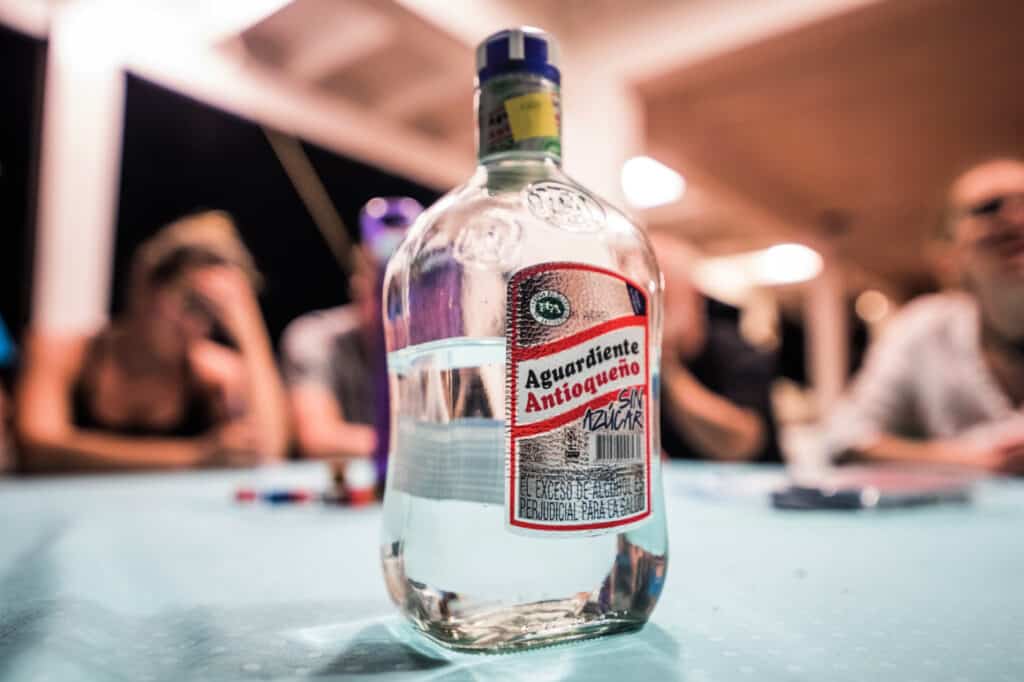 When you get back that evening from whichever adventure you choose to go on, make your way to La Zona Rosa. There are loads of bars and clubs here, and there's no excuse for leaving Colombia without getting a little tipsy drinking aguardiente.
Aguardiente is Colombia's equivalent of what Tequila is to Mexico. Admittedly I wasn't a huge fan because it tastes a lot like licorice, but I still spent many a night drinking aguardiente with local friends. Luckily, it's often served with a plate of cane sugar that you can nibble on after each shot, which makes it a lot more drinkable!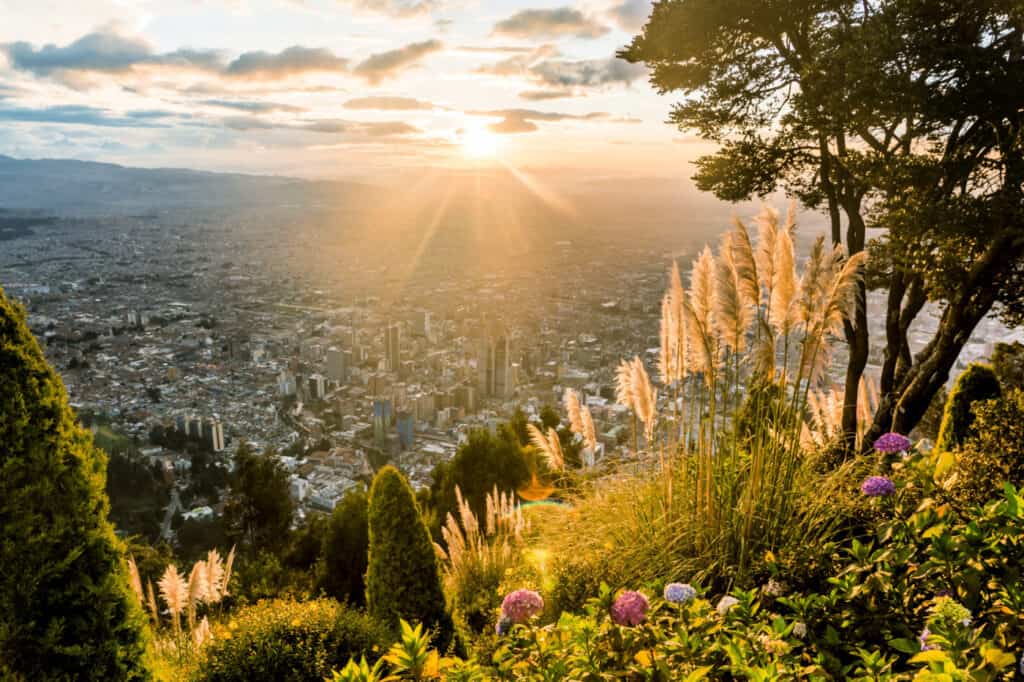 Day 3: Hike to Bogota's famous churches
Two main mountains surround Bogota, Cerro de Monserrate and Cerro de Guadalupe. On the top of each, there is a church that towers over the city! The most famous is Monserrate, though both are worth a visit.
The Monserrate mountain was important to the city even before colonial times when the local indigenous people considered it sacred and named it "quijicha caca" or grandmother´s foot. During the summer solstice in June, the sun rises directly behind the Cerro de Monserrate.
After the Spanish conquered Colombia a religious group known as the Brotherhood of Vera Cruz were granted permission to build a small religious retreat at the top of the mountain.
There's also a statue of Jesus known as El Señor Caído (The Fallen Lord) positioned at the front of the altar which is visited by believers and pilgrims who come to the basilica. Supposedly the statue performs miracles! It was made by Pedro de Lugo Albarracin in 1640.
The only way to get to the church used to be an arduous uphill hike, but now there's a funicular railway that opened in 1929 and a cable car that was inaugurated in 1955. It's never been easier to visit the Cerro de Monserrate and its delightful little church. Both cost just 11,000 COP (under $2.50) each way.
The best option is to take the cable car or funicular railway up and then walk down the winding two-mile path that takes you back to the city. Though even today the most devoted religious believers still make their way to the top by crawling on their hands and knees, a practice that is especially popular during Easter.
I'd recommend going around sunset time. The views over the city are spectacular day and night and the church is lit up when it gets dark so if you go to watch the sun go down you can catch all the best views in one trip. There are stalls and little shops at the top too, so you can buy souvenirs to take home or get your hands on a cold beer to enjoy alongside the views!

The other famous mountain in Bogota, the Cerro de Guadalupe, has a church at the top that was built in honour of Our Lady of Guadalupe, possibly the most important and revered saint in all of Latin America. At the entrance of the church, built on the roof, there is a huge 49-foot high white statue of the saint with her arms opened wide designed by Gustavo Arcila Uribe in 1946 that towers over the rest of the buildings at the sanctuary.
You can actually see the statue and Guadalupe Hill from Monserrate, so if going up two mountains in one day doesn't sound appealing you don't have to miss out entirely! There are various ways to get there, by foot, car, or public transport.
As the mountains are neighbours, getting between the two is pretty straightforward. It's a half-hour drive from peak to peak (so taking an Uber is a possibility!) or you can get the bus to Guadalupe Hill then walk down and make your way up to Monserrate via the cable car or funicular. The mountains are on the outskirts of the city, just outside of the famous La Candelaria neighbourhood so they're not too out of the way or off the usual tourist trail!
Monserrate is more popular than Guadalupe Hill, but both are worth a visit. Bear in mind they get especially busy on Sundays when the locals come to the churches at the top for mass and tourists flock in.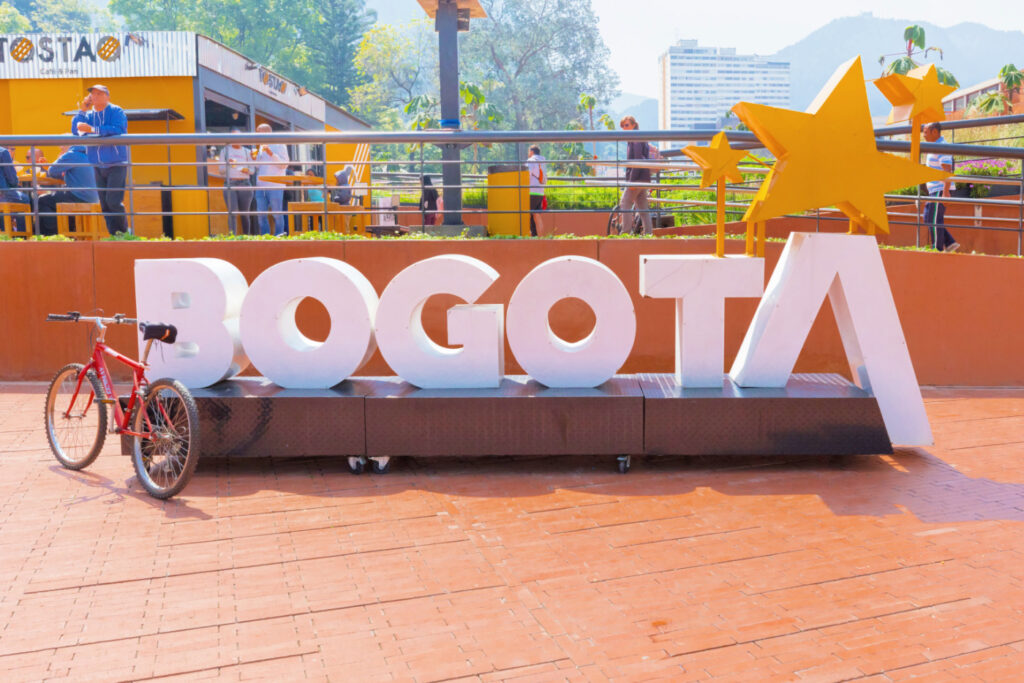 What to know before you go
Communicating with locals: Some Colombians do speak English, but in general, the level of natives isn't very high. I'd recommend learning some basic Spanish and taking a pocket-sized dictionary with you. The good thing is, Colombians have a great sense of humour and are very patient, so you'll have a laugh chatting to the locals, even if it is in very broken Spanish.
The nightlife: Colombians love to party. I'm yet to find somewhere that has so much music and such a lively atmosphere. They love dancing, and they play every tune at full blast.
Even if you aren't a dancer, you'll undoubtedly end up being swept onto the dance floor by a friendly local who swears they can teach you how to salsa in no time! Bearing that in mind, it's worth learning the salsa basics and getting a sense of the Latin rhythm before you go so you don't feel like a fish out of water!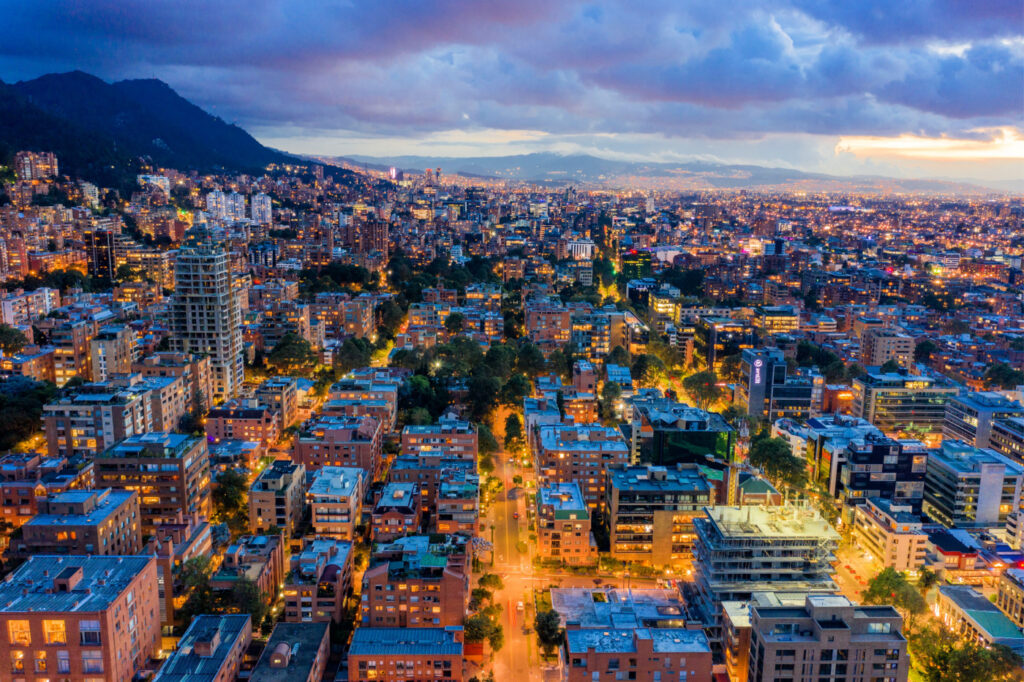 How to Stay Safe in Colombia
Colombia was put off the tourist map for half a century by the violent conflicts that broke out between the government and rebel groups across the country. Corrupt governments, terrorizing guerrilla groups, and an economy that relied largely on the production and exportation of cocaine made Colombia unappealing and dangerous.
Now, it's mostly the stigma that remains. Outdated perceptions of the country prevent tourists from travelling to Colombia, despite how much safer it's become. Admittedly, I was one of them! When I began my trip across South America I quickly took Colombia off the list, assuming it was too dangerous. However, I met loads of travelers along the way, and they all said the same thing… "Go to Colombia!" So eventually, lured in by the celebration of the second biggest carnival in the world, I did!
When I got there I was shocked to find a colorful country whose people had an infectious laid-back and joyful way of being. The three months I spent in Colombia were tranquil, fun, and above all, I felt safe!
Of course, like every city in the world, there are neighbourhoods you should avoid. As a general rule, areas south of La Candelaria (like Boda, Ciudad Bolívar, Kennedy, San Cristobal, and Usme) are off-limits. The neighbourhoods quickly get more shady and dangerous as you move away from the city center.
Even in La Candelaria, the most beautiful and appealing neighbourhood of Bogota you'll need to keep a bit alert. Be wary of muggings on Calle 9 and areas south of Barrio Egipto.
Lots of travellers stay in Zona Rosa if they're worried about safety. I stayed in La Candelaria and everything was fine, but by that point, I had been travelling around South America for five months and I had a good sense of how to keep myself safe.
Overall the biggest threat in Bogota is pick-pockets. To prevent having your things stolen, which puts a downer on any trip, follow my top three safety tips:
Leave your passport and a spare credit card in your room at the hotel. Only take copies of your passport out with you and get a travel card, like Monzo and Revolut, that you top up with enough money for each day along the way.
Sew a pocket into your waistband that can fit your credit card and a bit of spare cash for emergencies.
If you're worried someone is following you, lean against a wall and pretend to be tying your shoes, that way they will walk past you and you can change your route.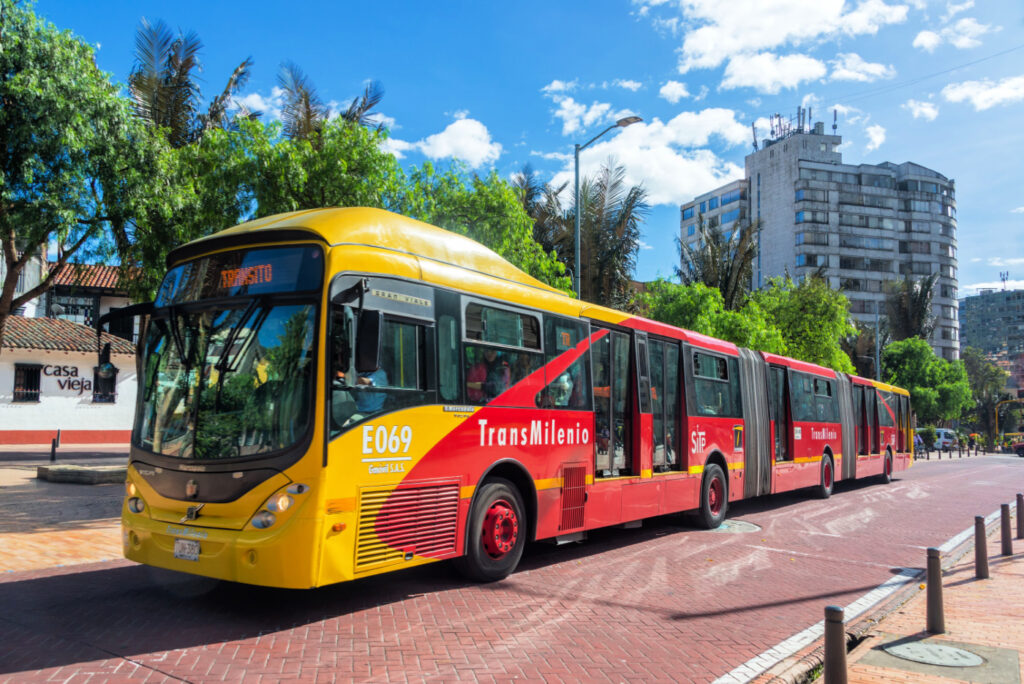 How to get around Bogota
La Candelaria is a very walkable neighbourhood in Bogota, and there are plenty of attractions in this area of the city. If you like walking it's the best neighbourhood to stay in. Personally, I like having everything within walking distance, so I opted for a hotel in La Candelaria during my time in Bogota.
The most used form of transport in Bogota is the TransMilenio or BRT (bus rapid transit system). It's essentially a normal city bus but they have their own lanes around the city center, which means you can whizz through the city center and avoid the traffic! They're cheap and efficient, and because the traffic can get really bad the bus is sometimes quicker than taking an Uber.
To use the TransMilenio you will need to get a TuLlave card. It costs just 5,000 COP (around $1,25) and then you can top it up. Bear in mind you have to buy the card and top it up with cash, they don't accept credit cards. Each time you tap into the station with your card you'll be charged 2,300 COP (some 60 cents), which allows you to make two changes within two hours.
Don't use the TransMilenio after 9pm at night, especially if you're on your own. During the day keep an eye on your bag and put important things, like your money and identification cards, in a hidden anti-theft bag.
To check bus routes and schedules there is a TransMelnio App, but it's in Spanish. I'd recommend using an app called Moovit to get around, it's more reliable than Google Maps.
Technically Uber isn't legal in Colombia, though it's still used and cheap. You can also download the apps Tapsi and Taxi Fast, which offer safe and reliable taxi services. As a general rule, don't get in a taxi on the street in Bogota. Even during the day, it's not very safe and you definitely shouldn't take a public taxi alone.
That said, it is okay to catch the airport taxis into the city center. A ride from the airport to La Candelaria shouldn't cost you more than 50,000 COP (under $15).
Another option is to hire a car, though it's not really worth it if you're just staying in the city as the public transport is reliable enough and much cheaper.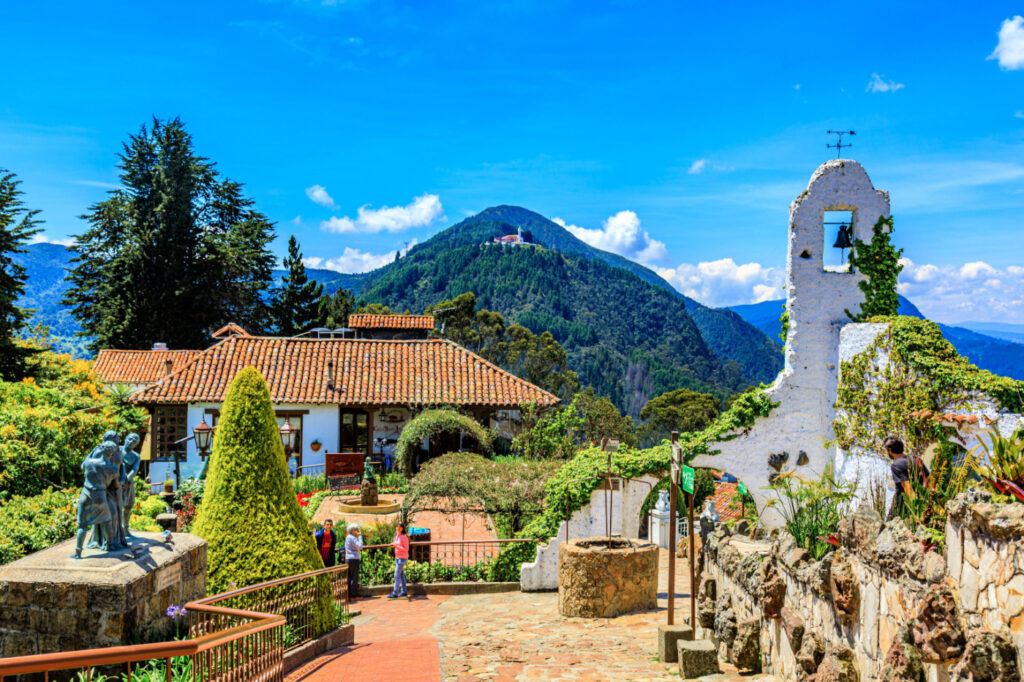 The Best Time of Year to Visit Bogota
The concept of seasons works very differently in Colombia. Instead of a four-season year they have dry and wet seasons, where there's more and less rain. Because of where Bogota is, it works differently again.
The high elevation of the city means it's often cold, so pack jumpers and a warm coat, and it does rain quite a lot so an umbrella or a raincoat is a necessity too. The drier months are between December and March, so come then if you want to avoid the rain as much as possible.
Temperatures tend to range around 14 degrees (57 degrees Fahrenheit), though it gets warmer in May and June and when temperatures average 20 degrees (68 degrees Fahrenheit).
Weather aside, there are also periods of more and less tourism. If you want to avoid peak tourist season, then don't plan your trip in July or August. However, that does sadly mean you'll miss the Bogota Carnival! If you decide that experiencing the carnival is worth putting up with the crowds, be sure to book accommodation far in advance and expect to pay a bit more than usual for your bed.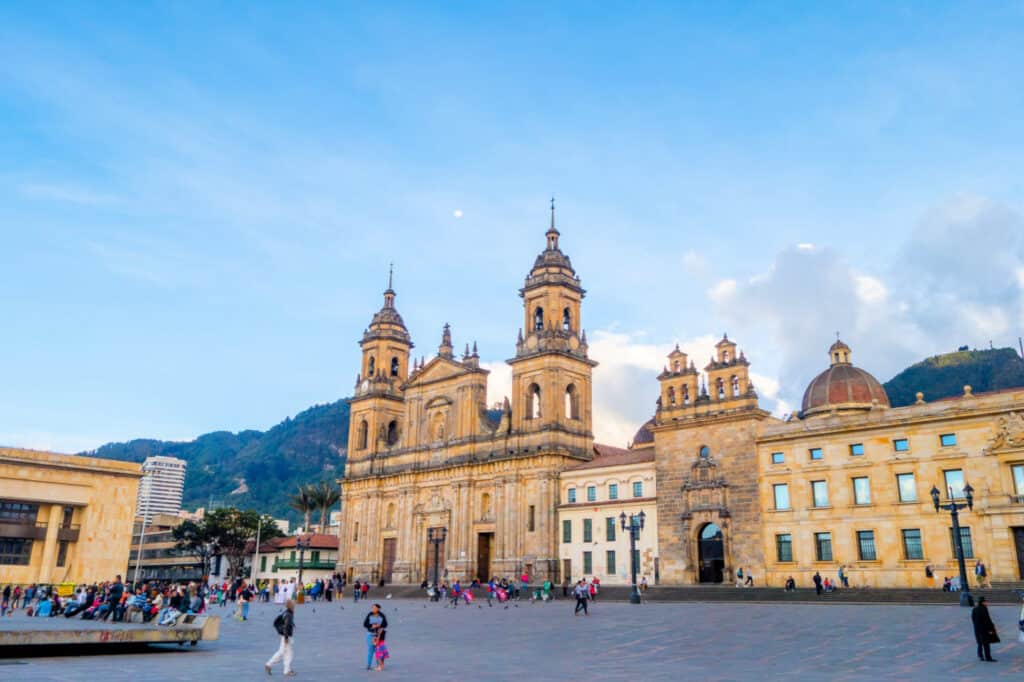 Where to Stay in Bogota
There are lots of accommodation options in Bogota, from super cheap hostel dorms starting at $5 a night to boutique hotel rooms that are still extremely affordable! I decided to stay somewhere nice during my time in Bogota to give myself a break from cheap hostel rooms and shared dorms.
In general, Booking.com, Airbnb, and Hostelworld are all great sites for finding accommodation in Colombia. When I was travelling to small towns I would often just turn up and explore my options once I was there, but Bogota is a big city so it's easier to book in advance.
My double room in the Lucitania Hotel Boutique was the perfect retreat. The hotel itself is beautifully designed. The spacious and brightly lit rooms with simple and elegant decor are reminiscent of Scandinavian architecture, whilst the hidden outdoor spaces around the property are delightful. I didn't stay in a suite room, but I imagine they're even more beautiful than the simple double room I went for!
The breakfast was delicious and the hotel's proximity to restaurants and many sightseeing spots was super handy. For the price, it's an absolute bargain!