When it comes to travel, I will always nominate myself to do the research. There's nothing I love more than losing days to poring over hundreds of articles and photos, scouring guidebooks, gazing at maps and plotting itineraries. No matter where I am in the world, I always have dozens of ideas of where to head to next. I often have people confused because I can talk about places I've never visited as if I've spent months travelling through them.
New Zealand was the first country I visited where I'd done little research. With a Kiwi boyfriend who knew far more about his home than I could ever hope to, I was happy to take a backseat for once, and let him do all the planning. For everyone's safety, Dave would also be in charge of logistics, leaving me to spend an awful lot of time napping enjoying the spectacular views.
Much of what I saw in New Zealand was therefore a surprise. I knew about the main tourist attractions — the glowworm caves of Waitomo, the smelly geothermal activity of Rotorua, the glaciers, the volcanoes, the beaches, the (shudder) earthquakes, the adrenaline activities (like the jetboating incident that made me cry), and even Baldwin Street — the steepest street in the world. To my surprise, however, those weren't the highlights from my time in New Zealand.
Instead, my highlights came from the places I'd never heard of before arriving. Sunbathing in the surfing haven of Raglan, spotting two wild kiwis on my hike through the Bay of Islands, surviving my Tongariro Crossing hike, eating amazing food in Wellington, spending a night in Doubtful Sound (and learning to fish!), eating whitebait patties as we drove along the west coast of the South Island.
And The Catlins. I'd never heard of it. Dave told me that it was at the bottom of the South Island so I assumed it would be cold, and expected I'd spend most of my time there shivering.
An hour before arriving, the signal on my phone died. It wouldn't return for the next three days while we drove around the bottom of New Zealand. We'd have no Wi-Fi, either. I'd be spending all my time offline — something that always makes me happy.
I popped a couple of Dramamines as the asphalt turned to gravel and Dave made his rallying skills known. Our car skidded around narrow bends, bounced over bumps and potholes, and eventually led us to one of the prettiest views from anywhere I'd stayed in New Zealand so far.
We'd booked at the Hilltop, which offered Dave and I a double room for just $85 a night — great value for New Zealand. It turned out to be money well spent when we discovered we were only people staying in the house and had the entire place to ourselves.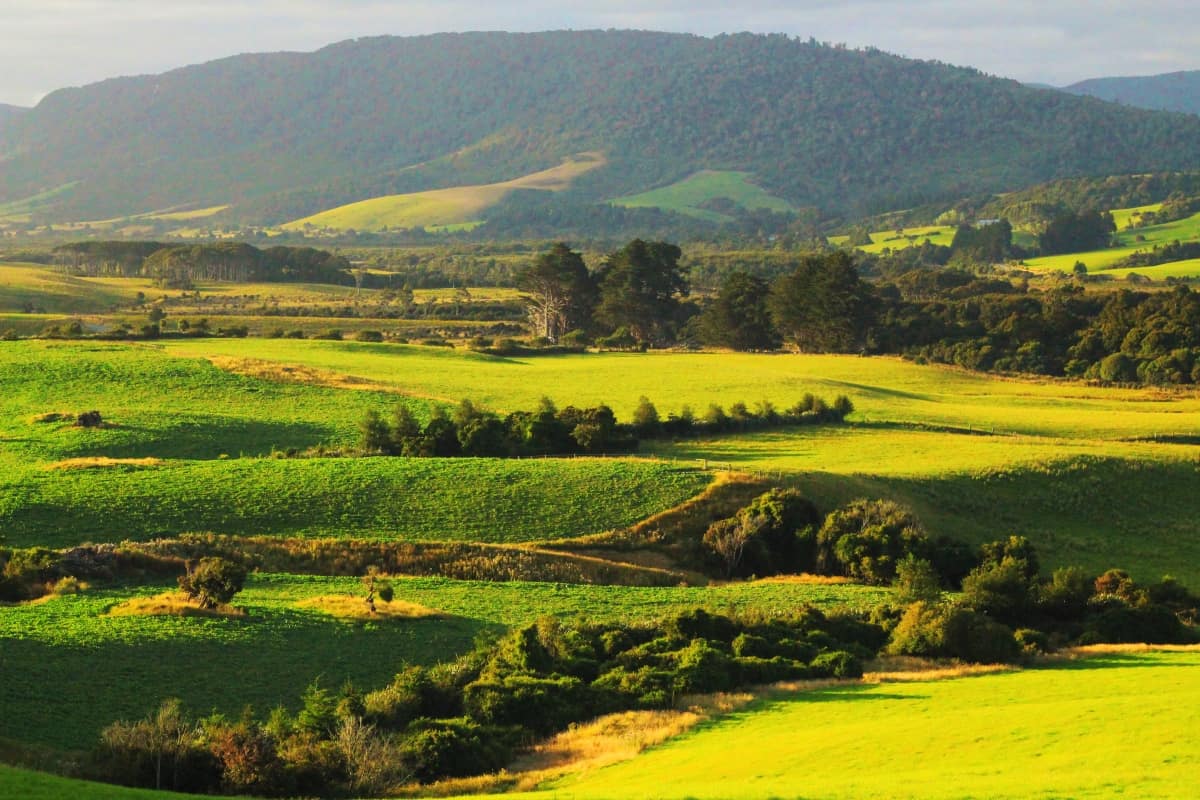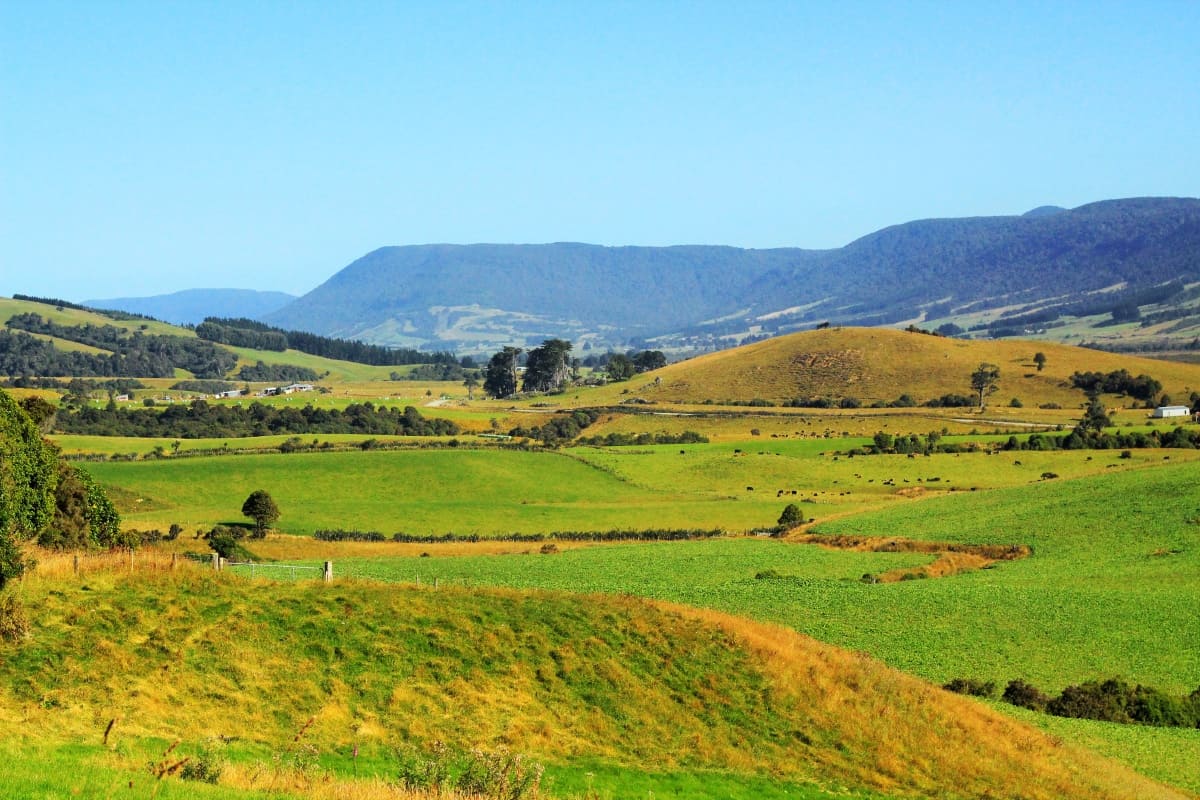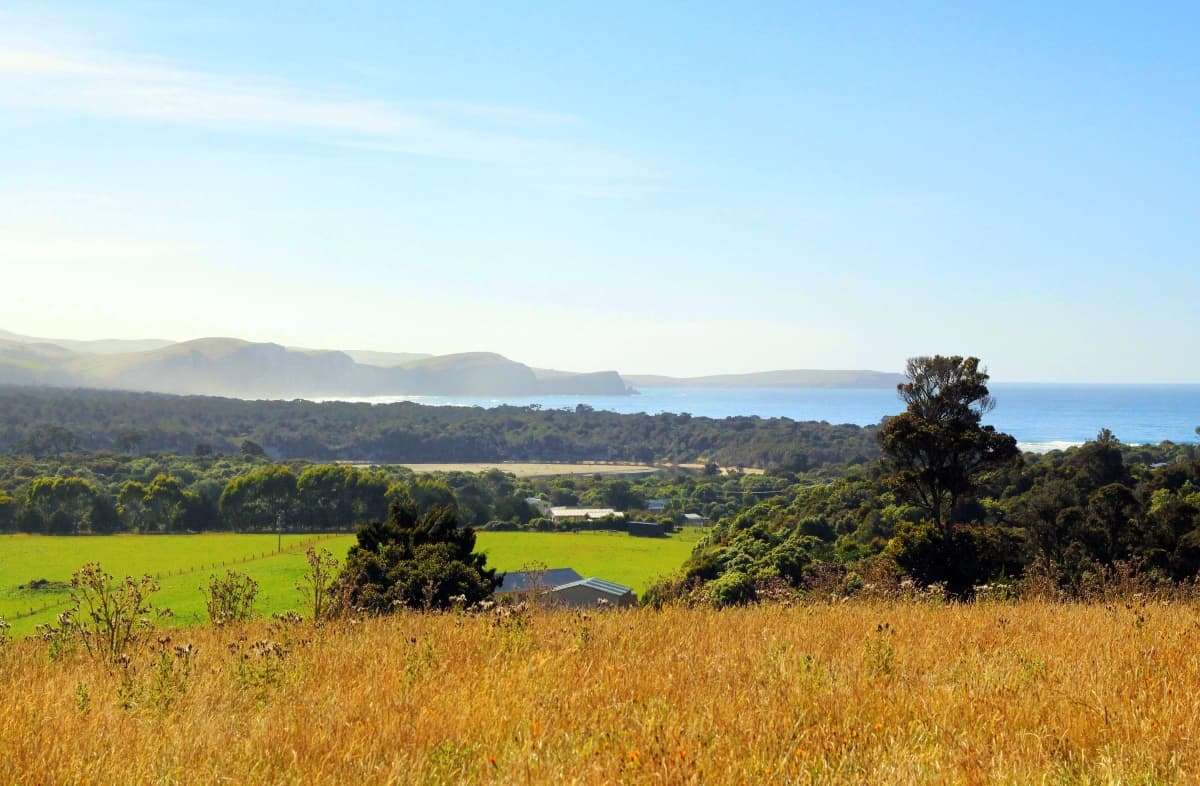 So, The Catlins is beautiful. But I'd still seen close to nothing when it came to its beauty. We had three days to explore without the distraction of our technology.
It hadn't taken long for me to discover that this part of New Zealand was rarely visited — we had most of the attractions to ourselves — but at our first stop, Nugget Point, I got to see more than a dozen people in the same place. This didn't happen again.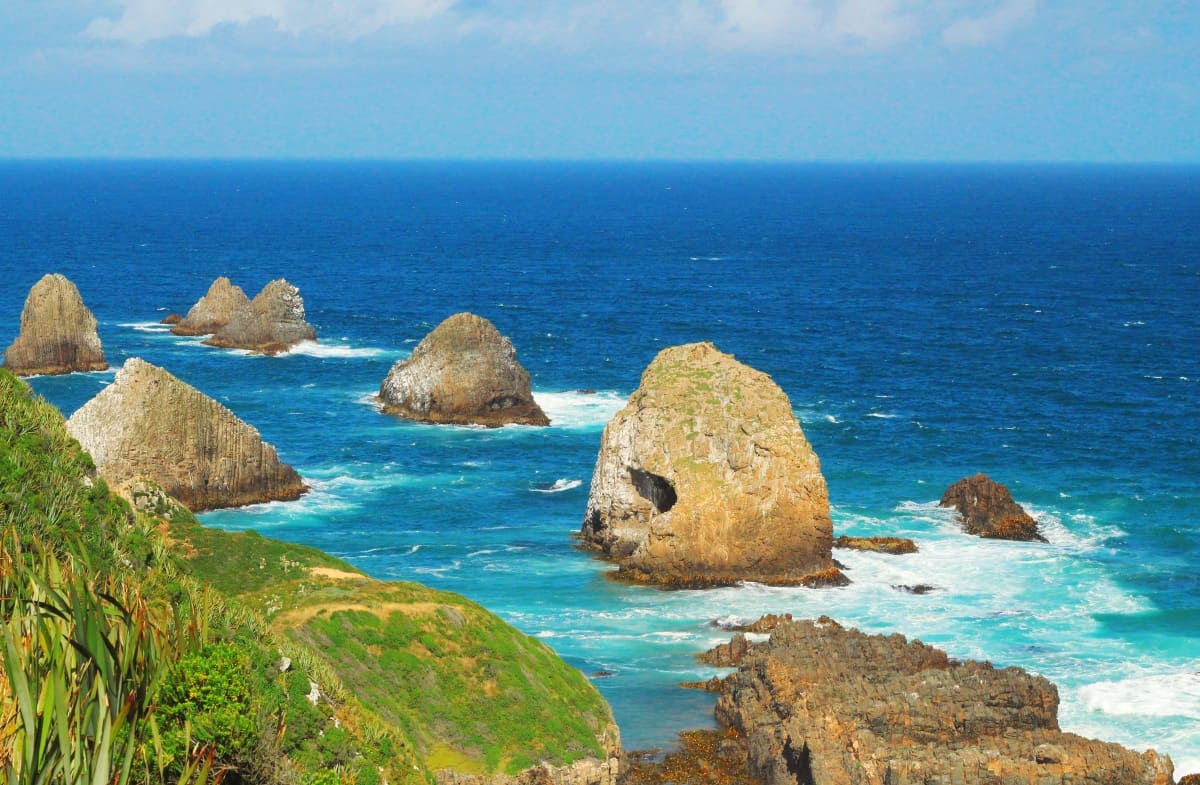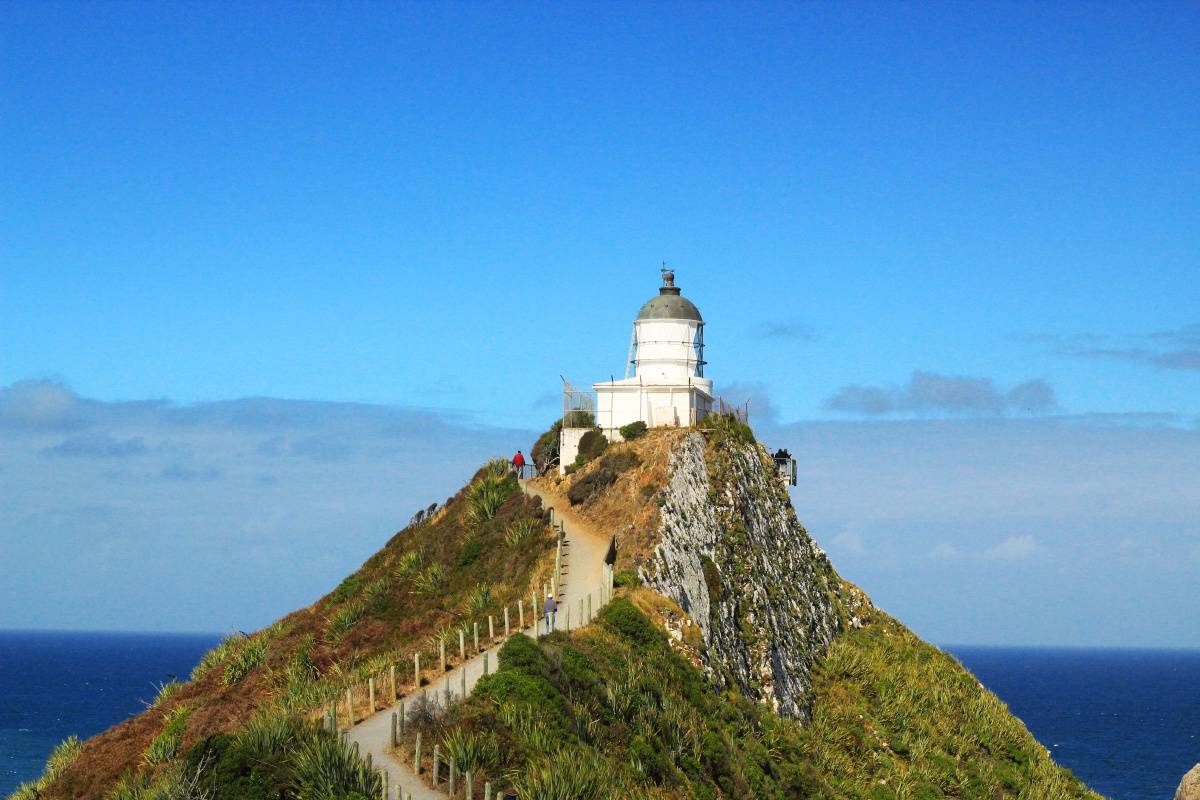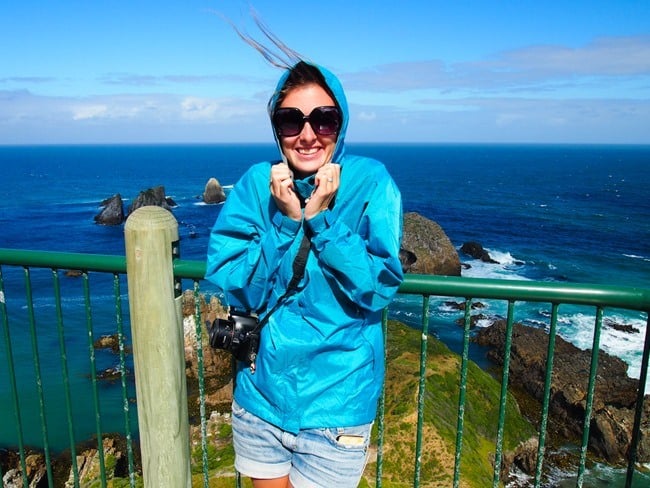 Next on our agenda was Tunnel Hill, an old abandoned railway tunnel that turned out to be the place of my nightmares. It's not that I'm scared of the dark. It's just that, well, okay, yes, being in places where I can't see my hand in front of my face makes me nervous. Was there an axe murderer lurking in the tunnel? Would there be an earthquake while I was in there, causing me to spend my last moments being pelted by rocks as the darkness grew ever stronger? Dave thoughtfully switched on the torch on his phone, the dim light struggling to reveal our surroundings. I wasn't sure if sort-of being able to see was better than not being able to see at all. We traipsed ever onward.
It was a 250 metre tunnel, built by picks and axes in 1879. I wondered if it was haunted.
When we reached the light of the other end, we spent a few minutes playing around with our cameras and I ended up with what is possibly my favourite photo of me and Dave. Was it worth having to whimper my way through the tunnel of fear? Perhaps.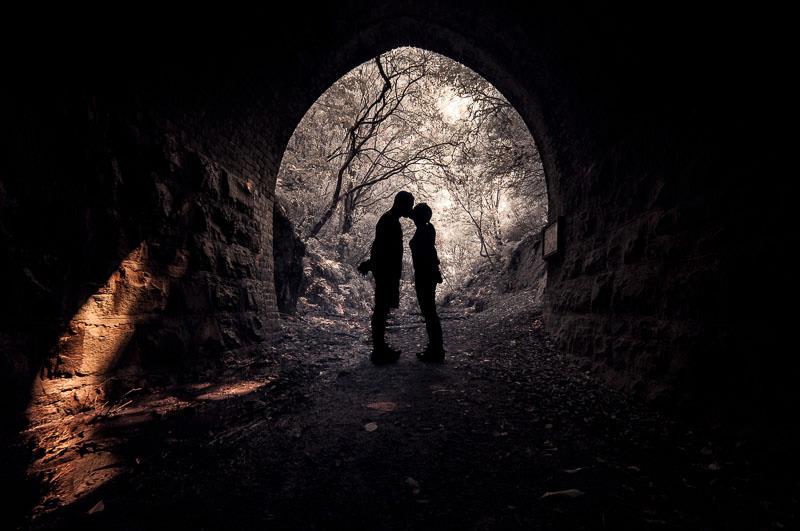 I recovered from my dark and damp experience by skipping around Cannibal Bay, famed for having a beach full of aggressive sea lions. Taking note of the sign, "Warning: sea lions may be present. Stay well clear of them." I galloped across the sand, tripping only once I saw the beach was full of them.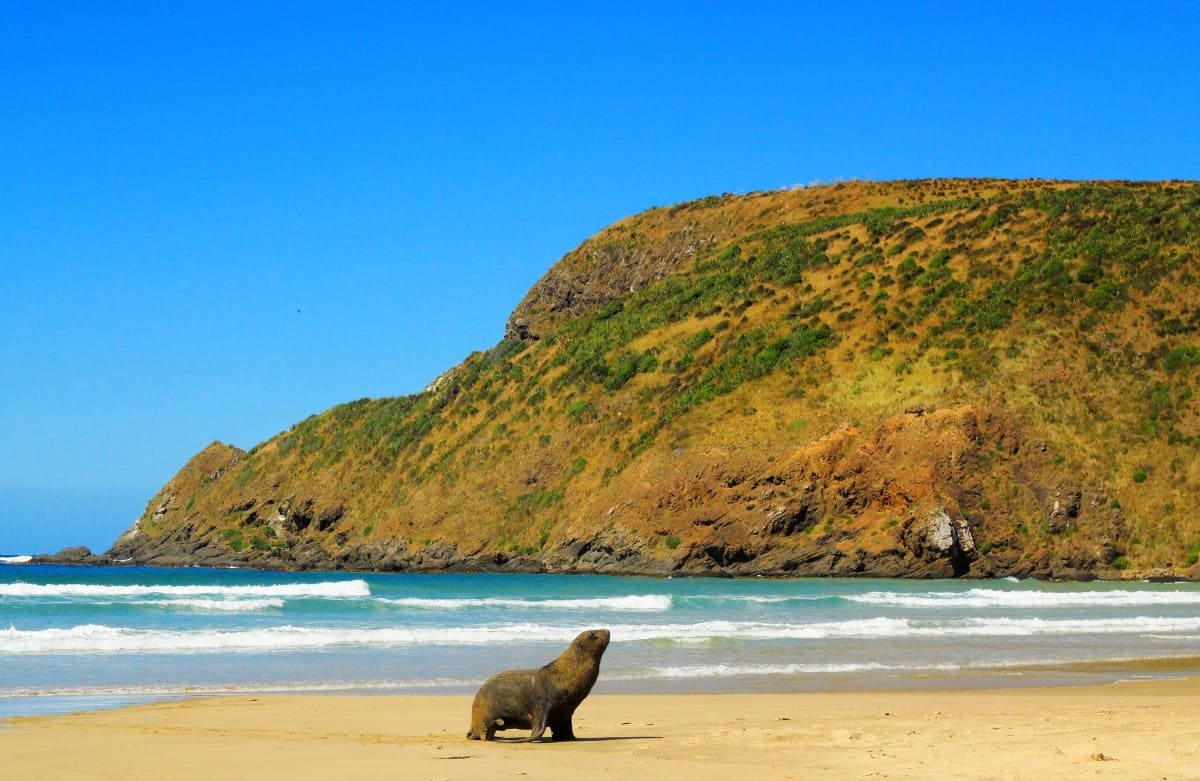 Now galloping with care, I padded my way across the beach, marveling at the beautiful rocks surrounding the bay. The deafening roar of the large sea lion I didn't see hiding beneath a heap of sand alerted me to the fact that it was probably time for me to leave Cannibal Bay. A fleeting visit would be best for someone as clumsy as me.
After so much excitement in one day, we drove back to the house and had fallen asleep by nine.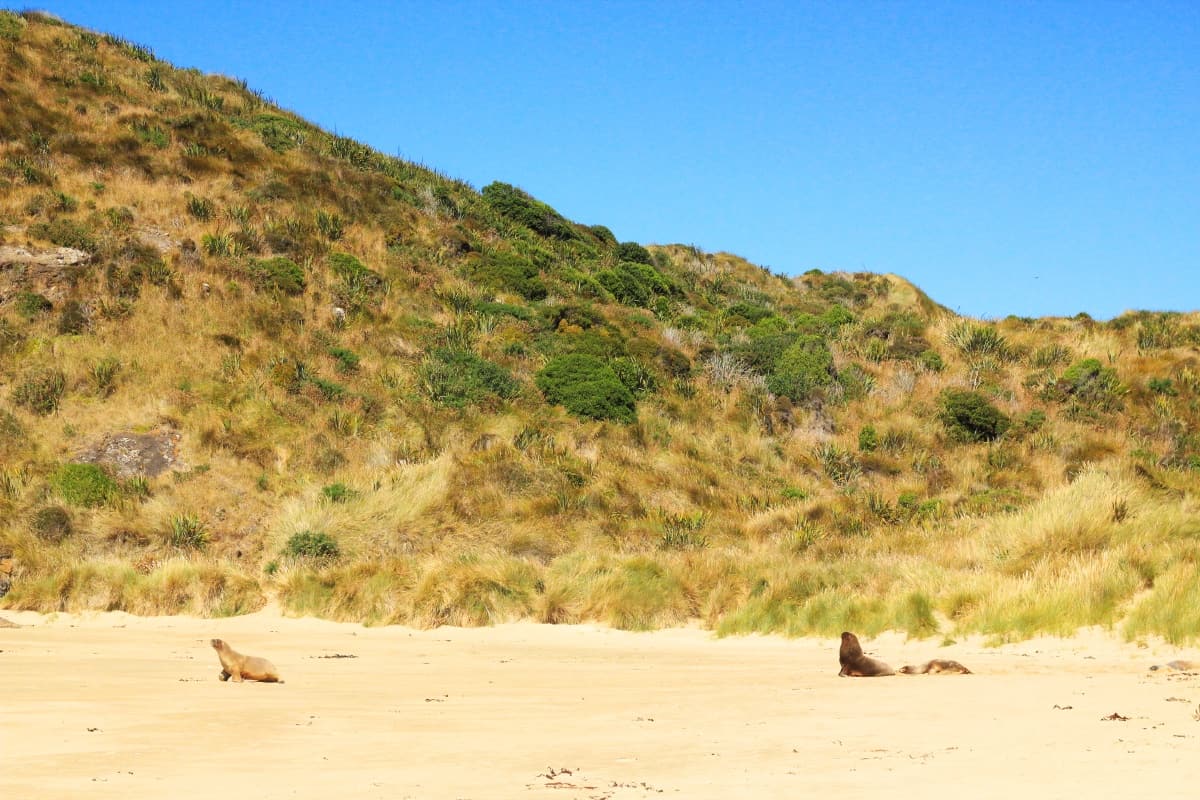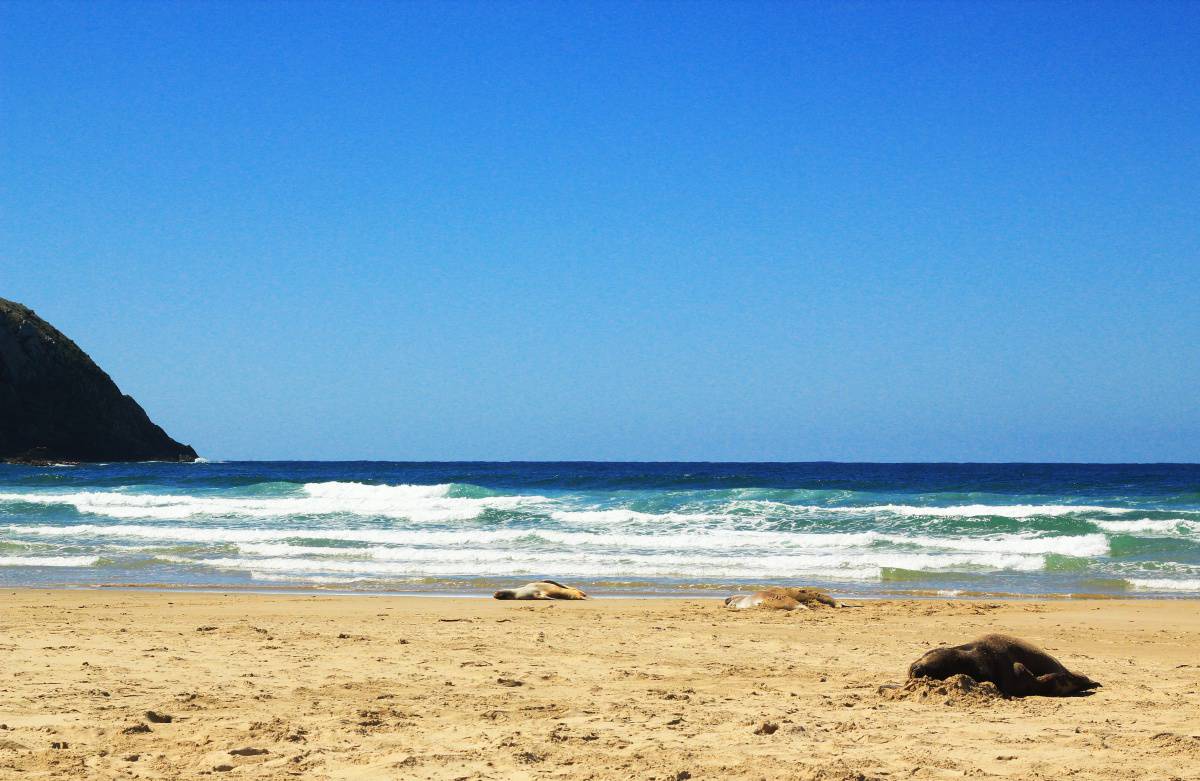 The following morning, I awoke with a nervous anticipation. After such an action-packed first day in The Catlins, I couldn't wait to see what the next day would hold for us. First stop: Jack's Blowhole.
As with much of New Zealand, the pleasure was in the driving (although perhaps not if I'd been allowed behind the wheel), and we pulled over to take photos of the scenery every few minutes.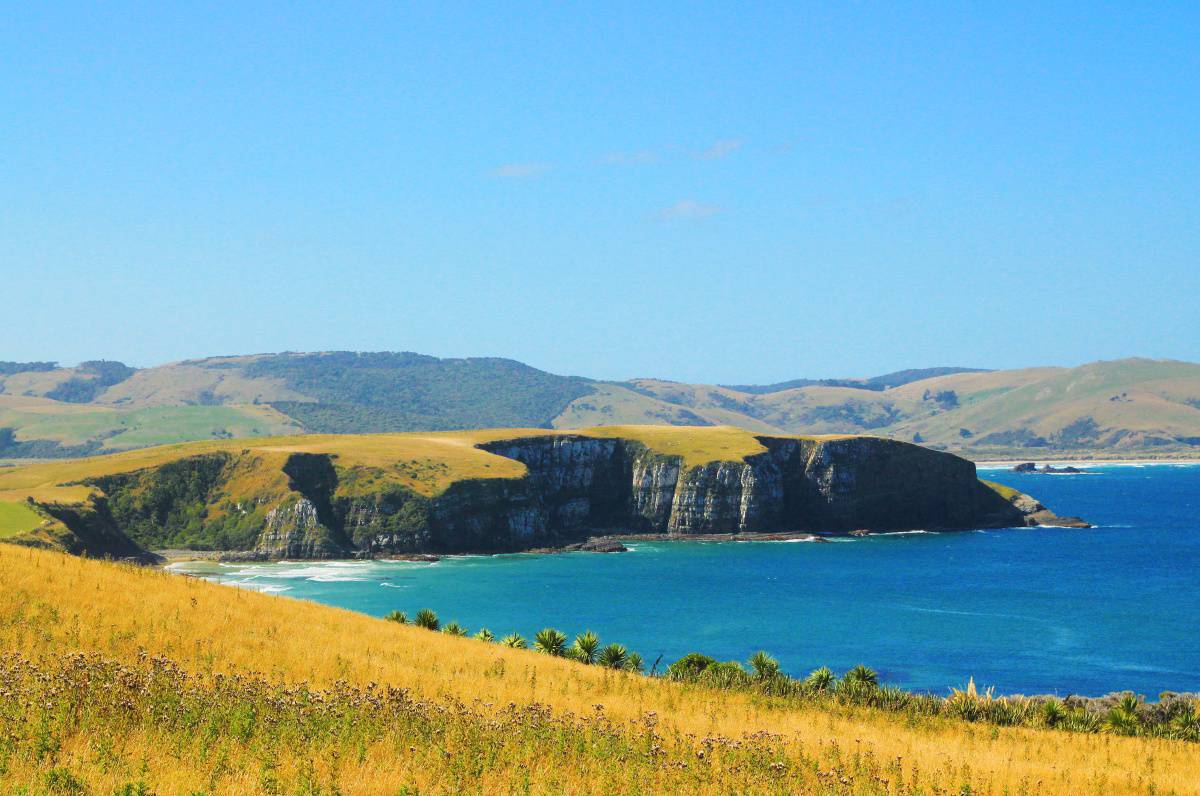 Jack's Blowhole was kind of crap. The description of it sounded badass. 55 metres deep, and 200 metres inland from the sea, I had visions of waves hurtling through a chute, smacking against the sides of Jack's Blowhole (snicker), resulting in an enormous surge of water blasting into the air.
Not so much.
We lingered and watched the water drift in and back out again. It wasn't dramatic.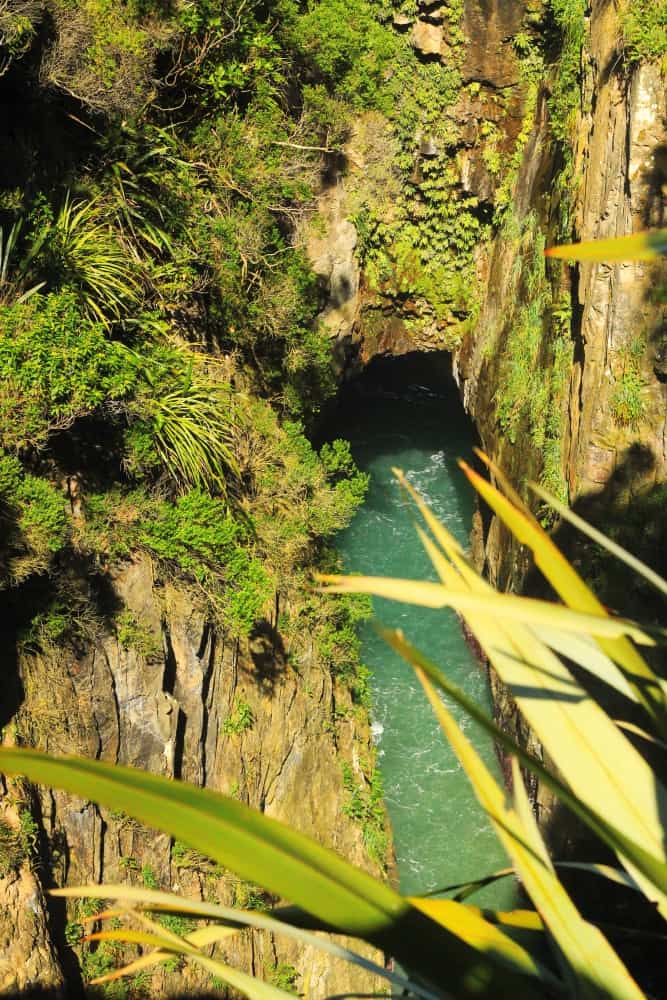 What was more exciting, though, was the collection of reeds and bright red flowers that I discovered close by. I spent more time snapping photos of these than I did a hole in the ground that was occasionally filled with water.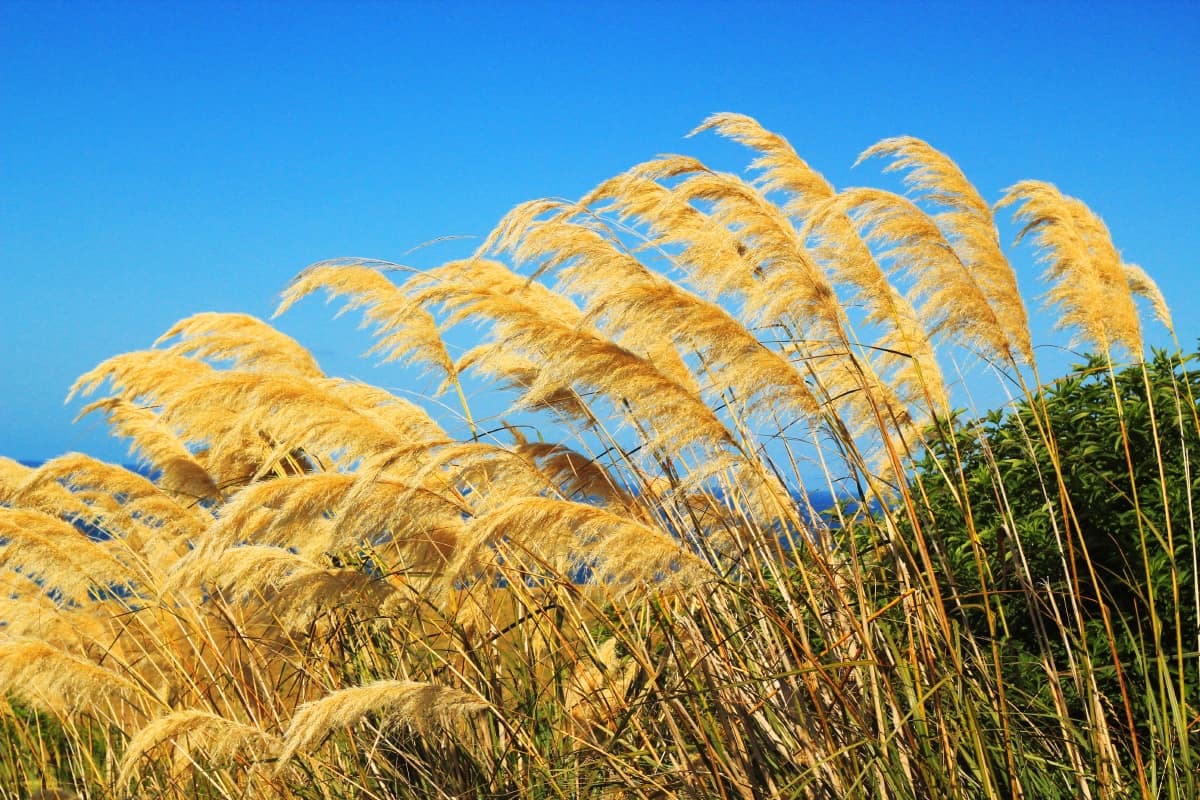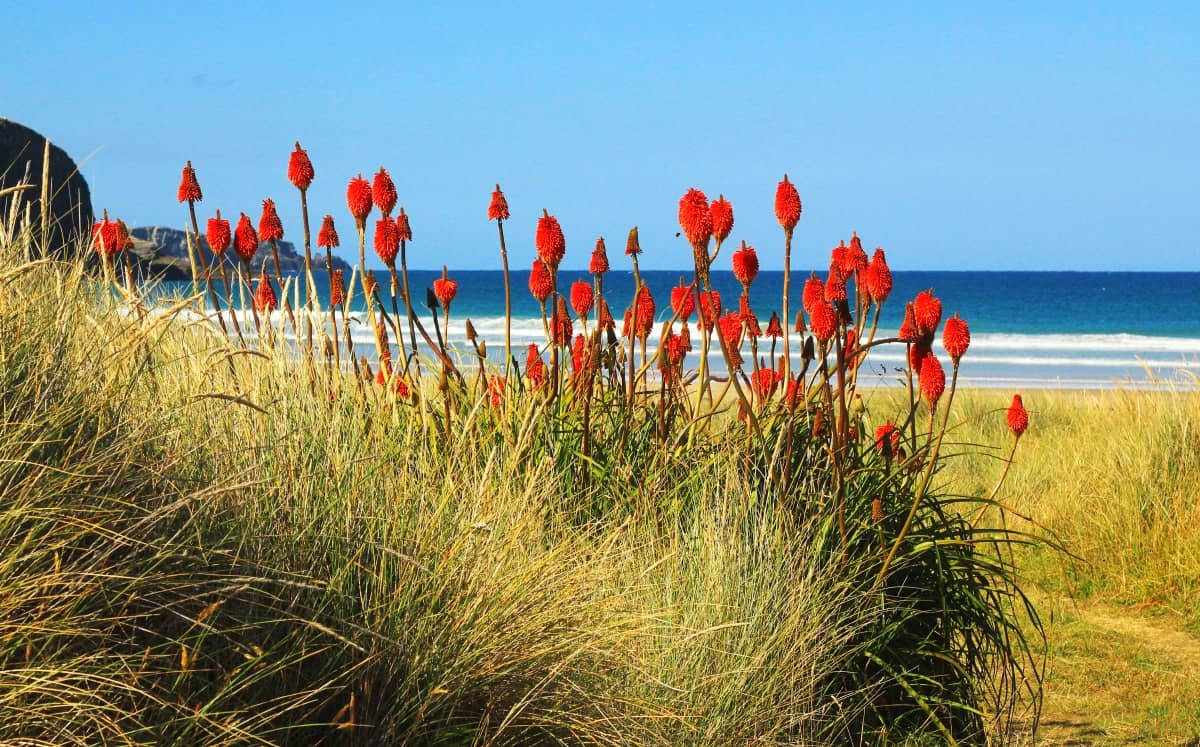 We boosted our energy after a disappointing first attraction with a trip to Purakaunui Falls, probably the most famous attraction in The Catlins — and definitely more exciting than a blowhole.
Supposedly it's the most photographed waterfall in New Zealand, which isn't such an amazing accolade, but I loved the waterfalls regardless. Just like at Nugget Point, we ran into a few people here — maybe as many as five or six — as we sat on a nearby rock and spent far too long taking photo after photo after photo.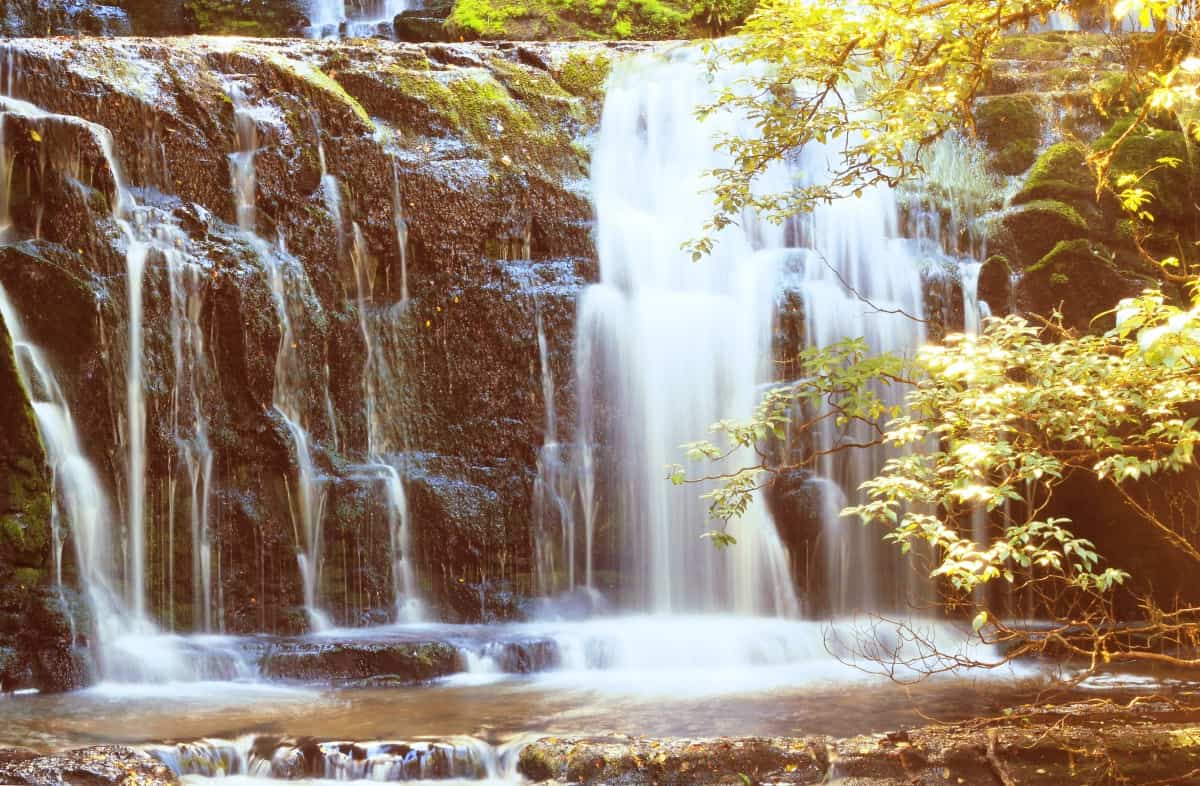 It was back on the road again for our final stop of the day: Cathedral Caves. As per usual for New Zealand, we drove past dozens of stunning beaches with not a single person on them.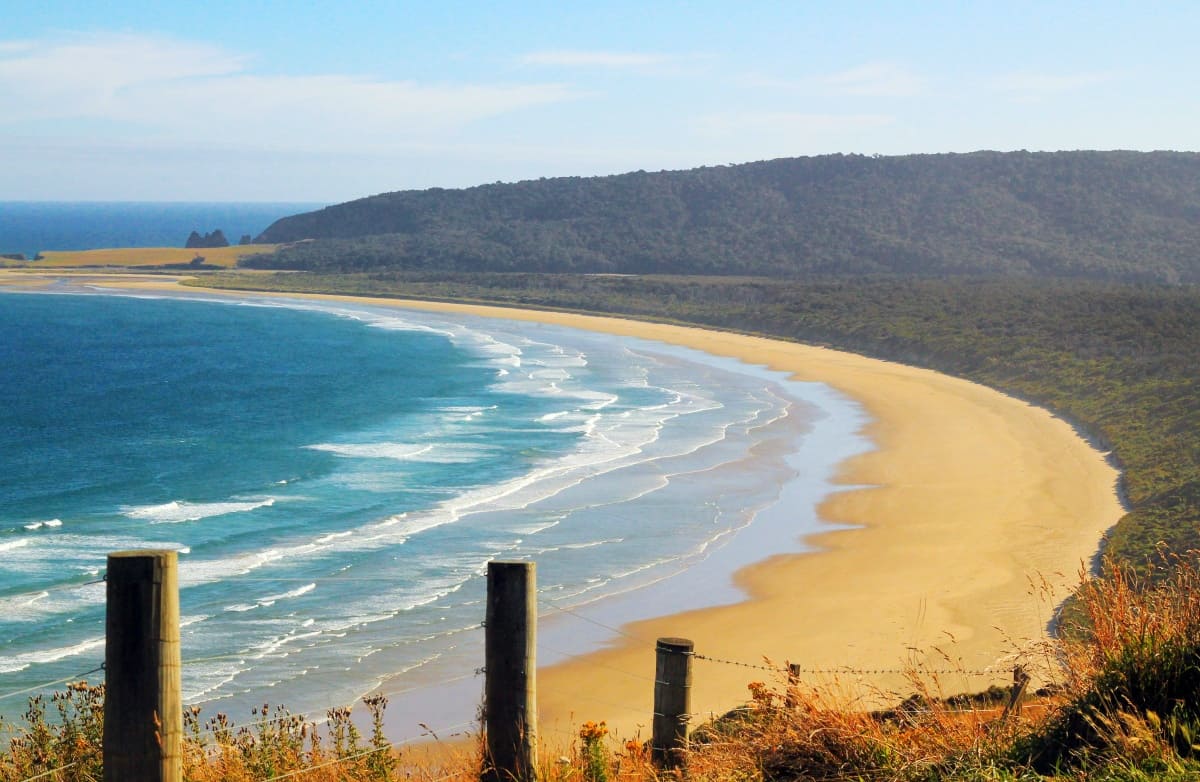 The caves are only accessible for two hours either side of low tide, so you have to time your visit right. For us, this meant arriving just before sunset.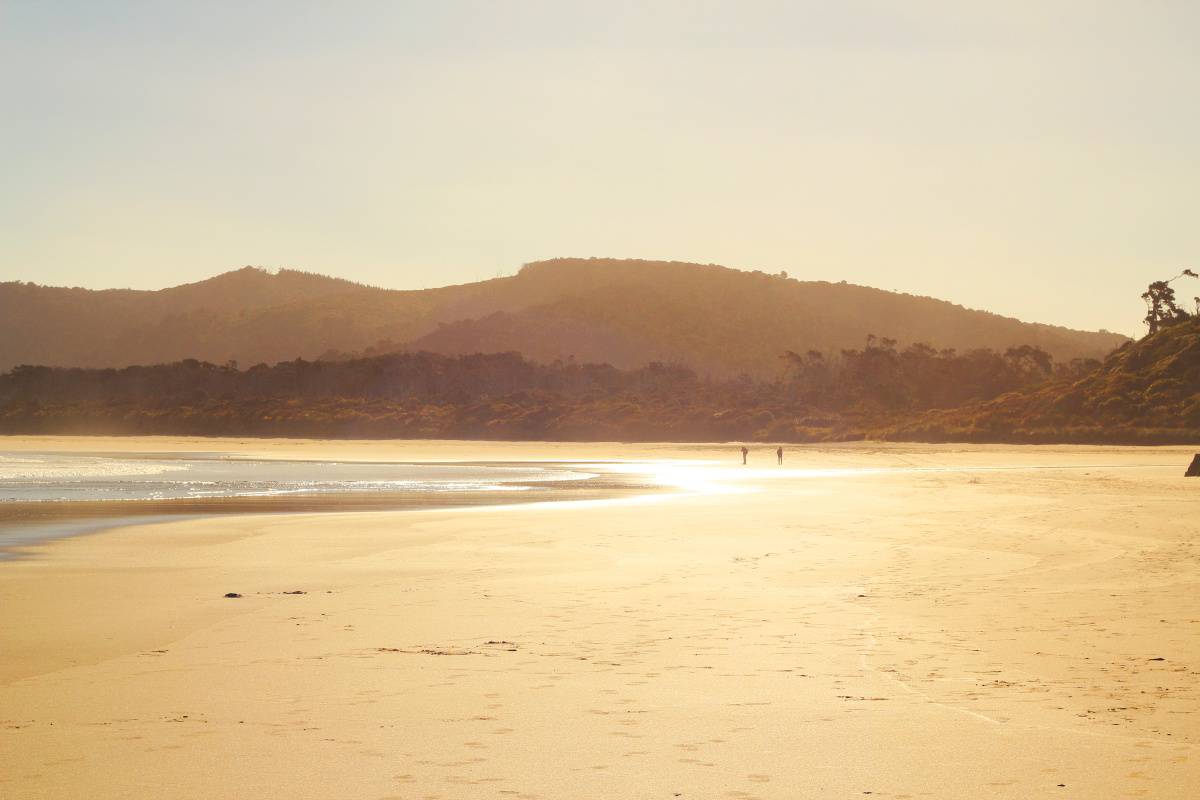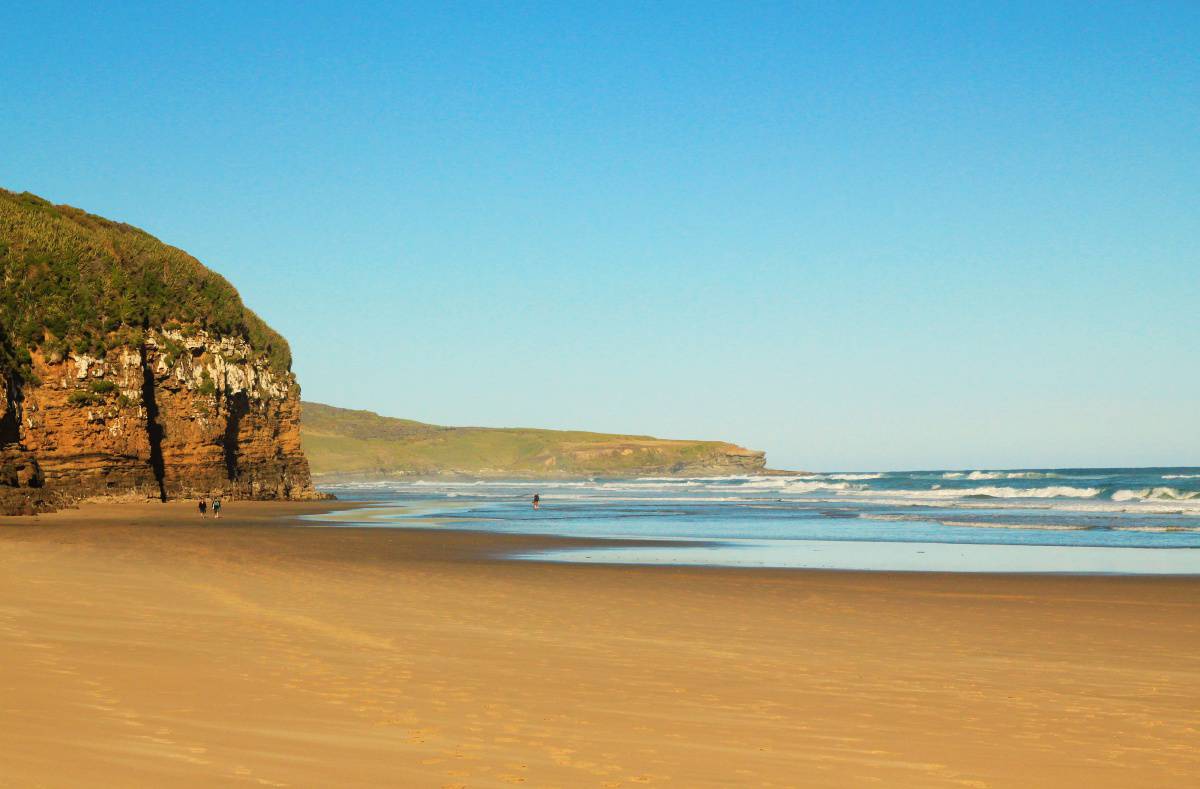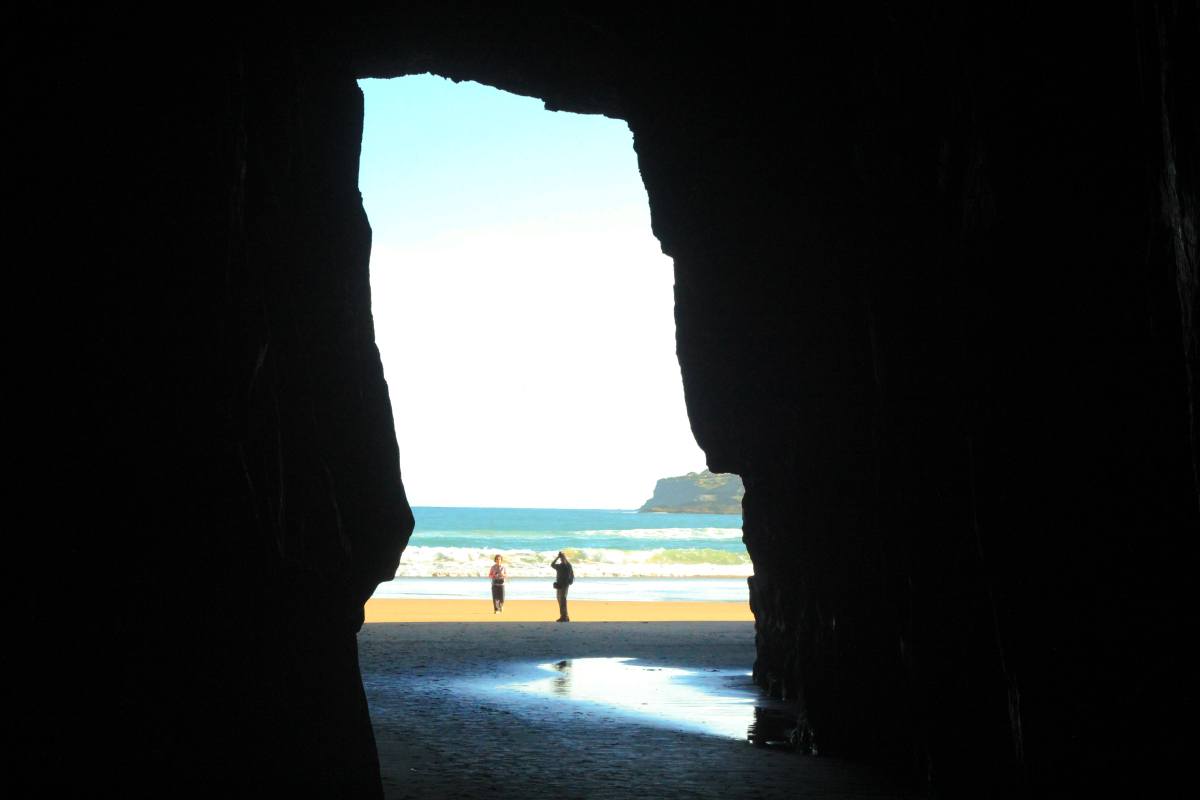 Moving on! How could I not love a place where wild penguins roam free?
There are several spots in The Catlins where you can find wild penguins. After striking out a couple of times as we drove around the coast, we hit the jackpot on the morning of our final day, at Curio Bay.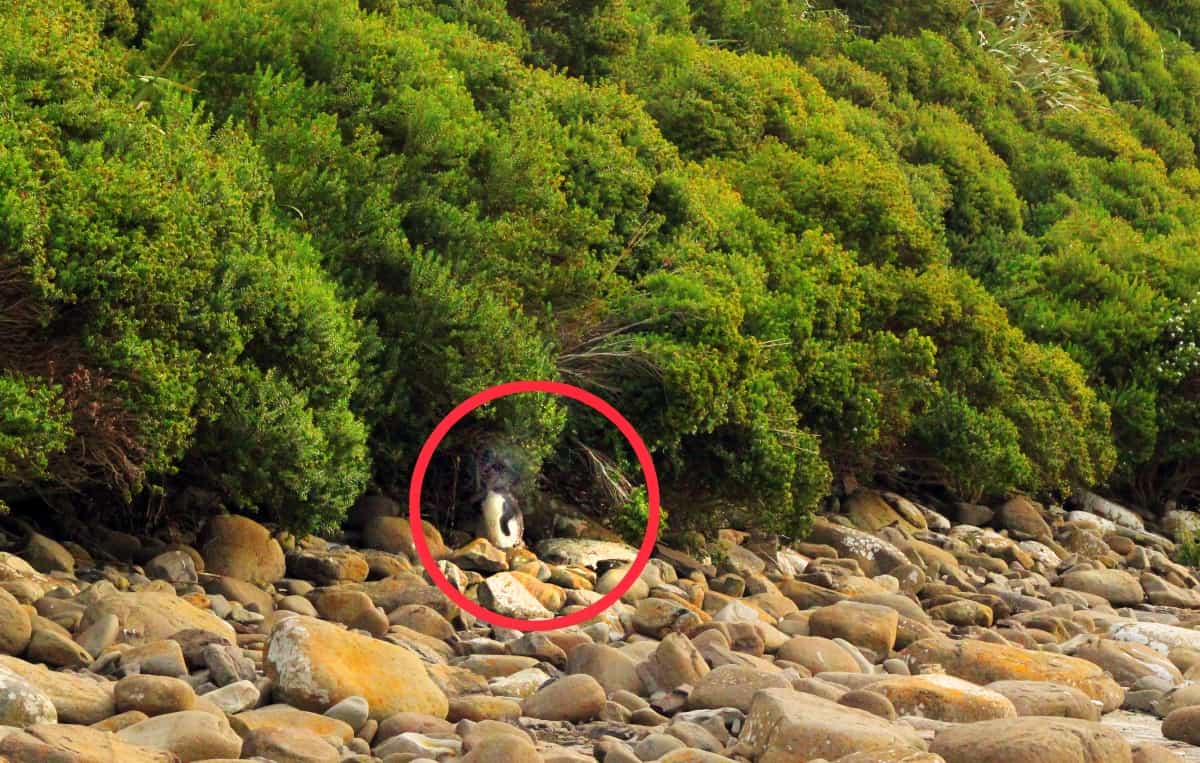 Curio Bay isn't just about the penguins, though. There, you can also find a petrified forest, dating back 200 million years. I'll be honest, though. While I was excited about standing somewhere with so much history, fossils of trees just don't look very interesting. I expected to see withered, gnarled branches twisting up from the depths of the ocean. Instead, the trees looked like rocks.
I preferred the penguins.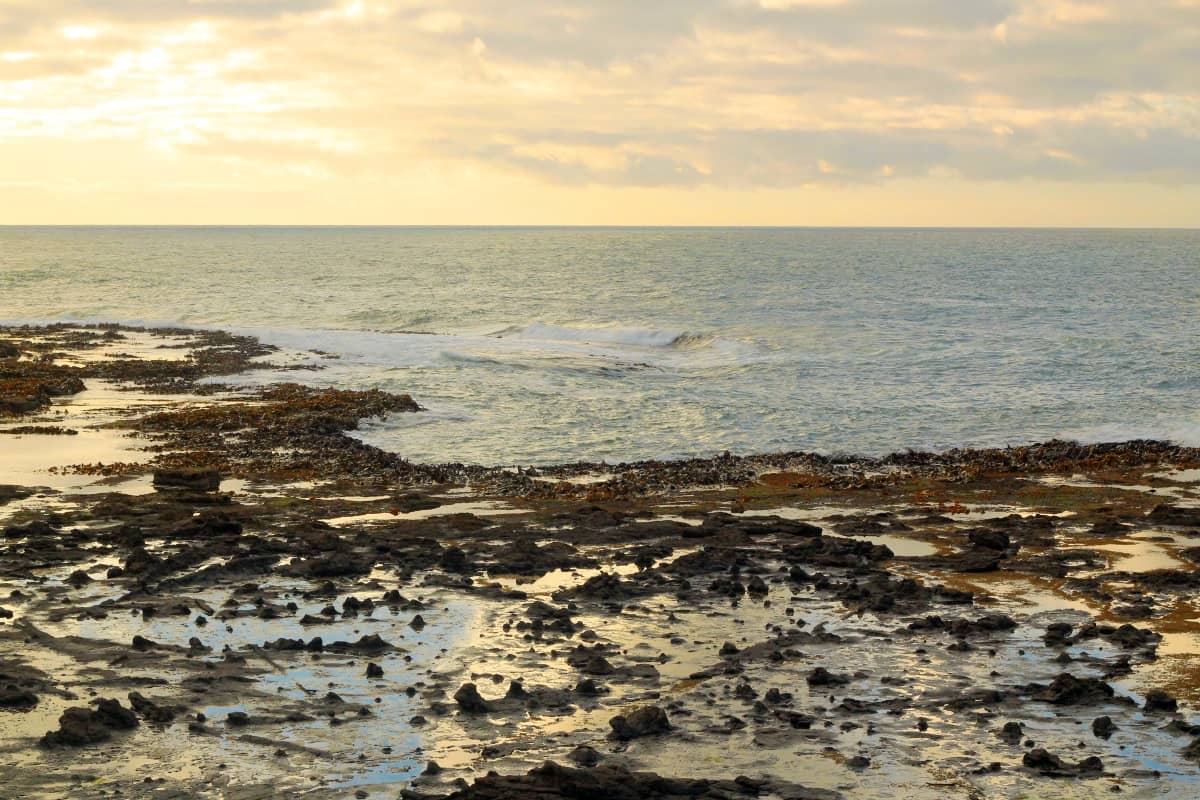 I can't think of a single time when I've ever been impressed by a visit to the extreme points of a country, but for some reason, if ever I find myself close to the something-most point of a country I'll make the effort to visit. I've seen the southernmost point of the United States (Hawaii), the south-westernmost point of Europe (Portugal), the southernmost point of Vietnam, and various others. The one thing they all had in common was that there was nothing there. You'll usually just find a small sign and an overpriced cafe, and that's about it.
Not deterred by my increasing collection of dull points around the world, in New Zealand, we had made it our aim to visit the northernmost point of the North Island, the southmost point of the South Island, and the centre of the country.
While Slope Point wasn't particularly exciting to look at, and was probably one of the windiest places I've ever visited, reaching the furthest point south was strangely exciting, especially now that I've had to put my Antarctica trip on hold. I don't know when I'll next travel this far south again.
I particularly loved that I was able to stand closer to the south pole than the equator — and the howling gale told me I was probably better suited to the latter.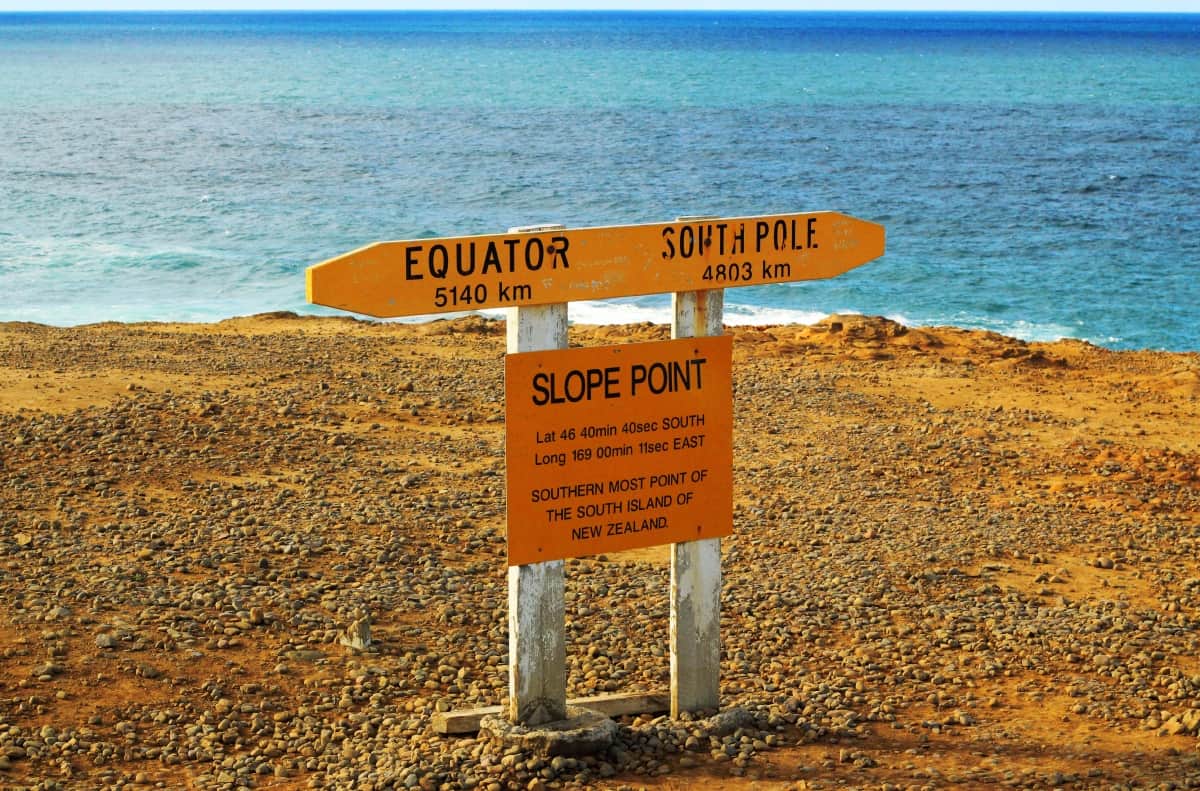 Then, sadly, it was time to leave. We'd reached the bottom of the South Island and it was time to travel back up the west cost. Our next stop would be Manapouri, where we had booked an overnight trip in Doubtful Sound.
It's a shame that not many people decide to see this part of New Zealand. Or maybe not? Perhaps part of the joy in visiting is feeling like you have it all to yourself. Either way, the three days I spent at the bottom of New Zealand were some of my favourite. If you're looking to (literally!) head off the beaten track, and visit a gorgeous part of the country that so few people get to experience, you can't go wrong with The Catlins.