Ecuador is one of the gems of South America. It's far smaller than the countries that surround it too, so it's perfect for a shorter trip. If there's one thing that you should go to Ecuador for, it's the nature. 
There is such a bounty of landscapes considering the country's size, from the Amazon Rainforest to the Galapagos Islands and the staggering Andes Mountains that run through the country, to the gorgeous Pacific Coastline. It's not surprising then that Ecuador is a top destination for ecotourism.
I spent most of my time in the mountains as that's where I feel most at home, but even the cities in Ecuador weren't loud or busy enough to feel suffocating.
Another great thing about Ecuador is that there's a strong indigenous presence, and you'll often hear different native languages, like Achaur-Shiwiar and Secoya, being spoken around you. Whilst Spanish is the most widely spoken language, there are some 24 native languages in Ecuador!
That said, more than in other countries I'd suggest brushing up your Spanish skills and learning some new vocabulary before getting to Ecuador, most people don't speak English. In fact, I stayed in one village in the north at a family run hostel where the grandma didn't speak Spanish at all.
I didn't feel like Ecuador was over commercialized or particularly touristy. Whilst I always met friends along the way, it's easy to step off the tourist trail and submerge yourself in the local culture.
I flew into Guayaquil and then spent most of my trip in the Andes after that, visiting different national parks and volcanoes. I didn't really visit the coast and I skipped the Galapagos on this trip because I was on a tight budget.
The country is super cheap to travel, unless you go to the Galapagos where you'll probably have to spend a fortune on a boat tour. In general, South America, with the exception of Chile, is cheap to travel – but comparatively Ecuador is cheaper than Peru and Colombia. 
The only thing that surprised me in Ecuador was how expensive nice chocolate is, and that's sadly because they export all their good chocolate to the west.
Now, let's break down your Ecuador travel costs so you can set off with a clear idea of how much you should budget for your trip.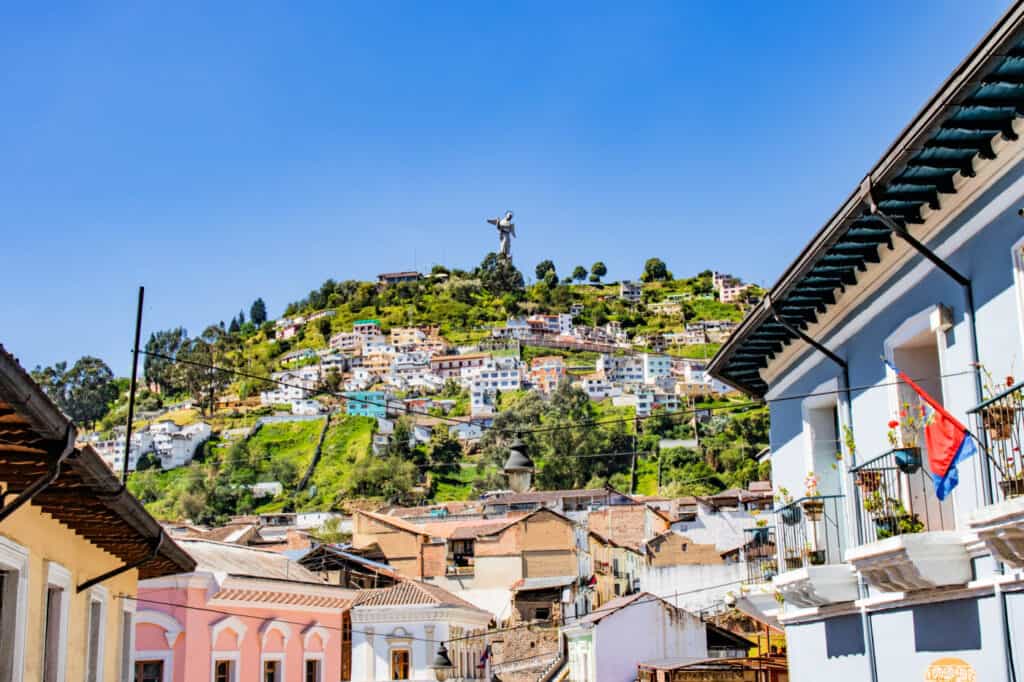 Accomodation
There are plenty of ways to save money when you're travelling if you start running out of cash but you're not ready to go home.
I met loads of travelers in Ecuador who had stayed at a hostel as guests and then ended up staying as volunteers for a few weeks, swapping a few hours of cleaning and making beds in the morning for food and accommodation.
This is an easy way to save money as you don't have to change your travel route or plan anything, pretty much every hostel in South America runs on a volunteer basis, so you'll never struggle finding opportunities!
Other options if you want to do something a bit more exciting or you like to plan in advance is to go on a site like WWOOFing that has loads of cool horticulture positions working on eco-farms, gardening and helping with the animals. 
Another option is to sleep, for free, on someone's sofa or (if you're lucky) in their spare room! I've always been a bit hesitant to use CouchSurfing, but everyone I know who has done it only has great things to say and I also have friends who host and love it. It's worth a shot right!
There are loads of hosts in bigger cities, like Quito, Cuenca, Guayaquil, and even smaller cities like Otavalo. It's not very good in small town and rural areas though, understandably. Even if you decide not to stay at someone's house, they organize meet-ups for travelers and advertise cool events on the site so it's worth checking out!
Another one worth trying if you're looking for a longer stay is housesitting. How it works is that people going on long-term trips and holidays advertise their homes for free, in exchange for looking after pets or watering the plants. It's a particularly epic way to score some free accommodation — and well-worth taking a look at Trusted Housesitters to see if your travel dates coincide with anybody's listing on the site.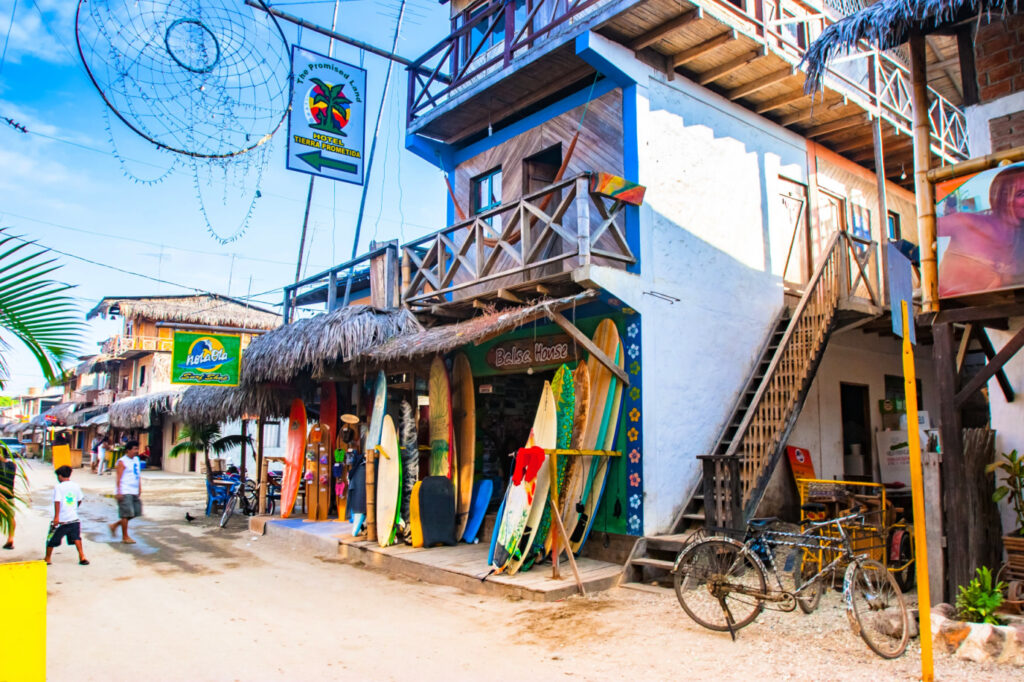 Hostels
Hostels are super affordable in Ecuador, whether you're in a private room or a shared dorm. I stayed in gorgeous double rooms for as little as $5 a night in more secluded rural areas, and paid as little as $4 a night for a bed in a shared dorm in big cities. 
Even if you don't stay in hostels the whole time, it's a good way to meet other travelers.
Quito: This hostel in Quito has a backpacker vibe, a cool garden to chill in, and an area with pool tables and foosball where people have beers in the evening. It's rustic and I loved knowing I was staying in a 200 year old colonial house!
Prices start at as little as $27 for a triple room, and breakfast is included! I also found it handy staying in the historic center of the city, close to all the coolest landmarks. I'd highly recommend a room in the Colonial House Inn.
Otavalo: For $10 a night you can stay in a clean 4 person dorm at The Traveler Hostel. My favorite thing about the rooms was that the shared dorms aren't bunk beds, they're all single beds! Which makes a huge difference to the quality of sleep you'll get. 
The breakfast was tasty, and filling and the hostel is very close to the city center (less than 15 minutes' walk away). I liked how colorful the spaces were too.
Baños: For $30 you can get a private double room with incredible terrace views at the Hostal Balcon del Cielo. Once you're there it's not hard to see why it's called the Terrace of the Sky Hostel, the building literally seems to be suspended over a gorge. There are cheaper rooms available, but I really recommend getting a room with a balcony! 
The rooms themselves aren't much, but they're clean and simple and you'll be spending most of your time in Baños outdoors anyway.
Guayaquil: Guayaquil was my first stop in Ecuador and after a total disaster of a first night (we arrived really late, went to our booked hotel and they had given someone else the room we had booked weeks in advance! Next they said they had a twin hotel, but I'm pretty sure we slept in their grandma's spare room…) arriving at Casa Michael was a welcomed relief.
The hostel is run by a super lovely family who welcomed us personally. They're great hosts, so friendly and super up for giving you a hand with absolutely anything. The colorful garden with hammocks and fruit trees made me feel instantly at home.
The hostel is a little out of the way, but it's easy enough to get to the center and it's in a nice and safe neighborhood. The rooms are super basic, but there's a functional kitchen and for around $8 a night for a bunk it's great!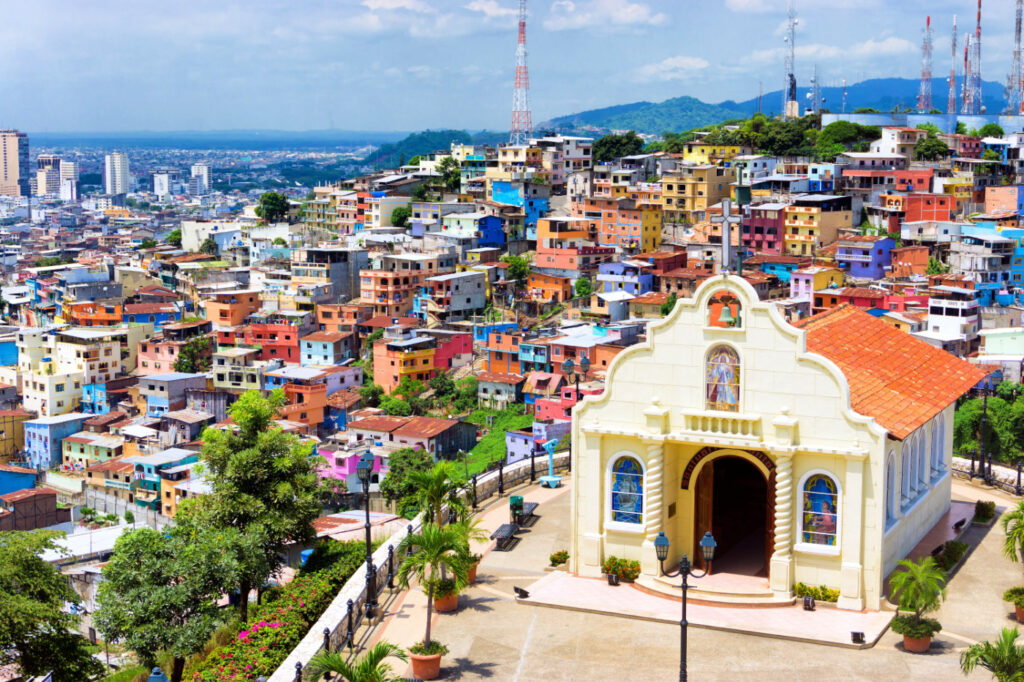 High-end hotels in the country's major cities
Let's have a look at some of the more upper-end accommodation I stayed in during my trip so you can get an idea of price differences. 
Quito
Casa El Edén goes up there on my list of favorite colonial hotels. It has rustic colonial features and simultaneously manages to be sophisticated. Breakfast is included and rooms start at $150 a night for a double for two!
Otavalo
Hotel Otavalo is an exquisite hotel that oozes charm and class. The exposed brick walls in the rooms were one of my favorite features. They have a cozy restaurant in the hotel and the staff pay incredible attention to detail in everything they do, from the cleaning to the service. 
It's family friendly too! I stayed there with a friend, and we loved that they have twin room options too. The receptionists helped us with info about tours and sorting out an airport transfer for my friend. Rooms are about $200 a night for multiple guests.
Baños
The stunning cabin style rooms at Finca Chamanapamba Guest House were probably my favorite place I stayed in Ecuador. I instantly fell in love with the totally wacky architectural features, and each room is so unique. 
One drawback is you'll need a car to stay here, but you're right in the outdoors and walking distance from waterfalls. For just $110 for a double room, I thought it was an absolute bargain!
Guayaquil
This stylish hotel has a gorgeous pool that runs along the edge of the hotel with a relaxing outdoor lounging area. It's in a colorful neighborhood in one of the nicer areas of Guayaquil.
The rooms are minimalistic but clean and comfortable, plus they have sea views! For just $70 a night they have super affordable double rooms at Las Peñas Siglo XXI B&B.
Accommodation is much cheaper if you don't book in advance and you find somewhere once you're there, but you can spend anywhere between $5-$200 a night, it really depends what sites you look on and how much you want to spend.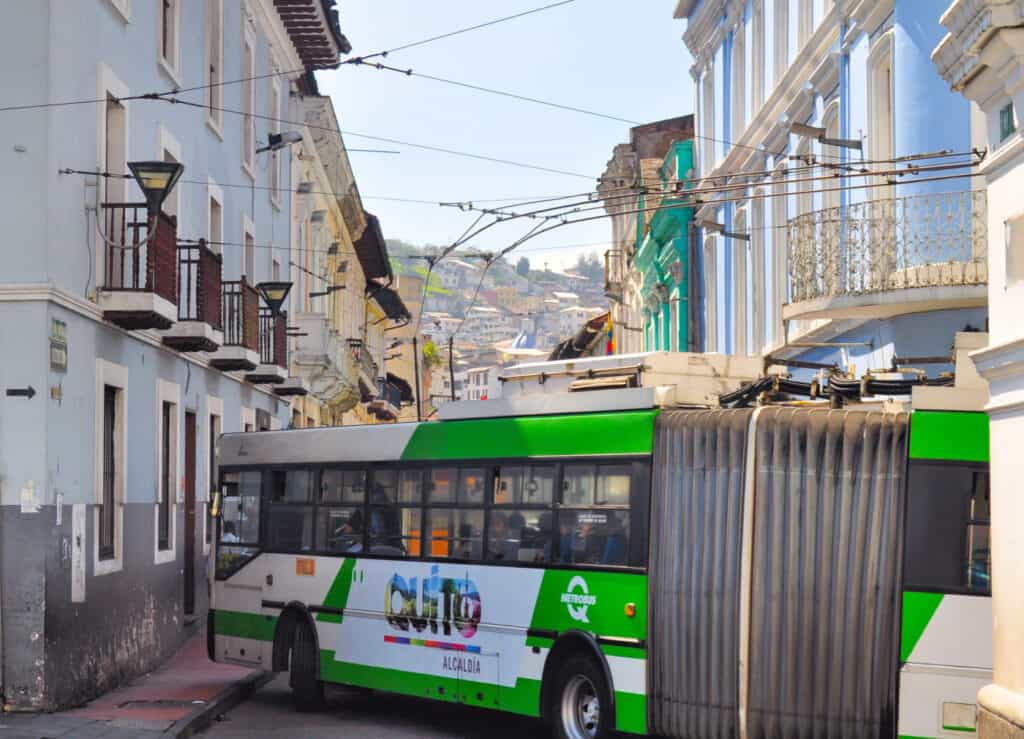 Transport
I travelled around Ecuador almost entirely by bus. Whilst it was cheap and allowed me to plan as I went; they weren't always super comfortable and some of the roads were very run down.
One time we were on a huge bus trudging down a muddy dirt road in the middle of nowhere, and I really did start to fear for my life a bit! But hey, getting out of your comfort zone is a part of travelling.
Within the cities themselves there tend to be great metro services or small minivans that connect the different neighborhoods. However, be careful on public transport. South America is notorious for pickpockets and I met many friends who had had their things taken out of their bags on night buses, or got off metros without their wallets.
It's also really not recommendable to use public transport once it's dark. Use Uber over taking taxis, and never get in street taxis unless you absolutely have to, especially not at night or alone. Though if you're with a local friend or you're a group you shouldn't have any problems.
Sometimes though it will be unavoidable to jump in a taxi or on the back of a mototaxi, and it's pretty likely you'll be fine! Use your common sense and make sure you get in with drivers that seem honest and don't try to rip you off (well, at least not hugely) right from the start. Remember to haggle for a good price!
Travelling by bus in South America can be amazing, some buses have huge seats with flat screen TVs, and they even bring you tea, snacks, and a meal. But other times it was really awful, think loud engines, tiny worn-down seats, and action films blaring from the TV at the front of the bus.
Most companies have their "luxury" edition for longer routes, and I seriously recommend paying the extra $10-$20. Some of the country's main bus companies are Panamericana, Trans Esmeralda, and Transportes Ecuador.
Hiring a car in Ecuador is an option, though Ecuadorian drivers can be pretty crazy and chaotic. So, if you're not a confident driver don't rent a car!
You'll need to be over 21 and rental costs average around $35 a day for a small, basic car, and some $80 a day for a flashier automatic model. Double check your insurance policies before going ahead with anything! I recommend hiring a car from an international company that you can pick up when you fly in over opting for smaller, more local companies.
Guayaquil to Baños de Agua Santa (known as Baños) by night-bus
This short eight-hour bus is the perfect length for a night bus, that way you save on accommodation and you don't spend any of your travel time staring out the window!
I went to the Terminal de Buses in Guayaquil and booked a bus ticket there. There are a few buses a day and you can ask at your hotel for the updated timetable. It wasn't the comfiest bus, but the journey only cost $12!
Quito to Cuenca by bus or flight
You can pick between an approximately nine to 10 hour bus ride between these two iconic Ecuadorian cities or a 1 hour flight with Avianca or LATAM for some $50.
Ride the Devil's Nose Train
This train route isn't actually helpful for getting from one place to another, but it's super scenic and it's an iconic 45-minute mountain train ride. The railway was built at the beginning of the 20th century, and it runs between the towns of Alausi and Silambe.
It's very steep – practically vertical at points! The old steam train winds between gorges, past waterfalls, and along rivers – it's truly spectacular. Tickets cost about $40 per adult.
Quito to Santa Cruz by flight
The easiest, and often most affordable way to get to the mainland of the Galapagos is by plane. There are frequent flights, but you'll be looking at about $100-$150 or more depending on how far in advance you book and whether you're going in high season.
Look at companies like Avianca, LATAM, and Tame anytime you're looking at flights in Ecuador!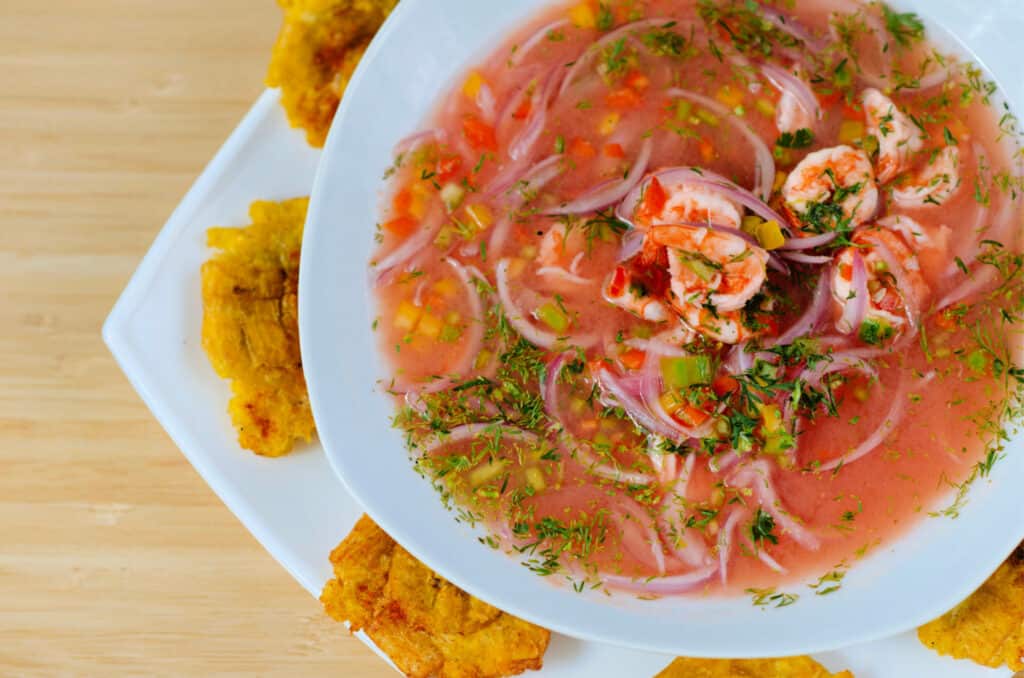 Food costs
Ecuador has one of the strangest cuisines I've sampled. Not because it was bad or because they used particularly strange ingredients, but simply because sometimes the things they put together on one plate just made no sense to me – think soup on popcorn or a plate loaded with rice, pasta, and fried potatoes! 
The food is quite simple in most places, and carbs are a big part of the street food in Ecuador. You can get your hands on strange dishes too at local restaurants, like chicken foot and cow tongue soup. You might disagree and you should definitely try it for yourself, but personally Ecuadorian food didn't really impress me.
One thing that was great about Ecuador were the local markets. You can get your hands on the most delicious fresh tropical fruit and vegetables, like dragon fruit, passion fruit, lychee, papayas, mangos, and more for next to nothing. When I was there, I could haggle prices down to about four or five mangos to the dollar!
Get ready to have rice with almost every meal, even breakfast! Beans are about to become a common theme of your days too.
Breakfast
When I was in Ecuador I was on a particularly tight budget for a big chunk of my stay, so I tended to buy fruit, yogurt, and oats for breakfasts, then I'd eat lunch or dinner out. When I did have breakfasts out, I'd opt for a filling breakfast menu, known as a "menú de desayuno".
This will usually include a plate of food built around scrambled eggs, potatoes, or rice with whatever else they've got going, toast or corn tortillas, fruit, and coffee. Sometimes you'd get pancakes instead. They were always filling, but never out of this world.
Overall, breakfast will cost you somewhere between 50 cents (if you buy a sandwich on the go) and $1.50 from a local restaurant. Of course, if you opt for a vegan breakfast at a hipster cafe expect to pay double or triple. One good thing is breakfast is often included with your accommodation in Ecuador. 
Guinea Pig
Okay, so you know those adorable little animals you always thought were only ever kept as pets? Yeah, well, across South America, they're food. Guinea pig is just another of the strange dishes on the Ecuadorian menu, though they call it cuy there.
I only tried a bite of my friend's plate as I couldn't bring myself to eat a whole guinea pig (they really feed them up, so they can get pretty big!) and it essentially tasted like chicken, I wouldn't say it had a strong flavor. Typically, it's roasted over an open fire and it's considered a delicacy.
Unlike you might think, you can't get guinea pig everywhere, so heading to a big indoor market and going to the food quarter is your best bet. Depending on where you are in the country it can be harder to get hold of – when the opportunity arises take it!
Ceviche de pescado o camaron
I don't usually eat much fish, but I have to admit it was very good in Ecuador. Their coastal regions serve one of my favorites, ceviche. Unlike in Peru where ceviche is made with raw fish and shrimp cured in lime juice, in Ecuador they cook the fish and shrimp most of the time. It's served with finely chopped tomatoes, onion, coriander, and lime juice.
Refreshing and light, it's the perfect lunch option! You'll often get it as a starter with your "menú del dia" (menu of the day), which comes with a main, a fresh juice, and sometimes a pudding too! The great thing is at a local restaurant, menus cost as little as $1.50.
Patacones
So, whilst patacones aren't a meal in themselves, they're a delicious light snack and they tend to be served as a side with every mains. Personally, patacones are one of the few foods I miss from Ecuador.
They're super simple, just fried green plantains, but they're extra yummy with salt and a squeeze of lime!
Tilapia
It's pretty easy to find fish across Ecuador, even if you aren't along the coast. One that I had over and over again was tilapia. Even when I was in tiny mountain villages there would always be women on the plazas (squares) deep frying tilapia and plating it up with a side salad, lime, rice, and patacones.
Encebollado
This traditional fish soup is often made with tuna, potatoes or yuca (a starchy potato-like vegetable I've only come across in South and Central America), tomatoes, onions, garlic, coriander, and lime. It's light, refreshing, and tangy. If you're lucky, you'll get fried plantain and avocado on top too!
Legend has it that encebollado is the best hangover cure there is! So, if last night has left you feeling a bit rough, go and have some fish soup.
Food cost breakdown
If you decide to mostly cook for yourself whilst you're in Ecuador and you buy your ingredients at the local stores and markets and avoid big international supermarkets, you can easily live for as little as $3 a day. It's not much more expensive to eat out either, if you stick to the menus del dia served in the local restaurants, in the indoor markets, and often at the plaza you can spend as little as $5 a day on food.
Bear in mind these places don't have any hygiene ratings or google reviews. The best way to figure out which is the best one, amongst a sea of stalls selling often identical menus, is to look for the busiest. Sometimes, there won't be any chairs (well, plastic benches) left and you'll have to stand up and perch your food on the stall's counter, but the environment is always friendly and eating amongst the locals is always a stimulating experience.
If you decide to eat at fancier places, like vegetarian restaurants or higher-end places, expect to pay about $5 to $10 per meal – still very affordable!
Alcohol isn't expensive in Ecuador either, though it's not as easy to find as in Colombia. You can get a beer for about $1 to $1.50 when you're out and it's cheaper if you buy a pack to take home. The most widely drank beers are Pilsner and Cerveza Club, although you can find some craft beers knocking around. Make sure you try a few shots of aguardiente too!
I'd budget $5 a day for food from cheap local restaurants, and $20 a day if you're eating in nicer places. Put about $5 a day aside if you want to be enjoying a few beers at the end of the day!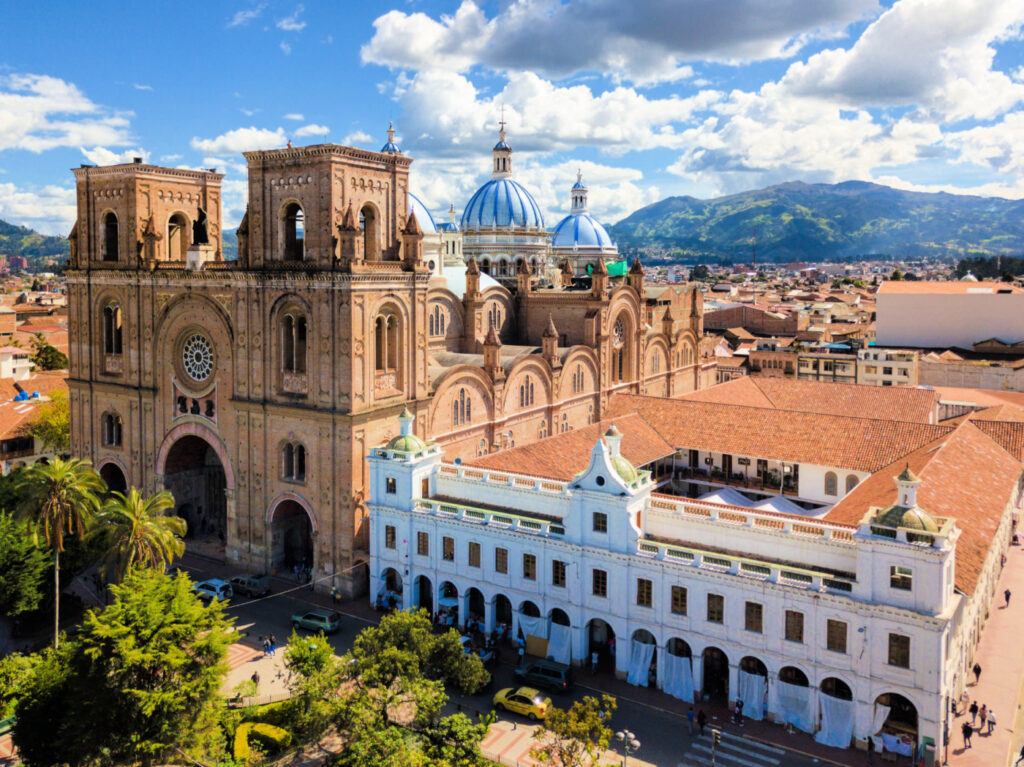 Activities
Stroll through the charming streets of Cuenca and go to the Parque Nacional Cajas
Hands down, this was my favourite city in Ecuador. On the other hand, I thought Quito, the capital, was kind of over-hyped. Cuenca is small and charming; it was founded in 1557 by a Spanish conquistador called Gil Ramirez Davalos.
There are colonial buildings round every corner, and it's so beautiful, I'm surprised it wasn't until 1999 that it was designated a UNESCO World Heritage Site!
It's also a gorgeous city to walk around as there isn't much traffic and the locals are very friendly. Head to the colorful Plaza Mayor and marvel at the gorgeous colonial architecture, then go and visit the flower stalls at the quaint Plaza de las Flores.
On one of the days, I ventured out of the city to the Parque Nacional Cajas. I've never been to such a tourist-free nature reserve in my life! I honestly saw another three people the whole day.
To get there I headed to Cuenca's local bus terminal and jumped on the first mini-van leaving to the park. On the way back I just started walking back down the road and flagged down the first bus that passed. I did this a lot in Ecuador, and even large buses moving in-between cities will stop for you, I guess this is because lots of people live in remote areas and bus drivers are used to pulling over.
It's about an hour outside of the city. The landscape is spectacular, it's quite barren and riddled with little lakes. There was a clear path, and it was easy to navigate. There are huge Rocky Mountains in the distance but the park itself is pretty flat. Look out for fluffy llamas!
Take on the Quilotoa Loop
To this day I consider the Quilotoa Loop in the Andes Mountains one of the most spectacular hikes of my life. It's a multi-day trek that does require a certain level of fitness, especially for the last day when you climb up the side of the Quilotoa Crater, but the effort is absolutely worth the landscapes you'll see and the traditional little villages you'll pass through.
The route starts in Latacunga, though few actually start walking from there. It's a good idea to store your luggage there and get maps as there's hardly any signing along the way (make sure you get an in-detail written description of the route too, I found that was more helpful than the map itself).
The route is some 40km long in total, and two days and three nights is long enough to complete the route, but make sure you allow a night to stay over at the top of the Quilotoa Crater and save the next day to walk down into the crater and canoe in the crater's lake.
All in all, it's not an expensive trip, your hostels include breakfast and dinner and cost between $15-$25 dollars a night, and you can buy pack lunches for the next day from them or make your own with bits and bobs from the local shop. I'd estimate the whole trip cost me about $120 dollars, and I always stayed in really nice private rooms along the way. 
Visit Baños and get your dose of adventure
Baños is the adventure capital of Ecuador. You can do every sport imaginable there, bungee jumping, rafting, trekking up volcanoes, cycling, the list goes on! It's also a very cute town, with a laid-back (quite hippie) vibe and lots of other travelers.
It was my second stop in the country, after flying into Guayaquil and I feel like it was the perfect place to start.
If you're short on time, pack everything into a one day tour and go canyoning, rafting, and bungee jumping in one day with this tour, my friends and I loved it!
Visit the iguanas in Guayaquil
Fair to say there aren't many things that put Guayaquil on the obvious tourist route, but I spent a few days there after flying into the city and I really liked it.
The most impressive thing about Guayaquil, and the thing it's most known for, are the giant iguanas – they're everywhere! If you really want to get up close with them, go to Parque Seminario where there are as many iguanas as pigeons. 
I usually don't go on city tours, but I was glad I did in Guayaquil. There's hardly any information advertised outside of the buildings, and finding out about its intricate past with pirates was awesome! I'd recommend going with these guys on a city tour. Walk along the beachfront boulevard and stop for a few beers after.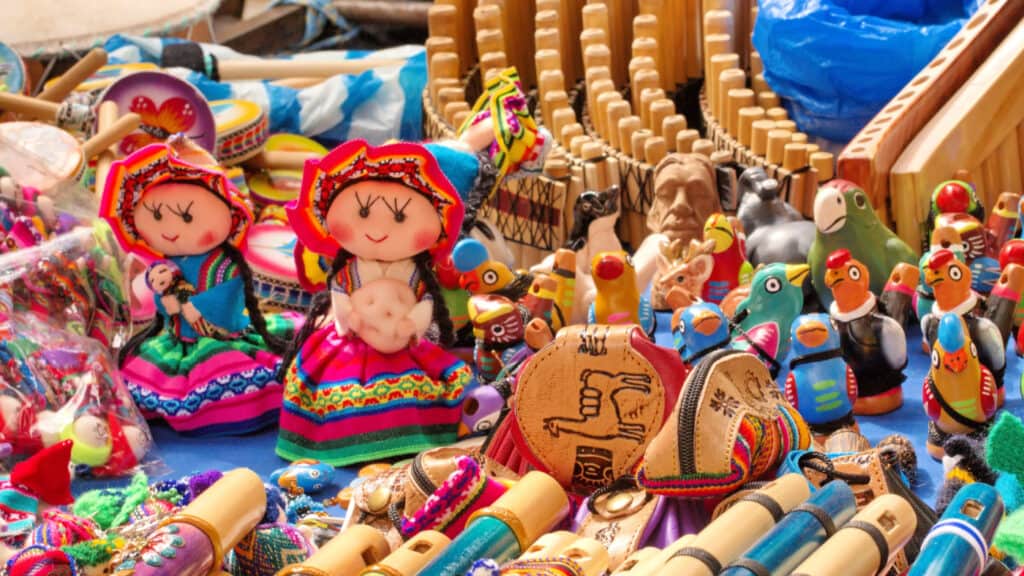 Shop at the legendary markets of Otavalo and haggle
Otavalo is a small city in the north that is surrounded by stunning volcanic landscapes and lakes. It's known for its traditional atmosphere and stunning local markets. If you're looking for a dose of local culture, Otavalo is the place.
The local markets have all the usual souvenirs you'll find across South America, like the patterned alpaca hoodies that every traveler wears and colorful blankets, as well as a few more unique treasures, like handcrafted silver jewelry and crystals.
The market was running twice a week when I was there, and Saturday is always the busiest market day.
Whilst you're there find out if there are any animal markets happening, I went to one in a town about 20 minutes away from the city and it was one of the most peculiar experiences I had in the country.
The animal markets are absolutely huge, and whilst I was there one guinea pig that had just been bought managed to jump out of its new owners' arms and run away, which started off a half an hour chase where everyone, even tourists, got involved. He was eventually caught by an English rugby player!
Top tip: remember that haggling is a daily part of life in Latin America, and they're good at it. My Colombian friends were particularly smooth talkers, using their charm and charisma to knock staggering amounts of the initial price proposed.
It's worth asking the people at your accommodation for a rough idea of how much you should be paying for things when you first arrive so you can make sure you know more or less what prices you should be haggling down to, and when you're being totally ripped off!
Learning some simple sentences like "Es demasiado caro amigo, ¿puedes hacerme una rebaja?" which means "That's too expensive my friend, could you give me adiscount?" is a great start. Make sure you learn your numbers too, then when a market vendor gives you their price you can just tell them what you're willing to pay. Aim to pay about 50% of what vendors at souvenir shops originally tell you the price is, but don't be so brutal with fruit and vegetable vendors.
Activities aren't super expensive in Ecuador, even when you're doing unusual things like rafting! Budget about $15 a day for that and another $5 per day for transport. 
As you can see, it's a fun and cheap place to travel with options for every budget! It's easy to keep your Ecuador travel expenses low.