At the end of every trip I take, I like to sit down and take stock of my experiences.
As I write this now, I'm beaming from ear to ear. I've just completed an epic six-month jaunt through Asia and Oceania and my brain is overloaded with the wonderful memories the world has thrown my way. Last week, I attempted to process some of them.
My partner and I ventured out for dinner and made our way through a list of questions; questions so familiar that we barely have to think about what to ask next.
"What were your top five moments from the entire trip?"
"What about your lowlights?"
"Tell me your five greatest travel disasters."
"What were your favourite and least favourite places we stayed in?"
"Your five scariest moments?"
"What about your best five meals?"
Ah. Now that one was easy to answer.
As I began to count my way through the meals that, months later, still have the power to make my stomach rumble, I wasn't surprised that every single one came from Japan.
Yes, it's true: You can't travel to Japan and not fall in love with the food. The country fast became my single best food destination in the world. When I look back on my two weeks in the country, it's the meals more than anything else that stand out for me.
Today, I want to try something different and share with you my food highlights from my two weeks in Japan. I've never done something like this before — mostly because I don't really know how to write about food in a non-awkward manner — but if you guys like it, I can make it a regular series.
Get ready to get hungry, because this is what it's like to eat in Japan.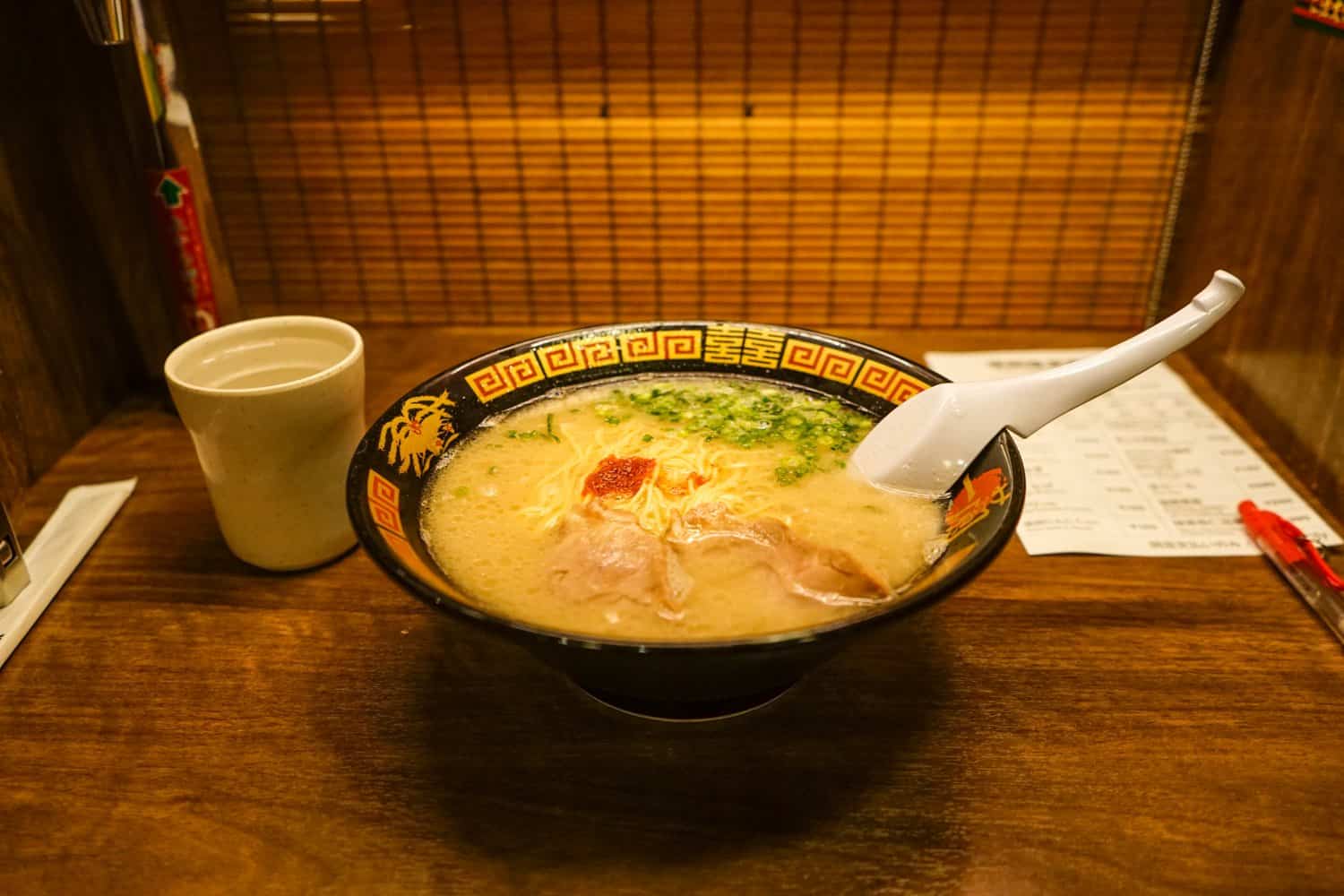 Tonkotsu ramen from Ichiran Ramen in Tokyo
A Japanese institution, Ichiran Ramen can be found throughout the country, and you should endeavour to visit at least once while you're there. Ichiran specialises in tonkotsu ramen, which means you're in for a pork-based broth, along with a ridiculous number of customisations to help you design your perfect bowl. You order from a vending machine, which felt very Japanese, and because I had no idea what I was doing, I chose to press a few random buttons and hope for the best. Next, I was led to my booth.
Yes, at Ichiran, you eat solo, in your own little booth, with little walls surrounding your bowl as you eat. On the table in front of you, you'll find a sheet of paper and a pencil, which allows you to modify your dish, specifying how strong you want your broth to be, the level of richness you enjoy, how firm you prefer your noodles to be, and which toppings make you happiest. Once you've slid your order to the waiting hand in front of you, you're left to stare at the walls of your booth.
The idea behind Ichiran is that by having diners eat alone, they'll be able to focus on the flavours of the ramen instead of being distracted by phones and humans. This makes it a great dining option for solo travellers to Japan who are nervous about eating alone. At Ichiran, it's expected that you'll be slurping solo, so you won't attract any unwanted attention by doing so.
Ordinarily, the fact that Ichiran is a chain would put me off and have me rolling my eyes at every article declaring it the best ramen in Japan, but I had to try it, and when I did, I understood. I personally wouldn't call it the best-best — that accolade is reserved for the ramen I had in Osaka, but as a first meal in Japan, it was mind-blowing. Yes, it's a chain, but yes, it's amazing. Make sure you don't skip out on eating here once while you're in town. It's popular with locals, too, which is always a good sign!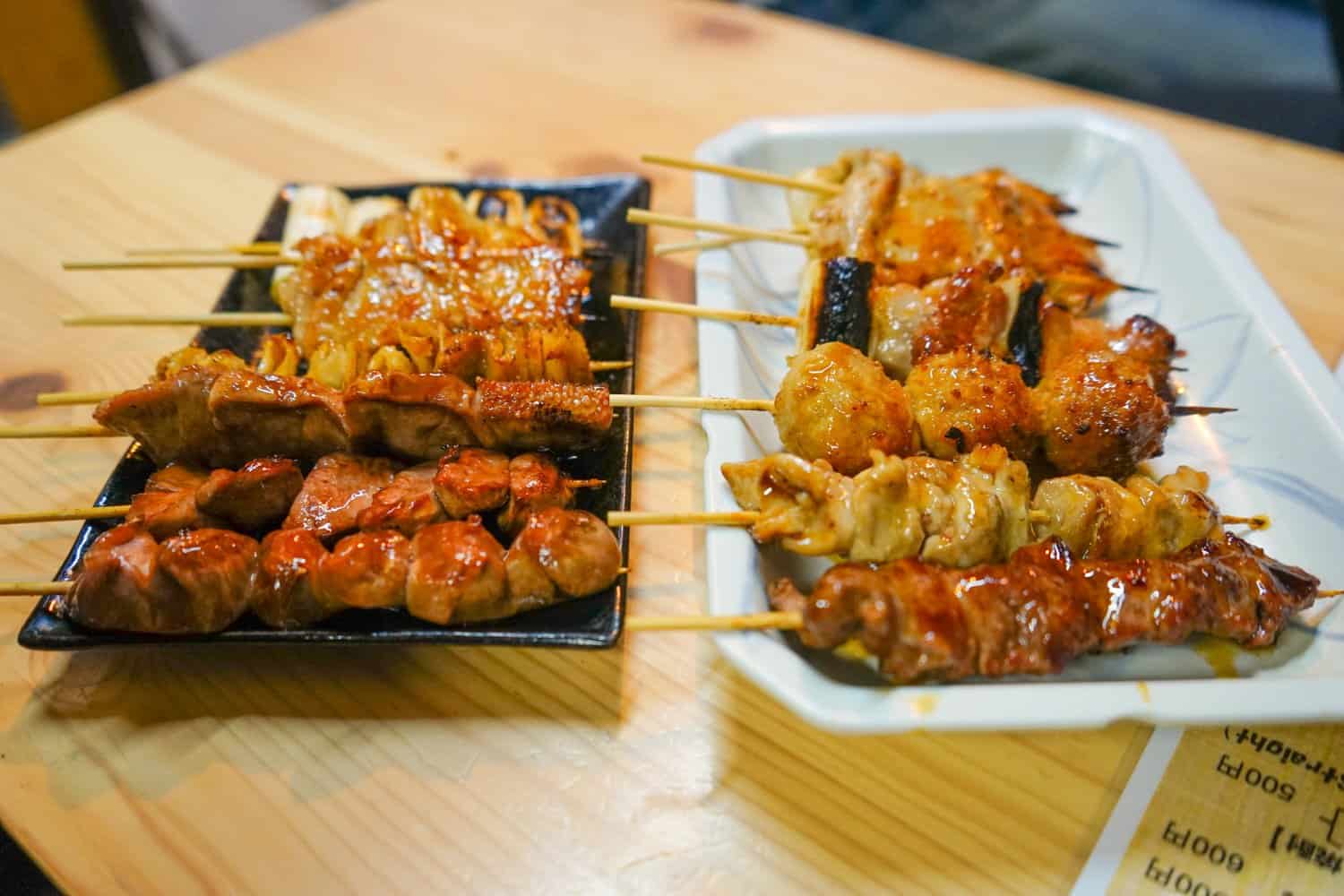 Yakitori from Piss Alley in Tokyo
Speaking of experiences you have to have while you're in Tokyo, my night on Piss Alley was one of the highlights from my time in the city. Specifically, eating yakitori in a cramped stall on Piss Alley. It doesn't sound glamorous because it wasn't, but it was a hell of a lot of fun.
Memory Lane (or Piss Alley if you're speaking to locals) is in Shinjuku, and it's the place to come if you're a fan of meat on a stick. After sunset, wander down the atmospheric street lined with lanterns and tiny restaurants, snapping dozens of photos, and then duck into a random spot for dinner.
My partner and I picked a place that looked good and was overflowing with locals, and squeezed our way to a small table. We stared blankly at the menu, listing dozens of animal body parts I'd never sampled before.
"Just pick a bunch of random stuff?" I asked.
"You bet."
We worked our way through almost 20 skewers of meat over the hour we spent in the restaurant, downing our selection with cold beers and exchanging shy smiles with the locals.
If you've always wanted to try weird foods, Piss Alley is the place to come. While they had plenty of regular meat and vegetarian-friendly eats, too, we opted for chicken hearts, chicken anus, chicken gizzards, pork cartilage, pork intestines, pork tongue, and a dozen other skewers filled with strange and delicious eats. They may sound like the least appetising snacks in the world, but I was smitten.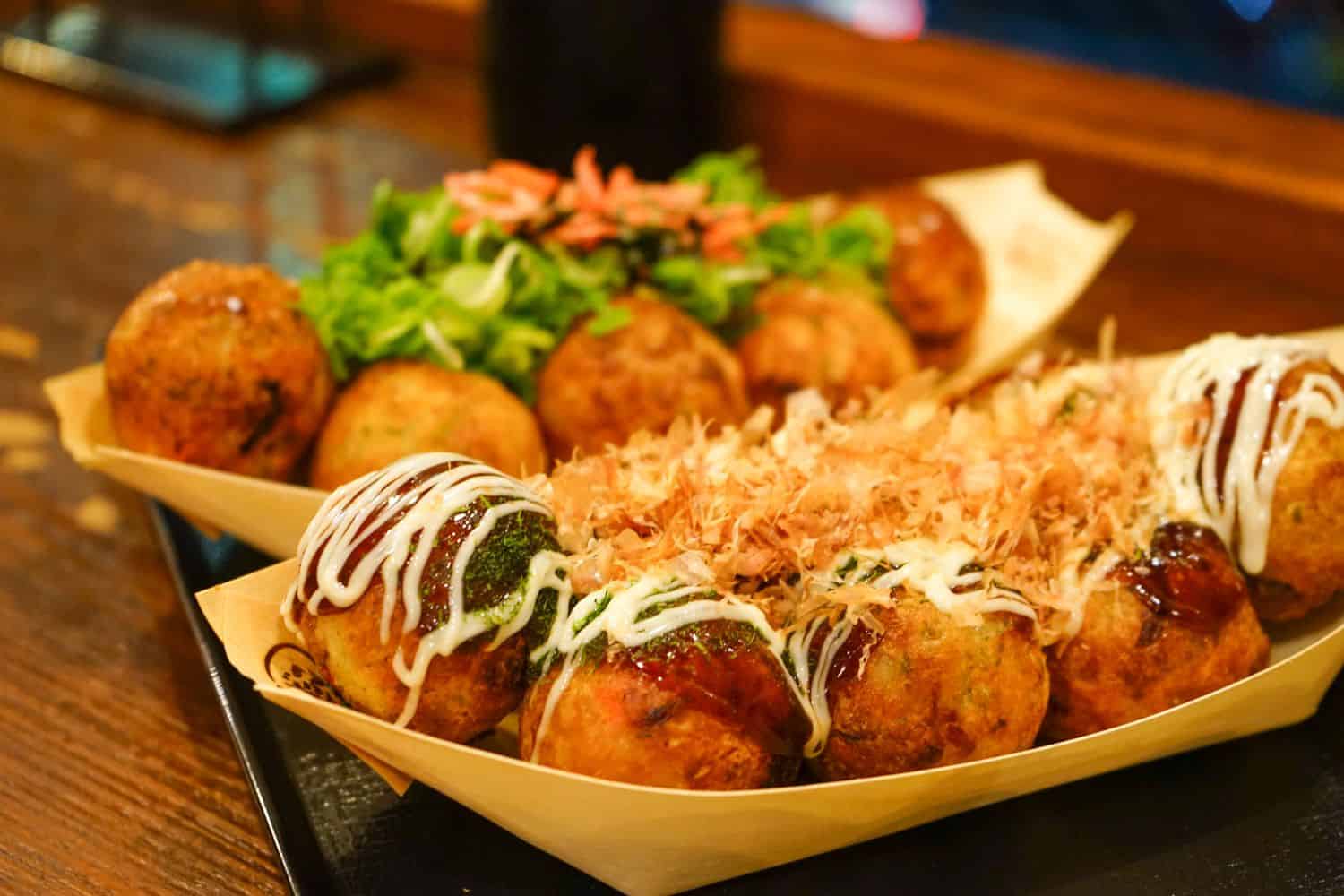 Takoyaki from Gindaco in Tokyo
Takoyaki is one of my favourite snacks of all time. I first discovered it in Taipei, have rarely found it anywhere else in the world, and have been itching to try it in Japan, where it originated.
Takoyakis are spherical dumplings, made from wheat and filled with diced octopus, tempura pieces, pickled ginger, and green onion, which is essentially my idea of food perfection. A generous helping of takoyaki sauce (sort of like Worcestershire sauce) is swept across the dumplings, along with a squirt of mayonnaise, and then it's topped with a seaweed paste and dried bonito flakes. Or, at least, that's what the classic version of takoyaki is like.
At Gindaco, there are four options to choose from, from the original to negidako (topped with white radish, green onions, dried seaweed, and bonito flakes), cheese mentaiko (topped with spicy cod roe, mozzarella, parsley, and parmesan), and teritama (topped with teriyaki and mayonnaise, egg salad, green seaweed and bonito flakes), and they're all fantastic.
We grabbed a couple of servings and waited for them to cool. Pro tip: You're going to want to wait several minutes before eating takoyaki, as they always come out piping hot and will burn your tongue! These balls of heaven were even more delicious than I'd expected. They were crispy on the outside, creamy on the inside, and coated in so many flavours that I immediately ordered another round to sample.
I ate a lot of takoyaki while I was in Japan, and the ones from Gindaco were the best I encountered.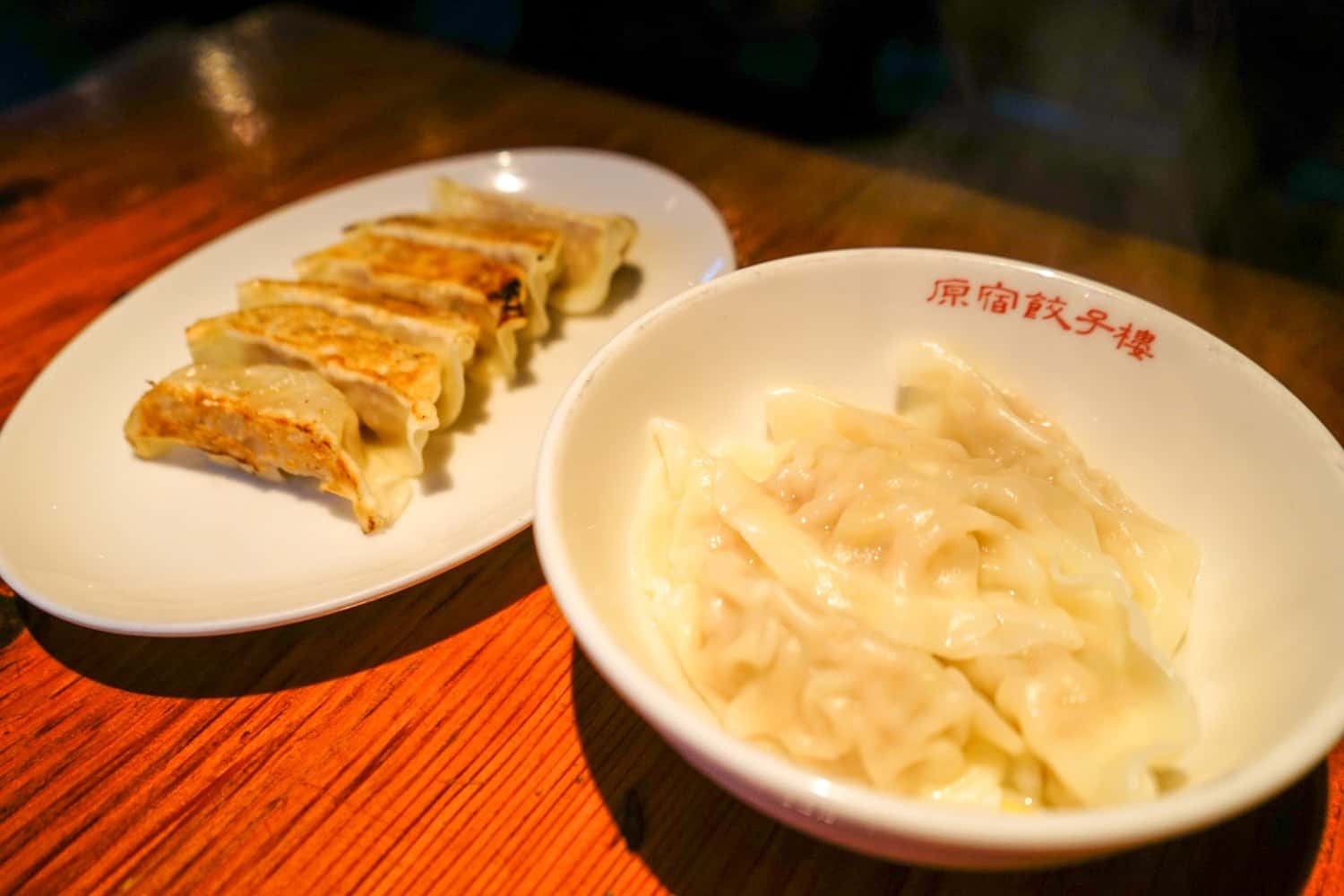 Gyozas from Gyoza Lou in Tokyo
Simplicity is the name of the game at Gyoza Lou, in Harajuku, as there are just two options on the menu: steamed or fried.
Obviously, we chose both. Multiple times over.
These were so worth the half an hour we had spent queueing in the cold to get in, and I'm fairly certain we had made our way through six rounds of pillowy dumplings by the time we got up to leave. Whether they were delicately steamed or perfectly crisped, every single parcel was thin, juicy, and light, and I couldn't stop ordering more. Simple but beautiful, and less than $3 for a round of six.
The restaurant itself was lively and fun, as you could eat on stools surrounding the kitchen or at a separate table to get away from the smokers. Unfortunately, the one downside to this restaurant is that you can smoke inside, although it wasn't too bad while we were there.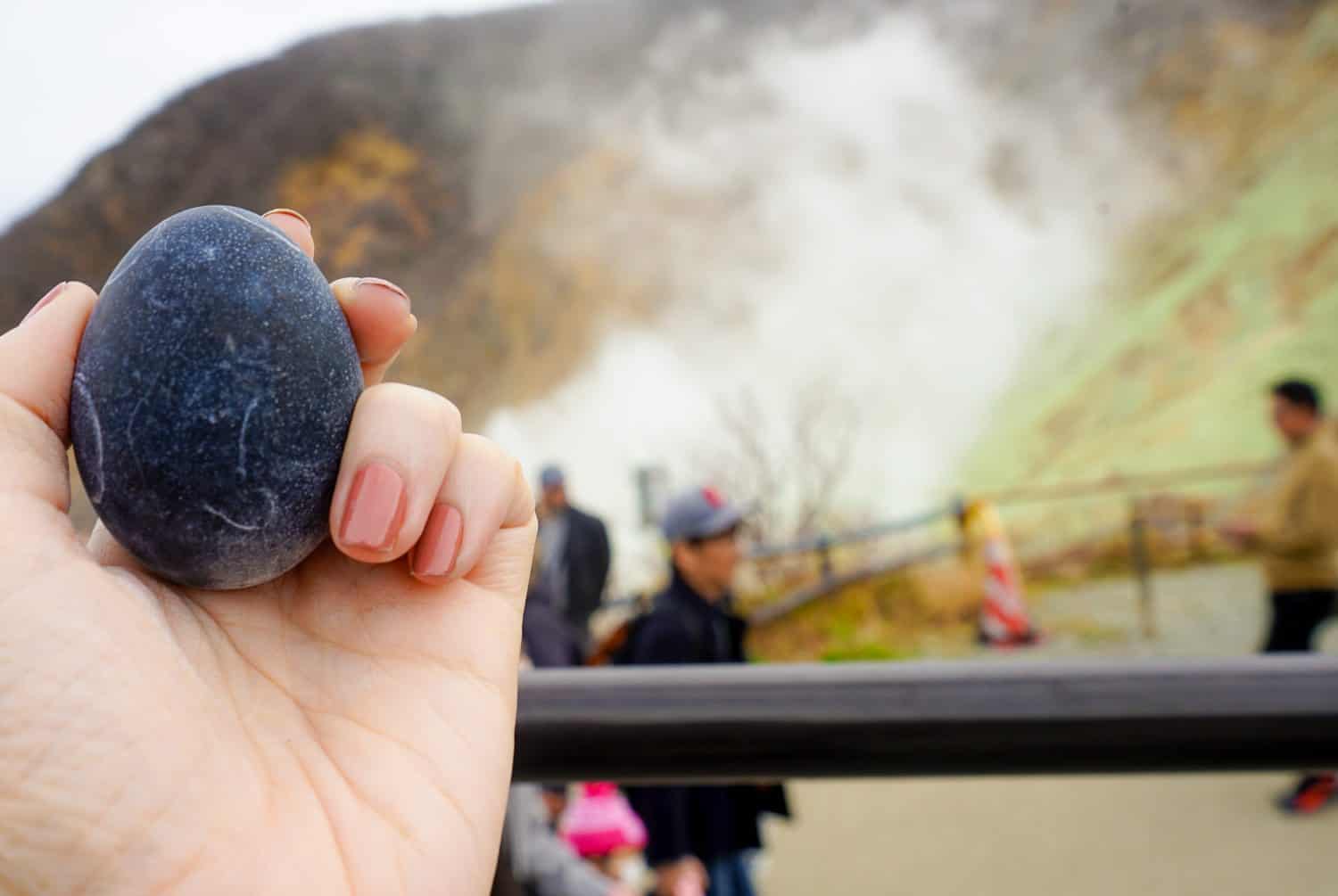 Sulphuric eggs in Hakone
My time in Japan was all about trying new foods, so when I arrived in Hakone and discovered you could buy a bag of jet black eggs, I was already in the queue.
The eggs take on their black colour after being boiled in a sulfur-filled hot spring that's just outside of Hakone. They're not dangerous to eat, and aside from a very slight sulphuric smell and taste, were exactly the same as eating regular chicken eggs. They made for a fun mid-morning snack, especially as we got to eat them while gazing up at beautiful Mount Fuji.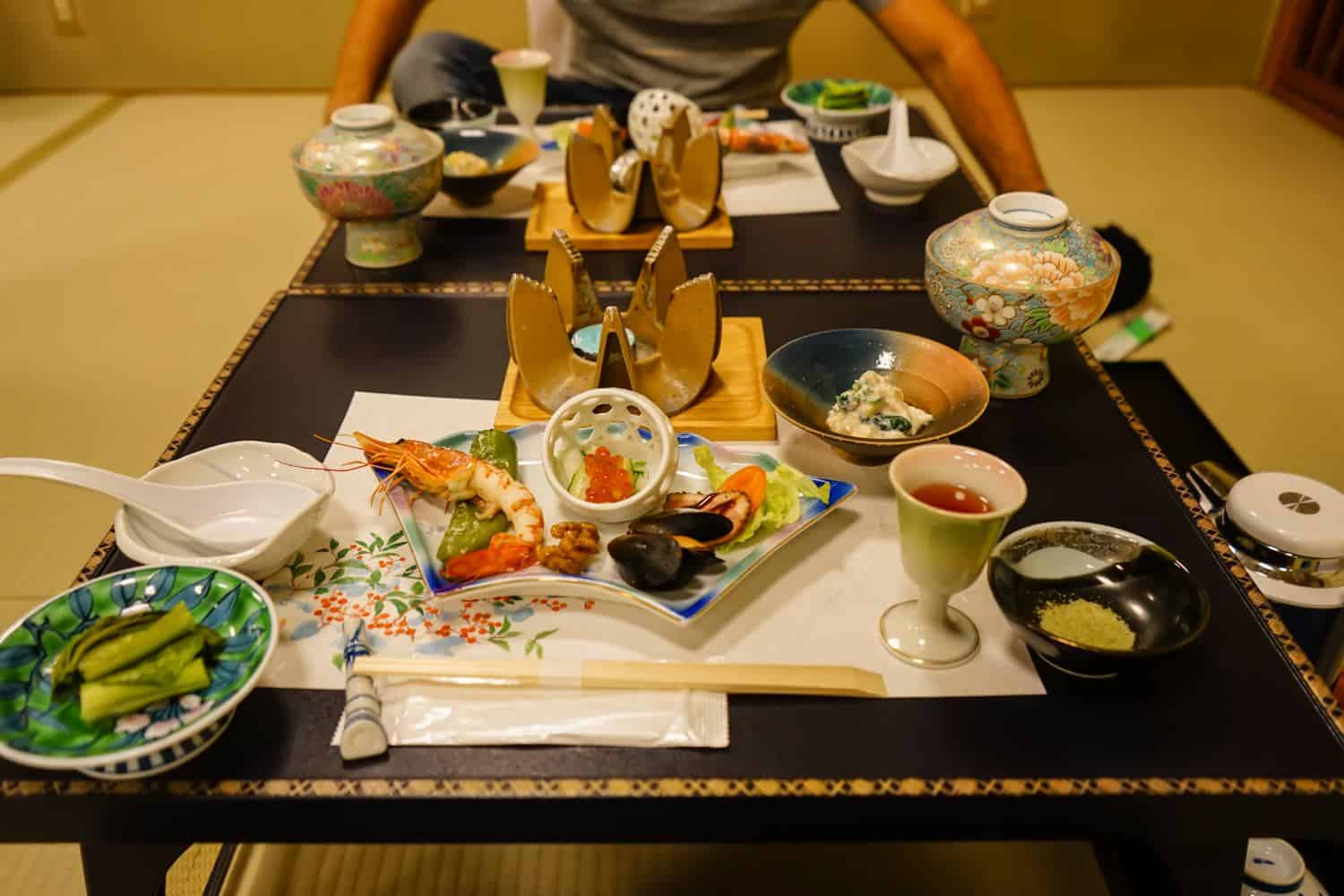 A kaiseki in Yudanaka
Time for another new experience! The ryokan we stayed at in Yudanaka offered a kaiseki meal — a traditional multi-course Japanese dinner — for a relatively reasonable price. After checking the reviews were excellent (as this was likely to be something I only did once, due to high costs), we emailed the owner to book.
We spent the afternoon bathing in the guesthouse's private onsen, then entered the tatami mat room and took our seats on the floor. There was a ridiculously drinkable plum wine waiting for us — handmade by the owner — and as we raved about it to each other, the courses began to arrive. One by one, we were presented with local, seasonal dishes — far too many for me to eat and many of them entirely unrecognisable. It was all fantastic, though, and a fun cultural experience on top of it.
My one recommendation would be to not to eat beforehand, as I don't think I've ever been so full before in my life! When we turned up for breakfast and found ourselves greeted by another multi-course meal, I was just about ready to burst.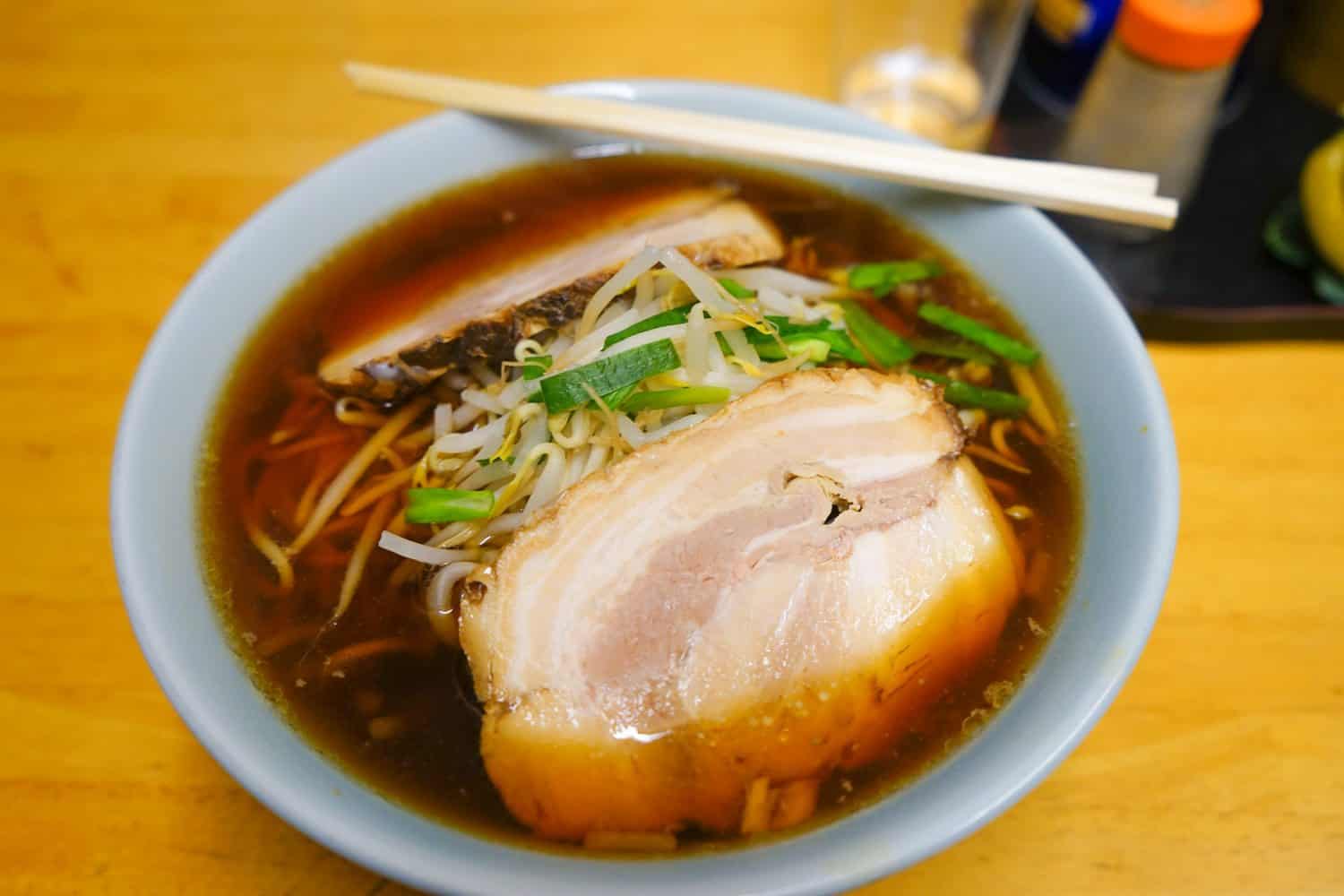 Pork shoyu ramen at Wakadaisho in Kanazawa
It was raining in Kanazawa, so we ducked into the first restaurant we came across, and were gobsmacked to discover it offered some of the best ramen I've ever had. And I essentially bathed in ramen while I was in Japan, so I did a lot of research.
Wakadaisho gave me the type of Japanese food experience I had been hoping for from the moment I first booked my tickets. There was limited seating, the walls were adorned with hundreds of polaroid photos of customers who had been visiting for decades, and there was a distinct lack of English spoken.
Fortunately, there was an English menu, and as soon as I spotted pork shoyu, I couldn't consider anything else. The thick slices of pork were tender and juicy, with just the right amount of fat, the broth was rich with soy, and the noodles soft. Throw in a generous helping of beansprouts for texture, and I found myself with the perfect bowl of ramen.
Simple, delicious, and cheap, with a friendly owner and locals lining the bar — this is exactly what ramen should be.
We spent two nights in Kanazawa and ate at Wakadaisho both evenings because we were convinced we wouldn't find anything better in the city.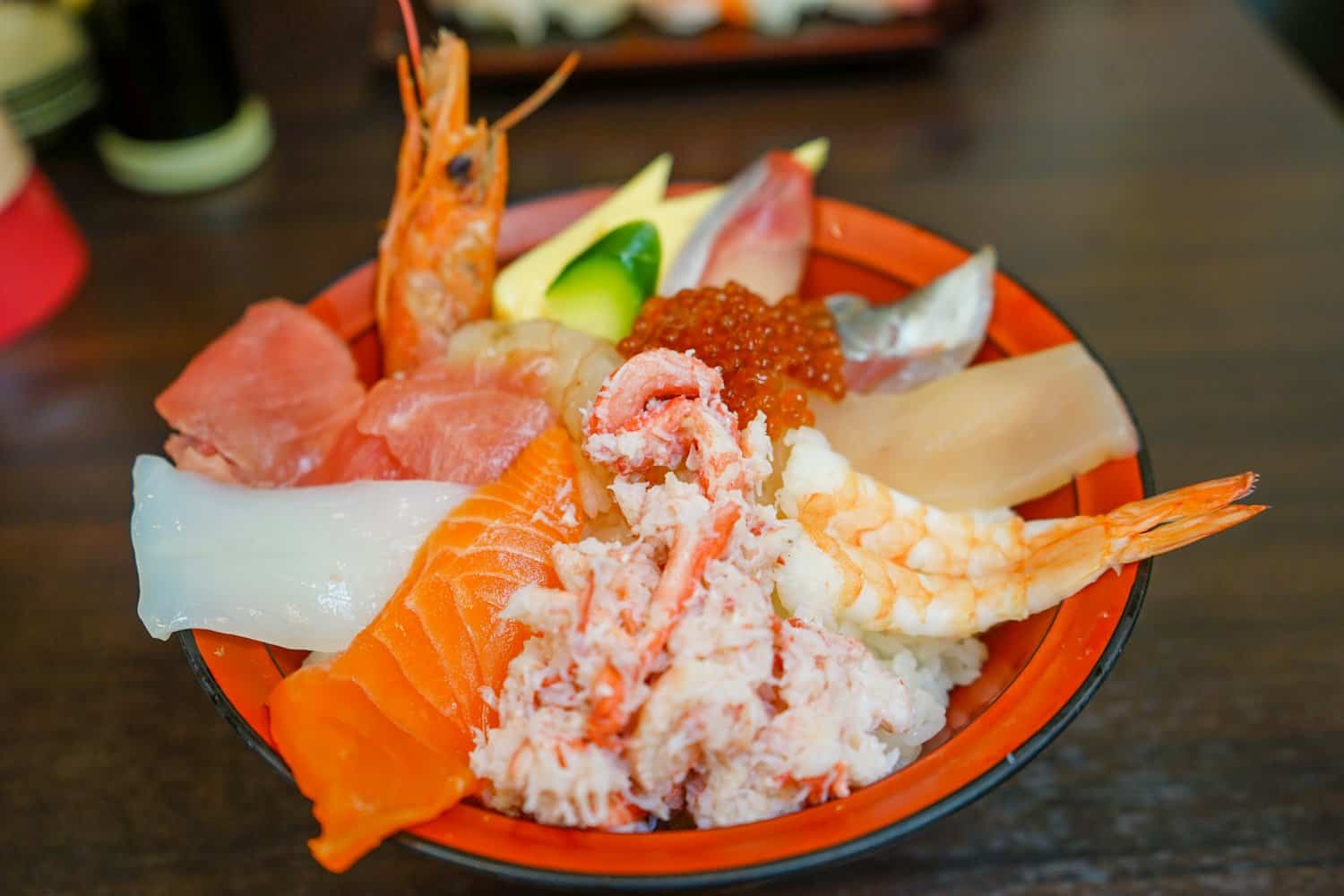 Kaisen don at Omicho Market in Kanazawa
If you're a fish-eater, you'll already know that you can't go to Japan and not have the sushi! Even as someone who's never really been into all things raw fish, I was excited to see how it would compare to the versions I've tried before.
I waited until I reached Omicho Market in Kanazawa before delving mouth-first into an overflowing bowl of sashimi. Popular with locals and tourists alike, Omicho Market is a fresh fish market that's less touristy, busy, and expensive than its equivalents in Tokyo and Kyoto.
After an hour spent lingering over the different stalls in search of the weirdest-looking fish I could find, I ventured into a restaurant at random, placed my order at the vending machine with more difficulty than I had anticipated, and sat down for a kaisen-don that completely changed my mind about sushi being a bland type of food, especially when I dumped fresh wasabi over the fish.
The next time I eat sushi, it will mostly likely be on my next trip to Japan. I don't want to have it anywhere else!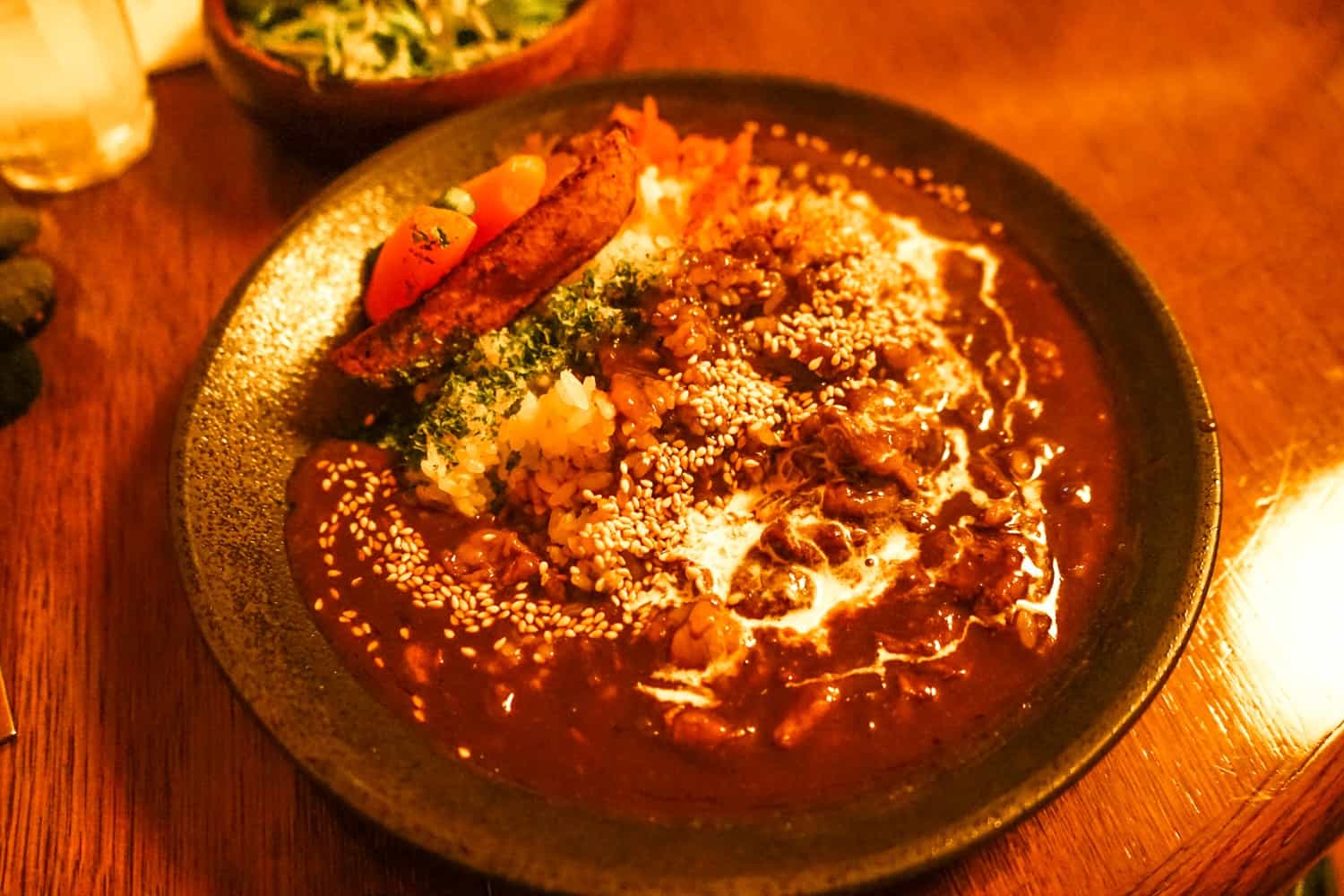 Curry in Jakson, Takayama
If you're looking for a cosy curry shop that feels like home, Jakson is the restaurant for you. While the roads outside played host to sleet and snow, Jakson provided locals and tourists with warm shelter and excellent music from the turntable in the corner.
We'd read in advance that English was rarely spoken and that curry was the only option, so we weren't surprised when we were handed a menu that was entirely in Japanese. A staff member asked if we wanted beef, pork, chicken, or vegetables, then followed that up with a "spicy or no?" We both opted for the Hida beef — often voted some of the best in the world — and decided to both have it spicy. While we waited for our food, we took off as many layers as possible in an attempt to dry our soaking wet clothes.
Simple restaurants with simple menus are often the best when it comes to local food experiences, and this was no different. The curry was rich, dark, and almost like a thick barbecue sauce that was less sweet and slightly richer. It was unlike any curry I've ever had from Southeast Asia or India, but with so much flavour that I was an instant convert.
Takayama isn't a big food destination, but this restaurant is a definite hit.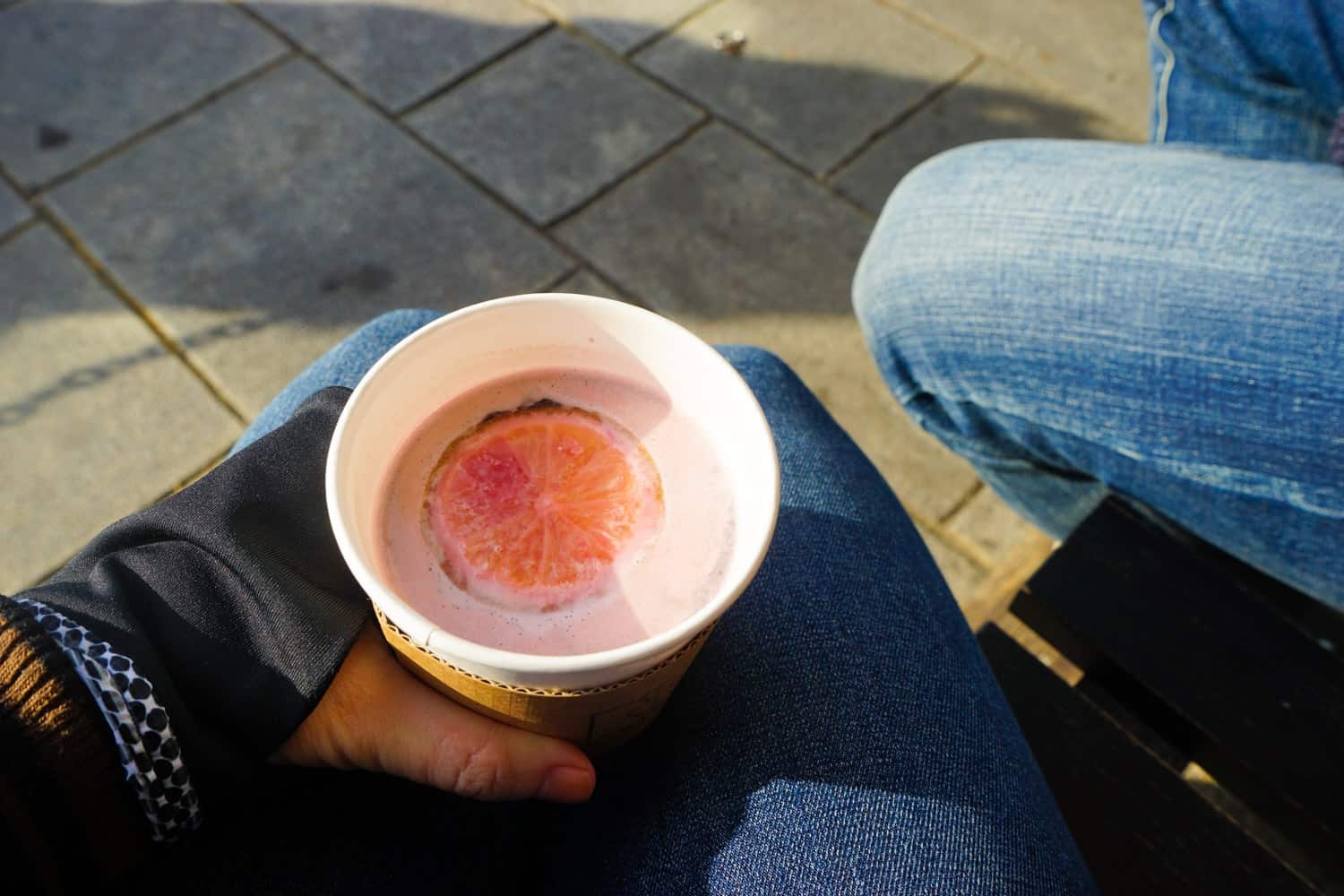 Spiced mulled wine in Kyoto
Yep, I'm including mulled wine on my list, because it was a highlight of a chilly day spent exploring Kyoto.
I mentioned above that I unexpectedly didn't fall in love with Japan, and a huge part of that was due to the weather. I'm a warm-weather type of human and being in the cold stresses me out and makes me want to hibernate. Japan in December, then, was not my smartest idea.
That's where the mulled wine comes in
When I was wandering around Kyoto wearing thermal underwear, leggings, jeans, two pairs of socks, three T-shirts, two sweaters, and two coats, a hat, scarf, and gloves, I stumbled across a stall offering cups of mulled wine.
As the warmth gradually swept through my body, I smiled. A warm drink was exactly what I needed to start enjoying my time in Japan. I stood up and made my way over to the nearest temple.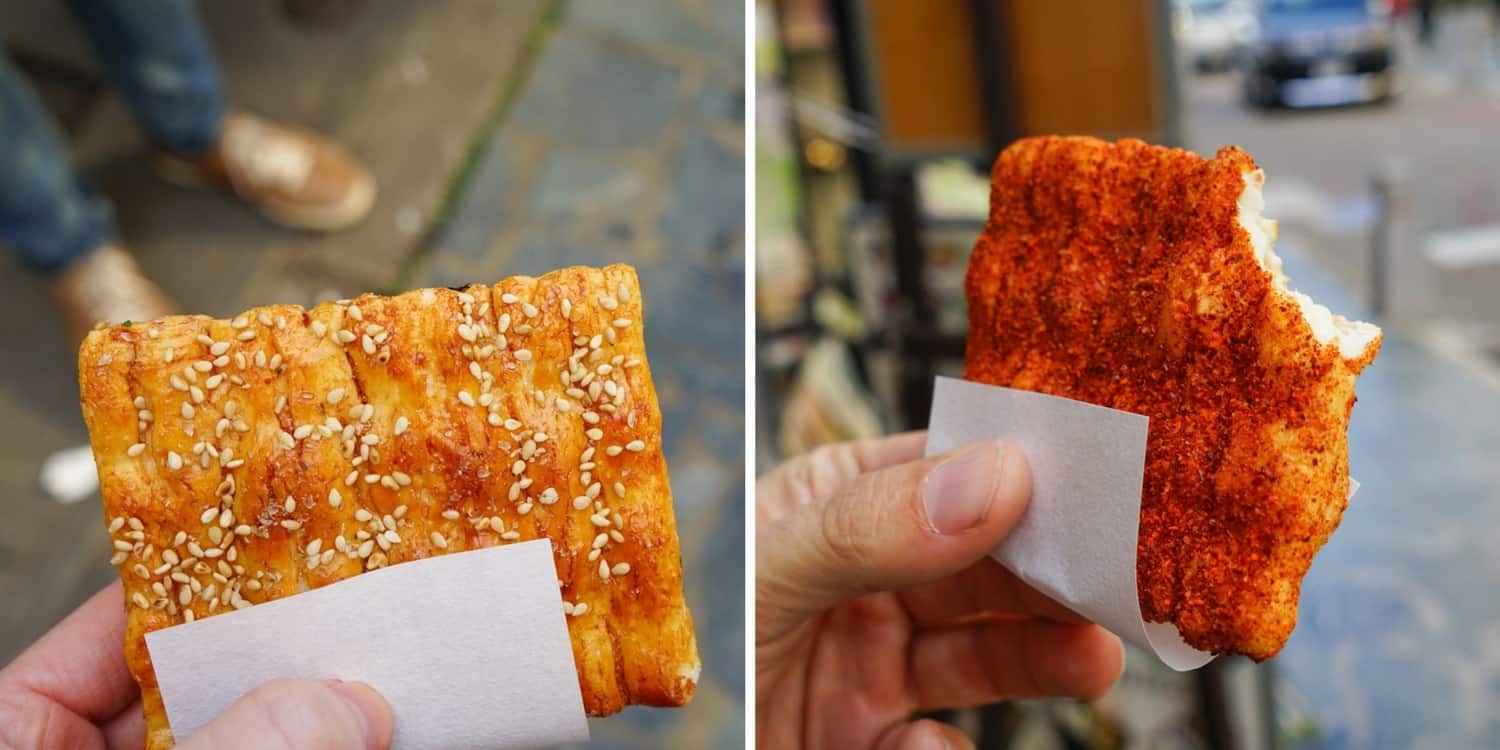 Senbei from Nakatanidou in Nara
After an hour spent feeding the deer in Nara rice crackers, it was only fair for me to do exactly the same.
Senbei is a Japanese street cracker made from toasted rice, and you can pick one up all across the country, in different shapes, sizes and flavours. We went to Nakatanidou, which is more famous for its mochi but I don't like mochi, so we asked for two senbeis without fully knowing what they were. We both went for savoury over sweet, with me picking out a sesame cracker, while my partner opted for the one that had a thick coating of chilli.
They had a crispy, crunchy texture, were full of flavour, and the chilli one was far too hot for me to handle more than a mouthful.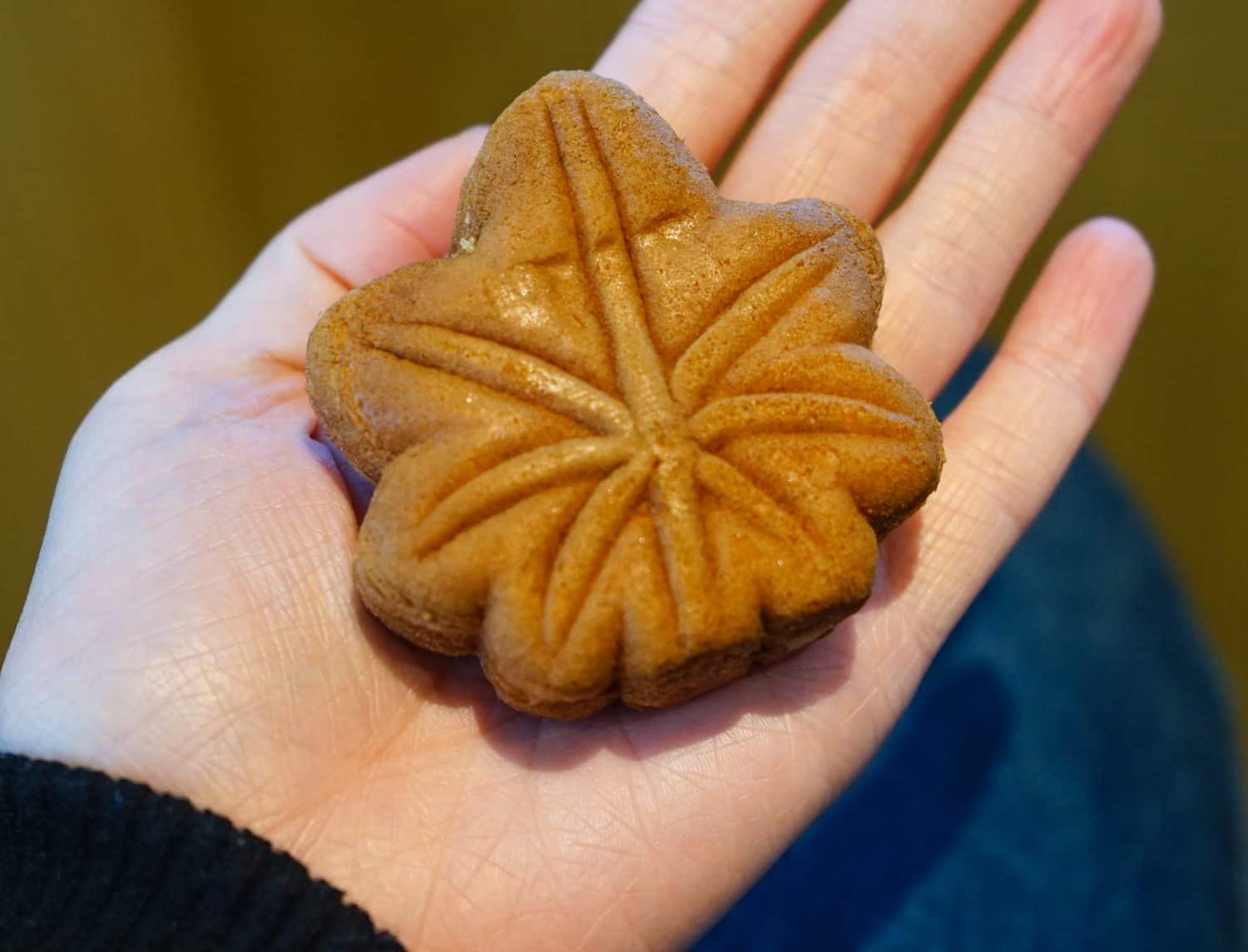 Momiji manju on Miyajima Island
We day-tripped out to Miyajima Island while we were in Hiroshima, and stumbled across momiji manju, a small, maple leaf-shaped cake, while we were there.
They're traditionally filled with a red bean paste, but since red bean is the worst thing I've ever eaten, I went with a custard-filled flavour instead. It was so good! The sponge was moist and sweet, and the custard creamy. I was glad it was small and that you can't usually find them outside of this prefecture, because otherwise I would have eaten them every day.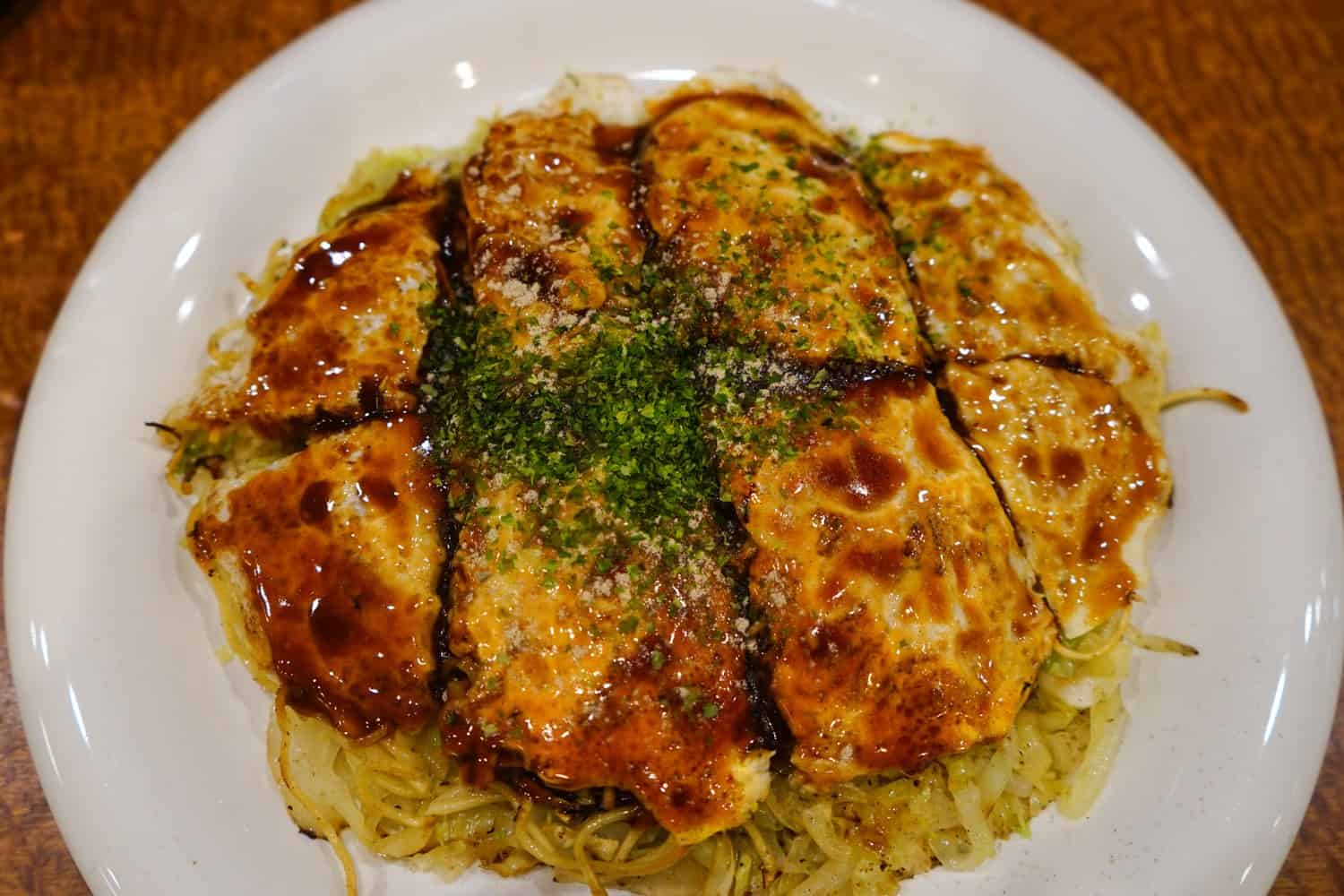 Okonomiyaki in Hiroshima
If you haven't tried okonomiyaki before, you really should. It's a Japanese savoury pancake that tastes far better than my photo makes it look.
Okonomiyaki varies from region to region across the country, but if you eat it outside of Japan, it's likely you'll be tackling the Osakan version. It's usually referred to as Japanese pizza (which is weird, because it's nothing like it), and it contains flour, cabbage, egg, pork, and squid/shrimp/octopus. Throw a dollop of mayonnaise and okonomiyaki sauce on top and you've got yourself the perfect comfort food for a rainy day.
While the Osakan version will have all of the ingredients mixed up together, the Hiroshima version is layered, and has noodles (either yakisoba or udon) and a fried egg throw in, too.. Having had the Osakan version many times before, I knew I had to try the Hiroshima version on this trip. My verdict: As long as you only have half the dish, you'll love every mouthful. Eat too much and you'll be feeling full for days.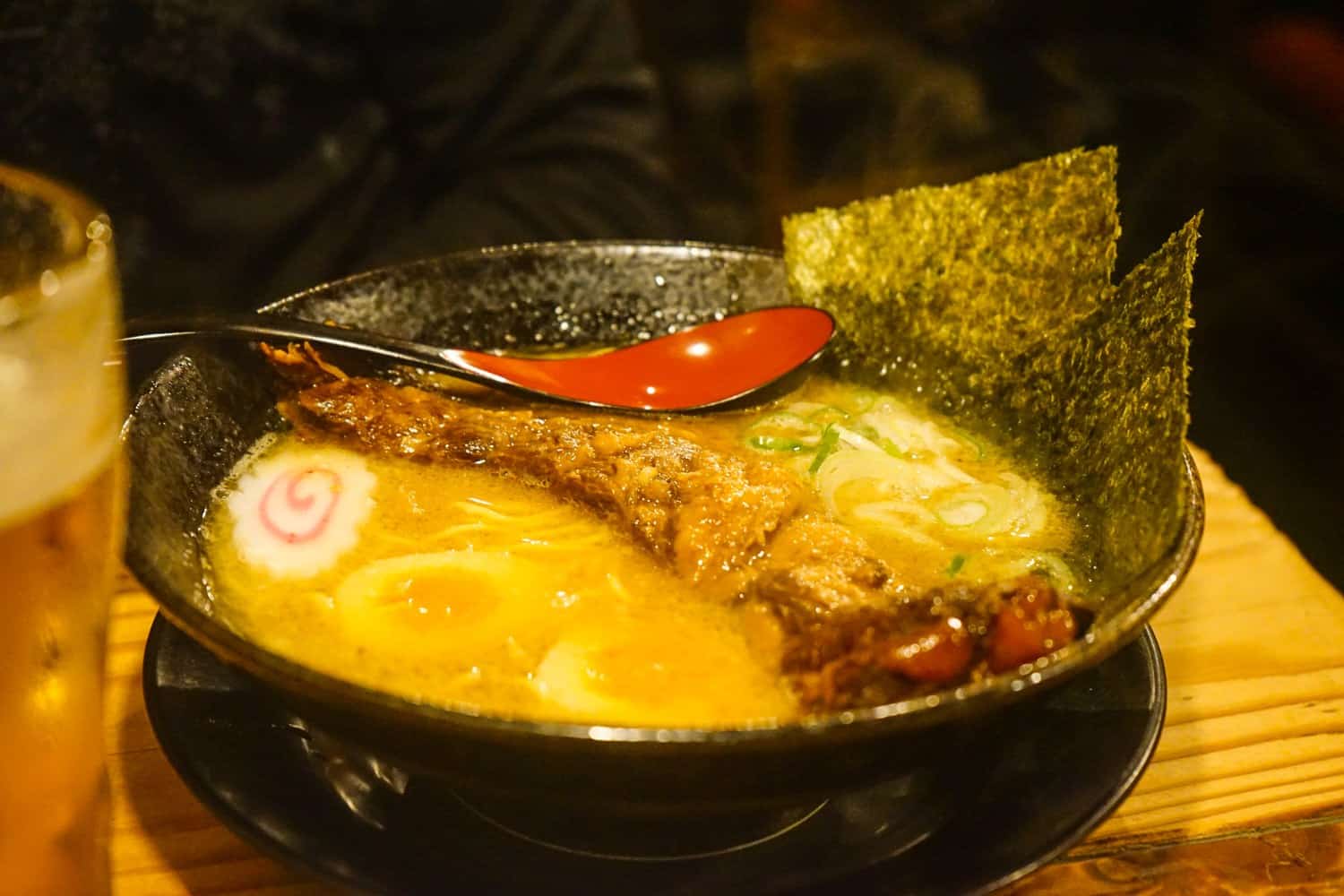 Pork rib ramen from Hanamaruken Namba Houzenji in Osaka
This is hands down the best meal I have ever had.
In my life.
I'm not sure I'll ever be able to top this bowl of pork rib ramen. It's best thing I've ever eaten. I still talk about it on a near-weekly basis.
If you go to Osaka, you must, must, must eat at Hanamaruken Namba Houzenji and go for a bowl of pork rib ramen. It's out-of-this-world delicious!
The pork rib was enormous, tender, falling apart, and with the perfect amount of fat. This was one of only a handful of times where I've experienced meat melting in my mouth. The broth was rich as hell and the noodles were just the right amount of chewy. I'm salivating as I type this out.
I'm still dreaming about this bowl, five months later.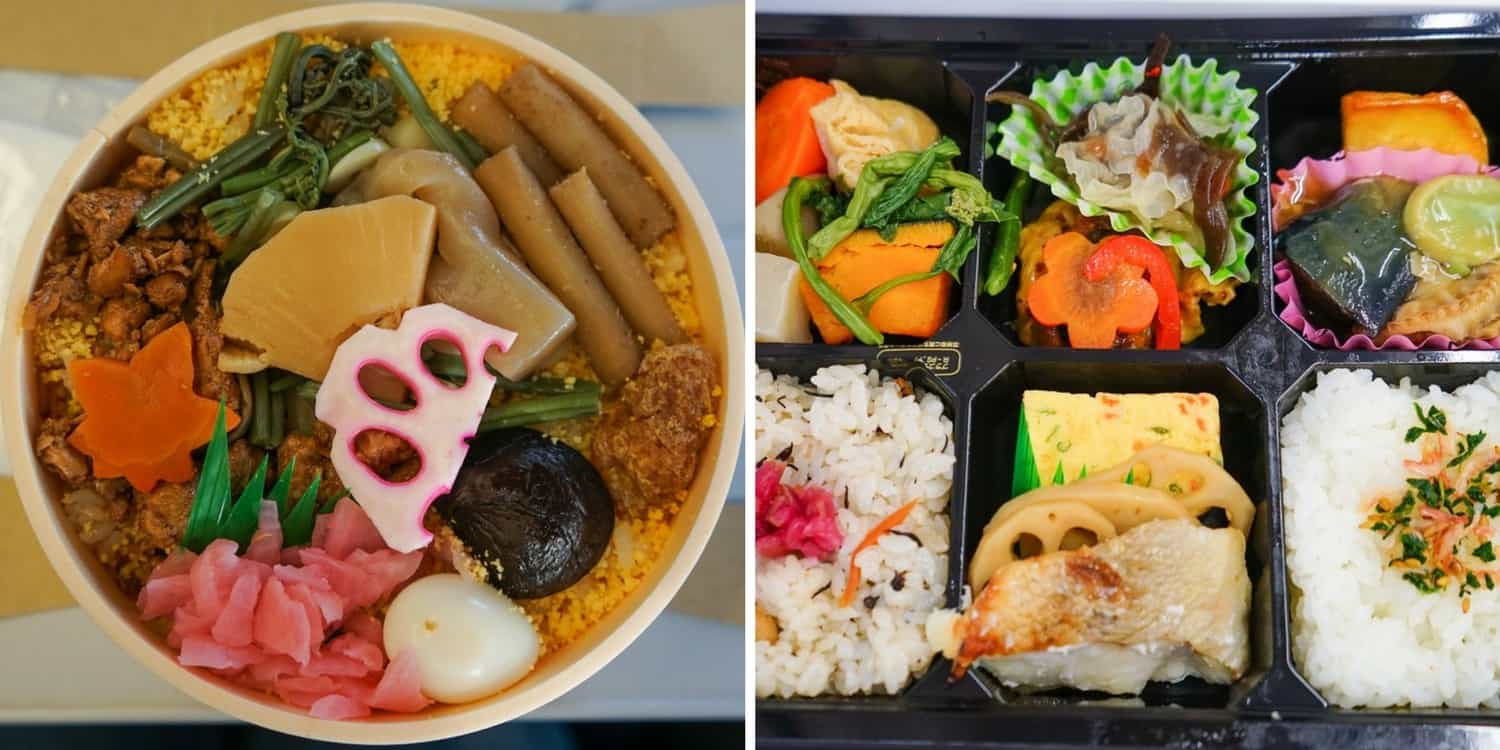 All the bento boxes
One of my greatest food joys (aside from all the ramen) in Japan was picking out a weird and wonderful bento box for every train journey I took.
Known as ekiben (eki meaning station, and ben being an abbreviation of bento: a Japanese lunch box), these boxes can be found in practically every train station around the country, and choosing one from a wide array of options was always a fun cultural experience. Most of the time, I had no idea what was in any of them, even though the contents were clearly on display. Check out the top-right section of the bento box above: What even is all that stuff?! Whatever it was, I loved it.
I want to tell you what my favourite bento boxes contained, but I honestly had no idea most of the time. But I can share that they were nearly always delicious, full of unusual flavours and textures, and one of the highlights of every one of my train rides.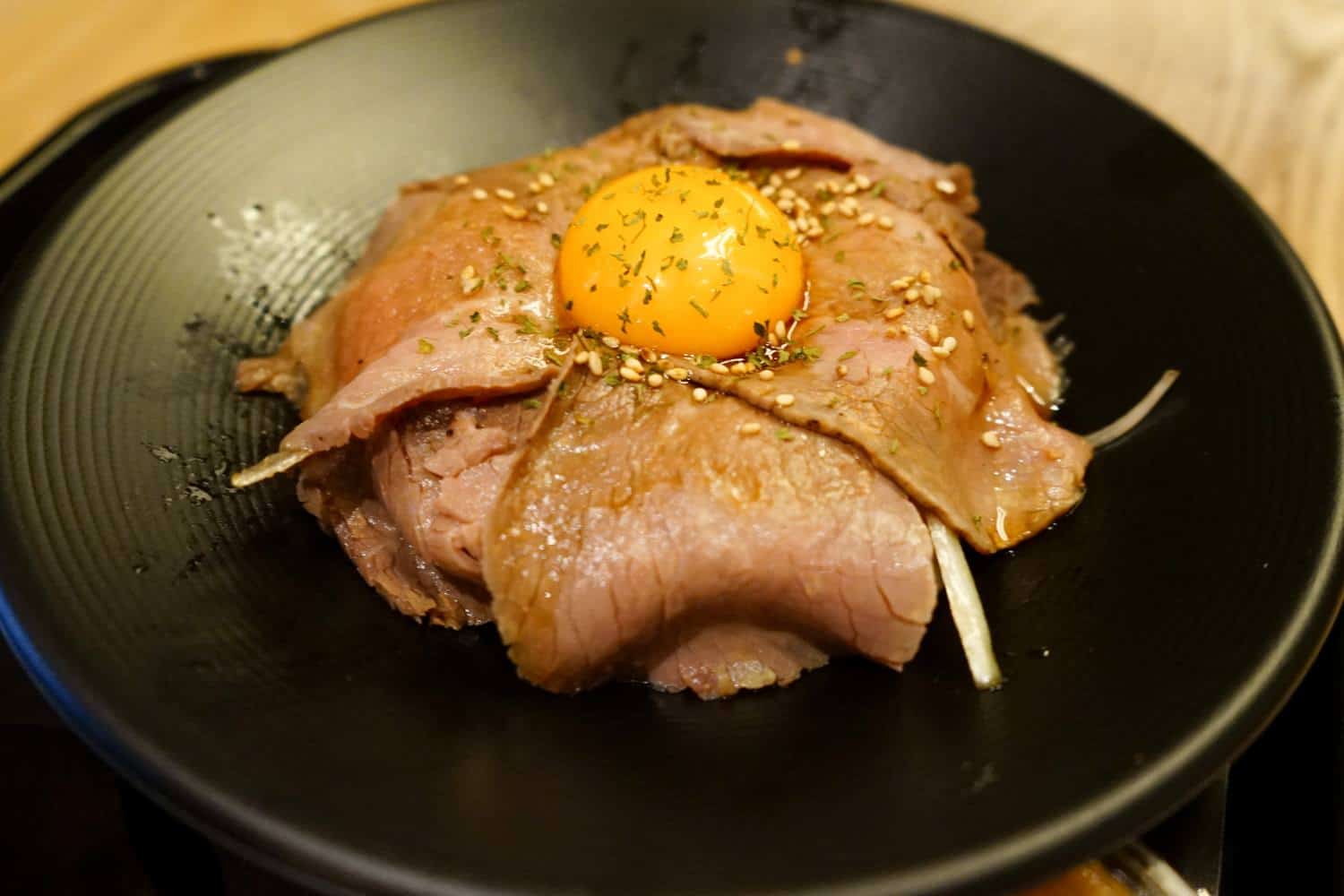 I Want to Eat in Japan Forever
Hopefully you can tell from this post that I was utterly obsessed with the food in Japan. It now joins the ranks of Mexico, Vietnam, Greece, and Portugal as one of my top five countries in the world in which to eat.
Go to Japan, eat everything, and it'll be impossible to have a bad trip.
Have you been to Japan before?
Related Articles on Japan

🇯🇵 What's it Like to Travel in Japan?
🏯 How to Spend Two Weeks in Japan: An Itinerary for First-Time Visitors
💴 The Cost of Travel in Japan: A 2023 Budget Breakdown
🎌 23 Incredible Things to Do in Osaka, Japan
😎 Hipster Harajuku: The Coolest Neighbourhood in Tokyo
🦔 Should You Go to a Hedgehog Cafe? My Experience in Japan
🐒 Why Seeing the Snow Monkeys in Japan Sucked