My road trip around Namibia is the best travel experience I've ever had.
Hands down.
I can't even find the words to describe how fantastic my time in the country was. Namibia has everything. It's easy to explore independently, it's safe, it's beautiful, the locals are lovely, the landscapes are diverse, the wildlife is exciting, and there are so. few. tourists.
I've got a dozen posts planned about my time in this amazing country, so brace yourself for an onslaught of information! By the end of the month, you'll have everything you need to book a trip to this kickass country. And hopefully you'll decide to do exactly that.
This is what it's like to travel in Namibia.

Namibia Travel Guide
Where is Namibia?
Let's start off with a little bit of context. Where even is Namibia?
Namibia is a Southern African country on the west coast of the continent. It's located above South Africa, below Angola, and to the west of Botswana.
Interestingly, Namibia is where you'll find the world's only quadripoint, which is defined as the place where the corners of four different countries meet. Yes, in the far north-eastern reaches of this country, Namibia nestles up against Botswana, Zambia, and Zimbabwe. There are over 150 tripoints in the world, but only one quadripoint, making this a very special place on the planet.
Unfortunately, it's in a part of the country that few tourists choose to visit, at the eastern end of the Caprivi Strip, which is isolated from many of the main tourist activities. Somewhere that's much easier to visit, however, is the Tropic of Capricorn! Most visitors end up driving past the iconic Tropic of Capricorn sign while driving around Namibia, and fortunately, it's marked on Google Maps, so you won't have to worry about missing it.
Namibia is the Perfect Introduction to Africa Travel
If you're dreaming of travelling in Africa but have no idea where to go first, head to Namibia. It's one of the safest and least intimidating countries I've travelled through.
One of my aims with my recent Africa travels has been to prove you can easily travel around much of the continent independently. So many people opt to jump on overland truck tours in this part of the world, but what I've found so far is that it's really not necessary. And in Namibia you definitely don't need to join a tour in order to visit.
With the exception of the bad roads, I found it no more difficult or dangerous to travel in than the U.S., Europe, or Australia. And when you're traveling independently, you're in control of your schedule and where you stay and what you do.
On top of that, the official language of Namibia is English, which makes independent travel even easier. You can ask questions, you can get directions, you don't have to mime all the time… it's all so easy.
Namibia also felt like the safest country in Africa I've been to so far. Outside of Windhoek, you really don't need to worry about much at all. The locals are friendly and welcoming, theft is rare, and your only real concern will be how many flat tyres you'll end up with on the seemingly-endless gravel roads.
Not only is Namibia safe and easy to travel through, but it also has just as much to offer as other countries in Africa. Head to Etosha National Park and you'll get to drive alongside elephants, giraffes, lions, black rhinos, and more. You can hit up the Namibian desert for sand dune climbing at sunrise. There are beaches and coastlines full of shipwrecks to explore. The darkest skies in the world are in Namibia, so the Milky Way is always shining brightly above your head at night. Oh, and there's a ghost town in the middle of the desert. Badass.
In other words: Namibia is the best!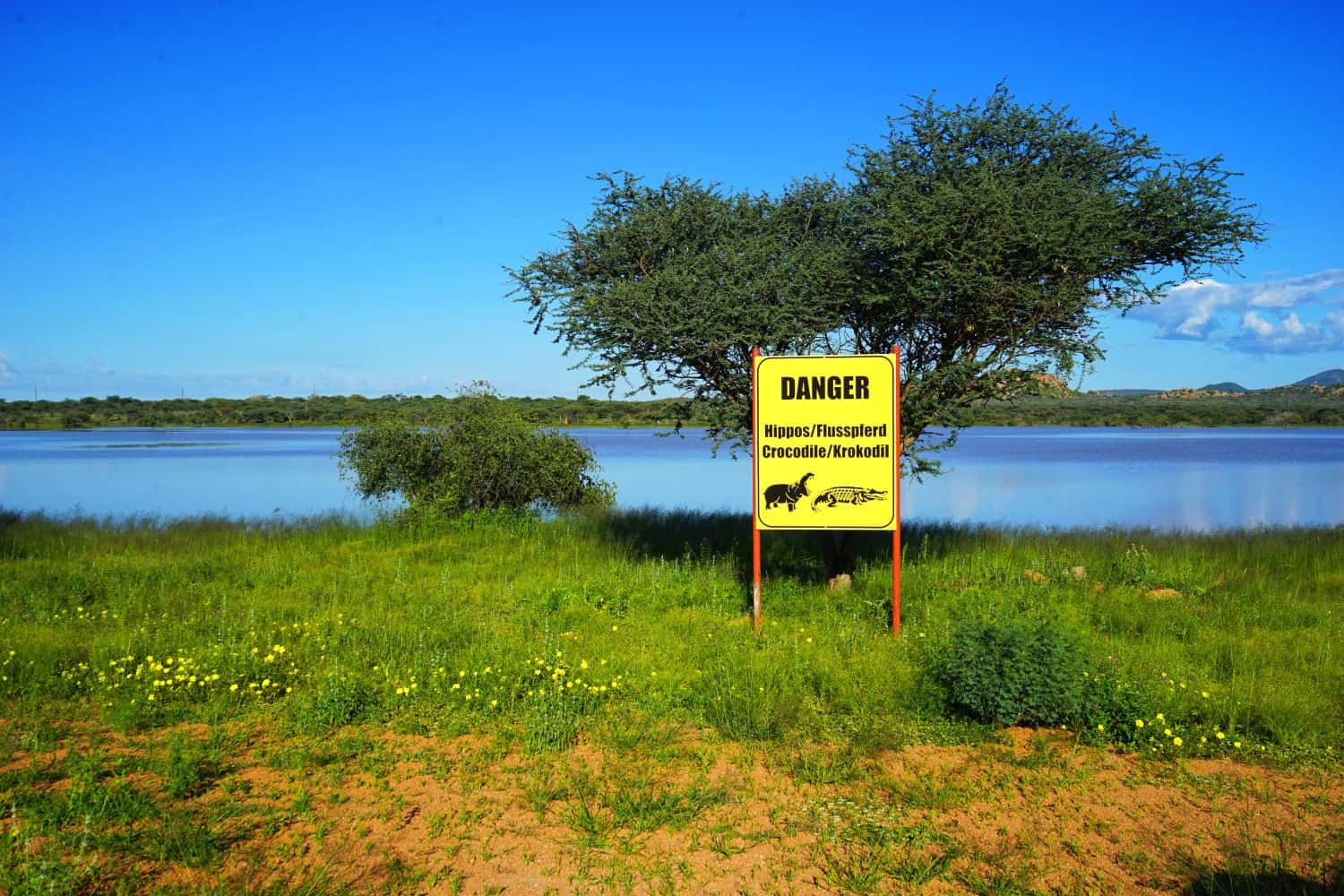 Not Many People Will Know Where You're Going
I couldn't believe it: after six years of travel, Namibia was the first country nobody seemed able to locate on a map. In my digital nomad community here in Portugal — so, y'know, people who have travelled full-time for many years — a surprisingly number of people had never even heard of Namibia.
I get it: it's a country that isn't often spoken about outside of travel blogging circles, but it was still surprising to be met with blank faces when I spoke about where I was visiting next.
The bonus of this? Hardly anybody decides to visit the country, so there are hardly any tourists around!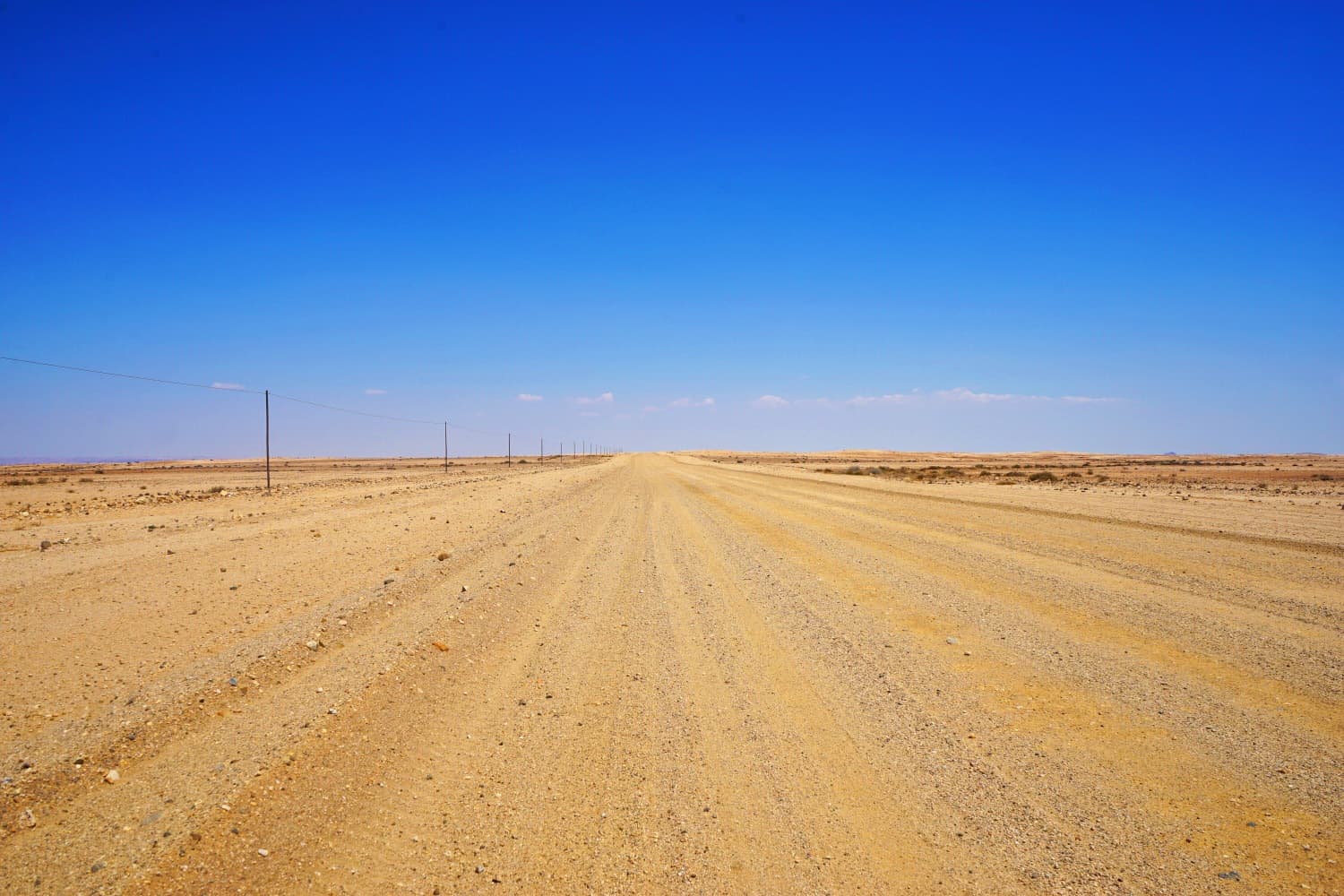 It's Ridiculously Sparsely Populated
Namibia is the second-least-densely populated country in the world, with an average of just five people for every square mile. And it's easy to see why: desert takes up the bulk of the country and so outside of its short rainy season, it's a very arid place.
This was one of my favourite aspects of travelling around Namibia, though: you could drive for four hours straight and not see a single human, car, or building over that time. As an introvert with a love of wide, open spaces, I couldn't get enough of the isolation.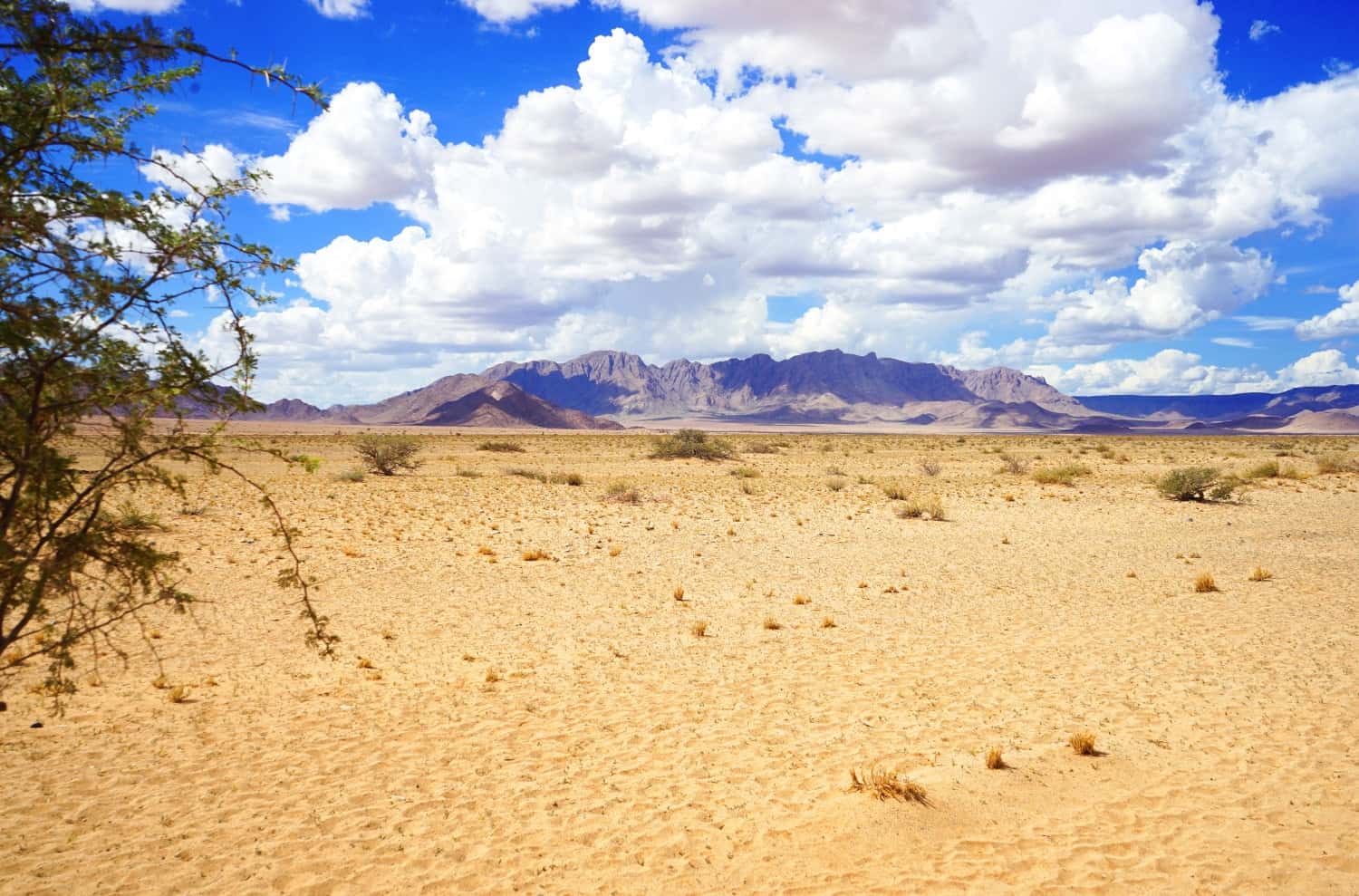 Planning Where to Stay Is… Interesting
Because the country is so sparsely populated, the majority of places you'll stay at will be lodges that feel as though they're in the middle of nowhere. Because they kind of are.
There aren't many major towns and cities in the country — and honestly, the best parts of Namibia are outside of them — so that makes finding accommodation tricky. The best places to stay at are often hours from the nearest signs of civilisation and miles down a tiny gravel path.
I found booking.com best for finding places to stay. First, decide on which major destinations you want to hit in Namibia. For us, this was: Windhoek – Etosha National Park – Swakopmund – Sesriem – Luderitz – Windhoek. Most of these destinations are so far from each other that you'll have to break up the drive into two days.
Next, on Booking, search for all hotels in Namibia, and once you're on the search page, click on view on map. Once you've got a map view of every hotel listing in Namibia, zoom in on the route you're planning to take and see which lodges pop up close to the midpoint between two distances. We did this for almost everywhere we stayed in Namibia and found some incredible lodges as a result. In fact, some of the highlights from my time in the country were getting to stay outside of the main tourist trail.
And if you can't find anything suitable or affordable on the drive, just googling "where to stay between Swakopmund and Sesriem", for example, will bring up a ton of forum threads with recommendations from other people. Not everywhere is listed online, so there were a few places we had to book through email.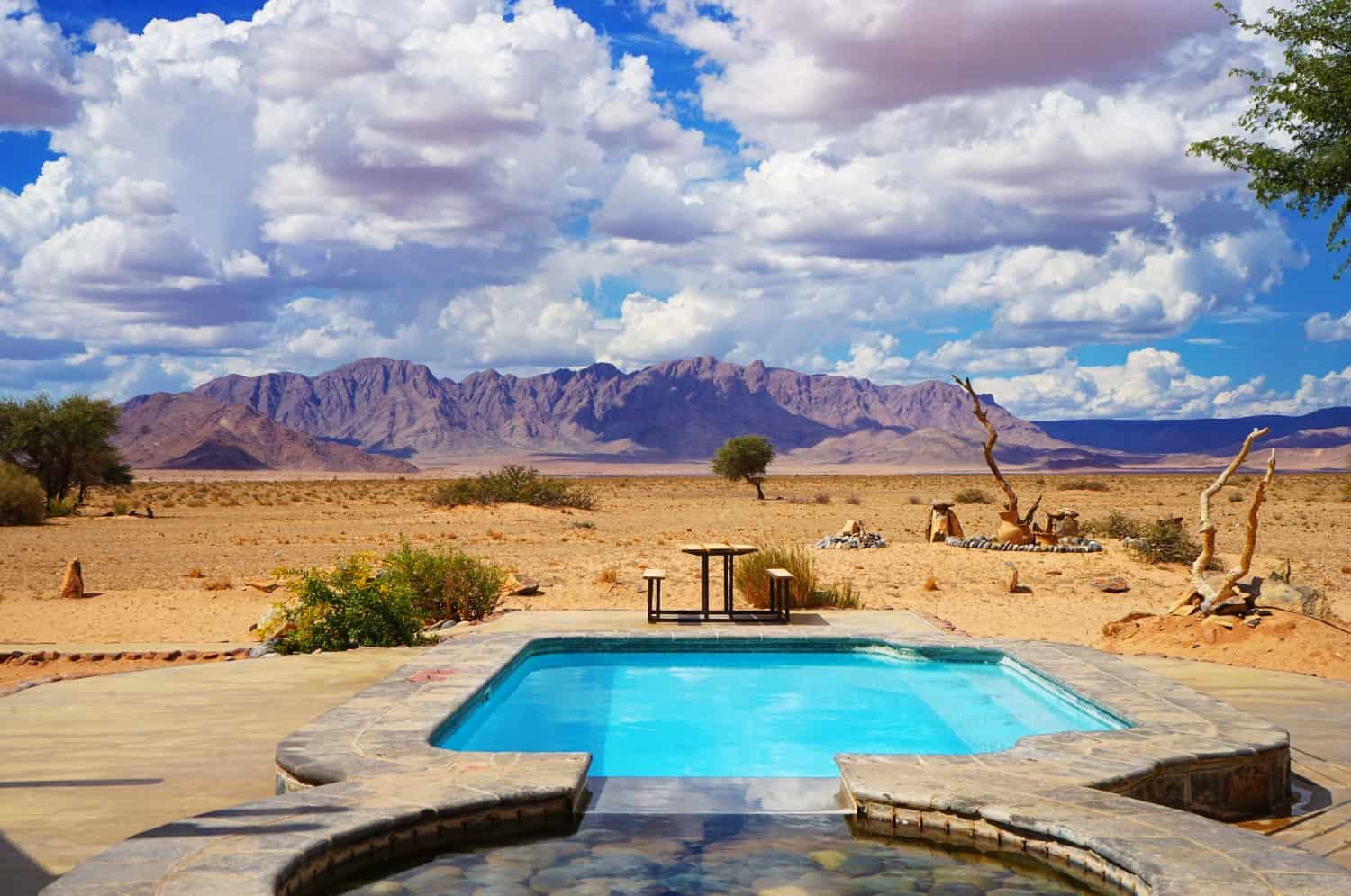 Frustratingly, It's Tough to Visit on a Budget
In Namibia you have two options: expensive or camping.
I'm all about that budget travel life, but in Namibia I had to give up my aim of spending $50 a night on accommodation and quadruple it for much of our trip. Yep, almost every lodge we stayed at in Namibia was well over $100 a night, and we were nearly always booking the cheapest option we could find. And we were visiting in low season, where accommodation prices are around half what they'd be in high season!
Unfortunately, if you want to save as much money as possible on your trip, your only real option in Namibia is to camp. Most lodges will offer a camping option for around $30 a night, so if you've got your own gear, this is an easy way to save money on accommodation.
The only exceptions to the crazy prices are the cities: Windhoek has cheaper options ($50 a night), and so did Swakopmund ($40 a night) and Luderitz ($50 a night).
Everything else wasn't too bad when it came to price. Our rental car — a Toyota Corolla — had us up for $30-a-day, which is pretty standard for most countries around the world. Activities and entrance fees (around $6) were also affordable. Food could get a little pricey at the camps and lodges, which made sense because they were so isolated, but nothing was over-the-top extreme. We'd usually pay around $10-15 for dinner each night.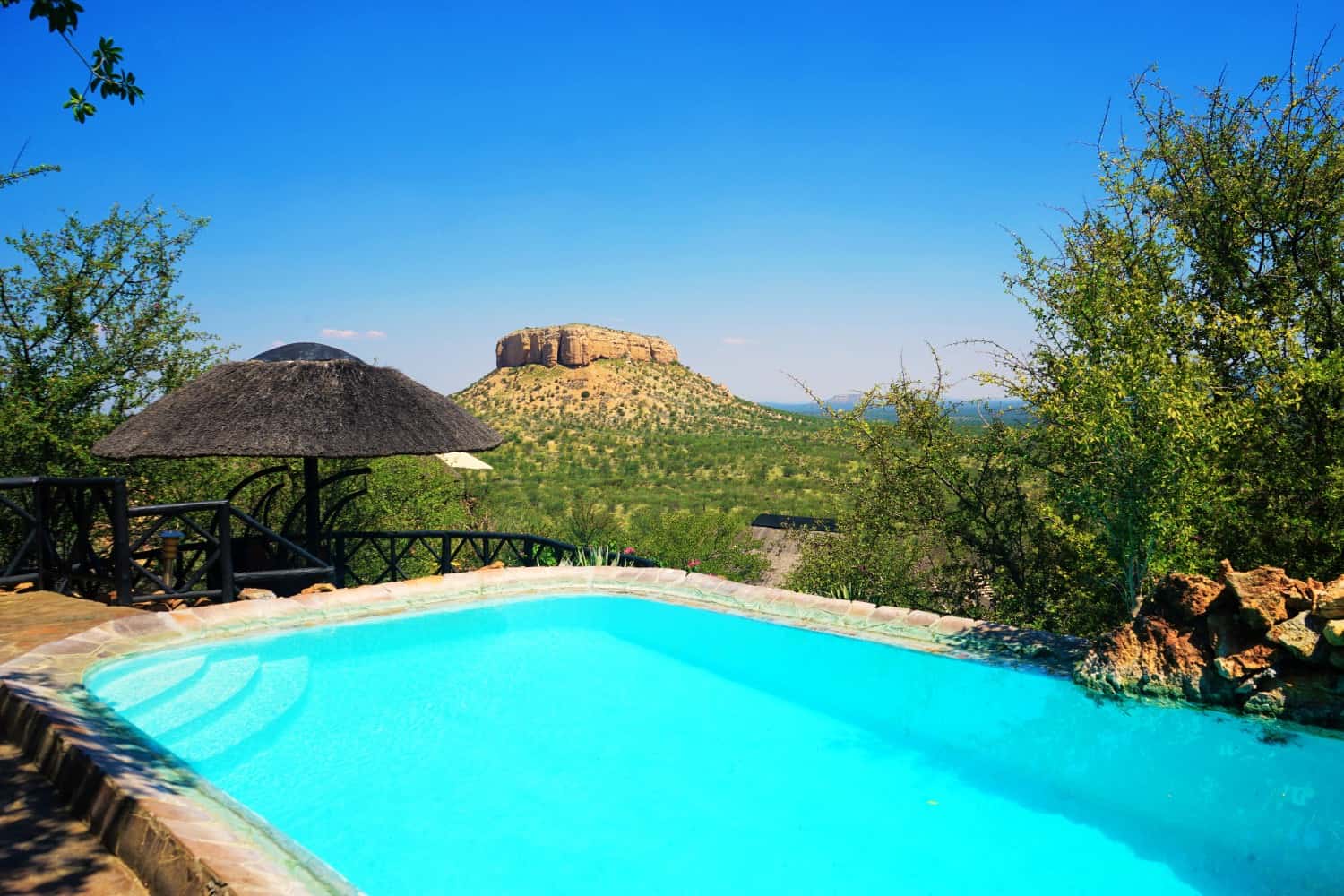 But the Lodges are Amazing
Some of the best hotels I've ever stayed in are in Namibia. And while you'll pay a lot for them, they're worth every penny.
At Ovita Wildlife Restcamp, we fell asleep listening to hippos in the lake outside our room. At Vingerklip Lodge (pictured above), we ate dinner on a towering cliff top, looking over Namibia's version of Monument Valley. At Sesriem Desert Camp (pictured above Vingerklip Lodge), we slept in luxury tents in the desert with wild oryx roaming outside.
I loved every single place we stayed in in Namibia, and even though they were ridiculously expensive, it felt as though we were still receiving fantastic value for money.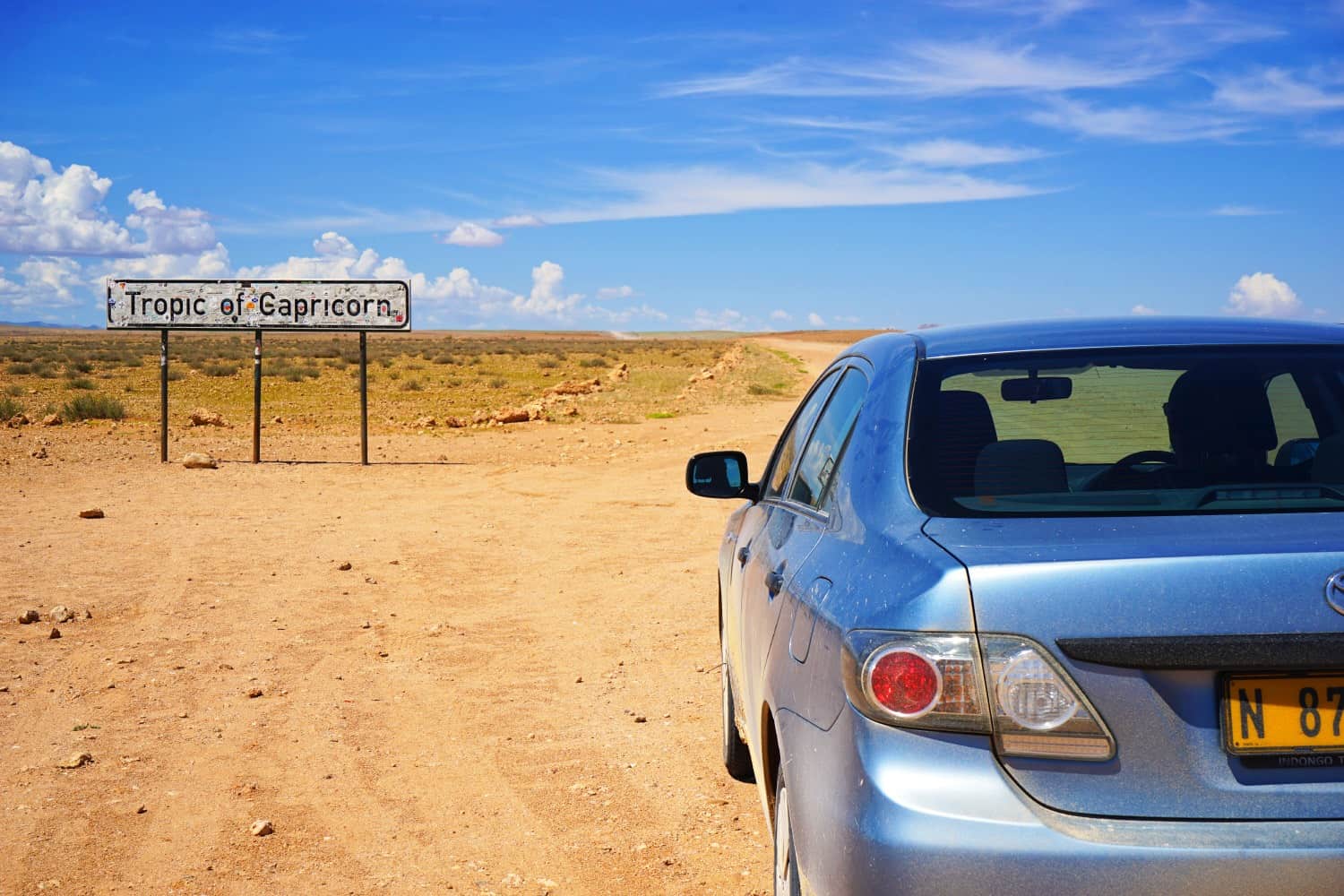 You Will Need Your Own Transport
Public transport doesn't really exist in Namibia, so if you're not going to take a tour, you'll most likely need to hire a car. As for what type of car, it depends a lot on the time of year you'll be visiting and how confident you are on gravel roads.
My Kiwi boyfriend grew up racing falling-apart cars on gravel roads in New Zealand, so he had the driving skills of a Namibian and we were happy opting for a tiny Toyota Corolla to make the trip for us. Guesthouse owners were always shocked to see us rocking up in it, but honestly, we had next to no problems with it. If you've got the cash, opting for a two wheel drive with higher ground clearance would be a smart idea, as part of the bottom of our car fell off on our second day of driving, thanks to all the rocks that had been flicked up into the undercarriage.
People advise to go with a 4×4, and especially if you'll be visiting in the rainy season, but we decided against it for several reasons. First, it's over double the price for a 4×4 (around $100 a day), second, being so high up makes the car easier to roll, and third, um, did I mention it's expensive?
If you can't drive? You won't be able to visit Namibia without taking a tour or hiring a driver. You could take a bus between major destinations, but I believe you'd miss out on a lot of the wonderful lodges that make travelling in Namibia so wonderful. There are also reports of travellers rocking up in a hostel, getting together with a group of travellers, and car-sharing their way around the country, so this could be an option if you're willing to take the risk of potentially finding nobody to travel with.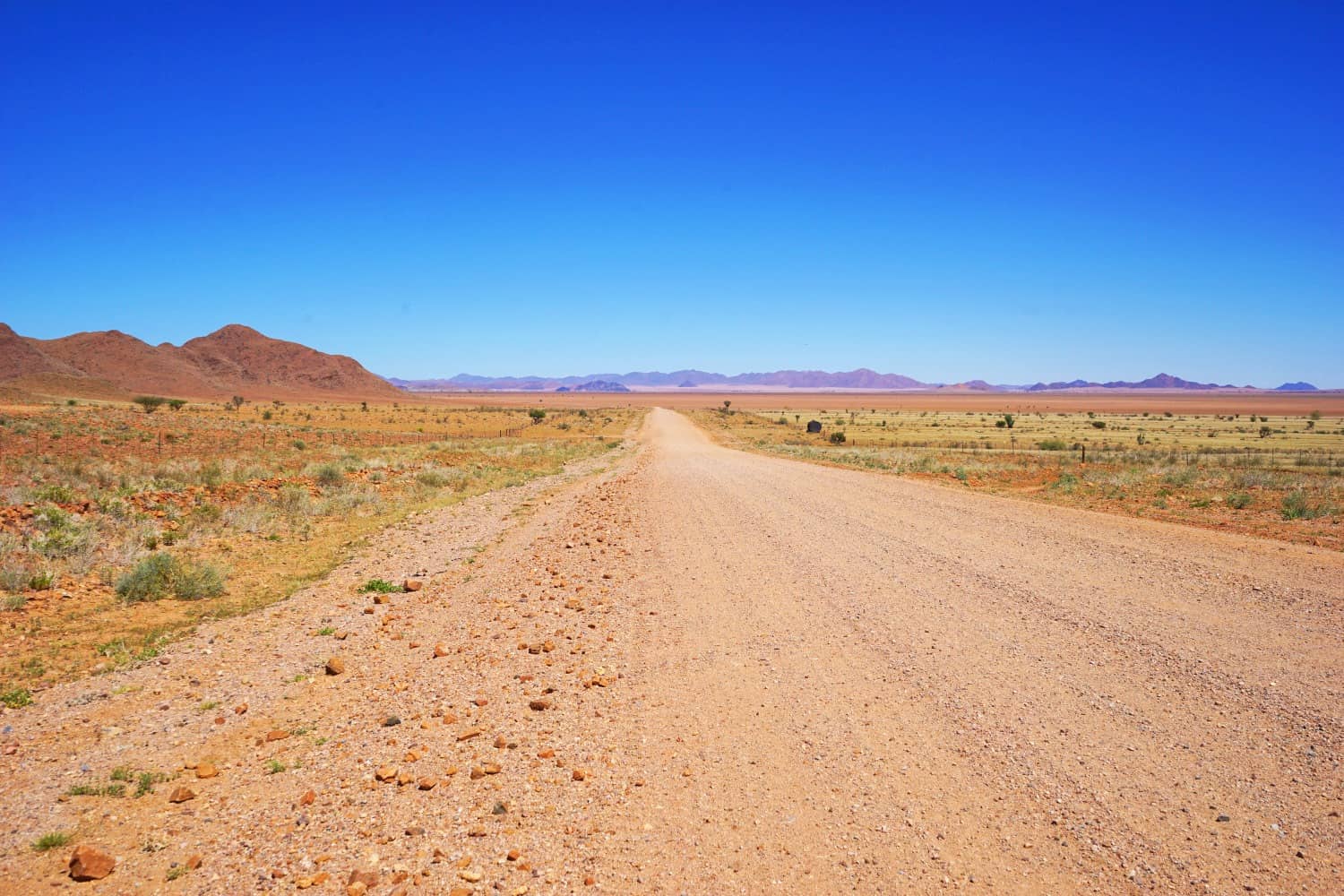 The Roads are So Bad
We drove 4000 kilometers in Namibia and probably only several hundred of them were sealed.
Yes, in Namibia, get used to urging your car over gravel, sand, rocks, and more. Because of this, travel days are long and bumpy — we rarely drove for less than six hours each day, and even listening to podcasts was a struggle over the crunching noises of driving over gravel while rocks pinged into our car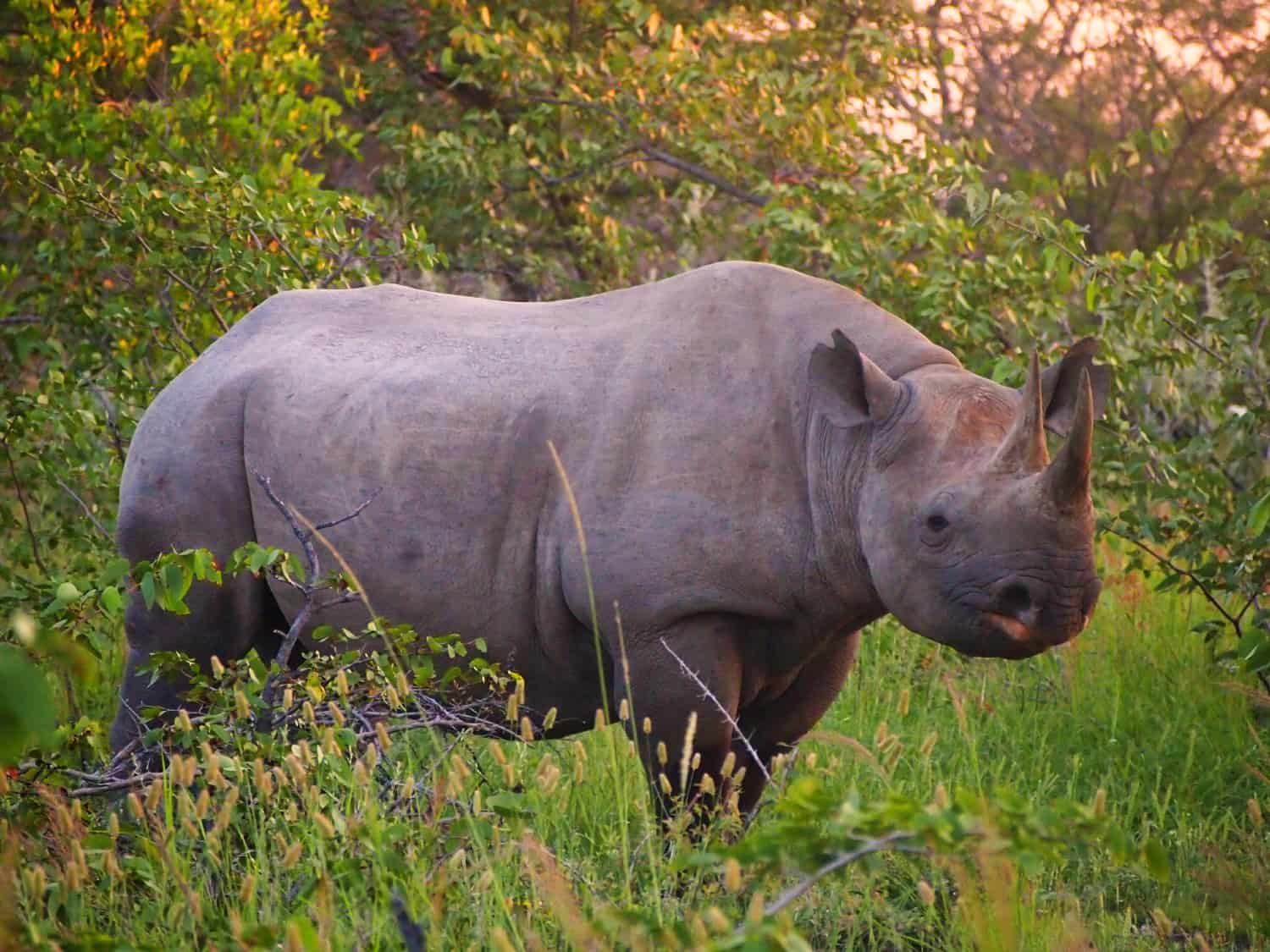 Get Yourself a SIM Card, But Expect to Rarely Use It
Getting connected is tough in Namibia, so if you work online like I do, resolve to spend most of your time on vacation.
Wi-Fi was sometimes around, was always slow, and often expensive. It's worth getting a SIM card, though, as although we rarely got more than an EDGE signal, leaving our phones on while we were driving around usually meant we'd pick up a signal here and there to download emails.
We picked up a SIM card at Windhoek Airport upon arrival and it was super simple to do. The SIM card costs 50 US cents and 1 GB of data is a whopping $2.50. Too Many Adapters has a comprehensive guide for buying a SIM card in Namibia if you need any extra information. When it's that cheap, there's no reason not to get one.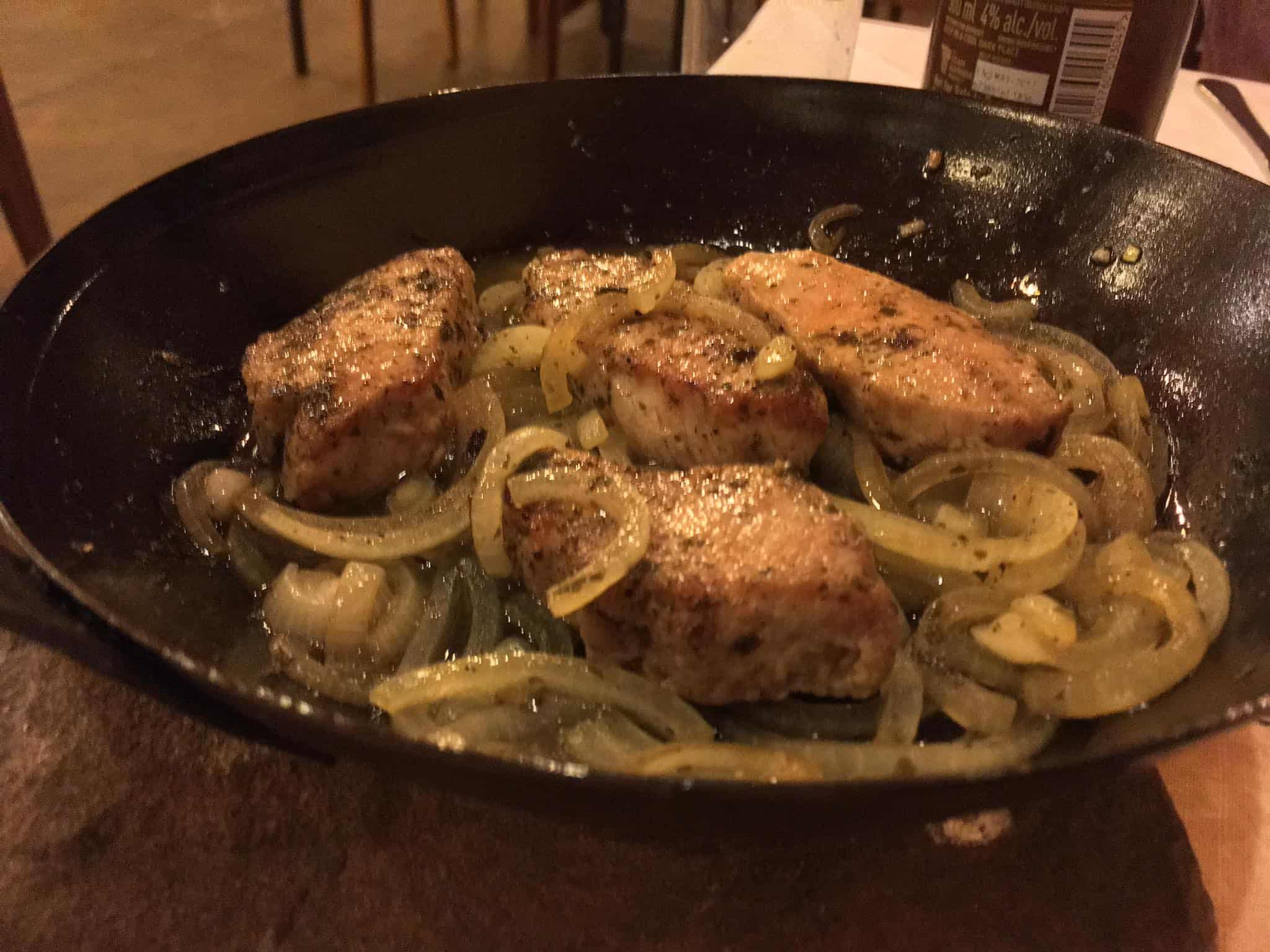 You'll Get to Try Some Interesting Game Meat
One of my favourite aspects of eating in Namibia was getting to try so many of the delicious game meats on offer. The biggest surprise was warthog, which was delicious, but I also loved kudu, impala, oryx, zebra, and more. Most of the lodges will have some kind of unusual game meat on offer each evening, so it'll be easy to access and you'll soon grow used to it.
If you're vegetarian, you'll most likely struggle to eat super well in Namibia. Everything was very meat based at the lodges although bizarrely, Greek salads were available in basically every single restaurant, so you won't have to go hungry. Just prepare yourself for a hell of a lot of feta cheese!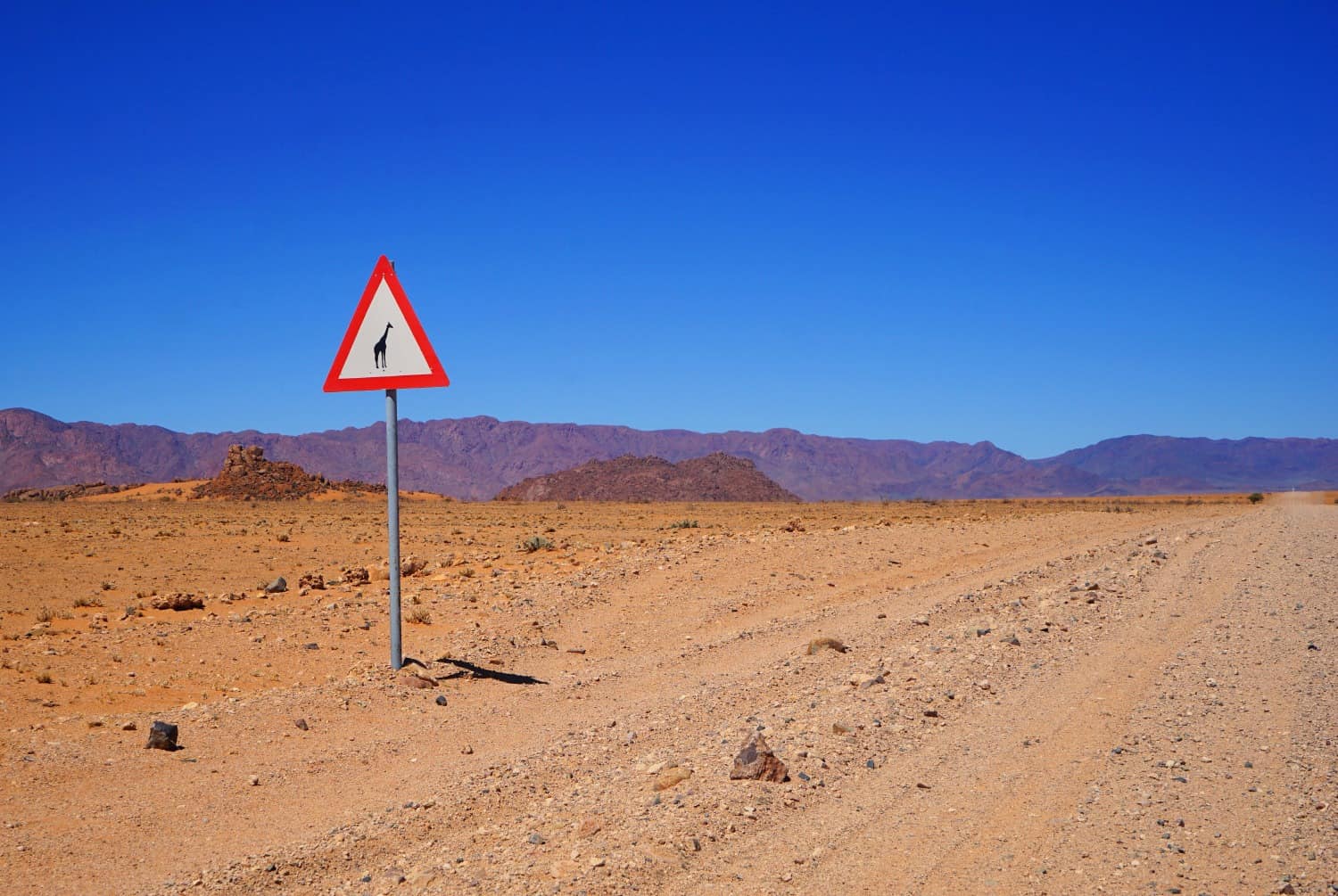 Namibia Has the Best Road Signs Ever
One of the highlights from our time in Namibia was the kickass road signs we came across while driving. The giraffe one above was one of my favourites. In addition to that, we saw signs for zebras, elephants, warthogs, and more. And even better: we actually saw some of those animals wandering around in the wild! There's nothing quite like seeing a desert-adapted giraffe wandering through the sand.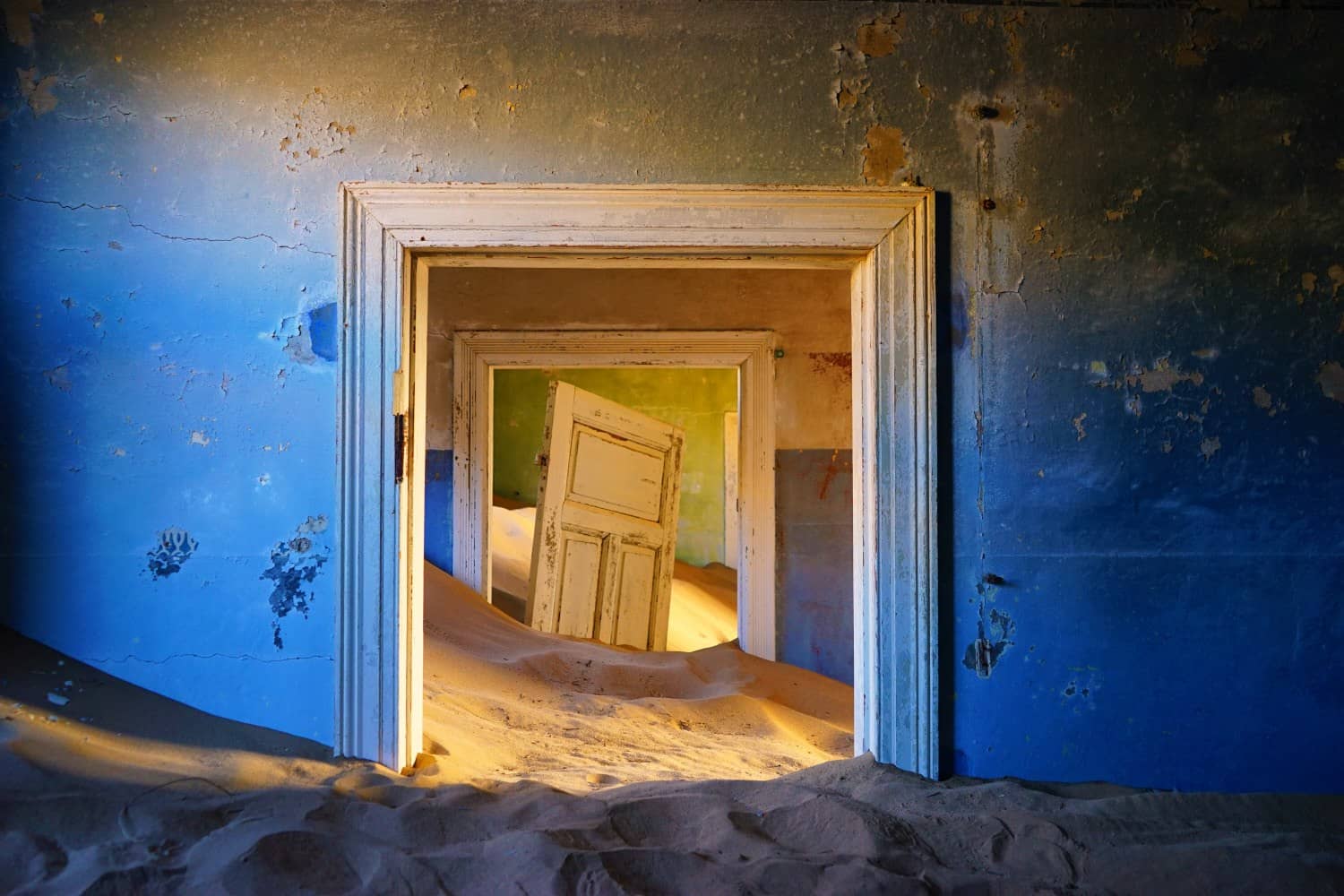 The Bradt Namibia Guide is Invaluable
If you're planning a trip to Namibia, you need this guidebook.
Not only was it essential for planning our trip, but we used it on an hourly basis while we were in country. When it comes to Africa, Bradt guidebooks are king, so don't even consider picking up a Lonely Planet for this part of the world; almost all of them have terrible reviews as well as outdated and too-condensed information.
Because you'll be unlikely to have data coverage while you're driving, and sometime even in lodges, the guidebook made our trip so much less stressful. When we wanted to figure out which animal we'd just spotted by the side of the road, the wildlife section had a photo to help us out; when we decided to stop for a lunch break in a tiny village, we could look up if there was anywhere to eat, and if so, which place was best; when we were planning our driving for the day, we could look up route recommendations and find out which attractions we might want to stop at along the way.
I don't often recommend using guidebooks (I think I've only done it twice before!) because I believe you can get a lot of the information online for free, but in Namibia, this guidebook definitely helps. We struggled to find detailed information about the country both before we arrived and while we were there, so our Bradt book was 100% invaluable.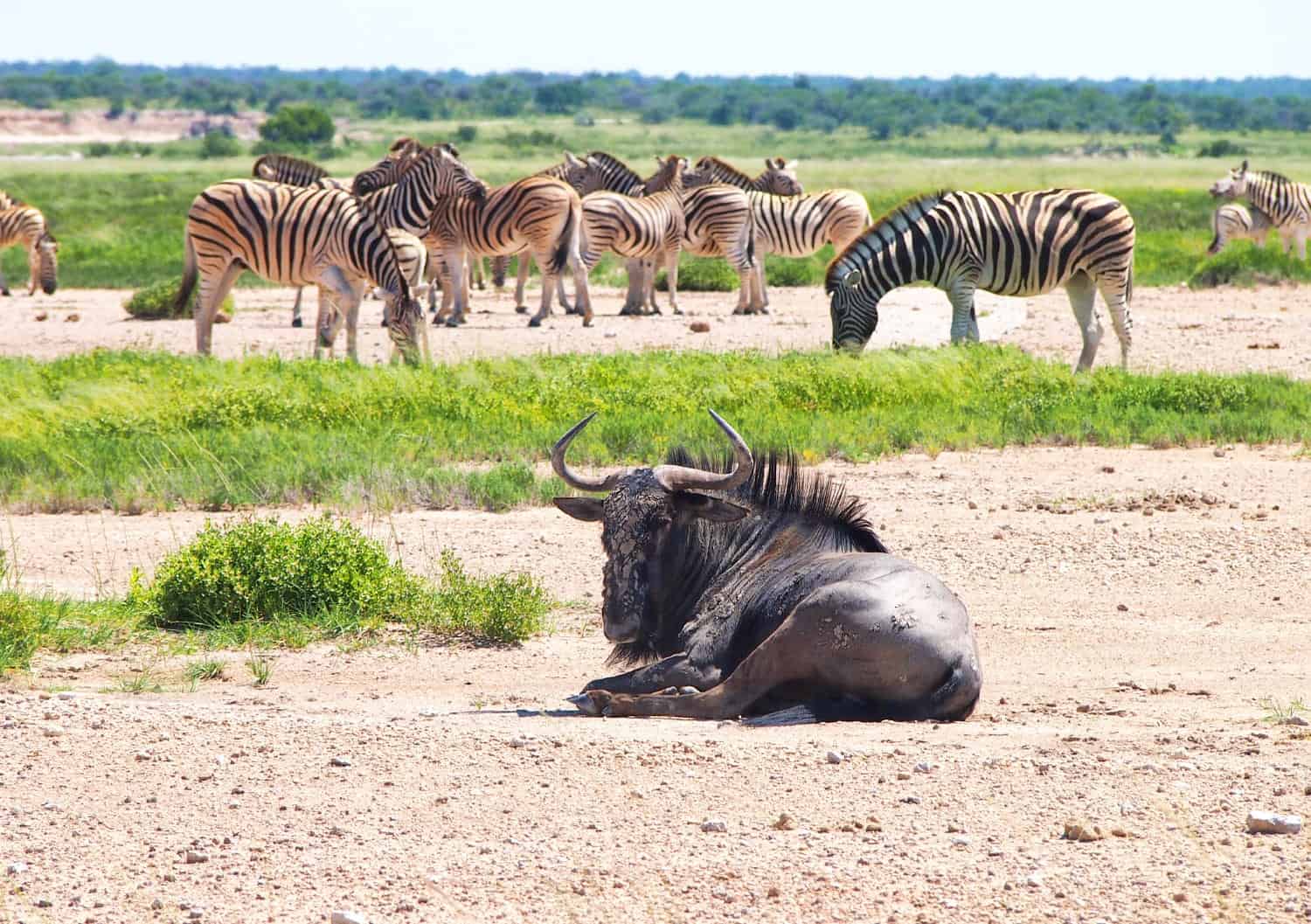 Two Weeks is the Perfect Amount of Time to Spend in the Country
I spent just under two weeks in Namibia, and feel as though I saw almost all of the highlights. If I'd had three weeks, I would have spent time at Fish River Canyon in the south, a few extra days in Damaraland, and some time exploring the Caprivi Strip in the northeast. Still, I feel as though two weeks is a good amount of time to dedicate to the country, which is refreshing as most places I visit have me feeling as though I need to explore for a minimum of three months just to start scratching at the surface.
I wanted to share my two-week itinerary here, because I feel as though I got it pretty close to perfect.
Day 1: Landed in Windhoek, picked up our rental car, and drove straight to peaceful Ovita Wildlife Restcamp. You can read about my first day in Namibia in my article, The Perfect First Day in Namibia.
Day 2: Time for wildlife! We drove north to Etosha National Park and stayed within the park at Halali. We spent the afternoon sitting at the camp's waterhole to see if any animals emerged. You can read about my experience in Etosha National Park in the dry season: Desperately Seeking Elephants at Etosha National Park.
Day 3: For our first full day at Etosha, we drove around the eastern region of the park for almost 12 hours. We saw dozens of giraffes, zebras, and a rare black rhino, then spent the night back at Halali. It was magical.
Day 4: On day four, we opted to drive around the central parts of Etosha for the entirety of daylight hours, then switched up our accommodation to spend the night at Okaukuejo.
Day 5: For our final morning in Etosha, we decided to explore the western region of the park, then at lunchtime, drove to beautiful Vingerklip Lodge to spend the night. You can read about how incredible Vingerklip was in my article, Finding Paradise in Vingerklip: Africa's Monument Valley.
Day 6: Day 6 brought a long drive to Swakopmund, where we spent much of the day on terrible roads. Still, getting to drive part of the Skeleton Coast was amazing, and we even got to see a shipwreck stranded off the coast. We spent the night in an Airbnb apartment.
Day 7: For day 7, we took a day trip out to nearby to Walvis Bay to see its seal colony, which is one of the largest in the world. You can read about this wonderful experience in the article, Seals, Swakopmund, and the Skeleton Coast. Again, we spent the night in our Airbnb apartment.
Day 8: We spent this day relaxing and exploring Swakopmund. You could use this day to get your adventure on if you wanted, as Swakopmund is the adventure capital of the world. You could try your hand at quad biking on the nearby sand dunes, for example. Once more, we spent the night in an Airbnb apartment.
Day 9: The following day, we drove to Sesriem and spent our afternoon climbing Dune 45. I highly recommend doing this, as we practically had the entire park all to ourselves. We slept at Sesriem Desert Camp, which was magnificent.
Day 10: We got up at sunrise to enter the park, climb Big Daddy sand dune, and explore Deadvlei. This day was spectacular and you can read about the experience in the article, Climbing Big Daddy: An African Travel Highlight. That afternoon, we drove south to Betta Camp to spend the night.
Day 11: The following morning, we drove down to Luderitz. We spent the afternoon exploring this adorable town and spotting pelicans as we drove around the areas just outside of Luderitz. It was a fairly relaxed day after all of the movement, and we spent the night at Kairos B&B.
Day 12: We saved the best for last, because for day 12, we drove to Kolmanskop at sunrise and and had the entire place to ourselves. Kolmanskop is an old mining town that has since been abandoned and is now being taken over by the desert. It was incredible and we spent a full three hours taking photos. I wrote about it in-depth in the article, Exploring Kolmanskop: Namibia's Ghost Town in the Desert. In the afternoon, we drove to Maltahohe Hotel to break up the long journey back to Windhoek.
Day 13: Final day! Sad face. We spent this day driving from Maltahohe to Windhoek and left Namibia in awe of how much the country has to offer.
This was one of the best trips of my life and I highly recommend putting together a similar itinerary if you're planning a trip to Namibia.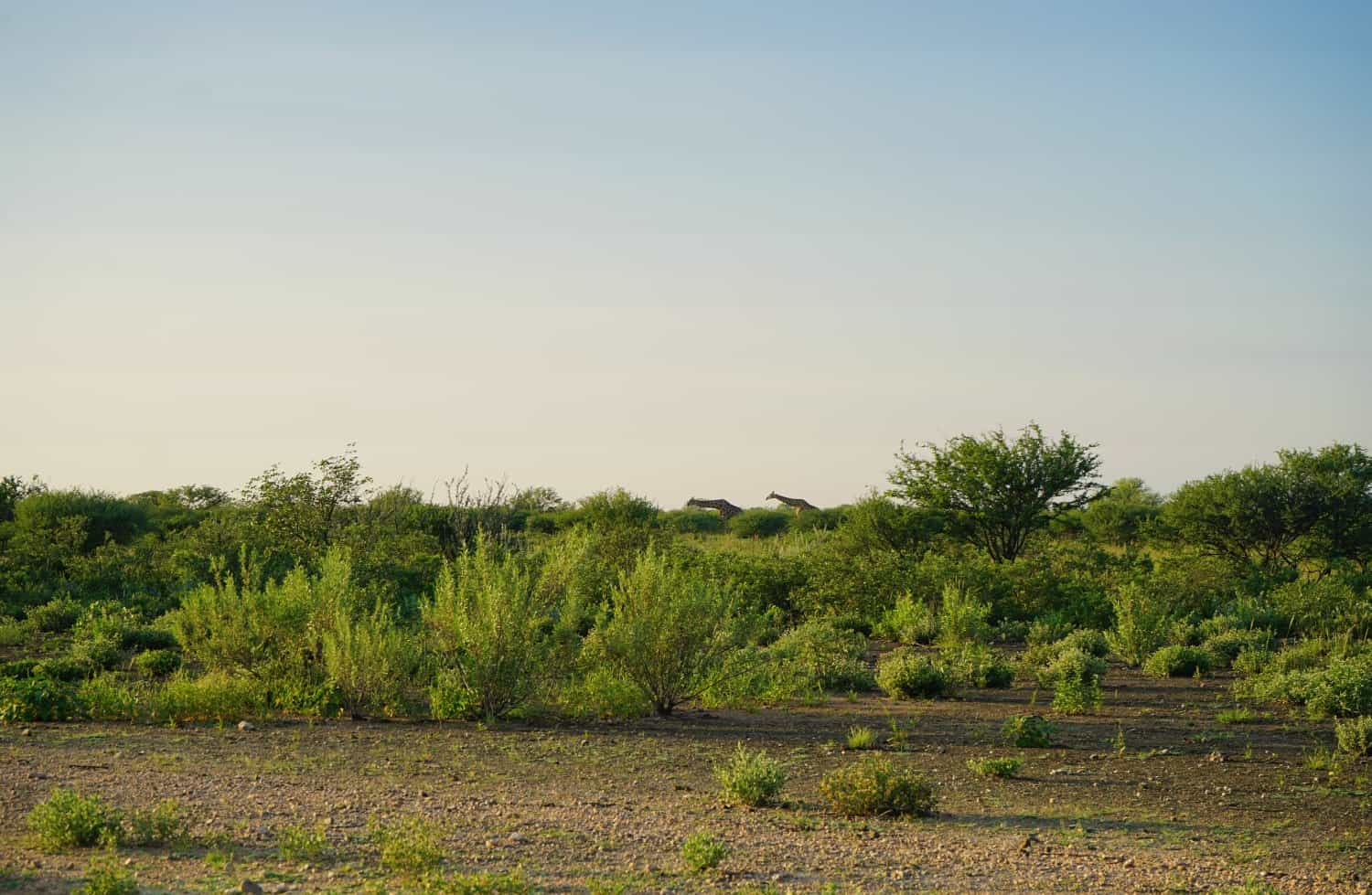 Yeah, You Should Definitely Get a Zoom Lens
The biggest regret of my trip? Not splashing out on a zoom lens for my camera and then getting uniformly awful photos in Etosha.
I ventured into Namibia with my Sony 28-70mm lens and while it was absolutely fantastic for landscape photos, it was nowhere near good enough for the wildlife. Had my boyfriend not packed his 80-300mm lens, I would have had close to zero photos of any animals. Because we were in Namibia in the rainy season (more on that below), the animals at Etosha were hiding in dense grass and hard to spot, so it was rare for us to get up close to them.
If you're going to Namibia and will be hitting up Etosha while you're there, make sure you've got a decent zoom lens for the trip.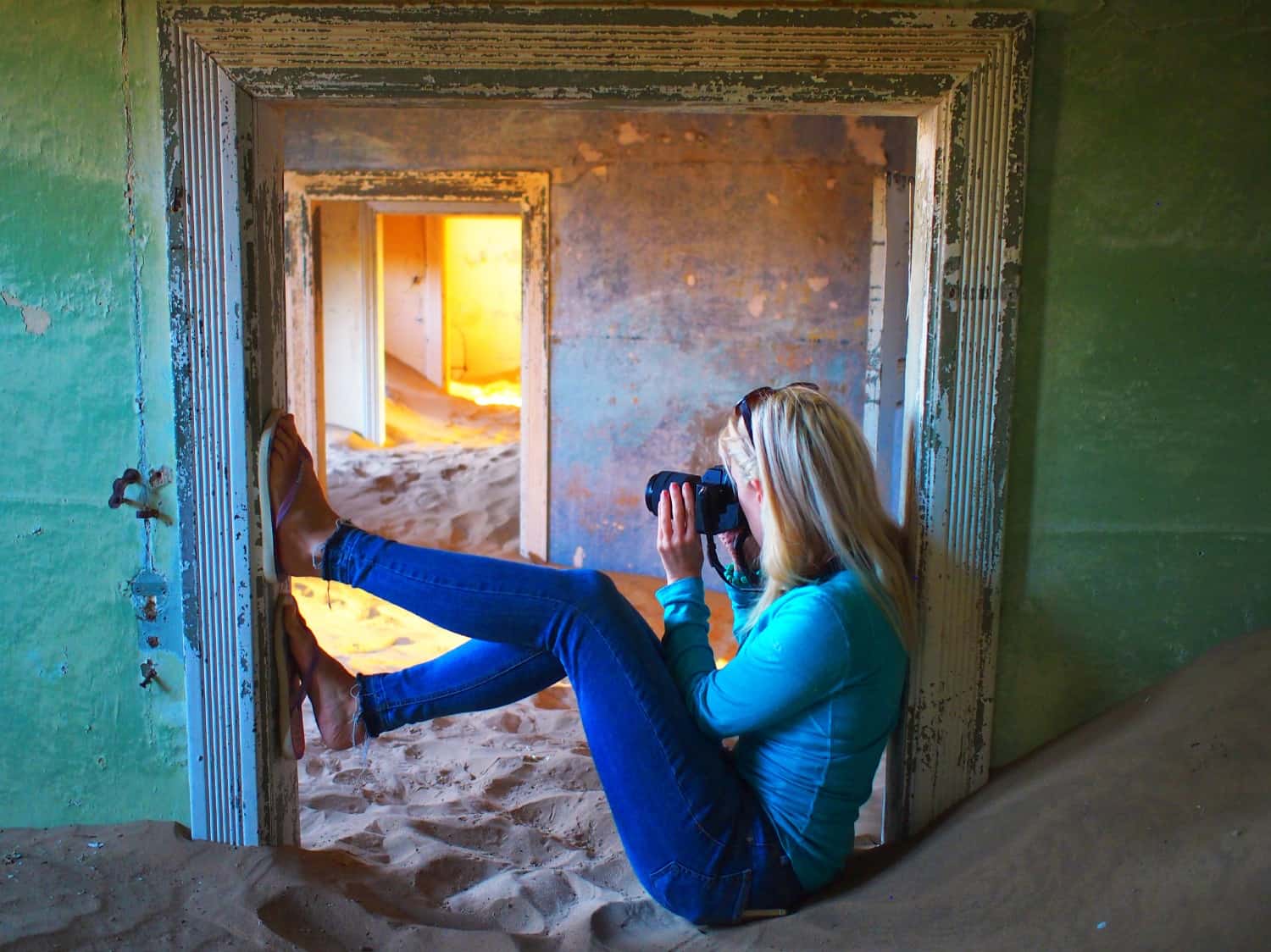 Get Yourself Some Excellent Travel Insurance
You know I'll always yell at you if you're dumb enough to skip out on travel insurance, but in Namibia, it's an essential.
Why? Because Namibia has the highest car-accident death rate in the world, with 45 people killed on the road for every 100,000 citizens. On top of that, malaria hangs out in the northern parts of the country, and there are several other awful-sounding tropical diseases you definitely don't want to contract.
Travel insurance will cover you if your flight is cancelled and you need to book a new one, if your luggage gets lost and you need to replace your belongings, if you suddenly get struck down by appendicitis and have to be hospitalised, or discover a family member has died and you need to get home immediately. If you fall seriously ill, your insurance will cover the costs to fly you home to receive medical treatment.
I use SafetyWing as my travel insurance provider, and recommend them for trips to Namibia. Firstly, they're one of the few companies out there who will actually cover you if you contract COVID-19. On top of that, they provide worldwide coverage, don't require you to have a return ticket, and even allow you to buy coverage after you've left home. If you're on a long-term trip, you can pay monthly instead of up-front, and can cancel at any time. Finally, they're way cheaper than the competition, and have a clear, easy-to-understand pricing structure, which is always appreciated.
With SafetyWing, you'll pay $1.50 a day for travel insurance.
On top of standard travel insurance, you'll also want to make sure you get some of the best car insurance money can buy. Most tourists get a flat tyre in Namibia at some point at a minimum (we got one roughly an hour from the airport on our final day) and replacing them/repairing the rental car can be pricey. We rented our car through rentalcars.com, bought their insurance, and they refunded us for all of our car disaster expenses in Namibia.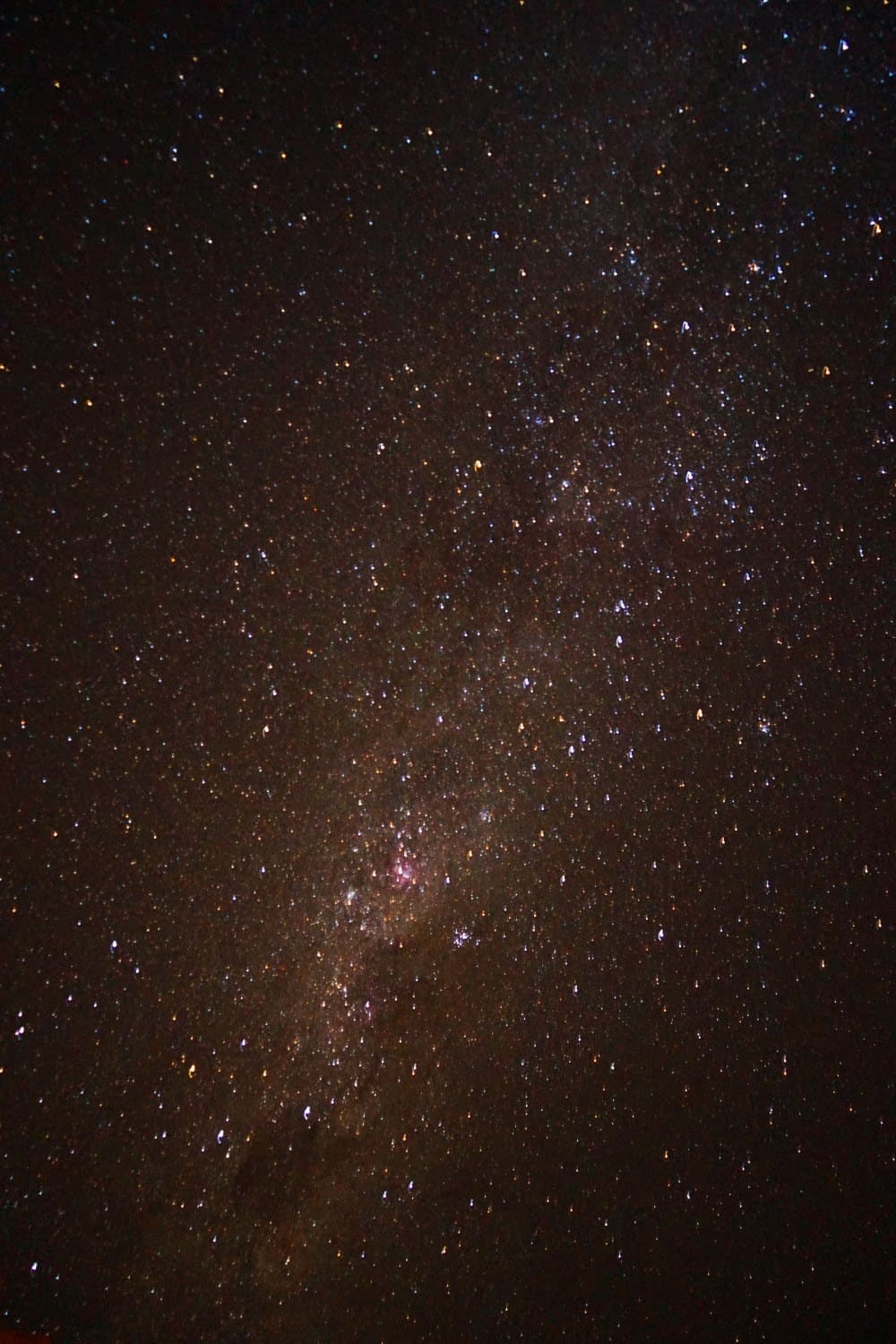 You'll Never Have Seen This Many Stars Before
Namibia is home to some of the darkest skies in the world, and I couldn't believe how magical the night sky was. With the exception of the cities we stayed in, we fell asleep every night with the Milky Way twinkling above our heads. And with the lack of light pollution in the country, you didn't even need to wait for your eyes to adjust.
If you're all about stars, this is one destination not to miss.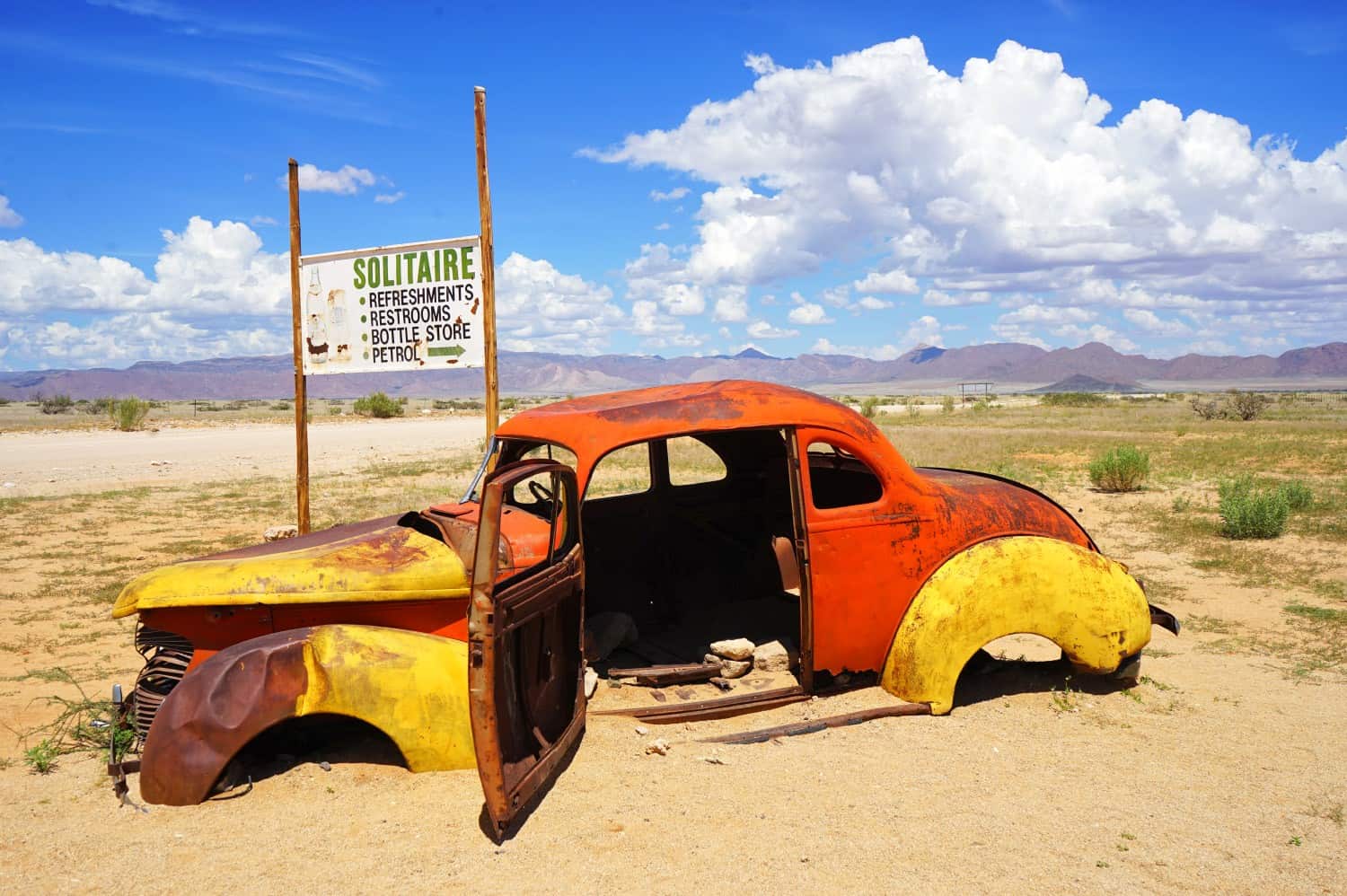 I Loved Visiting During the Low Season
Well, low-ish season. We hit up Namibia in March, which is typically the final month of the rainy season.
We experienced just one hour of rain and the rest of our trip was full of gloriously blue skies. There were fewer tourists, prices for accommodation were almost half what they'd be in high season, and the weather wasn't bad at all. I highly recommend considering a shoulder-season visit because of this.
Surely there has to be a downside? Yep. We struggled to see anything at Etosha. There are thirty-odd waterholes inside the park and during the dry season, they usually look like this: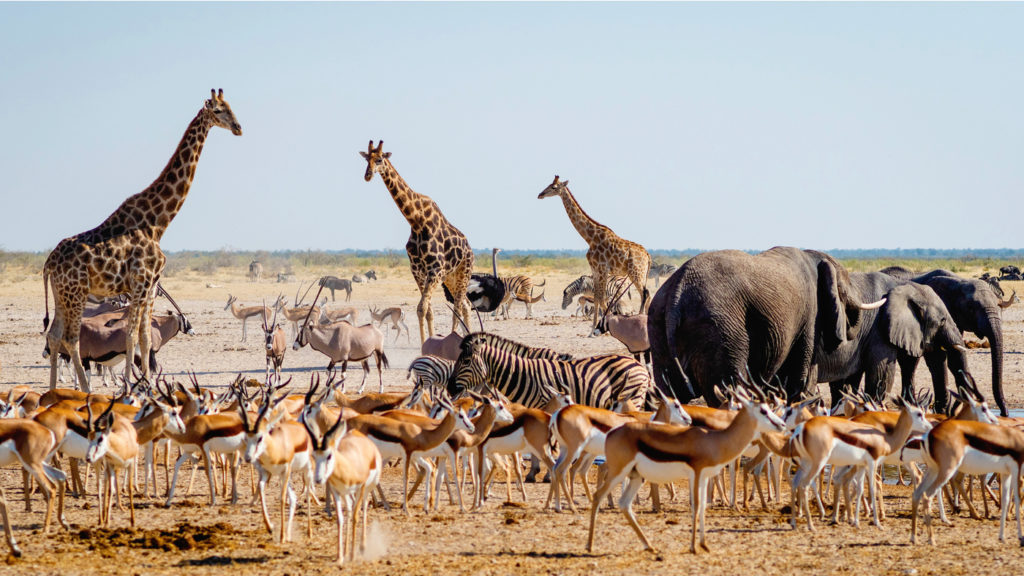 Well, over three whole days of 12-hour drives, Dave and I saw literally nothing at any of the waterholes. Our waterholes looked like this: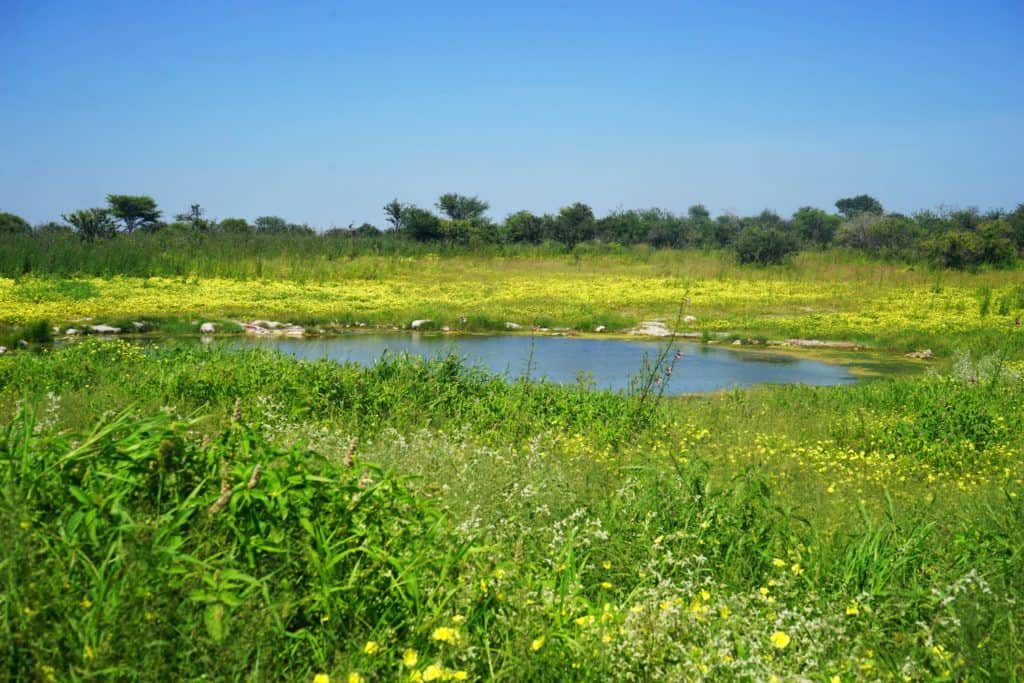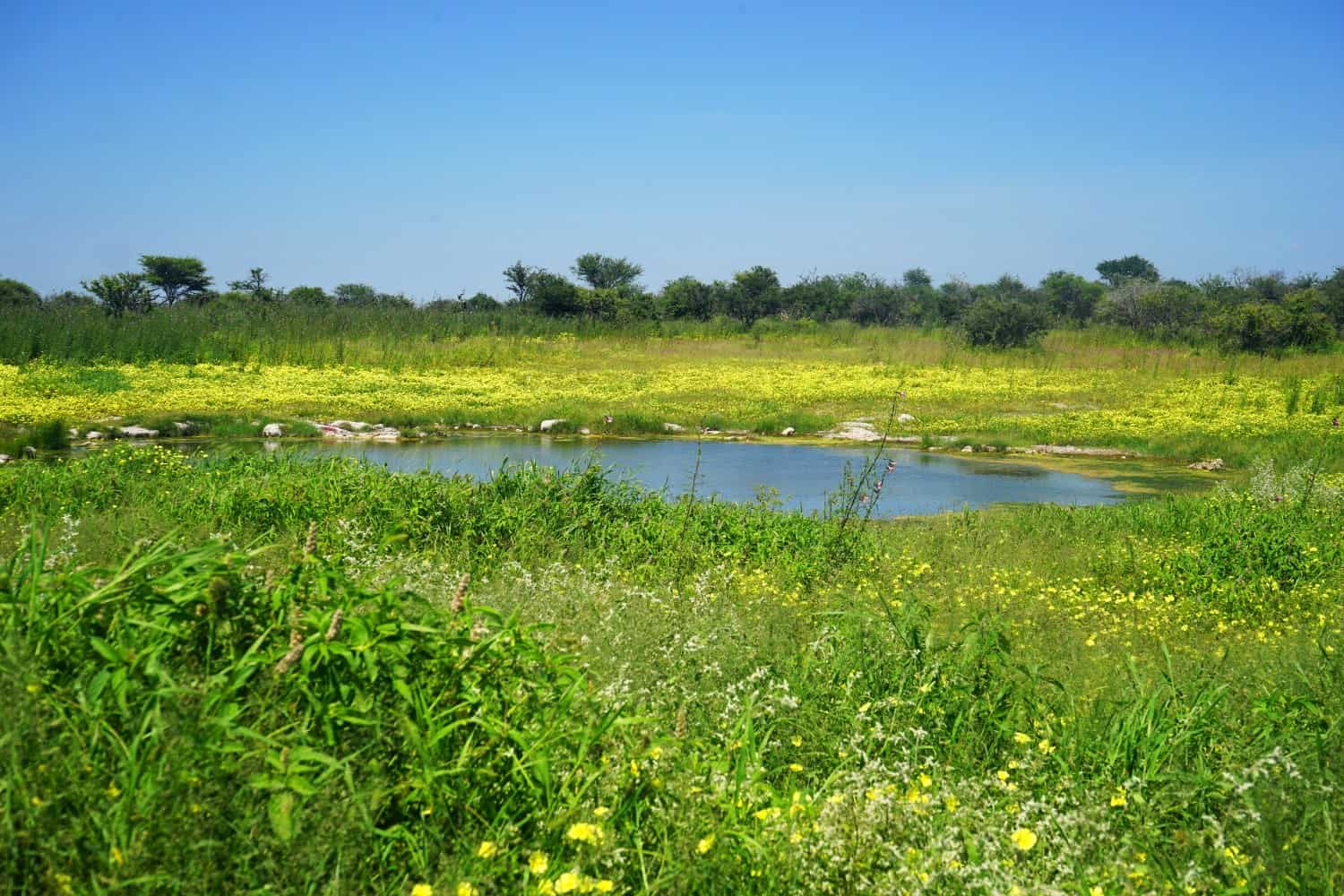 We didn't even see a bird.
The problem is: during the rainy season, there's no reason for the animals to go to the waterholes because there's water everywhere. And being on the tail end of that meant that instead we had to drive around in search of animals in the bushes. We didn't come up empty handed, though: while we didn't see a single elephant, we managed to see three black rhinos (super rare) and countless giraffes (my favourite animal).
It was funny, though, to have seen so many spectacular photos of Etosha before arriving, then to end up spending 90% of our time driving from deserted waterhole to deserted waterhole.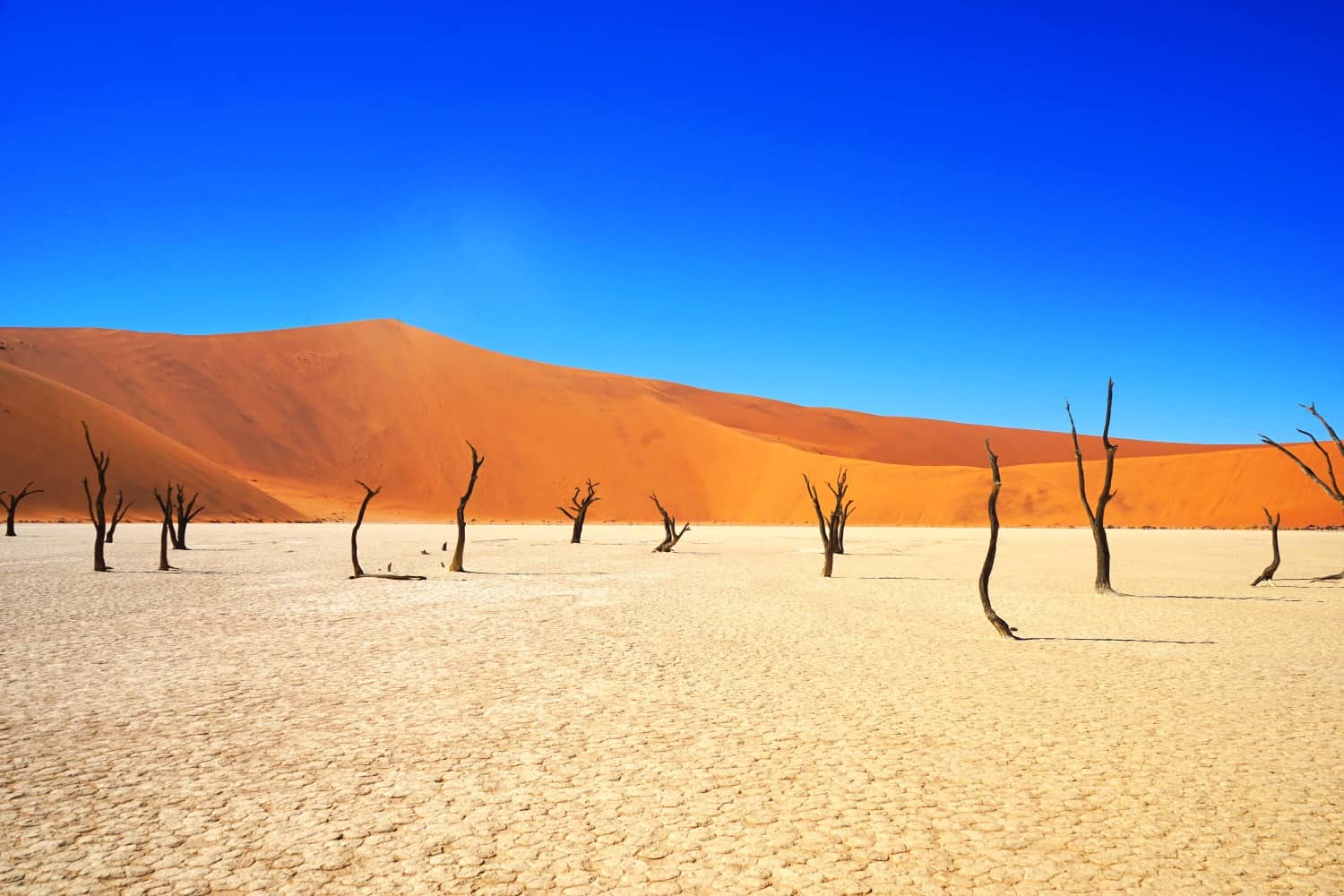 Have I Convinced You to Visit Yet?
I'm not exaggerating when I say travelling in Namibia is one of the best experiences of my life, and I can't wait to start sharing every incredible minute of my time there. Next up: a detailed itinerary guide followed by dozens of stories to convince you to add Namibia to your bucket list! :-)
Have you been to Namibia before? Would you like to visit?
Related Articles on Namibia

💰 The Cost of Travel in Namibia: My Detailed Budget Breakdown
🦛 The Perfect First Day in Namibia
🐘 Desperately Seeking Elephants in Etosha National Park
🏜 Finding Paradise in Vingerklip: Africa's Monument Valley
🦭 Seals, Swakopmund, and the Skeleton Coast
🥾 Climbing Big Daddy: An African Travel Highlight
🏚 Exploring Kolmanskop: Namibia's Ghost Town in the Desert