It was an unintentional splurge.
Every time I buy flights to a new country, you see, I aim to make my trip as inexpensive as possible. I start off looking at hostels to see which one would be a good fit for me, then — just to get an idea of what's around, of course — I look at some of the nicer hotels. And then the nicer hotels look so much nicer then the hostels that I end up blowing my travel budget on accommodation.
That's exactly what happened in Namibia.
After a fruitful and fruitless three days in Etosha, Dave and I were heading west for the Skeleton Coast.
You can make the drive to coastal Swakopmund in a day, but the mid-way point between these two major destinations is Damaraland, and there was no way we were going to skip over that. Everything I'd read about Namibia cited Damaraland as the highlight of any road trip in the country.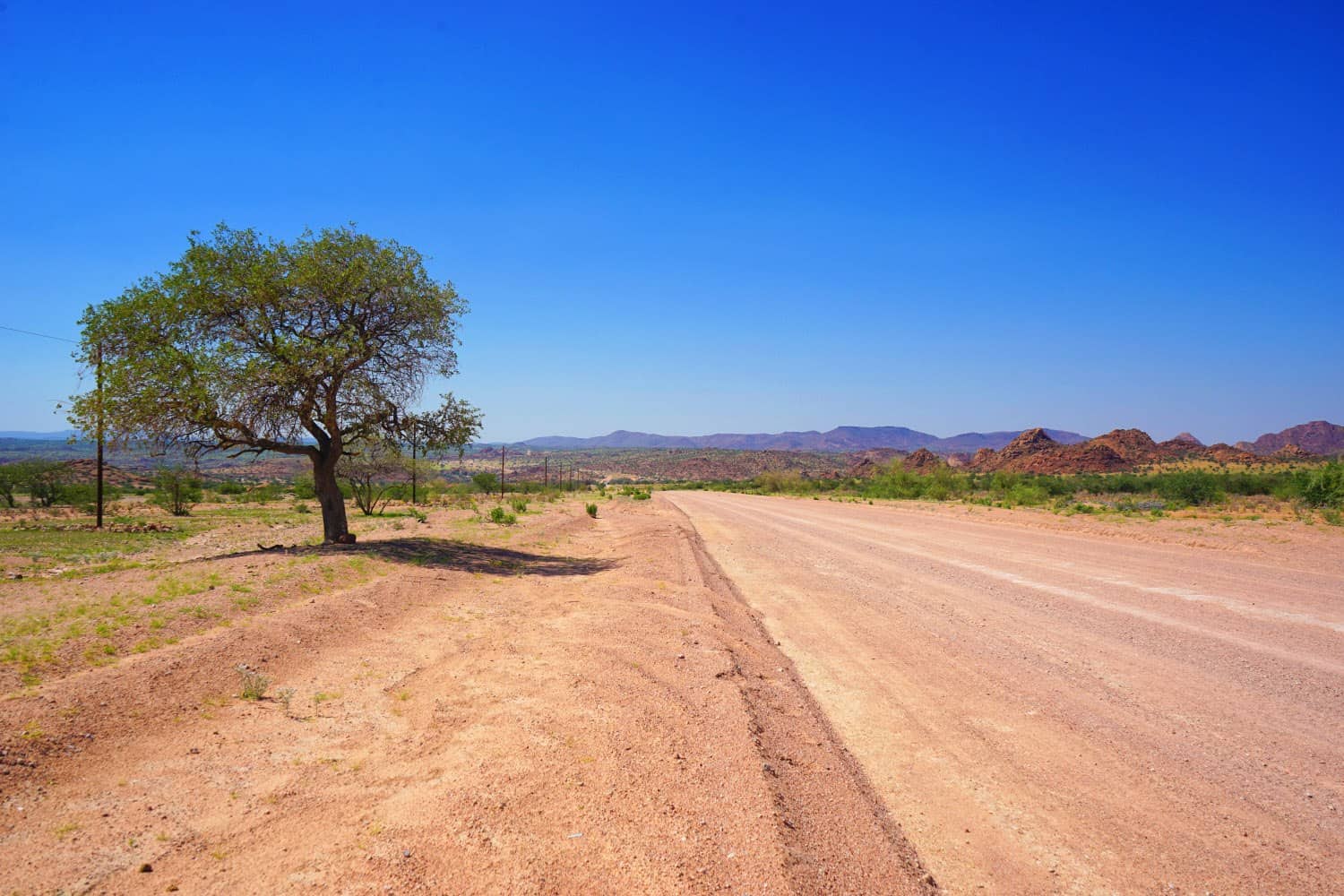 And so it was just as I was starting to research whether there were any budget options in the region that I stumbled across Vingerklip Lodge.
It wasn't even in a part of Damaraland I had been planning to visit. Most people head to this area of Namibia for the ancient rock art and incredibly rare desert-adapted elephants; Vingerklip wasn't anywhere near those highlights.
Staying there would mean both missing out on the best parts of Damaraland and going well over our accommodation budget. It didn't make any sense.
But staying there would mean getting to experience views like this.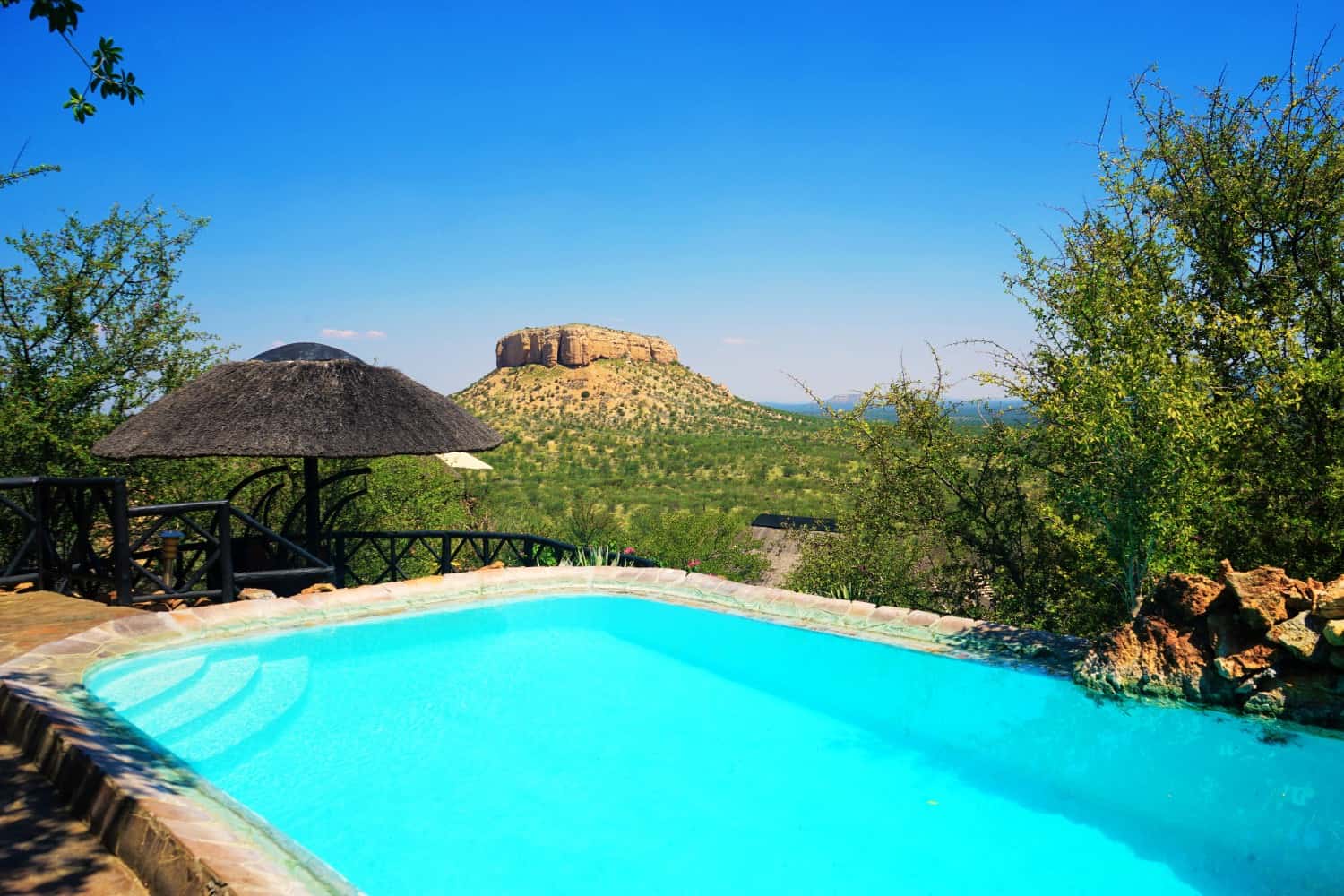 Welcome to Vingerklip Lodge.
Because you guys know I could never resist splurging on a pool view like that.
And while Vingerklip doesn't have elephants roaming across desert sands, it does have a finger-shaped rock.
Yes, really.
Finger Rock, or Vingerklip, is a 35 metre pillar of sandstone rock that's balanced precariously in the Ugab Terraces Valley, and the lodge is built to overlook it. Let's be honest: it's not exactly worth driving out of your way to see, but hey, it was cool to see nonetheless. For what was not the first or last time on this road trip, I commented to Dave that the scenery in the Namibia reminded me of our road trip through the Southwest U.S.
This whole area, in fact, is regularly referred to as Africa's Monument Valley, and it's not hard to see why. In the dry season, I imagine the similarities are even more apparent.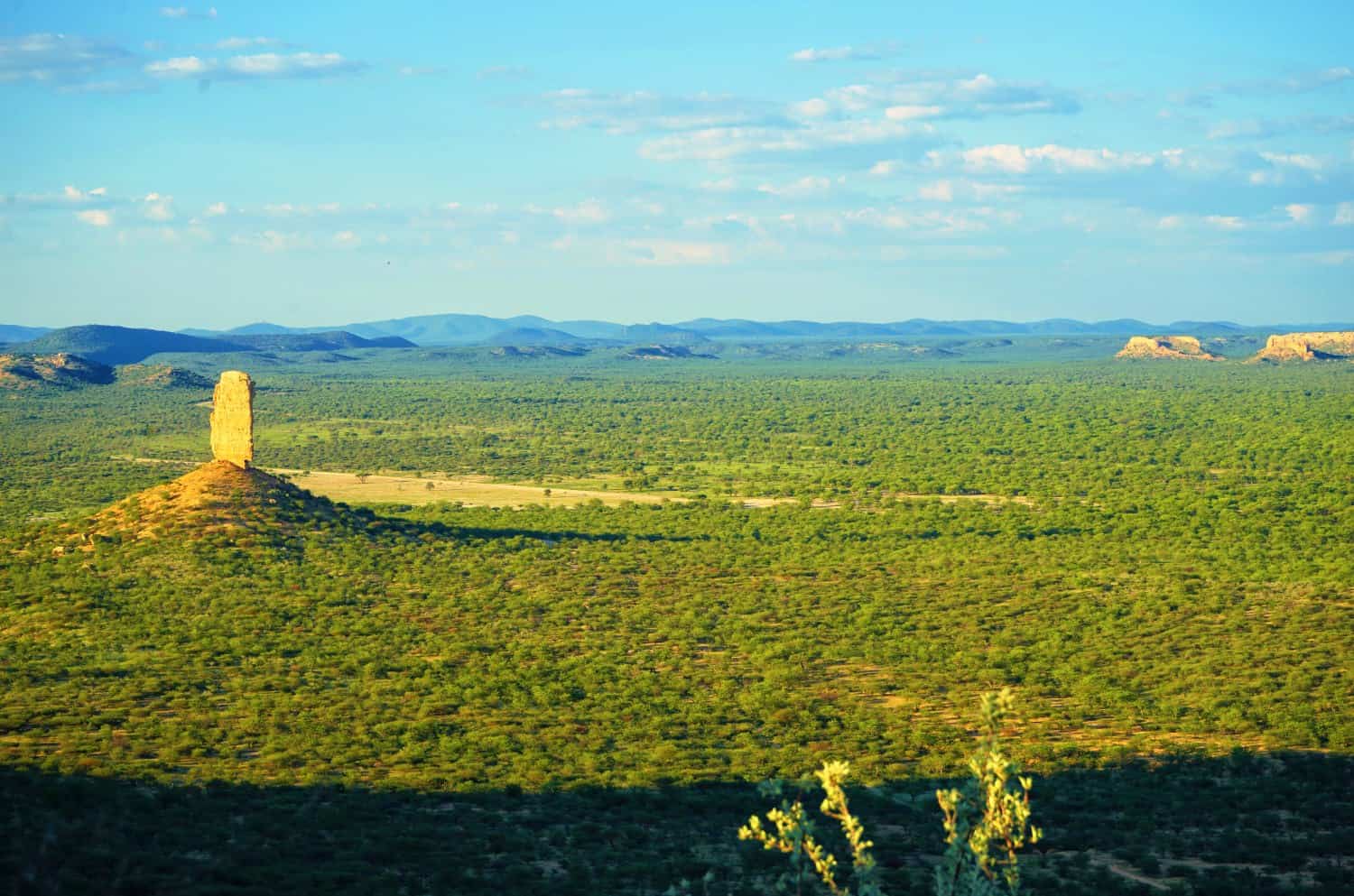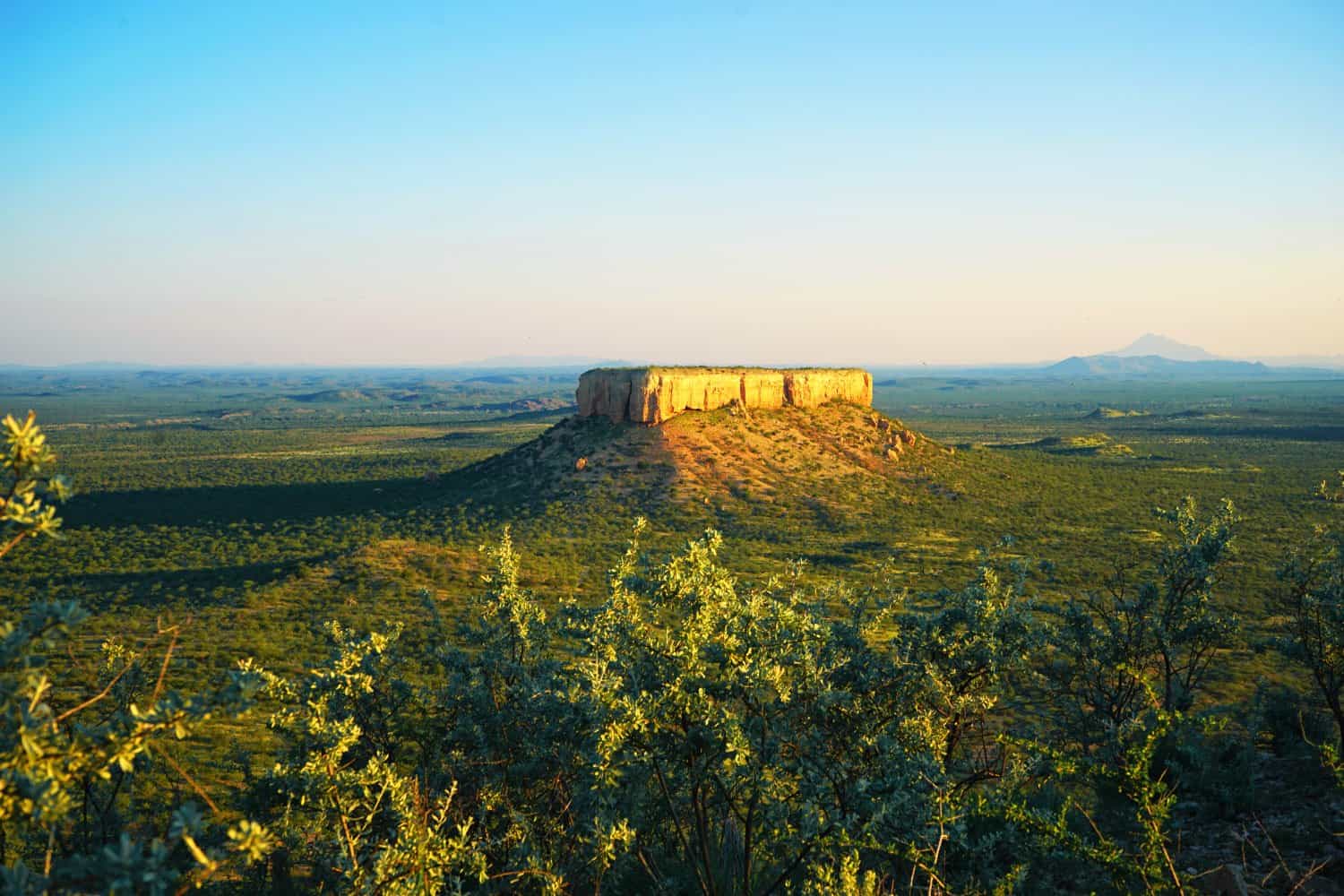 We came to Damaraland, in the end, to relax.
In Namibia, rest days are hard to come by. There's so much to do in the country — and so many long days of driving — that you'll constantly be heading out on game drives, summiting sand dunes, and cramming in as many activities as possible on those precious days when you aren't juddering over gravel roads.
After driving for 36 hours over three days in Etosha, though, we flagged the activities in favour of relaxation.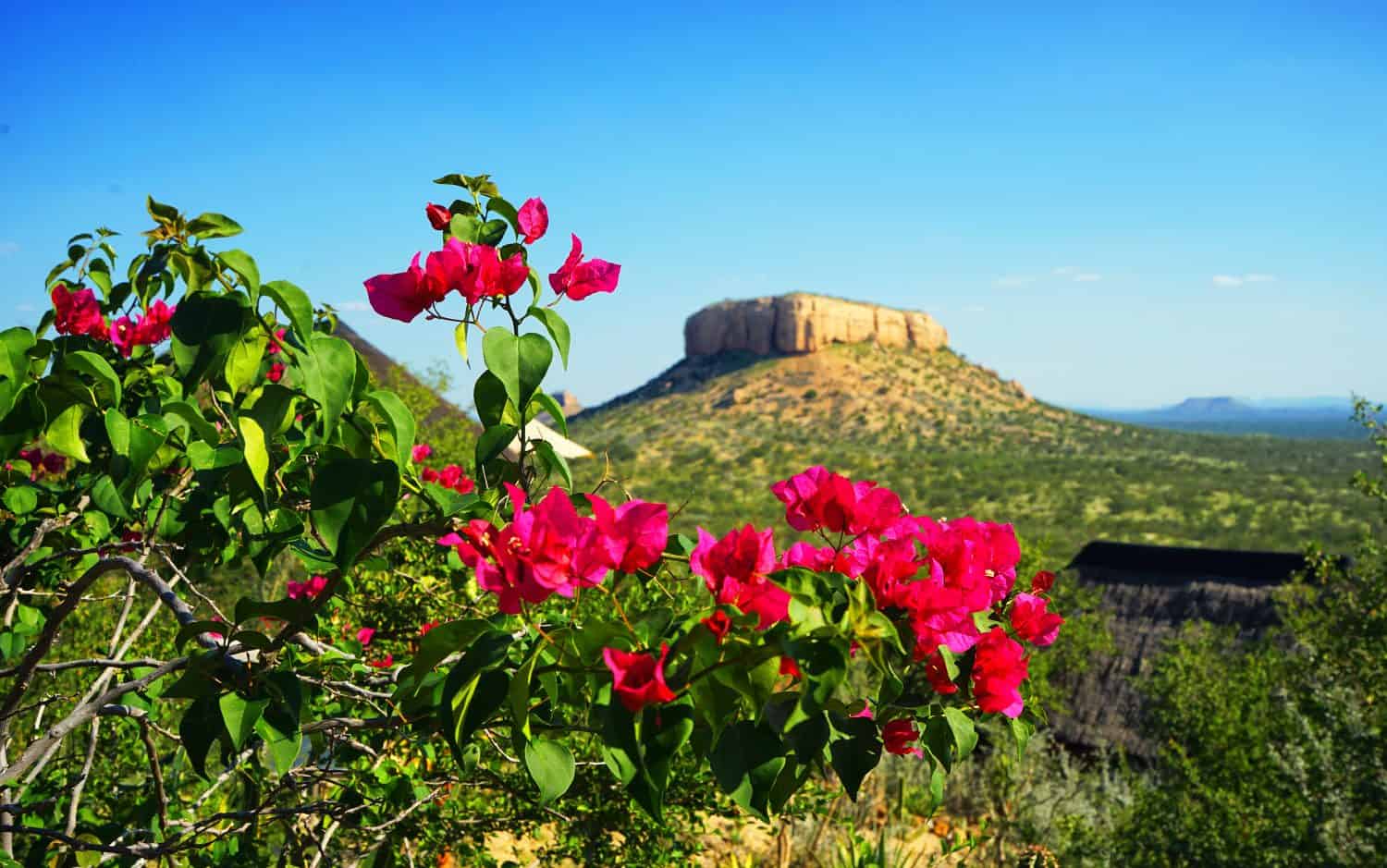 Yeah, I'd say it was a pretty great decision.
One of my favourite aspects of Vingerklip was how the lodge had been designed around privacy. The small number of rooms are built in a circle, with each facing outwards into a different view of the valley. It meant that while you were in your room or on your balcony, you had no idea there was anyone else in the world but you.
Well, you and a crazyass bird.
Out on our balcony, a territorial bird would repeatedly dive-bomb us from its nest, getting closer and closer to breaking our noses with each go around. We wanted to lie out on the loungers on our terrace, drink wine, and gaze out at the views, but Angry Bird repeatedly prevented us from doing so. It was the only downside to our stay.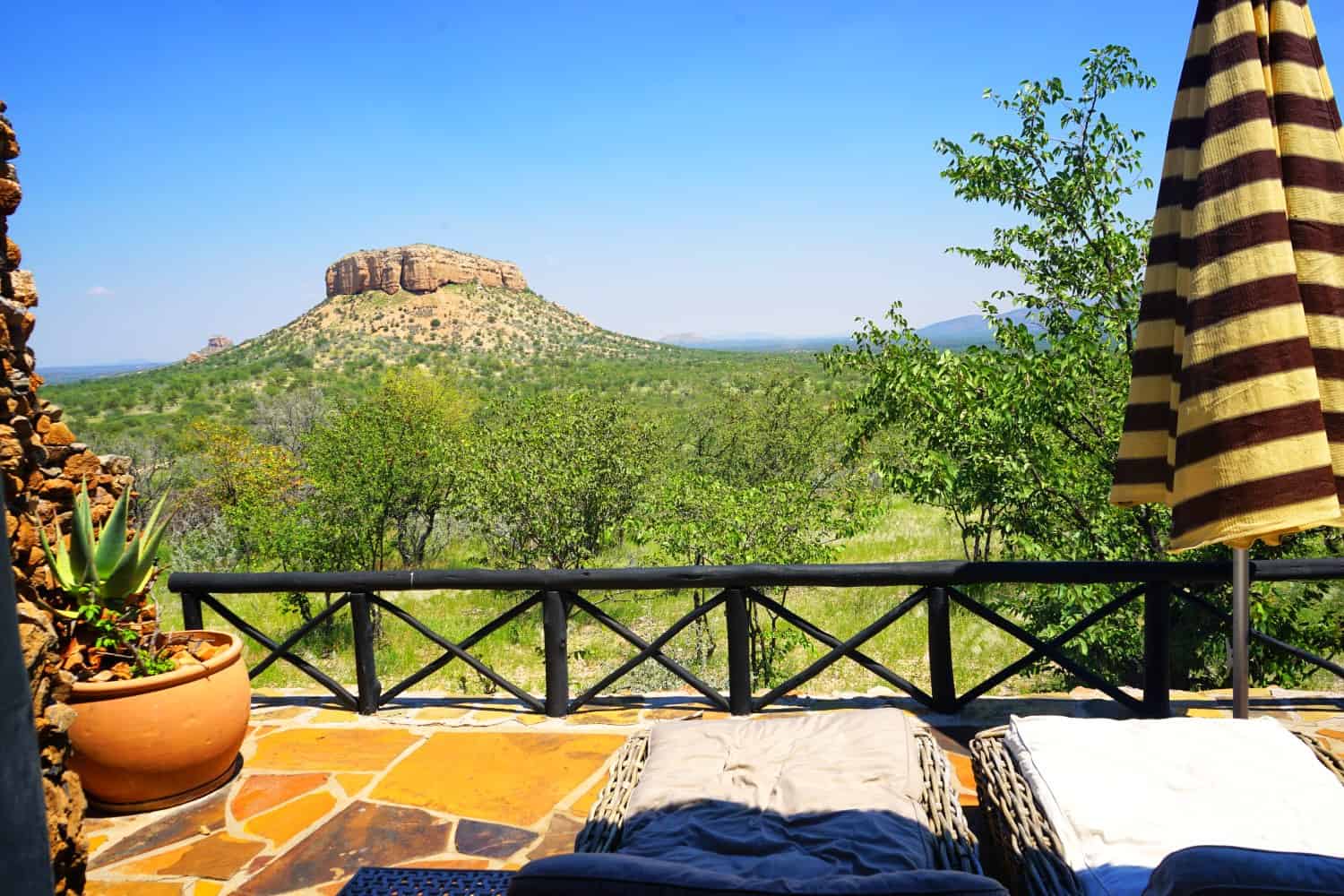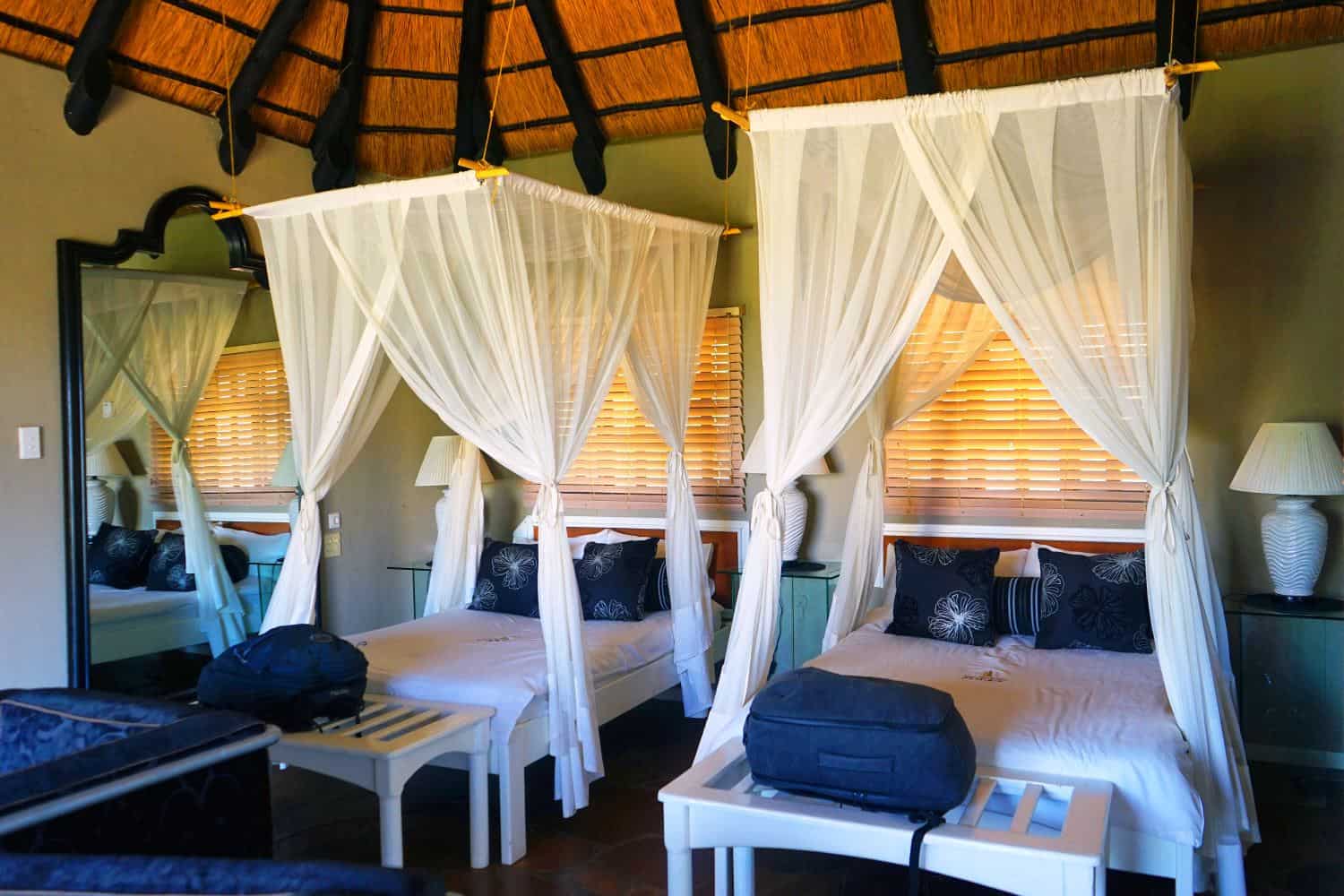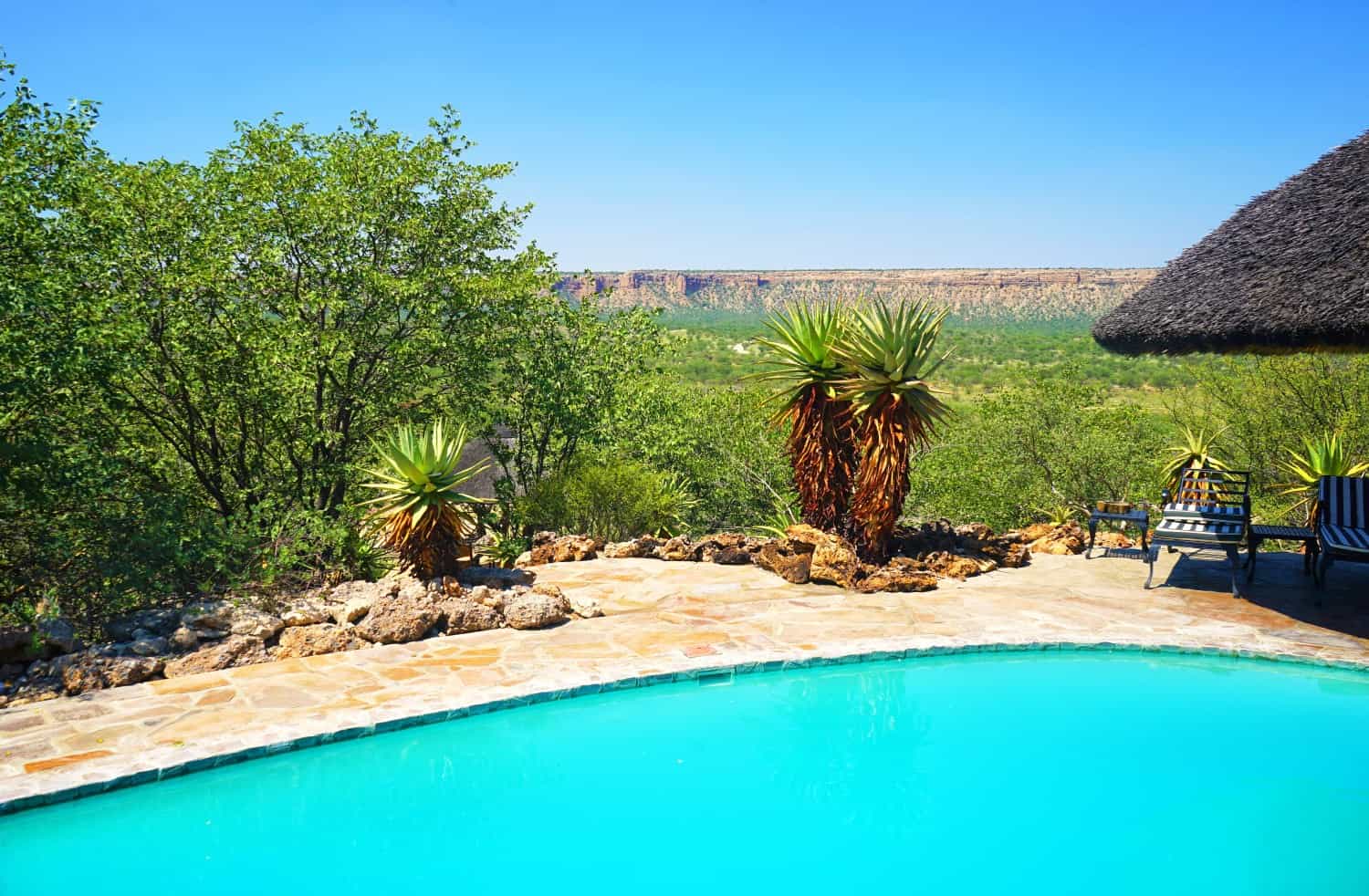 The swimming pools at Vingerklip were another highlight, and what sold me on the lodge in the first place. There were two of them at opposite ends of the lodge, and each offered a different view of the valley.
When we weren't seeking shelter from Angry Bird in our room, we were reading books beside one of the infinity pools, regularly sliding in to cool off, and spotting giraffes drinking at a nearby waterhole in the valley below.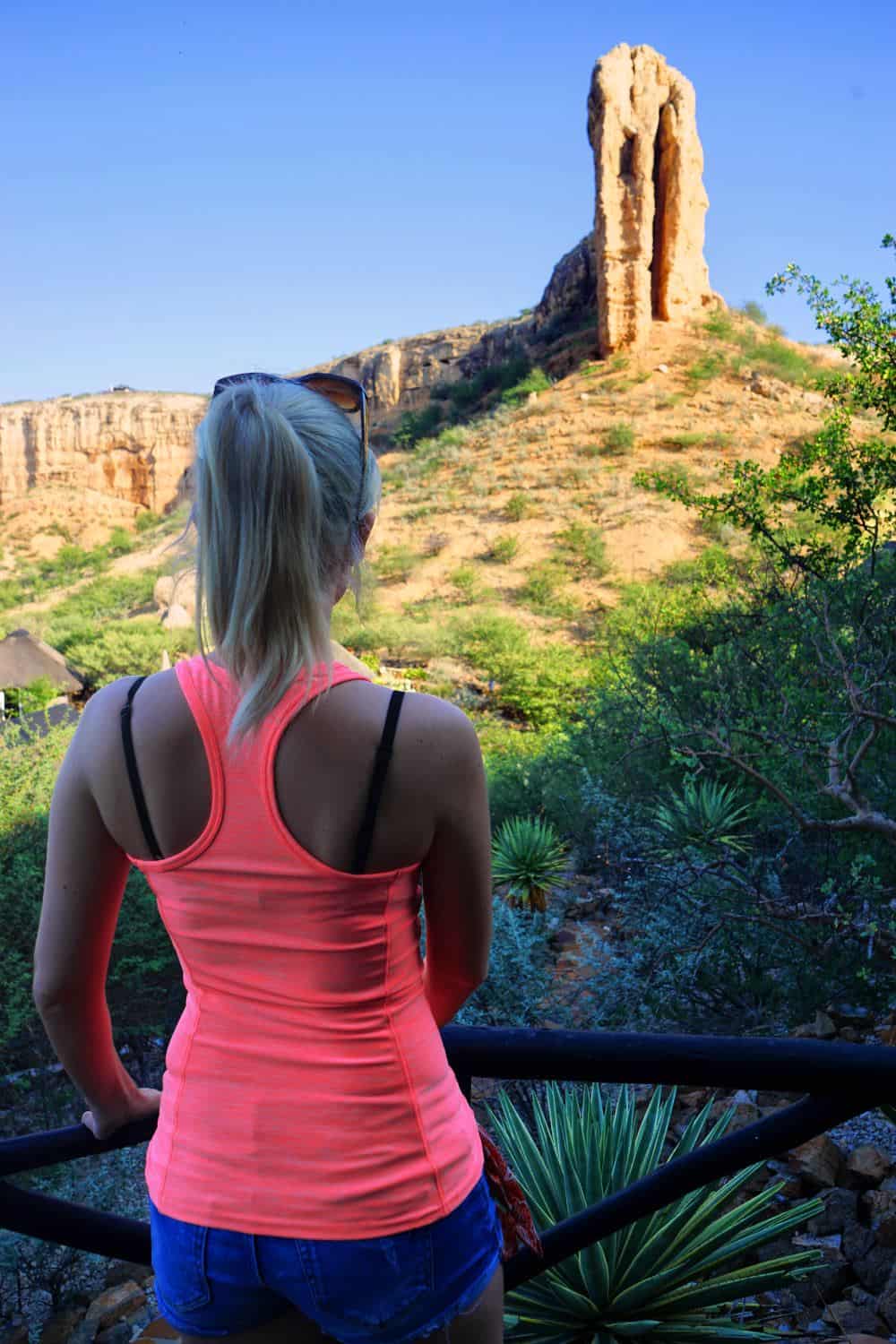 As the sun began to set, it was time for Dave and I begin our ascent.
There are two options when it comes to dinner at Vingerklip: you can either eat at the restaurant located within the lodge, or if you're brave, you can clamber up some rickety scaffolding to the Eagles Nest, located right at the top of the rock in the photo above.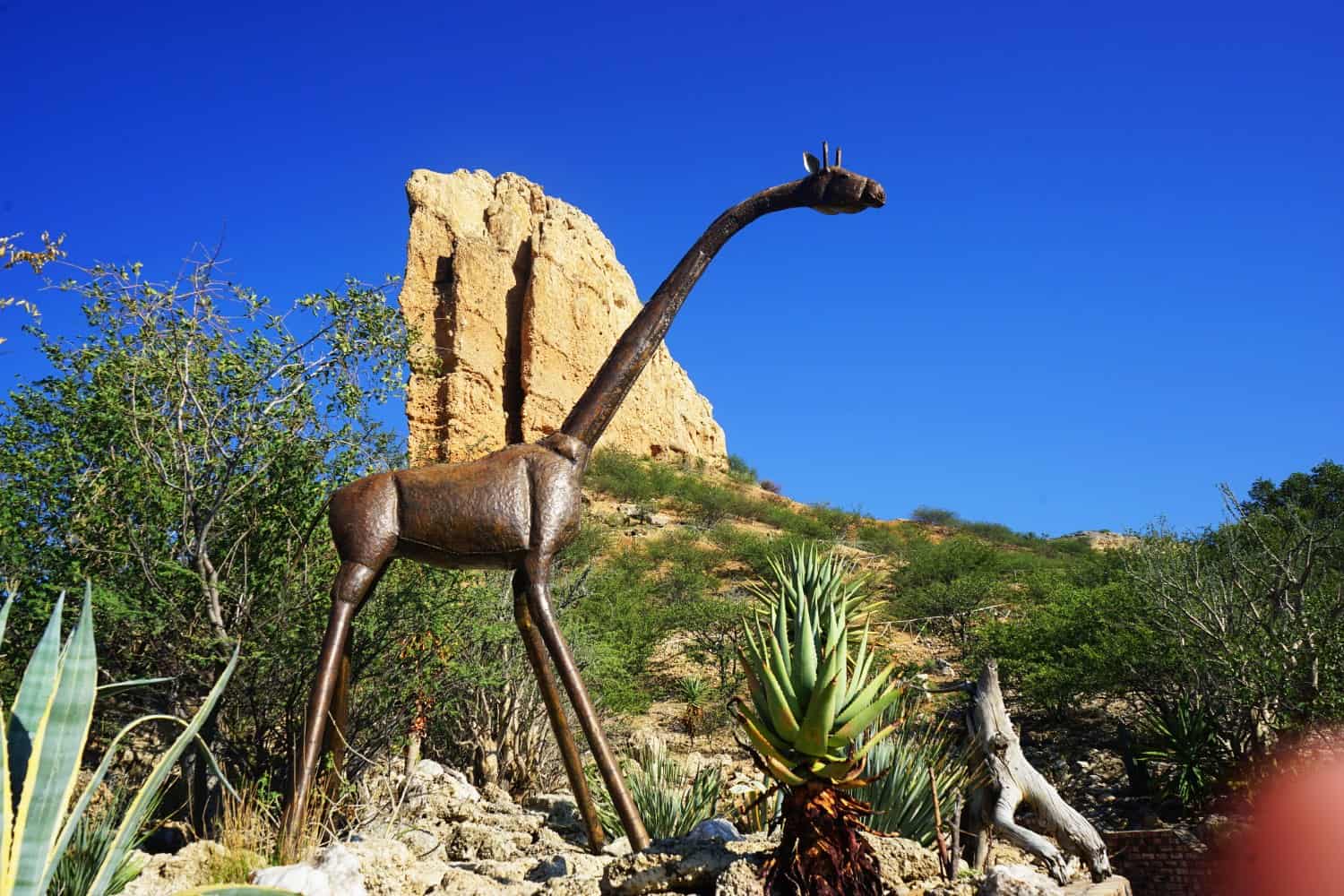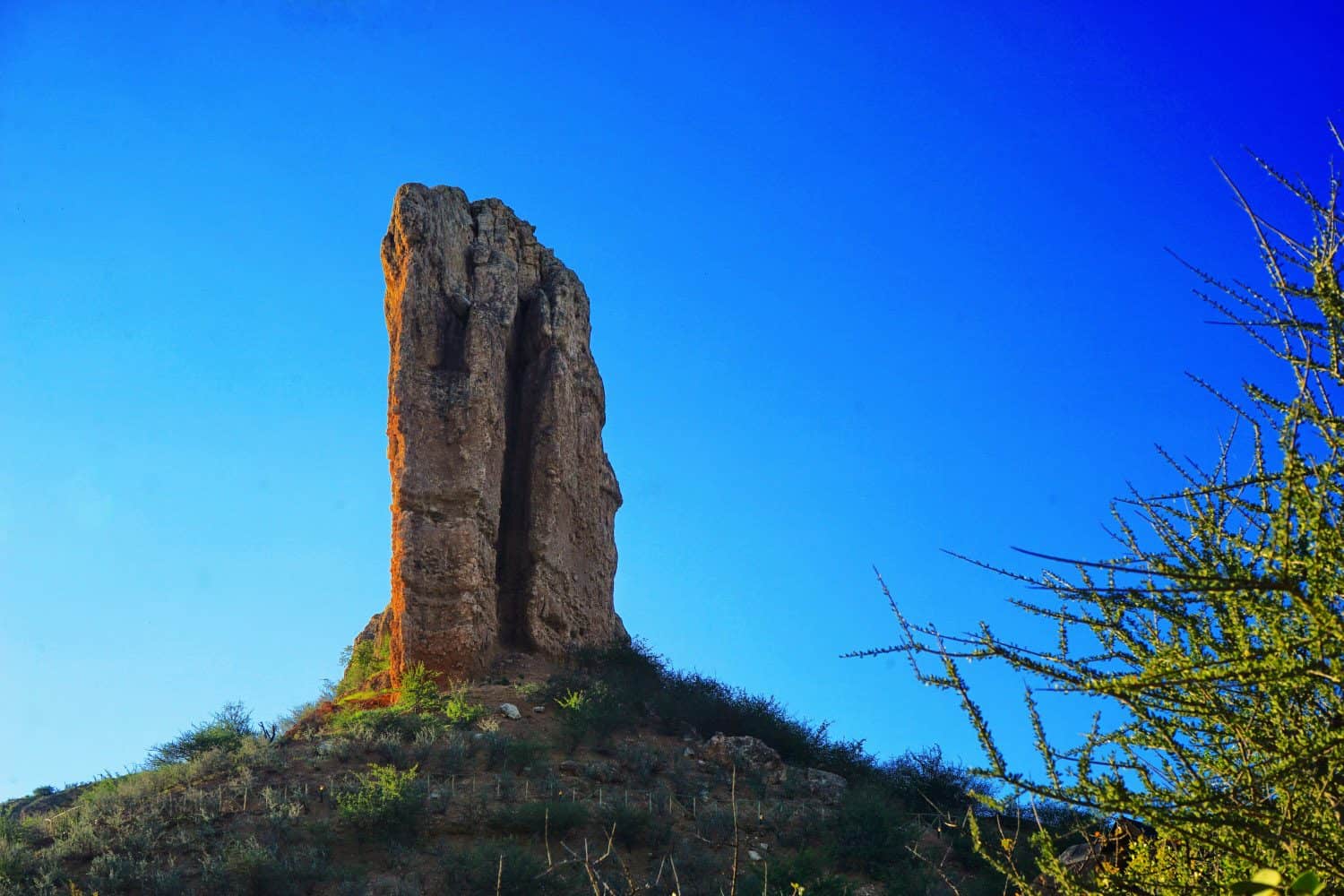 I may not be particularly brave, but there wasn't any question about whether we would be climbing the scaffolding that night.
Hell yeah.
We reached the top, grabbed a couple of glasses of wine from the bar, then explored our surroundings; snapping photos of the valley from above and pointing out the giraffes galloping beneath us.
Sunset came and brought with it a party of 16 Germans who proceeded to shout their way through dinner. But not even they could dampen my spirits.
I kept my stress levels in check, my wine levels high, and my smile wide. This was easily one of the most romantic moments of my life.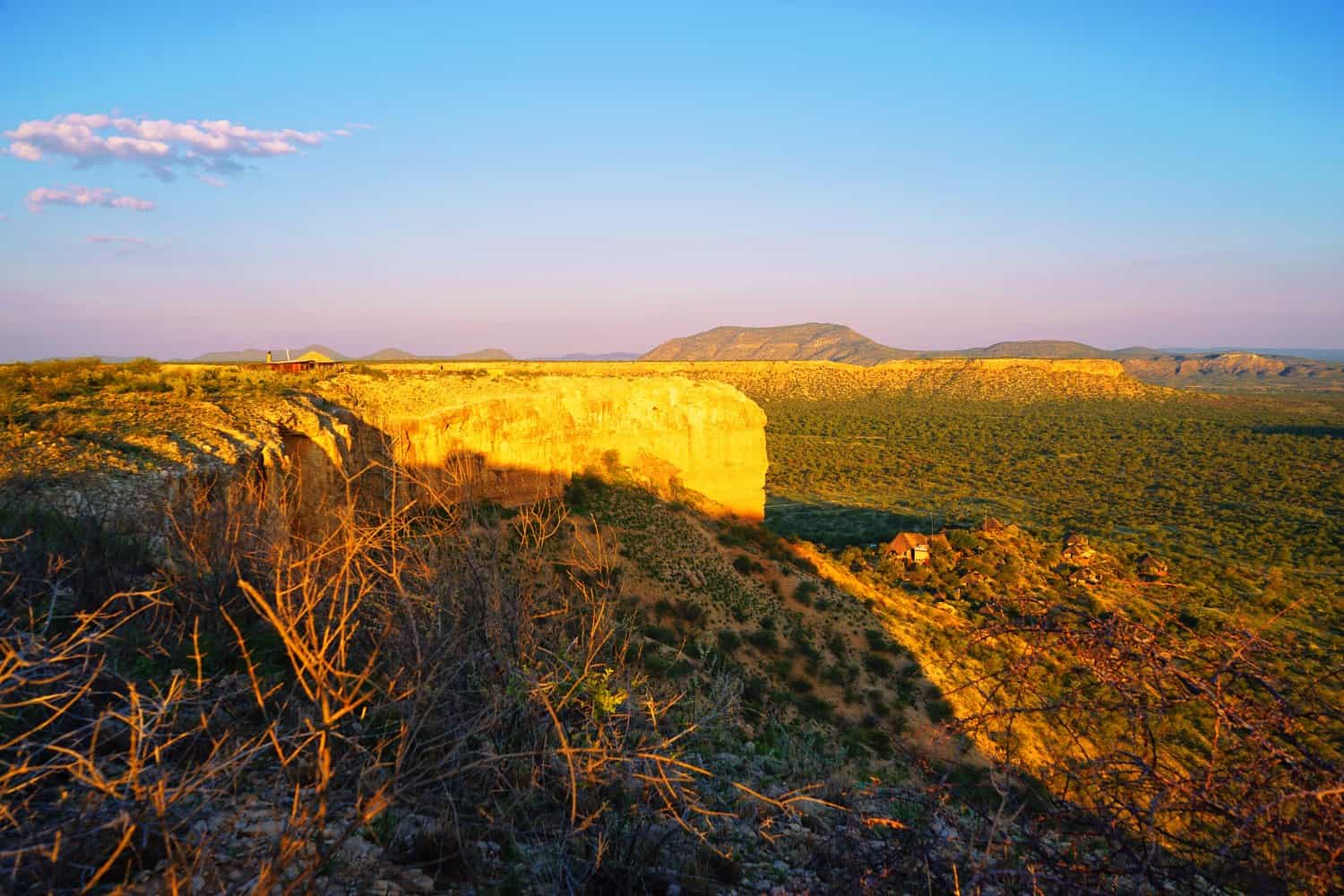 After dinner, we cautiously descended.
Night had fallen, and thanks to Namibia's deep, dark skies, our guiding light was the stars above us and my phone's torch in ahead of us.
When we made it back to ground level, I turned to Dave and announced I wasn't ready to go to sleep yet. Vingerklip was just as magical in the evening, and the knowledge that we'd be leaving in the morning was already breaking my heart. The hardest part of travel, for me, is leaving horcruxes parts of myself in the places I've fallen in love with, until shards of Lauren are spread across the world and I no longer know how to feel whole again.
Cough.
So anyway.
We grabbed a couple of glasses of water, set up our tripods on our balcony, and took awful, blurry photos of the Milky Way twinkling over the valley while chatting about how we were already falling hard for Namibia.
Occasionally, OPB (Overly Protective Bird) would awaken from its slumber and attempt to break our faces, but not even that could force us to hurry back inside.
Because that moment: sitting there with no light pollution in sight, with only the buzzing of crickets filling the air, was one of the best moments from my time in Namibia.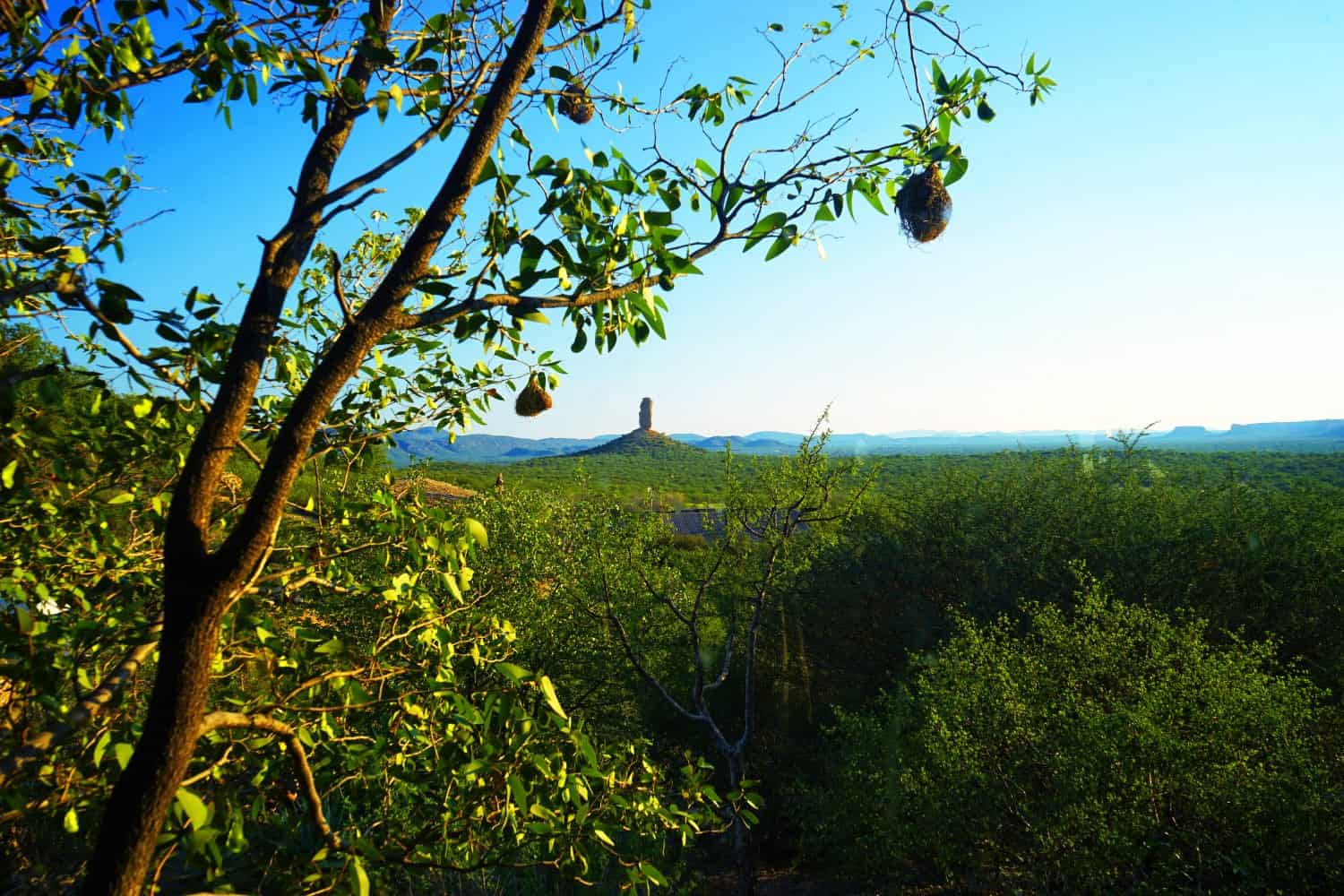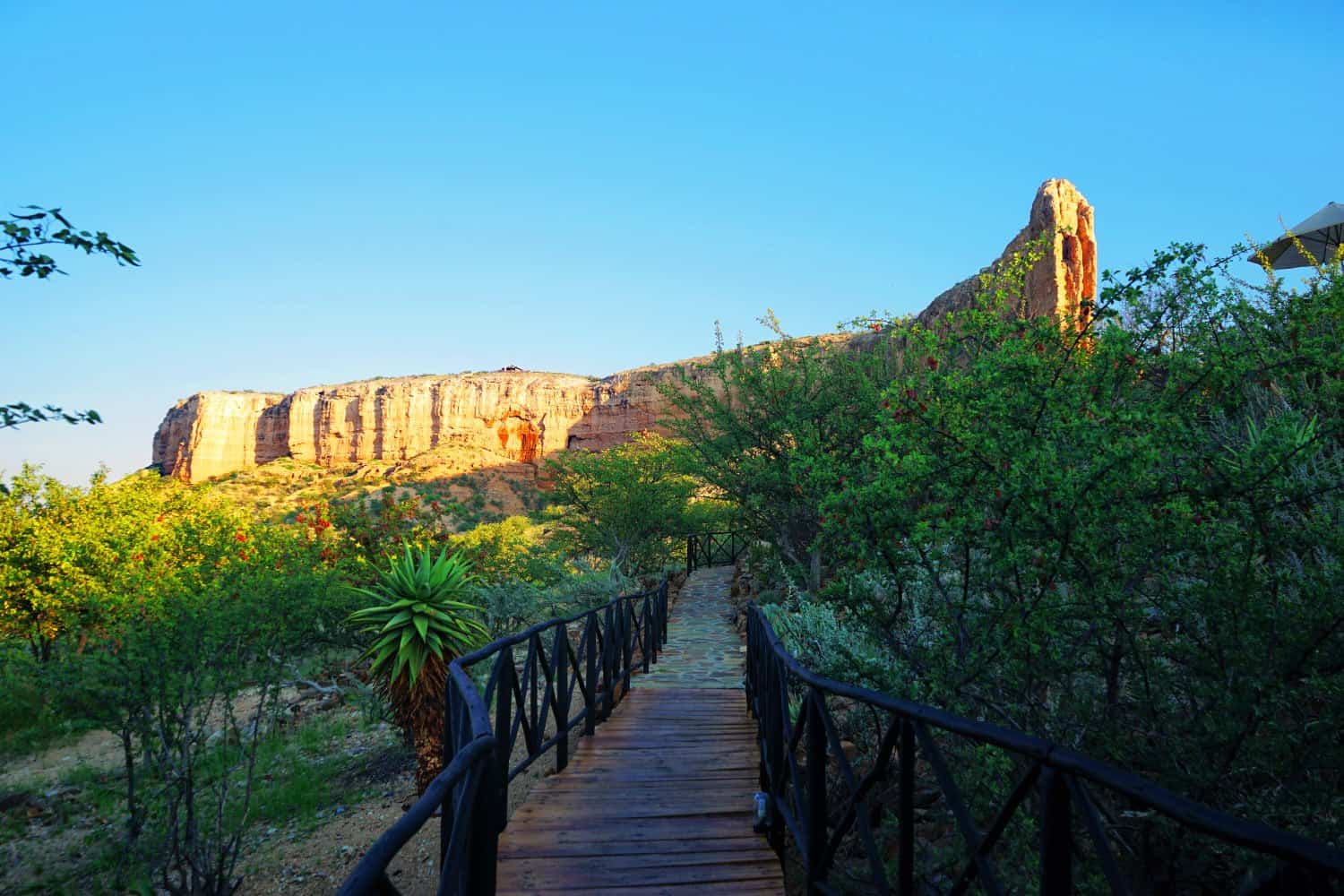 The following morning, I dragged myself out of bed and trudged to breakfast.
I didn't want to leave. Although, you know me, I never want to leave anywhere.
But Vingerklip Lodge had been special. Incredible, even. I couldn't believe a place like this existed in the world, and that so few people were even aware that it did.
That's the beauty of travel in Namibia. You'll stumble across so many wonderful places that nobody has ever even heard of, and have the vast majority of them all to yourself.
Does Vingerklip sound like your kind of place?
Related Articles on Namibia

🇳🇦 What's it Like to Travel in Namibia?
💰 The Cost of Travel in Namibia: My Detailed Budget Breakdown
🦛 The Perfect First Day in Namibia
🐘 Desperately Seeking Elephants in Etosha National Park
🦭 Seals, Swakopmund, and the Skeleton Coast
🥾 Climbing Big Daddy: An African Travel Highlight
🏚 Exploring Kolmanskop: Namibia's Ghost Town in the Desert