I don't know what I'd been expecting from Namibia, but it wasn't that it would be so easy.
I felt as though I had rocked up at an airport in Germany rather than a lesser-known country in Southern Africa. Windhoek's Airport was clean and modern; everybody spoke English; we bought a SIM card and exchanged our money with zero hassle; picked up our rental car within a few minutes.
"Damn," I commented to Dave. "I feel like we're in the U.S. or something."
We threw our backpacks in the boot of the car, loaded up Google Maps on our phone, high-fived for good luck, and made our way out into the wildness.
Just 12% of the roads in Namibia are tarred, and we were fortunate to be kicking off our road trip on one of the best of them. Less fortunately, our 2,500 mile road trip would be spent driving along 2,400 miles of gravel.
I just hoped our tyres would manage to stay inflated over that time.
There isn't much information about travelling around Namibia online, so this was one of the few countries where I'd meticulously researched every aspect of our trip.
And from my research, I'd come to the conclusion that I'd rather spend my first night in Namibia anywhere but Windhoek.
It wasn't that Windhoek sounded terrible, but I'd learned it was one of the most dangerous parts of the country (although really not that dangerous overall), and I had a feeling the highlights of Namibia would be outside of the cities and inside of, well, anywhere else.
Turns out I was correct.
The only problem with this plan was that the majority of flights into Windhoek land in the afternoon, so we wouldn't be able to make it to our first major destination, Etosha National Park, before nightfall. Fun fact: you should never drive at night in Namibia. There's no light and animals hang out on the warm roads, so it's easy to hit something. Your travel insurance won't cover you if you're driving after sunset here.
I chose Ovita Wildlife Restcamp as our first stop because it was two hours north of Windhoek, had amazing reviews, and looked like the perfect spot to kick off our time in Namibia. It was a game farm filled with hippos, crocodiles, oryx, and more, and a viewing platform overlooking a lake.
The only downside was that we'd need to arrive before 6 p.m. and it was currently just past 4. Google Maps had us due to arrive at 5:30, but I had a feeling Google Maps was vastly underestimating the time it would take our car to handle the D-roads we'd have to take on the way.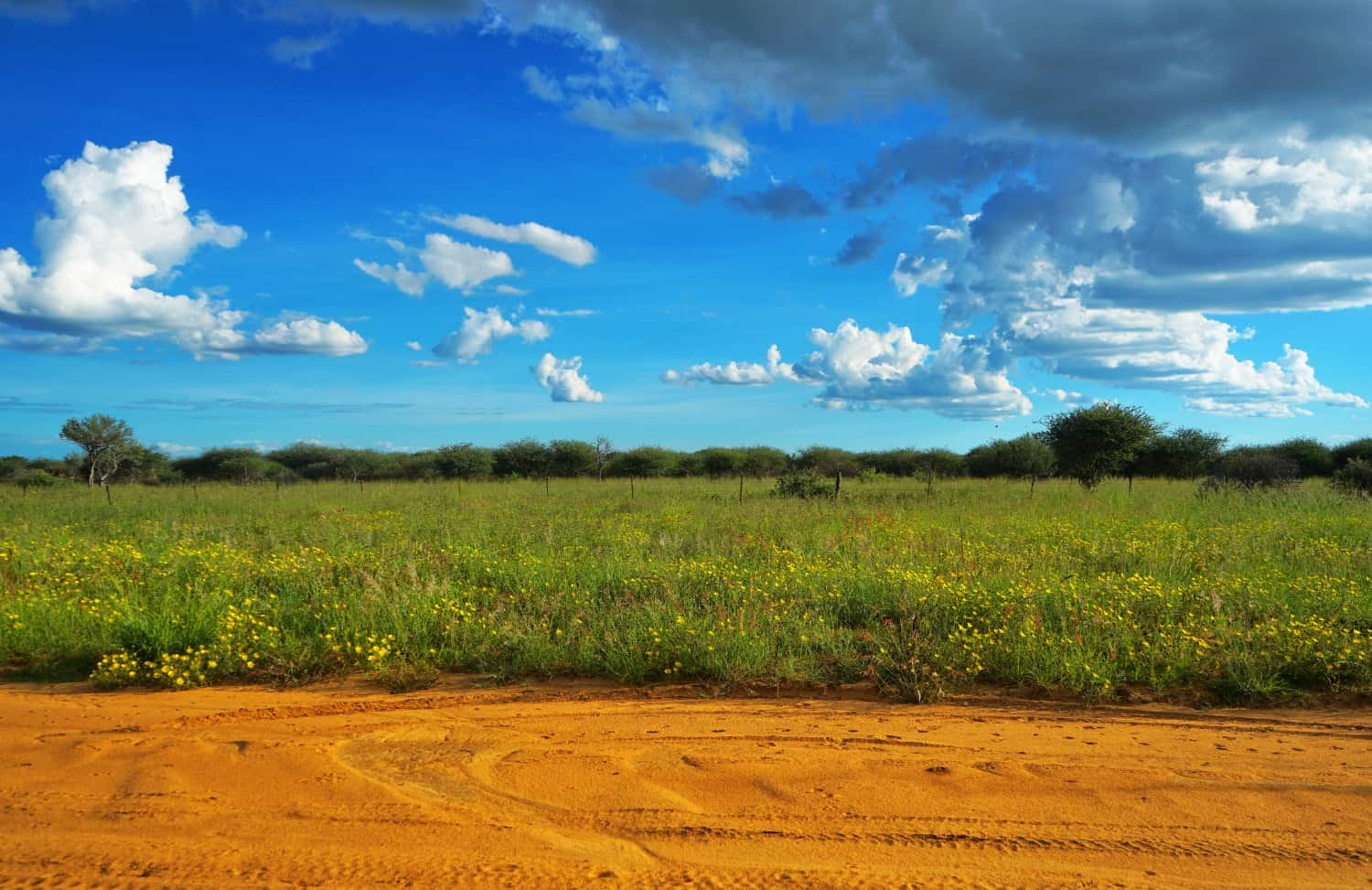 But before that: snacks.
We needed to hit up a local supermarket before we thought about anything else. Namibia is the second most sparsely populated country after Mongolia, so we'd need a plentiful supply of snacks for our long drives — both due to the lack of towns and because of the high chance of a breakdown on the bad roads.
We turned off into the car park of a small grocery store and a local man in a high visibility vest rushed after our car.
"Sir," he called out to Dave. "I will look after your car for you while you're inside."
Dave looked at me and I looked at Dave, and we shrugged.
"Sure," Dave told him, and we wandered inside.
"Do you think he would break into our car if we said no?" I whispered.
"… No."
We emerged half an hour later laden with bags of crisps, fruit, water, and wine. Because what else do you really need for a road trip? We tipped our car's security guard seven times more than he was likely expecting and hit the open road.
And guys, it really was an open road.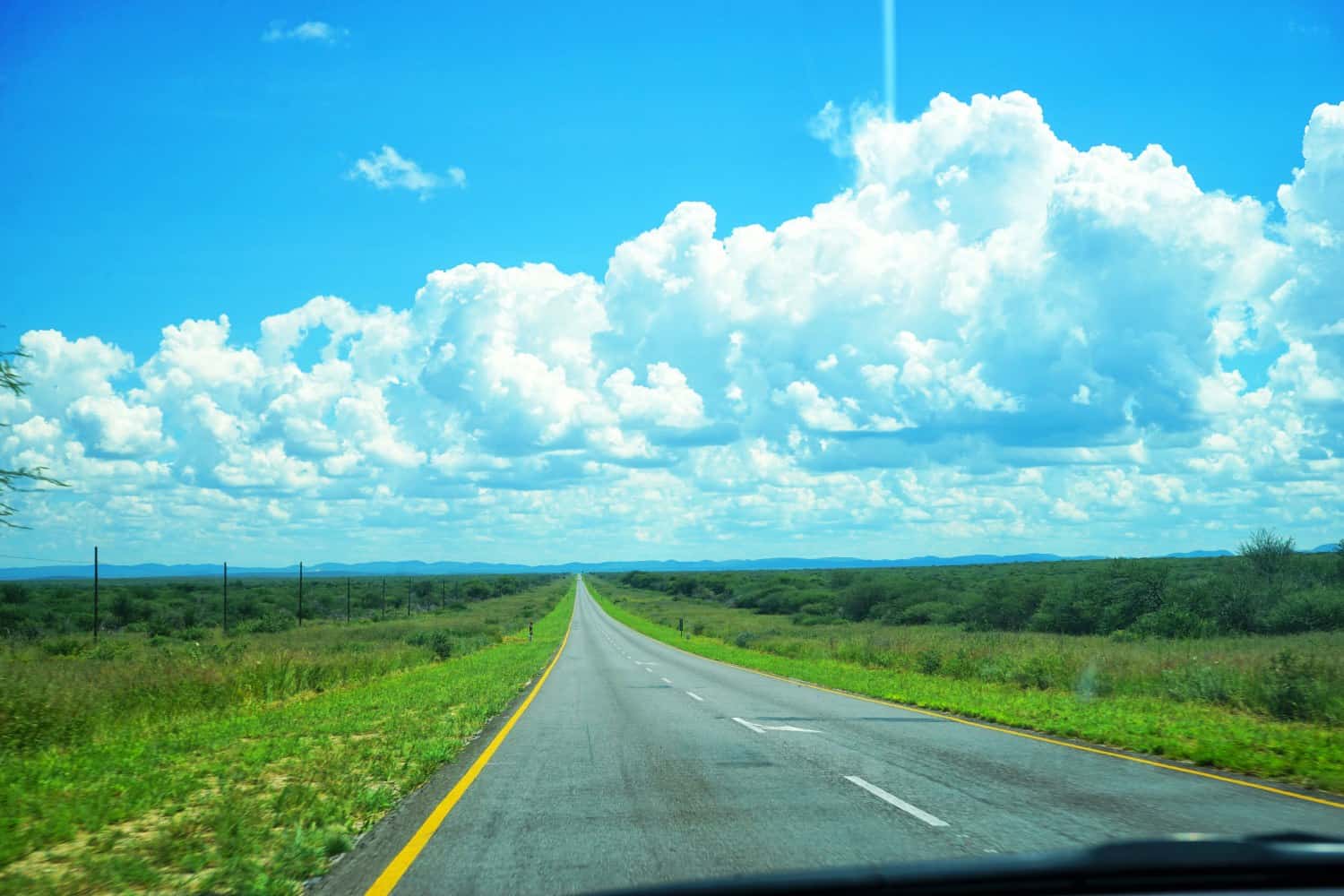 We were half an hour outside of Windhoek at this point, and there were already few signs of human life. As we raced north on the smooth tarmac, I couldn't see a single car, person, town, or even a building. Ahead of us was a long, straight road and very little else.
"These roads are fiiiiine," I sung to Dave as we closed in on our destination for the night.
We were cruising along the B1 — the main highway in Namibia that sweeps from South Africa in the south to Angola in the north, and is one of only a couple of roads in the entire country that's paved. At this point, though, I was still convinced we would have no problem road tripping around the country in our small saloon.
"Like we'd need a 4×4," I scoffed.
Plenty of resources online had recommended a 4×4 for the rainy season, but Dave was an experienced driver on all things gravel, so we were confident we could make it around the country in the cheapest and smallest car we could find.
And then we turned onto our first D-road.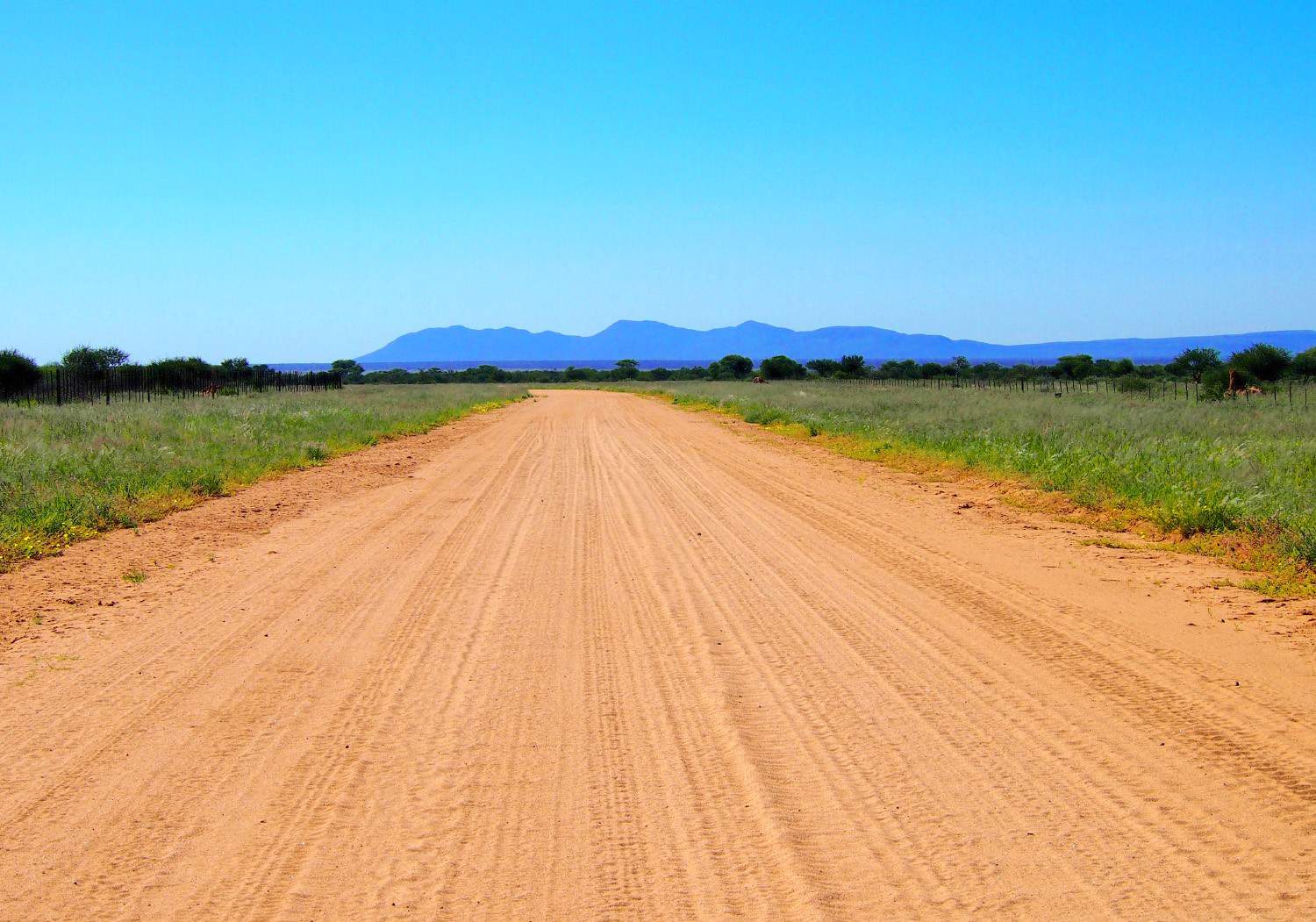 And then we lowered our speed from 75 mph to 25.
And then we started to slide.
Ah.
Our GPS was currently predicting we'd be able to make the 25 miles to our lodge in 50 minutes, but as Dave crawled his way along the sandy track, our estimated time of arrival began to climb and climb.
5:30.
5:45.
6:00.
6:15.
"Uh oh," I murmured.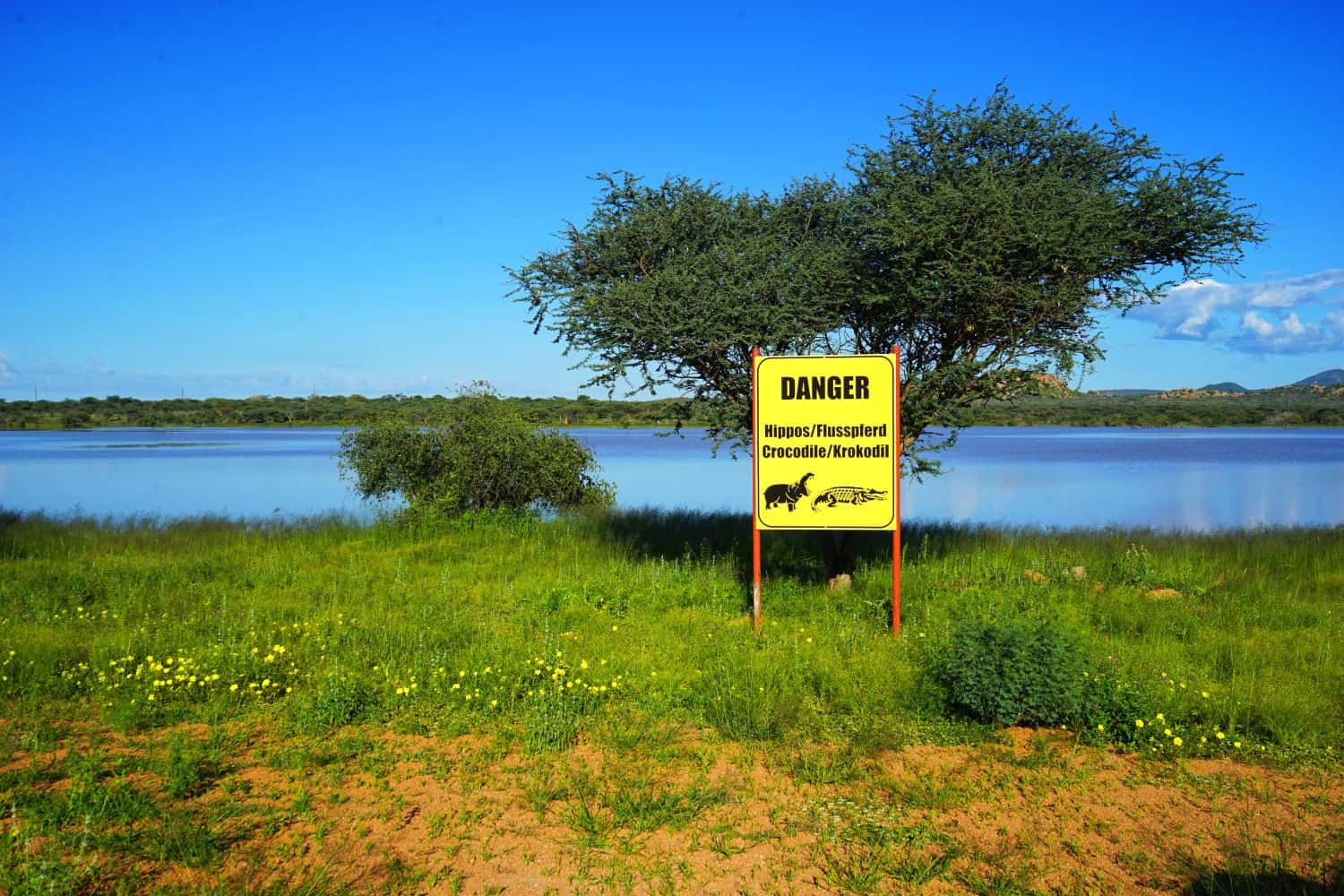 I've been travelling long enough to become one of the most blasé travellers on the planet. Or, at least, blasé when it comes to not arriving at my accommodation on time. I knew we'd be fine.
We pulled up at Ovita Wildlife RestCamp half an hour late to a locked reception area and a piece of paper listing a phone number to call.
While Dave phoned the owner to tell her we'd arrived, I dove into the back of the car and sneaked a handful of Crisps That Are Only For Emergencies, Lauren while he wasn't looking.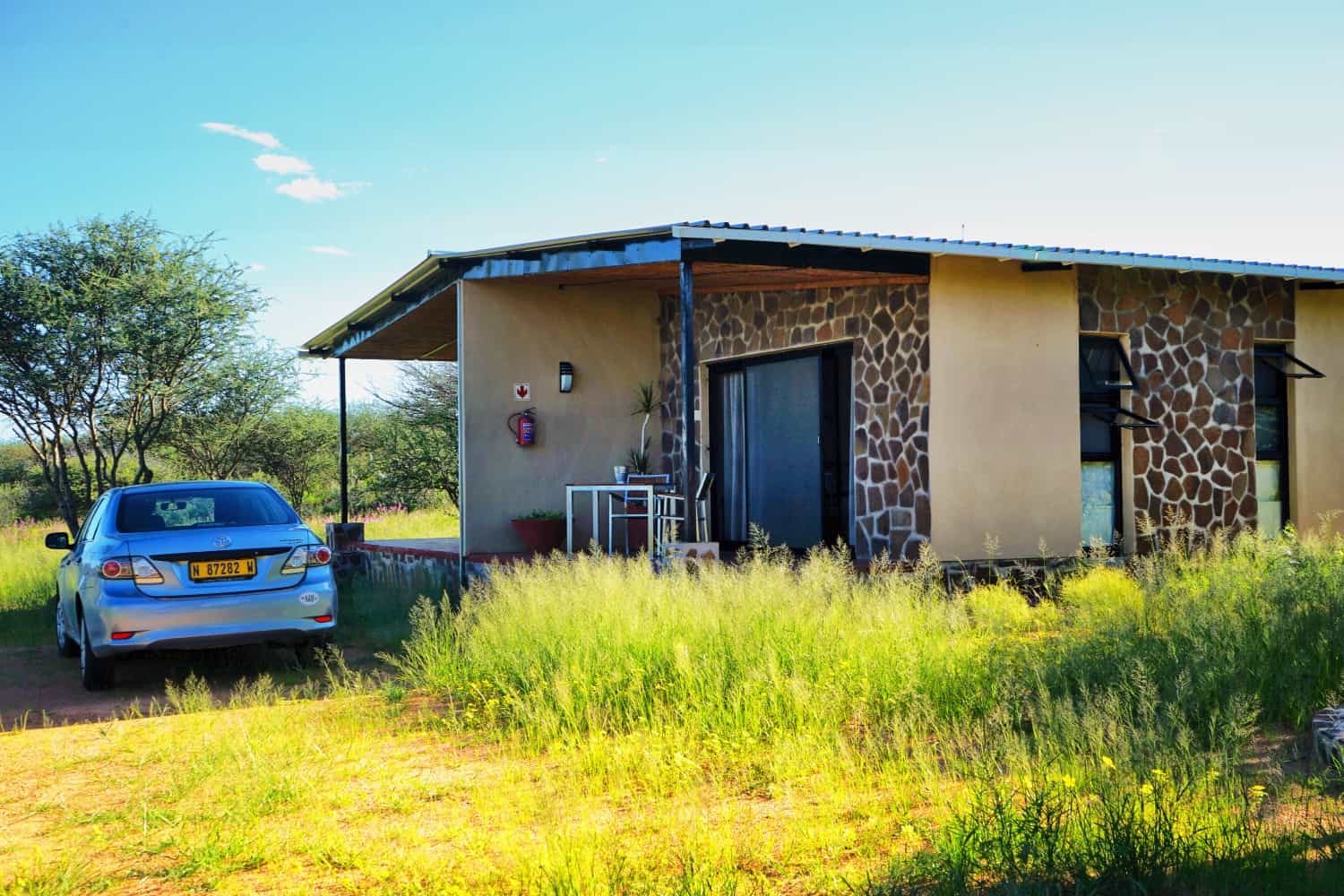 Several minutes later, an enormous four-wheel drive pulled up beside our tiny ride.
"That's your car?" the owner uttered in disbelief, obviously not used to seeing such puny cars even attempting to make it to the lodge.
My eyes widened as Dave nodded with pride. "Yep," he told her.
"You're brave," she laughed.
"I'm from New Zealand," he said, and she nodded knowingly. "I grew up driving bad roads so this is no big deal for me."
"That's alright then."
Satisfied that we weren't going to die on our road trip, everyone let their shoulders relax and I took in our surroundings.
As I did so, the owner ran to her refrigerator to grab us a couple of Windhoek Lagers. I don't usually drink beer when I travel, but Namibia used to be a German colony, so the beers here are excellent.
"Sundowner?" she asked.
"Always," we chorused in response.
And what a sundowner it was.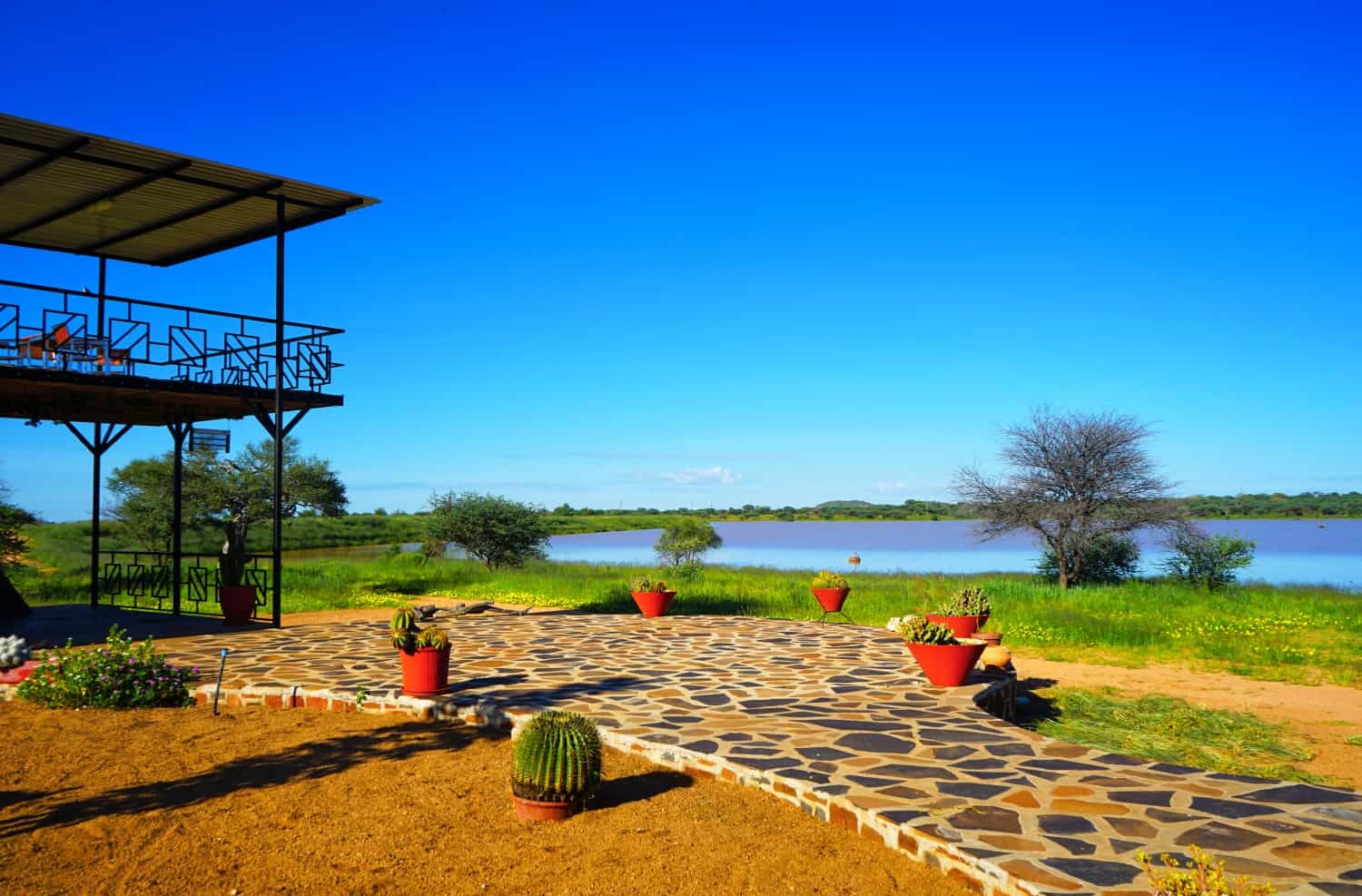 As we were shown around the property, I couldn't take my eyes off the gorgeous lake, complete with a viewing platform overlooking the water.
"Do you want to go up?" the owner asked.
I was racing up the stairs before you could say be careful on those steps, Lauren!
Safely at the top of the narrow set of stairs, I walked to the platform edge and surveyed the land around us. As the owner waved us goodbye and announced we were the only people staying in the lodge that night, I couldn't wipe the grin from my face.
"We're so isolated!" I squealed at Dave.
Hashtag introvert.
But we really were. We were almost a two-hour drive from the nearest town and the only sounds were the occasional splashing of a hippo in the lake below. There was no Wi-Fi, which always makes everything better.
As the sun began to set, I took a seat beside Dave on the platform and soaked up the atmosphere.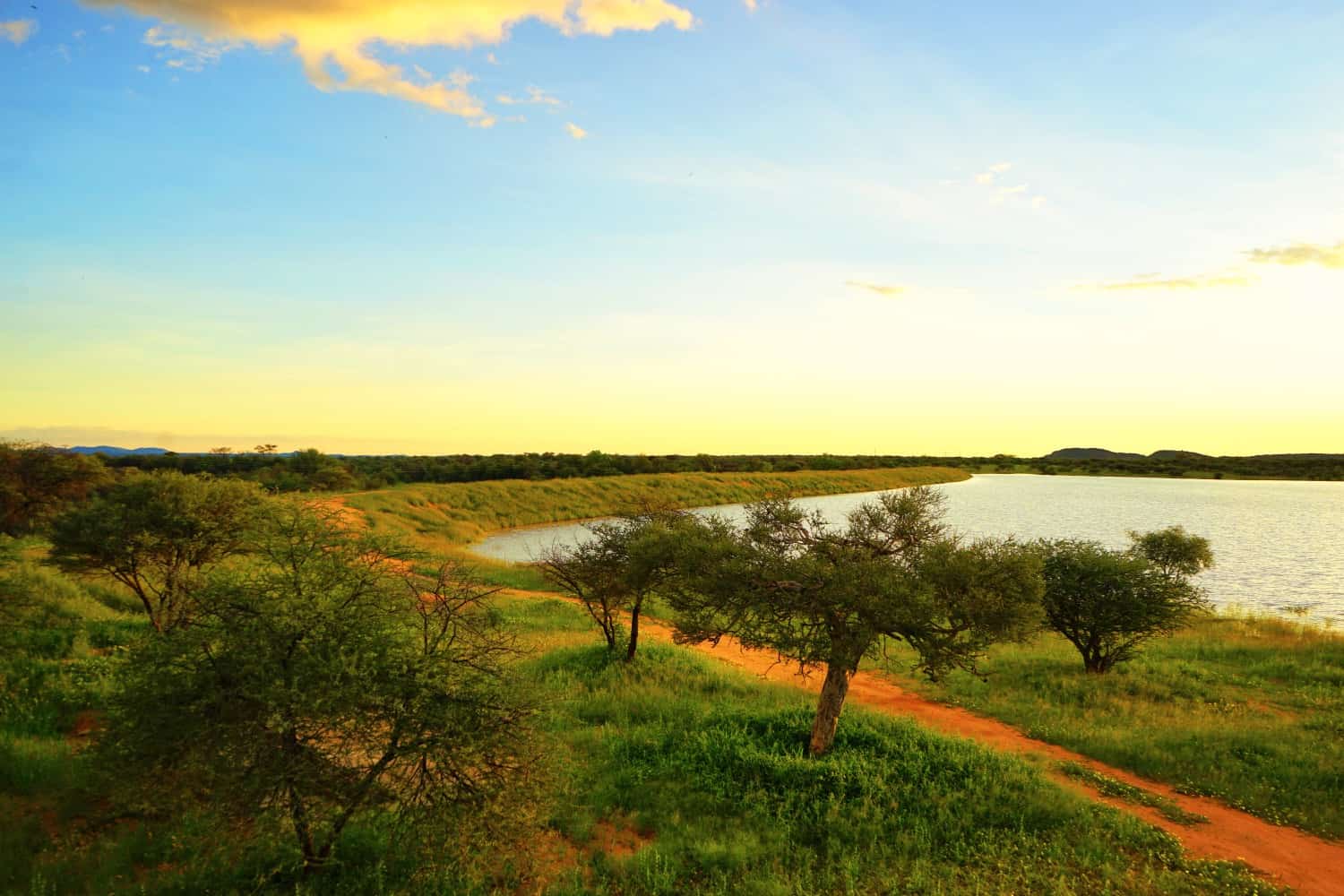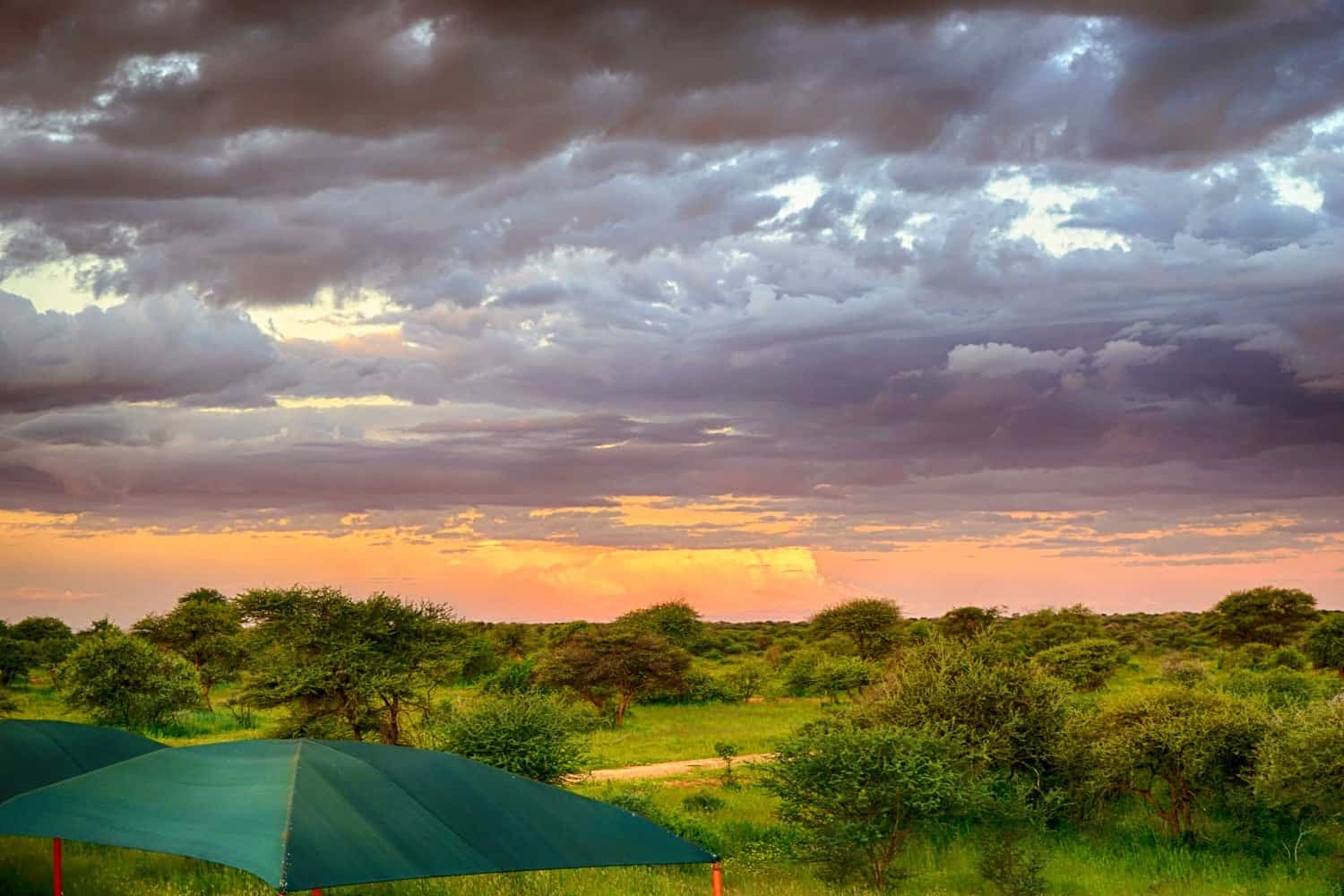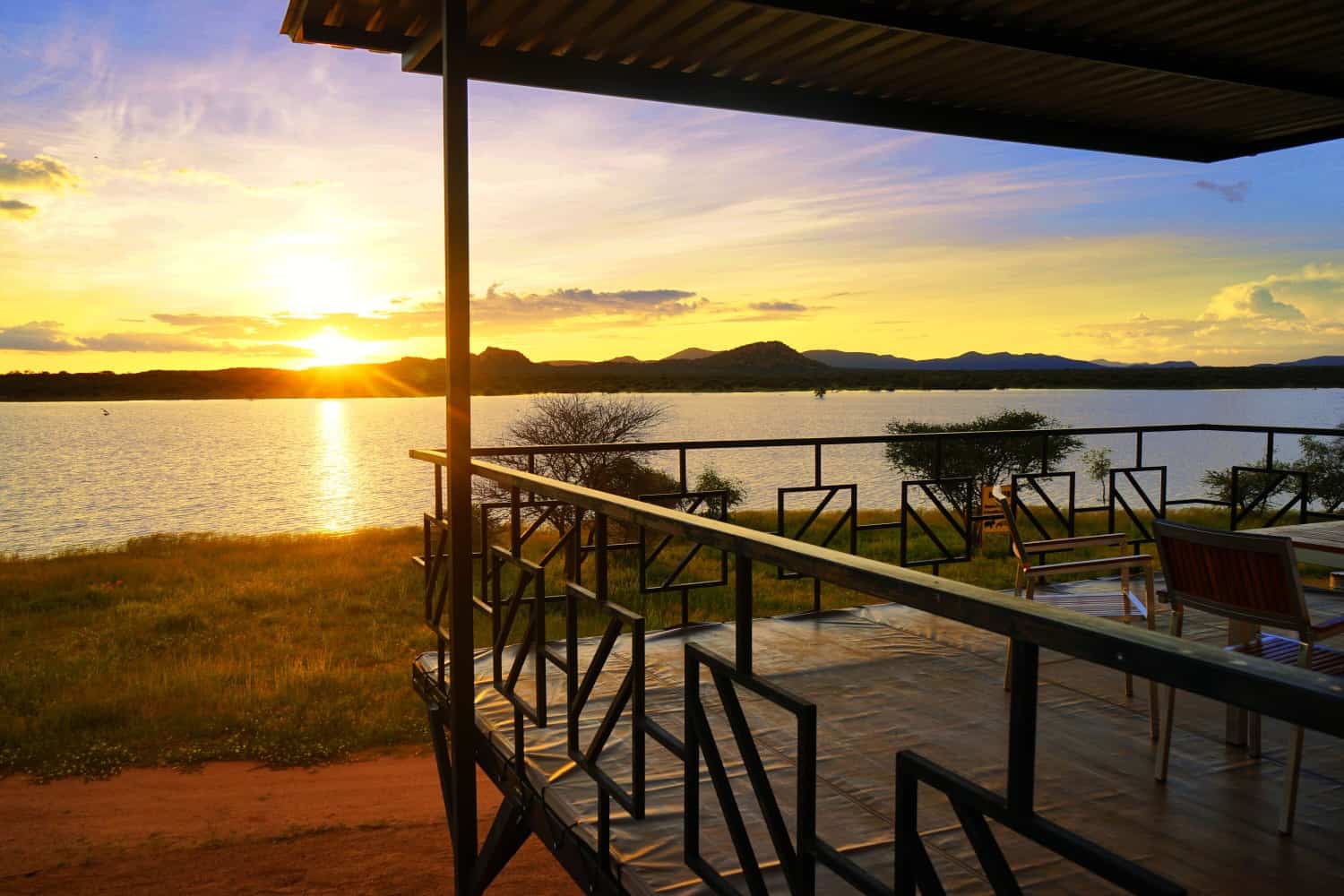 Several hours later, we wandered down a sandy track to the dining hall. Crickets chorused around us and I wondered what the odds were that we'd accidentally walk into the path of a hippo and be killed before our trip could really start.
Warthog fillets were on the menu that evening, which immediately became one of my favourite meats, and the standout game meat from our time in Namibia. As Dave and I filled our stomachs and sipped on our icy cold beers, I looked around the empty dining hall and grinned. If this is what every night in Namibia was going to be like, this could end up easily being one of the best trips of my life.
That night, before I fell asleep, I wandered outside of our room and gazed up at the Milky Way above us. Namibia has some of the darkest skies on the planet and it was the first night of many that I'd stand and gaze up at the stars in awe.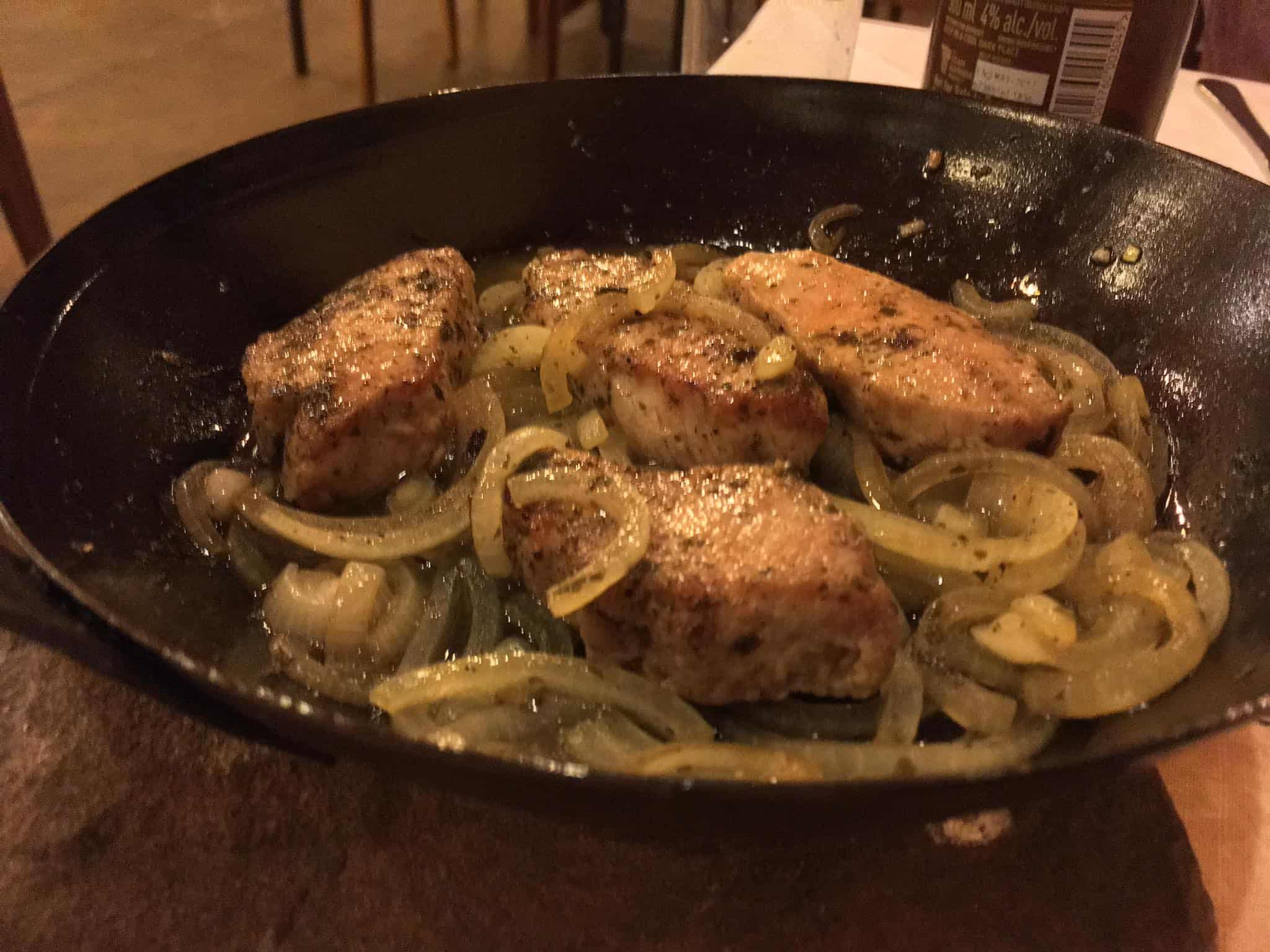 I awoke the following morning to sunlight streaming in through the window. I rolled onto my back and exhaled, watching the steam rise from my mouth. My back was sore from the bumpy roads of the day before, my face was sunburnt, and I was covered in a thin film of sand and dust.
It was a bittersweet feeling. I was itching to explore more of Namibia — and especially our next destination — but I'd fallen hard for this first stop. Ovita was my new happy place, and I dread leaving the places that fill me with so much joy.
I reached under my pillow for my phone and checked the time. It was 7 a.m., which meant we'd be hitting the road within a couple of hours and reaching Etosha by mid-afternoon.
We got dressed and had breakfast, then I rushed around the camp taking photos of everything so I wouldn't forget a single moment. These past 12 hours had been one of the highlights of my travels and I wanted to remember them forever.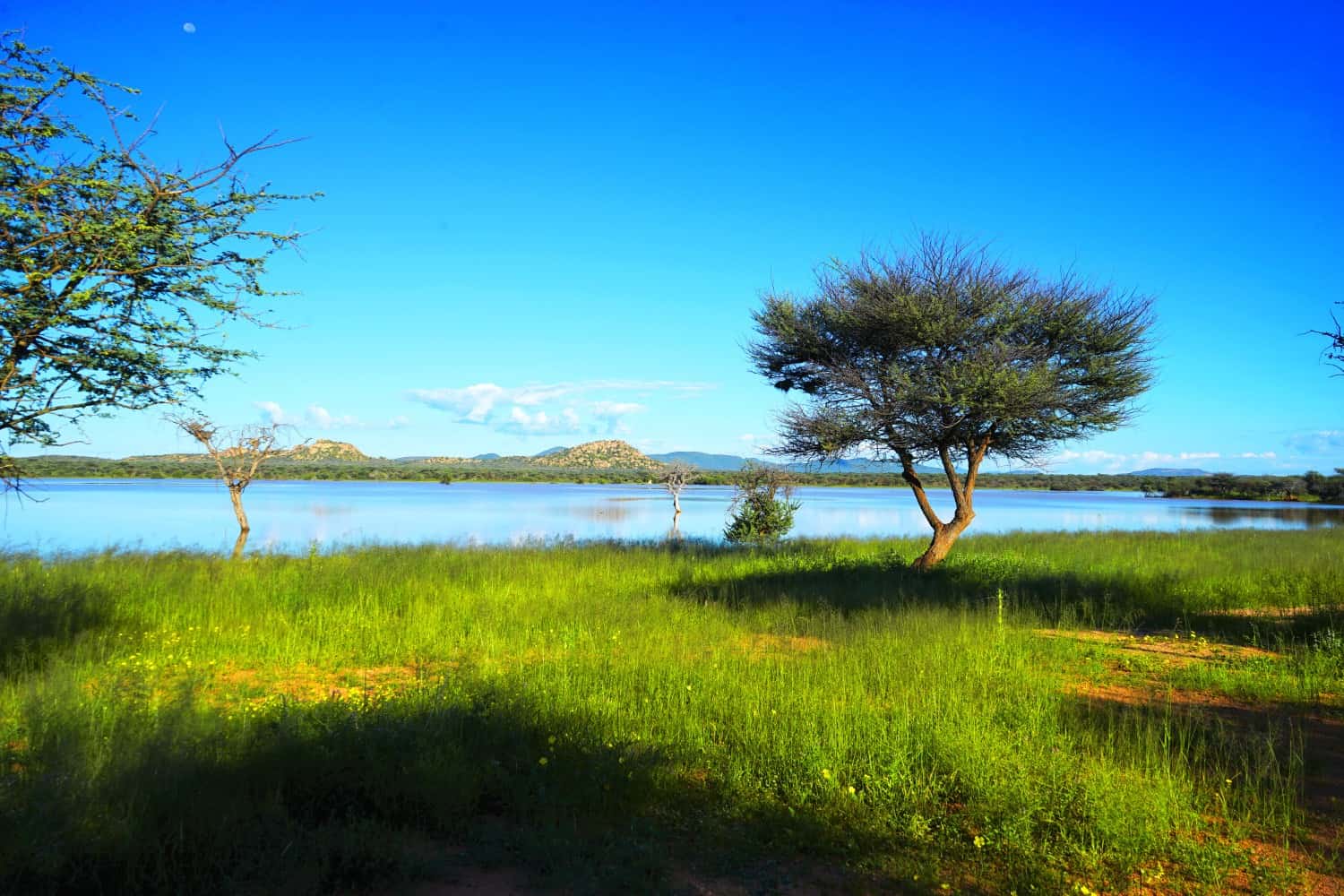 When Dave and I had sat up on Ovita's viewing platform the night before, watching the sunset with a Windhoek Beer in hand, I'd believed that moment would end up ranking as one of the highlights of my time in Namibia. It was one of the highlights of my life
But by the end of my trip? I'd practically forgotten that first night.
Namibia is a country full of mind-blowing landscapes, incredible experiences, and spectacular lodges, and Ovita had been just a taster of what was to come.
Next up: Etosha National Park!
Related Articles on Namibia

🇳🇦 What's it Like to Travel in Namibia?
💰 The Cost of Travel in Namibia: My Detailed Budget Breakdown
🐘 Desperately Seeking Elephants in Etosha National Park
🏜 Finding Paradise in Vingerklip: Africa's Monument Valley
🦭 Seals, Swakopmund, and the Skeleton Coast
🥾 Climbing Big Daddy: An African Travel Highlight
🏚 Exploring Kolmanskop: Namibia's Ghost Town in the Desert