Brunei has a reputation for being expensive for travellers.
In some respects it is. When you compare the cost of travel in Brunei to somewhere like Vietnam, it is a little pricer. You'll pay more for accommodation in Brunei, and won't be cruising by on just $15 a day.
In spite of that, I was surprised by how affordable Brunei was. Just like in Vietnam, you can grab a meal for as little as $1, and a bus ride in Bandar Seri Begawan is 80 cents per journey. There are plenty of free activities and attractions to dive into, and even buying data for your phone is affordable!
One of my current goals for Never Ending Footsteps is to publish a detailed look at how much I spent in every country I've visited. I've completed 15 so far with 65 to go, and I'm excited to now be turning my attention to Brunei.
What's Included in this Post
As always, this budget breakdown covers how much I spent on accommodation, transportation, activities, food, and other miscellaneous items while I was in the country.
I've not included my flights into and out of Brunei, as this will vary based on where you'll be arriving from. Most flights arrive from Kuala Lumpur, where Air Asia runs regular flights to Bandar Seri Begawan, and I paid $51 for this flight.
My expenses in this guide are listed in Brunei dollars and converted into U.S. Dollars, simply because the vast majority of my readers are from the United States. The Brunei dollar is pegged with the Singapore dollar and you can use the currencies interchangeably in both countries.
I don't accept comps, freebies, press trips, or whatever you want to call them, on this site, so everything listed in this post is something I paid for with my own money. This guide, however, does contain affiliate links. What that means is that if you decide to make a purchase through one of the links in this article, I receive a commission at no additional cost to you. Your support is what keeps me on the road and Never Ending Footsteps sponsor-free.
And finally, these amounts are what I personally paid while travelling with my boyfriend in Brunei. That means that the total accommodation price and the cost of my boat tour have been halved to indicate my share.
Okay — let's get started with these expenses.
The Cost of Accommodation in Brunei
We chose to stay at the highly-rated Taman Mawar Guesthouse in Brunei, which I can't recommend enough. If you've read my post about whether Brunei is worth visiting, you'll already know that the owner of this guesthouse, Maya, more than made my trip to Brunei.
She picked us up from the airport, gave us rides into and out of the city, bought us lunch, and introduced us to the local night market. If it wasn't for her, I believe we wouldn't have enjoyed our time in Brunei as much.
As for the guesthouse itself, we had access to a clean, spacious room with a private bathroom, and full use of the kitchen, living area, and washing machine.
In the interest of being balanced, I have to mention the downsides. The guesthouse is quite far from the centre of Bandar Seri Begawan. As in, a 60-minute walk away. It wasn't a big deal for us, as a bus for the centre regularly leaves from outside the guesthouse and Maya usually offered to drive us into town when she was free.
As for alternatives, if you're looking to stay within walking distance of all of the attractions in Bandar Seri Begawan and are on a mid-range budget, the best option is probably going to be the Capital Residence Suites at a price of $64 a night for a double room.
If you're on a tight budget, the cheapest room in Bandar Seri Begawan is the $20 a night dorm bed at Poni Homestay.
My average daily cost of accommodation came to $17 per day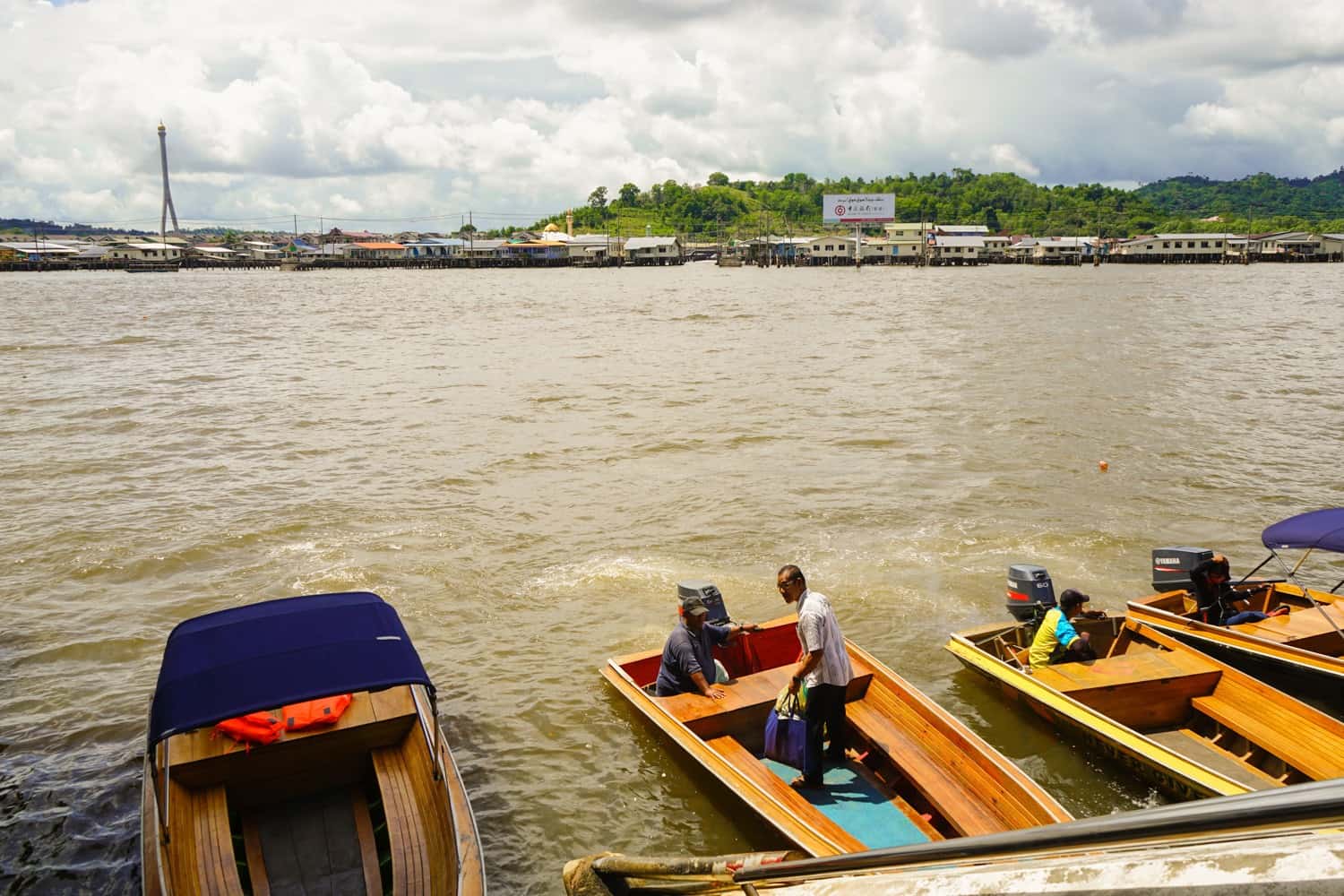 The Cost of Transportation in Brunei
I spent very little on transportation in Brunei.
This was partially because Maya offered a free airport transfer, then insisted she drive us wherever we needed to go. On top of that, whenever I attempted to walk anywhere, a local would usually pull over and offer to give me a lift. This isn't a rarity — all over the internet you can find visitors to Brunei talking about how locals often offered to drive them around. I recommend giving a tip of around 5 BND ($3.66) to thank them for their kindness, although they might refuse to accept it.
Public transport isn't fantastic in Brunei. There are no trains, taxis are rare and expensive, and the buses stop running after 6 p.m. This can be an enormous pain in the ass if you're planning to head to a night market for dinner, for example. Still, for daytime explorations, the bus is inexpensive at 1 BND ($0.71) per journey.
You could hire a car in Brunei if you're comfortable driving on the left-hand side of the road. Bruneian drivers are respectful and the roads calm in comparison to other countries in Southeast Asia, so I wouldn't personally be too nervous about driving in the country. Petrol is around 0.50 BND ($0.37) a litre, and car hire starts from 55 BND ($40) a day.
In Brunei, I spent a total of 5 BND ($3.66) on transportation during my four days in the country. This included two bus rides from the centre of Bandar Seri Begawan to my accommodation, and a tip for a local who offered us a lift.
Overall, my average cost of transportation came to $0.92 per day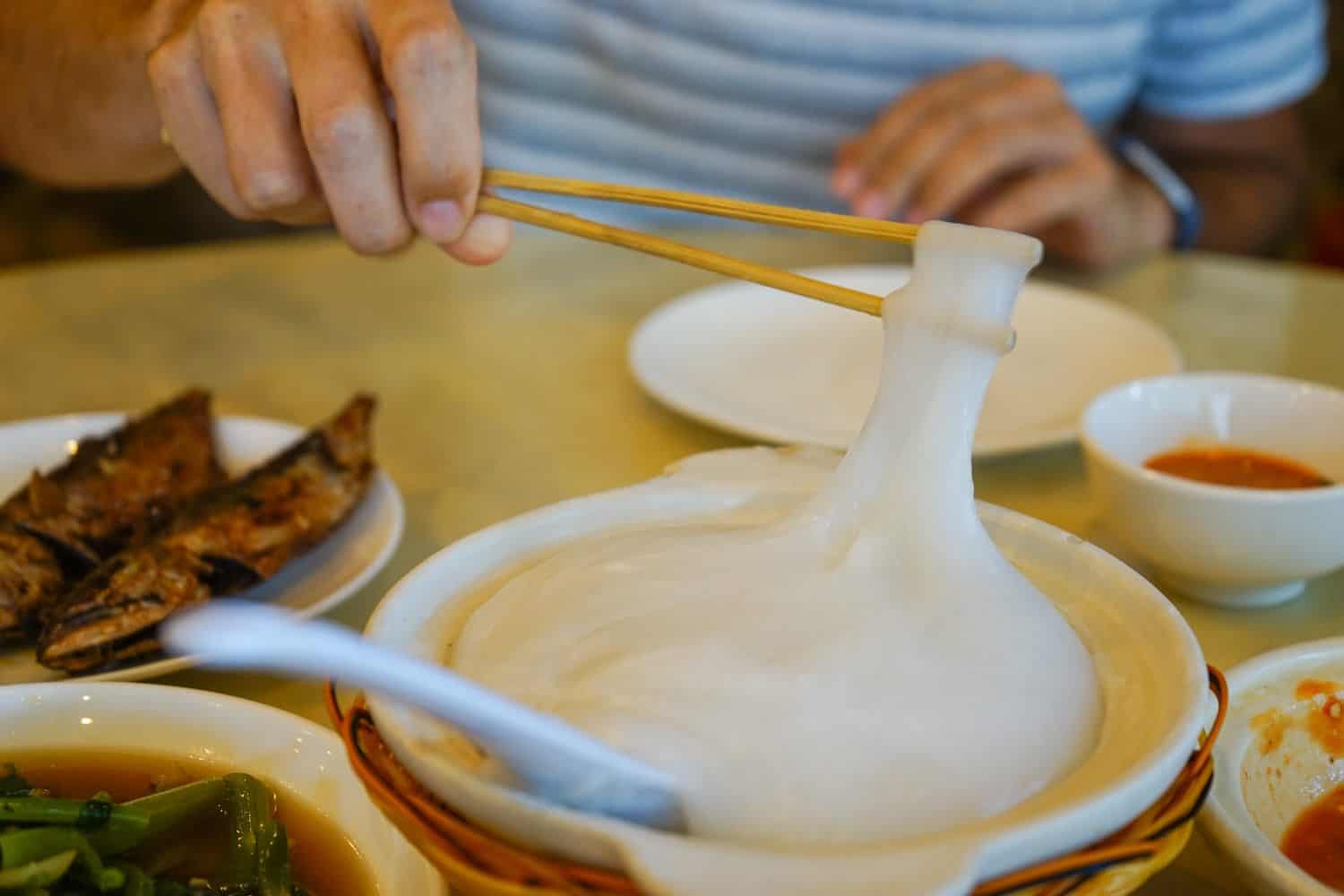 The Cost of Food in Brunei
I found eating out in Brunei to be exceptionally affordable, and I have Gadong Night Market to thank for this.
After Maya introduced me and Dave to it on our first night in the country, we returned every evening for a meal of skewered meat and smoothies, then grabbed some chicken and rice to put in our fridge and have for breakfast the following morning. Given that most dishes are priced between 1 and 5 BND ($0.73-$3.66), it made for some exceptionally cheap meals.
When we did decide to eat out, our meals were still reasonable in price.
We opted for lunch at Seri Damai Restaurant, a Pakistani eatery, in Bandar Seri Begawan one day, and my meal of a lamb saag, garlic naan, and lassi came to 11 BND ($8.00). One morning, we opted for a truly horrendous breakfast at Coffee Bean and Tea Leaf, as it was the only restaurant that was open and serving meals. For the pleasure of the worst eggs Benedict I've ever had plus a cup of tea, I paid 6.80 BND ($5.00).
One of the activities I recommend most to visitors to Brunei is trying ambuyat! Maya treated us to our meal, but from browsing the menu online, it looks like a set meal is 26 BND ($19.00), which works out to be quite inexpensive if you have a group of people to share with.
Overall, I spent an average of $13 a day on food in Brunei.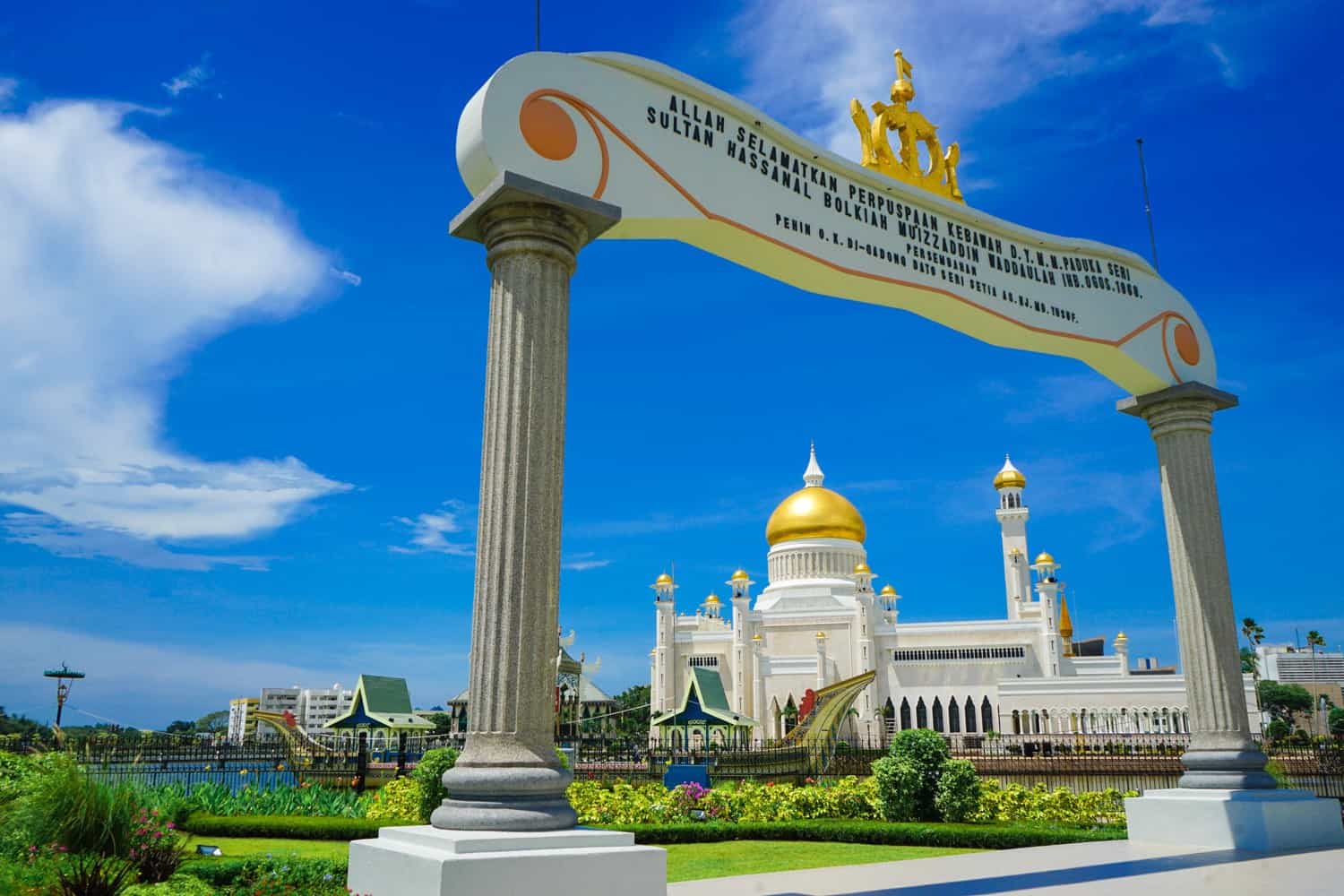 The Cost of Activities in Brunei
Fortunately, the vast majority of activities in Brunei are free to participate in. You don't have to pay to enter the Royal Regalia Museum, the mosques are free to explore, and you can walk around Kampong Ayer without needing to pay for a tour or guide.
The one activity I did splash out on while I was in the country was a boat trip along the river. Dave and I paid 30 BND ($22) in total to hire our driver and boat for a 90 minute cruise. We spent half of that time spotting proboscis monkeys beside the river, and the other half exploring Kampong Ayer: Brunei's floating village.
There are a few other activities you may want to splurge on while you're in the country.
Brunei has surprisingly good diving, with plenty of WWII wrecks to explore and a healthy amount of coral, thanks to its location on the edge of the Coral Triangle. Poni Divers receive the best reviews, and a full-day on the water with them is priced at 153 BND ($112).
One activity that always receives a good write up is day-tripping around Ulu Temburong National Park, which is something you can only do via a guided tour. At 153 BND ($112), it's pretty expensive, so I'd only recommend doing this trip if you're not going to be travelling into Malaysian/Indonesian Borneo afterwards. The jungle is just as impressive across the island, but it isn't as expensive to see as it is in Brunei.
I averaged $2.75 a day on activities in Brunei.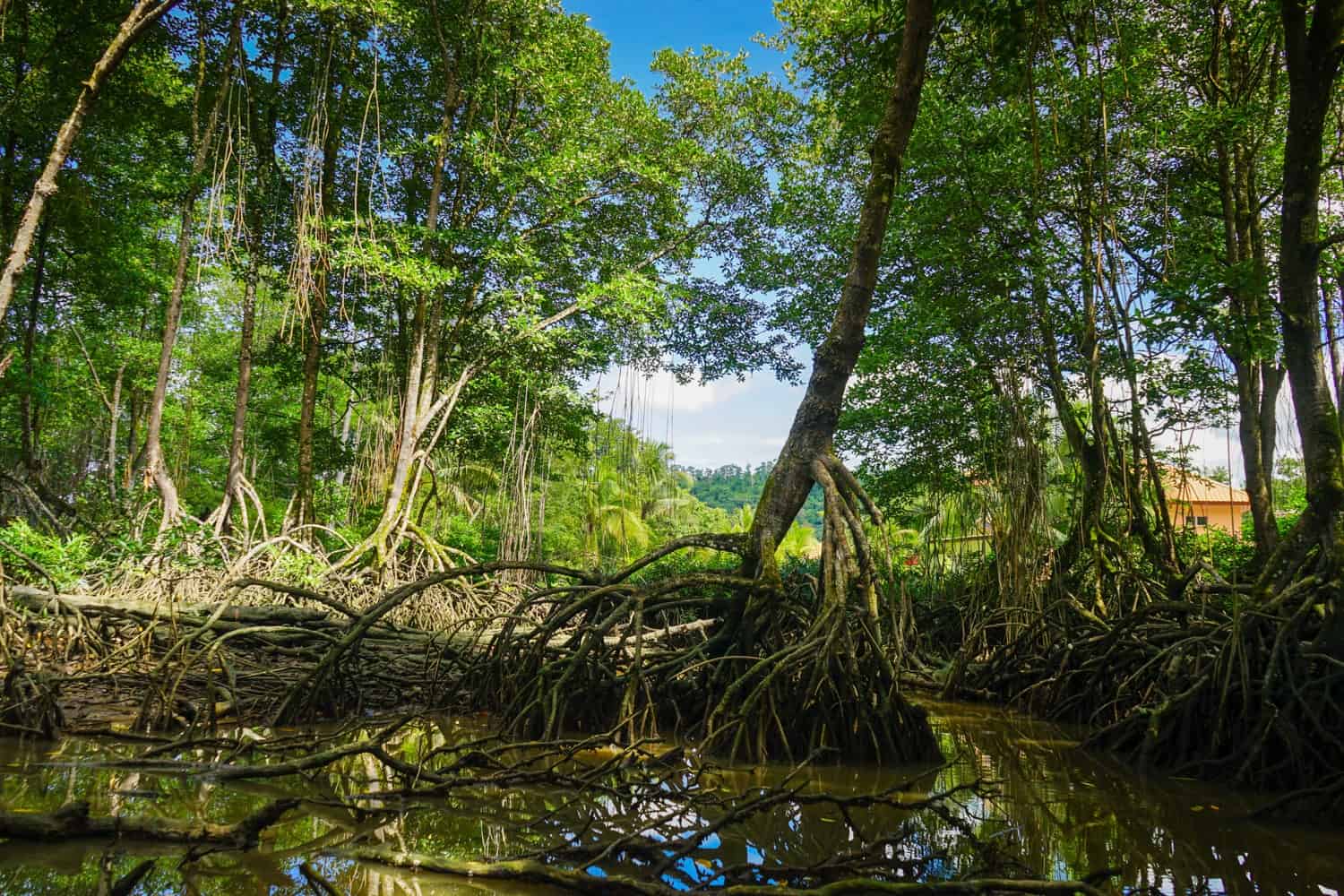 Miscellaneous Expenses in Brunei
I didn't have too many of these while I was in Brunei — just my standard two expenses.
Local SIM card in Brunei: Buying a SIM card in Brunei was easy, as you can pick one up in the arrivals hall in Bandar Seri Begawan. I opted to buy one from Progresif, as they have the cheapest rates for data. I paid 10 BND ($7.32) for 1 GB, which was valid for four weeks. Speeds weren't amazing at 2 Mbps download and 1 Mbps upload, but it was fine for staying connected while I was outside exploring.
If you want to ensure you have data from the moment you land in Brunei, and want to buy your SIM card in advance, opt for Airalo, which sells local e-SIM cards for travellers (make sure you phone accepts e-SIMs! All iPhones do, and some Androids). What that means is that you can buy your SIM card online before you arrive in Brunei, and then as soon as you land in the country, you can switch on your data and start using it. It's worked flawlessly for me and now, I'll never go back to physical SIM cards. You'll pay $9 for 1 GB of data or $27 for 5 GB for Brunei and can top-up through the Airalo app.
Travel insurance in Brunei: If you've read any other posts on Never Ending Footsteps, you'll know that I'm a great believer in travelling with travel insurance. I've seen far too many Go Fund Me campaigns from destitute backpackers that are unexpectedly stranded in a foreign country after a scooter accident/being attacked/breaking a leg with no way of getting home or paying for their healthcare. These costs can quickly land you with a six-figure bill to pay at the end of it.
In short, if you can't afford travel insurance, you can't afford to travel.
Travel insurance will cover you if your flight is cancelled and you need to book a new one, if your luggage gets lost and you need to replace your belongings, if you suddenly get struck down by appendicitis and have to be hospitalised, or discover a family member has died and you need to get home immediately. If you fall seriously ill, your insurance will cover the costs to fly you home to receive medical treatment.
I use SafetyWing as my travel insurance provider, and recommend them for trips to Southeast Asia. Firstly, they're one of the few companies out there who will actually cover you if you contract COVID-19. On top of that, they provide worldwide coverage, don't require you to have a return ticket, and even allow you to buy coverage after you've left home. If you're on a long-term trip, you can pay monthly instead of up-front, and can cancel at any time. Finally, they're more affordable than the competition, and have a clear, easy-to-understand pricing structure, which is always appreciated.
With SafetyWing, you'll pay $1.50 a day for travel insurance.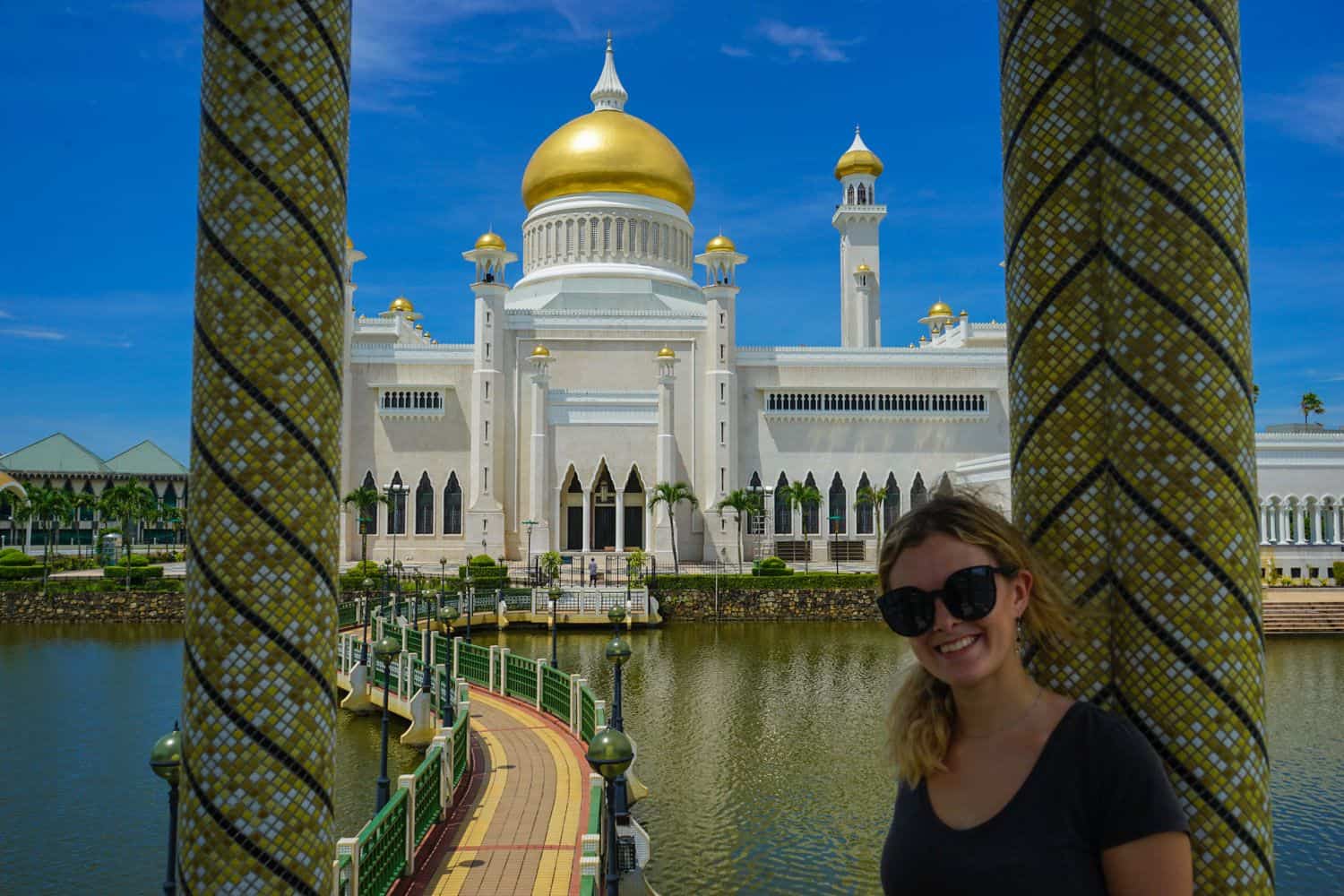 My Travel Expenses in Brunei
As always with these budget breakdowns, I like to end by sharing the exact amount I spent in a country, as a daily average. In Brunei, my expenses were as follows:
Accommodation: $17 per day
Transportation: $0.92 per day
Food: $13 per day
Activities/Entrance Fees: $2.75 per day
Local SIM card: $1.83 per day
Travel insurance: $2 per day
My average spend in Brunei therefore came to: $37.50 per day!
And for all of my solo travellers out there, if I had been travelling alone and therefore not split the costs of accommodation and activities, I would have averaged $57.25 per day.
Given that Brunei has a reputation for being expensive, I'm impressed by the amount I spent while I was in the country. I didn't feel as though I was sticking to a tight backpacker budget while I was there, especially as the accommodation I chose was so comfortable. My expenses were therefore kept low by a combination of street food eating, only splurging on one paid activity, and somehow managing to hitch a ride with locals whenever I left my room.
Are you surprised by how much it costs to travel in Brunei?
Related Posts on Brunei and Borneo

🇧🇳 Is Brunei Worth Visiting? My Experience in the Sultanate
🚍 How to Get From Brunei to Kota Kinabalu
🍜 Where to Eat in Kota Kinabalu
🪲 Catching Fireflies on the Kawa Kawa River