Brunei has a reputation for being expensive for travellers.
In some respects it is.
When you narrow your search radius to within Southeast Asia's borders and compare the cost of travel in Brunei to somewhere like Vietnam, it is a little pricer. You'll pay more for accommodation in Brunei, for sure, and definitely won't be cruising by on just $15 a day.
In spite of that, I was surprised by how affordable Brunei was. Just like in Vietnam, you can grab a meal for as little as $1, and a bus ride in Bandar Seri Begawan is a mere 80 cents per journey. There are plenty of free activities and attractions to dive into, hostels do exist, and even buying data for your phone is inexpensive!
Today, I'm going to be revealing exactly how much you can expect to spend on a trip to Brunei.
I've been recording every single dollar, peso, and baht that I've spent while visiting 100 countries over the past 12 years (I now have over 65 budget breakdowns on the site!), all so that I can give you an accurate idea of how much you can expect to spend in every country around the world. Today, it's Brunei's turn and I'm so excited to start sharing.
Here's a quick breakdown of how much it costs to travel in Brunei, per person per day:
| | Hotel | Transport | Food | Activities | Total |
| --- | --- | --- | --- | --- | --- |
| Backpacker | $16 | $0 | $12 | $0 | $28 |
| Mid-range | $30 | $2 | $20 | $5 | $57 |
| Luxury | $60 | $5 | $30 | $56 | $151 |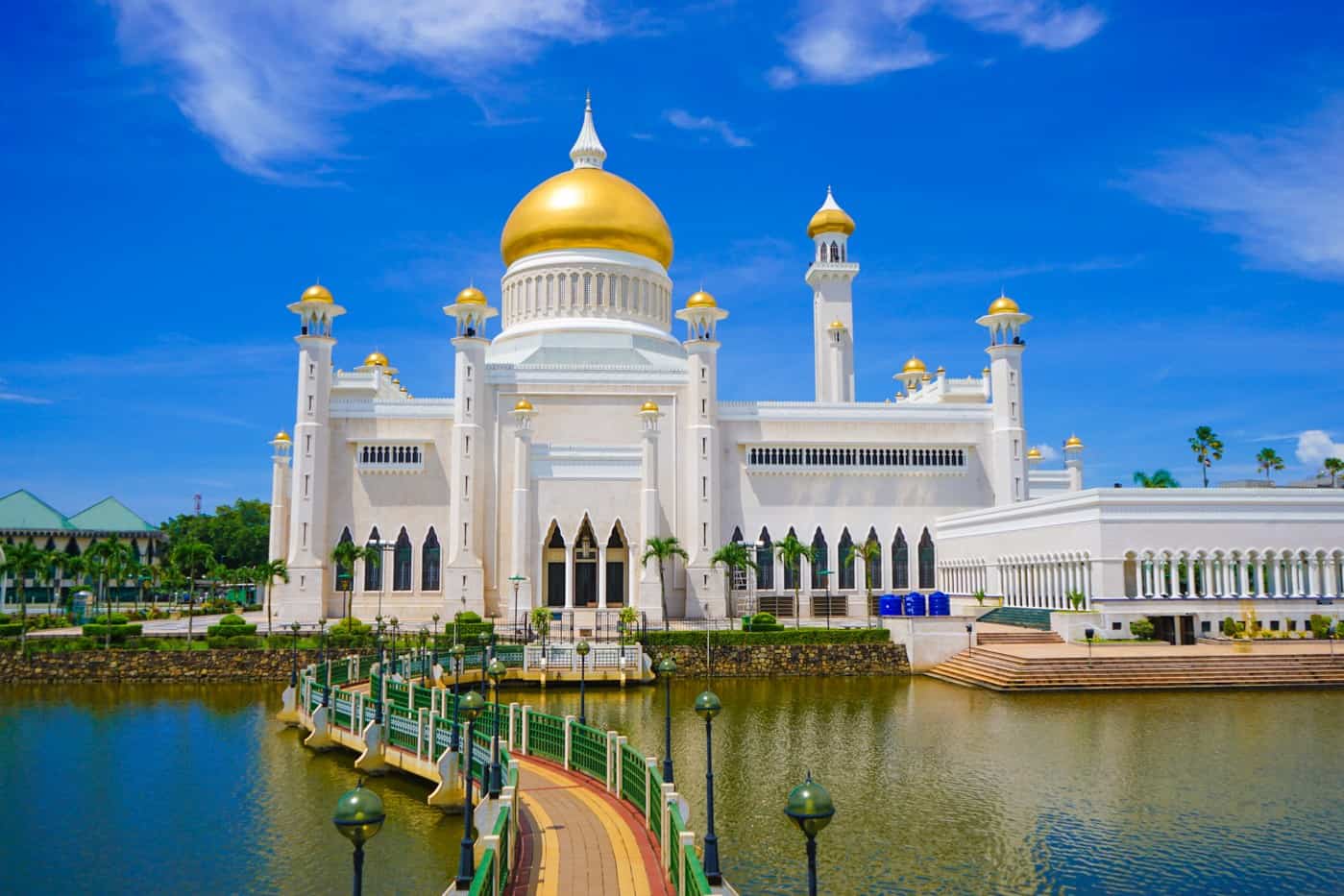 What's Included in this Post
This budget breakdown covers how much I spent on accommodation, transportation, activities, food, and other miscellaneous items while I was in the country.
I've not included my flights into and out of Brunei, as this will vary based on where you'll be arriving from. Most flights within Southeast Asia arrive from Kuala Lumpur, where AirAsia runs regular flights to Bandar Seri Begawan; I paid $51 for a one-way flight.
My expenses in this guide are listed in Brunei dollars and converted into U.S. Dollars and British Pounds, simply because the vast majority of my readers are from the United States and I'm from the U.K. The Euro is almost 1:1 with the U.S. Dollar these days.
The Brunei dollar is also pegged with the Singapore dollar and usefully, you can use both currencies interchangeably within each country.
I strictly don't accept comps, freebies, press trips, sponsored trips, or whatever you want to call them, on this site, so everything listed in this post is something I paid for with my own money. I also travel anonymously to ensure that service providers treat me the same way as anybody else; I don't want to receive special treatment by being a travel writer, as it means I can't review experiences with accuracy.
This guide, however, does contain affiliate links. What that means is that if you decide to make a purchase through one of the links in this article, I receive a commission at no additional cost to you. Your support is what helps keep me on the road and Never Ending Footsteps sponsor-free.
Okay — let's get started with these expenses.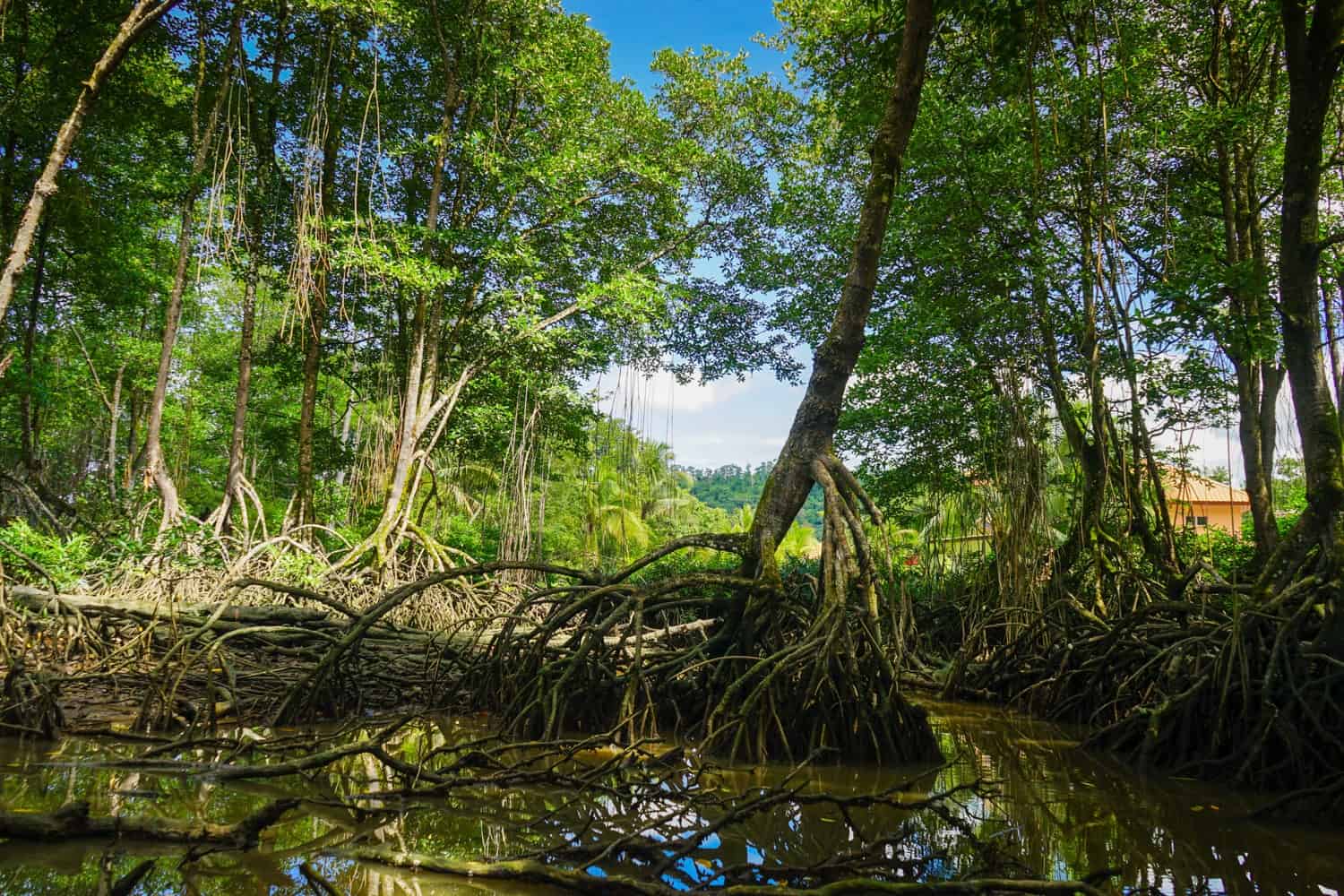 The Cheapest Accommodation Options in Brunei
I mentioned above that Brunei is a little pricey compared to its neighbouring Southeast Asian countries, but the good news is that it's still way more affordable than many countries in North America and Western Europe.
Let's start on the lower end of the spectrum. If you're willing to put in the time and effort, it's possible to avoid paying huge amounts for accommodation.
Couchsurfing exists on a very small scale in Brunei and allows you to stay with a local for free, usually sleeping on their sofa and enjoying a local's insight into life in their country. It's not the most comfortable of living situations, but if your budget is tight, it's worth sending out a few requests to hosts to see if anything comes of it. You can browse through the thousand-odd Bruneian hosts on the Couchsurfing site.
Housesitting is a more upmarket option for free accommodation, but as with Couchsurfing, operates on a small scale (there's only around one sit available a month in Brunei, so pickings are slim). Housesitting involves taking care of somebody's house for free while they're away, so it's best for long-term travellers or retirees, as you can't pick and choose dates and neighbourhoods. If you do have flexibility and manage to nab yourself a rare Brunei housesit, however, it's a wonderful way to cut down your travel expenses, soak up some home comforts, and live like a local for a while. Trusted Housesitters is the best site for getting started with housesitting.
Finally, you could also take a look at volunteering in Brunei. WorkAway has a placement for Brunei on their site, where you can volunteer your time to help build a permaculture garden for students. In exchange, you'll receive free accommodation, food, transportation, and even sightseeing opportunities! Definitely worth taking a look if you like to give back as you travel.
With the free accommodation options now covered, let's take a look at some of the properties for budget travellers. Yes: hostels do exist in Brunei! And they're actually not too pricey.
The best hostel in Brunei: CoLiving Hostel Bandar ($16 a night (£13/25 BND) for a bed in a 8-bed dorm). This sweet, social spot is located within walking distance of all of the most popular attractions in Bandar Seri Begawan. It's a particularly great option if you work online, too, as there's a small co-working space available to guests! You also get access to a kitchen and free cups of tea as an added bonus.
The cheapest hostel in Brunei: 22 Hours ($13 (£11/18 BND) for a dorm bed, $23 (£19/31 BND) for a private double): yes, this is the cheapest bed in the city! 22 Hours hostel actually opened in 2023, so it's still super clean and modern. It's about 5 km outside of Bandar Seri Begawan, so not as attractive a location as the CoLiving Hostel, but does help you save some money (you could easily hitchhike into the centre of town each day). There's internet throughout the property and a shared kitchen for guests to use.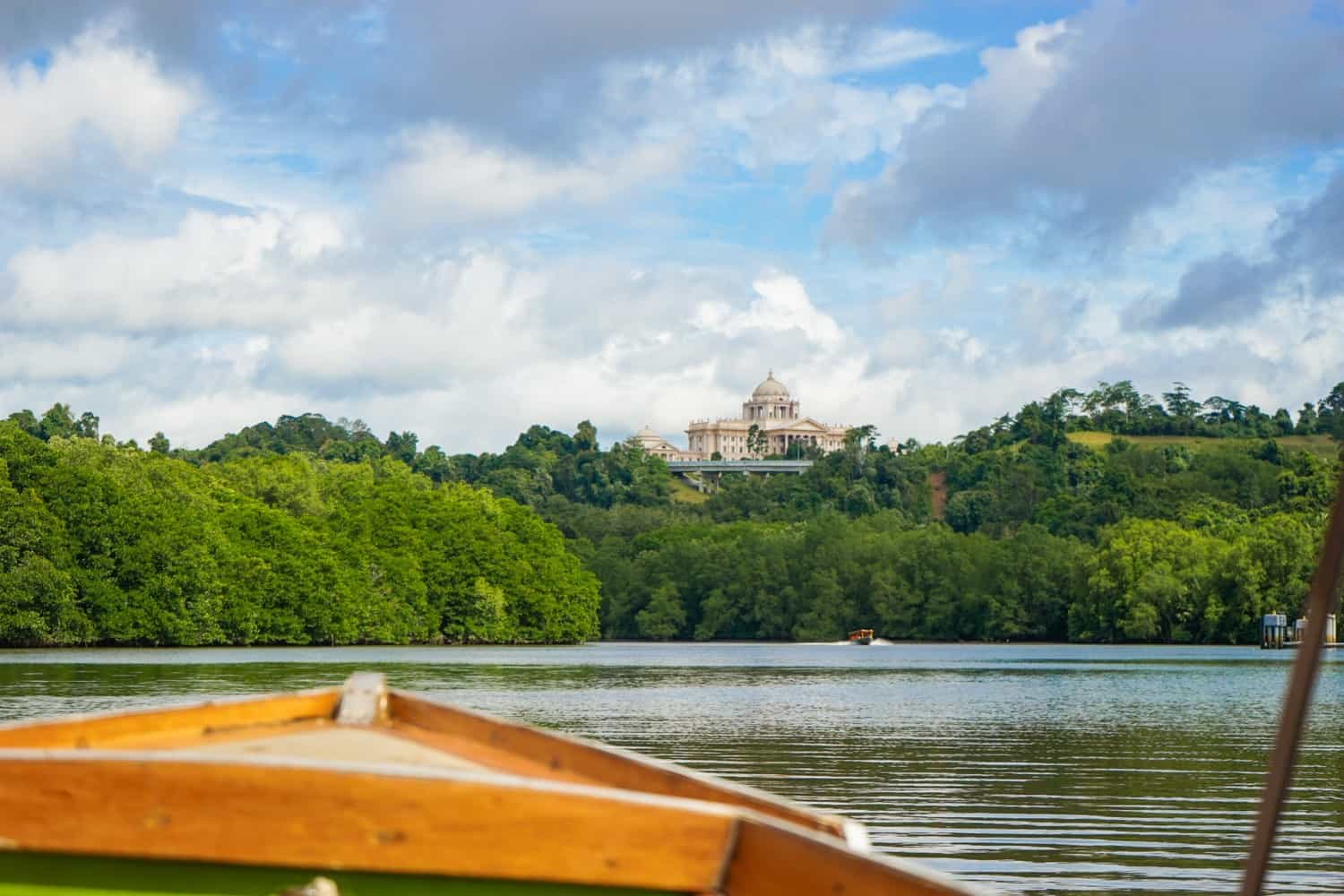 The Cost of Accommodation in Brunei
The best mid-range hotel in Brunei: Capital Residence Suites ($61 a night (£50/83 BND) for a double bed. This is one of the best-rated hotels in the city and is also one of the few properties that's actually located within Bandar Seri Begawan.
The vast majority of hotels in BSB are actually located several kilometres outside of the city centre, which means if you don't have your own transport, you're going to end up taking local buses or hitchhiking, as taxis don't really exist in Brunei. So needless to say, if you can choose a hotel that's located within the city limits, it's going to make your explorations so much easier.
But overall, Capital Residence Suites is great! They offer a free breakfast to guests, as well as a free shuttle; both of which are going to help you save money in Brunei. You can take the shuttle to/from the airport and to any attractions that aren't within walking distance. The rooms are clean and spacious, the staff are full of tips to help you make the most of your stay, and the internet speeds are fast for Brunei.
The best traditional accommodation in Brunei: Kunyit 7 Lodge ($56 a night (£46/76 BND) for a basic triple room with shared bathroom)
One of the most interesting neighbourhoods in Bandar Seri Begawan is Kampong Ayer: a traditional floating village on the river, which is exactly where this property is located. Yes, you'll be staying in a homestay on stilts over the water! The rooms are basic here, so don't go into the experience with luxurious tastes, but if you're keen to connect with a local family, learn about their way of life, and live how they do, this is an excellent opportunity.
The best luxury hotel in Brunei: Radisson Hotel Brunei Darussalam ($120 a night (£98/164 BND) for a superior double room)
There's only one luxury hotel in Bandar Seri Begawan and that's the Radisson. At a price of $120, it's great value for a five-star hotel! If you've stayed at a Radisson before, you'll know exactly what you're going to get: a clean and spacious room, fast internet, and helpful staff. There's also a swimming pool on-site for those hot and sweaty days, a fitness centre, and the hotel runs a free shuttle all over the city. It's also in a great location, within walking distance of the centre of town. Breakfast costs $13 a day.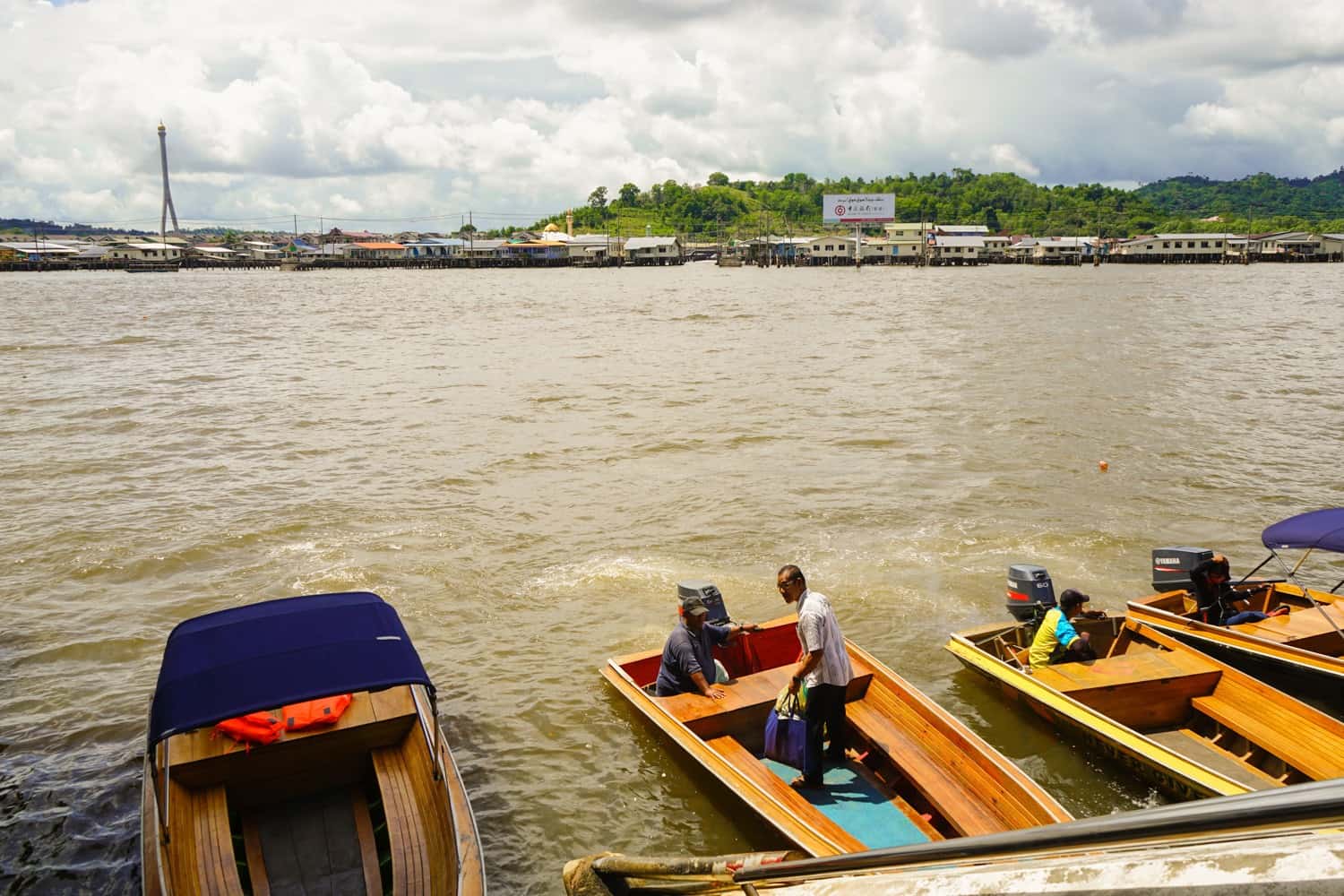 The Cost of Transportation in Brunei
I spent very little on transportation in Brunei.
If you know anything about this country before arriving, it just might be that it's home to vast reserves of oil and gas. Well, those reserves help subsidise the cost of petrol, making it shockingly cheap to drive in this country (gas is $0.40 a litre!)
Yes, Brunei is a country in which almost every single person drives; amazingly, it's common for households to have as many as four cars. And what that means is that this is one of the few countries in which you'll never see a taxi: there's less than 100 registered drivers in Brunei!
Brunei has, however, launched a taxi app called Dart (similar to Uber/Grab). It's quite expensive, as far as ride hailing apps go (and especially considering the price of gas), but if you'd prefer to avoid the buses, it's well-worth downloading it before you arrive. The minimum fare on Dart is 5 BND ($4/£3), then each subsequent kilometre is 0.46 BND ($0.34/£0.28). You'll also pay an airport fee of 3 BND ($2.20/£1.80) on top of that if you're using Dart for an airport pick-up/drop-off.
It's worth keeping in mind that the vast majority of accommodation in Brunei does run free shuttles — whether it's to/from the airport or to all of the major attractions. Because of this, it's unlikely that you'd need to take a taxi very often.
And I do want to draw your attention towards the art of hitchhiking. Now, I am not a hitching girly. I'm not comfortable thumbing down a car anywhere on the planet! So keep that in mind when I tell you that I highly recommend hitchhiking in Brunei! Yes, this was so far outside of my comfort zone, but it was so easy that it was almost shocking.
In fact, all I had to do in order to catch a ride was to walk! Driving is so common in Brunei that if a local spots a tourist walking along the side of the road, it's not that rare for them to pull over and tell them to jump in! This happened multiple times to myself and my partner while we were walking around the outskirts of the city. Let's just say it made it particularly inexpensive to travel around!
If somebody does offer you a lift, I recommend giving a small tip of around 3 BND ($2.20/£1.80) to thank them for their kindness, although if they were anything like my drivers, they might refuse to accept it.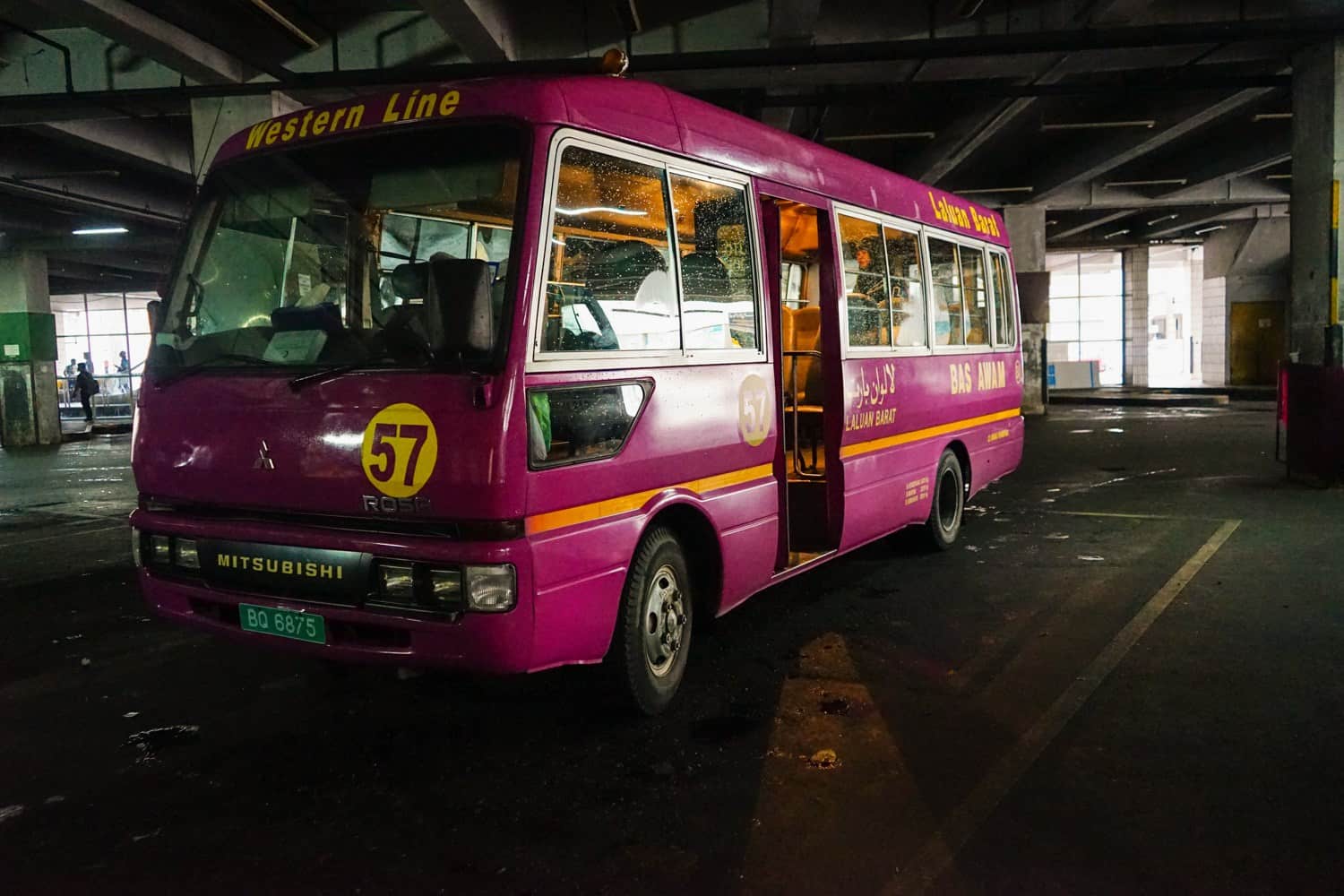 Because cars are so popular in Brunei (take a shot every time I tell you everybody drives here!) it also means that the public transportation options aren't fantastic.
There are no trains or trams, and the buses stop running after 8 p.m. This could be a pain in the ass if you're planning to head out for a later dinner and manage to miss the last bus. Still, for daytime explorations, the bus is inexpensive at 1 BND ($0.71/£0.60) per journey.
The main bus terminal is located outside the Brunei Hotel and from there, you'll be able to catch a ride to pretty much anywhere in the country. Bus routes are shown on signs at the terminal, so it's not too tricky to figure out which one you want to get on. You can peruse the routes in advance on the government transport website.
Now what about if you want to hire your own rental car in Brunei?
I've only ever been able to find car rental availability for Brunei through Skyscanner's rental section of their site, so I recommend heading there to take a look at prices. Do note that they drive on the left side of the road in Brunei, so you'll want to ensure you'll be comfortable handling that before you book a vehicle. In general, I found Bruneian drivers to be respectful and the roads calm in comparison to other countries in Southeast Asia, so I wouldn't personally be nervous about driving in the country. Car hire starts from around $55 a day (£45/75 BND) for a mini-sized car; most cars in the country are automatics.
And as we all know by now: the price of gas is cheap.
One form of transport that's particularly unique to Brunei is water taxis! I mentioned in the accommodation section that there's a sizeable floating village in Bandar Seri Begawan, and water taxis are often how the locals get to and from the city. You'll pay between 1-2 BND ($0.73-$1.40/£0.60-£1.20) for a trip over the river to the village.
You could speak to one of the water taxi drivers about an unofficial tour if you'd like to see some more of the attractions along the water. We paid 30 BND ($22/£18) to hire our water taxi driver for 90 minutes, but I'll go more into details of this in the activities section of this guide.
In Brunei, I spent a total of 5 BND ($3.66) on transportation during my four days in the country. This included two bus rides from the centre of Bandar Seri Begawan to my accommodation, and a tip for a local who offered us a lift. In other words: expect to pay very little for transportation in Brunei!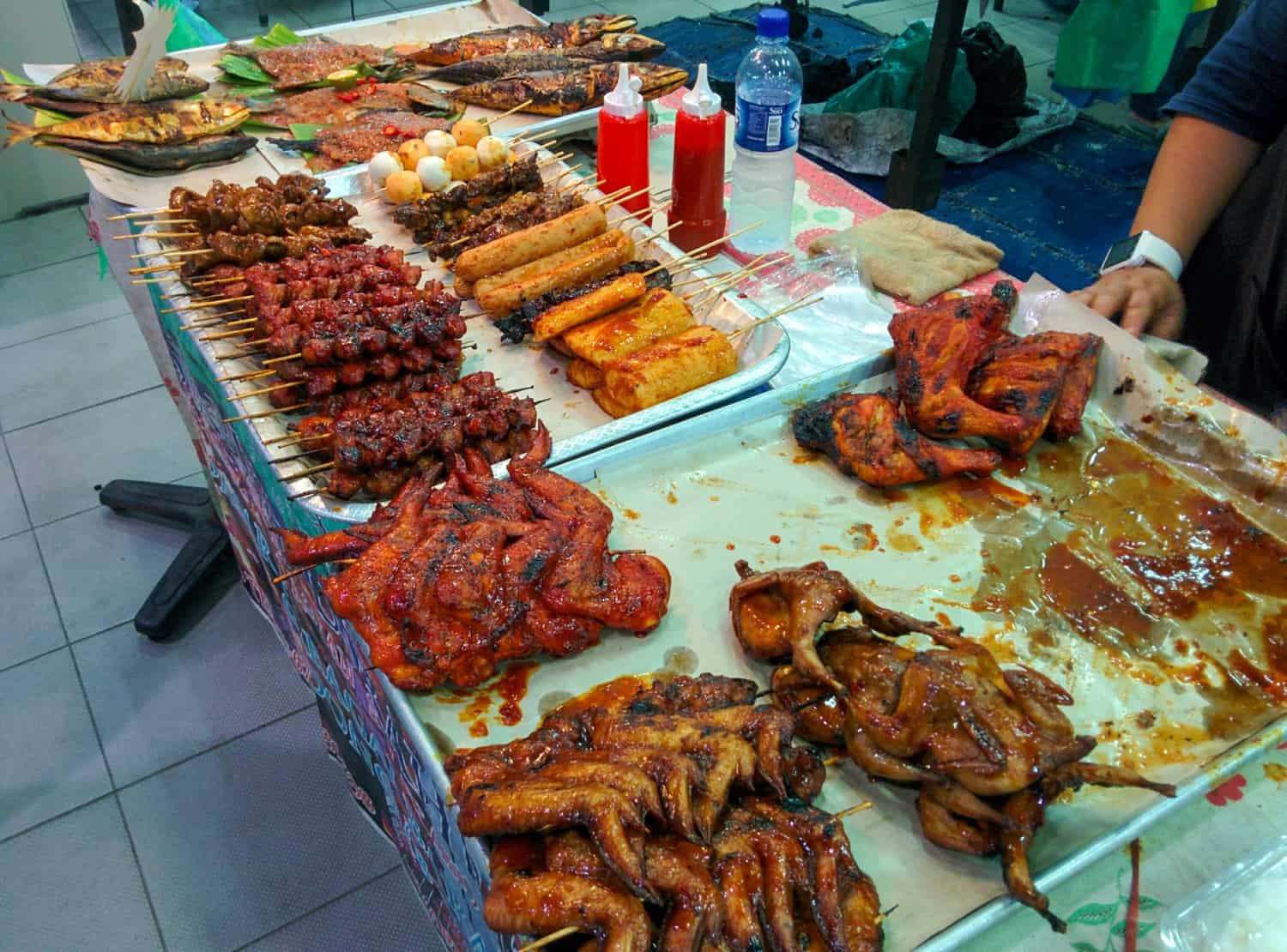 The Cost of Food and Drink in Brunei
I found eating out in Brunei to be exceptionally affordable, and I have Gadong Night Market to thank for this. Brunei has such a fascinating street food, and night market, scene and it makes eating out so affordable — as an added bonus, it's a real cultural experience!
Dishes at the night market are priced between 1 and 5 BND ($0.73-$3.66), making this one of the cheapest places to grab a meal in the country. You'll find all manner of local food up for grabs here, from noodles to curries, to fruit and fritters, to barbecued meat and… chicken butt.
Yes, chicken butt.
And yes, I did eat it.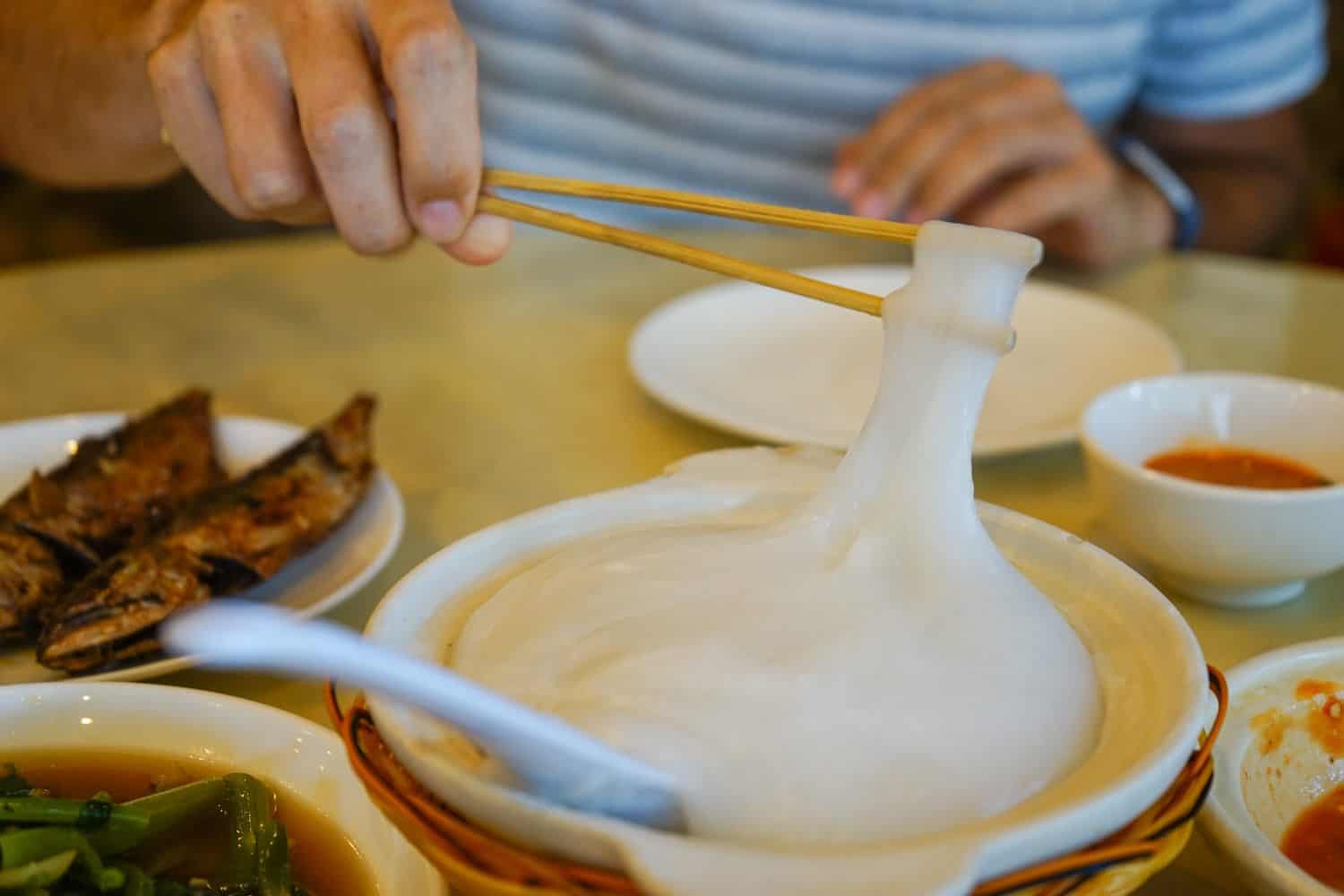 Speaking of little-known local dishes, I can't write about food in Brunei without mentioning ambuyat. One of my most memorable moments from my entire stay in BSB was trying this gooey, gluey delicacy.
Ambuyat is the national dish of Brunei and it's made from the interior of a sago palm. Interestingly, the dish is completely tasteless and it's eaten with a special type of fork called candas. These forks are made from two bamboo sticks that are glued together at one end and splay out to give a gap of around an inch at the other.
To eat the dish, you simply stick the fork into the ambuyat, twist it around, and then pull upwards so that you're left with a small ball on the end of the utensil. Next, it's time to give the ball its flavour: we chose a sauce that was made from fermented shrimp, durian, and chilli, and it gave each mouthful an incredible spicy, sweet, and sour flavour.
I don't think I'm doing a particularly good job at selling ambuyat to you, but really: this is what travel is all about. It's about diving mouthfirst into a brand-new culture, trying something you couldn't find back home, and emerging from it all with a fun story to tell.
You'll pay 8 BND ($6/£5) for an ambuyat set from Adresto, which is where you'll find one of the best versions in the city.
In terms of typical prices for other dishes you'll encounter throughout the country, there's nothing here that'll really break the bank. Fried rice with meat usually comes to 5 BND ($3.50/£3), as do fried or boiled noodles. We opted for lunch at Seri Damai Restaurant, a Pakistani eatery, one day, and my meal of a lamb saag, garlic naan, and lassi came to 11 BND ($8/£7) — the most expensive meal I had in Brunei. One morning, we opted for a breakfast at Coffee Bean and Tea Leaf. Eggs Benedict plus a cup of tea came to 6.80 BND ($5/£4), while a breakfast sandwich in a local cafe can come in at as little as 2 BND ($1.50/£1.20).
In general, then, you can see that you'll never spend too much money on food in Brunei. The night market will help keep costs low, while restaurants are rarely more than $10/£8 per person for a meal.
How about drinks? Well, the first thing to keep in mind is that alcohol is illegal in Brunei. You cannot buy any alcohol from supermarkets or restaurants. If you love your booze, however, two liters of spirits/wine and 12 cans of beer can be brought in to the country by non-Muslims for consumption in your hotel room. Doesn't sound particularly fun to me, so I stuck to being teetotal while in Brunei: it helps keep your travel costs down, too!
In terms of the cost of other drinks in Brunei, you'll be looking at around 1 BND ($0.75/£0.60) for a cup of tea, coffee, or fresh lemonade. Fresh juice is popular and priced at 3 BND ($2.20/£1.80). A can of soft drink is around 1.50 BND ($1.11/£0.90).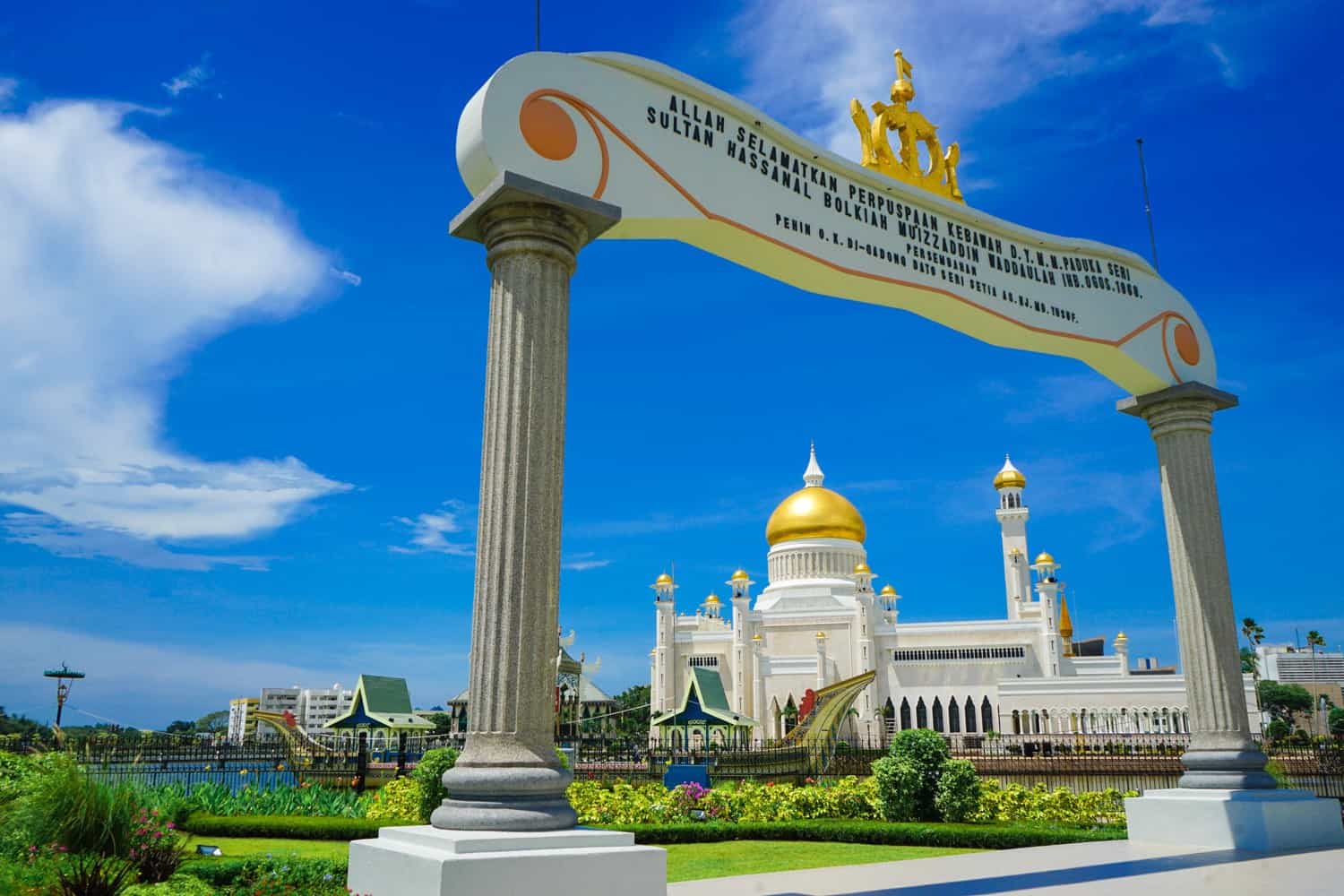 The Cost of Activities in Brunei
Amazingly, the vast majority of activities in Brunei are completely free.
You don't have to pay to enter the Royal Regalia Museum, the mosques are free to explore, and you can walk around Kampong Ayer without needing to pay for a tour or guide. Brunei also has some beautiful beaches, and of course, those are free to visit, too!
The one activity I did splash out on while I was in the country was the boat trip that I briefly mentioned in the transportation section of this guide. Dave and I paid 30 BND ($22) in total to hire our driver and boat for a 90 minute cruise. We spent half of that time spotting proboscis monkeys beside the river (amazing!) and the other half exploring Kampong Ayer: Brunei's floating village. You could even opt to do one of these unofficial tours at night, when fireflies emerge from the jungle and on to the river!
There are a few other activities you may want to splurge on while you're in the country.
Brunei is home to some very high-quality diving, with plenty of WWII wrecks to explore and a healthy amount of coral, thanks to its location on the edge of the Coral Triangle. Poni Divers receive the best reviews; a full-day on the water with them is priced at $165 per person.
One activity that always receives a good write up is day-tripping around Ulu Temburong National Park, which is something you can only do via a guided tour. At $170, it's pretty expensive, so I'd only recommend doing this trip if you're not going to be travelling into Malaysian/Indonesian Borneo afterwards. I saw so much impressive jungle while I was in Sabah and for about a third of the price!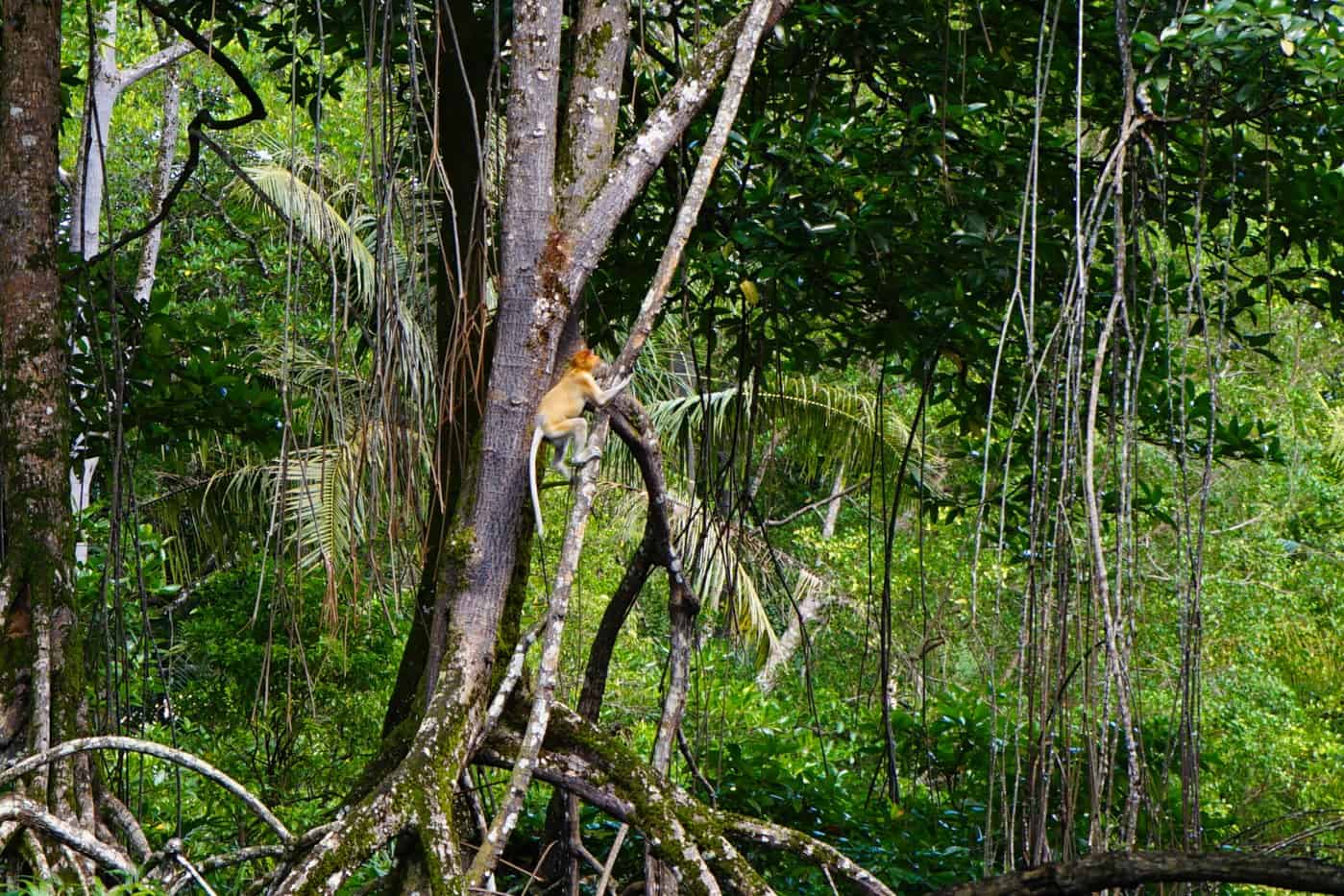 Miscellaneous Expenses in Brunei
I didn't have too many of these while I was in Brunei — just my standard two expenses.
Local SIM card in Brunei: Buying a SIM card in Brunei was easy, as you can pick one up in the arrivals hall in Bandar Seri Begawan. I opted to buy one from Progresif, as they have the cheapest rates for data. I paid 10 BND ($7.32) for 1 GB, which was valid for four weeks.
If you want to ensure you have data from the moment you land in Brunei, and want to buy your SIM card in advance, opt for Airalo, which sells local e-SIM cards for travellers. What that means is that you can buy your SIM card online before you arrive in Brunei, and then as soon as you land in the country, you can switch on your data and start using it. It's worked flawlessly for me and now, I'll never go back to physical SIM cards. You'll pay $9 for 1 GB of data or $27 for 5 GB for Brunei and can top-up through the Airalo app.
Travel insurance in Brunei: If you've read any other posts on Never Ending Footsteps, you'll know that I'm a great believer in travelling with travel insurance. I've seen far too many Go Fund Me campaigns from destitute backpackers that are unexpectedly stranded in a foreign country after a scooter accident/being attacked/breaking a leg with no way of getting home or paying for their healthcare. These costs can quickly land you with a six-figure bill to pay at the end of it.
In short, if you can't afford travel insurance, you can't afford to travel.
Travel insurance will cover you if your flight is cancelled and you need to book a new one, if your luggage gets lost and you need to replace your belongings, if you suddenly get struck down by appendicitis and have to be hospitalised, or discover a family member has died and you need to get home immediately. If you fall seriously ill, your insurance will cover the costs to fly you home to receive medical treatment.
I use SafetyWing as my travel insurance provider, and recommend them for trips to Southeast Asia. They provide worldwide coverage, don't require you to have a return ticket, and even allow you to buy coverage after you've left home. If you're on a long-term trip, you can pay monthly instead of up-front, and can cancel at any time. Finally, they're more affordable than the competition, and have a clear, easy-to-understand pricing structure, which is always appreciated.
With SafetyWing, you'll pay $1.50 a day for travel insurance in Brunei.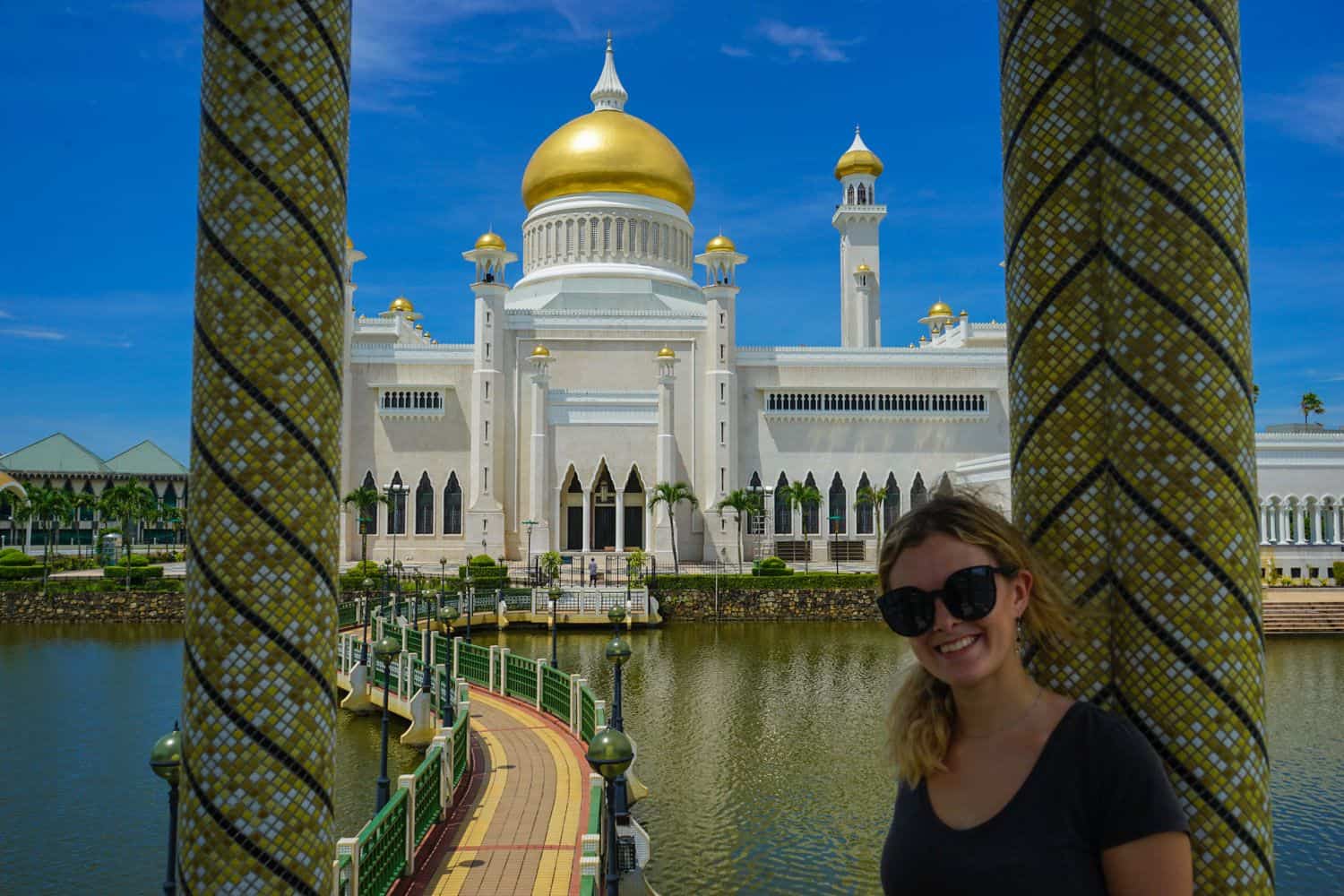 My Travel Expenses in Brunei
As always with these budget breakdowns, I like to end by sharing the exact amount you can expect to spend in a country, based on whether you're a budget, mid-range or luxury traveller.
For budget travellers, you can expect to spend per person:
Accommodation: $16 per day for a bed in a dorm
Transportation: $0 per day by utilising free shuttles, hitchhiking, and walking
Food: $12 per day for street food eats and cheap local meals
Activities: $0 per day for free museum entry and exploring the floating village on foot
Total amount for a budget trip to Brunei: $28 per person per day (£23)
---
For mid-range travellers, you can expect to spend per person:
Accommodation: $30 per day on a mid-range hotel, sharing a double as a couple
Transportation: $2 per day for occasional buses
Food: $20 per day for some sit-down restaurants interspersed with street food
Activities: $5 per day for a water taxi tour of the monkeys and villages
Total amount for a mid-range trip to Brunei: $57 per person per day (£47)
---
For luxury travellers, you can expect to spend per person:
Accommodation: $60 per day on the best hotel in town, sharing a double as a couple
Transportation: $5 per day for occasional Dart taxis
Food: $30 per day for predominantly eating in restaurants
Activities: $56 per day for the water taxi tour plus a day trip to Ulu Temburong National Park
Total amount for a mid-range trip to Brunei: $151 per person per day (£124)
Given that Brunei has a reputation for being expensive, I'm impressed by how little you need to spend as a budget traveller.
You can keep your expenses low by a combination of street food eating, only splurging on one paid activity, and somehow managing to hitch a ride with locals whenever you leave your room.
Are you surprised by how much it costs to travel in Brunei?
Related Posts on Brunei and Borneo

🇧🇳 Is Brunei Worth Visiting? My Experience in the Sultanate
🚍 How to Get From Brunei to Kota Kinabalu
🍜 Where to Eat in Kota Kinabalu
🪲 Catching Fireflies on the Kawa Kawa River