"Why you go there? No tourists go there. Only one boat a day."
Dave and I exchanged glances and I could tell he was wondering if we were making a huge mistake.
We'd been travelling in Thailand for four months at this point and I'd expected so much more from the islands. Koh Chang, Koh Phi Phi, Koh Lanta — I'd enjoyed my time on all three of them, but they weren't the vision of paradise I'd held in my mind for so long. I guess I was yet another a travelling cliché who was convinced The Beach didn't have to be a work of fiction; that I too could discover my own island paradise and keep it all to myself.
Spoiler alert: Koh Phi Phi was not, in fact, an undiscovered island.
It was as I approached my second week on Phi Phi that I decided to take matters into my own hands. It was time to find an island that was the exact opposite of where I currently found myself.
I wanted an island without internet.
I wanted an island that wasn't built for tourists, that wasn't incredibly expensive, and was still worth visiting. I was certain there were plenty of trash-filled islands where I could sleep on the beach for next to nothing in this country, but that wasn't exactly my idea of paradise.
Did such a place even exist anymore?
I wandered into a travel agent and looked at the list of destinations that was scrawled across a chalkboard.
Phuket
Krabi
Koh Lanta
Ao Nang
Koh Lipe
Koh Yao Noi
Wait, what?
Koh Yao Noi.
I had never even heard of it.
Few travel bloggers had ever been there, not many guidebooks spent more than a paragraph discussing it, and a quick google showed information about the island was scarce online.
Back then, in 2012, I could find exactly two websites with useful information about Koh Yao Noi and they were both many years out of date. I couldn't find out any information on what was there, what it looked like, and whether it was a good choice for tourists. Fortunately, in 2023, there's a hell of a lot more information around.
I took a deep breath and booked my ticket, telling the travel agent that yes, I knew that no tourists go there and that was exactly why I wanted to go.
I jumped on a ferry the next day and landed on my feet, at a guesthouse with this incredible view:
Talk about making the best decision of my life!
On paper, it makes zero sense that Koh Yao Noi is so rarely visited. It's located right within of tourism triad of Phuket, Krabi, and Phi Phi, and that makes it incredibly easy to get to. Based on location alone, it should be swarming with tourists.
And yet it's not.
Part of the reason is due to the locals. Muslims make up a whopping 90% of the population in Koh Yao Noi and they're doing everything they can to prevent their home from turning into yet another party island. That doesn't mean that you can't find alcohol on the island or that bars don't exist — it's just that on this island, there's one option instead of an entire street lined with them.
The locals on Koh Yao Noi don't want the word getting out about their beautiful home and so far, it seems to be working. I first visited the island in 2012 and have returned three further times since then. While at this point in time (2023), it's not quite as undiscovered and there's a whole wealth of information about the island online, it's still the perfect place to come if you're looking for respite in Thailand.
There are still few tourists, not many accommodation options, and a handful of lovely restaurants. You'll still fall asleep to the sound of crickets rather than the pumping of bass. And while there's internet in many of the guesthouses, it's still a destination where you'll find it easy to disconnect.
I want to kick off this blog post by explaining why, exactly, you should be aiming to travel to Koh Yao Noi.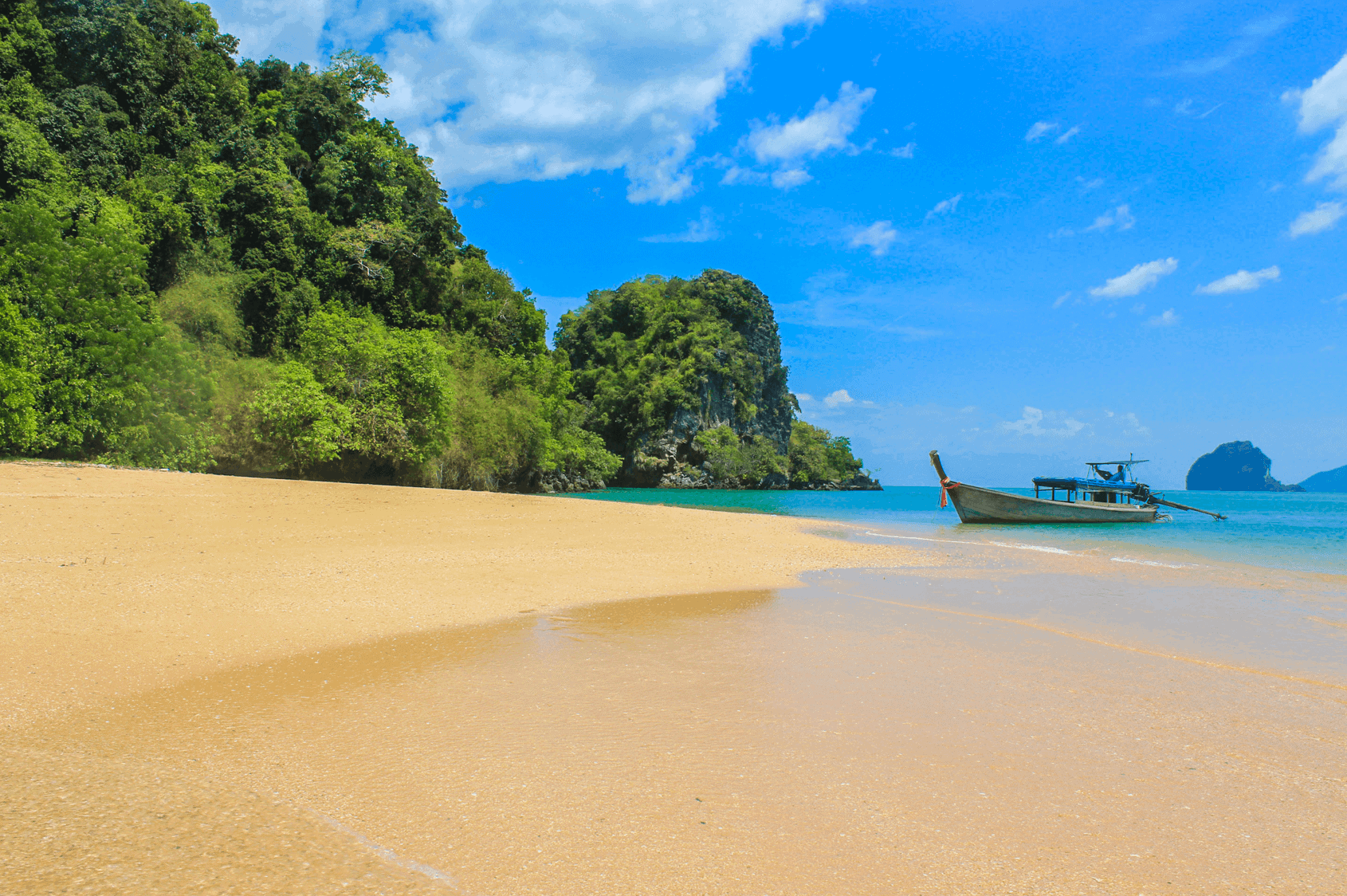 Koh Yao Noi is Safe
The locals of Koh Yao Noi were some of the friendliest I've come across in Thailand. For a country that's full of welcoming, warm people, that's really saying something.
Because Koh Yao Noi is yet to attract the hoards of tourists that other islands do, the locals aren't yet over tourism. There aren't any scams because there simply aren't enough travellers to make money out of. People still care to find out your story and ask what brought you to their island, and they genuinely care about your answer — it isn't a sales technique.
One thing that reiterated this was the fact that nobody cares to lock their scooters here. It's not an uncommon sight to head out for a walk and see every scooter parked up with the keys still in the ignition. It's hard not to feel safe on an island where the locals are so unaffected by crime.
One day, I was waiting by the side of the road for my boyfriend, Dave, and within a couple of minutes, a local pulled up beside me on a bike and asked if he could take me wherever I needed to go — at no cost. I thanked him and declined, and then five minutes later, another local did exactly the same. This wasn't a rare occurrence — all over the island, locals offered us rides or simply stopped to ask where we were from and welcome us to their island.
Our guesthouse was run by the local police officer, who burst out laughing when we asked if his job kept him busy. On an island like Koh Yao Noi, there was little for him to worry about. He was such a welcoming host, and helped us out with anything we needed, whether it was hiring a scooter, renting a kayak, or arranging a longtail to take us out to the nearby national park. When we returned to the island several years later, he even recognised us and welcomed us as old friends.
On our final day on the island on that trip, he even cooked us an enormous fish barbecue as a leaving present, and didn't charge us a baht for it.
Can you imagine the same thing happening on Koh Phi Phi?
It has the Perfect Secluded Beach
Dave and I decided to rent a scooter for the day and were part-way through exploring the island where we came across a small wooden sign with the word "beach" scrawled across it in black ink. It was pointing down a tiny dirt track that promptly disappeared into a dense forest.
Obviously we had to follow it.
It was just a few minutes later that most of the track had faded away and we found ourselves swerving precariously around curves, urging the scooter over hills, and attempting to dodge the branches and spider webs that blocked our path. Several times we considered turning around and heading back – surely we should have reached the beach after 15 minutes of riding?
I desperately clung to Dave, convinced I was about to be thrown from the back of the scooter.
When we did eventually arrive at the beach though? We had it all to ourselves.
This was the stuff travel dreams were made of.
Stretching along the east coast of the island for what seemed like miles, this beach was void of people and stayed that way for the three hours we spent there. There was a gorgeous view of Phang Nga National Park, the water was warm and calm, and there was plenty of shade to seek shelter from the hot Thai sun. That afternoon we spent on our own private beach still ranks up there as one of the highlights from my eight years of full-time travel.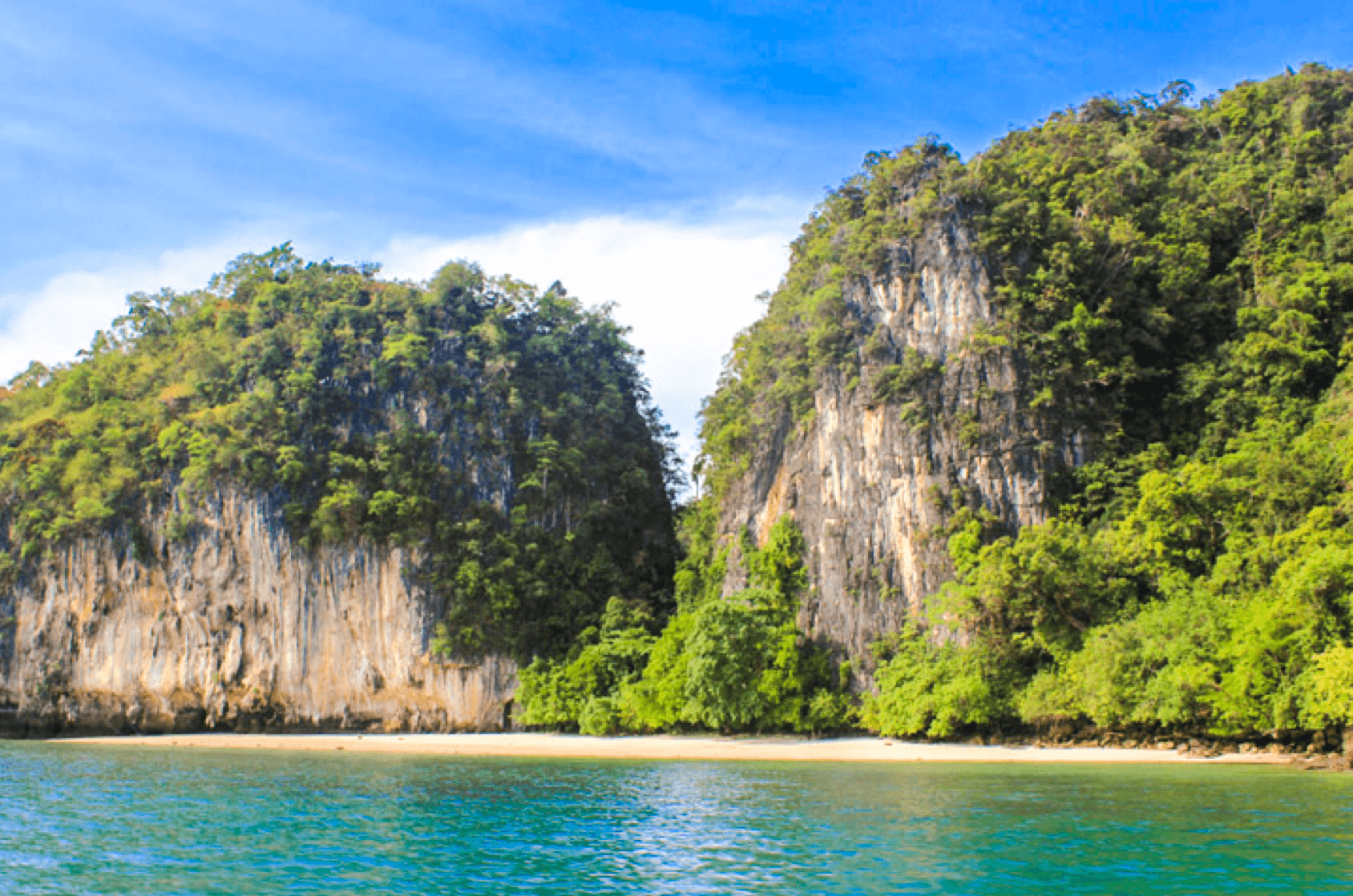 This Isn't a Place for Partying
If you want to party, there's an island for you.
Koh Phi Phi, Koh Pha Ngan, Koh Chang: whether you're into raving beneath the full moon or chilling with a bucket and a Bob Marley playlist, there's a place in Thailand that's the perfect fit.
If, however, you're much more into relaxation and tranquility, I have to recommend Koh Yao Noi. The island only landed its first 7-Eleven in 2018, if you're wondering just how dissimilar it is to elsewhere in Thailand! Still, there are other convenience stores on the island to pick up essentials, usually three or four restaurants within walking distance, and maybe a bar as well, if you're craving a beer after a long day spent working on your tan.
In the evening, you'll hear nothing but the sounds of the rainforest — a light breeze rustling palm tree fronds, the nightly chorus of cicadas, and the distant rumble of thunder.
I once spent Songkran on Koh Yao Noi and couldn't believe how quiet it was — there wasn't a single water fight on the island!
This is a place to explore by scooter, relax on beautiful beaches, and get to know the locals before having one of the best night's sleep of your life. It's hard not to feel rested and stress-free on an island like Koh Yao Noi.
It's Full of Diverse Landscapes
You'll likely choose to stay on the east coast of the island, as that's where the majority of the accommodation on Koh Yao Noi is found. On this side of Koh Yao Noi, you'll find plenty of deserted beaches to spend your day on, as getting away from the other tourists here is one of the easiest things you'll ever do.
In the centre of the island, you'll find the mountains and rainforest. This part of the island is all about a rural way of life, and the sweeping landscapes are perfect for photographing as you're exploring on two wheels. You'll pass by rubber plantations and fields lined with mangroves, and be able to marvel at how the island remains untouched by modern life.
Once you get to the west, it's all about the rice paddies and water buffalos. There are hundreds of palm trees stretching before you, long stretches of pristine sand, and even a holy spring — the point on the island where freshwater pours into the sea, making it possible to drink from the ocean.
There's Actually Things to Do While You're There
You'd imagine that being on such a quiet island would mean that there would be hardly anything to do, but it was actually the opposite! There is so much to fill your time that you could spend two weeks on the island and not get bored — I should know because I did exactly that, and then returned a few years later to do the same.
One of the highlights from my time in Koh Yao Noi was renting a kayak for the day and paddling out to Koh Nok, a tiny island just over a mile from Koh Yao Noi. It took us an hour to get there and while the journey consisted of a decent amount of moaning as I battled the tides to get there, it was worth the pain, as we got to spent the afternoon on our own private island.
Yes, this is Koh Nok and it might just be the prettiest spit of sand I've ever stepped foot on. That photo above shows almost the entirety of the island, but when you're the only people on it, you don't need much more.
Talk about paradise.
We spent an afternoon on Koh Nok and had it all to ourselves, save for a wandering monitor lizard that made itself known when we attempted to explore inland. I highly recommend kayaking out here — or taking a longtail if you're not feeling up to the paddle — and doing so after lunch. It's a popular stop with tour groups as a lunchtime base, so as long as you get there in the afternoon, you'll have your own island paradise all to yourself.
Koh Yao Noi is located on the edge of Phang Nga Bay and we hired a longtail for the day to explore the amazing islands. Koh Hong, in particular, was incredible. The beach was immaculate, the sand felt like talcum powder under my feet and with very few people sharing the beach with us, it felt like I was in heaven.
Pro tip: if you decide to hire somebody to take you around Phang Nga Bay, ask them to take you to Koh Hong first. The boat drivers tend to visit the islands of the national park in the same order, so if you wake up early and head out to Koh Hong in the early morning, you'll have the most incredible beach to yourself.
When we finished on beautiful Koh Hong, we explored the rest of Phang Nga Bay, stopping off in a beautiful lagoon full of warm, shallow water, having lunch on a gorgeous beach, and snorkelling with more fish than I could count. It's definitely worth taking a day to see as much of this cluster of islands as possible.
Essential Information for Visiting Koh Yao Noi
How to Get to Koh Yao Noi: Fortunately, Koh Yao Noi is super-easy to get to. You'll most likely fly into Phuket or Krabi first, and then you can catch the daily ferry that travels from each of these locations. Just wander into one of the many travel agents on every street and ask for a ticket.
If you're already island-hopping in the Andaman, you'll be able to jump on a ferry from Koh Phi Phi or Koh Lanta.
I always use and recommend 12Go Asia to book public transportation in Thailand in advance. The prices are pretty much exactly what you'll pay from a travel agent in Thailand, but you get peace of mind through knowing you've definitely got a place on the ferry. On my most recent trip to Thailand, 12Go even helped me to save money by giving me prices that were less than what my guesthouse and the tour agencies were quoting!
Where to Stay on Koh Yao Noi: As I mentioned above, I stayed at Tabeak Viewpoint ($60 a night) while visiting the island and loved it so much that I've since stayed there a further two times on future visits to Koh Yao Noi. The owner is lovely, the views are special, and the restaurant is surprisingly great, too. This is the perfect option if you're not on a tight budget but still want to receive great value for your money.
However! You can only book Tabeak through phone or email, which is… yeah. Pretty annoying in the era of Booking and Agoda.
If you can't be bothered going through all of that, I recommend HillHouse ($50 a night) instead. It's the best-rated accommodation on the entire island and priced similarly to Tabeak, so staying there feels like a no-brainer. Plus, you've still got the epic views of the islands of Phang Nga Bay from your bungalows!
If you're looking to spend as little as possible but not end up in a terrible guesthouse, I recommend staying at Cha Bungalows ($15 a night). Reviews are phenomenal, breakfast is included, and it's close to the beach, restaurants, and a supermarket. Definitely the best option on the budget end of the spectrum.
If you're on the opposite end of the spectrum and are all about that luxury life, you can't go wrong with the Six Senses Yao Noi ($500+ a night). This resort has been on my travel wishlist for years, so if you'll be in Thailand for a special occasion, this is the place for you. It receives incredible reviews, is in a spectacular location, and every villa has its own pool[!]. This is a seriously beautiful hotel and I dream of one day staying there.
What to Bring With You to Koh Yao Noi: One of my travel essentials for Thailand is a dry bag from Sea to Summit. You'll be spending a hell of a lot of time around water while you're on the Thai islands, and the last thing you want is to wreck your valuables. I take a dry bag to the beach with me if I'm travelling alone, as I'll be able to put my Kindle and camera inside and take it swimming, not having to worry about keeping an eye on them from the water. I also used mine when kayaking to Koh Nok and longtailing around Phang Nga Bay. I was able to keep my camera and money inside to ensure they didn't get wet or fall overboard.
I also recommend picking up a GRAYL purifier bottle for your trip. I've used the GRAYL to drink tap water all over the world, from Mozambique to the Democratic Republic of the Congo and never once got sick. The filter within the GRAYL kills 99.999% of all viruses, bacteria, and cysts in water, making it entirely safe to drink. Not only that, but it also means you don't have to ever buy bottled water again, so can both save money and the environment. I love that you can drink the water within seconds, too, rather than having to wait for several minutes, like you need to with other types of purifiers.
It's fairly pricey for a purifier bottle, but if you think about how much you typically spend on bottled water while travelling, it saves you money in the long term, while also giving you peace of mind, preventing dehydration, and helping you reduce your plastic consumption. I take it on every single one of my trips.
Travel insurance: If you've read any other posts on Never Ending Footsteps, you'll know that I'm a great believer in travelling with travel insurance.
As someone who works in the travel industry, I've seen far too many Go Fund Me campaigns from destitute backpackers that are unexpectedly stranded in Thailand after a scooter accident/being attacked/breaking a leg with no way of getting home or paying for their healthcare. These costs can quickly land you with a six-figure bill to pay at the end of it.
In short, if you can't afford travel insurance, you can't afford to travel.
Travel insurance will cover you if your flight is cancelled and you need to book a new one, if your luggage gets lost and you need to replace your belongings, if you suddenly get struck down by appendicitis and have to be hospitalised, or discover a family member has died and you need to get home immediately. If you fall seriously ill, your insurance will cover the costs to fly you home to receive medical treatment.
I use SafetyWing as my travel insurance provider, and recommend them for trips to Thailand. Firstly, they're one of the few companies out there who will actually cover you if you contract COVID-19. On top of that, they provide worldwide coverage, don't require you to have a return ticket, and even allow you to buy coverage after you've left home. If you're on a long-term trip, you can pay monthly instead of up-front, and can cancel at any time. Finally, they're cheaper than the competition, and have a clear, easy-to-understand pricing structure, which is always appreciated.
With SafetyWing, you'll pay just $1.50 a day for travel insurance.
The weeks I've spent on Koh Yao Noi was one of my best in Thailand, and I've spent roughly 18 months travelling across this beautiful country, hitting up over a dozen islands during that time.
The laid-back vibe of the island was contagious and meant I was impossibly relaxed for the duration of our stay. I read books, I wandered down to the beach to sunbathe, I ate good food, and I spent hours lying in the hammock on my balcony listening to the crickets and watching the thunderstorms roll in from the horizon.
Koh Yao Noi really is my Thai island paradise and I think it could be yours, too.