On the rim of a now-extinct volcano lies an eerie reminder of what could have been. Unlike the vibrant green vegetation that surrounds it, this shell of a building is grey, unsightly, and falling apart.
You approach it on the single winding road, where it looks more like a concrete prison than the 5-star hotel that was once voted the finest in all of Portugal.
Built in the late 1980s, the Hotel Monte Palace was intended to be the ultimate in luxury travel for the Azores: an island chain that hadn't yet begun to attract tourists from outside Portugal. Back then, it was more expensive to fly from Europe to North America than it was to these beautiful Portuguese islands.
So, investors invested and builders built, and this 5-star resort was open for business in 1989. The large complex featured two restaurants, a bar, nightclub, hairdressers, bank, and 88 rooms that overlooked either the Atlantic Ocean or the twin lakes nestled in the caldera of the volcano.
Ironically, the Monte Palace hotel received the award for being Portugal's finest on the same week that the hotel closed its doors for good.
Yes, just 18 months after it opened, the owners declared bankruptcy and the building was left to the elements.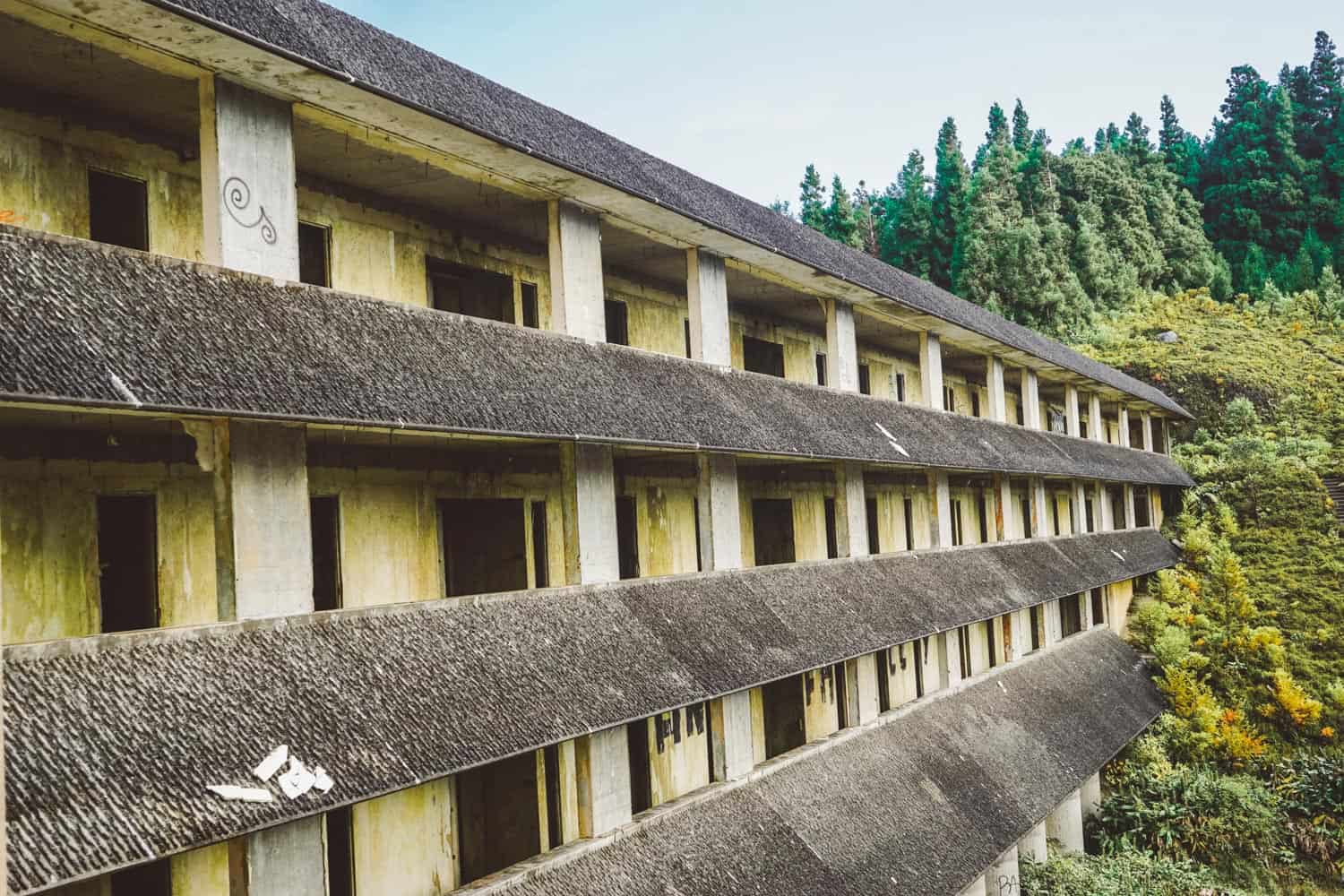 So what happened?
Quite frankly, opening this hotel was a poor business decision. It didn't make sense to build the Monte Palace in either this location or at this time.
Back in the 1980s, the Azores wasn't on anybody's radar when it came to international tourism. On top of that, its location on the island was remote, which meant guests would need to hire a car to get there, and there wasn't anything within walking distance. Once you arrived, you'd have to amuse yourself by either driving yourself around the island or by sitting on your balcony and gazing out at the gorgeous views.
Those views, however, would have been rarely visible.
Even though we somehow managed to luck out with bright blue skies when we visited, this part of Sao Miguel is more likely to be shrouded in grey than not. The hotel experiences a whopping 200 days of rain per year, which meant an awful lot of guests would have been paying a lot of money to shiver on their balcony and experience what it's like to be engulfed in clouds.
Unsurprisingly, very few people chose to have that experience.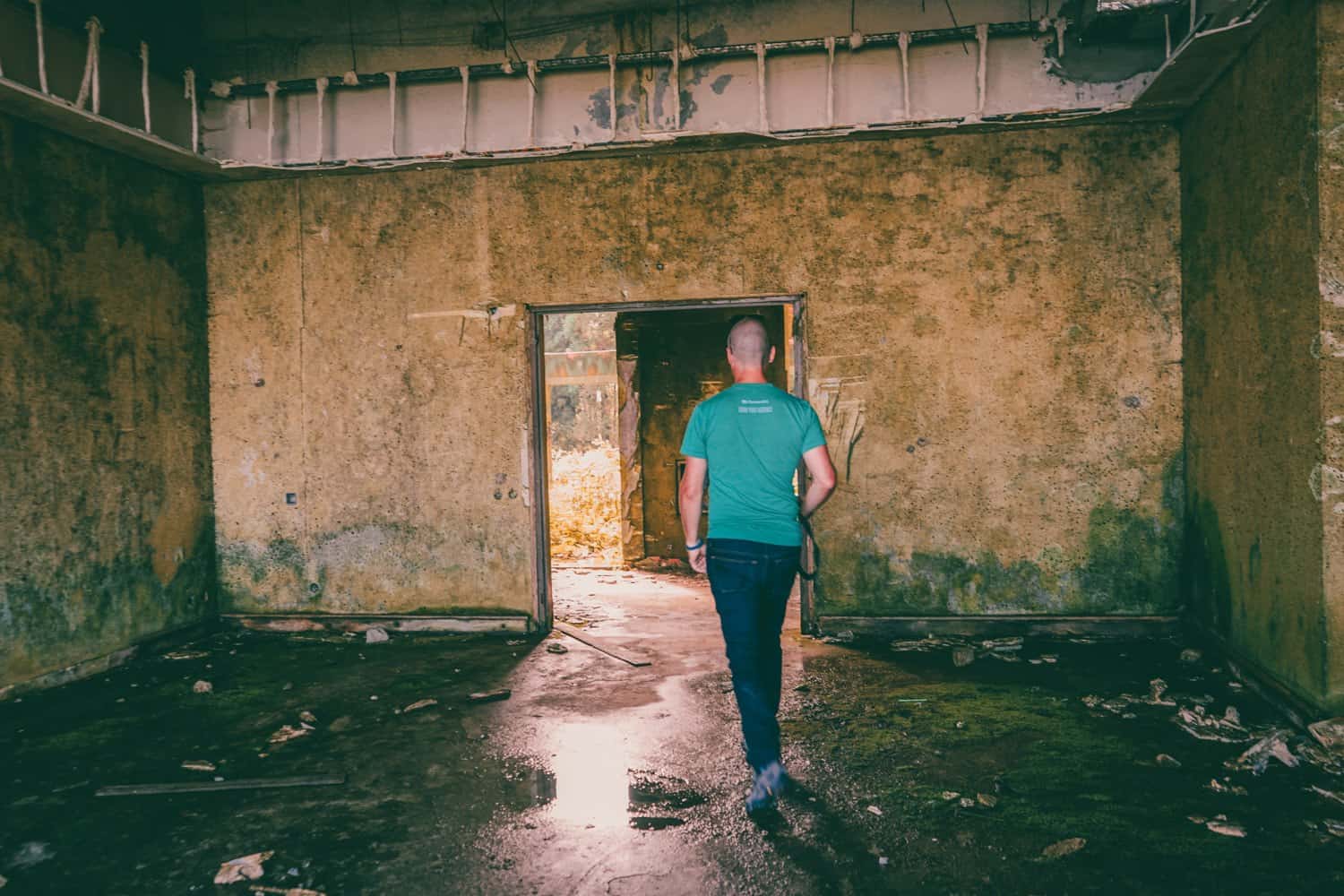 Rather than opting to immediately demolish the hotel, the owners placed a single guard and his aggressive dogs in the building to deter trespassers. For over a decade, it was near-impossible to enter the Monte Palace, unless you were willing to risk your limbs being attacked, so the building remained as it had always stood: a time capsule from the 1980s.
Eventually, funding ran out, the guard left, and the Monte Palace fell into disrepair.
Windows were removed, elevators were stolen, beds, TVs, and windows were taken, all leaving behind a skeleton of a building that's now covered in graffiti, broken glass, and piles of trash.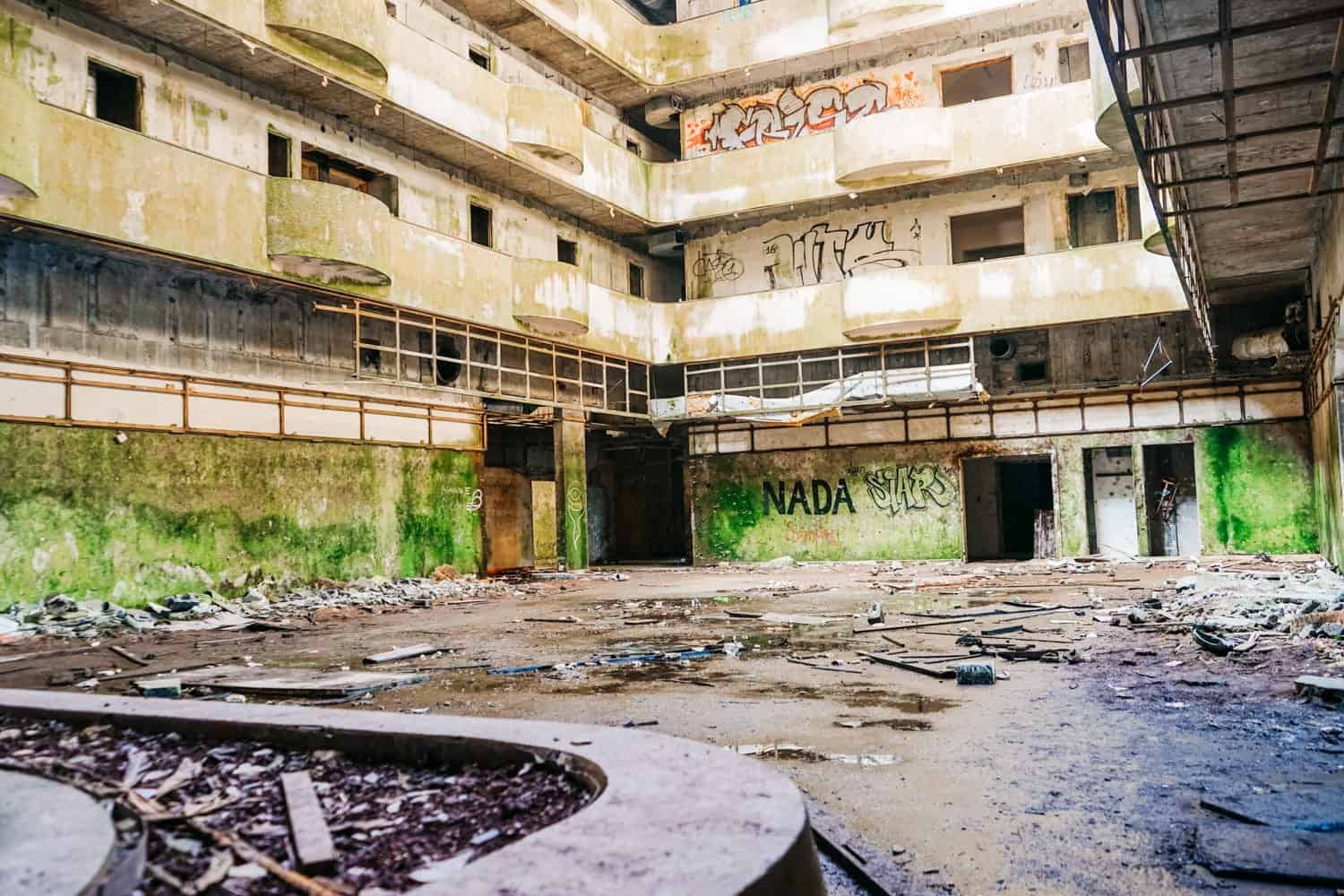 It's an eerie place to explore, especially as most visitors to the nearby viewpoint don't bother to venture inside, so you feel as though you have the entire hotel to yourself. When I visited, there were only half a dozen people in the building, and it was rare for me to hear anything but my own footsteps.
Dave and I emerged into the interior courtyard and weren't exactly shocked to discover it looked like a disaster zone.
Piles of plaster and wood lay on the floor while parts of the ceiling dangled ominously above our heads. Previous visitors to the hotel had mentioned in blog posts about spotting signs of previous grandeur, discovering mosaics on the bathroom walls and hints of marble in amongst the algae, but at this point in time, there was next to none of that glamour remaining.
What was once magnificent was — to put it not in any way politely — now a dump.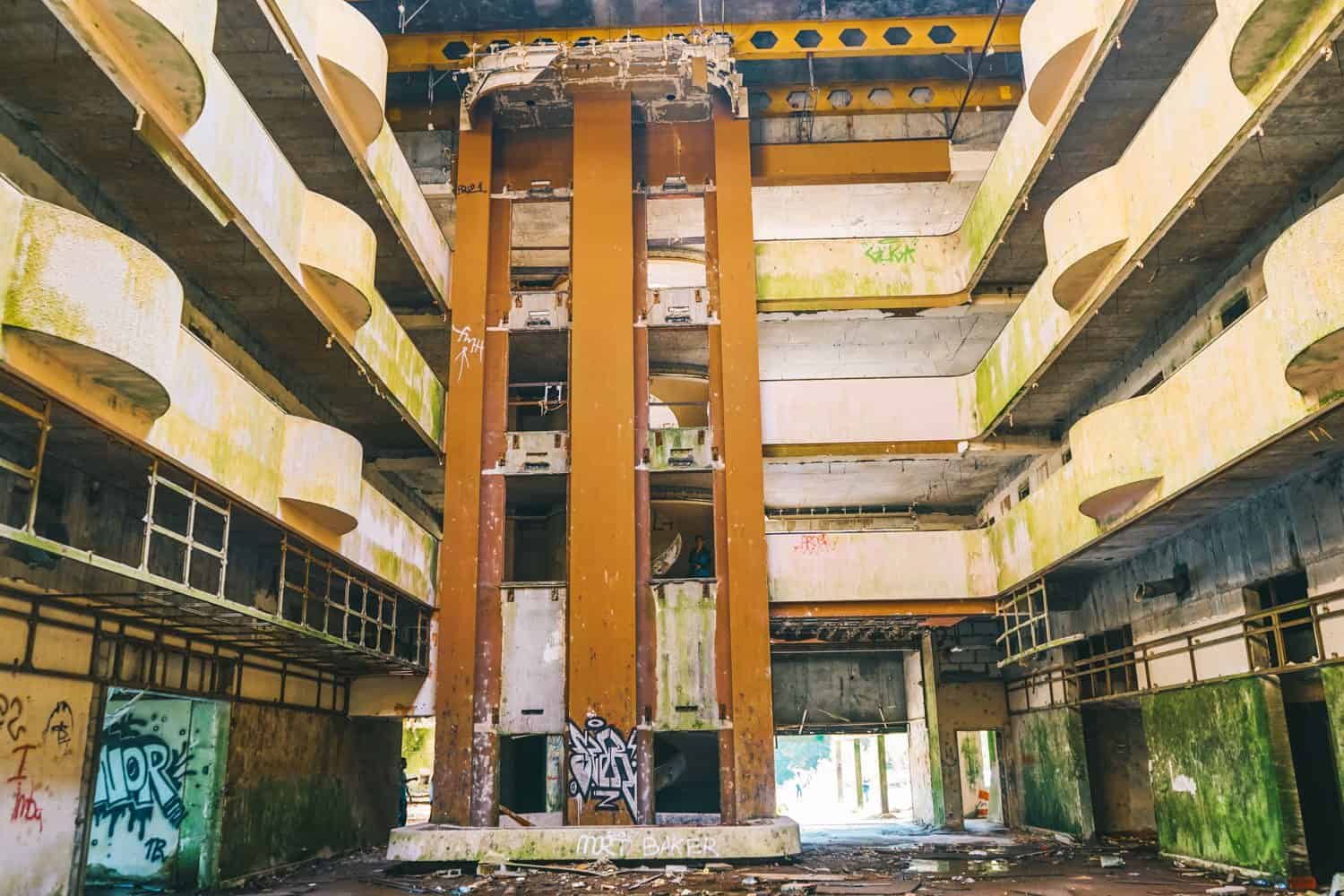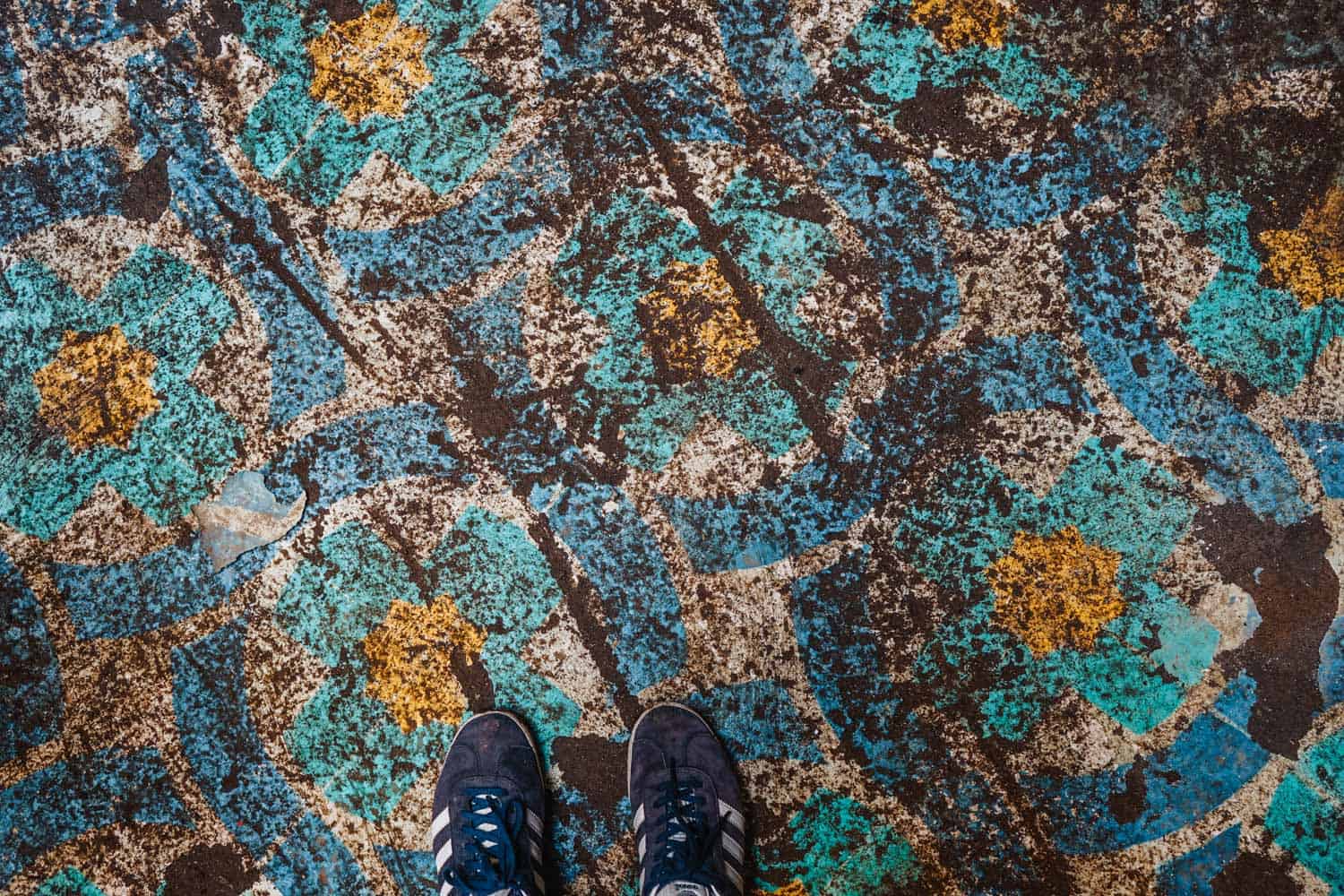 In the summer of 2016, a Catalan artist named Javier de Riba came to the Monte Palace and was invited to paint the floor of the lobby. I couldn't believe how quickly the deterioration had taken place, from a floor that once looked like this to the dirt-covered mess I was standing on just one year later.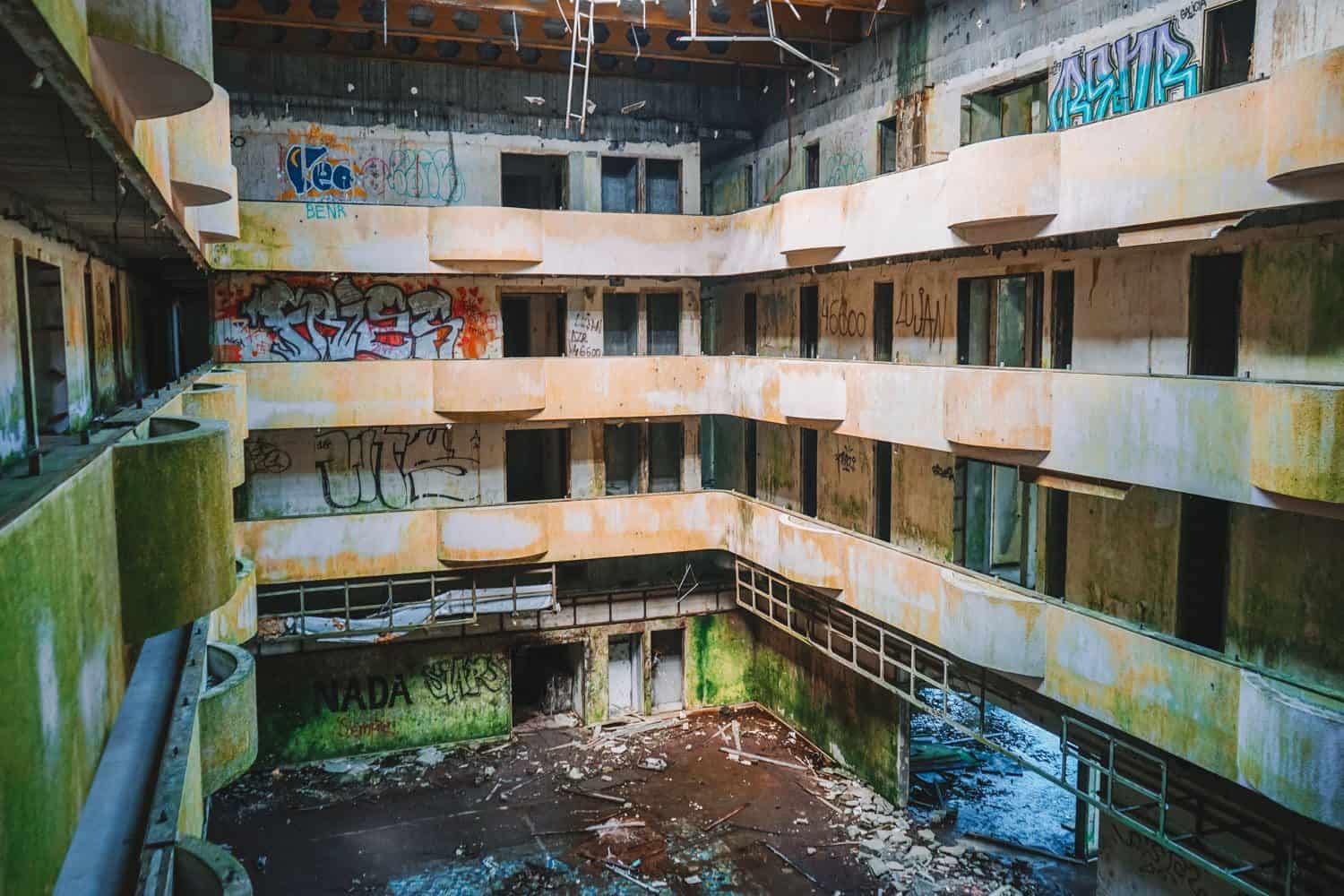 On first impression, I was disappointed.
The hotel was a trash-filled shell of its former self and unlike my experiences in Pripyat and Kolmanskop, there wasn't a great deal to see. The bedrooms were empty concrete holes, void of wallpaper and carpet, let alone beds and curtains and bathtubs. Just big, grey concrete rooms with nothing to even indicate that they were once the epitome of luxury travel in Portugal.
As someone who loves to explore abandoned buildings around the world, I was ready to leave within 10 minutes of stepping into the lobby.
But then I found another staircase.
Unlike the sweeping spiral steps that took you from floor to floor, this was small and narrow, and seemed to take you higher than any of the bedrooms. When I reached the top, there was a thigh-height concrete barrier that I immediately scrambled over.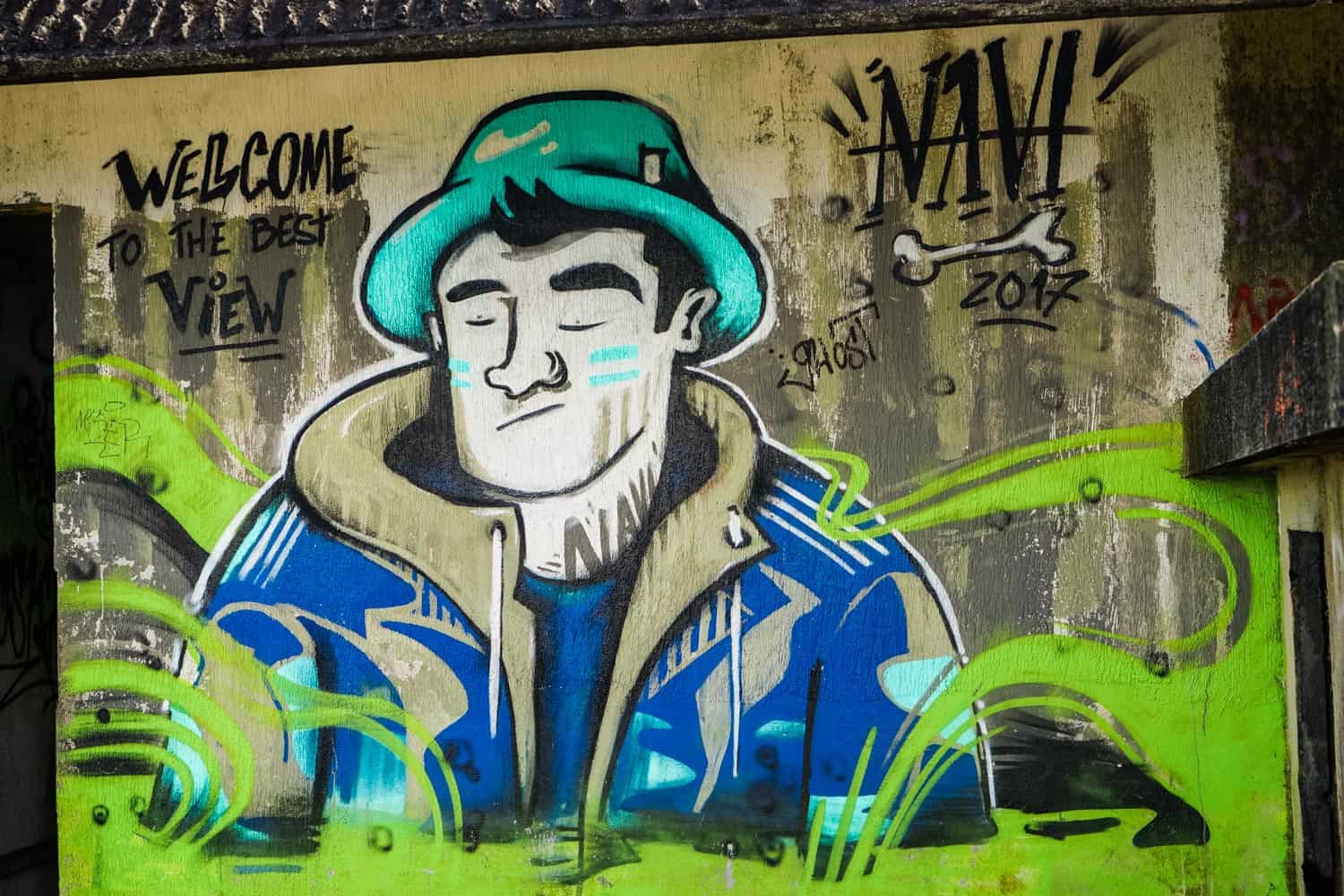 I blinked.
Was I on the freaking roof of the hotel?
Yes, I was.
And what's so special about the roof?
Oh, only that it offers the best views on all of Sao Miguel.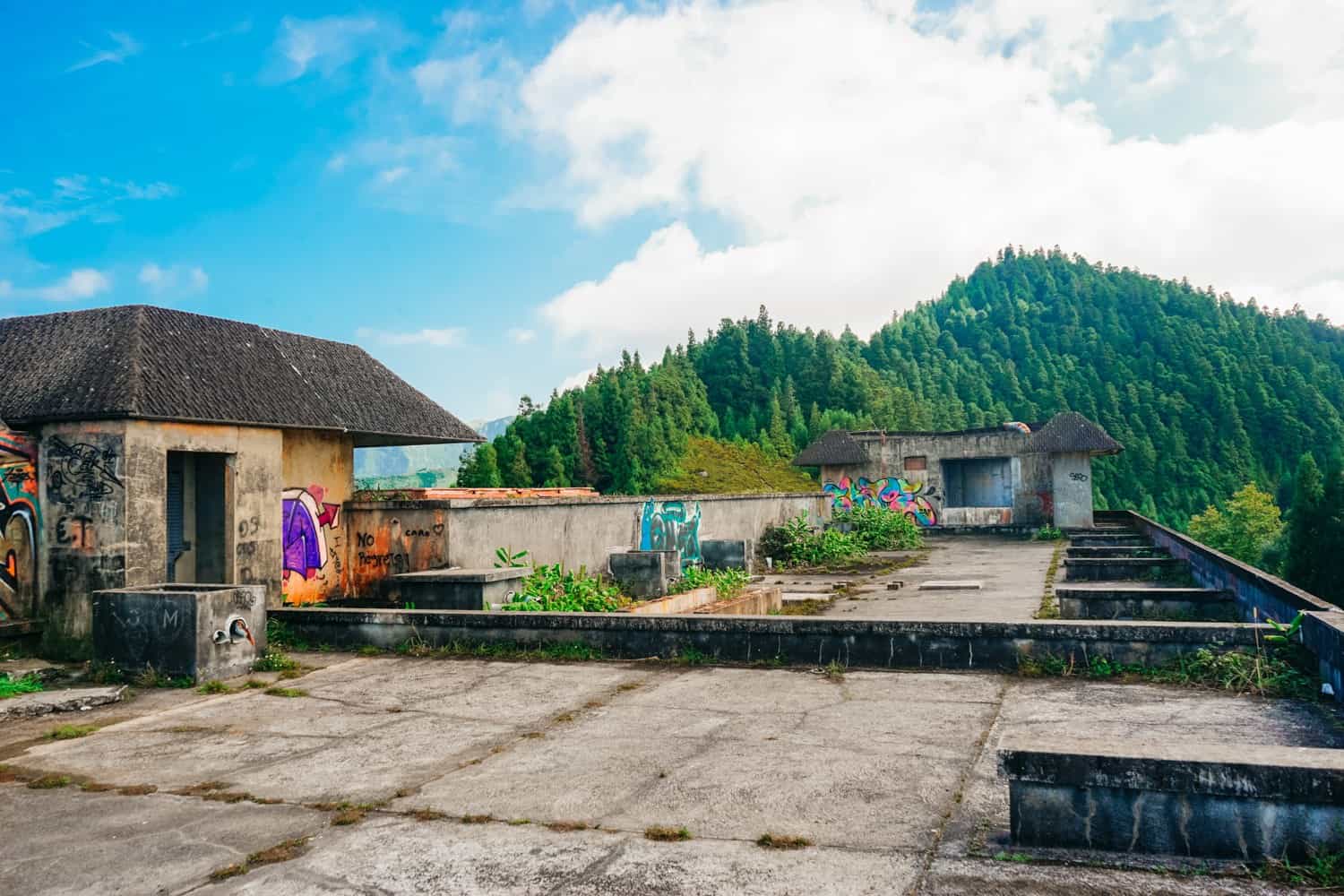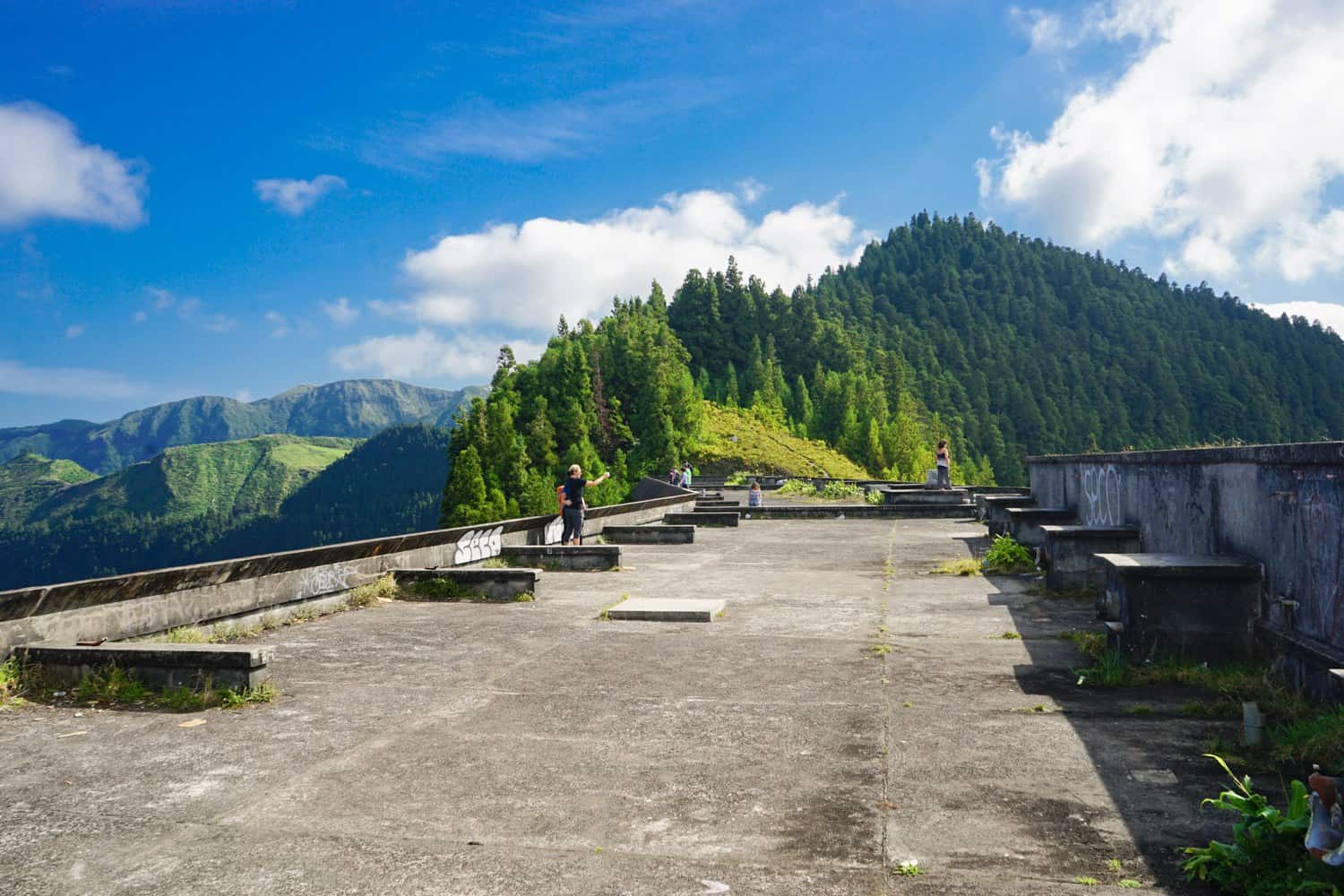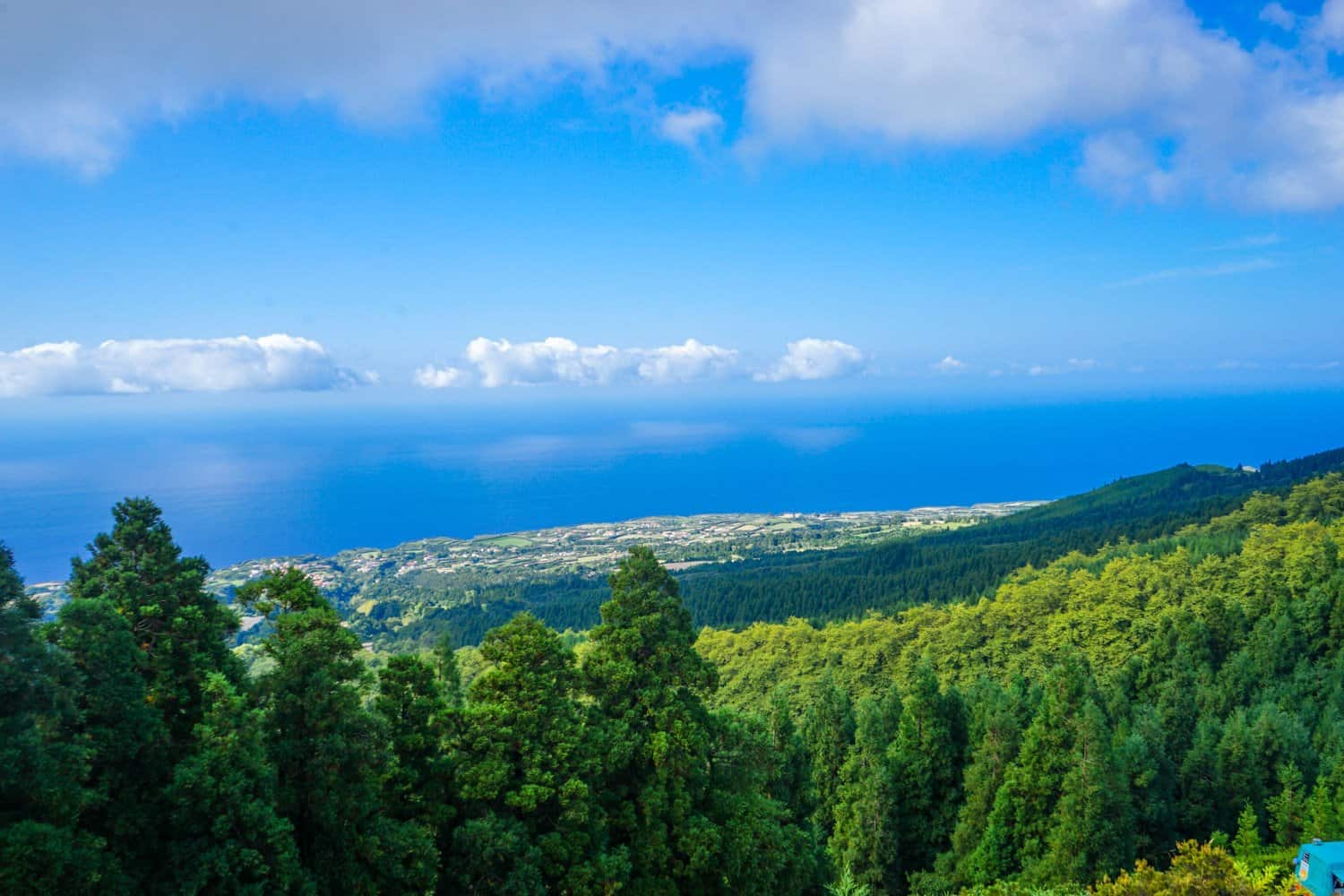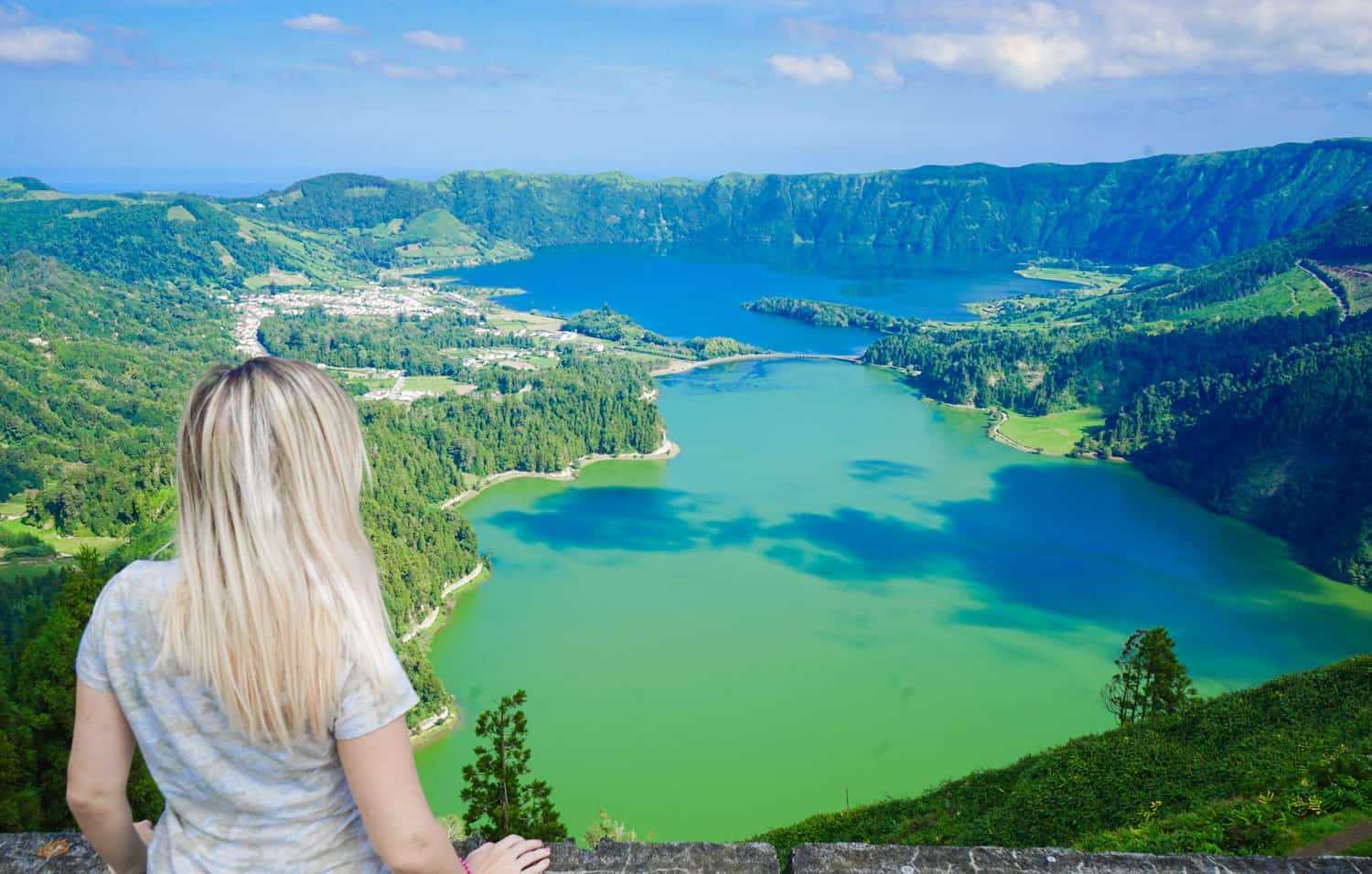 Dave and I spent half an hour up on the roof, wandering in circles and taking as many photos as possible, admiring the coloured lakes of Sete Ciadades and wondering why a place like this isn't on every traveller's radar.
The view of the lakes rivalled anything I'd seen during my six years of travel.
One thing I wasn't a fan of? The unexpected holes and gaps that revealed drops that seemed to fall forever: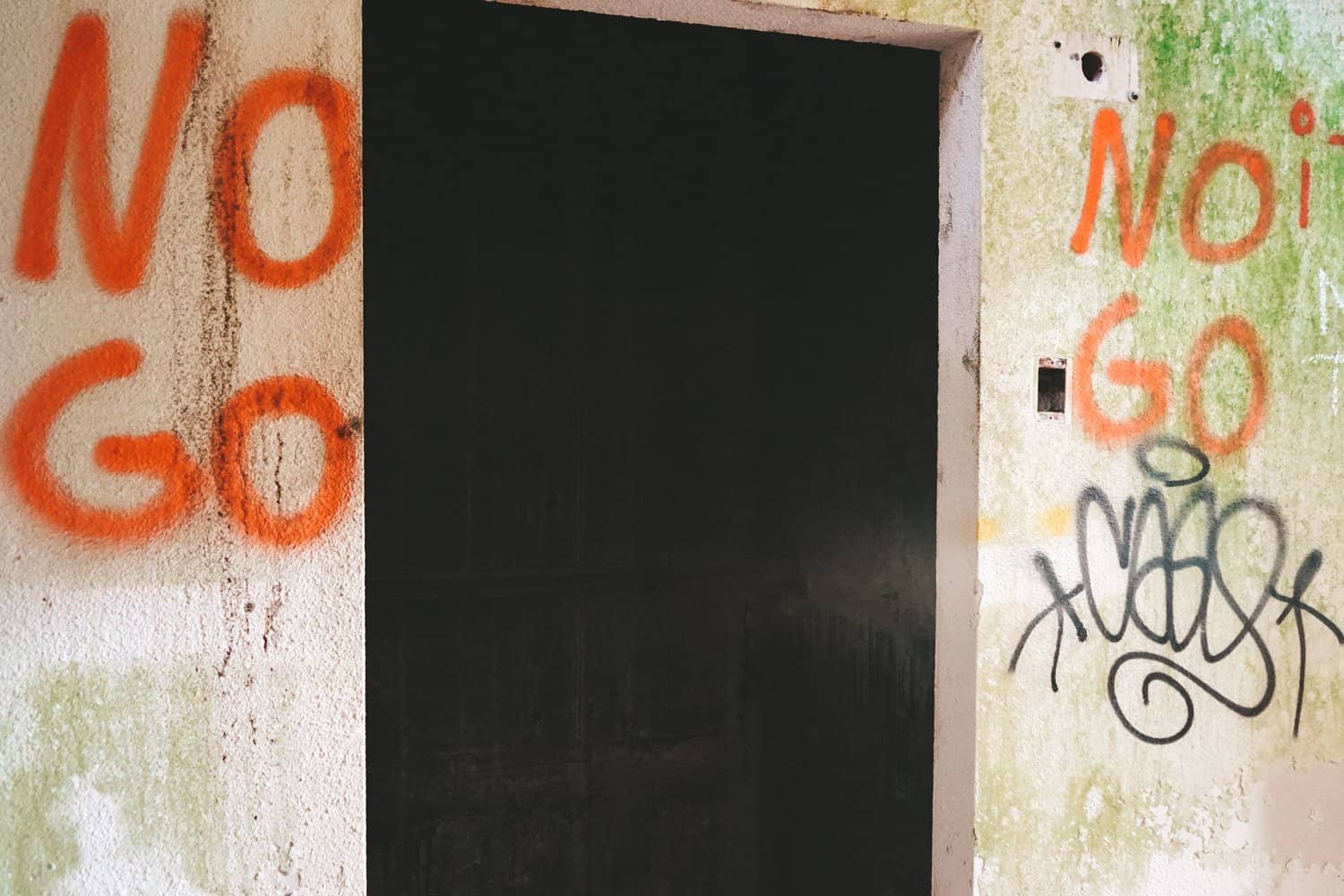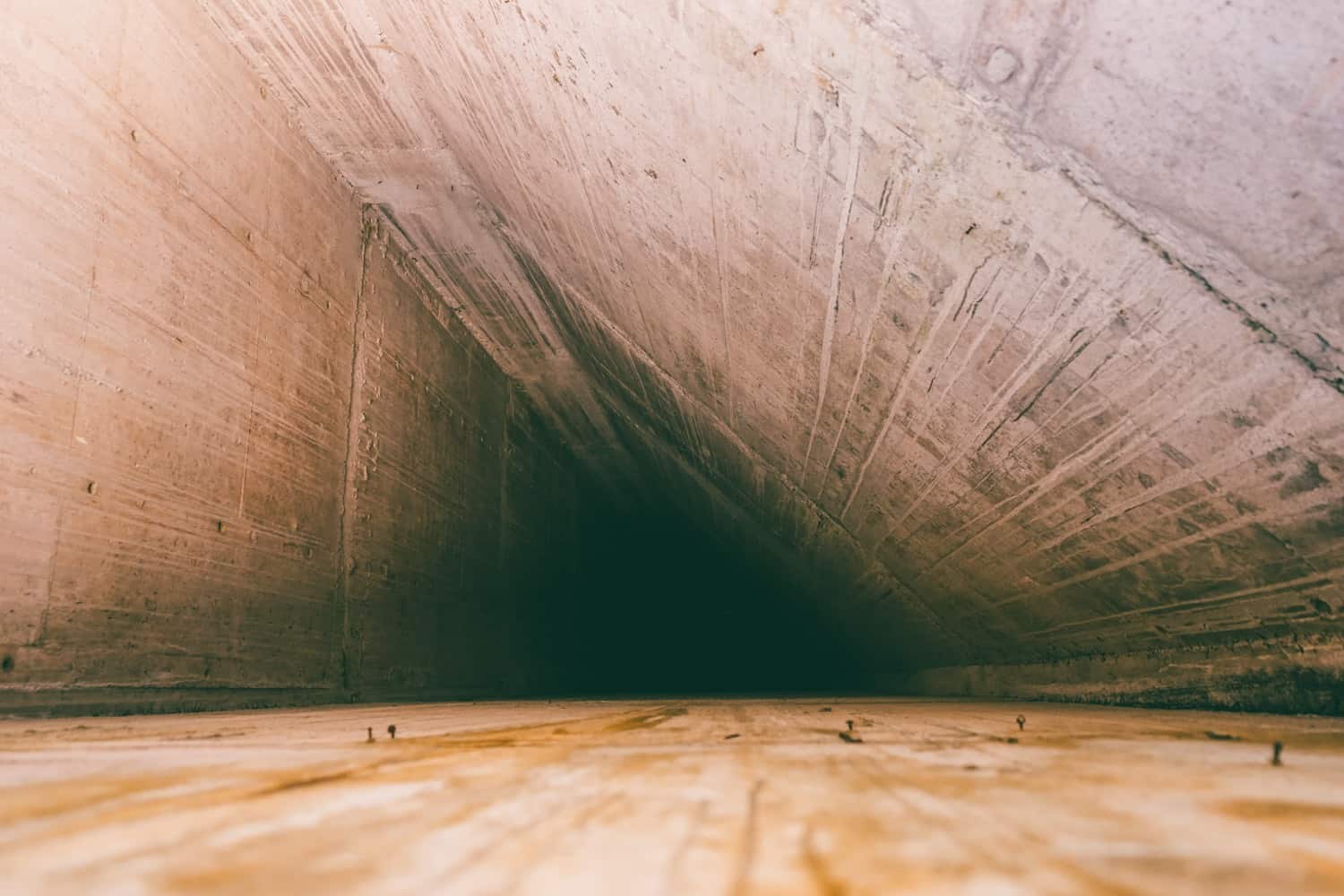 Nope.
Back downstairs and inside the hotel, Dave and I took one last look around.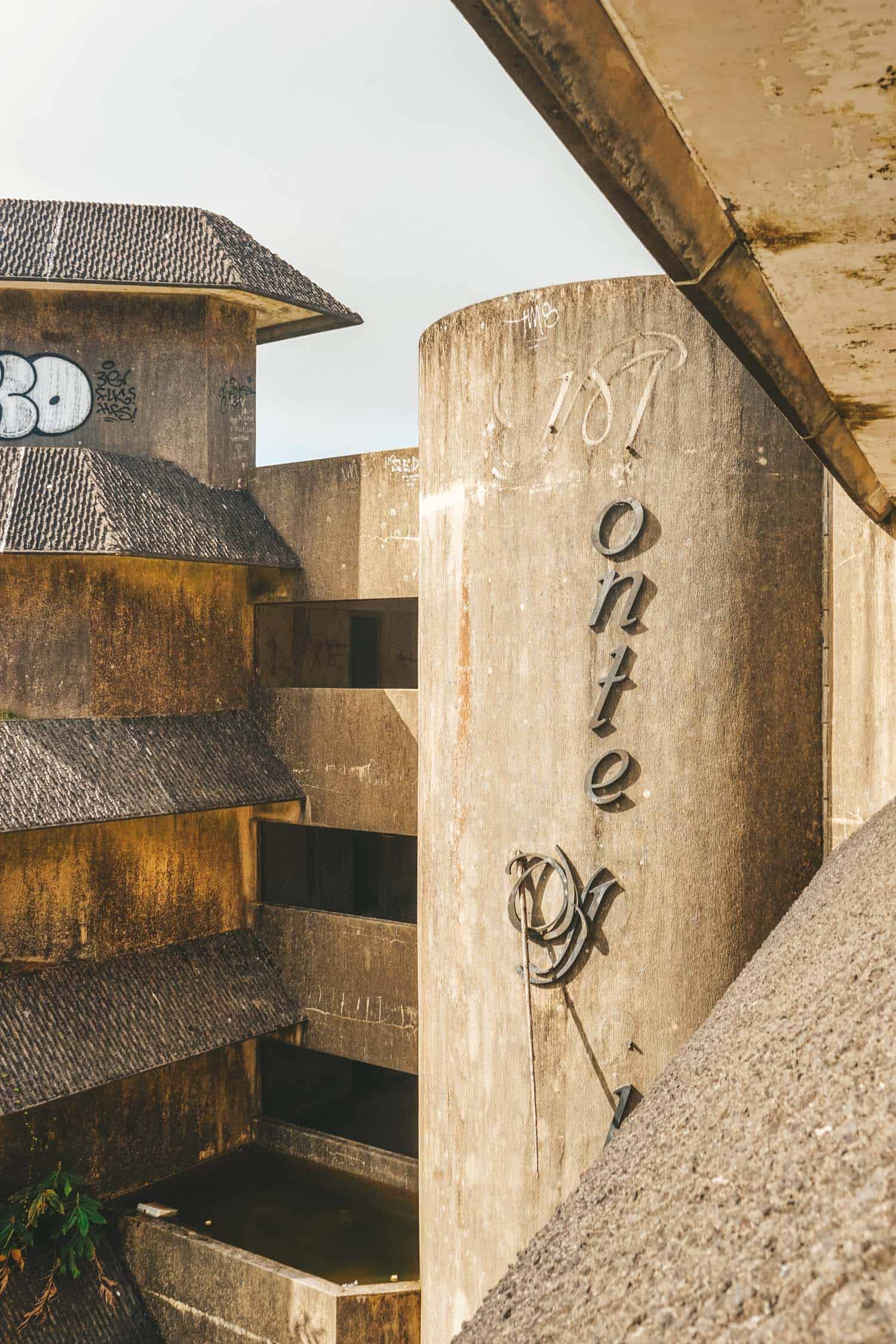 We spotted the old Monte Palace Hotel sign that reads Onte P l now.
We took a photo of me trying to look like an adventurous urban explorer, which might have worked if it wasn't for the visible children at the end of the corridor.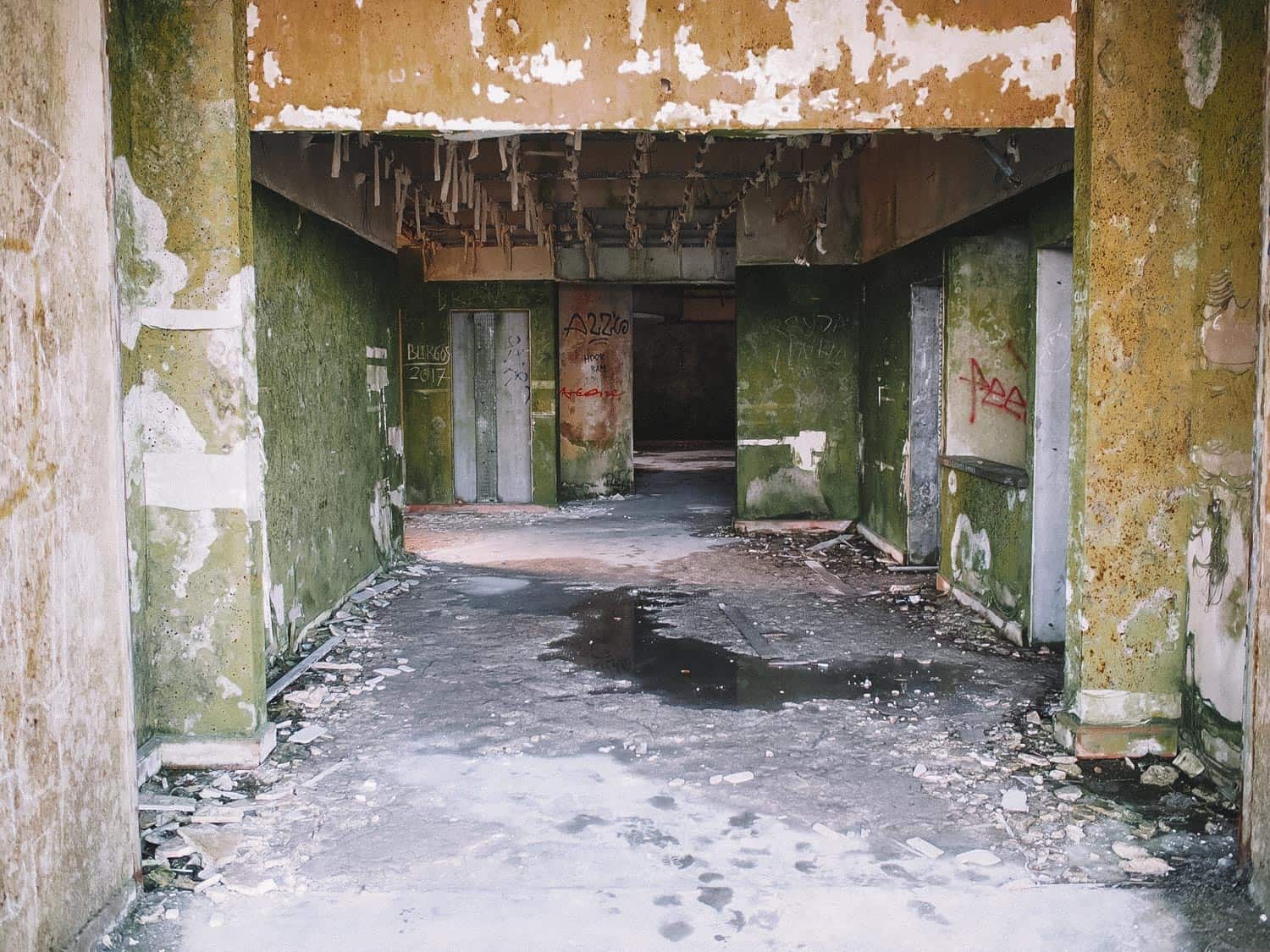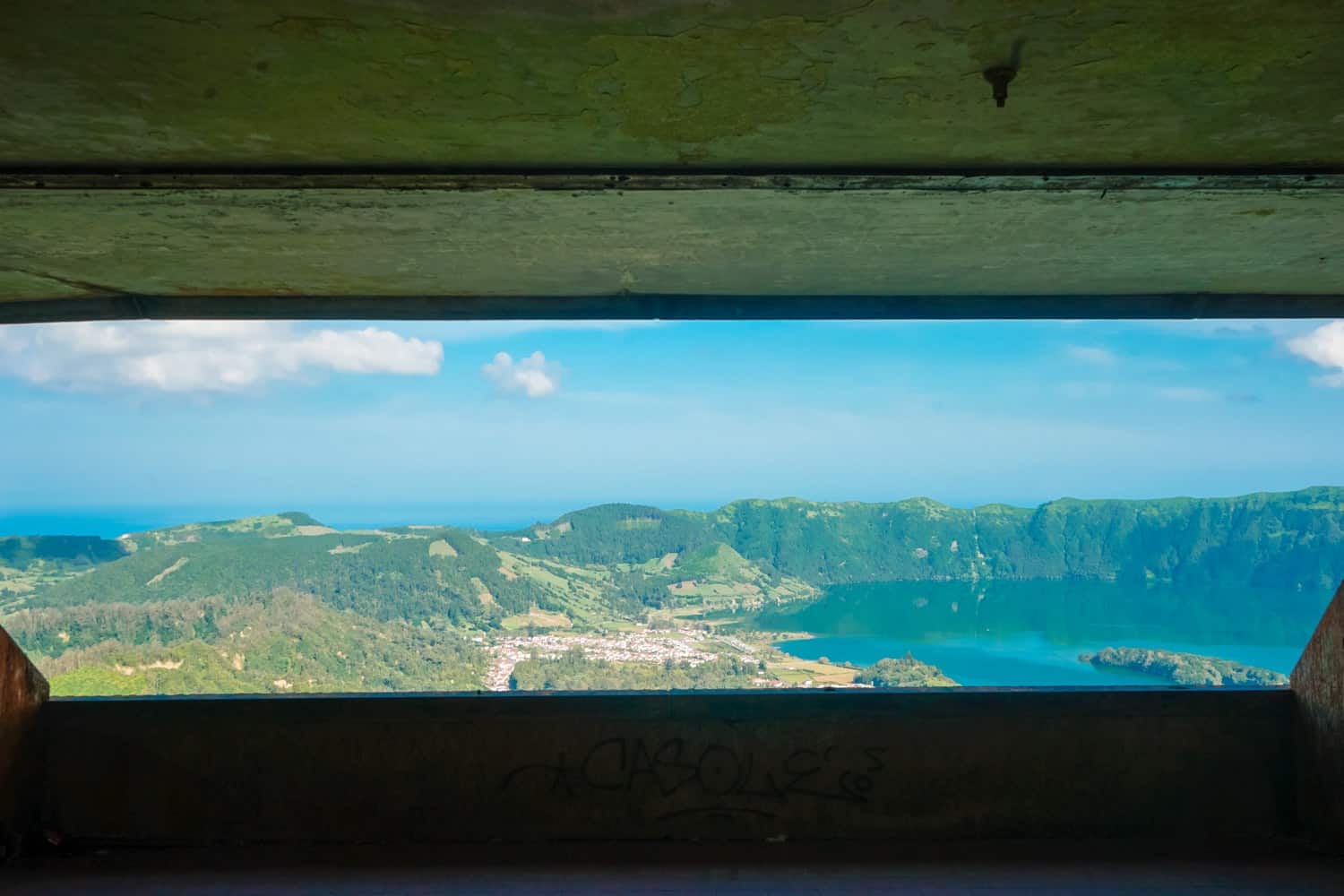 We decided to round off our adventure by terrifying ourselves.
Most people enter the Monte Palace from the front. You walk through the lobby, creep into the interior courtyard, and then get stuck in exploring. Where very few people opt to go, however, is through the back.
It's dark there. It was more grimy than anywhere we'd explored so far, and a cold, clammy sensation hung in the air.
I wasn't sure if we'd ventured into a parking lot or a basement, but there was one thing I was certain of: I was definitely about to be murdered.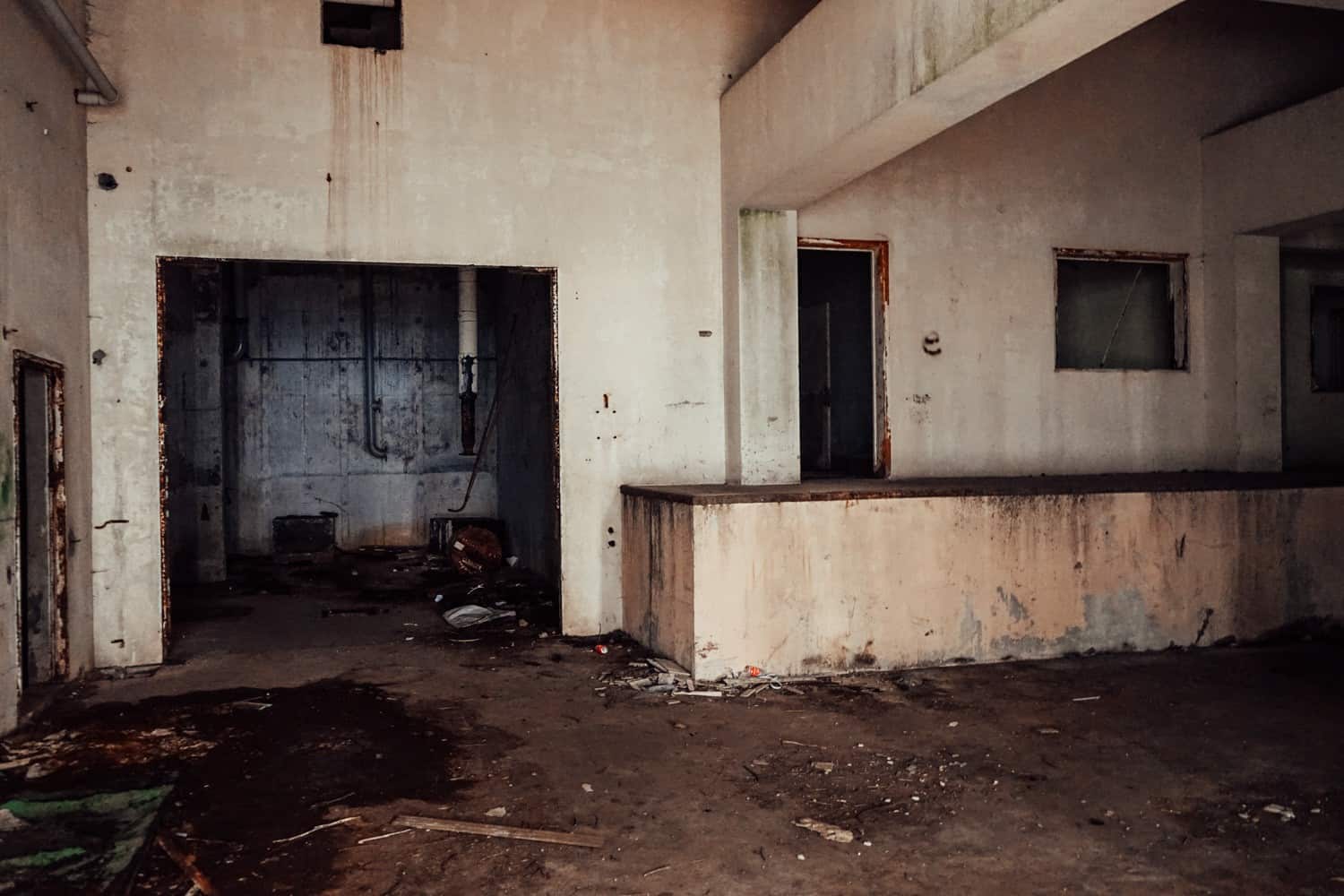 In unsurprising news, the Monte Palace Hotel was once used as the set for a horror film in the past. I definitely got those creepy vibes when I was wondering around.
Still, I had been emboldened by my successful climb to the roof and was determined to discover a Monte Palace gem for myself. Online, you can read an account from an urban explorer who discovered a binder of unpaid bills inside the hotel and kept it as a souvenir. I didn't want to take anything from the Monte Palace, but I was intrigued to see if I could find another one of its secrets.
I switched on my phone's torch and took a step forwards. When Dave joined my side, I paused and listened, trying to ignore the shivers that running up and down my spine. My skin broke out into goosebumps.
Silence.
Together we crept into the building, making our way deeper inside until the darkness fully engulfed us. I shuddered. Our torches could only illuminate a metre or two ahead of us, so there we were, just shuffling into the blackness, creeping through tunnels. In search of something. I didn't know what. I didn't know why.
"I don't like it," I confessed.
"This is pointless anyway," Dave said. "We can't see anything."
"Abort!" I whispered. "Abort! Abort! Abort!"
I spun around and hurried from the confines of the Murder Rooms, breathing a sigh of relief when I was able to bask in the sunshine once more.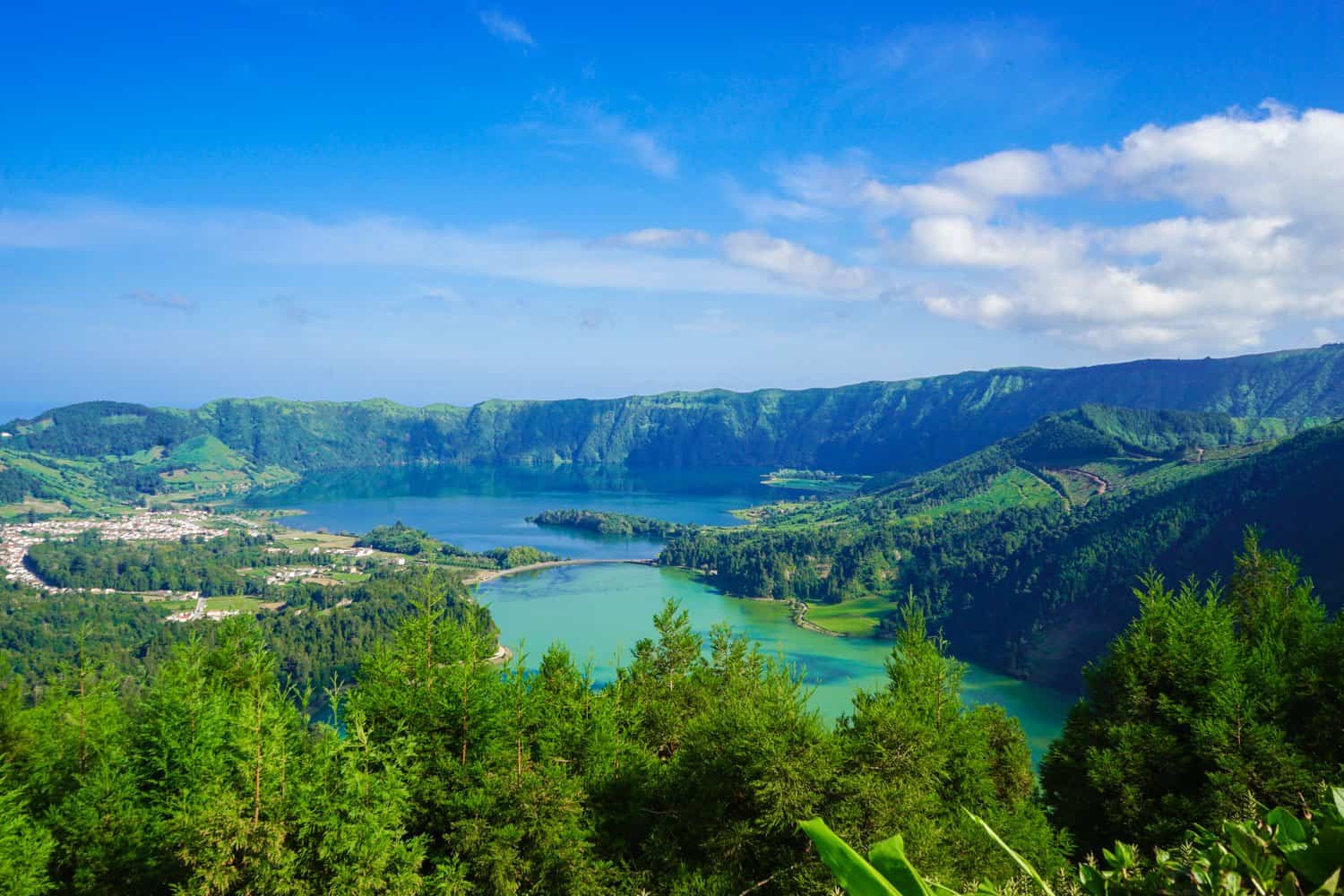 How to Plan a Trip to the Monte Palace Hotel
Can you still visit the Monte Palace Hotel? Yes! Well, I think so. Every now and then, I get a comment on this post to let me know that it's now not possible to visit Hotel Monte Palace — that there's guards everywhere and barriers blocking every entrance. But then, several months later, I receive a comment from somebody telling me that there are no barriers at all! It seems to change regularly.
It's all a little confusing. So based on that, I'd recommend that you not get your hopes up that you'll be able to explore the hotel, but odds are, you probably will be able to. And given that there's a fantastic viewpoint directly beside the hotel, you'll probably find yourself passing by the building at some point while you're exploring Sao Miguel anyway.
Getting to the hotel is easy-peasy if you have your own transport in Sao Miguel. Follow signs from anywhere in the island to Sete Ciadades — it's a small island and there's only one road that will get you there. Look out for a sign pointing to Vista do Rei (View of the King), and follow that road all the way to the car park at the end. The hotel is right beside it.
A flashlight would be a good investment if you're planning to explore in-depth. The basement is so dark and eerie that our phone lights barely illuminated more than a couple of metres in front of us and therefore prevented us from seeing as much as we could. I wish we'd had a flashlight, so if you have do one handy, it'd be good to bring with you to the Azores.
Be careful. This is an abandoned hotel therefore health and safety is non-existent. Tourists have fallen and broken bones while exploring here, so be careful with your steps. The stairs have no railings, the elevator shaft is open and ready to accept falling adventurers, and there are no barriers up on the roof. It would be easy to slip and injure yourself here, so make sure to pack good shoes and tread carefully. And, as always, get travel insurance before you leave! I use SafetyWing for my travel insurance — they cost just $1.50 a day.
Where to stay in Sao Miguel: The guesthouse we stayed at in Ponta Delgada more than made our trip in the Azores. They hand out an incredible map to all of its guests that's so detailed and useful that I'd recommend staying there just to get your hands on it. Our trip would have been nowhere near as amazing had we not had it — seriously, this map is amazing.. And the hotel itself was great! With a swimming pool and lovely staff, we really had nothing to complain about
It's not often I'll order you to stay in a specific hotel, because a hotel is a hotel is a hotel. But this one? This one is definitely worth checking in to.
How to get to Sao Miguel: SATA Airlines flies daily between Portugal and the U.S. and allows you to stopover on the islands at no extra charge. Our flight from Boston to Lisbon cost $275, which also turned out to be the cheapest way for us to get to Europe from North America. Adding in a five-day layover made no different to the cost of our flights. If you're already based in Europe, SATA Airlines, TAP Portugal, Tui, and Ryanair have a ton of great deals and you can often fly there for as little as $100 return.
Would you explore this creepy-ass hotel if you were in the Azores?
Related Articles on Portugal

💰 The Cost of Travel in Portugal: A Detailed Budget Breakdown
🇵🇹 After 70 Countries, Why I Moved to Lisbon, Portugal
💚 The Best Things to Do in Lisbon, Portugal
❤️ 28 Best Things to Do in Porto, Portugal
🏝 13 Reasons to Plan a Trip to the Azores