The Azores is one of my favourite spots in Europe.
I can't believe such an incredible group of islands can be so rarely talked about by travellers. The Azores has everything you could need from a destination, from affordable prices to spectacular scenery, delicious food options to deserted beaches, from dozens of hikes to even more viewpoints.
The Azores are located right in the centre of the Atlantic Ocean, almost mid-way between the west coast of Europe and the east of the United States. There are nine islands altogether — all of them inhabited — and because they're so compact, it makes perfect sense to work one or two of them into a layover between Europe and North America.
I spent four days on Sao Miguel — the main island — and it was enough to convince me to return in the future. It was one of the best trips I've ever taken!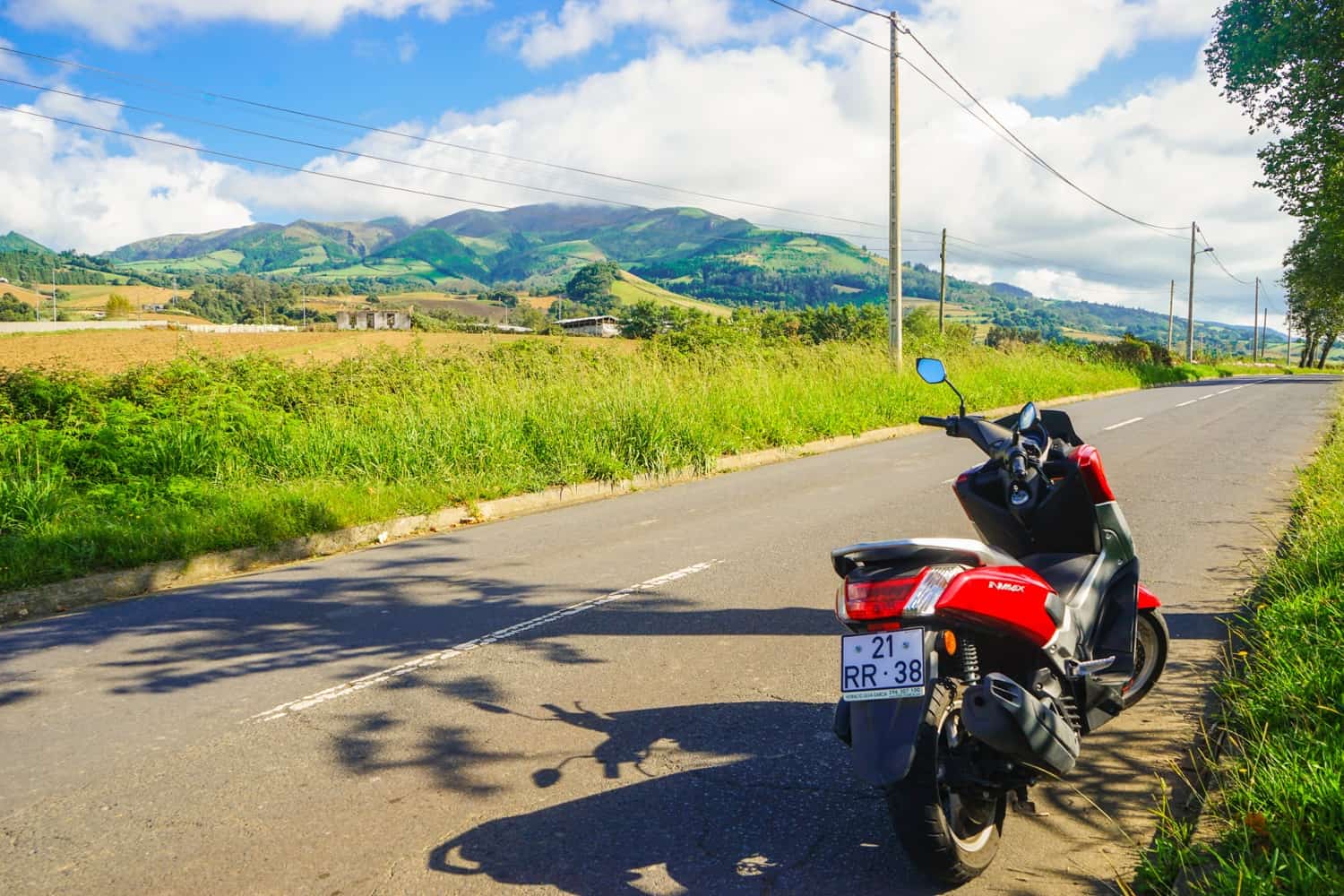 It's So Easy to Get Around
The island of Sao Miguel is made for road tripping.
Thanks to a trifecta of paved roads, sweeping curves, and little traffic, you're practically guaranteed an incredible day out on your wheels. Criss-crossing the island on a scooter had me and Dave firmly back in our happy places, and we couldn't stop commenting on the quality of the riding.
Whether you prefer your adventures to take place with cars or scooters, Sao Miguel is compact enough for you to get from the main city of Ponta Delgada to the east or west coast in a single day without spending the entire time on the tarmac.
We opted to spend one day exploring the west coast, one checking out the south east, and one heading out to the north east. By the end of our adventure, I felt as though we'd seen a significant chunk of what the island has to offer visitors.
The only downside? If you're unable to drive yourself around, the public transport options aren't great, and you'll struggle to see the island if you're relying on buses. There are two very highly-rated tours on GetYourGuide — one that takes you to the east side of the island and one that shows you the west — that I'd recommend going for if you don't have an alternative. I book all of my tours on GetYourGuide and these two have some exceptionally great reviews.
It's Even Easy to Get To
Whenever I write about some of the lesser-known destinations of the world, one of the biggest issues that prevents my readers from replicating my trips is the fact that many of these places are simply too expensive and impractical to get to.
When it comes to the Azores, I'm happy to announce this isn't the case.
SATA Airlines flies daily between Portugal and the east coast of the U.S. and allows you to stopover on the islands at no extra charge. Our flight from Boston to Lisbon cost $275, which also turned out to be the cheapest way for us to get to Europe from North America. Adding in a five-day layover made no different to the cost of the flights.
If you're already based in Europe, SATA Airlines, TAP Portugal, Tui, and Ryanair have a ton of great deals and you can often fly there for as little as $100 return. I recommend using Skyscanner to compare prices.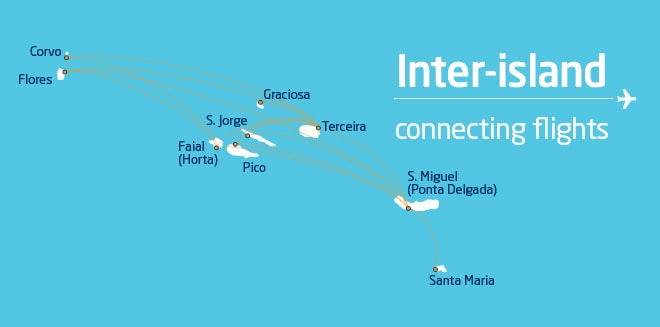 Once you're in Sao Miguel, getting to the other islands in the Azores is easy with SATA, who fly the routes displayed above. They run regular trips between every island in the archipelago, and they rarely cost more than around $50-$70. If you're going to skip over Sao Miguel, SATA gives passengers a free flight to a different island instead!
You could also take the ferry between islands to save money.
The Food is Divine
If there's one thing my time in the South Pacific has taught me, it's that eating on an island in the middle of the ocean is rarely going to be a great or affordable experience. Food is usually imported from the nearest major landmass, which leads to extortionate prices in restaurants, cafes, and supermarkets, making fresh food hard to find unless you're friends with fishermen or keen to walk around the early morning markets.
In both Tonga and the Cook Islands, I spent several days living on canned food and crisps because that was all that was on offer to people who weren't growing their own food or staying close to a restaurant.
I was so excited to discover this is far from the case in the Azores.
In fact, all over Lisbon, you'll find supermarkets and restaurants proudly announcing their food is sourced from the Azores, and they advertise this for one simple reason: the food from these islands is gorgeous! It's also surprisingly affordable.
The Azores has a fantastic climate and fertile land, which means the islands are all self-suficient and don't need to import food from mainland Portugal in order to survive.
The most famous dish of the Azores — and one of my favourite meals — is cozido das furnas, a stew that's cooked inside a volcano! Some of my other food highlights included sampling the tangy Azorean cheese, drinking as much high-quality Azorean wine as my body could handle, swooning over the juiciest pineapples of my life, and snacking on unusual seafood whenever I had the opportunity to.
We paid around €4 for breakfast, €12 euros for lunch, and €15 for dinner, which was amazing value for some of the best meals I've had all year.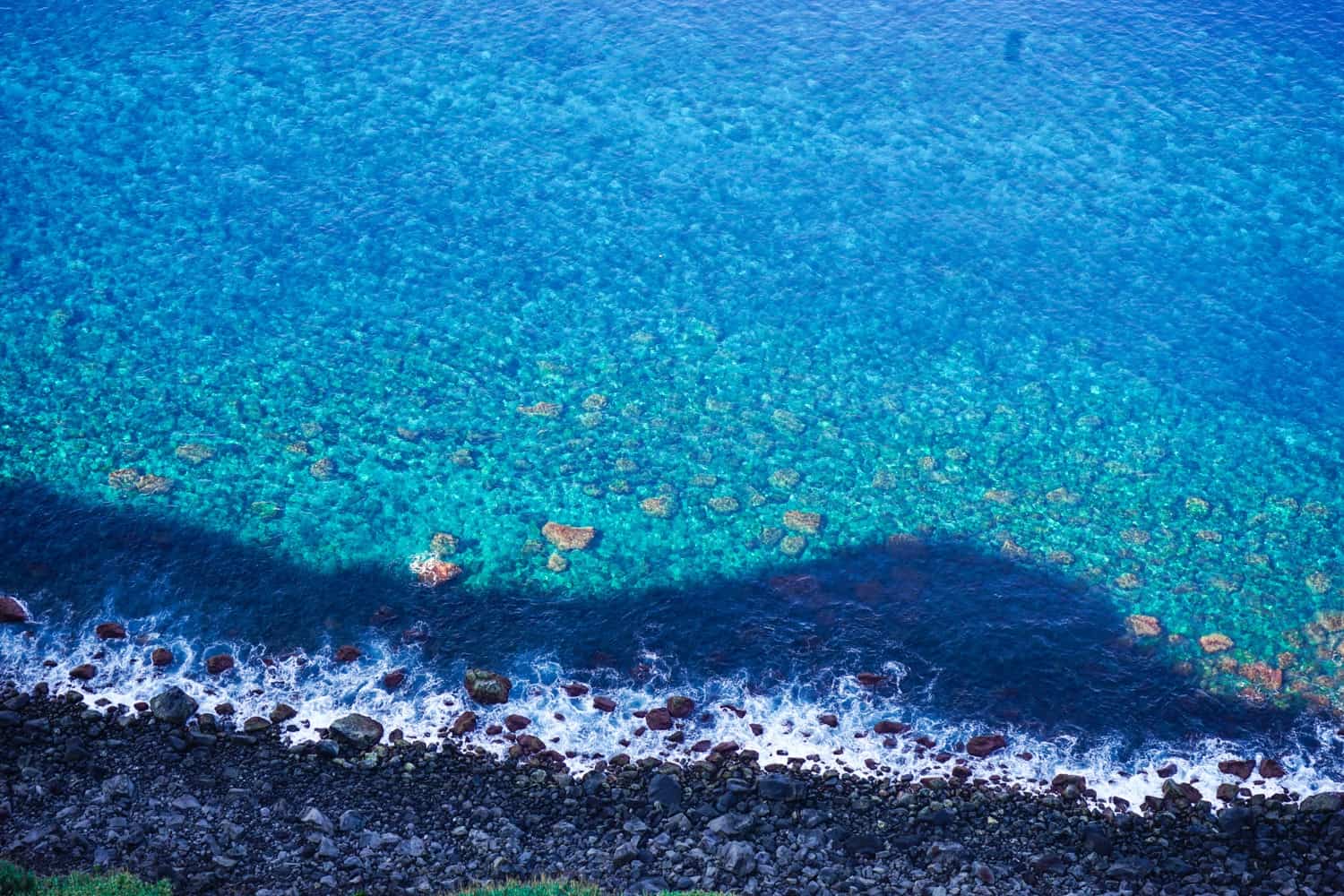 It's Surprisingly Inexpensive
Not only is the food cheap, but so is everything else.
Accommodation ranges from €17 a night for a dorm room at Azores Dream Hostel (rated 8.6 on Booking), €75 a night for a private room with a double bed at Comercial Azores Guest House (rated 9.1 on Booking), €45 a night for a double room with a beautiful view at Atlantic Home Azores (rated 9.5 on Booking) and €60 a night for a double room at Azorean Urban Lodge (rated 9.6 on Booking), which I highly recommend splurging for. I go into more details why at the end of this post!
Transportation-wise, we paid €17 a day for a scooter rental, with car hire coming to around €21 a day.
All in all, I averaged €63.50/$79 a day while not trying particularly hard to travel on a budget.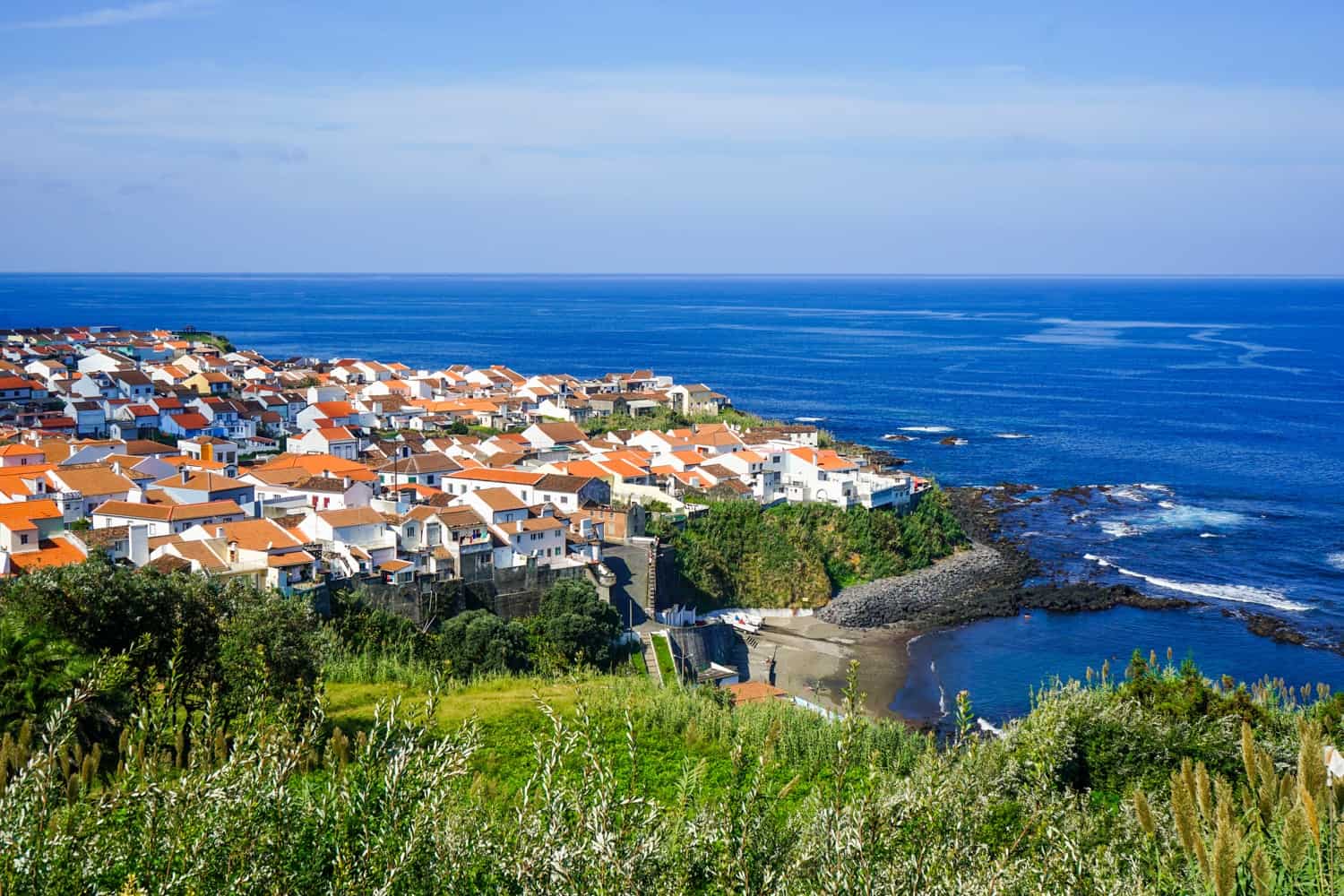 It Has Year-Round Perfect Weather
Talk about an ideal climate!
The temperature in the Azores ranges between 15°C and 30°C — that's 60°F and 86°F — and rarely goes higher or lower at any time of year. That means that if you want to escape the cruise ship crowds of the summer, visiting in the shoulder or low season won't mean having to freeze your ass off.
In mid-October, when we visited, temperatures were a perfect 23 degrees each and every day, and blue skies were a constant presence. I rarely needed more than shorts and a vest top.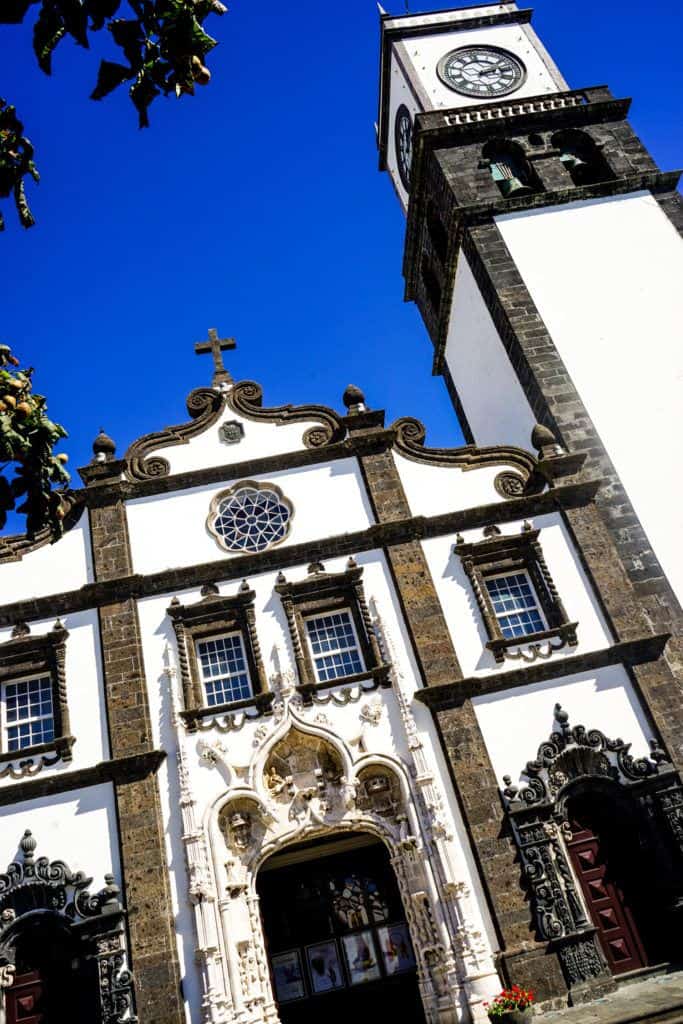 There's Some Seriously Impressive Architecture to Admire
No matter how much I researched, I couldn't find a definitive answer as to why the buildings in the Azores are all about that black and white colour scheme.
So while I can't tell you why the churches and houses and stores and hotels look like the above photos, I can tell you that the uniformity is beautiful, and you'll end up with so many photos of buildings. So much of the island looks like this, and I couldn't get enough of the black basalt features.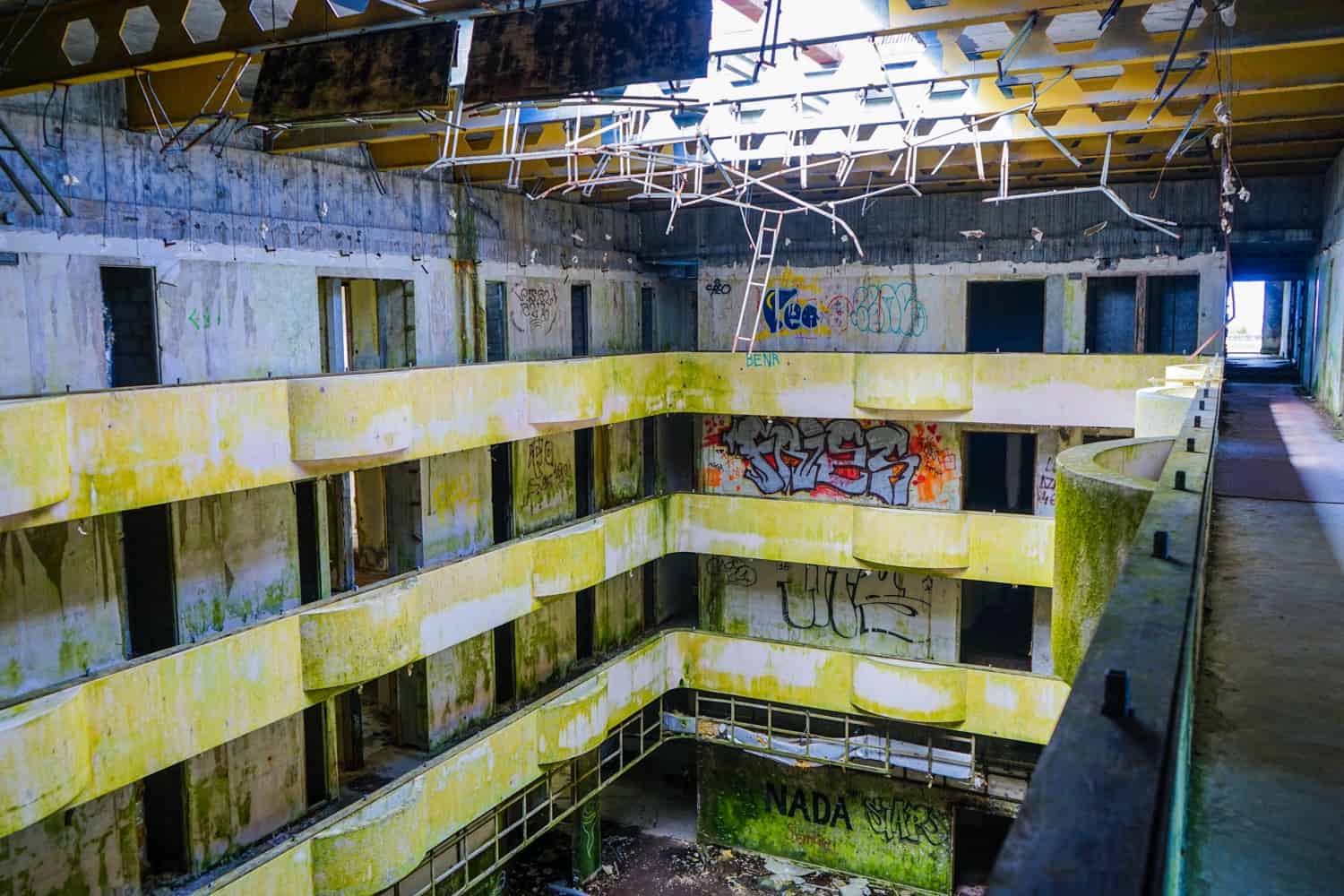 As Well as an Abandoned Old Hotel to Explore
I was overjoyed to discover that there's an abandoned hotel on Sao Miguel that you're free to poke around and take photos.
The Monte Palace Hotel was built in the 80s in an isolated part of the island before tourism was really a thing in the Azores. Unsurprisingly, this five-star hotel quickly tripped into bankruptcy, and has been falling apart ever since.
These days, you're able to explore the entire space, taking in some of the best views in Sao Miguel from the rooftop, dawdling through the bar, hair salon, and ballroom, clambering up staircases, and peering into bedrooms. There were only a dozen other people in the hotel while we were there, which only served to make the experience even more eerie.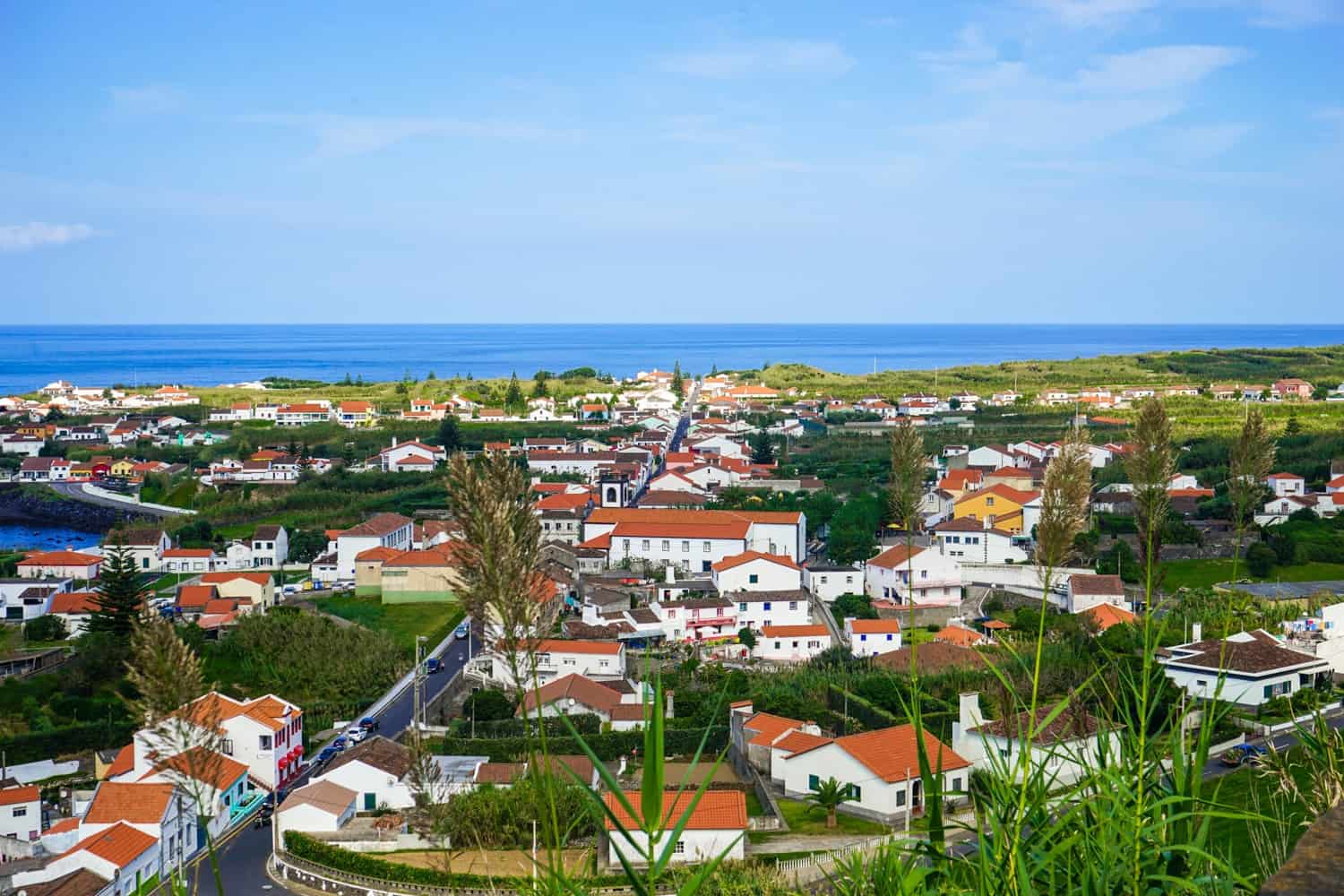 The Villages are So Picturesque
One of the highlights of my time in Sao Miguel came on the third day, when we chose to meander along the northeastern parts of the coastline.
With close to no traffic on the roads, we wound our way through tiny villages comprising a hundred whitewashed buildings, stopping only to nurse a beer while overlooking a beautiful viewpoint or to take yet another photo of a scene that looked like it had come straight from a postcard.
I could have easily spent an entire week just slowly making my way around the small villages and towns of this island.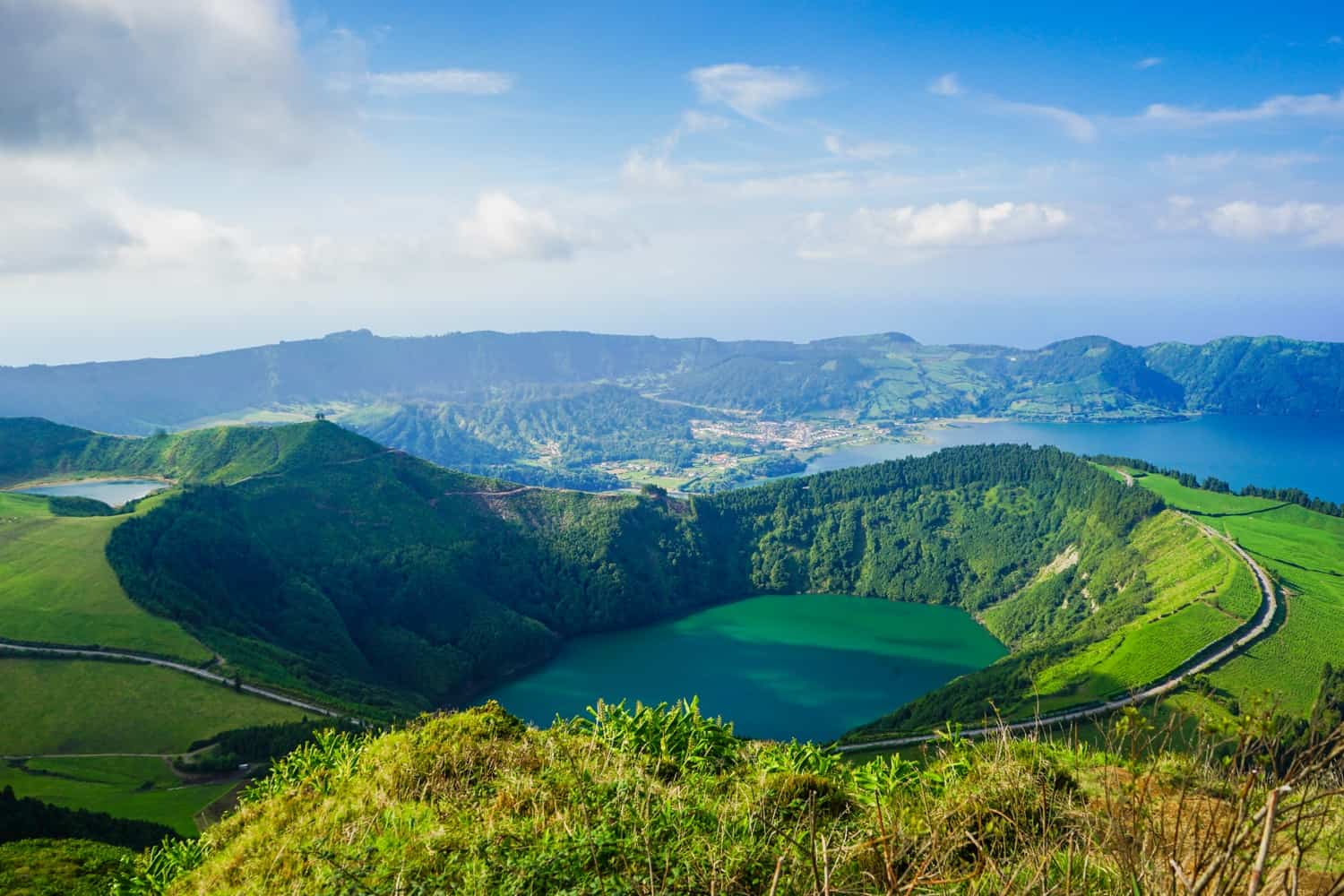 Lagoons are Everywhere
In Sao Miguel, the majority of your sightseeing will be based around lagoons, because they're scattered all over the place.
My favourite was easily Lagoa das Sete Cidades — the Lagoon of the Seven Cities — which is partially pictured above. It's a twin lake of different colours in the crater of a now dormant volcano. In other words, it's pretty freaking badass. Lagoa das Furnas was perfect for a peaceful walk along the water's edge before checking out the volcanic stew being removed from the hot springs where it had been cooking all morning. Lagoa do Fogo is a lake within a volcano that brought me some of the moodiest photos from the trip — it was shrouded in mist when we visited and we were only able to catch glimpses of it, usually when a particularly strong gust of wind threatened to hurl our motorbike over the edge.
The Hot Springs Provide Plenty of Opportunity for Relaxing
There are three active volcanoes on Sao Miguel alone, so it's no wonder there's a ton of geothermal activity to check out while you're in town. There are four hot springs on the island, and my favourite was the one at Ponta da Ferraria, where there's a natural thermal pool on the edge of the ocean.
The hot spring that's most famous on the island is the one in Furnas, but let me tell you now: it looks awful! There's a whole heap of iron in the water, which has turned the pool into an opaque rusty-colour that looks the exact opposite of appealing.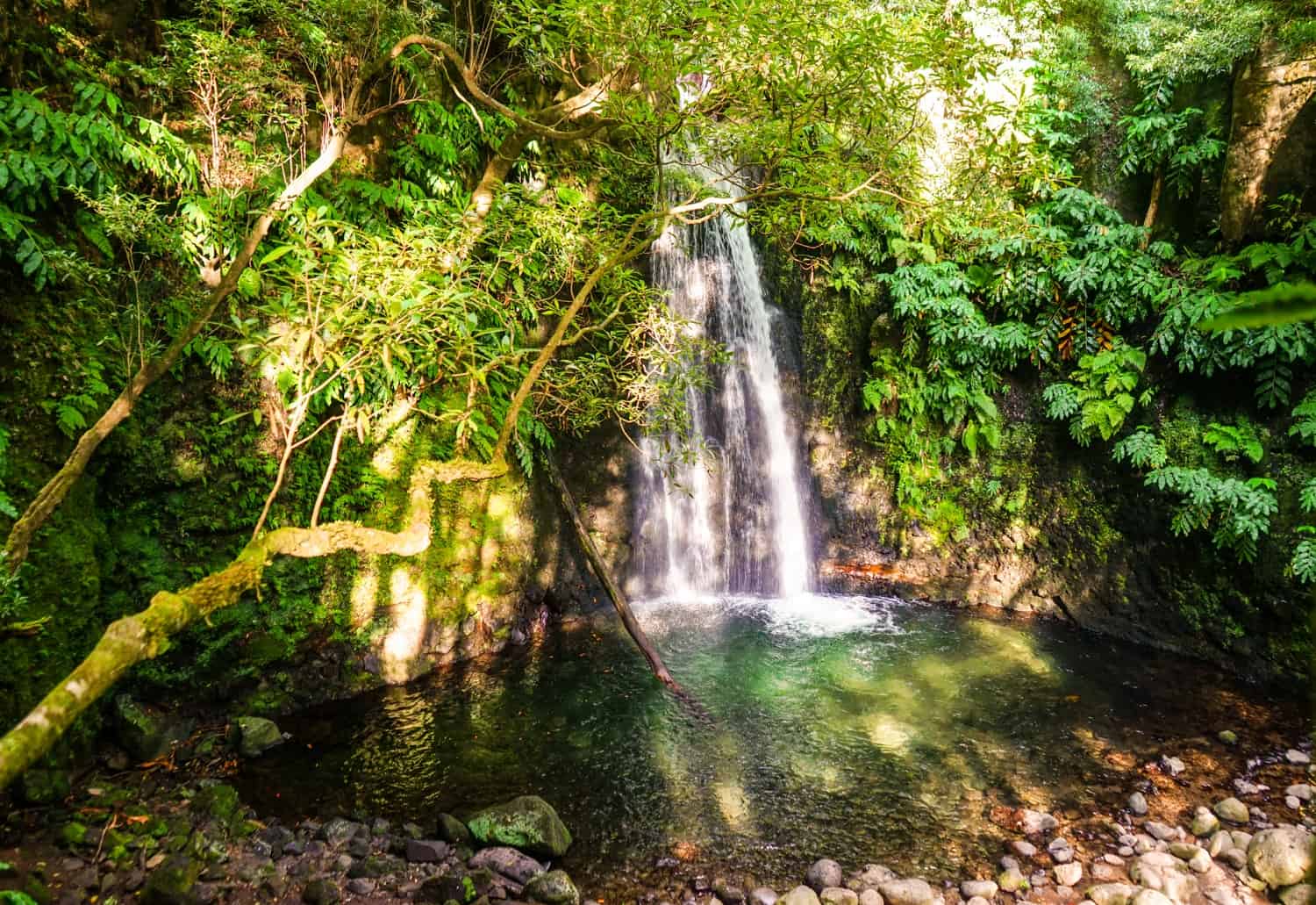 It's Great for Hiking
Yes, the Azores has all of the above and fantastic hiking!
There are about a dozen hikes on the main island of Sao Miguel, but due to time constraints, we opted for just two of them. Both of them were easy-to-moderate difficulty and both ended with a spectacular waterfall. The Salto do Prego hike was almost entirely uphill for the 40-minute climb, but having such a stunning spot to ourselves at the end of it made the struggle worthwhile. The Salto do Cabrito hike took us to one of the most beautiful waterfalls on the island and ended up being an easy walk, as we skipped the six-hour round-trip hike and settled for scootering to just 10 minutes from the falls.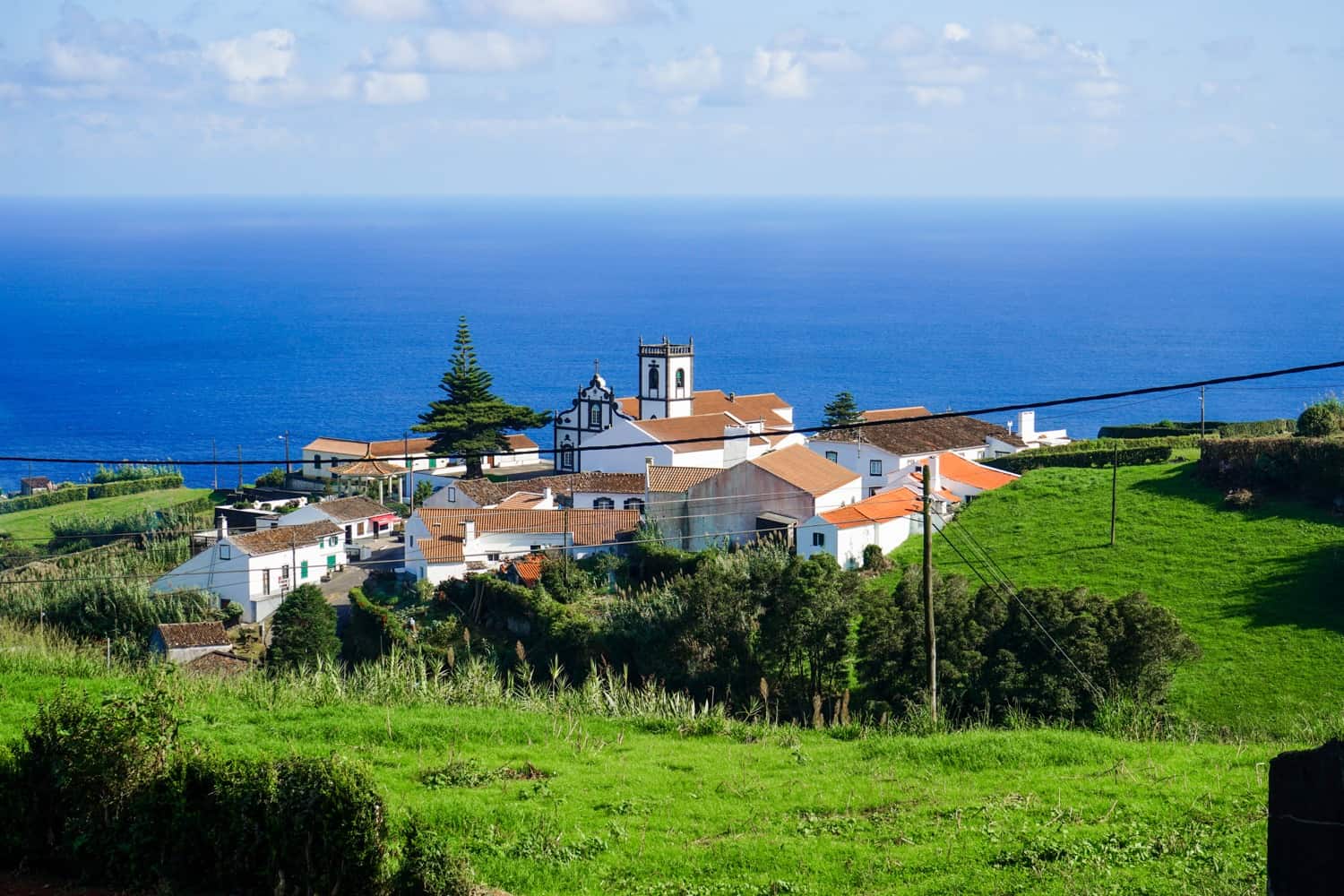 You Can See Sao Miguel Over a Few Days
You can easily see the main island of the Azores in less than a week.
We gave ourselves four days to explore Sao Miguel and it turned out to be the perfect amount of time. We spent one day walking the island's main city of Ponta Delgada, one day exploring the west side of the island, one day scootering the southeast coast, and one day out in the northeast. We drove practically every road on the island over this time and didn't have to skip out on a single activity. If we'd had longer, we'd have likely spent a day relaxing in hot springs across the island.
If you had a full week to explore the archipelago, you could opt to spend four days on Sao Miguel and three days on one other island. You could choose Pico for volcano-climbing and wine-drinking, opt to go whale-watching on Faial, sign up for hiking and mountain biking on Flores, or go beach-hopping on Santa Maria.
If you had two weeks or more, you could see the majority of the nine islands, as they're all fairly small. I know I'm already planning to do exactly that later this year.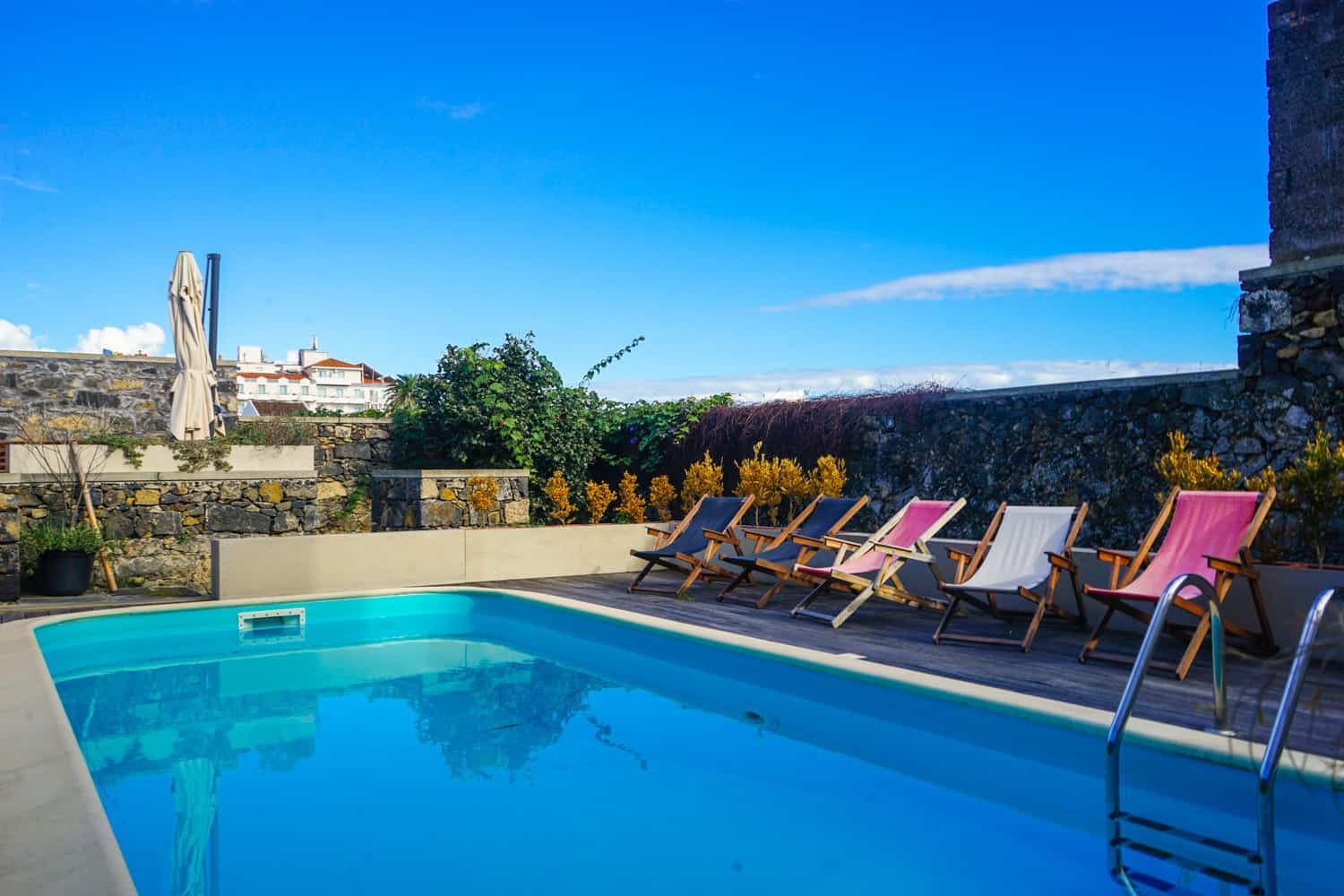 Azorean Urban Lodge was Wonderful
The guesthouse we stayed at was great! There was a swimming pool! The staff were lovely! It's not often that I'll order you to stay in a specific hotel, because a hotel is a hotel is a hotel. But this one? This one is definitely worth checking in to.
Related Articles on Portugal

💰 The Cost of Travel in Portugal: A Detailed Budget Breakdown
🇵🇹 After 70 Countries, Why I Moved to Lisbon, Portugal
💚 The Best Things to Do in Lisbon, Portugal
❤️ 28 Best Things to Do in Porto, Portugal
🏚 Exploring the Abandoned Monte Palace Hotel in Sao Miguel, Azores
Have you been to the Azores? If not, has this post convinced you to add it to your list?