There is nowhere quite like Lisbon.
Portugal's tourism industry has blossomed in the last decade, with visitors traveling from all over the world to visit this exciting city. As soon as you arrive, you'll see just why. This capital city offers a blend of delectable food, a vibrant art and culture scene, and incredible history, all with a down-to-earth atmosphere.
Surrounded by gorgeous beaches, mountains, and forests, it's one of those cities which is just as much loved for its adventurous side as it is for its dynamic culture and history. Not to mention the food; Lisbon is a haven for foodies, boasting tons of street food vendors, trendy markets, and traditional restaurants serving incredible tapas paired with local wines.
Lisbon is bursting at the seams with personality. Beyond the magnificent architecture lining the streets, you'll pass many small flea markets, talented buskers, and street artists at work during your time in the city.
Live music drifts through the windows of authentic bars and cafes, which are often hidden in historic buildings and not marked on tourist maps. This makes it especially beneficial to have insider knowledge, which is exactly what I'm here to share. To make things even easier, locals are always willing to lend some advice when needed – so much so that I ended up leaving the city with a few great friends.
I've handcrafted a three-day Lisbon itinerary to get you into the swing of the city. Let's dive right in and unpack the best activities, eateries, and bars to check out during your Portuguese adventure: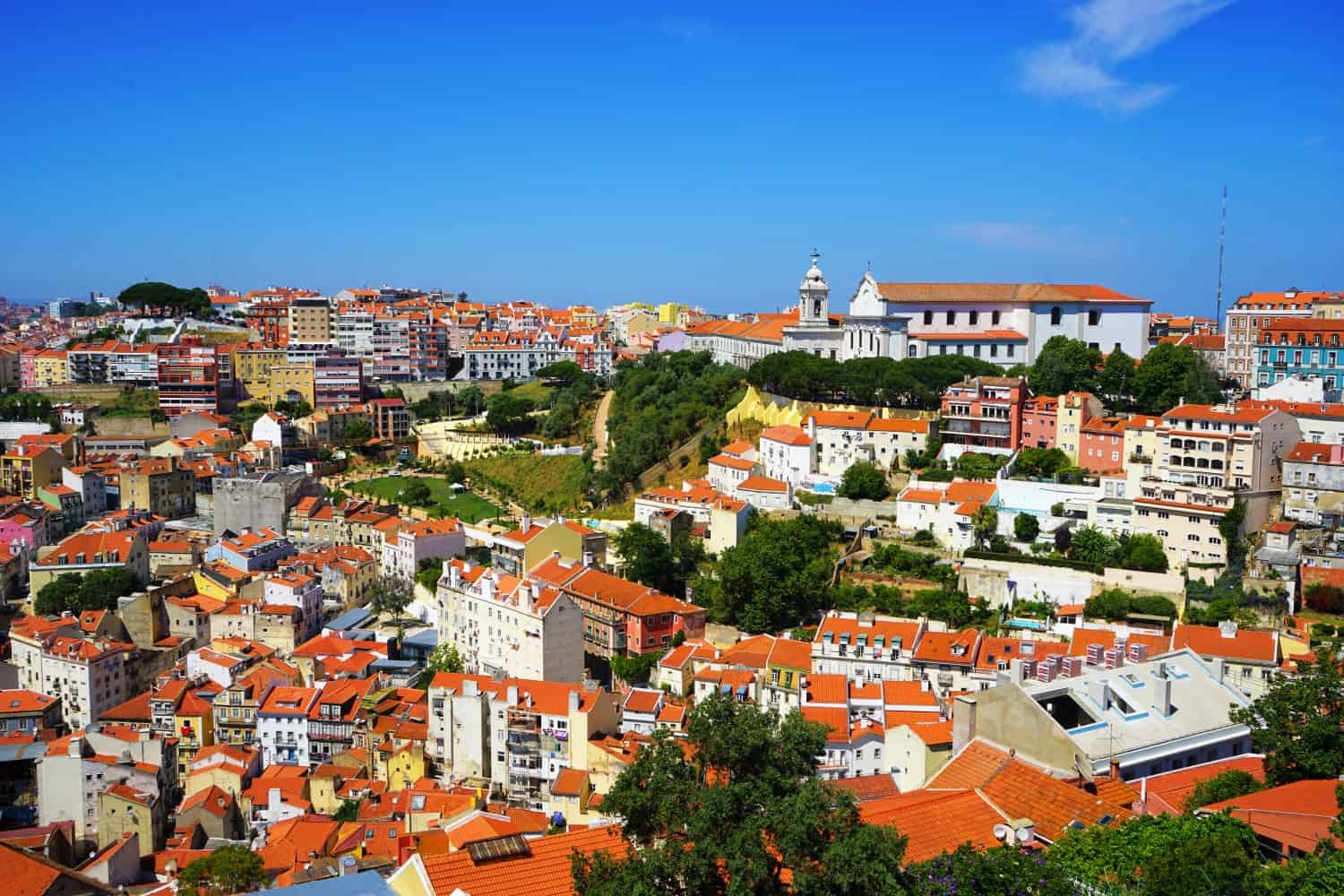 How Long Should I Spend in Lisbon?
If you're wondering how many days to spend in Lisbon, I believe three days will suit you well. Take it from me, Lisbon has so much to offer that you could spend weeks exploring the city. However, if you're on a time or budget crunch, three days in Lisbon is the perfect amount of time to see the city in all its glory.
The inner city areas like Alfama and Baixa are best explored on foot. This way, you won't miss the small quirks of the side streets that make this place so remarkable and distinct. I advise splitting Alfama and Baixa into two days and checking out some museums or historical attractions at the same time. Add in as many as you see fit here, and pick and choose depending on what interests you most.
Finally, I've added a short beach trip on the final day to see a bit more of the Lisbon district. The distance to this picturesque beach town is just 45 minutes from the city center by train, which is super convenient for a half-day trip.
I designed this itinerary with all types of travelers in mind, from the ultimate adventurer, culture and history fanatic, to the easy-going traveler.
If you can squeeze in a few more days, I highly recommend visiting the historic district of Sintra. Here, you can check out five unique palaces, forts, and castles that offer a great representation of Portugal's colorful past. This day trip from Lisbon will tick both the Pena Palace and Quinta de Regaleira off your list.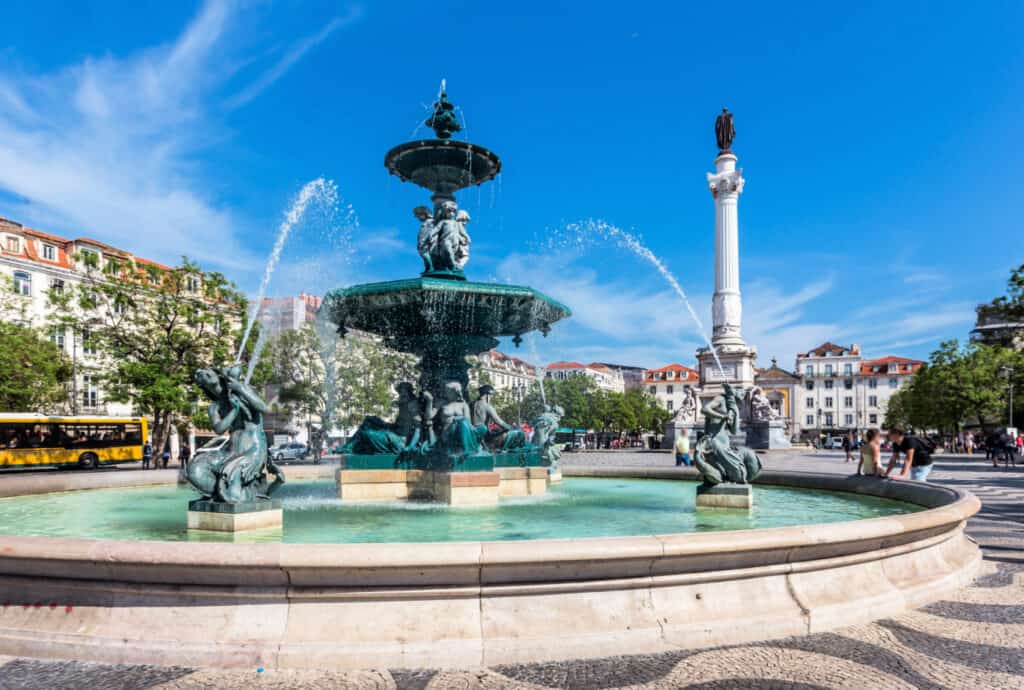 Day 1 – Walking the Inner City: The Baixa District
I always recommend spending your first day in a city walking around the cultural center. And the Baixa District in central Lisbon is, without question, the place to do so. As you wander from destination to destination by foot, allow yourself to get lost in the sounds of live music, the smell of freshly baked pastéis de natas, and the sights of the city.
While this is the best way to get your bearings when you first arrive in Lisbon, choose to do this on a day with decent weather. As you can imagine, walking around in the pouring rain is a sure way to ruin your first impression of a place!
If walking kills your vibe, add this three-hour tuk-tuk tour around the inner city to your Lisbon itinerary.
Baixa is the most famous and central neighborhood in Lisbon. The wide avenues are lined with seasonal trees and flanked by traditional Lisboa houses covered in blue painted tiles. Pretty much every direction you look is worthy of a photograph.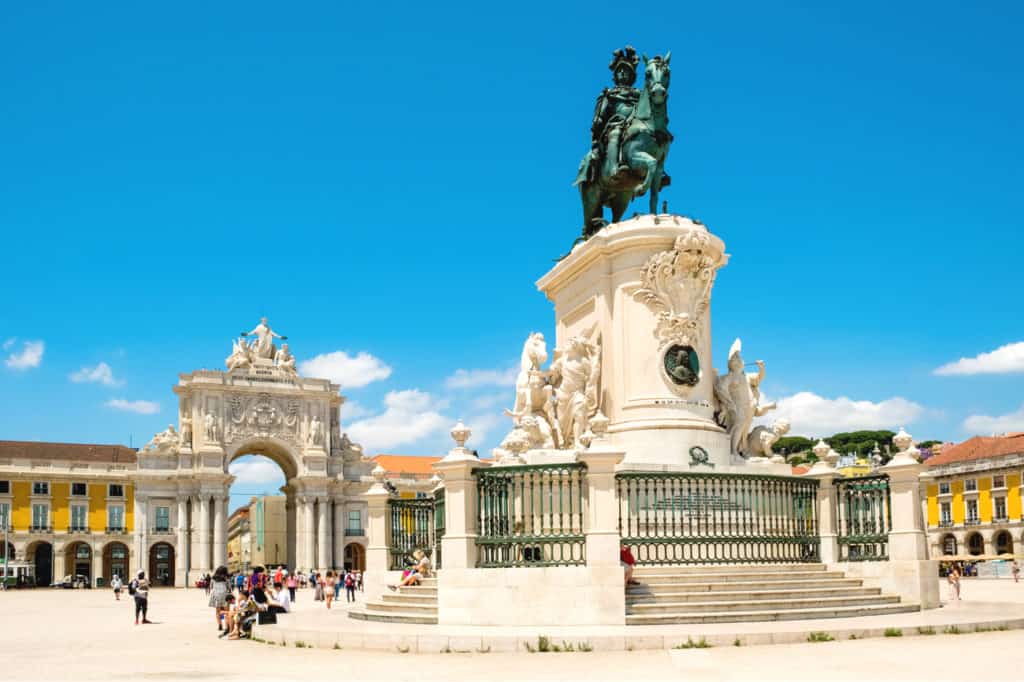 As the heart of Lisbon, I recommend starting your walk at the Praça do Comércio, an impressive plaza on the River Tejo. This magnificent square reflects a time of great wealth and excess opulence common in Portugal towards the end of the 18th century, and the yellow buildings still house governmental departments today.
The plaza was constructed as the symbolic entrance to the city. Check out the incredible panoramic city views from the top of the Arco da Rua Augusta, an enormous archway leading into the most famous street in Lisbon, Rua Augusta. The viewing platform costs just €2.50 to visit and is undoubtedly one of the most incredible places to start your day.
Walk along the coastline towards the Riberia das Naus, which is pretty much another word for the waterfront. This wide river beach has a grassy lawn area and broad steps and is a popular place during summer, where locals and tourists come to catch some sun, enjoy a drink and listen to live music along the river beach. While this spot picks up in the afternoons, I love spending the mornings here. It's much quieter and is a great spot to enjoy a pastéis de nata and coffee on the water's edge.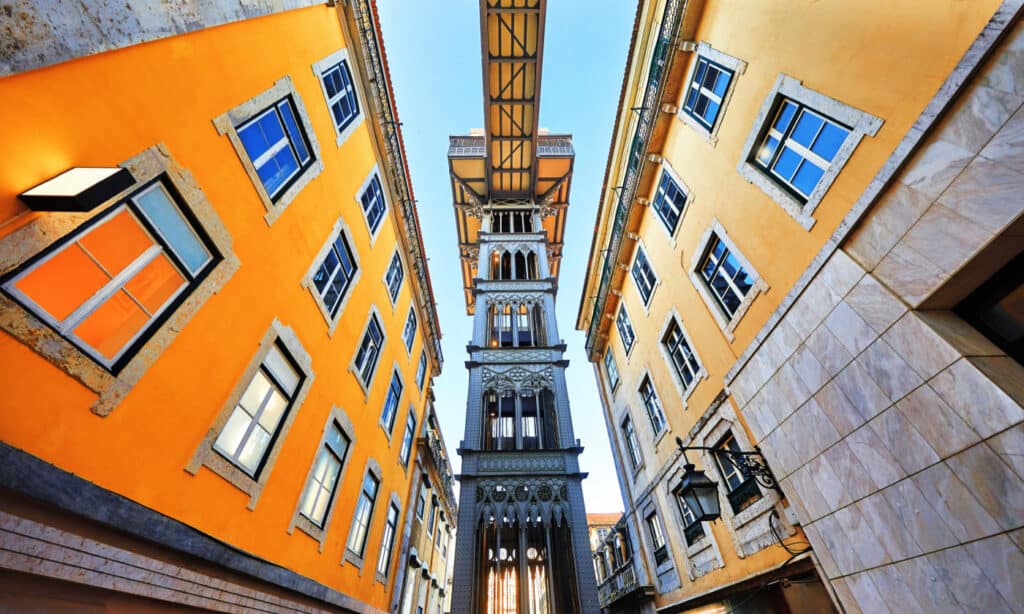 Next up, take a five-minute stroll up the impressive Rua Augusta to the Elevador de Santa Justa. You'll pass a colorful mix of international shops, street-side cafes, and tourist stores on this street. So, if you're interested in a bit of retail therapy, this is your chance to spend some €€€! Just remember that you'll need to carry your packages with you for the rest of the day.
The 'lift' is an elevator that was once a valuable part of Lisbon's public transport system. Designed during an era of wrought iron architecture, featuring neo-gothic arches and geometric designs, it was built to help carry citizens seven stories up one of Lisbon's steepest hills. Today, it's a popular tourist attraction with a viewing deck towering over the city. To be honest, you don't need to stand in line for both the Arco da Rua Augusta and Elevador, as the views are similar.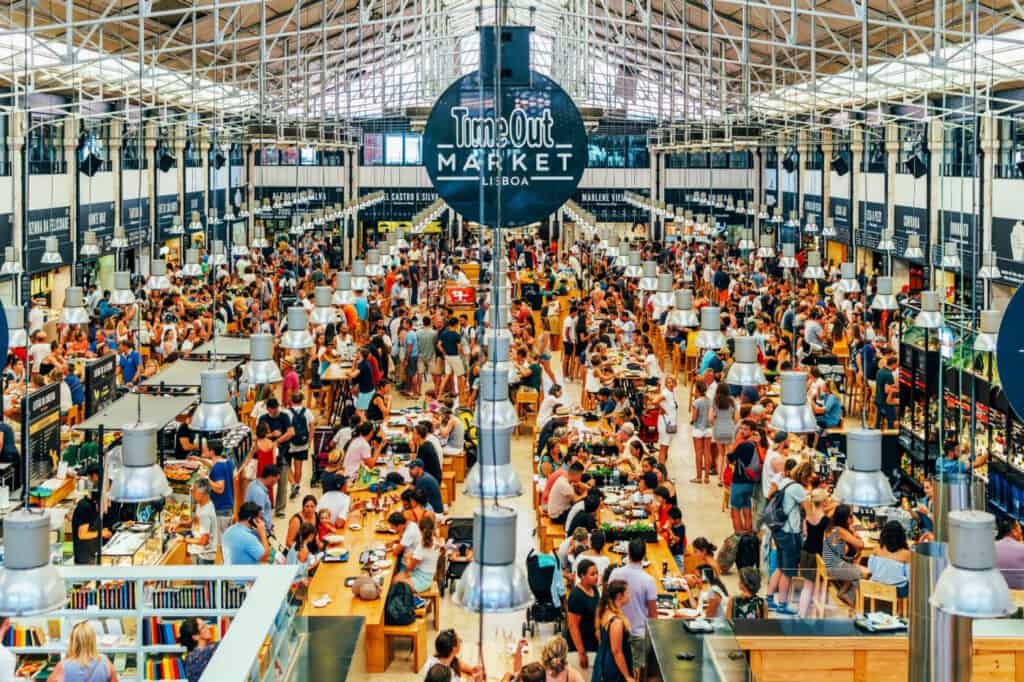 When you start to get peckish, I have the perfect option for lunch to keep everyone in your travel party happy. The Time Out Market is located along the river in Cais do Sodré, closer to the Alfama District.
Time Out is a tried-and-tested market concept found in many international cities.
There are tons of authentic stalls serving different local and international delicacies here. In fact, every meal on sale has been designed, tasted, and tested by a panel of city experts. It really is everything Lisbon is – adventurous and tasty with an exhilarating vibe. Do yourself a favor and indulge in some fresh oysters before tucking into an octopus dish (polvo de molho) at Cozinha da Felicidade. You won't be disappointed.
Wherever you end up along the Rua Augusta, a walk to Time Out won't take you more than 40 minutes through the winding back streets of the city. My favorite way to tackle long walks is to follow the general direction of my destination and explore whatever streets and alleys grab my attention along the way. Who knows what you might see and who you might meet!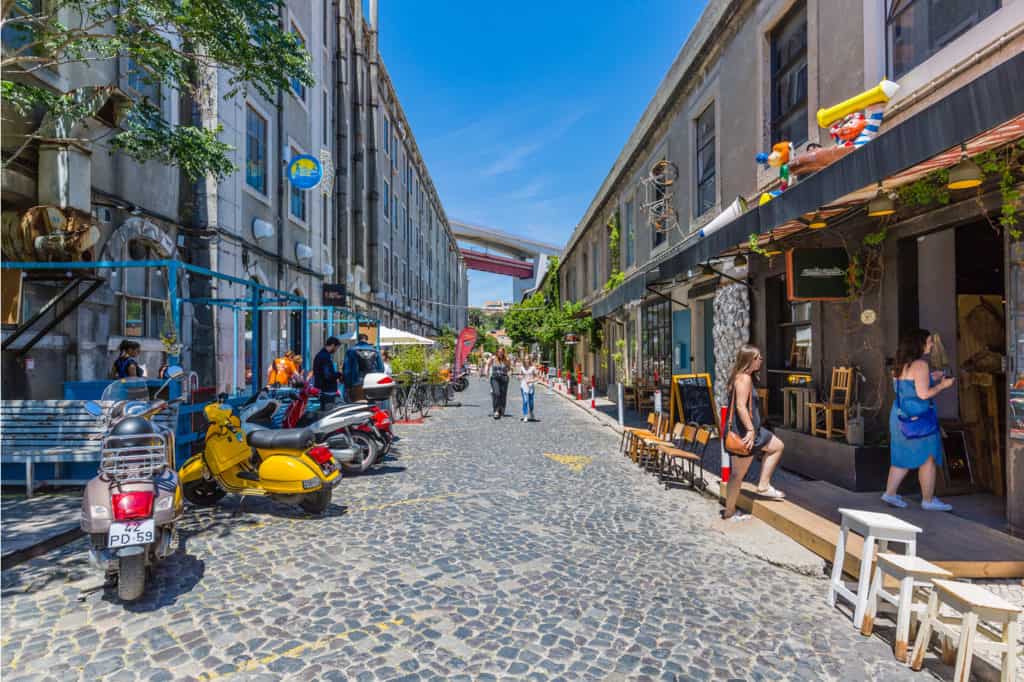 End your day by shopping at The LX Factory, a cooperative workspace packed with some of the city's best boutique shops, galleries, bookstores, restaurants, and bars. It is a fantasy land for culture and art lovers, offering a taste of the local art and music scene. Check out all the unique shops, art galleries, and street art here. In fact, there are over 50 shops, restaurants, and bars in this exciting complex.
It's located on the edge of the Tagus River, at the intersection of the Ponte 25 de Abril Bridge. It will take you 15 minutes to get to from Time Out by bus, or you could walk off your meal with a 40-minute walk along the Lisbon International Sailing Club.
I recommend hitting Doca de Santo for dinner, which is set above the yacht club and has gorgeous views of the Tagus and iconic bridge. They serve traditional Portuguese food with a modern twist. Whet your appetite and check out the menu here.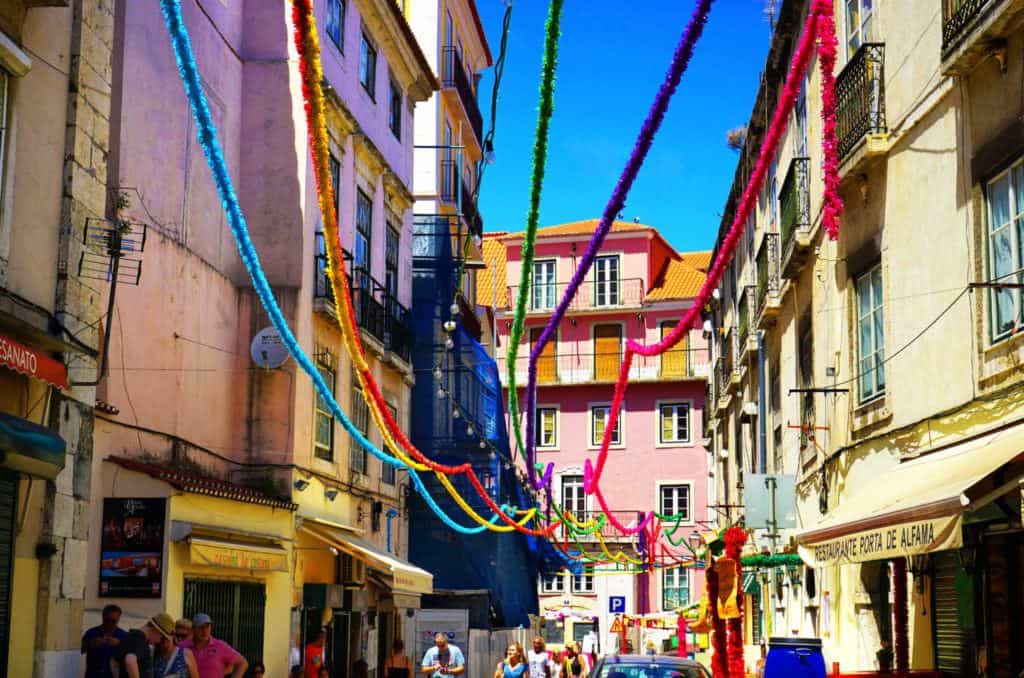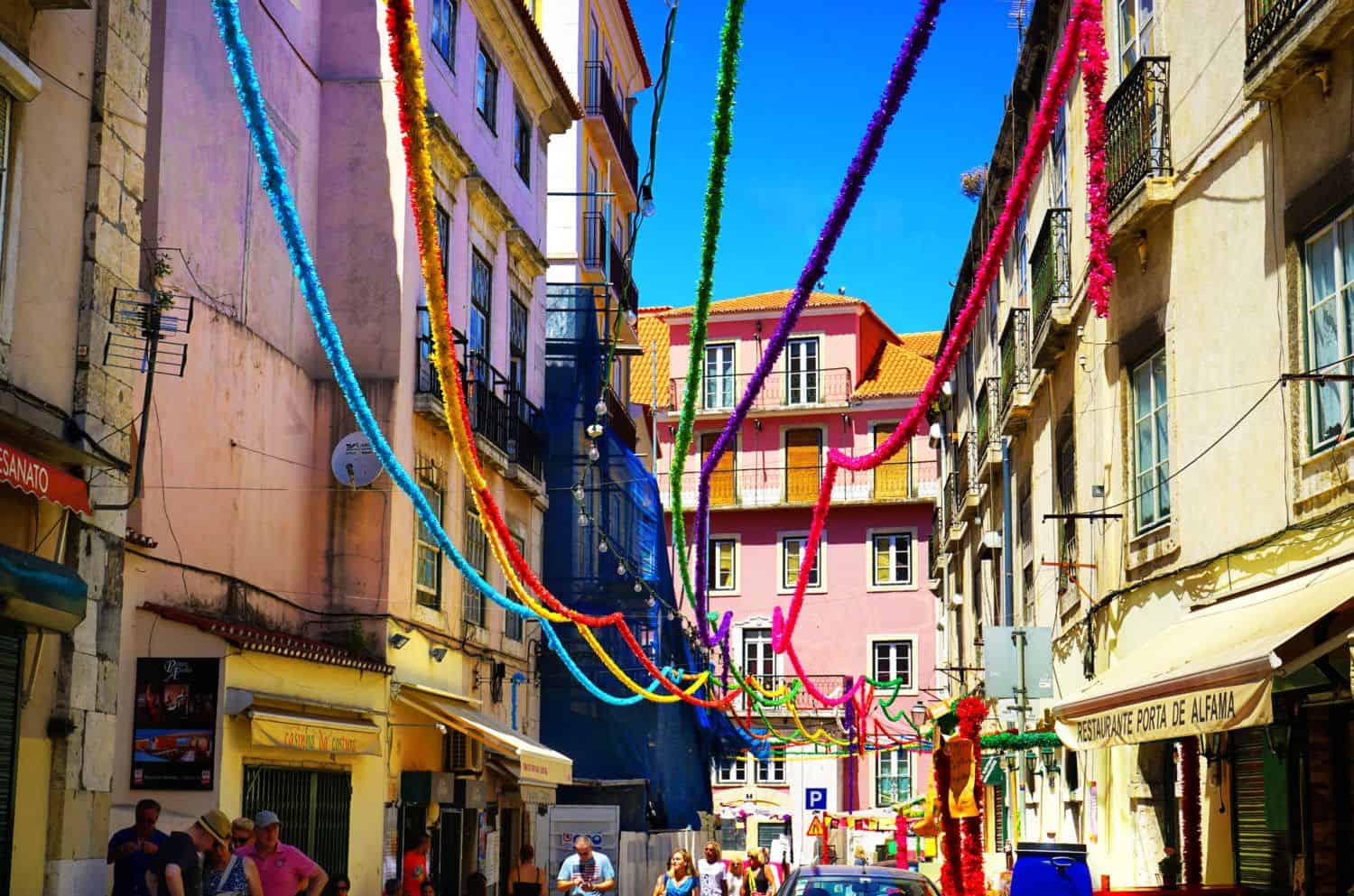 Day 2 – The Alfama District: Lisbon's Castles and Museums
I hope you had a good night's rest, because the second day of your trip is packed with even more Portuguese attractions! Alfama extends over a few hills, with very few flat areas in the district. This means that walking in this area can be physically demanding, with many steep staircases and narrow footpaths. Good news: although few, there are trams to help cart you and your possessions up the hills.
Historically set beyond the castle walls, Alfama used to be the home of the poorer city workers and sailors in Lisbon. Today, it has shed its unfortunate reputation and is a bustling district with a ton of charm and character.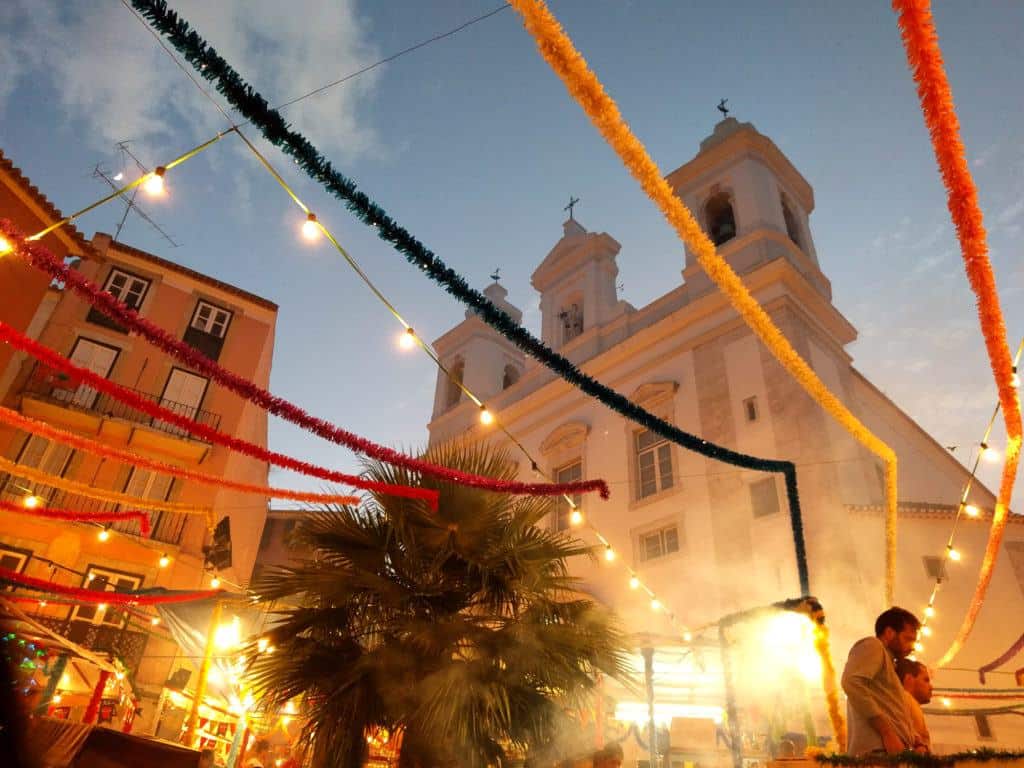 Start at the Igreja de Santo António, Lisbon Cathedral, and Roman Theatre ruins, which are all within a five-minute walk of one another. Igreja de Santo António marks the birthplace of Lisbon's Saint Anthony and is a beautiful 18th-century Baroque cathedral that will blow you away. Legend says you will find a new (or better) life partner if you flip a coin into the statue of Saint Anthony's book.
Take tram 12 or 28 up the hill towards Largo da Graça, and then you can enjoy a less demanding walk downhill through Alfama. Built around Lisbon's oldest church (Graça), the Largo da Graça is a collection of hilltop squares offering gorgeous views of the city and Tagus River. The best views can be admired from the Miradouro da Graça viewpoint, to be exact.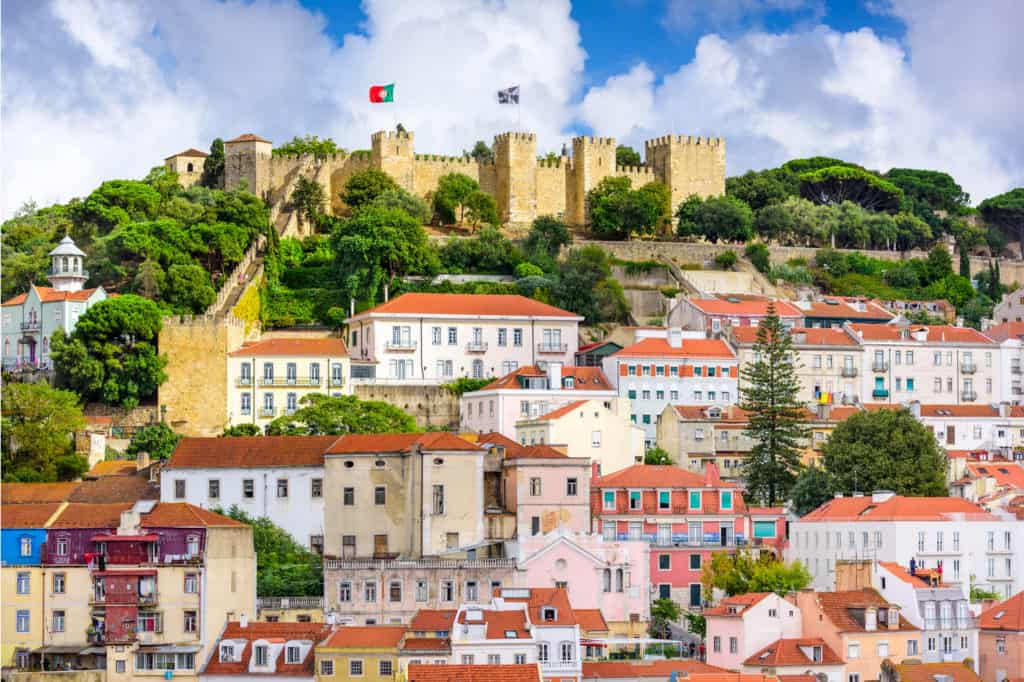 Head towards the Castelo de São Jorge, Lisbon's Castle perched on the summit of São Jorge Hill. It was initially built in 200BC before a devastating earthquake destroyed it in the 1500s. Major restoration occurred during the 19th century, allowing us to visit this historical masterpiece today.
You can't miss it, as this castle can be seen from just about anywhere in the city. From the shaded gardens of the Paço de Alcáçova to the unrivaled views from the Praça d'Armas, there's something for everyone at this castle complex.
A minute walk from the castle, stop in at Petisqueira Conqvistador for a bite to eat. This local tapas bar serves traditional Portuguese-style tapas at the foothill of the castle. Small bites are my favorite way to eat, and it's a great way to experience the cuisine and foodie culture of Lisbon on a short stay.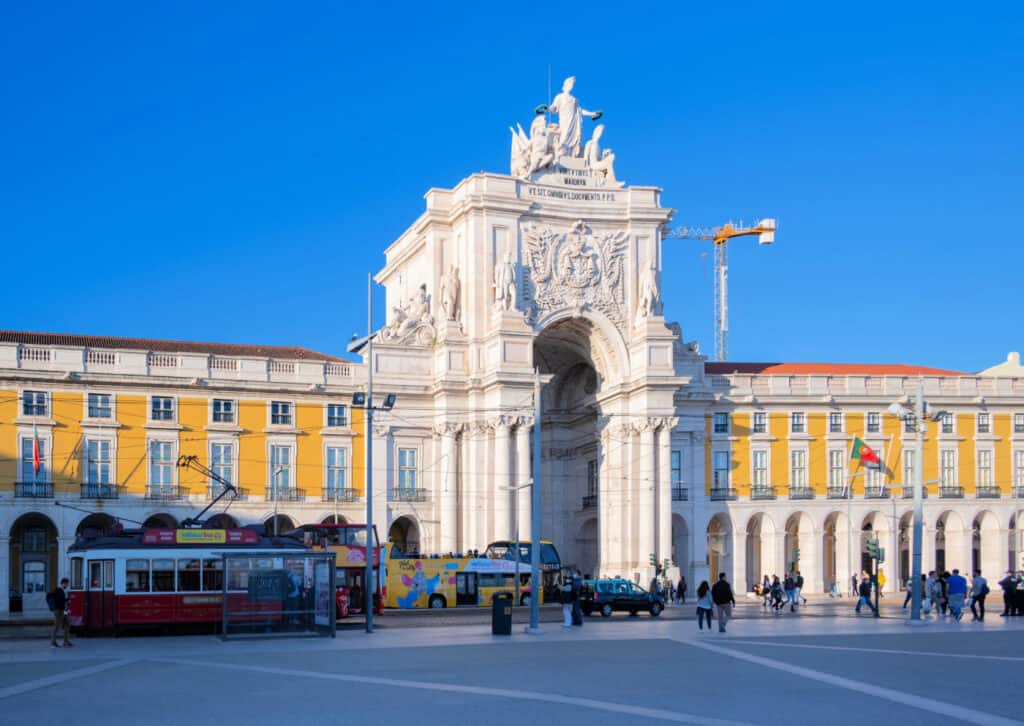 For that art and culture fix, take a 20-minute stroll down the Tagus to the National Museum of Contemporary Art (Museu Nacional de Arte Contemporânea), passing through the iconic Arco da Rua Augusta on your way. Founded in 1911 and set in a traditional blue-tiled building, this is a must-visit for anyone interested in the history of Lisbon's art scene.
As the sun sets, make your way to one of Lisbon's best rooftop bars to soak up the views and watch as the city lights start to glow. Enjoy a cocktail made from Ginjinha (pronounced geen-geen-a), Lisbon's most traditional liquor, for a kick start into the evening. After a day on your feet, you deserve it!
There are countless rooftop bars to choose from, depending on how far you're willing to travel at the end of the day. These are my favorite rooftop bars near the museum:
Carmo Rooftop (8-minute walk)
Rossio Gastrobar (10-minute walk)
Rooftop Bar Atico (20-minute walk)
I know, I know, this day can sound overwhelming. If you prefer to follow a guided tour, this three-hour walking tour explores the Alfama District with a similar itinerary. Check availability for your travel dates using the widget below: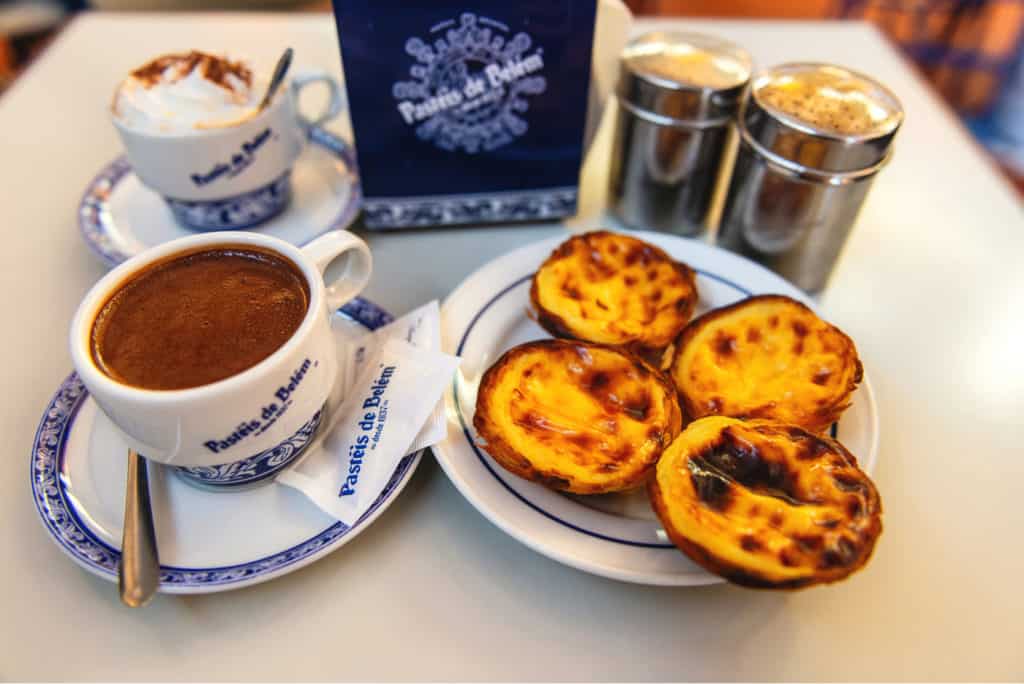 Day 3 – Time for Some Sunshine: A Morning in the Gardens and an Afternoon on the Beach
After two days of walking and eating your way through Lisbon, a slow start in some of Lisbon's most gorgeous gardens will hit the right spot.
Start your day with a pastry and coffee at the famous Pastéis de Belém, which has been baking the best (in my opinion) pastéis de natas in the city since 1837. This is also my favorite spot to stock up on gifts to bring back home to family and friends. Other than the classic custard tart, they sell a range of traditional Portuguese baked goods, all with a long shelf life.
There are three iconic gardens, all within a five-minute stroll from this bakery. If rolling out a towel and reading a book grabs your interest, choose one of the gardens to spend the morning in. Alternatively, if you have a bit of energy left in you, take a stroll through all three; Jardim Botanico Tropical, Belém Palace Gardens, and the Garden of Vasco da Gama.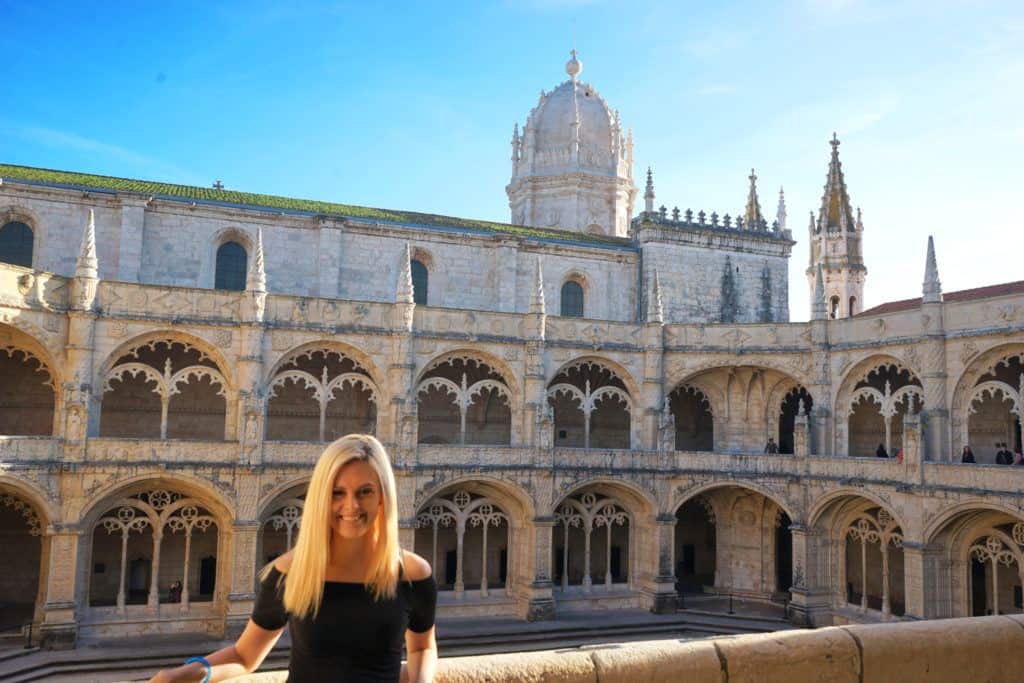 The Jerónimos Monastery is another top attraction in this area that you won't want to skip. It is best known for being the burial site of the famous explorer Vasco da Gama and poet Luís de Camões, two of the leading figureheads behind the Portuguese Age of Discovery. It's also simply a gorgeous building to admire and a great place to gain some peace during a busy trip. Entrance to the church is free, but you'll have to pay a small fee to visit the galleries and sacristy.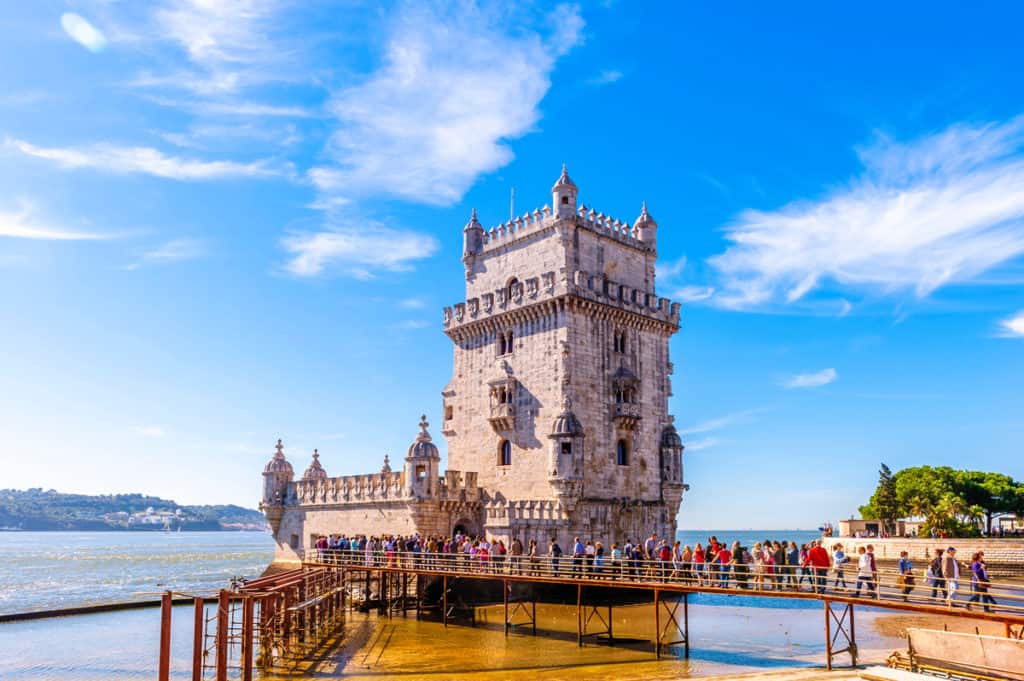 Less than twenty minutes walk from the gardens and Monastery, Belém Tower is a must-visit for all new Lisbon tourists. This 16th Century fortification, built from limestone, rises from the Tagus River, making for a beautiful photograph at the very least. It originally served as a point of departure and arrival for Portugal's sailors and explorers.
Together with the Jerónimos Monastery, these two sites are now designated as UNESCO World Heritage Sites. Purchase an entrance ticket online to avoid queuing on the day, or choose to join a 2-hour historic sightseeing tour covering the entire Belém district. Tickets do sell out for this one, so be sure to book your entrance tickets online and in advance of your trip. Check availability for the tickets over your travel dates below: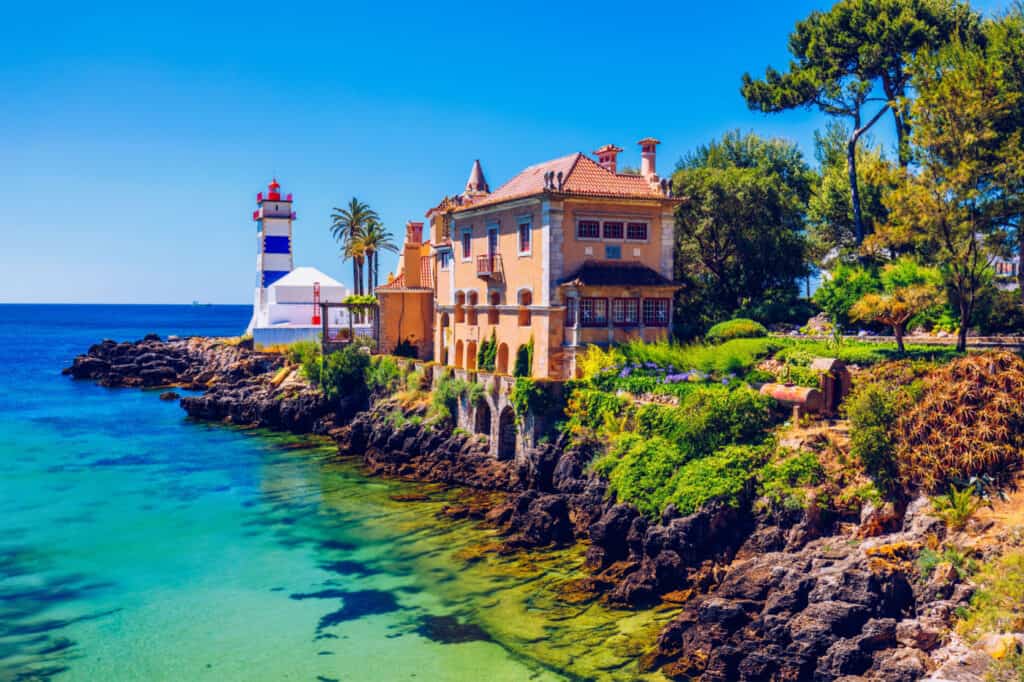 Time for a change of scenery! From Belém, jump on the Direction: Cascais train and travel westwards. Cascais is a gorgeous fishing town in the Lisbon municipality and a premier destination for beachgoers. A short walk around this traditional fishing town will reveal ancient forts, grand mansions, and lush parks. It is absolutely breathtaking here – the town perfectly blends a rustic fishing heritage with 19th Century opulence.
Now it's time for a delicious lunch before a more relaxing afternoon on the beach. Take a five-minute walk from the train station towards Rua Visconde Luz, Cascais's main shopping and dining street.
Visconde da Luz is an old-fashioned Portuguese restaurant that draws a diverse local crowd. Get the famous Cascais sole, fished right in the waters off the coastline, or opt for a delicious shellfish cataplana. You'll thank me later…
Tasca da Villa is a more affordable option with just as much charm. As you might expect, seafood is the specialty in this coastal haven, so do yourself a solid and order something fresh from the ocean! After lunch, indulge in some gelato at one of Portugal's best ice-cream parlors, Gelados Santini. This is hands down the best ice cream I have ever tasted. Regardless of what flavor you pick, you will be impressed.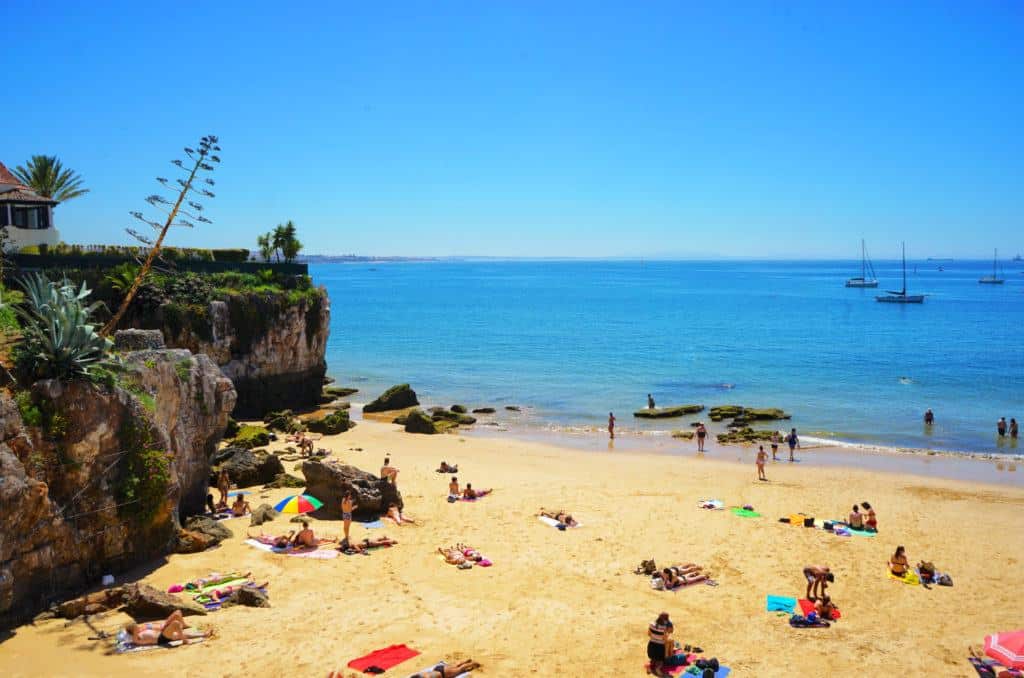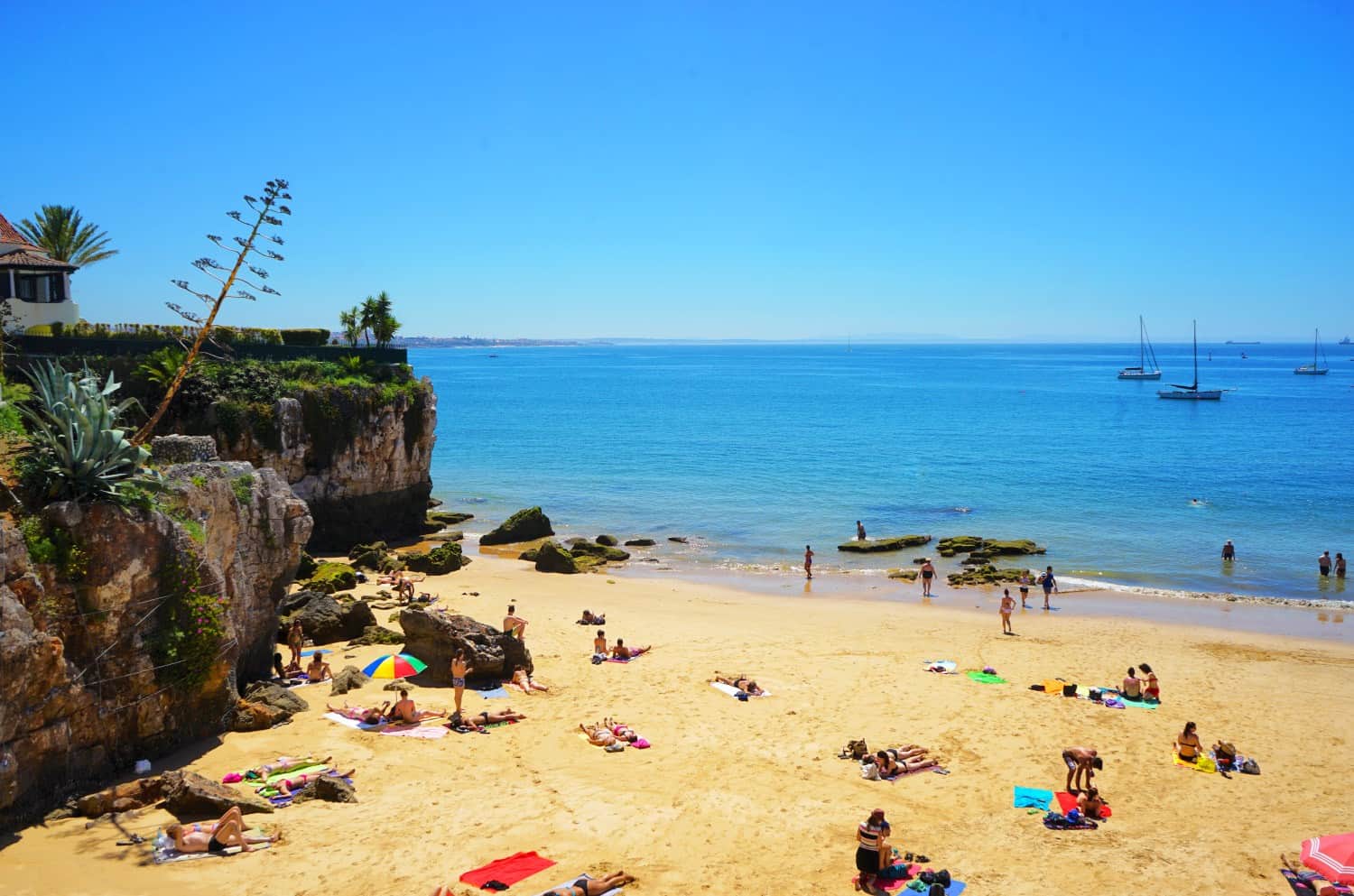 Now it's time to relax, recuperate and reflect on an incredible Lisbon trip with an afternoon on the beach. Praia da Rainha might just be one of my favorite beaches in the world. It's relatively small, has soft golden yellow sand, and is completely protected from wind and ocean swells. Best of all, it's right in the heart of the historical center, so if not everyone in your travel party feels like a beach day, they can easily explore the city while you kick back and relax. If you visit on an uncommonly busy beach day, check out Praia da Ribeira de Cascais, Praia da Duquesa, or Praia da Rata as an alternative.
I would be inclined to find a spot for dinner along the shore in Cascais before heading back into the city. Although I haven't visited this spot before, Casa da Guia is known for its incredible ocean and sunset views. The restaurant is set in a historic mansion perched atop a cliff, just a short train (or 35-minute walk) from the center of Cascais. Make sure you book your spot on the outdoor deck for sunset, which can get busy during peak summer months.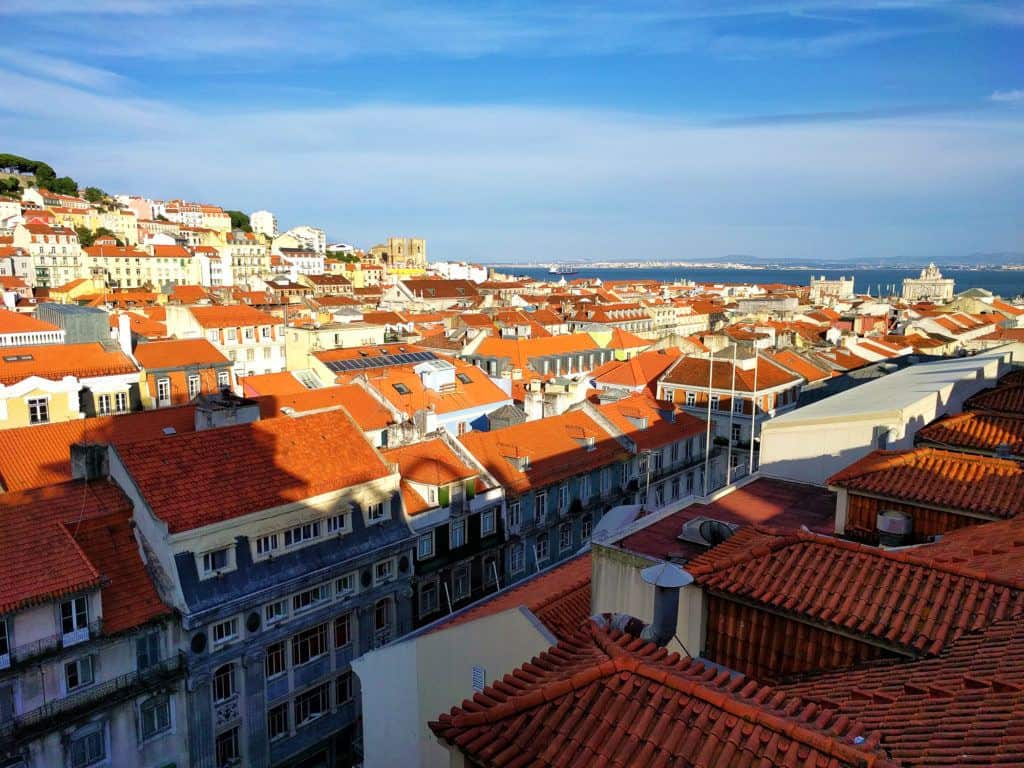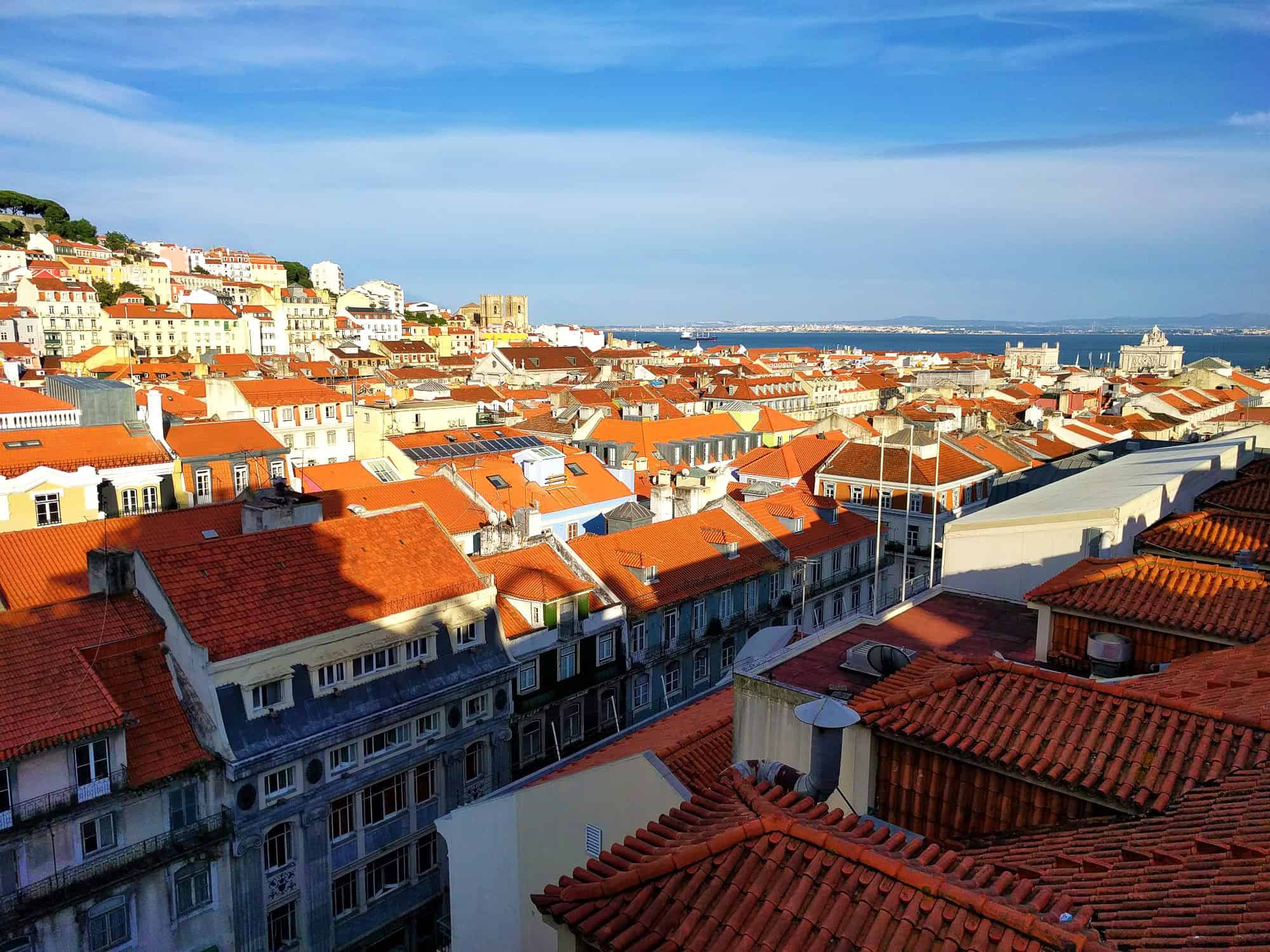 What to Know Before you Go
Where to Stay for Three Days in Lisbon
There are plenty of options for accommodation in Lisbon, ranging from budget-friendly self-catering rentals to boutique hotels to vibey hostels.
If you only have three days in Lisbon, staying in the center of the city will be your best bet. This will save you time and money transiting from one part of Lisbon to the next. Fortunately, this part of Europe is stacked with affordable yet high-end options right in the heart of the city:
I recommend staying in the Blue Liberdade Hotel, which is perfectly positioned in the central Santa Maria Maior District, just a few steps from the National Theatre and a short walk from St. George's Castle. It is also within walking distance of just about everything you could wish to see in the center, including the metro station.
This three-star hotel in the heart of Lisbon offers cozy accommodation with updated rooms, which feature luxurious bedding, modern lighting, an ensuite bathroom, and a personal workspace in each suite. You'll also love the air-conditioning in each room, which is a MUST for the summer months!
The hotel has twin rooms, double rooms, and family rooms, which range in price depending on the view and sleeping space. Check the updated prices for your dates on Booking.com.
It's a boutique hotel with a ton of charm, which I always prefer compared to monotonous chains. Set in a traditional Lisboa building and decorated with absolutely breathtaking interiors, you'll feel as if you're staying in a slice of history.
Guests can also enjoy a continental or buffet breakfast each morning and take advantage of airport transfers, 24-hour front desk service, and luggage storage. It's all in the details!
But the best thing about this hotel is the staff who run it. Everyone is super friendly and helpful, and will be glad to assist you with any and all issues that might arise during your stay.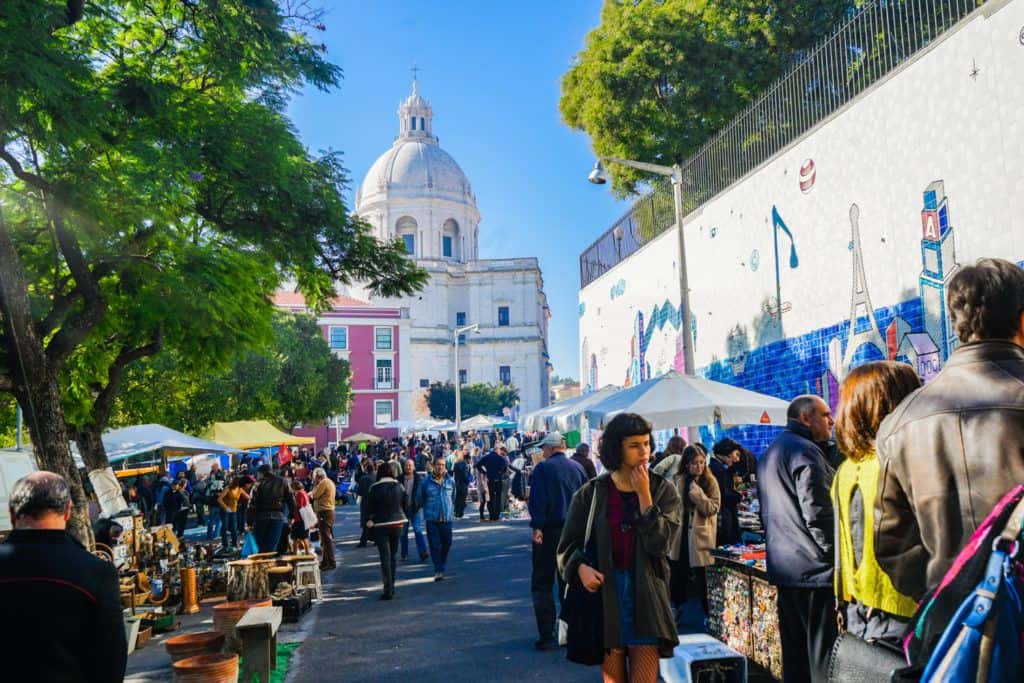 The Best Time of Year to Visit Lisbon
Simply put, the best time of year to visit any city is just out of peak season. With a dry Mediterranean climate and a classic Northern Hemisphere mid-year summer, Lisbon is busiest during the June / July school vacations. Bars will be packed, restaurants booked out in advance, and hotel rates at their most expensive. It's a 'no' from me.
So, I advise visiting between March and May (spring) or September to October (fall). Not only will there be fewer crowds and tourists to deal with during these mid-season months, but the weather will be cooler, and the ocean will still be balmy and warm.
Here is a useful list of events to plan your trip around (or avoid) during the fall and spring months:
Lisbon Half Marathon (March)
Music Days in Belém (April)
IndieLisboa (April – May)
Festival de Sintra (May)
MotelX – Lisbon International Film Festival (September)
Out Jazz Festival (May-September)
Believe it or not, the most expensive time to book a hotel in Lisbon is in September. Keep this in mind when planning that fall trip. March and October seem to be the months where hotel prices stay the lowest, but this changes annually depending on demand.
Weather can be slightly more unpredictable during these months, so make sure you check the forecast in advance and pack accordingly. Like any coastal city, weather can change in the blink of an eye. So, bring along some layers when you leave the hotel for the day!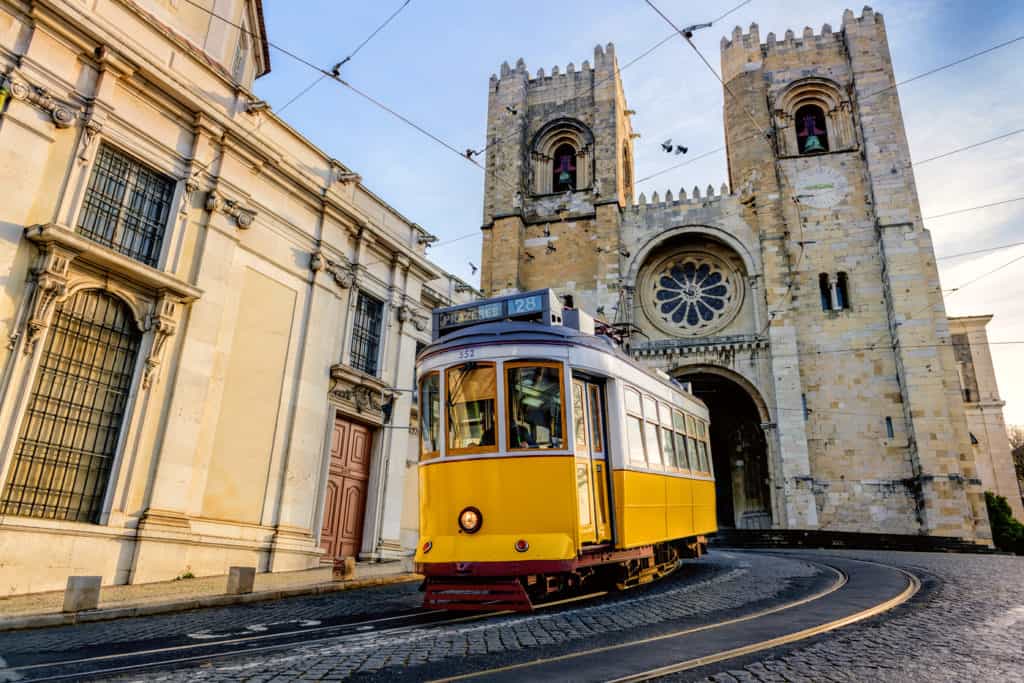 Getting Around Lisbon
One of my favorite things about this city is how walkable it is.
If you take my advice and stay in the city center Baixa Region, you'll be able to walk out your door and explore the entire area on foot. There are pedestrian-friendly sidewalks and crosswalks all over the place, and even a ton of small alleyways and stairways designed just for those on foot.
In my opinion, walking around a city is the best way to see it in depth, where it's easier to notice things you wouldn't otherwise: small quirks, art, and exciting people. Just remember, Lisbon is a hilly city (you can expect a mild quad workout, to say the least) with many historic cobblestone streets. So, comfy shoes are a must for your three days in Lisbon!
The public transport system here is affordable and safe and runs extensive lines across the city – Use it!
The metro is great for getting in and out of the city center. It runs four color-coded lines and services 55 stations across the Lisbon district. I took the red line straight from the airport and was in the heart of the city in a flash.
For a change of pace, hop on a bus, tram, or elevator. You'll spot the buses from a mile away, because they're a bright yellow in color. They run from 6:30 am to midnight and depart every 10-20 minutes.
Tourists line the streets to ride Tram 28 into the famous Campo de Ourique neighborhood. This Tram doubles as a tourist attraction, so crowds are expected. If you're in a hurry and don't feel like navigating crowds, bus 709 is a quicker alternative into the neighborhood, that departs from Restauradores Square.
In fact, the elevators, which were recently declared National Monuments, have become a bit of a tourist pull, too. Although they can get busy, they really are worth taking for the experience and views. In how many cities can you ride a historical elevator to the top of a hill?!
Although more expensive than public transport, taxis are a relatively cheap way to get directly from A-B compared to other big European cities. Ubers operate across Lisbon too. I prefer Ubers to cabs, as they seem a bit more trustworthy and can track my location as a solo traveler.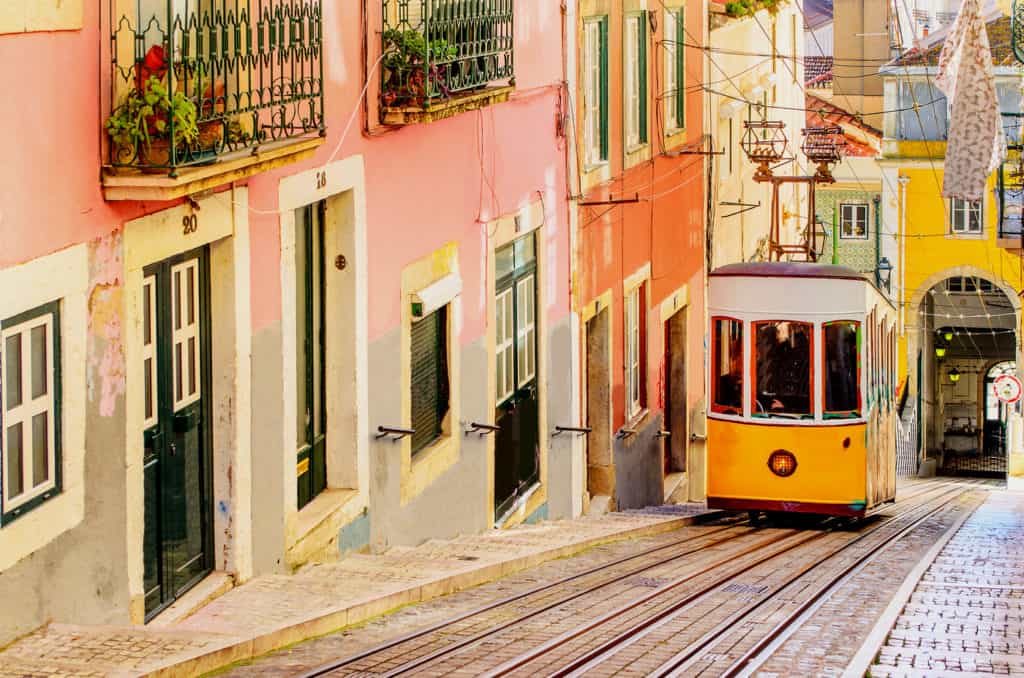 Safety Advice
Nothing will make you feel worse than falling for a common scam. Vacation time is when you are most susceptible to scams, where you aren't familiar with your surroundings and the way things work in a new country.
On top of this, we are often so occupied with finding our way through a new city that we forget basic safety rules. Although a relatively safe country, Portugal does have its fair share of scams to look out for.
The most common scam is the Taxi scam, where drivers offer a 'special fee' or 'package' claiming that their meter is broken or will be more expensive. Surprise, surprise, this is rarely the case. Make sure that if and when you do take a cab, the cab is willing to use the meter to charge you for your trip. Taxi drivers are obliged by law to turn on their meters, so if they refuse, simply find a different driver.
Another taxi scam is for drivers to take a longer route while on the meter. I have a habit of mapping out the route on Google beforehand, to make sure they stay on course. A trip from the airport to the city center will cost between €15 and €20.
Another common scam happens at most tourist restaurants, where waiters serve 'appetizers' which are added to the bill, without informing you. These snacks are called 'couvert' and are technically meant to be offered to you, yet this hardly happens in practice. If you don't want these pricey starters, let your waiter know as you sit down to avoid an awkward bill discussion.
Always be aware of pickpockets, especially in popular tourist spots and dense crowds. Make your life easier by leaving your expensive jewelry at home, keeping photocopies of all your important documents, and keeping your hand when in crowded areas.
Although not a 'scam,' Euronet ATMs charge an excessive transaction fee for using their machines and should be avoided out of principle. They can charge between 7.5% and 20% per transaction. That's a decent chunk of money!