I can't believe I did it.
Several weeks ago, I strapped on a backpack, picked up a hiking pole, and spent the next two weeks walking 320 kilometres through Spain. It was a challenging experience.
The Primitivo was the original Camino route — the very first trek that the very first pilgrim made to Santiago de Compostela, way back in 814 AD.
Have no idea what the Camino even is? Basically, there's a huge network of pilgrimages in Europe and Africa leading from various starting points to the cathedral in Santiago de Compostela, in northwest Spain. The Primitivo is one of those routes, starting from the city of Oviedo.
You likely picture these Camino routes to be full of scorching hot sun in early-September — I know I did — but the Primitivo is different. This trail passes over the mountains of Asturias, which means the walk is a hell of a lot cooler and damper than any of the alternatives — it wasn't uncommon to experience temperatures as low as 5°C in the evenings, and yet sometimes, temperatures would reach 32°C by midday.
The Primitivo is also one of the most challenging trails, as there's an unbelievable amount of ups and downs to deal with. During one day, you climb up to hit 1200 metres then find yourself descending 700 metres the next.
And then climbing back up again.
Then down again.
Then up again.
So why did I choose such a difficult route for a first Camino?
Because it's the prettiest route. The views on this trail are out. of. this. world and I highly recommend walking it.
Today, I'm excited to kick off my Camino Primitivo coverage by sharing exactly what I took with me in my backpack for my two week trek. I had to put a lot of effort into planning to make sure my clothes would cover every weather option while also not adding too much weight to my backpack. I think I did pretty well, as my backpack weighed in at just 4.6 kilograms without water.
Let's get stuck in.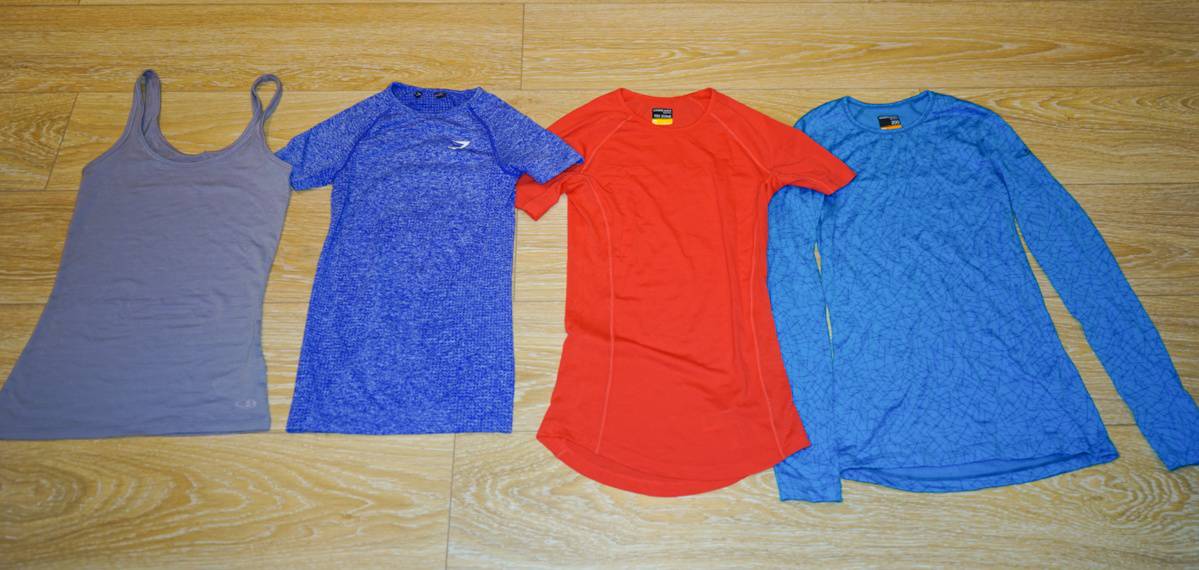 Clothing: Tops
Let's start with clothing. I wanted to keep this lightweight and minimal and take as few items as I could realistically get away with.
You'll notice that I'm predominantly travelling with Icebreaker gear and that's because it's great for hiking in different weather conditions. Icebreaker clothes are made from Merino wool, which is a total miracle fibre. It's breathable, wicks moisture, prevents odours, lasts for years, dries quickly, protects you from the sun, and most importantly: helps you stay warm when it's cold and cool when it's warm. It's perfect for a walk like the Camino.
If I could change anything about this, I would have brought another Icebreaker 150 t-shirt with me. I got so sick of wearing the same two t-shirts every day that a third option would have been greatly appreciated. The 150 shirt weighs just 106 grams, so wouldn't add too much extra weight to my backpack.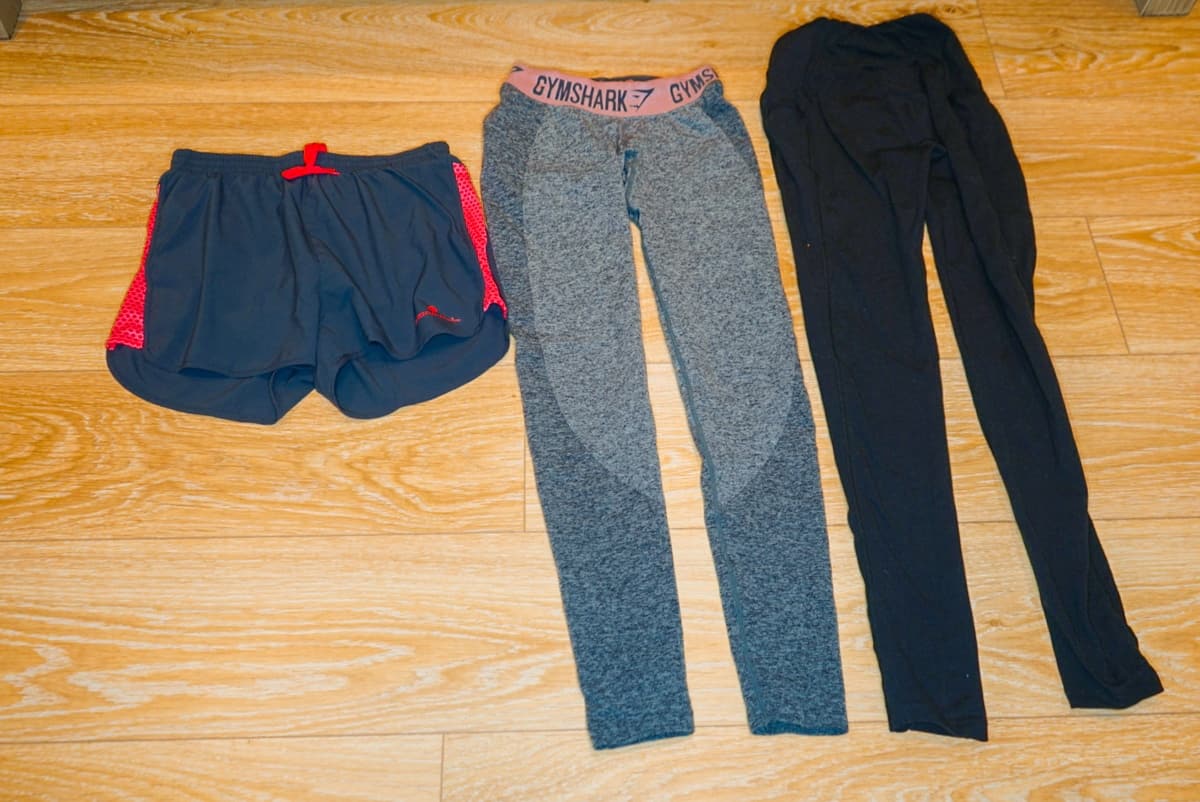 Clothing: Leggings and Shorts
I had much the same mentality here as I did with my tops. I wanted to take as few options as possible, but enough to cover me for every eventuality and weather condition.
One thing I didn't pack is a pair of walking-specific pants — you know, those ugly pants that zip-off into shorts. I hate, hate, hate wearing baggy clothes and hate the feeling of them stretching over my knees and thighs when I walk uphill. This was a Good Decision, as I didn't feel as though I was missing out by not having them.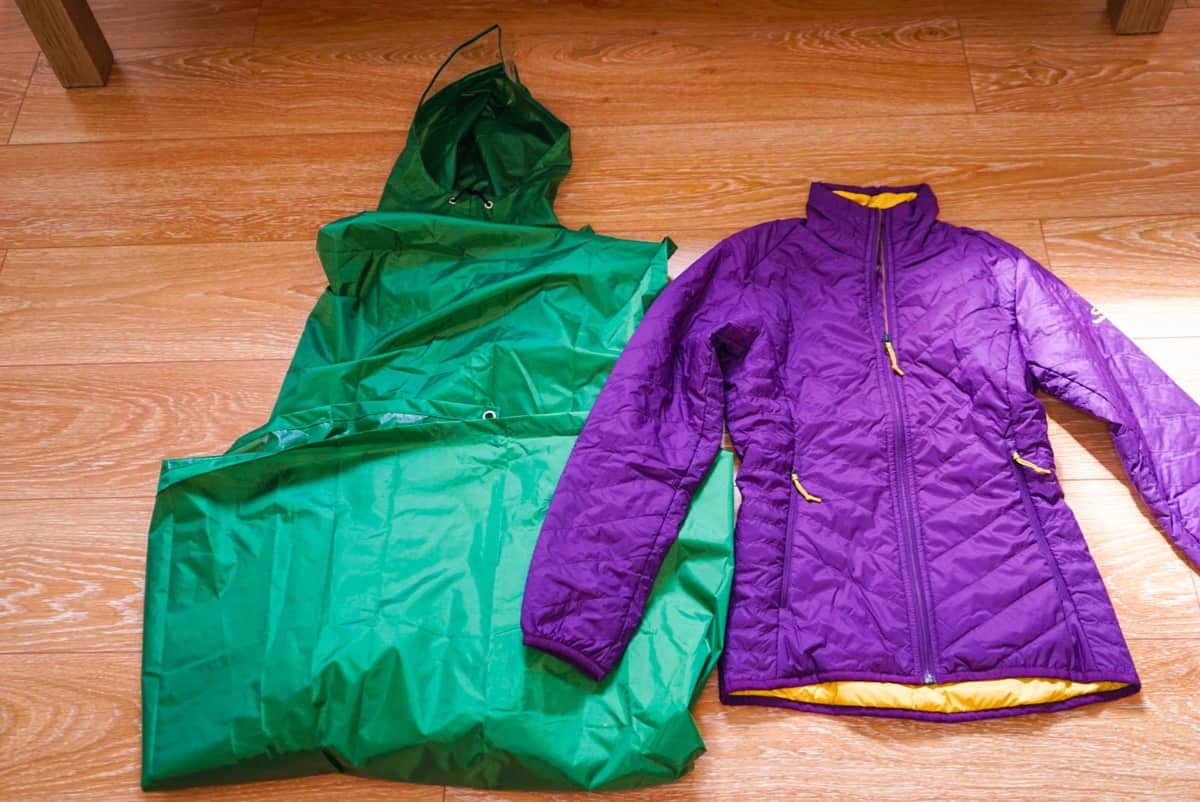 Clothing: Outerwear
The Primitivo has a reputation for being one of the wettest routes to contend with, so I wanted to stay as dry as possible.
I threw out my poncho after the first time I tried to wear it in the rain and instead made do with my Icebreaker jacket, which was fine. I personally wouldn't travel with a poncho and would just take a waterproof jacket, but everyone's different, so grab one before you leave and try it out to see if you like it.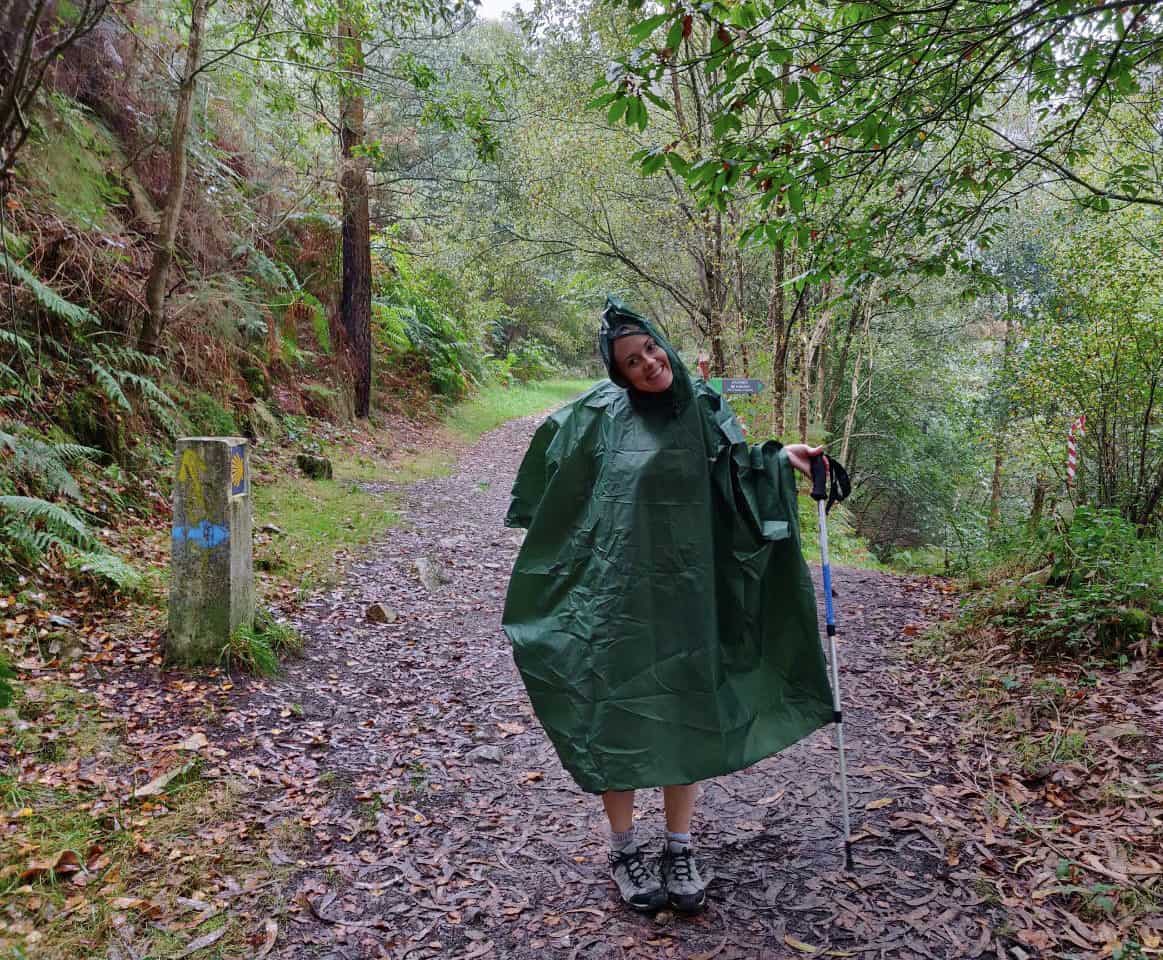 Clothing: Socks
I experimented with a whole bunch of different socks before settling on the Bridgedale brand. They were so much more comfortable for me than many other brands.
I travelled with three pairs of Merino wool liner socks, which I wore inside my Bridgedale Merino hiking socks — I took two pairs of those.
The combination of liner socks and hiking socks reduced much of the friction on my feet while walking. The idea is that the outer sock rubs against the liner sock, rather than your skin, preventing blisters from forming. Since trying this out, I haven't had a single blister on my heel, so I'm a total convert!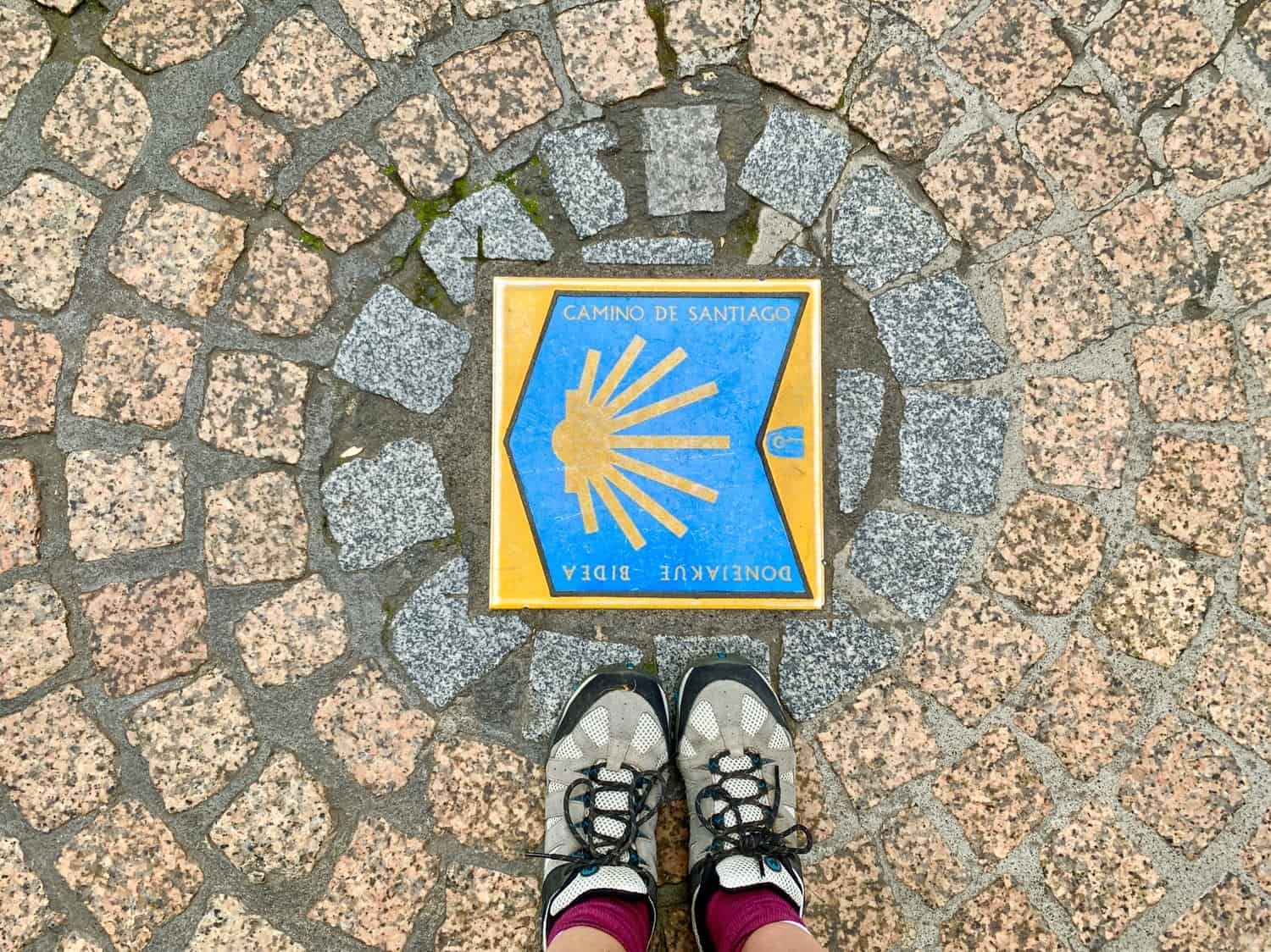 My Shoes
Merrell Accentor 2 hiking shoes: I adore these hiking shoes so much! I learned from my training walks that hiking boots are 100% the worst footwear I could ever choose, so I knew I wanted to go with shoes instead. Hiking boots are good if you need ankle support, but I wouldn't recommend them for anyone else. They're heavy, which will tire you out faster, they're rigid, increasing your chances of blisters, and they're waterproof, which means your feet won't be able to breathe.
Merrell are king when it comes to hiking shoes — everyone on the Camino was wearing them! I tried a few on for size and settled on the Accentor 2 shoes for my walk. They were super-comfortable to walk in and caused me no problems.
My tip: always size up! Your feet are going to swell up when you're walking for most of the day, so having a larger shoe will give them more room to expand and prevent you from getting blisters.
Haviana flip-flops: At the end of a long day of hiking, the last thing I wanted to do was keep my feet in my walking shoes. I ended up wearing my flip-flops, then, whenever I ventured out in the evenings. My Havianas are the most comfortable flip-flops I own, so I took them with me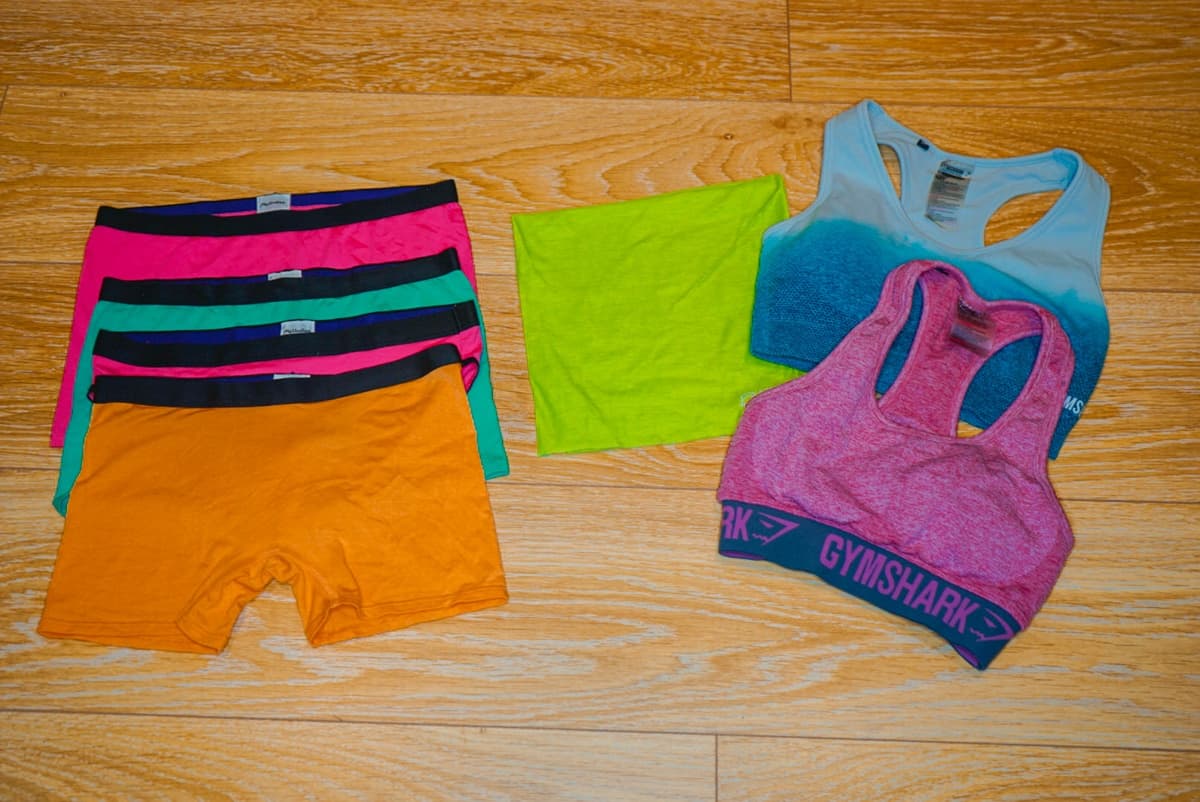 Clothing: Other stuff
A buff: Fun fact: I hate caps and hats, especially when exercising, because they leave my head sweaty and don't prevent my hair from getting in my eyes. As somebody with unbelievably thick and frizzy hair who won't have access to hair straighteners on the Camino, I need a solution for my hair. I'll be wearing my buff as a headband throughout the walk to keep my hair out of my face, and also taking several hairbands to tie my hair up.
Underwear: I'm taking four changes of MeUndies underwear because they're comfortable and two Gymshark sports bras.
I wore my buff pretty much every day and loved it. I could have gotten away with just three pairs of underwear, but they're all so lightweight that it wouldn't have made much difference to my pack weight.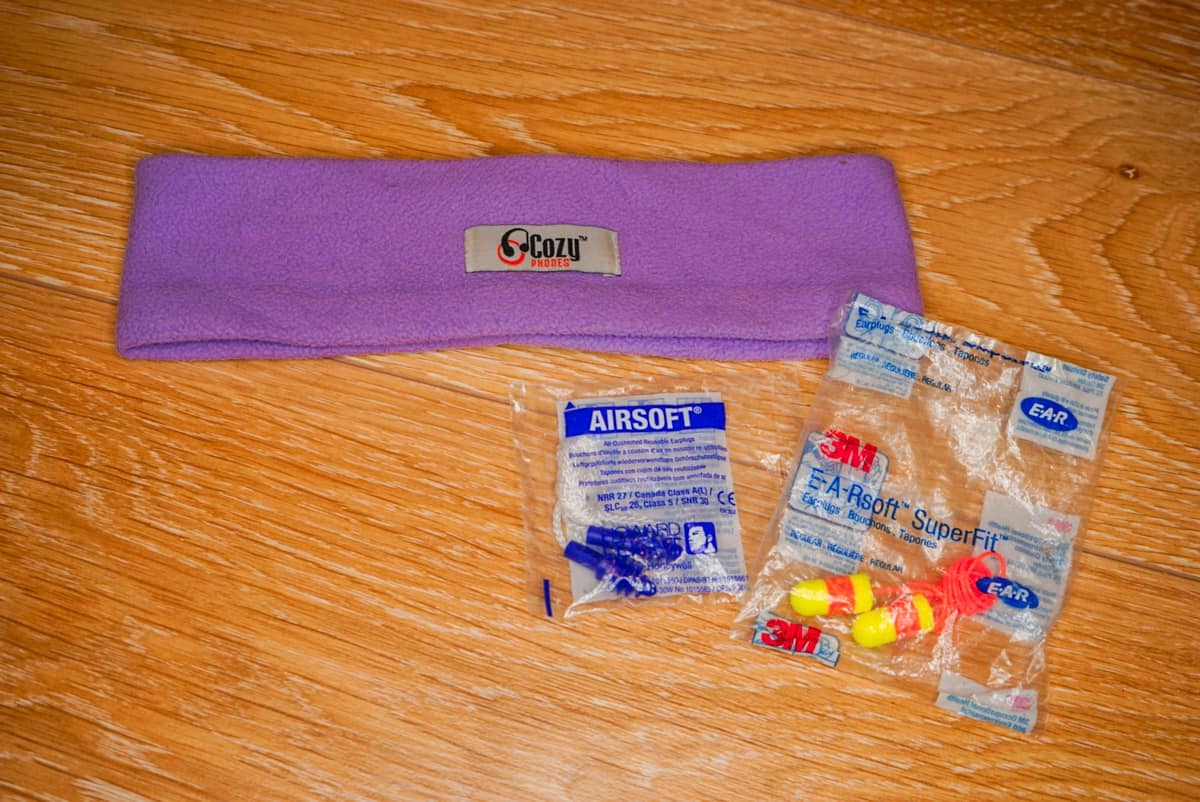 Sleeping Accessories
I stayed in dorm rooms throughout my time on the Camino, so strong protection against snorers was necessary.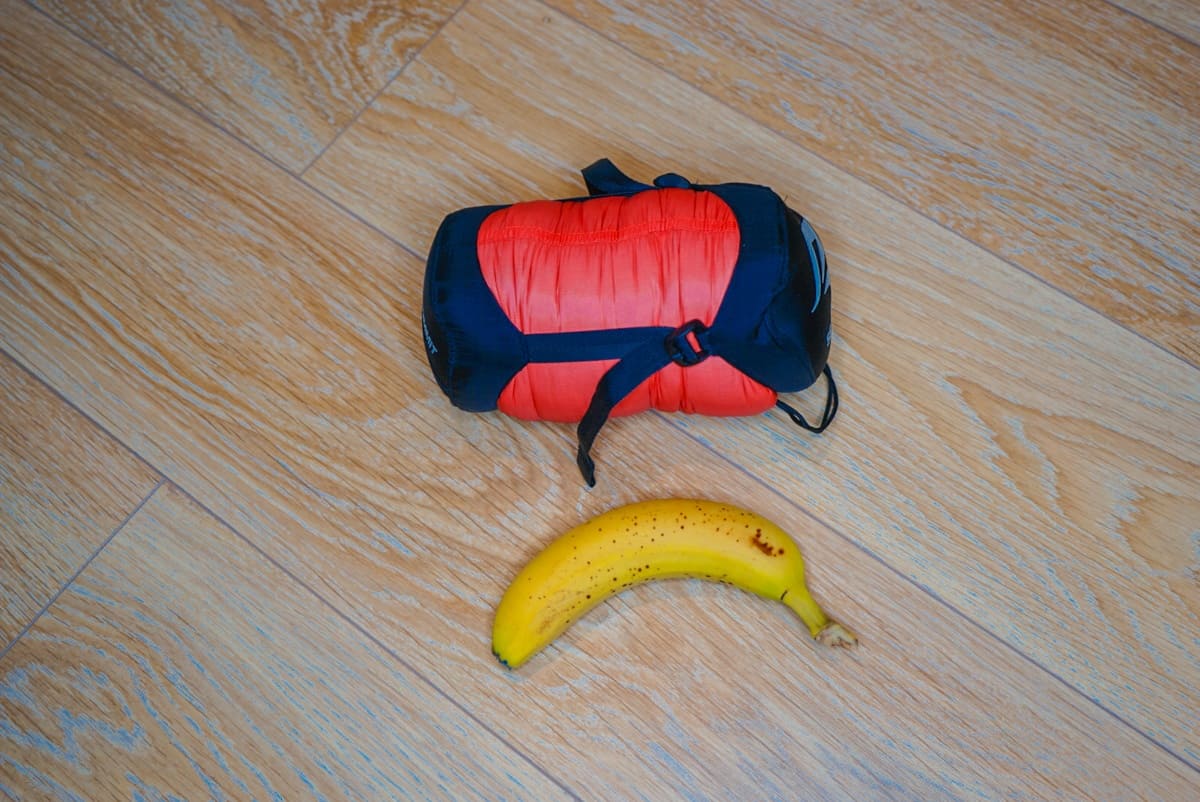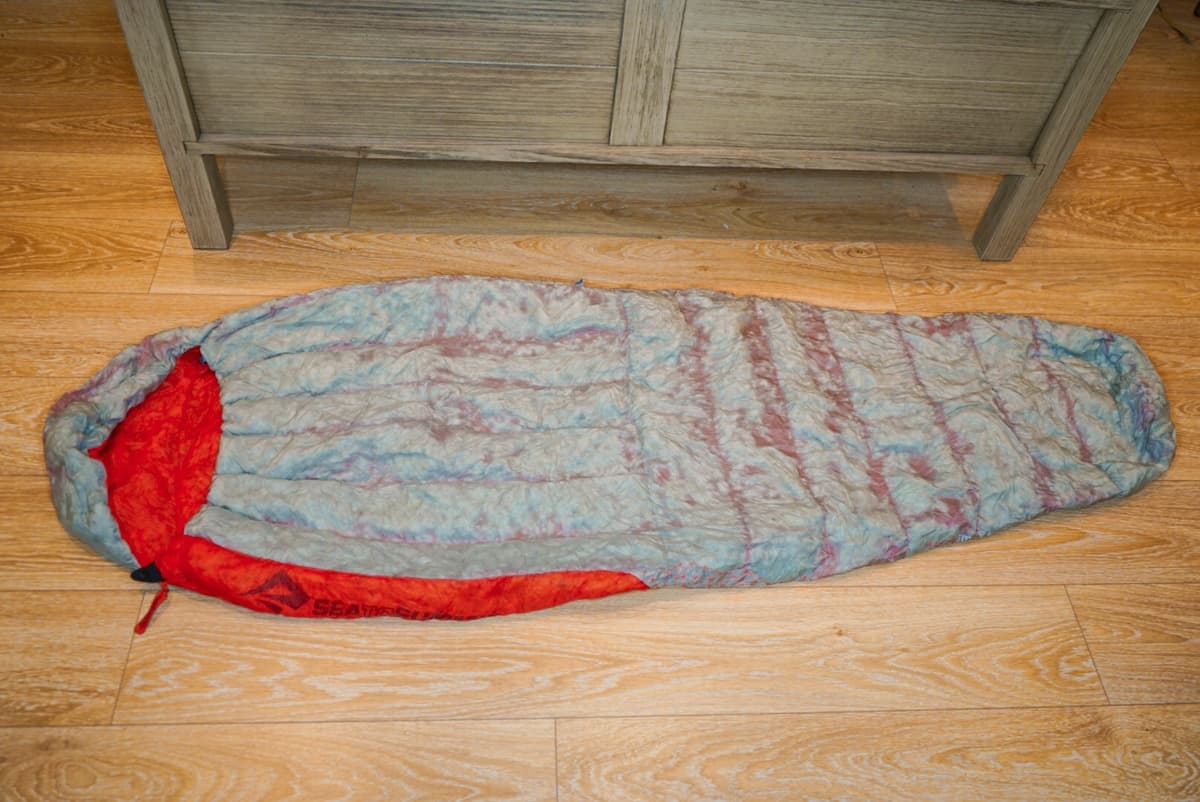 Sleeping Bag
Oh man, I invested hard in my sleeping bag.
See, the problem with sleeping bags for me was that they were all so long. As a person that's 5'1", I found that standard sleeping bags were made for people that are like, 6'7" in length. It seemed ridiculous to bring something so lengthy, as I'd be carrying so much extra weight with me that I wouldn't even use. Additionally, a lot of the more affordable sleeping bags weighed in at around 1 kg, and I didn't want to add that much weight to my bag.
In the end, I splurged and bought the Sea to Summit Flame women's sleeping bag at an insanely ridiculous price of $350. But I love this sleeping bag! It weighs just 300 grams! It packs down so small! It's comfortable down to 4°C/40°F!
It was fantastic for the Camino. It kept me warm during chilly nights, and was easy to stuff into my backpack each morning.
As an aside, I treated both my sleeping bag and backpack with a permethrin spray before leaving in an attempt to deter any bed bugs from making my belongings their home. Fortunately, I didn't get bitten, so I'd recommend doing this before you head out.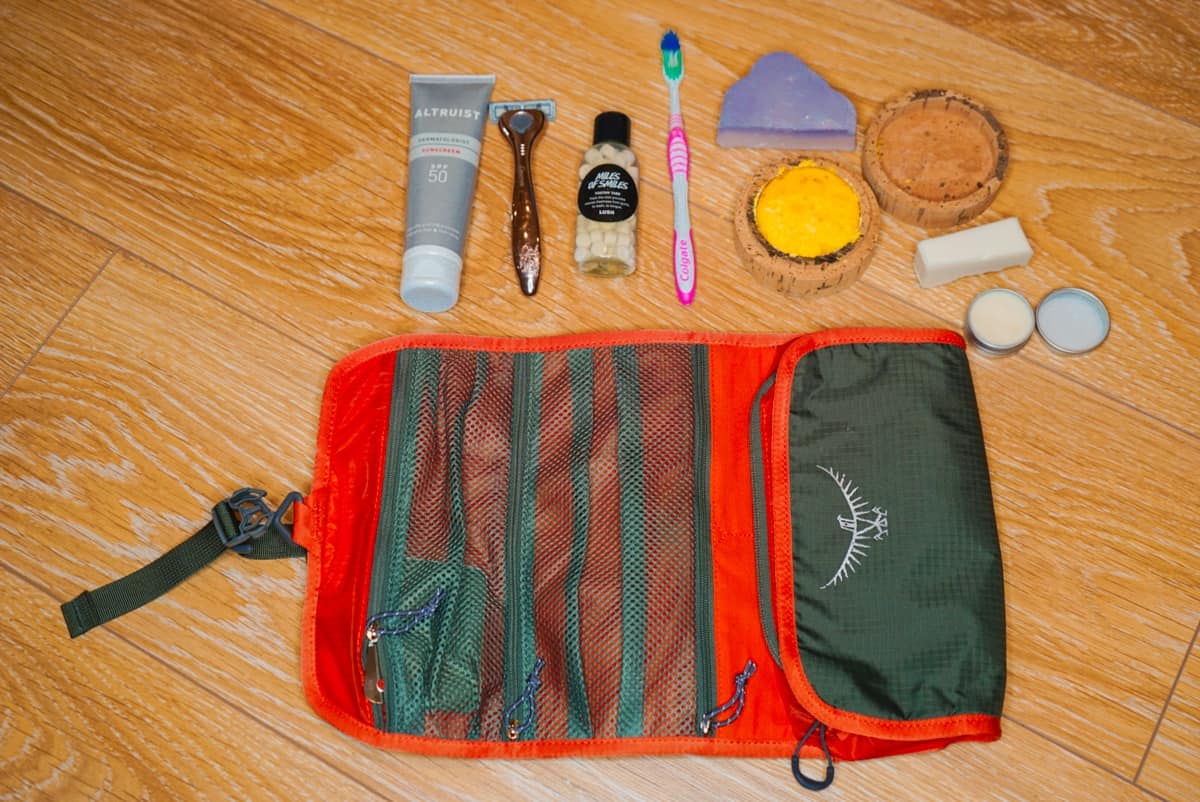 Toiletries
Toothbrush and toothpaste: In an effort to cut down on weight, I opted to take solid toothpaste tablets from LUSH for brushing my teeth. You chew the tablets up in your mouth, then brush as you normally would with toothpaste. I actually really liked them, even if they taste a little like soapy salt. They seriously lather up in your mouth so you come away with your mouth feeling really clean.
Razor: I'm in the process of getting my hair lasered, but I still deal with regrowth and didn't particularly want to rock the hairy look on my Camino. I took one lightweight razor for the trip.
Solid shampoo: Lush's solid shampoo bars are a staple in my travel packing lists, as I love how long they last me. My favourite scent is the Godiva bar, which contains shampoo and conditioner in one. These bars last ages — as in, one bar lasted me something like eight months when I was travelling continuously.
Bar of soap: I grabbed a bar of soap from Lush while I was buying some solid shampoo.
Cork case for the shampoo bar: This container is so lightweight! And it absorbs the moisture from the solid shampoo while preventing everything else from getting wet. For a long time, I've recommended Lush's metal tins, but they've always ended up getting kind of gross. The cork ones are so much better.
Solid deodorant: No, you're ridiculous! In my quest for a lighter Camino, I opted for a solid deodorant that I actually ended up really liking. It weighs just 10 grams, has all natural ingredients, and lasts for around a month. I was super happy with it.
Laundry soap: I needed to do laundry every single day on the Camino. With only two real clothing options, I was arriving into my albergue each day, then promptly washing my clothes that afternoon. I'm a big fan of bars of laundry soap because they lasts for ages. Like, months if you're hand-washing in a sink. Laundry soup is more lightweight than liquid detergent and lasts for longer, which made this a no-brainer for me. I cut my bar down into a small chunk to save on weight.
Sunscreen: This is Spain, so of course I needed sunscreen! I took a 100ml tube of SPF 50, which lasted me the entire walk.
Toilet paper: In case I needed to suddenly go by the side of the road! Actually, I didn't go outdoors at all, as there were cafes every few kilometres. It's worth taking some just in case, but I didn't use mine at all.
Osprey toiletry bag: I considered leaving this behind, but it was so useful to be able to keep all of my toiletries in one place rather than having them scattered all over the place in my backpack. I love all things Osprey, and their toiletry bag is no exception. There was a hook for hanging it up in the showers, and a mirror for me to check just how rapidly my hair was expanding without straighteners.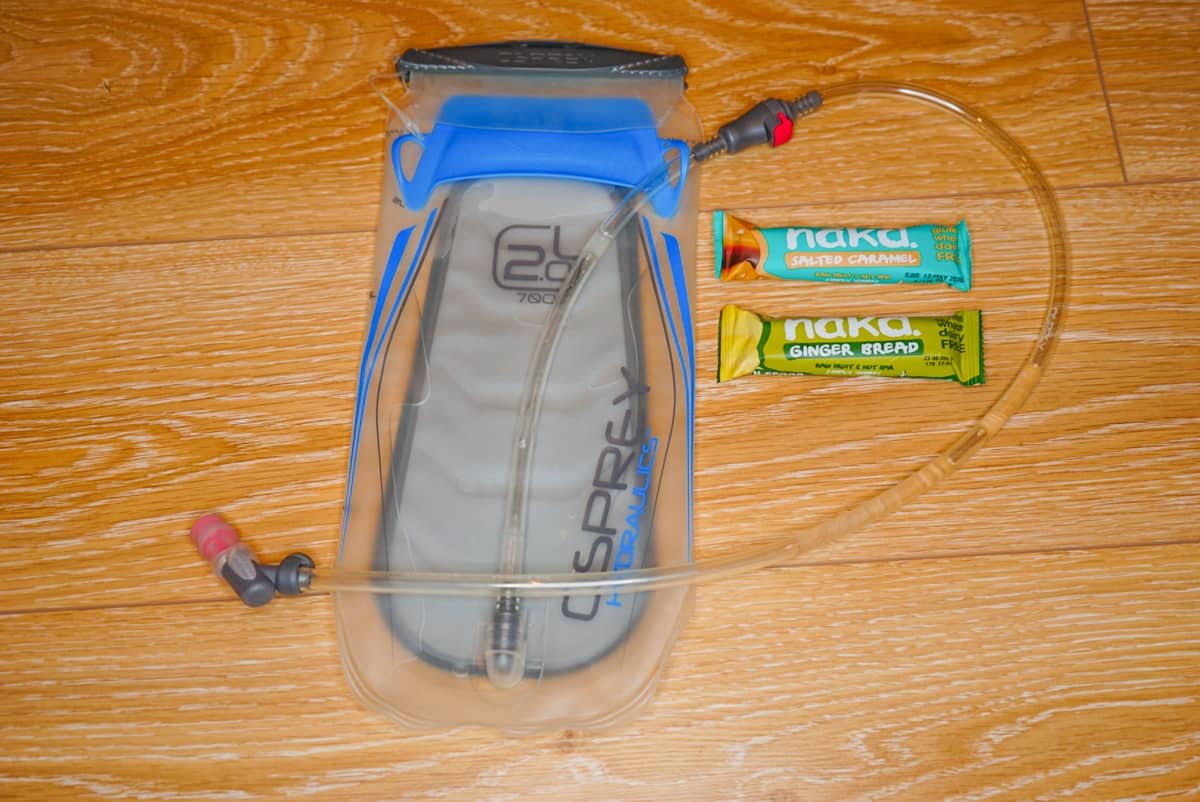 Food and drinks
Hydration pack: I'm a recent convert to hydration packs for hiking and I wouldn't consider going back to a water bottle.
My Osprey hydration bladder slips in a pocket in my backpack and holds up to two litres of water. While I was walking, the mouthpiece sat a few inches from my mouth and made it so easy to stay hydrated. It's so much better than carrying a water bottle.
A couple of protein bars: Food wasn't easy to find everywhere on the Camino, so I packed a couple of protein bars to take with me whenever I ran short of food options. Two lasted me for the entire walk, as there are frequent vending machines and cafes to keep you fed along the way.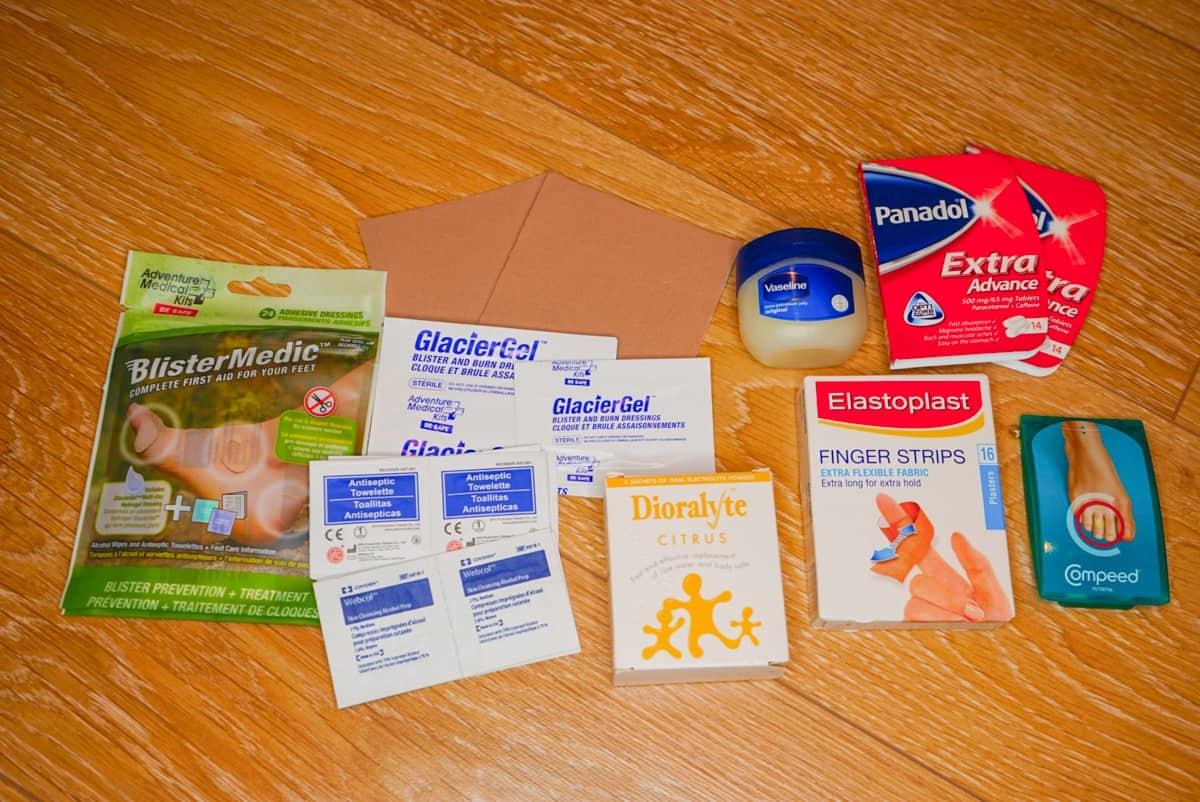 My First Aid Kit
Oh boy. Prepare yourself for an onslaught of bandaids.
During a training walk I ended up with a blister on every single toe and was scarred by the experience. While I was able to walk through the pain just fine — well, sort of — I was also going through ten bandaids a day. Multiply that by the 13-ish days I was going to be walking through Spain and that made for a hell of a lot of bandaids.
And then, of course, I found myself getting just two blisters on the Camino, neither of which were bad enough to put a bandaid on. It's always the way! I took like, 150 bandaids with me, so I definitely could have left some of them at home.
Here's what I took with me: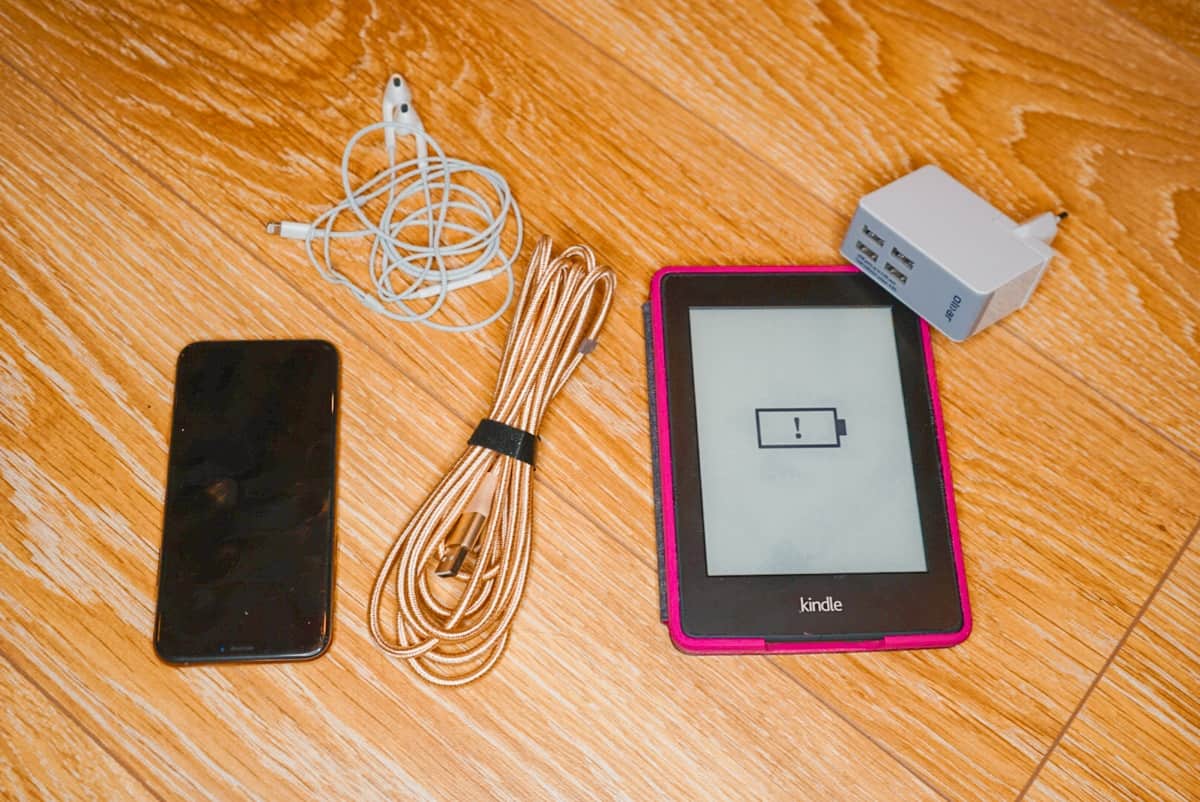 Technology/Electronics
For me, walking the Camino was all about getting offline and being at one with my thoughts rather than scrolling through TikTok for hours all day. For that reason, and the fact that I was trying to keep my bag as light as possible, I kept things minimal on the technology front. I took time off work to walk, so didn't bring my laptop with me, and I left my camera behind, too.
Here's what I did take with me.
iPhone XS: I used my phone as my camera on the walk, as I wanted to be able to take photos throughout the journey. My phone was useful for a few other tasks, too: updating you guys through social media about my blister count, finding directions if I happened to wander off trail, calling ahead to book albergues if I was struggling to get a bed for the night, and researching places to stay in advance.
iPhone earphones: There's only so much of my own thoughts I can deal with before I start to lose my mind, so I occasionally used my earphones to listen to podcasts and music while I walked. These are just the standard Apple earphones that came with my iPhone, and I was grateful to have them at times.
Kindle Paperwhite: I debated long and hard about whether to bring my Kindle with me, as I really didn't want the extra weight. But, I knew that using the Kindle app on my phone would likely drive me crazy. My phone's battery life would have left me reading books on my phone while charging it in the dorm, rather than sitting outside in the sun, and that didn't sound like fun. The Kindle battery life is great, so I didn't take a charger with me.
I used this pretty regularly on the Camino. I'd usually get in for the day at around 2 p.m., so would read for a couple of hours to relax after a long walk.
A super-long charging cable: I needed to charge my phone every night in the albergues, and it was much more convenient to have a long cable that reached across the dorm room or up to the top bunk. I bought this ridiculously long 3 metre/10 ft charging cable for my phone and loved it. Anker is king when it comes to charging and cables and general travel technology, so I always recommend buying their products. There were so many situations where I needed this cable.
Fitbit and charger: How else was I going to track my distances? I'd probably have gone without, actually, if I wasn't planning to write a ton of resources about the Camino. I wanted to get an idea of how far I walked each day. I needed to charge it twice over the 13-day walk.
Power adapter with 4 USB slots: It made sense to bring one of these when everyone was crowding around the power sockets, trying to charge their gear. I was able to charge my iPhone and Fitbit while also offering other people my spare two slots to use. This adapter has a European plug, so I didn't have to bring a travel adapter, either.
Head lamp: Whoops, I forgot to take a photo of this, but I brought a lightweight head lamp with me for use on early morning hikes. Depending on the snoring situation, I'd usually leave the albergues at around 6:30 a.m., when the sun was still firmly below the horizon. And it was dark. Having a bright headlamp was a lifesaver when it came to trying to spot painted arrows on tree trunks and signs. My phone torch just wasn't up to the job.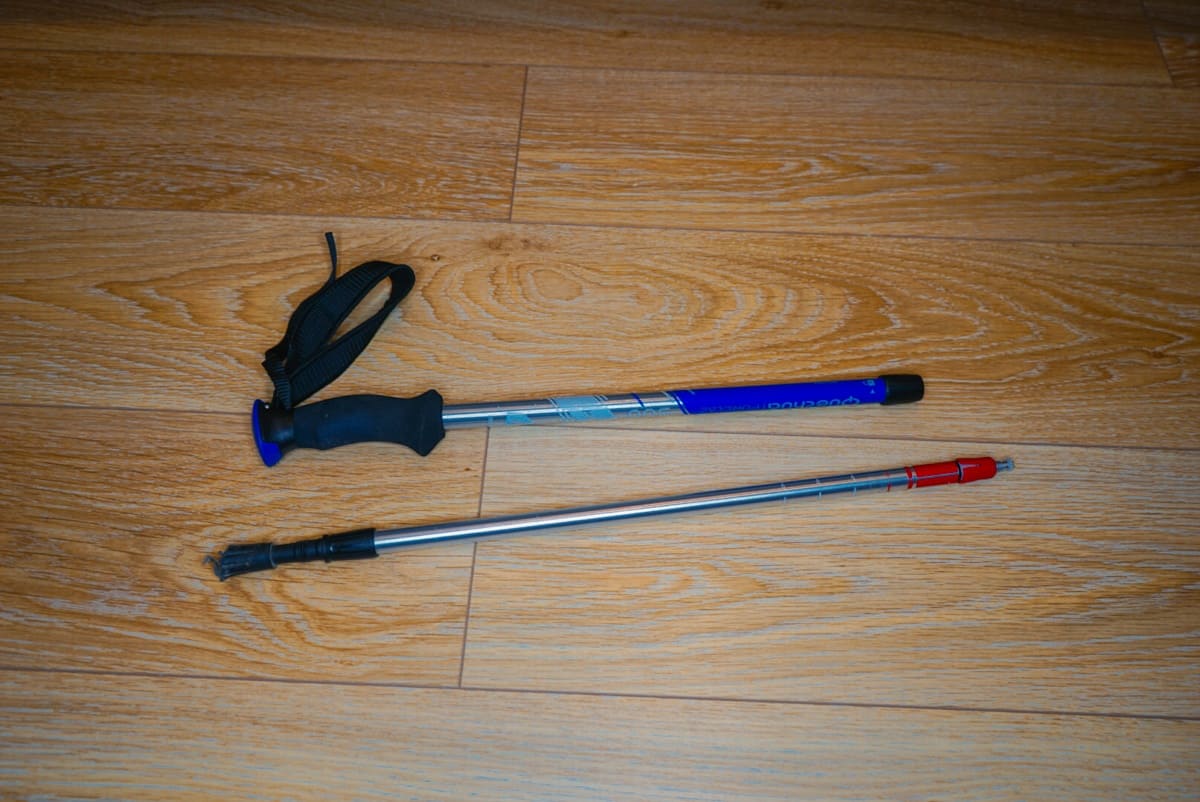 Hiking Poles
After experimenting with several different set-ups, I decided I wanted to walk with one walking pole instead of two. I found that attempting to manoeuvre two poles often confused my brain, so I was more co-ordinated when using just the one. I also liked having one hand free to take photos or eat while I was on the move.
You'll see this hiking pole all over the Camino, as it's one of the cheapest options you can buy on the ground in Decathlon. I think it was around €10 when Dave bought it back in 2015, but it's still a mainstay on the trail today. I saw it everywhere.
And I really liked it! The fancy lightweight, shock-absorbing poles just weren't as comfortable as this cheap and cheerful one.
If you're planning on travelling carry-on-only to Spain, keep this in mind as an option in case your pole gets taken off you at security. It happens somewhat often, so you'll want a back-up plan just in case you can't take yours on the plane.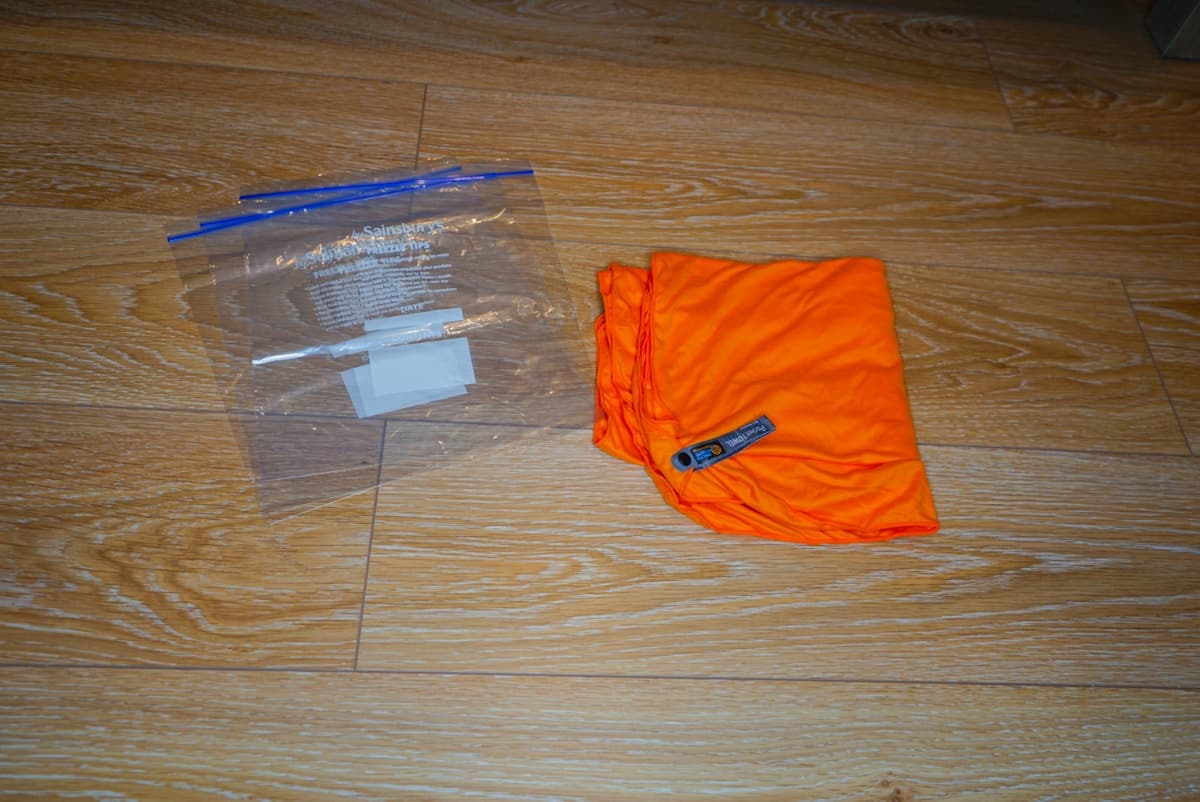 Miscellaneous Stuff
A quick-dry travel towel: I love Sea to Summit's travel towels, as they pack up small, weigh very little, and dry exceptionally quickly. I take these on all of my trips, so I obviously took it on the Camino, too. It was great, as always!
Some freezer bags: I took a couple of freezer bags to help me keep everything organised. I kept my first aid kit in one of the bags, and my hiking snacks in the other.
Five clothes pegs: Sorry! Bought these last minute and didn't include them in my photos. But clothes pegs were such a Camino essential. You're probably going to be doing laundry every afternoon when you get in for the day, and the vast majority of albergue clothes lines didn't have pegs for pilgrims to use. Every afternoon, I'd wander out to collect my dry clothes and find a bunch of other people's clothes strewn across the grass.
On the odd occasion when it was too cold to dry my clothes overnight, I'd use my pegs to secure anything damp to the outside of my backpack so they could dry in the sun. I bought these clothes pegs from Lakeland specifically for the Camino, as I didn't own any already, but there's no need to splash out on some new ones if you already have some! As long as they can withstand reasonable gusts of wind at home, they'll be fine for walking.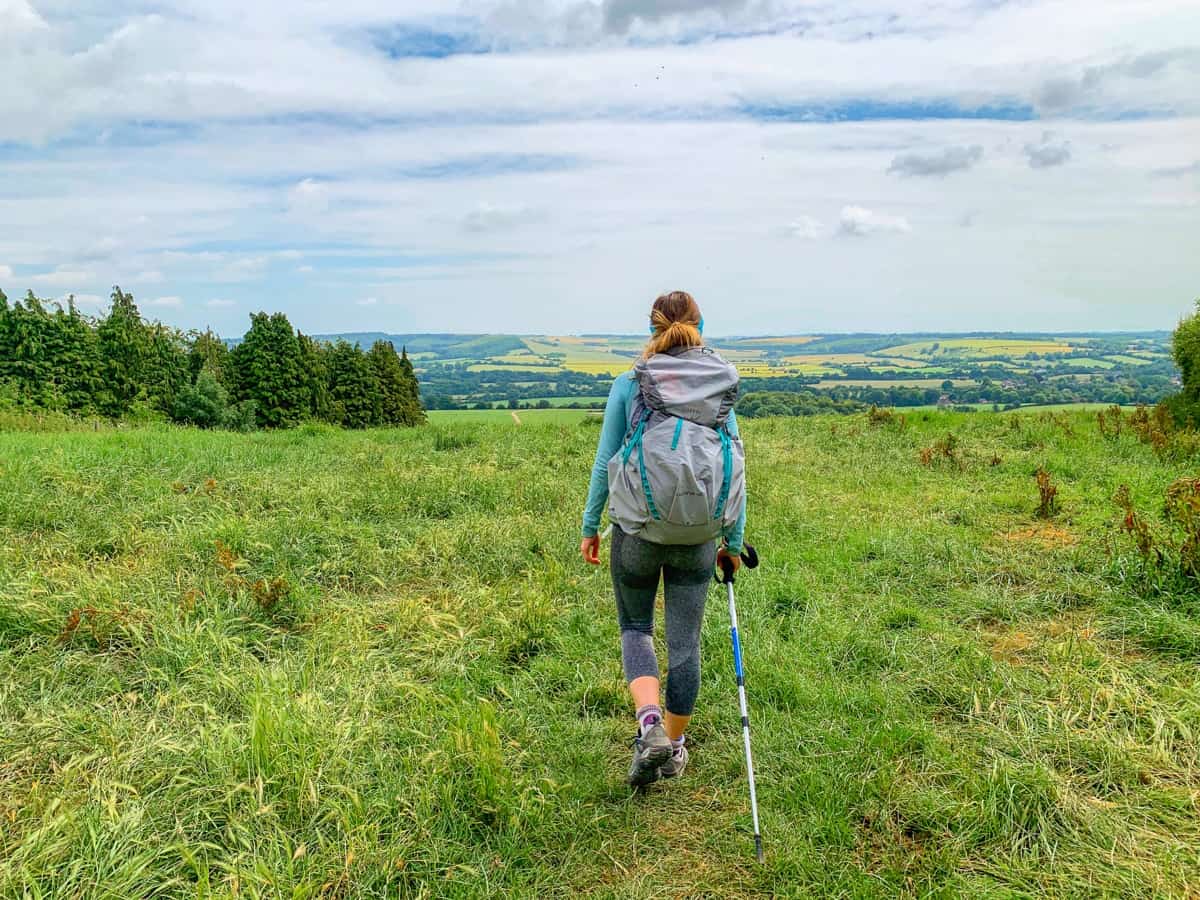 My Backpack
My new favourite backpack is the Osprey Lumina 45L. This pack is so comfortable, so of course I took it on my Camino.
I bought it because it's ridiculously lightweight — 770 grams in total. In comparison, my already-lightweight 40 litre Osprey Farpoint that I use for everyday travel comes in at 1.36 kg. This is pretty much the lightest backpack on the market at the moment, so if you're into ultralight hiking, I highly recommend it.
It was even water resistant in the pouring rain, as none of my stuff got wet during any downpours. I love this backpack so much!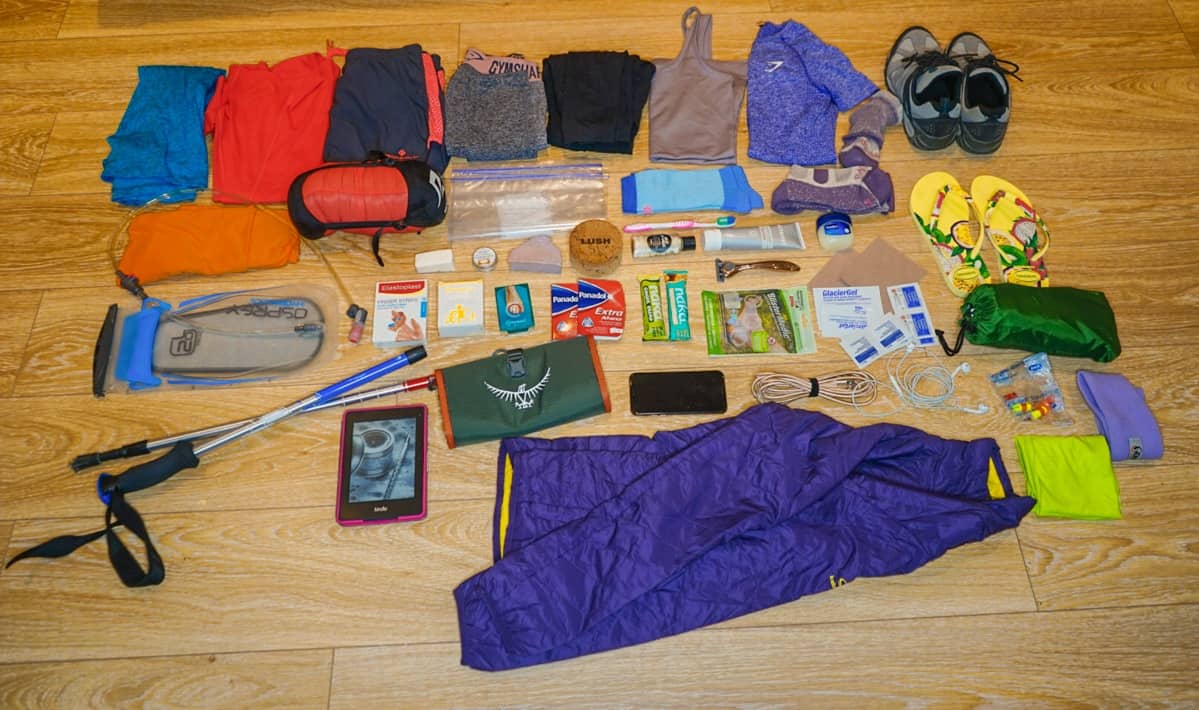 And that was everything!
Overall, I think I packed pretty well for the Camino, and aside from my Poncho Disaster and Bandaid Paranoia, wouldn't have changed much at all. My bag was so easy to carry at around 5 kilograms, and I didn't feel like I was dragging any unnecessary stuff along the trails. Well, once I threw out the poncho, that is.
As always, less is more.
Articles on Walking the Camino de Santiago Across Spain

🚶🏼‍♀️ What's it Like to Walk the Camino Primitivo?
💶 How Much Does it Cost to Walk the Camino de Santiago?
🤔 Reflections on Walking My First Camino
Related Articles on Travel in Spain

💰 The Cost of Travel in Spain: A Detailed Budget Breakdown
🧳 How to Pack for Spain: My Complete Packing List
🇪🇸 Top Things to Do in Madrid
🥘 28 Incredible Things to Do in Barcelona, Spain
⛰ Exploring Ronda, Spain's Spectacular Cliffside City
🏰 The Cost of Living in Granada, Spain