The Camino Primitivo is a 321 km pilgrimage through Northern Spain, starting in Oviedo and finishing at the cathedral in Santiago de Compostela.
It's also one of the best things I've ever done.
Today's post is a long one, so I'll keep the introduction brief, but needless to say, I'm excited to share just what walking the Camino Primitivo entails.
Let's get started.

It's One of the Toughest Routes You Can Walk
The Primitivo is one of the hardest Camino routes out there. You basically spend the entire two weeks walking up and down mountains and hills, longing for a flat section of ground.
I'd like to give a special shoutout here to the descent into Grandas de Salime. The 760 metre descent took place over seven kilometres without a single flat section to break it up. I'm someone who doesn't usually suffer from knee pain, but I was definitely feeling it by the end of that walk.
My biggest recommendation for the Primitivo is to take walking poles with you. The people who seemed to be struggling the most were those who'd opted for a pole-free lifestyle, and many of them confessed they wished they'd brought some with them. Hiking poles will make the ascents so much easier while protecting your joints on the downhills.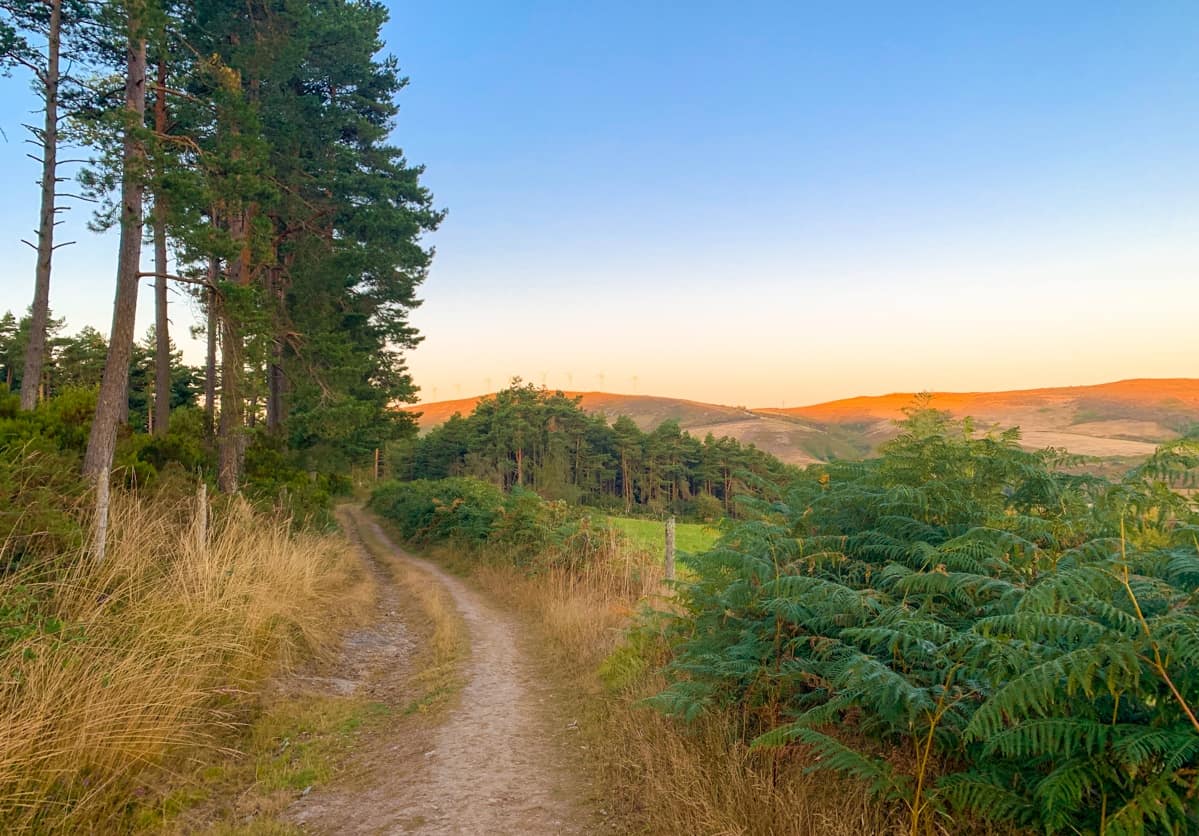 The Terrain is Pretty Easy to Walk On
In comparison to other Caminos, the trail surface is much more comfortable to walk on. There's significantly less road walking, with half of the trail taking you on soft mud and grass.
The softer path makes tackling longer distances easier — I noticed my feet started hurting much earlier whenever I encountered a day of road walking.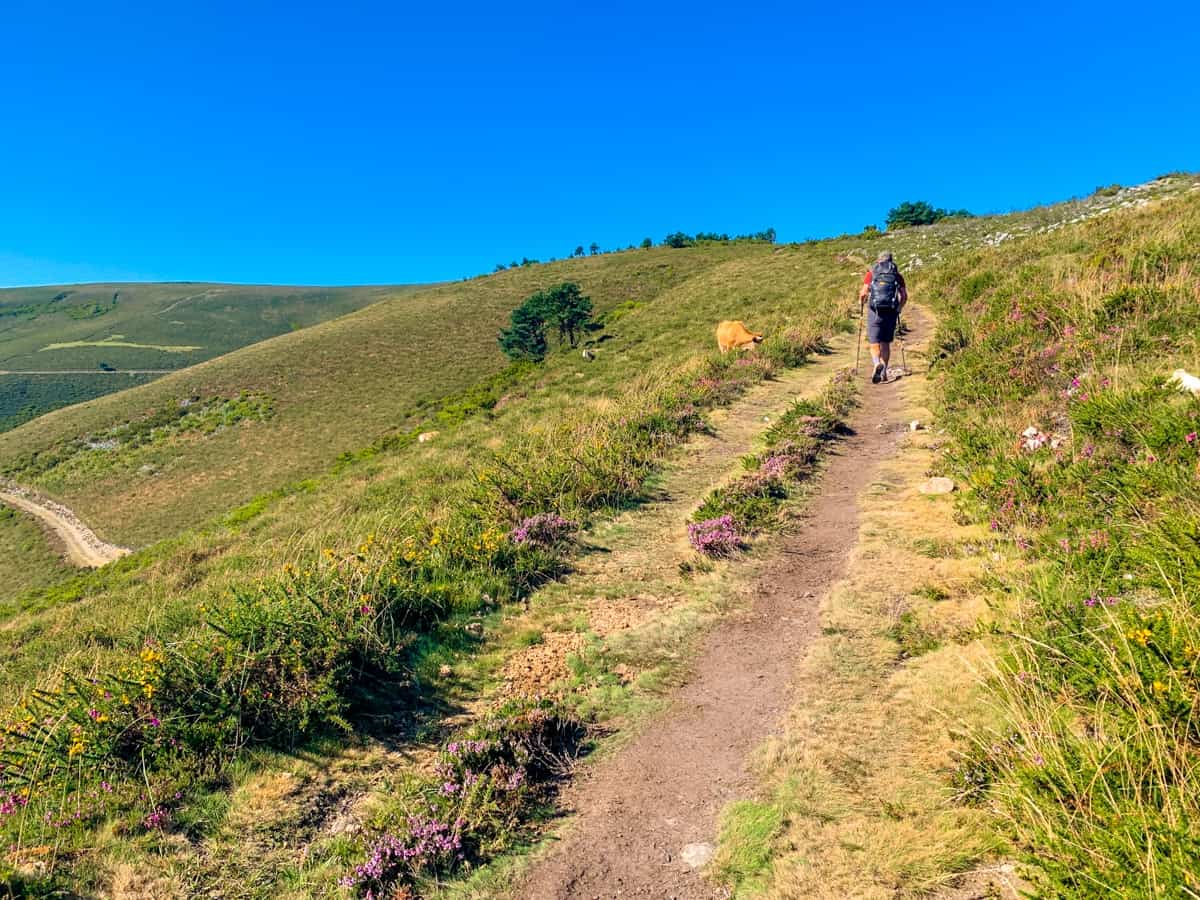 This Was the Original Camino
While the Camino Frances receives all the fame and walkers, the Camino Primitivo was actually the original route — the very first trek that the very first pilgrim (Alfonso II of Asturias) made to Santiago de Compostela, back in 814 AD. Primitivo, in this case, means first as opposed to primitive, although the latter can certainly hold true at times.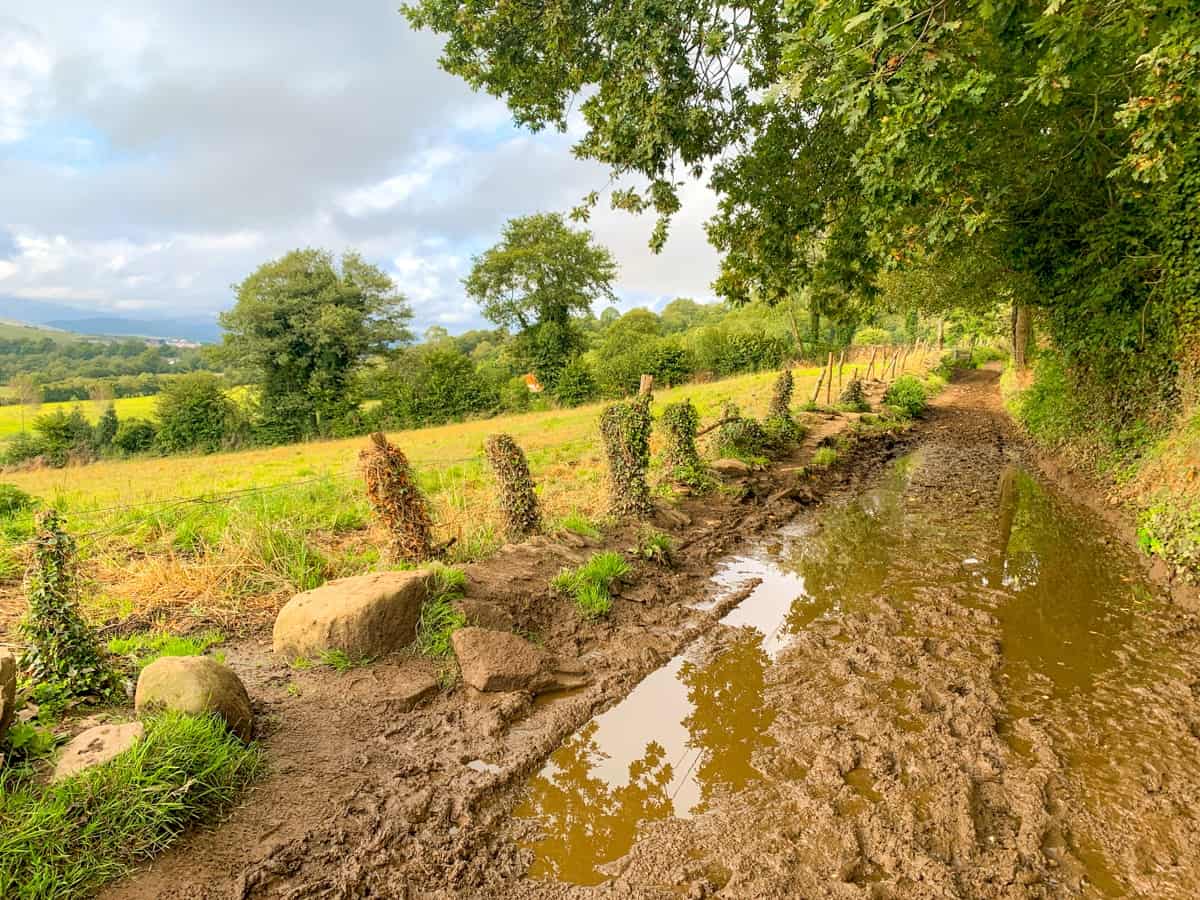 Not Many People Choose the Primitivo for Their First Camino
The vast majority of people choose to walk the Camino Frances for their first Camino experience, then opt to check out the lesser-walked routes afterwards — the Norte, the Portuguese, the Primitivo…
I can think of just one other person who walked the Primitivo as their first Camino, like me.
There wasn't any real downside to this — just that conversations naturally flowed towards previous Camino experiences and comparisons between the different routes. I wouldn't say that I felt left out, but I didn't have anything substantial to contribute to the discussions.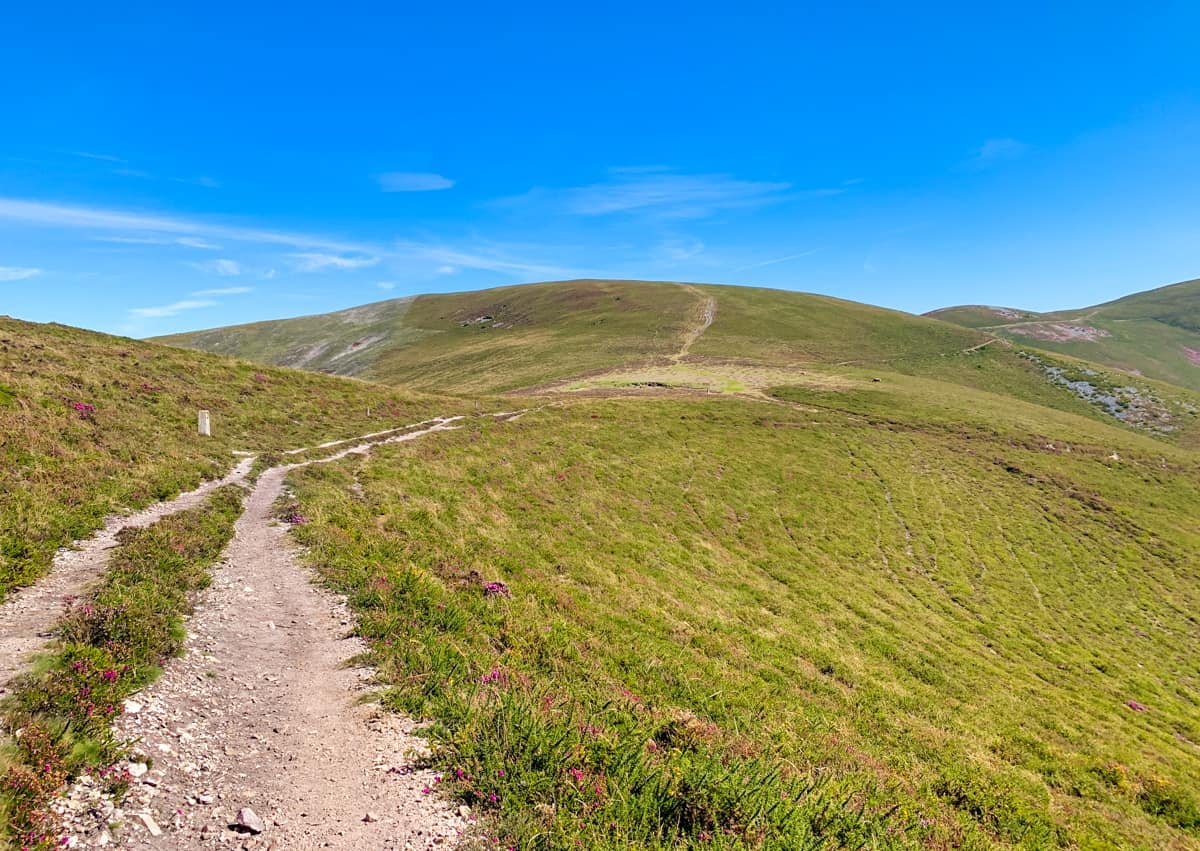 In Fact, Not Many People Walk it at All
In 2018, of the 320,000 people who walked the Camino, 186,000 walked the Frances. In comparison, just 8,800 pilgrims opted to tackle the Primitivo from start to finish, with 15,000 walking some part of it.
If you love isolation and peace, this is the walk for you. Some days, I didn't see a single person on the trail, although there were always plenty of walkers in the albergues at night.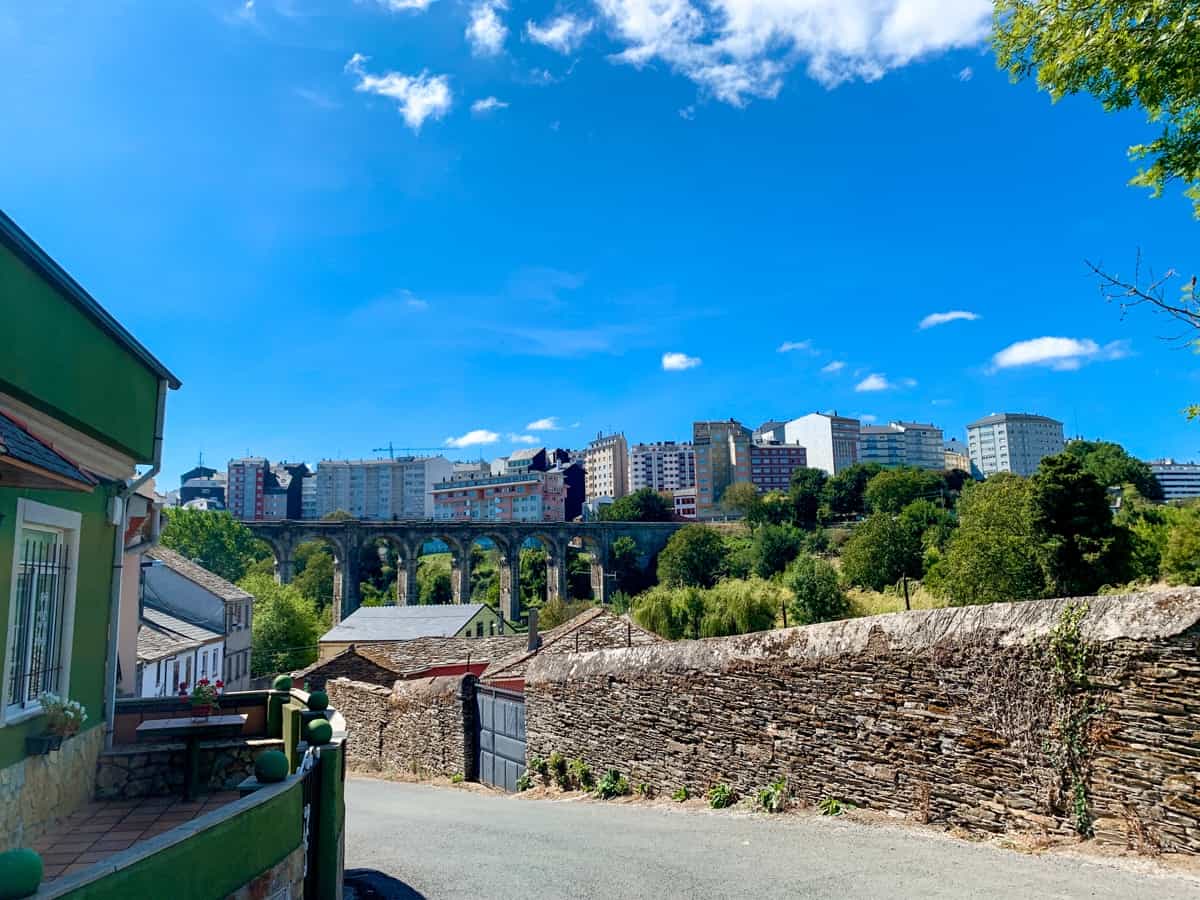 It's Predominantly Walked By Spanish Pilgrims
This was a big surprise for me!
I know. Breaking news, right? Person Travels To Spain And Is Shocked To See Spanish People.
Roughly 45% of Camino walkers are from Spain, so I expected to meet plenty of local pilgrims. I was definitely surprised, however, when I completed the first week of the Primitivo and realised that a solid 98% of the people we'd met had hailed from Spain. I'd met a Brit and a Canadian on the first day and walked with them for a couple of hours, then basically didn't see another English-speaker for like, nine days.
It turns out that the overtourism of the Camino Frances is convincing the locals to tackle lesser-travelled routes to get away from the crowds.
My Spanish is A2-level at best, as I haven't studied the language in over a decade, so walking the Primitivo occasionally felt isolating and lonely. Because not only was I not running into other English-speakers, but I was meeting maybe five other people a day. The Spanish people we met were lovely, of course, but none of them were interested in chatting with us for more than a couple of minutes.
Going days without having an in-depth conversation with anyone but Dave had me wondering why I was even walking the Camino. It felt so different to the write-ups I'd read of Frances, where people had picked up a large Camino family on day one.
The second week, I'm glad to say, was much better. Something changed when we were a week into the walk and we started meeting more people. Germans, Canadians, Americans, Danes, Italians, and more — all of whom took me under their wing and cheered when I made it to the end.
Something I do want to point out is that the Camino experience is going to be so governed by the day you choose to start walking. My experience will likely be completely different to everyone else's, so take my observations with a grain of salt.
Had Dave and I chosen to walk a day later, for example, we might have found ourselves walking with a big group of Americans from day one! On the Camino, if you're struggling to make friends, you can always take a rest day then find yourself with a new group of people to walk with the next morning.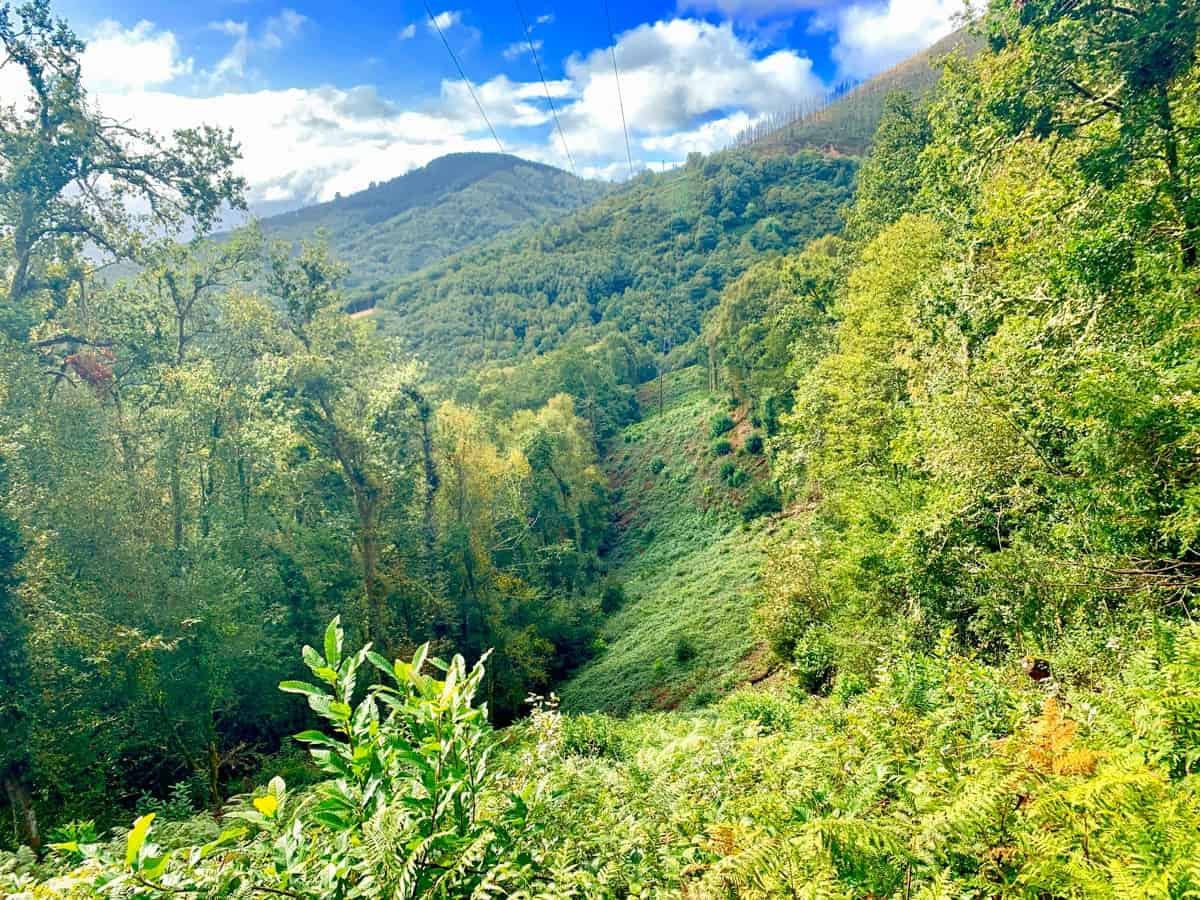 Most People Walk It in 14 Days
The Primitivo is around 320 km, and most people complete it in 14 days, which is an average of 23 km (14 miles) a day.
When I set off, I expected to finish in 15 days. It was a great surprise then, when I wandered into Santiago on day 13!
Here's a brief rundown of the distances I walked:
Oviedo to Paladin (21.5 km/13 miles)
Paladin to Cornellana (20 km/12 miles)
Cornellana to La Espina (23 km/14 miles)
La Espina to Campiello (24 km/15 miles)
Campiella to Berducedo (30 km/19 miles)
Berducedo to Grandas de Salime (20 km/13 miles)
Grandas de Salime to A Fonsagrada (26 km/16 miles)
A Fonsagrada to O Cadavo (25 km/16 miles)
O Cadavo to Lugo (31 km/19 miles)
Lugo to San Romao (22 km/14 miles)
San Romao to Melide (28 km/17 miles)
Melide to A Brea (28 km/17 miles)
A Brea to Santiago de Compostela (26 km/16 miles)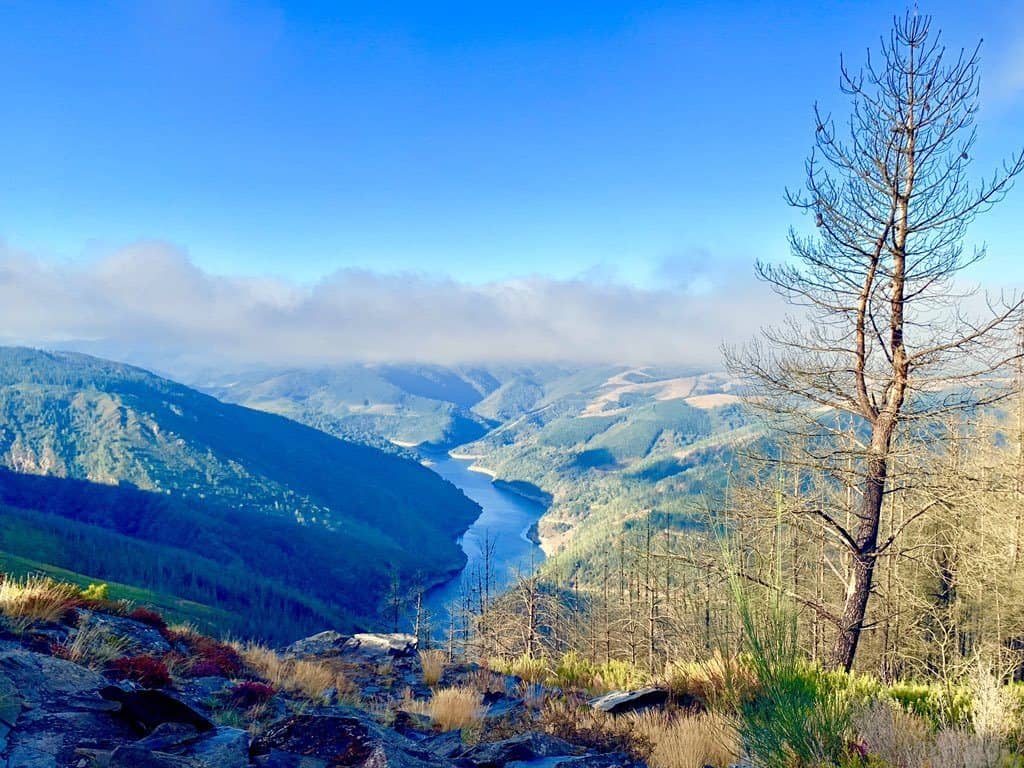 It's So Ridiculously Beautiful
Everyone I met who had walked other routes agreed: the Primitivo is the prettiest Camino by far!
The scenery is just spectacular, taking you over mountains passes, through dense forest, alongside rivers, and across hillsides blanketed in wildflowers. There are churches everywhere, ruins of hospitals to explore, and so many charming villages.
Every day, I shared just one photo on Facebook to summarise the experience, and it regularly took half an hour to settle on a view.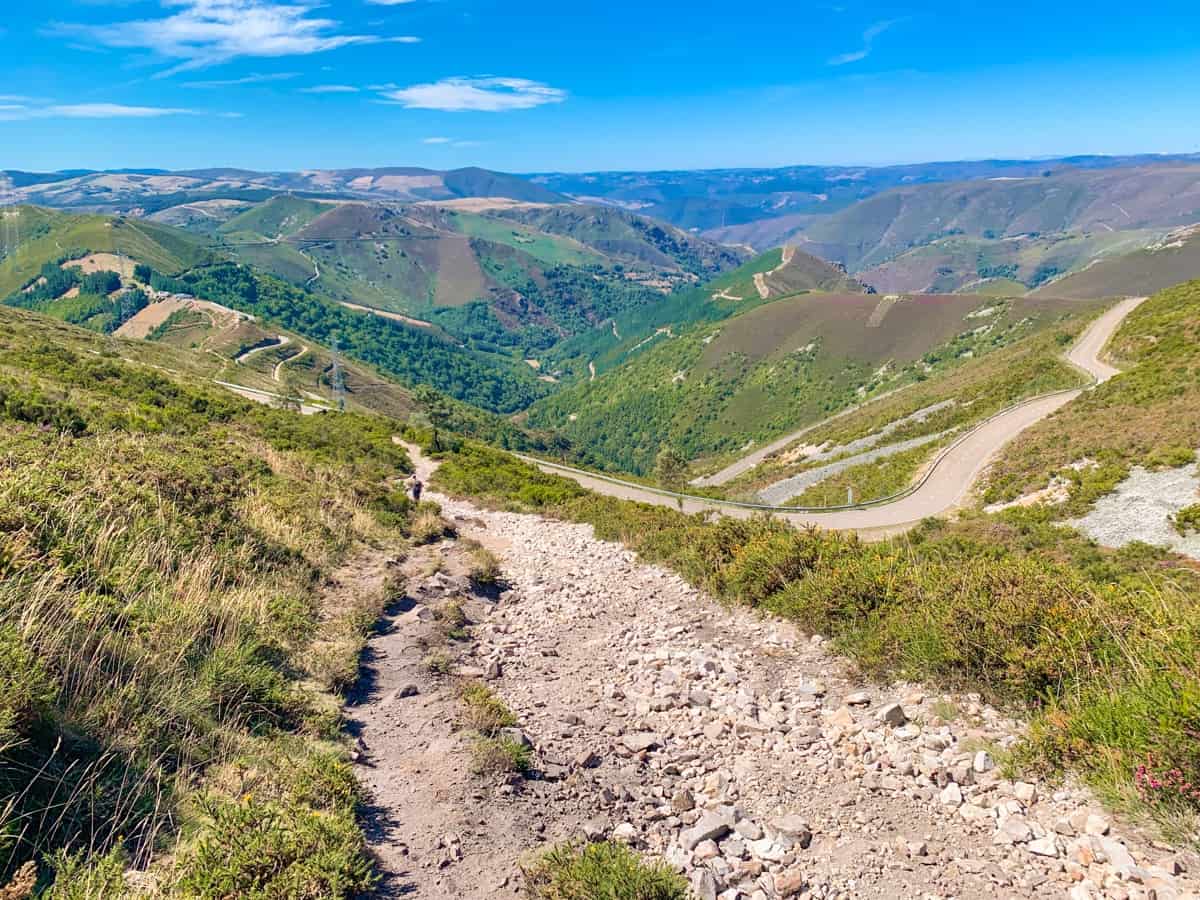 You Have to Take the Hospitales Route… If It's Safe to Do So
Mid-way through the walk, you'll come to a fork in the road. There are two options: the higher Hospitales route or the lower trail, via Pola de Allande. The former is said to be much more impressive, but tougher and much longer. If you opt for the latter, you'll spreading the distance over two days.
For a long time, the Hospitales was the only option, and it gained a reputation for being dangerous. Walkers spoke of taking one step forwards and three steps sideways on top of a 1200-metre-high ridgeline that was completely exposed to the elements and stretched for six kilometres. Fog would regularly roll in and reduce visibility to just a few metres.
Luckily, we had the best weather conditions you could possibly hope for, although it was still a struggle.
It was hard. Even though there wasn't a single cloud in the sky when we crossed, it was cold and windy at the top, and the climb to get there felt never-ending. Not only was it a long day, at 30 km in total, but the entire route was either uphill or downhill.
And yet, it was the highlight of my entire Camino and one of the best days of hiking I've had. It was a struggle that was worth it.
But what even is the Hospitales? It gets its name from the ruins of three pilgrim hospitals dating from the 15th century. Back then, before ultralight hiking gear, iPhones, and heating, walking to Santiago was about suffering, as evidenced by the fact that there was a need for three hospitals up on the ridgeline.
As great as the route is, though, there are times when you should skip out on the Hospitales.
If the forecast is for cloud and rain for the entire day, I'd give it a miss — you won't be able to see anything from the top anyway. If there are going to be strong winds, you should skip it to stay safe. Another reason not to walk the Hospitales is its lack of services. There's no accommodation, no cafes, and no help for almost 20 km on the trail, so you'll want to be confident in your fitness abilities before setting out.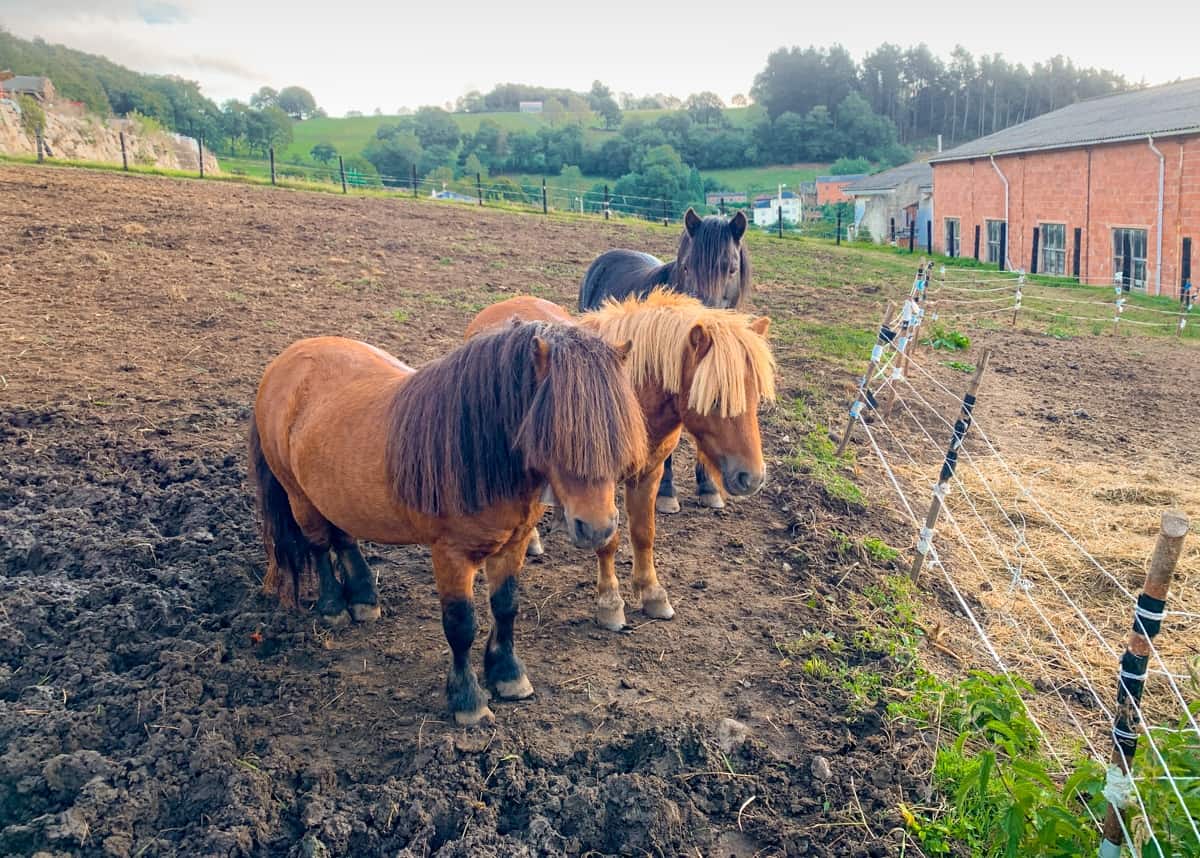 Asturian Horses are So Stubby
Look how short they are! Short and stout! Stocky! Chonky bois!
There were so many animals to spot on the Primitivo, from foxes to snakes, but my highlight was undoubtedly the Asturian horses. From their stocky build — to help them keep their balance in windy conditions — to their fantastic manes, I loved spotting them all over Asturias.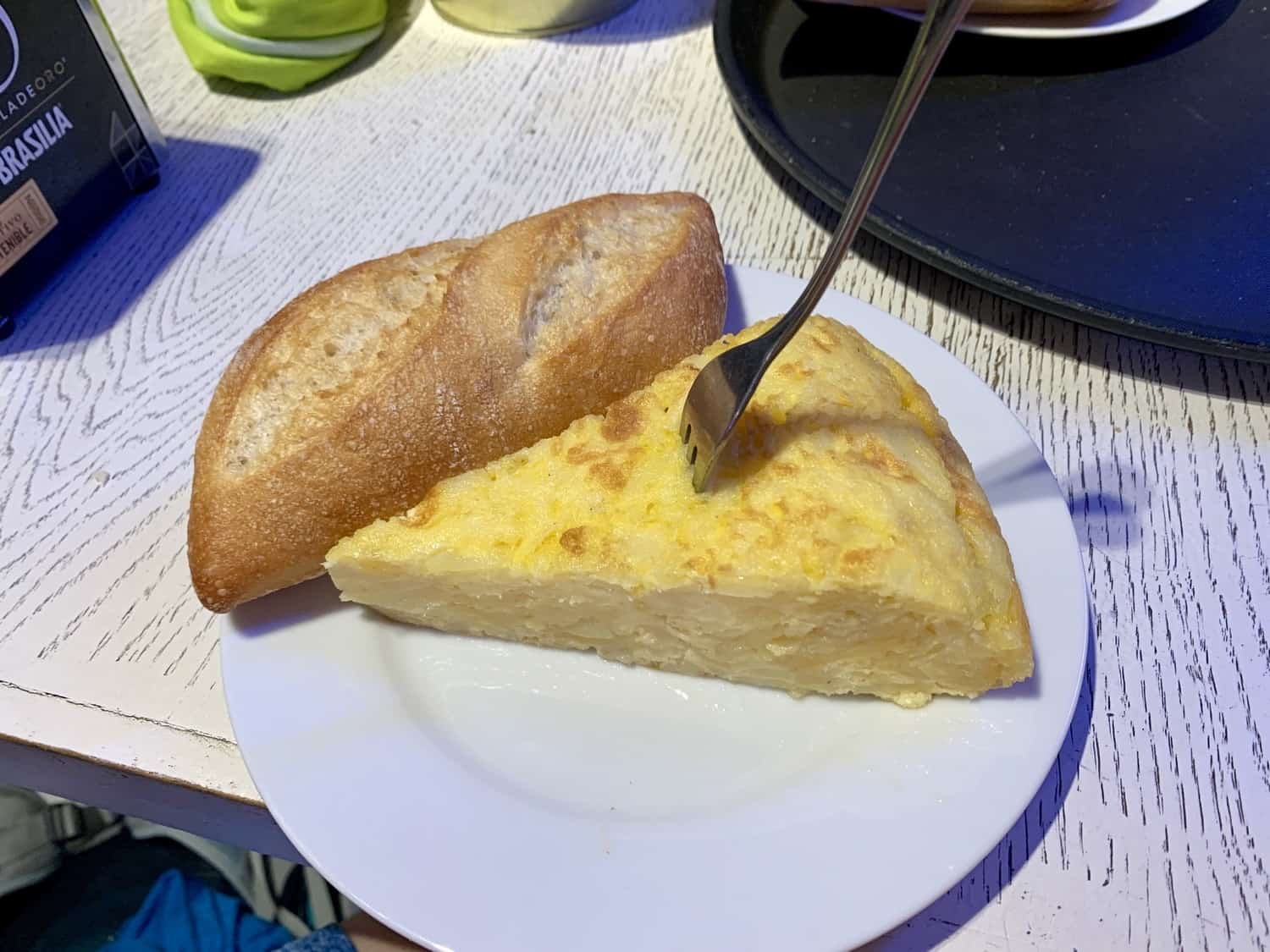 The Food Was… Not Good
Oh man, this was a disappointment.
The thing I love most about travel these days is getting to dive mouth-first into the local food scene. Unnnnnnnnnfortunately, the food on the Camino was kind of terrible.
All the bread was stale.
All the jamón was dry and tough.
None of the fruit was ripe.
I didn't get it. Across the entire Primitivo, I had just two excellent bocadillos and they were standouts purely because the bread wasn't a hard, dry rock of disappointment.
Each breakfast would feature stale bread with hardened jamón; staler than a plate of stale things. The tortilla Española was a decent alternative, but let's face it: two weeks of oily potato and egg for breakfast can get a little unexciting. Lunches were much the same as breakfast.
In the evenings, we'd opt for a menú del peregrino — a pilgrim menu — for around €10. For that, we'd get some kind of soup, salad, or pasta for a starter, meat/fish and potatoes for a main, and a tart or cake for dessert. We'd also get a full bottle of wine to go with our meal and — you guessed it! — a basket of stale bread.
I'm not really sure what happened. I'm guessing that the small, rural villages on the Primitivo don't have the resources to hand out a never-ending supply of excellent food. I know that the best meals I had were in Oviedo, Lugo, Melide, and Santiago — some of the biggest towns on the trail.
When I spoke to other walkers, they told me the food had been better on the Frances and Portuguese.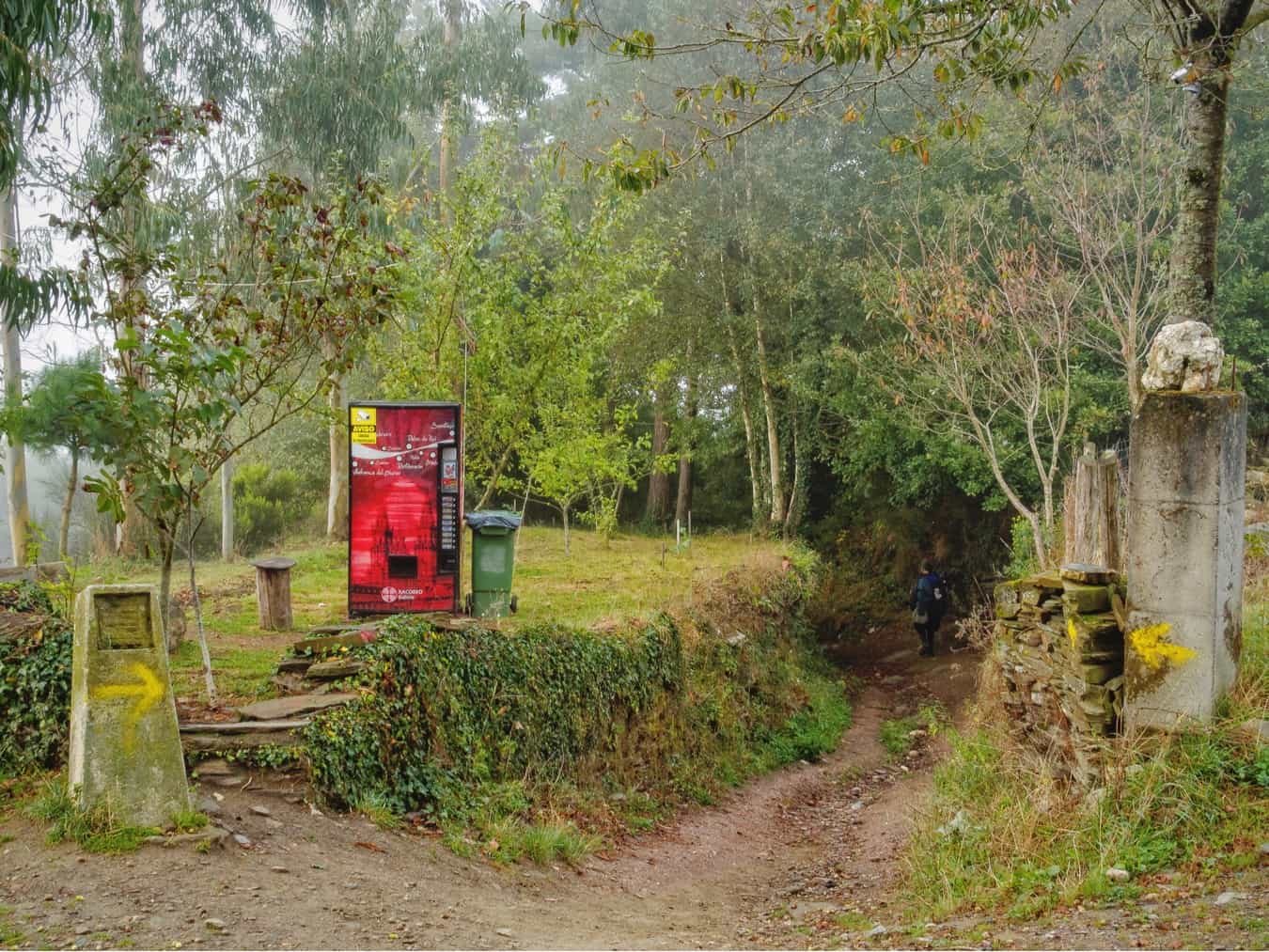 But There Are Vending Machines
I felt like I was back in Japan!
Because there aren't a huge amount of cafes along the way, you can sometimes find yourself walking 10 or 15 km without any food options. That's when the vending machines come in.
To my absolute glee, I discovered you could buy an entire tortilla Española for a couple of Euros then heat it up in the nearby microwave. Yes, some vending machines even had a microwave you could use for cooking your food.
I took plenty of snacks with me to ensure I never had to go without protein on a long walking day, but I only needed to tuck into my supply once over the 13 days. There were always cafes or vending machines to stop at throughout the day.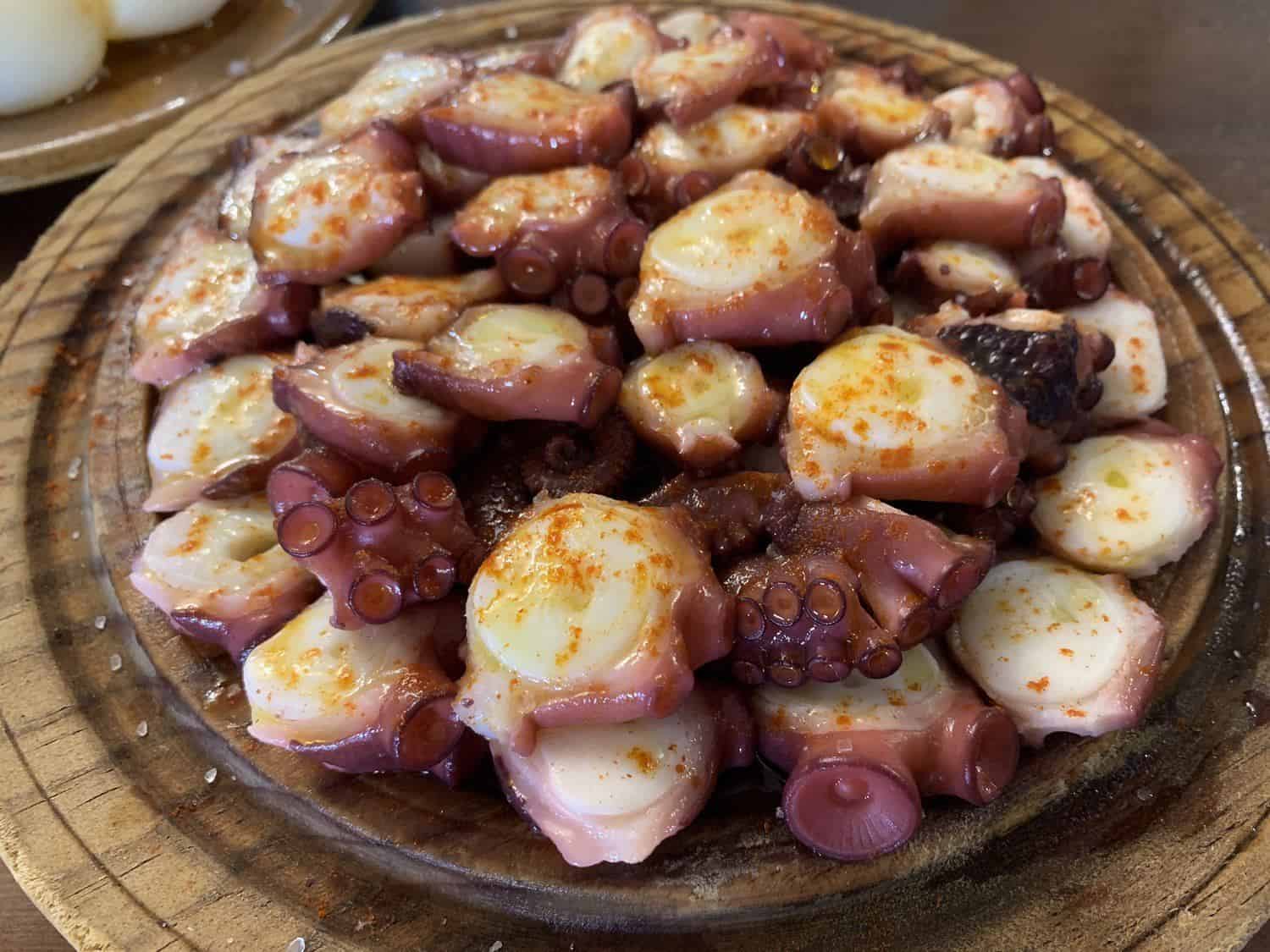 You'll Struggle if You Have Dietary Requirements
I try to stick to a paleo diet when I'm at home, but this was reasonably challenging to adhere to on the Camino, as evidenced by my ranting about stale bread above.
The problem with sticking to a low-carb diet stemmed from burning 3,000 or 4,000 calories a day. Consuming that many calories from protein and fat alone was impossible, and I ended up starving myself and struggling with energy levels. I lasted 3 or 4 days before I decided I had to eat the carbs and drink the soft drinks just to finish each day.
Every vegetarian and vegan I met on the Camino was struggling.
Unfortunately, the Camino does not provide in this case, as Spain still seems to grapple with the concept of vegetarianism. You should prepare yourself to be served unexpected meat and fish. Think pork hidden in your soup; fish buried in your salad.
A lot of vegans who walk the Camino dip back into vegetarianism on the trail to make life easier, and even vegetarians will occasionally eat seafood. Sometimes by choice, sometimes accidentally. I saw a woman order a vegetable sandwich, take a huge bite, and discover a sneaky layer of tuna.
While Spain is beginning to evolve its definition of vegetarianism, it's happening in the big cities, like Barcelona and Madrid. On the Primitivo, you'll often be staying in small rural villages with one restaurant, if you're lucky. As always, hope for the best, but prepare for the worst.
If you have celiac disease, my friend Jodi has an in-depth gluten-free guide to Spain and celiac restaurant card — if you need to stay strictly free of gluten and avoid cross-contamination, this is something I'd recommend grabbing before your trip.
It's worth mentioning that every albergue I stayed in offered up a kitchen for guests to use, so all is not lost.
You could easily stock up on food in stores and supermarkets as you walk, then cook for yourself or have picnics along the way. It will add weight to your backpack, of course, but you'll also have greater control over your diet.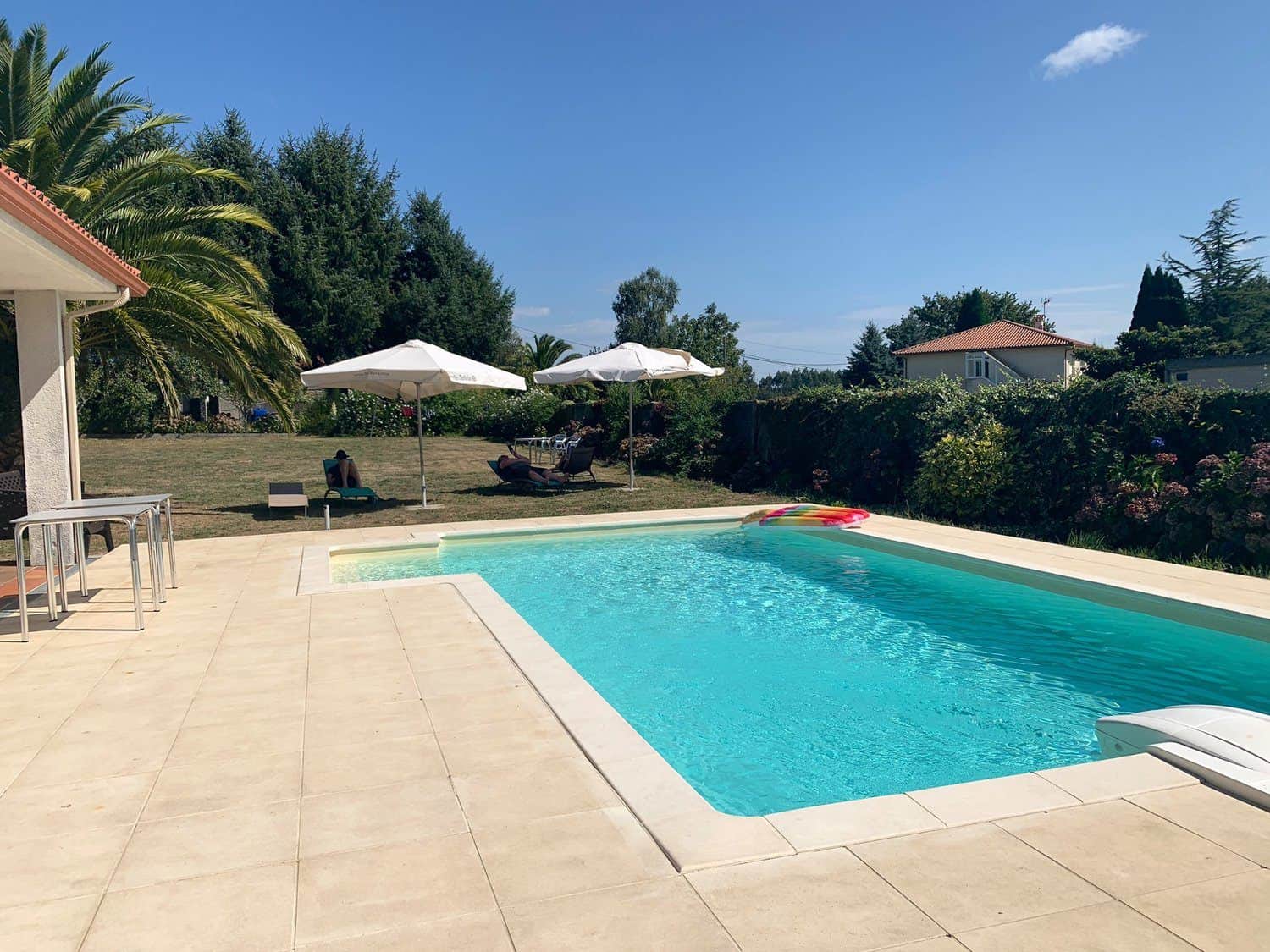 There Aren't Many Albergues Along the Trail
On the Camino Frances, deciding where to spend the night is simple. You'll pass albergues every 3-5 km, so whenever you feel like stopping, you usually can.
On the Primitivo, things are a little different.
Because so few people walk it in comparison to the more popular routes, there's less call for accommodation.
At times, you can walk 20 km without any options for places to stay. Most days, our choices for stopping were at 15 km, which felt too easy, and 25 km, which felt too tough.
To be honest, while I struggled with it at the time, it ended up being a Good Thing for me.
Had there been an albergue conveniently located whenever my feet started to hurt, I know I'd have stopped walking for the day. Instead, my feet would start aching, but I'd still have to walk an additional 8 km. It was tough at the time, but it helped me mentally to push myself through the pain and prove what I'm capable of.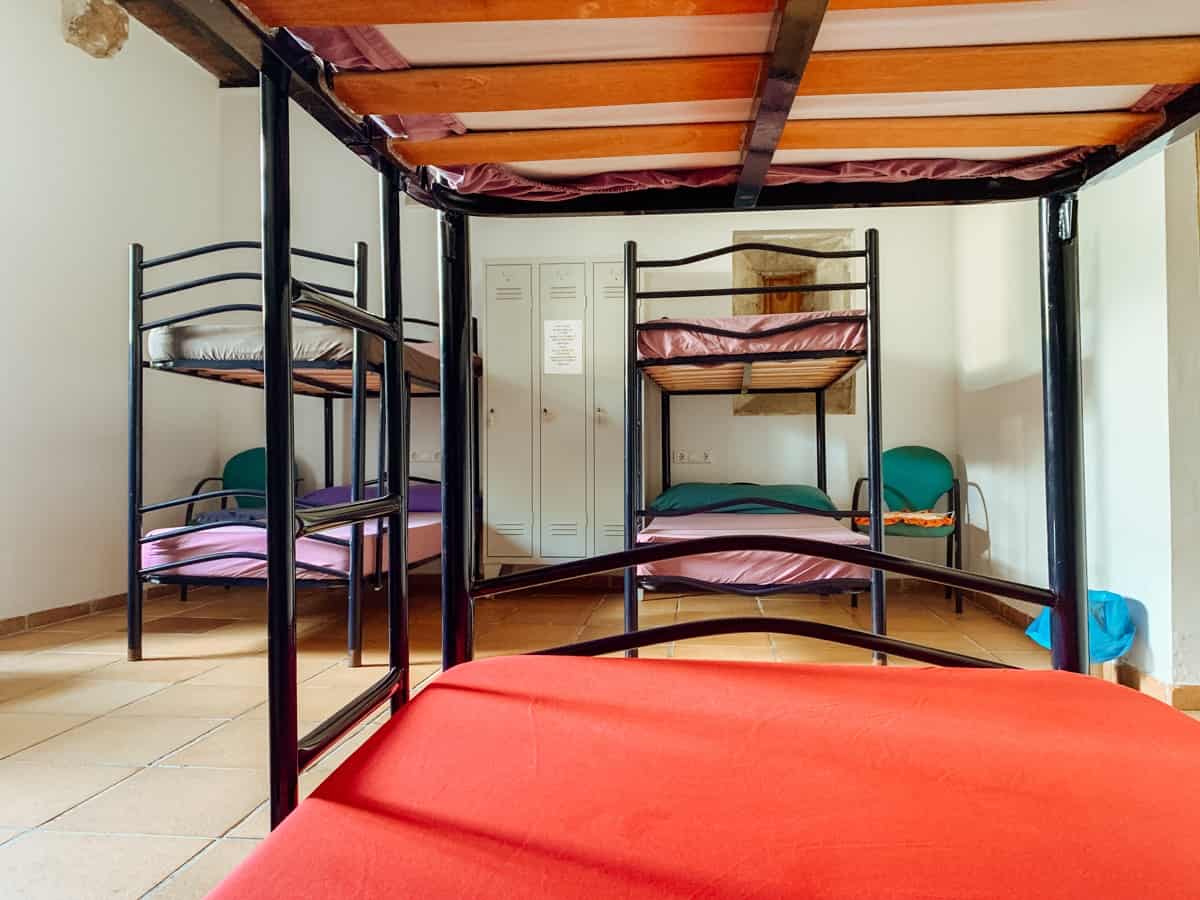 The Camino Bed Race is Real
Day five was the hardest of the walk for me, as it's when I tackled the Hospitales. It took nine hours to walk the 30 kilometres from Campiella to Berducedo, and when I arrived in town, I was more than ready for a cold beer.
Unfortunately, the Camino had other ideas.
Two of the three albergues in town were unexpectedly closed and the remaining one was full. Not only that, but the next town along the trail was also completely booked.
Yes, Dave and I found ourselves with nowhere to spend the night.
We could either opt for an additional 15 km walk to the next-next town on the route — giving us a 45 km day[!] with still no guarantee of a bed — or we could pull out our sleeping bags and spend the night beside the road.
Not only was this a frustrating situation to be in, but an exhausting one, too. We'd just spent nine hours climbing up and down mountains and the last thing we wanted to do was start trouble-shooting.
As we trudged around town, asking for advice, somebody pointed us in the direction of her friend, who had one bed in her house for us to use. At €50 for a grim double room, it offered poor value for money, but let's face it: I would have paid double that to avoid the alternative.
Welcome, my friends, to the Camino bed race.
Several days later, Dave and I arrived in A Fonsagrada at midday. We'd set off an hour before sunrise and made good time over our 26 km walk. Despite being some of the first pilgrims to arrive in the city, every private albergue was already full, with owners confessing that their phones were still ringing with reservation requests every 15 minutes.
Dave is staunchly against booking albergues in advance, and for good reason.
Booking in advance takes all of the flexibility and and spontaneity out of the Camino — for everybody. One of the great things about the Camino is not having to make plans and feeling free to walk for as long as you want. If all the accommodation is booked, though, you'll also start booking, then never get to experience the fun of making things up on the fly.
Dave also believes it makes the walk unfair — that pilgrims can call the nicest albergue in town at 8 a.m. to book a room for the night, then sleep in and meander their way along the trail for much of the day. It means that the people who are leaving early and pushing themselves get screwed over when they discover every bed has been booked by people who are still walking.
Dave and I quickly learned, though, that by taking this no-booking stance, we were having a worse experience.
We were having to stay in the lowest-rated accommodation because all the good spots were being booked out days in advance. We were having to deal with the stress of arriving in town after a hard walk and knowing there could be nowhere for us to stay. September is only the fourth most popular month to walk the Camino, so I dread to think what it would have been like in August.
How did this happen?
As the Frances has rapidly grown in popularity, to the verge of being crowded, Camino walkers have been searching for quieter alternatives. In 2009, 145,000 people walked the Camino, whereas last year, 320,000 made the journey. It's no wonder that more walkers are turning to the Primitivo.
The Primitivo, though, doesn't yet have the accommodation to handle these increased numbers. While the route attracted 8,000 walkers in 2014, 15,000 pilgrims walked it in 2018 — that's double the amount of people in just four years.
Eventually, we decided to book ahead, too.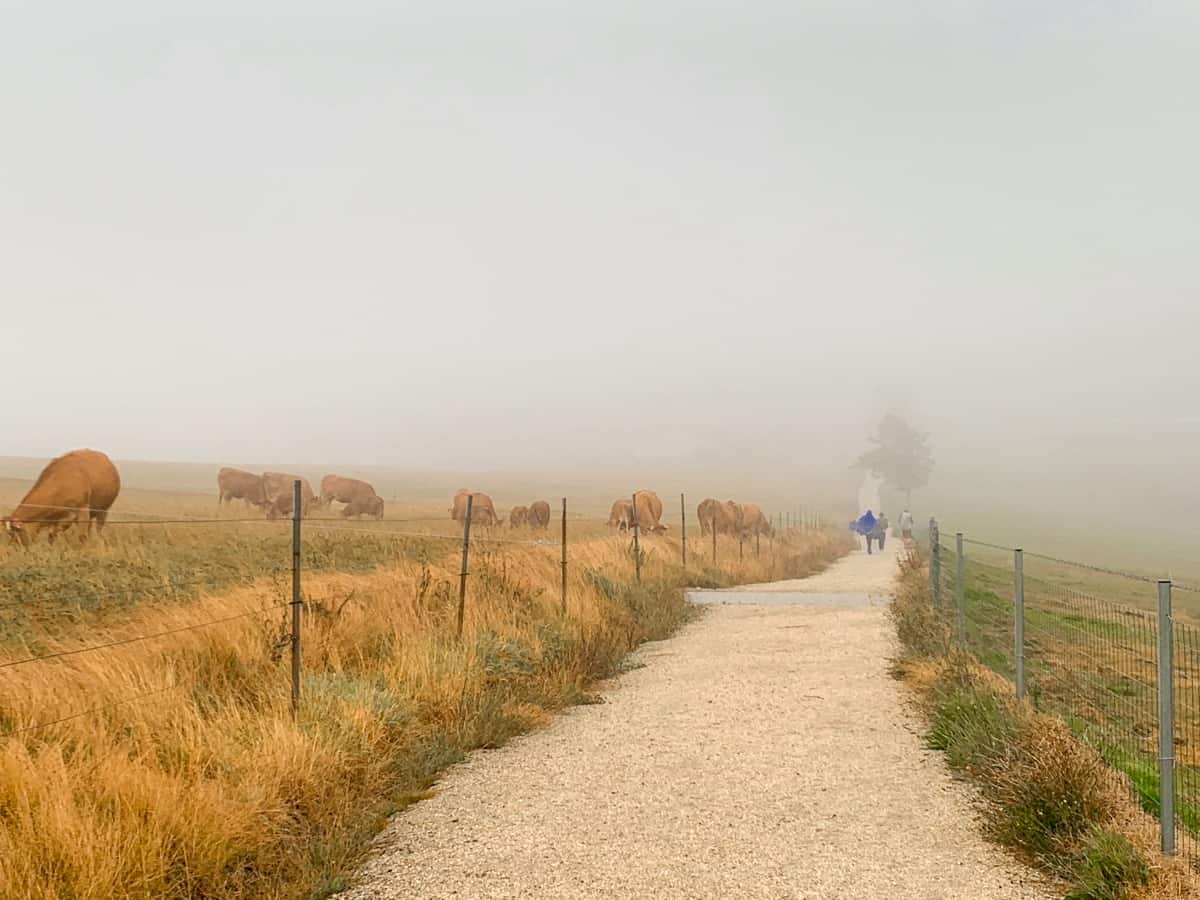 The Weather is Temperamental, Even in Summer
I'll confess that before walking the Primitivo, I believed the hardest part of hiking in Spain would be handling the hot weather. In reality, my greatest challenge was dealing with cool temperatures at night and wet conditions during the day.
This is not a dry part of Spain, and when the bad weather rolls in, you can find yourself traipsing through storm clouds for hours, unable to see more than a few metres ahead and continually slipping on mud. Yes, I'm speaking from experience.
At night, temperatures would drop to around 7-10°C, so wearing layers was especially important during any early morning starts. And while some days would bring storms, others would see us walking in 32°C.
I lucked out with the weather, though.
When I ventured on to the Hospitales track, it was on a day with some of the best weather you could hope for. On the descent to Grandas de Salime, the dam views were clear rather than blocked by clouds, as is typical. We had just three days of rain.
While it's a pain to have to prepare for different weather conditions, walking the Primitivo is still a fantastic option. If you choose to walk in May or September, you'll be averaging around 25°C a day, which is perfect for walking.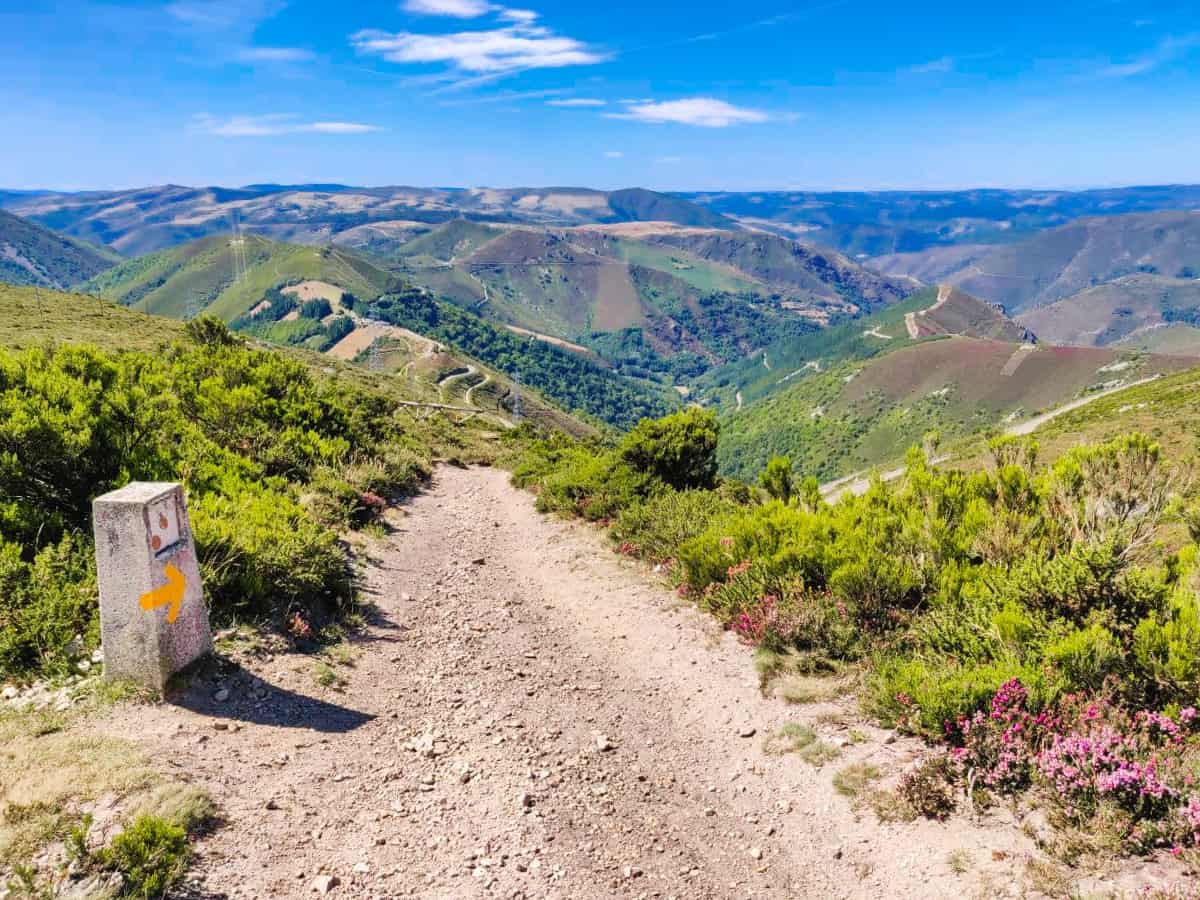 This Isn't Really a Route for Cyclists
While the Camino is predominantly completed on foot, you can occasionally find people travelling by bike or on horseback.
Not on the Primitivo! There's so much uphill and downhill that I think you'd end up pushing your bike just as much as you would riding it. While there are a handful of people who attempt to cycle it each year, I can say I saw exactly two cyclists on the Primitivo and one of them was in tears.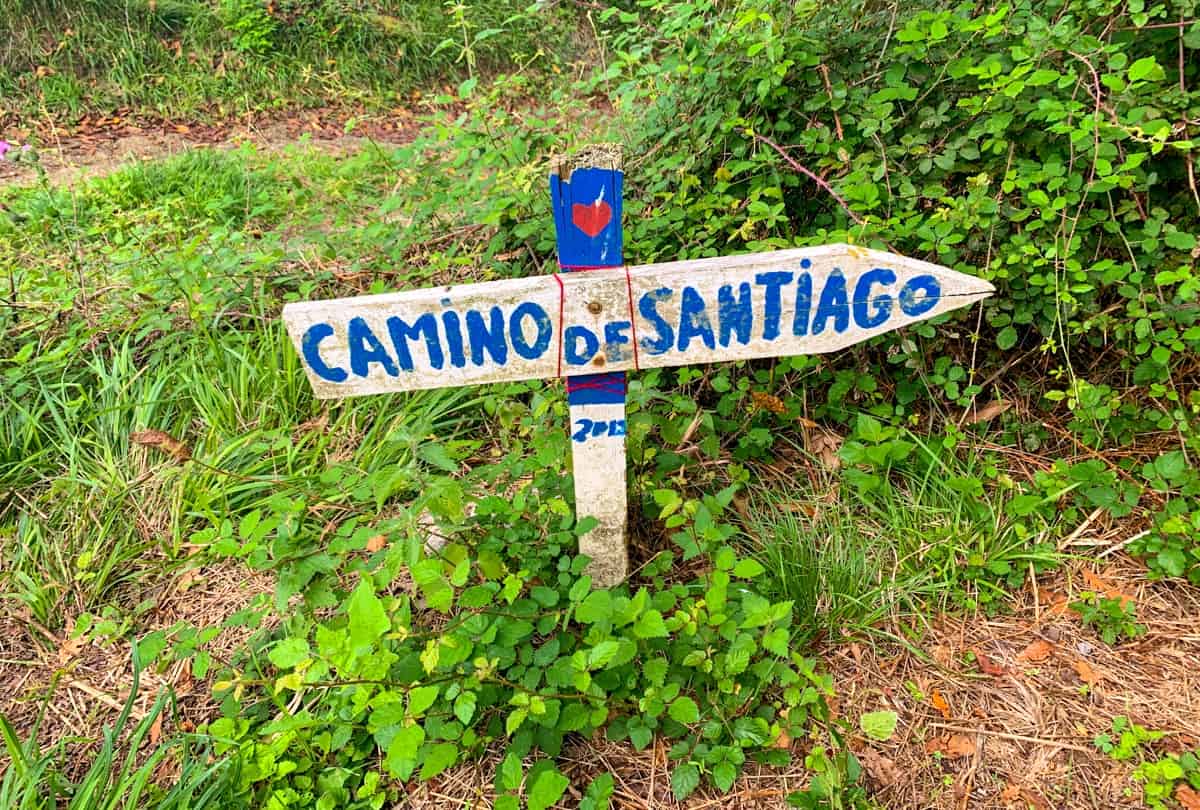 You Don't Have to Worry About Getting Lost
It's close to impossible to lose your way.
There were yellow arrows and milestones and shells along the entire trail, located at any major junction or turn-off, so you never had to worry about where to walk next.
The biggest challenge came from early morning walks.
I found joy in waking up an hour before sunrise and walking in darkness, enjoying the silence and cool breeze before the sky slowly transformed to blue. The biggest downside in doing so, though, was having to squint for arrows. I had a headlamp for these morning starts, but it's still tricky to spot a yellow marker when it's small and painted on a tree on the other side of the road.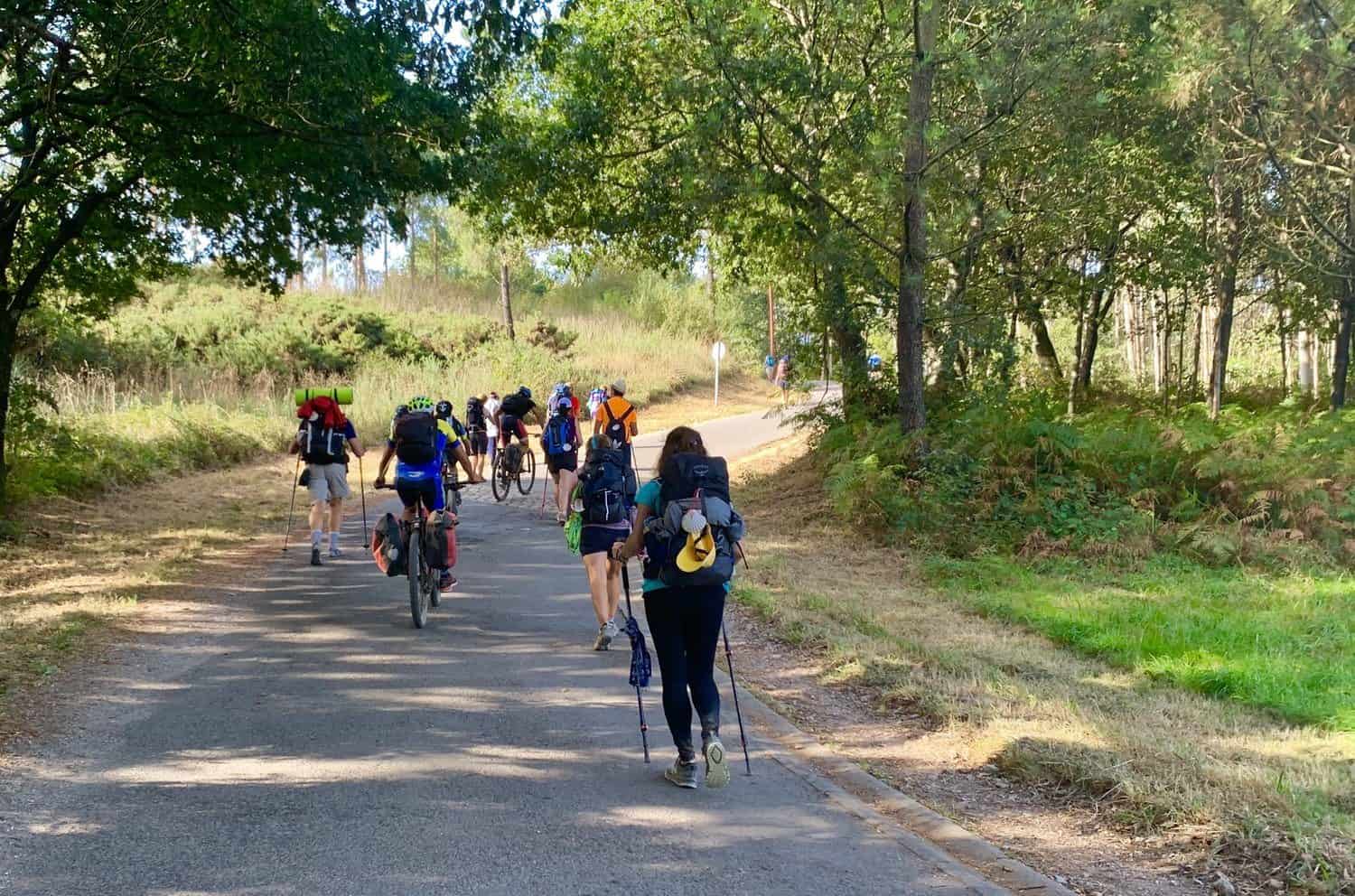 The Last 100 Kilometres is Jarring
Of the 320,000 people who completed the Camino last year, a colossal 90,000 only walked the final 100 km into Santiago.
Why?
Because of the freaking certificate.
After you set foot in Santiago de Compostela, one of the first things you'll do is visit the pilgrim office to collect your certificate. In order to get your hands on one, all you need to do is prove you've walked at least 100 kilometres of the pilgrimage.
If you're walking the entire Primitivo, you'll arrive in Lugo — a city that's exactly 100 km from Santiago — and enter a huge crowd of clean and shiny hikers.
I have conflicted feelings about it.
On one hand, who am I to judge? Everyone is entitled to walk their own Camino and everyone has their own reasons why — maybe they're not able to walk longer distances. Maybe they don't want to walk any farther. Maybe they can't get time off work. Maybe their 100 km will be more meaningful than my 300 km or other walkers' 800+ km.
On the other hand, it reminds me a liiiiiitle bit of country-counting-slash-checking-something-off-your-bucket-list-just-to-say-you've-done-it. I would be curious to see what would happen if the certificate was scrapped, along with the arbitrary 100 km requirement.
Whatever your feelings are, when you've spent 10 days on the Primitivo, your final four are going to be a shock to the system.
On the Primitivo, you can walk an entire day without seeing another walker. During the final 100 km, it's rare to find any stretch of trail that doesn't have somebody else on it.
The last day is particularly unpleasant, as it attracts the day walkers, too. After falling in love with the meditative silence of walking alone, I was suddenly tuning into dozens of conversations, listening to music and podcasts blaring out from walkers' phones, and marvelling at how many people were hiking while on the phone.
The final 100 km stretch was my least favourite part of the Camino, and the last day the least enjoyable.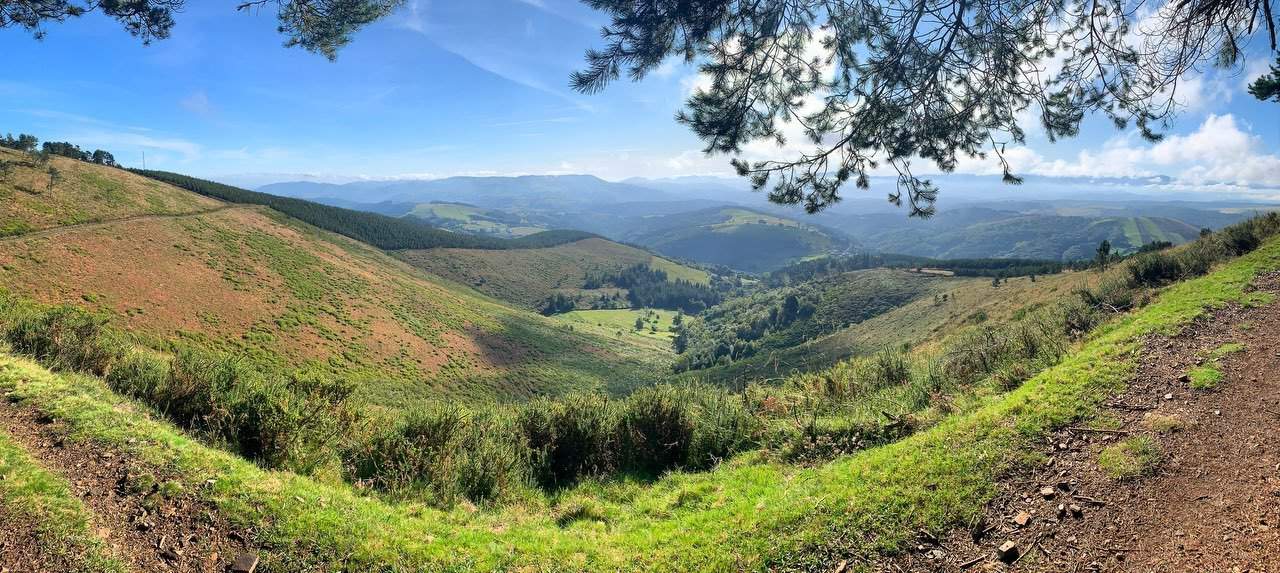 And that was the Camino Primitivo!
I had such a life-changing experience on this walk, and I highly recommend it as a Camino route. Sure, it's a little difficult and the suffering can be a bit much at times, but there are so many rewards to be gained from undertaking the challenge.
Have any questions about walking the Camino? Fire away in the comments below!
Articles on Walking the Camino de Santiago Across Spain

💶 How Much Does it Cost to Walk the Camino de Santiago?
🎒 What to Take on the Camino Primitivo: My Detailed Packing List
🤔 Reflections on Walking My First Camino
Related Articles on Travel in Spain

💰 The Cost of Travel in Spain: A Detailed Budget Breakdown
🧳 How to Pack for Spain: My Complete Packing List
🇪🇸 Top Things to Do in Madrid
🥘 28 Incredible Things to Do in Barcelona, Spain
⛰ Exploring Ronda, Spain's Spectacular Cliffside City
🏰 The Cost of Living in Granada, Spain