I've spent so much time travelling across Spain — almost six months in total!
I've been lucky to spend six weeks exploring Madrid and three months living in Granada. I've taken short trips to Valencia, Girona, San Sebastian, Bilbao, and Ronda, visited Barcelona three times, island-hopped in the Canaries and flown to Mallorca five times. I've even hiked the Camino de Santiago in Northern Spain! In short, just try keeping me away from Spain! I can't stop returning to one of my favourite countries in Europe.
Over the time I've spent in Spain, I've learned an awful lot about how much it costs to travel there — and I've kept meticulous track of every single cent I've spent, too.
Today, I'm excited to share just how much you can expect to spend on travel in Spain, based on my own personal experiences.
Let's get started.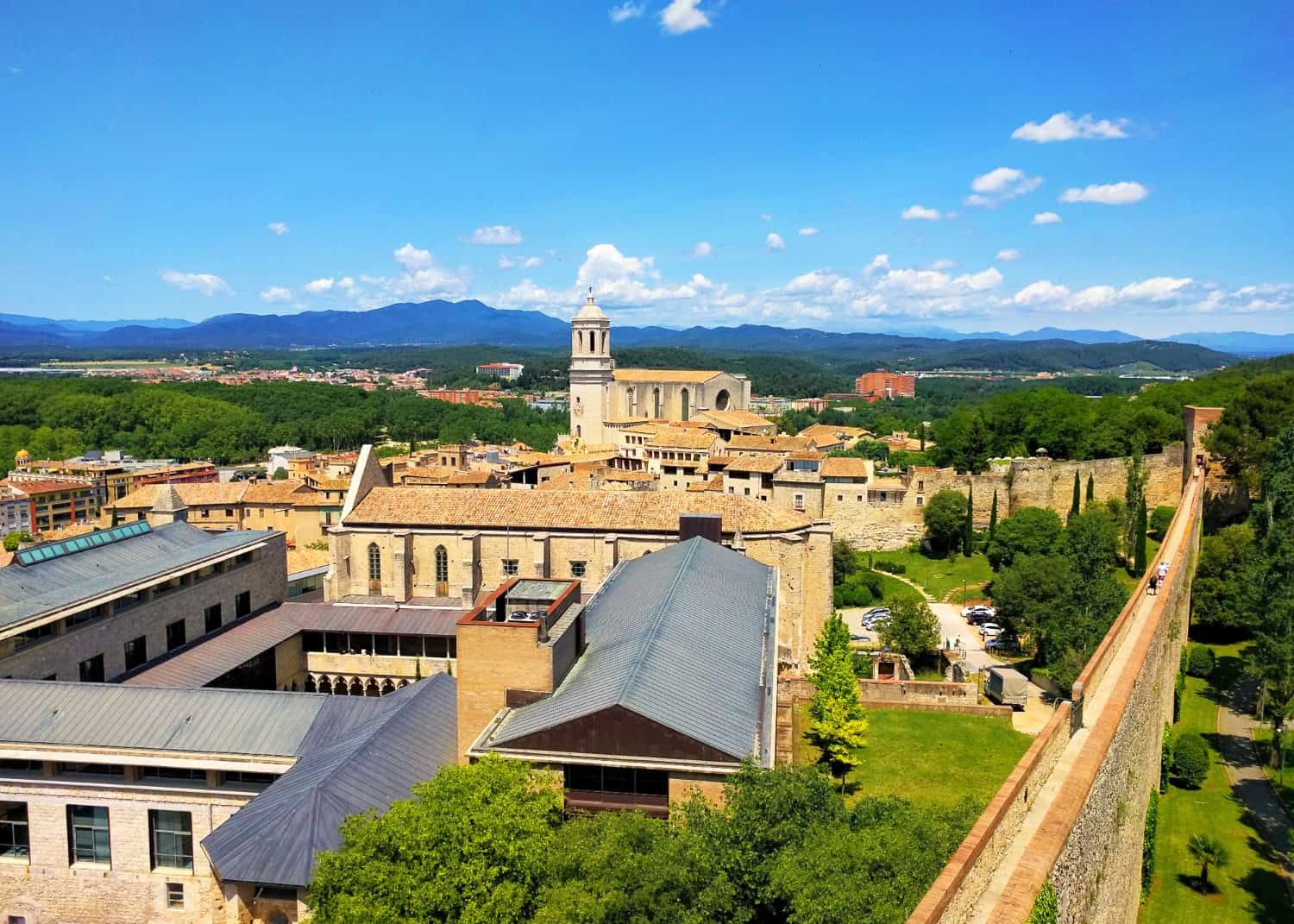 The Cost of Accommodation in Spain
I know I have a ton of readers who are all about that backpacking life, so I want to kick off this section by running through some of the accommodation options that are out there for budget travellers.
Couchsurfing is a great way to save money while taking a deep-dive into life in Spain. You'll stay with a local for free, sleeping on their couch, and learning about their day-to-day life in the country. It's not the most comfortable of travel experiences, of course, but you'll learn more about what it's like to be Spanish than you would by staying in a hostel or hotel. You can browse a list of Spanish Couchsurfing hosts on the Couchsurfing site — there's tons of welcoming locals in most towns and cities across the country, many with outstanding reviews.
Housesitting is another option for saving money in Spain. Housesitting is exactly what it sounds like — you'll take care of somebody's house for free while they're away, usually while looking after their pets, too. This option is going to be best for long-term travellers or retirees as you can't pick and choose dates and destinations, so need to have flexibility over where you go and when. If you do have that freedom, it's a wonderful way to cut down your travel expenses, soak up some home comforts, look after some adorable animals, and live like a local for a while. Trusted Housesitters is one of the best sites for getting started with housesitting.
And finally, if you're travelling long-term and don't mind getting your fingers dirty, you could look at WWOOFing or WorkAway as a way to cut down your costs while working on a farm in exchange for accommodation and food. It's not the most glamorous of experiences, but getting to live for free in a foreign country is an incredible experience, so if you're backpacking around Europe, this may be the way forward for you.
I'm suspecting, though, that for many of you, you're not interested in the free accommodation and just want somewhere clean, safe, and affordable to rest your head each night. If that's the case, there are several options available for you.
The first of these is hostels. In Spain, you'll come across hostels all over the country, from the big cities to the small villages to beachside hideaways. They're one of your best options for saving money, and aren't just for the backpackers.
Hostels in Spain are much cheaper than equivalents elsewhere in Western Europe, with the big exception being Barcelona over the summer, but even then, it's still nowhere near outrageous. You can expect to spend around €10-15 for a dorm bed in most spots in Spain, with the price increasing to around €25 a night on the beaches and more tourist-filled areas.
When it comes to private rooms in hostels, you can expect to spend around €45 a night for a clean, basic room in a good location, so if you're travelling with friends or a partner, you may find it cheaper to grab some privacy over settling for two beds in a dorm room.
If you're an older traveller and put off by the thought of nights spent in hostels, you shouldn't be! Private rooms are usually very quiet and clean, and most hostels are modern, safe, and centrally located. They tend to have a little more personality than generic hotels, and the staff are fantastic at offering kickass travel advice. As long as you check the reviews of any hostel before booking it to make sure nobody refers to it as a party hostel, you're all good to make a booking there. I use HostelWorld to find the cheapest hostels.
And, of course, there are always hotels, which will usually start at around €40 a night. You'll have slightly more luxury and comfort in hotels, so it's up to you to work out whether this is worth the additional expense. I always use Booking to find guesthouses and hotels when I travel, as they have the greatest selection for the best prices.
The Cost of Transportation in Spain
If you're going to be hitting up the major cities in Spain, you're in luck: public transportation is extensive, affordable, and of a high quality. Getting around is going to be easy. If you're happy to hop on a bus or train, you'll be able to access pretty much anywhere in the country.
Within the cities themselves, you'll find buses and metros to use to get around, as well as taxis. Uber, unfortunately, isn't in Spain, although you can use the Cabify app, which is similar, in Barcelona. Madrid has a fantastic metro, and Barcelona's pretty decent. For the rest of the cities, you'll probably get around by bus, tram, or light rail.
When it comes to train travel between cities, it's time to get yourself acquainted with RENFE, which runs the train system. You'll find both high-speed and regular trains across the country, with the former obviously being more expensive. Trains run reasonably on-time, are in good condition, and easy to book online. I travelled by train between Madrid and Granada and Granada and Ronda and enjoyed my rides.
Buses are safe, clean, and comfortable in Spain, and I find myself regularly using them. I recommend using Movelia to check timetables and make reservations, as they're one of the few English-language websites you can use.
Here's what I paid for my trips across Spain:
Bus from Barcelona to Madrid: €33
Train from Madrid to Granada: €37
Train from Seville to Madrid: €38
Bus from Barcelona to Valencia: €16
Bus from Bilbao to San Sebastian: €7
Train from Barcelona to Girona: €11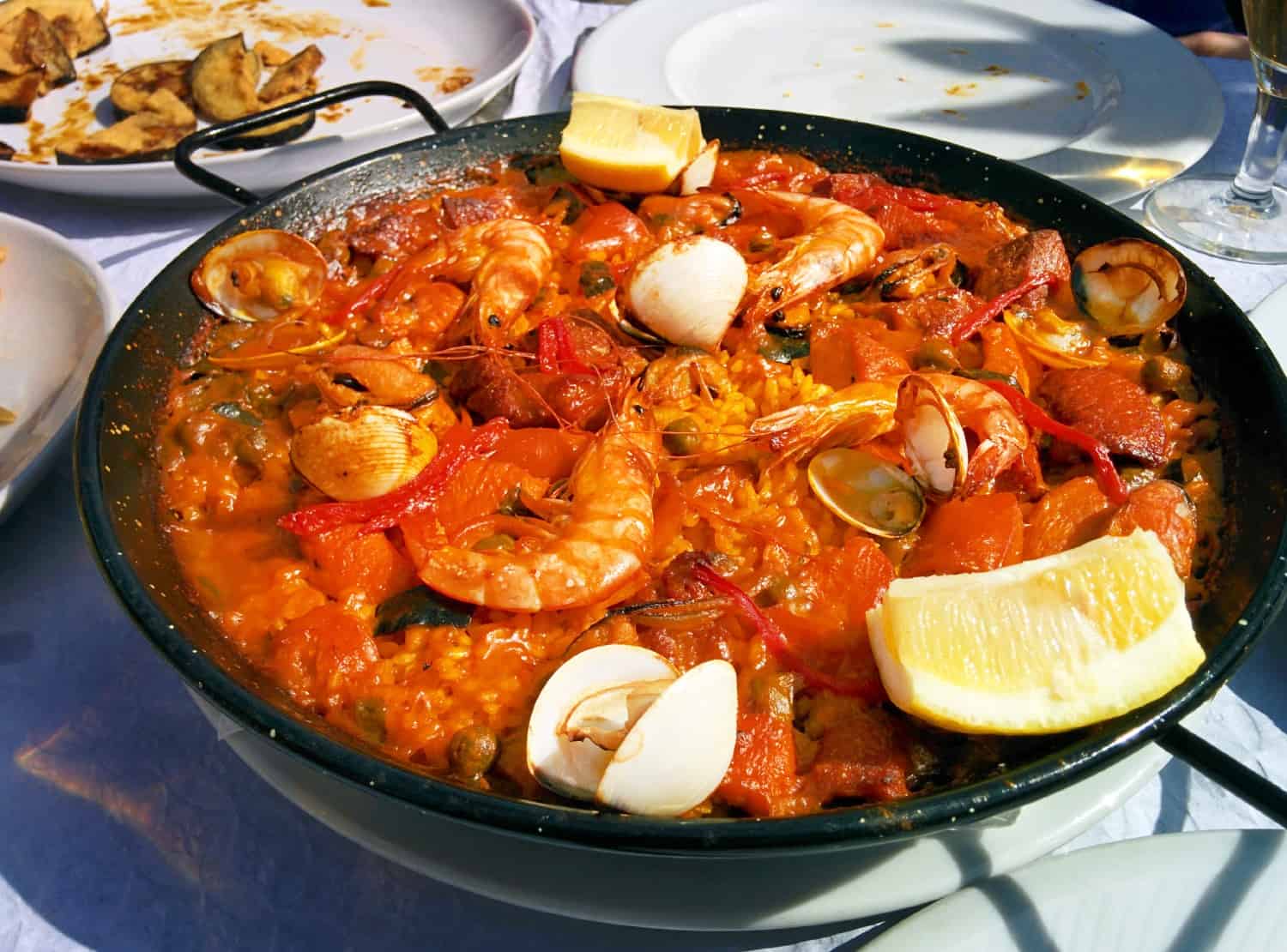 The Cost of Food in Spain
Spanish food is such a great cuisine! I always forget about it when I think of the great cuisines of the world, but as soon as I touch down in the country, I'm so enamoured by all there is to eat. And let's not even talk about the jamon iberico — swoon!
If you're going to be backpacking in Spain, you'll probably want to cook a bunch of meals in your hostel kitchen, and this is a good way to keep your food costs down. Head to a local market near to where you're staying and stock up on ingredients. The good news is that food in Spain doesn't have to be expensive, so you can definitely afford to eat out regularly.
One of my favourite cultural experiences in Spain is eating tapas in Granada. Why? Because they're completely free. Yep, Granada has this fantastic thing where whenever you order a drink, you get a free plate of food. Order a couple of glasses of wine or a few beers and you won't need to pay for dinner. If you already plan on drinking with your meals, this is a great way to cut costs and try some local meals.
Some of my favourite alcoholic drinks come from Spain, and I urge you to try them. Clara is beer with lemonade, tinto de verano is red wine with lemonade, and my favourite is kalimotxo, which is red wine and Coca-cola. I know the last one sounds disgusting, but trust me, trust me, trust me, it's incredible! If you see it on the menu, you have to order it.
So let's take a look at some of the best local eats you should try in Spain, along with the typical cost of these meals.
When it comes to breakfasts, continental Europe nearly always frustrates me. I'm not a huge fan of pastries and they do tend to rule in this part of the world. One of the more common breakfast dishes is tostada con tomate, aceite, y jamón — bread topped with tomatoes, olive oil, and ham. It's not the most flavourful of meals, but that doesn't matter because the food is fresh and it always tastes delicious. Another popular option is chocolate con churros — yes, that's right. Churros and chocolate for breakfast. You'll be able to score a potato omelette in the northern regions of Spain and you can normally grab a jamón sandwich somewhere in the country. As for cost, you'll be looking at around €5 for breakfast, which usually includes an orange juice or coffee to wash it down.
Let's talk about lunches next. Bocadillos are everywhere and when the jamón is as good as it is in Spain, you're probably going to eat a hell of a lot of them. Lunch is typically the largest meal for the locals, so if you want to do as they do, prepare yourself for a several courses in the middle of the day. Think cold meats and cheeses to start, followed by small bowl of soup. Next, you'll tuck into paella or a fish in lemon sauce, force yourself to eat some roasted pork, then finish it all off with a flan for dessert. Yeah, it's a lot. Overall, lunches in Spain range between €15 and €35, depending on how large you want your meal to be.
Now, if you're not already aware, the Spanish eat their dinners late. I remember turning up in Granada, forcing myself to wait until 8:30 p.m. until eating, and then sitting alone in a restaurant for an hour before the locals even considered eating dinner. Yes, part of the reason why you'll want to have a huge lunch is because you'll probably go out for dinner at 9 p.m. When it comes to the type of meals you can expect to eat, some of the more popular dishes are tapas, of course, as well as paella, croquetas, oxtail stew, gambas (shrimp, usually cooked in garlic), salt cod, and Iberian pork. You can expect to spend around €25 – €45 for dinners in Spain.
Here are some typical prices of food and groceries in Spain to help you budget better:
Meal at McDonald's: €7.50
0.5l of draught beer: €2.50
A bottle of house wine in a restaurant: €5
Coffee in an hipster area of town: €1.50
Litre of milk: €0.70
A loaf of bread: €1
A dozen eggs: €1.50
1 kilogram of tomatoes: €1.50
1 kilogram of potatoes: €1
A 1.5l bottle of water: €0.50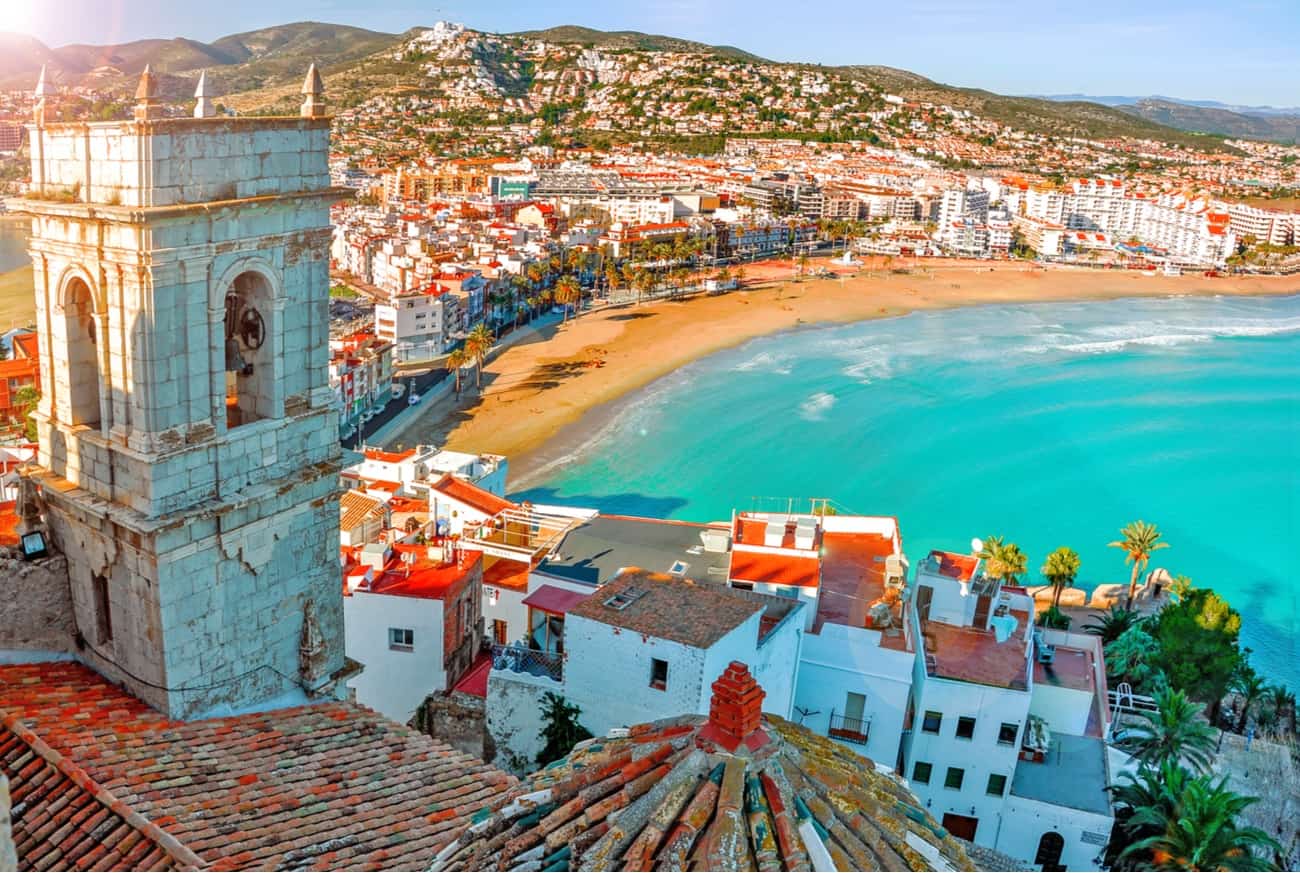 The Cost of Activities in Spain
We've covered accommodation, transportation, and food, but let's face it: you're not going to have the trip of a lifetime if you skip out on entrance fees and activities! Here's a detailed breakdown of some of the entrance fees you're likely to encounter while travelling around Spain:
Entrance to Sagrada Familia, Barcelona: €17
Entrance to Park Guell, Barcelona: €10
Entrance to the Guggenheim, Bilbao: €17
Entrance to the Great Mosque, Cordoba: €10
Entrance to Seville Cathedral: €9
Entrance to the Alhambra, Granada: €15
Participating in La Tomatina festival: €10
Don't panic, though! There are plenty of ways to keep your activity costs down while you're in Spain, and I've always had a wonderful time in the country simply walking through the cobblestone beaches, lying on the beaches, and walking in the countryside. There are tons of free museums to enter, whether you're travelling in Madrid, Barcelona, Valencia, or elsewhere. Confession: I've never paid to enter the Sagrada Familia, but I still was awed by the exterior of this iconic building.
One way to save money but still gain a taste of the local culture is to spend a couple of hours wandering around a local market. Spain has some great vintage flea markets to take a look around, and I always find myself drawn to them, even if I'm travelling on a tight budget. I'm a huge fan of El Rastro in Madrid, Alcaiceria flea market in Granada, Mercadillo del Jueves in Seville, and Plaza Redonda Market in Valencia
I love taking tours to really delve into a country, and these days, I book pretty much every activity I do through Get Your Guide, so I recommend checking them out for inspiration. They have hundreds of activities and tours available across Spain. One of the best tours I've taken with them was the three-countries-in-one-day tour (€140), where I got to check out parts of Spain, France, and Andorra, leaving from Barcelona.
These are the highest-reviewed tours you can jump on through Get Your Guide:

Don't Forget Travel Insurance!
Regular readers are already sick of hearing me ramble on about the importance of travel insurance.
Yes, if you've read any other posts on Never Ending Footsteps, you'll know that I'm a great believer in travelling with travel insurance. I've seen far too many Go Fund Me campaigns from destitute backpackers that are unexpectedly stranded in a foreign country after a scooter accident/being attacked/breaking a leg with no way of getting home or paying for their healthcare. These costs can quickly land you with a six-figure bill to pay at the end of it.
In short, if you can't afford travel insurance, you can't afford to travel.
Travel insurance will cover you if your flight is cancelled and you need to book a new one, if your luggage gets lost and you need to replace your belongings, if you suddenly get struck down by appendicitis and have to be hospitalised, or discover a family member has died and you need to get home immediately. If you fall seriously ill, your insurance will cover the costs to fly you home to receive medical treatment.
I use SafetyWing as my travel insurance provider, and recommend them for trips to Spain. Firstly, they're one of the few companies out there who will actually cover you if you contract COVID-19. On top of that, they provide worldwide coverage, don't require you to have a return ticket, and even allow you to buy coverage after you've left home. If you're on a long-term trip, you can pay monthly instead of up-front, and can cancel at any time. Finally, they're more affordable than the competition, and have a clear, easy-to-understand pricing structure, which is always appreciated.
With SafetyWing, you'll pay $1.50 a day for travel insurance.
How Much I Spent While Traveling in Spain
As I mentioned at the start of this post, I've been tracking every Euro and cent I've spent since I started travelling in 2011 and Spain is no different. I've taken a look at how much I've spent on accommodation, transportation, food, and activities over the six months I've spent in Spain and calculated the overall average, which I've shared below:
Accommodation: €33.30
Transportation: €3.22
Food: €23.80
Activities and entrance fees: €2.94
My total daily expenditure in Spain is therefore: €63! Not bad at all!
And that's it for my budget breakdown for Spain! Let me know if you have any questions in the comments below :-)
Related Articles on Travel in Spain

🧳 How to Pack for Spain: My Complete Packing List
🇪🇸 Top Things to Do in Madrid
🥘 28 Incredible Things to Do in Barcelona, Spain
⛰ Exploring Ronda, Spain's Spectacular Cliffside City
🏰 The Cost of Living in Granada, Spain
Articles on Walking the Camino de Santiago Across Spain

🚶🏼‍♀️ What's it Like to Walk the Camino Primitivo?
💶 How Much Does it Cost to Walk the Camino de Santiago?
🎒 What to Take on the Camino Primitivo: My Detailed Packing List
🤔 Reflections on Walking My First Camino
[photo of Valencia from karnavalfoto/Shutterstock; Madrid from Yulia Grigoryeva/Shutterstock