When the offer landed in my inbox, I pounced on it within seconds.
London to Dar es Salaam to Kigali and back for a mere $450. I'd recently set myself a challenge to focus on visiting more African countries so this felt like the perfect opportunity to do so. I could spend a week in Tanzania followed by a week in Rwanda, dipping my toes into both countries to receive a small taste of what they offered. I could even potentially head into the Democratic Republic of the Congo to trek with gorillas, which had been an obsession of mine for a long time.
And the flights coincided with my birthday. What better way to treat myself than with a solo trip to the beaches of Zanzibar?
Obviously I bought the flights.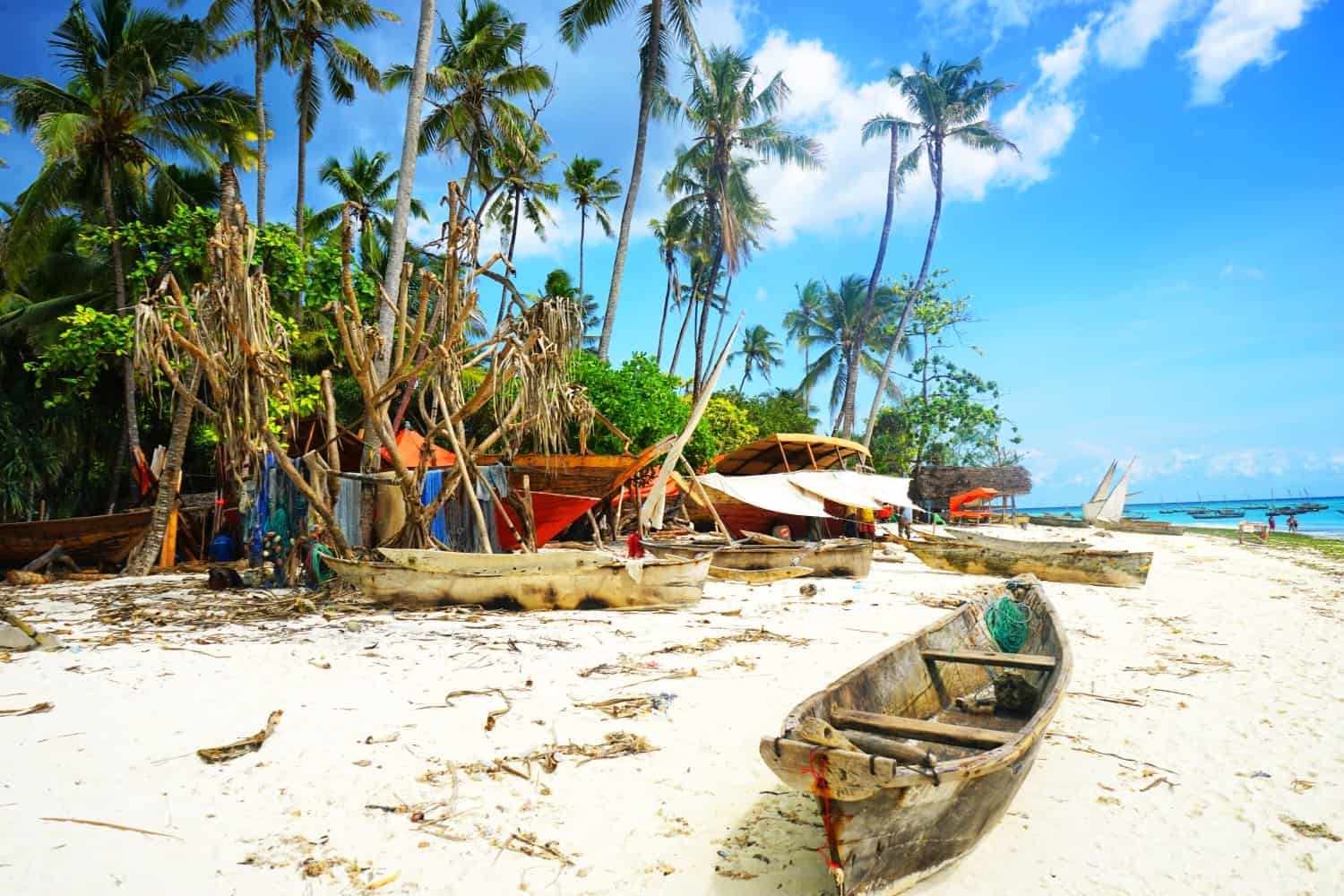 I prepared myself for an arduous adventure to get there. I'd be taking an overnight flight to Dar es Salaam from London, and flying through the night usually equals a whole lot of insomnia for me. While I lucked out with a row of three seats to myself, I knew it wouldn't make much difference to my incoming levels of fatigue.
I was nervous as I boarded the plane.
It wasn't because I was afraid of flying — I kicked that fear to the gutter several years ago — but because I was visiting somewhere new.
Excitement. Fear. Anticipation. Regret. Suspense. Unease. Curiosity.
My senses are typically on high alert whenever I travel alone, so when you throw a brand new country into the mix, I can't stop thinking about what's in store for me.
I try to picture what the country will smell like. How humid it'll be. Whether I'll make friends in my hostel. What new foods I'll get to experience. Whether this will be the best trip I've ever taken. I worry about whether I'll get scammed. Whether I'll wish I'd stayed at home.
On this flight, I was particularly nervous because to get from Dar es Salaam — the capital of Tanzania — to Zanzibar, I had under two hours to transit through the airport and my flight had already been delayed by one.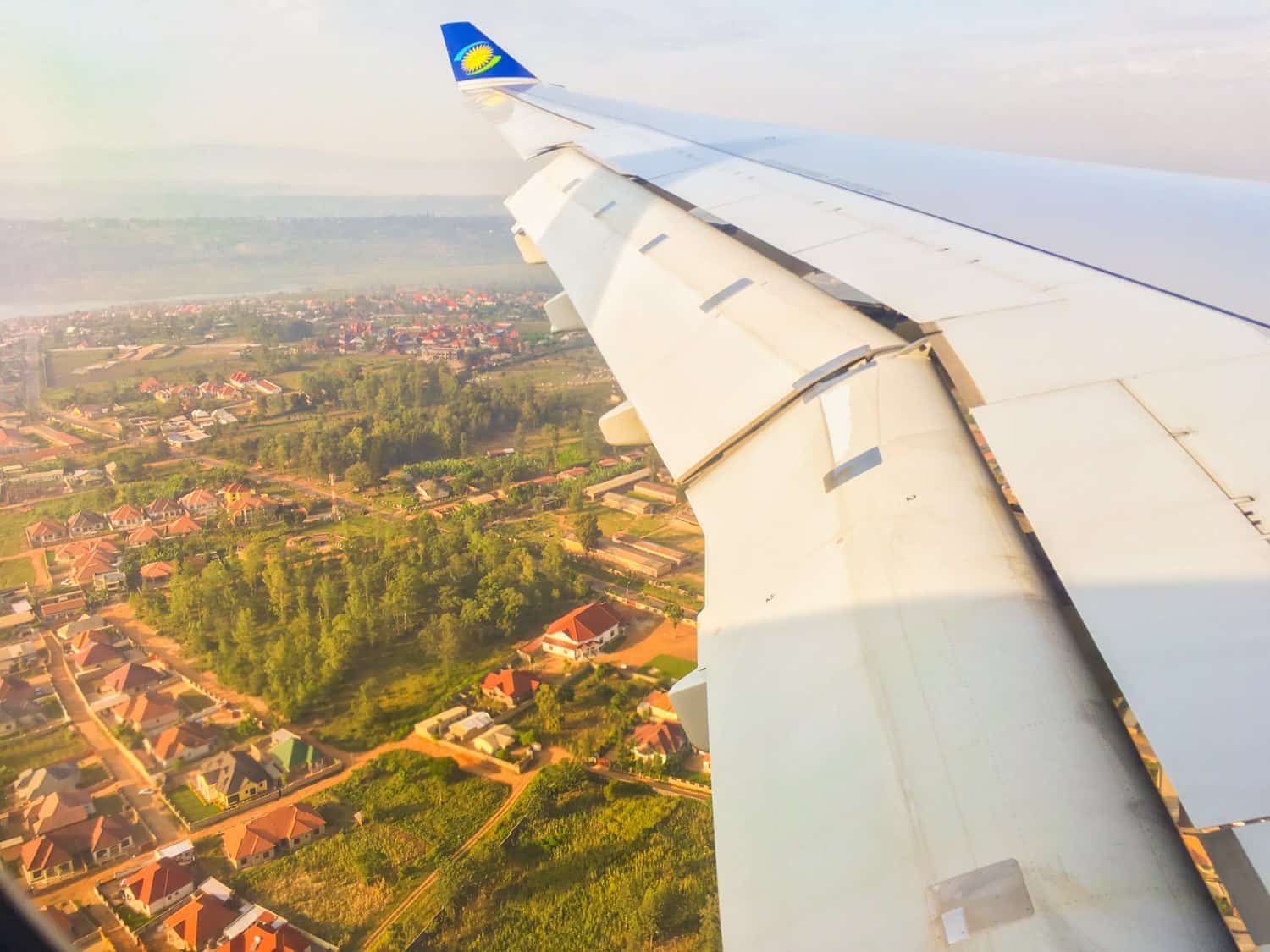 Ordinarily, I'd play my travels safe and not opt for such a tight layover in a country I suspected would be home to a chaotic airport.
In this case, though, the stakes were low.
If I missed my flight, it would end up costing me $40 to book a new one for the following day, and I'd lose out on a night at my $11-a-night hostel on Zanzibar. It was no big deal.
We touched down in the capital and I calculated I had exactly 50 minutes to get my visa, pass through immigration, then sprint the one mile to the domestic terminal.
Unfortunately, I must have looked asleep (I'm never asleep!) when cabin staff had handed out visa application forms, so I was essentially at the back of the visa queue once I made it off the plane. As passenger after passenger handed in their completed pieces of paper, I ran to the fresh stack on a table and prayed I'd remembered to pack a pen.
Reports I'd read online had described a wait of up to two hours to get their visa approved, as officials relaxed in their office and took regular breaks, so when I handed over my form with 50 pristine U.S. dollars, I felt my stomach start to sink.
The crowd thinned out over the next half an hour, until there was just a handful of people left. And as I watched more and more people collect their passport, I was willing my application to be fast-tracked.
I took off my hoodie and used it to mop the sweat from my face. It was sweltering in Dar es Salaam and there was no air conditioning in this part of the airport. I was definitely glad I'd decided to wear jeans, too.
"Lau-raaaaiiiiinnnn!" I heard a voice call out.
"Yes!"
I rushed to the desk and thanked the man profusely.
He smiled and pointed me towards immigration.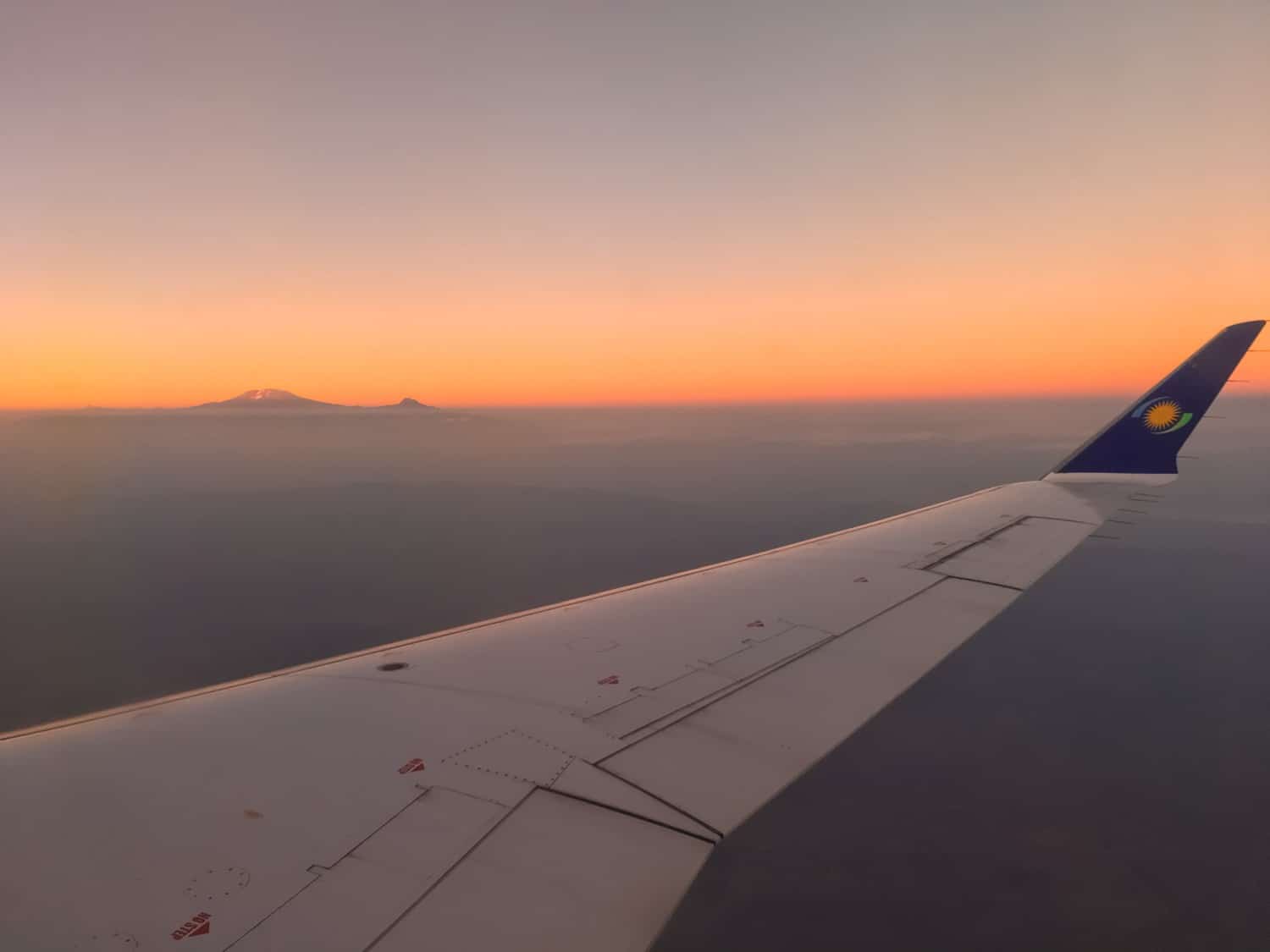 I passed through the airport and jumped into the open door of a waiting taxi.
I had originally planned to walk to the domestic terminal but with only half an hour until take-off, I made the sensible-yet-annoying decision to spend a ridiculous $10 on a three-minute cab ride.
As we drove from one car park to the next, I pulled up my flight confirmation on my phone, then tucked it between the pages of my passport. I let my shoulders relax.
I was less than hour from touching down in Stone Town, and in comparison to my previous travel experiences, it had been an easy trip.
I paid my driver, then walked inside.
I was looking for a sign for Flightlink — the cheapest and least reliable local airline in the country. While you can spend as much as $150 each way for a modern plane and access to an air-conditioned lounge, I'd decided to go for the $40 option that would see me boarding a rickety old aircraft that was 95% likely to have been delayed or cancelled.
It was potentially a foolish decision, but when dealing with a 20-minute flight, I only care about my safety rather than my comfort. Planes are safe, so I took the plunge.
I walked around the airport in an infinity-shaped loop, spotting every single airline except mine.
I sidled up to a nearby wooden counter.
"Flightlink?" I asked the man, showing him the ticket on my phone.
"Hmmm. I don't think they are here yet," he told me. "Take a seat by the gate and I'll come and get you when they arrive.
"Oh, um, okay."
He pointed towards a small room with rows of seats, and I wandered past the non-existent security to take my place by the window.
I grinned.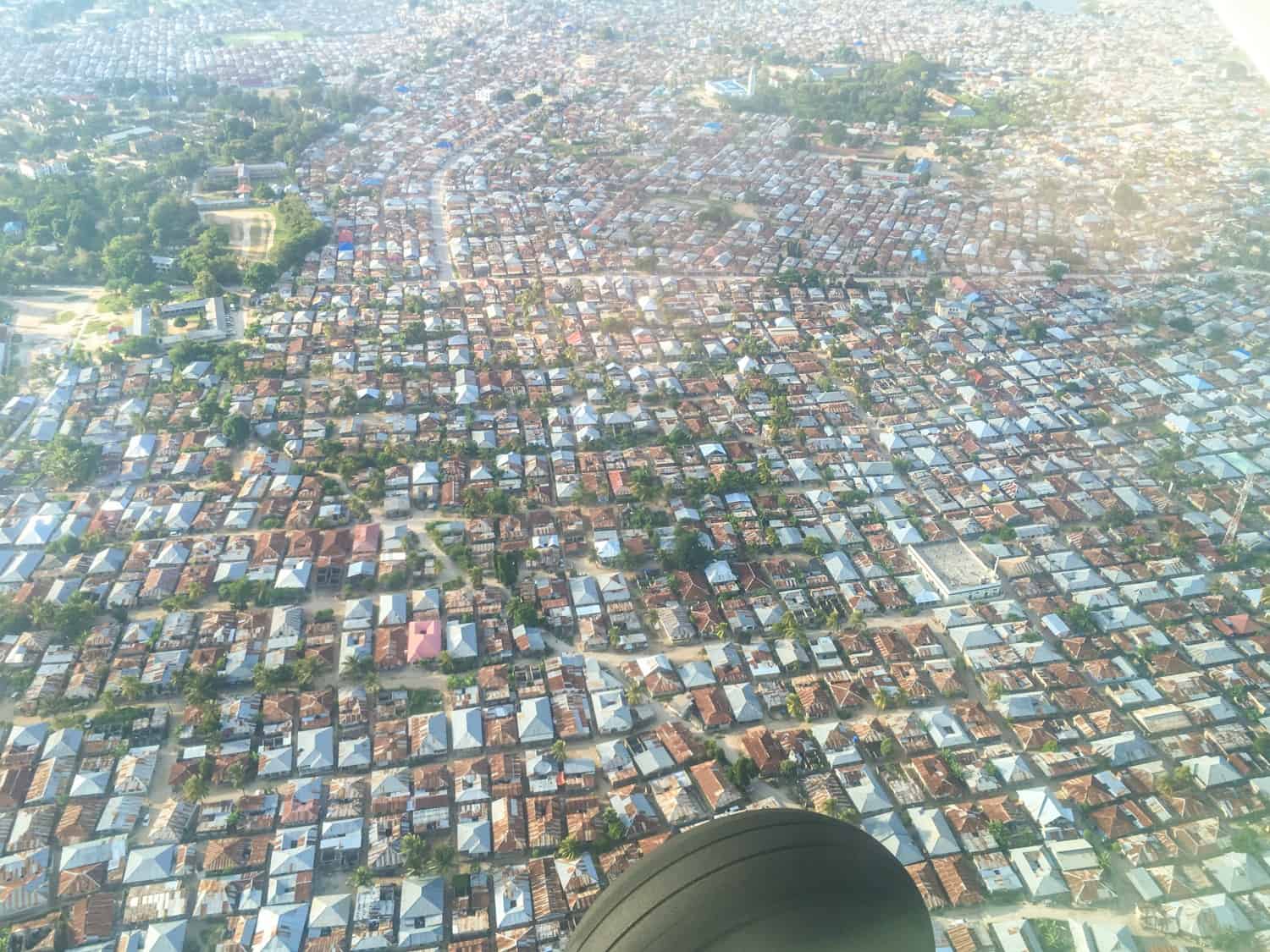 You don't realise just how stress-free flying can be until you leave the regulations of somewhere like the U.K. and travel to a country like Tanzania.
In the Philippines, airport security consisted of somebody shaking my backpack, asking me if it contained clothes, and when I said yes, letting me through.
In Tonga, flying domestically meant being trusted. No scanners, no bag checks, no questions, nothing.
In French Polynesia, airports were often a runway beside a sign telling you to wait beside the tarmac for the plane.
And, it seemed, flying domestically in Tanzania was similar.
I sat for half an hour by my gate and watched the continuous stream of people passing through the room and on to their planes. There can be as many as 20 flights an hour landing at Zanzibar's airport, so there was a new flight being called every few minutes.
I felt a tap on my shoulder and looked up.
"Lauren?"
"Yep?"
"Your ticket."
I was handed this: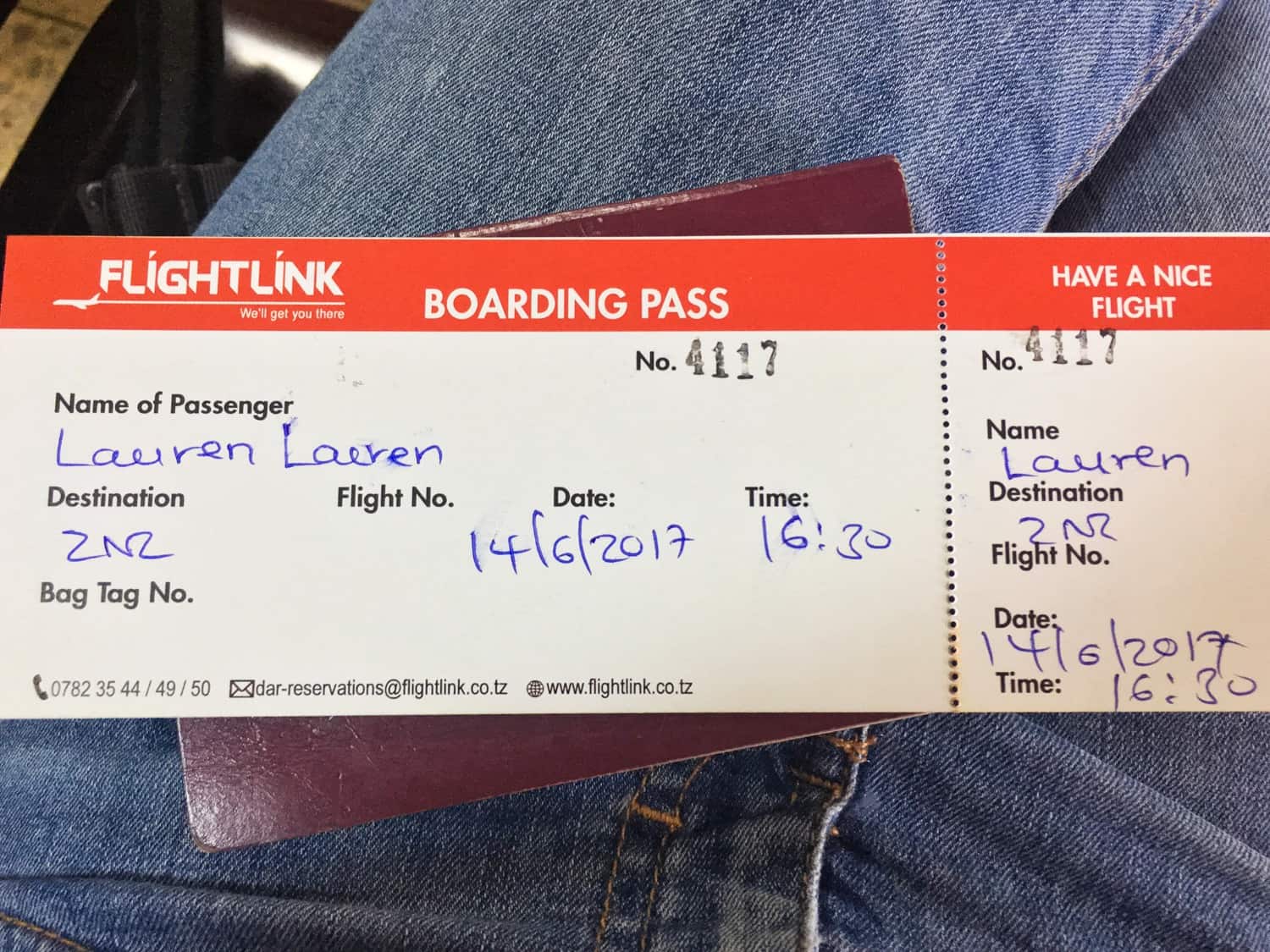 I threw my hand over my mouth to mask my giggles.
Apparently, the only information the check-in staff had had access to was my first name, so they'd filled out my boarding pass to say, "Lauren Lauren."
Lauren Lauren!
I could already tell I was going to love Tanzania, and the fun and games were only getting started.
When my flight was eventually called, I stood up and joined the queue of exactly six other people. As I showed somebody my boarding pass, they handed me an A4-sized laminated piece of paper that said "boarding pass" on it in huge letters.
It was almost more surprising than the first pass I'd received.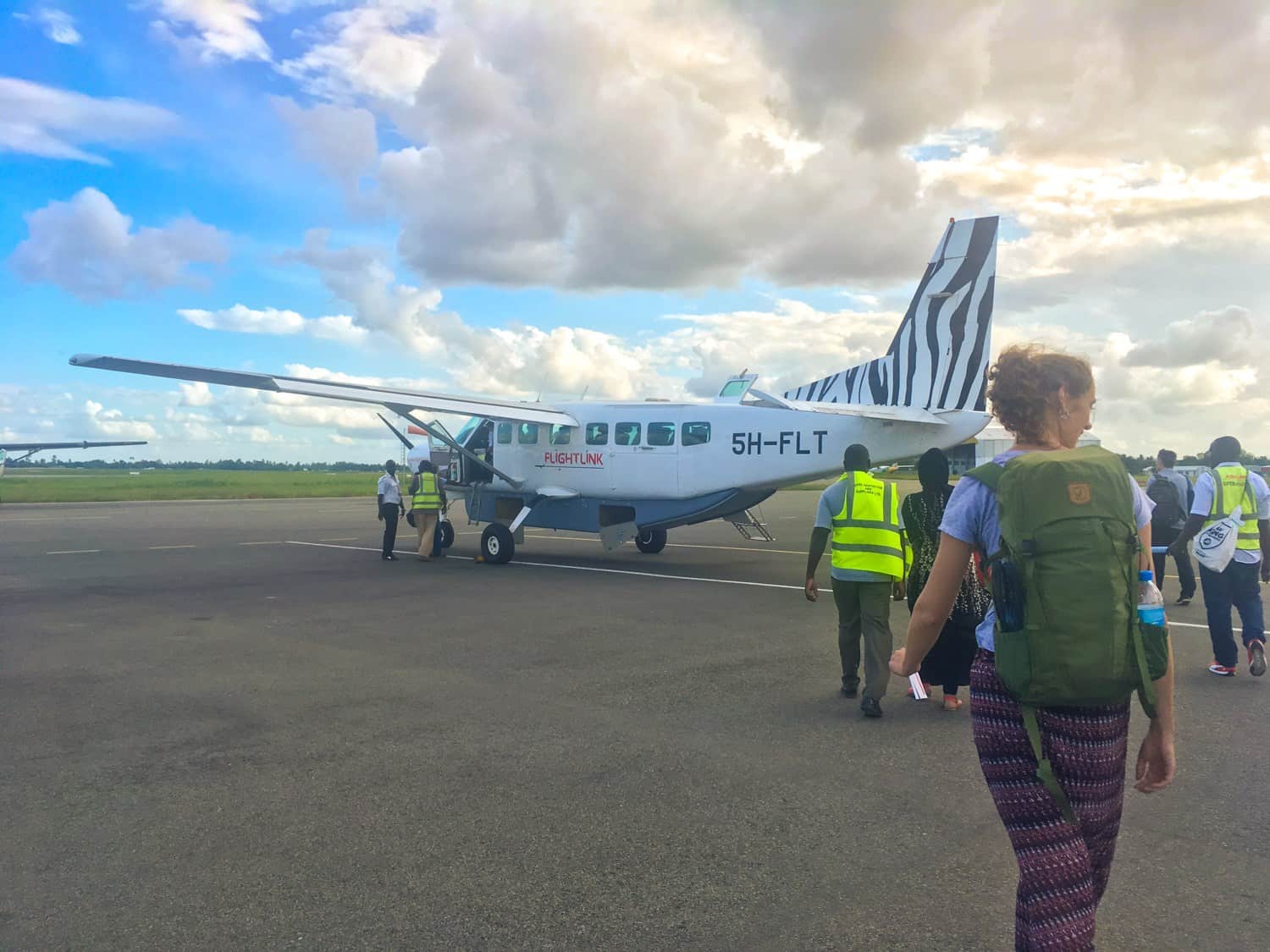 With both boarding passes now in hand, I stepped out on to the tarmac with a handful of passengers, then attempted to safely ascend the small metal ladder to get on board.
"Put your bag at the back of the plane," somebody called out to me.
I twisted 180 degrees, forgot that I was in a small aircraft, and stood upright straight into the ceiling.
BANG.
SLAM.
Splat.
I couldn't believe it: I was now lying face first on the floor of the airplane with my bag still on my back.
Classic Lauren.
Classic Lauren Lauren.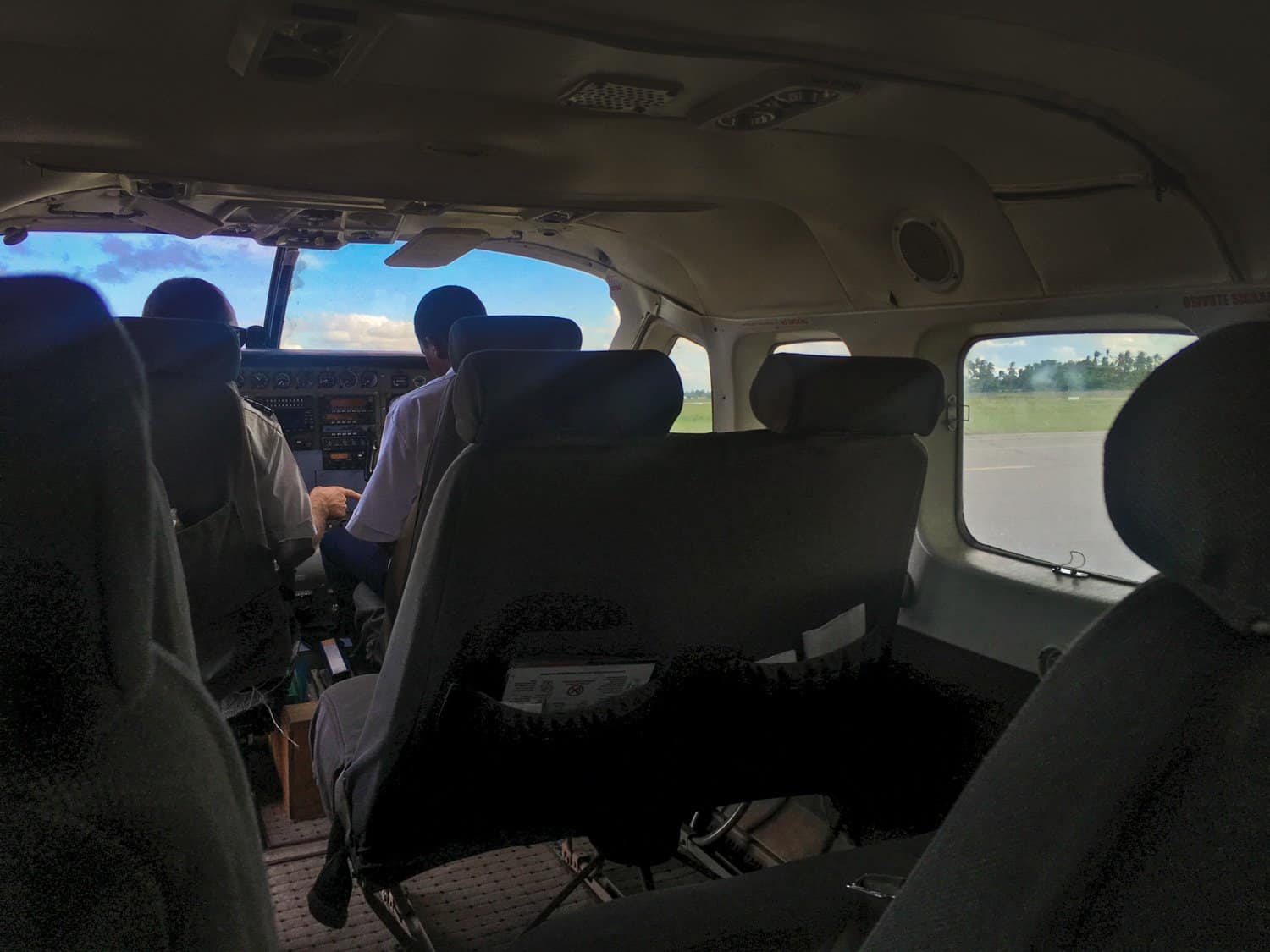 As I took my seat and hid my face from every single passenger who had witnessed my malfunction, the pilot turned around to face us.
"Hello! Welcome onboard. Short flight to Zanzibar today. Twenty minutes. Put on your seatbelts and feel free to use your phones during the flight."
I fastened my seatbelt, rubbed the pulsating bump on the top of my head, and stared out the window.
We took off quickly in an old, battered, and rattling plane, and I focused my attention not on that, but on the disappearing city and the fast-appearing coastline. I watched at tiny islands with pristine beaches swept into view then quickly vanished once more, as we barely reached 10,000 feet in our tiny propeller plane.
Zanzibar!
I was finally here.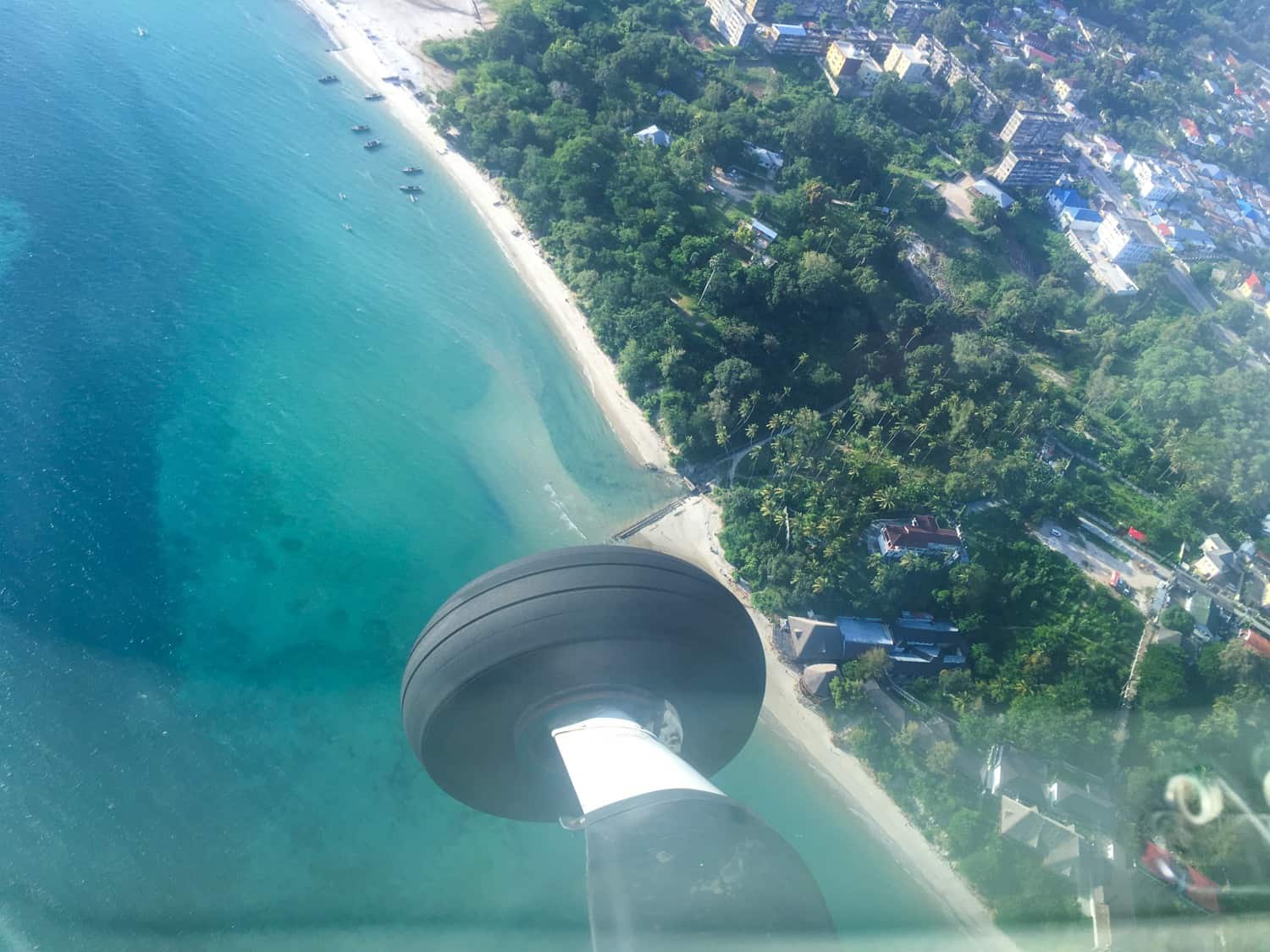 I checked in to my hostel an hour later, exhausted.
I had left London at 9:30 the previous night, and as I clambered up on to my bed, I'd been travelling for almost 24 hours.
I opened my laptop to send my family an "I'm safe!" message, as I always do, but somehow managed to fall asleep before my computer had even turned on.
Or, at least, that's the only explanation I have for why I awoke the following morning with my cheek pressed firmly against my keyboard.
It was time to start exploring Zanzibar.
Related Articles on Tanzania

💰 How Much Does it Cost to Travel in Tanzania?
🇹🇿 How to Visit Zanzibar on a Budget
🏖 22 Incredible Things to Do in Zanzibar, Tanzania
🌶 Why You Must Take a Spice Tour in Zanzibar