Long-time readers will already know that I have a love-hate relationship with Morocco.
I adore this country. I truly do. Every time I sit down and attempt to come up with a list of my favourite countries, I find myself just itching to place it in my top 10.
Yes, this is a magnificent country that has so much to offer up to its visitors, from bustling souks to desert wonderlands. The night I spent camping in the Sahara Desert remains one of my favourite travel experiences to date. The blue town of Chefchaouen is still one of the most photogenic places I've visited. There's nowhere in the world as exciting as Marrakech. Morocco is home to excellent surfing, hiking, and shopping, and the food is phenomenal. It's pretty damn inexpensive, too.
And yet, it's a challenging destination. It's a frustrating destination. It can be aggressive and hard, and the high levels of harassment will make you want to scream at times. Local men followed me down alleyways, then turned aggressive when I refused to interact. Travelling solo through Morocco as a woman felt like a nightmare at times.
And yet, the good far outweighed the bad, because why else would I still consider Morocco one of my favourite countries in the world?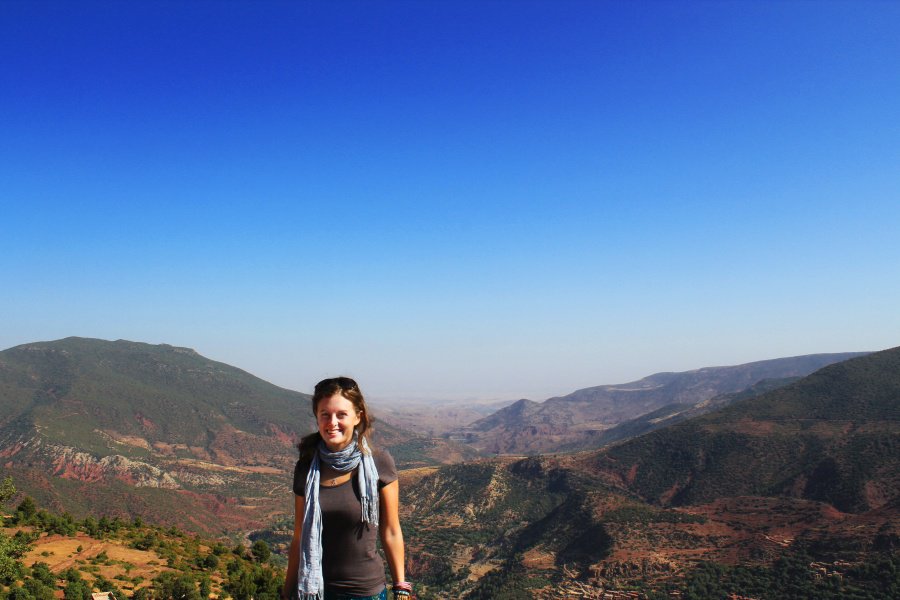 So let's just say that this isn't a great destination for women on their first solo adventure overseas. But if you do have some travel experience under your belt, there's so much beauty waiting to be discovered.
Today, Morocco remains one of the most accessible parts of Africa, divided only by the Strait of Gibraltar from Europe — in fact, it takes less than hour to reach Tangier by boat from Spain. While aspects of its French colonial past are visible throughout the major destinations, the nation is thoroughly Islamic in character. Its vibrant, chaotic atmosphere has long held an allure for artists and bohemians, from Yves Saint Laurent to Jimi Hendrix to… famed travel blogger Lauren Juliff?
In my eyes, two weeks is the perfect amount of time to spend in the country — it gives you just enough time to experience all the highlights, then whisks you back home juuust before the harassment starts to crawl under your skin.
Here's a quick breakdown of how to spend two weeks in Morocco:
Any Morocco itinerary has to start within the colourful chaos of Marrakech (3 nights), followed by a trip to Essaouira (2 nights) for some fresh sea air (and even fresher seafood). I'd then recommend returning to Marrakech (1 night) as a convenient gateway to the Sahara Desert (2 nights), before heading north to Fes (3 nights), followed by Chefchaouen (2 nights), and Casablanca (1 night).
And now it's time to look at those destinations in more depth. Let's jump in.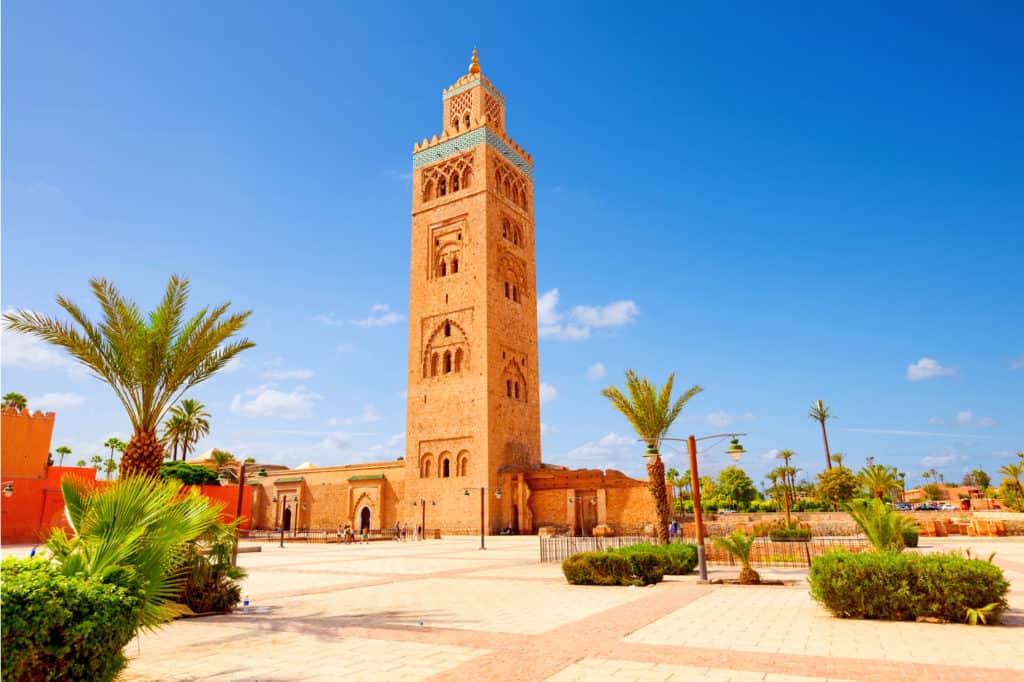 Day One: Jumping Headfirst Into Marrakech's Chaos
Marrakech is an absolutely tornado of humanity that's going to leave you feeling both energised and terrified. Or, at least, the latter was how I felt during my first visit to Morocco, back when I was a timid 23 year old. Fortunately, I have a lot more travel experience under my belt these days, so I tend to seek out that sensation of feeling so far away from home.
To really get a feel for the former imperial city, the first place you'll want to head to is Marrakech's medina, filled with terracotta-red alleyways that seemingly branch off one another at random. Around each corner awaits a fresh surprise, some of them maybe even pleasant.
Now, even if you consider yourself the greatest of navigators, you're probably going struggle to find your way around what may be the most difficult maze on the planet. And that's exactly why I'd recommend hiring a guide to take you around. A guide will show you the different areas of the medina, while keeping the scammers and hasslers at bay; making sure your introduction to Morocco is calm and enjoyable.
I booked a guide through my accommodation, but if you want to book online and in advance, this half-day private tour, setting off in the afternoon from Café de France, just off the city's main square, Djemaa El Fna. This hive of activity is great for people-watching at both day and night for its performers, street stalls, and general snapshots of daily life — just bear in mind that almost every interaction comes with a price tag.
Not far from the open-air plaza is Koutoubia Mosque with its soaring minaret, the tallest structure in Marrakech. Only Muslims are allowed inside, so you may have to content yourself with craning your neck up in awe at this classic of Moorish architecture, which dates back to the 12th century.
Continue your voyage through Moroccan history at the Saadian Tombs, an imperial necropolis of the former royal family, built from gleaming-white Carrara marble. Nearby is the Bahia Palace, a relatively recent (19th century) addition to Marrakech but worth visiting for the supreme luxury of its interiors, from the sprawling mosaics of the grand courtyard to the intricate zouak-style woodwork of the chambers.
If you do take the tour, it finishes back at Djemaa El Fna. I recommend wandering into one of the many café terraces that overlook the square and watching the joyful madness from the comfort of this perch while sipping a glass of sweet mint tea.
Where to stay in Marrakech: When in Morocco… stay in a riad! There are tons of options, but on my most recent visit, I opted for the Riad le Saadien, which is in a great location in the kasbah, just a short walk from the major sites. I paid about $95 a night, which included a tasty breakfast that set us up for a full day of exploring. The staff were wonderful and there's also lovely little terrace where we enjoyed some sun in between rushing around the city.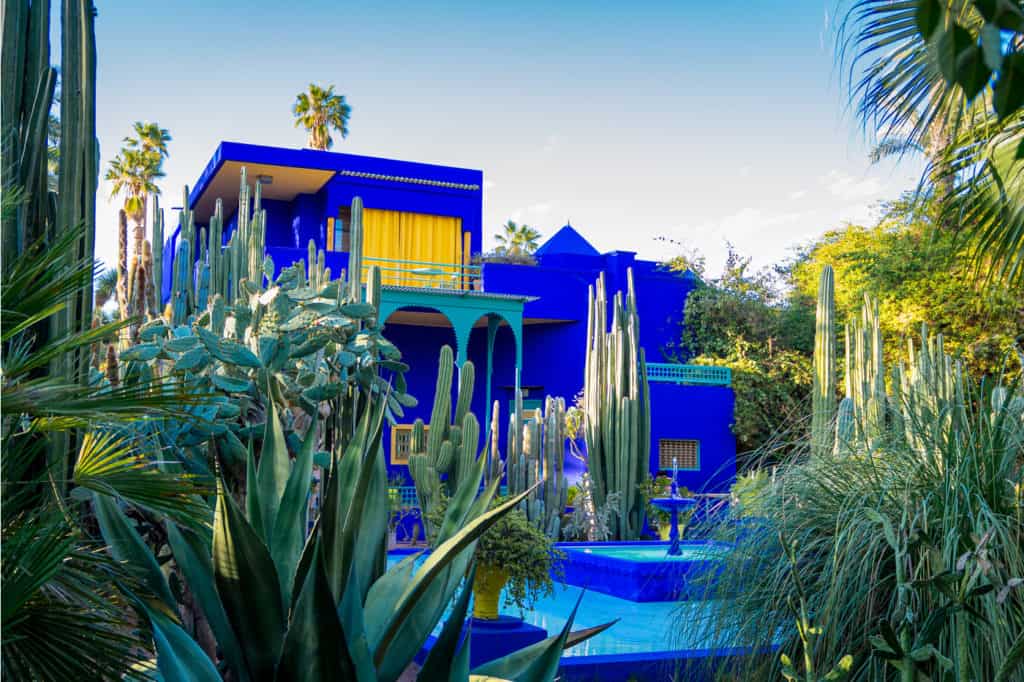 Day Two: More Marrakech!
If you didn't get a chance to wander through some of the city's souks in between your historical meanderings on day one, take some time to do that in the morning. Hopefully, you'll have a basic sense of direction at this point, so you can more confidently wander through the sacks of spices, gilded kitchenware, and earthen pottery, safe in the knowledge you can retrace your steps if it all gets too much. If you do get lost, it's best to ask in shops for help with directions, as local kids in the street will often want a few dirhams for any help they proffer.
You might have read lots about Souk Semmarine before visiting, and while it is the biggest market in the medina, you get just as much of a local flavor from any of the others you inevitably stumble upon as you wander through the alleyways, so don't feel obliged to go out of your way.
In my opinion, an unmissable Marrakech sight is the Ben Yousseff Madrasa, a former place of Qur'anic learning with elaborate stucco work — much more beautifully decorated than any school I ever attended!
And the last must-see spot in Marrakech is the Jardin Majorelle. Yes, it's touristy. Yes, every person who visits Morocco has a photo of it on their Instagram. Yes, it's still totally worth it. Built by French painter Jacques Majorelle, the ultramarine-blue house is like a sapphire jewel set in a garden of giant succulents. Remember to get tickets online beforehand unless you want to queue in the sun
Jardin Majorelle is famously associated with Yves Saint Laurent, who lived in it with his partner for many years. In tribute to this association, there's a recently opened museum dedicated to the fashion icon just around the corner to round off the day, filled with details about the designer's inspirations and iconic creations.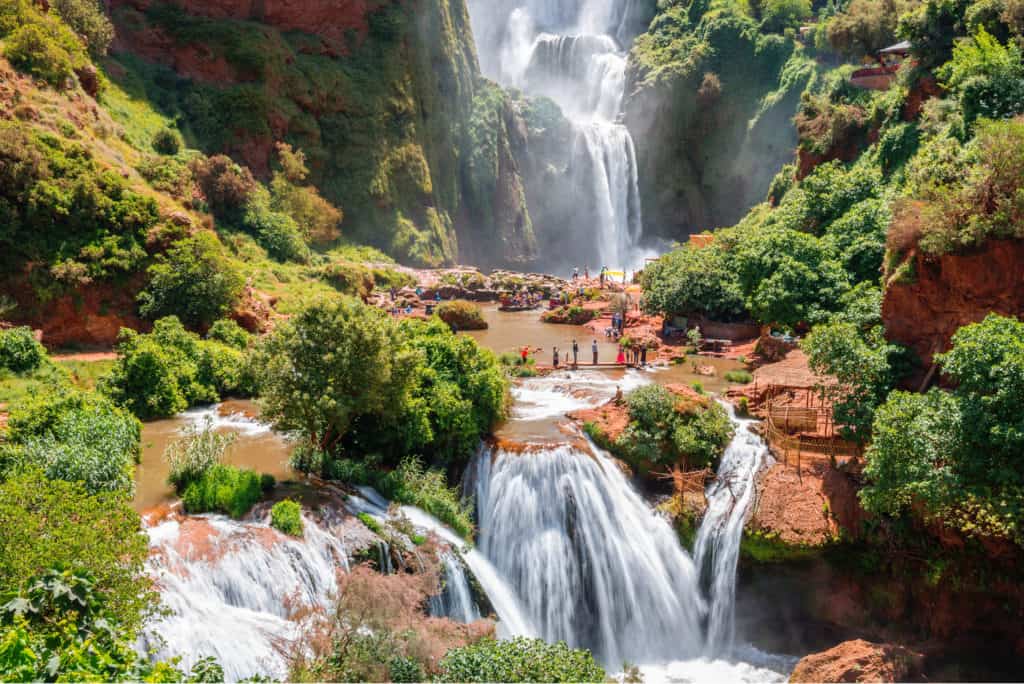 Day Three: Time for a Day Trip
After two days in Marrakech, you'll probably be in need of a break, so head out of town on a daytrip into the Atlas Mountains. One of the highlights of my time in the country was the Ouzoud Waterfalls, easily reachable through guided tours like this one. It is a good three hours each way and the route is, for the most part, along rather uninspiring roads, so bring along something to entertain yourself with.
Once you get to the falls, it's a reasonably easy walk down to the cliffs — the walk back up may be more of a struggle, especially if you gorge yourself (as I did) on tagine and chicken brochettes! Our guide was super informative about the geological history of the falls, which made for a nice intellectual complement to the physical hiking. You can also take a boat ride to the foot of the gushing water for a light, refreshing spritz.
While the Ouzoud Waterfalls are a heavily visited site, they're also very picturesque. Plus, you can hide from hang out with the inquisitive local monkeys whenever you need a break from the walking.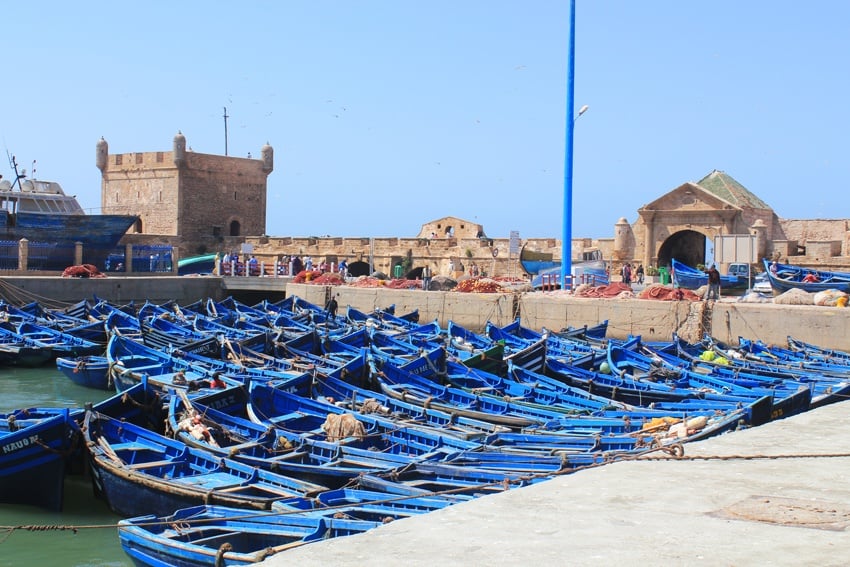 Day Four: Head to Essaouira
Three hours away by bus or two and a half by car, Essaouira is a completely different experience from Marrakech. This relaxing beach haven is all about the chilled vibes.
I recommend spending your first day just decompressing on the wide-open sandy expanses, enjoying a dip in the cooling sea. Even in winter, the temperature is pretty mild, though bear in mind the city's reputation for windiness –- one of the reasons kitesurfing and other water sports are popular with visitors.
In the evening, retreat to one of the many rooftop terraces and watch the sunset.
Where to stay in Essaouira: Did I already mention that the main reason to visit Essaouira is the beach? As such, there's really no point staying anywhere that isn't walking distance to the sea. I stayed at the $110-dollar-a-night Villa Quieta, which had bright, clean rooms and a lovely pool, in addition to being just a few steps from the beach. The medina is a bit further way, about half an hour, but it is readily reachable via a nice stroll along the coast.
Day Five
Now that you're suitably mellowed out, it's time to head into the old town. Essaouira's medina is less impressive than Marrakech's, but that's a bonus, as it means it's also a lot more navigable. Another plus is that the people wandering the streets tend to be friendlier and the vendors less pushy.
If you want to do a bit of shopping, this is actually where I would recommend you do it, as the souks still have plenty of fun souvenirs, as well as spices and other foodstuffs. In particular, the fresh bread sold from street stalls or holes in the wall is heavenly — though that's true throughout Morocco.
There's also a hint of the country's colonial past in the form of Essaouira's walls, which encircle the old town. Once upon a time, the city was Morocco's most important commercial port. While that's no longer the case, it remains an active fishing harbor, where the bright blue boats set out daily to bring in netfuls of fish.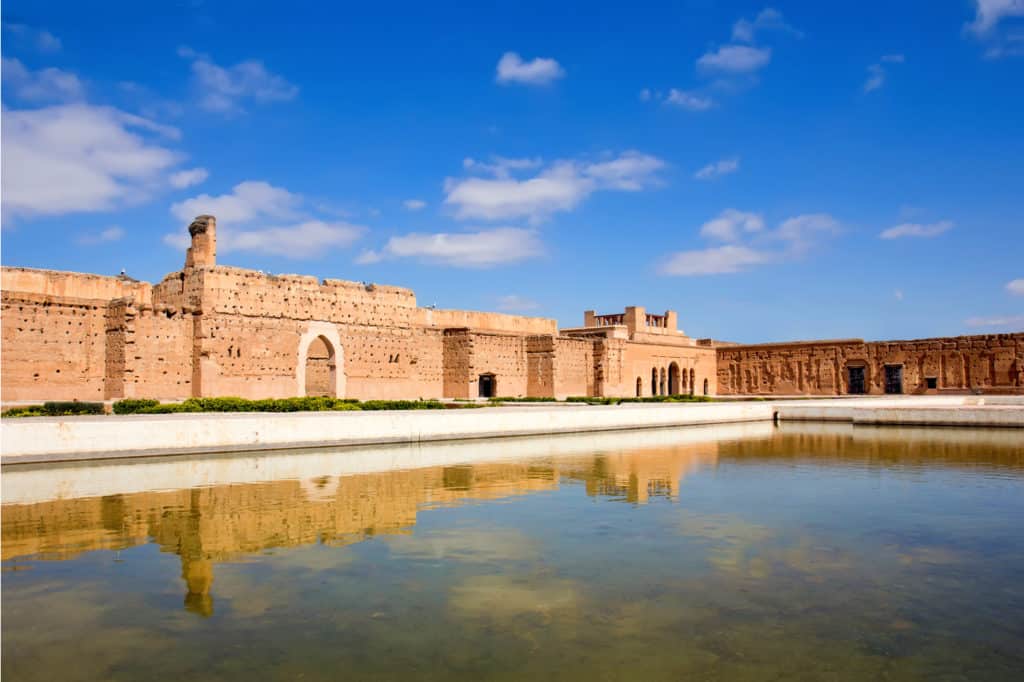 Day Six: The Boring Day
For all Essaouira's pros, one of the cons is it doesn't have the best transport links to other cities, which is why you'll have to return to Marrakech for a day, before continuing on your merry way.
Second time around, you can go and see any of the things you couldn't fit in on day one or two. Alternatively, the Badi Palace ruins are a romantically melancholic place to see for history buffs, while Le Jardin Secret will appeal most to the horticulturalists.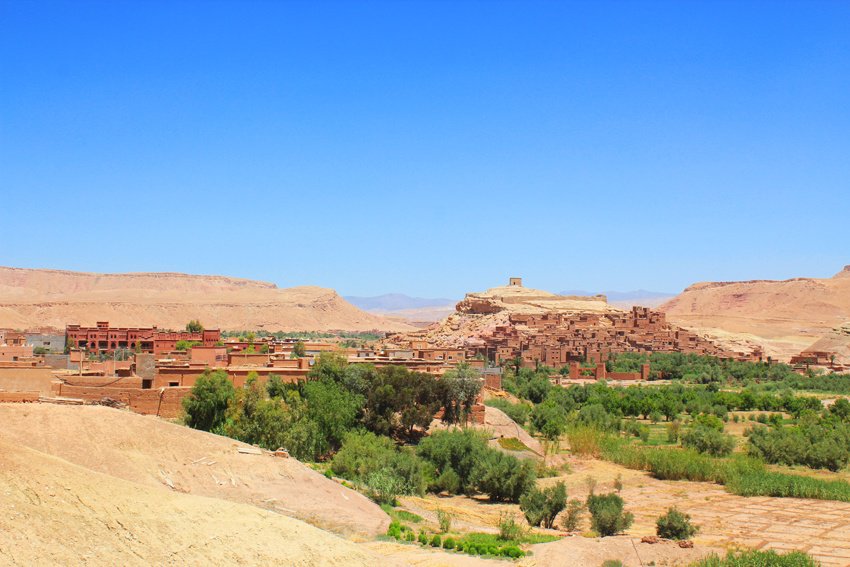 Day Seven: Hit the Sands
If you're in Morocco for two weeks, you need to take a trip into the Sahara. I signed up for this desert tour from Marrakech to Fes, which is a three-day adventure that involves a lot of driving –- but also a lot of incredible sights that I never would have been able to see otherwise.
A trip to the Sahara Desert is, unsurprisingly, very popular, so these tours can book out. Because of this, I recommend booking yours as soon as you decide to travel to Morocco. You can check availability for my Sahara tour below:
The first stop is Ait Ben Haddou, an enchanting mudbrick example of a ksar (fortified village) that was made a UNESCO World Heritage Site in 1987. Now abandoned, once upon a time it was a key stopping point for trade caravans crossing the sands. Some people visit this spot as a day trip from Marrakech, which is perfectly feasible, but it's a very long way to go as a return journey – three and a half hours each way.
There's not much to see in the rather dull Ouarzazate other than crumbling film sets, but it is a necessary stop off as the gateway to the Sahara. The first place you'll come upon is the Dades Gorge, a pretty valley carved out of the mountains by the local wadi. There are a dizzying number of switchbacks, which are very photogenic from above but aren't ideal for those who are prone to being carsick (ahem).
Day Eight: It's Camel Time!
In a similar vein to Dades, but with its own unique charm, Todgha Gorge is a deep canyon that some call Morocco's answer to the Grand Canyon, its walls towering over you as you wander down its length. This is reached via the real-life oasis of Tinghir, complete with the obligatory palms and encompassed by villages made from clay.
Despite these splendors, you'll be fairly tired of being in a vehicle by this point, so it's a relief to exchange the wheels for camels, which you'll do once you reach Merzouga. If you've never ridden an animal for an extended period of time before, prepare for a bit of saddle soreness the next day. In the moment, however, it's a rather exhilarating feeling, as you imagine yourself traveling back centuries to the times when nomadism was widespread in these parts.
Journeying across the dunes, the horizon shimmering in the heat, put me in mind of Lawrence of Arabia – part of which, incidentally, was actually filmed around this region. It's only fitting, therefore, that you end the day bedding down in a tent atop the shifting sands. Make sure you stay awake for long enough to see the Milky Way twinkling over your head — it was one of the coolest sights of my life!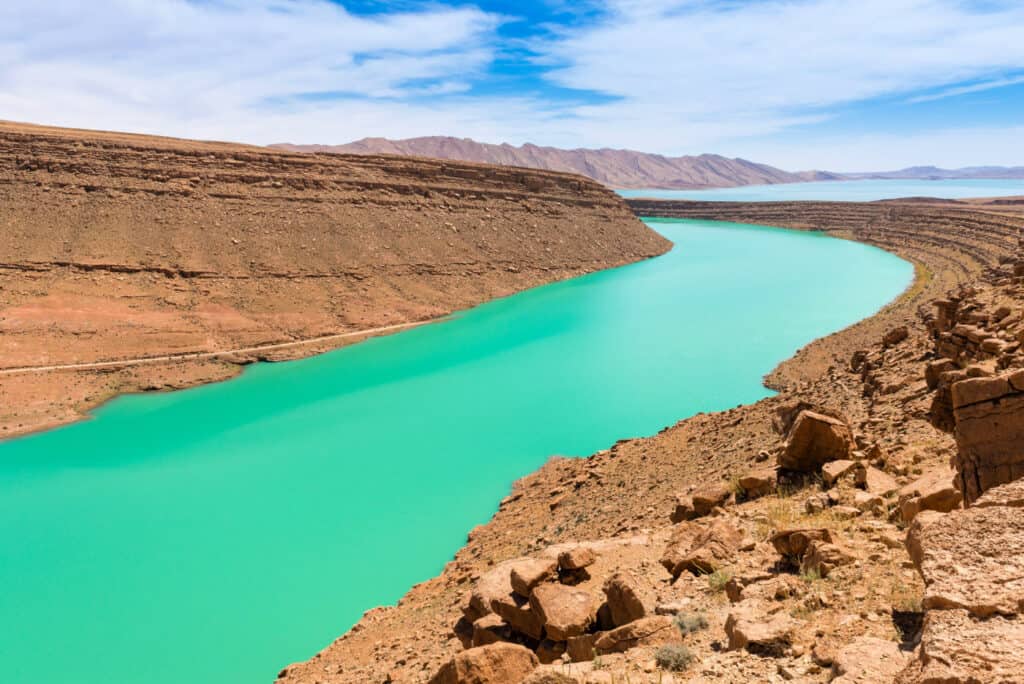 Day Nine: Venture Over to Fes
Rise with the sun to see it swim into existence over the dunes, before setting off once more in the car, following the Ziz River and rushing past the various desert ksours, until you reach Midelt, a modern town that's principal recommendation is that it's a convenient stopping place.
While you might be feeling worn out by this point, make sure you're awake for the final stretch of your Sahara trip, which entails a rather bizarre transformation. En route, the landscape morphs from granules of sand and dusty cliffs into snow-capped mountains bristling with trees, as you pass some of the higher portions of the Atlas Mountains.
Before the day ends, you'll have left behind the wilderness and entered Morocco's second largest city, Fes.
Where to stay in Fes: There are lots of welcoming riads to choose from, but I settled on Riad Lune et Soleil. Literally meaning 'garden of the moon and sun,' at its heart is a leafy courtyard that's a calming place to sit down for a refreshing drink after a hard day's exploring. The rooms are filled with Moroccan cultural trinkets that give it a cosy, homely feel. The attentive staff are very helpful, and the location is perfect for visiting the major sights.
Day Ten: More Madness
As with Marrakech, the medina in Fes is a maze, but the walls are a yellowy cream instead of a burnt sienna -– hence why Fes is known as the white city while Marrakech is known as the red city.
I avoided Fes on my first visit to Morocco as I'd heard nightmare stories from other travellers, but on my recent trip, I discovered it's not as bad as it's made out to be. In fact, I'd say it's no more chaotic or scarier than Marrakech. Plus, it's home to sights that you can't see anywhere else in the country, so is well-worth visiting.
Fes is well regarded for its leather making, especially the Chouara tanneries, which can be seen from the terraces of the surrounding leather shops. Personally, I found the vile smells more memorable than the intriguing sights of the craftsmen at work.
More refined –- and some of my favorite parts of Morocco -– are the Bou Inania and el-Attarine madrasas, both built in the 14th century and both featuring a gorgeous combination of zellij tilework, carved wooden lattices, and geometric-patterned stucco. From el-Attarine, you can also gaze down upon the celadon-hued roofs of the neighboring Qaraouiyine Mosque (since non-Muslims cannot go inside, the bird's-eye view is the closest you can get to the 9th-century monument).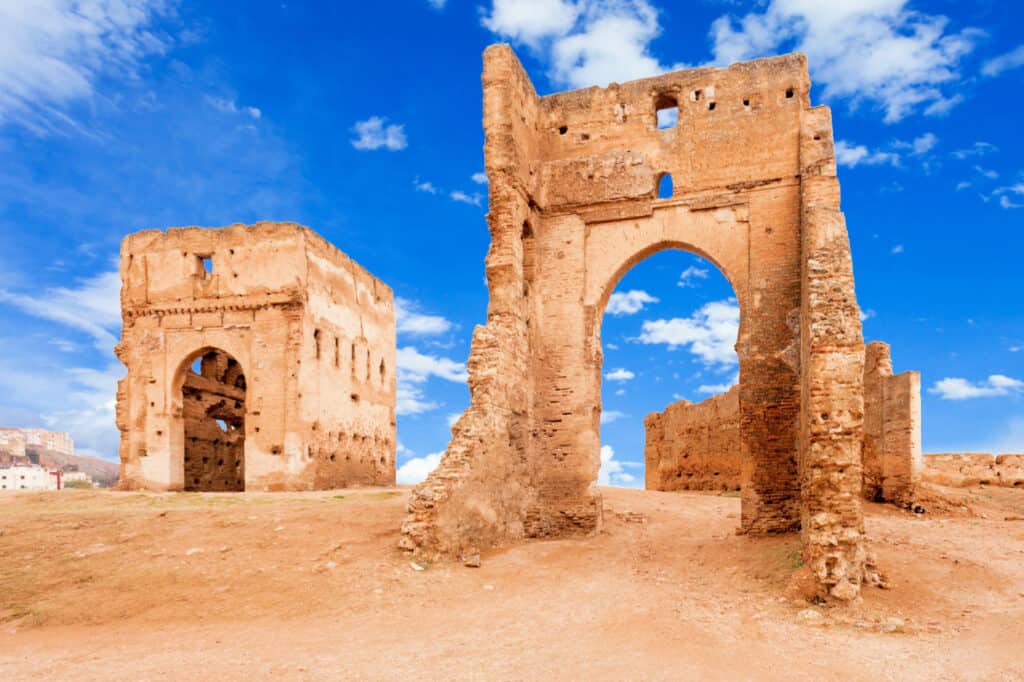 Day Eleven: The Merenid Tombs
For day two in Fes, venture out of the city walls and climb up to the Merenid Tombs. From amidst these atmospheric 12th-century ruins, you get a panoramic view of the city.
On the way to and from the tombs, you'll journey through Bab Bou Jeloud. Though a relatively new feature of the fortifications, built in the early 20th century, the city gate is nevertheless an impressive structure, tiled with bright geometric mosaics.
You might have noticed that I delicately avoided mentioning places to eat in Marrakech. That's because I've rarely had a meal there that was better than mediocre. There are places that have charming décor or nice views, but on the whole, the city is as notorious for its terrible food as it is for its extraordinary medina.
Fes, on the other hand, has some of the nation's best food, from the glamourous environs of Dar Roumana with its Franco-Moroccan dishes made from local market ingredients, to the informality of the Ruined Garden with its more traditional eats, including a rich vegetarian tagine. I haven't yet had the chance to pop into Café Clock, famed for its camel burger, but it came highly recommended from friends I met in town.
Day Twelve: Beautiful Chefchaouen
Chefchaouen is the least visited destination on my Morocco itinerary. That's mostly because if you've only got a week, Marrakech and Fes are the destinations to head to. If you have the luxury of a longer getaway or you're a return visitor, however, Chefchaouen is an excellent addendum. It may not be quite as undiscovered as some people like to claim, largely because the cobalt-blue-washed walls of the medina are Instagram-famous, but it's still far calmer than the major cities on the tourist track.
Getting to Chefchaouen is a bit of a mission: over four hours by public bus and just under that if you rent a private car from Fes. Once you arrive, you'll probably want to collapse into your room, or at most take a leisurely walk around the medina, sticking your nose into the souks and generally just soaking up the street life without having to compete with quite so many fellow travelers. The walls and gardens of the kasbah are worth a quick peek as you meander about.
Aside from the blue alleyways, the city is famous for marijuana, as the surrounding region is where a lot of the drug is grown. It should be noted that it is technically illegal to smoke the herb aside from for medical purposes, but that won't stop sellers from offering to sell you a joint or two if you seem amenable.
For a short, easy first-day hike, wend your way up to the Spanish Mosque, an Andalusian-style edifice that no longer functions as a religious building but is located above the city. There are great views of the city and surrounding area from this point, whether you venture up during the day or to watch the sun set.
Where to stay in Chefchaouen: If you're planning to make the trek out to this little gem, it's important to remember that there is far less accommodation available than elsewhere – and some of that is only open seasonally. Having said that, I loved my stay at the Casa Sabile ($65 per night), which has modestly sized rooms but a great location with mountain views (make sure you specify when booking, as there are rooms that don't look out on the scenery).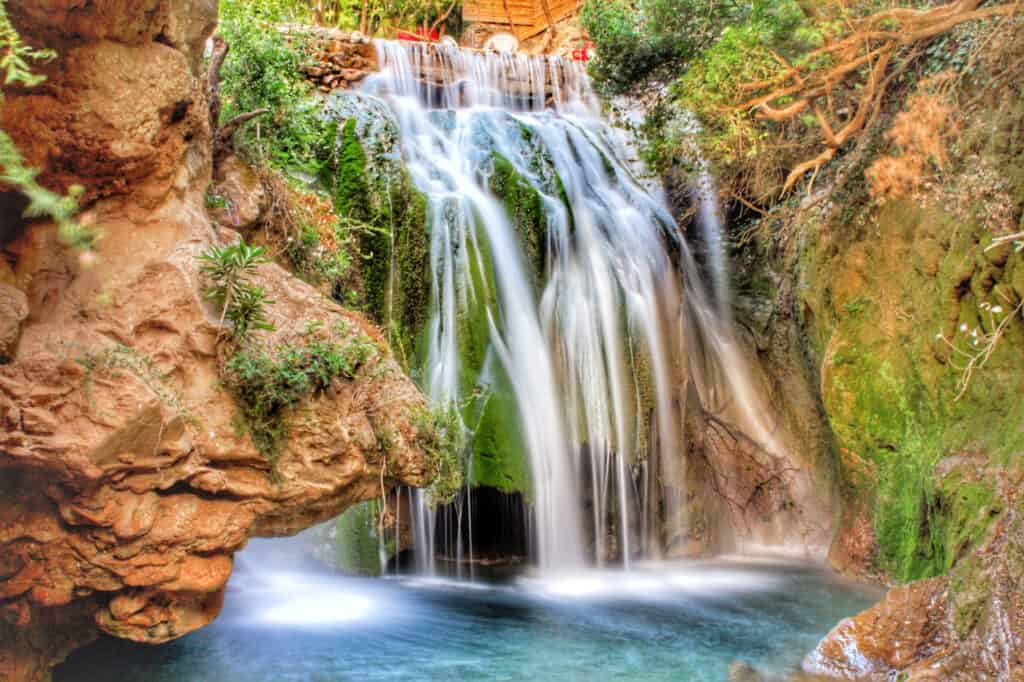 Day Thirteen: Waterfall It Up!
Chefchaouen is a great place to visit if you like to hike, as the city is located at the foothills of the Rif Mountains. One of the most readily accessible options is the Cascades d'Akchour, a series of waterfalls that can be enjoyed as part of a two-to-six-hour hike, depending how adventurous you want to be.
Getting there is a reasonable 45-minute drive, either via private car or shared taxi. Once you arrive, the main points of interest are the Grande Cascade (big waterfall), the Petite Cascade (little waterfall) and le Pont de Dieu (the God's Bridge), a natural rock formation that crosses a chasm.
It's entirely possible to navigate the well-trodden routes yourself, but there are guides on hand to help as well. The easiest path is to the lower waterfall, which is about a two-hour round trip from the starting point near the local dam, but you can manage to visit both the bigger waterfall and the bridge if you give yourself a full day. Note that these trails are more difficult, but great fun if you're like me and love a bit of scrambling!
The more relaxed option, however, is to do the relatively short walk to the lower falls, swim in some crystal-clear pools and enjoy a simple meal at one of the local eateries.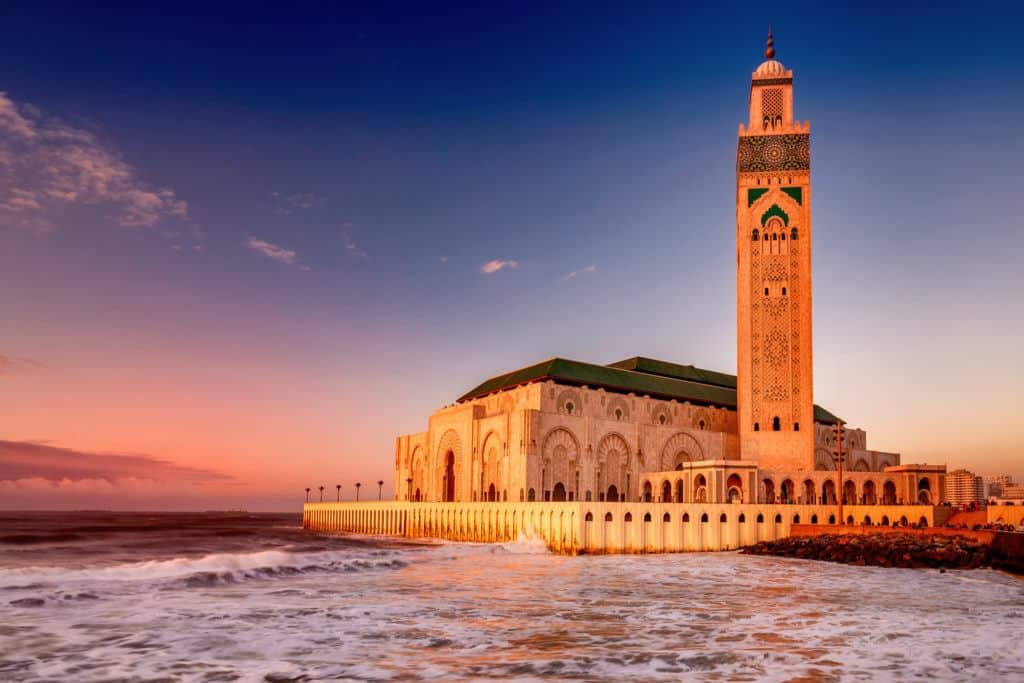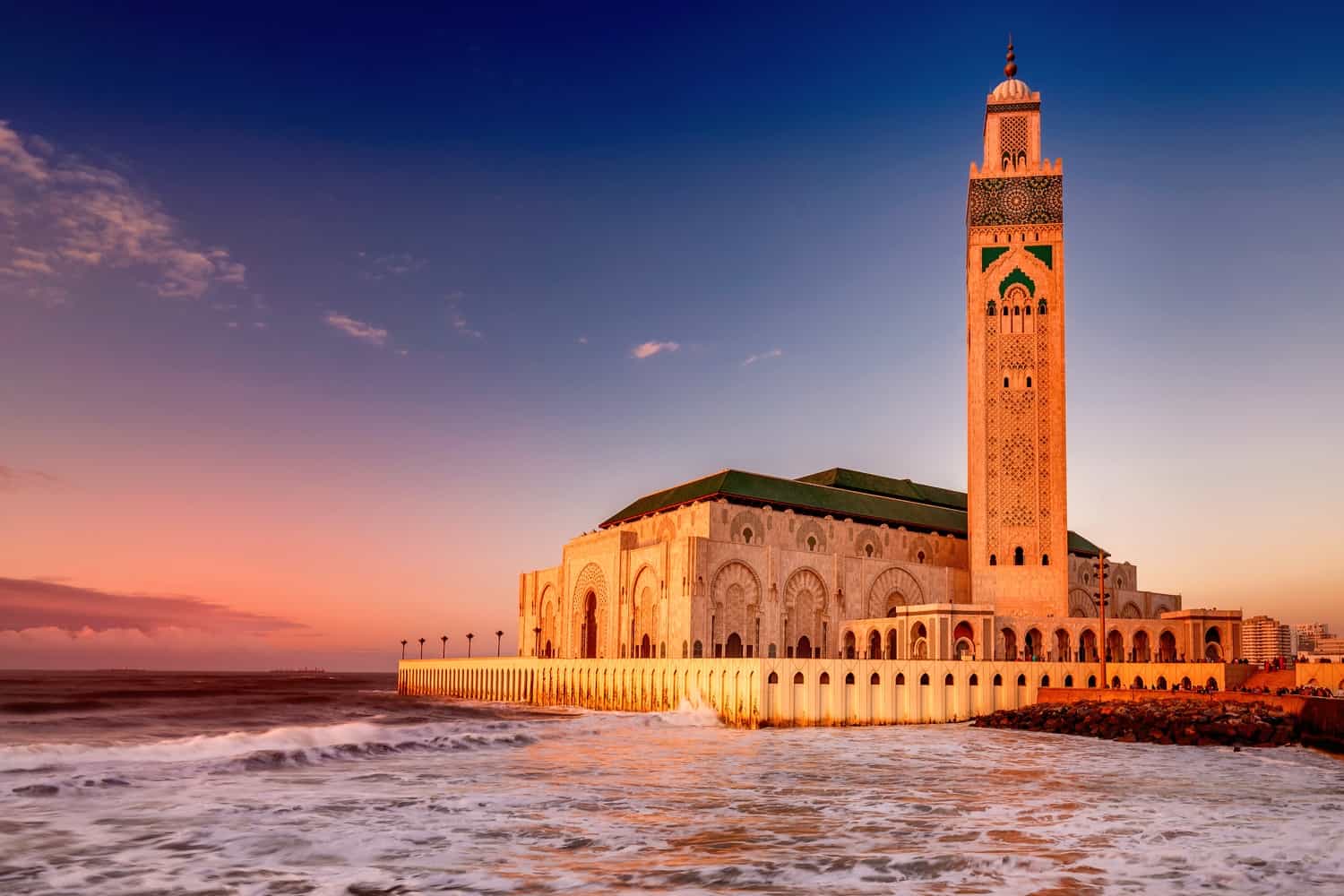 Day Fourteen: Casablanca and Out!
Despite the romantic associations thanks to the Ingrid Bergman-Humphrey Bogart classic movie, Casablanca is no tourist's first port of call. Morocco's largest city doesn't have the enchantment of Marrakech or Fez, nor the mellow vibes of Essaouira or Chefchaouen. Still, rounding off 14 days in Morocco with a short sojourn following a trip to Chefchaouen makes sense logistically since Casablanca has lots of flights out daily.
If you can find a flight out of Tangier, feel free to venture there instead.
Getting there from Chefchaouen, however, will take up most of your day, no matter if you take the more expensive but faster option of hiring a car, or hop on a bus to Tangier, then transfer to a fast train to Casablanca. Either way, allot between four and six hours.
Fortunately, you won't need — or arguably want — much time in Casablanca, which on the whole is a nondescript financial hub that is probably very convenient to live in but is not the most engaging travel destination. Arguably the one colossal exception is the Hassan II Mosque, an enormous edifice that looms over the city skyline. Consecrated in 1993, it is not only one of the largest mosques in the world but boasts one of the tallest minarets in the world.
As anybody who has visited Oman's Sultan Qaboos Grand Mosque can tell you, newer doesn't always mean lacking in style, and it's definitely worth paying for a guided tour (the only way you can enter the mosque) in order to marvel at the outrageously elaborate interiors, including Murano glass chandeliers, pale blue marble walls, and a retractable roof that allows in natural light in good weather.
Where to stay in Casablanca: Your choices in Casablanca are generic hotels or private apartments – the quality of both vary enormously. For a safe option, the Noaille Hotel Casablanca is located at the edge of the old town and has inoffensive rooms that offer sterile comfort.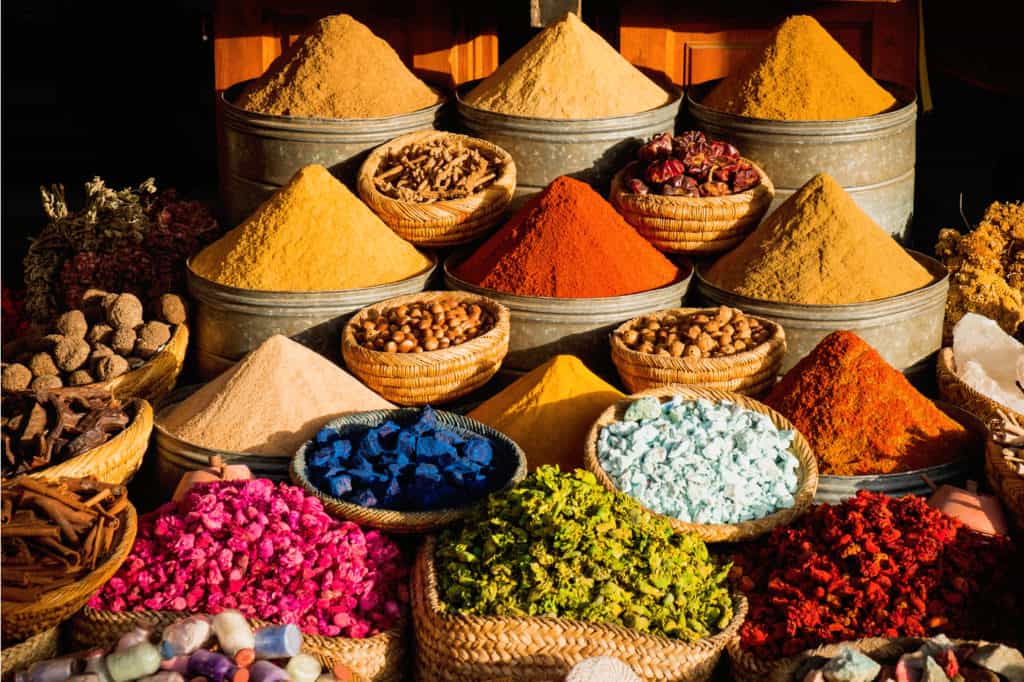 And That's How to Spend Two Weeks in Morocco!
If you visit every single place on my Morocco itinerary, you've really seen the best the country has to offer. That's not to say you won't want to come back. I'm already planning another trip as I write this!
I'd be remiss if I didn't point out one or two important factors that you should consider before booking your flights. First, transport routes are still, it's fair to say, limited, especially to some of the smaller cities, which can mean a lot of time spent in (hopefully air-conditioned) cars or buses. If you're someone who suffers from motion sickness, you might want to limit yourself to the major hubs, which are connected by a perfectly comfortable rail system.
Second, you will find yourself being hassled for money and, if you are a woman, most likely catcalled. Unfortunately, both are an unavoidable reality of the country. While I've never felt in any real danger, you do need to come armored with some thick skin, particularly in Marrakech and, to a lesser extent, Fes.
Those caveats aside, Morocco truly is unlike any other country on the planet, a place you can lose yourself – sometimes literally – as you drink in stunning natural beauty, incredible artisanship, and lots and lots of mint tea.