There was no question about whether I'd go.
For my travel partner, however, visiting sounded more like a chore than a crossing off a long-held bucket list item.
Yes, Dave wanted to skip the Taj Mahal.
I was convinced he'd lost his mind.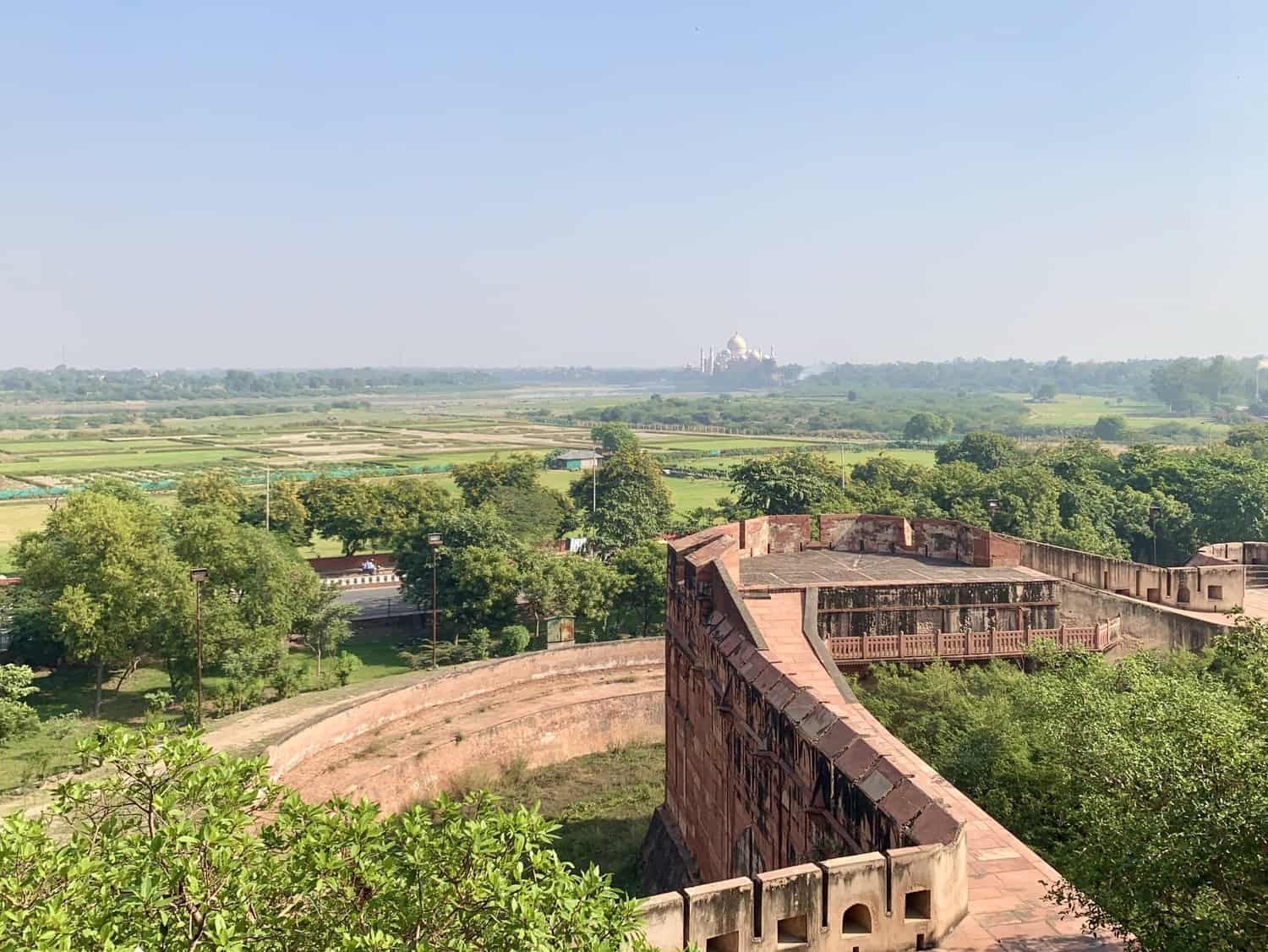 I couldn't comprehend going to India and not seeing its most famous monument. Having the opportunity to see one of the most iconic buildings in the world and being like, nah, I'll pass? I could never.
Dave believed the treasures of this country would lie outside of its most crowded attraction.
I thought the Taj had the potential to be just as wondrous as Angkor Wat, the Great Wall of China, or the Great Barrier Reef…
We both stayed firm to our point of view, but I think we also secretly expected the other to be right.
Because while I wondered if seeing the Taj Mahal could be something that would stay with me forever, I also thought the crowds could ruin the experience.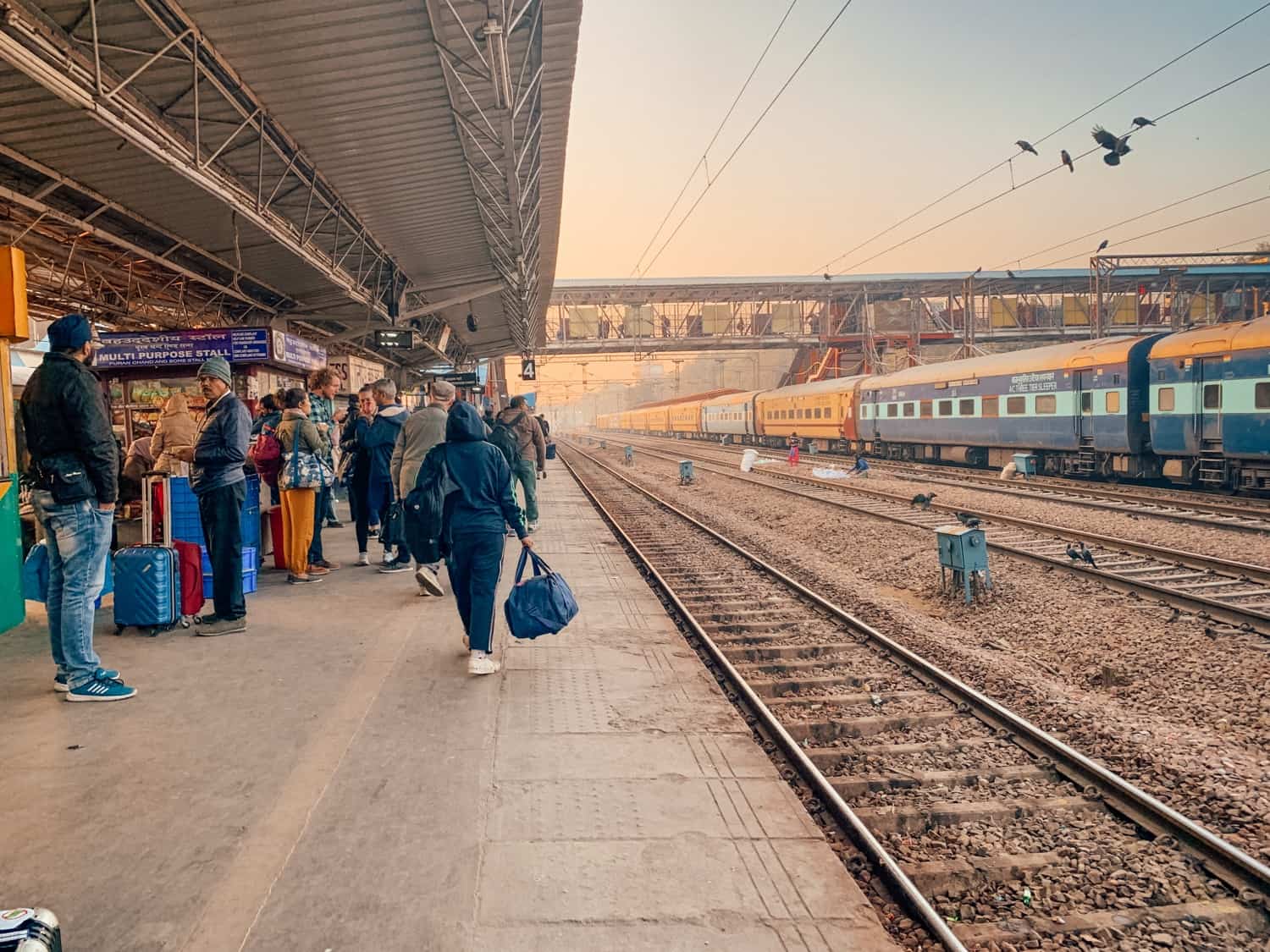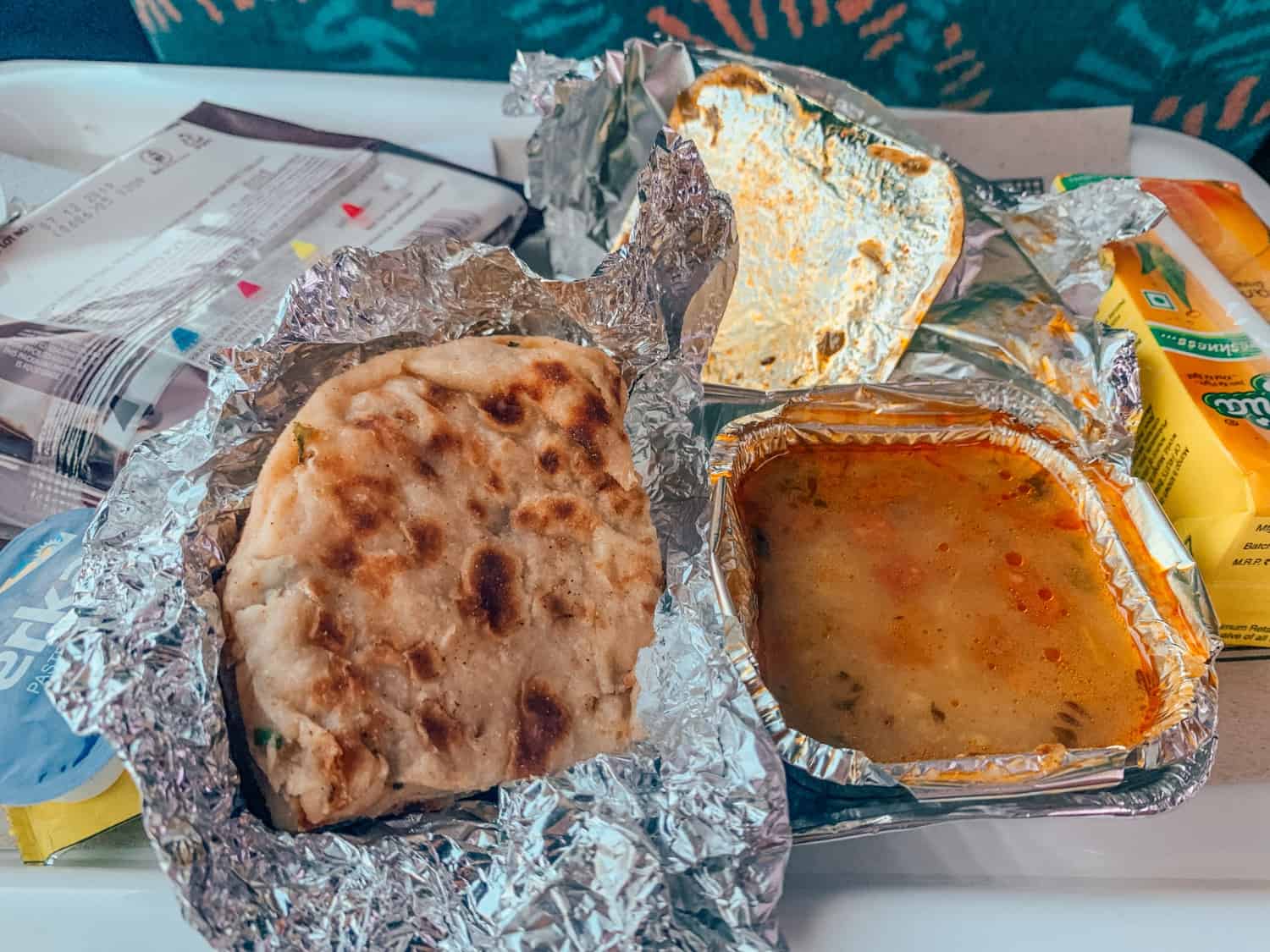 We set off early from New Delhi, on the Gatimaan Express — the fastest train in India — that left from Hazrat Nizamuddin station at 8:10 a.m. and arrived in Agra by 09:55 a.m., preparing ourselves for an action-packed day of movement. As I sat beside the window and gazed out at the smoggy scenes whipping past us, I smiled.
I was in India. After so many daydreams and freak outs, I was finally here and I couldn't get enough of it. I wondered if I'd warm to my second destination as much as I had to Delhi.
Because, well, everybody seems to hate Agra.
Despise it.
I couldn't find a single positive write-up of the city before we arrived in town. Detractors labelled the city the dirtiest in all of India, claimed it was full of scammers; announced that the best part of Agra was leaving Agra.
And so I gave us just one day to see everything.
Twenty-four hours to take the train to Agra, check-in to our guesthouse, visit the main attractions of city, and marvel at the Taj Mahal. The following day, we'd be leaving at 9 a.m. to drive to Jaipur.
Once we arrived in Agra, we would need to hit the ground running.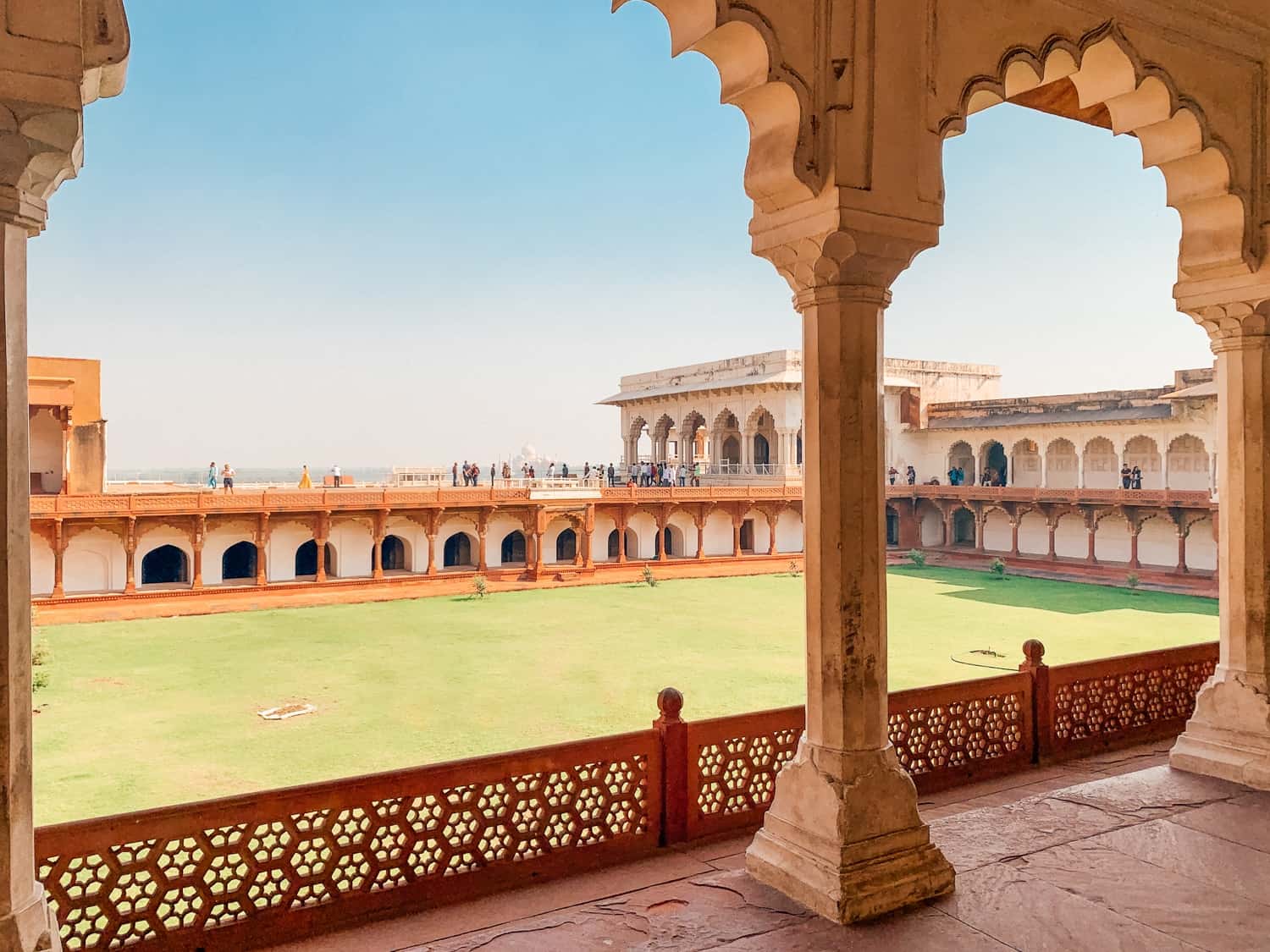 Now, I have a thing for liking places that people hate, and I kind of warmed to Agra.
It was polluted, noisy, crowded, dirty, and I didn't hate it.
I can't even explain why.
I think I was still on an India high — so excited to be in the country — that I could be wowed by just about anything.
Dave, like everybody else, hated it.
I thought it was okay.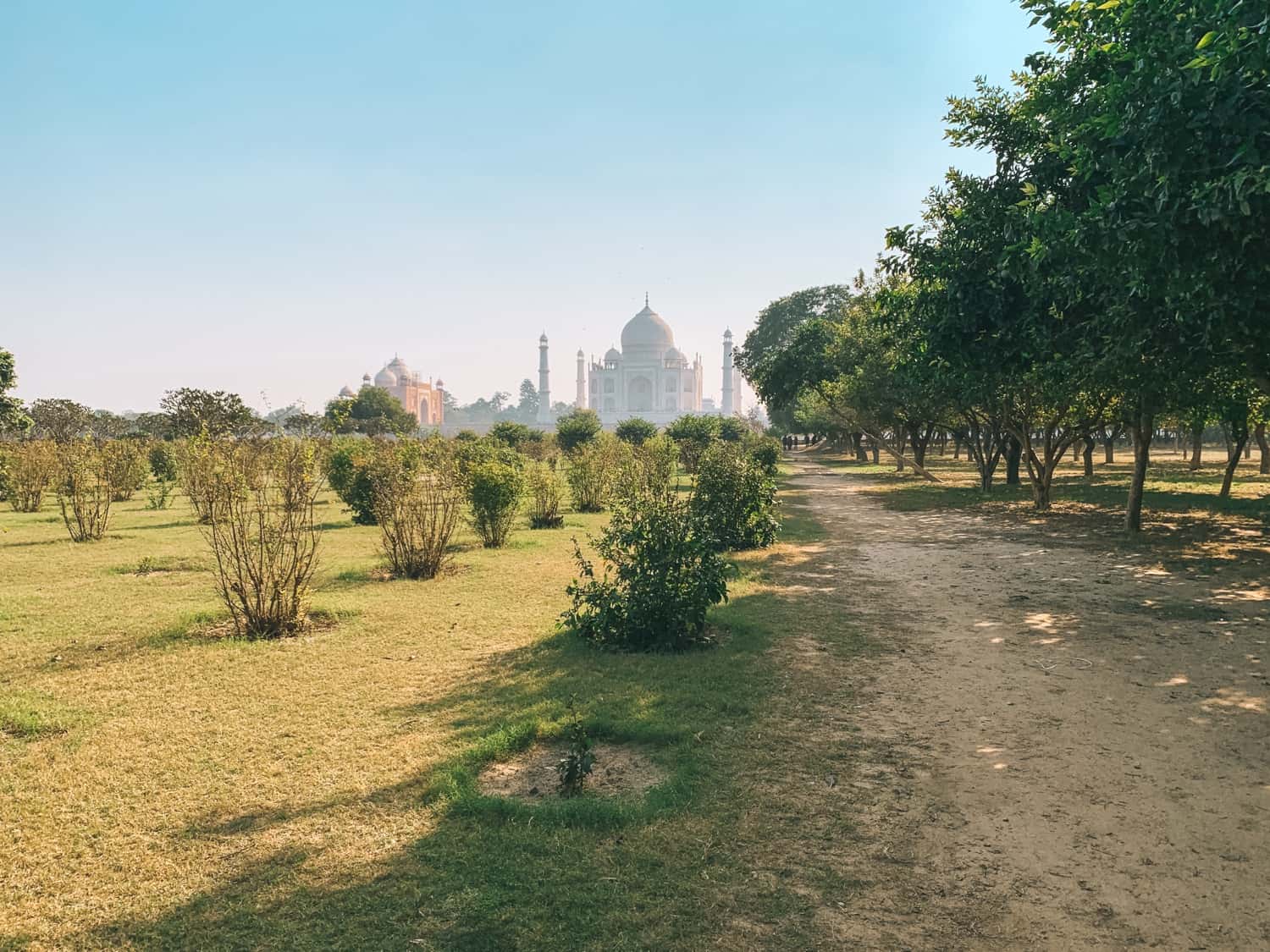 My First Sighting of the Taj Mahal
The Taj Mahal is seemingly everywhere in Agra. You'll spot it from most of the tourist attractions, restaurants, and guesthouses.
I caught my first glimpse from Agra Fort, which was surprisingly quiet when we visited after lunch. The fort provides a hell of a lot of wonderful viewpoints, often with nobody else around. I was surprised by how peaceful it was to walk around and was wowed by the structure as much as I was its views.
Later on in the day, we ventured to Mehhtab Bagh Garden on the Yamuna River's north bank to see the Taj Mahal from a different angle, and it was one of my favourite spots in the city. There was nobody else around when we visited — just me and Dave snapping a ton of photos.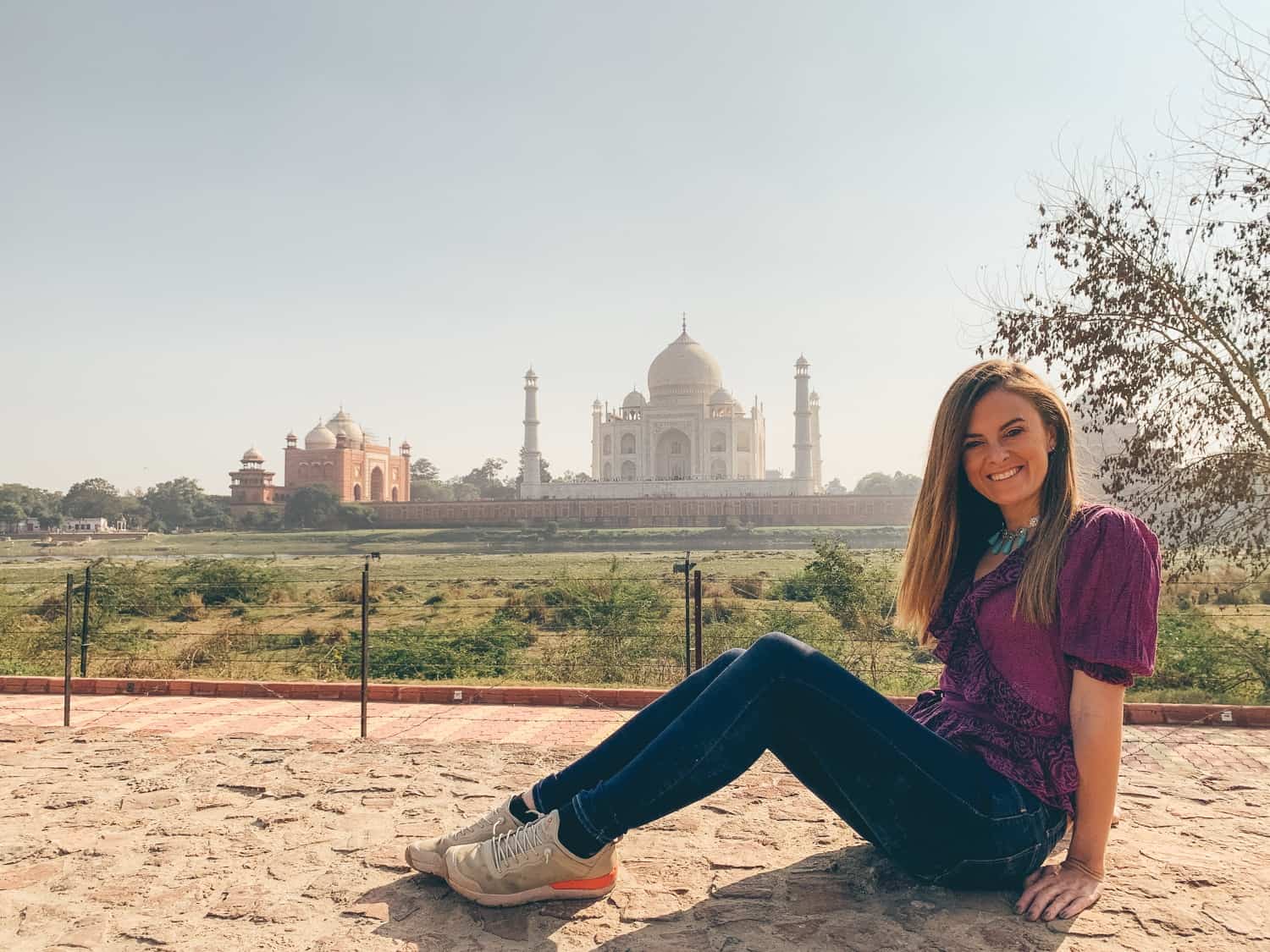 I always thought I'd visit the Taj Mahal for sunrise, because that's what everyone does. That's the best way to see it, I'd read.
But our guesthouse owner had put doubts into my mind.
I was visiting in winter, you see. In December. Full-on smog central. Fog mayhem. At this time of year, the Taj can be blanketed in fog and hard to make out, especially in the morning.
In the afternoons, the haze burns off and the skies are as pristine as they can get in India. The guesthouse owner had strenuously advised us to visit later in the day.
"Should we do it?" I asked Dave, as we sat beside the river looking up at the Taj. "Shall we just go now?"
"I think we should."
"If we hate it, we can always return at sunrise, right?"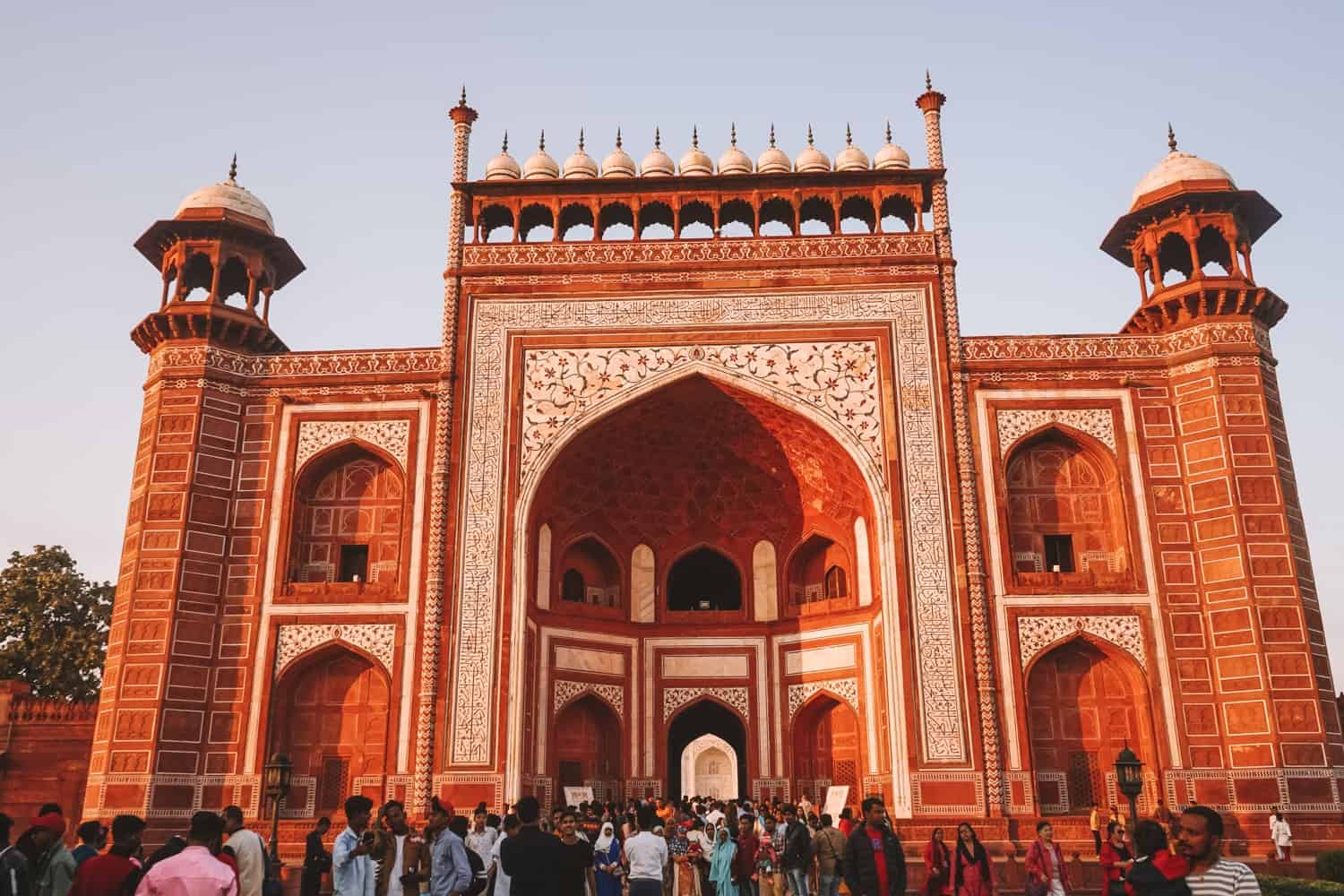 We returned to our rickshaw and asked our driver to take us to the East Gate. There are three entrances to the Taj Mahal — each with their pros and cons (more on that below) — and I'd decided the East Gate would be best for us.
Everybody says that Taj Mahal gets busier and busier throughout the day, but there were few foreigners opting to visit at 3 p.m. on a Tuesday. In fact, there was nobody at all in the foreigner queue for tickets. We paid our entrance fee, separated to head through the male- and female-designated lines, then met back up at the gate.
I was buzzing, eager to catch my very first glimpse of the Taj Mahal.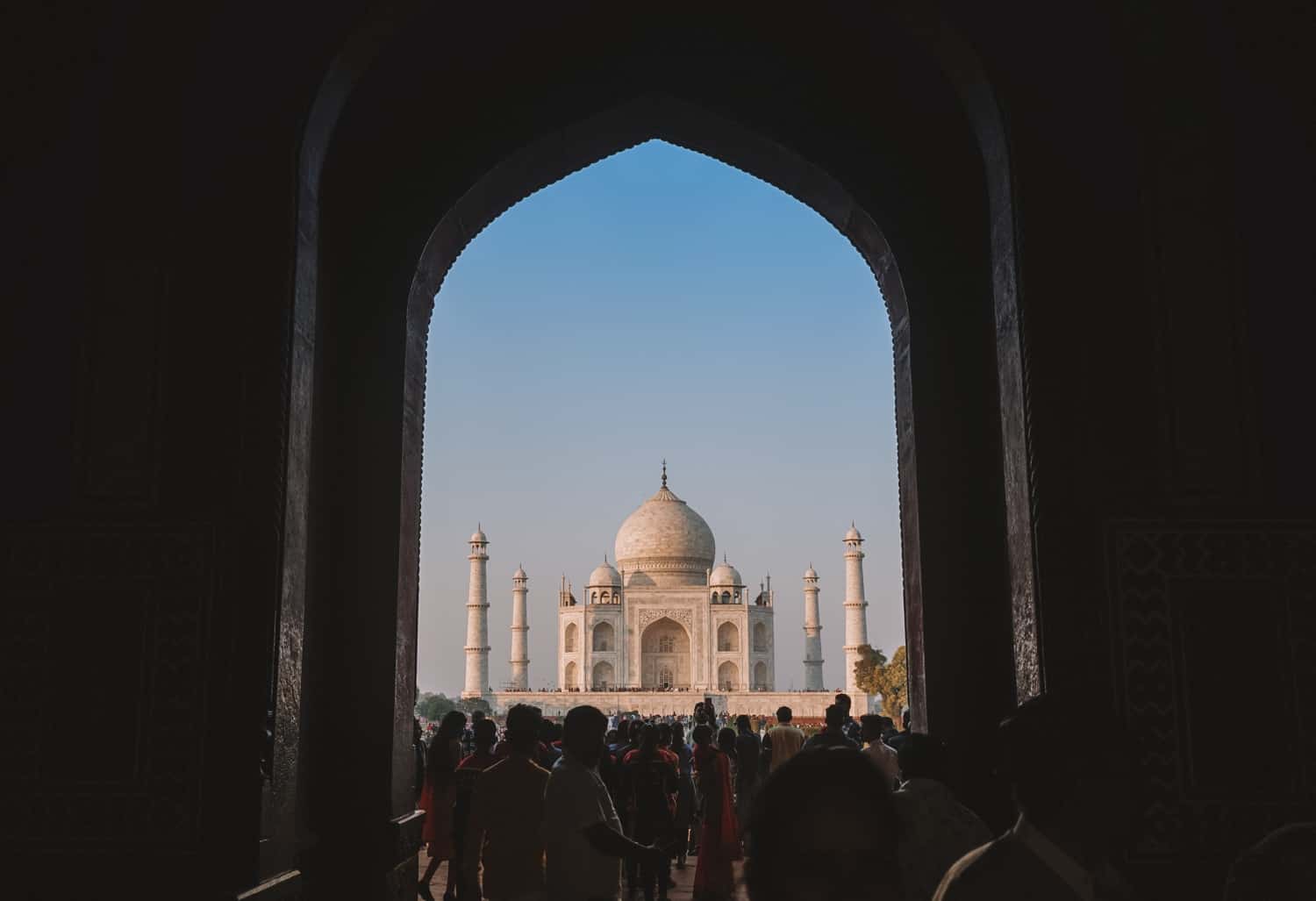 Nothing prepares you for seeing something you've seen a thousand times over in magazines and on screens. To see it with your own eyes feels unreal. It's almost as though your brain just assumes you've entered a TV screen and are walking around inside. That feels more plausible, in a way, than actually being there in person.
It was pretty bizarre.
I kept blinking, as though there was a mirage in front of me, as though I was dreaming, unable to accept the fact that I was here.
I grinned as I took that iconic photo at the gate's entrance, at the archway, with everybody crowding to see the Taj for the very first time.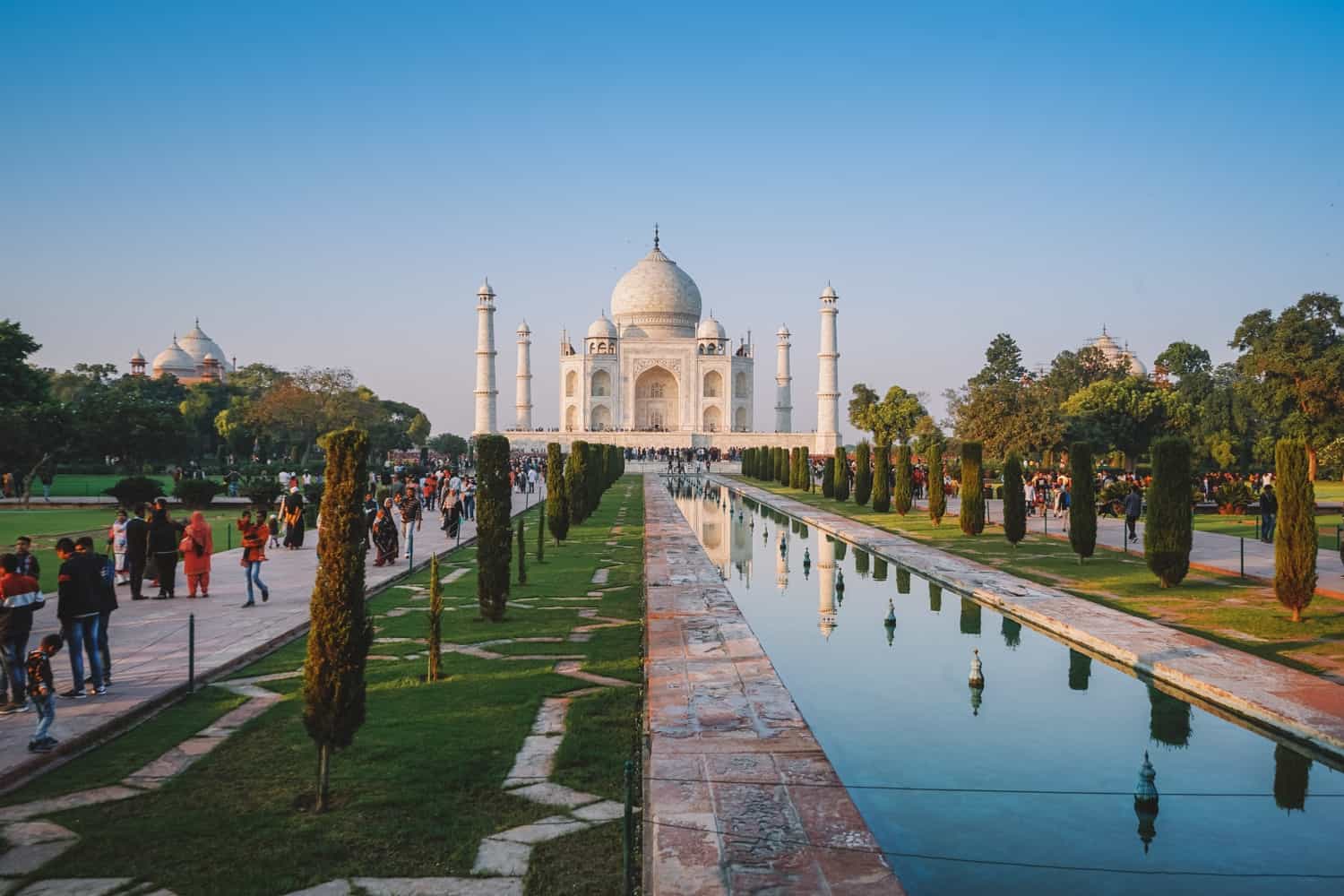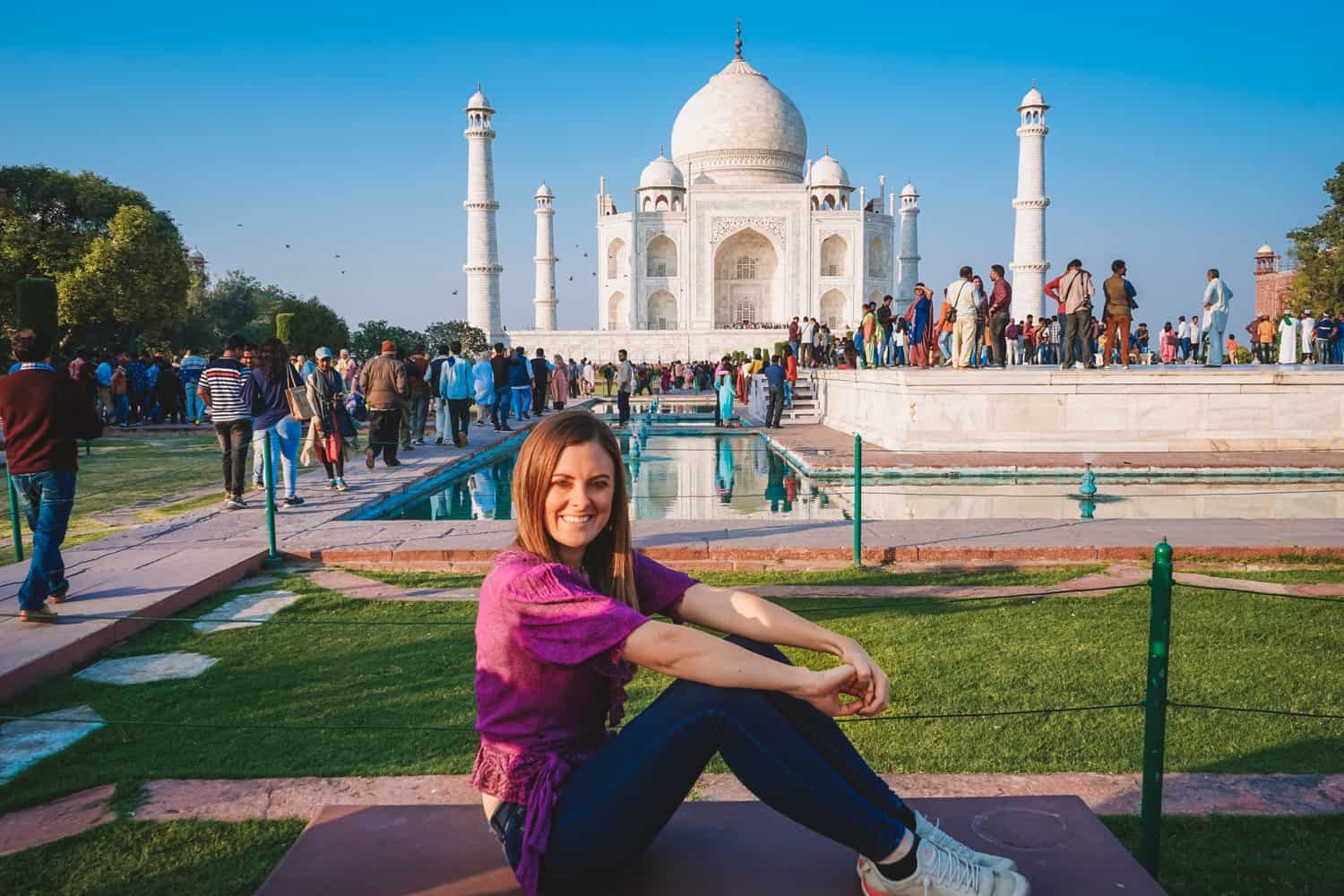 At first, I was overcome with energy and began buzzing my way around the complex, taking photos of everything: the fountains, the pools, the benches, the lawn.
I wanted to capture it all: every angle; every detail; zoomed in and zoomed out. I was desperate to find a unique angle to capture something that has been photographed from every possible perspective over the past hundred years.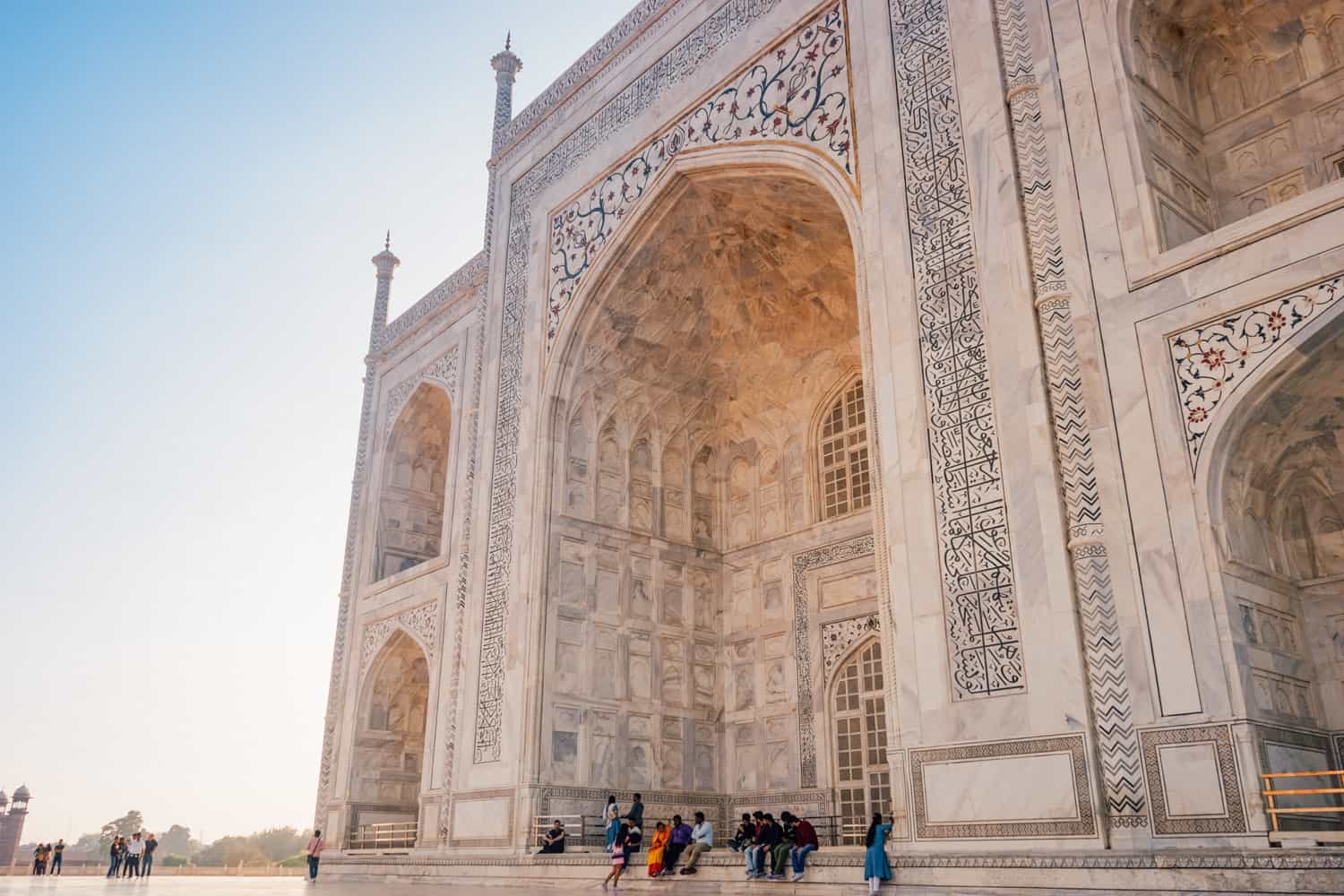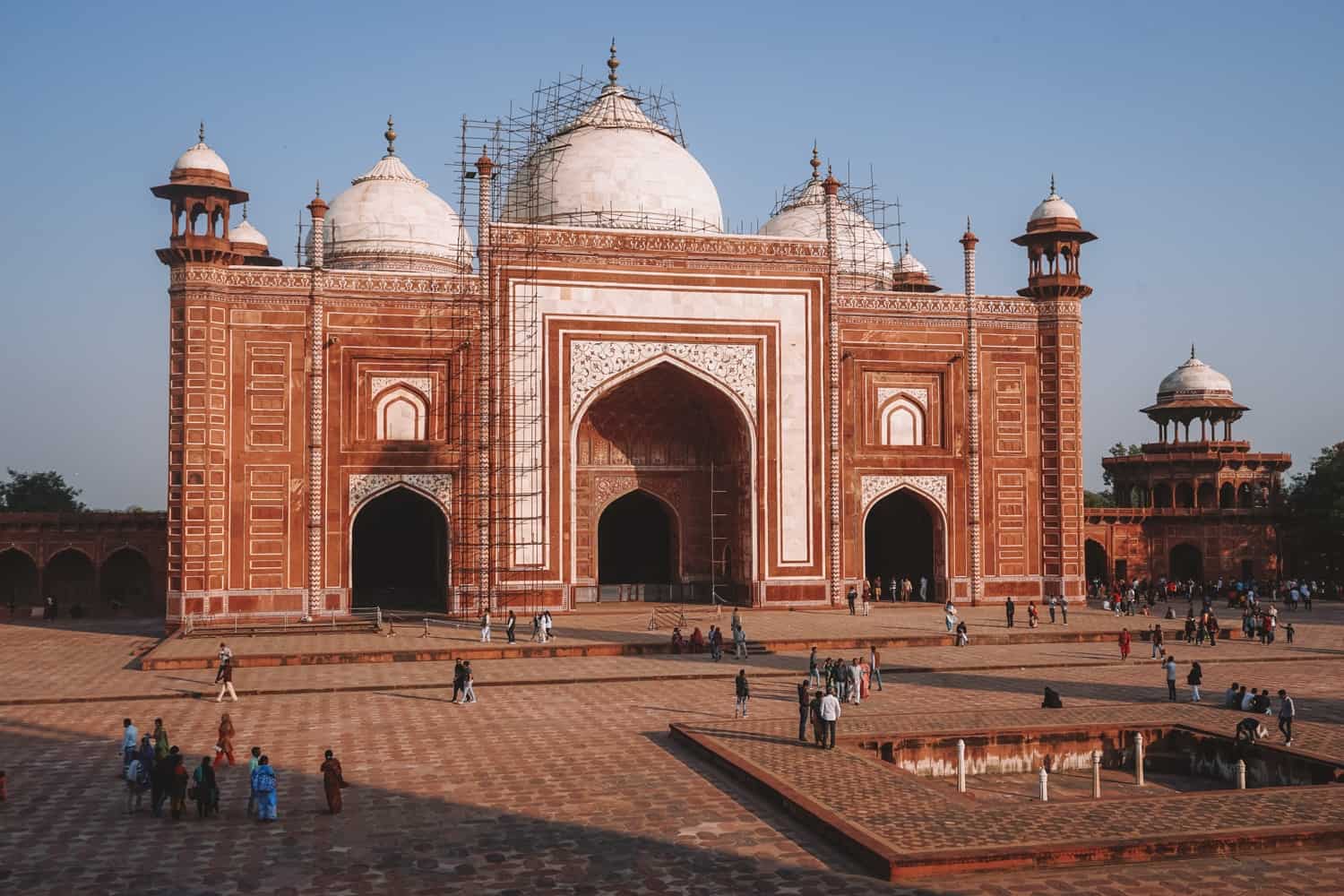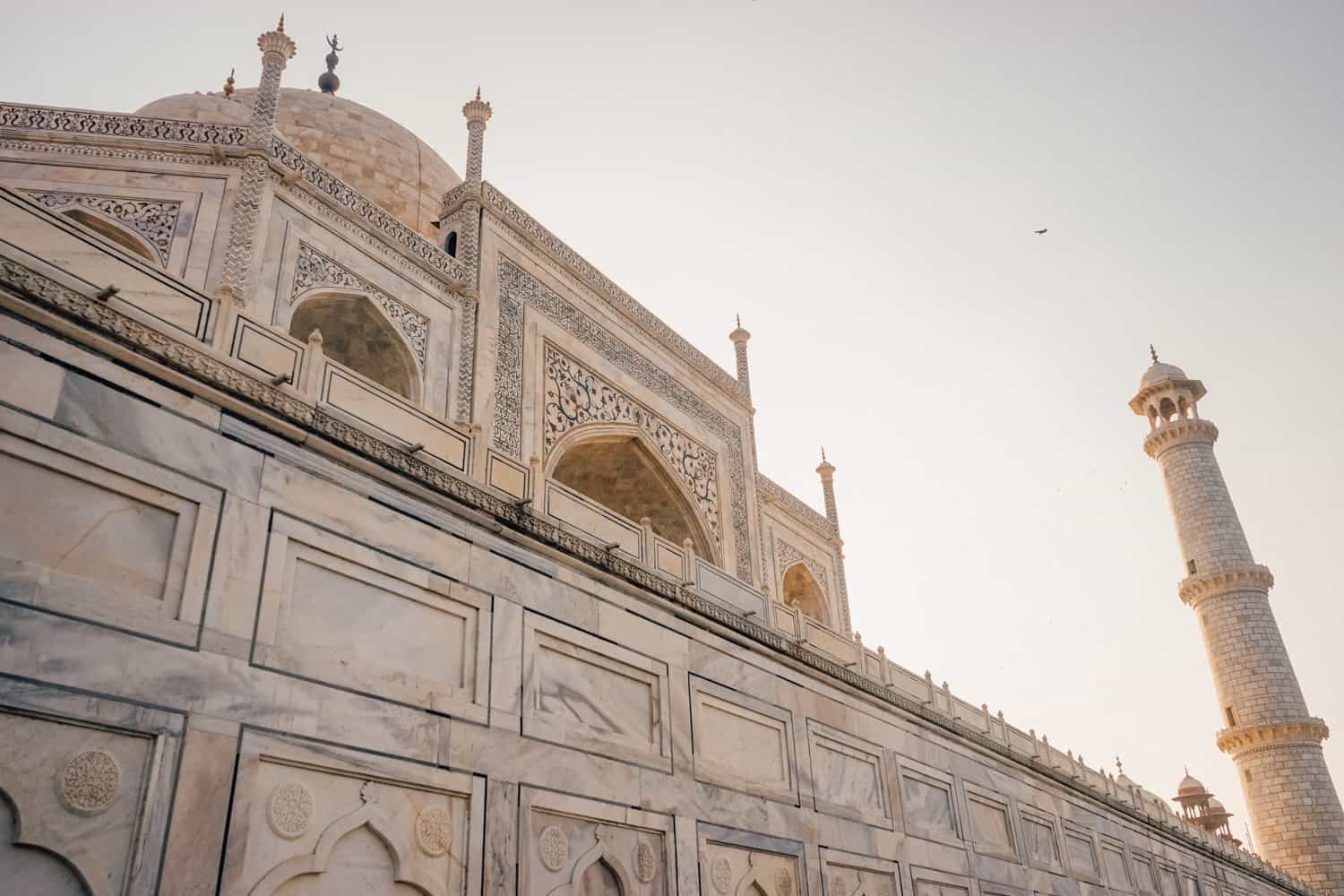 Despite looking a bit like a mosque, the Taj Mahal isn't a religious structure.
It's a mausoleum, built in the 1600s by the Mughal emperor Shah Jahan to house the tomb of his favourite wife, Mumtaz Mahal. It took 20 years to complete, with more than 20,000 workers, and 1,000 elephants, coming together to build the complex.
You can head inside the mausoleum to see the tomb of Mumtaz Mahal, as well as Shah Jahan, as he was later buried there, too.
First, though, you'll need to put on your shoe covers. The marble floors have begun to wear down after many millions of footsteps have been taken across these floors, so you'll need to shield your shoes in order to protect the ground from further deterioration.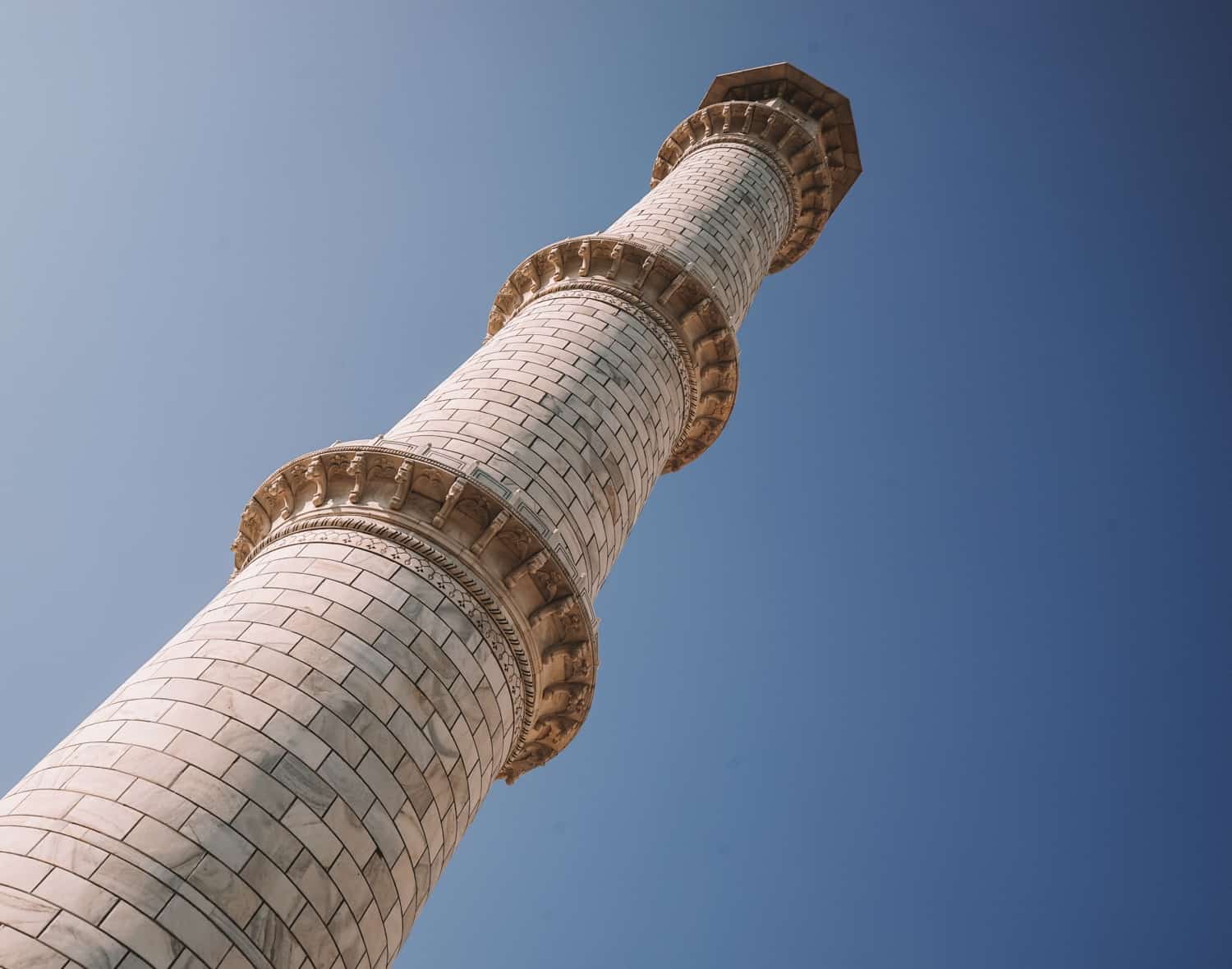 You aren't allowed to take photos inside themausoleum, but that was okay. I didn't need to.
It was kind of chaotic once you entered, as there were security guards everywhere, yelling at you to walk faster; you're not allowed to stop moving once you're inside.
And so, the tombs were fine. But I was glad when I got to escape back outside again.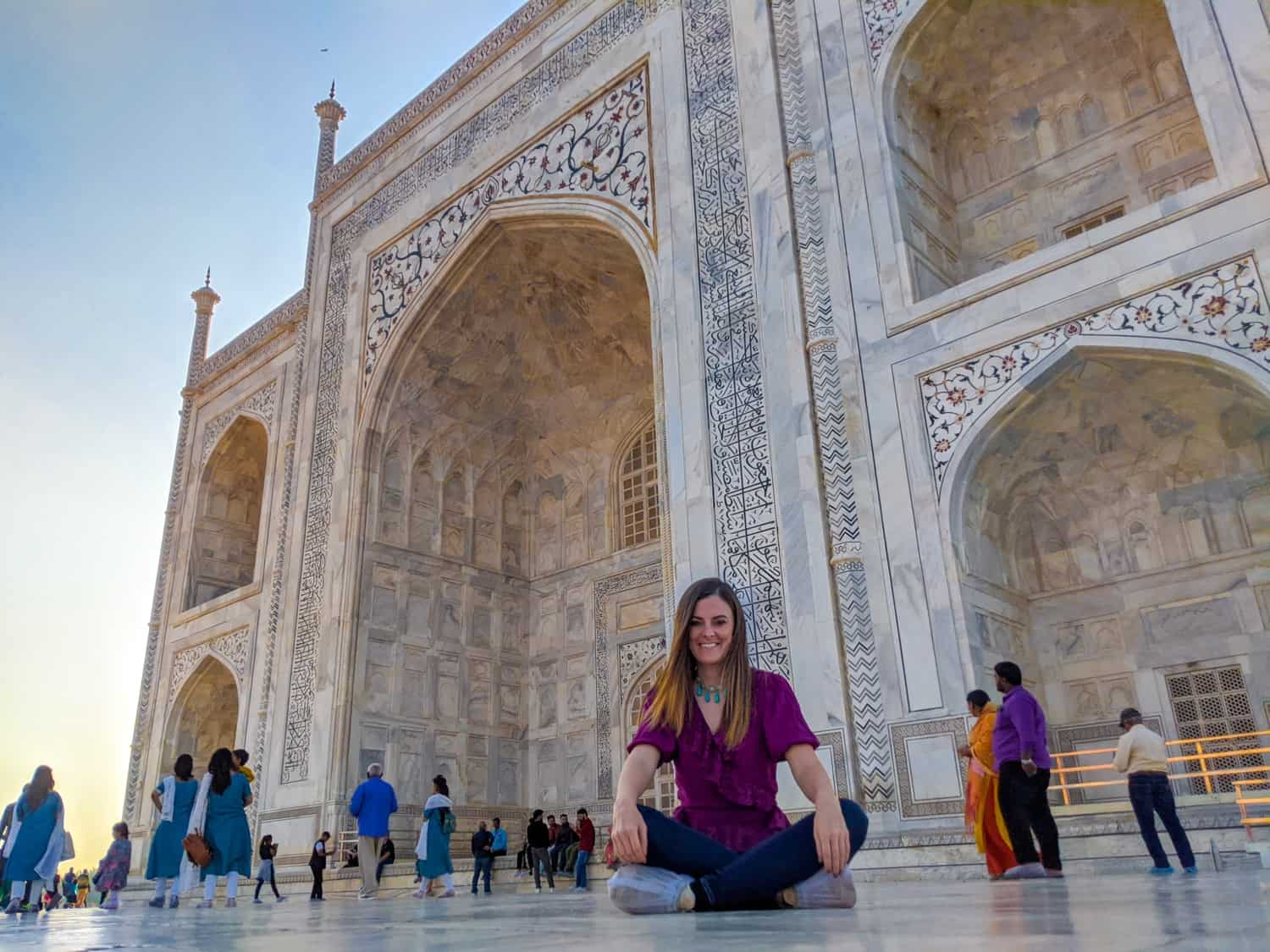 I was so happy to be here.
When I travel, I always try to find the time to put my camera down. It can be all too tempting to live out the most magical moments of your life behind a lens, attempting to capture it all to ensure you don't forget. It's especially the case when you're a travel blogger and want to record everything as much for your readers as for yourself.
But it's important to forget about the photos every now and then to just focus on the moment.
I found a quiet area of the complex — basically where that photo above was taken — and sat down. From my spot, I could pause and people-watch, observing the schoolchildren and tour groups, watching the expressions on everybody's faces as they got up-close to the Taj for the very first time. Watching the sun move across the sky and alter the colours on the building. Watching the birds soar overhead.
I sat there for half an hour with Dave, silently, absorbing as much as possible, thinking about how lucky I was to be here right now.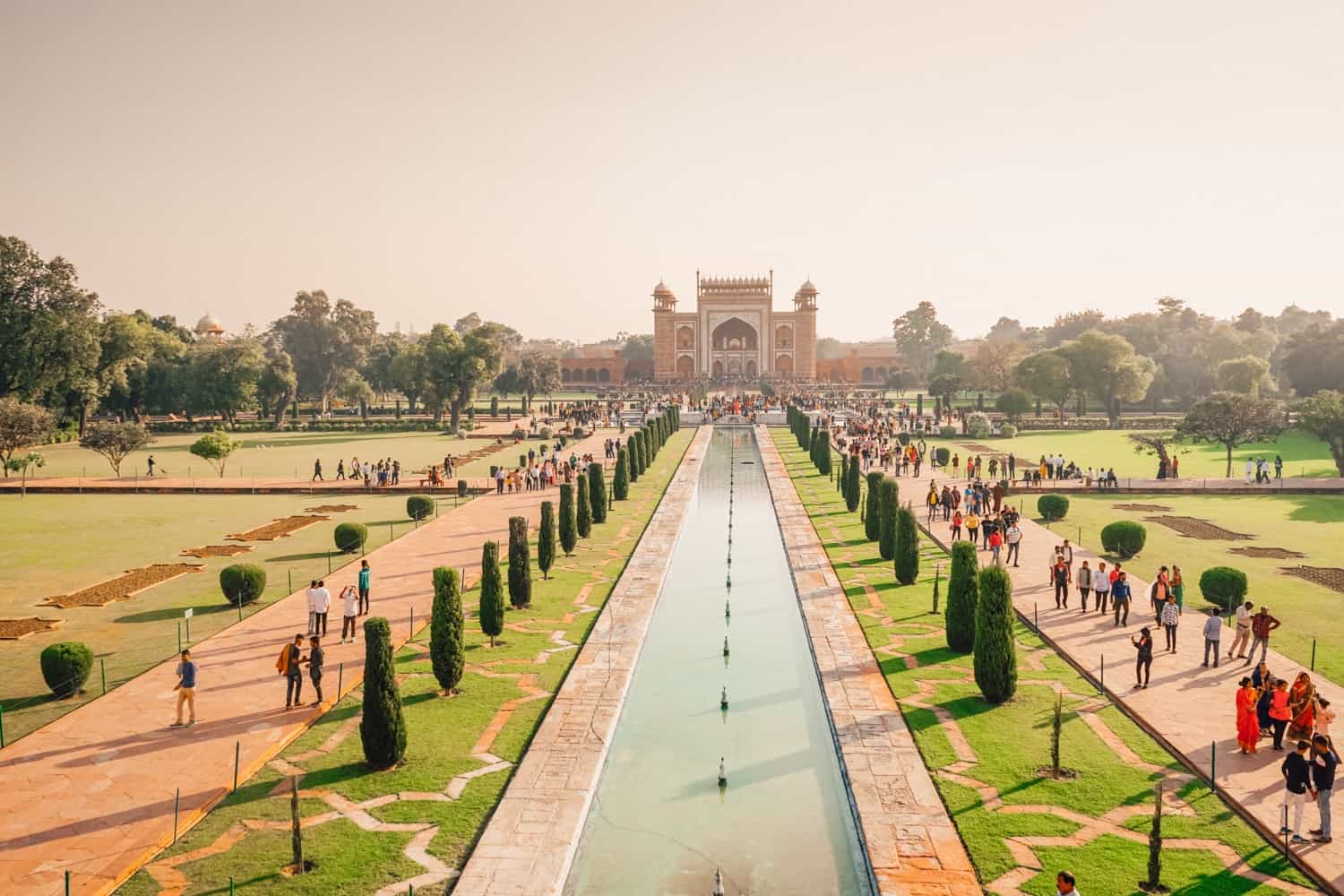 I turned to Dave once I felt ready to move on.
"Are you glad I dragged you here?"
He didn't have to think about his answer before nodding. "Yep."
"Isn't it amazing?"
"It's incredible. Unbelievable. It's so impressive."
And it was.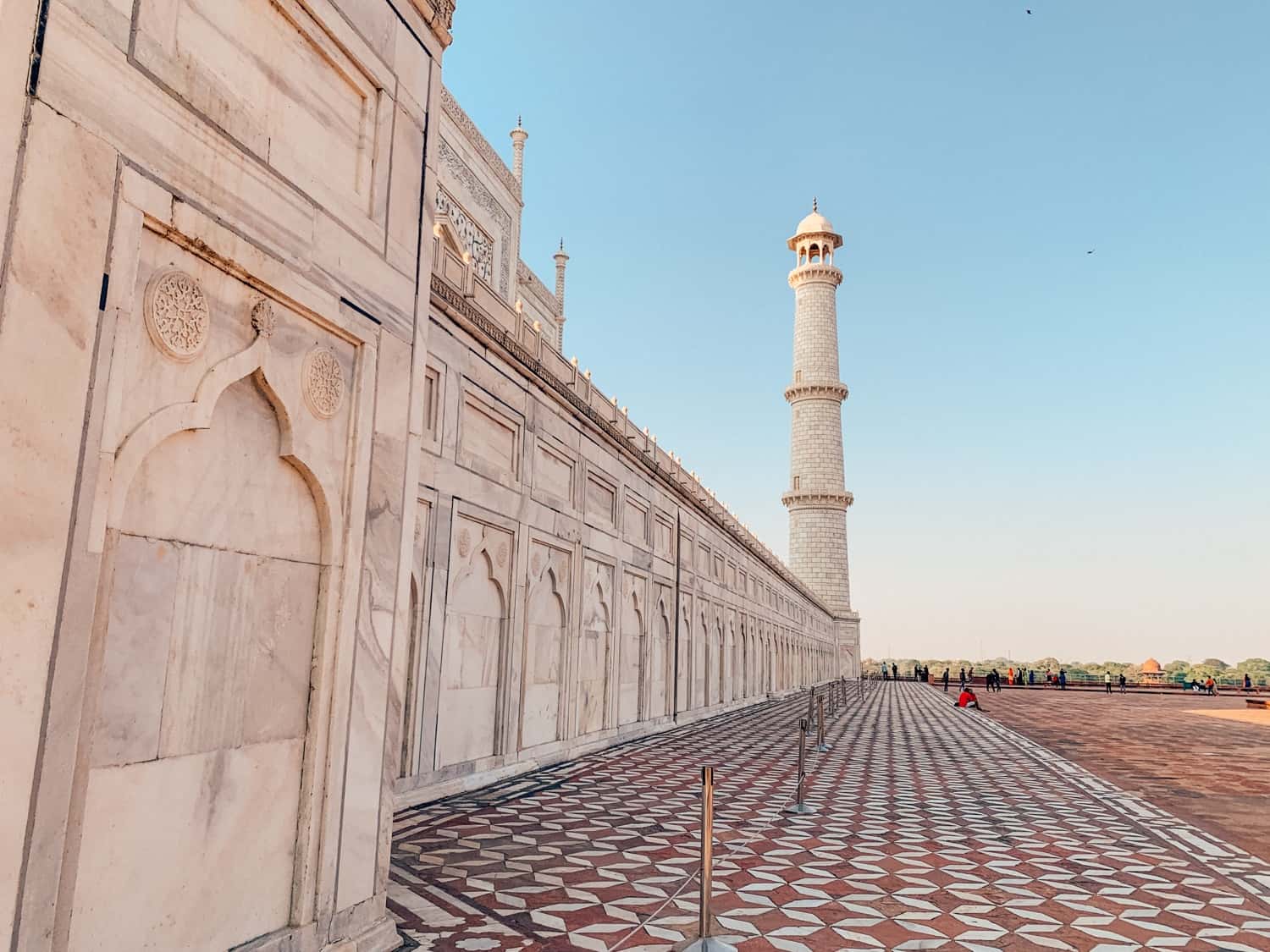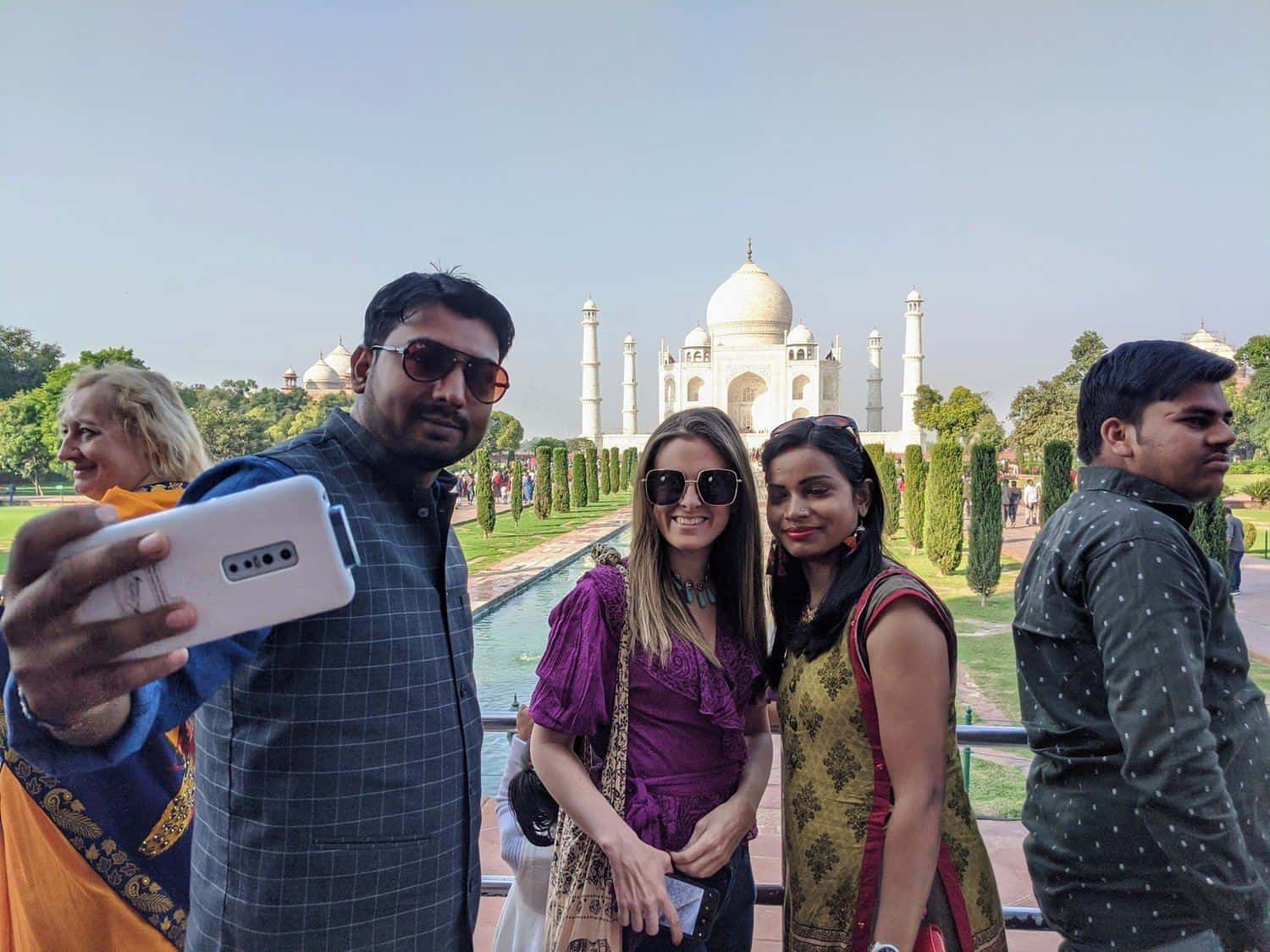 Altogether, I spent two hours at the Taj Mahal.
I thought I'd stay until sunset, but in the end, I didn't feel the need to. I'd taken all the photos I'd dreamed of; I'd captured the complex from every possible angle in every variation of light.
In fact, I didn't even feel the need to return the following morning at sunrise. I'd had the most perfect blue skies and the most wondrous light while I'd been at the Taj, and I wasn't sure that sunrise could top that.
And I also didn't want to set my alarm for 4:30 in the morning.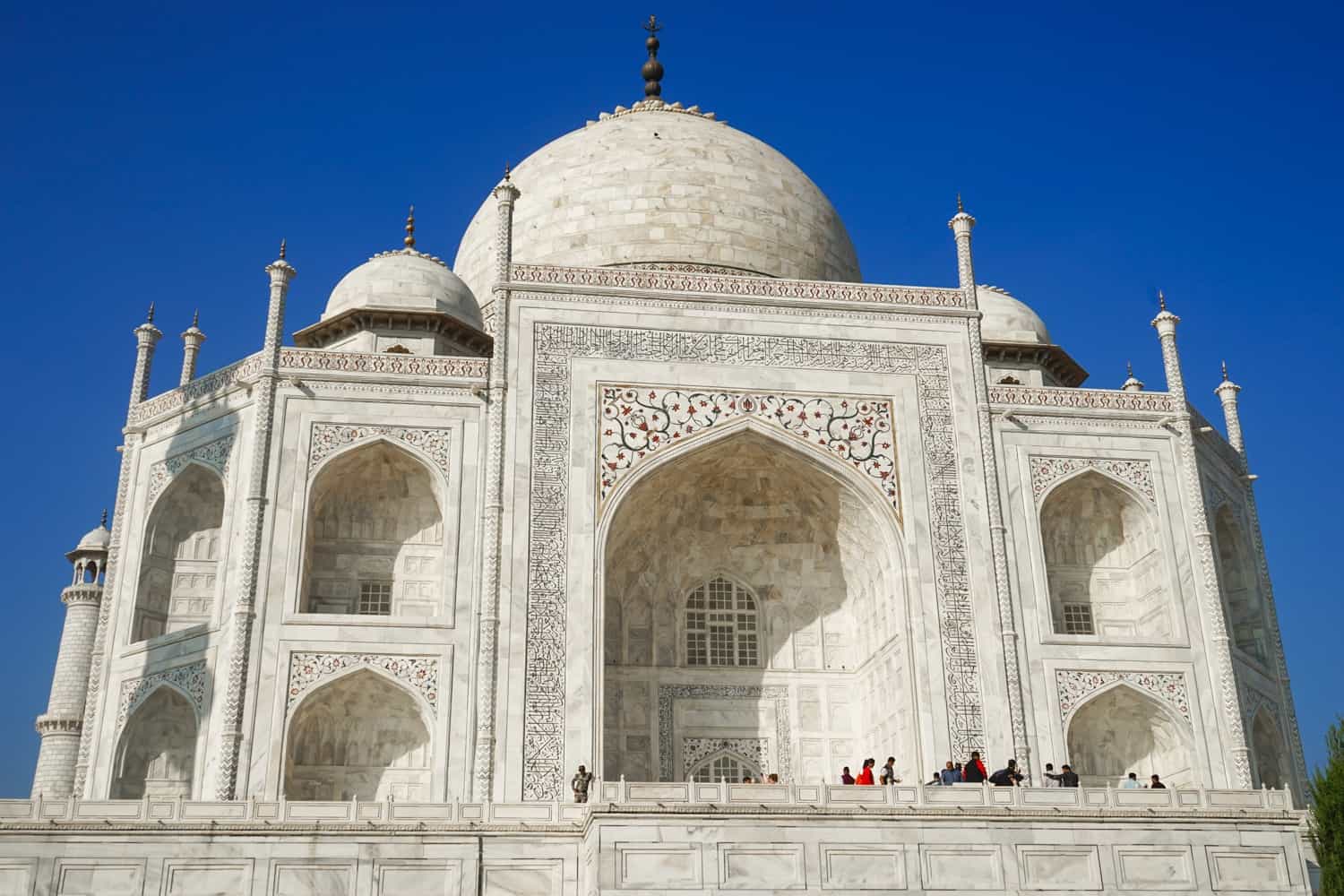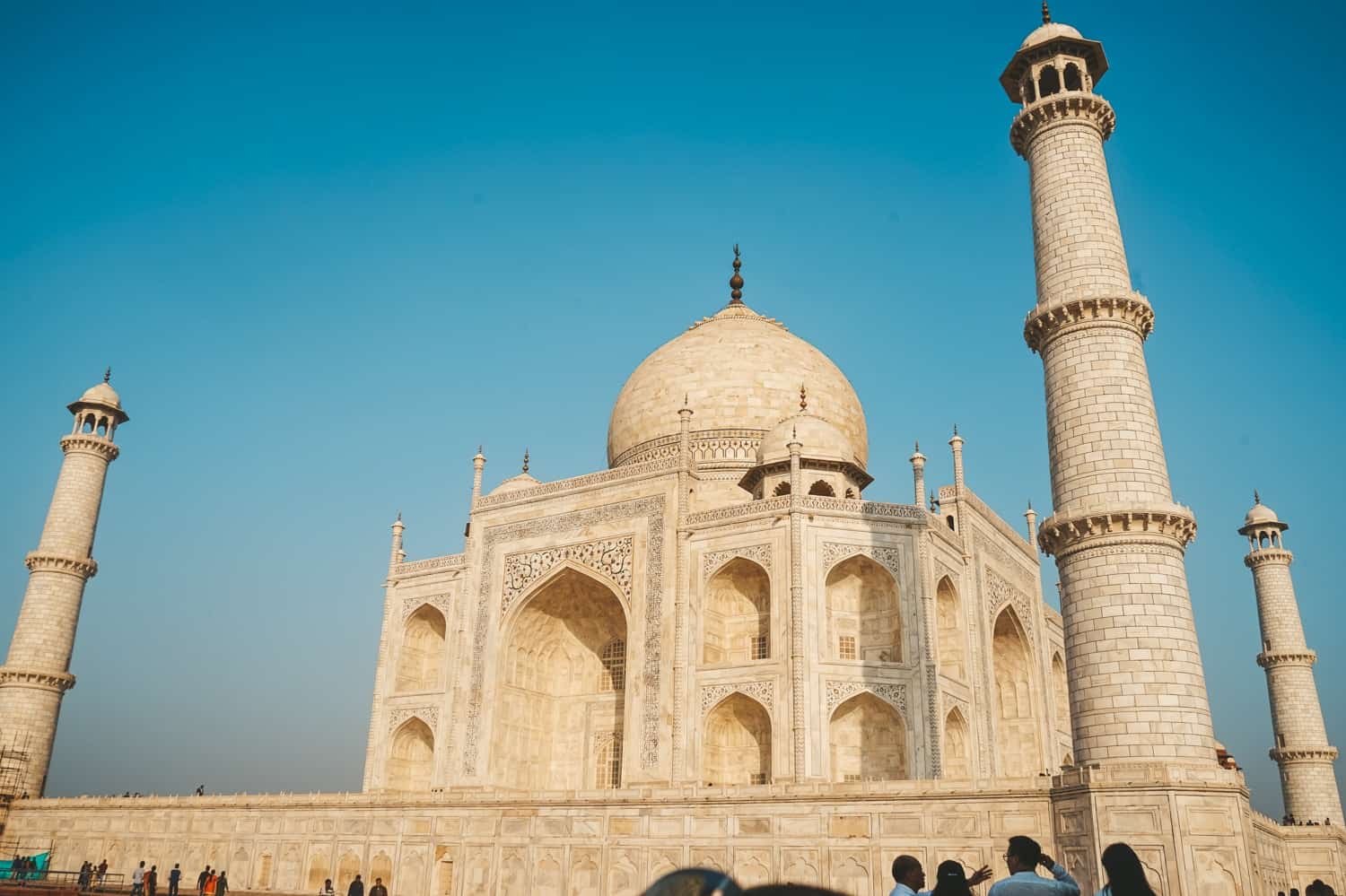 We made one final circuit around the Taj Mahal, took our final dozen selfies with the locals, and I marvelled at how every angle brought a different look to the mausoleum.
The two photos above showcase it perfectly: from one side of the complex, the Taj glistens bright white, and from the other, it's bathed in a golden glow. It almost looked like a different building as I walked my final circuit.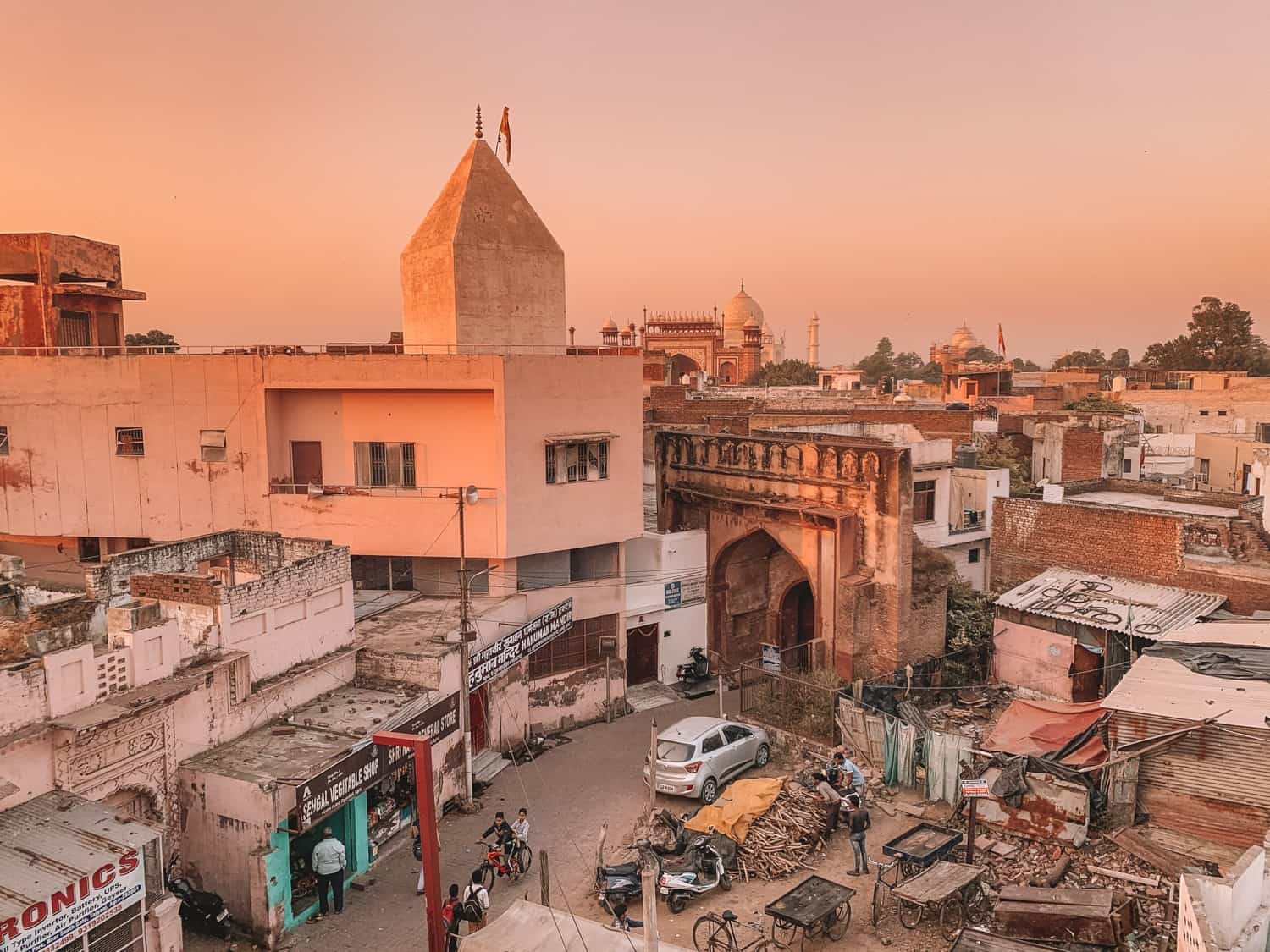 And then, sunset.
Agra is full of rooftop restaurants for obvious reasons: who wouldn't want to eat a meal overlooking the entire reason why they came to the city?
As you can imagine, the area close to the Taj is pretty touristy and overpriced. The further away you get, the less touristy the restaurants are, but you also don't want to get too far away, because you still want to have an excellent view.
We stumbled into a random restaurant and while the food wasn't anything mind-blowing, the view more than made up for it.
It was the perfect end to the perfect day.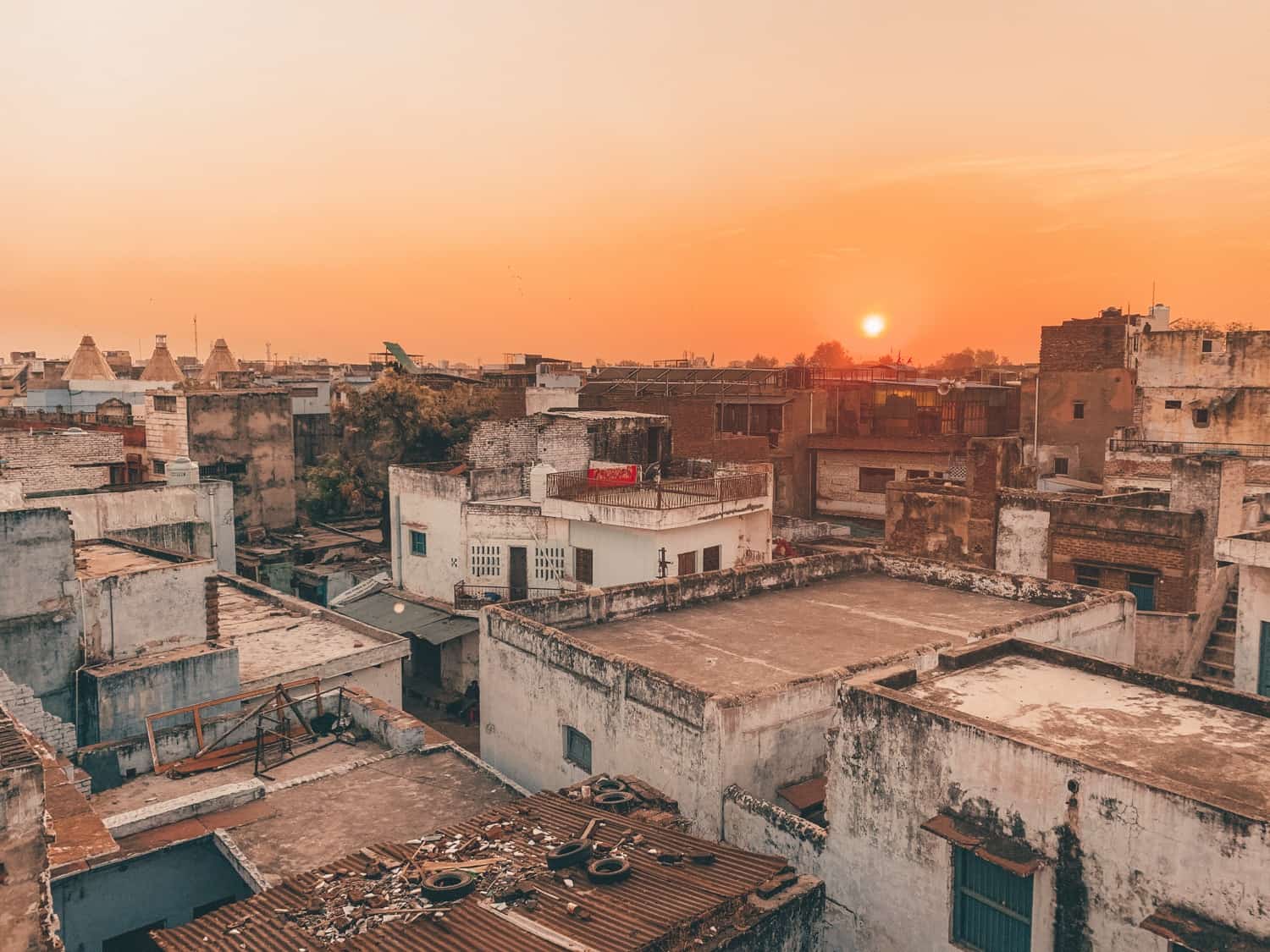 Overall, my entire experience in Agra was amazing. I'd had high expectations for the Taj Mahal, and I was surprised to find them exceeded. The Taj is magnificent and seeing it ranks up there as one of the coolest travel experiences of my life.
I'd even go back.
If, on a future trip to India, I find myself taking a route that will see me passing near Agra, I'd most likely make the effort to spend another day in town.
Maybe next time, I could go at sunrise.
You can visit the Taj during the full moon, too, which sounds particularly epic.
And so, if you're heading to India and pondering whether it's worth seeing the Taj Mahal or not, I would obviously say it so is.
It's one of the most famous buildings in the world for a reason.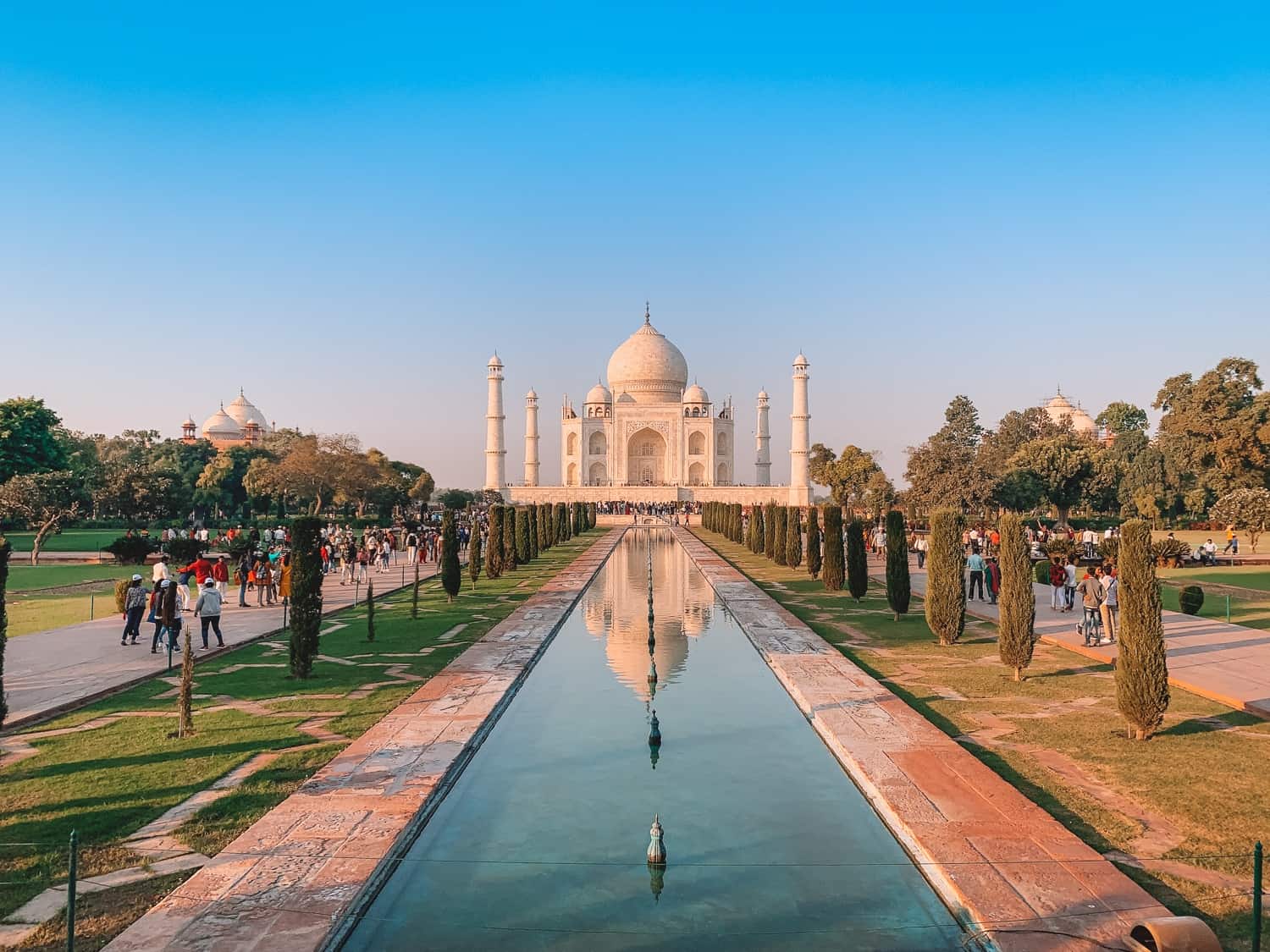 The Ultimate Guide to Visiting the Taj Mahal
You've heard all about my experience; now it's time for me to share exactly how you can make the most of your time at the Taj!
How much does it cost to visit the Taj Mahal?
It costs ₹1300/$17 for foreigners to visit and ₹250/$3 for Indians. For that price, you'll gain entrance to everything, as well as a bottle of water, a map of Agra, and the mandatory shoe covers.
Children under the age of 15 do not have to pay to enter.
If you're from SAARC or BIMSTEC countries, you'll pay slightly less than other foreigners: just₹740/$10. These countries are as follows: Bangladesh, Bhutan, Maldives, Myanmar, Nepal, Pakistan, Sri Lanka, and Thailand.
Don't even question if visiting is worth the money: I promise you it is! You won't regret spending your cash on an experience as magical as this one.
Now, one thing to keep in mind is that the ticket prices mentioned above include a ₹200 entrance fee to the mausoleum. I found the mausoleum to be the least impressive aspect of the Taj Mahal, so if you are trying to keep your travel expenses down, you can opt to skip that part of it (I don't recommend doing so, though!).
What time does the Taj Mahal open?
First of all, the Taj is closed on Fridays: Take note! The Taj Mahal is closed every Friday, so make sure you don't plan your trip to Agra to coincide with this. There's a mosque on the grounds of the Taj Mahal, so they close the complex every Friday for people who want to attend the religious services that are held there.
On every other day, the Taj Mahal opens at 6 a.m. and closes at 7 p.m — these times roughly coincide with sunrise and sunset. It's also open at night for five nights around every full moon, from 8:30 pm until 12:30 a.m. — I really want to do this next time!
You can buy tickets at the Taj from 5:30 a.m. up until 6:30 p.m.
You can also buy your ticket the day before. If you're planning on visiting for sunrise and don't want to have to wait in line with everybody else to buy your ticket, you can grab one in advance the day before. 
Which is the best entrance for visiting the Taj Mahal?
There are three different entrances: The East Gate, the South Gate, and the West Gate. There are advantages and disadvantages to all three, but I think the best is the East Gate. Here's a quick rundown:
The East Gate is most popular with foreign tourists, as it tends to have shorter queues at every time except sunrise. It's close to a lot of the hotels in the city, so is likely to be within walking distance of where you're staying. If you've grabbed a ticket the day before, you'll be able to skip the lines.
The West Gate is most popular with Indian tourists, and has long, long lines throughout the day. At sunrise, though, it's less crowded than the East Gate, so could be a good option for beating the hordes of people.
The South Gate is the least popular gate, as it's next to a chaotic market that's full of pushy touts, and tends to attract the backpackers, as it's right next to a ton of hostels. Keep in mind that it doesn't open until 8 a.m., so this isn't one to go for if you want to get there for sunrise.
There's a whole bunch of things you can't bring in with you: Security is tight at the Taj Mahal, so check your bags the night before to make sure you won't end up taking anything in that isn't allowed. You can't bring in drones, tripods, food and drinks, headphones, as well as electronic equipment and chargers (excluding phones and cameras). During the night viewings, you aren't allowed to bring phones in with you.
You'll probably spend two hours in the complex: That's how long I spent there and I had a solid half an hour where I just sat and stared up at the structure.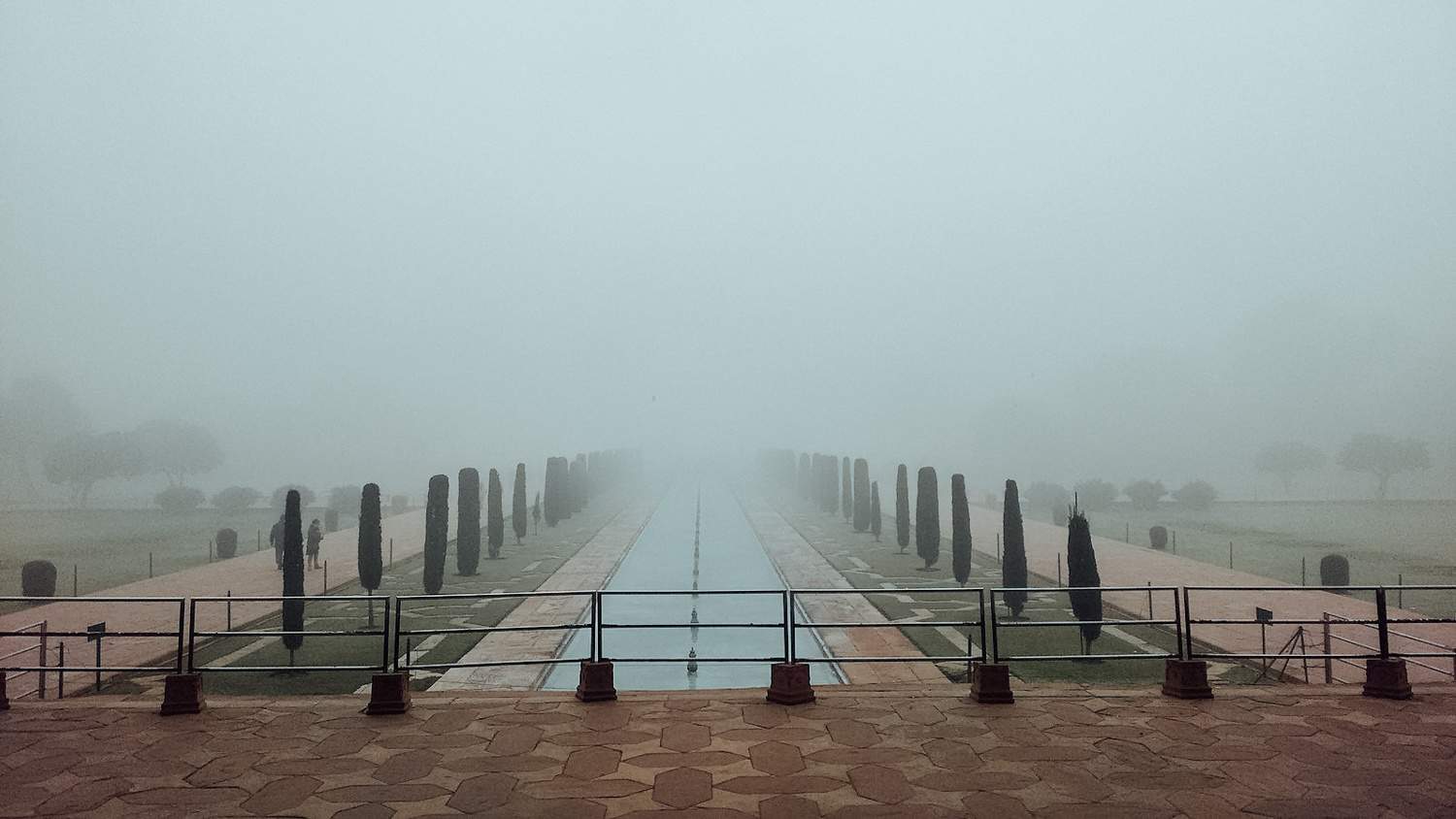 What's the best time of year for visiting the Taj Mahal?
The best time of year to visit is over winter.
For the majority of my India posts, you're going to notice that I recommend visiting in winter, but for the Taj Mahal, I think early-or-late-winter would be the best time to visit.
At this time of year, you're going to avoid the dense fog that rolls in every morning, there won't be as much smog and pollution in the air, and the temperatures will still be manageable. I'd aim for October or March. While I loved visiting in December, sunrise would have been a bit crap, as air visibility was low in the early mornings.
I'd also recommend avoiding visiting over the weekends and during public holidays, as it's a lot busier then.
Where to stay in Agra: I stayed in a private room in a gorgeous homestay in Agra for $28 a night. It was within walking distance to the Taj Mahal and the lovely family who owns it had so much helpful advice for making the most of our short stay in the city. The rooms were bright, clean, and airy, and the grounds were full of lush plants. The owners also helped us arrange a driver from Agra to Jaipur via Fatehpur Sikri and Abhaneri to ensure we wouldn't get ripped off. I definitely recommend staying here while you're in town.
How to Get to Agra: Most people are going to be hitting up the Taj Mahal while they're traversing the Golden Triangle, so will typically be coming from either Delhi or Jaipur.
Taking the train from New Delhi to Agra is incredibly easy if you book in advance with 12Go Asia. Tickets for trains are released four months in advance, and it's a simple process to buy them online. I took the Gatimaan Express — the fastest train in India — that left from Hazrat Nizamuddin station in New Delhi at 8:10 a.m. and arrived at Agra Cantt by 09:55 a.m. Tickets for A/C chair car carriages were just under $16 each and included a breakfast and bottle of water.
Alternatively, the best train from Jaipur to Agra is the speedy Shatabdi Express, which leaves Jaipur at 7:05 a.m. and arrives in Agra at 10:35 a.m.
Now I want to hear from you guys! If you haven't visited the Taj Mahal, is it on your list? And if you have been before, how did your experience compare to mine?
Related Articles on India

💰 The Cost of Travel in India: A Detailed Budget Breakdown
🇮🇳 12 Reasons Why I Absolutely Loved Rajasthan
💗 Three Perfect Days in Delhi: I Love This City So Much
🙅🏼‍♀️ How Not to Spend a Day in Jaipur
💛 The Ultimate Guide to India's Golden Triangle
🐪 Pushkar Travel Guide: 11 Things to Do in Pushkar
🤍 Yes, Udaipur is as Great as Everyone Says
🎶 I Went to a Pink Floyd-Themed Cafe in India