Pushkar felt different.
From the moment I arrived, it felt unlike anywhere else I had visited in Rajasthan. This is one of the oldest cities in India, and one of the holiest on the planet.
And yet, it felt so laid-back — laid-back for India, anyway. Pushkar is a beautiful small city, situated around a sacred lake, and has long been a major pilgrimage destination for Hindus. In the 1960s, however, Pushkar developed into a popular spot on the infamous Hippie Trail, and attracts just as many spiritual visitors today.
Many choose to stay for weeks at a time.
Because of that, Pushkar has a reputation for being touristy and full of faux-hippies, so I originally planned to just spend one night in town. I wanted to see as much as possible and then flee for somewhere less popular. In the end, though, I found myself with a few extra days to spend in Rajasthan and decided to allocate them to Pushkar.
It was the best decision ever.
What can I say? I absolutely adored the time I spent in Pushkar.
This city is stunning, painted a range of pastel shades, but predominantly concentrated on white and baby blue, and the numerous rooftops make excellent viewpoints a regular occurrence.
It's chilled-out, has a mystical vibe, offers excellent shopping, and the food is delicious.
It's a place where you'll turn a corner and stumble into a camel sauntering down the street; a place where you can hike in the mountains or explore the desert sands; a place where you can get your fortune told or dive into outdoor yoga classes at sunrise.
The legend of the city's origin is a fascinating one — it's believed that Pushkar was created when Brahma (the creator of the universe) triumphed over a demon using only a lotus flower. After the battle, the lotus flower fell to the ground, creating Pushkar Lake. To this day, Pushkar remains an important Hindu pilgrimage spot, and devout followers attempt to visit at least once in their lifetime.
Today, I want to share some of my favourite things to do in Pushkar, as well as offer up some tips for making the most of your stay.
Many People Visit for the Pushkar Camel Fair
Puskar's famous camel fair takes place every year during Kartik, the eighth lunar month in the Hindu calendar. It's the holiest month of the year for Hindus, so every November, 400,000 tourists and 30,000 camels descend on the city. Pushkar's relaxing vibe is transformed into a vibrant, noisy jumble of animals and humans, the latter all clamouring to absorb as much of the madness as possible.
The original purpose of the Pushkar Camel Fair was to provide a location for local camel and cattle traders to do their business. While the festival has since been commercialised and aimed at tourists in recent years, traders still bring their animals along in the hopes of selling them to interested buyers.
Once that's out of the way, the fun begins. The festival transforms into an incredible show, featuring musicians, magicians, snake charmers, wedding parades, Rajasthani wrestling, ferris wheels, camel races, and bazaars. There's plenty of competitions, too, with the best decorated camel and most impressive moustache awards being the most popular.
Away from the festival, at Pushkar's lake, pilgrims arrive on their journeys to be absolved of their sins. Hindus from across India visit at this time of year to bathe in the holy waters of the lake, and those who bathe during a full moon are said to receive the greatest amount of luck.
Pushkar is a Great Place for Vegan Restaurants in India
Well, vegan-ish.
My boyfriend and I both avoid eating dairy, so were looking forward to arriving in Pushkar and taking a break from all of the milk, butter, cream, and cheese that are seemingly added to every Indian dish. I'd read that Pushkar was a vegan town, and couldn't wait to get there.
Well.
It turns out that restaurants in Pushkar don't serve meat and eggs, but dairy is still everywhere.
Because India.
Still, there were plenty of great, healthy restaurants and cafes to eat at, and I managed to avoid dairy for the most part. I really liked the Laughing Buddha vegan cafe, and Honey & Spice was another lovely spot to eat at. The former had delicious beetroot burgers and donates 50% of profits to charity, and the latter was one of the healthiest cafes I've eaten at with a seriously welcoming owner.
And you can't forget the Middle Eastern treats!
India is popular with Israeli travellers, and Pushkar is firmly on the Hummus Trail. What that means is that wherever you go in India, there'll be delicious hummus and falafel to snack on. I loved it! Pushkar, in particular, has plenty of falafel vendors on the streets, serving up delicious options for those who fancy a break from curry. Ganga Laffa & Falafel Restaurant offers one of the best takes in the city.
While you're in town, make sure to eat at at least one rooftop restaurant. Pushkar is known for having a wealth of eateries overlooking Pushkar Lake, and they make for beautiful views at any time of the day.
Alcohol is Forbidden but Accessible
Alcohol is also banned in Pushkar, as the Indian government won't provide bar licenses close to areas of religious importance. You can definitely still find it if you're keen — it's available at many restaurants if you ask for it — but for the most part, this is a dry town. Feel free to buy some beer before you arrive in Pushkar to drink at your guesthouse, if you don't like the idea of going without.
Much more popular in Pushkar is bhang, an edible form of cannabis that's usually added to lassis, and is available at most restaurants in town. It's strong, so make sure to order a light version if it's your first go around.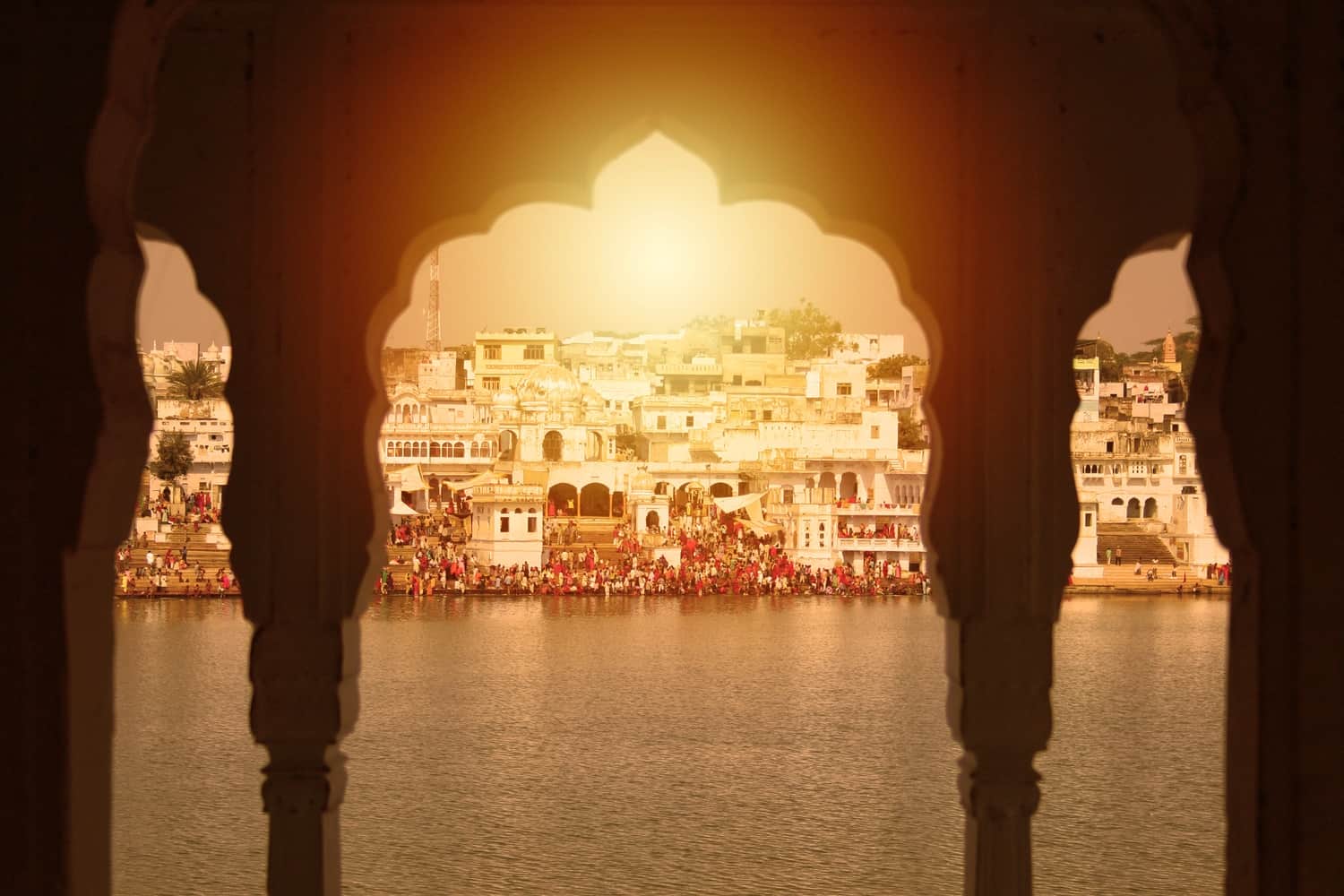 You've Got to Head to Pushkar Lake for Sunset
This was one of my favourite Pushkar experiences.
Every evening, an hour before sunset, everybody gathers around the lake to watch the sunset. There's cows meandering around, musicians pounding on drums, lots of chanting, and so many people taking photos of the mystical scenes around them. You could opt for watching the sunset from a nearby rooftop restaurant, but I much preferred wandering around the ghats and taking in the unfamiliar scenes.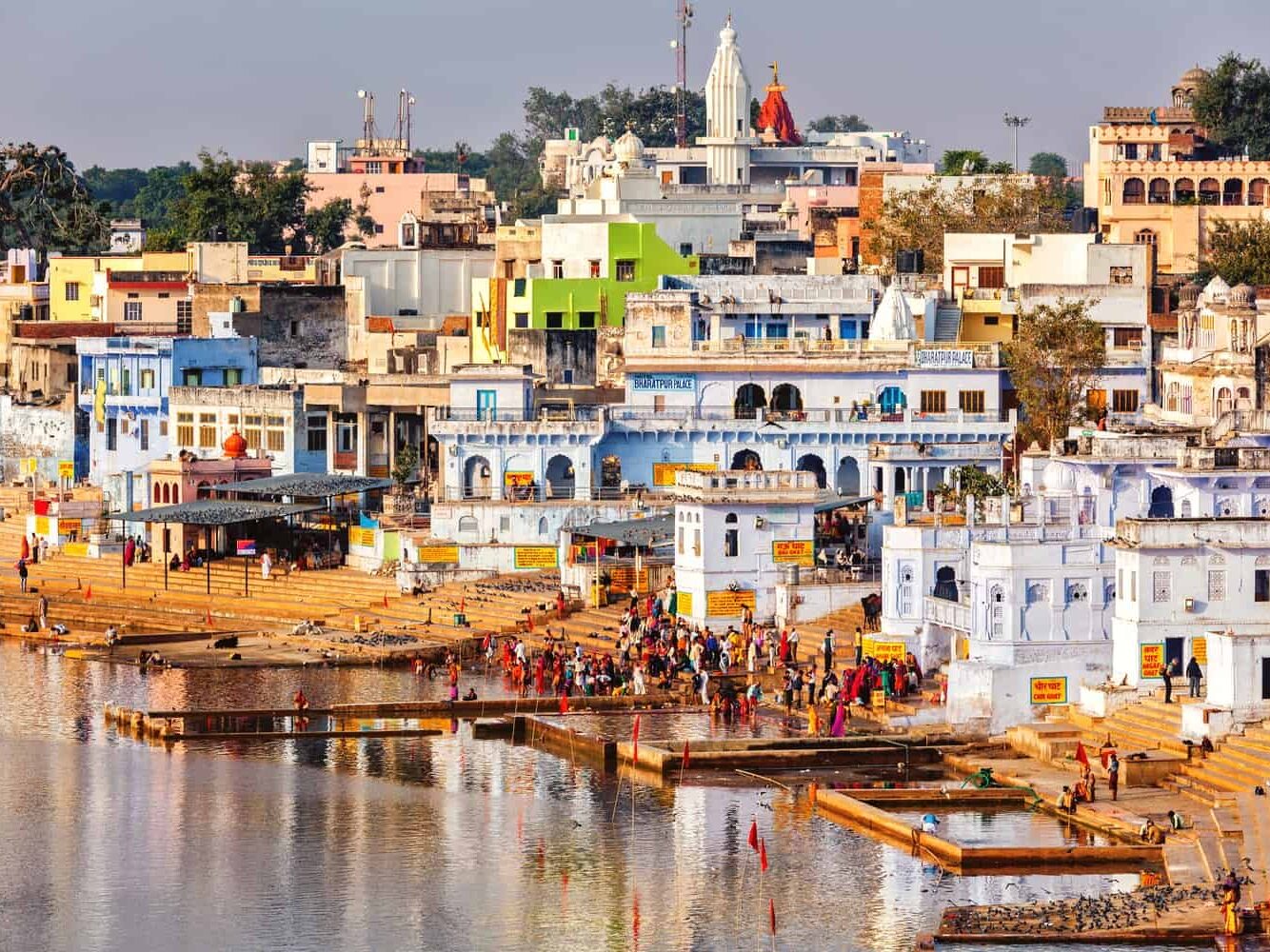 Make Sure to Visit All 52 Ghats
Around the lake, you'll find 52 bathing ghats, where you'll run into holy men, scammers, and pilgrims bathing in the sacred waters. Some of the ghats are more significant than others: Mahatma Gandhi's ashes were scattered on Gandhi Ghat, for example, and Brahma Ghat marks the spot where Brahma is said to have worshipped. It's believed that taking a dip in Pushkar Lake leads to salvation, which makes this one of the five holiest centres of pilgrimage for Hindus.
You have to remove your shoes to walk around the lake, as most of the structures surrounding the water are temples and ghats. Just place your shoes into your bag or carry them with you if you're worried about them being stolen. You should also refrain from smoking and from taking photos of the people bathing while you're there.
Oh, and you shouldn't bathe in the lake, either, unless you're a Hindu.
Then Check Out the Magical Evening Aarti
If you stroll around the ghats as night falls, you'll hear chanting, drumming, and ringing bells filling the air. It's the evening aarti and it's something that has to be experienced while you're in town. Aarti can be performed at any of the 52 ghats surrounding the lake, however the most popular one is at Brahma Ghat.
As part of the aarti, Hindus light candles as a prayer offering to their gods. You can walk the circumference of the lake to witness worship at all of the ghats.
This was one of the most magical moments of my life and had me feeling as though I'd been dropped into a travel documentary on an unfamiliar land.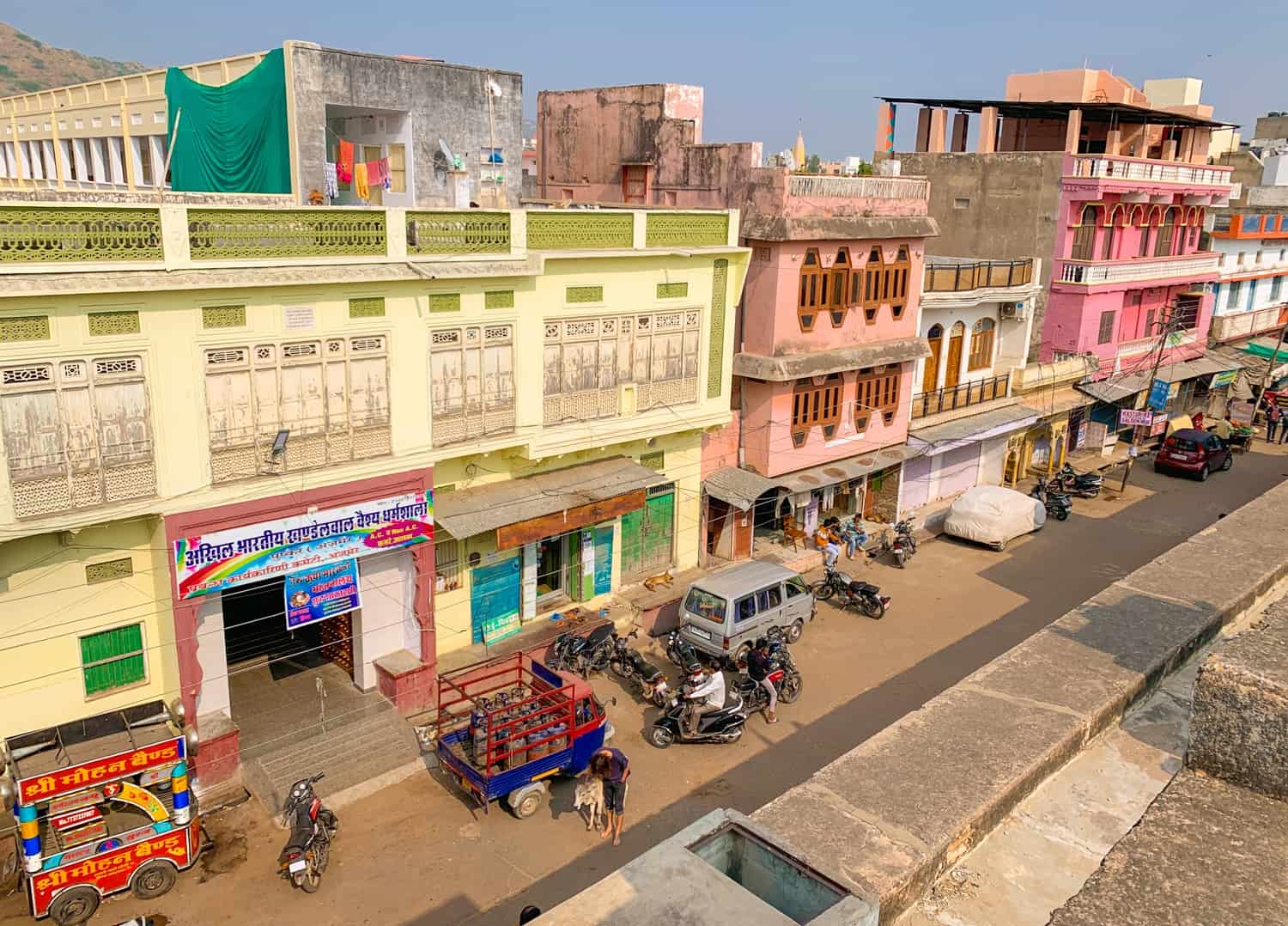 It's a Spiritual Destination for Getting Your Hippie On
If you're all about that spiritual life, there's undoubtedly a treatment in Pushkar for both you and your chakras.
This is a place for sunrise yoga classes, getting your chakras read after an Ayurvedic massage, diving into reflexology, and healing your body with Reiki. And with low prices compared to many other countries, this is an excellent place for trying some of it out to see if it works for you.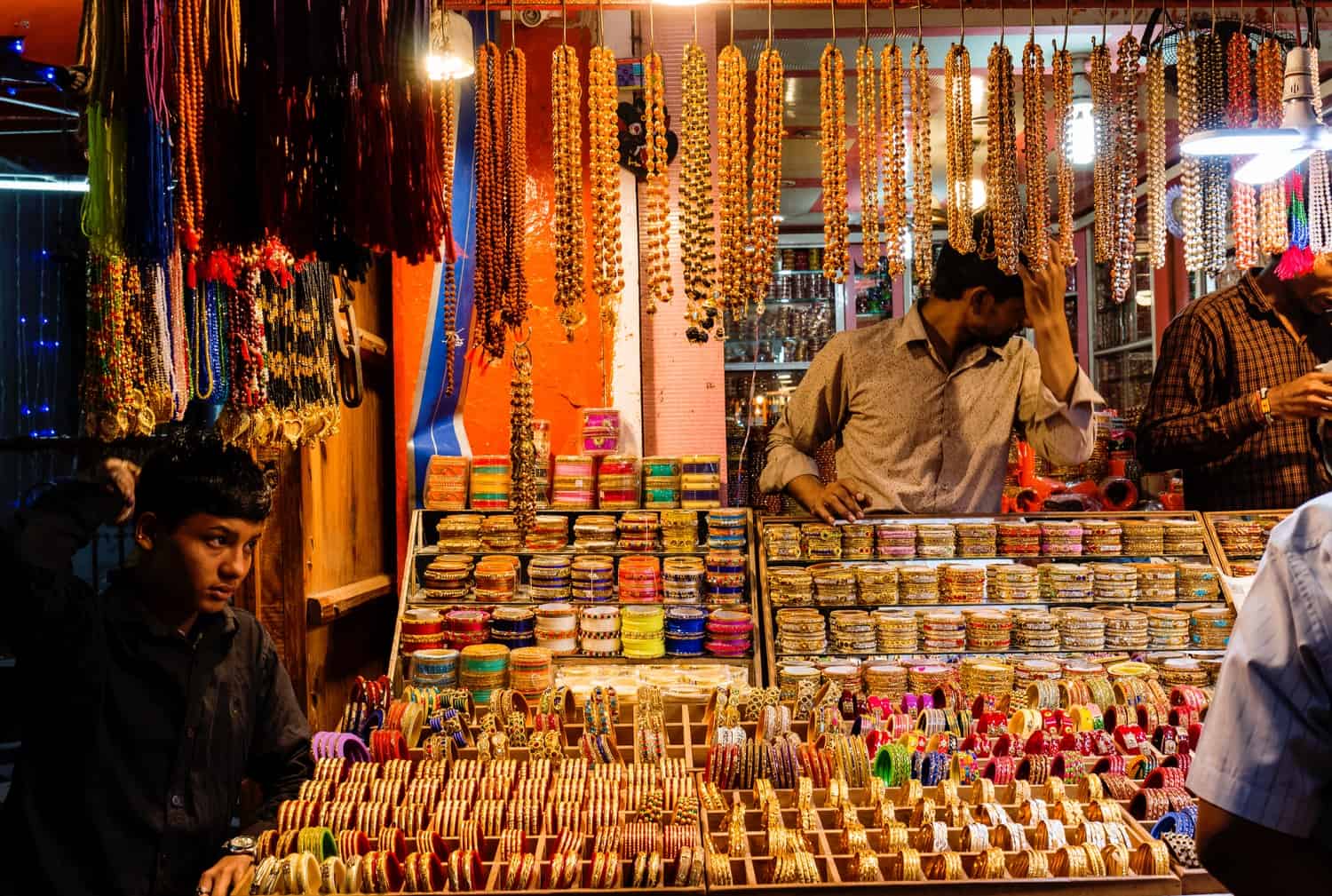 Pushkar Has One of the Best Shopping Experiences in Rajasthan
I'm not much of a shopper when I travel — the finite space in my backpack unfortunately prevents me from buying everything I see — but in Pushkar, I was obsessed with the bazaars. Yes, one of the best things to do in Pushkar is stock up on souvenirs.
The main shopping destination in town is Sadar Bazaar, which is located on the northern side of the lake. It's around a kilometre in length and is full of trinkets and treats to buy. I bought myself a new diary, some earrings, a shawl, and a dozen hand-painted postcards to send to family and friends.
Outside of Sadar Bazaar, you'll find Sarafa Bazaar, Baza Bazaar, and Kedalganj Bazaar, which all sell fairly similar items. You can pick up turbans, saris, Rajasthani puppets, lamps, meditation cushions, wall hangings, purses… almost anything that you can think of.
Remember to haggle! You can usually get the cost of items reduced by at least half of the original price if you do so. Although everything is so inexpensive here that you likely won't care either way.
When the beautiful diary I bought turned out to be less than a dollar, I simply couldn't bring myself to start bargaining — I would have paid 10 times the price in the U.K. to get my hands on it and couldn't be bothered to start arguing over the equivalent of 20 cents!
Hike to Savitri Temple at Sunrise or Sunset
While the understated Savitri Mandir isn't worth more than a cursory glance, the views from the temple are some of the best you can get of Pushkar. It's located atop a nearby mountain, and it takes just under an hour to walk to the top, although you can also take a cable car (90₹/$1.25) if you're feeling a little lazy. It's worth the journey, as you'll find yourself with a 360 degree viewpoint over Pushkar Lake and the surrounding hills and countryside.
Most people choose to walk up for sunrise, but I think sunset is a better option. You won't have to worry about stepping on wild cobras as you walk up in the dark, for starters.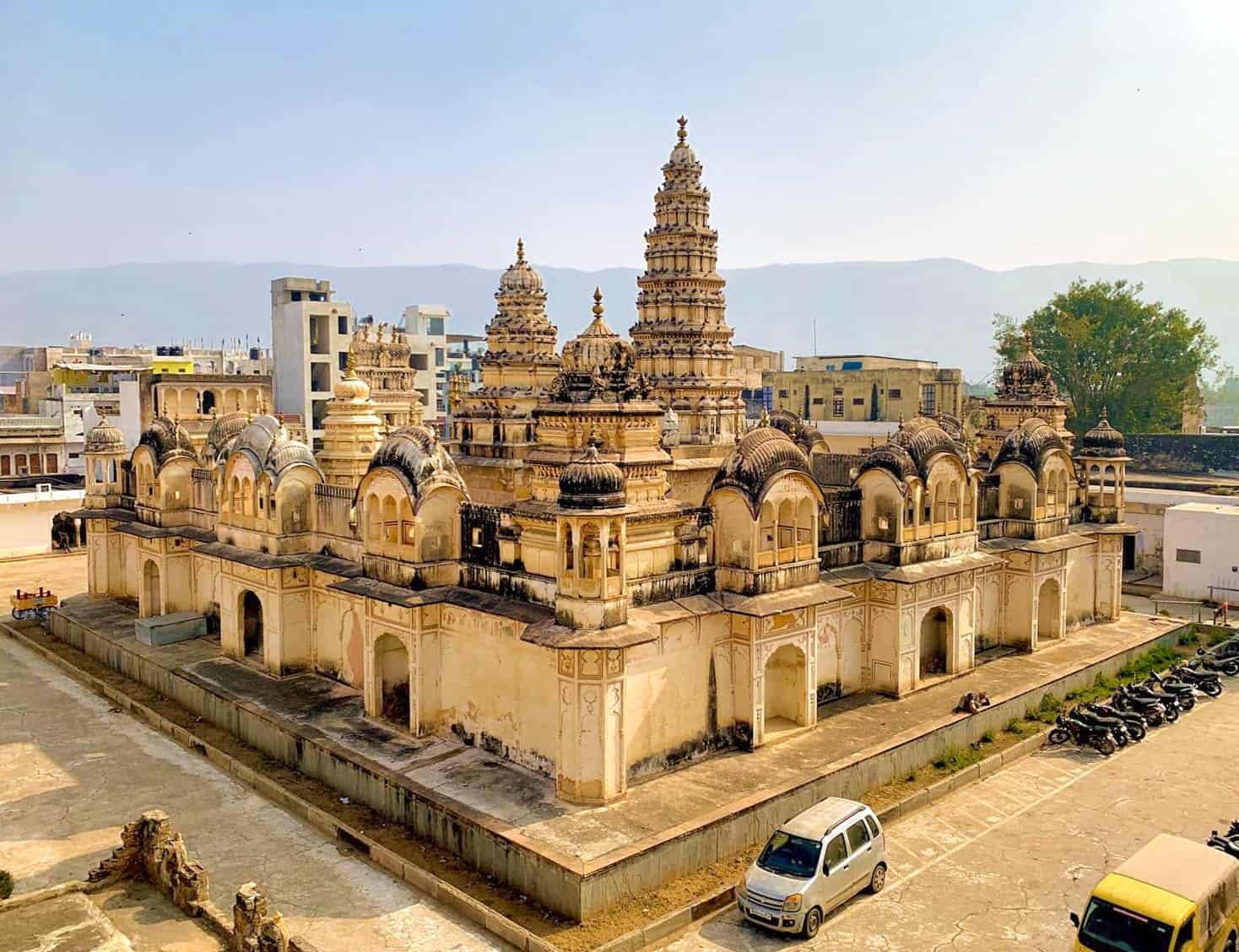 Temple-Hopping Could Take You Months
For such a small town, Pushkar is home to an incredible number of temples. There are over 500 nestled up between the lake and mountains!
If you visit only one, you should make it the Brahma Temple.
In Hinduism, Brahma is the creator of the universe, but despite being the most important god, he has just a handful of temples dedicated to him. The Brahma Temple in Pushkar is the most well-known and one of the holiest places on earth. The temple dates back to the 14th century and is made mostly of marble.
If you're not Hindu, it's probably not going to be super exciting to walk around during the day, so to make your experience a magical one, time your visit with one of the aartis that are conducted here. One takes place two hours before sunrise, one 40 minutes after sunset, and one five hours after sunset.
One of my other temple highlights included Gurdwara Singh Sabha, an impressive Sikh temple that's painted bright white. It was so beautiful! Despite the Brahma temple being the most famous in Pushkar, I preferred this one and thought it was the prettiest in the city.
I also loved visiting some of the lesser-known temples, too, like Varaha Temple, Rangji Temple, and Gayatri Mata Temple on top of a nearby hill. Sri Rangnath Swamy Temple was another highlight, as we got to explore it with nobody else around.
I suggest searching for temples on Google Maps, saving any that look pretty and capture your interest, and then working your way around them over a morning. Alternatively, head out through the alleyways and pop into any smaller temples you pass — there'll likely be something interesting going on and you'll discover places that few tourists bother to visit.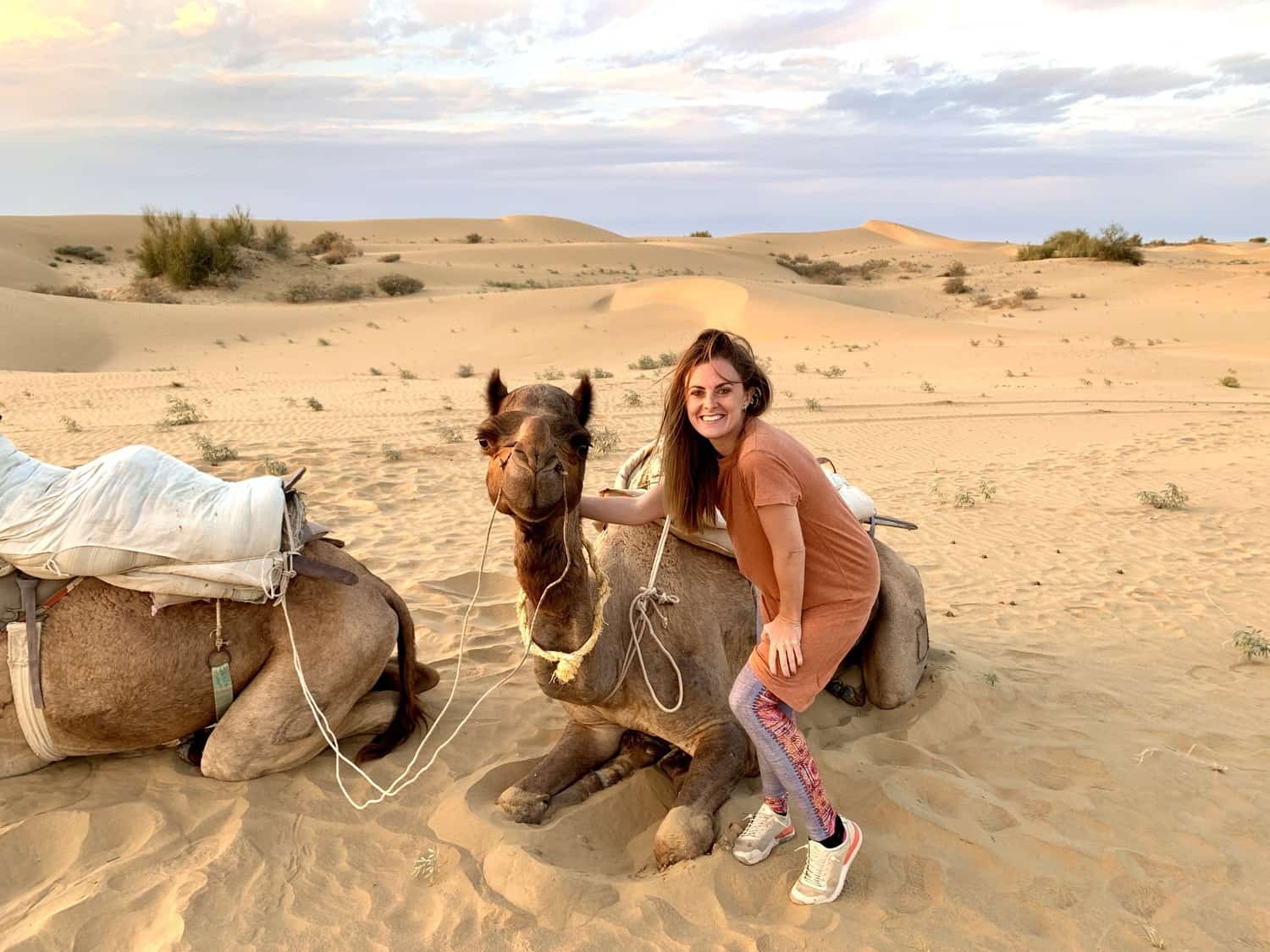 You Can Even Jump on a Camel Safari
Jaisalmer attracts all the fame and tourists when it comes to camel safaris, but you can just as easily take one in Pushkar. Yes, if you're not in town for the Pushkar Camel Fair, you can opt for the next best thing and take a camel out to explore the nearby Thar Desert. Safari options range from just a couple of hours to spending several nights camping in the sand.
Keep your expectations low for this one, as you'll likely encounter a lot of trash — as you do everywhere in India — and more grass and dirt than towering sand dunes. Still, if you want to see a desert and fancy riding a camel, this is a good place to get a taster for it. If you are going to be visiting Jaisalmer, however, I'd recommend doing one there instead.
Where to Stay in Pushkar
In terms of area, I recommend staying slightly outside the centre of town. As wonderful as the chaotic streets are, the buildings in India are the exact opposite of sound-proof and it'll make for some loud and sleepless nights. Staying a little way out of the centre will make a difference to the amount of sleep you get (although you'll still want to pack earplugs), and because Pushkar is small, you'll still only be a five-minute walk from all of the action.
I absolutely adored the owners of our homestay in Pushkar, where we paid $25 a night. They were some of the loveliest people I think I've ever met. They greeted us with cups of chai and plates full of food and snacks and treats, and every breakfast was full of so many freshly-baked options. The room was clean and airy, and it was great to be staying a 5-minute walk from the centre of Pushkar. This homestay has the best reviews of any accommodation on Booking, so I'm fairly certain it's the best option in the city.
If you're on a super-tight budget, I recommend staying at Namaste India. With double rooms starting from just $8 a night and the average review score on Booking coming in at 9.6, it's easily the best inexpensive option in town. Plus, it has a treehouse to hang out in! Namaste India is in a perfect location, away from all of the hustle and bustle, there's a ridiculously relaxed vibe, and there's even yoga classes in the morning and a cosy bonfire every evening.
For those of you who like a little more luxury with your travel experiences, I recommend Hotel Brahma Horizon. I actually booked a stay at this hotel last year, before I unfortunately had to cancel that trip to Rajasthan, and I'm gutted that I never got to experience its beauty. It's $70 a night for a deluxe double room, in a modern and well-designed hotel that's in a quiet location in Pushkar. If I decide to return to Pushkar in the future on a romantic getaway, this would be where I'd choose to stay.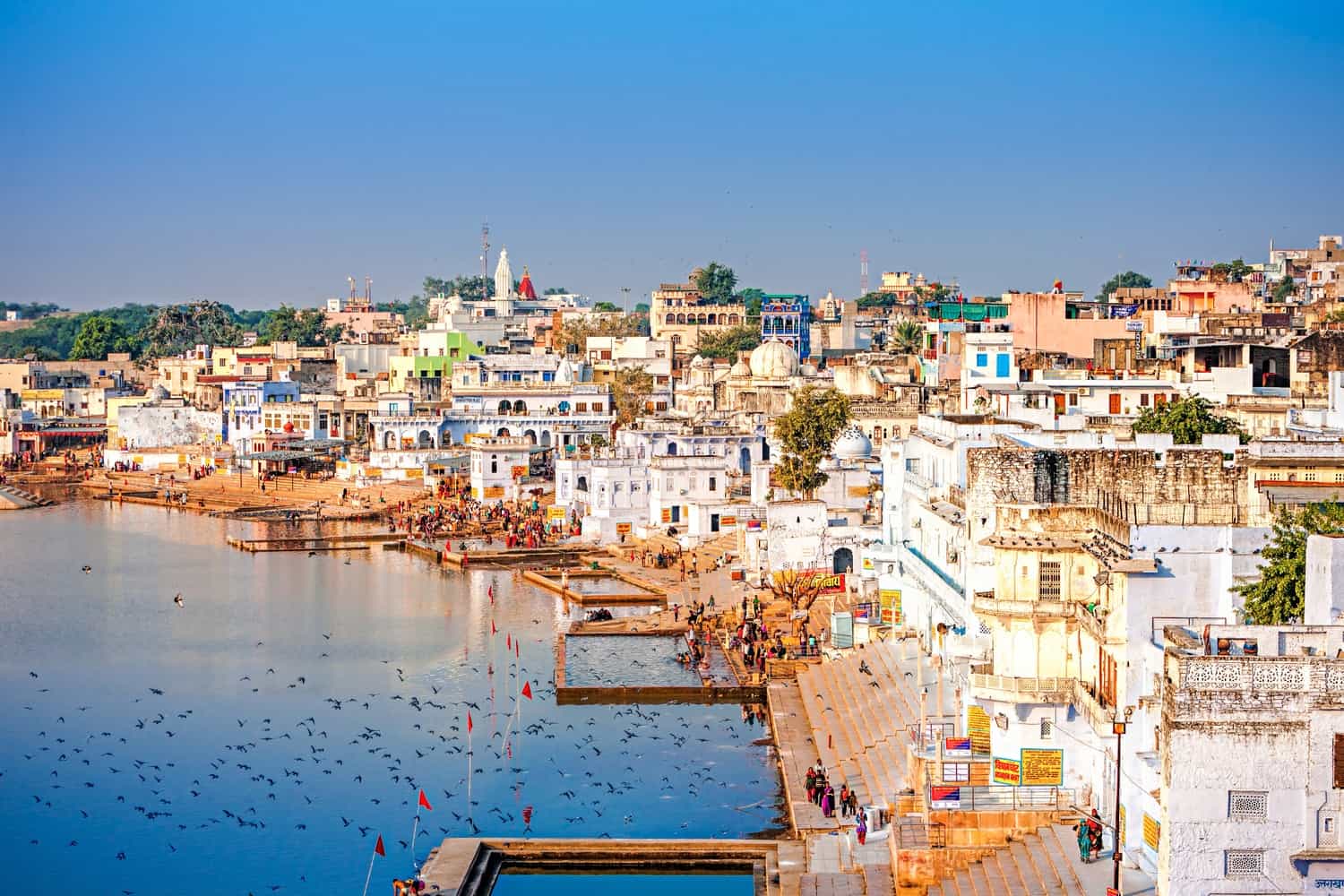 How to Get to Pushkar From Delhi, Jaipur, and More
Unlike most tourist destinations in Rajasthan, Pushkar doesn't have its own train station. Fortunately, it's only six miles away from the city of Ajmer, which is connected by rail.
I recommend booking your trains in India online and in advance through 12Go Asia — an online travel agent that makes travelling around the country so easy. I used them for every train and bus ride I took in India, and was so grateful not to have to deal with scams, wasting time queuing in stations for tickets, and wrestling with websites that wouldn't accept foreign bank cards.
Tickets for train routes go up for sale 120 days before their departure date and they do sell out quickly, so if you know in advance when you're going to be in Pushkar, I recommend booking your travel as soon as possible. I waited until a month before my trip date and was frustrated to see so many of the trains were fully-booked. This will especially be the case if you want to visit for the Camel Fair.
To get to Ajmer from Jaipur, you'll likely take the Jammu Aii Express, which departs Jaipur at 10:10 a.m. and arrives at Ajmer at 12:20 p.m. — this was the one I travelled on. It's $16 for a 2nd class 2-tier seat.
To get to Ajmer from Delhi, you're best off going for the Shatabdi Express, even though it means opting for an early start. You'll be leaving New Delhi at 6:05 a.m. and arriving in Ajmer at 12:45 p.m. It's $17 for an A/C chair class seat.
To get to Ajmer from Udaipur, you'll probably opt for the Udz Jp Express, which leaves Udaipur at 6 a.m. and arrives in Ajmer at 11:25 a.m. Tickets cost $8 for second-class seating.
You can travel for cheaper on the trains if you're trying to save money in India, but I do recommend opting for second-class seats where possible. It was my favourite train class in the country, as the seats are comfortable and the carriages are calm, quiet, and safe.
But what about getting from Ajmer to Pushkar?
That's simple, too.
If you're on a tight budget, you can opt for a local bus. It costs around 20₹/$0.30 for the half hour journey. Otherwise, you can grab a rickshaw or an Uber to Pushkar. It'll take the same length of time and cost around 400₹/$6.
If you're tight on time or keen to avoid the trains, you might want to visit Pushkar on a private day trip from Jaipur. For $75, you'll get to experience most of the activities I've included in this post, and you'll have a driver and guide with you to ensure you're truly getting the most out of your time there. There's also an option for taking a day trip from Jodhpur, if you're keen to rack up a flying visit to Pushkar from the Blue City.
The Best Time of Year to Visit Pushkar
The best time to visit Pushkar is between October and March, as that's when the temperatures are coolest. If you're keen to check out the Pushkar Camel Fair, it takes place during November each year. In 2020, it'll be held during November 22 to 30. Keep in mind that prices will be highest at this time of year, and there'll be little accommodation availability, so you'll want to book several months in advance.
I visited Pushkar in mid-December and loved the temperatures and weather I encountered while I was there.
How to Not Get Sick in Pushkar
A water filter: I adore my GRAYL water bottle and if anyone's planning to visit a country with unsafe tap water, I can't help myself from recommending it. It was a life-saver in India!
I've used the GRAYL to drink tap water all over the world in recent years, from Mozambique to Tonga, the Democratic Republic of the Congo to India and never once got sick.
So, what is the GRAYL? It's a water bottle that looks a little like a French press. You fill it with tap water, slide the filter down to the bottom of the bottle, and then drink, drink away! The filter within the GRAYL kills 99.999% of all viruses, bacteria, and cysts in water, making it entirely safe to drink. Not only that, but it also means you don't have to ever buy bottled water again, so can both save money and the environment. I love that you can drink the water within seconds, too, rather than having to wait for several minutes, like you need to with other types of purifiers.
Pudin Hara! I'm a total convert to Pudin Hara — peppermint oil capsules from India — and take them every time my stomach feels a little unsettled. You can buy them from any pharmacy when you get to India, but you can also pick them up from Amazon. I took like, a hundred tablets with me, as I took a capsule with every single meal. I fully plan on keeping a large supply of these with me whenever I travel, as they were so life-changingly great at settling my stomach. An added bonus was the deliciously minty burps that overpowered the scent of curry that was emanating from my body.
Tips for Visiting Pushkar
Spend more time than you think: You can see all of the attractions in Pushkar in a single day, so you could easily justify a quick visit.
I recommend spending at least three days here, though. It's such a peaceful spot in amongst the chaos of Rajasthan that it's worth hitting the pause button for a few days to wander through the bazaars, meditate beside the lake, take in a few yoga classes, and explore some of the lesser-visited temples.
If you only have a short amount of time to spend in Pushkar, I recommend jumping on this two-hour cultural walking tour. You'll wander the alleyways with your local guide, seeing all of the most important sites and learning more about the monuments from an expert's perspective.
Take care to avoid the scams: Wherever there are tourists, there are also scams — the vast majority of these take place on the shores of the lake, so be extra vigilant while in that area. Be wary of anybody offering you flowers, blessings, and red bracelets, even if they insist it's a gift. They'll ask for a donation afterwards and threaten to curse your family[!] if you refuse. At some of the temples, like the Brahma Temple, you'll be asked for donations and often hassled by the people who are asking for money. If you want to donate, use the official boxes at the temple and leave if anyone makes you feel uncomfortable.
Pack your earplugs: Pushkar is the wedding capital of India, and Indian weddings equal an inordinate amount of noise. Think fireworks and drums and music and temple gongs and bells and processions and motorbikes and dogs howling in the middle of the night, every single night. Even though we were staying outside of the centre of Pushkar, it was damn near impossible to get any sleep some nights without earplugs.
Follow temple rules: There are temples dedicated to many of the major religions in Pushkar, so make sure you read up on the rules of visiting before you get there. When visiting the Brahma temple, you'll need to remove your shoes and leave all of your belongings in the lockers outside — including cameras and phones, as photography is strictly forbidden. At any Sikh temples, you'll be required to wear a headscarf, regardless of your gender, and to wash your hands and feet before entering.
Don't Forget Travel Insurance!
If you've read any other posts on Never Ending Footsteps, you'll know I'm a great believer in travelling with travel insurance. I've seen far too many Go Fund Me campaigns from destitute tourists that are unexpectedly stranded in a foreign country after a scooter accident/being attacked/breaking a leg with no way of getting home or paying for their healthcare. In short, if you can't afford travel insurance, you can't afford to travel.
Travel insurance will cover you if your flight is cancelled and you need to book a new one, if your luggage gets lost and you need to replace your belongings, get bitten by a dog and have to seek rabies treatment, or discover a family member has died while you're overseas and you need to get home immediately. If you fall seriously ill, your insurance will cover the costs to fly you home to receive medical treatment.
I use SafetyWing as my travel insurance provider, and recommend them for trips to Pushkar. They're one of the few companies out there who will actually cover you if you contract COVID-19. On top of that, they provide worldwide coverage, don't require you to have a return ticket, and even allow you to buy coverage after you've left home. Finally, they have a clear, easy-to-understand pricing structure, which is always appreciated.
Related Articles on India

💰 The Cost of Travel in India: A Detailed Budget Breakdown
🇮🇳 12 Reasons Why I Absolutely Loved Rajasthan
💗 Three Perfect Days in Delhi: I Love This City So Much
🙅🏼‍♀️ How Not to Spend a Day in Jaipur
🤩 The Ultimate Guide to Visiting the Taj Mahal
💛 The Ultimate Guide to India's Golden Triangle
🤍 Yes, Udaipur is as Great as Everyone Says
🎶 I Went to a Pink Floyd-Themed Cafe in India