Cambodia is such a wonderful country.
While it may be most famous for the magnificent Angkor Wat, it has so much more to offer its visitors. You've got beautiful beaches, spectacular islands, delicious food, hipster cities, so much history, and plenty of welcoming locals. Yes, I absolutely adore Cambodia.
I'm fortunate to have spent three months in the country; splitting my time between four visits and multiple different travel styles. I backpacked on an absolute shoestring, visited as part of a couple on a mid-range budget, and even splurged on some luxury for an unforgettable birthday treat for my partner. Most importantly of all, I tracked every single Riel I spent while I was there.
If you're wondering how much it costs to travel in Cambodia, this is the post for you!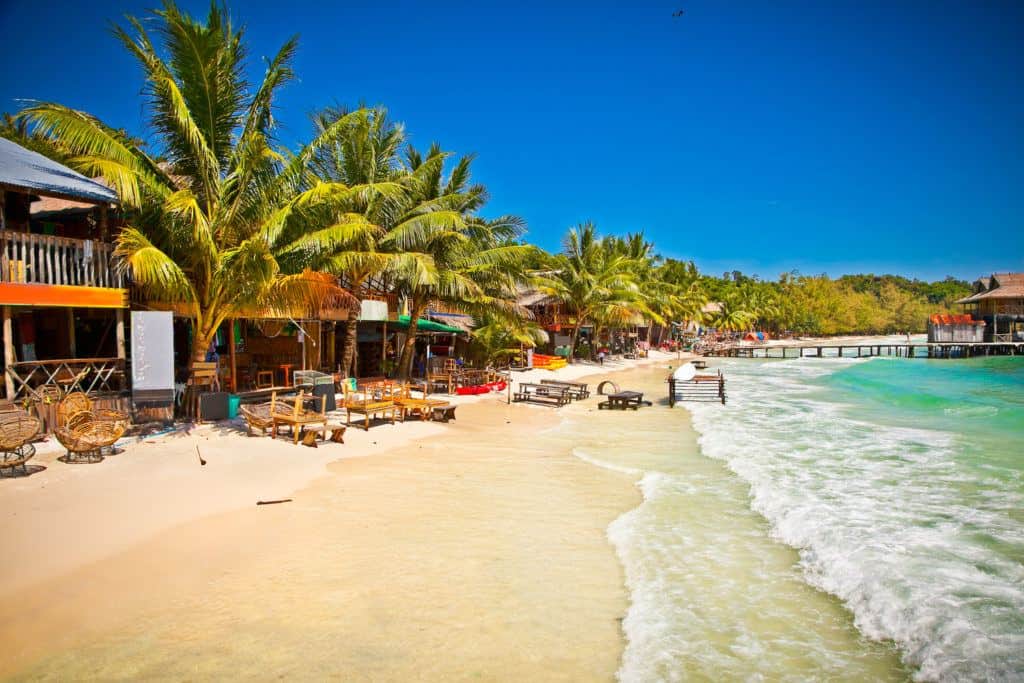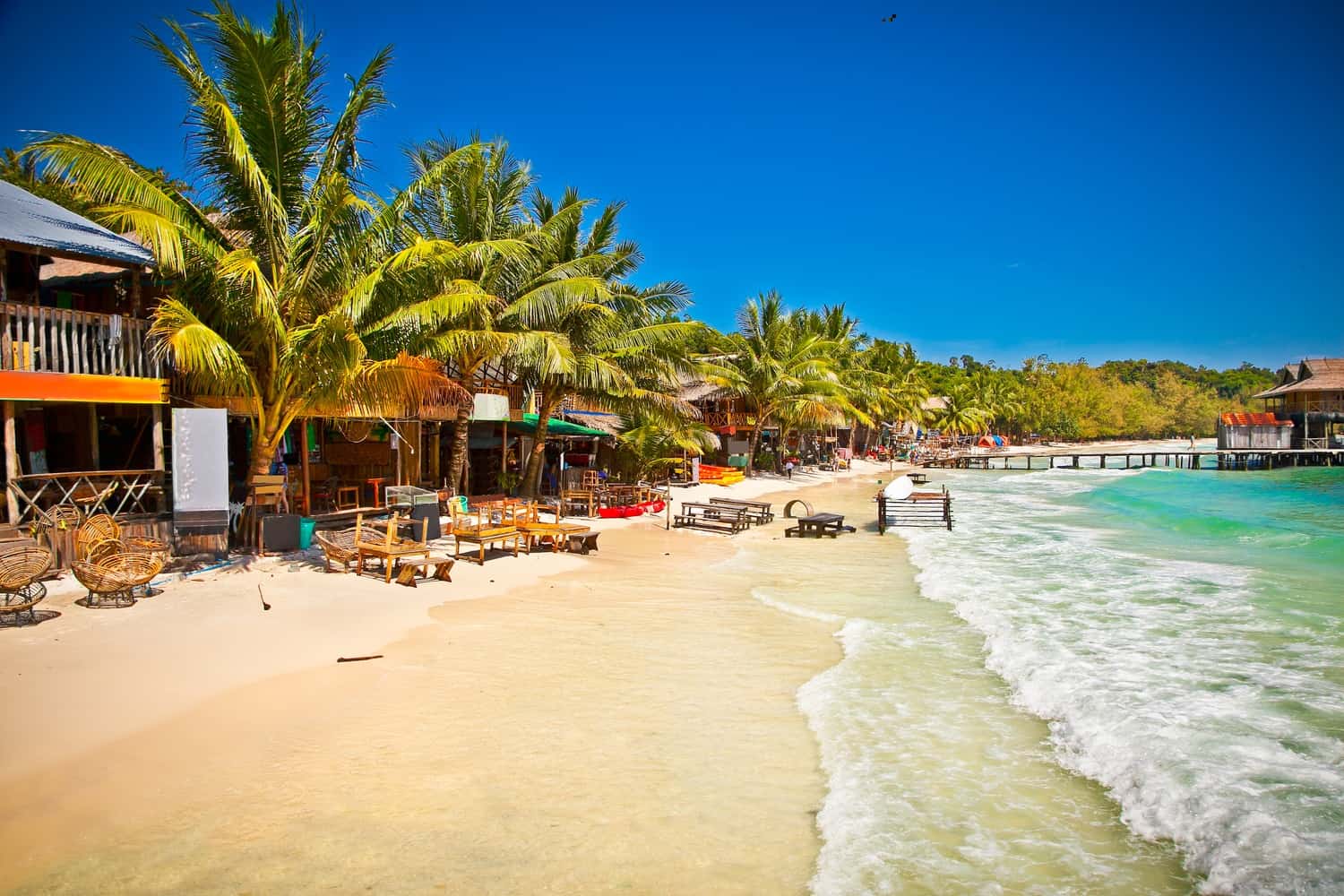 What to Know About Money in Cambodia
Cambodia's currency is called the Riel (KHR) and one U.S. dollar is typically worth 4,000 riels. If you're thinking that's going to make calculations difficult, fear not: you'll barely touch a Riel while you're in the country.
Yes, most people use U.S. dollars in Cambodia, so don't be surprised to see many prices quoted in USD, although both currencies are accepted everywhere. In convenience stores and markets, you'll most likely be quoted in Riel. The ATMs dispense U.S. dollars.
You can't take any Riels outside of Cambodia, so make sure you exchange any before leaving the country or you'll be stuck with them. This also means you won't be able to exchange your money into Riels before you arrive in the country. But no worries — U.S. dollars will be more useful in Cambodia.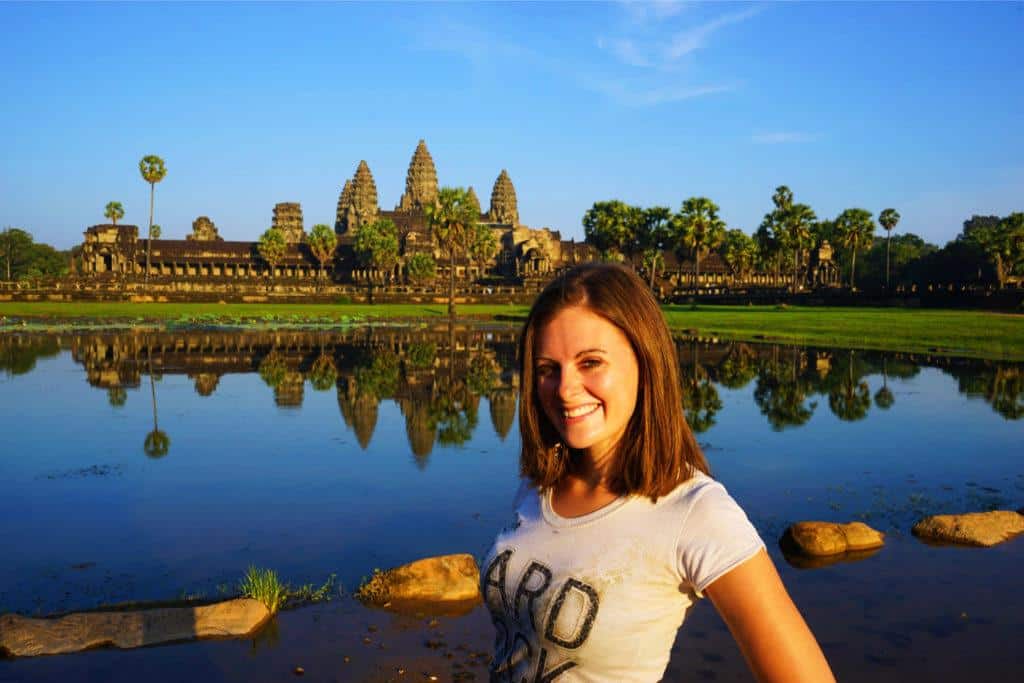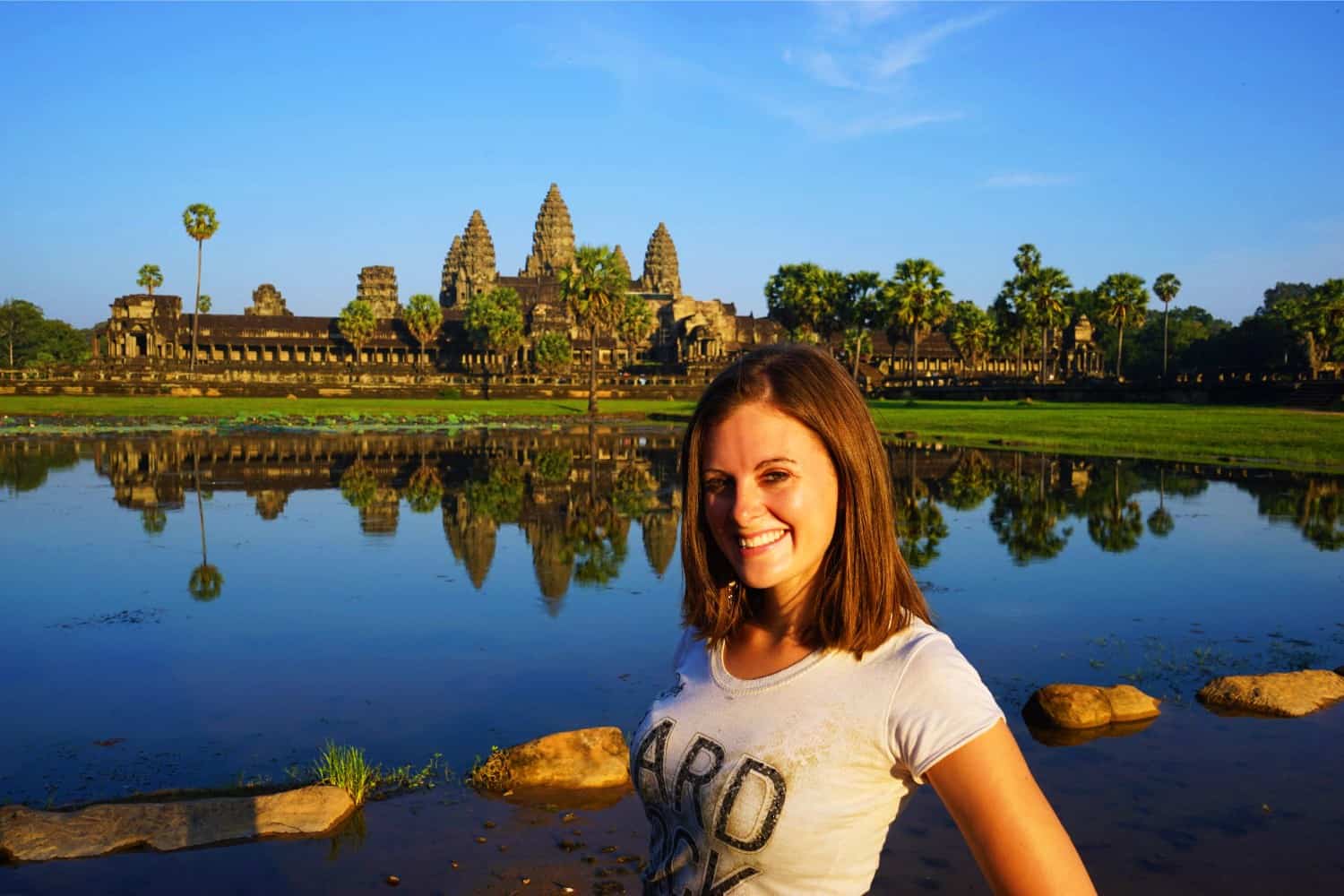 How to Find Cheap Flights to Cambodia
If you'll be entering Cambodia from anywhere outside of Southeast and East Asia, you'll be doing so via an indirect route. Yes, direct flights to Cambodia simply don't exist from Europe, the Americas, Africa, and Oceania.
To find cheap flights from any of these regions, then, my first recommendation is Secret Flying and my second is Skyscanner.
Secret Flying is my number one flying trick and it's rare for me to ever travel anywhere on a flight that wasn't found through that website. It's a flight deals site that shares some of the absolute best prices for airfare that's recently gone on sale. It's thanks to Secret Flying that I flew from Lisbon to Cape Town for €280 return, Rome to Japan for €350 return, London to Los Angeles for $120, and Singapore to London for $120. In short, regularly checking flights from your home country to Southeast Asia will help you save a lot of money.
Keep in mind that it's always far cheaper to fly into Phnom Penh than it is to Siem Reap, as everybody wants to set eyes on the temples of Angkor. When planning your trip, plan your itinerary to kick off in the capital, and it'll help you save money on flights. I paid $100 to fly from Singapore to Phnom Penh via Siem Reap, and was shocked to see it would cost $200 to fly on the exact same flight, finishing in Siem Reap.
First, check Secret Flying deals to Southeast Asia as a whole from the U.S., Canada, Australia, or wherever else you're from. You'll likely be able to pick up a flight to somewhere within the continent — most likely Bangkok, Ho Chi Minh City, Kuala Lumpur, or Singapore — for as little as €350 return. From there, you can use Skyscanner to find flights to Cambodia.
Of course, if Secret Flying doesn't have any great deals showing or you want to get to Cambodia with the least amount of hassle, you can use Skyscanner from the get-go. After 10 years of continuous travel, it's my favourite way to search for flights, as I love that you can search for flights from an entire country to Cambodia and that you can search for travel dates across an entire month to ensure you're flying on the cheapest days.
As always, the more flexible your plans, the easier you'll find it to save money on flights. If you're happy to fly into and out of different airports, you may be able to pick up a deal (flying into Phnom Penh and out of Siem Reap, for example), and if you're happy to visit at any time of year, you'll be able to pick and choose the best prices, too.
The Cost of Accommodation in Cambodia
When it comes to saving money on accommodation, let's start with the options for budget travellers.
The first of these is hostels. Cambodia has hostels blanketed across the country, and they're one of your best options for saving money while still making friends. I always recommend staying in hostels if you're going to be travelling solo!
Hostels in Cambodia are similarly priced to Central America or elsewhere in Southeast Asia, so you can get by on not very much at all. You can expect to spend around $5-10 a night for a dorm bed, and $15 for a private room, so if you're travelling as part of a couple, you may find you end up spending similar amounts for a private room, as opposed to going with two beds in a dorm. In particular, I recommend Onederz in Phnom Penh (they have a pool!) for $8 a night and the epic Cozy Cloud in Siem Reap at $11 a night.
If you're an older traveller on a budget and put off by the thought of staying in hostels, don't be! You can stay in a private room to still receive privacy and quiet, you're unlikely to be the oldest person there, and most hostels these days are modern, clean, and centrally located. There are plenty of older travellers in hostels in Cambodia, from middle-aged couples to solo septuagenarians on a trip of a lifetime. As long as you check the reviews of any hostel you book to make sure nobody refers to it as a party hostel, you'll be all good.
Airbnb is another option that you might want to keep in mind, as staying in a private room (rather than renting out the entire apartment) with a local can often work out to be more affordable as spending a night in a hostel, especially if you're a couple. Head on over to the Airbnb website and you'll find accommodation in Cambodia for as little as $5 a night. You'll be more comfortable than you would be in a hostel and will get to hang out with locals, which is what travel's all about!
If you're on a really tight budget, you can stretch your Riels out by making use of some of the free accommodation options in the country. Couchsurfing has been a backpacking staple for over a decade now, and there are thousands of hosts scattered across Cambodia. If a host agrees to let you stay with them, you'll be able to gain an insight into life in Cambodia that's always going to be tough to experience when staying with other travellers in hostels.
Housesitting is another option if you're going to be trying to save as much money as possible but want to stay in nicer accommodation. The best option for Cambodia is Trusted Housesitters, and there are usually a handful of options up for grabs in the country. Housesitting allows you to stay in somebody's house for free, usually while taking care of their pets, and is a fantastic way to spend more time in Cambodia without breaking the bank.
Finally, when it comes to free accommodation, you could also check out WWOOFing. You'll receive free lodging and food in exchange for working on a local organic farm for a few hours every day. You'll likely make tons of new friends, learn a new skill, and see a side of Cambodia that few travellers get to experience. WorkAway is another option in Cambodia that'll give you a free stay in exchange for a more diverse choice of work (think: volunteering in yoga studios, painting houses, and working in an eco resort on a paradise island).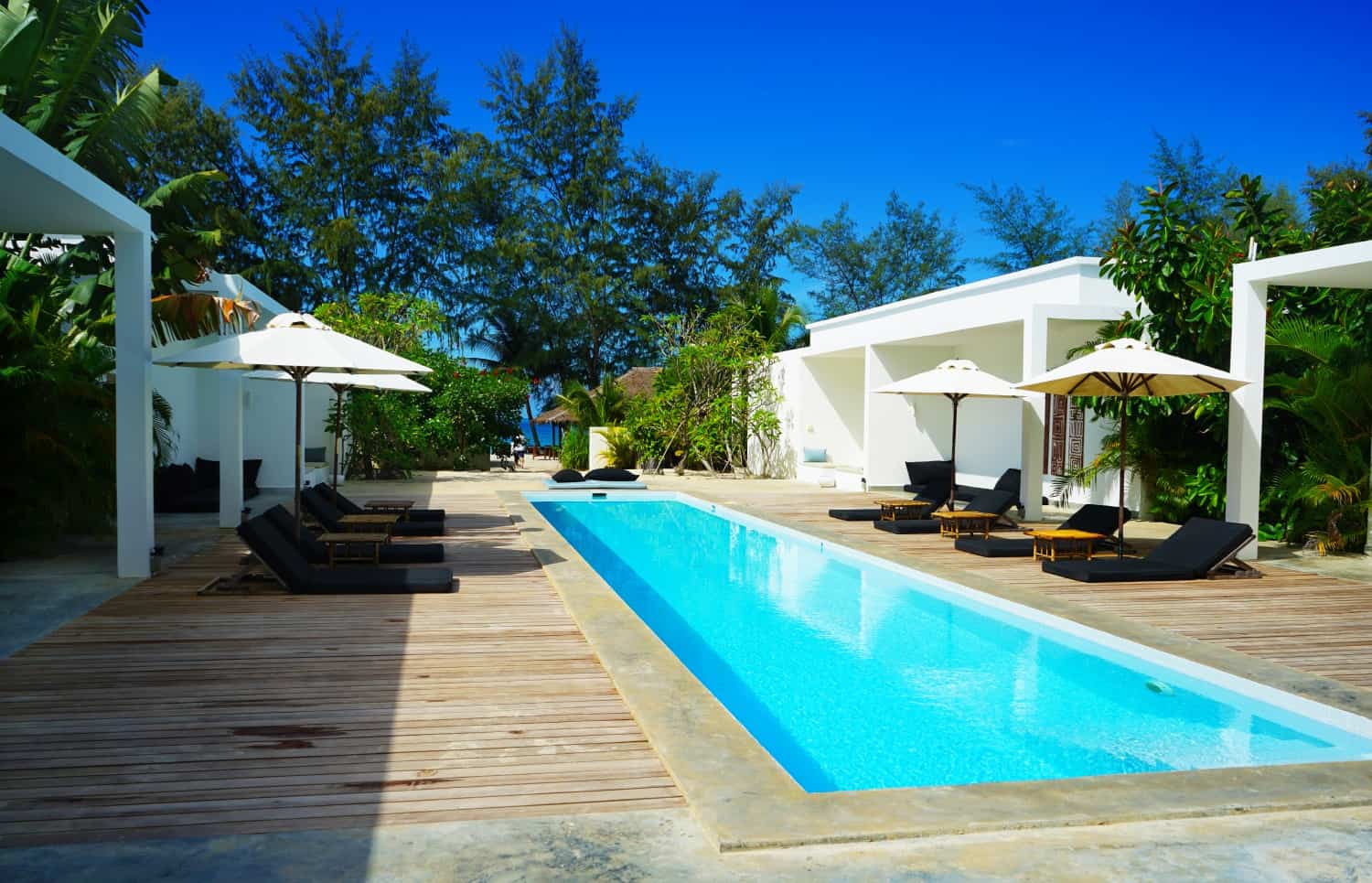 Okay, but what if you're not a budget traveller and just want to stay in a lovely, well-reviewed hotel or guesthouse that's good value for money and has all the things you need from a place to lay your head? I've got you! I've visited Cambodia on both a mid-range and high-end budget, and was blown away by how much I could get for my money. For around $60 a night, you'll be able to stay in a seriously impressive hotel.
Here are some of my favourite spots in the country:
Siem Reap: Primefold Hotel ($140 a night)
Talk about an incredible hotel! Primefold Hotel is one of the best hotels I've ever stayed in, and I've racked up 450 hotel stays over my years of travel! The staff are simply incredible, greeting you with free gifts, writing sweet goodnight messages each night, and doing everything to help you get the most out of your stay in Siem Reap. The pool is gorgeous, the rooms are luxurious as hell, and it's in a wonderful central location. Yes, it's a splurge, but it's also entirely worth it.
Kampot: RikiTikiTavi ($65 a night)
I've stayed at RikiTikiTavi twice now, because I loved my first visit so much. It's a wonderful guesthouse in a central location, right on the banks of the river. It makes it a particularly epic spot for catching the sunset in the bar each evening. The staff are wonderful, the rooms luxurious, and it's easy to hire motorbikes through reception to ride into Kep and back. I wouldn't consider staying anywhere else in Kampot!
Koh Kong: 4 Rivers Floating Lodge ($300 a night)
Yep, this was definitely a hotel I visited on my high-end trip to Cambodia! But what a mind-blowing spot. This floating hotel is located atop the Tatai River, in the southwest corner of the country, a few miles from the Thai border and surrounded by jungle. Nobody visits this part of Cambodia! You need to take a half hour boat journey to get there, and when you arrive? Nothing but silence.
At 4 Rivers Floating Lodge, you'll find no roads and no neighbours. It's only accessible by boat and you'll spend your time floating on the water in a permanent state of bliss. It's like nowhere I've stayed anywhere in the world.
You have free use of the kayaks to explore Koh Andet, formerly a refuge from the Khmer Rouge and now home to a dozen farming families. Most of the hotel's staff come from there. You also have access to inflatable rings to float in down the river — a cold Angkor beer in hand — and we even received a free evening cruise to go firefly spotting in the jungle.
It was one of my best travel experiences ever.
The Cost of Transportation in Cambodia
Cambodia's a small country and it's home to a solid public transportation system.
Most people get around the country by bus, as it's affordable and easy to book online. The buses are generally high-quality, although the roads can be poor, so expect a bumpy journey at times. Giant Ibis is the biggest and best bus company in Cambodia covering most destinations in the country. Their buses come equipped with A/C, Wi-Fi, power sockets, and snacks. You can expect to spend around $10 for each bus ride.
One of the best aspects of travel in Cambodia is hitting the water and heading out to the islands. Koh Rong is most popular destination, but Rabbit Island is a great option if you like to head off the beaten track. The ferries average around $12 each way.
If you're travelling in a group, you may find it more affordable to hire a private taxi through 12Go Asia and split the cost between you. If a bus is $15 each, for example, and a taxi is $100 and there's four of you, it's probably worth paying the extra $10 to have a more comfortable journey.
For shorter distances, taxis and tuk-tuks are prevalent, and Grab (the Uber of Southeast Asia) is available within Phnom Penh and Siem Reap.
I wouldn't recommend hiring a car in Cambodia. The roads are bad, it's tricky to get your hands on a Cambodian driving license, and simply isn't worth the effort and hassle it'll take to get it all set up.
I also want to mention flying in Cambodia. If you're short on time, you may want to jump on a plane to skip the bad roads. On one of my trips, I flew between Siem Reap and Phnom Penh and from Kampot to Siem Reap and paid around $50 for each of the flights with Angkor Air.
Here are some typical overland transportation costs you'll come up against while you're travelling in Cambodia. All prices are correct as of June 2021:
Bus ride from Phnom Penh to Siem Reap: $10
Bus ride from Sihanoukville to Phnom Penh: $9
Bus ride from Sihanoukville to Kampot: $7
Motorbike hire from Kampot to Kep and back: $4
Ferry from Sihanoukville to Koh Rong: $12
Ferry from Kep to Rabbit Island and back: $7
The Cost of Food in Cambodia
Cambodian food is often overlooked by travellers in Southeast Asia; mistakenly viewed as being bland and boring in comparison to fiery Thai dishes and complex Vietnamese soups. Don't buy into the rumours: there's plenty of delicious dishes to sink your teeth into in Cambodia.
Food in Cambodia is tasty and inexpensive, and you'll never find yourself complaining about the cost of a meal. If you're on a tight budget, meals can be had for as little as $1, which makes saving money incredibly easy.
If you want to impress your friends back home and sample something truly adventurous, add the town of Skuon to your Cambodian itinerary. This spider-filled town is packed full of tarantulas and everywhere you go, you'll find them fried up, piled high, and ready to be eaten. Yes, really. The cost? 2,000 Riels, or 50 cents.
Cambodia's tap water is unfortunately not safe to drink, so you'll want to either buy bottled water or use a Steripen to safely purify the tap water and cut down on plastic.
In Southeast Asia and especially in Cambodia, I don't recommend cooking your own food, unless you have a strict dietary requirement. Buying ingredients for meals is simply too expensive — you can spend $10-15 on ingredients for a dish that you can get for $2 on the streets, and your version most likely won't be as good.
Street food is typically safe in the country, and I recommend sampling it often. If in doubt, look to the locals. They aren't going to eat at places that will make them sick, so if you see a popular spot with a line of hungry Cambodians, that's a good sign you should grab some of whatever they're eating.
And as for restaurants, they're everywhere and reasonably affordable compared to the street food goodness. A two-course meal with a beer will come to around $10.
Speaking of beer, you can usually grab a can for around $1 — less if you're buying it from a convenience store — so drinking is fairly cheap.
In general, I'd recommend expecting to spend around $7 a day if you're on a tight backpacker budget, $20 a day if you'll be occasionally eating in restaurants, and $50 a day if you plan on eating at higher-end restaurants.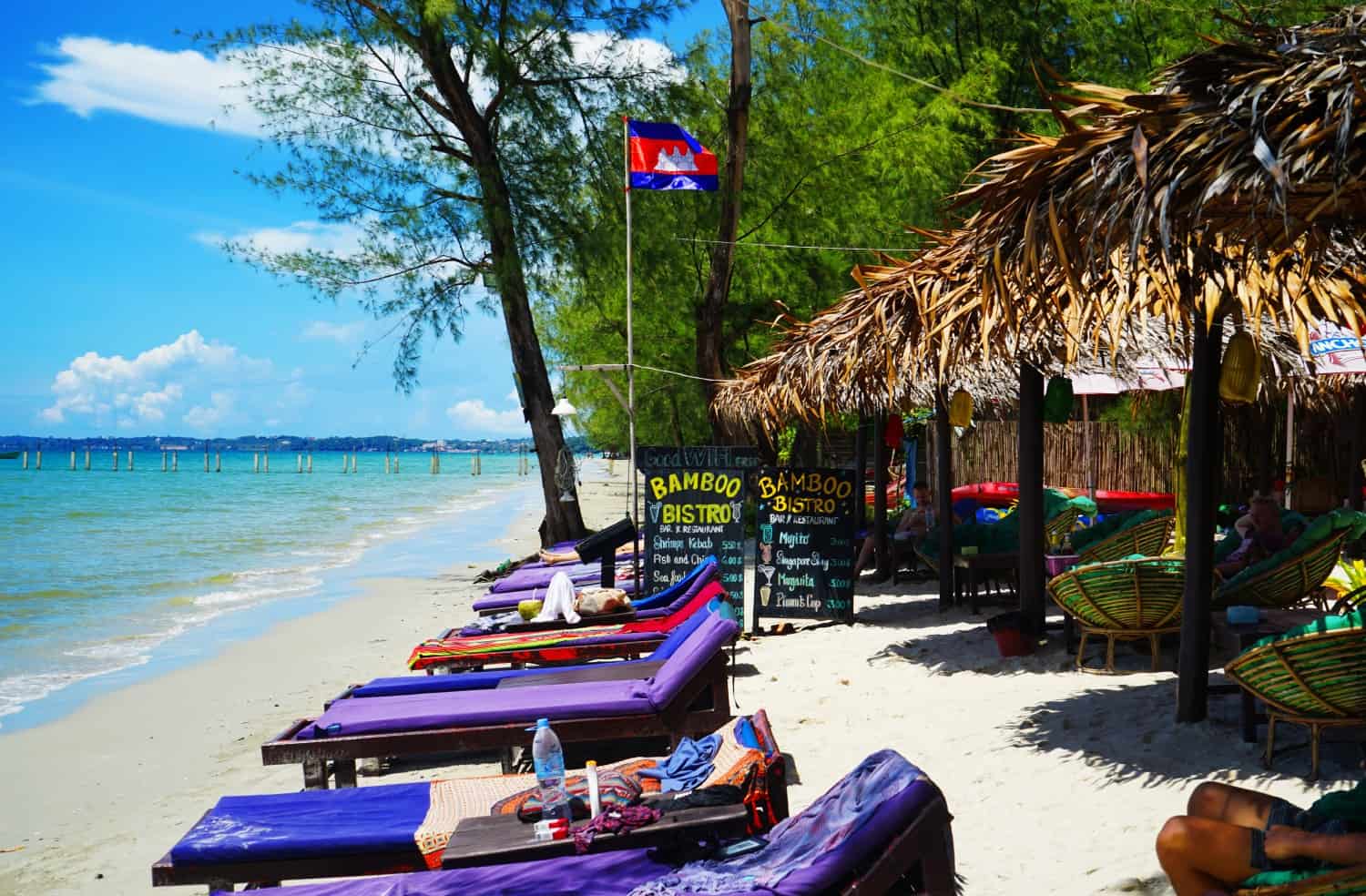 The Cost of Activities in Cambodia
When it comes to activities in Cambodia, you're probably picturing one major attraction: Angkor freaking Wat. Of course it's the one thing you have to do while you're in the country. Yes, it's going to be crowded and yes, if you're backpacking, it's going to stretch your budget, but trust me — it's so, so worth it.
And if you hate crowds, it's super-easy to get awa from them. On my third visit to Cambodia, I knew I wanted to see the lesser-visited structures of Angkor and it was so easy to do. I hired a tuk-tuk driver for the day and asked him to take me to the quietest ruins where there would be no other tourists; to show me his favourite monuments.
I spent a fantastic day clambering over ruins, wandering through the jungle, and seeing just five or six people over the entire day. It was so worth the $37 for a one-day pass.
As of 2020, the cost of the three-day pass is $62 and the seven-day pass is $74.
But what else is there to do in Cambodia? There's plenty to keep you busy in this country, even if you don't have much money to spend.
One of my favourite free things to do is explore the Cambodian coastline. Sihanoukville, Koh Rong, even Rabbit Island if you want to get away from the crowds. I loved cafe-hopping in Phnom Penh. Kampot is full of the most delicious food and Kep is all about the crabs.
Something I love to do when I travel is take tours! I always book mine through Viator, no matter where I am in the world. Here's an idea of the costs you can expect to be up for with these tours: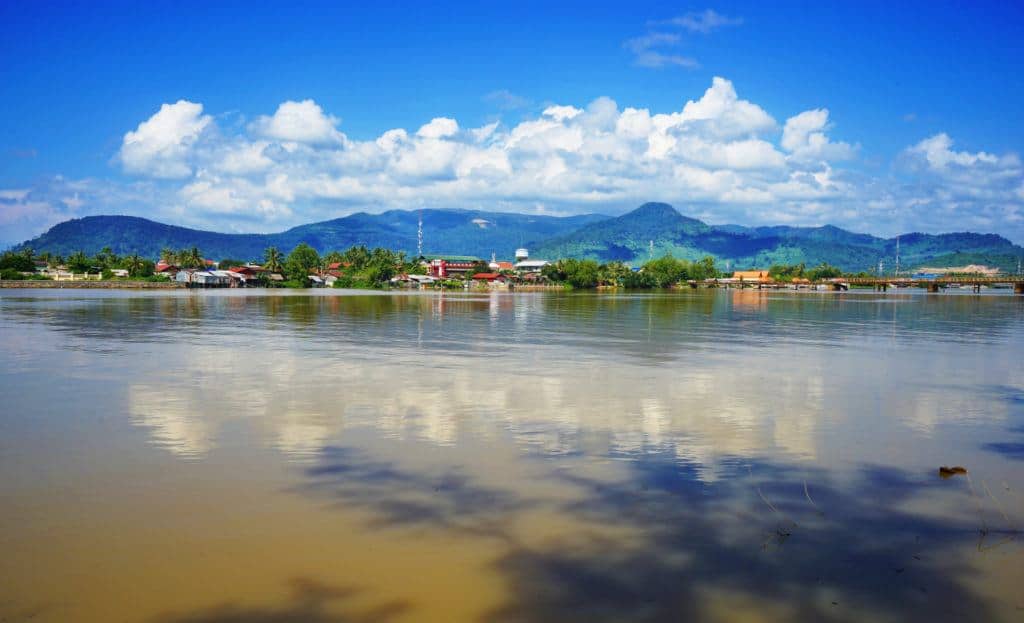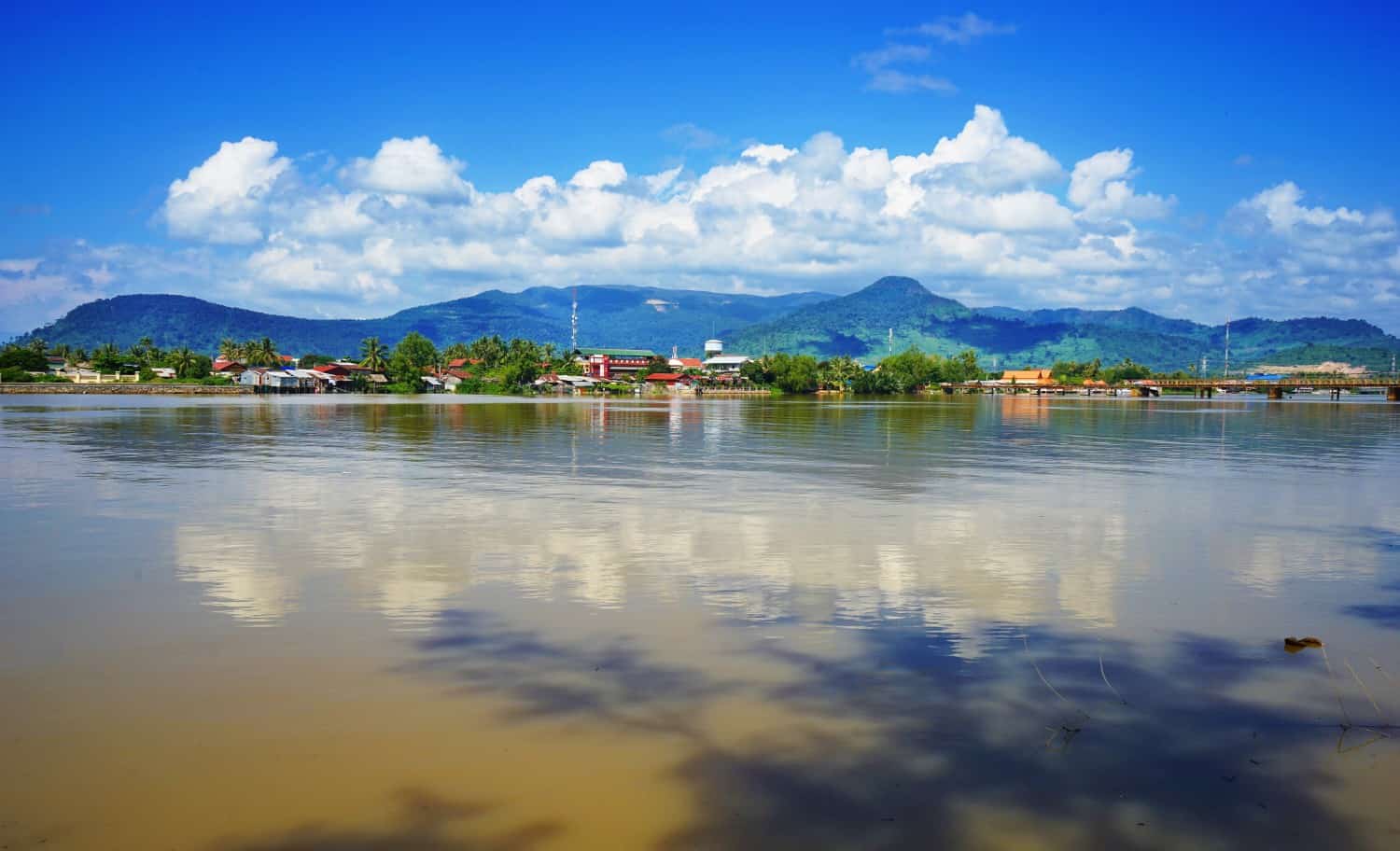 Miscellaneous Expenses for Cambodia
The Cambodian visa: You can grab a 30-day tourist visa when you arrive for $30, although expect to pay a little more in bribes if you'll be crossing overland into the country.
A Cambodia guidebook: A guidebook will give you an in-depth look into Cambodian culture, suggest the perfect itineraries for the amount of time you have, and offer recommendations for where to eat and what's worth doing. I always opt for Lonely Planet guidebooks and their Cambodia offering receives great reviews for around $18.
A Cambodian SIM card: I picked up a SIM card when I arrived in Cambodia in Phnom Penh and went with CellCard — you need to show your passport in order to get set-up. I paid $1 for the SIM card and $2 for 4GB of data.
Travel insurance: While I was travelling in Cambodia, I fell over, scraped my knee on the sidewalk, got an infection in the wound, and twisted my ankle. Yes, it was quite the experience.
If you've read any other posts on Never Ending Footsteps, you'll know that I'm a great believer in travelling with travel insurance. I've seen far too many Go Fund Me campaigns from destitute backpackers that are unexpectedly stranded in a foreign country after a scooter accident/being attacked/breaking a leg with no way of getting home or paying for their healthcare. If you can't be treated in Cambodia, where the healthcare isn't amazing, you'll potentially need to be airlifted to Thailand, Singapore, or Hong Kong. These costs can quickly land you with a six-figure bill to pay at the end of it.
In short, if you can't afford travel insurance, you can't afford to travel.
Travel insurance will cover you if your flight is cancelled and you need to book a new one, if your luggage gets lost and you need to replace your belongings, if you suddenly get struck down by kidney stones and have to be hospitalised, have your camera stolen and need to buy a replacement, or discover a family member has died while you're overseas and need to get home immediately. If you fall seriously ill, your insurance will cover the costs to fly you home to receive medical treatment.
I've used World Nomads as my travel insurance provider since 2012, have had zero issues when making a claim with them (I've made a claim twice — once after breaking my brand new iPhone and once after crashing a rental car — they covered both expenses within a month of contacting them), and have nothing but wonderful things to say about them.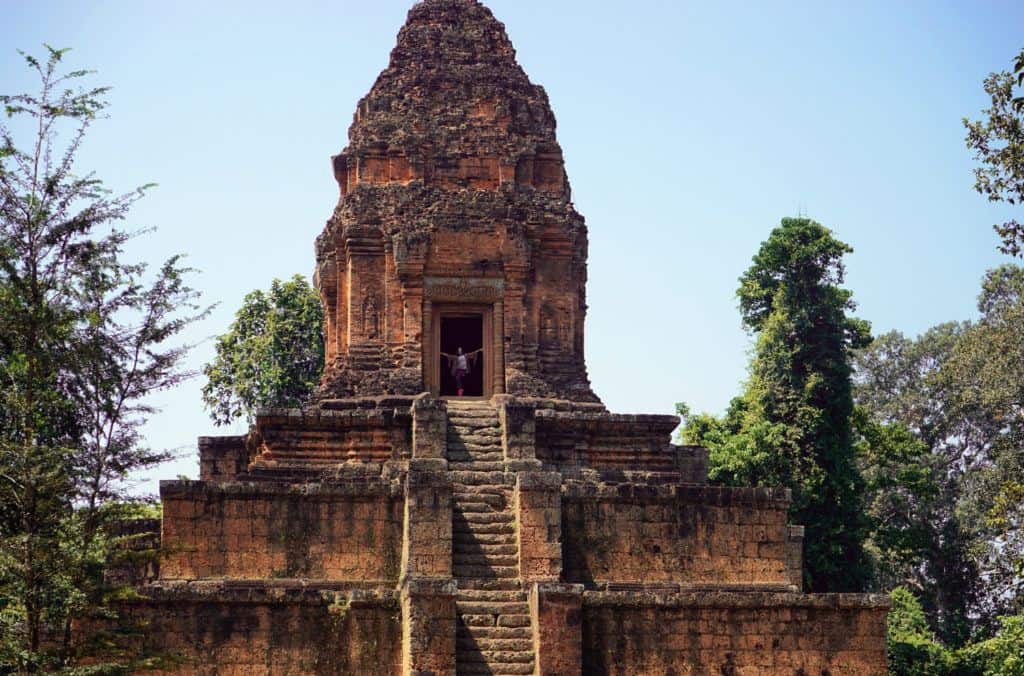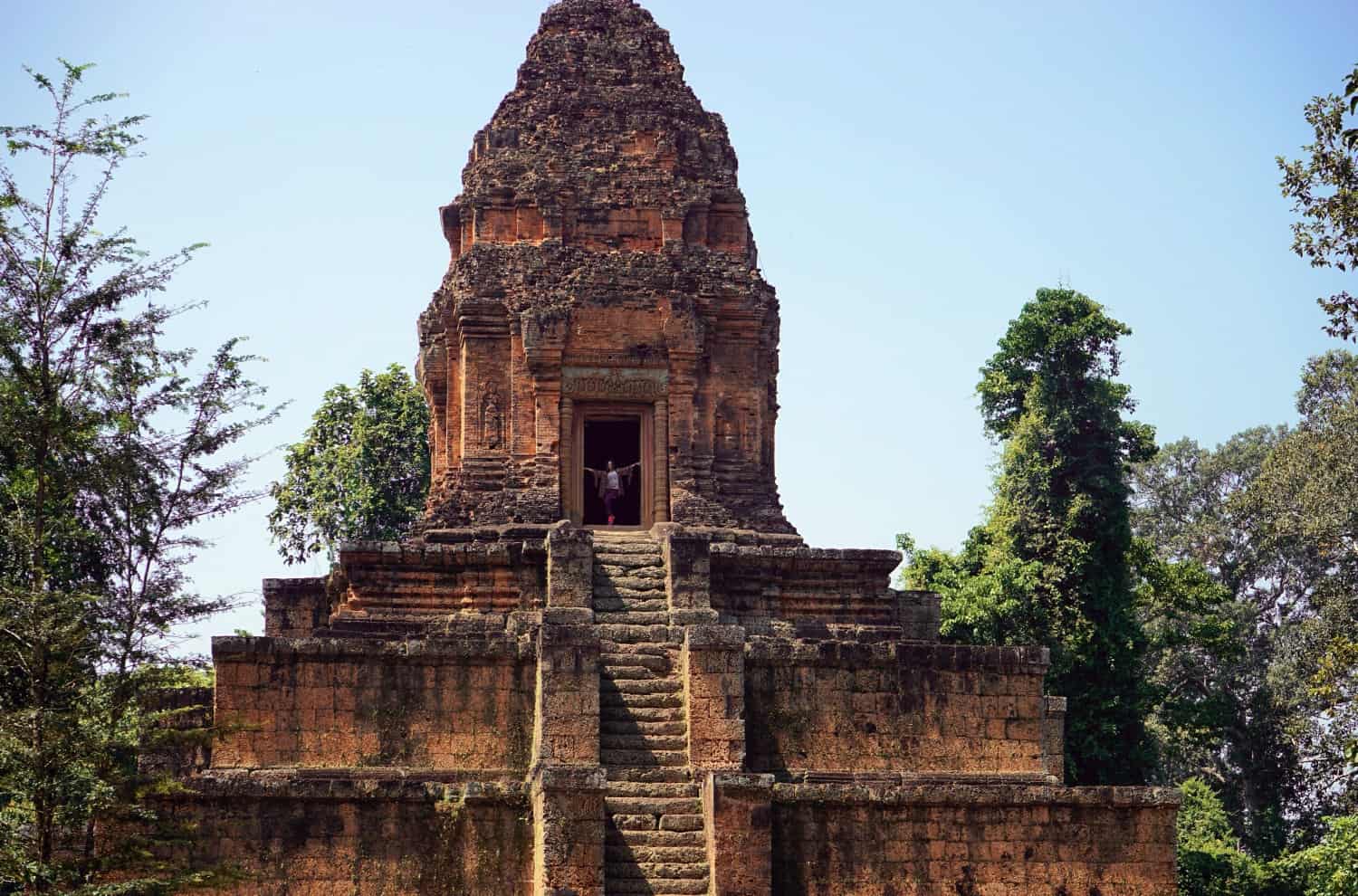 How Much Does it Cost to Travel in Cambodia?
With all that being said, how much can you expect to spend on a trip to Cambodia? How much should you budget if you plan to visit for a week, two weeks, or even a month?
I always end my budget breakdowns with the daily costs of my cumulative time spent in a country, as I know it'll help you better plan out any upcoming travel expenses. In this case, because I visited Cambodia on both the backpacking and higher-end of the budget spectrum, I'm going to separate out my personal expenses into two sections.
From six weeks of backpacking in Cambodia, my costs averaged:
Accommodation: $8 a day
Transportation: $5 a day
Food: $16 a day
Activities and entrance fees: $2 a day
Total amount spent: $31 a day
From three weeks of mid-range-to-luxury travel in Cambodia, my costs averaged:
Accommodation: $80 a day
Transportation: $7 a day
Food: $21 a day
Activities and entrance fees: $2 a day

Total amount spent: $110 a day
As you can undoubtedly see, Cambodia is a high-value travel destination that can be visited on the most shoestring of budgets.
If you have the ability to splurge while you're in the country, you'll land yourself with some wonderful rooms and experiences, but the country is just as spectacular when you're backpacking around.
But don't you dare think about skipping Angkor Wat to save some money :-)
Is the cost of travel in Cambodia more or less than you expected? Sound off in the comments below!