Yes, it's that time again!
You guys know I can never resist an opportunity to visit a themed restaurant while I'm travelling, so here I am, back at it again!
Something you may or may not know about me, though, is my love for the band Pink Floyd. They're my favourite. I've watched various members of the band perform in cities as far apart as Boston and St Petersburg, spent years of life moderating Pink Floyd forums, and many of my friendships stem from a mutual love of the band. It's a real nerdy obsession of mine.
So.
When I was researching Pushkar and discovered there was a Pink Floyd-themed Cafe, I was more than a little excited. I love the band, I love themed cafes, I love hippie hangouts — it totally sounded like my kind of place.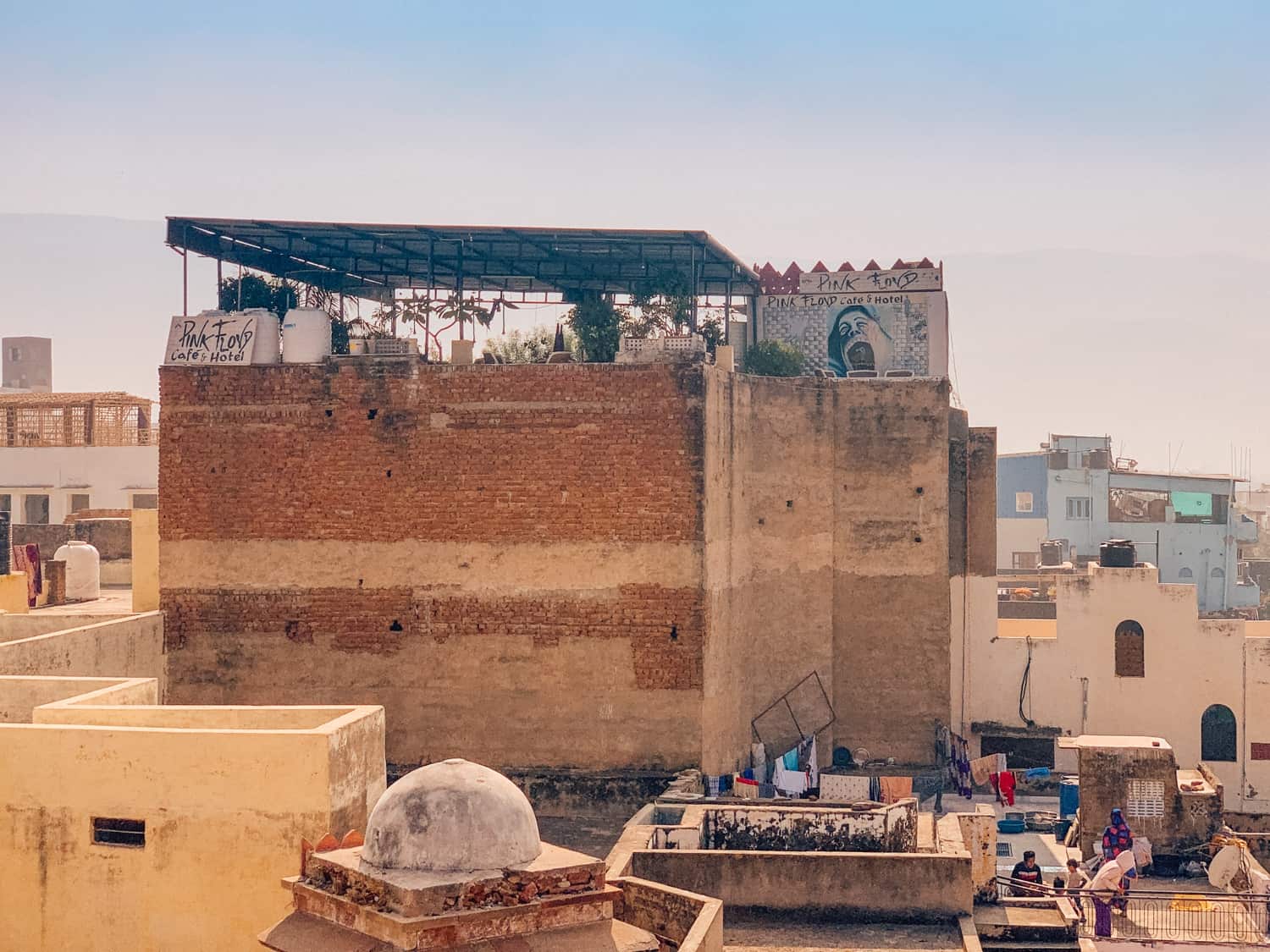 I fell for Pushkar immediately.
This delightful city is packed full of temples, cows, and camels, with a chilled-out vibe, plenty of shopping opportunities, and a wealth of rooftop terraces to catch from the sunset from.
As soon as we arrived, I was eager to jump right in, so I began to explore some of the more famous temples in town.
Unexpectedly, when Dave and I were exploring a small temple in the city, we clambered up onto a nearby wall, and I spotted familiar Pink Floyd signage in the distance. I let out a small squeal.
"It's there!"
"Oh, yeah," Dave replied, feigning excitement.
"Let's go now!" I said, and took his small smile as an enthusiastic hell yeah!
I dragged him by the hand through the backstreets of Pushkar, in desperate search of the cafe. It was 10 in the morning, so we reasoned that we'd take a look around, snap some photos, sample some of the drinks, soak up the views, and then get back to touristing around.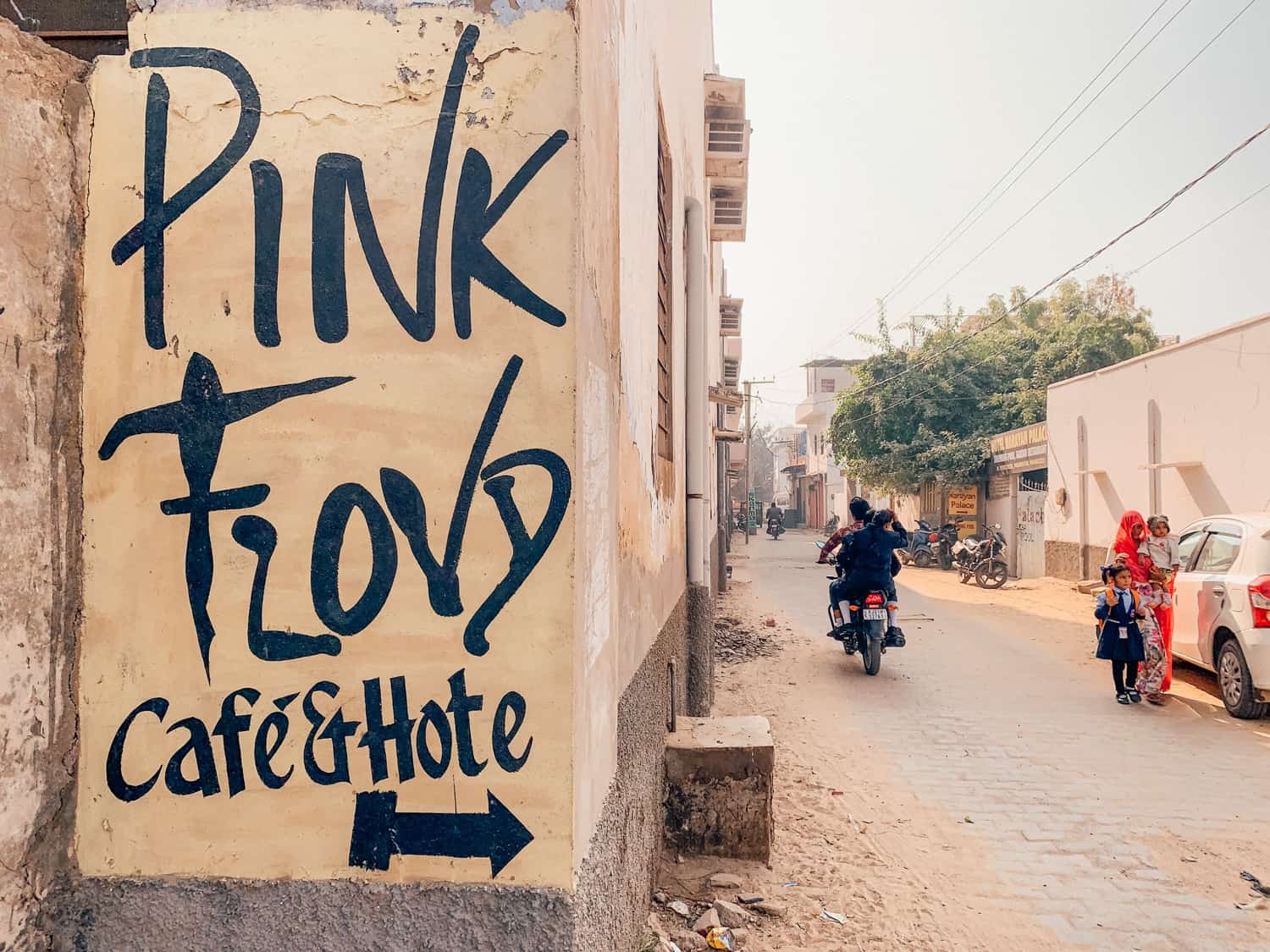 The Pink Floyd Cafe and Hotel is an institution in Pushkar. It's been open for decades, attracting hippies and misfits and stoners and Pink Floyd fans and anyone else who wants to watch the sunset from one of the best spots in town. As its name suggests, not only is it a restaurant, but it's a hotel, too, with a dozen-odd rooms available to stay in.
Finding the cafe was tough.
There was plenty of signage all over the nearby buildings, but once we were meandering through the maze that is Pushkar's alleyways, we still found ourselves walking in circles, missing the tiny entranceway that was tucked away down a quiet side street.
We wandered inside.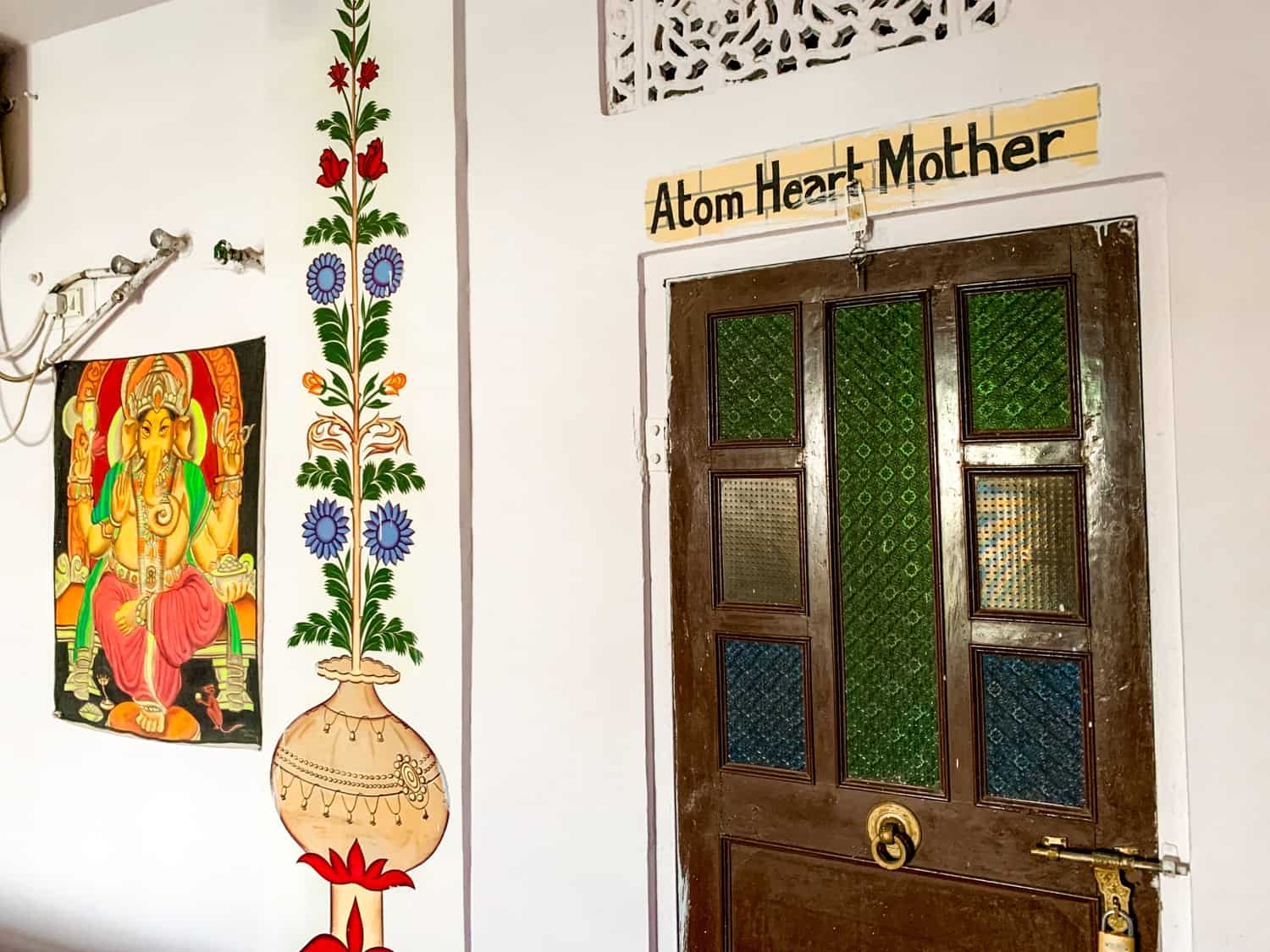 It was… uh, a little run-down.
It was showing its age, shall we say.
Wearing its history, Dave diplomatically suggested.
Still, it was no more run-down than the hundred-odd dodgy cheap hostels I've stayed in during my travels, so I would likely have still chosen to stay here had I been travelling alone.
And unlike the dodgy hostels of my past, this hotel had its rooms named after Pink Floyd albums, which immediately gave it bonus points in my eyes.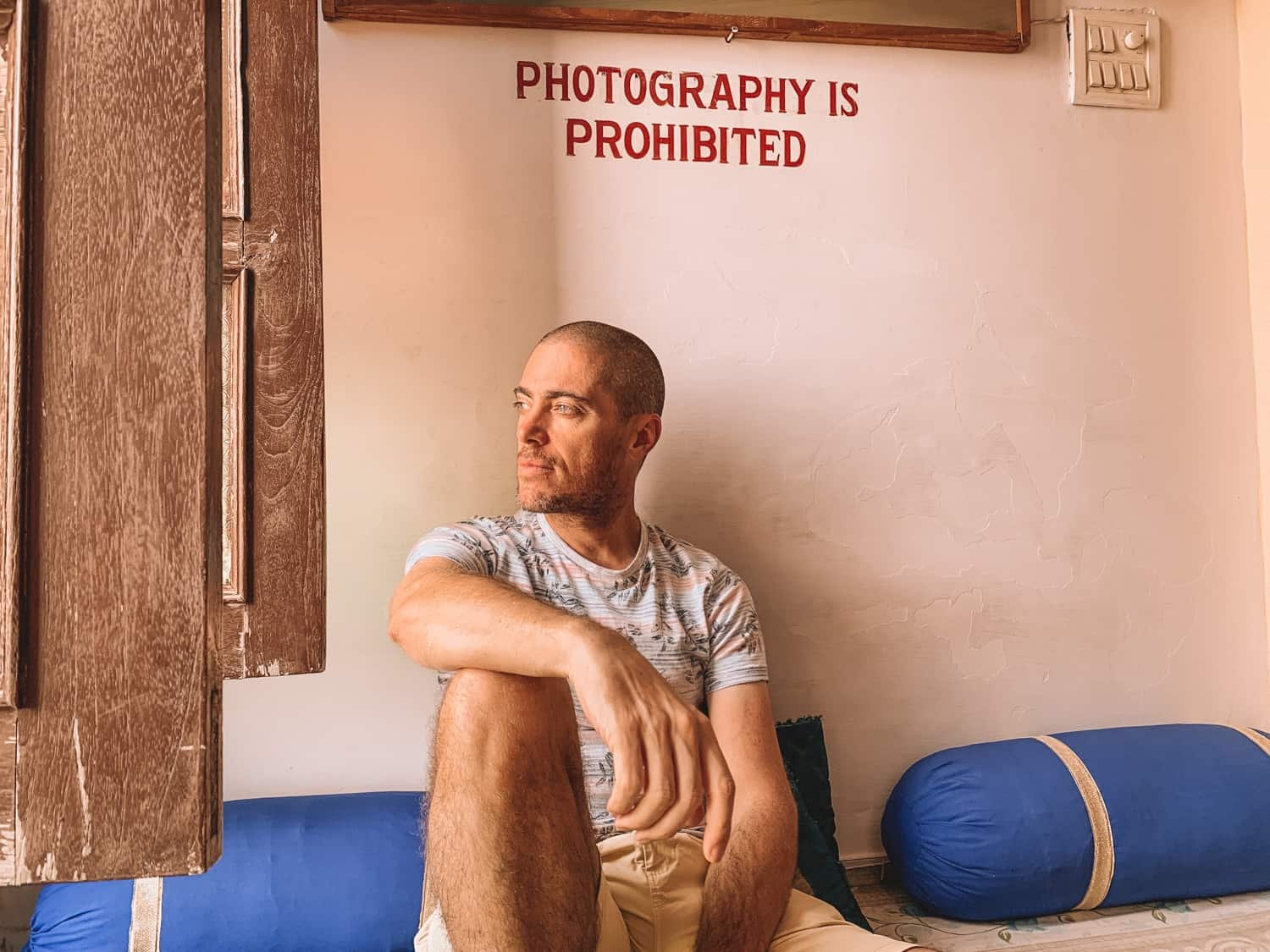 Oh yeah, and I'll address that big glaring sign above Dave's head there: photography is prohibited at the cafe.
And yet, my post is full of photos because I'm a disrespectful dirtbag.
To be fair, there are photos of the cafe all over the internet, and when I took a couple of photos, the staff didn't seem to mind.
So then I took some more.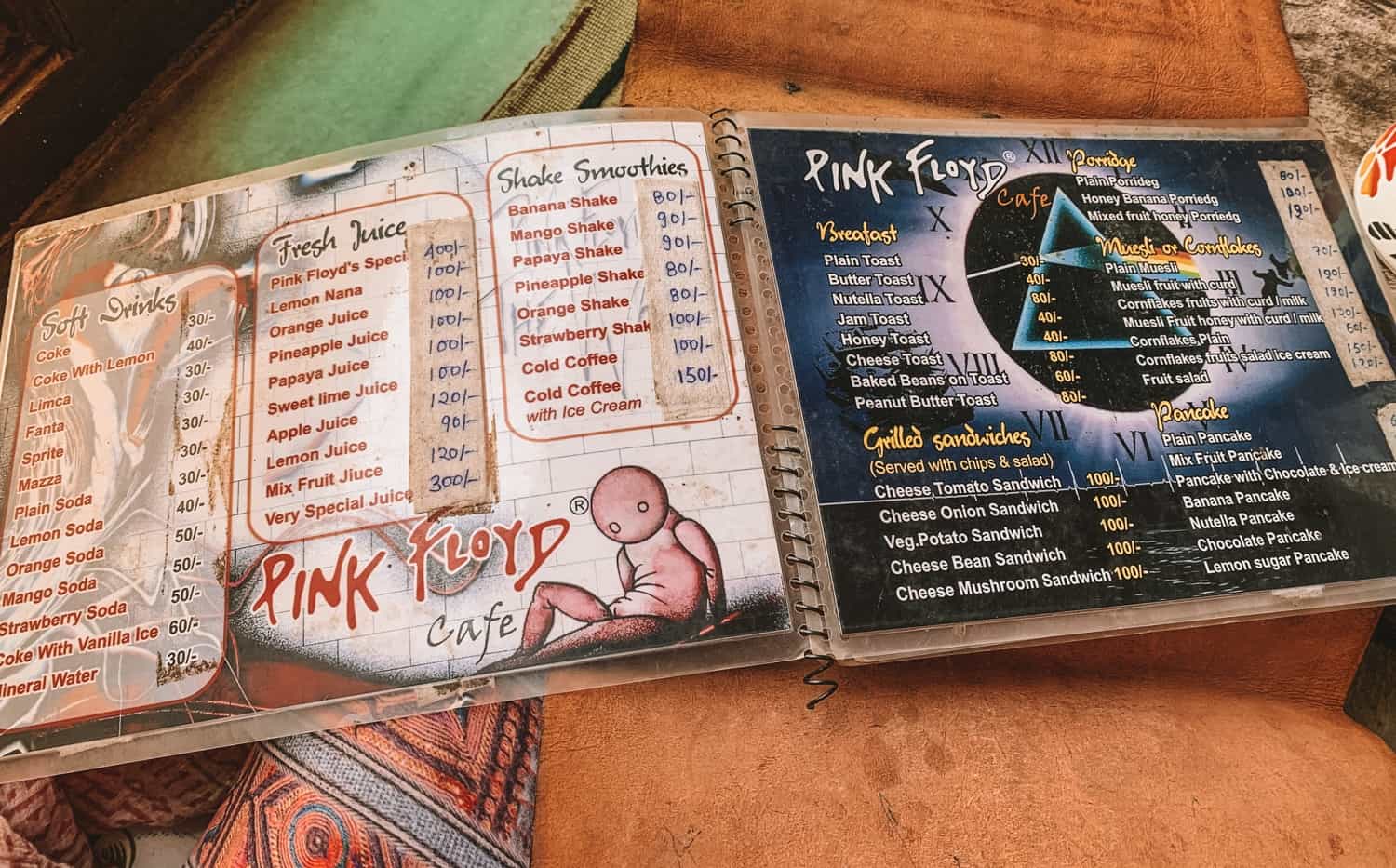 The owner was sweeping the floor as we entered, and he let us know the terrace was currently closed for a business meeting. With disappointment likely etched across our faces, he quickly reassured us that we'd be able to head up there in ten minutes.
We took a seat on a pile of cushions on the floor and peered out of the window at a still-exceptional view of Pushkar.
Dark Side of the Moon was playing out of a nearby speaker, and I made eye contact with Dave.
"Wow, this is cheesy. I feel like such a nerd," I announced.
Given the time of day, we weren't yet feeling hungry, so Dave ordered a coffee while I went for a lemon soda.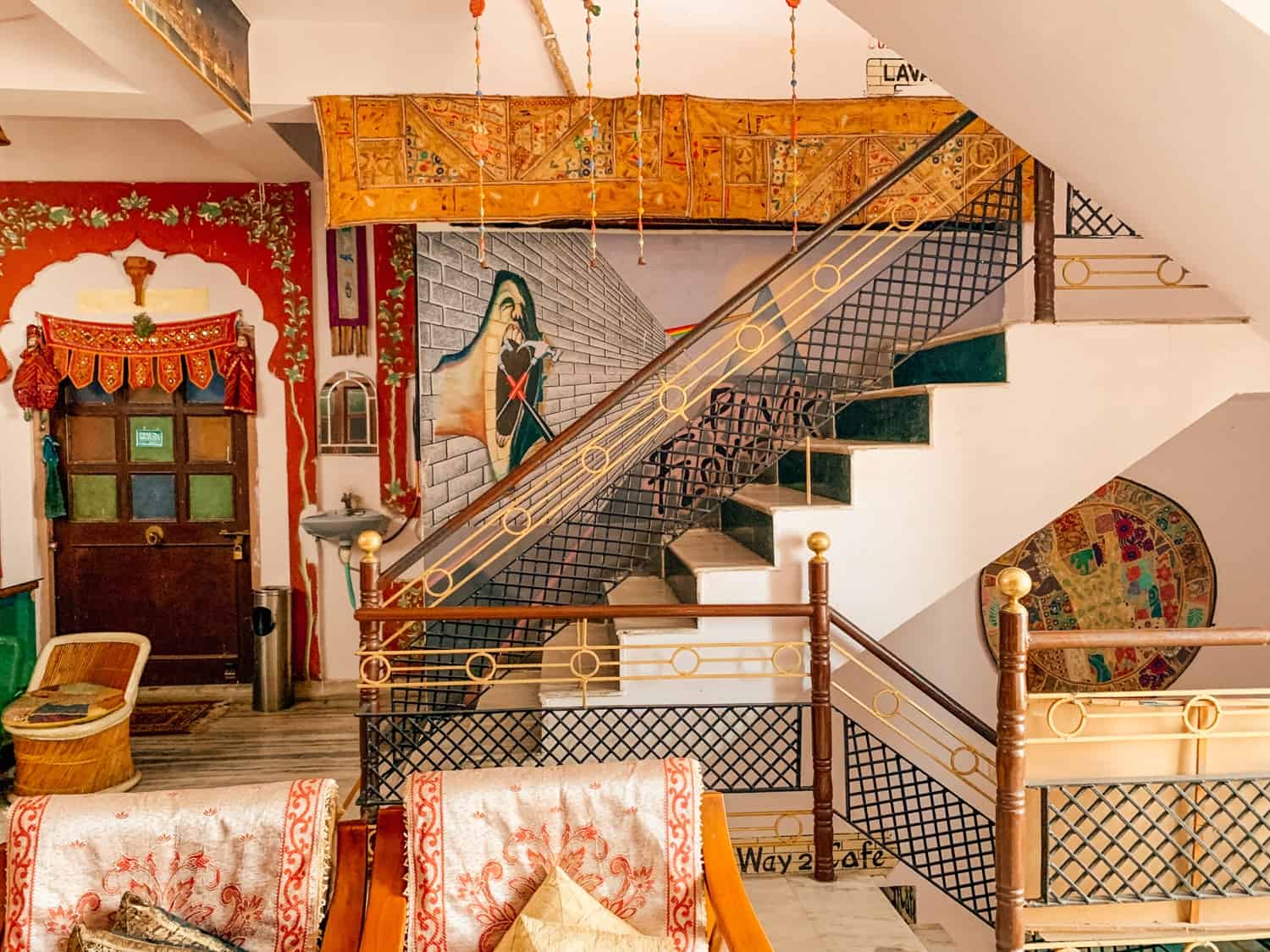 They were both fine — a lemon soda is a lemon soda is a lemon soda — so I can't comment on the quality of the restaurant offerings, but the staff were warm, the music was great, and the vibe was relaxed.
It was the kind of place where you could easily spend an afternoon lazing around reading books and having interesting conversations with other travellers.
Around us, there were tapestries and posters, not necessarily of Pink Floyd, but of other bands from the 60s and 70s. The tables and menus were Pink Floyd-themed, but it felt more like a regular chilled-out cafe than a place where the owners had vomited Pink Floyd over everything. It wasn't too overdone, which, I have to be honest, was a little disappointing. When I go to themed cafes, I want them to be over the top.
Finally, we were allowed upstairs.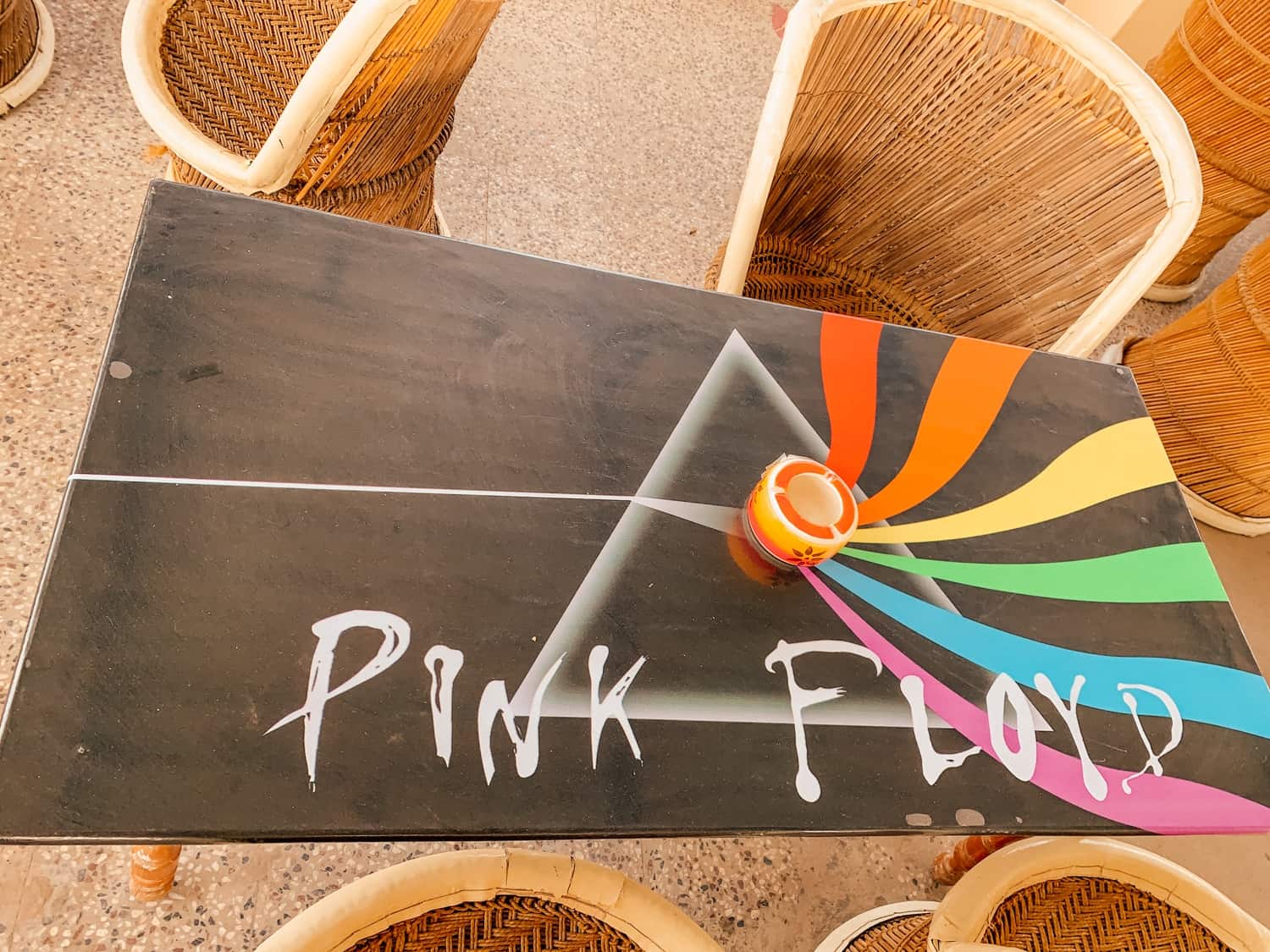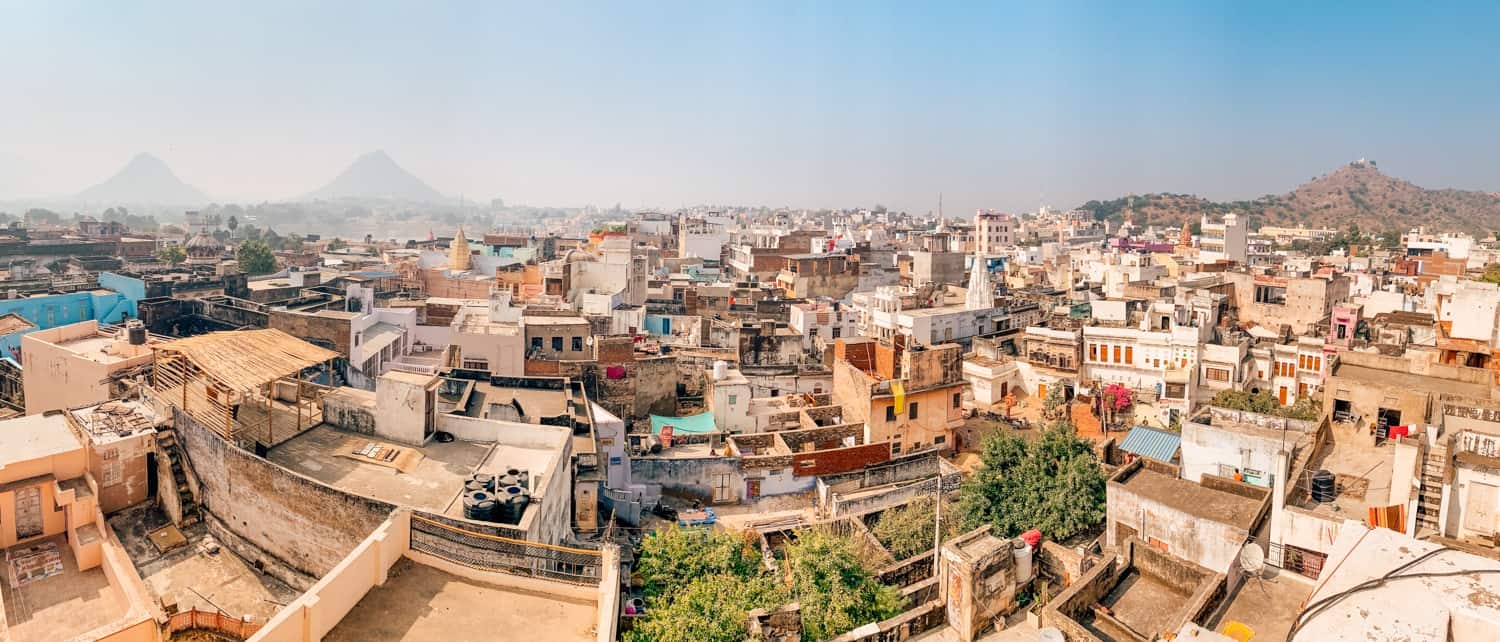 I'd read that the cafe was home to one of the best rooftop terraces in the city, with beautiful views of Pushkar.
Once we got up there, I whole-heartedly agreed. The whole city stretched out before us as we towered over the other rooftops in the city.
From our vantage point, we could see the "mountains" we'd scaled, the hill temples we'd clambered up to, the monuments we'd explored, and even the lake that Pushkar is set upon.
I couldn't stop taking photos of the views, and I think it would have been particularly special at sunset.
So, Is It Worth Visiting the Pink Floyd Cafe?
As is often the case with these themed restaurants and cafe, you're paying for the experience rather than the quality of the food and drinks. And while I didn't eat at the cafe, the food receives its fair share of reviews that claim that it's overpriced.
If you're a Pink Floyd fan, you're still going to want to visit.
If you're looking for an excellent spot for sunset, or just for taking photos of the city from above, I can highly recommend it.
Overall, I'm glad I added this cafe to my long list of themed places I've visited around the world. The drinks may have been a little overpriced, but the staff were friendly and the views were impressive.
Writing this post just has me itching to return to Pushkar!
Related Articles on India

💰 The Cost of Travel in India: My Detailed Budget Breakdown
🇮🇳 12 Reasons Why I Absolutely Loved Rajasthan
💗 Three Perfect Days in Delhi: I Love This City So Much
🙅🏼‍♀️ How Not to Spend a Day in Jaipur
🤩 The Ultimate Guide to Visiting the Taj Mahal
💛 The Ultimate Guide to India's Golden Triangle
🐪 Pushkar Travel Guide: 11 Things to Do in Pushkar
🤍 Yes, Udaipur is as Great as Everyone Says