I had high expectations for Udaipur.
And if you've read my blog for any length of time, you'll know that usually means I'm going to end up disappointed.
Yes, the more I hype up a destination in my mind, the more likely it is that I arrive and mark it down with a big old meh.
But everybody unequivocally loves Udaipur. It seems like every travel blogger who's been to Rajasthan comes away listing it their favourite spot in the state.
And so, I gave myself four days in the city — longer than anywhere else in Rajasthan — because if it did turn out to be my favourite place in India, I wanted to make sure I had enough time to soak up as much of it as possible.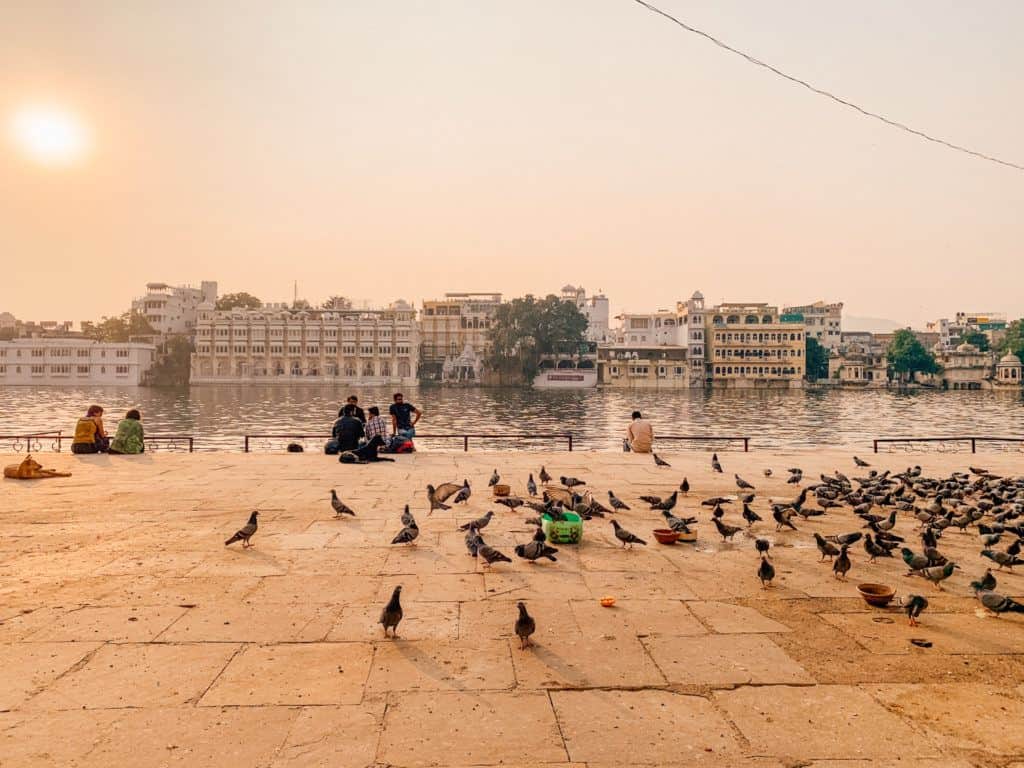 Yeah, I'd say my first impressions were pretty acceptable. Just look at that gorgeous light!
After checking in to our adorable guesthouse, Dave and I dumped our bags and set out for the ghats. Fortunately, they were just a five-minute walk from where we were staying. I'd read that Gangaur Ghat was one of the best parts of the city to catch the sunset, and I was immediately wowed by the scene in front of us.
Teenagers crowded by the water, listening to tinny dance music on their phones, competing with an elderly man who was strumming a tanpura several metres away. Stray dogs lazed in the warm breeze while a hundred pigeons flocked around a container full of food.
I wandered to the lake's edge and sat down, eager to spend a few moments watching the calm waters lap beneath my feet, the sun drifting lower through the hazy orange sky. It was such a magical moment and I wanted to take it all in.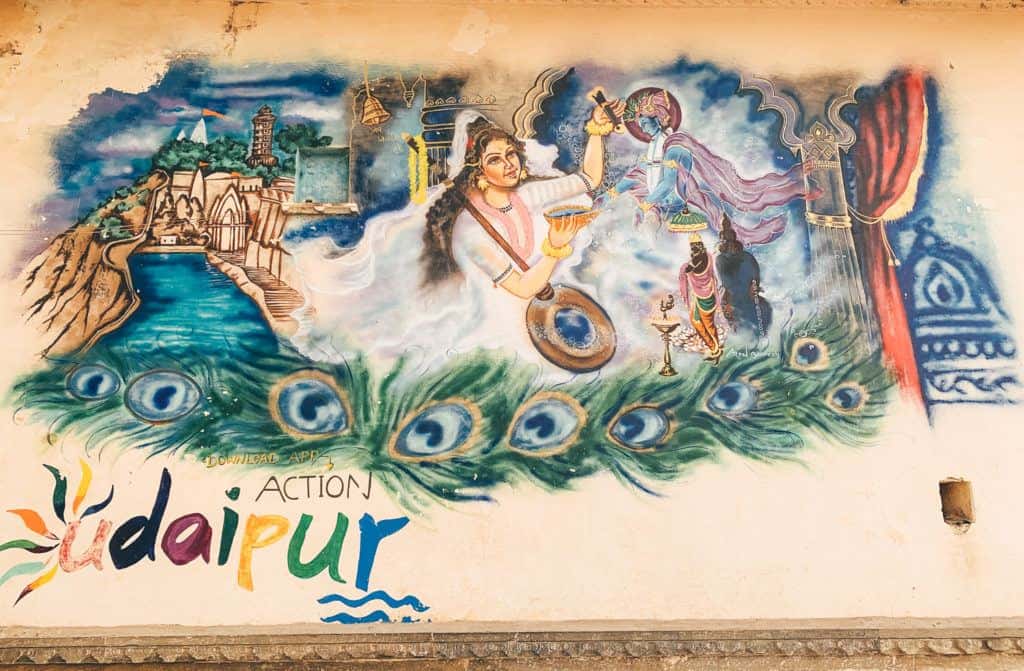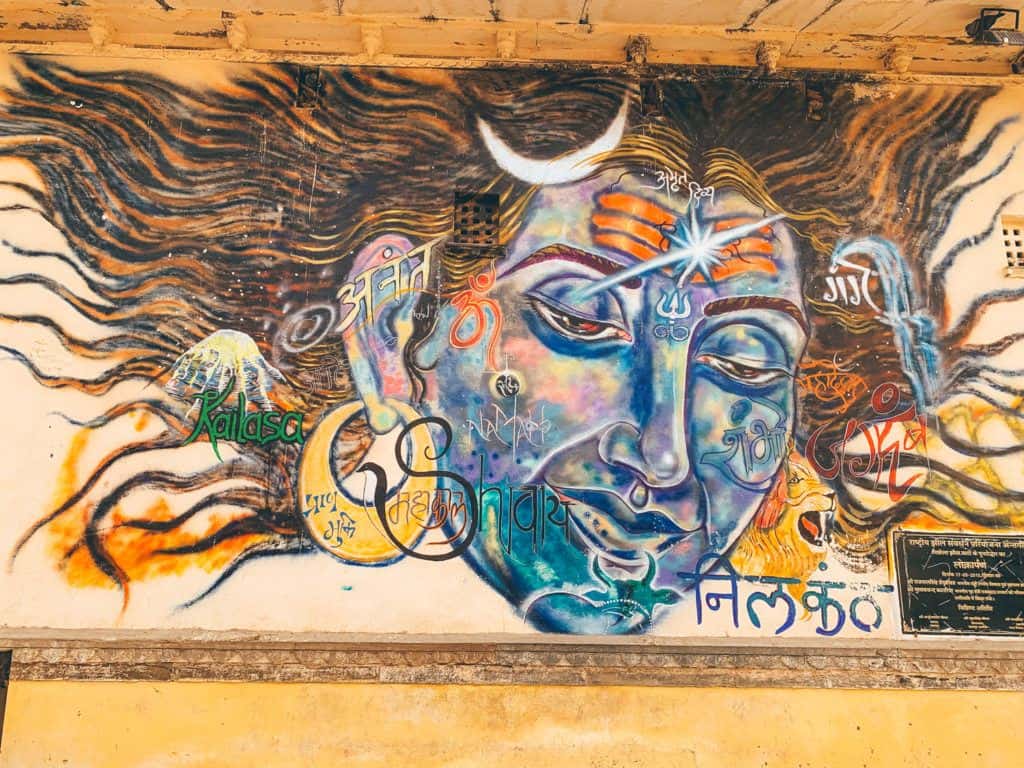 I stood up after half an hour of wide-eyed wonder and wandered over a bridge to nearby Ambrai Ghat — another vantage point that was also said to be the perfect spot for sunset. There's a lot of those in Udaipur.
As I stood by the water, I was hit by a sense of unease; almost like I was about to have a panic attack. Something felt really, really off.
It took a solid 15 minutes to figure out why I was feeling so strange.
Silence.
It was so discombobulating to not hear the sound of horns and engines and bells and music.
I wouldn't describe Udaipur as peaceful, but in a country as loud as India, it was a novelty to stumble into areas where you could hear nothing at all.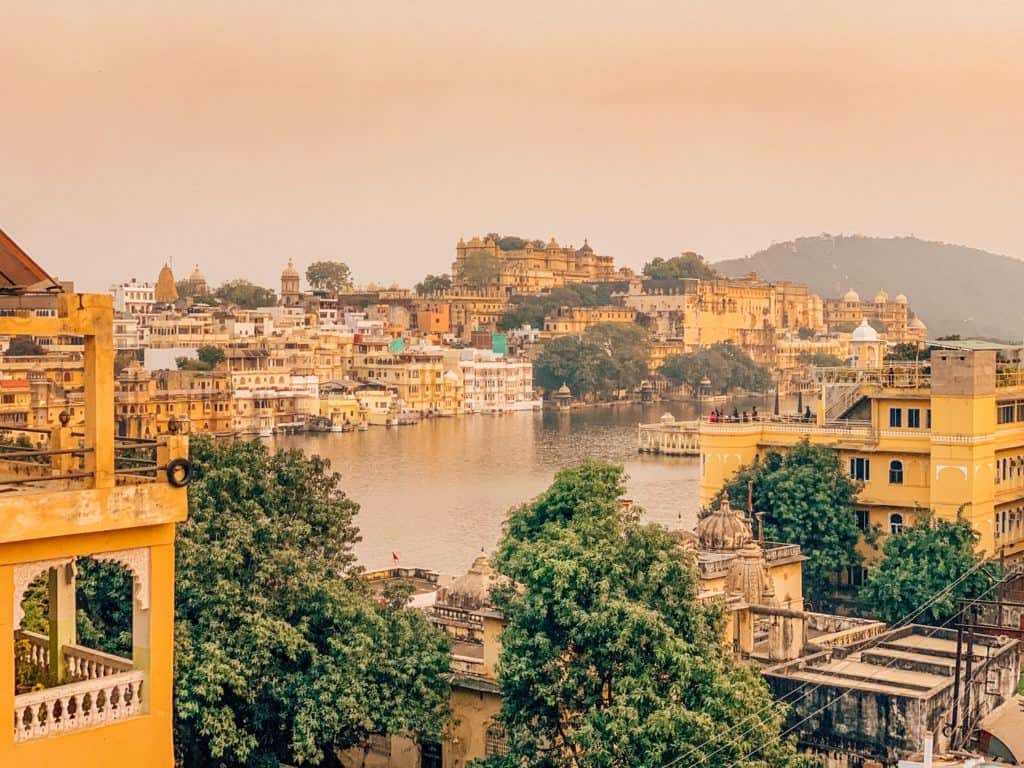 A quick check of my phone showed me that Yummy Yoga — one of the best-rated restaurants in the city — was a few minutes away and had a rooftop terrace with spectacular views over the city and lake. The two seemed at odds with each other: I typically associate restaurants with great views with mediocre food, but this was India. I had yet to have a bad meal in the country, so I decided to take a risk.
The owner greeted us with a warm smile, and handed us menus and a bottle of hand sanitiser. As we watched the city begin to light up before us, we filled our stomachs with one of the best meals from our time in the country.
Talk about the perfect introduction to a city!
I couldn't wait to delve more into Udaipur.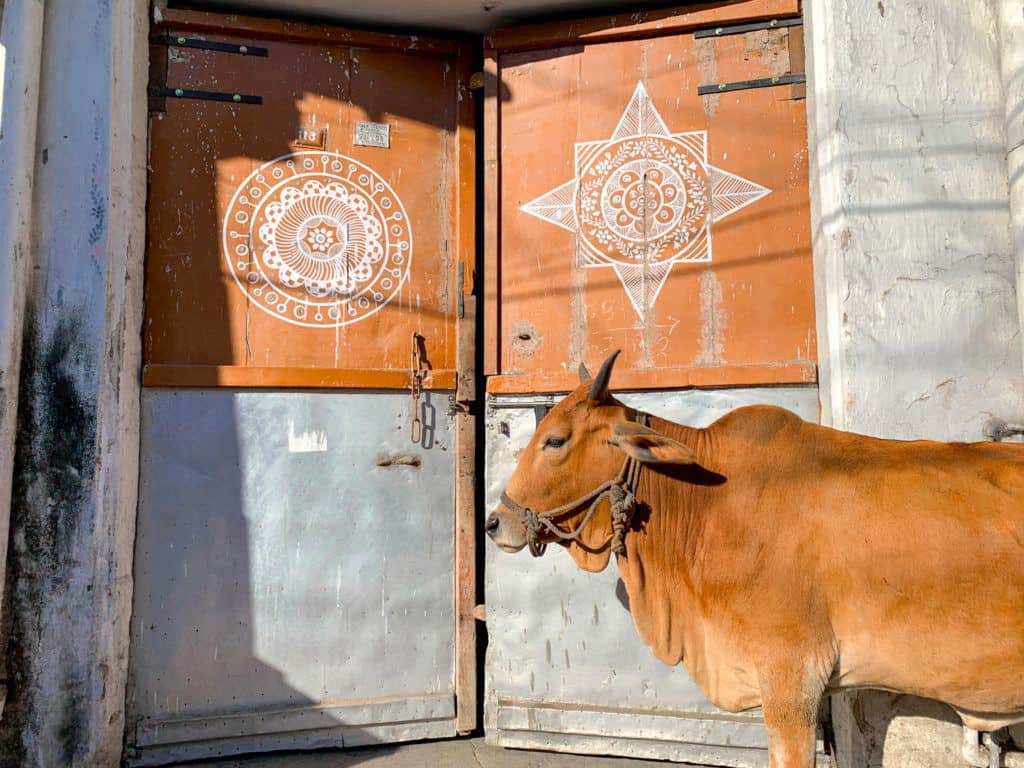 Where is Udaipur?
Udaipur is located in Rajasthan, the desert state of India, roughly mid-way between New Delhi and Mumbai.
It's one of prettiest cities in the state, spread out across a series of seven lakes and surrounded by the green, hilly Aravali Range. It often feels far more like a chaotic European city than a dusty, desert destination in India.
And it has plenty of nicknames. It's known as the White City of Rajasthan. It's referred to as the most romantic city in India. Some people call it the Venice of the East, and some the City of Lakes.
It's known for being the place for chilling out and relaxing. It's a city to visit with your partner and soak up the romance. It's a beautiful spot, full of glistening palaces and historic havelis, with street art to take photos of, ghats to watch the sunset from, and peaceful lakes to wander alongside. It's wonderful; as wonderful as everyone says it is.
It's because of this that many travellers opt to stay for a while. Been racing through India at breakneck speed and desperate for somewhere to rest for a week? Udaipur is the place!
And while there are plenty of things to do while you're in town, it's also a city where simply meandering through the streets is the perfect way to spend a day.
I've put together a guide to share everything you need to know about visiting Udaipur. Let's get stuck in with a list of some of my favourite things to do in the city: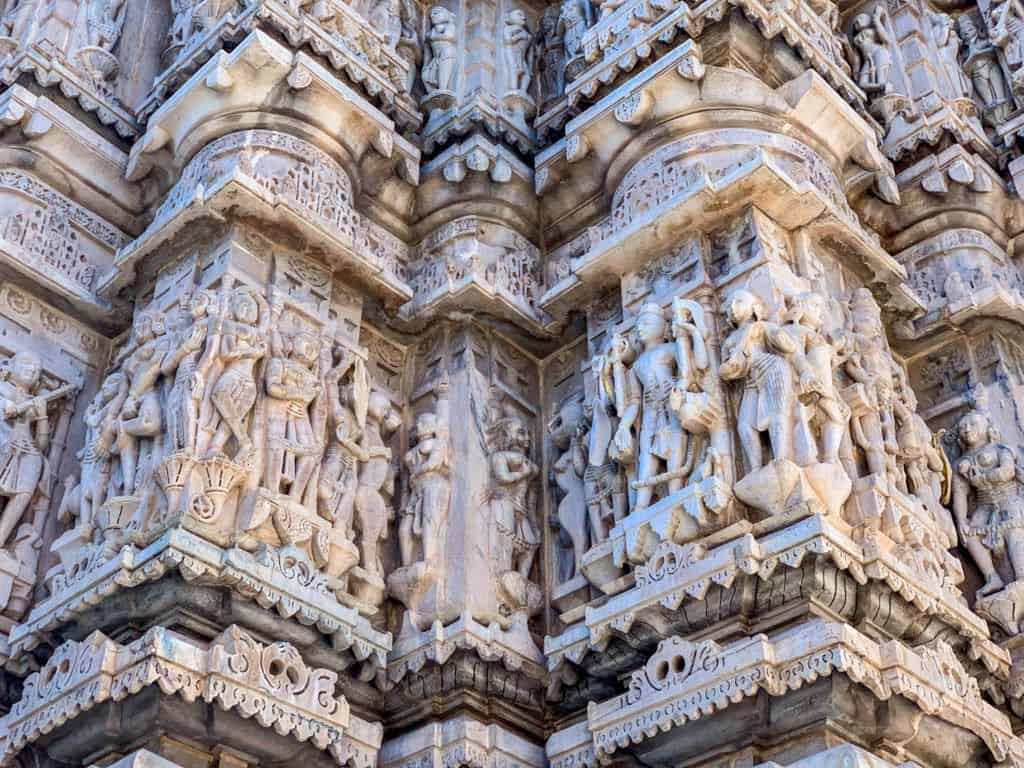 Check Out the Jagdish Temple
One of the most popular attractions in Udaipur is Jagdish Temple — a Hindu temple that has been in continuous operation from 1651. It was so impressive!
It's easy to get templed-out in India, but I still really enjoyed my time at Jagdish. It's one of those structures that looks just as impressive up-close as it does from afar. The closer you get to the intricate sculptures, the more you can appreciate the work that went into carving it.
If you can, aim to time your visit with one of the daily aartis, which is a Hindu prayer ritual. They take place seven times a day and make for a truly spiritual experience.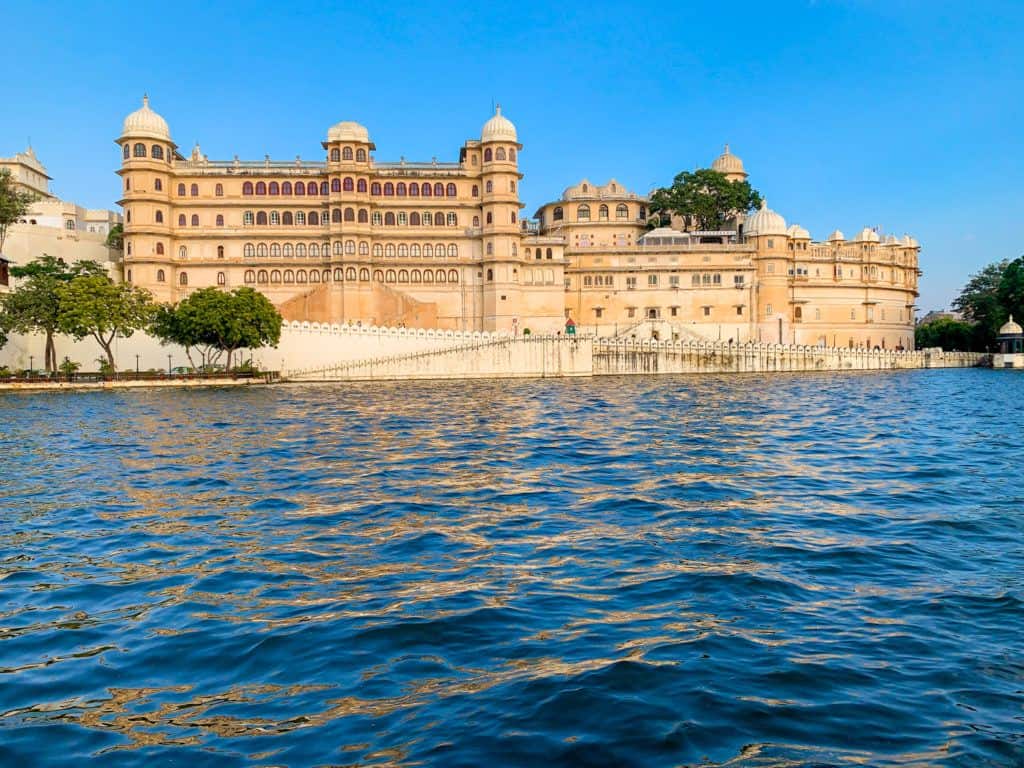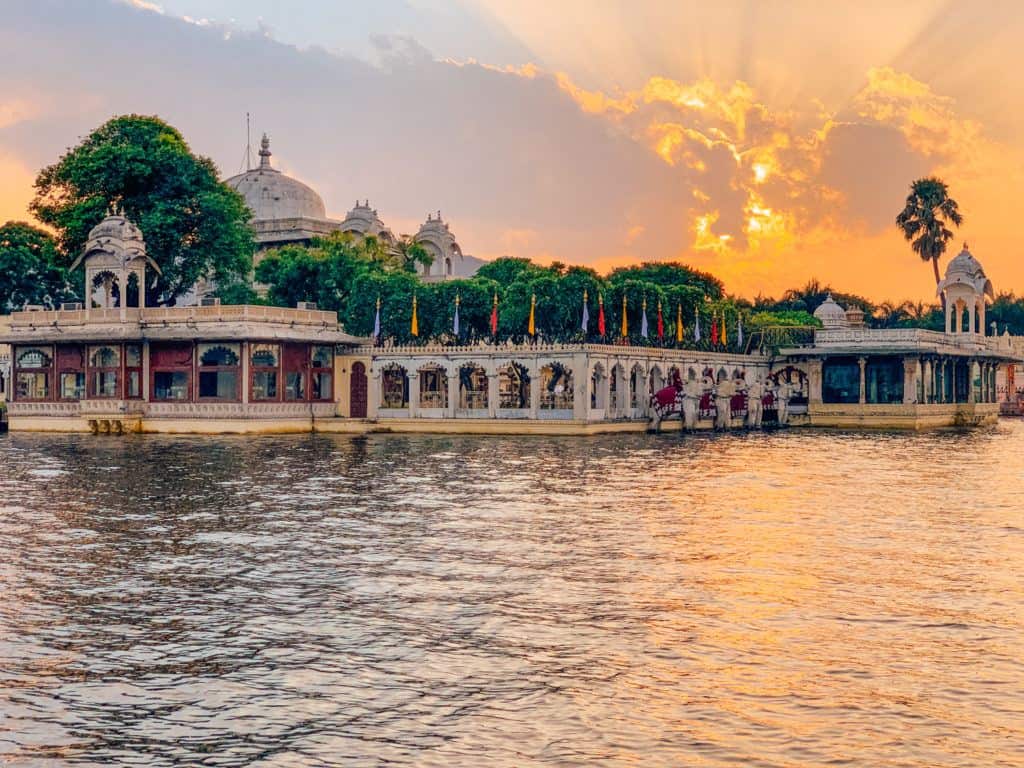 Take a Sunset Cruise of Lake Pichola
I almost skipped out on this because I thought it would be cheesy, touristy, and lame, but it ended up being one of my favourite Udaipur activities! It definitely helped that we managed to time our boat ride with a gorgeous sunset.
There are two options when it comes to checking out the sunset from the lake: the budget option and the luxe option. You guys know I went for the former!
The more expensive option leaves from Udaipur City Palace at 3 p.m. and costs Rs800 ($11). You get taken to Jag Mandir, a palace on an island on the lake, where you can wander around and watch the sunset, then you jump back on the boat and head back to the city.
Alternatively, you can head to Lal Ghat, and pay Rs300 ($4) for a sunset cruise, leaving from 5 p.m. You won't get to walk around the island, but you'll get to be on the boat for the sunset, watching from the centre of the lake. That was what swayed me: I wanted to see the sunset from the water, and the island, I'd heard, didn't have much on it that was worth seeing.
My sunset cruise was a peaceful experience, lasted for around an hour, and gave us a view of Udaipur and its beautiful buildings that we wouldn't have otherwise been able to get.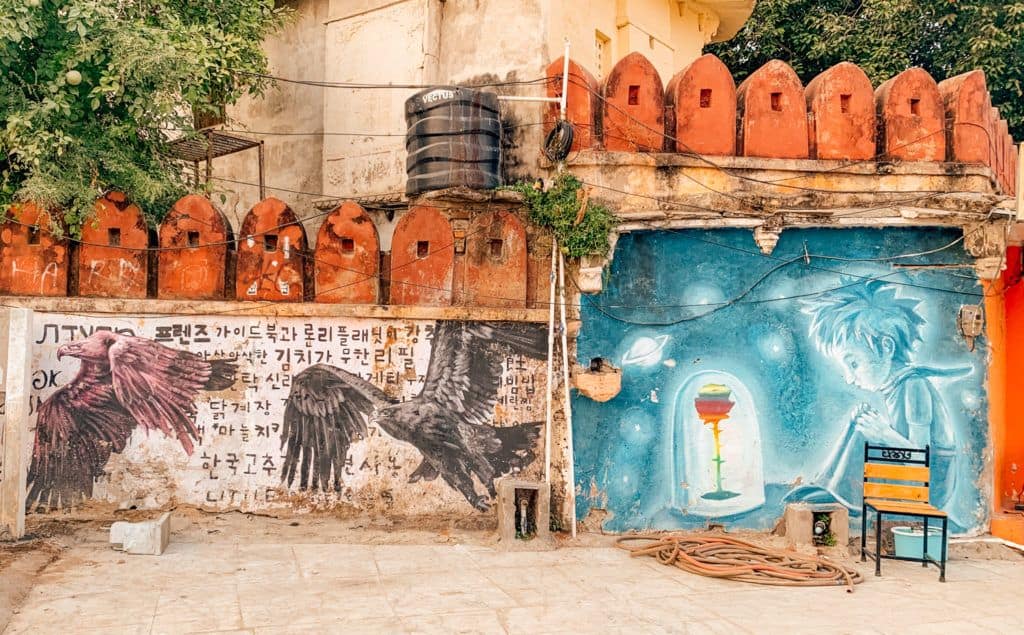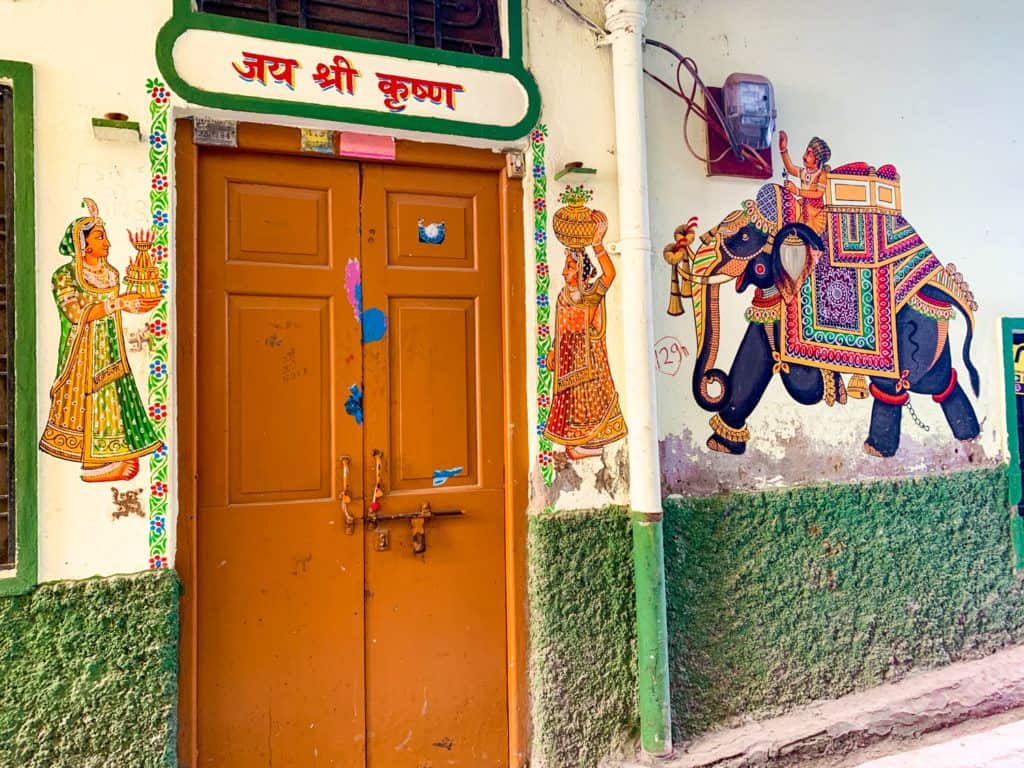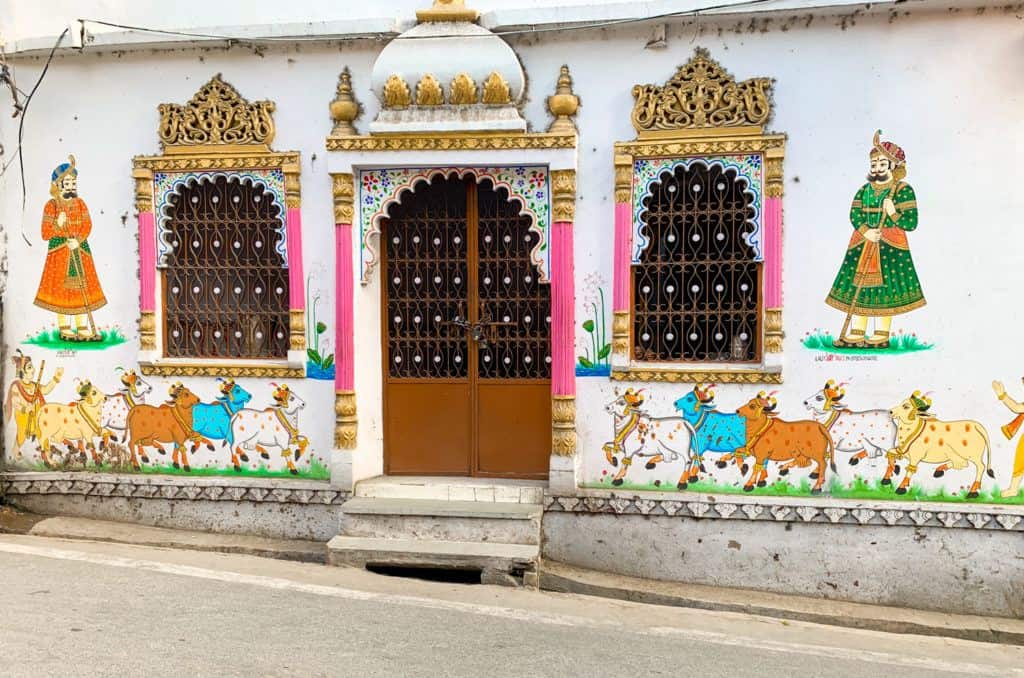 Admire the Street Art in Udaipur
More than anywhere else in Rajasthan, I couldn't get enough of the murals in Udaipur! All around the Old Town, you'll find traditional paintings adorning white-washed walls, and I think I took a photo of practically every one I saw. They were just so intricate and colourful!
I'd recommend setting aside an hour or two to wander through the narrow streets of Old Udaipur to try to spot as many paintings as possible. If you like the style of artwork, you can easily find tons of paintings in Udaipur to buy as a souvenir, or even take an art class to learn how to create them yourself!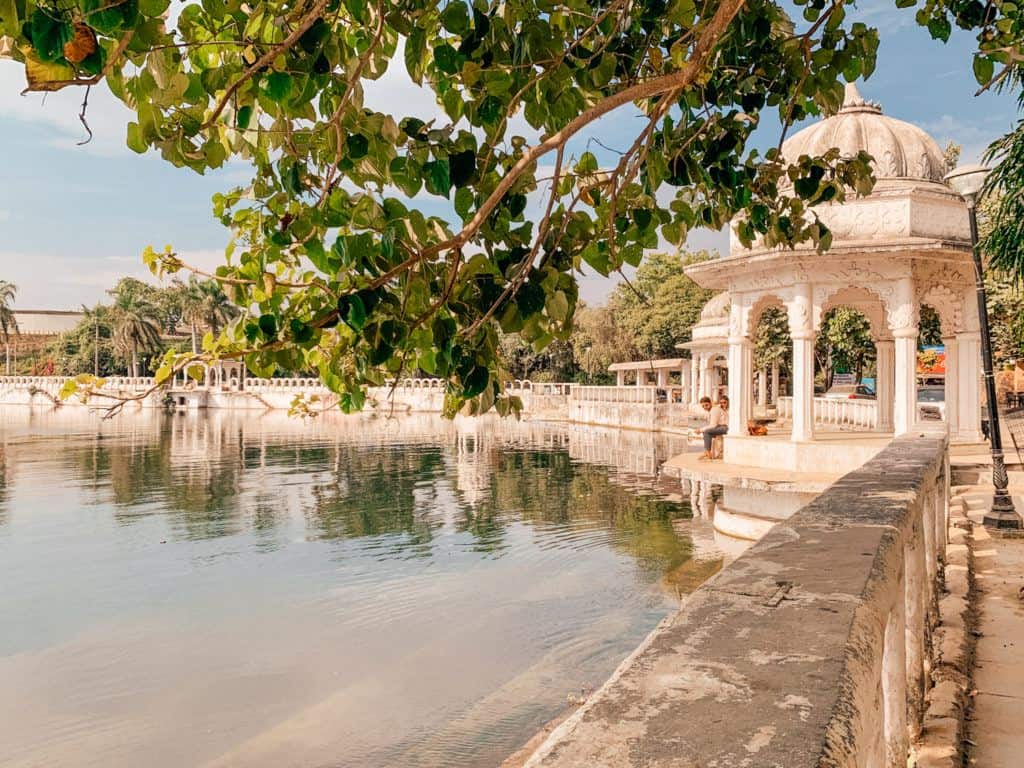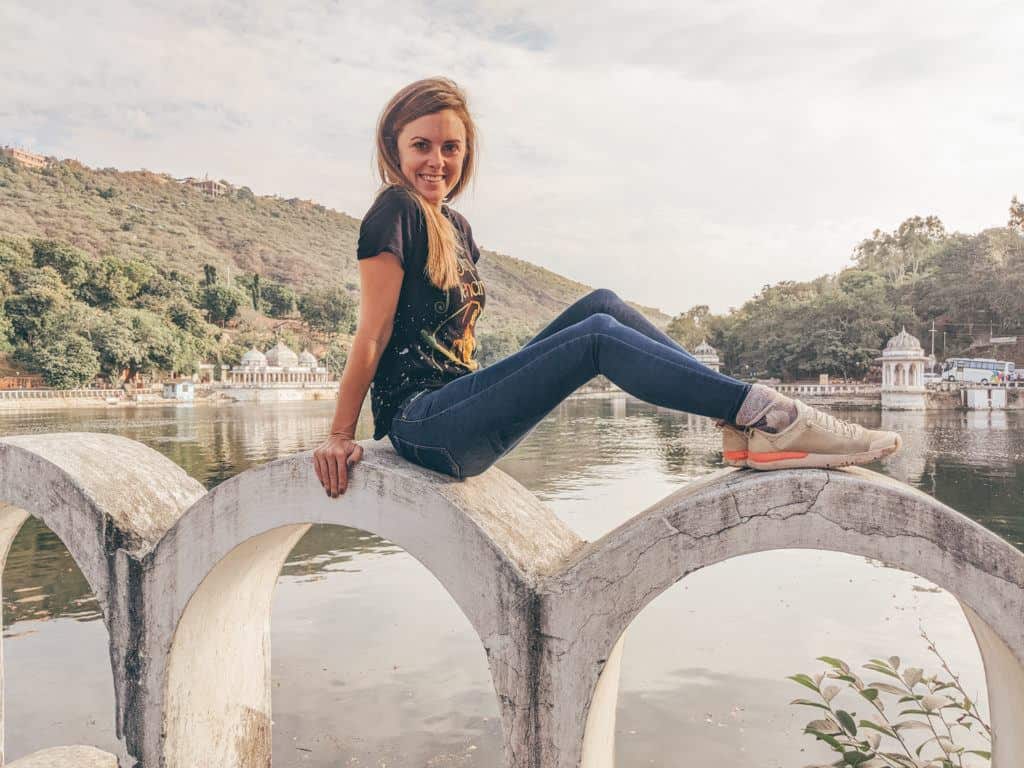 Stroll Through Manik Lal Verma Park
One of my favourite peaceful spots in Udaipur is Manik Lal Verma Park.
In dry and dusty Rajasthan, it always feels good to get out amongst some greenery, and there was plenty of it around this area. I enjoyed simply sitting down by the water and people-watching in relative silence.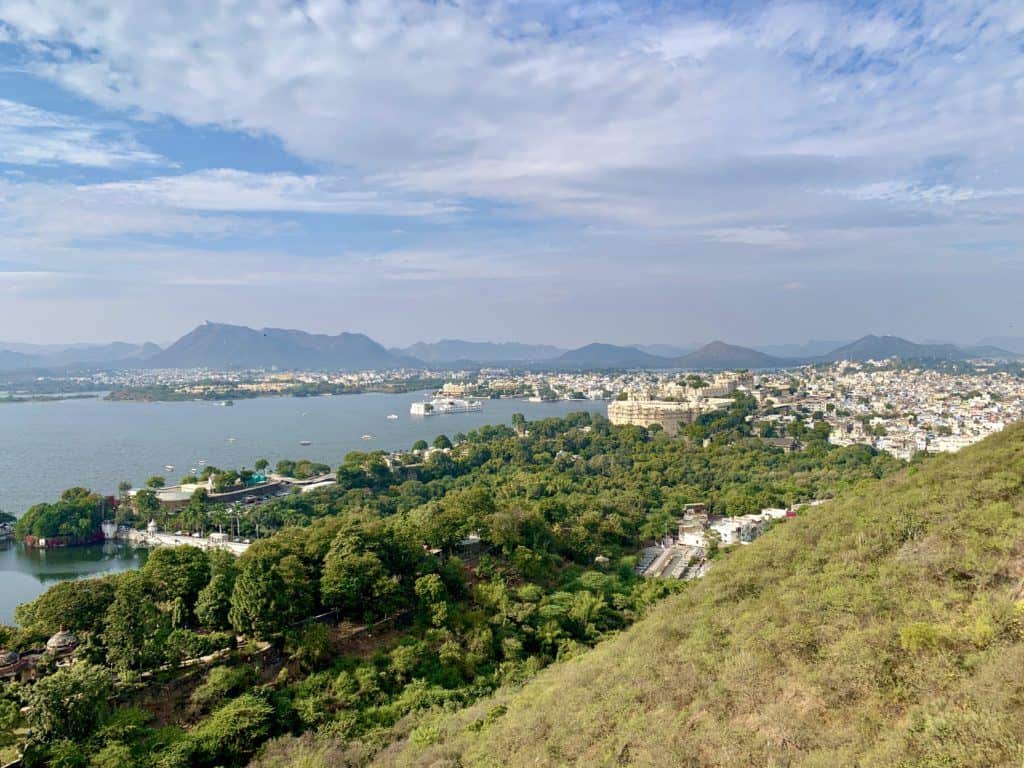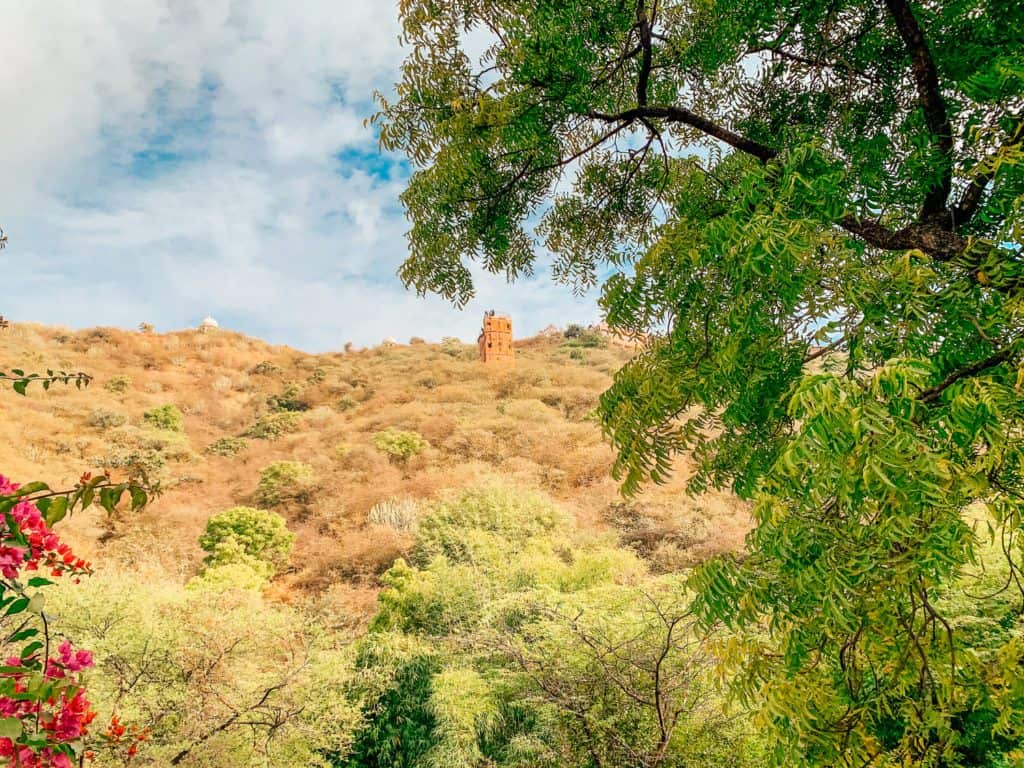 Hike to Shri Manshapurna Karni Mata Temple
Now, if you're anything like me, you're probably going to be spending your entire time in India stuffing your face. As I've said over and over, the food was just mind-blowing in this country.
As my waistline rapidly expanded, I sought every opportunity to get active that I could find.
You can take a ropeway up the hill to Shri Manshapurna Karni Mata, but when it's only thirty minutes to climb up there, it's best to walk. Karni Mata is a Hindu temple atop the Machla Magra hills, with a beautiful view over Udaipur, the Aravalli mountain range, and the nearby lakes.
As an added bonus, there's an old abandoned structure that you can see in the photo above, poking out through the trees. It's pretty derelict these days, but you can still clamber up the rickety steps to get a view of the city without anybody else around.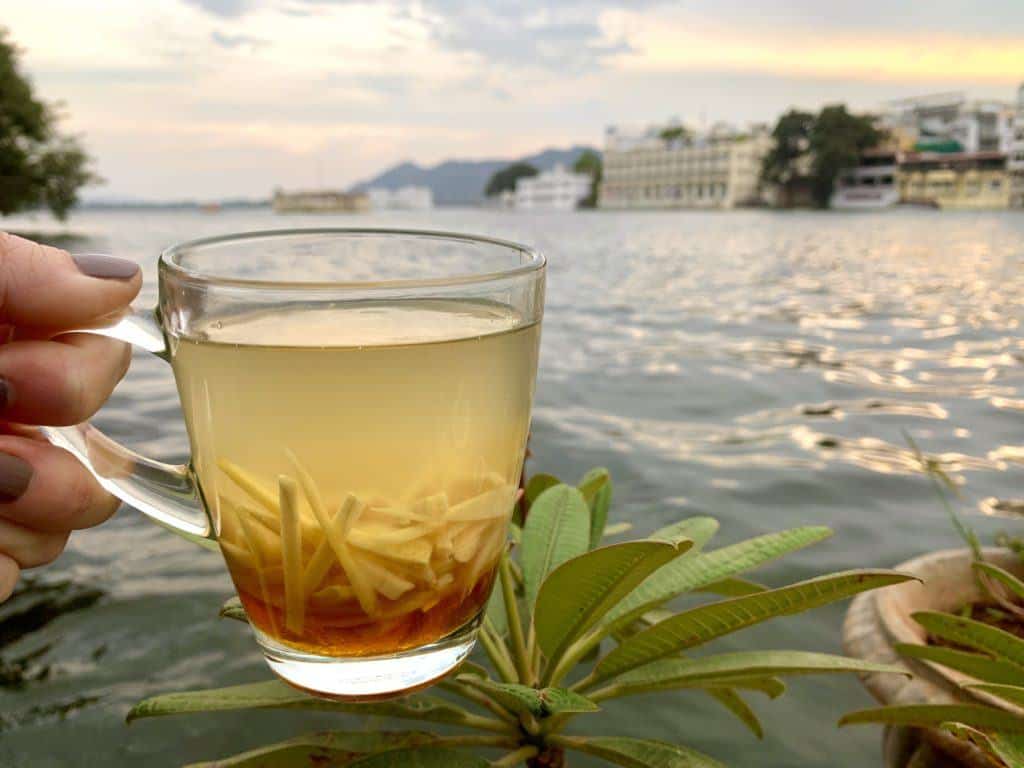 Sip on Ginger Tea at Jheel's Ginger Coffee Bar at Sunset
There are so many great spots to watch the sunset in Udaipur. I quickly slid into a routine.
After a day full of sightseeing, I'd head to Jheel's Ginger Coffee Bar an hour before sunset to order a lemon-ginger tea, while Dave would opt for a ginger coffee. They were so good! I even liked the ginger coffee, which is surprising because it sounded like it would be horrible.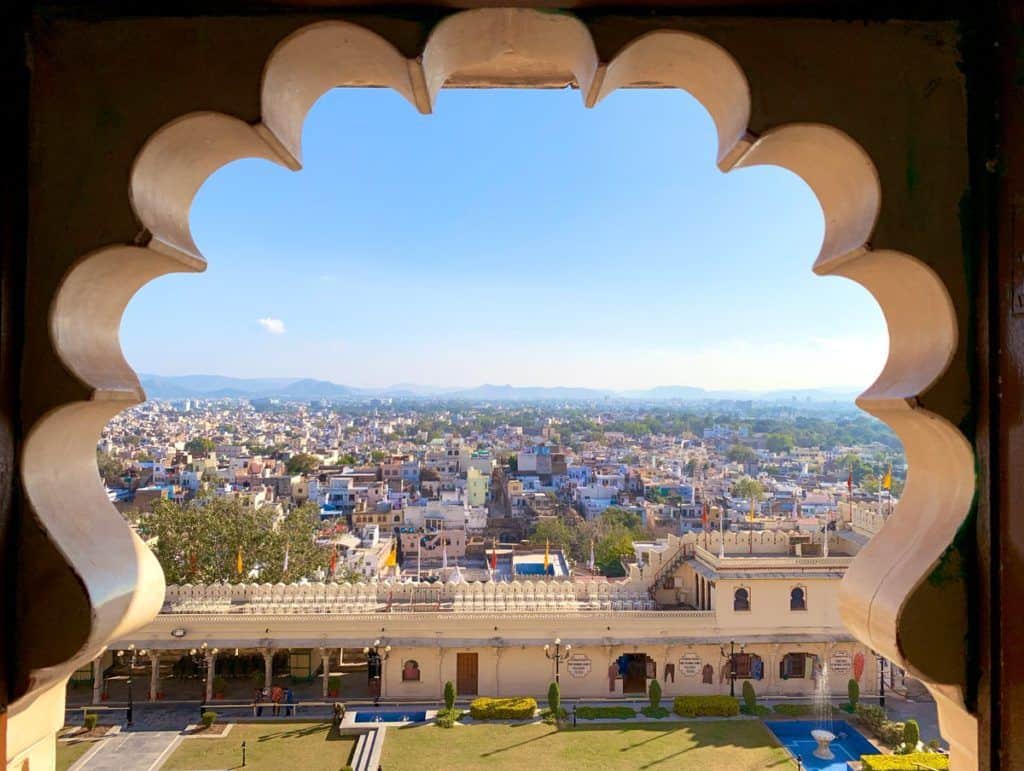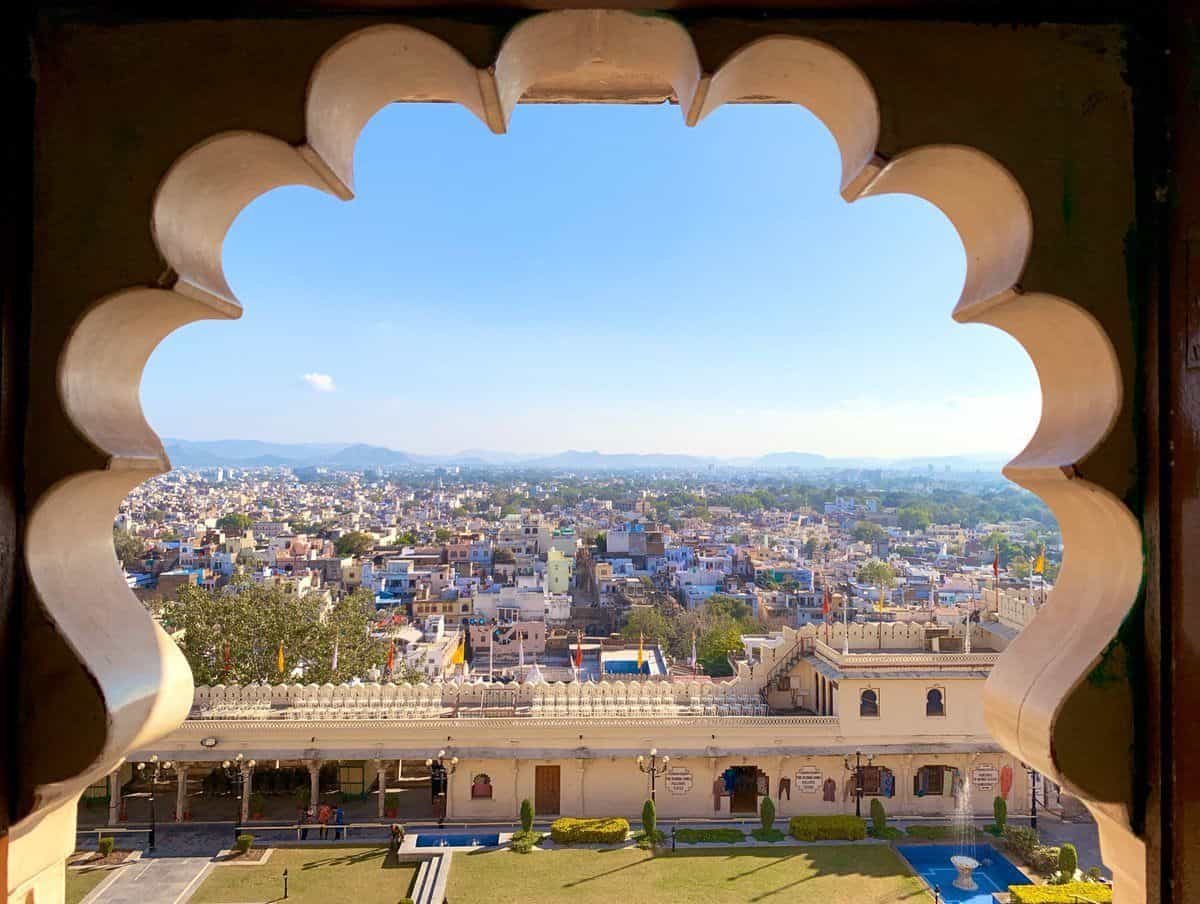 You Could Spend Half a Day at Udaipur's City Palace
I learned from my time in Jaipur that if you want to see the best of an attraction, you should make sure you're the first people at the gate for opening time. In this case, we did exactly that.
The palace was so impressive! And having every single room and courtyard completely to ourselves made the entire experience all the more great. We spent three hours wandering from one area to the next, taking hundreds of photos and making sure to peek out of every window for some impressive views of the city.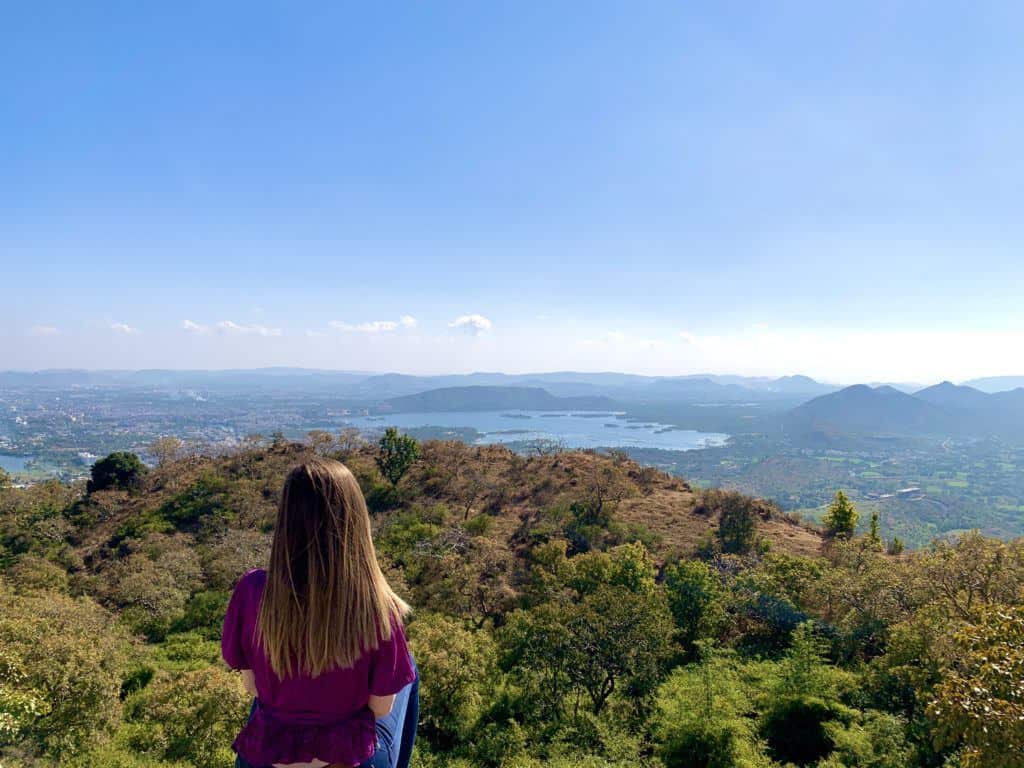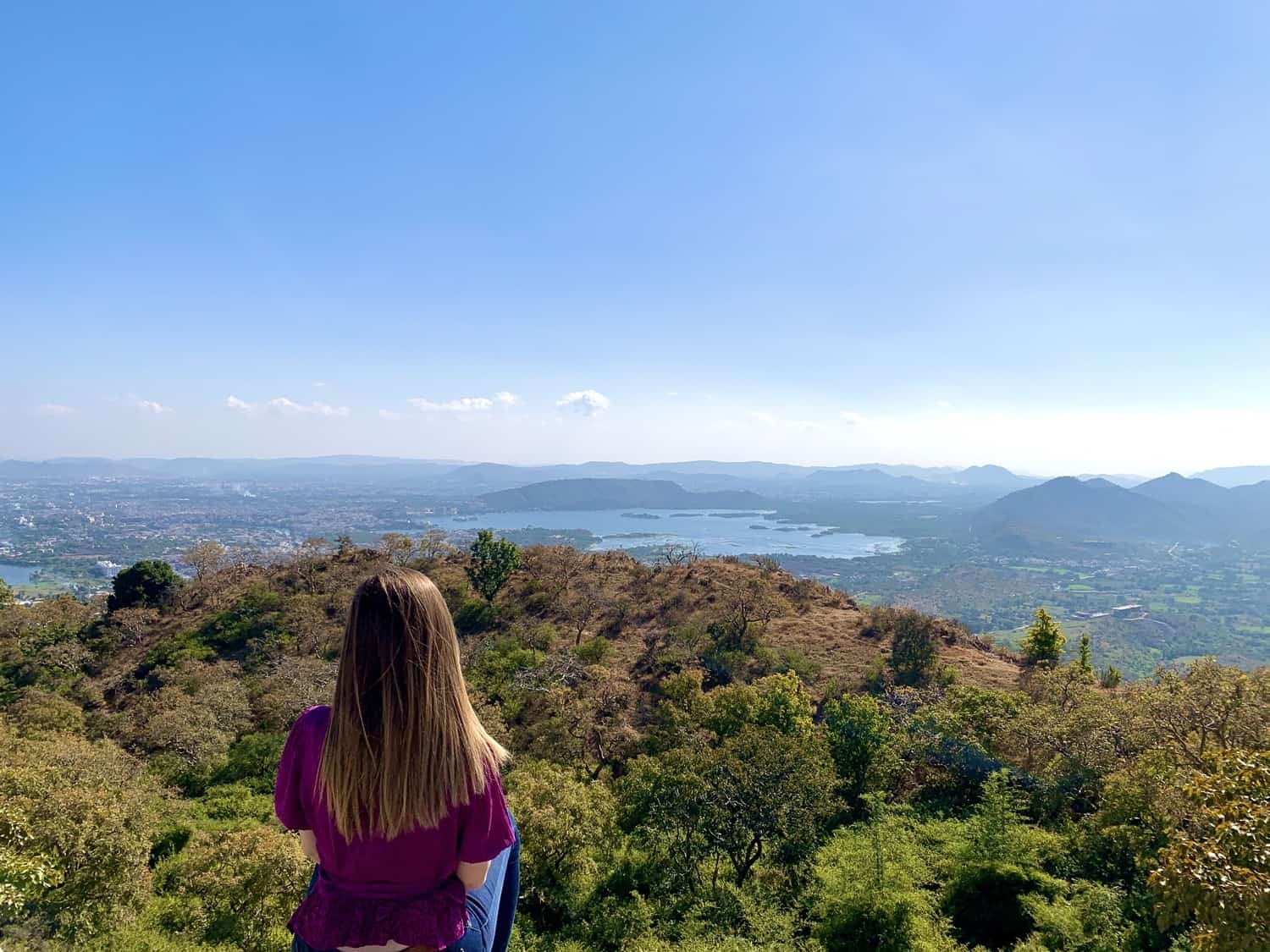 I Loved Exploring the Monsoon Palace
You can spot the Monsoon Palace from most places in Udaipur. It's set high in the hills over the city and gets its name from its use as a popular spot where royals used to escape to during the monsoon.
The palace itself is run down and abandoned, but the views over the city and surrounding hills and mountains are more than worth the trek up. While I visited in the afternoon, I think this would be a great place to catch the sunset one evening, too.
If you don't have your own transport or don't want to walk the long walk to the top (you don't), you'll have to take a minivan transfer from the entrance gates.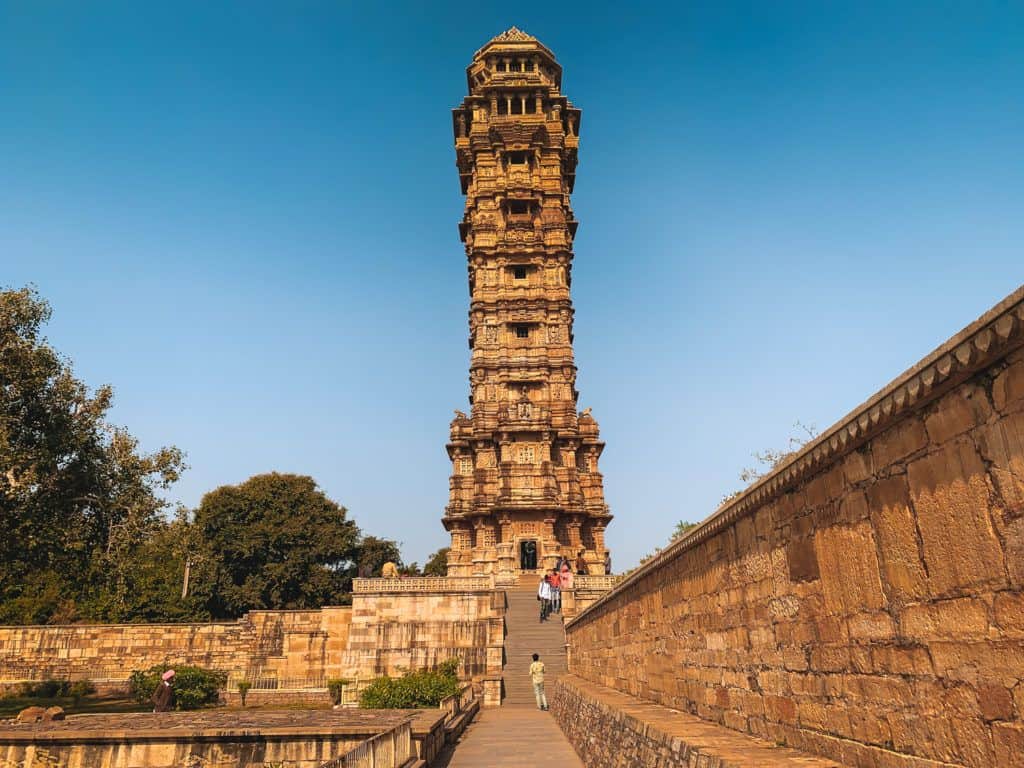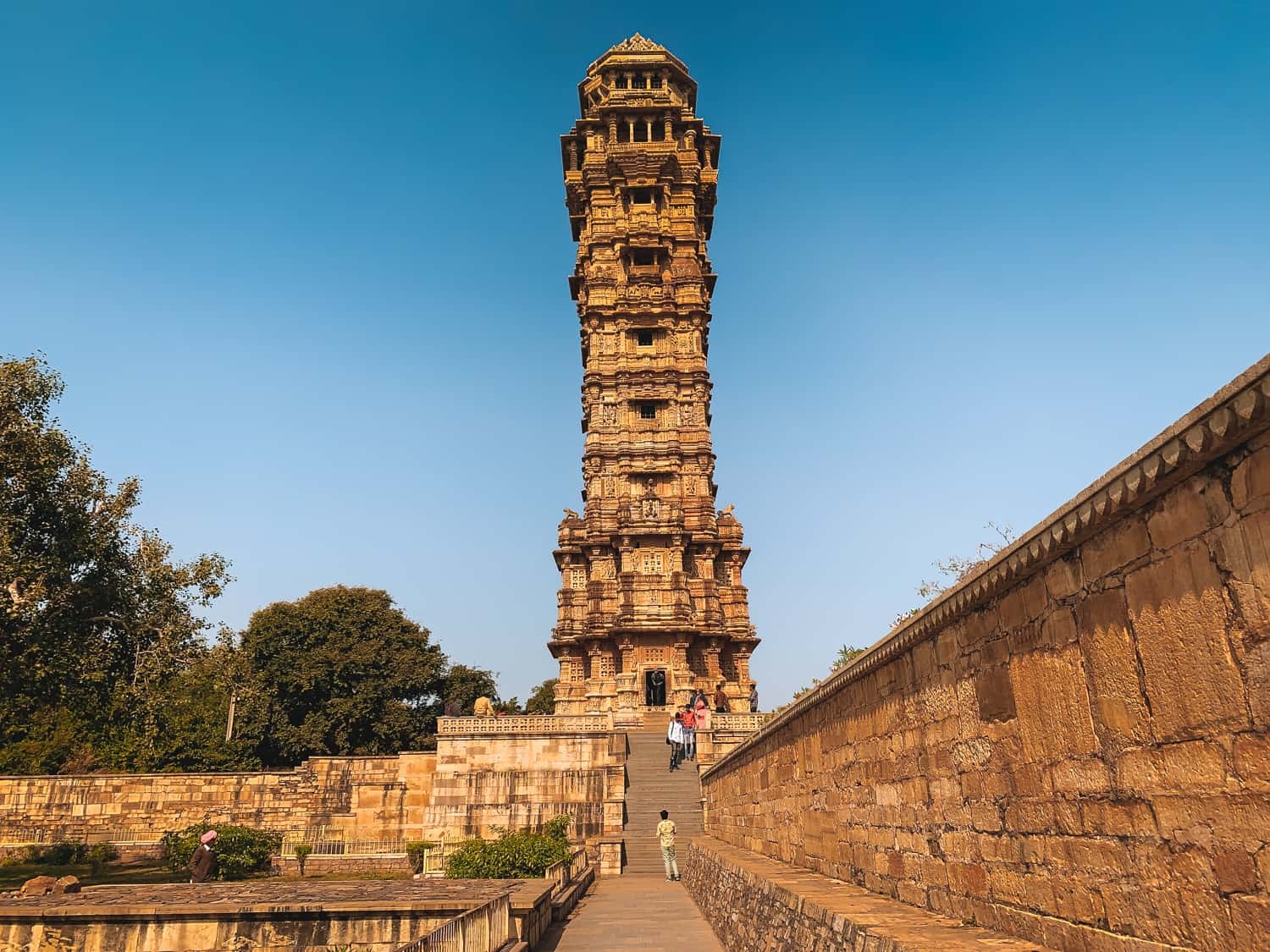 You Have to Take a Day Trip to Chittorgarh
I'm probably going to write a blog post just about my day trip to Chittorgarh Fort, because I was so freaking obsessed with the complex there. I really wasn't sure if it would be worth spending six hours driving time to spend three hours at the grounds, but it so was.
Chittorgarh Fort is enormous — one of the largest in India — spread out over 700 acres on a hill looming over the city. The complex is full of temples, palaces, gates, and towers, and every single one was so intricate and majestic. I never thought I'd write an entire blog post about a fort, but I'm definitely going to be doing so for Chittorgarh.
If you give yourself enough time in Udaipur to spare spending some of it on a day trip, this is the one I'd recommend.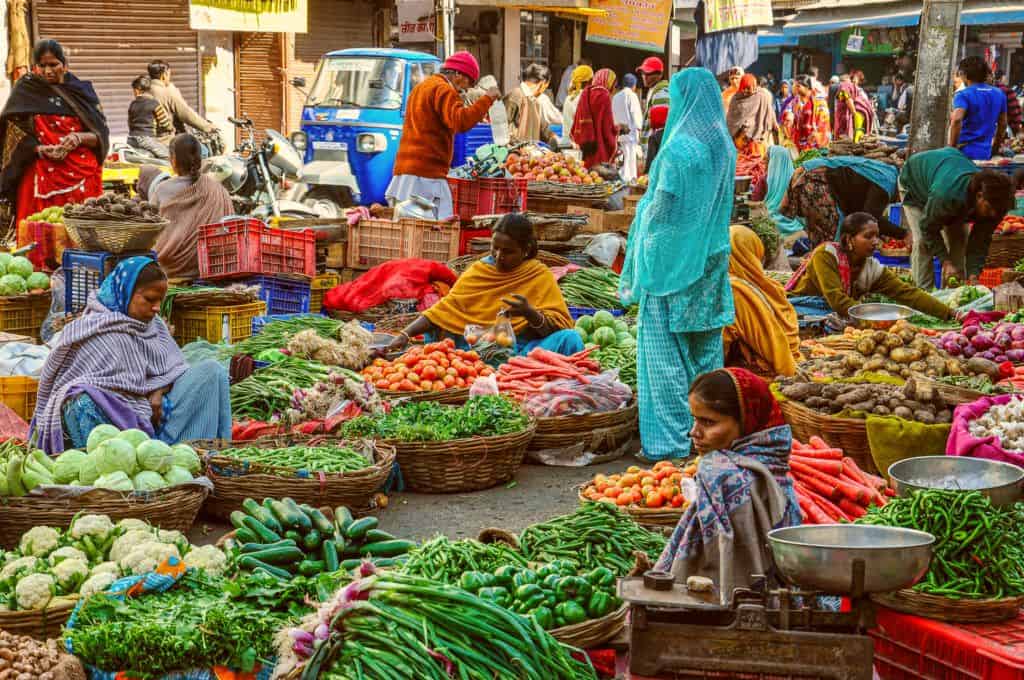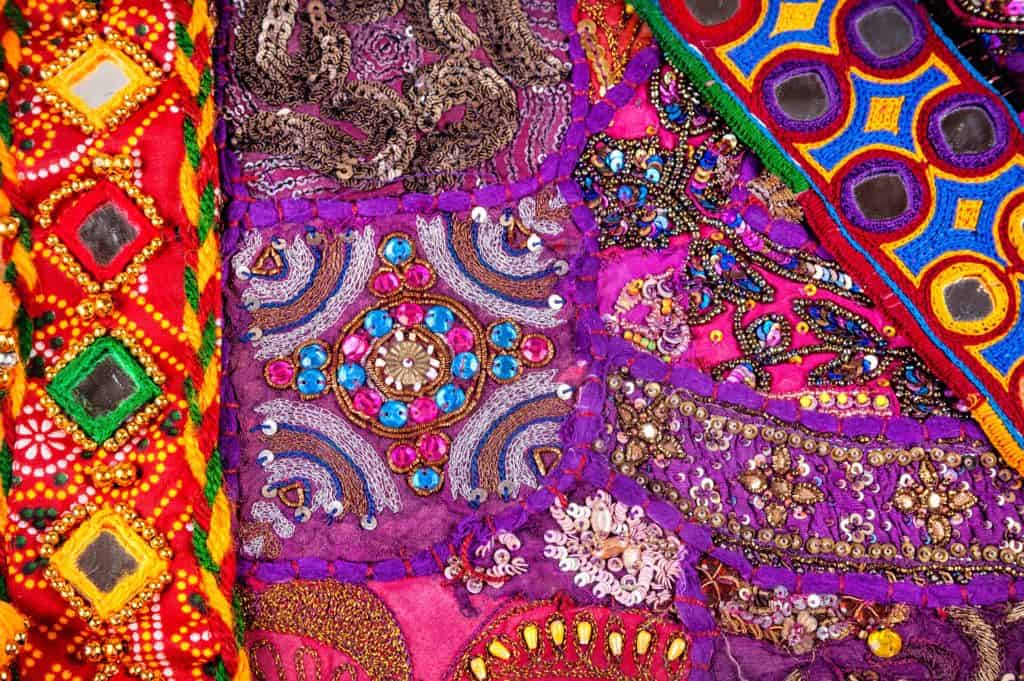 It's a Great Place to Go Shopping
Like Pushkar, Udaipur was another great Rajasthani destination for shopping, and I loved wandering through its markets and stores.
You'll find saris, cushion covers, jewellery, slippers, trinkets, artwork, handbags, rugs, wall hangings, and they're all colourful, vibrant, and ridiculously inexpensive. If you're looking for souvenirs from your time in India, this is one of the best places to pick one up.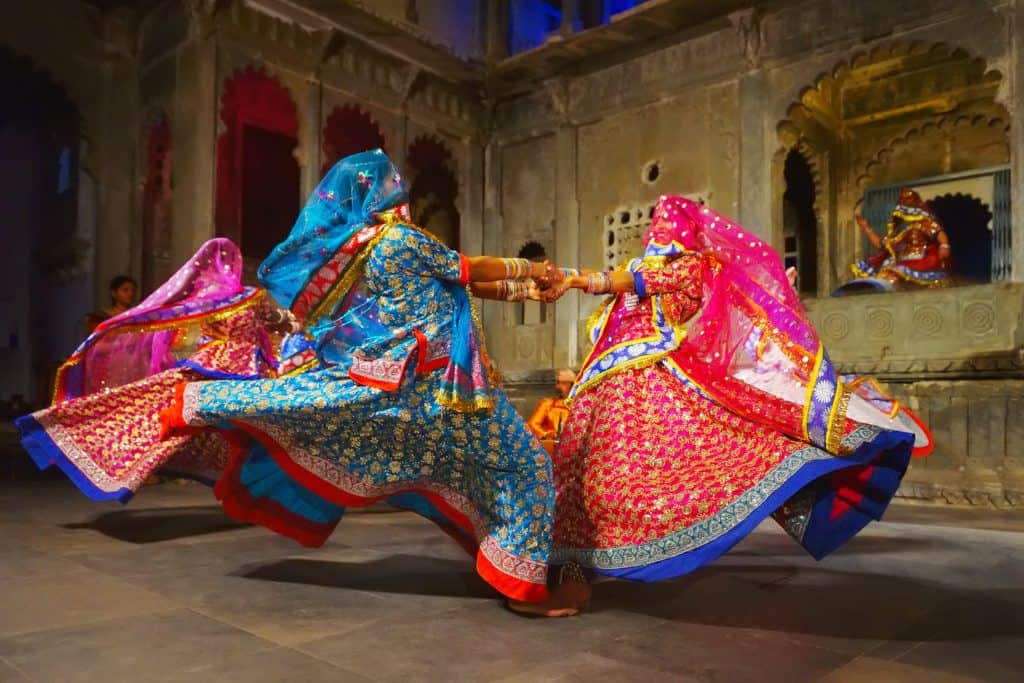 Check Out the Dharohar folk dance show at Bagore Ki Haveli
For a taster of Rajasthani culture, head to Bagore Ki Haveli — a private palace — in the evening for the local folk dance show. Yes, it sounds touristy as hell, but you'll learn a lot about the dances, music, and puppetry that's important for this region of India, and find plenty of locals catching the show, too.
The show starts at 7 p.m. and is regularly fully-booked, so make sure you book in advance. Tickets are Rs150, with an additional Rs150 to bring a camera in.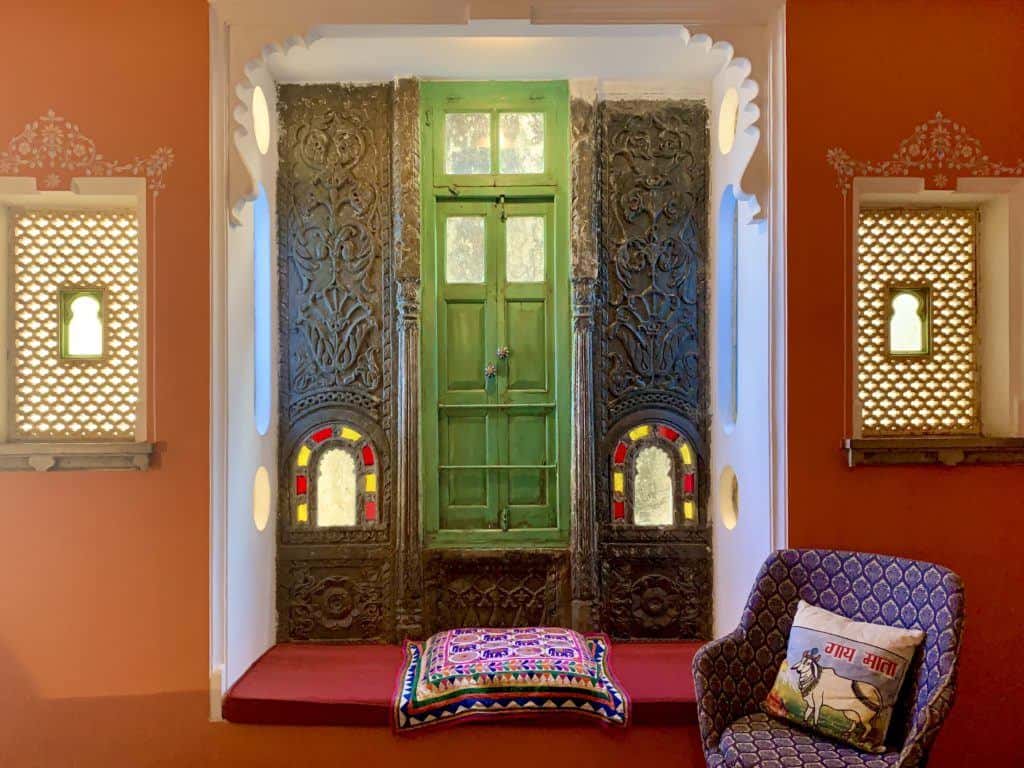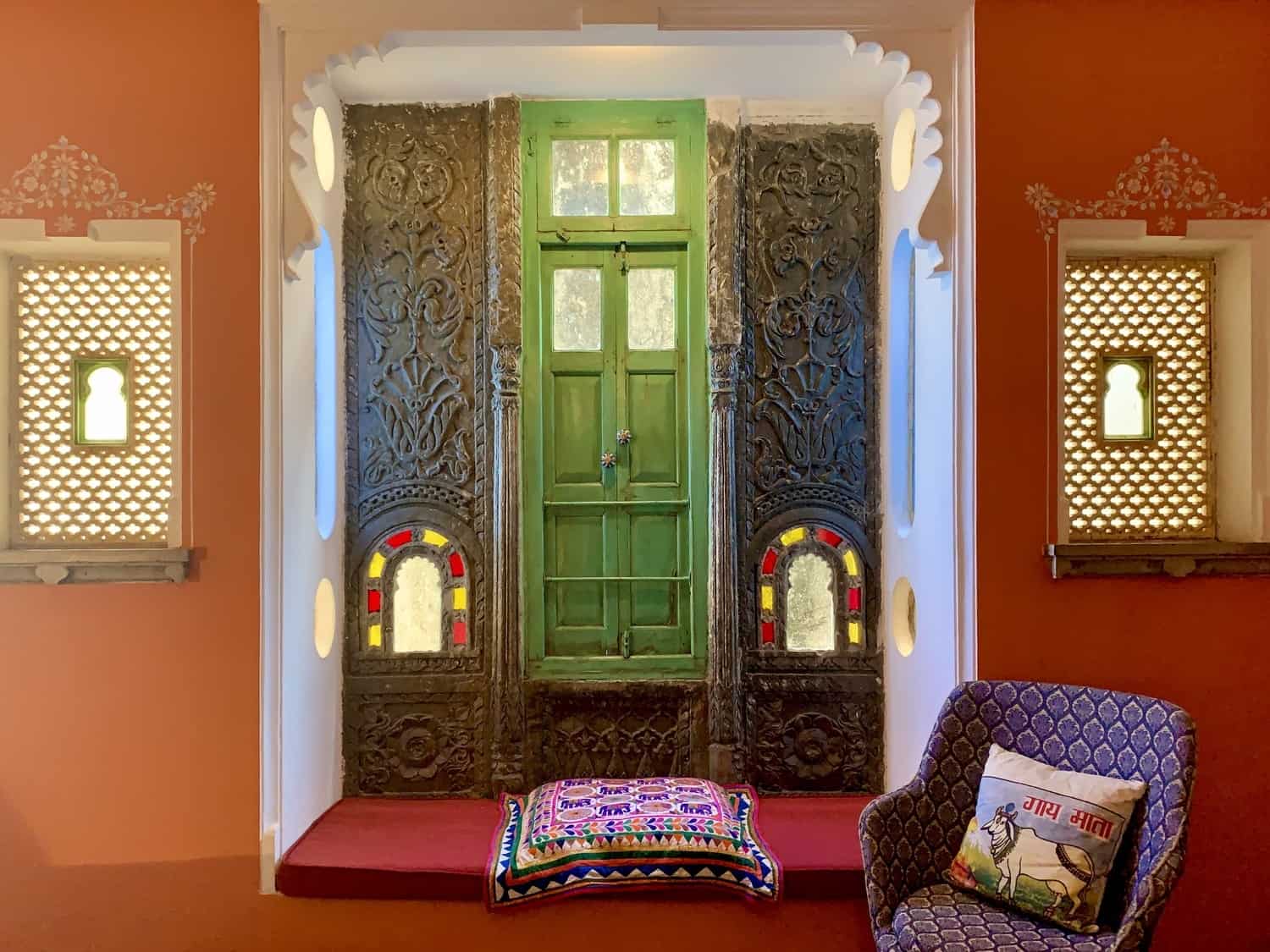 Where to Stay in Udaipur
I loved staying in the old city of Udaipur and despite the noise, would recommend choosing a hotel in that area, as you'll be so close to everywhere you want to go. Most hotels and hostels have rooftop terraces that give a seriously impressive view over the buildings.
I splurged on this beautiful guesthouse — pictured above — in Udaipur at a cost of $79 a night. It's definitely pricey for India, but if you feel like treating yourself, I can highly recommend it. In chaotic Rajasthan, it was so wonderful to take a break from the pandemonium and stay in such a calming environment. The guesthouse had super-helpful staff, beautifully decorated rooms, and a fabulous breakfast.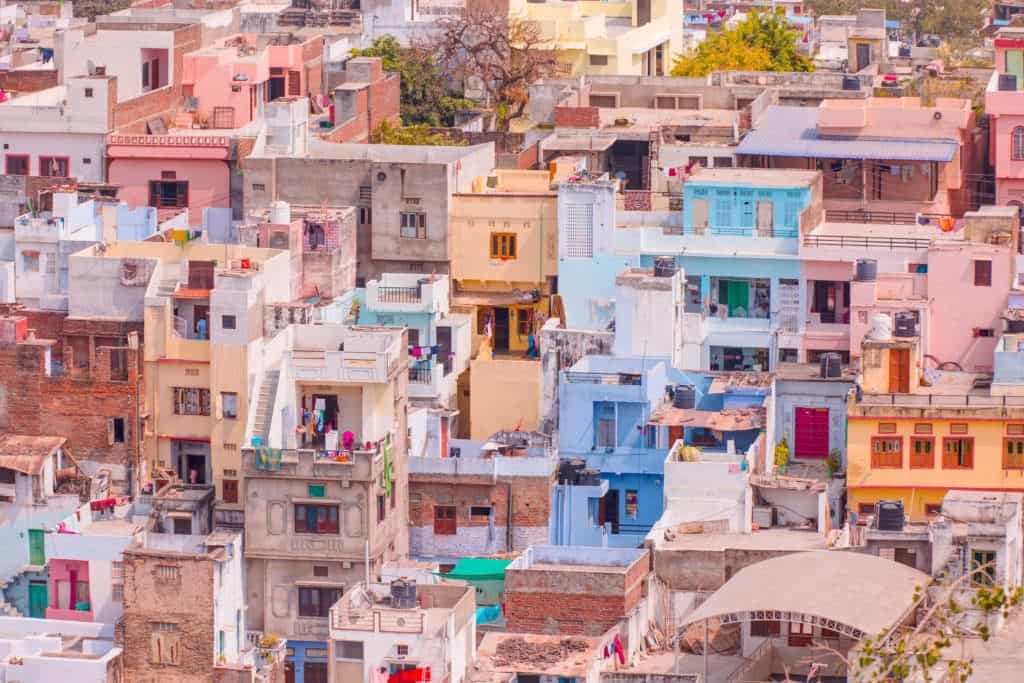 How to Get to Udaipur From Delhi, Jaipur, and More
I recommend booking your trains in India online and in advance through 12Go Asia — an online travel agent that makes travelling around the country so easy. I used them for every train and bus ride I took in India, and was so grateful not to have to deal with scams, wasting time queuing in stations for tickets, and wrestling with websites that wouldn't accept foreign bank cards.
Tickets for train routes go up for sale 120 days before their departure date and they do sell out quickly, so if you know in advance when you're going to be in Udaipur, I recommend booking your travel as soon as possible. I waited until a month before my trip date and was frustrated to see so many of the trains were fully-booked.
To get to Udaipur from Jaipur, you'll likely take the Jp Udz Superfast Special, which departs Jaipur at 10:10 a.m. and arrives at Udaipur at 12:20 p.m. — this was the one I travelled on. It's $16 for a 2nd class 2-tier seat.
To get to Udaipur from Delhi, you're best off going for the Chetak Express, even though it means opting for an overnight train. You'll be leaving New Delhi at 7:52 p.m. and arriving in Udaipur at 7:50 a.m. It's $25 for a second-class sleeper.
You can travel for cheaper on the trains if you're trying to save money in India, but I do recommend opting for second-class seats where possible. It was my favourite train class in the country, as the seats are comfortable and the carriages are calm, quiet, and safe.
There's no direct train between Jodhpur and Udaipur, but I recommend hiring a driver to get between the two destinations anyway. You'll be able to stop off at Kumbhalgarh and Ranakpur along the way, which are both so impressive! I'll be writing about that journey soon.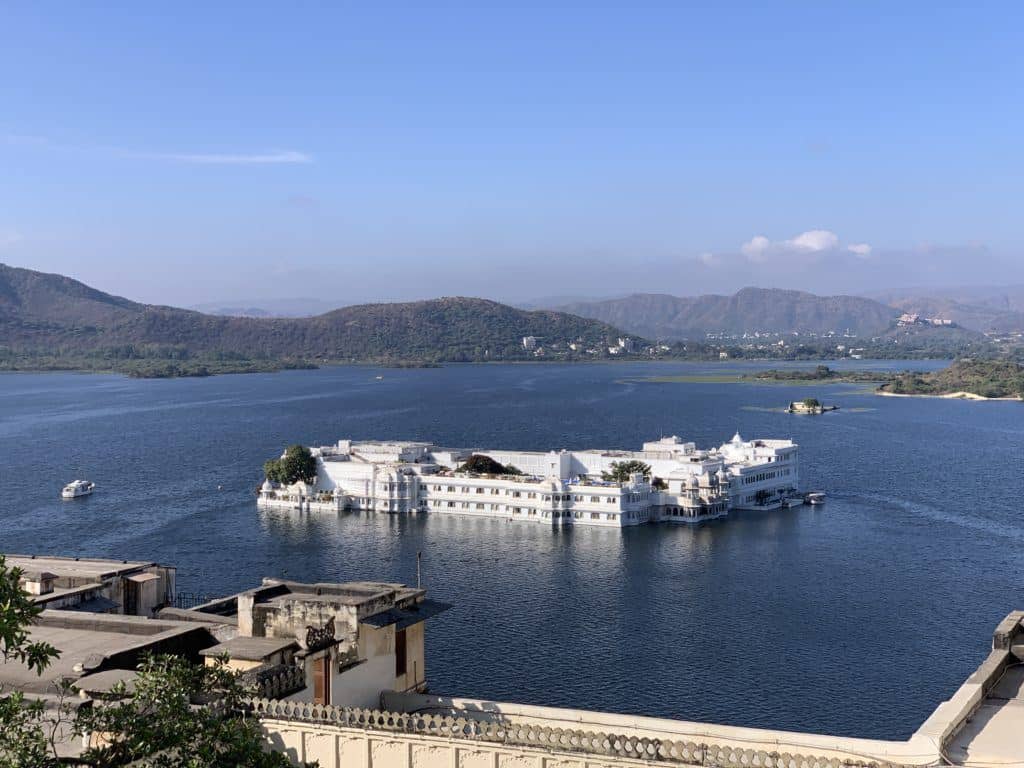 The Best Time of Year to Visit Udaipur
Like all of Rajasthan, the best time to visit Udaipur is between October and March, as that's when the temperatures are coolest. I visited in December and temperatures were around 23°C/73°F, which was perfect for exploring.
In the summer months, you'll encounter temperatures twice as high, which sounds like it would make for a stressful, unpleasant time.
Udaipur: Yes, It's as Great as Everyone Says!
I arrived in Udaipur wondered if I'd be disappointed, and hoping to fall in love, and my wishes totally came true.
Udaipur is fantastic. It's beautiful, peaceful, and one of my favourite spots in India.
If you're planning on heading to Rajasthan, you must add it to your itinerary.
Related Articles on India

💰 The Cost of Travel in India: A Detailed Budget Breakdown
🇮🇳 12 Reasons Why I Absolutely Loved Rajasthan
💗 Three Perfect Days in Delhi: I Love This City So Much
🙅🏼‍♀️ How Not to Spend a Day in Jaipur
🤩 The Ultimate Guide to Visiting the Taj Mahal
💛 The Ultimate Guide to India's Golden Triangle
🐪 Pushkar Travel Guide: 11 Things to Do in Pushkar
🎶 I Went to a Pink Floyd-Themed Cafe in India