Taupo is one of my favourite spots on New Zealand's North Island.
I'm fortunate to have visited this bustling lakeside town three times now and each time, I've come away promising to return. There's just something about New Zealand's lakes that feels so healing for me.
Recently, I decided to visit after completing the Lake Waikaremoana Great Walk (there's another lake!), and Taupo provided the perfect place to recover, unwind, and start getting back to reality.
I loved it so much, in fact, that I returned four months later to spend another couple of days hanging out beside the crystal-clear waters of Lake Taupo.
What I Love About Taupo
So what do you need to know about Taupo?
Well, I casually mentioned above that Taupo is a lakeside town, but that's kind of underselling Lake Taupo to you, because this body of water — the largest lake in New Zealand — is the same size as Singapore. It blew my mind when I learned just how vast it is, and I suddenly understood why everybody refers to it as the inland sea of New Zealand. On a windy day, when visibility is low, you'd be forgiven for thinking you were standing on a coastline, looking out to sea.
In reality, Lake Taupo is the crater of a vast supervolcano, formed after one of the most violent eruptions of the past 5,000 years. After blowing all that it had into the atmosphere, the volcano promptly died out and the extinct crater filled itself with water. These days, the lake is fed from a constant stream of water from the nearby snow-capped mountains.
And while Lake Taupo is now far more sedate than it was in the past, evidence of the area's geothermal activity surrounds the town. You've got geysers, hot springs, and funky colours scattered across the landscape, and as you stand beside the waterfront, you'll be unable to take your eyes off the trio of volcanoes in the distance.
Mount Tongariro, Mount Ngauruhoe, and Mount Ruapehu are all visible from Taupo, and they make for particularly impressive views across the lake. And speaking of Mount Tongariro — you can't forget the Tongariro Crossing, which has been heralded as New Zealand's best one-day hike. After having completed it way back in 2013, I can't disagree with the assessment.
If there's one thing Taupo is most famous for, however, it's its adventure activities. Whether it's jet boating, bungy jumping, parasailing, or skydiving, there's something for all adrenaline lovers, and tourists arrive in town every day, searching for their next fix.
If, like me, you tend to hit the skip button when it comes to adventure travel, you've still got the small-town vibe of Taupo to soak up, plus the dozens of beautiful nature trails and the lake to sit beside with fish and chips in hand. One of my favourite activities in Taupo is walking out to the magnificent Huka Falls and marvelling at the sheer power this natural phenomenon generates.
In this post, I'm going to be sharing all of my favourite things to do in in Taupo.
(A note for my many American readers: prices in this post are listed in New Zealand Dollars — at the time of writing, 100 NZD is around 70 USD.)
Related Posts on Never Ending Footsteps

🇳🇿 How to Travel New Zealand on a Budget
🧳 The Ultimate New Zealand Packing List
🥝 Highlights From Two Months in New Zealand
✈️ 50+ Articles on Things to Do in New Zealand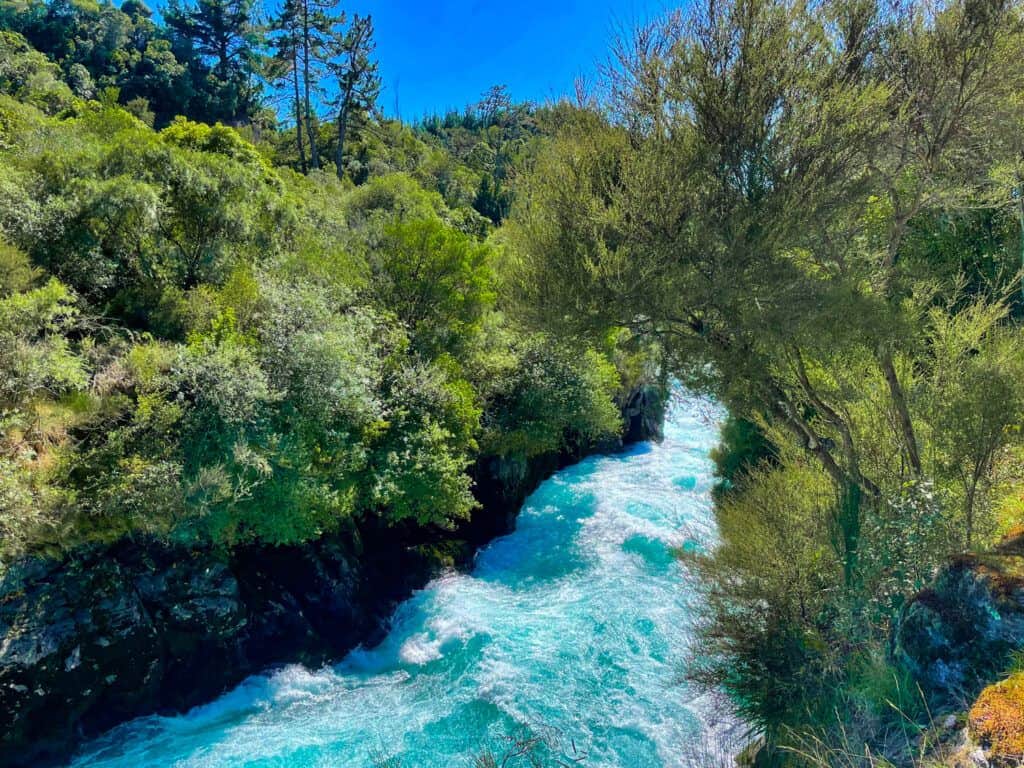 Walk Out to Huka Falls
I can't write about Taupo without mentioning Huka Falls.
This powerful waterfall is the most visited natural attraction in the entirety of New Zealand, and for good reason: it's seriously impressive! What it lacks in height, standing at just 11 metres tall, it makes up for in strength, as a whopping 220,000 litres of water barrels over it each and every second. If you, like me, struggle to conceptualise that amount of water, let me tell you that it's enough to fill an Olympic-sized swimming pool in just 11 seconds.
The absolute best way to experience the falls is from the bridge crossing over them, along with the many nearby viewpoints scattered along the water's edge. And while you can drive out to the falls, I recommend walking instead.
It takes an hour to complete the trek from Spa Park to the falls, along the Huka Falls Trail, and it's such a lovely trail, weaving alongside the native forest, and I loved hearing the roar of the water getting louder with each step. If you only have time to do one thing in Taupo, this should be it.
Jet Boating All the Way to Huka Falls
Now.
If you're one of the longest of long-time readers of Never Ending Footsteps, you may recall my fraught relationship with jet boats. Back in 2013, I decided to jump aboard the Huka Falls Jet without so much of an inclination of what jet boats even were. The result? Well, I published a photo essay of the resulting trauma for all to see and giggle at.
But I've come a long way from that dramatic girl, and these days, I absolutely adore jet boats. Seriously — they're so much fun! And the Huka Falls Jet? It's the country's best.
While on board, you'll race through a picturesque gorge, coming within inches of sheer rock face, and just as you regain your composure, jump straight into a 360-degree spin, before getting right up close to the waterfall itself, witnessing its power from metres away.
It's an action-packed adventure, and you'll be talking about it for days afterwards.
Skydiving in the Best Place to Do So
When you think of travel to New Zealand, you're most likely fantasising about epic landscapes and adrenaline-fuelled activities. In Taupo, you can combine both of these iconic attributes and jump out of a plane in the country's most skydived location. Yes, 30,000 people skydive in Taupo each year and for good reason.
You've got pristine Lake Taupo, snow-capped volcanoes, and coast-to-coast views of the beautiful North Island, all thrown in together to make for a particularly adventurous jump. There's a reason why Taupo is known as the skydiving capital of the world.
And if you're a Lord of the Rings fan, know that nearby Mt Ngauruhoe is Mount Doom from the movies! There's nothing more badass than jumping from a plane over that volcano.
A 12,000 ft jump, with 40 seconds of freefall, comes in at just under 300 NZD. An 18,000 ft jump with a whopping 75 seconds of freefall? That's priced at $499.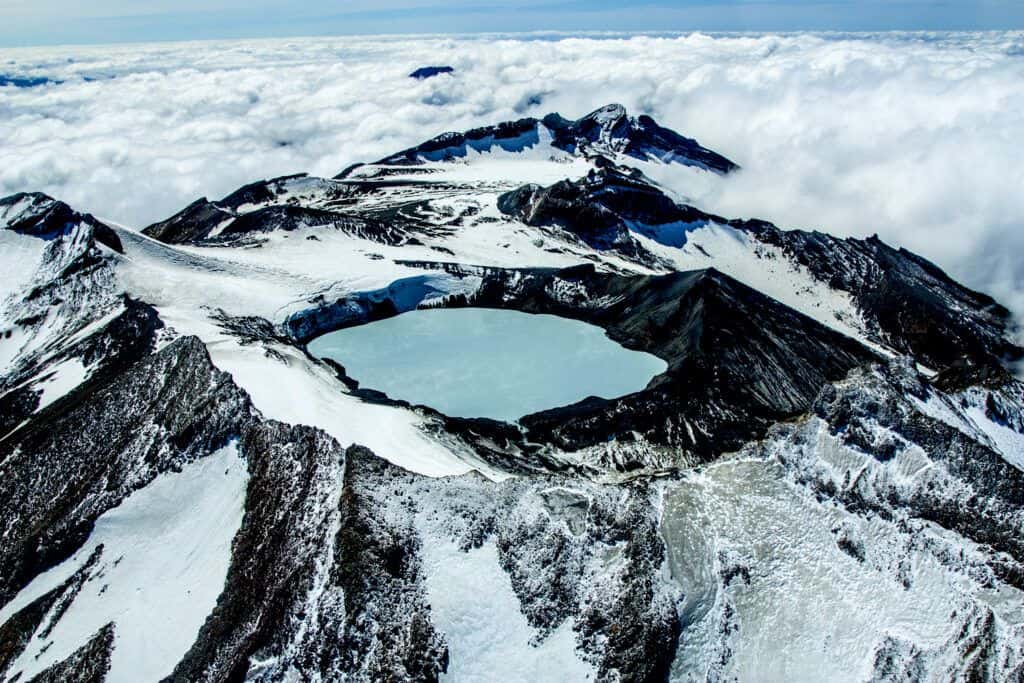 Take a Scenic Flight Over the Volcanoes
If skydiving isn't your thing, you can still get up close and personal with the volcanoes from the air — by taking a scenic flight over them.
You've got a couple of options here, with both helicopter and float planes up for grabs and you'll be able to choose which area to see before you fly.
Go check out Huka Falls from above, soar over the trio of snow-capped volcanoes to check out Mount Ruapehu's volcanic lake — pictured above — or head out over the rainbow-coloured geothermal landscapes to see them from a new angle. Hell, you can even sign up for a scenic flight over White Island — New Zealand's infamous active volcano that erupted in 2019, killing 22 visitors — if you're feeling particularly bold.
Book your floatplane experience with Taupo Floatplane (prices starting from $109) or your helicopter adventure with Inflite Experiences (prices from $195).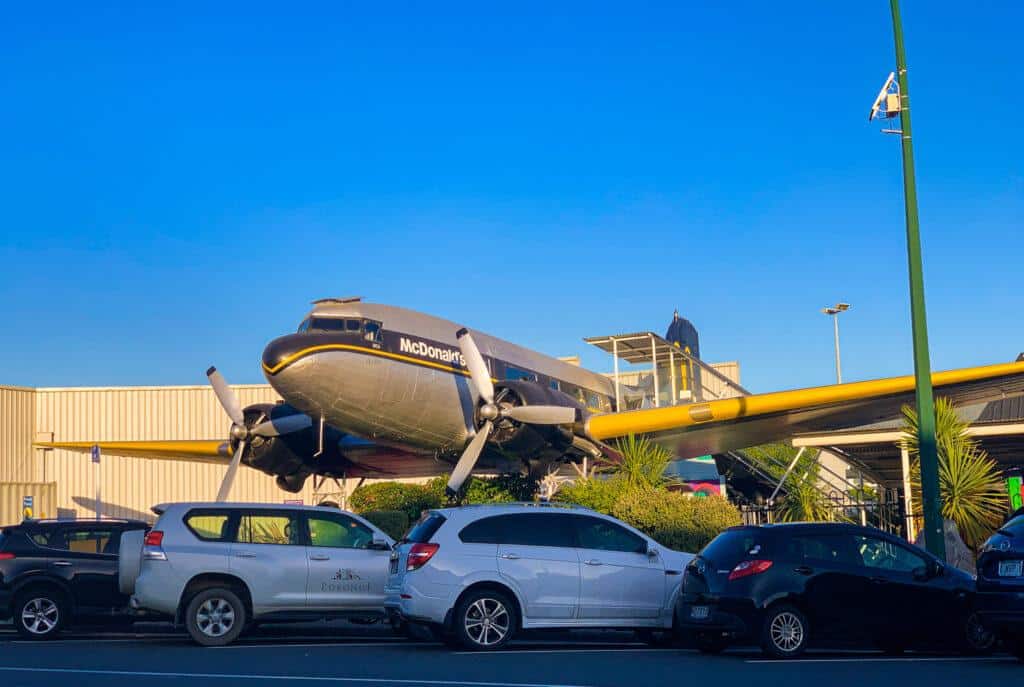 Check Out the McDonald's in a Plane
Speaking of planes, Taupo is the only place in the world where you can eat a McDonald's inside a plane without attracting a hefty dose of side-eye from the people around you.
The decommissioned DC-3 aircraft has been on site for 30 years now, having been purchased by McDonald's way back in 1990. Seating 20 diners, it still has the original cockpit in the plane, and it makes for a particularly interesting place to eat your Big Mac.
Let's face it: none of us go on holiday to eat McDonald's, but if you find yourself with a craving, this is a unique place in town to satisfy it.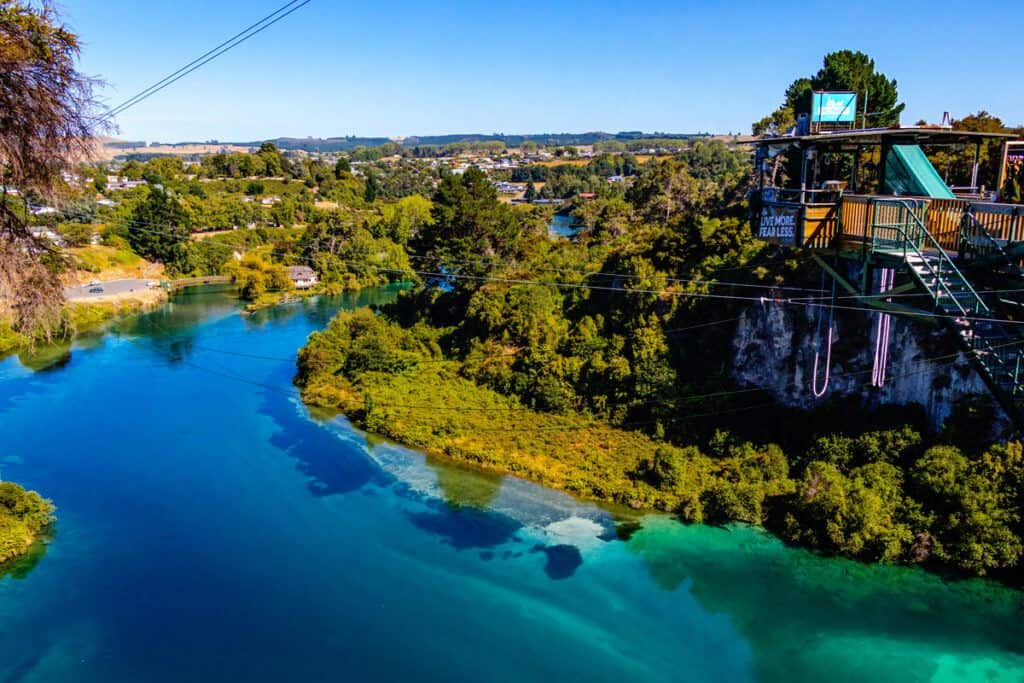 The Highest Water-Touch Bungy Jump
Taupo is all about the adventure activities, so you shouldn't be surprised to learn it's home to New Zealand's highest water-touch bungy jump. Not only that, it's also New Zealand's only clifftop bungee jump!
Located above the pristine Waikato River, you'll pay world-famous bungy-jumping company AJ Hackett just $120 to bounce down into those refreshing waters. You can jump alone or with a friend, and you can also choose if you want to be dunked in the river or remain dry. But where's the fun in the latter?
If bungy jumping isn't your thing, AJ Hackett also operates a giant swing in the same location. Attached to a rope that's almost 50 metres long, you'll leap from that clifftop and find yourself reaching speeds of up to 70km/h as you swing back and forth over the turquoise river. Badass.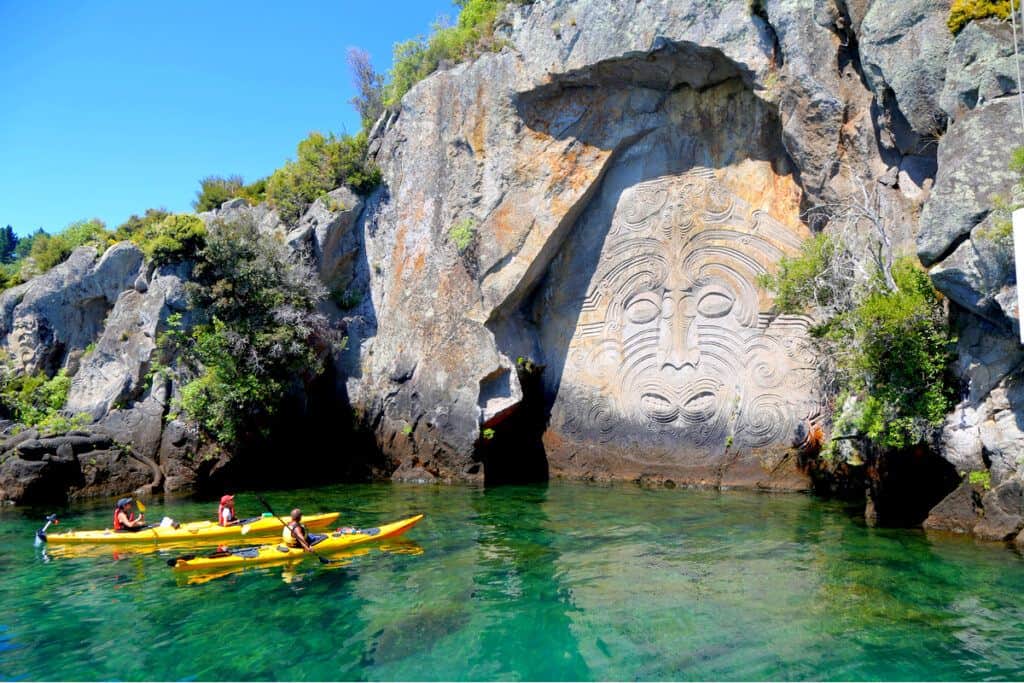 Check Out the Maori Carvings at Mine Bay
Now, this is particularly awesome!
Out on Lake Taupo, there's a spot called Mine Bay, and in that bay, you'll find a contemporary Maori rock carving, 14 metres high, etched into the rock. I note that they're relatively recent, as opposed to ancient, as a lot of people end up disappointed when they discover they were completed in 1980. Still, I think they're pretty damn cool-looking.
Mine Bay is only accessible by water, so your three options for seeing them are by cruise ($35), yacht ($49), or by kayak ($115). The latter will allow you to get much closer, so that's what I recommend. But whichever vessel you choose, the carvings are seriously impressive and well-worth heading out to.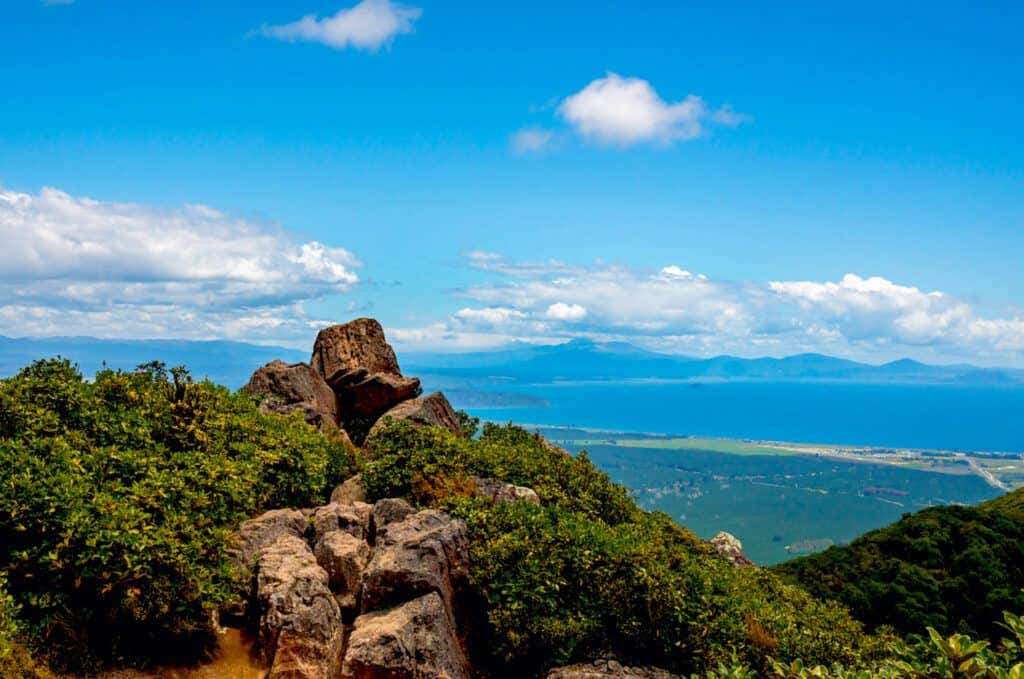 Hike Mount Tauhara
If you're looking to stay active while you're in Taupo, there are so many nature trails and hikes to set out on.
One of my favourites, though, is the hike to the top of Mount Tauhara. Now an extinct volcano, its dome shape provides a killer workout — in a good way — and the views from the top, looking over the countryside are beautiful. The path can be a little sketchy at time, with tree roots and rocks to stumble over, but it's nothing too challenging.
The trail is 2.5 kilometres in length — one way — and climbs around 500 metres in elevation. It takes two or three hours to tackle the return trip, depending on how fit you are — just head to Mount Tauhara car park to start your walk.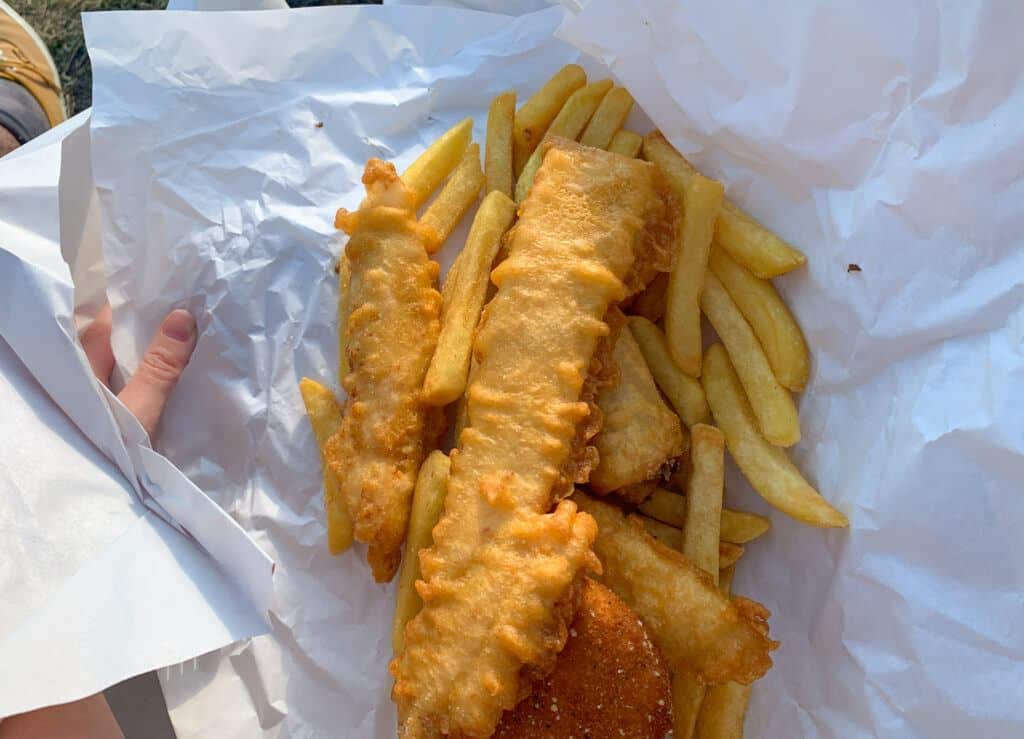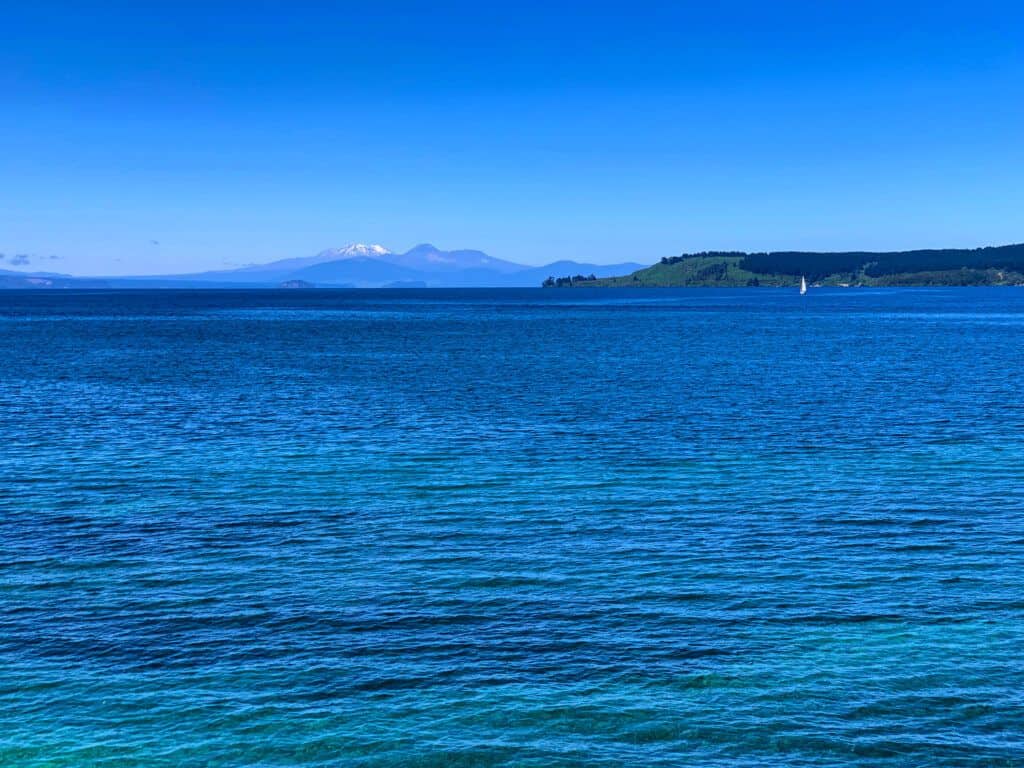 Fish and Chips By the Lake
One of my favourite evening activities in Taupo is wandering over to a fish and chip shop, grabbing a takeaway, and eating it sitting on a patch of sunny grass, looking out across the lake.
Tasty Fish and Chips is my go-to place, as it's right beside the water.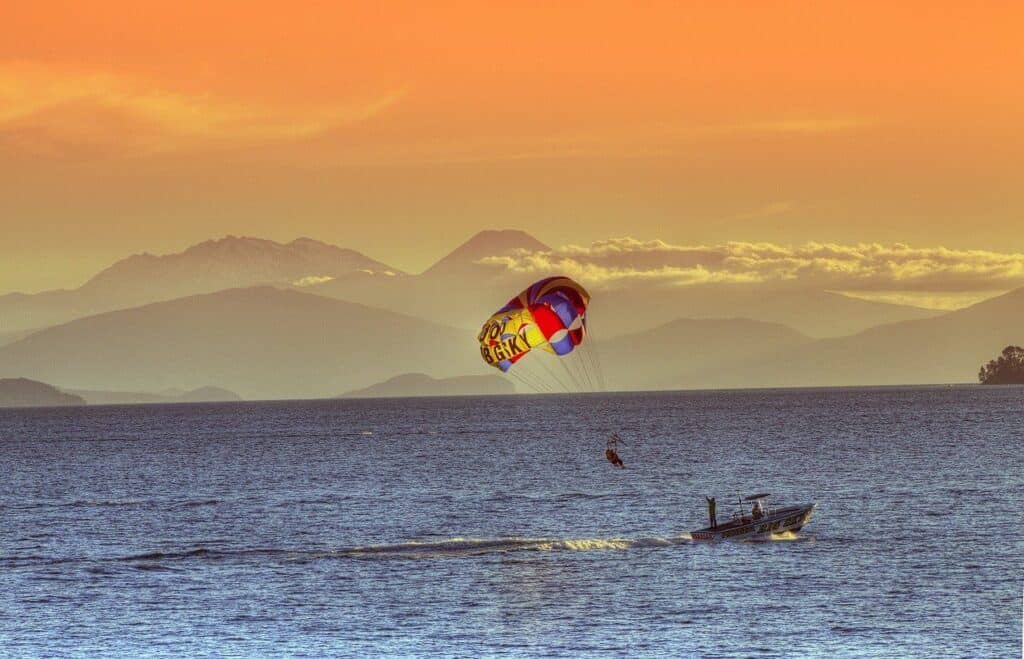 Parasail on the Lake
While you're having your fish and chips, you'll undoubtedly notice the number of people taking to the sky. Parasailing is huge in Taupo, and it's rare to see the water without somebody soaring high above its waters.
When you're 1,000 feet up over the lake, you'll gain a new perspective of Taupo town while simultaneously being able to look all the way to those volcanoes that I keep banging on about.
Big Sky Parasail charges $95 per person for a tandem flight. They can also throw in an freefall — don't worry, it's optional. From their website:
We have perfected the Parasail Freefall, which is the art of stopping the boat and letting you parachute 40 stories down to the water. Before you make contact, however, we'll start the engine and you'll be whisked back up into the sky. We like to call it Taupo's fastest elevator! It's not as scary as it sounds; it's more of a slow, surrealistic feeling. When asked, everyone says this is the best part of their flight.
Do with that information what you will.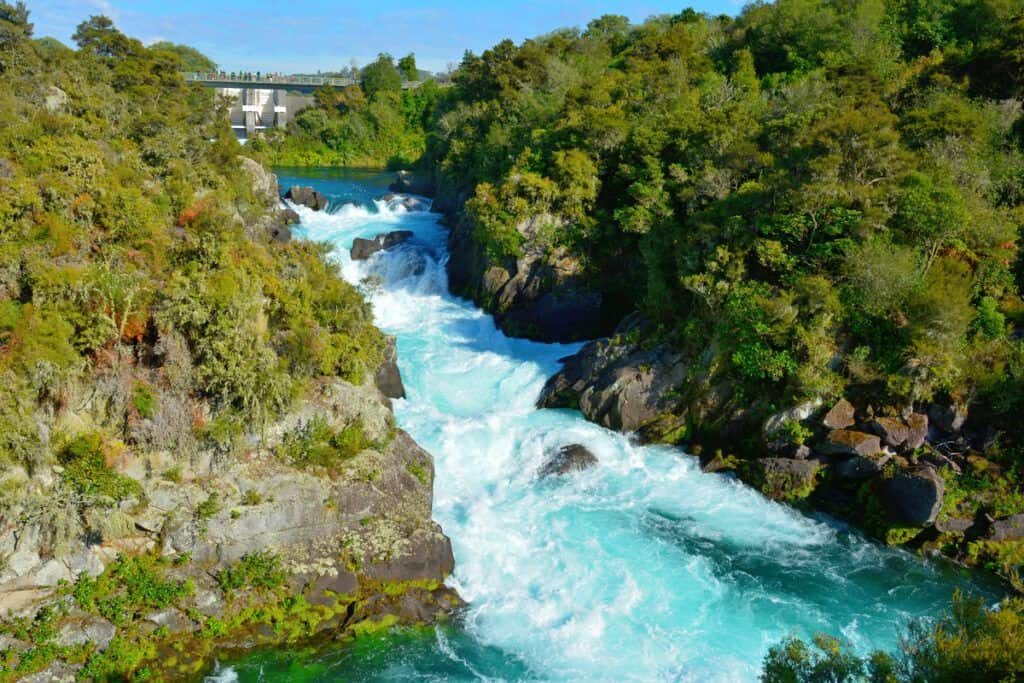 Aratiatia Dam Water Release
If you're on a tight budget and looking for some free activities to fill your time in Taupo, look no further that the Aratiatia Dam release. This works particularly well with the walk from Spa Park to Huka Falls — if you continue down the same trail, you'll end up at the Aratiatia Rapids.
Water is released through this dam multiple times a day. In summer, it's at 10 a.m., 12 p.m., 2 p.m., and 4 p.m., while in winter, it's at 10, 12, and 2.
It takes around two hours to reach the dam from Spa Park — not including time for taking photos — so I'd aim to leave Spa Park around three hours before the water release. At 11 a.m. for the 2 p.m. release, for example.
If four hours of walking sounds like your idea of hell, no worries. You can drive to the dam, instead.
So what's so special about it?
When the gates to the dam open, you'll be able to watch in awe as a calm, narrow stream immediately transforms into turbulent rapids, with water gushing past at 80,000 litres per second. Fifteen minutes later, the spill gates are closed and the tranquil stream returns. It's pretty wild to get to witness the power of nature like that.
There's several great viewpoints for watching the water release — most people opt to stand on the bridge beside the dam, but I recommend venturing along the short walking trail to gain a better vantage point.
If you haven't yet had enough adventure in Taupo, I recommend jumping on the Rapids Jet to feel the strength of the Aratiatia Rapids up close. When the dam gates open, you'll be right in the middle of the action, on the river, powering through the surges and fully experiencing the forces of the water.
And finally, if you're a fan of all things Tolkien, some of the scenes from The Hobbit: The Desolation of Smaug were filmed right here in the rapids — in particular, the scene when escaping dwarves hid out in barrels which were then thrown downstream.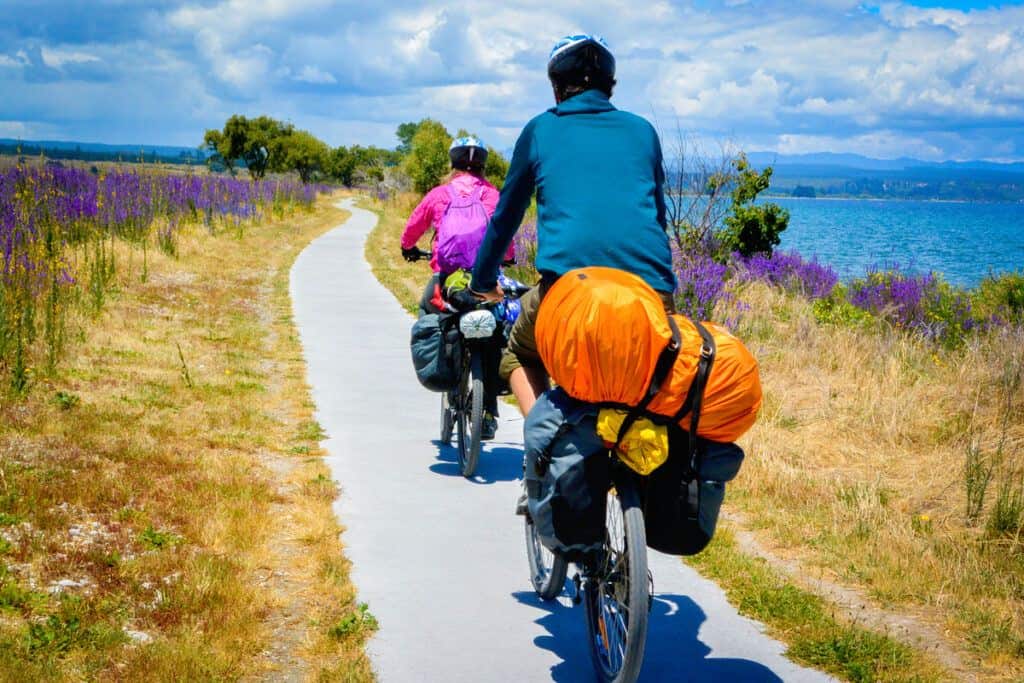 Hit the Cycle Trails
Taupo is a great place to get your cycling on, with dozens upon dozens of trails that are waiting to be explored. Even better: it's an activity you can partake in year-round, as the free-draining pumice soil remains dry, even in the middle of winter.
I recommend Craters Mountain Bike Park, which is home to 55 kilometres of trails, all winding through a pine plantation and offering up a mix of beginner routes and hardcore options.
There are plenty of overnight options, too — from the 71 km Great Lake Trail, which encompasses the western shores of Lake Taupo, to the 85 km Timber Trail, which follows the path of old logging roads, interspersed with a series of exhilerating suspension bridges.
You can even tackle the trail that leads from Spa Park to Aratiatia Dam via Huka Falls with ease — we met tons of cyclists on our walk out to the falls.
Get Your Trout On
Let's face it: I'm far from a fishing fanatic, and yet I can't write about Taupo without mentioning the fact that the rivers surrounding Lake Taupo make this area the trout fishing capital of the world.
Yes, really.
People travel from all over to try their hand at fly fishing in one of the area's six rivers. Most popular is the Tongariro River, where you can attempt to catch rainbow trout and brown trout — there's detailed information on NZ Fishing, if you're interested. You can even travel into the backcountry for a fishing-themed adventure, hitting up some of the rivers that are only accessible by helicopter.
If you're travelling with kids, take them over to the Tongariro National Trout Centre, where there's a children's fishing pond full of trout for them to try catching. Our nephew absolutely loved trying his hand at this and he still can't stop talking about the time he caught a fish and ate it for dinner that night! The trout centre will happily fillet and smoke your kid's catch of the day, ready to eat, with the option of turning it into a sandwich with freshly-baked ciabatta. So fun!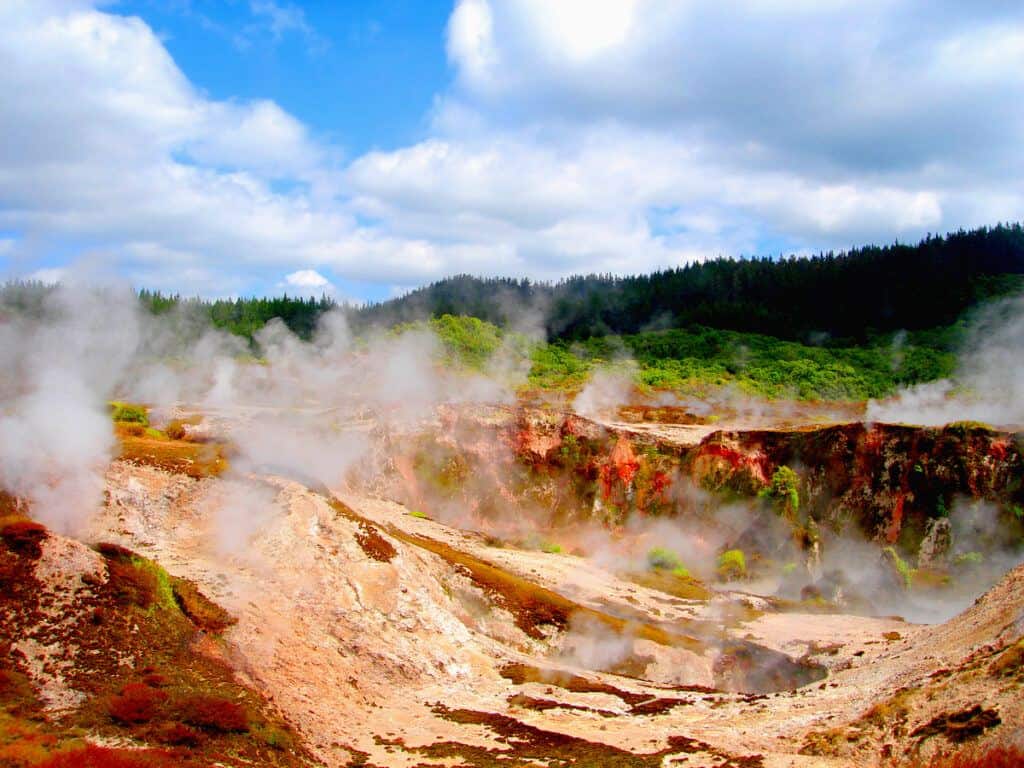 Explore the Geothermal Activity
If, like me, you love your geothermal wonders, you'll have plenty to keep you busy while you're in Taupo.
The highly-active Orakei Korako was described by Lonely Planet as "arguably the best geothermal area left in New Zealand", and I loved wandering around its mud pools, hot springs, 35 geysers, and colourful silica terraces. To get there, you'll take a ferry across Lake Ohakuri, then stroll along the boardwalks crossing over the thermal landscapes. One of the coolest parts of the area is Ruatapu Cave, one of only two caves in the world known to exist in a geothermal field — inside the cave, you'll find a vertical drop of 25 metres, to a shallow pool of clear, warm acid water, known as the Pool of Mirrors. Entrance is around $40 per person.
You've also got the Wairakei Terraces and Thermal Health Spa, the waters of which have been used by Maori for their healing properties for hundreds of years. These days, I recommend spending half a day dipping in and out of three mineral-rich hot pools, then wander over to the silica terraces for a Pamukkale-esque experience.
And you can't forget Craters of the Moon! It's an epic walkway through barren, moon-like landscapes, with bubbling mud pools, steaming craters, and colourful soil.
If it was down to me and I could only go to one place for geothermal activity in Taupo, I recommend Orakei Korako. It's more impressive than Craters of the Moon, in my opinion. While Orakei Korako is more expensive, you do get more for your money overall.
The Best Day Trips From Taupo


Hike the Tongariro Alpine Crossing
Heralded as New Zealand's greatest one-day walk, the Tongariro Crossing is a truly remarkable hike. I mean, just look at that other-worldly scenery! Most of the time, I felt as though I was walking on the moon as I skirted past active volcanoes, snow-capped mountains, and glistening emerald lakes.
It's a tough trek, coming in at 20 kilometres, or 12 miles, and climbing up to almost 2,000 metres in altitude, so it'll take the entirety of a day to complete. Allocate between seven and nine hours, depending on your fitness abilities.
---
And That Was Taupo!
I love Taupo and believe it's well-worth adding to your North Island itinerary. You've got the peaceful lake, the epic volcanoes, the geothermal activity, and plenty of adrenaline activities. What's not to love?
I can't wait to return.
Does Taupo Sound Like Your Kind of Place?