I firmly believe that Kota Kinabalu is one of the most underrated cities in Southeast Asia.
Hardly anybody talks about it, but for me, it was love at first sight. After originally planning to spend three days in town, Dave and I decided to extend our stay to three weeks within several hours of arriving.
A huge reason behind this decision was the incredible food scene.
I think that Kota Kinabalu is one of the best cities in the region for food, pulling even with Bangkok, Singapore, Kuala Lumpur, and Saigon. Not only that, but the city has a chilled-out, relaxed vibe, a waterfront to wander along, and plenty of hipster coffee shops and street art to explore. It's a fantastic city to base yourself in for a week or two, if not longer.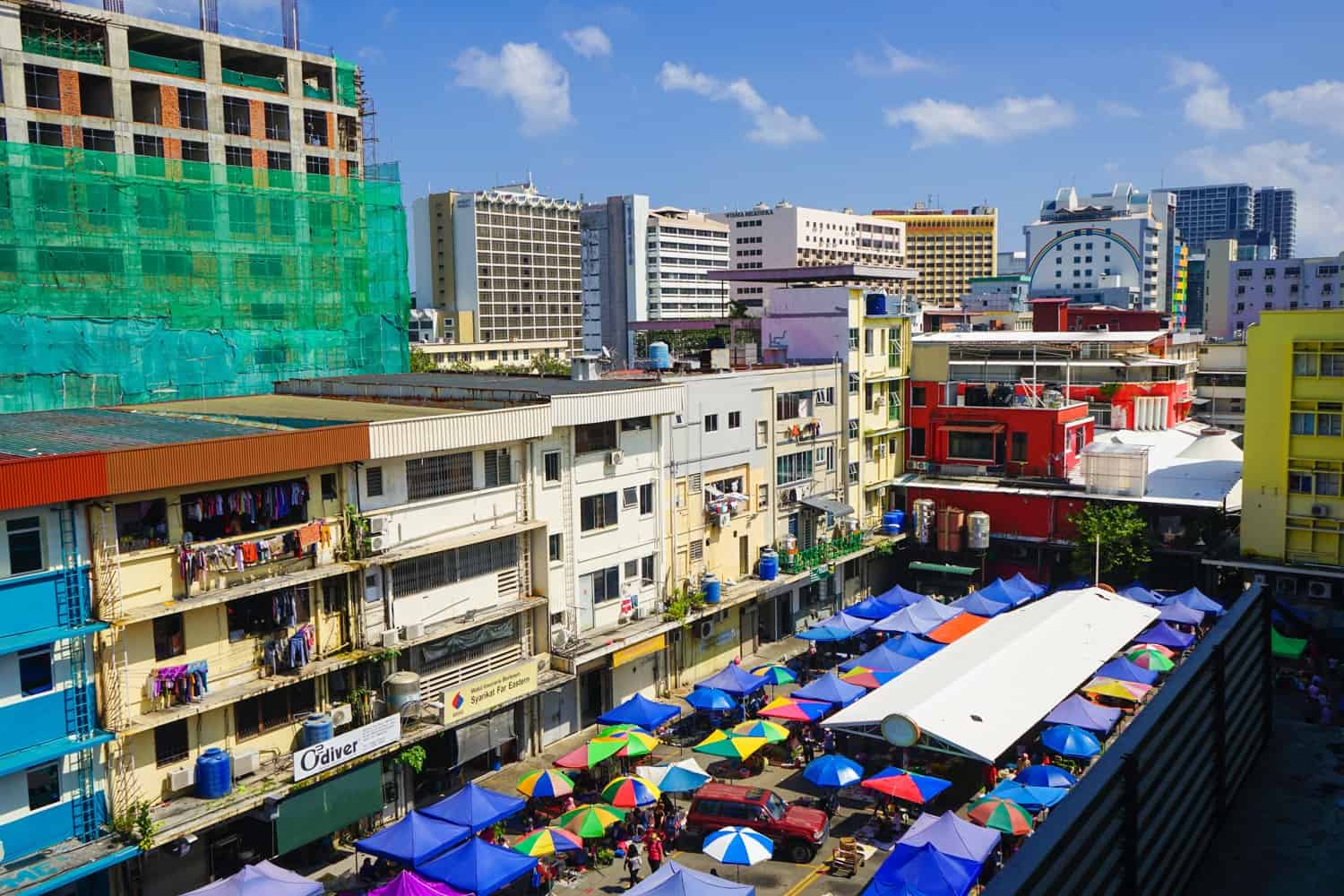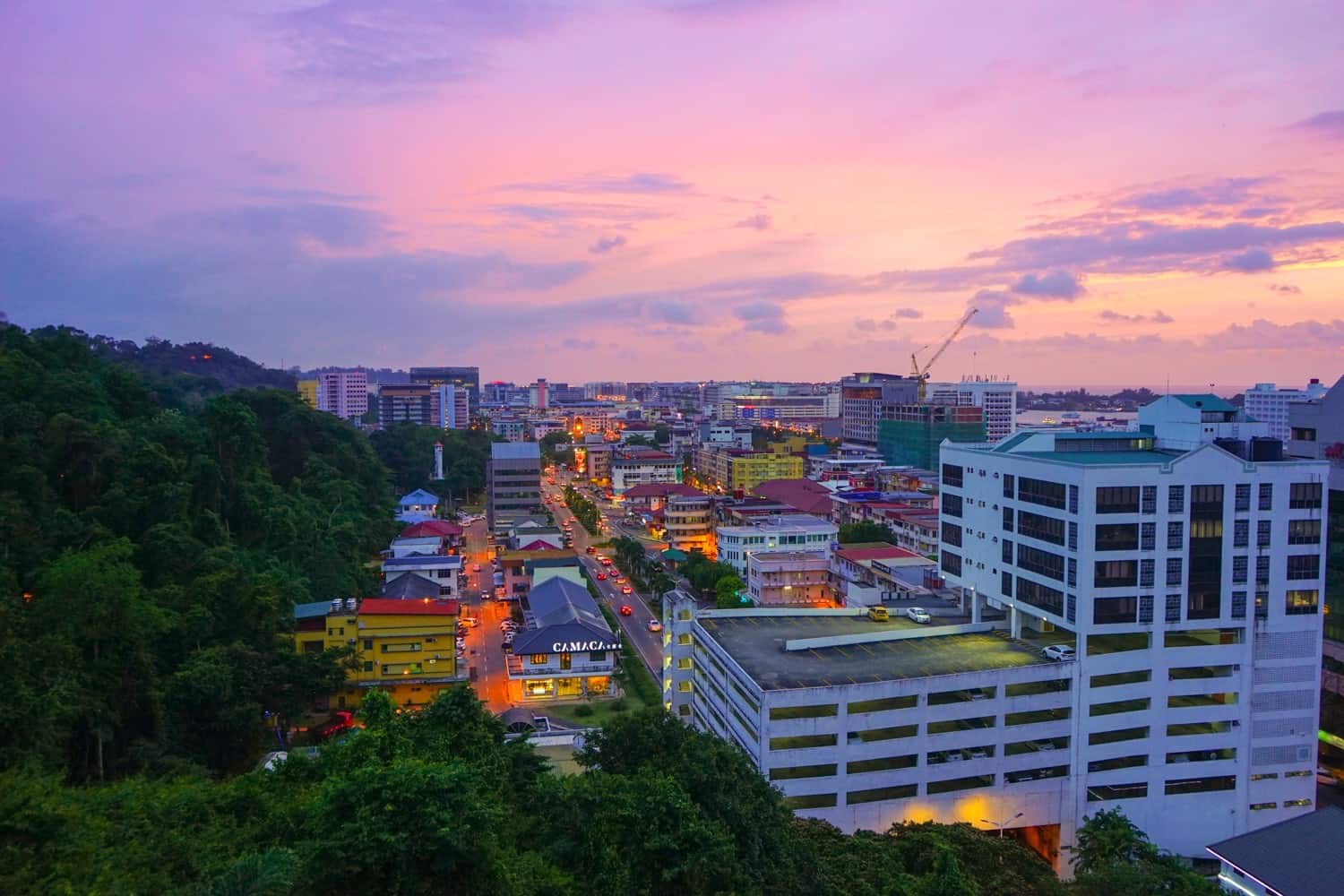 But this post is going to be about the food.
From bustling markets to basement restaurants in shopping malls, Kota Kinabalu has a whole range of dishes and eateries for budget travellers. It was after my first meal in KK when I decided that I needed to extend my stay, and it was entirely due to me wanting to explore more of this city's cuisine.
Here, then, were my favourite things to eat in Kota Kinabalu.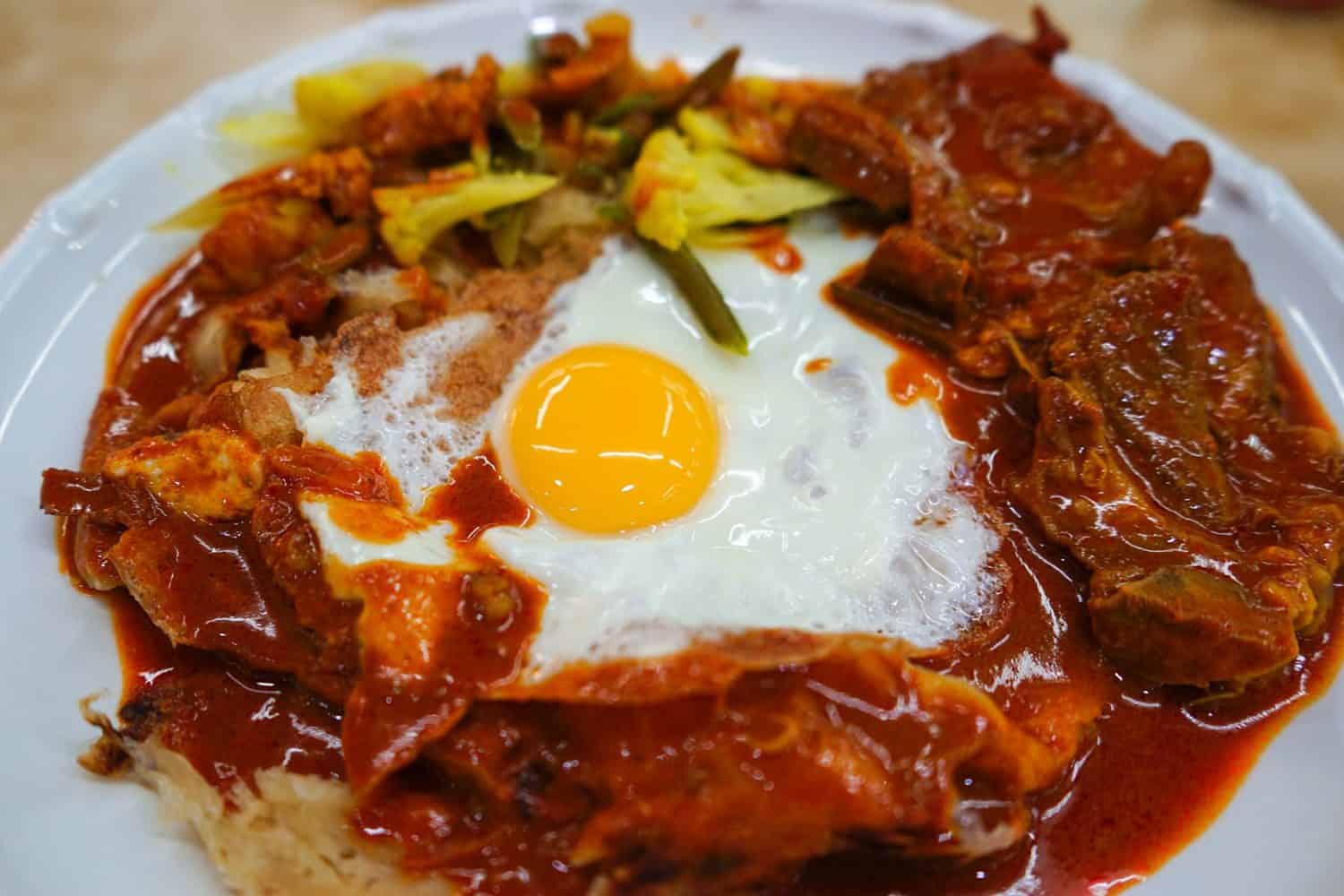 The Iconic Roti Cobra from Kedai Makan
For my first meal in Kota Kinabalu, I turned to local food bloggers to discover the best food in town.
Over and over again, I read about the roti cobra from a basement restaurant of the Centre Point shopping centre. Yes, you did read that correctly: the basement of a shopping mall. The ambience was therefore the exact opposite of delightful, but the food was delicious, and it made for a fantastic cheap eat.
Kedai Makan is an Islamic restaurant that cooks up Malaysian classics with an Indian twist, and they're said the have the best version of this so-called roti cobra. So what exactly is it? Well, I assume you already know what roti is — a type of flatbread — and to get the cobra, you add a rich curry, chicken tikka pieces, steamed vegetables, and a fried egg.
I went with the chicken version for a price of 6.50 RM ($1.55) and Dave went with the lamb. I would easily pay ten times that to have this again! The roti was flaky and buttery, yet crispy, the curry was packed full of rich spices, and the egg on top made for a gooey addition.
It was an incredibly indulgent meal that was tasty, inexpensive, and filling. We ate here at least once a week while we were staying in Kota Kinabalu and it was always packed with locals.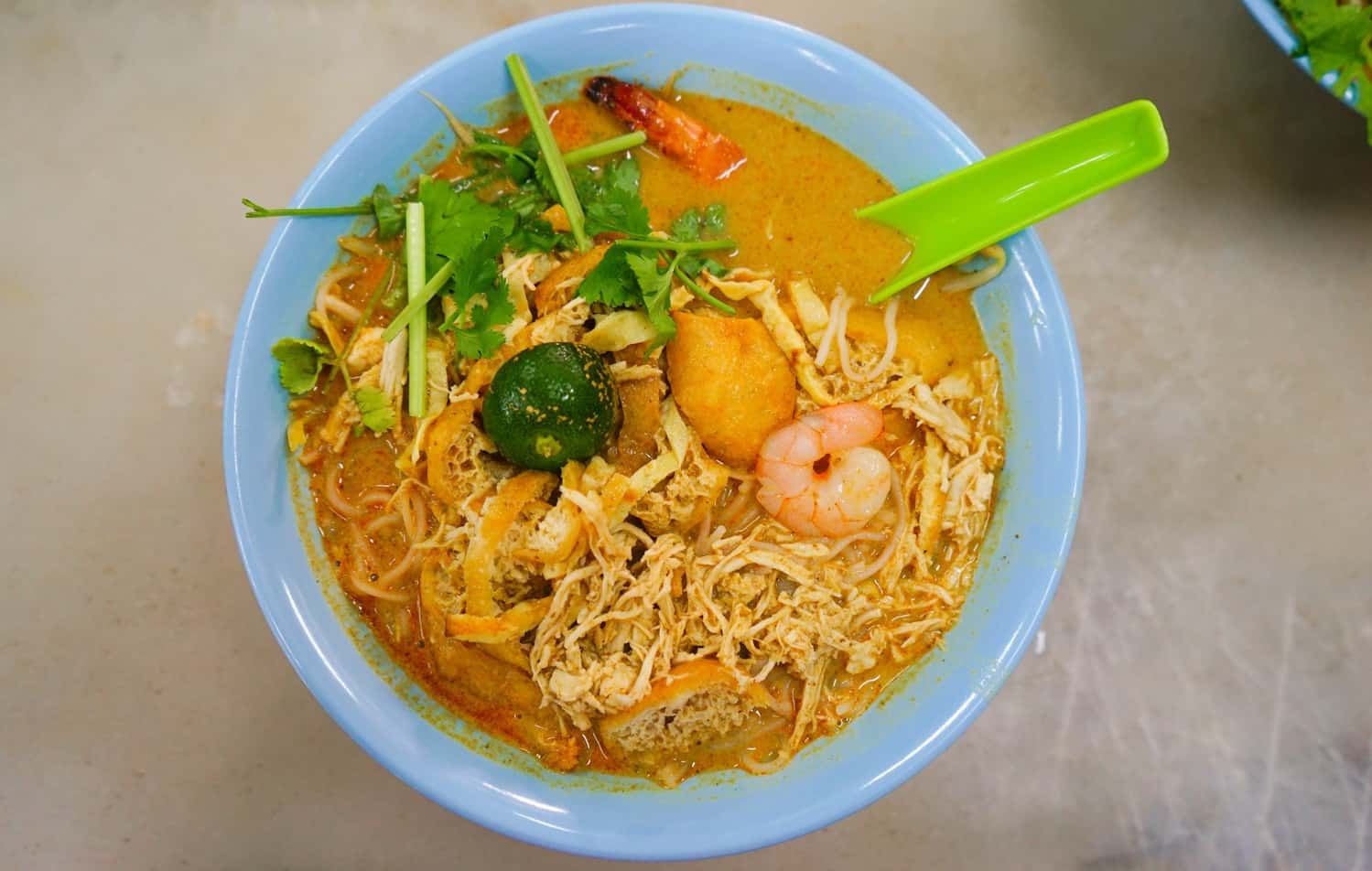 Breakfast Laksa from Yee Fung
Speaking of iconic meals in Kota Kinabalu, if there's one meal you have to experience while you're in the city, it's the laksa from Yee Fung. This restaurant is stuffed full of locals from dawn until dusk, and if you happen to visit at peak time, you'll know you're in the right place from queue streaming out of the restaurant. Still, the turnover is hyper-fast in a place like this, so you'll rarely be waiting more than 10 minutes for a seat.
Is it worth the hype?
It sure is!
I'm a super-fan of all things laksa — this spicy soup is comfort food for me — and this was one of the best versions of the dish I've encountered. Laksa comes in like, 100 different varieties, but Yee Fung is all about that Sarawak version. The curry base is made from a whole bunch of ingredients, including shrimp paste, fish sauce, garlic, ginger, rice vinegar, sour tamarind, coconut milk, and lemongrass. The added noodles are soft and tender, and then they're topped off with prawns, shredded chicken, strips of omelette, tofu pieces, and coriander and lime. It's rich, creamy, not too spicy, and packed full of flavour.
I paid 7 RM ($1.67) for a medium-sized bowl for breakfast, which was large enough to keep me full and satisfied until lunch.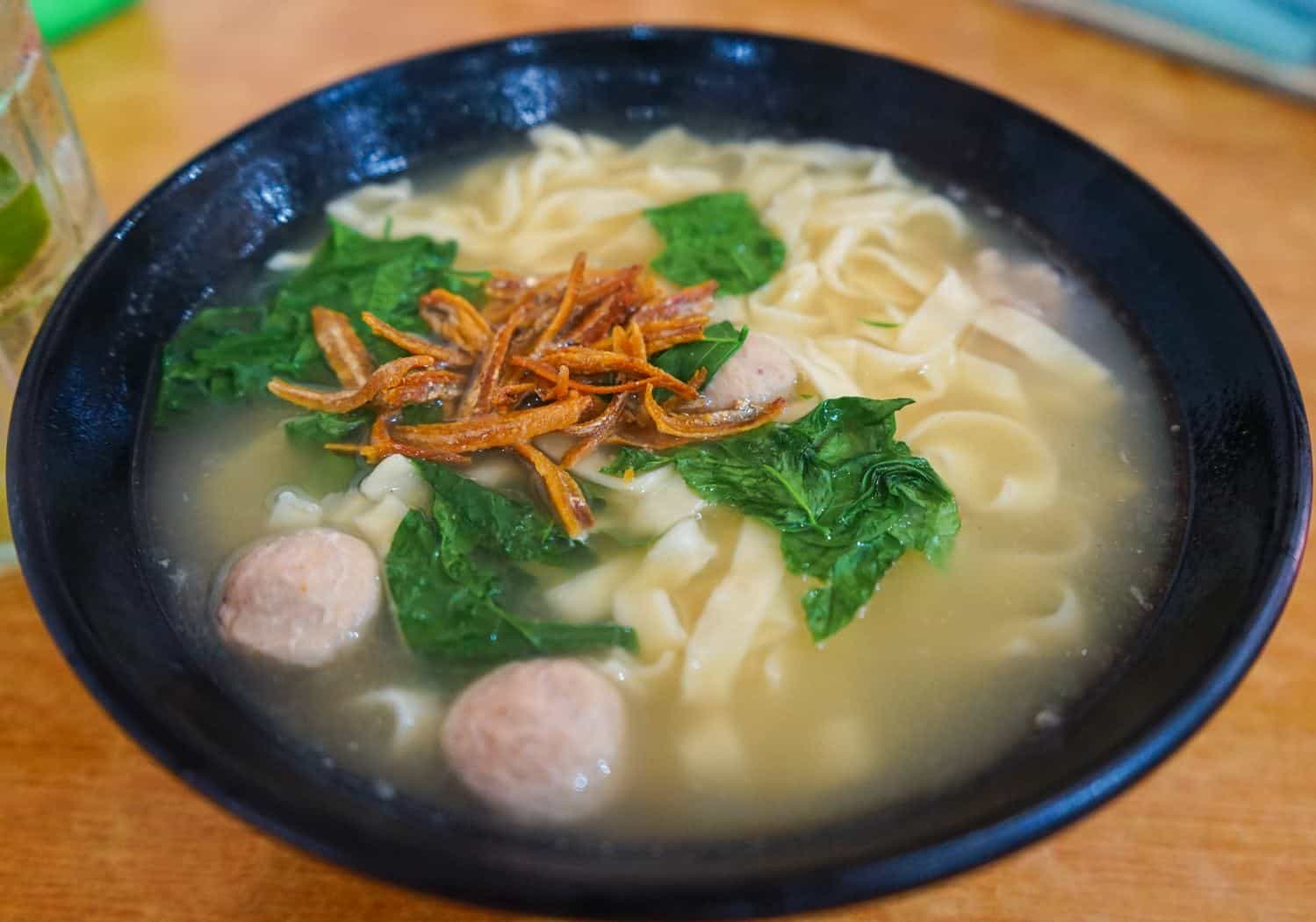 Pan Mee From Lido Pan Mee
Pan mee soup is delicious! And the version from Lido Pan Mee was one of the best I tried.
Pan mee can be served either dry or in a soup, and both types are equally tasty. The soup is made by boiling pork bones and anchovies for several hours in a large vat, and then it's served with flat flour noodles, pork balls, dried anchovies, and sweet potato leaves. It makes for an filling breakfast dish, and packs a hell of a lot more flavour than you'd think.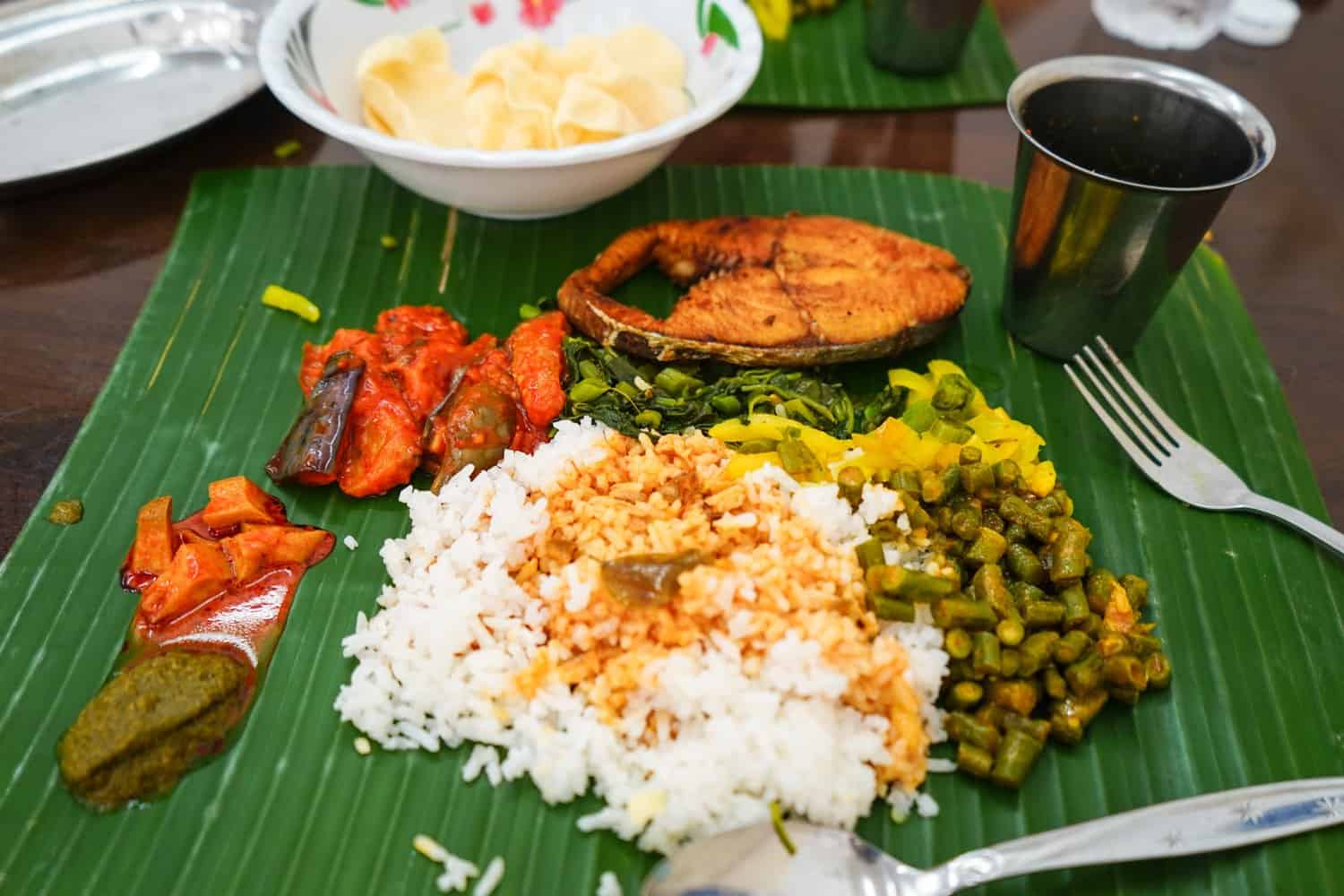 Go for the Set Lunches From Sri Latha Curry House
If you're on a budget in Kota Kinabalu, you won't get a better deal on food than the fun meals from Sri Latha Curry House. It's just 6 RM ($1.40) for the vegetarian set meal! I would usually order fish as an extra side for 8 RM ($1.90), but either way, it's an incredibly inexpensive option for lunch.
Sri Latha primarily serves South Indian food, which you eat with your hands, and is most well-known for its banana leaf sets. If you go for that option, you'll be served a pile of rice with various curries, vegetables and chutneys on the side — the options are always changing. They also have the best mango lassis in town!
Yet again, this restaurant is super-popular with locals. So popular, in fact, that they recently bought the building next door and doubled their size. Even so, there's still a queue for tables at times.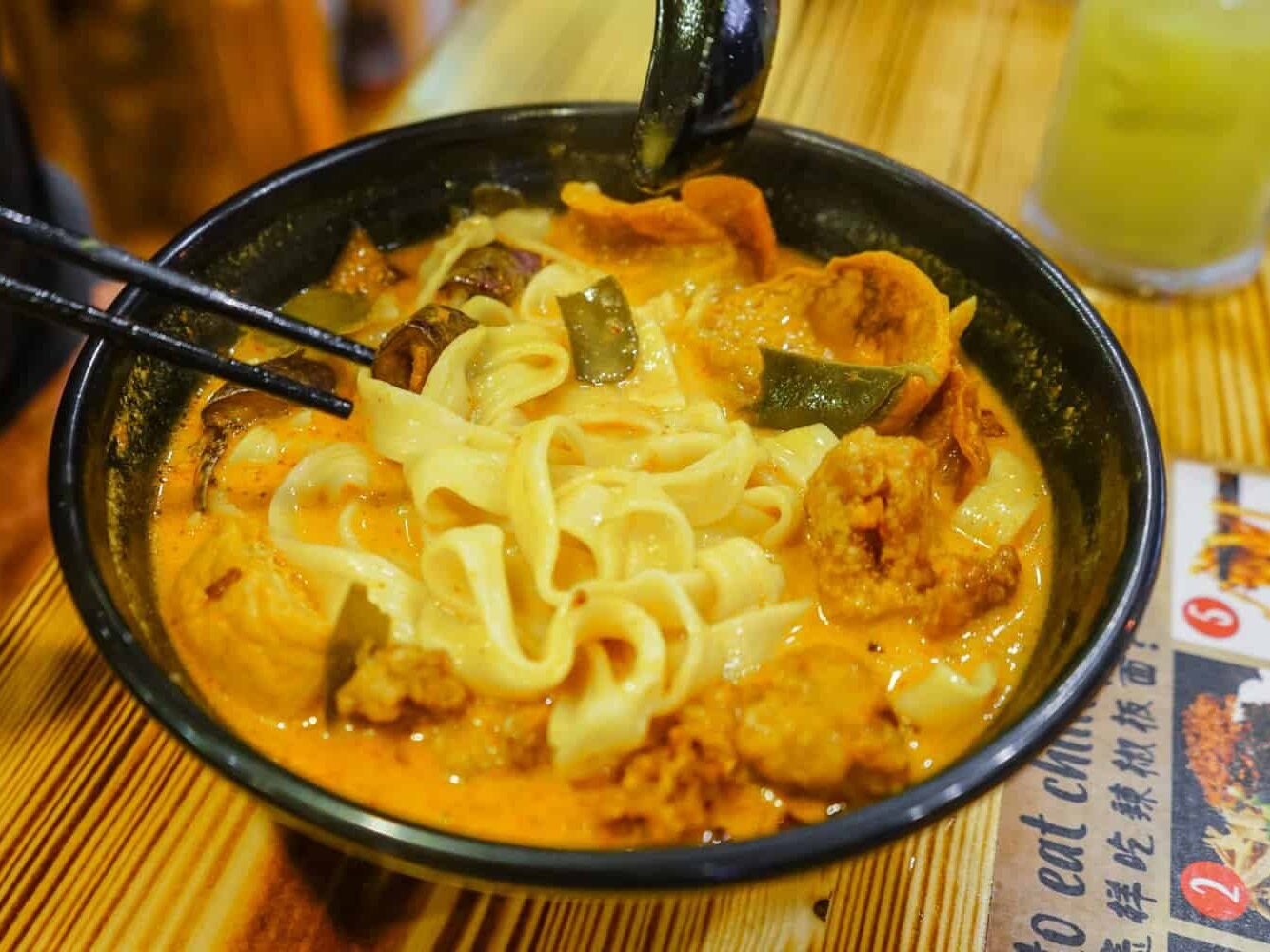 Pan Mee and Laksa from Sabah Chilli Pan Mee
I have a rule when it comes to choosing a restaurant to eat in: never, ever, under any circumstances, agree to go into a place that employs persistent touts to stand outside and hassle you. Nope. Never. It's annoying as hell and if your food was that good, you wouldn't need to pay someone to try and drag people inside.
And yet somehow.
Somehow, I found myself giving in to the ridiculous touts outside Sabah Chilli Pan Mee after the fifteenth consecutive beg for us to look at their menu. What can I say? I was hungry and willing to be less judgmental.
And, well, it was actually great! I loved their dry chilli pan mee (8.90RM, $2.16) in particular. It's a dry dish consisting of flat noodles, dried anchovies, minced pork, and a perfectly poached egg. When it's served, you scoop a small amount of fiery sambal on top, then take your chopsticks and break the egg yolk. Next, mix it all together to create salty, spicy, sweet concoction, with the soft noodles and crispy anchovies creating yet another contrast in your mouth. It was very different to the soup-based pan mee I mentioned above, but just as wonderful
Dave went for the fried pork with a century egg, which was a little brave — century eggs freak me out — and we both came to the conclusion that they were meals worth having.
We returned for a second time to try their version of laksa (pictured above), which was also excellent. It just goes to show that you can't always judge a restaurant by the irritating touts outside of it.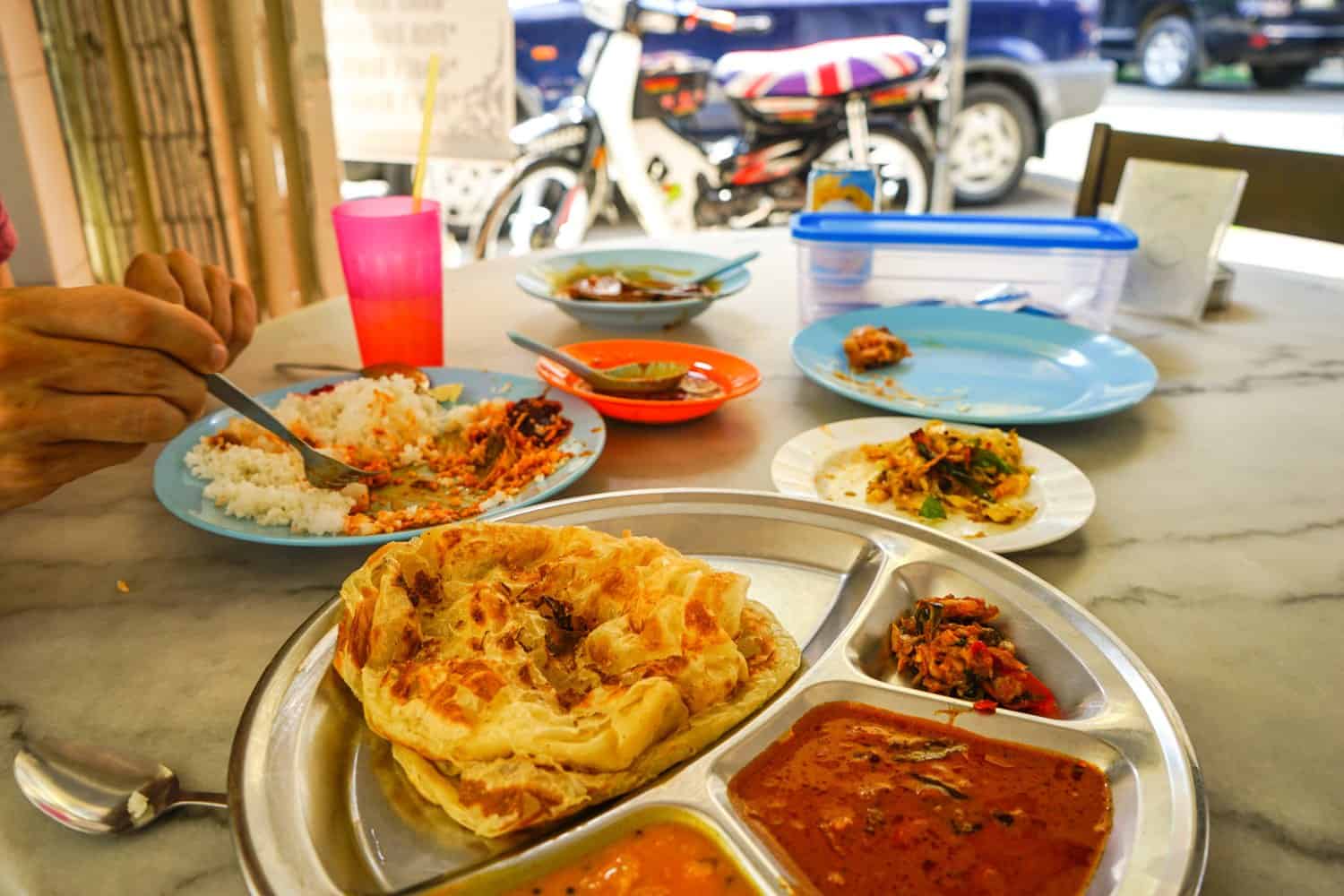 A Magical Curry Set from Restoran Bilal Nasi Kandar
Restoran Bilal is located right next to Sri Latha Curry House, and is known for its curry sets, rather than banana leaf platters. Fortunately, they're just as good. Just look at that flaky roti!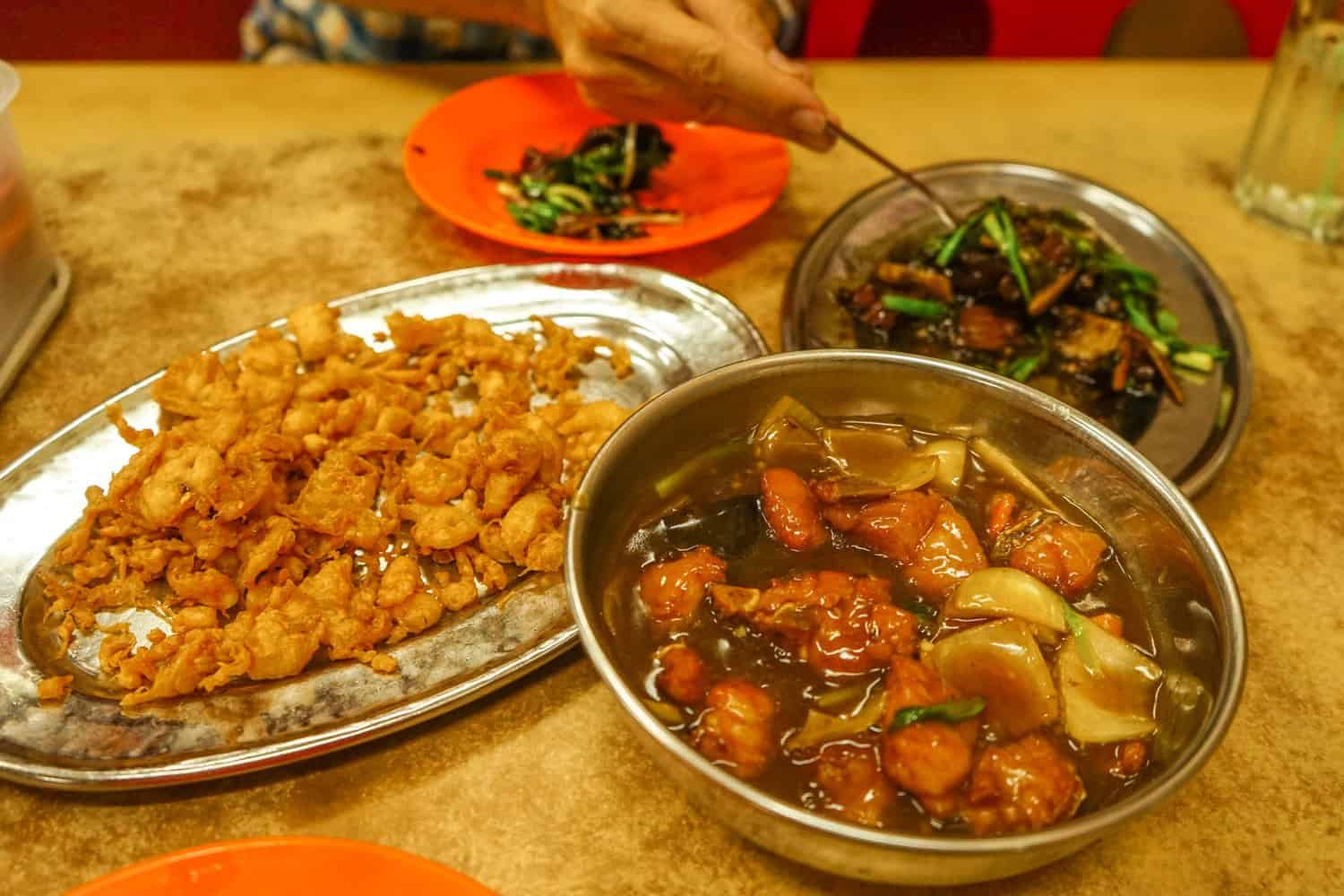 When darkness descends on Kota Kinabalu, the crowds head straight to Bakuteh Sin Kee.
This restaurant was placed right at the top of our Kota Kinabalu wishlist from the day we arrived. Every evening, we'd see this corner restaurant packed with people spilling out into the streets and resolve to eat there. In the end, Sin Kee was our saviour in Kota Kinabalu.
I did eventually struggle with the food in K.K., unfortunately. This cuisine isn't the best when you need to stick to a Paleo-style diet for health reasons. There's a lot of carbs, a lot of fried carbs, a lot of oily carbs, a lot of sugary carbs, and by the end of our three weeks in town, Dave and I were feeling pretty unwell. The food is out-of-this-world delicious in this city, but sadly, we don't have the tolerance to eat that way for three meals a day.
Sin Kee, however, made it easy for us to skip the carbs and go for meat and vegetables. This restaurant is known for its bakuteh, a rich soup that's filled with Chinese herbs, pork ribs, pork belly, pork intestines, and, well, pork everything. It's an interesting, herbal flavour that's definitely worth trying. There's a whole bunch of other dishes on the menu, too, and I recommend the pork trotters, chicken feet, grilled vegetables, and pork balls.
No, you eat too much pork.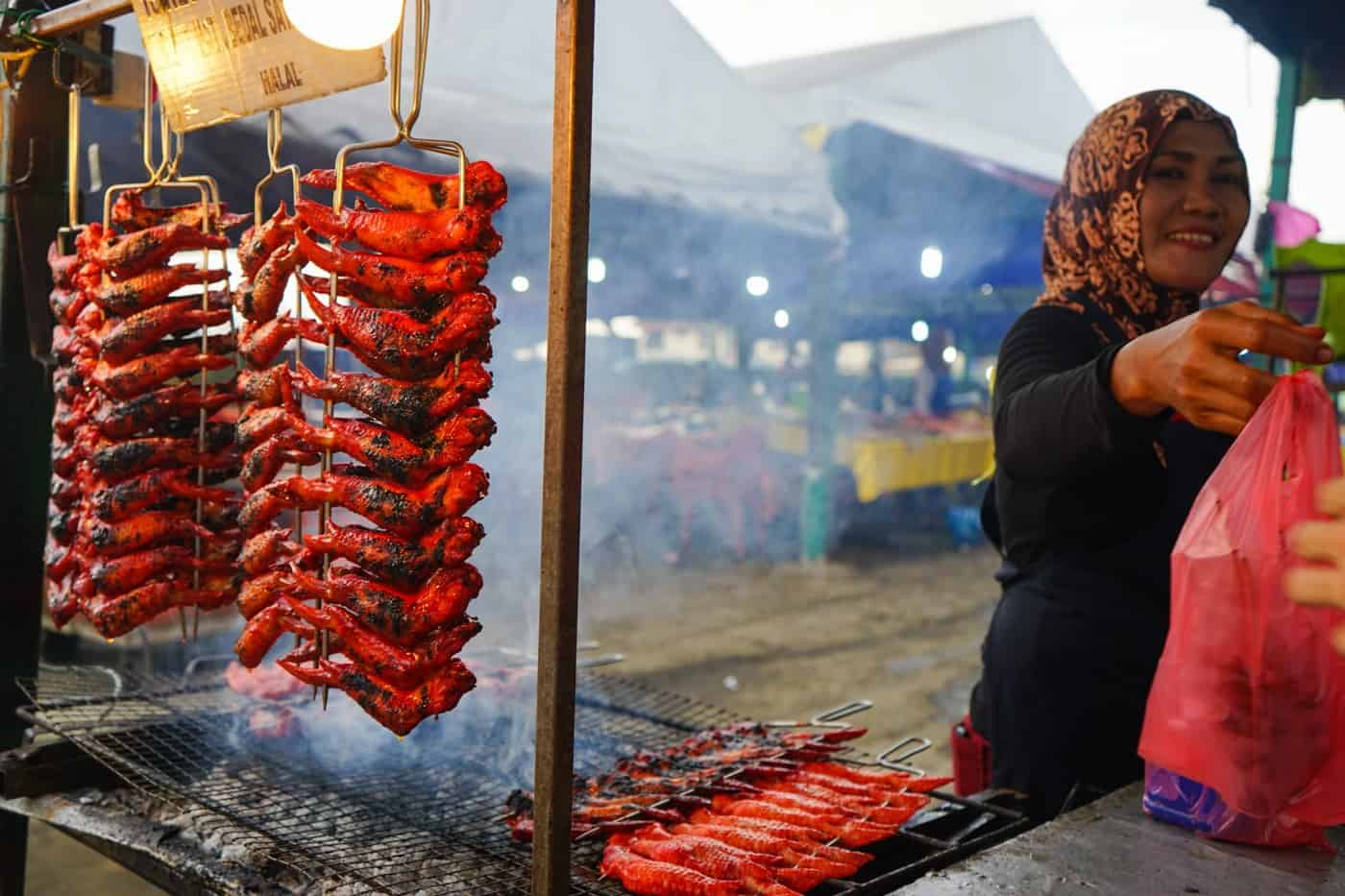 I knew very little about Kota Kinabalu before arriving, as it's not a destination many of the travel bloggers I follow have ever opted to visit. I hope, then, that by sharing this mini food guide to the city, I'll be able to convince some of you guys to add it to your Southeast Asia itineraries, especially if you love trying local foods as you travel.
I'm convinced it's one of the best places in the world to explore through your stomach.
Have you been to Kota Kinabalu before?
Related Articles on Borneo

🇲🇾 How Much Does it Cost to Travel in Malaysia?
🪲 Chasing Fireflies on the Kawa Kawa River
🇧🇳 How to Get From Brunei to Kota Kinabalu
💰 The Cost of Travel in Brunei: My Detailed Budget Breakdown
🕌 Is Brunei Worth Visiting? My Experience in the Sultanate
🌏 Every Article I've Written About Countries in Asia