I originally published this article in November 2020, when I'd just passed through New Zealand's managed isolation facilities. As I update this article in 2022, things have obviously changed. COVID-19 is endemic in New Zealand, the borders are now open, and managed isolation is no longer operating. I'm keeping this article live on the site, however, as a record of what the MIQ experience was like in those early stages of the pandemic.
Whenever I mention to anybody in New Zealand that I've been through their country's managed isolation facilities, they offer up a sympathetic wince in return.
"How was it?" They ask, preemptively turning up their noses.
"Great!" I always reply with a grin. "I loved the whole experience."
And honestly, when you compare what my life was like in COVID-crazy England (terrifying) to spending two weeks in a high-end hotel, where I literally just had to sit around while somebody else brought food to me? And then I get to live a normal life again, without fear or restrictions?
I mean… there are worse places to be.
Right wing personalities in the U.S. are keen on likening these isolation facilities to qUaRaNtInE cAmPs, making it sound as though they're a dangerous threat to freeeeeeedom. To quote Laura Ingraham:
"The American left and their media poodles have long held up New Zealand as the model for how to properly deal with a lot of things, including Covid, but anyone who loves freedom should take note because the Kiwis have a terrifying new response to rising Covid case numbers. They're throwing people into quarantine camps."
In reality, you're put up in a four- or five-star hotel for two weeks and given a keycard so you can wander around the grounds as you please. You can exercise outside, choose your meals and have them brought to your door three times a day. You can shop online and have anything delivered to your room, from an Uber Eats treat to an exercise bike rental. Health checks are performed by a nurse once a day, where you can bring up any issues. There was even a coffee cart we could wander down to during the day, and some hotels have large gardens you can use whenever you want.
And once you test negative to COVID-19 twice, you're free to leave.
Before I arrived in New Zealand, I was worried about what the experience would entail. I didn't know what to expect, and I was concerned about spending time in a hotel that could be full of COVID-19 cases.
Today, I want to share exactly what it's like.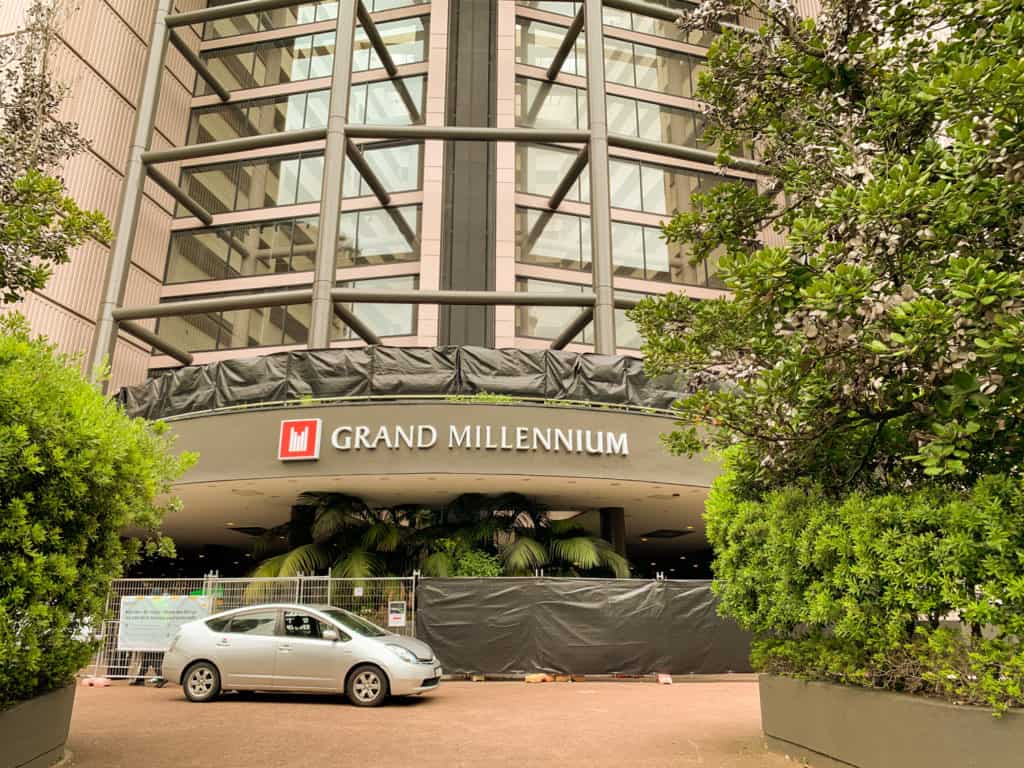 What Even is Managed Isolation?
First things first, there are very few situations in which you can enter New Zealand right now: the borders are closed to most people.
Essentially, you have to be a New Zealand citizen, resident, or family of a New Zealand citizen/resident. If you're the latter, you also need to be travelling with said citizen/resident when you enter the country. (That's me! My partner is a Kiwi, so I had to apply for a partner of a New Zealand citizen exception to be approved.)
New Zealand doesn't currently have any community transmission within the country and wants to keep it that way. And so, the government has opened up a handful of managed isolation facilities across the country; places to keep new arrivals until they're deemed safe to enter. These hotels are run and guarded by the New Zealand Army.
It's a mandatory process for everyone who arrives in New Zealand, but as I mentioned above: it's not exactly a hardship. You'll be put up in a comfortable hotel, have meals delivered to your door, and spend your days chilling out and watching Netflix.
In total, you'll need to spend exactly 336 hours in isolation, or 14 days, leaving at the same time of day as your flight first landed in New Zealand.
For most people, their two week stay in the hotel won't cost them anything.
If you're a New Zealand citizen, travelling with a New Zealand citizen, and staying in the country for more than 90 days, you won't have to pay. If you'll be staying for less time, you'll be up for 3,100 NZD ($2,200 USD) for the first person in the room with $950 for each additional adult and $475 for each additional child.
You Might Need a Critical Purpose Visa
If you're not currently a citizen or resident of New Zealand, you'll need to apply for a COVID-19 Critical Purpose Visa. There are two steps to the process.
The first is all about proving you have a legitimate reason for travelling to the country.
You'll fill in a short form, outlining why you want to enter New Zealand, and pay 45 NZD. It took a week to receive my approval.
With that, I had confirmation that the government was happy for me to turn up, but the tricky part was about to begin.
Because I was applying for a visa on the basis of being in a genuine and stable relationship with Dave, I now had to prove it. This was a similar process to applying for a partner visa anywhere in the world.
I had to provide screenshots of rental leases and bills and joint bank accounts, share hundreds of photos of us together, upload photos of cards we'd given each other, and share transcripts of emails and WhatsApp messages we'd sent. I needed to share evidence of public recognition of our relationship, from friends and family. I even submitted Dave's dad's annual Christmas letter in order to prove I was part of the family!
I also had to pay 190 NZD, and it took three long weeks to hear back: I had been approved.
How to Get a Space in Isolation
New Zealand's managed isolation runs on an online allocation system, with a certain number of spaces available for each day. There's a limited number of hotels that have been set-up as quarantine facilities, so you'll need to book your spot in advance.
Well in advance.
Except…
You can't book a space in isolation until your visa has been approved — if you're applying for one — and until you have your flight booked. Juggling the booking confirmations can be tricky, as you don't want to book your flight then have managed isolation sell out, or you won't be allowed into the country.
There are currently around eight international flights a day arriving in New Zealand, so availability of options is low. Even better: the flights that do exist are regularly cancelled.
On top of that, as I write this blog post, there's an awful lot of demand for spaces.
With a southern hemisphere summer now in full swing, along with the holiday season and much of the globe battling a second wave, there's understandably been a surge in demand over the past month. Many Kiwis are desperate to return home.
It was in November when managed isolation ran out of slots between then and February. What that means is that if you're hoping for a Kiwi Christmas, you're potentially going to be out of luck.
Still, there are regular cancellations, so if you're happy to sit on the managed isolation site and refresh the page for hours on end, you may luck out and be able to nab yourself a slot. And then the problem becomes: are there any available flights for your booked date?
Even back in October, when demand was low, we were having flights cancelled — because demand was low — and found ourselves with just one option to get us from the U.K. to New Zealand.
The government is currently offering a few spaces for immediate travel under compassionate grounds, but they're very limited — your life essentially has to be in danger. There was one poor guy who had a letter from his mother's oncologist explaining that she wouldn't make it to the end of the year, and his application was still rejected.
If Your Flight is Cancelled
If your flight is cancelled, do not cancel your managed isolation voucher!!! Instead, contact managed isolation directly and ask if you can change your voucher for an available flight on a different date — they can do this, but you should be prepared for a fight and several phone calls.
If you cancel your voucher, you'll lose your spot entirely, so only do this if you absolutely cannot find a way to change the date on it.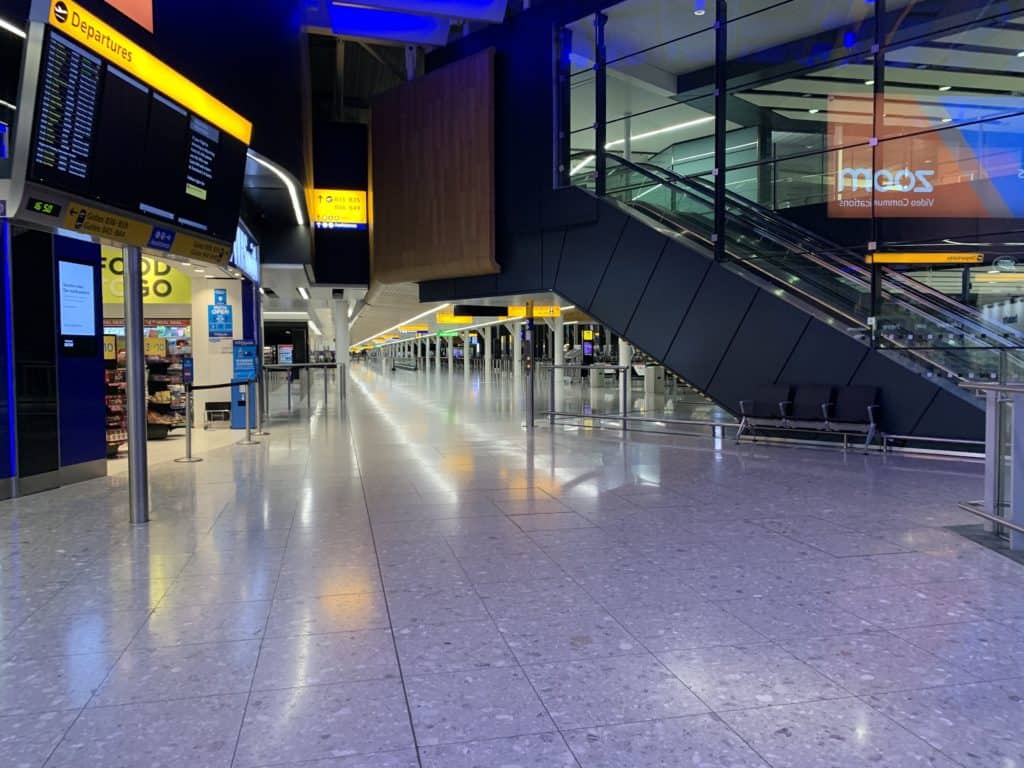 Travelling to New Zealand
At your departure airport, you'll be asked for your voucher for managed isolation before you'll be allowed to board the plane, so make sure you print out a copy before you head the airport.
Similarly, if you're not a New Zealand citizen/resident, you'll also want to print out a copy of your COVID-19 Critical Purpose Visa to prove you'll be let into the country.
Other than that, you can expect the flight to pass much the same as any other long-haul flight during a pandemic: excruciatingly slowly.
In terms of safety, flights are not a major transmission vector for cases of COVID-19, which is evidenced by the record of imported cases in New Zealand. Many flights from Europe will bring in one or two cases, but that's about it. There has yet to be a situation where one person on a plane is infectious and then 20 people in isolation later test positive. The risk is pretty low.
Still, I recommend buying a valveless N-95 mask and wearing a surgical mask on top of it for extra protection. If you wear glasses, keep them on in the flight — my boyfriend bought some safety glasses from Amazon. This was based on advice from family members who are medical professionals handing the COVID-19 response.
As I was determined not to catch the virus, I took every precaution possible. I chose not to eat at all while on my flights. For me, watching everybody on the plane remove their masks at once had me thinking hell no. I waited until my layover in Seoul to stuff my face with enough airport food to tide me over until reaching Auckland.
In terms of numbers of people you can expect on the flight, it varies. Flights from the U.S. and Australia are nearly always completely full, whereas ones flying via the Middle East and Asia are regularly operating at 10% capacity. We had around 30 people on our flights from London to Seoul to Auckland, which were on 300-seater planes.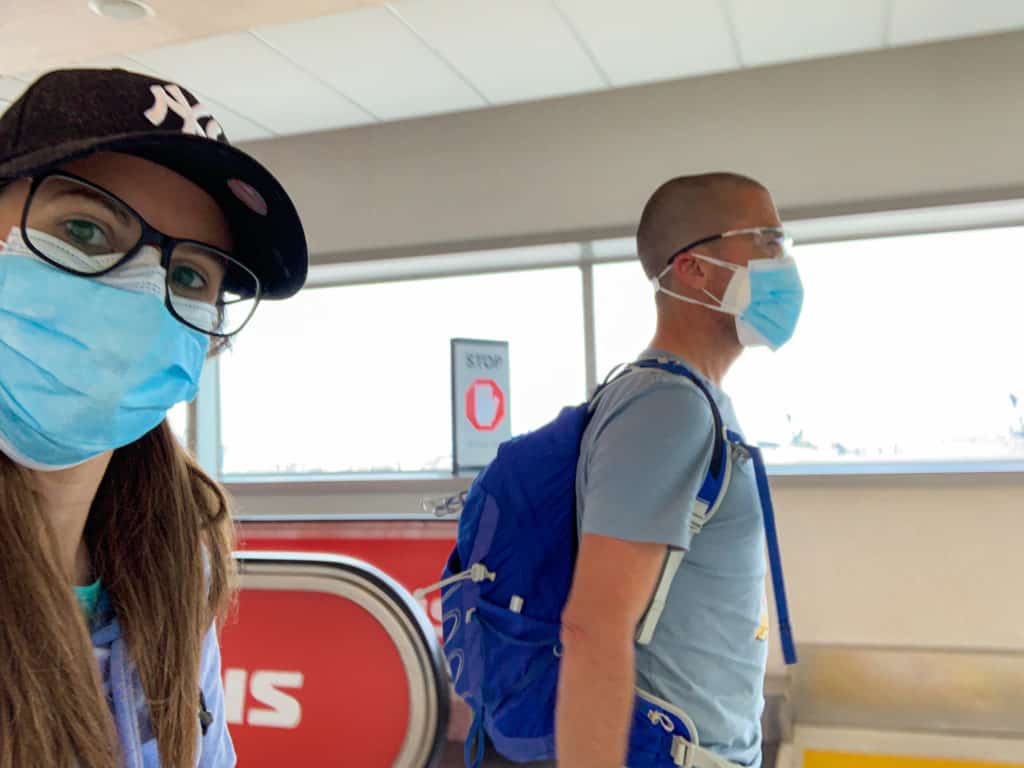 The Arrival Process
Fun fact: you'll have absolutely no idea which hotel you're going to end up in until you've passed through the airport and have entered the arrivals hall.
And you have no say in the matter, either.
You'll end up where you end up, regardless of your situation.
For anybody who's going to be landing in New Zealand via a long-haul flight, this could make for a frustrating experience.
You could arrive in Auckland after 24 hours of flying, then discover you've been allocated a room in Christchurch. In this situation, you'll need to wait in Auckland Airport for five hours or so for your charter flight, deal with the 90-minute trip down to Christchurch, the hour to get to your hotel room, and then finally take off your mask. Now imagine tackling that journey with kids, as many returnees do.
As somebody who had been travelling for almost 36 hours by the time I arrived in Auckland, I was desperately hoping to be told I'd be placed somewhere in the city.
And fortunately, I was.
Before you start to panic, odds are, you'll end up in Auckland. There are 18 managed isolation facilities there in comparison to six in Christchurch, three each in Hamilton and Rotorua, and two in Wellington.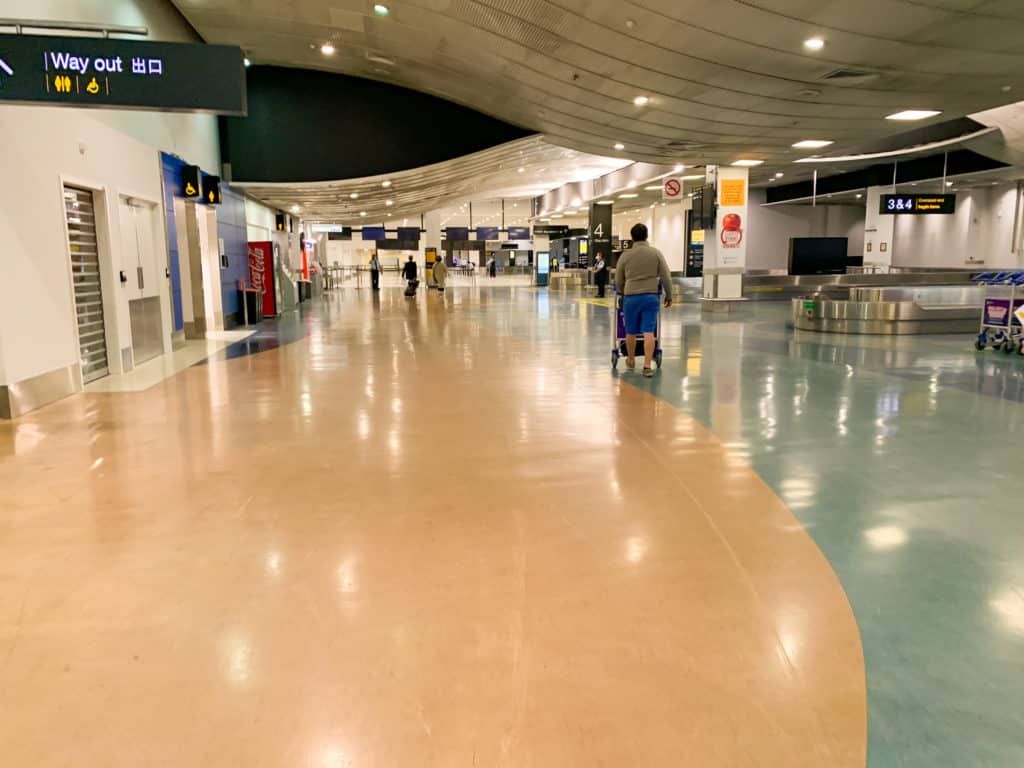 Theories abound online surrounding which hotel you'll be shipped off to, with many believing the flights that land earliest in the morning are assigned to Auckland hotels, if there's space available, and the later you arrive, the greater chance you have of being flown down to Christchurch or Wellington.
Similarly, there's a belief that short-haul arrivals from Australia are more likely to be flown further afield, while the people who have had a lengthy journey are more likely to stay in Auckland.
In Facebook groups, desperate people post messages, asking who's checking out of what hotel that morning, tying their brain in knots as they attempt to figure out where they're most likely to end up.
In reality, there's no way of knowing where you'll be placed, so the best thing to do is prepare for the journey to suck and hope it's better than expected. And hey, you've escaped COVID-19! A little discomfort makes the end result taste even sweeter.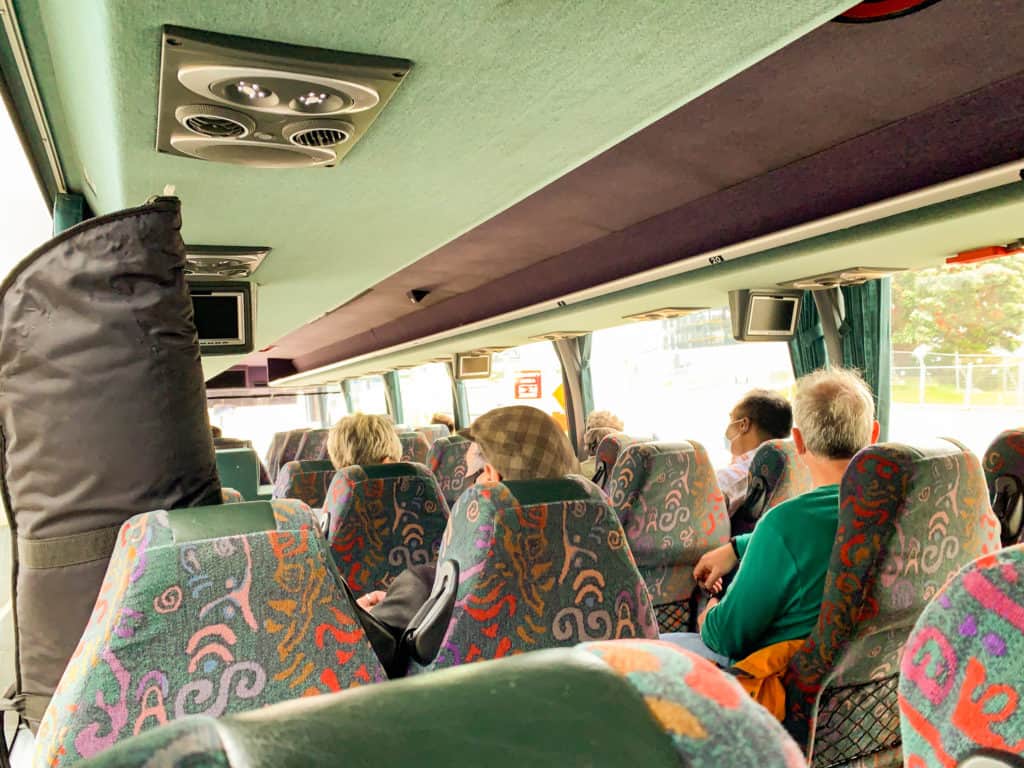 Once you make it through to arrivals, you'll finally be told where you're going to be heading. If you'll be staying in Auckland, you'll board a half-full bus with your fellow passengers and make your way to your allocated hotel.
If you've been assigned a stint in Rotorua or Hamilton, you'll similarly jump on a bus. You'll be sitting around at the airport if you're being sent elsewhere.
It's also worth mentioning that there's a couple of international flights landing in Christchurch Airport each day, too. The same applies here: you could be shuttled off to anywhere in the country after your arrival.
I was very uncomfortable on the bus!!!! As you can see from my photo above, we were all kind of packed in there and while mask-wearing was mandatory, it did feel a little riskier than I was expecting. Everybody was so close!
But enjoy the ride: from the window, you'll see glimpses of a world turned normal. I couldn't stop staring at the lack of masks, the hugging strangers, the groups of kids hanging out together, the parties in sunny beer gardens.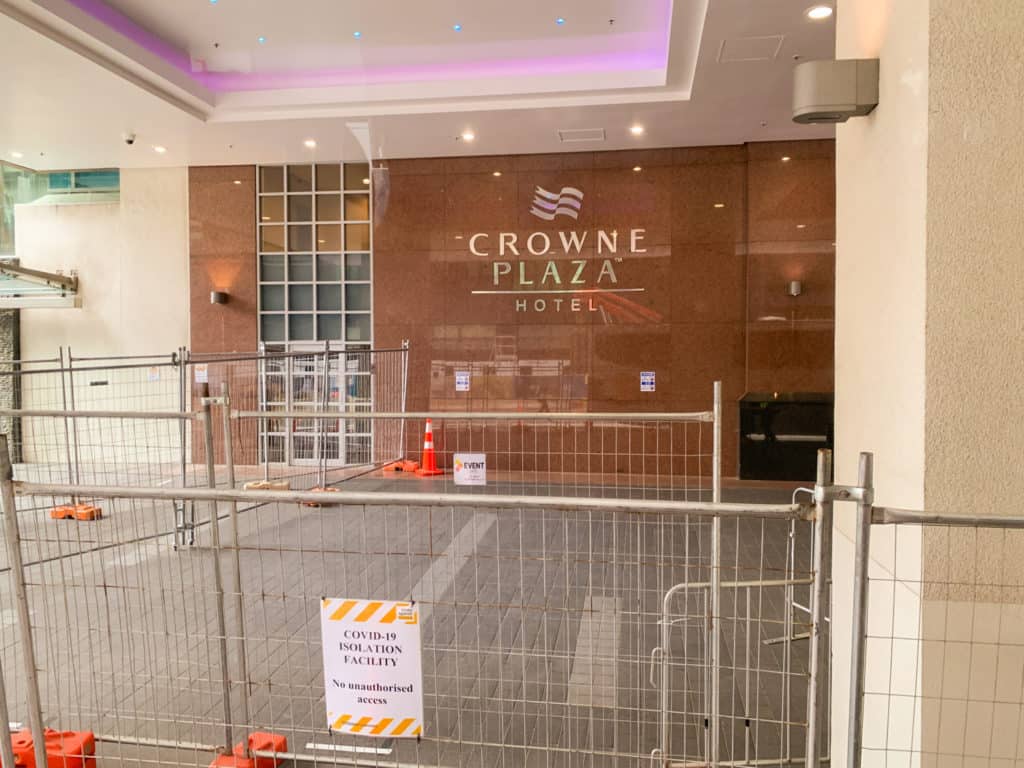 Upon arriving at your hotel, you'll start to feel a little like you're on the set of a movie. The COVID-19 isolation facility warning signs and the barricades outside the hotel blend together to make you feel like maybe you actually do have the plague??
You'll be issued with a fresh surgical mask by the military who are standing guard at the hotel entrance, and you'll be required to wear it until you reach your room. I kept my N-95 mask from the plane on for added safety and placed the new surgical mask on top of it.
You'll make your way off the bus one-by-one, when you're told to do so, and you'll need to identify your luggage to a staff member, so they can take it to your room for you.
It can take several hours to check-in, so prepare yourself for a long wait, as there could be anywhere from 30 to 300 people from your flight arriving at the same hotel.
There are typically markings on the floor in the lobby, two metres apart, to indicate where you need to stand, and then you can begin the process of waiting and standing and waiting and standing.
Eventually, you'll check-in and receive your room key for your stay, then learn the rules you'll need to follow over your two weeks. We had to make our meal choices for the next few days at this point, and tell them about any dietary requirements we have.
Most hotels have free local SIM cards up for grabs, which are definitely worth snapping up if you don't already have one for New Zealand. I went with Skinny, as they have the cheapest rates with some of the best coverage.
The staff were so wonderful and compassionate, and I never once felt like they were terrified of me or frustrated by their situation. That's something that's common across almost everybody's isolation experience — all I see is positive feedback about the incredible staff; I've yet to see a single complaint.
And then, finally, it's time to get to your room, drop your bags, take your goddamn mask off, grab a shower, and climb into bed.
(Because I'm a paranoid fucker, I put all of our plane clothes in a bag as soon as we arrived and sealed it, then sanitised every surface before we touched anything. We also took showers immediately.)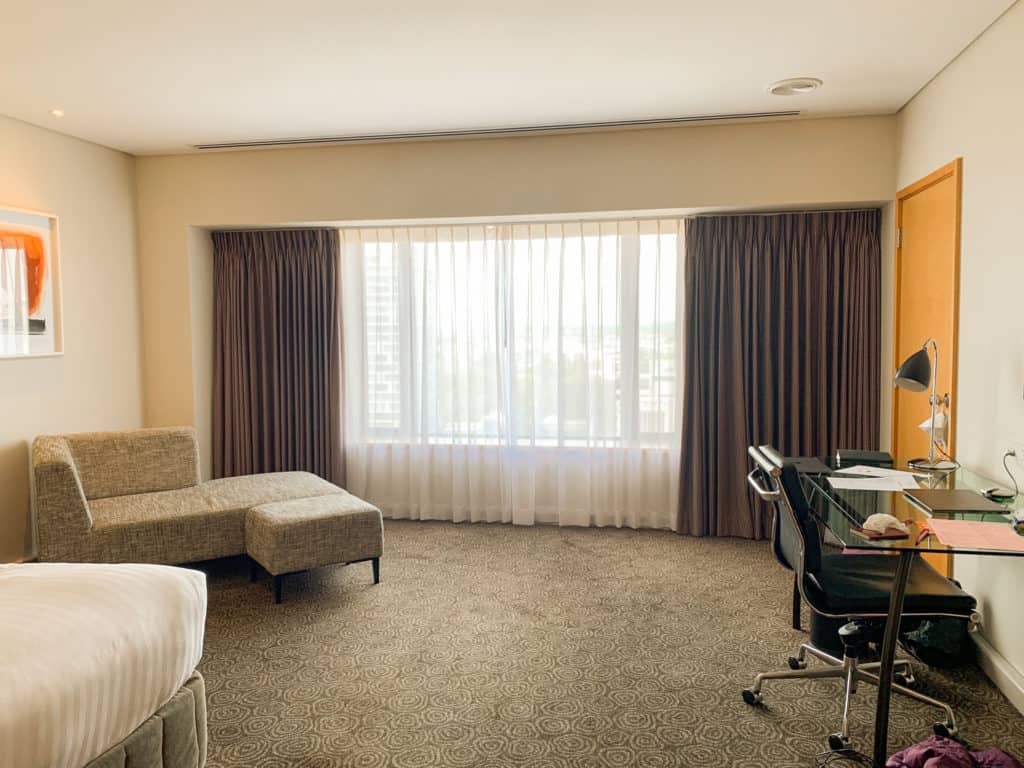 The Quality of the Rooms
You'll be put up in a four- or five-star hotel, so it's unlikely that you'll be anything but happy with your room.
The Crowne Plaza is a four-star hotel, so was immediately better than anywhere my backpacking ass would usually choose to stay. I was thrilled with it!
We had a fantastic view over Auckland, a desk to work at, a huge, comfortable bed, and plenty of space for pacing around in circles as we slowly lost our minds. Just kidding — I loved isolation!
The Rules of Managed Isolation
We were surprised when we were handed a room key, as we'd kind of expected we'd be locked up in our rooms with no options for leaving. Instead, we were free to come and go and wander around the hotel as we pleased.
There was a coffee cart on one of the floors of our hotel that guests were free to access, so Dave made that part of his morning routine.
There's hand sanitiser everywhere, and you're advised to use it regularly. As in: push the lift button, sanitise, get in the lift and press the floor button, sanitise, leave the lift, sanitise, walk to reception, sanitise. Your hands are going to be the cleanest they've ever been!
You absolutely must wear a mask whenever you open your door or leave your room, and it needs to be a surgical mask that the hotel issues you with.
Masks are available everywhere. Just let a member of staff know you need one and you'll find yourself with several dozen surgical masks outside your door within a few minutes.
If your hotel has elevators, only one bubble is allowed in the lifts at any one time. This can work out to be a bit of a nightmare at busy times. When we had to undergo our day 12 COVID tests, it felt like every single person was being tested at the same time. Dave and I counted 37 lifts stopping at our floor before we finally nabbed ourselves an empty one.
New returnees will regularly turn up at your hotel, and you'll be notified in advance of their arrival. You'll be expected to remain in your room and skip the outdoor exercising while they're being checked-in.
Anything communal in the hotels is out of bounds, so you won't be able to use the gyms, and any swimming pools, saunas, and whatnot are similarly closed up.

Break the rules and there's a chance you'll have your 14 days of isolation reset. Yep, you'll be back at day zero again.
Meals in Managed Isolation
You know you've spent time in isolation when you find yourself salivating at the delicate rustling of a brown paper bag. It happens to us all: with little to keep yourself occupied in the room, a new sound outside the door symbolises that you finally have something to do.
But first, you must wait.
It was usually at this point that I'd start twitching and getting up from my chair, ready to dash to the door for my meal. Ears pricked, I'd listen out for that final rustle before the knocking began.
This part was kind of funny.
Once everybody's meals have been placed outside their doors, a staff member then runs back down the hallway to the elevators, knocking on everybody's door as they go. No matter how quickly you get to your food, there'll be no sign of humans when you peek outside.
I just loved picturing somebody full-on sprinting down the corridor while knocking wildly on everybody's door.
So let's talk about the food, as the quality varies from one hotel to the next.
In particular, I'm going to recommend that you hope for the best but keep your expectations in check. In particular, you should prepare for your stomach to be filled with a whole lotta bland carbs. That's the biggest complaint about the food in these hotels: it's low on protein and full of sugar.
It's important to keep in perspective, of course, that if you're a returning Kiwi or planning to stay in the country for longer than 90 days, you won't be paying for your isolation, meaning that you're receiving three meals a day for free. It's hard to complain about that.
And yet…
No, I'm not complaining about it. I promise.
But if I'm being honest, the food at the Crowne Plaza was not great. It was heavy on the carbs, focusing on cereal, pastries, and desserts, and was lacking in flavour. Every bread roll I was given was hard and stale. All the dishes were bland.
Honestly, it all just tasted like microwavable ready meals. A bit like plane food.
You'll find yourself with a pretty mixed write-up of the food quality across the network of quarantine hotels in New Zealand. I'd say 30% of the occupants are blown away by the food quality, 30% are satisfied with it, 30% are disappointed, and the remaining 10% believe it's an infringement on their human rights to be served food they don't like.
In terms of serving sizes, you definitely won't go hungry. Across every quarantine hotel in the country, you'll hear stories of piles of food stacked high because it's impossible to eat all of what you're given.
A typical day of meals for me would be: an apple, a banana, cereal and milk, and a ham and cheese croissant, a bottle of orange juice and a bottle of water, a bacon and cheese bagel, a bag of crisps, a chocolate pastry, butter chicken with naan bread and rice, and a pavlova.
Sometimes you're given extra treats, like a bag of lollies (candy) when the All Blacks are playing, or a bottle of champagne when you check out.
Dietary requirements weren't a problem, and the hotels can account for any restrictions you need to abide by. Dave opted for the dairy-free life and was satisfied enough with his meals. The biggest complaints come from vegans, who understandably struggle with being fed bread, cereal, rice, and vegetables for two weeks straight.
But it wasn't all bad. Some hotels have some absolutely epic meals on offer. In particular, the Grand Mercure in Auckland has a reputation for serving some of the best dishes for guests.
And you can make food deliveries, too! All of the hotels allow you to make online orders for food.
Uber Eats operates across the country and Countdown supermarket offers a delivery service, too. People can also drop things off for you — friends of ours dropped off a care package of board games, books, and snacks, and Dave's parents sent through a supermarket order of some of our favourite Kiwi treats to keep us happy.
Crowne Plaza has some of the worst rules around alcohol, in comparison to the other hotels. You're not allowed to order any in, here, and their wine list is ridiculously expensive. As in, a bottle of wine is listed for $40 at the hotel, but if you google it, it sells for $11 in the supermarkets. Other hotels aren't so strict, and will allow you to buy alcohol from outside sources or have a more reasonably priced wine list.
If you're in a large hotel and situated in the top floors, prepare for your food to arrive cold. It's a common complaint: with meals to hand out to 300 guests, staff work from the lower floors upwards and by the time the upper floors receive their meals, they're chilly. Never fear: most people started directing their hair dryers into the paper bags to heat up their food before eating it. Ours was never cold, though, and we were on the 25th floor.
Overall, while the food was bland, it wasn't that bad. It was free food! And I was perfectly happy to pick at it.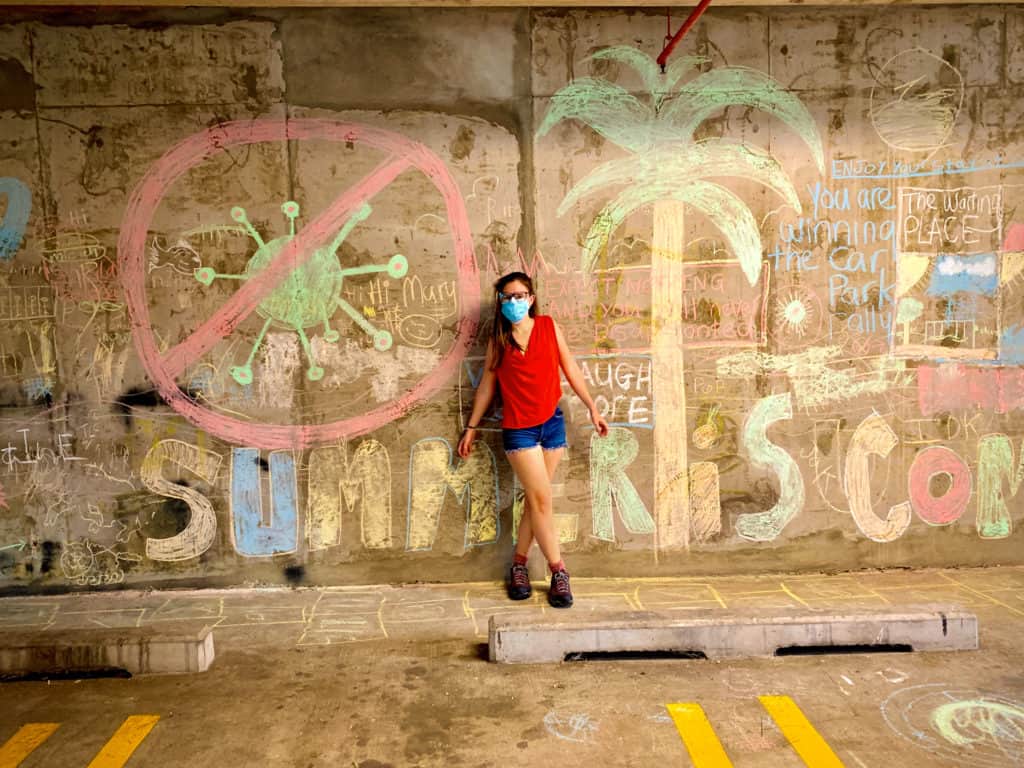 There Are Options for Exercising
Across all managed isolation facilities in New Zealand, you're allowed to exercise outside for at least one hour a day.
And there's an added bonus, here, for those of you that do get sent outside of Auckland: you're far more likely to have unlimited outdoors time if you're outside a city's CBD.
At the Crowne Plaza, we needed to sign up for a time slot for a walk in advance, then we'd meet a dozen other people in the hotel's car park in order to trudge about in circles for an hour or so. As the Crowne Plaza is one of the largest hotels for returnees, time slots quickly filled and we missed out on three days of walking because there wasn't any space for us.
There was also a very small outdoor area at the front of the hotel, surrounded by fences, that you were free to use at any time, but it was tiny so we didn't see much point.
Other hotels, such as the Holiday Inn, in Auckland, are home to a full-on (enclosed) garden that guests are free to roam around for hours on end. I would have loved this!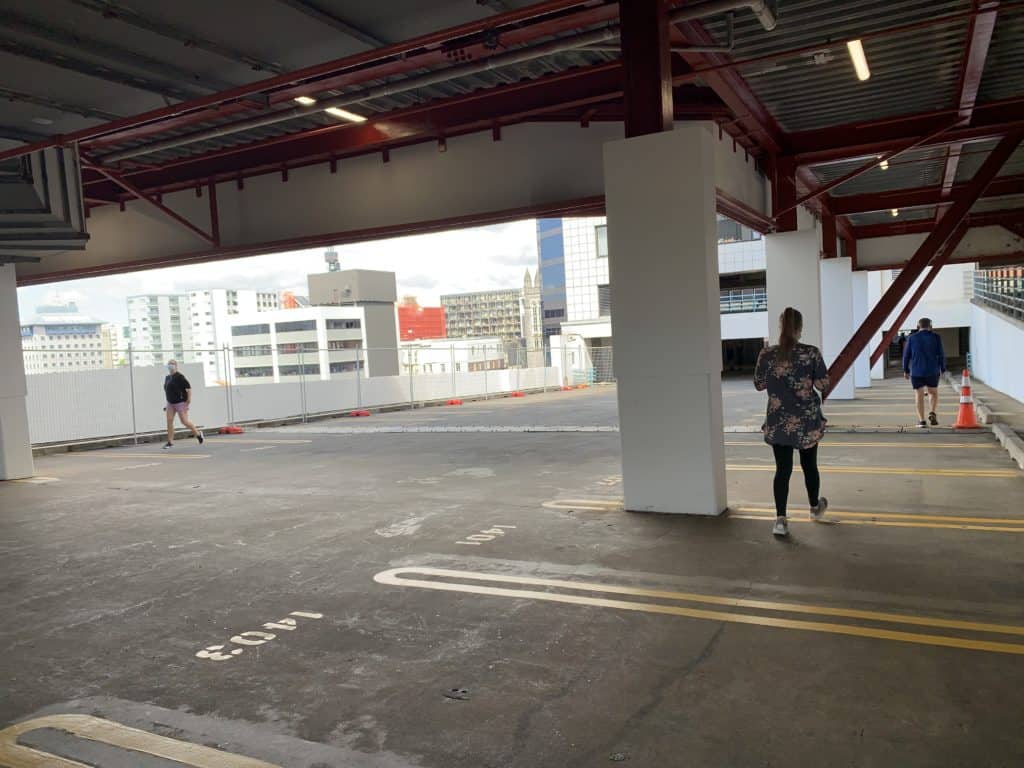 While you are exercising, do be careful not to get too close to other guests.
I heard of one person who, on day 13 of their isolation stint, handed a child a piece of chalk, but because the kid wasn't in their bubble, they needed to start their 14 days of isolation all over again. Parents, watch your kids! Make sure they don't get too close to other people in communal areas.
If an hour isn't enough exercise for your needs, there are several options.
If your hotel has a gym, call down to reception to ask about their dumbbells — some of the hotels are happy to loan them out to guests. Alternatively, there are a whole host of companies that are renting out gym equipment to people in the COVID hotels — if you fancy chucking an exercise bike in your room, it can probably be arranged.
Similarly, most hotels allow you to place unlimited online deliveries while you're in isolation, so if you'll be heading home after quarantine and feel the urge to buy yourself a set of dumbbells for life, you'll be able to ship them to your room without a problem.
You Can Get Your Laundry Done Regularly
When you check-in to your hotel, you'll be handed a couple of bags to use for your laundry. Whenever you want to get it done, simply fill the bags with your clothes and leave it outside your door. They'll be picked up, washed, dried, and back in your hands within 24 hours.
Most hotels put a limit on laundry, allowing you each to only do two loads of washing over your two-week stay.
You'll Receive Daily Health Checks
You're in isolation for a reason, and if you happen to forget, the daily visits from the nurses will bring it back to front of mind.
You'll be checked up on once a day while you're in your hotel, to have your temperature taken and to run through any possible symptoms you may be experiencing. It was all very low-key and took around five minutes.
If you develop any symptoms at any point, no matter how mild, you'll need to phone the nurses immediately to let them know.
And Three Covid Tests, Too
You'll receive two COVID tests while you're in quarantine: on day three and day 12. You'll also have a test on day zero; the day that you arrive in New Zealand.
These COVID-19 tests are the greater of two evils: rather than a nasal/throat tickle, you'll be up for the one that seems to pass six inches through your nostrils to scratch up against the back of your skull. It's unpleasant but over with quickly.
Most people agree that the day 12 test is more painful than the day three one — and that was certainly the case for us — but it's obviously dependent on who is performing the test and how gentle they are with their technique. Our second one had us feeling as though the nurse had taken a run-up and speared us with a javelin as deep as it could go, and it left me with a headache for the rest of the morning.
The majority of coronavirus cases in New Zealand are found on the day three test, so if you're testing negative by then, and you haven't developed any symptoms, you can start to relax a little.
I also recommend keeping an eye on the daily press releases from the New Zealand government, as they specifically mention any new positive cases in managed isolation and — if there are any — which flight they travelled in on. If nobody on your flight has tested positive within a week after your arrival, you can make a reasonable assumption that nobody had the virus.
That obviously doesn't mean letting your guard down. The last thing you want is to contract COVID from an elevator button at your hotel! But it does mean you can feel more confident in turning your attention towards re-entering the world again.
What Happens if You Develop Symptoms?
It happened to us! Thanks to the aggressive air conditioning unit in our room, Dave ended up with a sore throat. We mentioned to the nurse immediately and they told us to stay in our room until further notice.
If you develop any of signs of COVID-19 — no matter whether it's a headache, congestion, or a sneeze — you need to be isolated in your room until 48 hours after the symptoms have passed.
Keep this in mind if you suffer from hay fever. You'll want to make sure you have enough antihistamines to keep your symptoms at bay or you may end up spending weeks in isolation, helplessly waiting for your sneezing to subside.
We were still allowed to exercise while confined to our room — we simply had to call down to reception and arrange for a private exercise session. Accompanied by two military guys, Dave and I walked laps around the car park together for an hour while they watched us, and it was all a bit awkward.
What Happens if Somebody in the Hotel Tests Positive?
Don't panic! It does happen.
New Zealand is currently averaging around five cases a day within its managed isolation system, so it's likely that at least one case will be discovered while you're staying in your hotel.
It's a rather peculiar experience, and it can make everything suddenly feel very real.
All hotel rooms are equipped with speakers and so, out of the blue, you'll hear a loud voice blaring out at you. You'll be told a guest has tested positive and that you need to return to your room and remain there until further notice. All room deliveries are paused. All exercise sessions are halted. The meal service ceases to run.
And then you simply wait around in your room while they deep clean the room the guest was staying in, the floor they were staying on, and any communal areas. In our hotel, it took about seven hours before we were allowed outside our rooms again.
I shared a video on Twitter of our very dystopian announcement.
What Happens if You Test Positive?
The worst case scenario.
If you test positive, you'll be moved to Auckland's Jet Park Hotel. It's where all positive coronavirus cases are currently hanging out. There's an equivalent facility for Christchurch, in case you're based in a hotel down south.
You'll be well-cared for while you're there, with nurses and doctors to monitor your symptoms. There's rarely more than 50 cases in the facility at any one time at the moment, so they'll be able dedicate all of their resources to helping you recover as quickly as possible.
As for the people in your bubble, they'll usually be told to move to the Jet Park Hotel with you, although they may also be able to stay in their current hotel if they've tested negative and aren't exhibiting symptoms.
Upon Your Release
The moment you've been waiting for: on the night before you're due to be released, you'll find out your results of your final COVID test. If you test negative, you're one day away from experiencing blissful normality again!
You'll need to have one final health-check with the nurse, which takes place an hour before your release time, and then it's simply a case of packing your bags and preparing for the enormity of a pandemic-free life.
Checking-out is simple. You'll head down to reception to hand back your keycard, queue up to hand in your exit form and show your passport, and then… just… walk outside.
Look at all that freedom.