The Lake Waikaremoana Track is one of three Great Walks in New Zealand's North Island. These Great Walks are hiking tracks, deemed to showcase some of the best natural landscapes in the country, with the trails and accommodation maintained to a far higher standard than your typical backcountry hut.
Lake Waikaremoana is one of the lesser-walked tracks, especially in comparison to the big hitters down in the South Island, which get booked out months in advance. And sure, Lake Waikaremoana doesn't have those snow-capped mountains and pristine golden-sand beaches, but its scenery is impressive nonetheless. And the lack of crowds allow you to truly disconnect and immerse yourself in this spiritual destination.
I loved walking the Lake Waikaremoana Track and highly recommend it as a multi-day adventure in New Zealand. Today, I'm going to be sharing absolutely everything you need to know about preparing for and tackling this fantastic walk.
Let's get started.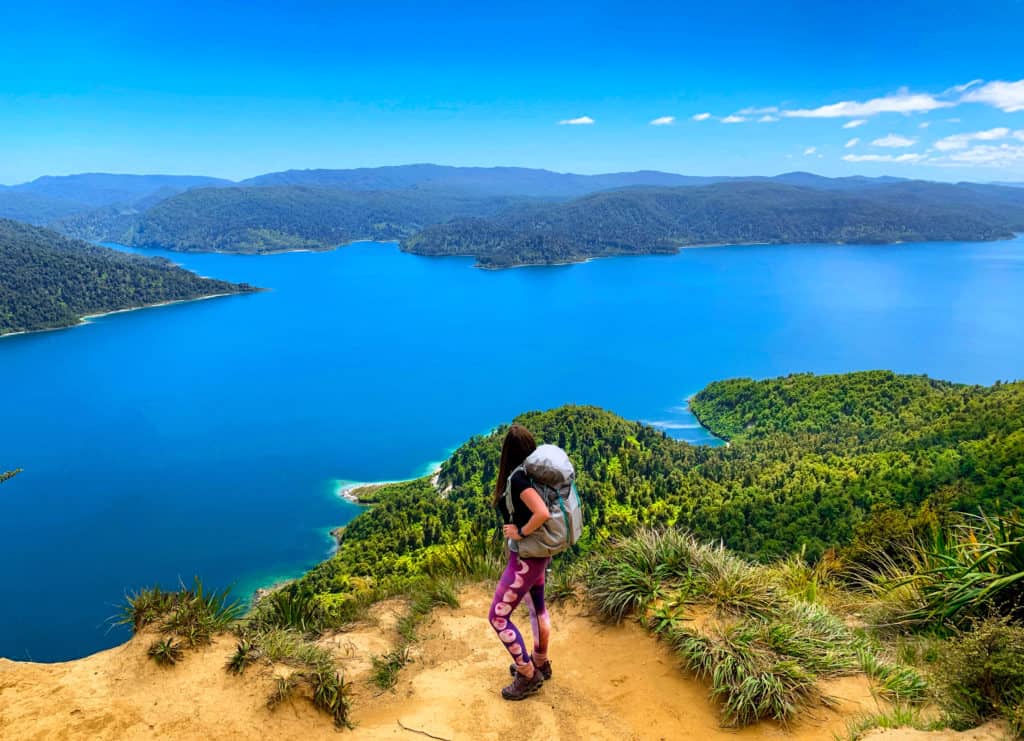 A Primer on Lake Waikaremoana
Lake Waikaremoana is New Zealand's deepest lake and one of its largest bodies of water, found in the northeast of the North Island, in the protected region of Te Urewera. Encompassing the largest native rainforest on the island, it's known for its isolated river valleys, rushing waterfalls, plethora of native birds, and sparkling, turquoise lakes. On your walk, you'll have the opportunity to experience all of these.
Once classified as a national park, in 2014, the government's ownership was formally dissolved and Te Urewera was subsequently recognised as its own legal entity. In a world first, this natural resource was granted the same rights as a human, with the Tūhoe people as its legal guardians.
The Tūhoe, is a Māori iwi (tribe) of New Zealand, and its people have lived in this region for hundreds of years. Otherwise known as the Children of the Mist, due to the white mists that engulf Te Urewera on a seemingly daily basis, the Tūhoe are known for their strong Māori identity, and they fought for decades to reattain their rightful ownership of their traditional lands.
That makes the Lake Waikaremoana Track particularly interesting, as it's now the first Great Walk to no longer be under DOC (Department of Conservation) management. And with the Tūhoe at the helm, this walk provides the perfect opportunity to learn more about Māori culture and history, with passionate hut wardens who are only too happy to share their knowledge of their ancestral home with you.
And I can't write about Te Urewera without mentioning that its name translates to "burnt penis". It originates from several centuries ago, with a Māori chief who died while out with a hunting party in the area's pristine forests. He rolled over in his sleep while lying too close to a camp fire, setting his groin aflame.
Let's take a look at the track itself.
Due to the dense forest in this part of the country, you'll see that the track doesn't form a complete loop. Instead, you'll walk a semicircle around the lake, starting off at Onepoto Bay Shelter and finishing at Hopuruahine Landing. The trail is 46 kilometres, or 29 miles in length, with five huts and five campsites providing accommodation options along the way.
The vast majority of trampers tackle the walk in four days, but in reality, you can choose your own route based on your fitness abilities: some people opt to walk it in just two days; others decide on a leisurely six.
How Difficult is the Track?
Lake Waikaremoana is widely believed to be one of the easiest Great Walks and I'd agree with that assessment. I'd say the Rakiura Track, on Stewart Island, is the easiest, but Lake Waikaremoana comes in at a close second.
On day one, you'll start by the shores of the lake and then immediately climb 600 metres (2000 ft) straight up. It's one of the largest climbs of any of the Great Walks, but I didn't find it too challenging and it only took a couple of hours to complete. And the walk wouldn't be anywhere near as special without it, because the views you gain from the very top, looking over the lake, are spectacular.
After finishing your descent on the morning of day two, you'll have finished the toughest parts of the walk, and it'll be flat from here on out.
Or so it looks.
In reality, I was surprised to discover just how inaccurate the above elevation profile was for the latter half of this walk. Day three, from Waiopaoa Hut to Marauiti Hut looks like it's going to be flat and easy in the diagram above, but in actuality, it was undulating for much of the day, with a solid 100 metre climb and descent at the end. It was nothing too strenuous, but far hillier than it looks.
The greatest difficulty you'll have on the walk, though, is the weather. Despite the blue skies you'll see in most of my photos, we lucked out with the sunshine and you're far more likely to encounter rain, ankle-deep mud, strong winds, and snow — yes, even in summer. As always, when it comes to hiking in New Zealand, prepare for gales and torrential downpours, just in case.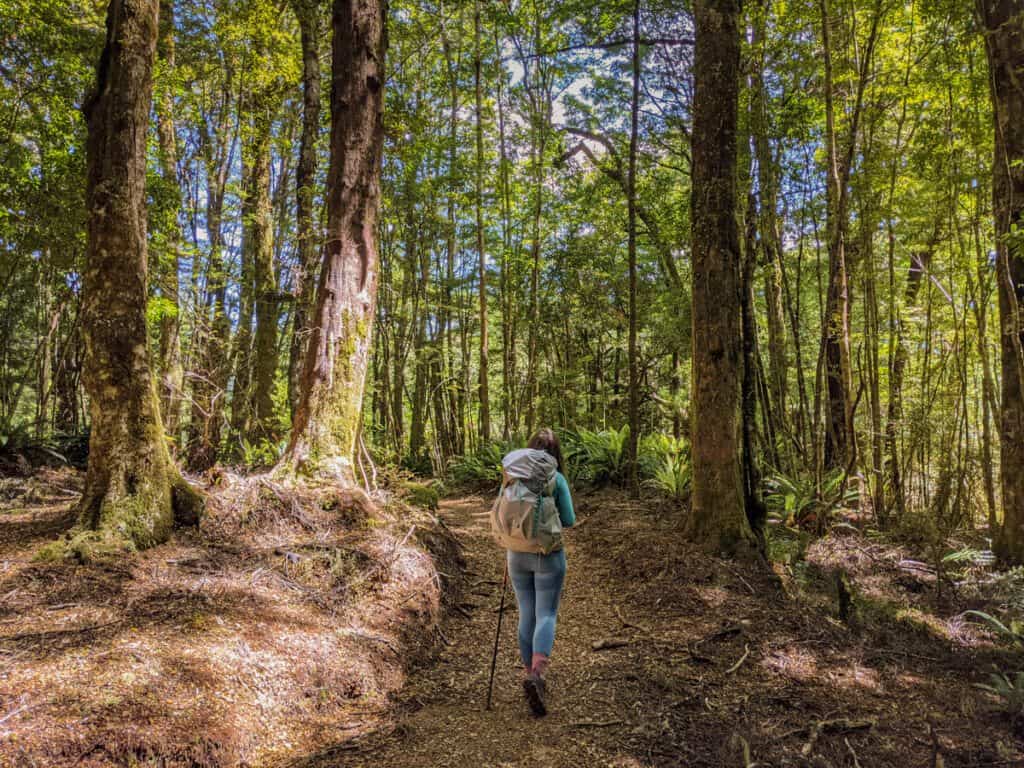 So How Do You Get to Lake Waikaremoana?
There's no doubt about it: if you want to reach the truly epic parts of New Zealand, you're going to need a car.
Public transport options are sorely lacking in this country, and the area surrounding Lake Waikaremoana is no exception. There are just two ways to get to the lake — via State Highway 38, either approaching from the north or the south — and you'll want to prepare yourself for an uncomfortable ride either way. Both directions involve traversing part of the infamous 90 km (56 mile) unsealed road, but it's fine and safe. We've taken two separate rental cars on the roads without a problem, so don't let the gravel put you off — it just makes for slow going at times. You don't need a 4WD to tackle these roads.
Most people will travel down from the north, which is the worst of the two options. We ventured down from Rotorua on our first visit to Lake Waikaremoana, where it took around three hours to traverse the 160 kilometres (100 miles) of road. But it was a beautiful, scenic drive, with narrow, winding roads taking you through rainforests, past waterfalls, and to some of the prettiest viewpoints in the region.
On my most recent trip to Lake Waikaremoana, I came in from the south, after a lovely lunch (I recommend Frank and Albie's) and final stock-up of food and petrol in Gisborne (there's a Kathmandu there for picking up any last-minute supplies). While SH38 is still unsealed from this direction, it's a far easier drive, with just the half-hour-long stretch between Tuai and Lake Waikaremoana bringing the gravel.
And don't expect this to change anytime soon. The Tūhoe are strenuously against sealing the road and making their land more accessible. In their eyes, they receive just the right amount of visitors and have no desire to turn their home into an overcrowded tourist attraction.
And before I finished this section, I just wanted to circle back to the public transportation situation quickly, because if you are determined to tackle this Great Walk and don't currently have access to a car, there's a single option for you. A shuttle runs to and from Wairoa, on the east coast, to Lake Waikaremoana, but has to be booked in advance. You can do so via their Facebook page. Prices range between $60 and $95 return, depending on where you're going and how many passengers there'll be.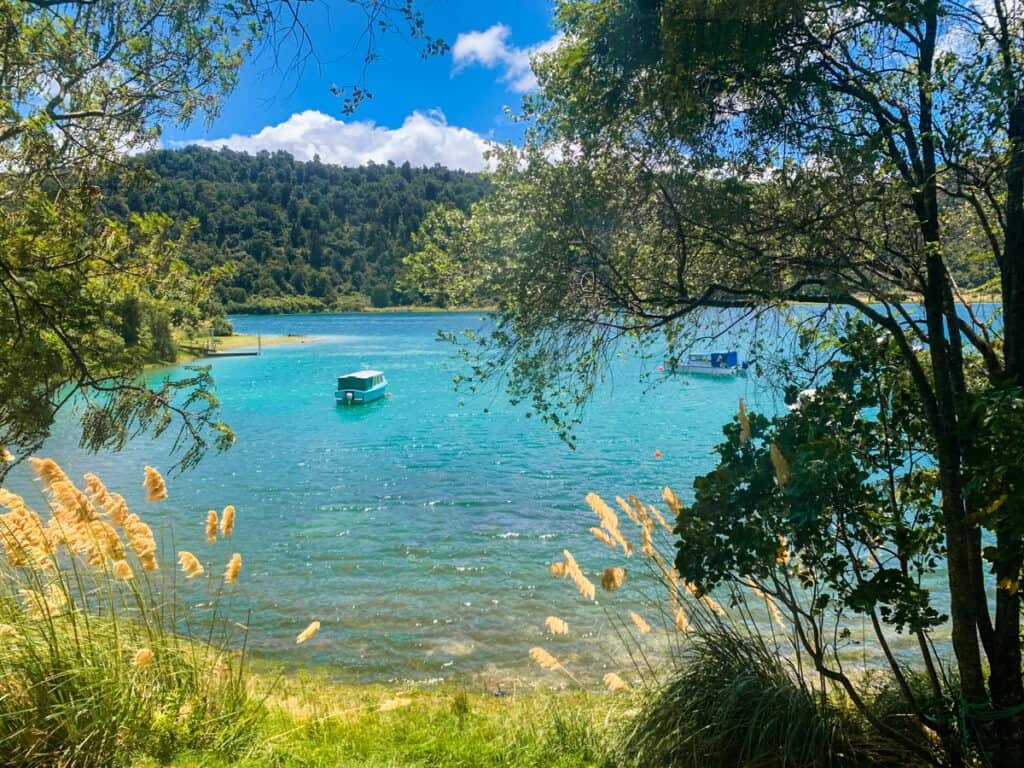 Where to Stay Before Your Walk
You've made your way to the shores of Lake Waikaremoana. Your next step is finding somewhere to stay.
There's only one place I'd consider booking before your walk, and that's the Waikaremoana Holiday Park. Everybody stays here before their hike, primarily because it's inexpensive, clean, close to the starting point, and the guy who runs it is wonderful!
But the main reason why I recommend staying here is because you'll be able to leave your things in their office while you hike, and can even leave your car in their car park over that time. Break-ins do happen, at both Onepoto Bay and Hopuruahine Landing — three cars were broken into last month at the latter, where it's more common — so if you don't need to leave your car at either car park, it'll give you peace of mind as you walk.
Accommodation here is basic but cosy, with lovely views over the lake. There are chalets, cabins, tent sites, and powered sites for campervans up for grabs, and all get access to a huge kitchen and plenty of shared hot-water showers. There are laundry facilities, a small convenience store on site, emergency petrol for any car owners who forgot to fill their tank before setting off, a fish smoker, BBQs, board games, and all of that good stuff. Prices start from $18 a night if you're camping, and $65 a night for a cabin.
There's no cell service or internet here, so if you have anything you need to do before you head offline, make sure you do so before you get to the lake.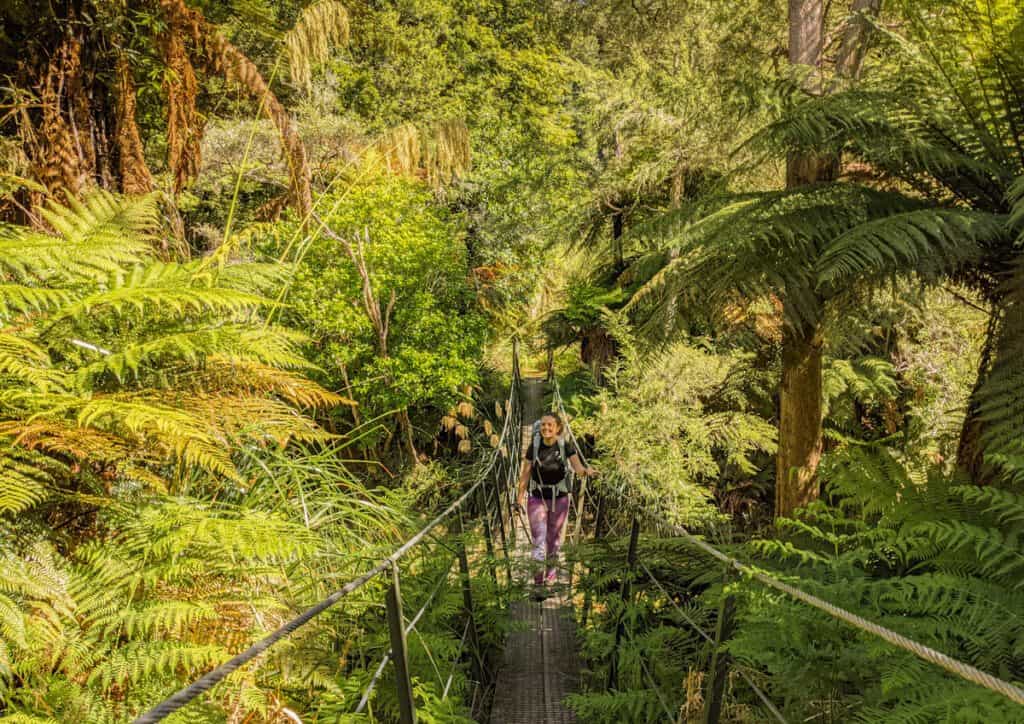 The Main Route Options for Lake Waikaremoana
The Great Walk is only 46 km in length, so if you were feeling particularly ambitious, you could walk it in two days, spending one night at Waiopaoa Hut. We ran into a couple of people who were doing this and they all looked exhausted. Remember what I said about how day three and four is way hillier than it looks? Yup. They were feeling it.
Most people choose to take four days to tackle the walk, myself included. Here's how I split up my days:
Day one: Onepoto to Panekiri Hut — 9 km (4 hours)
Day two: Panekiri Hut to Waiopaoa Hut — 8 km (3 hours)
Day three: Waiopaoa Hut to Maruiti Hut — 12 km (5 hours)
Day four: Maruiti Hut to the end — 17 km (5 hours)
Any alternative routes?
Absolutely! Some people decide to walk it in the opposite direction, either taking a water taxi out to Hopuruahine Landing, or driving there and parking in the car park. I don't recommend the latter, as this particular car park is home to break-ins quite regularly (every month or two). Once you're on the track, you'll then have the easiest two days first, before meeting the big ascent and descent at the end of the walk — at a time when your backpack won't weigh as much.
Alternatively, you could pack a tent and camp your way around the lake. In this situation, you'd either have to spend the first night in Panekire Hut, as there isn't a campsite up there, or walk 17 km on day one, all the way to Waiopaoa Campsite.
And finally, if you don't care much about splitting your adventure into equally-sized sections, it might be worth switching out Marauiti Hut with Waiharuru Hut for day three. Waiharuru is one of the nicest huts I've seen on a Great Walk; brand new and hardly anybody stays there because it makes for a long day three (18 km/7 hours) and a short day four (11 km). But, wild kiwis do hang out around the hut and you'll get a good night's sleep (our friends who stayed here had the whole hut practically to themselves). It's much nicer than Marauiti, so if you're comfortable with the longer distance, this would be a great option.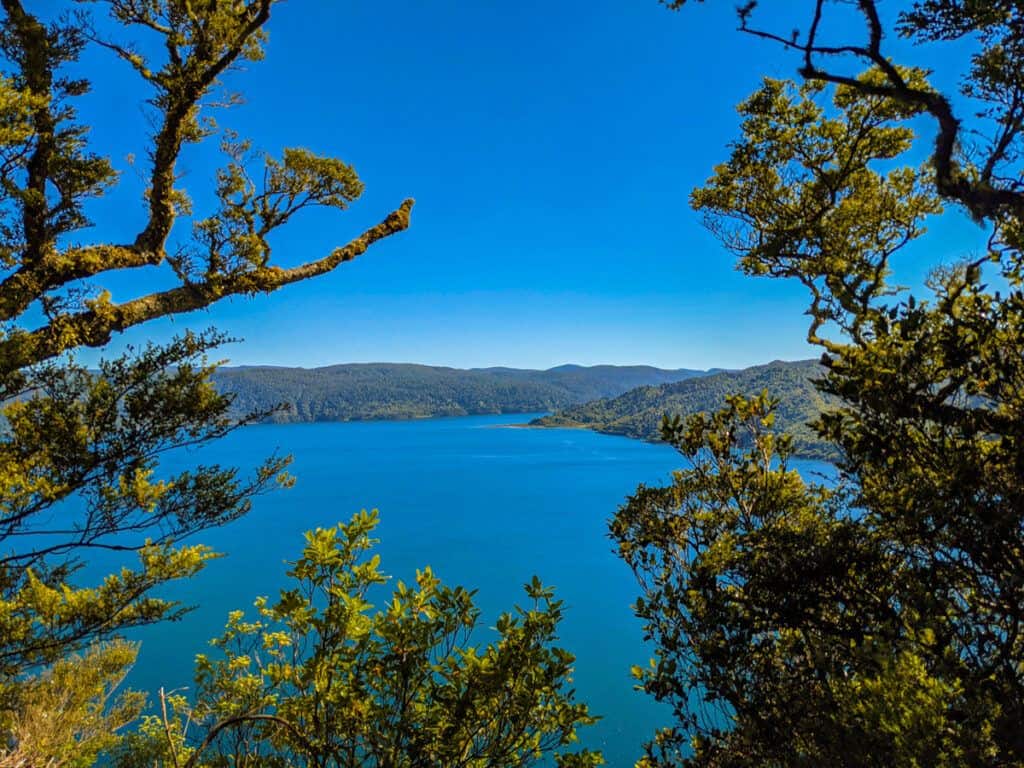 So There's a Water Taxi?
There sure is!
Lake Waikaremoana is vast and the Great Walk doesn't form a complete loop. Instead, you'll need to book a water taxi from/to at least one end of the trail. It costs around $60 per person to be transported across the water. If you're travelling in a group and have access to multiple cars, you could park one at either end to avoid the water taxi fees although, as I've said, you run the risk of a break-in by doing this, so don't keep any valuables in your cars.
You can take the water taxi to and from Waikaremoana Holiday Park, Onepoto Bay, and Hopuruahine Landing.
If you're on a budget, you could also try your hand at hitchhiking when you finish the walk, but you'll need to ensure you've packed a hell of a lot of patience in your pack if you're keen to go down this route. A couple we walked with didn't want to wait for the water taxi, so ventured out to the road to hitch back to their car in Onepoto.
It took them four hours to snag a lift, all while standing beneath the hot scorching sun with zero cars driving past.
If you're going to do as most people do, though, you'll need to book a water taxi, and fortunately, I'm going to make your life a hell of a lot easier. I'd estimate that 95% of the information online about the water taxi is out of date. As ownership of the Great Walk transferred from DOC to the Tūhoe, the water taxi service has been switched up and confusion reigns supreme. If an article recommends getting a water taxi from Big Bush Holiday Park, that's your hint that it's woefully out of date; they went out of business years ago!
To book, then, you'll want to either email teureweravc@ngaituhoe.iwi.nz or use the following phone numbers: 06 837 3900 or 06 837 3803. Prepare for emails to go unanswered for weeks on end, so I recommend making a call if you don't hear back.
Book in advance! The water taxi service is busy, busy, busy, and because we left it a couple of weeks before our hike to book ours, we were way down the bottom of their list. The boat can only transport six people across the lake at a time and we had a solid 20 hikers who were looking to get back to Onepoto. We therefore had to wait two hours for our turn, which served as a reminder that we should have booked sooner.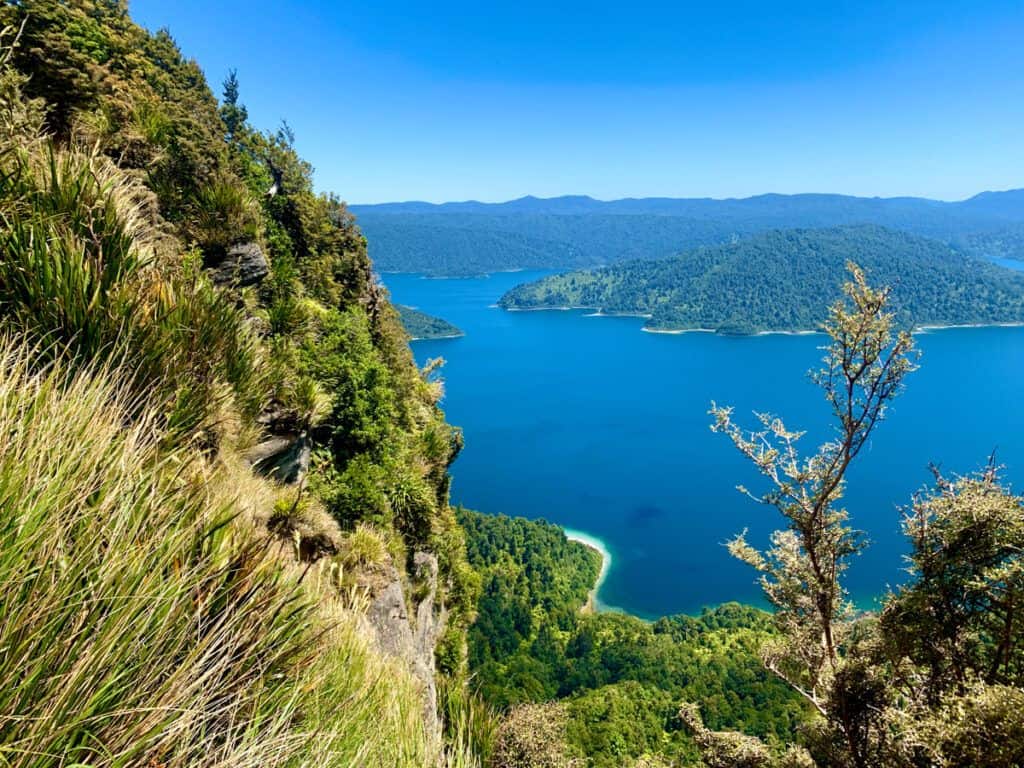 How Much Does it Cost?
This is one of the more affordable Great Walks, with huts coming in at $32 per night per person, while campsites cost just $14 per night. For both options, children go free.
You must book the huts in advance. We met one family who decided to walk further than they'd planned and subsequently rocked up to Panekire Hut without a booking. Unfortunately, it was fully-booked for the night, so they had to sleep on the hard wooden floor of the kitchen in the freezing-cold hut. In some huts, wardens are on-site, checking your name as you arrive, so you'll be turned away if you don't have a booking.
How to Book the Lake Waikaremoana Great Walk
It's super-easy to book the Great Walk — you can do so on DOC's website. Bookings are open In June 2023 for the 2023/24 hiking season, which runs from 1 July 2023 to 30 June 2024.
Lake Waikaremoana is one of the Great Walks that doesn't book out immediately, so you can comfortably reserve your spot in the huts a couple of months in advance. Still, if you know what dates you want to book, it's best to do so as soon as possible. If your dates will cross a weekend or public holiday, it's more likely they'll be full. During COVID, the track is especially busy, as Kiwis can't travel overseas right now.
We booked in October for a mid-December hike and there was still plenty of availability.
Let's Talk About the Huts
If you like privacy, comfort, and an abundance of sleep, this isn't the trail for you. Like all of the Great Walks in New Zealand, the only options for accommodation are huts or campsites, with the former sleeping as many as 40 people in a single room.
Yes, the majority of the huts on this walk were lovely, cosy, and clean, but it is still dorm room living, so earplugs are going to be an absolute essential. I also want to mention that the huts don't have gas piped into them, so you'll need to bring your own stoves, the water isn't treated (although you can safely drink from the lake or boil water in the huts), and there isn't any power in any of the huts, so lights out happens when the sun sets.
Along the track, you'll have the option of staying in amazing huts, great huts, good huts, and then there's Panekiri.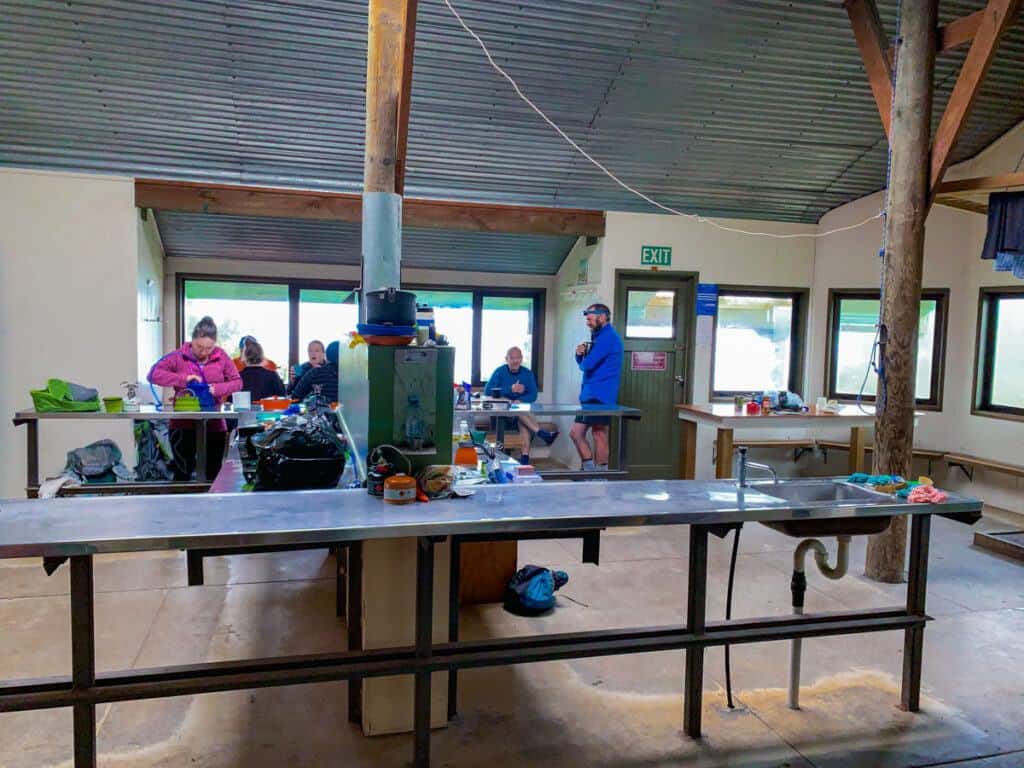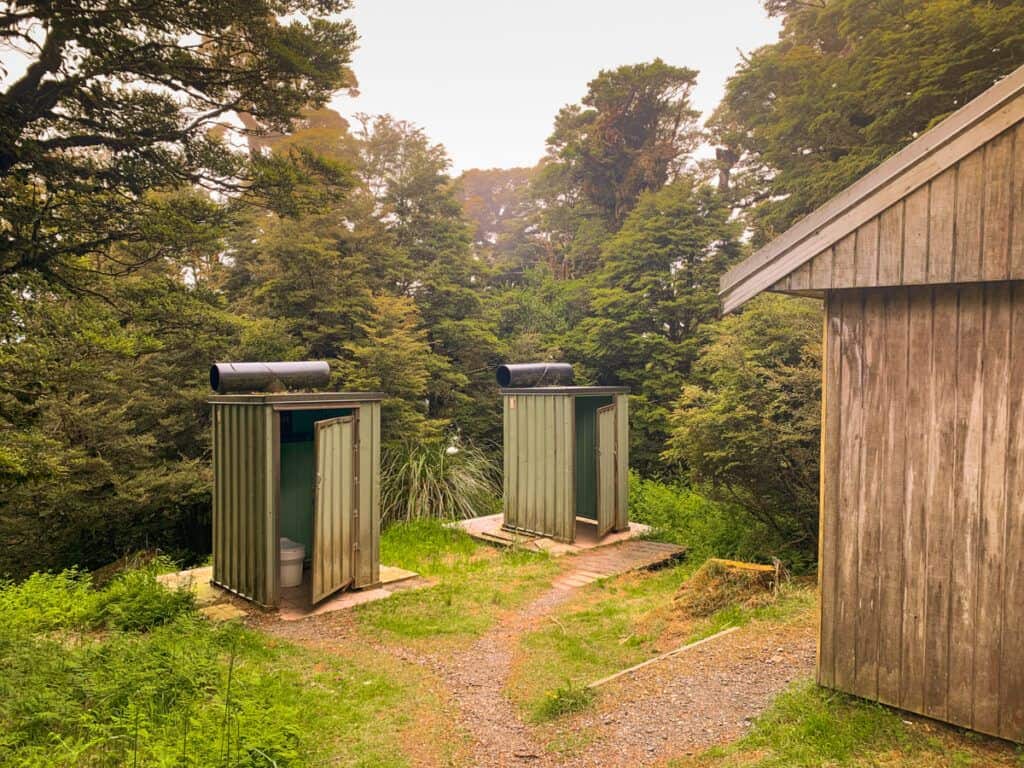 I hated Panekiri Hut, but many of those reasons were situational. Panekiri is located up in the hills, 1,200 metres high, and there isn't a warden on-site, so you'll be left to your own devices. In other words, there'll be nobody there to collect the firewood, or to emphatically insist that you collect firewood.
Yes, despite the burning in your legs from the substantial climb you've just tackled, the number one thing you should do when you arrive at the hut is head out to collect some dry wood. Odds are, there won't be much, because it rains a lot up there.
The weather is rarely warm at Panekire and the hut gets cold in response. With only damp wood up for grabs, nobody could successfully get the fire going, and so it was about three degrees in the hut overnight and I was freezing. I travel with an ultralight sleeping bag and those temperatures really pushed it to its limits. I ended up sleeping with my jacket on!
And it's a 36-bed hut, split across two rooms but with a short dividing wall that doesn't quite reach the ceiling. In other words, you'll hear all of the snorers.
But don't let that put you off tackling the walk, because there are some wonderful huts further along the way.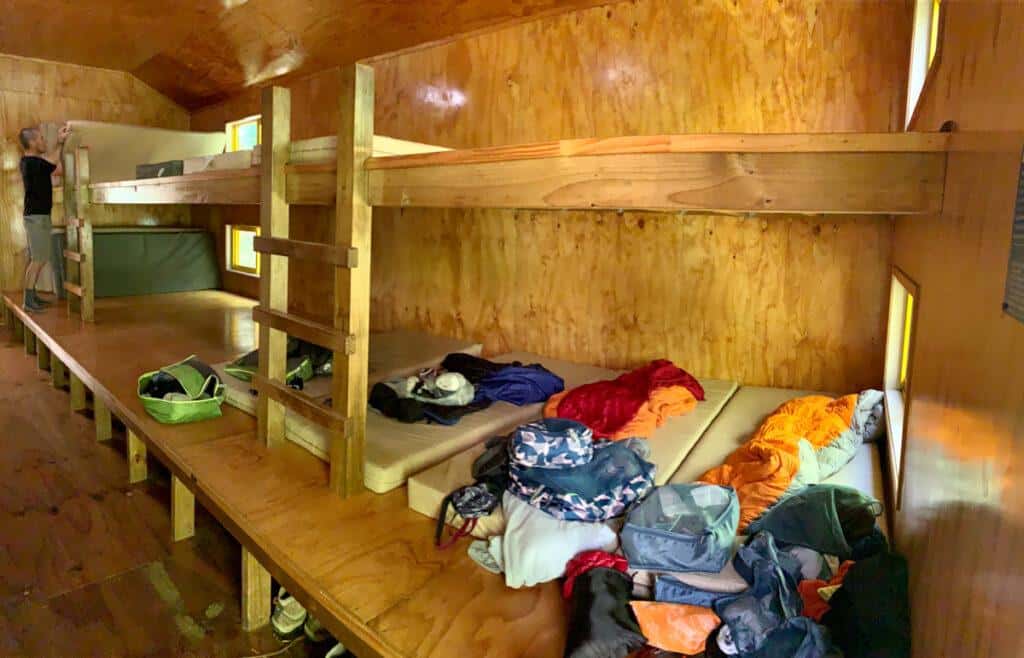 Waiopaoa Hut: This was my favourite of the huts I stayed in, with a warm and welcoming warden, along with a beautiful lakeside beach. In the evening, we learned more about Māori culture during the hut talk, along with future plans for the walk, the history of the area, and the troubles that have come from taking over the walk from DOC. You can drink from the lake here, so this is the perfect place to top up your water bottles without needing to boil the water first.
Marauiti Hut: This hut offers up the perfect location for an afternoon swim! It's so peaceful here, and in the mornings, the mist rolls in and has the place looking magical. The hut was clean and comfortable, the dorm wasn't too cramped, and I absolutely loved its location.
Waiharuru Hut: This is easily the nicest hut of the entire walk, and because it's in an annoying spot, hardly anybody stays there. We had some friends who decided to walk on from Marauiti Hut and ended up with only four other people in Waiharuru Hut. This hut is spotless, brand new, and fancy as hell for a Great Walk Hut. Rather than those long bunkbeds, you have separate bunks in little cubby holes, giving you a bit more privacy.
The other big bonus of Waiharuru Hut is that it's the only place on the trail where wild kiwis roam nearby. If you don't see them, you'll probably hear their calls at night.
Whanganui Hut: I don't know why anybody would book to stay here, but I'll include it for the sake of completionism. Located right where the water taxi picks you up, this small, run-down hut sleeps 18 people, but rarely has anybody staying. It's an hour's walk to the end (or start) of the trail.
What about camping?
That's totally an option, and it allows you greater flexibility and a better night's sleep. It's worth mentioning that very few people opt to camp on the Lake Waikaremoana Great Walk, so you'll likely have the vast majority of the campsites to yourself, ensuring a far better night's sleep than everybody else. The downside is that you'll either have to spend the night in Panekire Hut or have a very long first day when you walk 17 km to the first campsite at Waiopaoa.
Obviously you'll be carrying more gear when you camp, so you'll want to take that into account when you're tackling that big climb at the start or end of your trek.
How to Prepare for the Hike
It was in Panekiri Hut when a new friend offered up a fun story: he was walking the Milford Track a few years ago, he told us, when he met an Irish guy who was about to set off on the hike. Upon noticing the miniature size of the guy's pack, he asked him how he'd managed to fit all of his food in there. His response: "Oh, I'm just gonna buy some food in the huts."
We all gasped in response.
Because of course, there's no food to buy in the huts on any of the Great Walks, and certainly no stores or restaurants. You'll need to bring everything you plan to eat on the trail — plus a little extra, because it's always better to have too much than too little.
The huts on Lake Waikaremoana don't have gas, so you'll want to bring along a small camp stove, along with matches or a lighter. You'll also need a container for boiling water in, along with plates, mugs, and cutlery. We picked ours up from Kathmandu and Macpac as we travelled around the North Island.
In terms of food, there are three main companies offering freeze-dried options; my favourite was Back Country Cuisine. Seriously — their chicken tikka masala was so good that I ate it for dinner on pretty much all of my Great Walks this year. If you love staying caffeinated, Dave picked up this cool gadget from Wacaco. It's a portable coffee machine, which uses Nespresso pods to make decent coffee while you're out in the wild. It's small, weighs just 350 grams, and was perfect for a trip like this. I think every single person in the hut who saw Dave using his went home to pick up one for themselves!
I took my Osprey hydration pack instead of a water bottle, because it helps me drink more water as I walk. I boiled water from the taps in the huts before drinking it, or filled it up from the lake, as the water is clean and delicious.
Toilet paper is an essential, as there's none in the huts or long drop toilets. A flashlight is useful, as the huts don't have power, and I picked up a small battery pack for charging my phone and Airpods at night.
Sunscreen and insect repellent are important to bring, as they are everywhere in New Zealand. The sand flies weren't too bad, but they are around and you're going to suffer if you get bitten on your feet.
I'm a big fan of hiking poles, although not many other people were using them — I bought the cheapest pair that Kathmandu had on offer. They helped a lot on the ascent and descent around Panekire Hut.
And, of course, you'll need a sleeping bag! The huts get cold overnight and you'll freeze without one.
---
So what about the hike itself?
I've covered pretty much anything I could possibly think that you'd need to know about the hike itself — leave me a comment down below if I missed anything! — so now it's time to share my own personal experience of walking the trail, so that you can see how it really went down.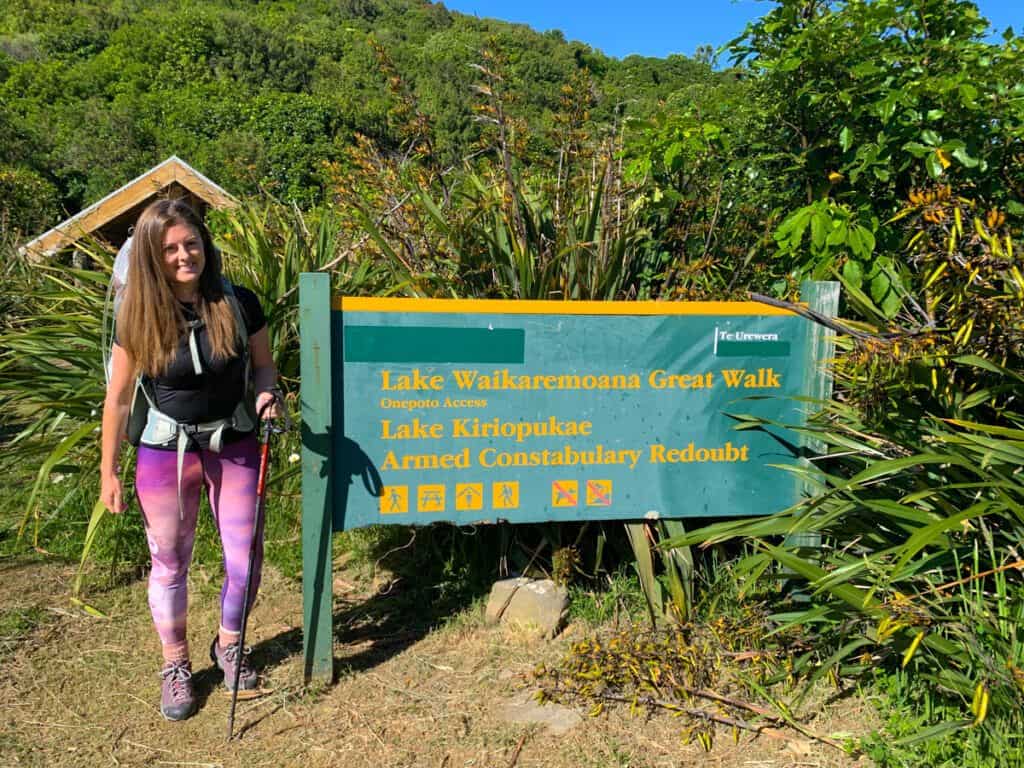 Day One: Onepoto Bay to Panekiri Hut
While day one is widely believed to be the toughest of this Great Walk, it wasn't too bad once we started walking.
After setting our alarms for 7 a.m., Dave and I crawled out of bed at the Waikaremoana Holiday Park, and began to get ready for our day. I snacked on a protein bar as I checked and double-checked I had everything I needed, then impatiently waited for Dave to drink his coffee and eat his breakfast.
We took our photos at the start of the track, then almost immediately started to climb. Oh, and at the start of the climb, you'll see a sign for a side trail — don't bother with that; it's not worth it.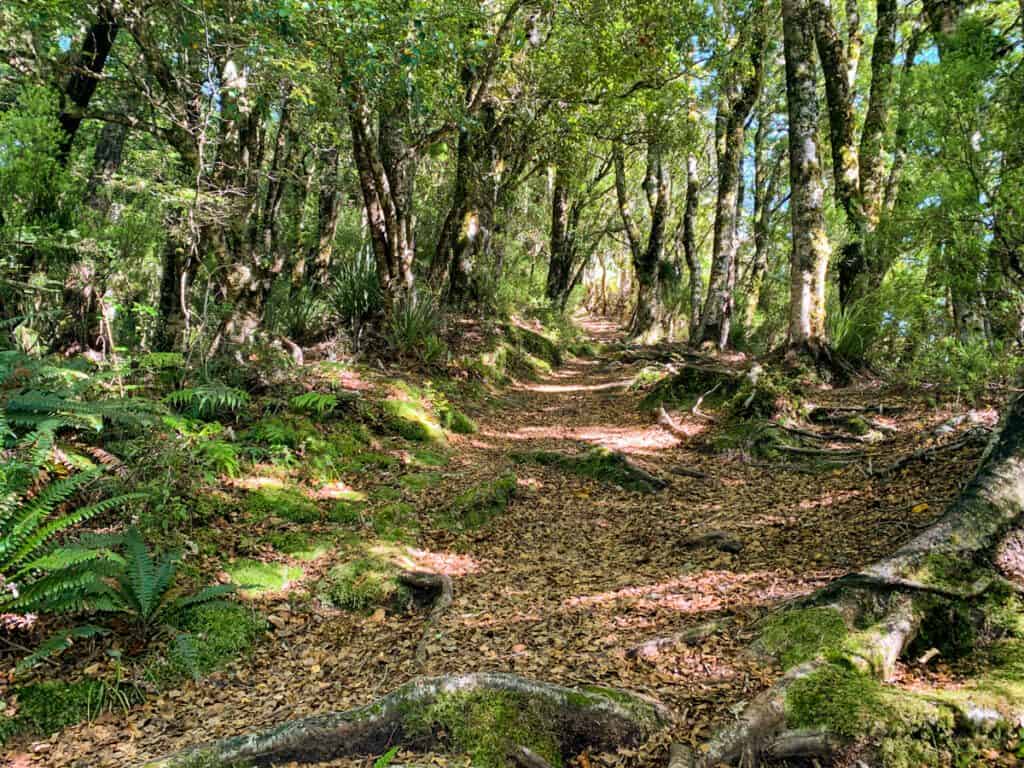 There's little break from the ascent for the first two hours of the day, but if you take it slow, it won't be as difficult as you're expecting. I surprised myself when I realised I climbed the entire hill without needing to take more than a quick two-minute break and I put it all down to my gentle walking pace.
Once we reached the top of the climb, the world opened up to us and we walked with our phones in hand, taking dozens of photos at each and every viewpoint. How incredible is Lake Waikaremoana?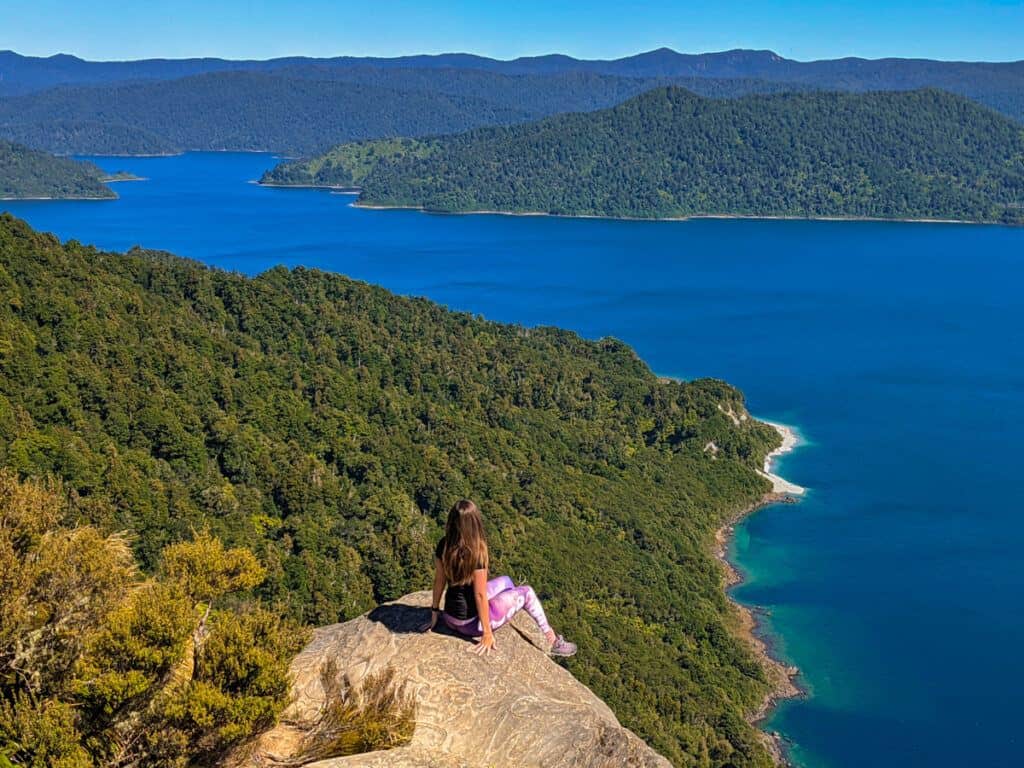 On the way to the hut, we ran into a frantic couple who appeared to be crawling down the hill on their hands and knees.
"Y'alright?" Dave called out.
"Yeah, mate. You haven't seen a camera on your way up, have you?"
We shook our heads.
"Damn it. We've lost ours. Left it at the start of the track. So now we're walking down and hoping somebody has picked it up for us."
We wished them well, then made our way over to Panekire Hut. We wouldn't see them until hours later, when we would learn they'd needed to hike all the way down to the start of the trail then walk all the way back up again.
Yikes.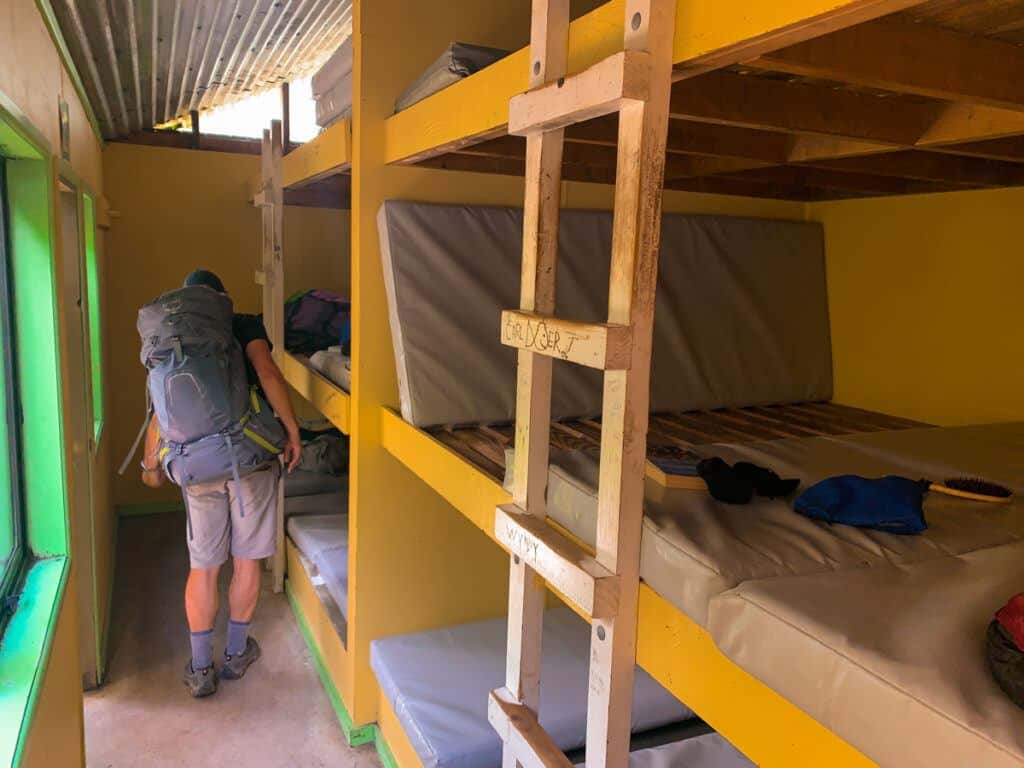 I'd never come across a three-tier bunkbed before, so the one at Panekire took me by surprise and I wasn't sure where the best position to sleep would be. As always in these Great Walk huts, we would be sleeping startlingly close to a complete stranger, as the mattresses are laid out side by side.
We collected damp firewood from beside the hut — a tip we'd picked up from a hiker on the way down that morning — then sat in the sunshine together to eat lunch. As we ate, we pointed out beaches and bays along the lake, and I tried to map out where we'd be heading over the next three days.
Half an hour later, the clouds had rolled in, and coated the hut in a dense layer of grey. We couldn't see a thing. There was that infamous Te Urewera weather.
Now in the hut, I read my Kindle and wrote in my journal, and after dinner, we played card games with a group of friendly hikers, sharing hiking tales and mishaps with each other, and failing to keep the fire going for more than about eight minutes.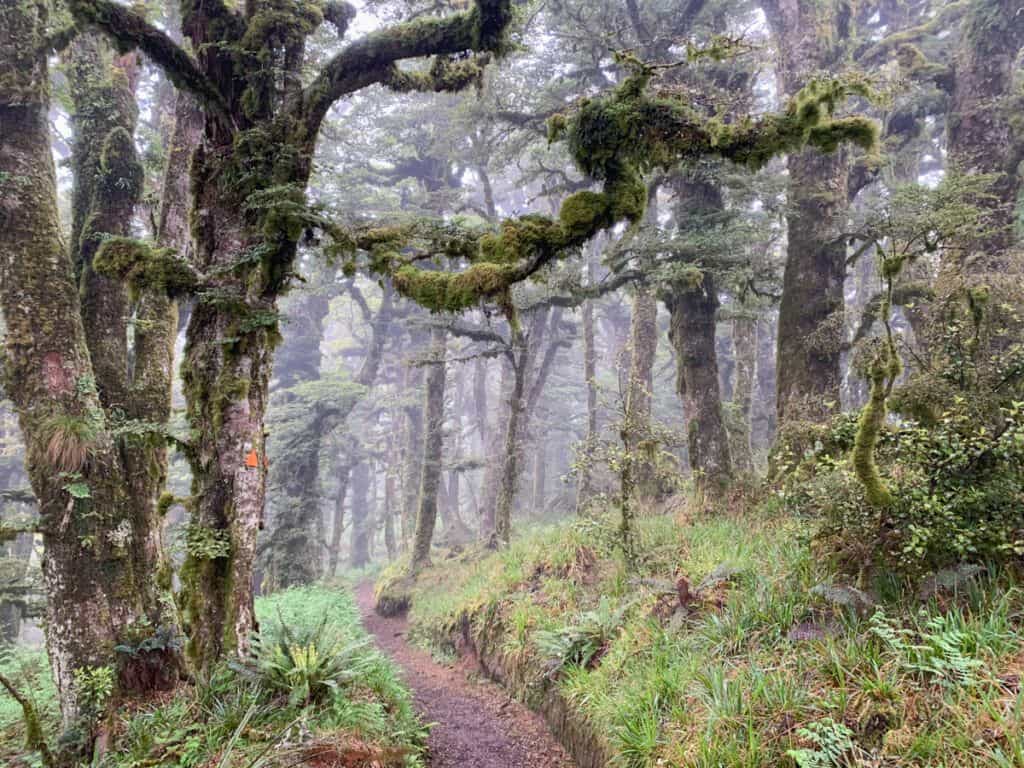 Day Two: Panekiri Hut to Waiopaoa Hut
Without an overnight fire the night before, the hut was only a couple of degrees above freezing when I woke. I squinted through the condensation on the window from my sleeping bag then frowned when I saw only white. The clouds from the night before hadn't yet lifted and those sunny shots I'd taken yesterday now felt like they were from a whole other hike.
Nobody had landed much sleep that night, thanks to the lone snorer in the dorm, so we grumpily shuffled around the kitchen, peering at each other through narrowed eyes and pouring multiple cups of coffee. Whether its primary purpose was to wake us all up or introduce some form of warmth into our bodies, I don't know, but I was suddenly eager to start walking.
While most of the trampers were deciding to stay in the hut until lunchtime, I was planning to rush down the mountain in the hopes of getting warmer faster.
As I nibbled on my protein bar breakfast, I pondered what to do. I could wait in the hut with my new friends in the hopes of the weather clearing and producing some spectacular views, or I could get down off this peak and back to the water. I suspected that beneath the cloud, things would quickly warm up and I'd already seen so many magnificent views the day before.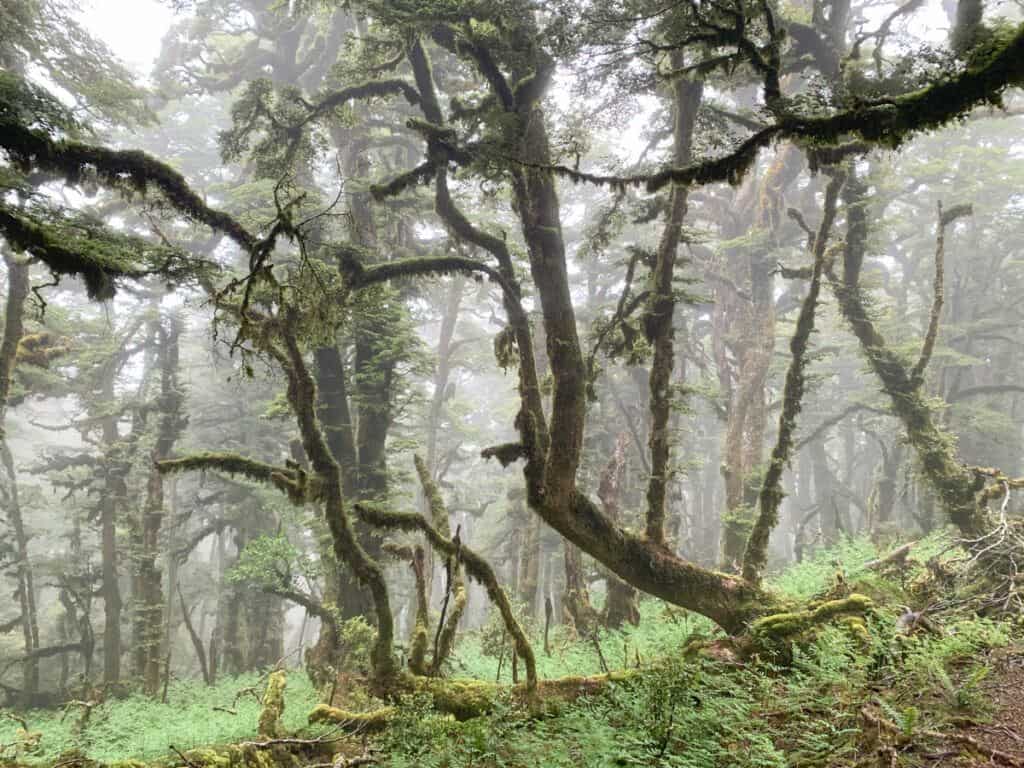 My love of not being cold won out, and I dragged Dave out of the hut and into the cold.
Ah.
Now I was even colder.
My hands turned white as we made our way through the icy air, and although I was uncomfortable and praying for sunshine, I was still so glad to be having this experience.
The Tūhoe are known as the Children of the Mist for the precise weather we were experiencing right now, so in a way, it didn't feel as though we weren't truly in Lake Waikaremoana until we were shrouded in a dense fog.
Plus, the moss-covered, gnarled trees were cool in a creepy kind of way.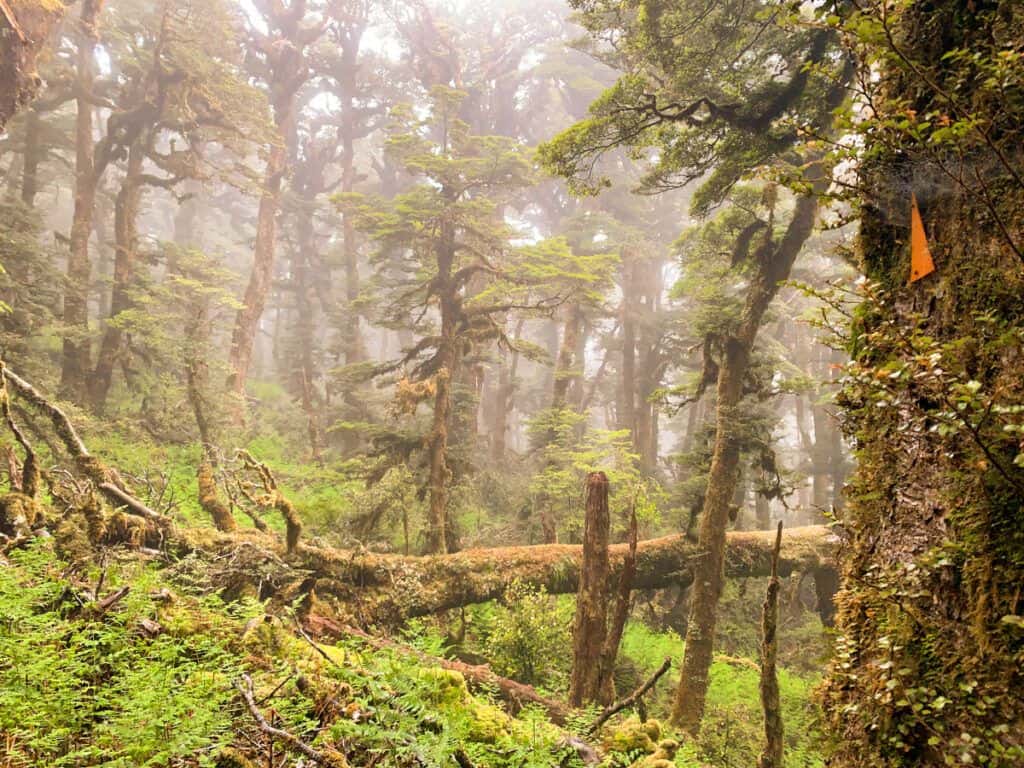 After an hour of contemplating whether my fingers were developing frostbite, the mist began to lift and by that time, we'd already descended most of the 400 steps back down to the water's edge.
In total, we'd spent three hours hiking, and when we reached Waiopaoa Hut, we were wishing we'd had more of a tramp to get there. Fortunately, there's a wonderful side trail that's I highly recommend tackling on day two.
Most people will venture down to Korokoro Falls on day three, but I'd strongly suggest walking it on day two instead.
For starters, you can leave your backpacks in the hut while you head out on the side track, which makes the walk easier. But not only that: day three is much longer than day two, so it makes far more sense to add it on to your easy stroll to Waiopaoa Hut. And finally, because everybody visits the waterfall on day three, it can get pretty crowded — we had all of its magnificence to ourselves.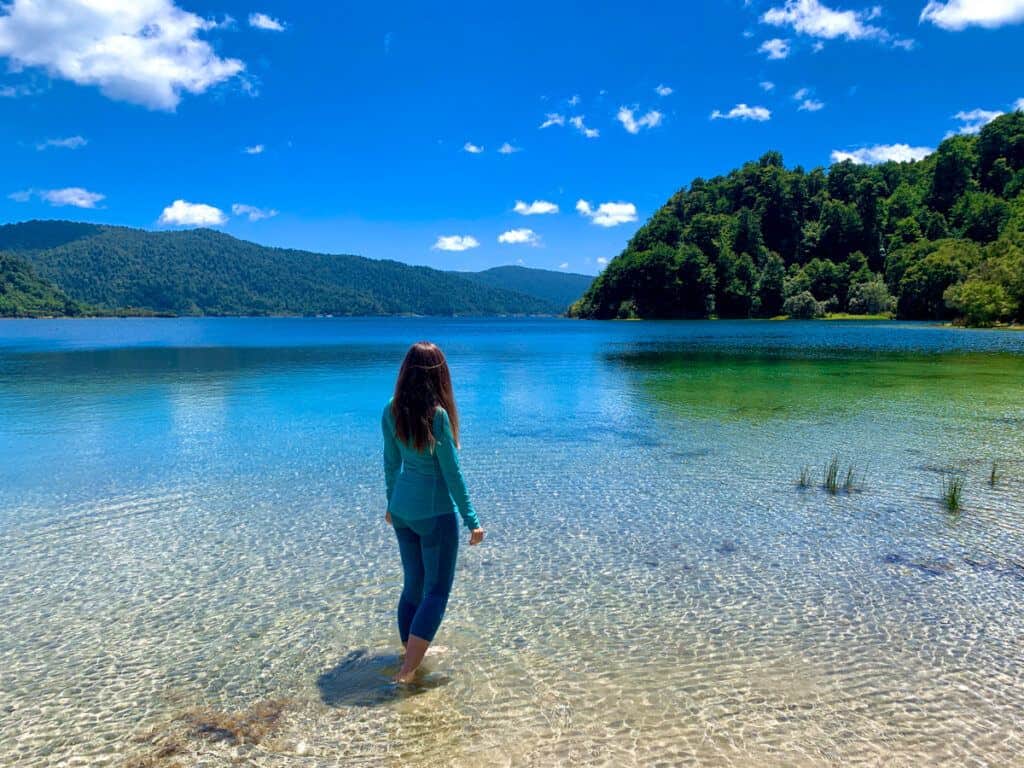 We had a quick snack beside the water, then dropped our bags and set off for the waterfall.
I'd read that we'd need to tackle a river crossing at some point, but neither of us had quite anticipated just how treacherous it would feel. In particular, for me and my 5'2" frame, I struggled to clamber from one rock to the next with a raging river beneath me. In some cases, the rocks were three or four feet apart, so I needed to take a true leap of faith between them. At other times, Dave was grabbing my arms and hauling me to safety.
I confess I considered giving up and encouraging Dave to see the waterfall alone, but when we made it to Korokoro Falls, I was so glad I persevered. This was one seriously epic waterfall, and well worth the lengthy detour to see it.
As evening fell, Bill, the hut warden, brought us all outside to give a captivating talk about the area.
To start, he welcomed us to his hut, then invited each of us to stand up and give our names, share where we were from, and explain what we do for a living. And therein lay my awkward problem, because as COVID raced around the globe and the country's borders were firmly closed, I was one of about 10,000 international visitors in all of New Zealand.
"I'm from Wanaka."
"I'm from Nelson."
"I'm from Whangarei."
"I'm from Tauranga."
Every single person was from New Zealand and were only giving the names of the towns they were from, because obviously everybody was from here.
And then there was me.
"Hi. My name's Lauren. I'm from the U.K., and I'm a travel writer."
I winced as I felt 40 pairs of eyes make their way towards me, and there was a brief silence as everybody wondered how I'd even entered their country.
"Welcome, welcome," Bill called out to me. "Are you glad to be here?"
I nodded hard. "So glad!"
Lake Waikaremoana Track has always been the least popular of New Zealand's Great Walks, due to its remote location, and the huts had been neglected for many years as a result. When it had been announced that the Tūhoe would be taking over the track, DOC had even less incentive to maintain the area to their typically-high standards.
The Tūhoe, then, have had to work hard on improving the situation. As Bill told us of his plans, we were fascinated, hearing about how he wanted to turn Waiopaoa into a marae (a sacred Māori meeting place, for communal gatherings and tribal traditions) of sorts. He spoke of pōwhiri (welcome ceremonies), a hangi (a traditional Māori method of cooking food using heated rocks buried underground), and renovating the huts with wood carvings and traditional architecture.
Later that evening, two separate groups of people asked me if I had ever met the Queen.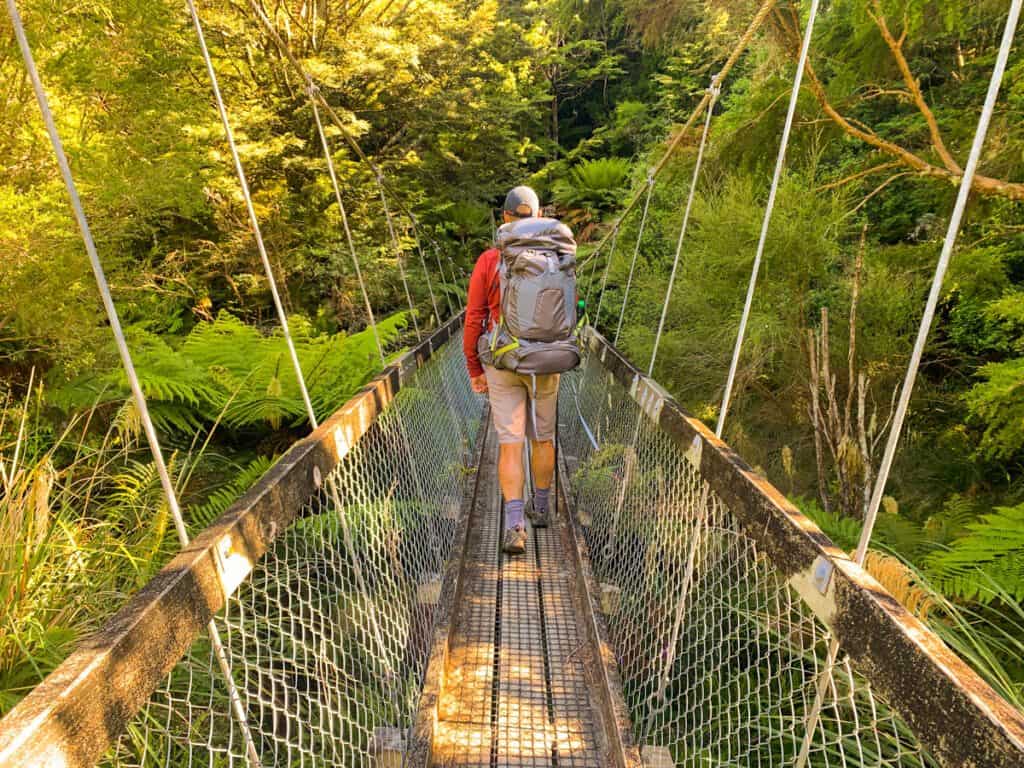 Day Three: Waiopaoa Hut to Marauiti Hut
Day three provided more of a challenge than I had expected, given that the elevation chart had made it look as though the track would be flat. Alas, we were climbing and descending for much of the day, making our way through the dense forest and stopping off at untouched beaches for snacks along the way.
Let's just say I was so glad I hadn't chosen to tackle the waterfall side trip on this day.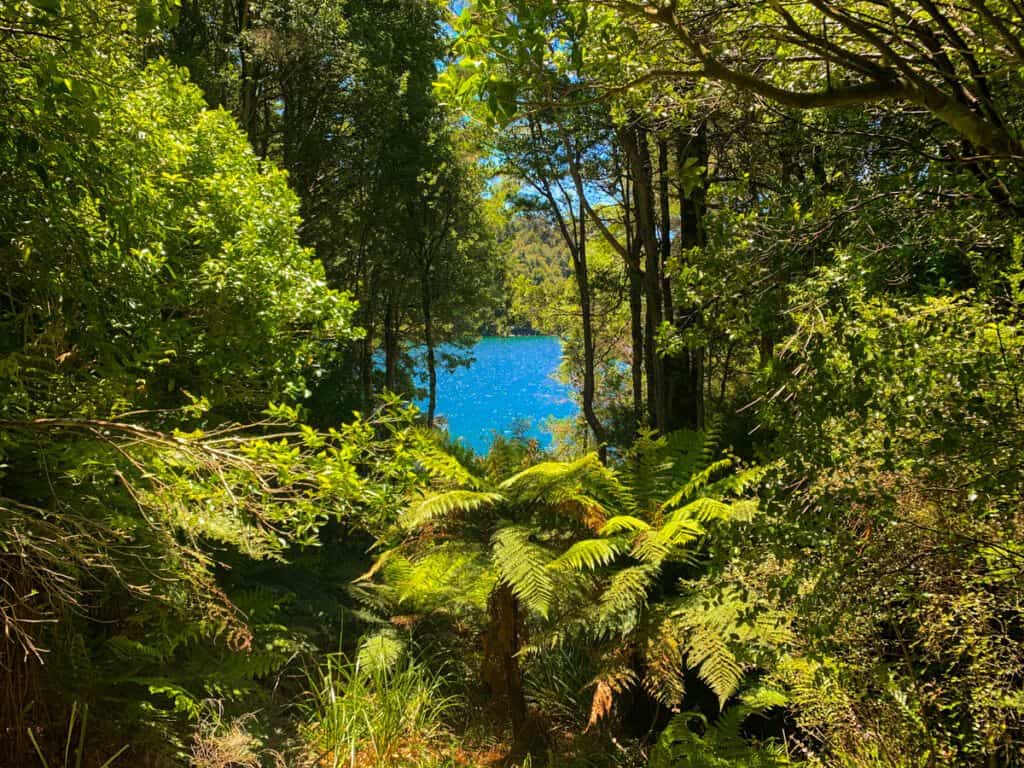 It was a truly beautiful walk, though, and without the crowds of the other Great Walks, we had the trail to ourselves for the day, never once running into anybody. It was tough-going — the hardest day of the walk in my opinion — and it took five hours to reach the end.
One particular highlight of the day was when we passed a sign that announced we were just 30 minutes away from the hut. Imagine the destruction to my morale, then, when 10 minutes later, we passed a sign that also told us we were half an hour from the end.
"Man alive," I announced. "My heart can't take all these disappointments."
But we persevered, and when we arrived at Marauiti Hut, I laughed when we clambered up to the top level of the bunkbed, and saw there was a third level; a kind of throne for four people to sleep atop, separated from the rest of us.
There was just one family in the hut, so we grabbed our Kindles and decided to walk further down the trail to find a beach. There, we found ourselves in the most pristine of natural environments.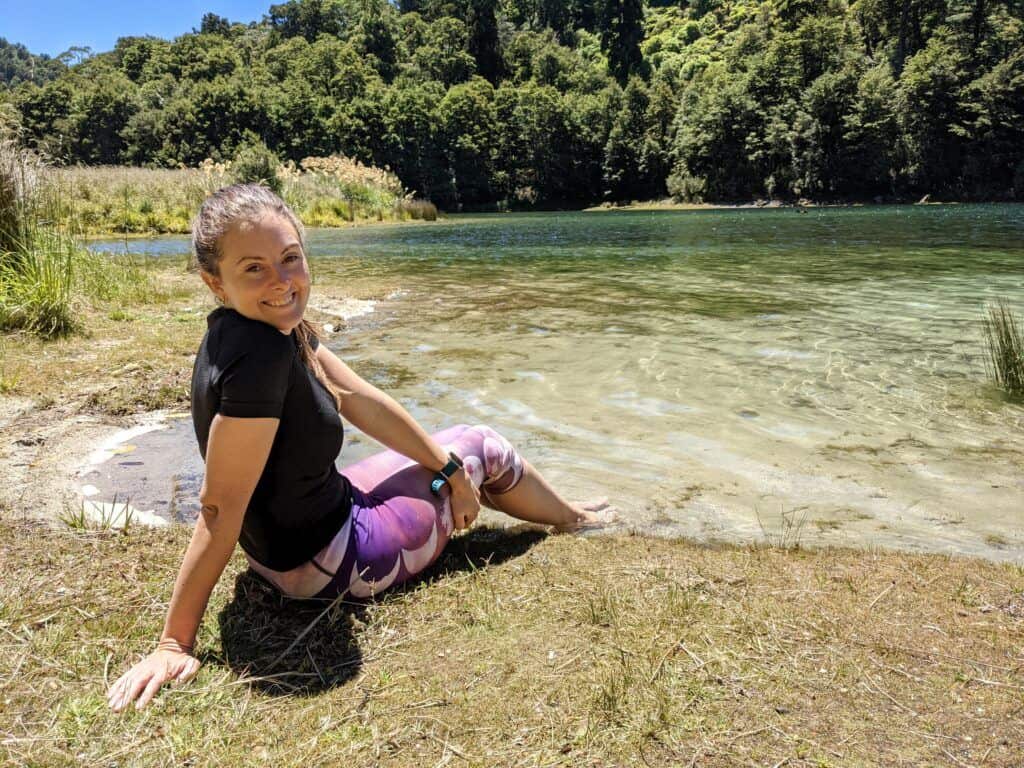 It was one of my favourite spots of the entire hike: an untouched stretch of sand leading into the shallow, clear waters of the lake, and I immediately stripped down to my underwear to celebrate.
Swimming in the chilly lake waters, I swooned over Lake Waikaremoana, and thought about how this was truly one of my happy places in the world. And immersing myself in its waters was like a spiritual experience — it felt so healing to do so.
Day Four: Marauiti Hut to The End
The final day! The final day!
In the morning, I wandered the few metres down to the lakefront to take photos of the mist as it danced across the water. I had fallen in love with Lake Waikaremoana and I was going to miss those peaceful early-morning starts.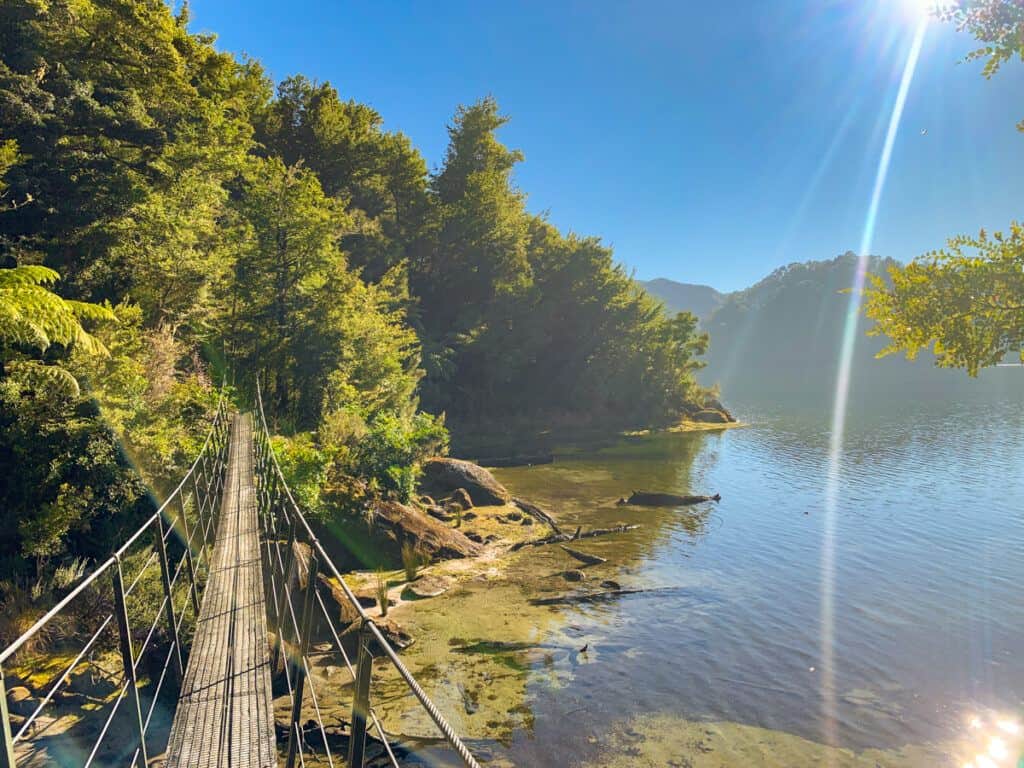 Day four was similar to day three, with plenty of swing bridges, dense forest, and deserted bays, not to mention sudden climbs and descents to keep our legs aching.
As we walked we discussed the drama of the night before. A COVID-19-denier; spotted in the wild! As Dave and I chatted, we laughed about it. Ol' Alex Jones, I called her, Mrs Infowars, at times, and we recalled the sheer insanity she'd spouted over the space of several hours.
"Europe is practically back to normal," she'd told everyone in the hut, and we were like, um, no, we literally fled Europe last month and it was the exact opposite of normal.
"I don't read the mainstream media," she'd said, "I prefer to do my own research," and yet when we challenged her ideas she'd told us she didn't know enough about what we were talking about to comment.
"My daughter had the best summer in Europe," she'd bragged. "She'd fly to Spain and when they announced a lockdown, would fly to Italy. When they had a lockdown, she'd head to Greece in the nick of time. Had the time of her life skirting past all the restrictions!"
"It's the immigrants who are ruining this country," she'd announced, and I was like… "So, me then?" And she was like, "Uh…"
And so we'd rolled our eyes and taken an early night to avoid hearing anything else from her.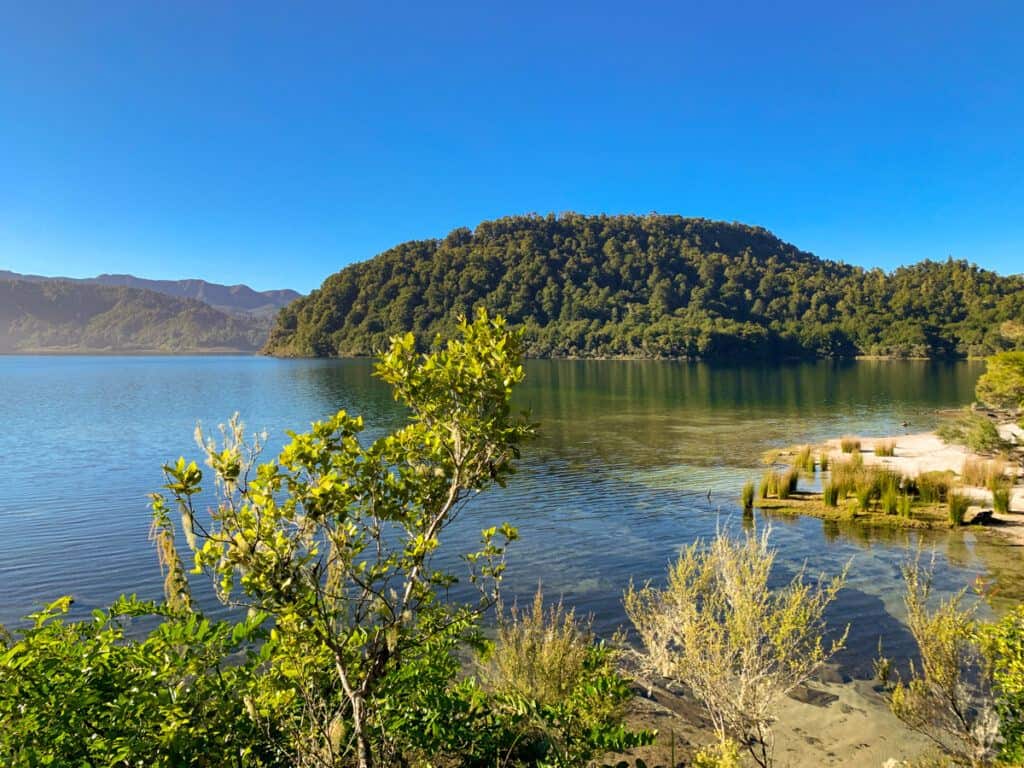 With our water taxi booked for 2:30 p.m., I was rushing, despite having about seven hours to spare. We were striding out, buoyed by the lightness on our backs, now that most of our food had been eaten.
Once we got back to Onepoto, we would have a long drive ahead of us — all the way to Taupo — and I was already thinking about the celebratory meal we'd have when we arrived.
Still, as we passed those beautiful bays and I caught glimpses of emerald waters, I decided that this wouldn't be a terrible place to get stuck.
Remember when I told you guys about how the weather is going to end up being one of your greatest challenges on this walk?
Well, despite experiencing nothing but bright sunshine and clear skies, the trail was still saturated with previous rainfalls enough for me to experience that famous ankle-deep mud.
Better late than never, I guess, and at least it happened at the end of the walk, rather than the beginning, as wet shoes nearly always result in blisters.
The walk's official end point is Hopuruahine Landing, but the water taxi pick-up point is around half an hour before then, beside Whanganui Hut. And despite having grand plans to make our way to the official end point — for the sake of completionism — there's not much there, so we decided to chill out instead.
This final day is 17 kilometres long, but it only took us four hours to complete. We had walked at a blistering pace, not bothering to stop for snacks or lunch, and made it to the hut with plenty of time to spare.
It was 11 a.m., so I set about snacking on dried fruit and nuts, chatting with friends, and basking in the dappled sunlight.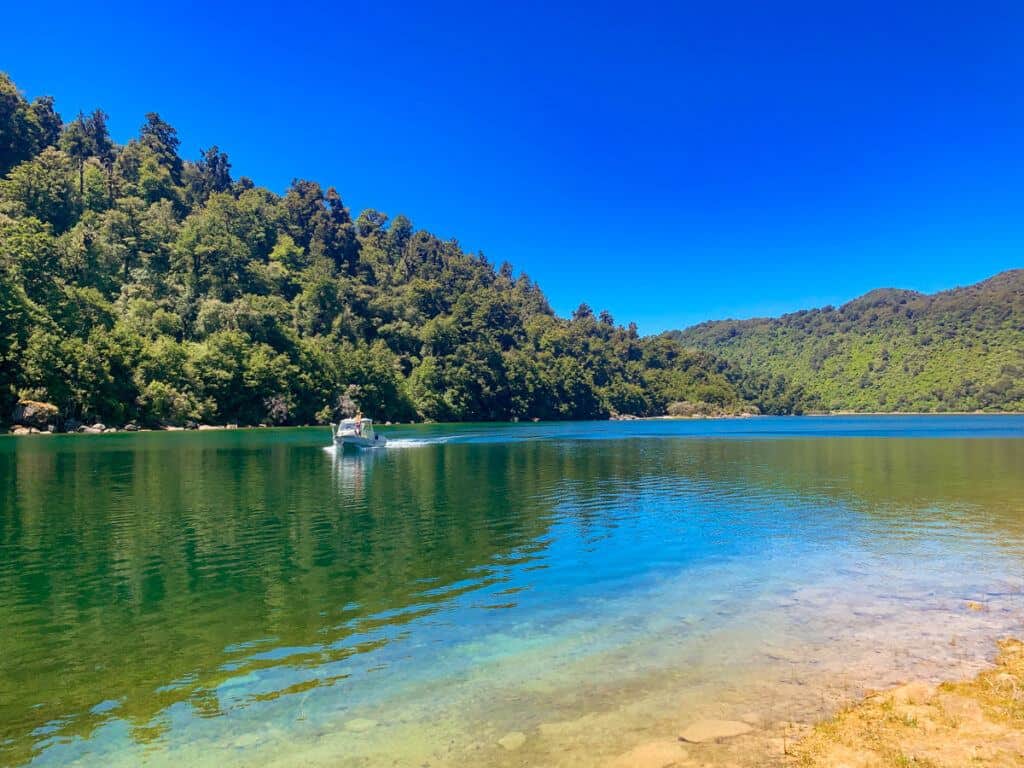 When the water taxi arrived, I winced, because there were 20 hikers lined up along the shore and the boat was smaller than small.
Unfortunately, my fear was proven to be true: with a list of bookings on his clipboard, the captain checked everybody's name off his list, then called out the first six names.
"How long does it take to get back to Onepoto?" somebody called out to him.
"'Bout half an hour."
With 20 of us waiting, we'd be looking at around three hours for everybody to get back. We'd already been waiting for over three hours at the hut, but there was nothing we could do or change, so we made our way back to the shade to continue where we left off.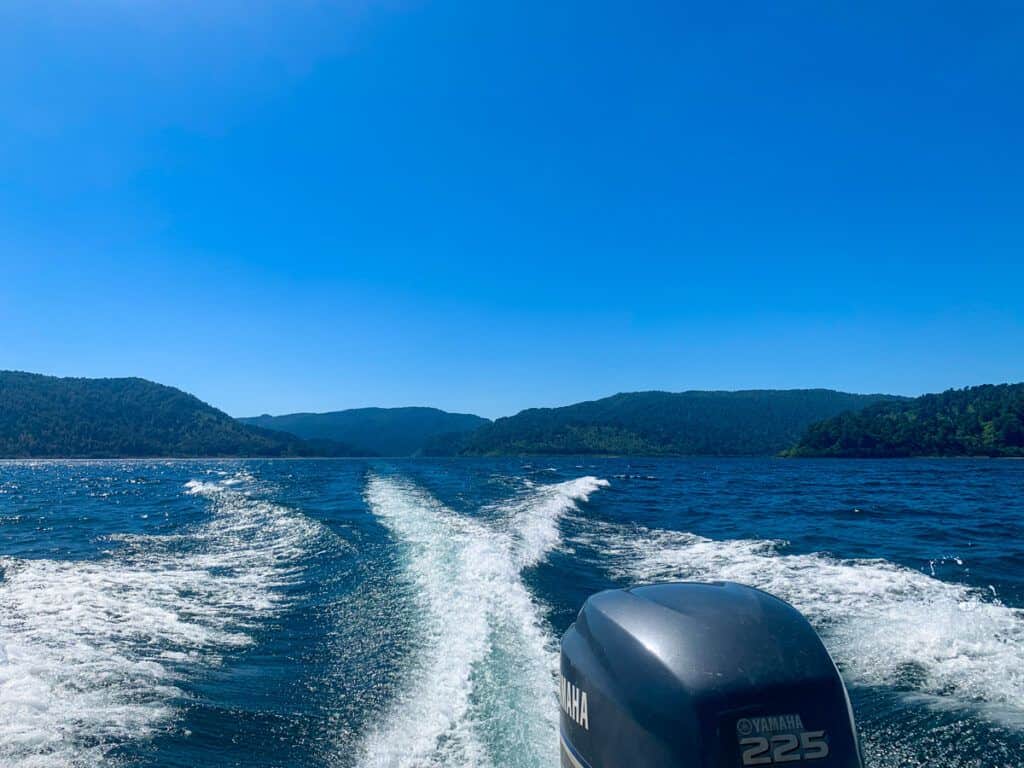 It was two hours later when we finally skipped aboard the boat to make our way back to Onepoto Bay. But it wasn't all bad: there was a Boat Dog on board and I busied myself with petting him as much as possible.
On the journey across the lake, I couldn't help but feel a tinge of sadness. Would I ever return to Lake Waikaremoana again? I doubted it, but there was a part of me that couldn't imagine leaving. Hiking around the lake had been such a wonderful experience.
And as I looked up at the hills and retraced my four-day walk, I couldn't believe how far I'd come.
All that remained ahead of us was two hours of gravel road and then we could finally relax with a cold drink in hand.
Would you like to walk the Lake Waikaremoana Track?