Oh, Canada!
So let's get it out of the way first: I may be slightly biased, due to being Canadian, but I've got to tell you — Canada is one of the most beautiful countries in the world. It's kind of got everything, from breathtaking landscapes to wonderful people, and so many only-in-Canada animal encounter opportunities (kayaking with beluga whales, anyone? Or how about hanging out with polar bears in their natural habitat?) I truly believe Canada is one of the best countries to travel across.
Unlike most of my fellow Canadians, I've had the pleasure and privilege of exploring my homeland in depth. I've eve prioritised doing so! I've spent plenty of time in Toronto, Montreal, Ottawa, and Vancouver, and have road-tripped from east to west, across the entire country. It'd be fair to say I know Canada like the back of my hand.
As a result, I have a lot of firsthand knowledge of how much it costs to travel in Canada. And most importantly: how to save money on experiences as you do so.
I can't sugarcoat it, so I'll hold my hands up and confess that Canada isn't a particularly budget-friendly destination, especially if you're coming here to enjoy it as a visitor. It's one thing to live frugally as a student, but another to be a tourist. That being said, there are so many ways to enjoy your time here to the fullest without breaking the bank and sleeping out in your car every night.
If it's possible, come visit us in Canada with a decent amount saved up (I'll tell you how much to budget for each day), safe in the knowledge that spending that money will be 100% worth it. The expression spend your money on experiences not things will hit closer to home once you've seen what this country has to offer.
Today, I'm going to be sharing exactly how much it costs to travel in Canada, so let's get started.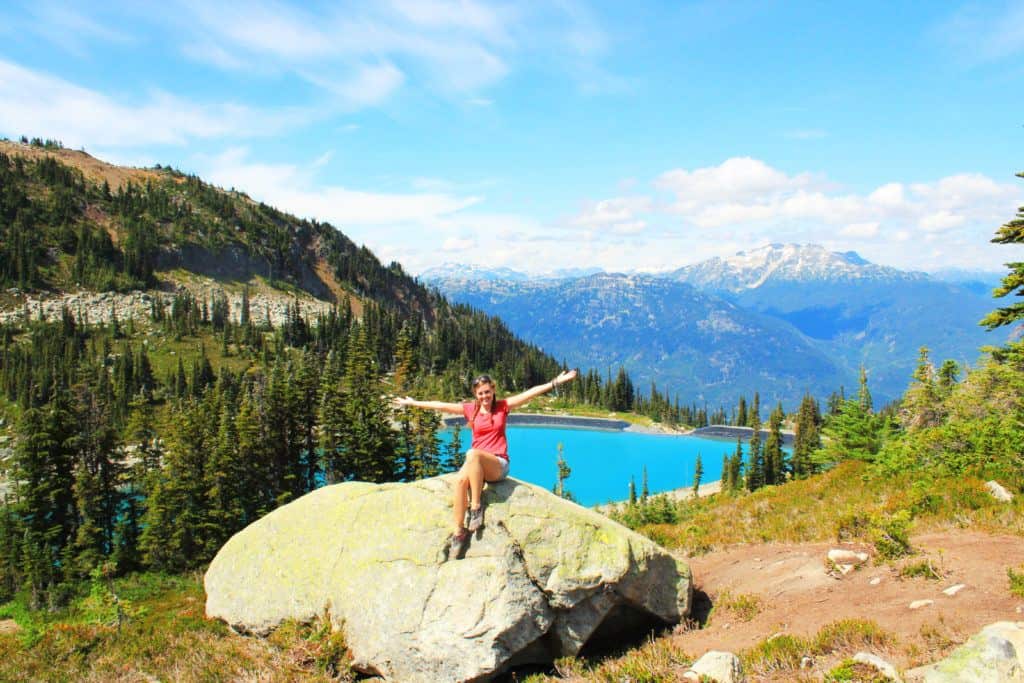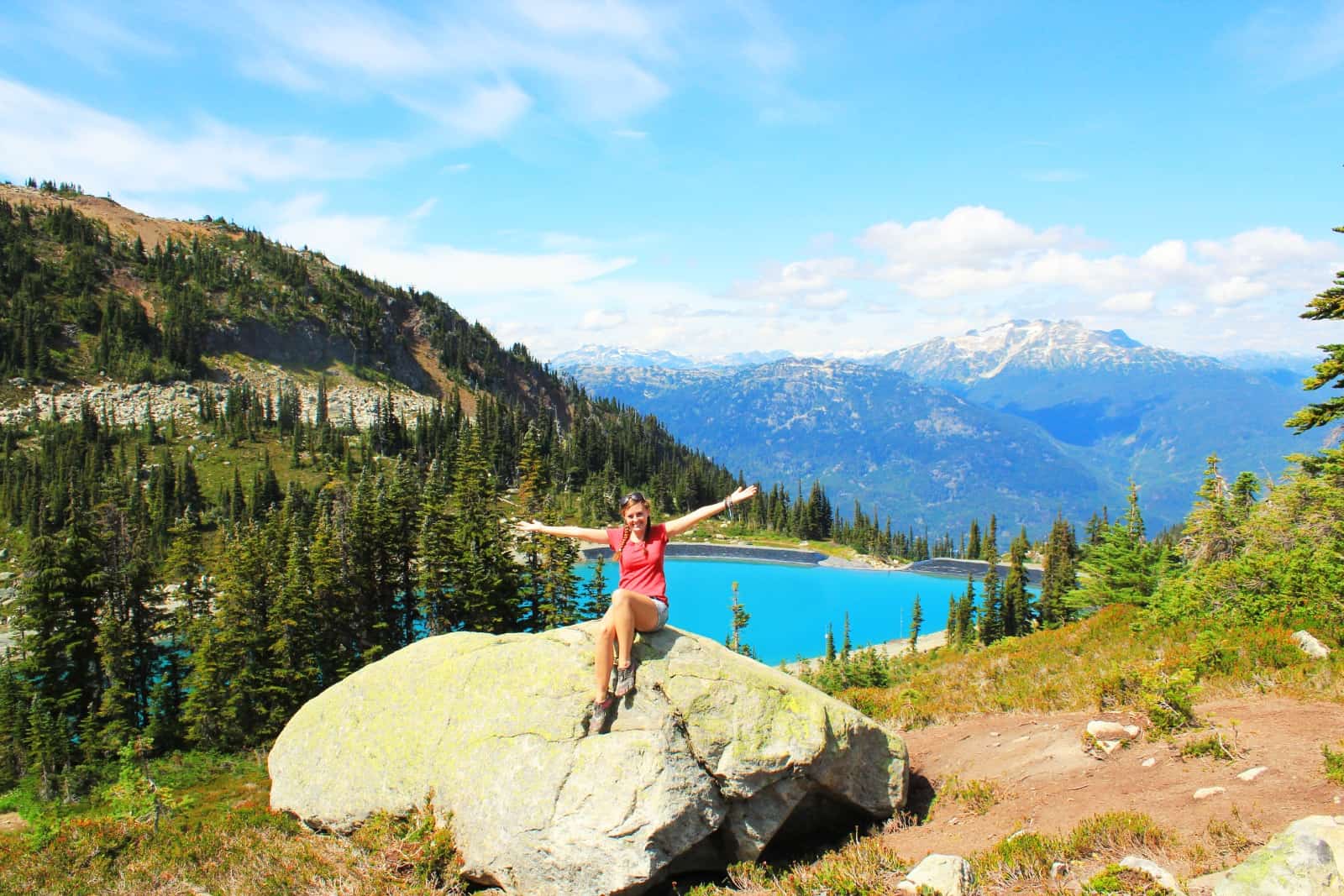 What's Included in this Post
This budget breakdown covers how much I spent on accommodation, transportation, activities, and food while I travelled around the country.
I've not included flights into and out of Canada as this is going to vary significantly based on where you'll be arriving from.
The amounts in this guide are listed in U.S. dollars, simply because the vast majority of my readers are from the U.S. And if you're converting U.S. dollars, Euros or even Pounds to our weak Canadian Dollar, then your time here might also feel more budget-friendly.
Okay — let's get started!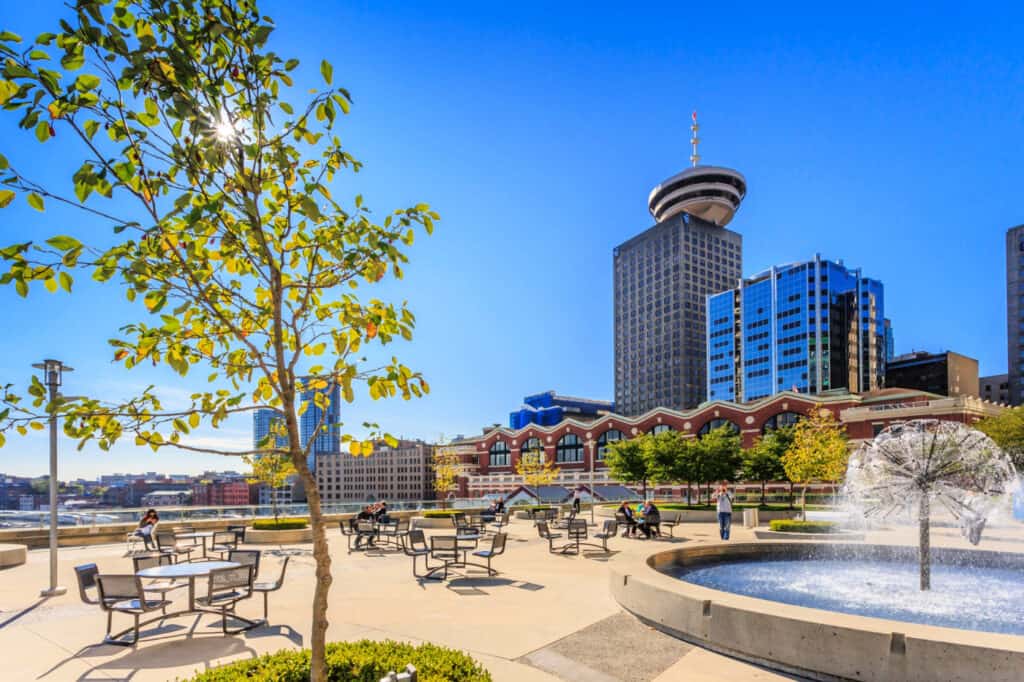 How to Save Money on the Cost of Accommodation in Canada
As always with travel, it's possible to cut your accommodation costs down to zero if you have the time and patience to seek out an offer.
Housesitting is a great option for free accommodation. This is where you'll take care of somebody's house while they're away, and usually look after their pets, too. It's best for long-term travellers or retirees as you can't pick and choose dates and destinations, so you need to have a lot of flexibility as to where you go and at what time of year. If you do have that freedom, it's a wonderful way to cut down your travel expenses, soak up some home comforts, and live like a local for a while. I have friends who have housesat in castles before! For free! Trusted Housesitters is the best site for getting started with housesitting, as they have the highest number of listings.
I'm suspecting, though, that for most of you, you're not interested in the free accommodation and just want somewhere clean, safe, and affordable to rest your head each night. If that's the case, there are several options available for you.
The first of these are hostels. In Canada, you'll come across hostels all over the country, finding them on tiny islands, in large cities, and even in the national parks. They're one of your best options for saving money.
Hostels in Canada are on a par with the rest of Northern America, and you can expect to spend around $25 a night for a dorm bed for a well-reviewed hostel in Canada, with the price increasing to slightly about $50 a night for the absolute best of the best.
When it comes to private rooms in hostels, you can expect to spend around $70 a night for a clean, basic room in a good location, so if you're travelling with friends or with your partner, you may find it cheaper to grab some privacy over settling for two beds in a dorm room. $100 a night will get you an exceptionally well-reviewed private room in a hostel or hotel.
I use HostelWorld to find the cheapest hostels, as they tend to have the greatest number of listings at the lowest prices.
And, of course, there are always hotels, which will usually come in at around $20-$60 a night for a decent, clean, mid-range property in a central location. I always use Booking, as they have the most accommodation options for the cheapest prices.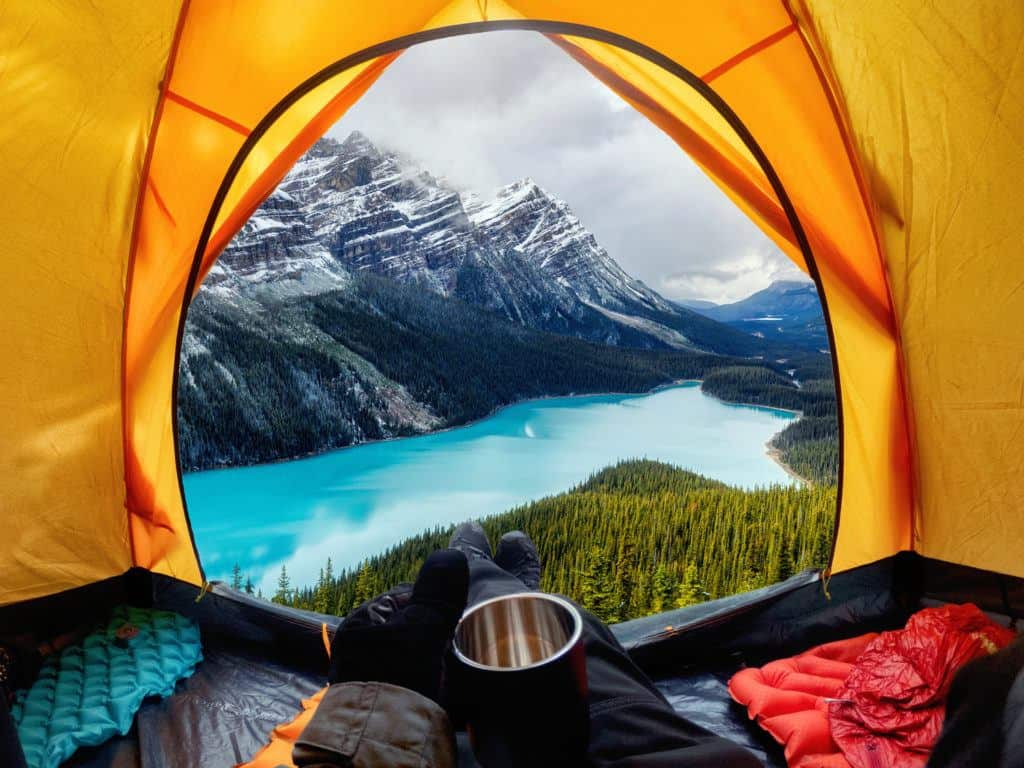 The Cost of Accommodation in Canada
When it comes to accommodation in Canada, budget-friendly options look a bit different compared to backpacking Southeast Asia, Europe, or even Central America. There's not as much of a hostel scene here, and even the few popular hostels will ring you in higher than you might expect for a dorm bed.
If you'll be travelling Canada on a mid-range budget, you can find good quality stays in prime locations for around $100 – $200 a night.
If you're feeling particularly adventurous and frugal, you could opt to drive and camp your way through Canada. This can cost you as low as $20 a night. But just make sure that you reserve your spots with Parks Canada ahead of time as they can get full very fast.
Outside of camping, here's a list of my favourite accommodation options in Canada:
Toronto — Elegant Downtown Homestay ($97 a night): While you're in Toronto, you can't pass up staying at this lovely homestay. The location, quality and affordability (for the area) can't be beat. You want to be as central as possible during your time in Toronto and this homestay is nearby popular spots like Yonge-Dundas Square and The Distillery District. The hosts keep the rooms immaculately clean and spotless. And the comfort, combined with the modern decor, is an added bonus. But what really makes this place special is the kind and courteous hosts that will check in on you and help with anything you need.
Montreal — M Montreal Hostel ($23 a night): Montreal is the kind of place where there's always something going on, whether that's a party, an exhibition or a festival. With a bustling nightlife and social scene, M Montreal Hostel is the perfect place to meet people that you can experience the city with. And it's great value for the money considering its central location, continental breakfast and shared kitchen. You can recharge after a day of exploring and a night of bar crawling with some lounge time in the rooftop jacuzzi. Also, if you want to meet people, but want a bit more privacy, then they also offer private rooms at pretty reasonable rates for the area ($88 a night).
Ottawa — Auberge des Arts Bed and Breakfast ($68 a night): You couldn't ask for a better price in a better location. Being in the heart of the Byward Market in downtown Ottawa, Auberge des Arts B&B is close to all the action while being located on a quiet street. You're just steps away from major attractions like Parliament Hill and the National Gallery. Beyond the location, this B&B offers excellent value, charm and hospitality. The owners go out of their way to ensure it feels like a home away from home, whether they wait up for your late arrival or cook the most delicious breakfast.
Vancouver — O Canada House Bed & Breakfast ($171 a night): Now that I'm living in Vancouver, I can definitely attest that this B & B is in the heart of Vancouver. You're in one of the most central locations, within walking distance to hotspots like Stanley Park, Gastown and Granville Island. But it's not just the location that makes this place special—the staff do everything they can to accommodate you, from packing you sandwiches for an earlier send-off to keeping the place immaculately clean. Not to mention, the elegant yet charming decor coupled with a stocked pantry make this the place you must stay in during your time in Vancouver.
Halifax — Long Lake Getaway ($90 a night): Halifax is the heart of Canada's east coast and it provides a fantastic base from which to explore this part of the country. Long Lake is easily the best option in town. You've got lightning-fast Wi-Fi, a well-equipped kitchenette, and a spacious living room to relax in after a day of wandering.
Banff — Banff Boutique Inn ($82 a night): This place is a steal when it comes to accommodations in Banff, especially considering Banff is one of Canada's most expensive vacation destinations. Staying at the Banff Boutique Inn feels relaxing and easy. They have clean, spacious rooms with comfortable beds. And they offer a number of great amenities including a shared kitchen, complimentary onsite parking and a cozy common room with books and games. Not to mention, you're only 5 minutes away from Banff city centre!
The Cost of Transportation in Canada
Car Rental — This is the main way that I've explored Canada and I can't recommend it enough. If you have the time, then nothing screams adventure quite like a multi-week road-trip. Give yourself the time to see as much of Canada by car.
You can find great rental deal rates by using RentalCars.com in Canada, which is who I use to find cheap rentals all around the world. To give you an idea of the average cost, a two-week economy car rental from Vancouver to Toronto costs around $954 which ends up being around $68 per day. That's not including the cost of gas or insurance, but if you were to split this with one or two other people, that's actually pretty decent!
Keep in mind that you need to be at least 25 years old to rent a car in Canada.
Bus — This is an affordable, but less flexible way to get around Canada and it wouldn't be my first choice for long distance travel. Though in some cases, buses may be your best transportation option to travel between cities that are within a reasonable distance from each other.
If you are going to take a bus, I would recommend taking Megabus for travel in Ontario. I used Megabus often while I went to university in Ottawa and felt it was both comfortable, reliable and affordable. They also travel from Toronto to Montreal for only $60! A couple of other well-known bus companies in Canada include:
Coach Canada: Toronto, Montreal, Kingston, Niagara Falls and Hamilton
Rider Express: Vancouver/Calgary, Winnipeg/Regina, Calgary/Edmonton, Edmonton/Regina
Train — Via Rail is Canada's top long-distance train network which offers both comfort and style from coast to coast. They cover eight provinces and 7,800 miles of track. I've used Via Rail frequently in Ontario and know many people who have used it to travel the country.
Without a doubt, if you want to see a lot of Canada with little time, this is the way to do it. Get your camera out and prepare for some jaw-dropping views. Here are the most popular routes and their one-way Economy fares (taxes are not included):
The Canadian Route ($417): Toronto – Vancouver, 4 nights/4 days
The Ocean ($138): Montreal – Halifax: 1 night/1 day
The Best of Manitoba ($207): Winnipeg – Churchill: 2 days/2 nights
The Pacific North Coast ($139): Jasper – Prince Rupert: 2 days/1 night
Flying — For a long time, flying across Canada cheaply was unheard of. And that's the reason behind why so many Canadians weren't able to do much travelling within their own country. It was just cheaper to fly to Europe than it was domestically.
But over the past number of years, there's been an emergence of budget-friendly airlines in Canada that make flying a viable option if you want to cover extensive ground efficiently. Air Canada is the country's biggest airline, but you will usually find cheaper prices with WestJet, AirTransat, Flair Airlines and Swoop. In my opinion, you can't really go wrong with any of these airlines for a domestic trip. Swoop and Flair tend to have the cheapest fares.
Here are some of the most common one-way routes and their average prices from Skyscanner:
Toronto to Vancouver — $72
Toronto to Halifax — $62
Calgary to Vancouver — $40
Toronto to Calgary — $66
Montreal to Vancouver — $192
City Travel — When you're sightseeing in a major city, the best way to get around is local transit. I would recommend buying a Presto Card for your time in Ontario as this can be used and uploaded across 11 regions, including Ottawa and Toronto. You can buy a Presto card for $4.76 online or in-person at a Transit Customer Service Centre, Shoppers Drug Mart or Real Canadian Superstore Location.
In lieu of a Presto Card or when you're outside of Ontario, here are some of the day pass rates for major Canadian cities:
Toronto TTC Day Pass: $10.72 per person
Vancouver TransLink Day Pass: $8.34 per person
Montreal Day Pass: $7.94 per person
Ottawa OC Transpo Day Pass: $8.74 per person
The Cost of Food in Canada
Picture all of your favourite dishes in the world in one place—that's what it's like to eat in Canada. Delicious and authentic eats can be found in nearly every corner, from Vietnamese to Ethiopian to Italian.
While there aren't many "Canadian" dishes, you definitely have to get your hands on some poutine and a beavertail (don't worry, not an actual one!). Beavertails are stretched pastries made out of fried dough to take the shape of their namesake; they can be topped with anything from sugar to peanut butter to chocolate. One of my favourite Canadian must-dos is to go skating, followed by a warm beavertail and hot chocolate; there's truly nothing better in the winter.
And of course, a trip to Canada is not complete without multiple Tim Hortons coffee runs, which by the way, is very budget friendly. You can get a coffee and bagel for as little as $3!
The cost of food ranges depending on what you like to eat and how much you like to eat at restaurants. That being said, there's plenty of ways to eat on a mid-range budget.
Fast food will cost anywhere from $5-$10 per person while eating out at a mid-range restaurant like Cactus Club or Swiss Chalet will cost around $15-$30 per person.
If you're staying at accommodations with shared kitchens, this is a fantastic way to save money on food. Groceries typically cost me around $80 per week, which would be around $11 per day for fruit, vegetables, protein and snacks.
I would recommend buying groceries and cooking as much as you can, while eating out only a few times per week to save money. During a typical day that I cook and go out for lunch, my cost of food is around $25.
The Cost of Activities and Entrance Fees in Canada
You're in luck when it comes to the cost of activities and entrance fees in Canada, as most of what you see is beautiful Mother Nature herself! This is when road tripping is worth it, because driving through Canada is an activity in itself. You just get complete joy out of witnessing jaw-dropping views from your window seat.
But there are some attractions and parks that, in my opinion, are worth seeing if you're in the area. Learning from exhibitions at the Canadian Museum of Human Rights, seeing whales in their natural habitat and walking next to Niagara Falls are a few of my favourite travel experiences in Canada because they all left something memorable in my heart or mind.
If you're more of a nature or outdoorsy person, I would recommend spending more time and money on activities and attractions in western Canada (B.C. and Alberta). But if you're more into history, the arts and urban exploring, then central and eastern Canada (Southern Ontario, Montreal) are more up your alley.
Here's a breakdown of some my favourite attractions in Canada and their respective costs:
CN Tower (Toronto): $30 per person
Parliament Hill Tour (Ottawa): FREE
National Gallery of Canada (Ottawa): $12 per person or FREE on Thursday evenings
Banff Gondola (Banff): $43 per person
Columbia Icefield Skywalk (Banff): $28 per person
Whale watching (Vancouver): $119 per person
Canadian Museum of Human Rights (Winnipeg): $14 per person
Anne of Green Gables Heritage Place: $6 per person
If you're like me, and love to make the most of time, then tours are really a great way to experience a country. I recommend hopping over to Get Your Guide for a range of activities and tours, like the Banff National Park Big Canoe Tour ($48), Ottawa sightseeing bike tour ($56) or a Niagara Falls Day Tour ($123).
And You Can't Forget Travel Insurance!
If you've read any other posts on Never Ending Footsteps, you'll know that I'm a great believer in travelling with travel insurance. I've seen far too many Go Fund Me campaigns from destitute backpackers that are unexpectedly stranded in a foreign country after a scooter accident/being attacked/breaking a leg with no way of getting home or paying for their healthcare. These costs can quickly land you with a six-figure bill to pay at the end of it.
In short, if you can't afford travel insurance, you can't afford to travel.
Travel insurance will cover you if your flight is cancelled and you need to book a new one, if your luggage gets lost and you need to replace your belongings, if you suddenly get struck down by appendicitis and have to be hospitalised, or discover a family member has died and you need to get home immediately. If you fall seriously ill, your insurance will cover the costs to fly you home to receive medical treatment.
I use SafetyWing as my travel insurance provider, and recommend them for trips to Canada. Firstly, they're one of the few companies out there who will actually cover you if you contract COVID-19. On top of that, they provide worldwide coverage, don't require you to have a return ticket, and even allow you to buy coverage after you've left home. If you're on a long-term trip, you can pay monthly instead of up-front, and can cancel at any time. Finally, they're way cheaper than the competition, and have a clear, easy-to-understand pricing structure, which is always appreciated.
With SafetyWing, you'll pay $1.50 a day for travel insurance.
How Much Does it Cost to Travel in Canada?
It's time to tally up all of my expenses to see my total travel costs!
Accommodation: $80 per day
Transportation: $68 per day
Food: $25 per day
Activities/Entrance Fees: $0 per day
Average amount spent in Canada: $173 a day!
Author bio: Born and raised in Toronto, Lydia has found "home" throughout her travels around the world. She's a passionate storyteller and writer and you can usually find her dreaming about new adventures or having a deep conversation with a friend.
Related Articles on Canada

🇨🇦 22 Wonderful Things to Do in Toronto, Canada
🍁 How to Spend Three Days in Montreal: The Best Itinerary
[Images in this post are via: Mumemories/Shutterstock, RicJacyno/Shutterstock, Kai Nishizawa/Shutterstock, and Sylvie Bouchard/Shutterstock]