As one of Canada's largest cities, with a renowned reputation for being a nature lover's paradise, you've likely heard of Vancouver, British Columbia. This picturesque city on the Pacific Coast has it all. World-class museums, gourmet restaurants, bustling shopping districts, beautiful parks, beaches, a lively music scene, and plenty of cultural attractions.
However, if you follow the news at all, you might have heard a lot about Vancouver's seedy side. It gets a lot of attention. If these news stories have you wondering if the bad outweighs all the good you've heard about Vancouver, rest assured that the drugs, violence and chaos you see on the news are mostly occurring in one area of the city. You'll likely have no reason to venture into that area so don't let the news, which tends to cover the most negative angle of things, deter you from visiting and experiencing everything this city has to offer!
Every city has its good and bad and Vancouver is no exception but trust me when I say there's definitely more good! The city has repeatedly ranked in the top five best cities to live in Canada and the world.
So what is there to love about Vancouver? Well, you may not love the weather if you travel to the city in the winter or spring but the summers are fabulous. Vancouver is a large city but you're only a short distance away from mountains, lakes, remote coastal areas, deep forests and pristine natural areas. Do you like hiking, kayaking, biking, fishing, or sailing? Yup, you can do all of these things within the city limits!
After sunset, the possibilities are endless. With outdoor concerts, nightclubs, cocktail lounges and cultural events, you won't have time to sleep nor will you want to. Care for something a little more subdued? There are plenty of rooftop cafes and lounges where you can watch the sun go down and stay a little longer to watch the twinkling stars above. Oh and that clean, ocean air! Now that's something you don't get to enjoy in many big cities!
If you want an urban escape that allows you to easily duck out of the chaos and slink into nature, read on to learn why Vancouver is such an amazing place to visit. I've created a Vancouver itinerary and put together vital information to help you plan your time in the city.
Let's dive in!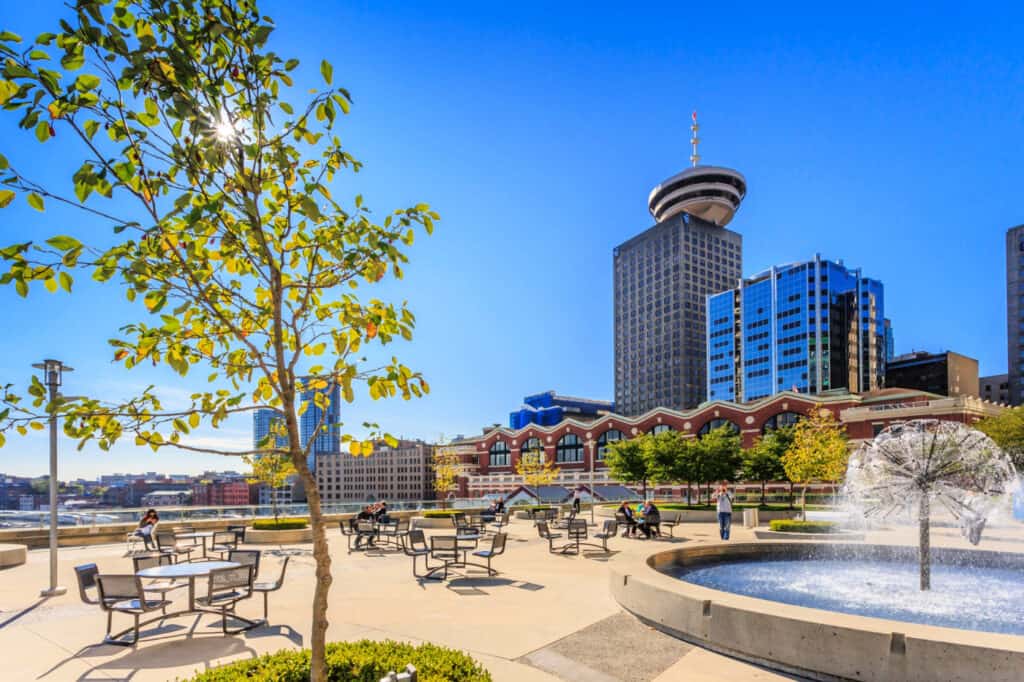 How Many Days to Spend in Vancouver
You can see many things on a day trip to Vancouver and there are certainly enough things to see and do to keep you busy for a week or more. However, the ideal amount of time to spend in the city is three days in Vancouver. The reason for this is Vancouver is often separated into three sections: Central Vancouver, East Vancouver and West Vancouver. Each section can easily be explored in a day if planned just right!
Central Vancouver includes the Downtown district and the West End neighborhood. The immediate downtown area is where you'll find the skyscrapers, chic restaurants, boutique shops, art galleries, lively nightlife venues and the trendy Gastown neighborhood.
Just west of downtown is the laid-back West End neighborhood which is mostly known for the expansive and beautiful Stanley Park which is one of the most popular public parks in the city. The West End is predominantly a residential area where you'll also find beaches and trails.
The East Side area of Vancouver, also known as East Vancouver or East Van, is gritty, diverse and delightful all at the same time. Bordered by the Fraser River and Burrard Inlet, this region of the city is known for its shopping, cultural attractions, green spaces and for being home to the only lake within the city limits.
Just across the Lions Gate Bridge, you'll reach The West Side area of Vancouver, also known as West Vancouver or West Van, which includes the affluent neighborhoods of Kitsilano and Shaughnessy. There's a different feel to this area for sure! It's almost more like a throwback to the past with its Victorian-style mansions and well-manicured, tree-lined streets. It's opulent but laid-back. And it's urban but with a rural touch.
Ocean views, sandy beaches, high-end boutique shops, beautiful green spaces, popular brunch cafes, markets and artist studios are some of the things that make up this Vancouver suburb that has been voted time and time again as one of the best places in Canada to live. You know a place is special when it gets that kind of attention!
Three days is the perfect amount of time to cover these three main areas of Vancouver and see the main attractions in each. Now, let's have a look at each area separately and break down the top things to see and do in each.
Day One and an Introduction to the Heart of the City: Downtown, Gastown, and the West End
There's so much to do in Downtown Vancouver that you could spend a week exploring it but I'll show you how to see the best of it in one day. I recommend starting your day by just wandering the streets. Head out early to avoid the crowds and just wander around the lively district for a while.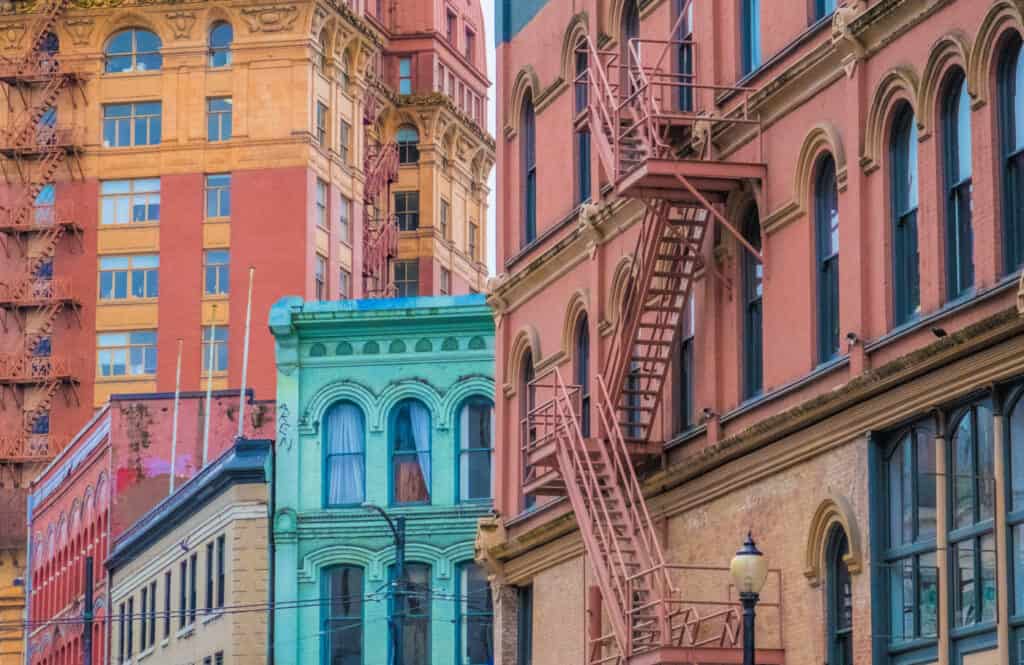 May I suggest you focus much of your attention on Gastown? I love this downtown neighborhood with its cobblestone streets, Victorian architecture, art galleries, local shops and hip eateries. It's a great place to people-watch and get a taste of everyday life in Vancouver. It's so special that it has been bestowed with the designation of a national historic site.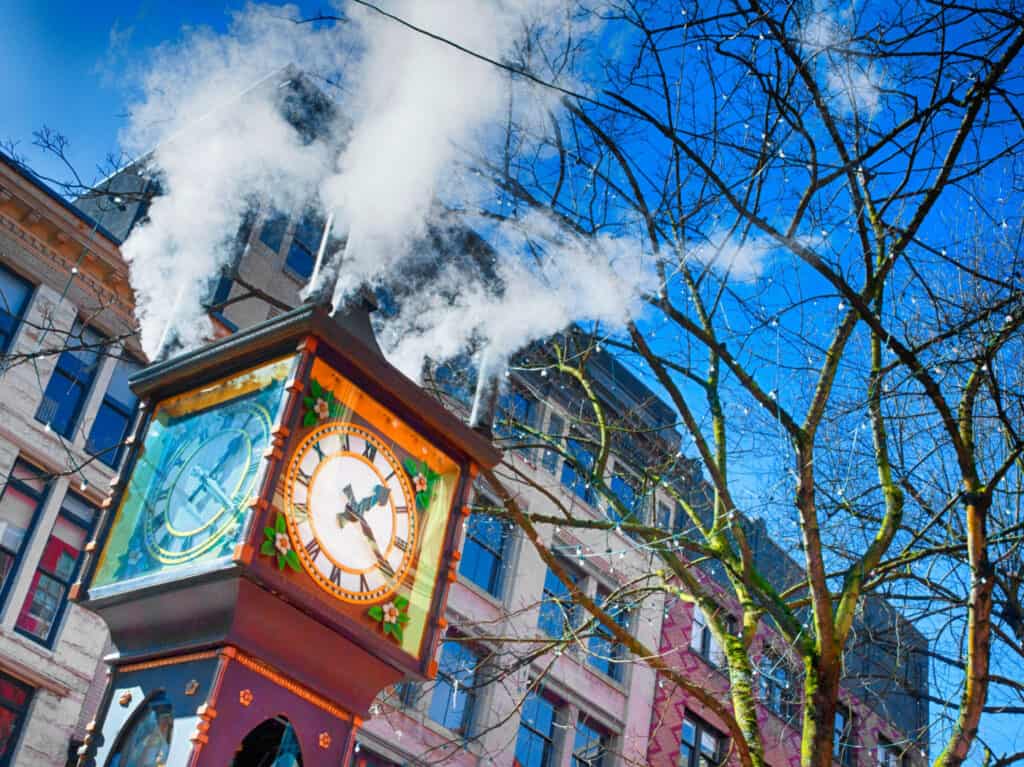 One of the most iconic attractions in Gastown is the Steam Clock so make sure not to miss this one! It's actually an electric clock but you'll still see steam coming out of it when it whistles and shoots out a puff of steam every 15 minutes. If you time your visit to the steam clock just right and arrive at noon, you'll be in for a real treat!
Gastown is renowned for having the best coffee shops in Vancouver. Timbertrain Coffee Roasters, Nemesis Coffee, Revolver and Milano Espresso Lounge are just a few of the great cafes in the district. Grab a caffeinated beverage and light lunch to go and take it to nearby Crab Park where you can enjoy the lovely view of North Vancouver from a little beach while you take a little break.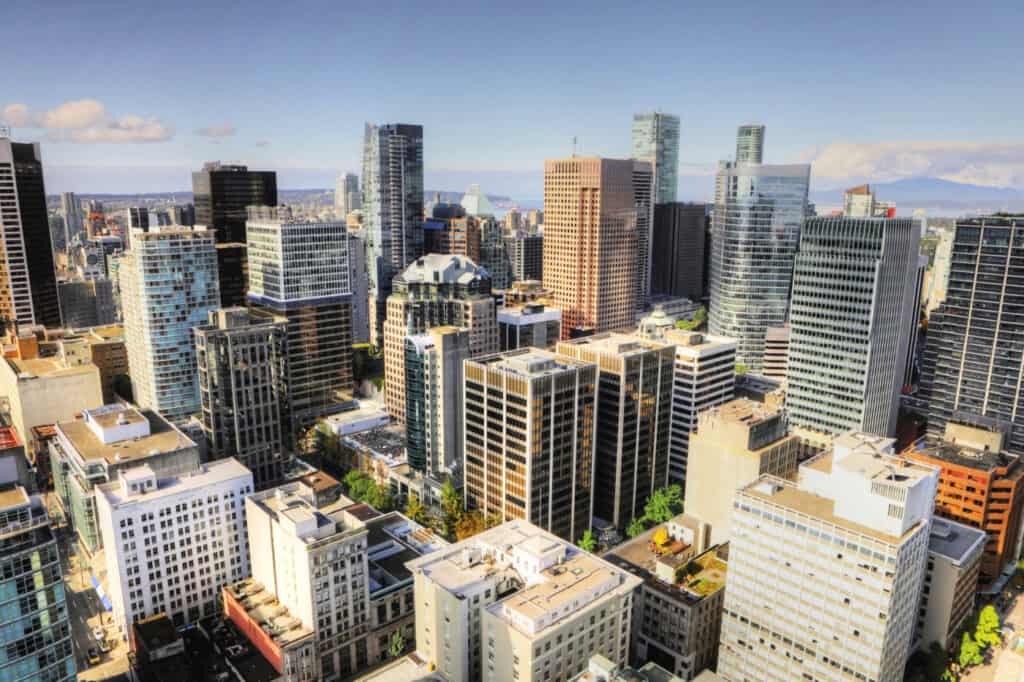 You won't have trouble finding incredible views all over Vancouver but the ones from the Vancouver Lookout can't be missed. From the top of this tower, you'll see a 360-degree view that includes Gastown, Stanley Park, the main port and the downtown skyline.
No tour of Gastown is complete without making the little detour through lively Chinatown for a historical, cultural and culinary experience like no other in the city.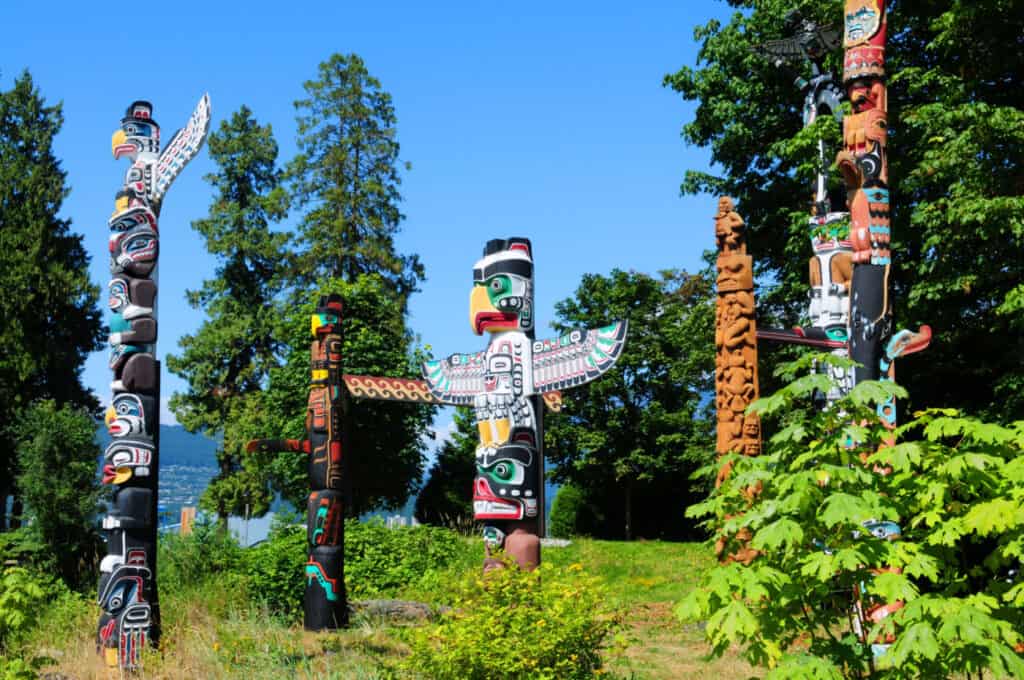 By far, the most famous park in Vancouver is Stanley Park and everyone should spend at least a few hours exploring this expansive urban green space. It's not the biggest park in Canada but it's one of the biggest!
Just head to Pender street and hop on the 019 bus that'll take you directly to this natural paradise with endless amenities and views of the water and mountains. Start your visit with a walk along the Seawall which takes about two hours to complete.
If you prefer forest-bathing over sea views, there are over 17 miles of woodsy trails. Take your pick or do a little bit of both. Other notable attractions in the park include Beaver Lake, Lost Lagoon, an 18-hole pitch and putt golf course and a number of beautiful gardens and sandy beach areas.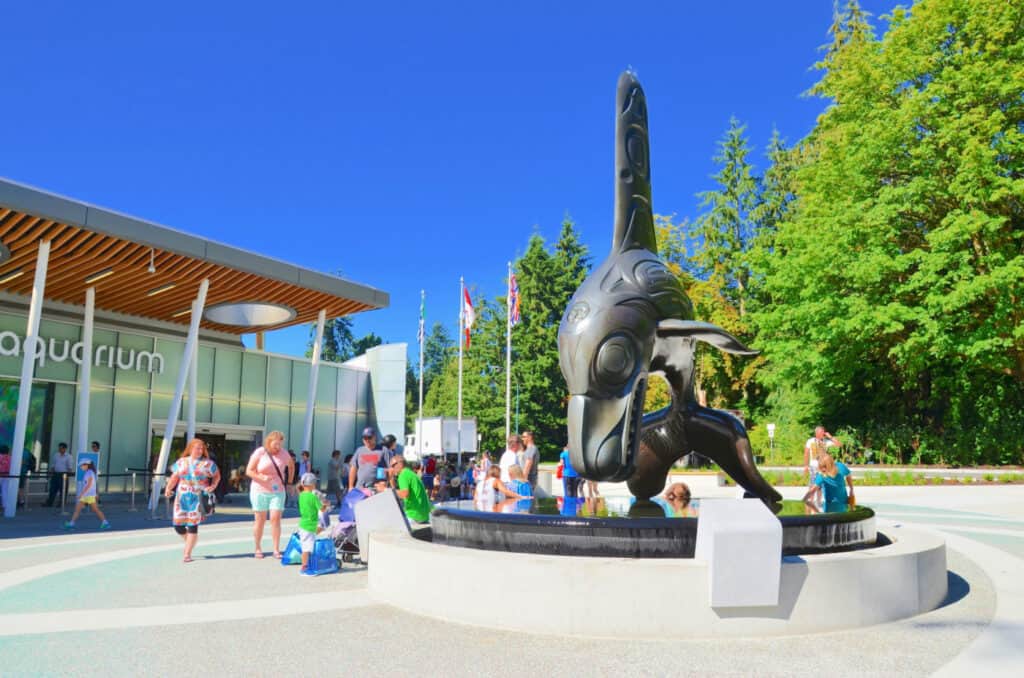 Just make sure not to leave Stanley Park without checking out the Vancouver Aquarium. It's the biggest aquarium in Canada, so you're guaranteed to see many adorable marine creatures including dolphins, belugas, seals, otters and sea lions. When your feet get tired (and they will with all this walking!) give them a rest with a ride through the park on the Stanley Park Miniature Railway.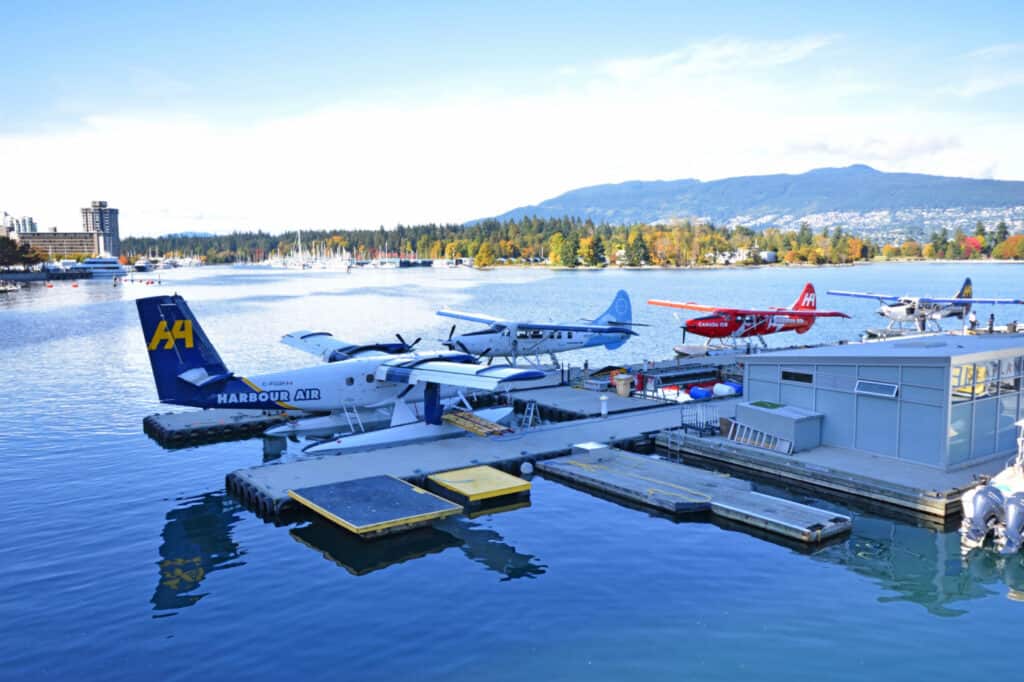 You can accomplish a lot in a day! Even after all this, you should be able to fit in an hour to do the Extended Panorama Flight by Seaplane. Just take a short walk over to the Vancouver Seaplane Terminal to catch your flight. The flight is only 45 minutes but you'll see a lot in that short time! Seeing the parks, beaches, mountains and skyline from the ground is one thing. Seeing it all from the air is indeed something else!
Not quite ready to head back to the hotel? After a bite to eat at one of the amazing restaurants in the downtown area, head over to the Malkin Bowl Outdoor Theater. Sometimes it's a Theater Under the Stars and other times it's Live Nation Concerts. Either way, it's a great place to head to if you'd like to check out some local talent!
Alternatively, if you happen to be in the area on the right Thursday evening, you can head to Science World at TELUS World of Science for the adults-only After Dark events that take place there. You'll enjoy the same attractions as the kiddies do during the day but it could be a vastly different experience depending on how much of the wine or beer you dip into!
Day 2 in East Vancouver: Parks, Pretty Neighborhoods, and Breweries Galore
Today, you'll head to the East Side of the city and the best place to start your day is at Queen Elizabeth Park. The park is located on Little Mountain but despite its name, its summit is the highest point in the city. With colorful flower gardens, beautiful public art and sprawling grassy areas, it's hard to believe that this park was once a rock quarry!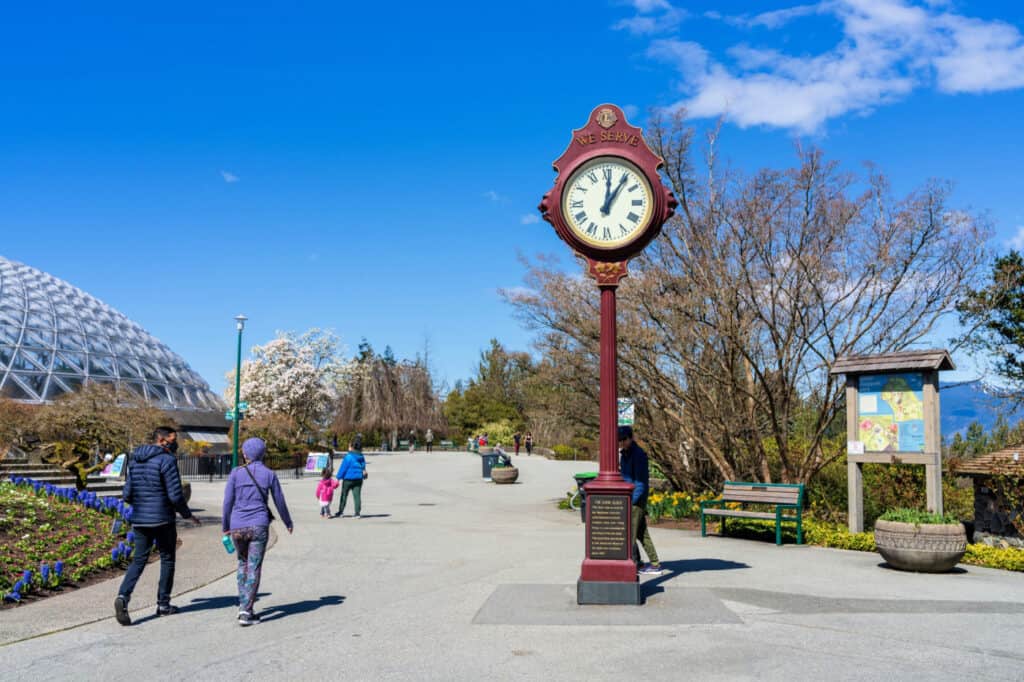 If you're thinking that the views of the city and surrounding landscape must be incredible from the top, you would be right! Make sure to check out the Bloedel Conservatory where you'll see fascinating sculptures and many species of exotic birds.
Next, head up Gamble Street towards Fairview. Mount Pleasant is your final destination on this leg of your journey but instead of turning right on West Broadway to go straight to Mount Pleasant, take a little detour to Southeast False Creek Olympic Plaza where you'll see the two huge statues of house sparrows known as The Birds. Grab some selfies, rest your feet, people watch and then be on your merry way again.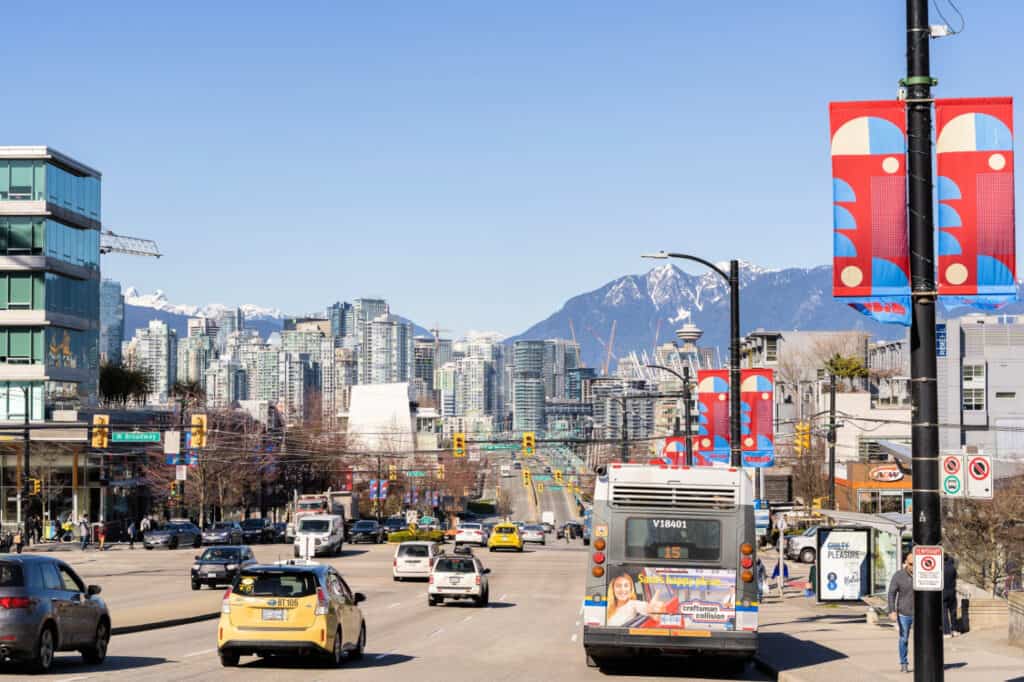 As its name suggests, Mount Pleasant is a pleasant neighborhood to stroll around. While it has a residential feel, you'll find an eclectic mix of high-end gourmet restaurants, chain eateries, galleries and pretty green spaces.
On most nights during peak season, something is happening at the Rio Theater, which is only about a 20-minute walk from Mount Pleasant. Cult classics, live bands, feature films, burlesque, improv and much more are hosted at this top Vancouver venue. Head there right after dinner and catch an early show so you'll still have time afterwards to go out on the town.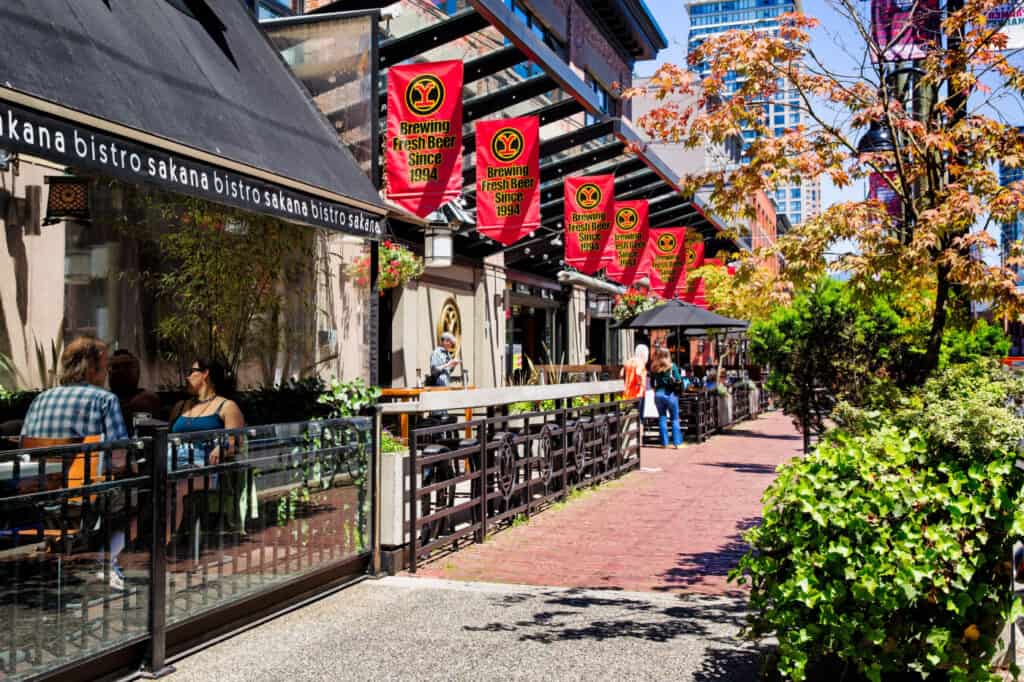 East Vancouver is known for its breweries, so if you love craft beer and sampling local brews is high on your to-do list, the Yeast Van District, which is one of East Van's other nicknames, is the place to do it!
Some of the top breweries in the area include the East Van Brewing Company, Hasting's Mill, Andina Brewing Company, Parallel 49, Storm Brewing and Off the Rail Brewing. Every Brewery is as unique as the beers they brew. Some serve gourmet food to go along with your drinks while others host live music and trivia games.
Either way, a tour of East Van's breweries is a fun way to spend a night out on the town!
Day Three and West Vancouver: Opulent Neighborhoods, Beaches, and One Very Big Bridge
I've left West Vancouver for the last day in the city, not because I was saving the best for last, but because it's such a laid-back area of Vancouver that it just seems like the perfect place to end a whirlwind three days exploring one of Canada's most beloved cities.
This affluent area of the city has a whole different feel from the other areas. Kick back, enjoy the views, relax in a park, explore nature and go on one last thrilling adventure!
Start your day in West Van at Ambleside Park. Take an early morning walk along one of the trails or relax by the shore, take a refreshing dip in the waters of one of Vancouver's top beaches or browse the hip little shopping village that lines the shore.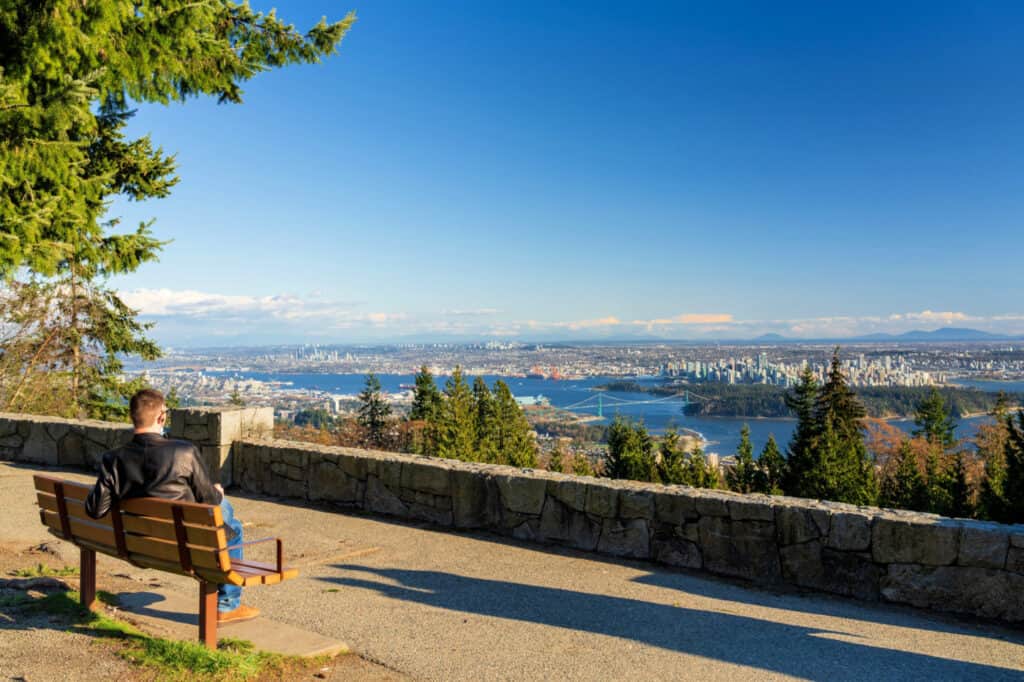 Catch a bus from Ambleside Park to Lonsdale Quay and hop on the Cypress Mountain Shuttle Bus. Yes, you'll arrive at a ski hill, but if it's summer, you won't be skiing; you'll be embarking on an equally breathtaking adventure down the mountain on the Eagle Coaster.
Sit in a cart with a handbrake control and cruise down the mountain on one track for one mile, 900 feet of which is vertical. Sounds scary? Don't chicken out now, you only live once! Besides, the views are spectacular!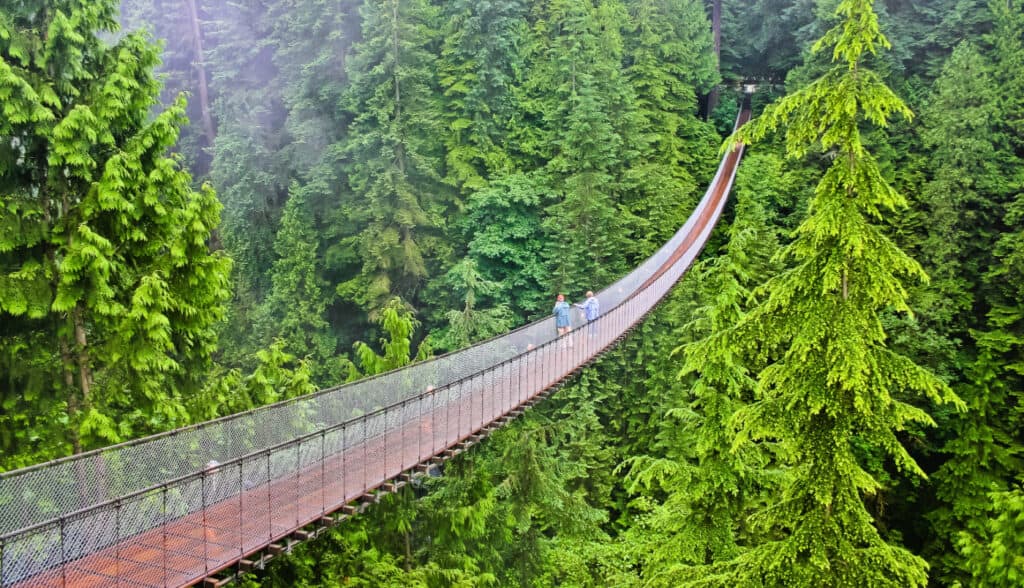 Hop on the bus to your final stop of the day at one of Vancouver's top attractions, The Capilano Suspension Bridge. Suspension bridges are pretty cool on their own but this isn't just any old suspension bridge; The Capilano Suspension Bridge is one of the longest in the world and at 460 feet across and dangling 230 feet above a river, a walk across this amazing bridge is not for the faint of heart!
If you make it to the other side, more thrilling attractions await, including footbridges that are suspended 100 feet above the forest, hiking trails, gardens, and a huge collection of First Nations totem poles.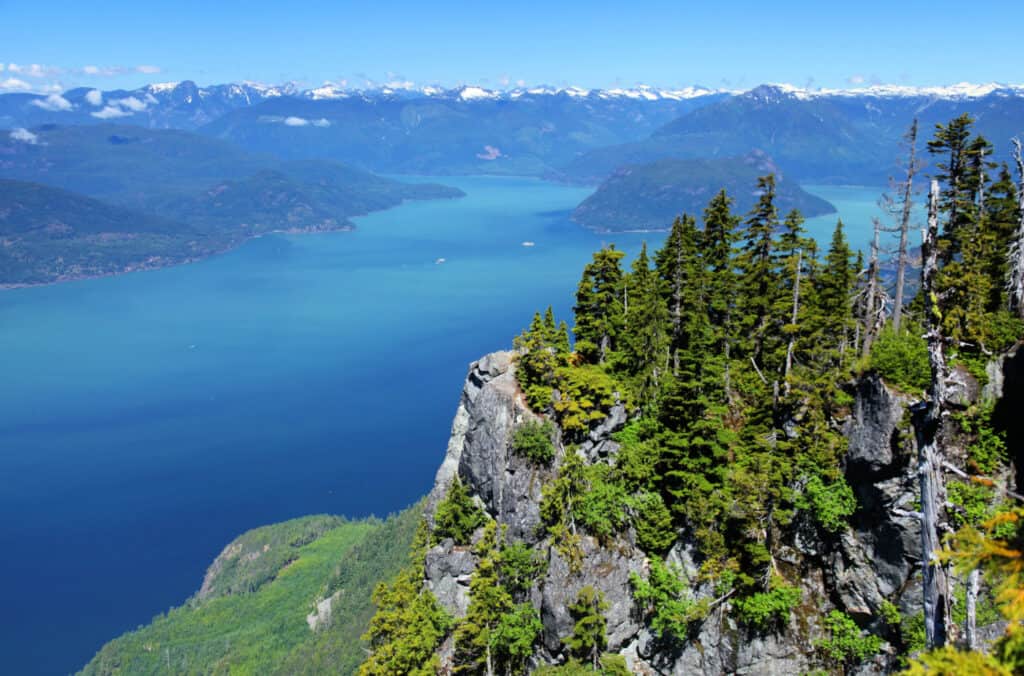 I know things are more spread out in this region of Vancouver and it takes longer to get from place to place but if you have the time on your last day in the city, a West Vancouver tour that is worth checking out is the Howe Sound and Bowen Speedboat Tour.  
Make your way to the waterfront in West Vancouver and embark on an exciting adventure to explore the islands of Howe Sound, Bowen, and Christie on a speedboat cruise. Along the way, you'll also see seal colonies, bird sanctuaries and beautiful nature areas such as Snug Cove and traditional First Nations locations.
What to Know Before You Go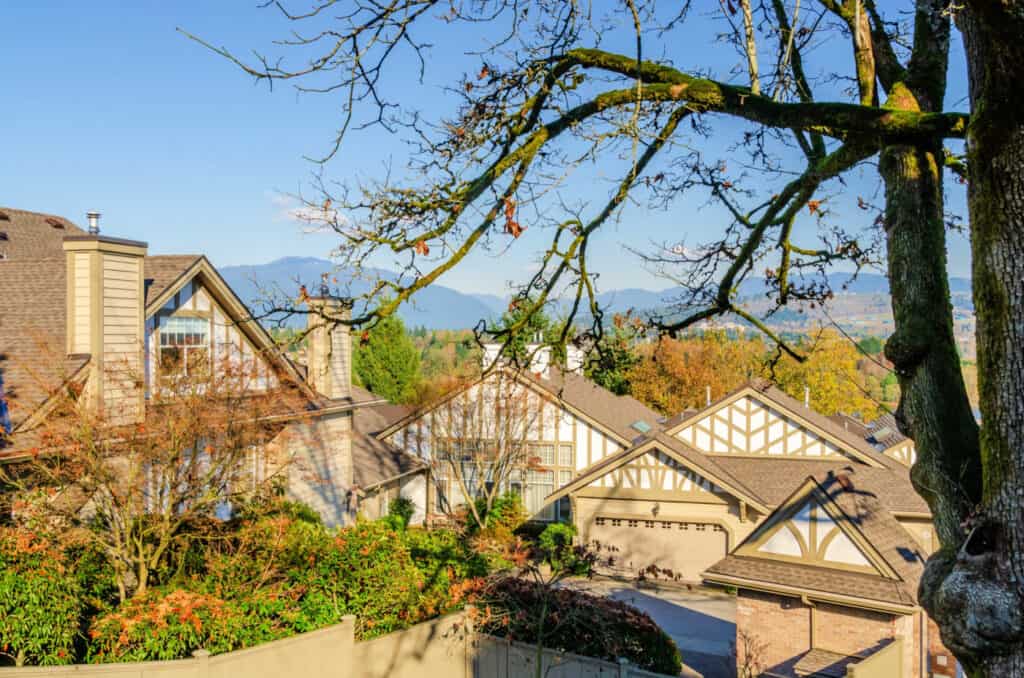 Where to Stay in Vancouver
Vancouver is a pretty compact city with an extensive and convenient transit system so it doesn't really matter which area you stay in because you'll be able to easily access the entire city from any hotel. And when it comes to hotels, there are plenty to choose from!
I highly recommend Suite Smart Vancouver in the quiet residential area of Dunbar on the west side of Vancouver. This place has it all! The air-conditioned suites are a saving grace on hot days and the indoor swimming pool and sauna are a welcome sight after a long day of exploring the city.
You'll love the beautiful hardwood floors and full kitchen and dining area. For an added touch, I'd spring for a room with a balcony just to enjoy those spectacular views and breathe in that clean ocean air!
The staff here went above and beyond in helping me feel welcome and providing information about the city.
One of the best things about staying here was that I didn't have to worry about where I would get breakfast because a full breakfast is served each morning so I could just get out the door and be on my way!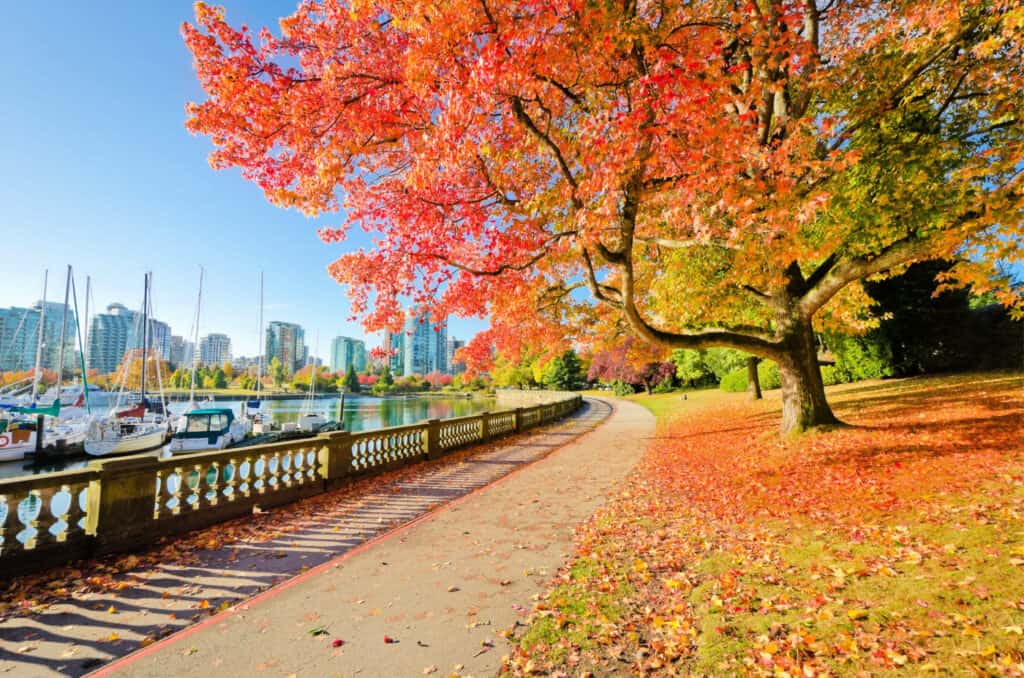 The Best Time of Year to Visit Vancouver
The time of year that you choose to visit Vancouver will depend on a few factors including weather, budget and what you plan on doing while you're there.
During the months between March and May and September and November, the weather is mild, hotel rooms are priced much lower and there are fewer crowds. Just be aware that November is one of the wettest months of the year so if you don't wish to get rained on, perhaps it's best to avoid traveling during that month!
If you like hot temperatures with little chance of rain, you're best to head to Vancouver in July or August.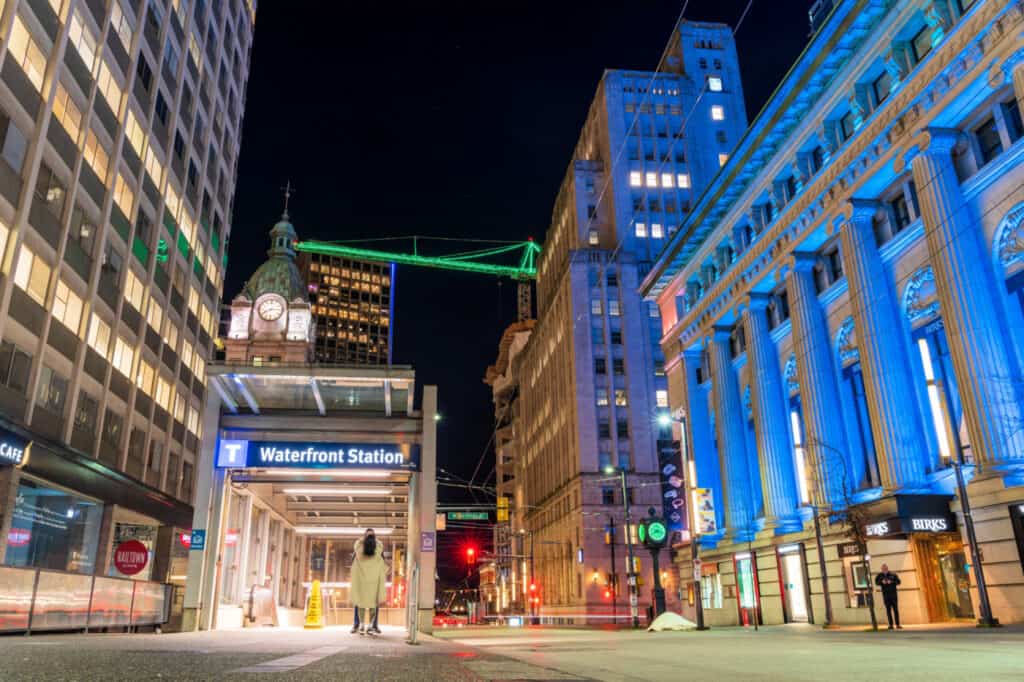 How to Get Around Vancouver
There are five ways to get around Vancouver; on foot, on bicycle, with a rental car, via public transportation, and via taxi or rideshare. You'll likely need to use a combination of these during your visit. Each method has its pros and cons and ultimately, what you plan to do, your fitness level and how much time you have each day will determine which method is best for you.
Walking is an excellent way to get around Vancouver. In comparison to many other cities, Vancouver is pretty compact. Although it might not be feasible to walk from one end of the city to the other, it's certainly convenient to explore each individual area on foot.
Most major attractions within each area are close to one another and, in some cases, it's faster to just walk to your next destination than it is to wait for cabs and buses. The biggest benefit of walking is you'll get to see a lot more things that you would otherwise miss while driving!
Acquiring a bike in Vancouver is very easy because there are so many places to rent them out! The city has also been named one of the most bike-friendly cities in Canada. A system with over 185 miles of bike paths weaves through the city so you don't have to always be driving on busy streets.
Renting a car is great if you plan to venture beyond the city limits, but it really isn't the best option for getting around the city. Traffic can get very hectic so you could end up stuck in a traffic jam for longer than it would take to walk somewhere. Plus the parking can be a nightmare!
Public transportation is convenient, easy and affordable and is another one of the best ways to get around Vancouver. With the vast TransLink system of trains, buses and ferries, you can get anywhere you want in the city in no time! Service typically runs from 6:00 AM to 1:00 AM daily and if you're traveling with a bike, you can take it with you at no extra cost.
The SkyTrain is a 100% automated rapid transit system that travels between downtown and Vancouver's suburbs. Buses operate on numerous routes all over the city and the SeaBus Shuttle travels from Waterfront Station to North Vancouver's Lonsdale Quay.
Miniferries offer service on several routes including Hornby Road to Granville Island, False Creek to Science World and various other locations around the False Creek area.
Getting around by taxi is the most expensive way to travel in Vancouver but they are quick and convenient when you need to get somewhere in a hurry. Calling ahead of time is advisable since trying to hail a cab in most areas away from downtown could result in you spending more time standing on the side of the road than actually going somewhere!
Lyft and Uber are also widely available around the city and tend to be cheaper than taxis.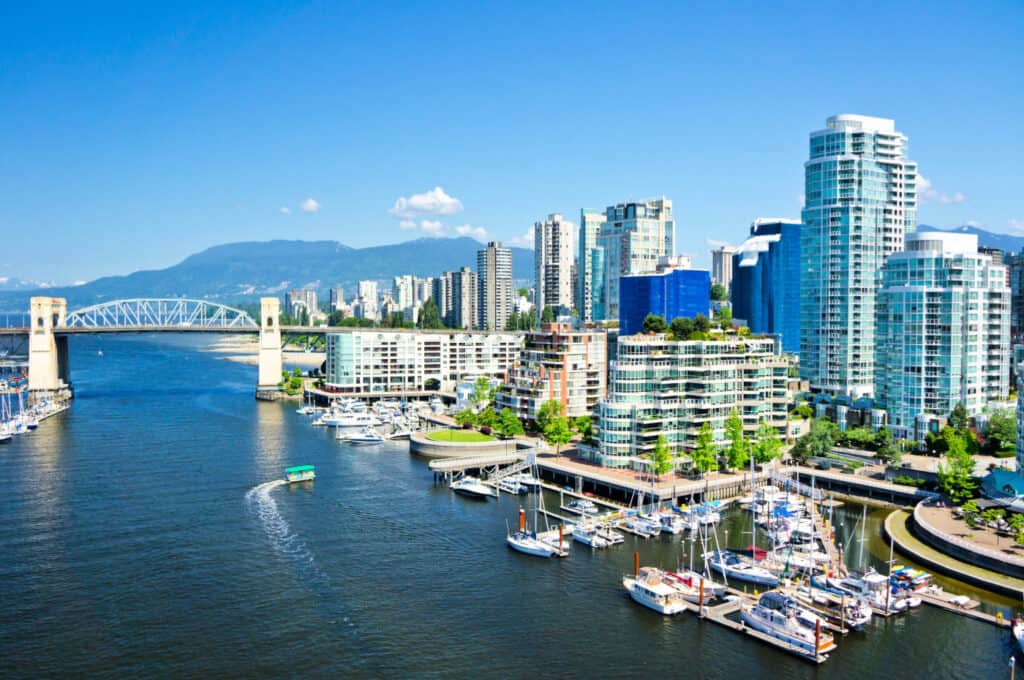 Staying Safe in Vancouver: My Top Tips
Vancouver is a very safe city but, just like you would when traveling anywhere in the world, you should always be aware of your surroundings and take the same precautions as you would anywhere because crimes do happen.
If you've done any research on Vancouver, you've likely heard about the Downtown Eastside and its various problems. Yes, there's widespread drug use, extreme poverty and various criminal elements, but you don't need to completely avoid the area during your visit. If you do wander over to this part of town, make sure it's during the day and with someone else and be aware that some of the things you'll see may be shocking and disturbing.
Speaking of walking alone at night, it's safe to do so in most neighborhoods, just try to avoid Chinatown, Gastown and East Hastings after the sun goes down.
You can easily avoid being pickpocketed by carrying your purse/bag and other belongings in front of you, especially when in large crowds. If you go clubbing, never leave your drink alone. That friendly person chatting you up at the bar may not be so friendly at all and it only takes a second to slip something into a drink. When using public transit, always have your route planned beforehand and try to exit at busy, well-lit stops.
As in all large cities, tourist scams are a common thing but knowing what to look for will ensure that you don't fall victim to one of these cleverly planned out crimes. The picture scam is the one used most around the city. A stranger will ask you to take their picture with their camera and when you hand it back to them, they drop it and blame you for breaking it. Can you guess who's expected to pay for the "broken" camera? Avoid being a victim of this well-planned swindle by simply refusing to take anyone's picture.
If you assume that all taxi drivers will turn on the meter when you get in their car, that's a habit you need to break! Not only should you make sure the meter is on, but you should also know exactly where you're going and how long it'll take to get there.
Some drivers bet on tourists not having a clue and they will purposely leave the meter off and take you on a grand detour around the city, whilst racking up a huge bill that you'll be expected to pay once you eventually get to your destination.
And just when you thought you heard all you needed to know about tourists scams in Vancouver, you hear about the bird poop scam. Be wary if something white falls on your shoulder while you're walking down the street. If your first instinct is to assume a pigeon is the culprit, you might want to consider that the culprit may be of the two-legged, wingless kind.
That's right, this scam involves someone actually throwing a white substance at your shoulder. When you look around to find where it came from, a friendly stranger suddenly appears to help you clean up. Don't be surprised if your wallet, phone, spare change and anything else easily accessed disappears along with the stranger. Refuse the help and keep moving!
The other two dangers to be aware of in Vancouver have nothing to do with crime or scams, they have to do with natural disasters. Vancouver is situated in an active earthquake zone. In the event of a tremor, follow instructions from authorities and move away from loose objects that could fall on you if you're indoors and get to an open area away from buildings and poles if you're outdoors.
Mudslides are more common after heavy rains but if you happen to be in the path of one, your best chance to avoid being buried is to get out of its path and get to high ground. If these options are not possible, try to get behind a tree or building to avoid a direct hit.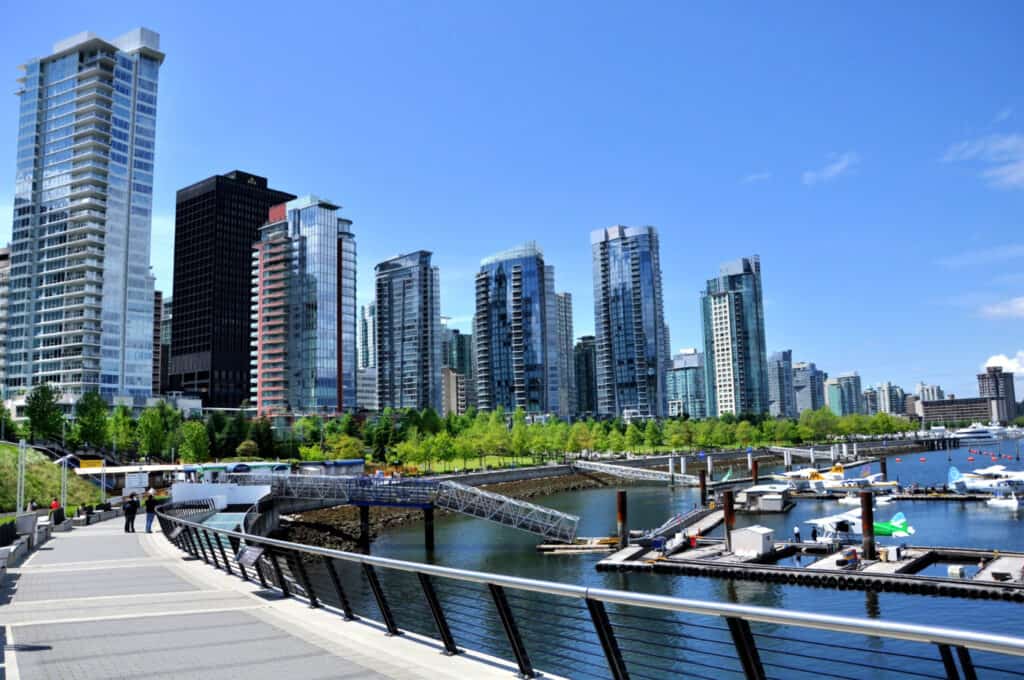 Farewell, Vancouver… Until Next Time
Well, there you have it, three days in Vancouver, British Columbia. I hope this Vancouver itinerary will help you make the most of your time in this incredible city. I know my first time visiting Vancouver was amazing and so much more than I expected!
I love this city and everything about it and I hope you arrive as excited as I was to explore it and leave with memories that will last a lifetime!